Kyrgyzstan is an extremely diverse country geographically. Here, you will find almost every type of landscape imaginable: towering peaks, vast plains, colorful deserts, huge swathes of woods, all of these and more. There's even an enormous lake that could be mistaken for an ocean (if oceans had mountains behind them).
There are so many things to see in Kyrgyzstan; more than one could hope to see in a lifetime. Sorting through the many places to visit in Kyrgyzstan could be overwhelming, especially for those with limited time in the country.
To help get everyone amped about visiting this awesome country, I've assembled a list of some of my favorite destinations in Kyrgyzstan. In writing it, I've made sure to cover as many bases as possible without bombarding you. Included are outdoor adventures, cultural oddities, and cities where travelers can plan their next move.
Kyrgyzstan is an amazing place, there is no doubt in my mind. Consider these suggestions and find out which are perfect for your next trip!
The Most Magical Places to Visit in Kyrgyzstan
Let's not mince words and get right to it: these are the definitive Kyrgyzstan locations that you need to visit next time you go!

Unlock Our GREATEST Travel Secrets!
Sign up for our newsletter and get the best travel tips delivered right to your inbox.
1. Issyk Kul
One of the prettiest lakes you'll ever see with lots to do.
Issyk Kul is probably the first place in Kyrgyzstan that everyone hears about. Immensely large, unfathomably deep, and totally out-of-this-world, Issyk Kul is one of the most unique locations on earth. Where else can you see red-sand beaches, crystal clear water, and snowy-mountains all in one place?
The south shore is the best part of Issyk Kul to visit. Unlike the north shore, which is mostly inhabited by lake resorts and vacationing Russians, the south is much wilder. Some of Kyrgyzstan's top attractions, like Jeti Oguz, Barskoon Gorge, and Fairytale Canyon, are also located on this side of the lake.
When visiting the southern part of Issyk Kul, you must stay in one of the many yurt camps that dot the shore. Aside from offering a more authentic lodging experience, they also benefit from spectacular locations. Most are built right on the shores of the lake, which means you'll get those views, that water, and that cool red sand when stay at one.
The north shore is definitely more resorty. If you're not into that kind of vacation, you can skip most of this part of the lake BUT be sure to drop by Chopon Alata. There are some cool petroglyphs here that are worth seeing if you're passing through.
How to Get to Issyk Kul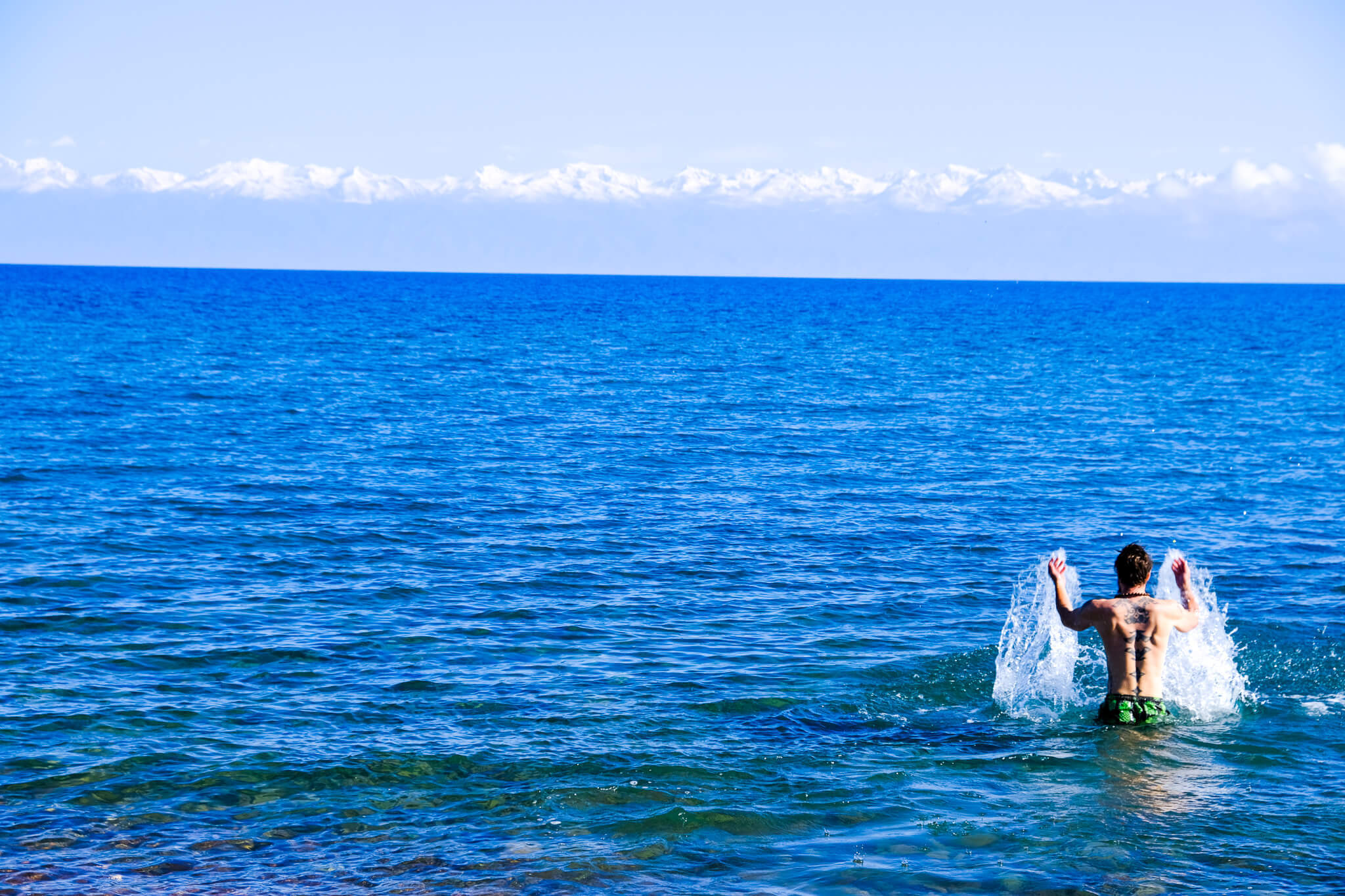 Issyk Kul is one of the most popular places to visit in Kyrgyzstan and is easily reached from Bishkek.
By car: Leave Bishkek, get on the A-365, and just drive east – you'll make it to Issyk Kul in a couple of hours.
By public transport: Minibuses leave from Bishkek's Western bus station regularly. Prices are around $5 one way. Most drive along the northern edge of the lake.
By private taxi: Expect to pay at least $15-20 per seat for a private taxi. Will most likely be shared with other tourists.
Where to Stay Around Issyk Kul
There is a TON of accommodation around Issyk Kul. We're talking everything from hotels to hostels to guesthouses to yurt camps. Any way you look at it, there something for everyone around Issyk Kul.
Recommended yurt camp: Bel-tam Yurt Camp
Recommended guesthouse: Tashtanbay Ata Guest House
2. Fairytale Canyon or Skazka Canyon
Psychedelic rocks and fantastical shapes in the desert.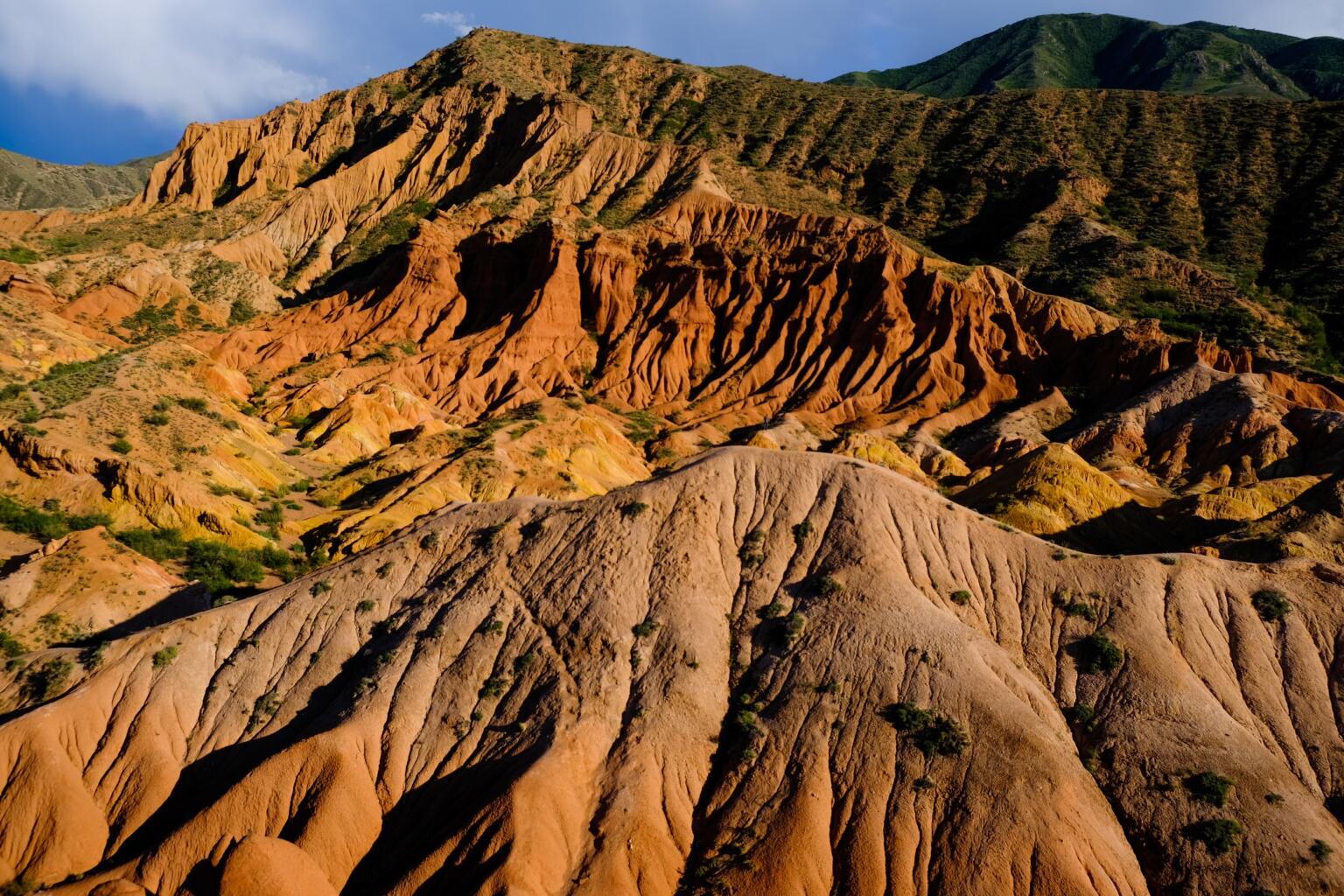 Kyrgyzstan is most well-known for its mountain scenery and lush, rolling pasture-lands. But did you know that it also has amazing desert landscapes as well? Any Kyrgyzstan backpacking adventure needs a bit of both.
Yes, the southern areas around Issyk Kul are rife with canyonlands and petrified oddities that you would normally find in the American Southwest. Red is a common color in these parts although shades of yellow, orange, and even purple sometimes pop up.
The most colorful spot in the region is without a doubt Fairytale Canyon. Here, the geology is vivid and nearly every color imaginable is present. Everything merges and molds together into new and fantastical forms. In my opinion, the whole area kind of looks like a surrealist painting. I like to imagine that whilst Gaugin admired French Polynesia, Dali would be totally inspired by the liquid landscapes at Fairytale Canyon.
How to Get to Fairytale Canyon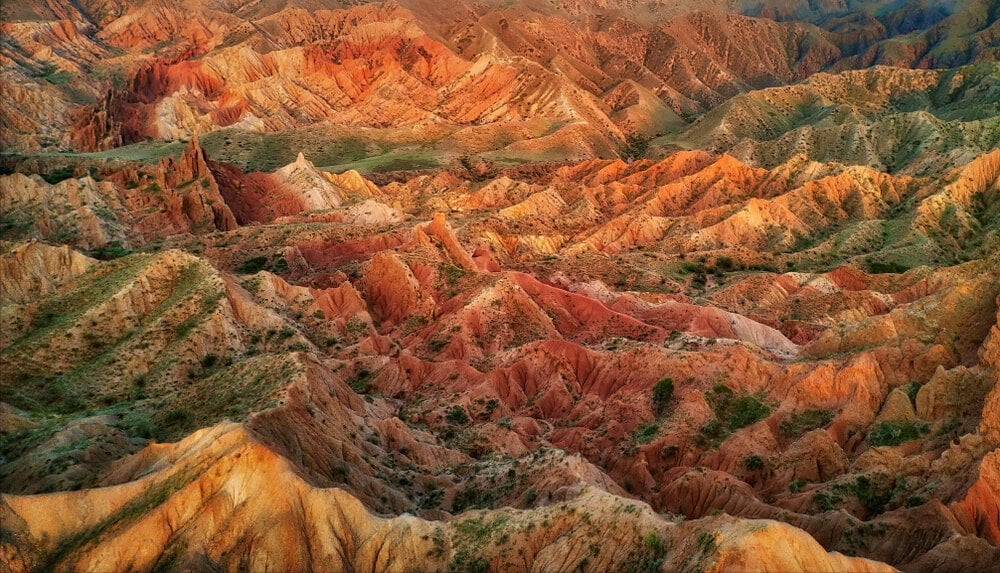 If you're on an organized tour in Kyrgyzstan, your operators will be able to arrange all the necessary transport. For those that have their own car: just drive along the A-363 on the southern shore until you see the turnoff for Fairytale Canyon on the right.
If you've taken public transport to Bokonbaevo, you can arrange a private taxi for around $20-$25 that will take you to the canyon. The taxi will wait whilst you explore and then take you back to town when you're ready.
Where to Stay Around Fairytale Canyon
Most people visit Fairytale Canyon as a day trip from Bishkek or somewhere else on Issyk Kul. For suggestions on where to stay in either, check out the above section for Issyk Kul or stay at our favorite hostel in Bishkek (and Kyrgyzstan for that matter) Tunduk Hostel.
3. Altyn Arashan
Hot springs, wooden cabins, and mountain views – the Kyrgyz idea of paradise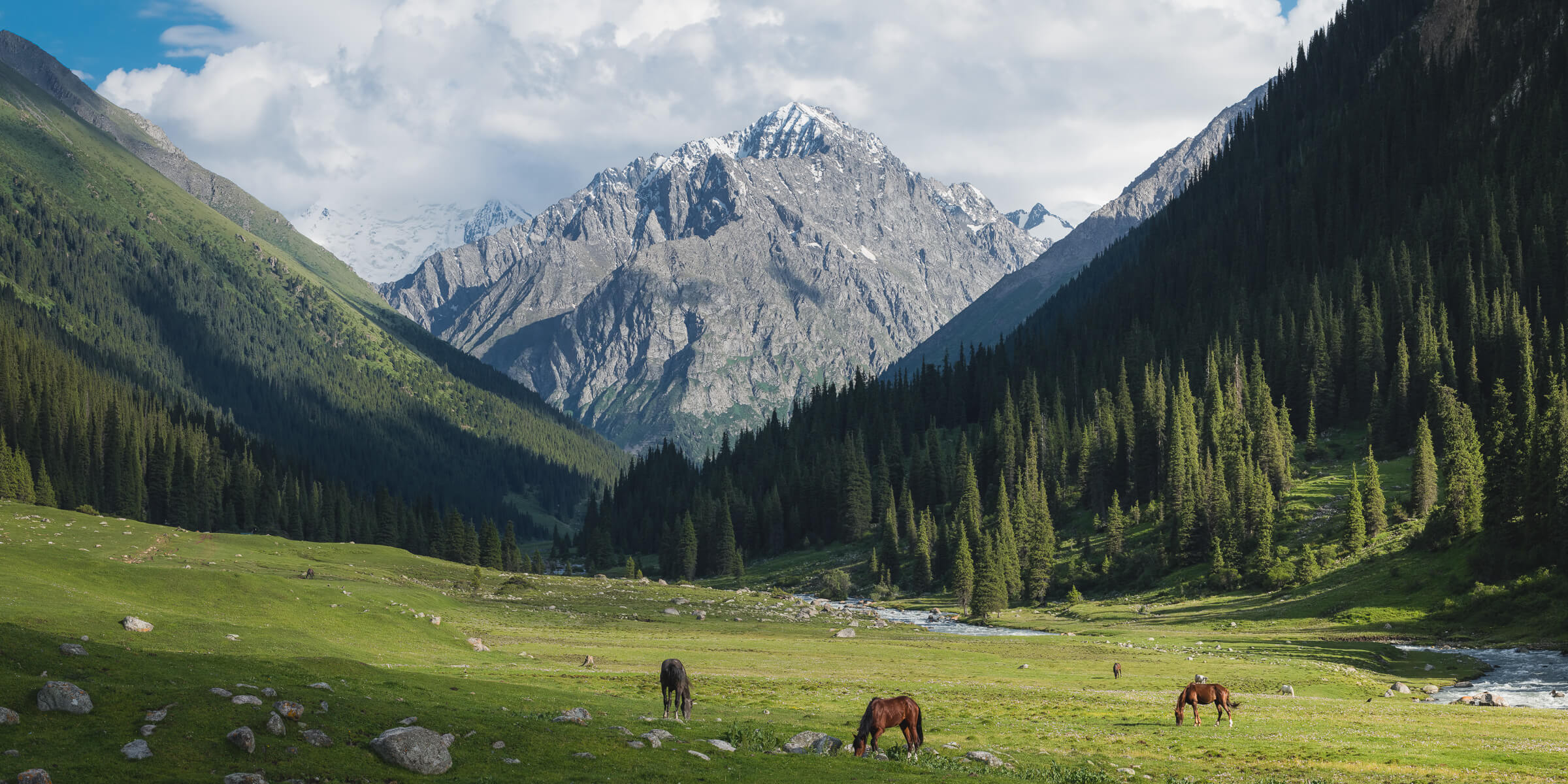 This really is one of the most perfect places to visit in Kyrgyzstan. Altyn Arashan is a semi-wild resort area that provides guests with comfortable lodging, splendid mountain views, and the chance to soak in hot springs. I shit you not, the water from these springs is the perfect temperature and spending an afternoon bathing in them is probably the best post-hike treatment that I've ever received.
Before I get lost in the memory of those heavenly hot springs, let me say that there is still plenty more to do around Altyn Arashan. Lots of people venture here to explore the greater valley, either on foot or by horseback. Some choose to go all the way up the valley to get a better view of the peculiarly tent-shaped Palatka Peak. Either way, any manner of exploring Altyn Arashan is like walking in paradise.
Insider tip: Be on the lookout for the special bonsai tree next to the river.
How to Get to Altyn Arashan
The road (if you can call it that) to Altyn Arashan is very, very rough. Normal cars cannot drive on it, which leaves backpackers with two options:
Have someone drop you off at the unofficial Altyn Arashan parking area and then walk for about 3-4 hours to reach the heart of the valley.
Organize a ride with a special 4×4 transport that is able to handle the road. Note that this option entails a very bumpy ride and a premium price of about $30 per seat.
Where to Stay Around Altyn Arashan
When visiting Altyn Arashan, you absolutely have to stay in a wooden cabin. They are warm, comfy, cozy, and a highlight of the trip. The local Kyrgyz who manage the individual cabins usually have a private sauna facility on the premises as well. Be sure to double-check as not every cabin has access to spring water.
I highly recommend booking a cabin ahead of time as they fill up quick. The best way to book ahead is to call the cabin reception to reserve a room. Local people from Karakol can help you do this.
4. Ala-Kul
An epic mountain lake that changes colors with the weather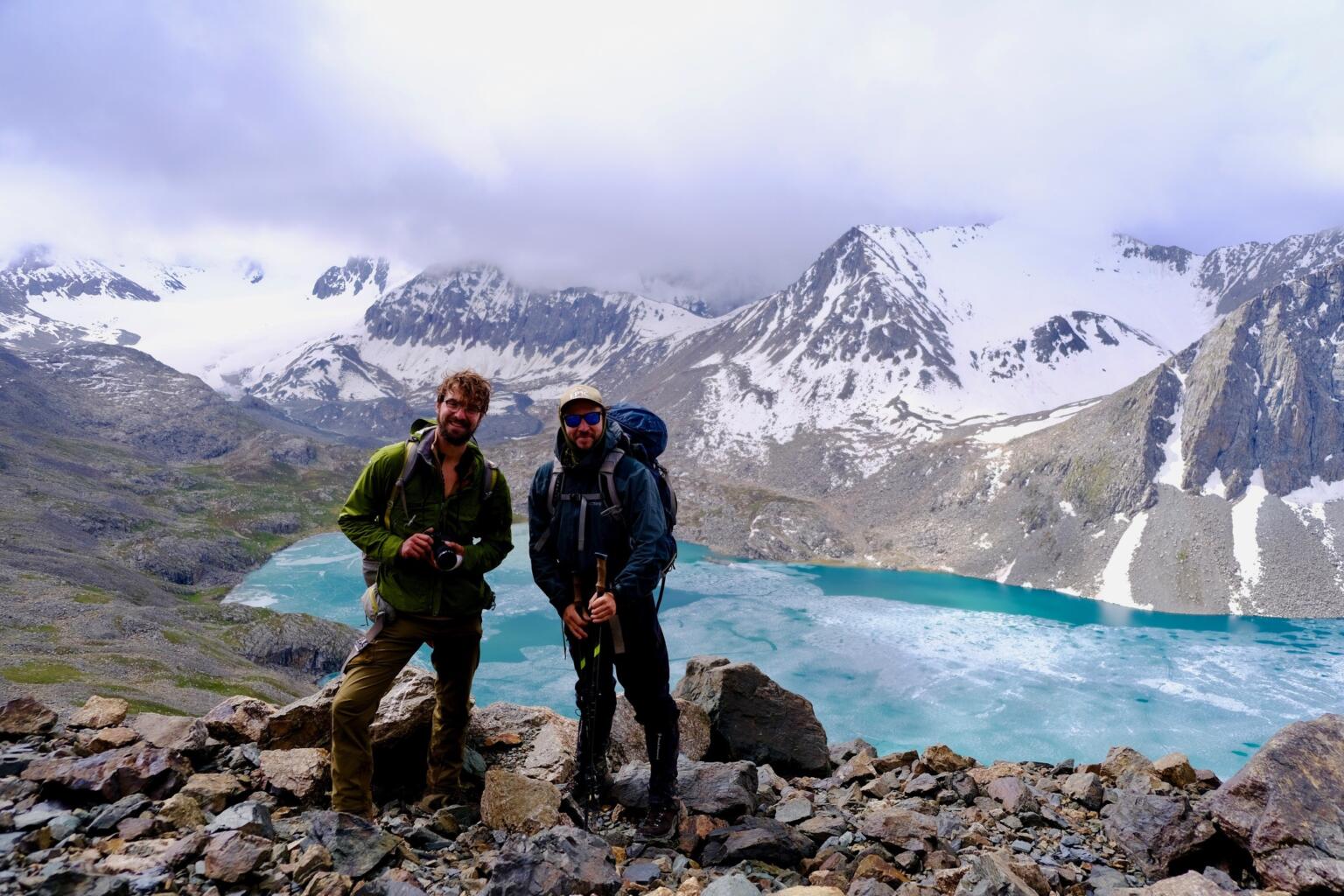 Those who have already done some research on hiking in Kyrgyzstan have probably already heard about Ala-Kul. For those who haven't heard of Ala-Kul, it is a stunning alpine lake set high in the mountains above Karakol. Just take a look at the photos – although they pale in comparison to the real thing, they should make you chomping at the bit to visit Kyrgyzstan.
Ala-Kul is a painfully beautiful lake and it can even be said that it has a "personality." It's a well-known fact that the waters of Ala-Kul change color on a regular basis depending on the weather. When it's bright out, the water is an energetic azure; when it's stormy they change to a deep and melancholy cobalt. This poly-chromatic phenomenon most likely inspired the name Ala-Kul as well – it means "Lake of Many Colors" in Kyrgyz.
Because it is 3500 meters high, Ala-Kul is not lacking for jaw-dropping views as well. Whilst hiking to the lake, you'll see soaring peaks in almost every direction. The lake itself is also enclosed by its own set of rugged mountains, which only adds more grandeur to the scene.
Insider tip: If you have time, make the short 2-hour hike from Karakol Valley to see Karakol Peak – the highest mountain in the Ala-Too.
How to Get to Ala-Kul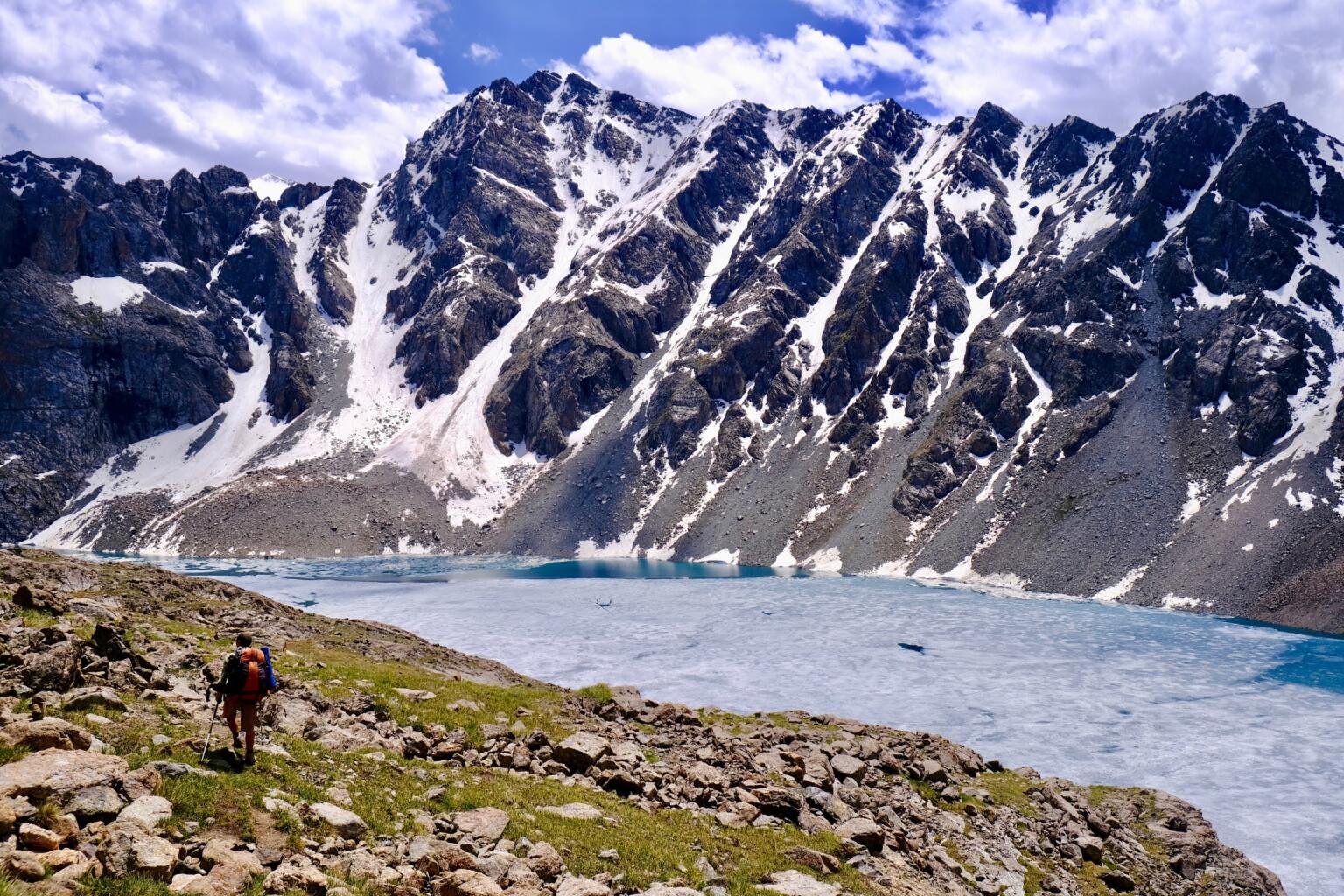 The only way to get to Ala-Kul is by walking. Most do so over the course of 2-3 days trekking.
The trail to Ala-Kul starts in the Karakol Valley, ascends 1,300 meters to the lake, gains another 300 meters to Ala-Kul Pass, and finishes with another 1,300 meter descent to Altyn Arashan. This is a fairly broad overview of the walk though. For more information, be sure to check out our Kyrgyzstan hiking guide.
Where to Stay Around Ala-Kul
If you're planning on spending the night at Ala-Kul (which you should be) then camping will be your only option. This means you will either have to pack a tent up with you (hire a porter if this seems arduous) or book a spot at Ak-Sai Travel's established campground. The latter costs about $50 per tent and includes breakfast and dinner.
Be sure to pack the right outdoor gear if you plan on staying overnight. Have a nice warm sleeping bag as well as a good sturdy backpacking tent to keep safe and comfortable.
5. Sary Jaz
An untouched jailoo in Kyrgyzstan that sees few visitors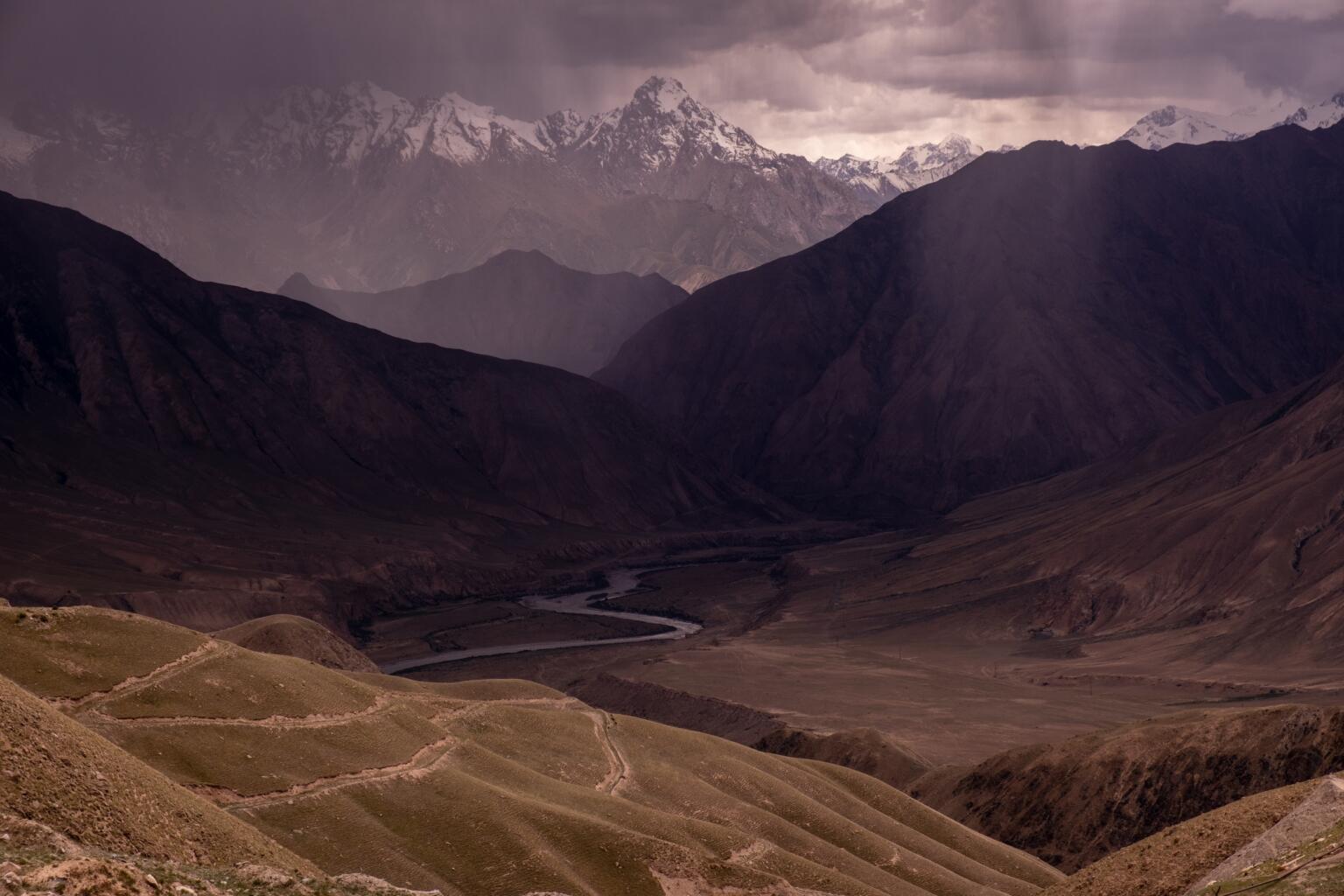 Sary Jaz is a yet-to-be-discovered location in Kyrgyzstan that we think deserves more attention. Set on the Chinese-Kazak border to the southeast of Karakol, Sary Jaz offers more than just the usual Kyrgz adventures.
For one, the area located immediately on the Kazak border is full of interesting caves that are rarely known to outsiders. From the jailoo, one can also see one of Kyrgyzstan's highest mountains, the mighty Khan Tengri, on a clear day.
But the trip doesn't end there. South of Sary Jaz is Enylchek. Whilst primarily known as the beginning of the Khan Tengri expedition, Enylchek itself is also fascinating. As a former mining region, Enylchek is full of old abandoned Soviet buildings and facilities. You can visit the ruins of the Soviet town and then afterward take a dip in some local hot springs!
Because of the close proximity of Sary Jaz to the Chinese border, permits are needed to visit the region, which you can get from a local tour operator of your choosing.
How to Get to Sary Jaz
Sary Jaz and Enylchek require a 4×4 vehicle to visit. Sections of the journey will require off-roading so make sure you're comfortable with rough roads or hire a driver/guide.
Sary Jaz and Enylchek are located relatively close to one another but are separated at a crossroads. The crossroad in question is at the military checkpoint where you will need to present your permits. Driving south from the checkpoint, the turnoff for Sary Jaz will be on the left whilst Enylcheck will be straight ahead.
Where to Stay Around Sary Jaz
There are a couple of host families in Enylchek (yes, people still live in the abandoned town) that sometimes take in travelers. If you want to stay with one, it would be a good idea to have a local guide to translate for you.
Camping is way more likely in Sary Jaz and Enylchek. There is a lot of open land in these parts so finding a site shouldn't be a problem.
6. Song Kul
An alpine wonderland that hosts wandering nomads in the summer
Song Kul is a bit of a marvel for two very particular reasons: 1) it looks like something straight out of Alaska or Iceland and 2) it's only a couple of hours from the capital. It sounds crazy to me, the fact that you can literally be in the middle of nowhere, surrounded by nothing but horses and mountains, and only in the course of a few hours drive; it's unheard of! But such are the wonders of Kyrgyzstan.
The name Song Kul belongs mostly to the large lake in the center of a jailoo though there is a lot more going on around this area. Sprawling meadows and the numerous 4,000-meter peaks looming above are all a part of Song Kul. Their presence makes Song Kul seem more Arctic than Central Asian at times.
But the part that really makes Song Kul worth visiting are the people. Song Kul is a very popular place during the summer for Kyrgyz families and many come here either to let their horses graze or to host travelers. Most have small yurt camps to accommodate people. If you stay at one of these, you will be showered with good food and maybe not so good kumis (fermented mare's milk).
How to Get to Song Kul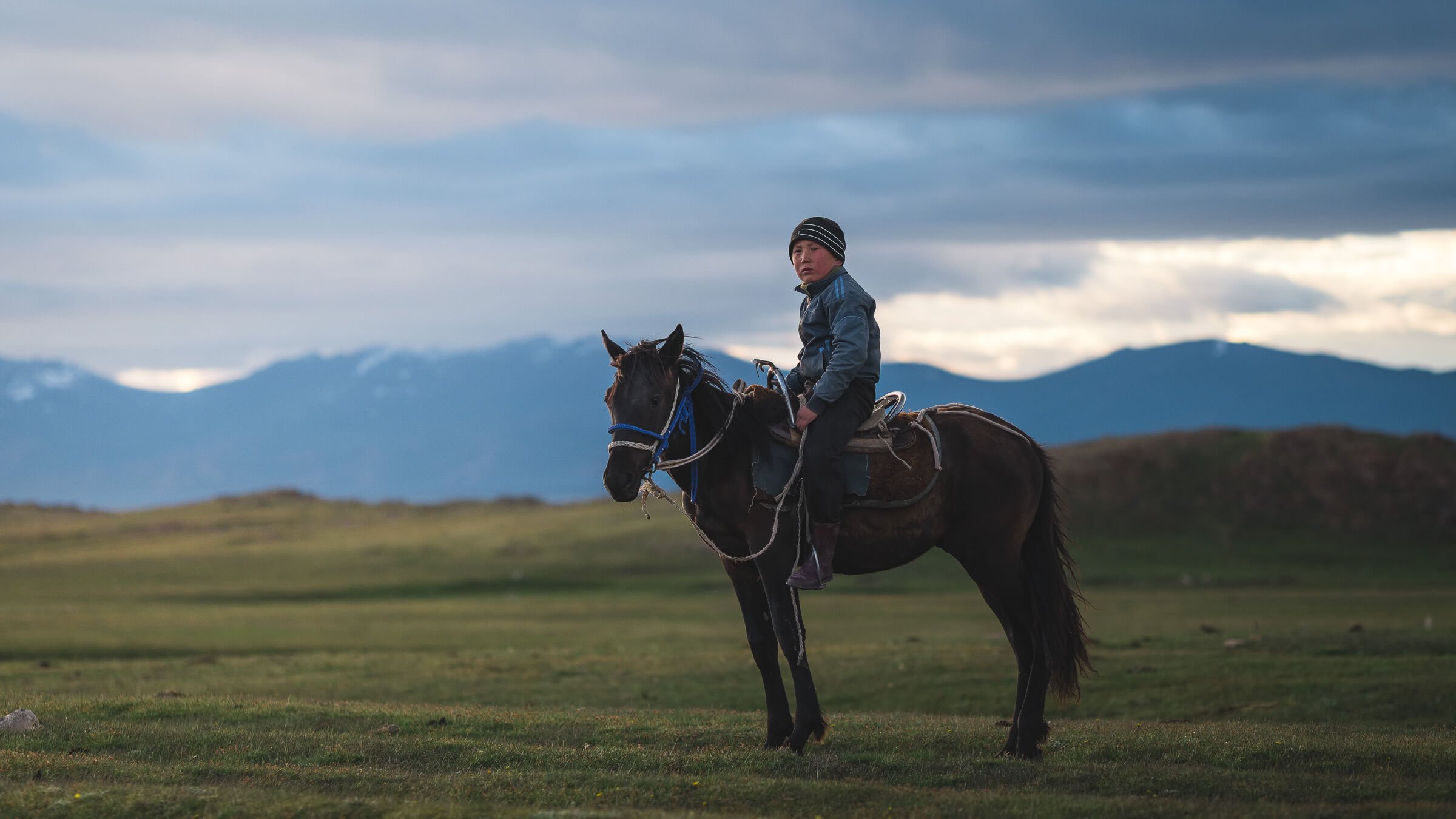 Song Kul is accessed normally in one of two ways:
By SUV either rented or owned by a driver. Drive time from Bishkek is usually around 3-4 hours drive. Make sure you got some clearance on your car and a pair of chains – the roads are rough and snow is possible all year.
By 2-3 days horse trekking. If you're interested, then be sure to read our guide horse trekking in Kyrgyzstan to learn more.
Where to Stay Around Song Kul
It'd be foolish NOT to stay in a local yurt camp when visiting Song Kul. In fact, this is probably one of the best places in Kyrgyzstan to sleep in a traditional yurt – the views are hard to beat and the hospitality of the people is unrivaled.
Most yurts cost about $15 per night and include dinner and breakfast.
7. Karakol
The hiking capital of Kyrgyzstan and Chinese Dungan enclave
For those who want to go hiking in the Ala-Too Mountains – which hosts superlative locations like Ala-Kul and Altyn Arashan – Karakol will be their primary base of operations. If you need a break from hiking, the town has a number of cultural sites, which should keep people busy for a few days in-between their adventures.
Karakol is a great place to start trekking due to its prime location at the foot of the mountains and a decent array of services. There are several local outfitters in Karakol that can help equip you for an epic trek, whether you're in need of a new tent or a full-on guide. Visit Karakol is a fantastic tour operator that comes recommended by us.
Karakol is also a bit of cultural curiosity. It was the landing place for many displaced Dungan Muslims when they have driven away from China in the late 19th-century. The local Dungan Mosque is one of the stranger religious buildings I've seen and actually has some East Asian features. The local delicacy in Karakol is also lagman – a type of fried-noodle that originated in Kashgar, China.
Insider tip: My favorite shashlik (Russian kebabs) in all Kyrgyzstan can be found at Kafe Aychurok.
How to Get to Karakol
There are lots of buses that travel between Karakol and Bishkek. Buses leave from Bishkek at the Western Station and arrive at the Avtovokzal stop in Karakol. Vice versa is the same.
Those driving can head to Karakol along the southern or northern shore of Issyk Kul (both are the A-363 road). Note that the northern shore is a better-paved road but the southern shore is more scenic.
Where to Stay Around Karakol
Karakol doesn't really have a central business area and, consequently, lodging is kind of spread throughout the entire town. There are still plenty of hotels and guesthouses, but it just doesn't seem like it at first. These are some of our preferred places to stay in Karakol:
Recommended hostel: KbH-Karakol
Recommended hotel: Riverside Karakol
Recommended guesthouse: Evergreen Guesthouse
8. Jeti Oguz
The Seven Bulls – seven red-rock towers at the base of the Ala-Too Range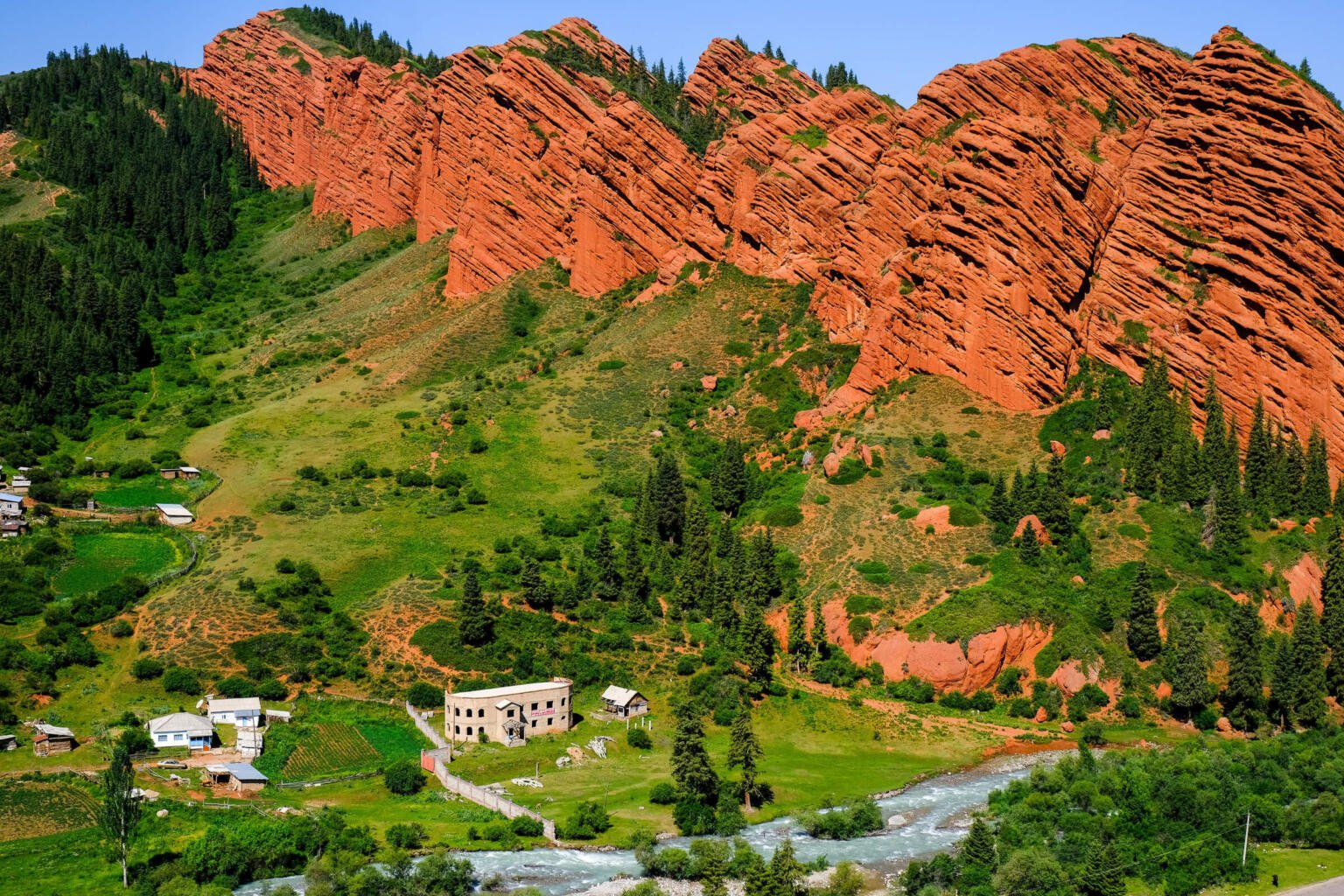 Jeti Oguz is yet another example of how Kyrgyzstan looks so much like the Western American landscape. Meaning "seven bulls" in Kyrgyz, Jeti Oguz is a collection of blood-red rocks at the base of the Ala-Too Mountains. Their prominent shape, height, and absolutely brilliant color, which is wonderfully juxtaposed against the green hills, make them unforgettable.
To get the best view of Jeti Oguz, simply climb up the eastern slopes next to the road. The viewpoint at the top of the hill offers the best panoramas.
Don't forget to drop by the Broken Heart on your way to Jeti Oguz either. Its name comes from both the distinctive crack running down the rock and from the tragic love stories that surround it.
How to Get to Jeti Oguz
Jeti Oguz is located very close to Karakol and the drive there is only about 30-minutes long. You will either need your own car or hire a private driver or tour. There are plenty of taxi drivers in Karakol so finding one shouldn't be a problem. Expect to pay $7-$8 one way with a taxi.
Where to Stay Around Jeti Oguz
Jeti Oguz is already one of the most popular places to visit in Kyrgyzstan. Unfortunately, this means that there is quite a bit of infrastructure built up around the monoliths. A dozen guesthouses surround the rocks and there is almost always a decent-sized crowd in the area.
9. Tulpar Kul and Peak Lenin BC
One of the easiest ways to see a 7000+ meter peak up-close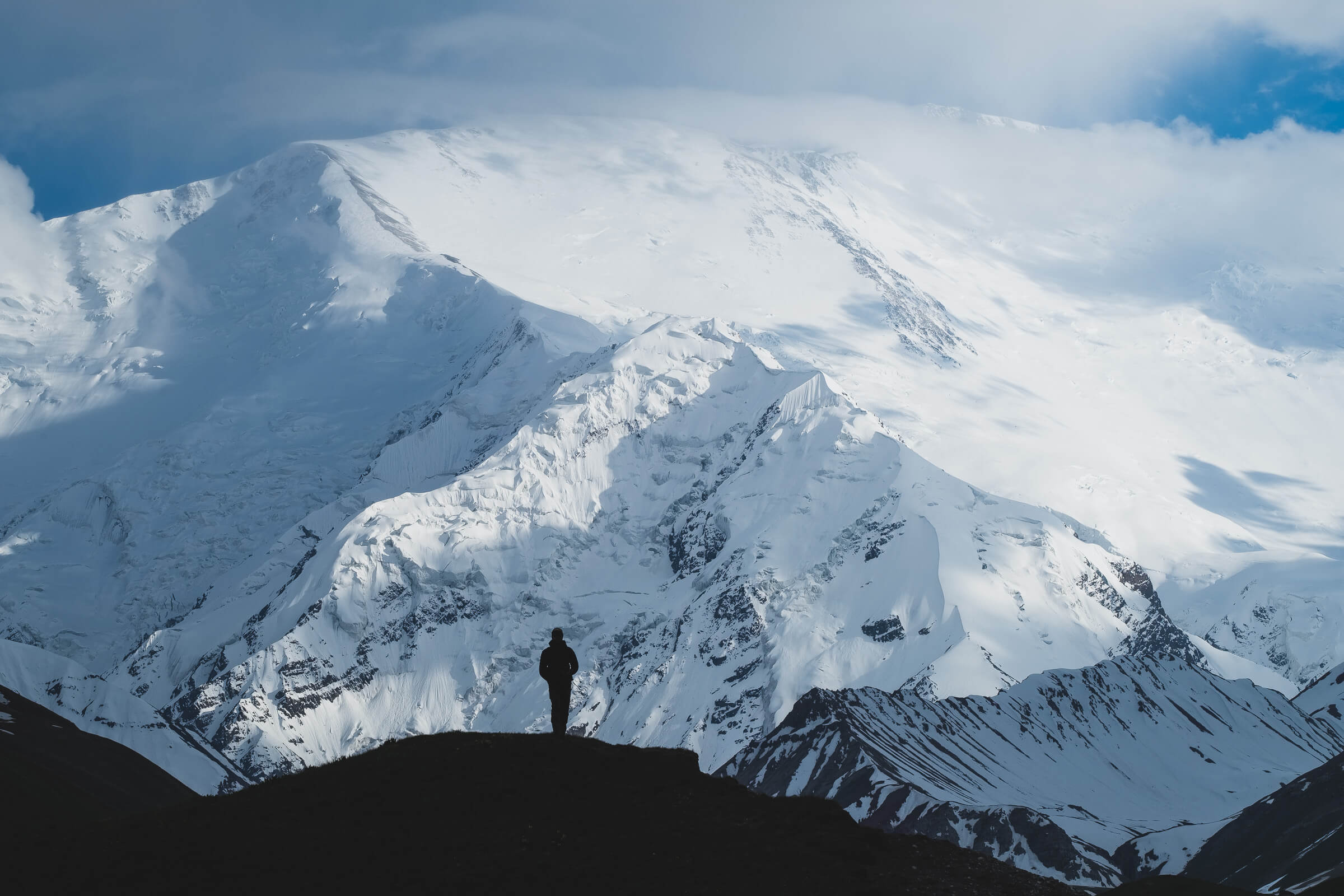 Normally, you'd expect a full-on expedition would be required to see 7000+ meter peak. After all, it sometimes takes days for a trekker to see one in Nepal or India sometimes.
What if I told you that you could see an ultra-peak in only a matter of hours, would that interest you?
Peak Lenin is well-known for being one of the most accessible ultras in the world. Its base is a mere 5-hour drive from Osh and, even then, its summit can already be seen hours before from the highway.
When driving to Peak Lenin, the first notable place you'll see is Tulpar Kul. This area is essentially a collection of small alpine lakes and this is where the majority of yurt camps are. You'll have to stop the car here but you can further up the valley of Peak Lenin to reach its first base camp.
Peak Lenin Base Camp is within a few hours walk from Tulpar Kul. That means that, if you left Osh early, you can arrive at the base camp of an ultra in less than a day. What a crazy world we live in these days. Oh, and the name is a hangover from the days of the Soviet Union – we have written a whole post setting out more tips and fact about Kyrgyzstan.
How to Get to Peak Lenin BC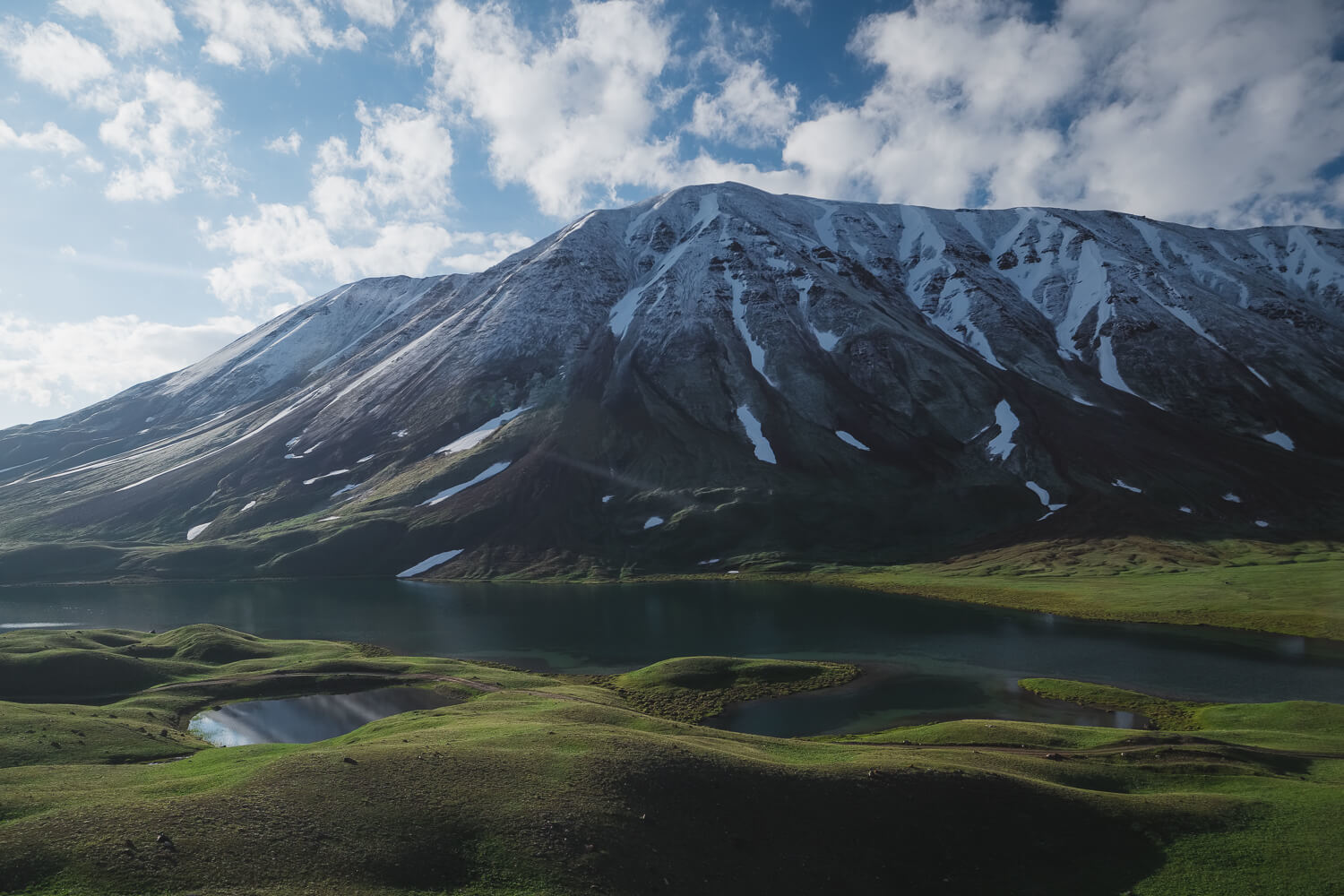 Hire a car or a driver in Osh to take you to Sary Mogul first. If you go with a driver, make sure that you don't get ripped-off. Ask a friendly local to help negotiate prices with the driver and try to pay less than $50 for the entire car, one-way.
Once you arrive in Sary Mogul, head to the local CBT office and book a jeep transport up to Tulpar Kul. You'll have to pay another $40 but it's round-trip. The CBT driver will drop you off at their private yurt camp at Tulpar Kul.
Where to Stay Around Tulpar Kul
Stay at the CBT yurt camp or whichever one the driver leaves you at. They're all nice and cozy. All of them will cost $15/night and include dinner and breakfast.
Eager adventurers can also spend a night at the Peak Lenin Base Camp. There's one established campground there that also costs $15/night.
Is This the Best Daypack EVER???
10. Arslanbob
A charming mountain village that hosts waterfalls and the largest walnut forest in the world
Arslanbob is somewhere that manages to fly under the bulk of tourists' radars. A lot of travelers just pass through here on their way to Osh or when heading back to Bishkek. Whilst a day in Arslanbob is still enjoyable, spending more than one is totally worthwhile.
Arslanbob is most well-known for hosting the largest walnut forest in the world. This forest is a great source of pride for the natives and it is a pretty big part of their life. In the autumn, almost everyone runs away into the forest to pick walnuts and during this time there are lots of harvest celebrations. If you want to experience a real festival in Kyrgyzstan, this is one of the best places to do it.
Aside from the massive woods, there are also lots more things to do in Arslanbob. Close to town are a couple of very pretty waterfalls that make for great day hikes. If you wanted to go on a multi-day backpacking trip, walking to the nearby Holy Lakes is a great way to spend 3 or 4 days in the mountains.
How to Get to Arslanbob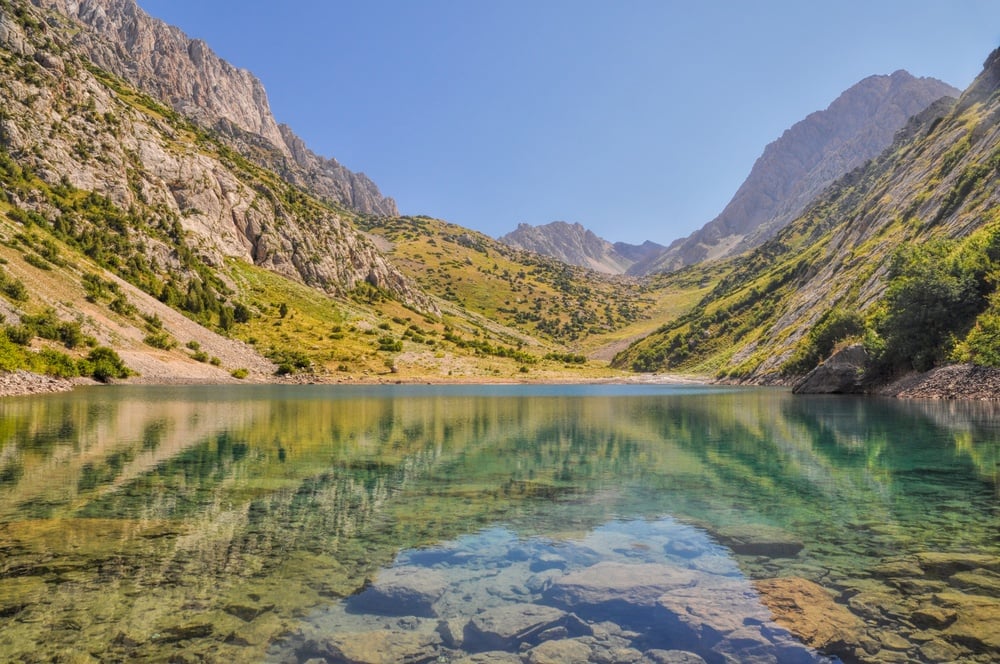 Arslanbob is about 3.5 hours drive north from Osh. If you're self-driving, be mindful that the main road crosses into Uzbekistan and that you may need border permits. To avoid crossing the border, drive via Uzgen and Jalal-Abad.
If you take public transport, you will transit through Jalal-Abad and Bazar Korgon.
Where to Stay Around Arslanbob
There are plenty of cute lodges in Arslanbob! Some of our favorites are the simply-named Friendship and Halal Muslim Guesthouse. Grab a bowl of walnuts and just relax in the gardens of one of these.
11. Barskoon Gorge
Former center of the world and holiday home for Yuri Garigan, now gold-mining town.
Barskoon is full of little fun oddities. From the moment you arrive, you are greeted by a very out-of-place statue of Yuri Garigan aka the most famous Cosmonaut ever. Shortly after, you see a tree covered with knitted wear, as if it were prone to catching a cold during chilly evenings. (These bundled-up trees are called "wishing trees" and they're actually a common sight in Kyrgyzstan.)
Barskoon has a certain magnetism to it and lots of people are attracted to this place for one reason or another. Some come to see the many waterfalls while others simply enjoy having a picnic here. If you ask any Canadians nearby, they'll probably say they enjoy the mountains of gold being excavated in Barskoon.
Regardless of intentions, Barskoon is a very lovely place to visit in Kyrgyzstan. It's verdant, scenic, and very relaxing. It may not be the center of the world, as local Karakhanid philosopher Mahmud al-Kashgari once believed, but it's close enough.
How to Get to Barskoon Gorge
Travel east along the south shore of Issyk Kul and take a right onto the A-364. Drive another 30 minutes or so until you reach a relatively developed area with yurt stays and camps. If you see the Yuri Garigan statue, you've arrived.
Where to Stay Around Barskoon Gorge
There is a local yurt camp that you can stay at in Barskoon if you like. Most people visit Barskoon Gorge as a daytrip from there lodge in Karakol or Issyk Kul.
12. Bishkek
Kyrgyzstan's surprisingly cosmopolitan capital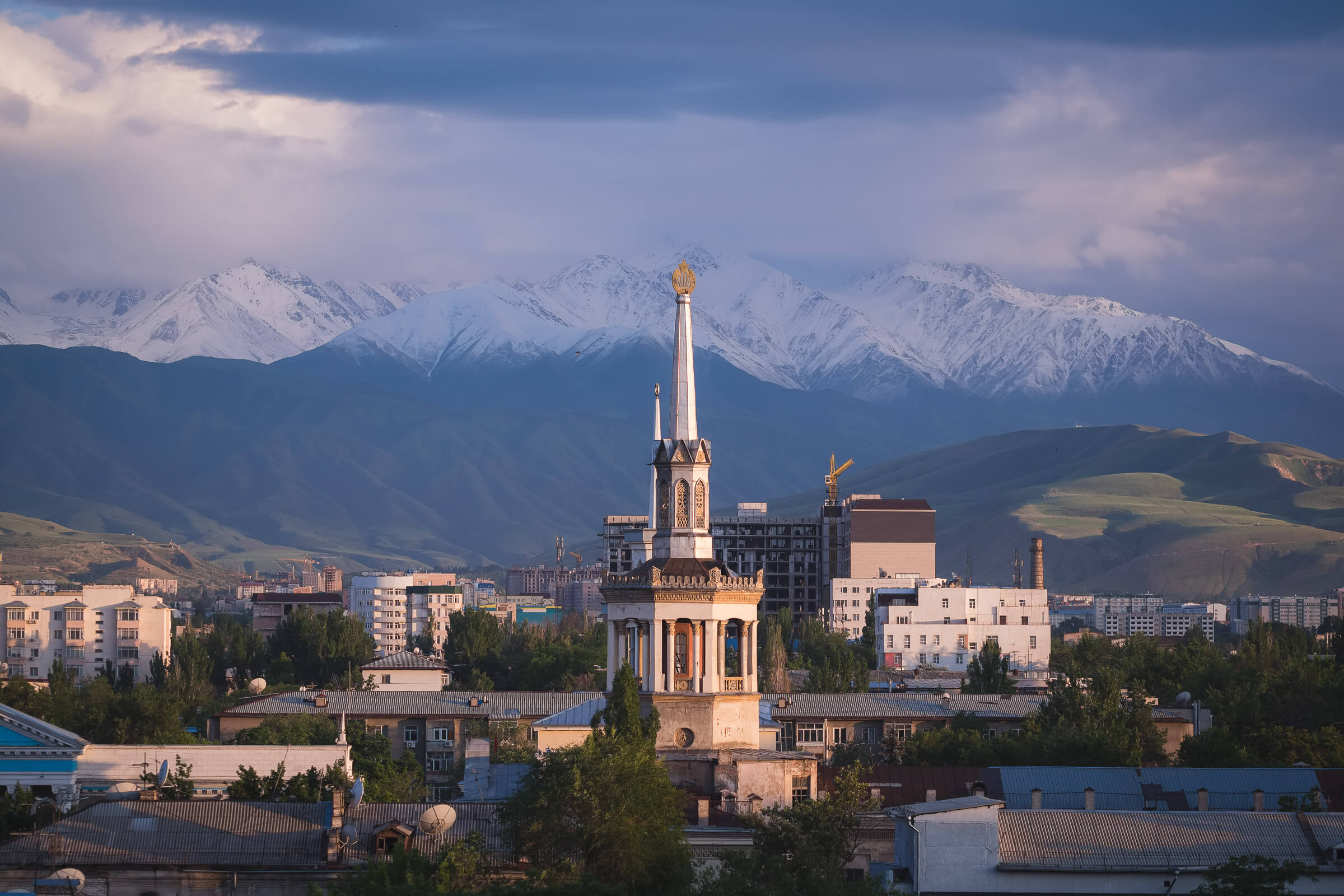 Kyrgyzstan's capital, Bishkek, is like the Denver of Central Asia: flat, close to the mountains, and a little underrated. Also in common between the two cities is that both have an unquenchable thirst for the outdoors and, believe it or not, an amazing beer scene as well! Kudos Bishkek, kudos.
My random comparisons being finished, Bishkek really is a misunderstood city. Most imagine it to be a typical, post- Soviet wasteland with nothing but brutalist architecture and melancholic citizens. These couldn't be farther from the truth.
There are lots of reasons Bishkek is worth visiting. For one, the people are actually extremely modern and, for that matter, very good looking. The aforementioned beer scene is a great surprise and dropping by the likes of Save the Ales or Blonder Pub makes for a great afternoon. Also, there is plenty of green-space to walk around in the city, particularly around the center and Ala-Too Square.
In the end, Bishkek is a great example that not everything is grey beyond the Iron Curtain.
Insider tip: My favorite speakeasy is hidden near Giraffe Coffee and doubles as a beauty parlor during the day.
How to Get to Bishkek
All roads in Kyrgyzstan eventually lead back to Bishkek since it is the capital and most populous place in the country. If you need any help finding Bishkek, just follow the signs or ask some friendly locals.
Bishkek is also only a 3-hour drive from Almaty, Kazakhstan. Like Bishkek, Almaty is also very international but, that being said, is much bigger and busier than Bishkek. Thanks to recent economic booms, Almaty is actually quite hedonistic these days and is sometimes referred to as the "New York City of Central Asia." No Borats here.
If you make it to Almaty, be sure to explore the areas outside the city as well. Charyn Canyon is an epic destination and is only 3 hours away from the city.
Where to Stay Around Bishkek
Bishkek is one of the easiest places to find accommodation in Kyrgyzstan. Hotels and guesthouses make up the grand majority of lodging in Bishkek though there are plenty of private apartments and hostels in the city as well. Avoid staying in yurt camps in the city – it's not really the same as being in the mountains.
Here are some places to stay in Bishkek:
Best Hostel in Bishkek: Capsule Hostel
Best Hotel in Bishkek: Futuro Hotel
Small Pack Problems? 😉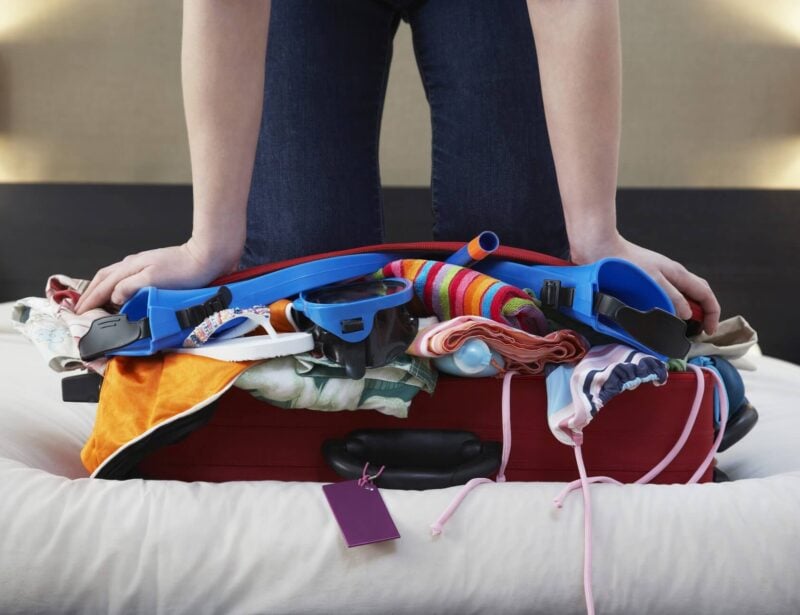 Wanna know how to pack like a pro? Well for a start you need the right gear….
These are packing cubes for the globetrotters and compression sacks for the real adventurers – these babies are a traveller's best kept secret. They organise yo' packing and minimise volume too so you can pack MORE.
Or, y'know… you can stick to just chucking it all in your backpack…
Get Yours Here
Read Our Review
13. Burana Tower
One of the few archaeological sites in Kyrgyzstan
There aren't a lot of historical sites in Kyrgyzstan. Those that do exist are usually of the decrepit Soviet-variety or are simply a scattering of markers from wandering nomads e.g. Chopon Alta and Saimaluu-tash. Remember: most of Kyrgyzstan's history is defined by migrating horsemen and migrating horsemen don't really have a lot of time to build big things.
The Burana Tower is one of the few notable historical buildings in Kyrgyzstan. Built by the Karakhanids, it and the surrounding ruins are all that remains of the ancient city of Balasagun. The tower used to be higher (45 meters) but at some point partially collapsed (it has since been partially restored). The rest of the city is practically buried.
Though humble compared to other Central Asian architectural marvels, like Registan and Khiva, the Burana Tower is still interesting to visit. With the Ala-Archa Mountains in the background, the setting couldn't be more perfect. Plus, the old bal-bals (warrior totems) are pretty cool to see as well.
How to Get to the Burana Tower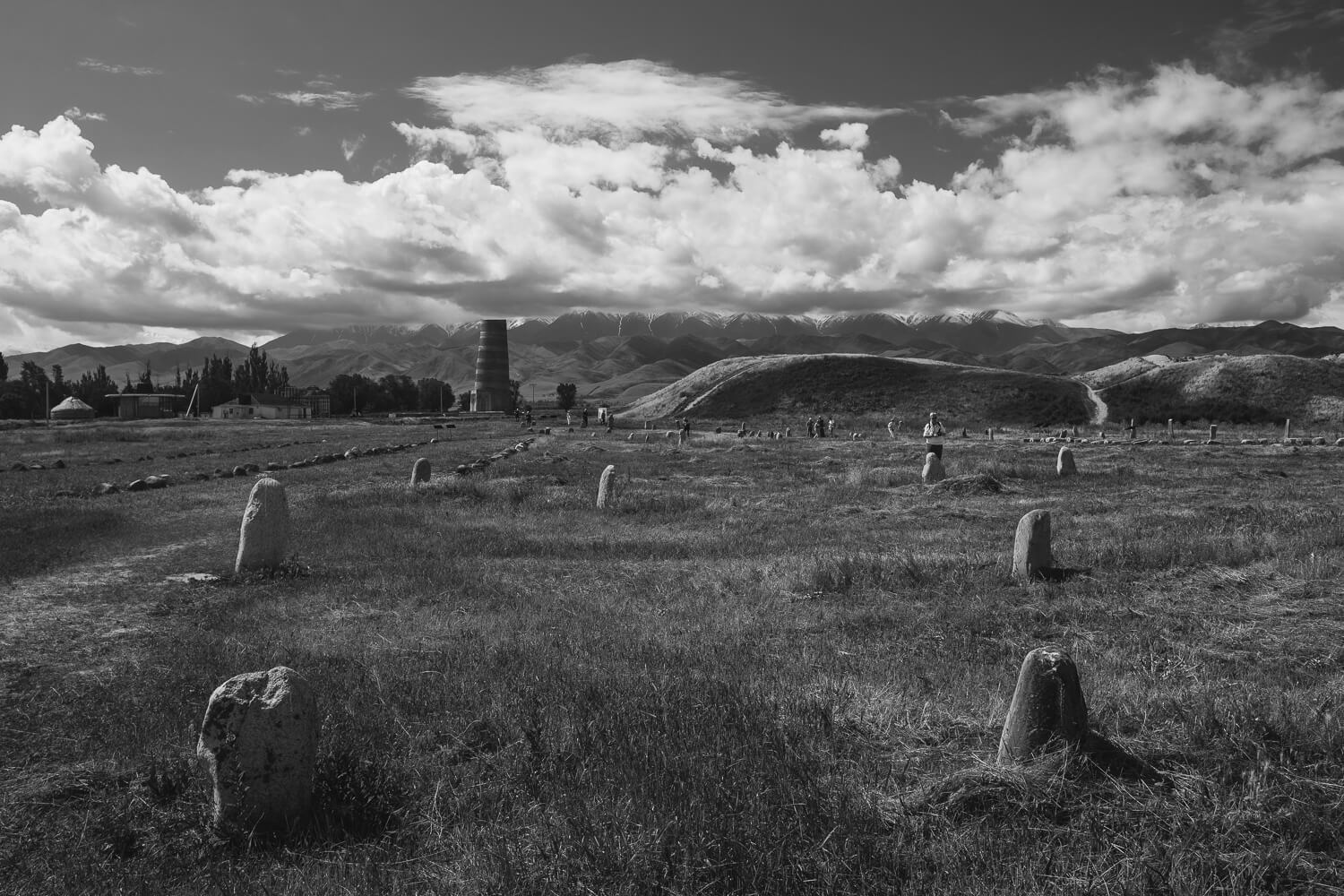 The easiest way to see the Burana Tower is to book a tour with a local company. We recommend going with Show Me Bishkek.
If you want to go independently, you'll either need your own car or take a combination of buses and taxis to reach the tower. If you're going with the latter option, you'll first need to take a matrushka from the Western Station in Bishkek to Tokmok and then grab a taxi to Burana. Altogether, the trip should cost around $15 in total.
Where to Stay Around Burana Tower
The nearest town is Tokmok although most people will probably stay in Bishkek since it's only 90 minutes away. Check the previous sections for suggestions on where to stay in Bishkek.
14. Osh
Kyrgyzstan's second-largest and most authentic city
Kyrgyzstan's southern capital exists in stark contrast to the northern one. Where Bishkek feels international, modern, and bustling (relative terms), Osh is far more traditional and culturally rich. Gone are the khaki shorts and the designer label fashion; in are covered shoulders and Islamic dress codes.
Please don't let that intimidate you – these are what make Osh so interesting. Osh is an ancient city that dates back thousands of years and has a much more fascinating history (for good and bad). The locals take great pride in this and enjoy talking about how culturally rich their home is.
Osh is where you go to get proper Kyrgyz food as well. Street food is very popular around the city and you can find vendors selling freshly-fried treats on almost every corner. Be sure to drop by Kurmanzhan Datka Cafe for authentic Kyrgyz dishes and Cafe Brio for the best coffee in Kyrgyzstan
Insider tip: Osh is also semi-well-known for it's street murals.
How to Get to Osh
Whilst it is possible to drive to Osh, it is not the best way to arrive. The road from Bishkek to the city is long, hard, and only fit for those who don't mind a bumpy ride. The drive is scenic and road trippers will probably find the journey pretty fun. Just be sure to allocate 2-3 days for the journey.
Flying to Osh is WAY more convenient than driving. Tickets with Air Manas are dirt cheap at the moment – costing less than $40 for one way – and the flight is only 45 minutes long. That's a 3-day-long land expedition that you just saved yourself, people.
Where to Stay Around Osh
There are a couple of decent hostels and guesthouses in Osh, Biy Ordo being our top suggestion. The Osh CBT, whose primary role is a tour agency, also doubles as a guesthouse.
All that being said, Osh can seem pretty bereft of lodging at times. Airbnbs are in fairly short supply and hotels don't seem to be a thing here. Both feel a little expensive given their (lack of) amenities.
15. The Pamir-Alai Mountains
Kyrgyzstan's remote mountain range – hosts some of the best hikes in the country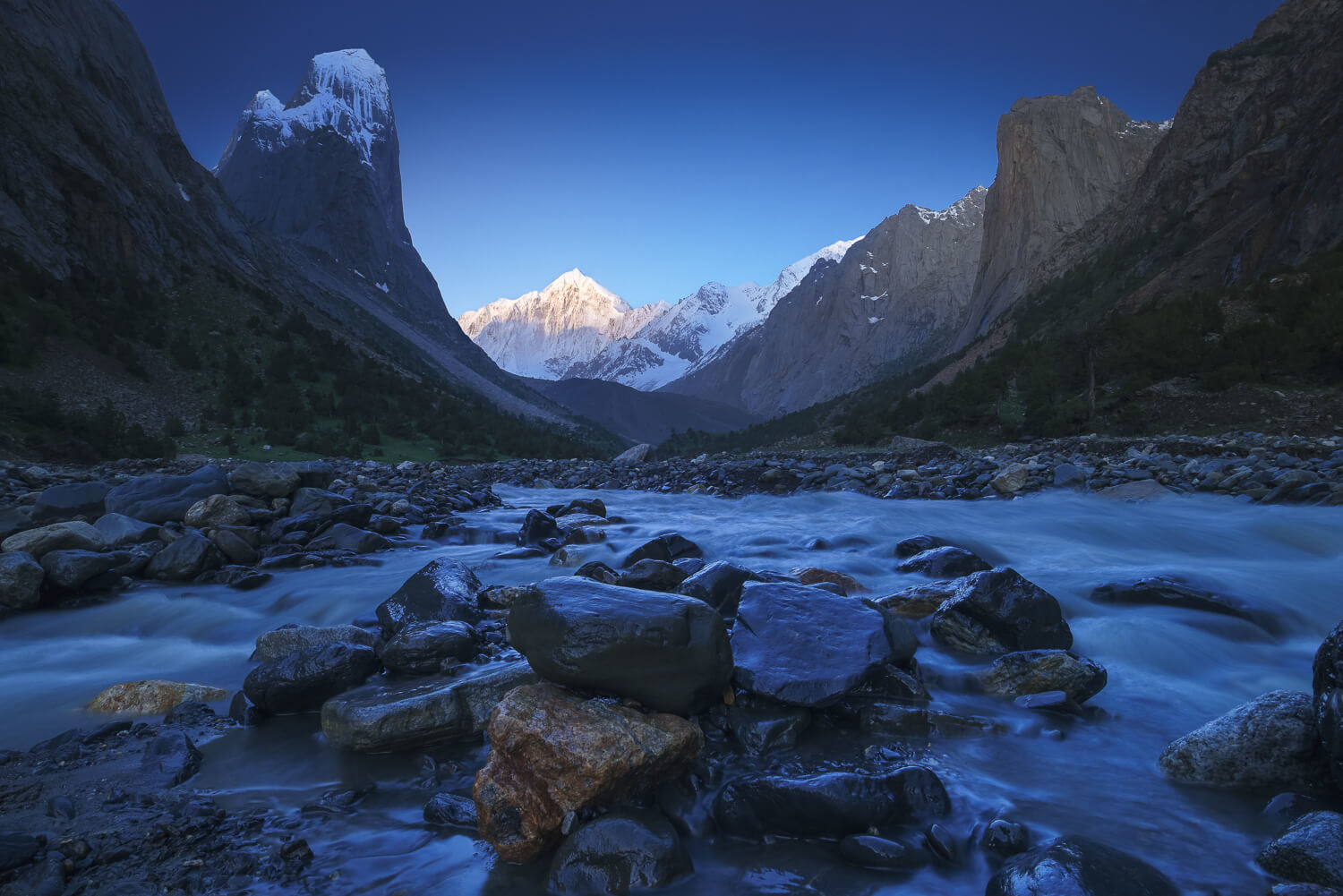 There are over 158 mountain ranges in Kyrgyzstan. Of those 158, most are a part of the Tian Shan; only 4 are outside of it. It goes without saying that Tian Shan receive the overwhelming majority of visitors.
Yet the Pamir-Alai Range in Southwestern Kyrgyzstan offer some of the best scenery in the country. Far removed from mass tourism, these mountains are pristine and spectacular to behold. For trekkers who are willing to go the extra mile and travel a bit further, the Pamir-Alai could be a wonderland for them.
The 4-day Height of the Alay trek over Jiptick Pass is a highly-regarded hike in the Pamir-Alai. But personally, I cannot rave more about the Turkestan Mountains, which is often referred to as the "Patagonia of Central Asia." Here you will find towering granite spires, perilous mountain passes, and not a soul in sight. It is one of the most beautiful places in Kyrgyzstan and also one of the most peaceful.
How to Get to the Pamir-Alai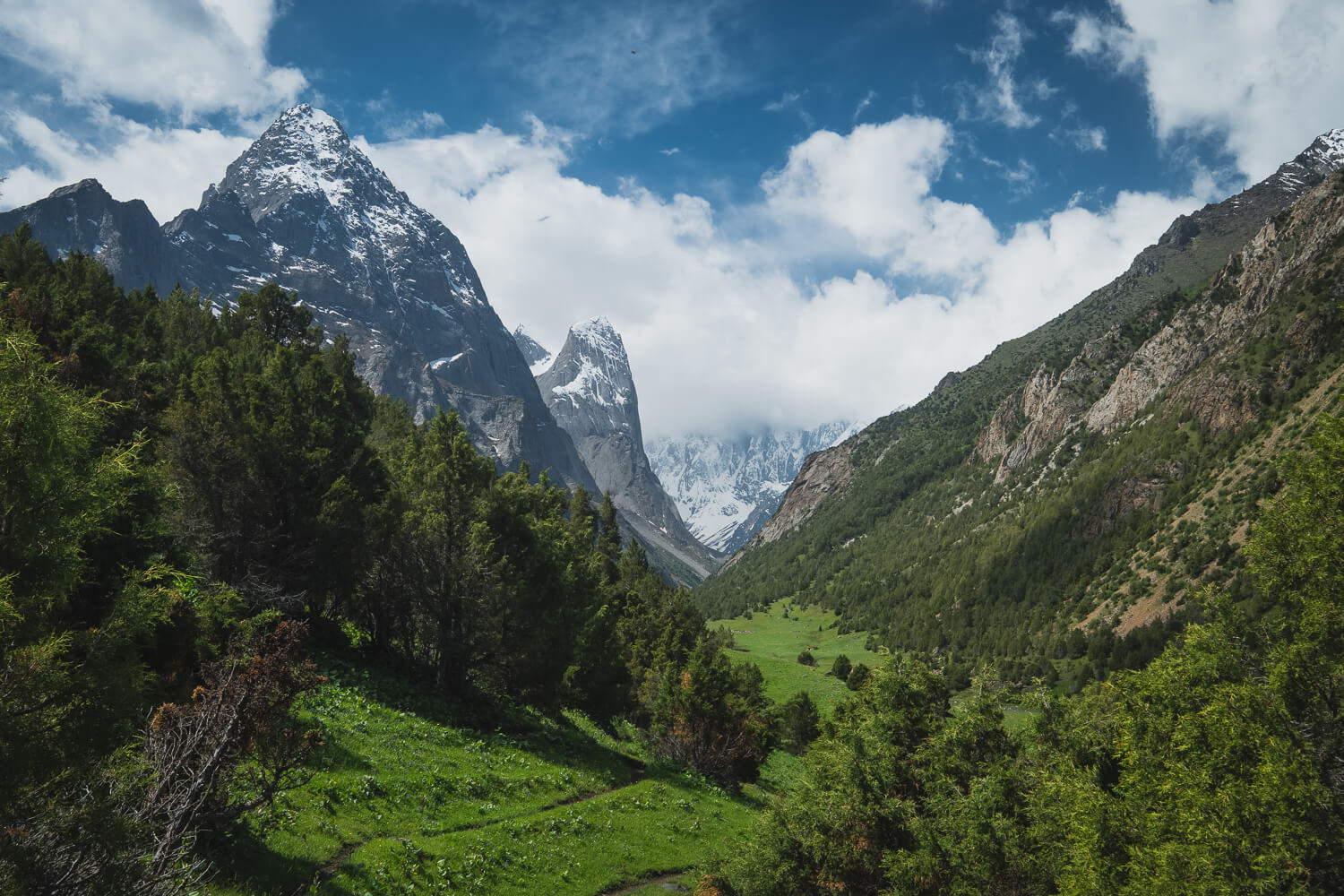 Osh will be your primary gateway into the Pamir-Alay Range. Get there, via land or air, and the mountains will be yours for the taking. Refer to the Osh section (#5) for more details on traveling there.
Where to Stay Around the Pamir-Alai
Outside of Osh, there isn't a whole lot of tourist infrastructure. There might be an occasional guest house or two in larger towns, like Batken, but planning on staying in one of these is going to be a dice-roll.
If you want to do the Kyrgz Patagonia trek, then you'll most likely spend a night in or near the tiny town of Ozgorush. There is a KCBTA guesthouse in Ozgorush that is run by a super nice family and I wholeheartedly recommend staying there. Contact the CBT Osh office to get you in contact with the family.
If you book a trekking tour of Kyrgyz Patagonia with KCBTA, be sure to use the discount code TheBrokeBackpackerKGZ312 to get 10% off! This code works on all KCBTA tours.
16. Ala Archa
Playground for Bishkek's weekend warriors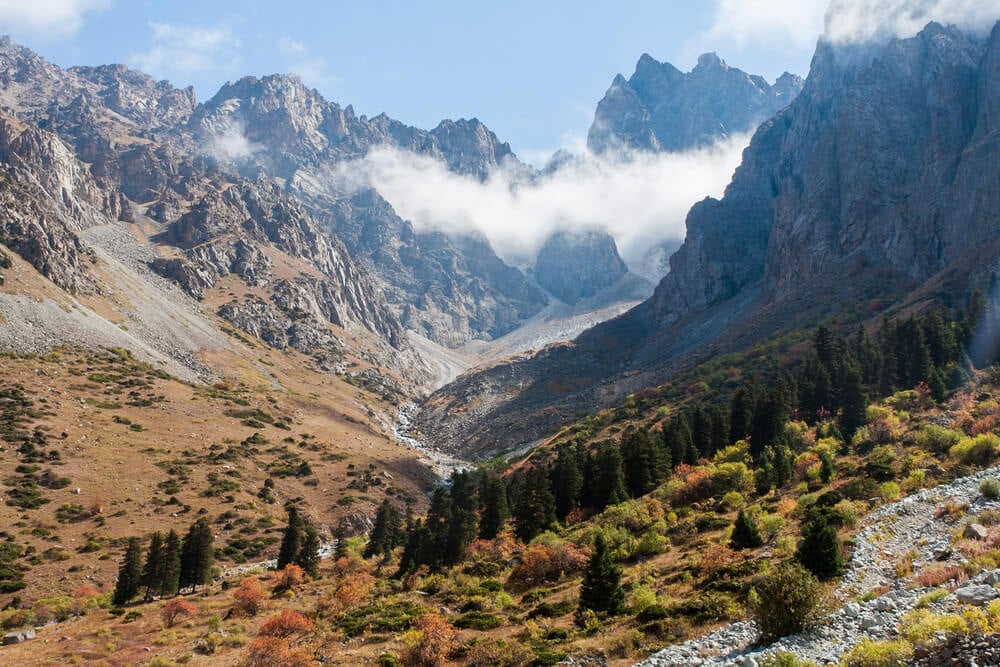 One of the best things about Kyrgyzstan is that nature – I mean really amazing nature – is never too far away. Case and point: Ala Archa National Park.
Ala Archa National Park is literally in Bishkek's backyard. The park, which hosts several 4500+ meter peaks, can be seen from just about anywhere in the city. Getting to the park isn't difficult at all either: the entry gate is only an hour away from the city! How many cities can offer that kind of alpine accessibility?!
Just because Ala Archa is close to the city doesn't mean it's a slouch of a national park either. As mentioned before, there are multiple 4500+ meter peaks in addition to several glaciers that you can visit. One of the most popular hikes in the area is the walk up to the Ak-Sai Glacier – it's strenuous but can be done in a long day.
Many people that grew up in Bishkek believe that they grew up in Ala Archa as well. Why not join some locals and get a taste for what it's truly like to live and grow up in this amazing country? Go for a walk in the mountains and don't forget the post-hike beer back in Bishkek either!
How to Get to Ala Archa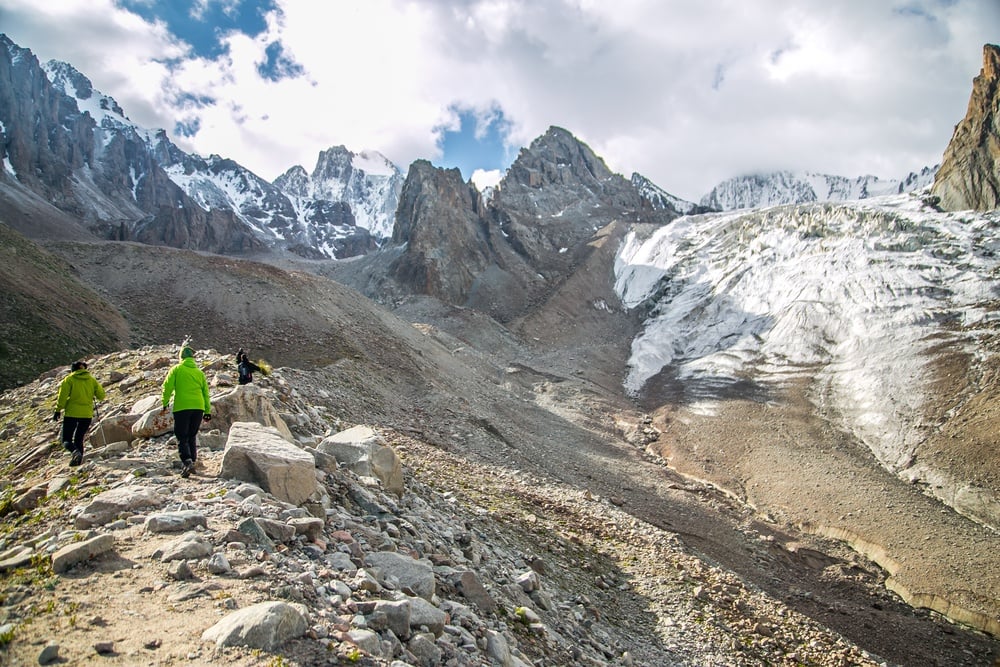 There is a regular marshrutka (265) that leaves from the Osh Bazar in Bishkek and ends at Kashka-Suu near the beginning of Ala Archa. From there, you will have to hitchhike to get the main entrance of the park.
The easiest way to get to Ala Archa is by having a private form of transport, either in the form of a rental, a tour guide, or a private taxi. A round trip with a taxi driver will cost around $30-$35.
Where to Stay Around Ala Archa
There are a couple of mountain hotels located at the entrance to Ala Archa. If you need some more rugged digs, stay at a campground instead or go backpacking into the wilderness.
For those who are just on a day trip, find somewhere cozy to sleep back in Bishkek.

Our GREATEST Travel Secrets…
Pop your email here & get the original Broke Backpacker Bible for FREE.
17. Chong-Kemin
A pastoral national park that is great for white-water rafting, cultural festivals, and horse riding
If Kyrgyzstan is the Colorado of Central Asia – Coloradostan, if you will – then Chong-Kemin would be Crested Butte. Peaceful, slow and with lots of outdoor activities, Chong-Kemin is one of the best places in Kyrgyzstan to just relax. This place has everything that a mountain retreat ought to: wood cabins, white-water rafting, meadows, and, of course, lots of great views.
Chong-Kemin is most well-known for its diverse flora and fauna. Whilst you can find the usual Kyrgyz suspects here, like horses and huge swathes of fir trees, there are a number of endangered species also found in Chong-Kemin. Snow leopard, golden eagles, and bear have all been spotted in the valley. To protect these fragile ecosystems, Chong-Kemin was made a national park in 1997.
You don't have to be an animal lover to admire the Chong-Kemin valley. Spending a night or two watching the stars, sitting by the fire, going for a hike or two, will be more than enough to appreciate this place. Time moves more slowly than usual in Chong-Kemin and for those who need a real break, this is a great spot to unwind.
How to Get to Chong-Kemin
Chong-Kemin is located quite close to Bishkek and is only about 2 hours drive from the city. Having a car or going with a tour operator will be the easiest way to get to the valley.
Luckily, there are also regular buses to and from Chong-Kemin via Kaindy. From the Eastern Bus Station in Bishkek, there are two buses leaving per day to Kaindy that take around 2.5 hours each.
Where to Stay Around Chong-Kemin
When visiting Chong-Kemin, you absolutely have to stay at Chong-Kemin Guesthouse. The guesthouse is a gorgeous facility – everything is made from local timber and is decorated with handcrafted felt. It honestly looks like a Rocky Mountain lodge set in the middle of Central Asia. The owners are extremely hospitable as well and they serve some mean food to go along with it.
18. Sary Chelek
An off-the-beaten-path lake that most locals will say is the best place to visit in Kyrgyzstan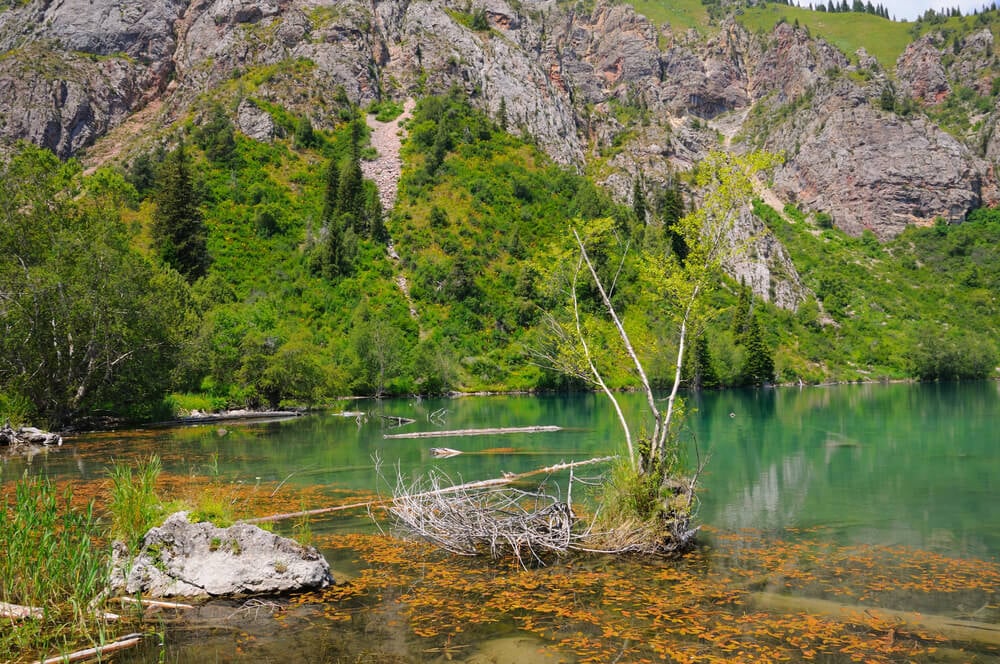 I talked to a lot of native people about their favorite place to visit in Kyrgyzstan and got lots of responses: Arslanbob, Enylchek, Altyn Arashan, being a few examples. The one place that seemed to be a unanimous answer though was Sary Chelek.
Seriously, almost every single person that I have spoken to in Kyrgyzstan gushes about this place, almost more so than Altyn Arashan. They described it as perfect, wonderful, and without a doubt one of the most beautiful places in Kyrgyzstan.
Sary Chelek is a lake located in a very remote part of northwestern Kyrgyzstan. Getting to Sary Chelek is a bit of journey – 10 hours from Bishkek by car – though no one really complains about the ride. The trip is pretty scenic, as you cross the western extremity of the Tian Shan, and the final destination is, of course, worth every minute.
Sary Chelek is a gorgeous azure color. The lake is itself is framed by the rugged Chatkal Mountains in addition to large swathes of fruit-bearing trees. If you happen to be at the lake by yourself (chances are high) it will certainly feel like you've died and gone to Kyrgyz heaven.
How to Get to Sary Chelek
It will take about 10 hours driving from Bishkek to arrive at Sary Chelek. About half the road is unpaved so you will need to be a confident driver.
Supposedly, you can make it Sary Chelek by bus, but I've never entertained this thought because it would be a very, very long ride. Contact the local Kara-Suu KCBTA for information on using the bus.
Where to Stay Around Sary Chelek
There are a couple of hotels and guesthouses at Sary Chelek and a couple more further back on the road. Most don't have an online booking portal, so you'll need to call ahead to make reservations.
If you don't get a room, camping will be your only means of staying the night near the lake.
19. Naryn Province
A frontier region that offers old ruins, a mysterious lake, and arctic-like conditions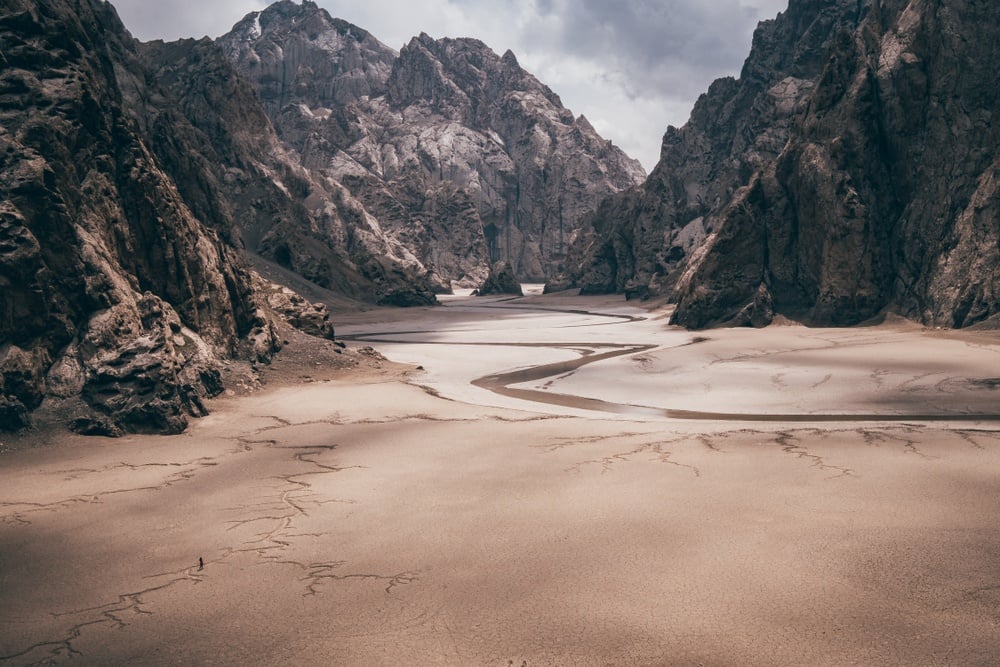 Naryn is located in the far south of Kyrgyzstan on the border of China. It's a fairly large province that offers quite a bit. Here is a brief overview of some things to do:
Tash Rabat: An old ruined outpost set deep in the mountains. Out of the way but still one of the most impressive archeological sites in Kyrgyzstan.
Ak-Sai Valley: The "South Pole of Central Asia." The reason for this title is that the area a) looks very similar to Arctic regions like Iceland and b) get's really fucking cold. The coldest temperature ever recorded in Kyrgyzstan was recorded here and it was a crazy -56 degrees Celsius. That's almost as low as the average surface temperature of Mars.
Kakshaal-Too: One of the most unexplored mountain ranges of Kyrgyzstan. Rugged, sheer, and very wild.
Kel-Suu: An alpine lake that disappears during times of drought. Easily accessed via a moderate hike from the Ak-Sai Valley.
How to Get to the Naryn Region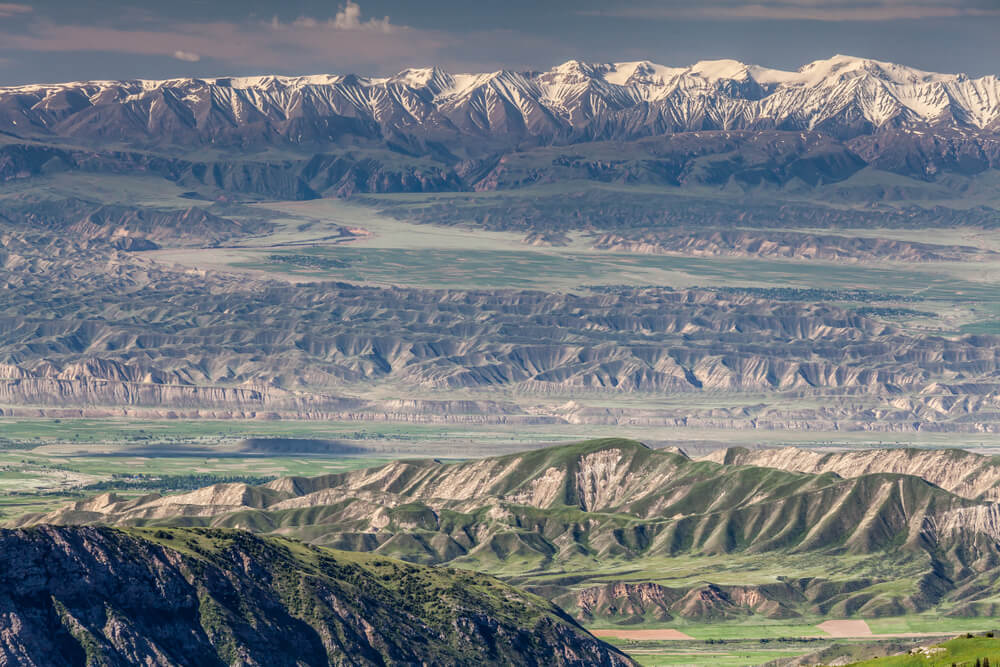 The town of Naryn is easily reached from Bishkek after about 3 hours of driving. Local marshrutkas leave for Naryn from the Western Bus Station in Bishkek though not many are available. Most fill up early in the morning, after which only private taxis are available.
Once you get to Naryn, get out. Take your jeep or meet your driver and explore the surrounding area. Naryn itself is pretty uninspiring and doesn't offer a lot of activities.
Where to Stay Around Naryn
Despite it's shabby reputation, there are actually quite a few places to stay in Naryn. There's a hotel (Khan Tengri Hotel), a good guesthouse (Guest House Jamal), even a hostel (Kubat-tour Hostel) if you wanted to meet some fellow backpackers!
Still, camping out in the Ak-Sai Valley is far preferable to staying in Naryn. Get your supplies and get out into the jailoos.
20. Konorcheck Canyons
A Utah-esque landscape in the middle of Central Asia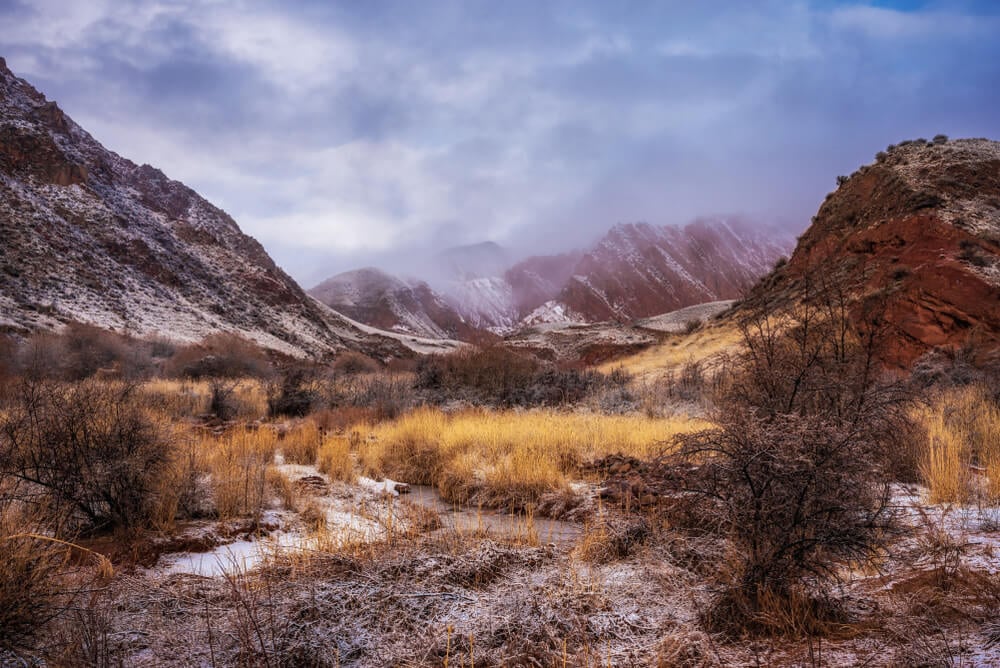 Fairytale Canyon gets a lot of attention from travelers – most visit here after hearing about Kyrgyzstan's rainbow-like desert landscapes. Whilst the Fairytale Canyon is pretty damn cool, it's not the most epic place in Kyrgyzstan to see this kind of scenery. This is another great reason to visit Kyrgyzstan.
The Konorcheck Canyons are a whole different level. Larger, wilder, and more intense in every way, these canyons are for the real desert raiders. Of course, those vivid colors that Kyrgyzstan is so well known for are still present.
To really appreciate Konorcheck, you will need to go on a moderate hike. The standard trail is about 6 miles long and offers plenty of scenery. Bold backpackers can choose to extend their trip via a number of side trails and can even camp out around the canyons. With the stars above and the red rock below, it can be a very trippy feeling camping out in these deserts.
How to Get to Konorcheck Canyons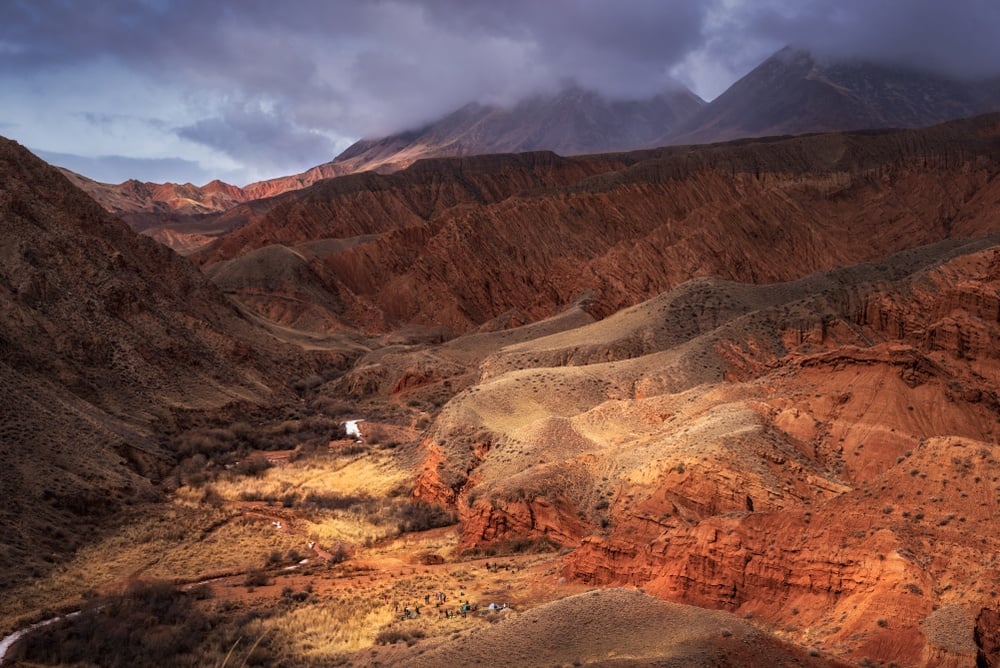 Konorcheck Canyons is located right off the side of the main A-635 highway, which makes it quite accessible. From Bishkek, it's a 2-hour drive. From western shores of Issyk Kul, it's between 60-90 minutes.
Where to Stay Around Konorcheck Canyons
Unless you're camping, you'll have to stay in a guesthouse nearby. Chong-Kemin is very close and makes for a great base for day-trippers. Otherwise, Bishkek and Issyk Kul are also within an hour or two's drive.
Save $$$ • Save the Planet • Save Your Stomach!
Drink water from ANYWHERE. The Grayl Geopress is the worlds leading filtered water bottle protecting you from all manner of waterborne nasties.
Single-use plastic bottles are a MASSIVE threat to marine life. Be a part of the solution and travel with a filter water bottle. Save money and the environment!
We've tested the Geopress rigorously from the icy heights of Pakistan to the tropical jungles of Bali, and can confirm: it's the best water bottle you'll ever buy!
View on REI
Read the Review
21. Jyrgalan
The new "hot" place to visit in Kyrgyzstan at the moment
Jyrgalan is becoming the next popular place to visit in Kyrgyzstan. Chalk it up to recent exposure from travel bloggers or new government initiatives but Jyrgalan's face is plastered all over the internet at the moment.
Jyrgalan's newfound attention is not unwarranted. Set in the foothills of the Ala-too mountains to the southeast of Karakol, Jyrgylan is surrounded by pastoral beauty and evokes images of a Swiss town in the Alps. The mountains, the fir trees, the nomadic culture; everything that you'd expect from Kyrgyzstan is here.
But what sets Jyrgalan apart? Well, for one Jyrgylan is appropriate for all types of travelers, whether they're looking for an epic hike (see Boz-Uchuk Lakes) or just a couple of peaceful days in nature. Secondly, Jyrgalan is still relatively underdeveloped. But given all of the recent exposure it's been getting, this could change very soon.
How to Get to Jyrgalan
Jyrgalan is about 90 minutes away from Karakol by car. If you plan on driving yourself, be aware that Jyrgalan's current location on Google Maps is wrong – the real location is roughly 42.607749,79.010816.
There are regular marshrutkas traveling to Jyrgalan from Ak-Tilek Market in Karakol. The ride costs 80 soms and and takes less than 2 hours.
For more information on how to get to Jyrgalan, refer to their official webpage.
Where to Stay Around Jyrgalan
Here are a couple of places to stay in Jyrgylan:
Recommended hostel: Hostel Ulan
Recommended guesthouse: Alakol-Jyrgalan Guest House
Recommended yurt camp: Jyrgalan Yurt Lodge
22. Khan Tengri and Enylchek Glacier
One of the most beautiful mountains in the world that requires an expedition to see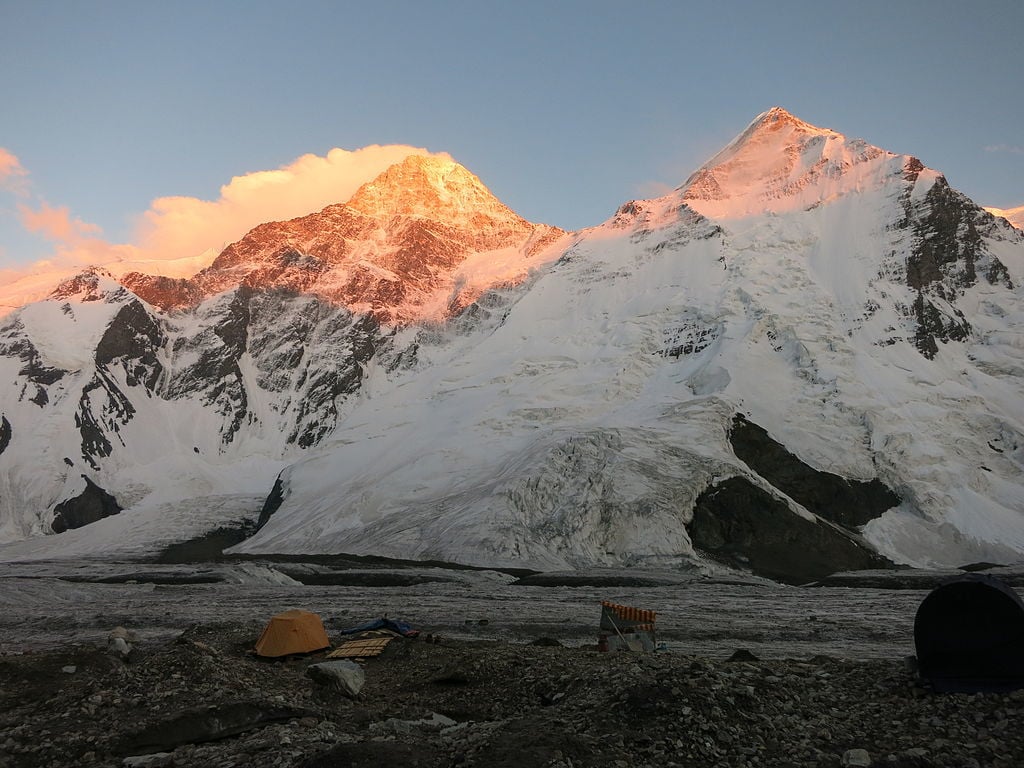 This is the hike to end all hikes in Kyrgyzstan: the mountain monarch, the celestial king, the god himself, Khan Tengri. Khan Tengri, which means "Lord of the Heavens" in Kazahk, is arguably the most beautiful mountain in all of Central Asia. It's shape – a near-perfect pyramid – gives it an air of regality, grace, and power. Few other peaks can compete with Tengri and it is, without a doubt, the absolute ruler of the Tian Shan.
As befitting a grandiose mountain such as itself, visiting Khan Tengri isn't necessarily an easy task. To do so, one must either undertake a multi-week expedition on the Enylchek Glacier or charter a very expensive helicopter ride to base camp. Whilst the latter is probably the most convenient way to see the peak, the former is more rewarding.
If you really want to have an adventure and see one of the most stunning places in Kyrgyzstan, then Khan Tengri is your ticket. Seeing the crown of the mountain light up like fire at sunset is an otherworldly sight and certainly a once in a lifetime opportunity.
How to Get to Khan Tengri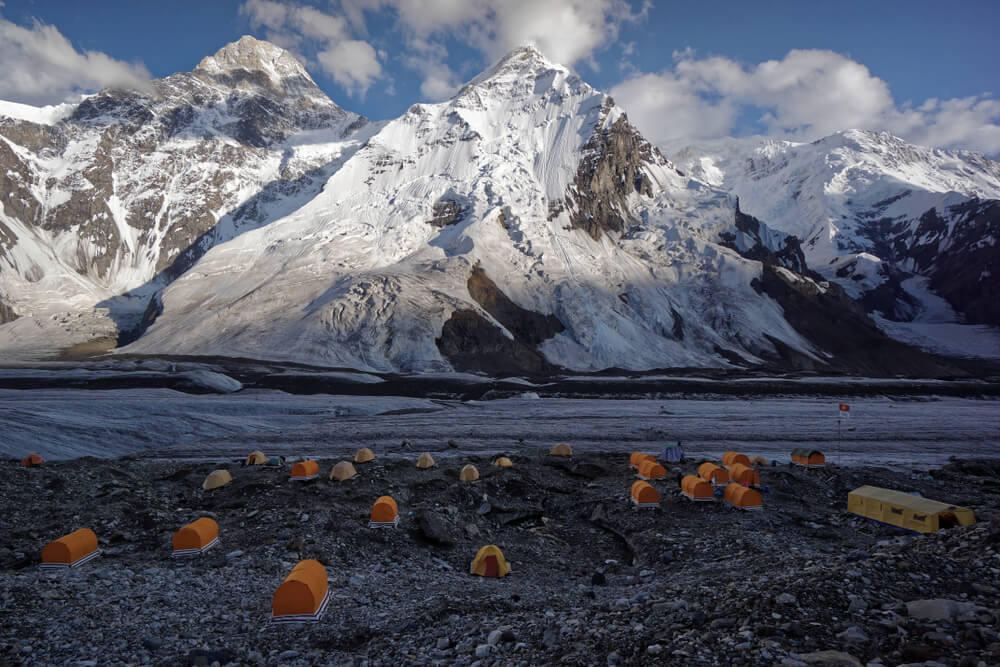 You have two options of visit Khan Tengri: by helicopter or by trekking. Here is an overview of both:
By helicopter: this is the easiest and most expensive way to see Khan Tengri. Ak-Sai Travel – the current owner of the only helicopter going to Tengri – currently charges $750 for a simple day trip to the base camp of the mountain.
By trekking: Most people arrive at Khan Tengri via a multi-week expedition and you will absolutely need to use a local adventure company to organize one. Food and shelter will be in short supply along the glacier, but with the right team you should be able to visit Tengri in relative comfort. Prices usually vary between $2250 and $2500 for a 15 to 16-day itinerary.
Where to Stay Around Khan Tengri
Camping – that's about the only way to sleep near Khan Tengri. That's unless you enjoy sleeping under a nice warm rock, of course.
FAQ on the Best Places to Visit in Kyrgyzstan
Find out what people want to know about the best places to visit in Kyrgyzstan
A Final Note on Traveling Safely in Kyrgyzstan
In general, Kyrgyzstan is a very safe place to visit. In the mountainous areas there is hardly any sort of crime, and since travelers will be spending 99% of their time in places like this, they will hardly notice anything.
That being said, Kyrgyzstan is not totally safe. There are still instances of violent crime and police corruption can be horrible, especially during times of government strife. Since the political situation in Kyrgyzstan can change on the drop of a dime as well, you can never really know when shit is going to hit the fan.
Remember though, these kind of things only happen in the cities or, in the case of the police, on some major highways. Like any other city in the world, the key to staying safe is keeping your wits about you and being street smart. Be cautious at night and don't be overly trusting of strangers. Exhibit all of the usual precautions you would when traveling and you should be fine.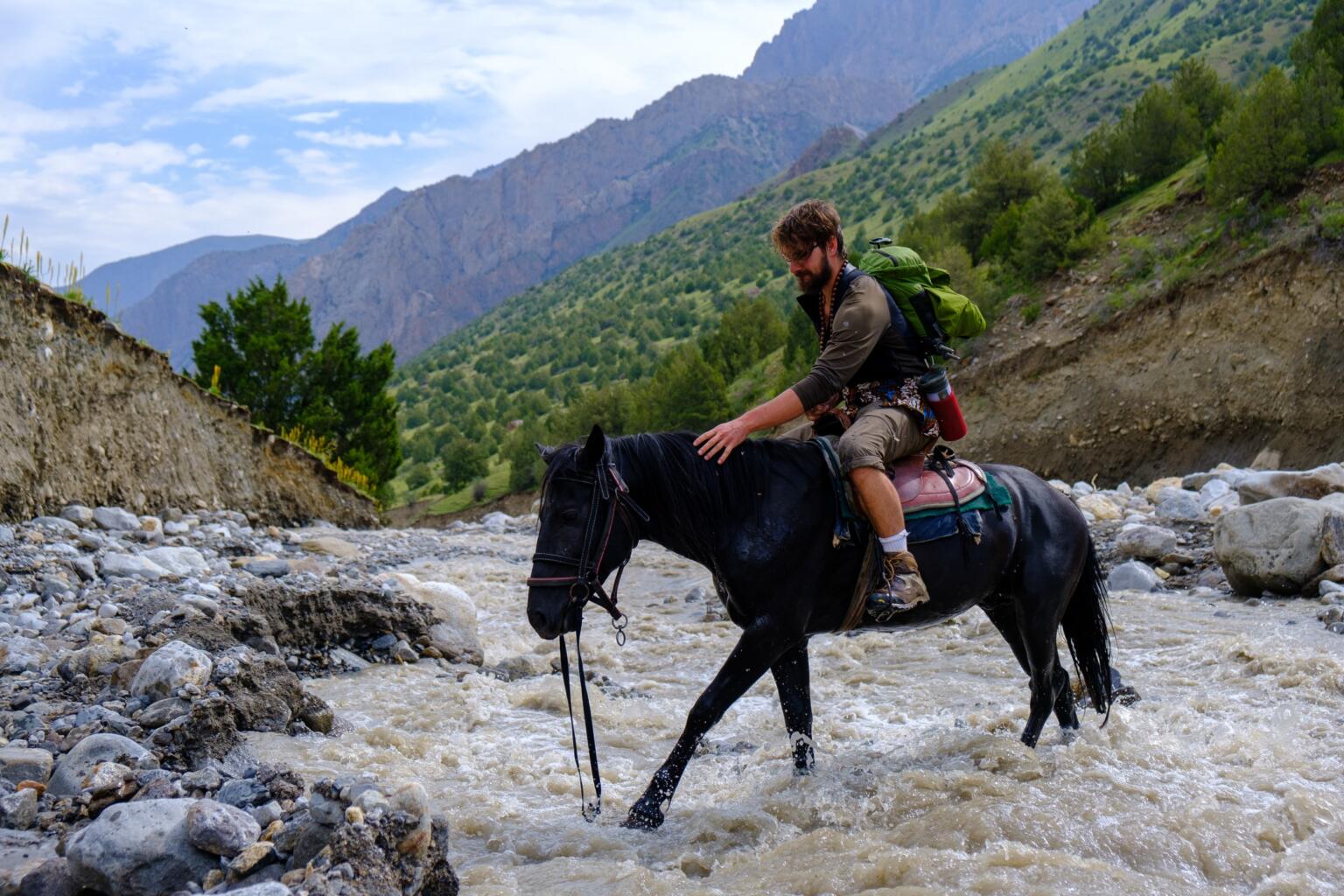 In regards to the crooked cops, they're more of an annoyance than an actual threat. If one starts to harass you and really wants a bribe, just insist that you've done nothing wrong and stand your ground. To be safe, carry a copy of your passport on you and don't give in to any strange demands. A lot of the times, it comes down to a battle of attrition between you and the officer – whoever walks away first loses.
Nature is the real killer in Kyrgyzstan. Flooded rivers, avalanches, rock fall, ill-tempered horses; all of these things can really ruin your trip. You're much more likely in Kyrgyzstan to get swept away in a river crossing then a stabbing. Brush up on the usual smart hiking habits and be respectful of the elements.
Grab Some Travel Insurance Before Heading Out
ALWAYS sort out your backpacker insurance before your trip. There's plenty to choose from in that department, but a good place to start is Safety Wing.
They offer month-to-month payments, no lock-in contracts, and require absolutely no itineraries: that's the exact kind of insurance long-term travellers and digital nomads need.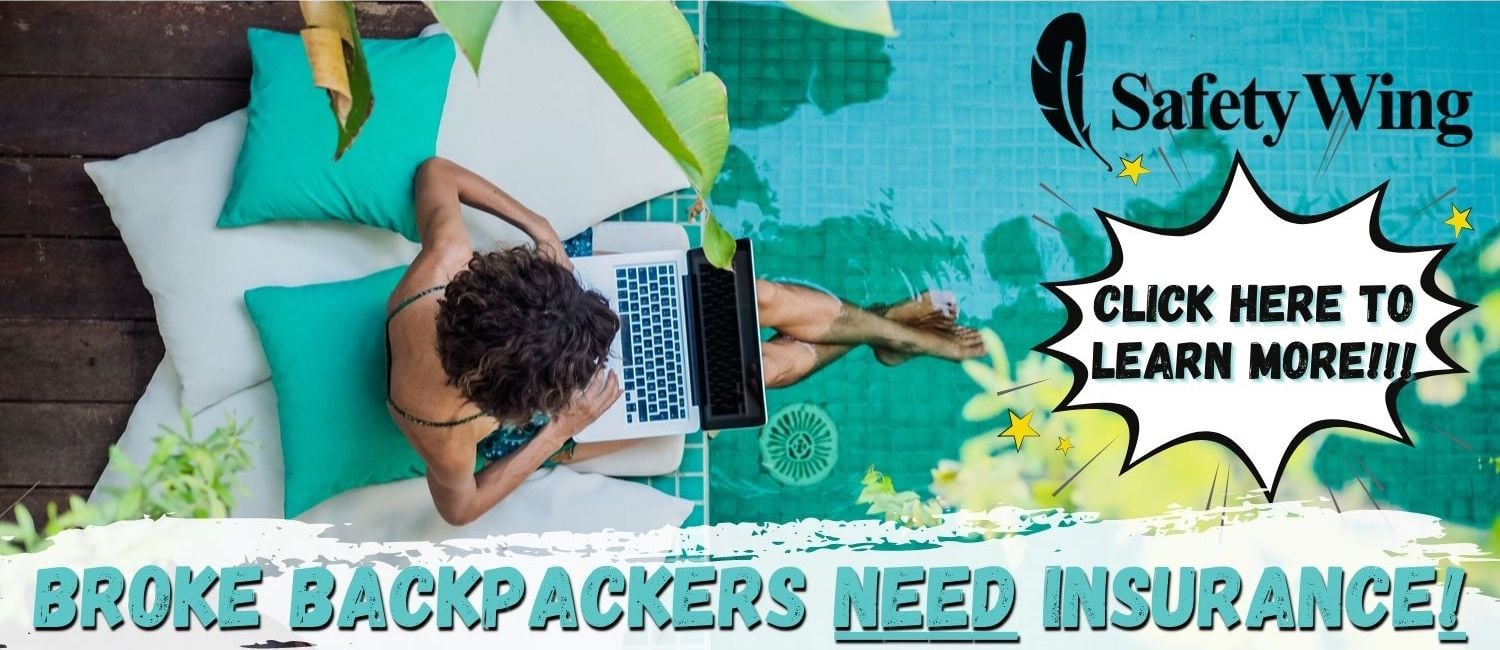 SafetyWing is cheap, easy, and admin-free: just sign up lickety-split so you can get back to it!
Click the button below to learn more about SafetyWing's setup or read our insider review for the full tasty scoop.
Even if you are only going on a short trip to Kyrgyzstan, you should always travel with insurance. Have fun on your backpacking adventure, but please do get insurance – take it from someone who has racked up tens of thousands of bucks on an insurance claim before, you need it.
---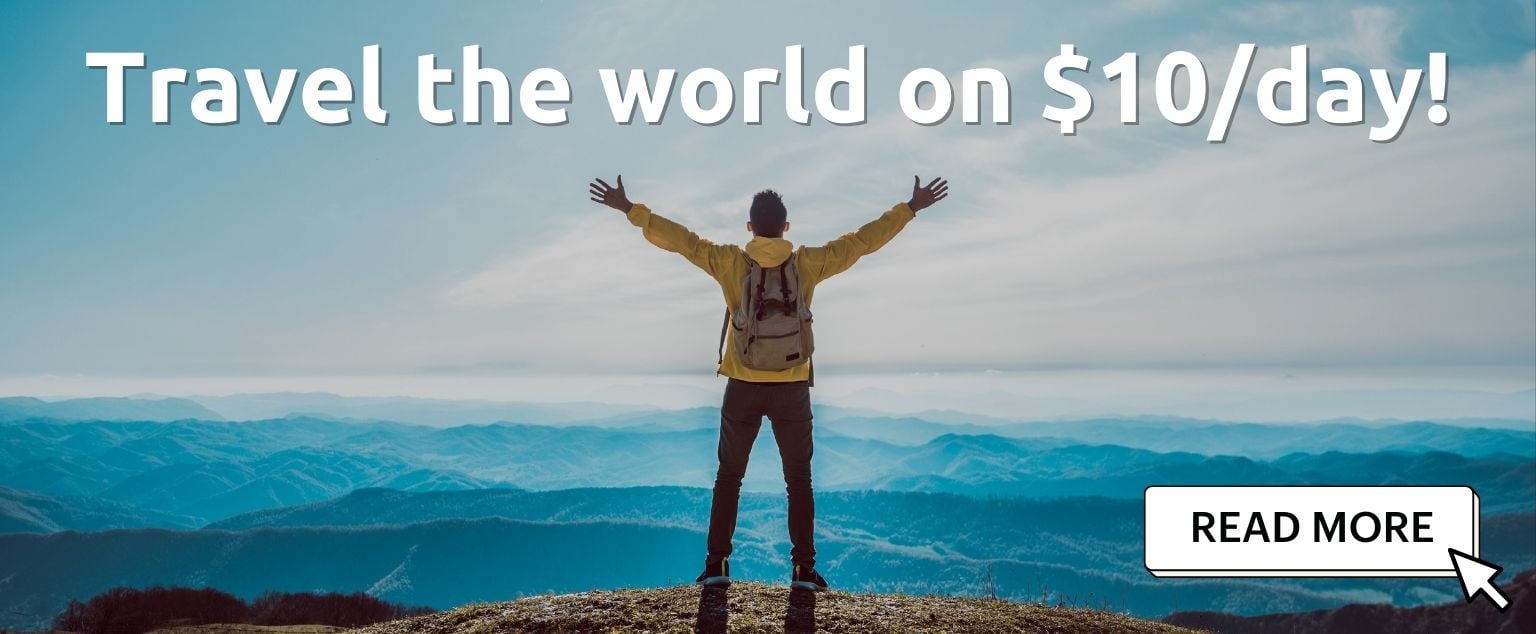 And for transparency's sake, please know that some of the links in our content are affiliate links. That means that if you book your accommodation, buy your gear, or sort your insurance through our link, we earn a small commission (at no extra cost to you). That said, we only link to the gear we trust and never recommend services we don't believe are up to scratch. Again, thank you!