It's no secret that I absolutely love Pakistan… I've been traveling in this amazing country since 2015 and it never fails to amaze me just how stunning it can be. The mountains, and the people, are just out of this world… For adventurers, Pakistan is simply the greatest country in the world.
Still not convinced? Read on amigo for 18 AMAZING things I've learnt about Pakistan on my trips so far…
1. Pakistan has the greatest density of 8000-meter peaks in the world
Pakistan's greatest mountain chain is the Karakoram and is located in the far northern province of Gilgit-Baltistan. It is one of the most epic ranges in the world and makes Pakistan a trekker's paradise, truly.
Because of their size, the Karakoram are often compared to the nearby Himalaya. I think that the Karakoram are in a league of their own though and after spending over 8 months in total exploring the Indian, Nepalese and Bhutanese Himalayas, I can honestly say that the Pakistani Karakoram mountains are the most stunning mountain ranges that I have ever seen…
Northern Pakistan actually contains the densest collection of 8000 meter peaks in the world. In the Central Karakoram National Park, which is roughly the size of Jamaica, you can see four 8000ers – K2, Broad Peak, Gasherbrum I, and Gasherbrum II – and endless 7000ers. K2 is also the world's second-highest mountain at 8,620 meters.
2. The Karakoram are not a part of the Himalaya
Contrary to popular belief, the Karakoram are not actually a part of the Himalaya. In reality, the Karakoram and the Himalaya couldn't be more different…
The Karakoram were formed after the Himalaya and in a much more dramatic fashion. The intensity of their formation is probably one reason why they look the way they do. Unlike the bulky, gargantuan Himalayan peaks, the Karakoram are crooked, cracked, jagged, and extremely sheer.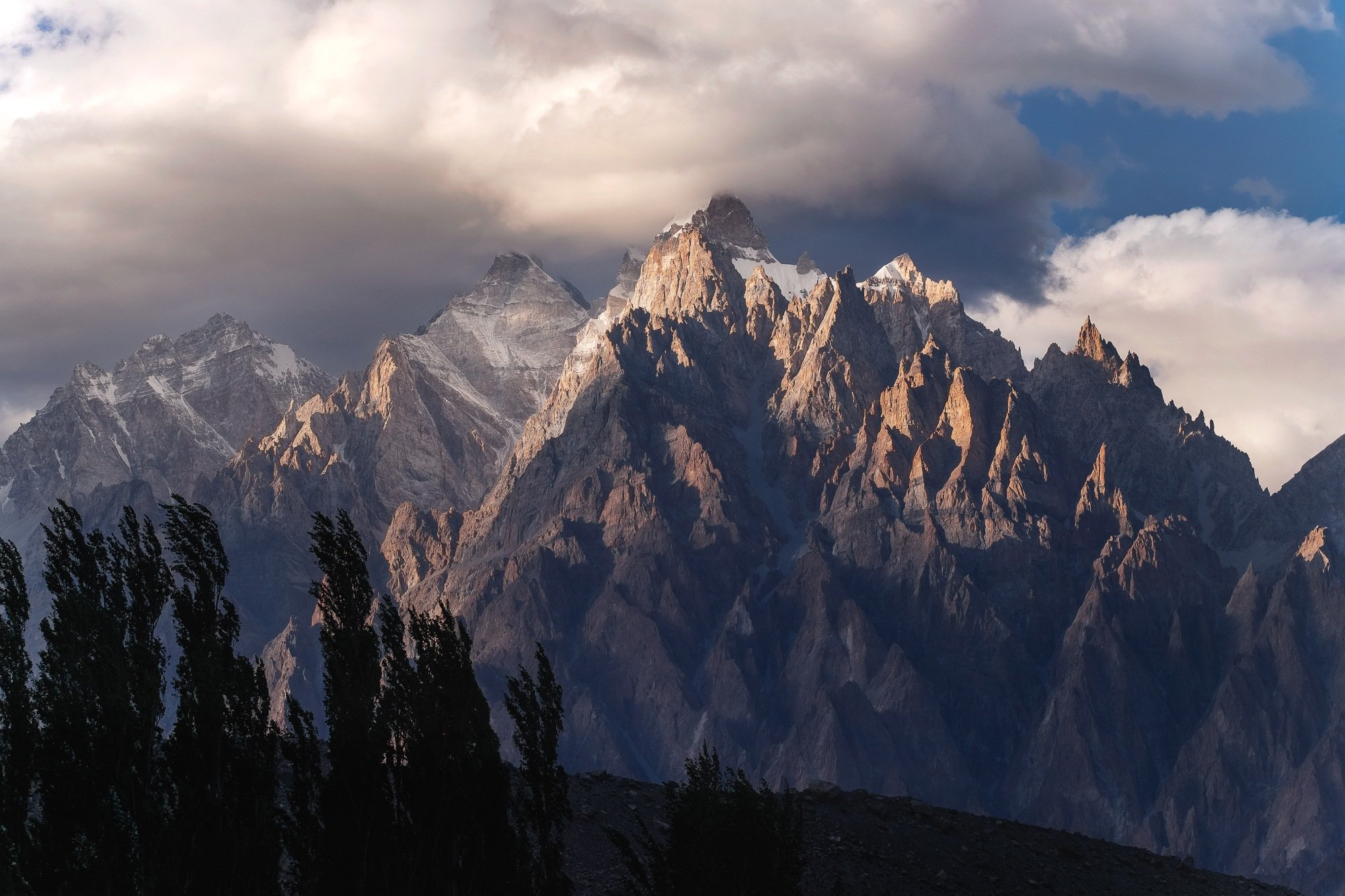 The Karakoram also fall in the rain shadow of the Himalaya. This means that they receive far less rain and actually have 4 seasons. Whilst the Himalaya are getting monsoonal downpours in the summer, the Karakoram are clear and bright.
3. The glaciers are among the largest outside the polar regions
Of the seven longest glaciers in the world, four are located in the Karakoram Range of Pakistan. These are the Siachen, Biafo, Baltaro, and Batura Glaciers. Having seen several glaciers in the region, I can attest that there is indeed a huge amount of ice in these parts – the Batura Glacier is my favourite and it is absolutely massive!
Most people see the glaciers from afar, either from a distant trail or from high-up on a road. They look big from these vantage points, of course, but it doesn't really hit you how massive they are until you walk on them. Check out me and my buddies below crossing the mighty Passu Glacier on a four day trek.
Close-up, the glaciers of Pakistan are like worlds unto themselves. They have their own valleys, peaks, rivers, and fields, all made from ice. It's a surreal experience walking through the frozen landscape of the glaciers but it really adds an extra dimension to your trip in Pakistan.
4. The Indus Valley was one of the original cradles of civilization
In ancient times, there were only a few regions that thrived. There were gloriously fertile lands where humankind flourished thanks to a surplus of water and resources. The Nile River Delta and Mesopotamia are usually the areas that get the most attention but in reality, there were lots of other civilizations hustling hard for their space in the world!
Did you know that the Indus River was also one of the great centers of human civilization? For thousands of years, the Indus River was providing to a myriad of people a means to live in an otherwise arid land. The ruins of Mohenjo-daro are a testament to this. Traveling along the Indus river today, there's quite a lot of ancient towns and village ruins which you can see that sprung up around the mighty giver of life (The Indus, pay attention dude).
The Indus River is still important today. It's waters are diverted to irrigate millions of acres of farmland. In fact, Pakistan has the world's largest continuous irrigation system thanks in part to the Indus. The picture above is taken from the ancient town of Karimabad and shows the Karakoram Highway following the old silk road's route all the way to China.
Join us in Pakistan on an Epic Backpacker Tour!
We currently run itineraries in Hunza and Skardu – both are truly epic. With our incredible contacts and experience in Pakistan, let us handle the ultimate adventure experience for you… Trek with us to a high alpine meadow, visited by less than 100 people a year, and soak in the most incredible mountain views anywhere in Asia. Need more convincing? Check out this detailed review of an EBT trip to Pakistan!
5. The Karakoram Highway is the highest paved road in the world
The Karakoram Highway is one of the greatest road trips that you can ever make – and it's best done on a motorbike! A marvel of engineering, the highway twists and turns through the mountains in epic fashion. Along the way, you'll encounter UNESCO heritage sites, hidden communities, and some amazing trails where you can enjoy an off the beaten path adventure!
There are several EPIC pros to the Karakoram Highway. Aside from being the highest paved road in the world itself, it also shares the world's highest border with China and hosts the world's highest ATM machine, both at Khunjarab. The ATM is almost always out of cash though 😛
In August 2019, I explore the Karakoram Highway exclusively by motorbike and I can safely say – it was one of the greatest trips I've ever done in my ten years of travel.
6. The Faisal Mosque in Islamabad was once the largest in the world
Following it completion in 1986, Islamabad's Faisal Mosque was the largest in the world. Built with a modern design, the mosque could accommodate almost 100,000 worshipers. To put that into perspective, that was about half the population of the city at the time.
Nowadays, there are larger mosques out there and Islamabad is a much more crowded city. The Faisal Mosque is still a treat to visit though. It's unique architecture is still one-of-a-kind and it is still one of the most interesting structures in the modern Muslim world.
7. Lahore used to be the capital of the Mughal Empire
The Mughals aka the guys who brought you the Taj Mahal and the Red Fort were originally based in Pakistan before they became the rulers of India as well. For a period of time, Lahore was the capital of the empire and during this time the city flourished.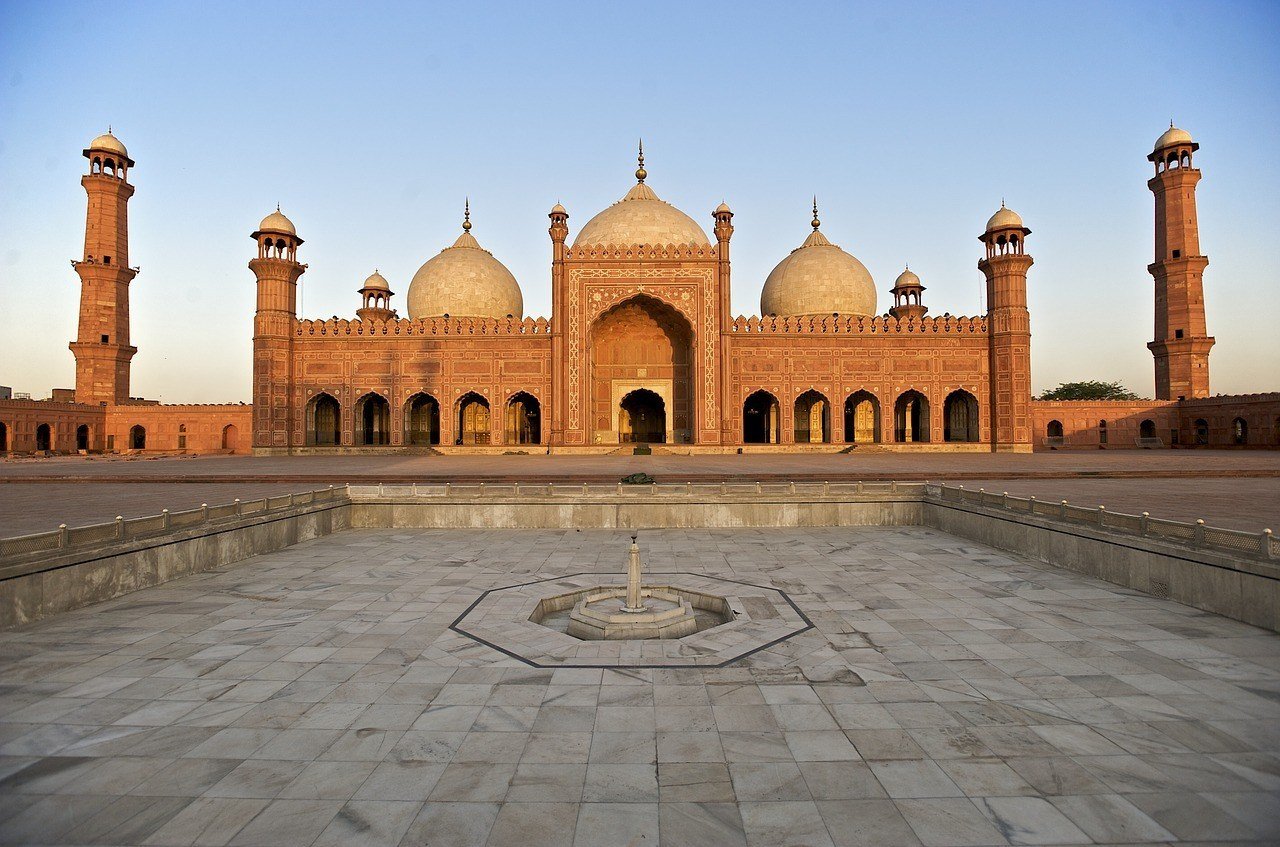 Many of Lahore's most famous structures come from the Mughals. The Badshahi Mosque, one of the most beautiful religious places in the world, and Lahore Fort were both products of the emperors. In these buildings, you can still see the greatness of the Mughals: the ingenuity, the power, and the beauty all together.
8. There are over 74 observed languages in Pakistan
Pakistan is a VERY diverse country. There are hundreds, maybe thousands, of culturally distinct communities living there today and each has its own set of customs. Language is extremely variable in Pakistan – most citizens can speak at 3 different types.
Urdu is the official language of Pakistan but, shockingly, only 7% of people consider it their mother tongue. The local dialects of Punjabi (44%), Pashto (15%), Sindhi (15%), and Sarakhi (10%) are actually more common than Urdu. When you take the other 69 languages into consideration, than you may realize how multi-ethnic Pakistan is.
Luckily, English is widely understood too as Pakistan's former colonial overseers, the British Raj, made English mandatory in school. The prevalence of English makes traveling in Pakistan a bit easier.
9. Malala Yousafzai is the youngest Nobel Peace Prize winner EVER
If you want to feel like a piece of shit and like you've never done anything with your life, you should read the bio of Malala Yousafzai.
Malala was raised in the Swat Valley during the recent Taliban occupation. When the Taliban came they outlawed many things like TV, games, and education for women. Malala decided to leave Swat and began speaking in public about the oppression against women she experienced. Along the way, she was harassed, lauded, and even shot in the head by a vigilante.
In 2014, Malala was awarded the Nobel Peace Prize at the age of 19, becoming the youngest recipient ever. Having survived all of her trials (including the gunshot) she has gone on to start the Malala Fund, which seeks to support young girls who are denied an education. She is a champion of not only Pakistan but the entire human race. She is, in short, a fucking awesome human being.
Ready to explore the BEST of Pakistan?
Each year, we are leading new and EXCITING tours in Pakistan. Join us on the next! Sign up below to receive trip updates and SPECIAL offers.
10. An arm of the Silk Road once came through Pakistan
The Silk Road was THE most important trade route in history. Running through most of Central Asia and across the Mediterranean, it served as the primary connection between the West and East. It was over 7000 miles long and who knows how many tributaries it had.
One arm of the Silk Road that we do know about is the one going through Northern Pakistan. This extension ran through the Karakoram, into the Hindu Kush, and then Afghanistan before rejoining the main route.
Nowadays, the Silk Road isn't used so much due in part to the completion of the KKH. You can still see the old route from the road when you drive through the Hunza Valley.
11. The Kalash People are believed to be descended from Alexander the Great's Army
The story goes…
Many years ago, Alexander the Great came to Pakistan during his mission to conquer the entire known world. He was returning from a bittersweet campaign in India where he had defeated a king but lost his own troop's devotion.
On the way back home, some of his generals revolted. They dropped arms and fled into the nearby mountains. When they arrived, they found paradise and settled in the valleys. Here, they would be removed from any sort of violence or war.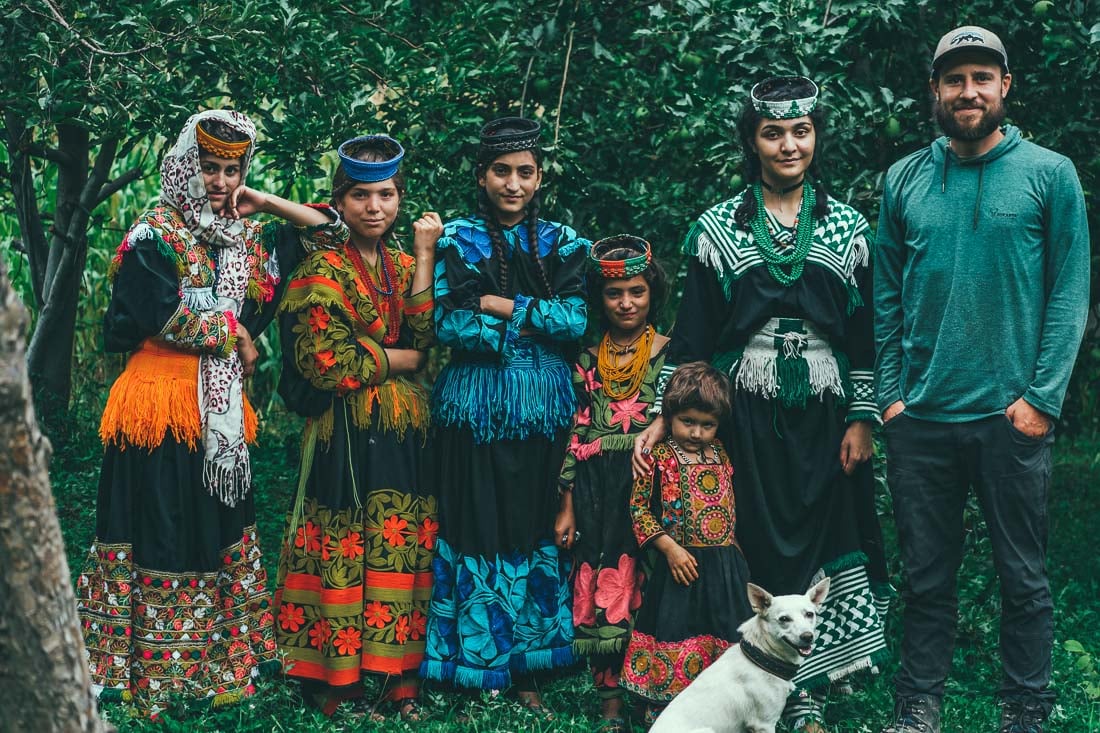 Such are the stories surrounding the Kalash People of Chitral. Believed to be descendants of Greek runaways, the Kalash are fair-skinned, bright-eyed, and have wildly different cultures. Their unique origins have made them somewhat infamous in Pakistan and the Kalash Valley itself is a STUNNING place to visit and to trek.
12. Pakistan was the first official Islamic Republic
An Islamic Republic is a blend of democratic and caliphate legal systems. Unlike some Muslim nations that are organized in a centralized way under a single leader, an Islamic Republic incorporates representative and sometimes secular aspects into the government.
When Pakistan became an independent nation in 1947, it was not immediately deemed "Islamic." It was only after reform in 1956 that Pakistan deemed itself an "Islamic Republic."
Pakistan possesses a lot of features that you'd normally see in a Western nation. It has a constitution, a parliament, a Supreme Court, several branches of government, and a prime minister (currently Imran Khan – the world famous cricket player).
Pakistan is not a totalitarian religious state, as some would believe. I'd say that Pakistan is even moderate compared to some Islamic nations and is not really radical outside of a few political parties.
13. Nanga Parbat aka the Killer Mountain is not the deadliest peak in Pakistan
In the early 20th century, Nanga Parbat quickly gained a reputation among European mountain climbers. At the time, it was one of the most intimidating mountains in the world. So many people died trying to summit it that it was eventually nicknamed "The Killer Mountain."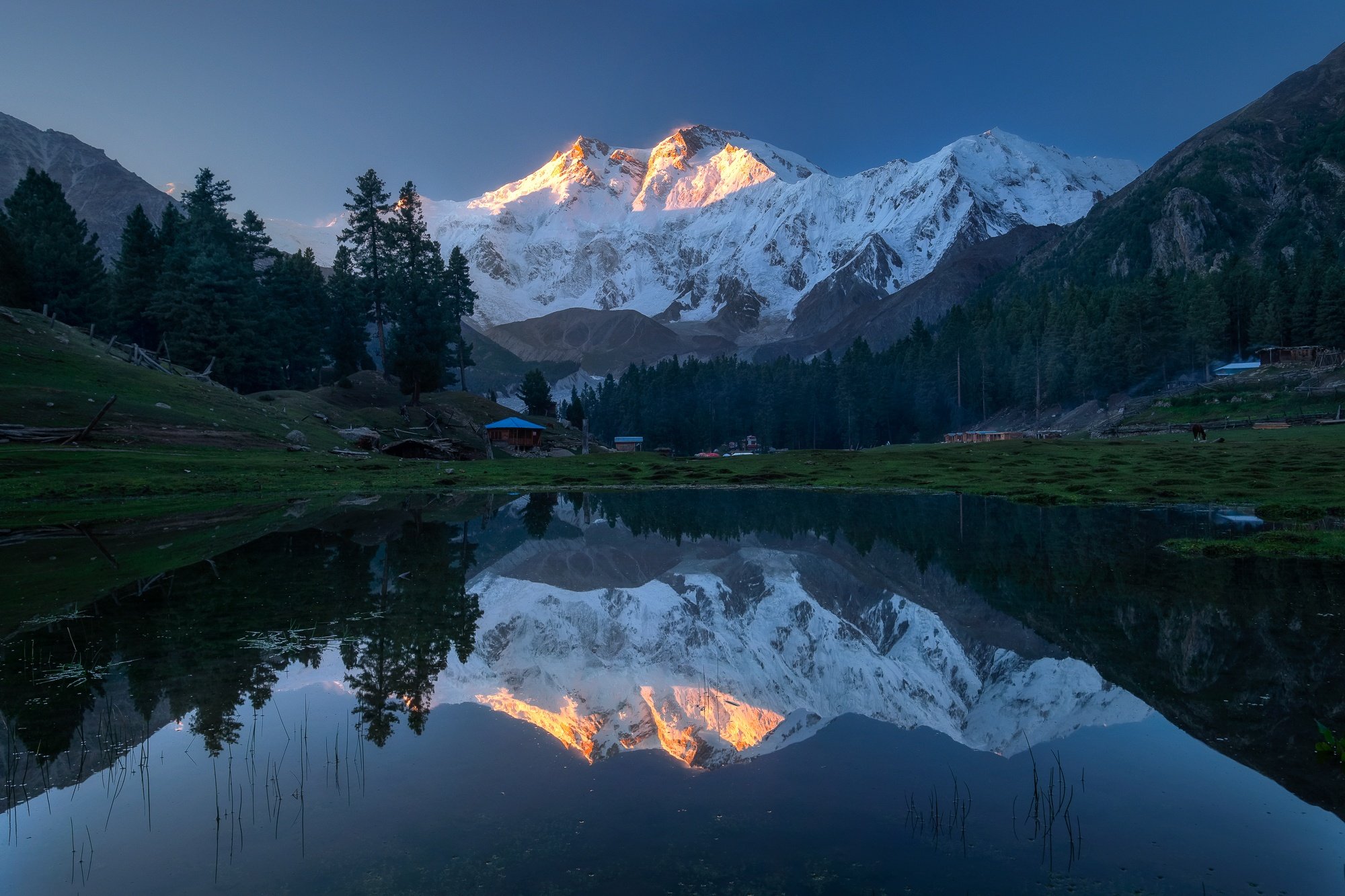 Today, Nanga Parbat is still a very, very difficult mountain to climb and modern climbers still perish here pretty often. But since more of the Karakoram have opened up, more dangerous peaks have been found so if you're seeking an even bigger challenge, well – Pakistan has got you covered!
Of course, K2 is ridiculously challenging and is generally considered the most difficult of all 8000-meter peaks. No peak conjures more terror though than Baintha Brakk. Referred to as "The Ogre," this mountain is the stuff of nightmares and only a handful of climbers have actually summitted it.
14. Kashmir is currently shared by Pakistan, India, and China
There is a lot of mystery surrounding Kashmir and what it exactly is. Many foreigners believe that is a part of India. Others think that is own independent nation. Some just think it's where cashmere sweaters come from.
Whilst there is some truth to all of the above statements, Kashmir is a tricky subject to nail down.
Kashmir typically refers to a mountainous region that straddles the current India-Pakistan border. Historically, it has vacillated between surrounding kingdoms and has been associated with Hindi, Buddhist, Tibetan, Mughal, and Persian rulers, among others.
The only things that are known for sure about Kashmir are that it is culturally its own and undeniably beautiful. People have described Kashmir as Heaven on Earth, which makes its current situation disheartening.
Since the partition, Kashmir has been claimed by Pakistan and India. It is currently torn between the nations and has been divided for a long time. Though tourism is still possible here, things could still be better if everyone just got along. The vast majority of Kashmiris are Muslim and want to either be part of Pakistan or to run their own state. Indian occupation of Kashmir is, in my opinion, a crime.
15. Benazir Bhutto was also the first female leader to be elected in a Muslim nation
Benazir Bhutto has a complicated legacy. She was politically controversial, popular at home and abroad, and radical in her vision at times. Following accusations of corruption and pressure from an increasingly despotic, Musharaf-lead group, Bhutto was eventually ousted. In 2007, she was assassinated by a lone suicide bomber in Rawalpindi.
Bhutto faced Herculean trials – some were conquered while others may have lead to her demise. Although her image was constantly under fire during her career, she ultimately is seen as a hero today.
It is undeniable that Bhutto was an enormously influential person. Not only was she a powerful woman in an otherwise male-dominated society, she was also a pioneer of democracy. She started discussions on civil liberties, represented Islam in a positive way, and helped Pakistan connect with the outside world. She should be seen as an inspiration to other nations, especially those that struggle to imagine a woman in charge.
16. More than half the world's soccer balls are made in Pakistan
Having been to Pakistan more than a few times, I was surprised to hear that a little town in Pakistan produced half the world's soccer balls.
I had no idea that Pakistan played such an influential role in my childhood! Without those soccer balls, how would've gotten my kicks in as a kid?! (I love puns.)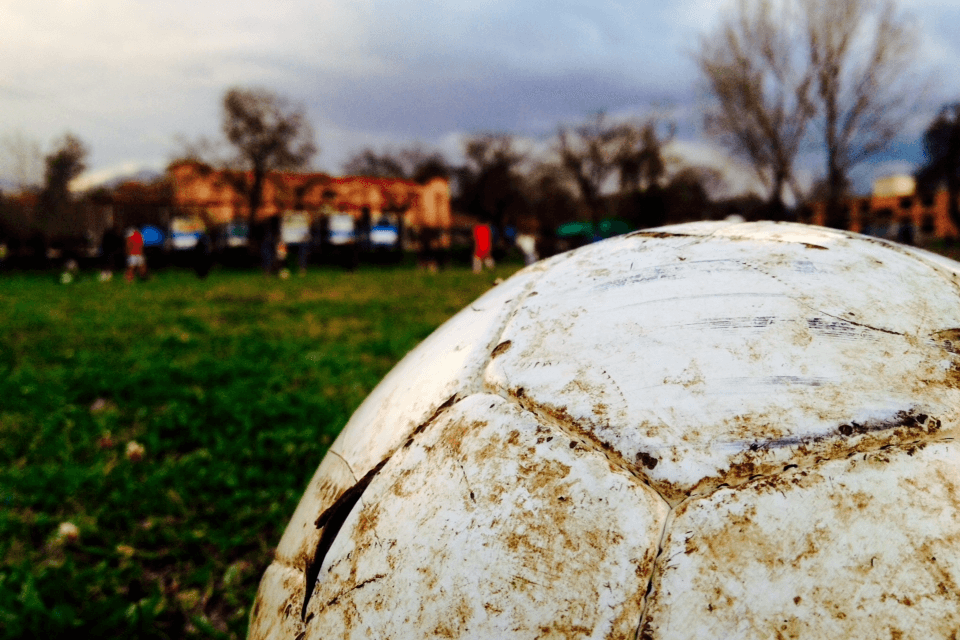 Soccer players can go ahead and send thank you letters to the town of Sialkot, located north of Lahore. This town, which is responsible for producing more than just sports equipment, is a monster manufacturer and crucial to Pakistan's economy. They're responsible for half the world's footballs and they're not even doing it at an efficient level.
I don't expect everyone to make the pilgrimage to this place but at least say a silent thank you to the people of Sialkot next time you go for a penalty kick.
17. Hunza has an above average literacy rating and the highest in Gilgit-Baltistan
Hunza is the jewel in the Northern Territories. Where other rural districts struggle to clear 50% literacy rate, Hunza has a literacy rating of 77%. That's markedly higher than the rest of the north and actually higher than the national average of 62%.
Why is Hunza so good at reading? It could be that early governors placed a high emphasis on education. Others claim that it's because the dominant faith here is a sect of Islam called Isma'ilism, which usually holds education in high regard.
Either way, Hunza is really something else. People here are smart, open-minded, culturally tolerant, and very friendly. Honestly, Hunzites are just very easy to be around and are among my favorite people in Pakistan.
18. Pakistan roughly translate to "The Place of Purity"
Stan is a Persian word that means "land" or "place of." Pak is "purity" or sometimes "peace" in Pashtun. When the idea of an independent nation was swirling prior to Partition, the name Pakistan just kind of hit home for a lot of people.
The title is appropriate too. Pakistan is a land of purity: pure beauty, pure hearts, pure life. The country speaks to many people, not just natives. Hikers, foodies, travelers, climbers, pilgrims; all of these people can hear the calling to Pakistan.
I always enjoy visiting Pakistan. It's mountains are the most beautiful that I have ever seen on my travels and are forever stuck in my mind. The people are equally wonderful and I feel a connection with many Pakistanis, whether they're from crazy Lahore or easy-going Ghulkin. This is one of the most amazing countries in the world and I fall in love every time I go back.
If you want to visit Pakistan on an epic adventure unlike any other, come with us on our next Epic Backpacker Tour to the region – we have three awesome itineraries running in 2020.