Pakistan is a beautiful country and home of some of the best hiking in the world. Towering mountains, lush valleys, dramatic rivers and lakes… There's more to Pakistan than travel warnings and what you see on the news. You guys know by now that I am super passionate about opening up Pakistan to the backpacker community.
I first came to Pakistan for the scenery, and because I thought I might get to shoot an AK into the air (I did), and it has never disappointed. Pakistan is packed to bursting with incredibly diverse landscapes and offers some of the best trekking in Asia – from easy day hikes to super tough expeditions, Pakistan has something for hikers of all abilities (and budgets).
The Himalayas in the north, where the most beautiful hikes in Pakistan are to be found, make the scenery incredibly dramatic, and increasing awareness of foreign tourists means it's easier than ever to get lost, but not literally, in the true wonder of Pakistan.
To give you an idea of how amazing this country is, I assembled a list of spectacular treks in Pakistan. These are, hands-down, some of the best country; nay, the entire world. If anyone is still on the fence about visiting Pakistan, I suggest they give this article a look.
How I Found Out About These Pakistani Trails
I've travelled to Pakistan four times now and we've started running backpacker adventure tours in the country—check out our Epic Backpacker Tours website for 2020 dates and itineraries! I'm helping my buddy Rehman set up a guesthouse in the mountains of Hunza and I'm lucky enough to have many truly amazing amigos in this epic country…
Over the course of these 4 years, I have explored much of the country and found countless treasures along the way. I've seen the some of the most famous mountains in Pakistan, like Nanga Parbat, and some pretty cool hidden gems in-between. In August 2019, some friends and I made the trek to the meadows of Patundas near Passu and were absolutely blown away by their beauty.
I'd like to consider myself, and my friends over at Epic Backpacker Tours, experts when it comes to trekking in Pakistan. We've seen a lot of Pakistan and have walked countless miles there. We know the lay of the land, the right people to talk to, and the right trails to use. Many of EBT's tours include some sort of hiking, be it an expedition to the largest mountain in Pakistan, K2, or somewhere more remote like Barah Broq.
I love hiking in Pakistan, even the shortest hike is so rewarding. It's easy to get into the mountains, you pretty much just step off the Karakoram Highway and the mountains rush to meet you. The people you meet along the way, nomads and villagers who offer you chai, food and even a place to crash out – the mountain people of Pakistan are some of the most hospitable people I have met in all of my travels. I highly recommend hiking in Pakistan, any way you can manage.
Discover NEW heights in Pakistan!
Do you have what it takes to go on an adventure tour in Pakistan? Sign-up below to see what EPIC times – and offers – await you.
The 12 Best Hikes in Pakistan
So, without further ado, allow me to introduce you to twelve of the best treks in Pakistan!
1. Margalla Hills
It's handy that there's actually an extension of the Himalayas right on the doorstep of Islamabad. Chances are you will start your Pakistan backpacking adventure in either Lahore or Islamabad. Either way, Islamabad is where you'll catch your first glimpse of the mighty Himalayas and where you can head off into the mountains for some easy day hikes. The hills are a world away from the bustling city and a haven for nature, from birds to trees, it's packed full of beautiful scenery. The views of the city from the vast hills is something else…
There are 6 marked trails into the Margalla Hills National Park – unoriginally titled Trail No. 1, 2, 3, 4, 5 and yes, 6. The most popular is Trail No. 3, which is very short, steep – you'll be at a nice viewpoint in 30-45 minutes of hiking. Actually, there's been a trend for health and fitness amongst the locals of Islamabad in recent years, so you'll probably get to mingle with people escaping the city on these trails. The hiking trails crisscross each other, so building your own, longer hike is a good option when the longest of them only takes about 2 to 2.5 hours – measly by Pakistani hiking standards, but definitely not bad when they're so close to the city!
2. K2 Expedition via Baltaro Glacier – The Highest Mountain in Pakistan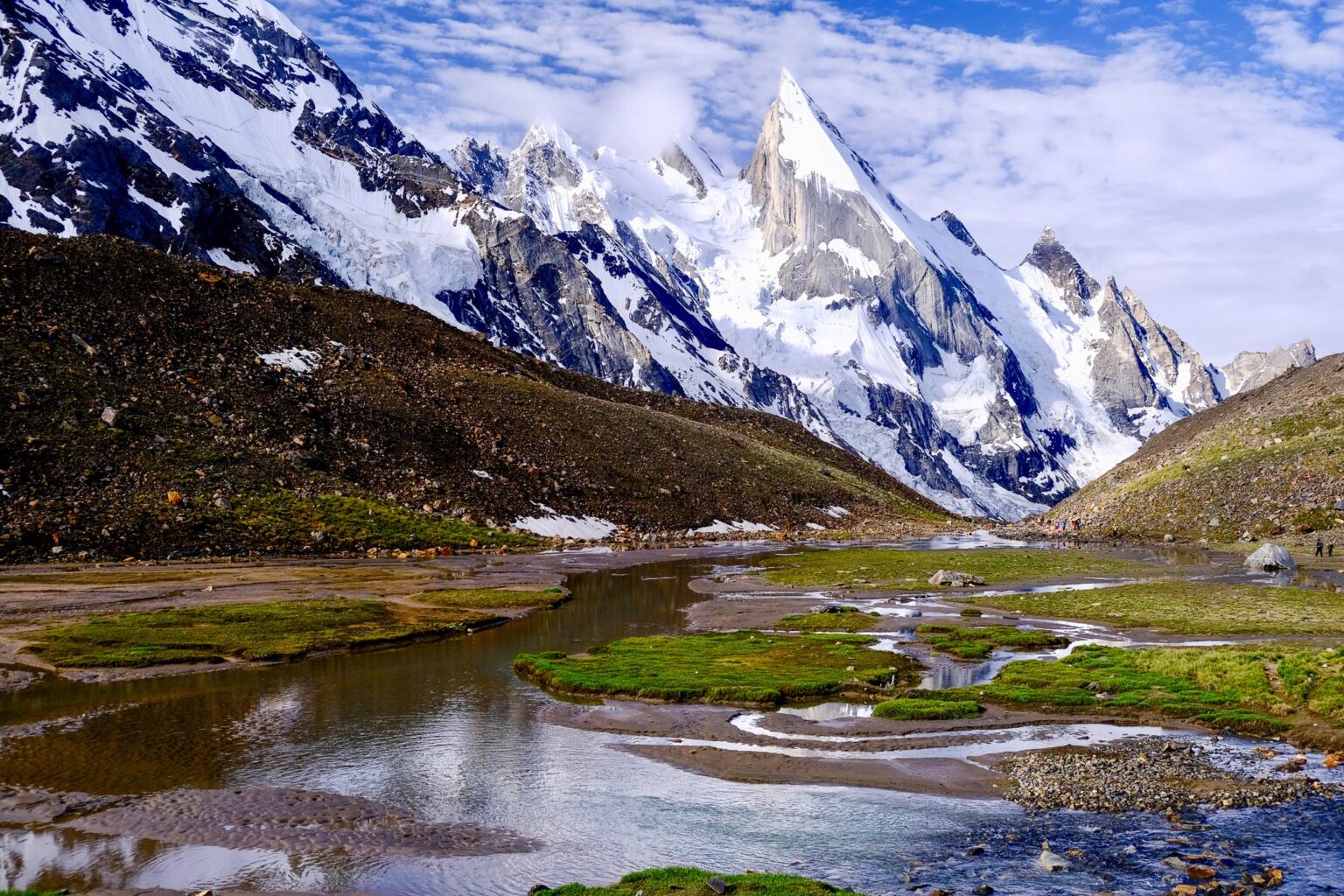 It's the granddaddy of all mountains in Pakistan; the singular reason why many people decide to travel to the country in the first place. At 8611 meters, K2 is the second-highest mountain in the world and without a doubt one of the greatest adventures we can think of.
K2 is not an easy mountain to get to. Locates at the far end of the Baltoro Glacier, which is 63 km long, the return trip to K2's Base Camp takes over 2 weeks to finish. Make no mistake: this trek is not for newbies and will require grit, determination, and a passion to complete. If you should undertake the hike though, you will be able to see the highest mountains in Pakistan and some of the most awe-inspiring alpine scenery in the world.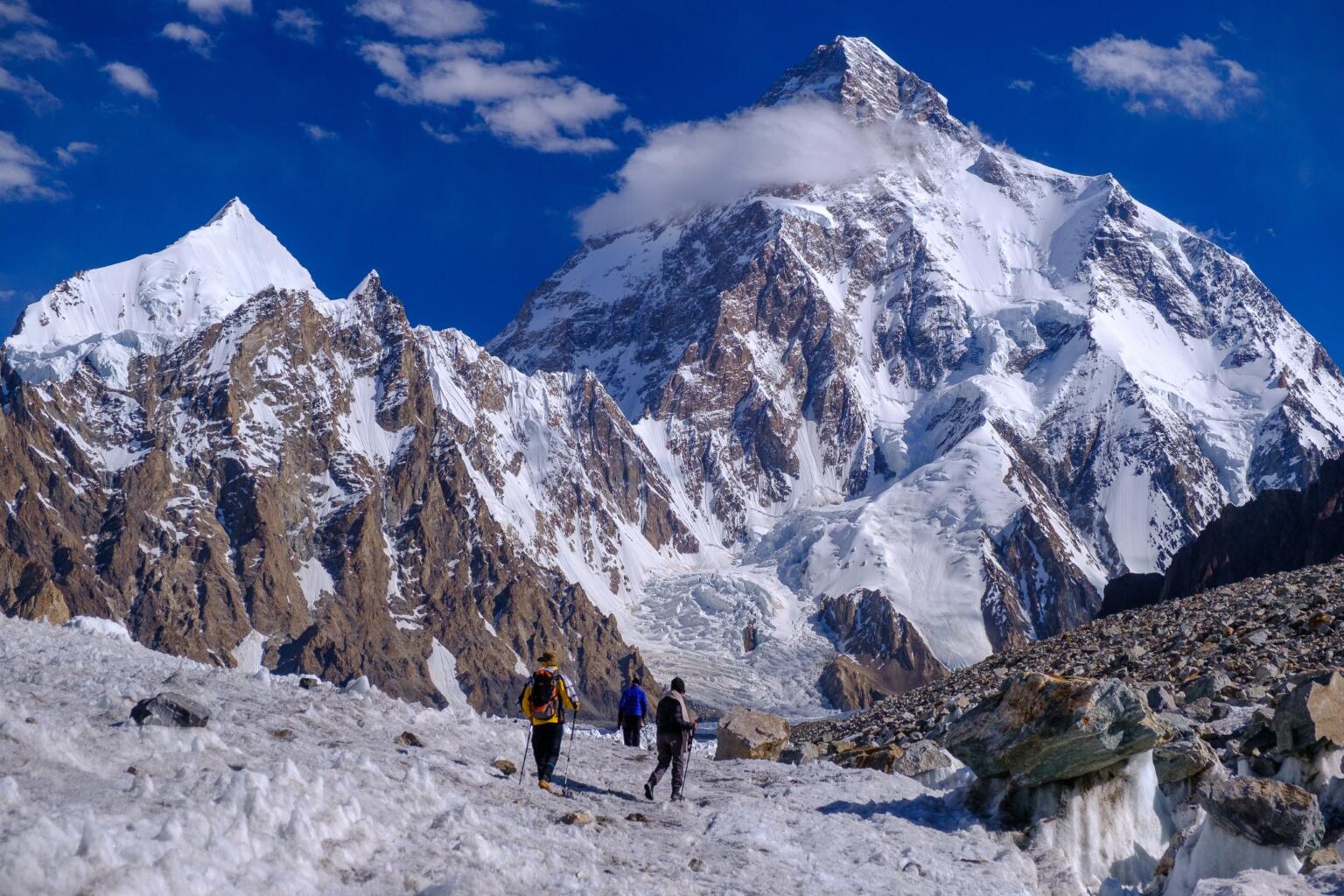 You WILL need to go with a tour agency if you want to trek to K2. No one can survive 2 weeks on the glacier on their own; a good team will be your most valuable resource.
If you're looking for some direction, we have our own comprehensive guide to trekking to K2 Base Camp that we suggest you go check out. It's full of invaluable information and is written by Chris Lininger, who will be leading tours to K2 in 2020.
3. Dunga Gali-Ayubia Track
This one is better known as the 'Pipeline Track' since it follows the route of an important water pipeline that used to service the historic hill station of Murree. That's convenient because it also offers up an easy hike from Dunga Gali to Ayubia within Ayubia National Park. Think fresh pine forests and stunning scenery and you wouldn't be far wrong… For those who are less keen on scrambling up mountains and camping in the middle of nowhere, this one might be a bit more up your street.
This easy 5km hike is popular with Pakistani tourists. So put your best selfie face on because you'll probably get asked for a zillion of these when the route is popular in summer. It's very close to the country's capital, just a couple of hours' drive northeast. Good to do en-route to the further northern reaches of Pakistan if you can spare the time.
4. Miranjani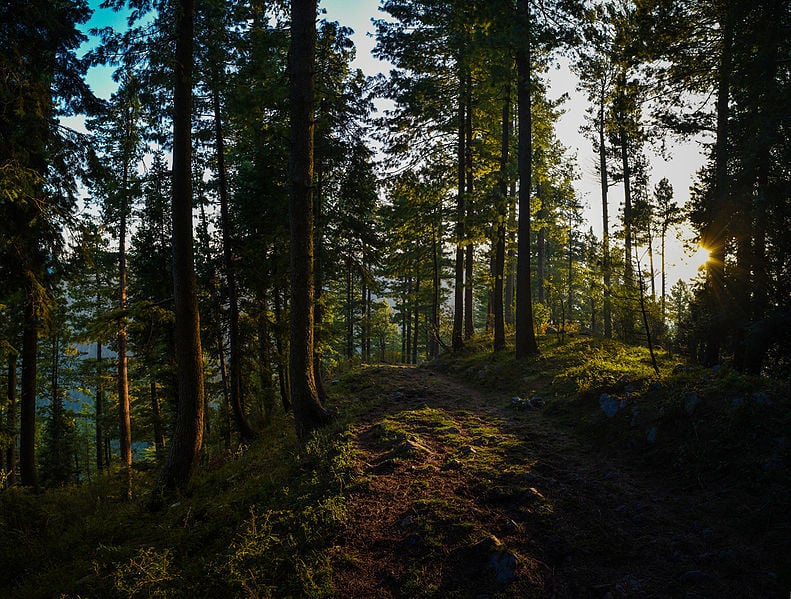 North of the Pipeline Hike is another hill station town, Nathia Gali, to the east of Abbottabad. From this former colonial hill station, you can walk just 2 to 3 hours to the summit of a nearby mountain, Miranjani. The track up what is a hill by Himalayan standards begins at the Nathia Gali Bazar and passes through the serene Dagri Naka mountainous region, you'll hike through lush and chill pine forests surrounded by subtropical evergreen forest.
It's not a challenging hike, but it is easy to get to and offers some pretty great views. There are places to stay in Nathia Gali too. If you want to visit a hill station in Pakistan, this is a good option as it's nowhere near as crowded as Murree in summer – in my opinion though, you're mad to go to Pakistan in the summer! You will notice many places in this area have the word 'gali' in their name, which means basically 'valley' and is characteristic of this small region north of Islamabad called Galyat.
5. Deosai National Park
Alright, now we are talking! Deosai National Park is by far one of the most amazing places I have ever camped out. Seemingly endless pastures covered in wildflowers make up the vast area of Deosai, the second largest alpine plateau in the world. With an average height of over 4,000 metres, it spans over 3,000 square kilometres. Here in Gilgit-Baltistan, northwest Pakistan, not far from India, the greenery just goes on and on… Deosai means 'Land of the Giants' and when you look out across the never ending green expanse you can see why.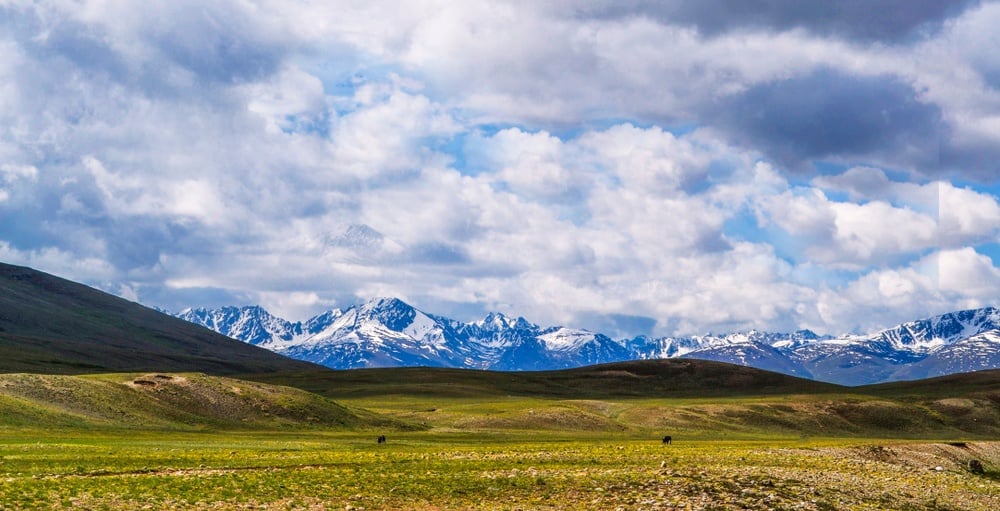 The National Park was created in 1993 to protect the Himalayan brown bear, and as the snow thaws in summer the meadows come alive with flowers and butterflies, you see it's a haven for a lot of other wildlife too. Just be careful if you do camp out here, I was rudely interrupted at 2 am by a policeman running at my tent waving a burning branch… to try and scare away the four bears who were just meters from my tent.
From Skardu to the northeast of the national park, it is possible to trek through the Burji La Pass to Deosai, however, this is a very long route! Most people get a jeep from Skardu into the park and work out a guide from there, or from Skardu itself. A couple of days trekking, with at least one Wildlife Project encampment between, leads you to the majestic Sheosar Lake. You cannot trek independently in Deosai as it's a national park so you will need a guide.
Epic Backpacker Tours visits Deosai National Park on their Skardu itinerary as well!
6. Barah Broq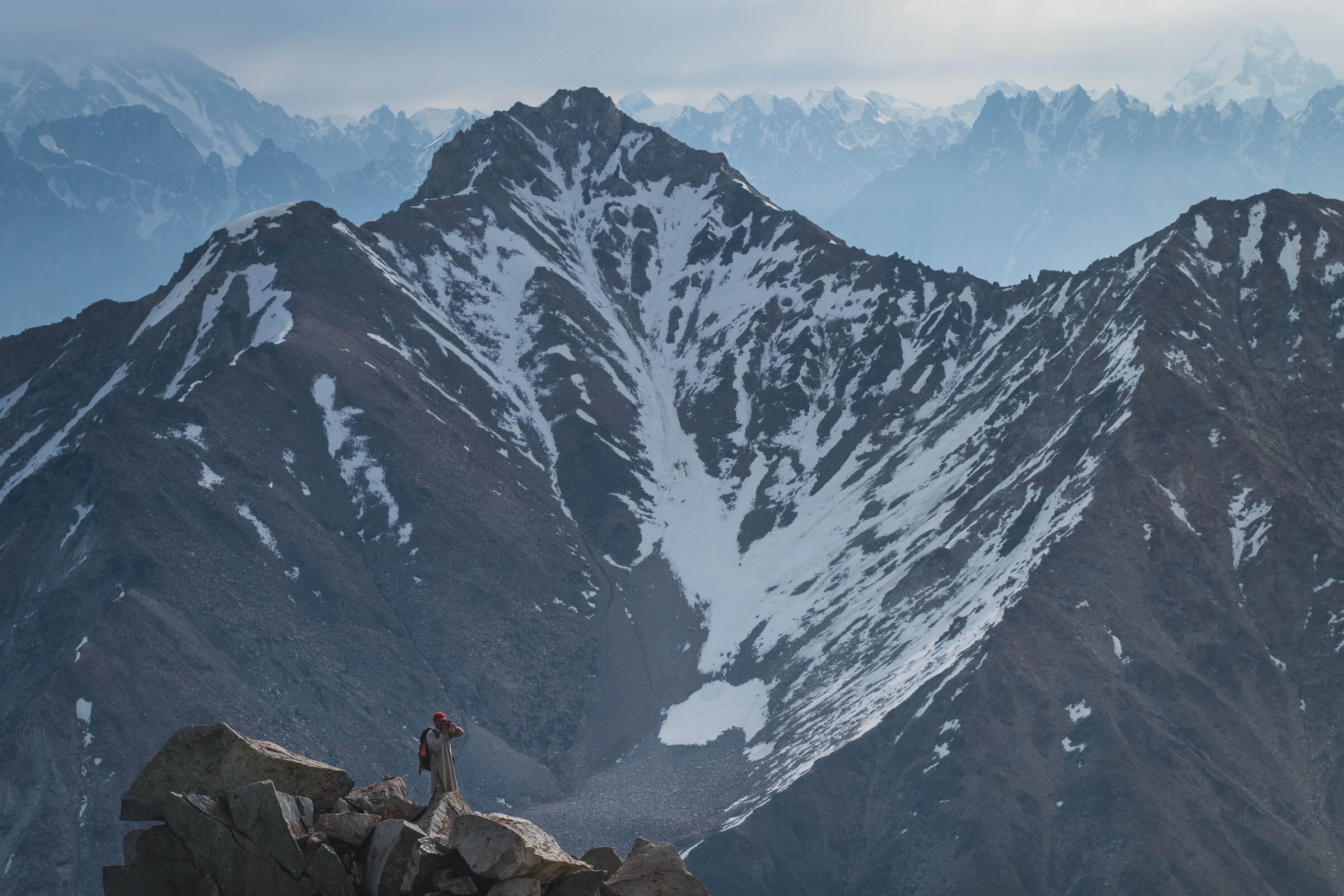 If you're looking to do a multi-day trek in Pakistan but don't want to spend days on a glacier, Barah Broq may be the perfect one for you.
Barah Broq is a relatively new trail about 3-hours drive from Skardu. The trail takes its name from the village of Barah, where the trail starts, and the village is about as authentic as it gets. The houses are still made from mud around here and the #1 commodity is apricots, which the village is famous for. Experiencing both make Barah worth visiting.
Of course, the hike itself is the main attraction. The trail starts in a deep and arid gorge and makes its way up to the higher reaches of Barah Broq. Eventually, the trails tops out at 4300 meters and at this elevation you will find two beautiful alpine lakes with some of the purest water in the country.
But that's not the end of the trek; the best part is the optional day hike up to Moses Peak from the lakes. At 5350 meters, Moses Peak offers one of the most panoramic views I have ever seen. From here, you can see every single one of the greatest mountains in Pakistan, including K2, Nanga Parbat, and the Gasherbrums. This is one of the best views of the Karakoram you can get without doing the Concordia Trek.
To learn more about Barah Broq, contact Epic Backpackers! They have a very close relationship with the village and organize regular trekking tours here.
7. Passu to Lake Borit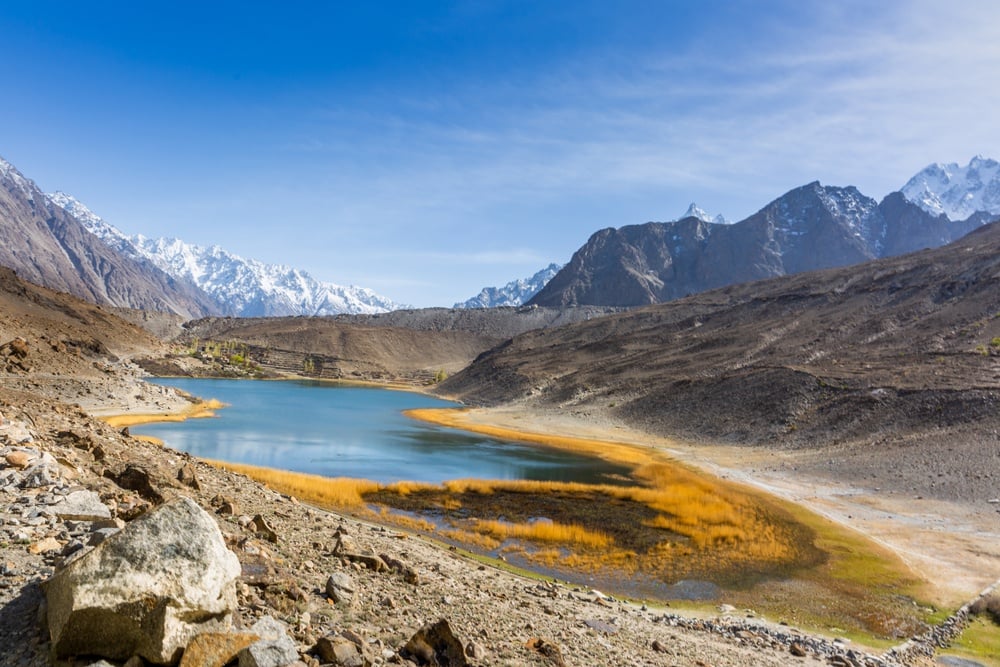 Passu is probably my favourite place in Pakistan, although honestly, it's tough to pick as I also love Karimabad, Deosai, The Fairy Meadows and a string of other truly special places… OK, OK, back to Passu! Passu is a village famous for the Passu Cone mountains and an Indiana Jones-esque bridge crossing a raging river…
Passu is found in the Hunza Valley, a remote area where the mountain scenery is truly stunning. This intermediate difficulty day hike begins at a (normal) bridge over the very short Passu River, passing the restaurant Glacier Breeze – from here you can see the impressive ridge of the Karakoram range, an amazing sight… Looking back after a few metres further up is equally amazing, where Passu looks like an oasis and the jagged mountains pierce the sky.
Keep following the path until you hit Passu's glacial lake at the end of the 18km long glacier itself. A scramble up loose moraine, a view back to the Hunza River, and following the ridge on the other side you'll find Lake Borit, and further in the distance Lake Attabad, a crazy bright turquoise lake created when a landslide dammed part of a river… This is a truly gorgeous place to chill out with a cheeky smoke.
If you're visiting this part of Pakistan, I strongly recommend staying at Rehman's homestay.
8. Chitta Katha Lake
Pakistan has a knack for offering up amazing pockets of lakeside paradise, mirror surfaces ringed with green nestled in jagged snow peaked mountains. Chitta Katha is one of those lakes… It's in the Shounter Valley, in the Azad Kashmir region of Pakistan not far from Angar Kel, a hill station left over from colonial rule now turned in to popular resort. You can hike here in an hour or so if you wanted…
But the hike to Chitta Katha Lake starts with a jeep ride from Kel to Shounter, where you may need to find a guide as the trails onward is not marked. The climb from Shounter to the lake goes from around 3,000 metres to almost 4,000 – the scenery changes from alpine forest to one that is much more barren… But the reward is worth it, the views over Chita Katha really are beyond words!
The world's ninth highest mountain and my happy place, Nanga Parbat, towers against the horizon in the distance. You'll be walking around 12 hours in all, with camping at one of two base camps, so equipment and food are essential. Needless to say, this is a hike for summer when the lake is actually accessible.
Note: You probably won't be able to get permission to do this hike if you are foreigner.
9. Kel to Taobat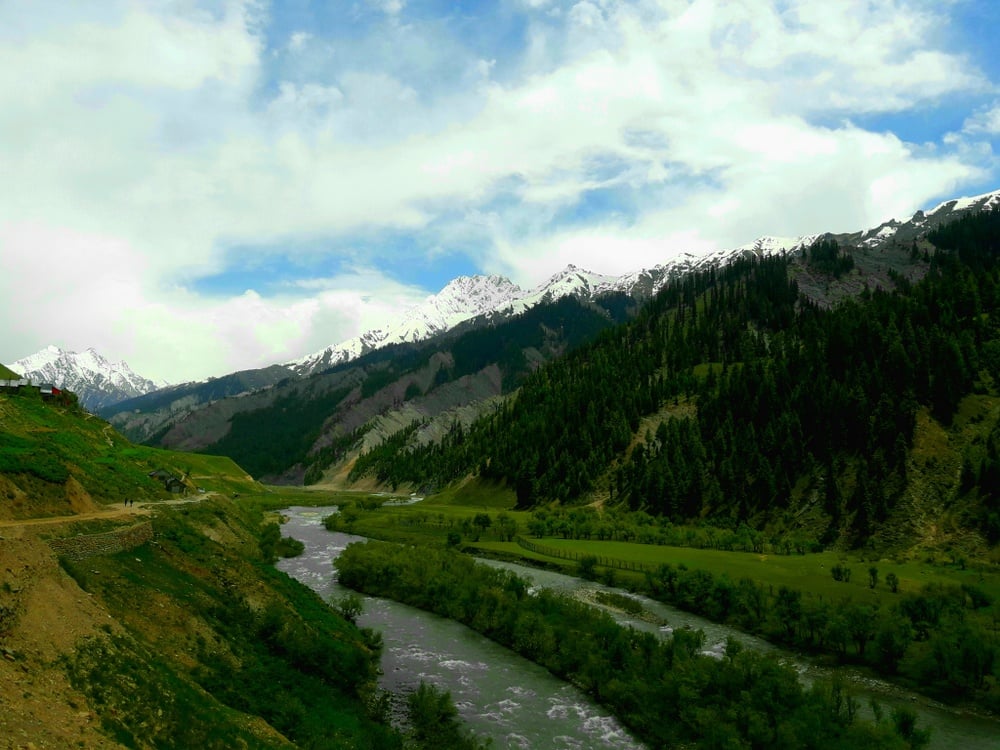 Between Kel and the neighbouring town of Taobat is the Gurez Valley, a lush stretch of greenery that follows the Neelum River. The valley actually goes on to cross the 'Line of Control' and into India… Whilst this hike is quite long and could take multiple days, depending on how challenging you want to make it, or how much you want to chill and explore along the way, but it's just over 25 miles from Kel to Taobat. It's not like you have to walk it all, but walking at least some of it beats making the whole trip in a jeep on an unpaved road!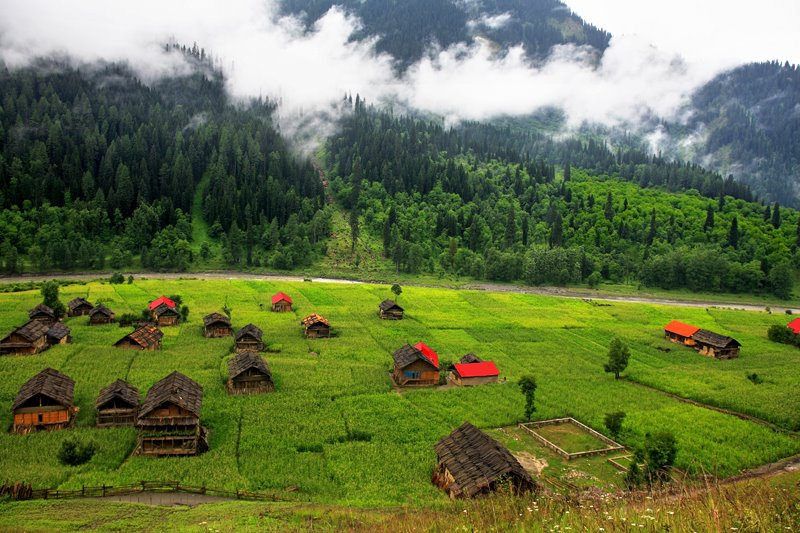 During the hike you will be passing through a land of striking beauty, scenery dotted with pine-clad hills, cherry trees, and the wooden cottages of the locals. It's a long hike if you go all the way, and there is a particularly steep ascent and descent around the midway point, but it's all along a fairly decent track… The quaint sights of lush green fields and small villages along the way, like Halmat for example, combined with the breathtaking immensity of the mountains on either side makes for a stunner of a multi-day hike.
Note: You probably won't be able to get permission to do this hike if you are foreigner.
10. Minapin to Rakaposhi Base Camp
In another section of the stunning Hunza Valley is this hike to the base camp of Rakaposhi, the 27th highest mountain in the world. It's proven tricky to climb its summit over the years so there have only been 8 successful expeditions since it was first done in 1958! However, trekking to the Base Camp is relatively easy and you can do it with basic mountaineering gear.
Navigating this area seems daunting but it's easier than you'd think. You can base yourself in the nearby town of Karimabad. If you decide you want to take a guide, get in touch with Rehman. The trek begins at a village called Minapin, picking up the trail behind the only guest house in town. The first few kilometres are tough, with steep glacial moraines to contend with, but stick to its left side and eventually, the ridge comes into sight. A couple of hours more leads you to a tiny cabin where you can spend the night. Then the route carries on the left side of the glacier till you reach a green pasture, the base camp… The panorama from here out over the Hunza Valley is mind-blowing!
11. Naltar Valley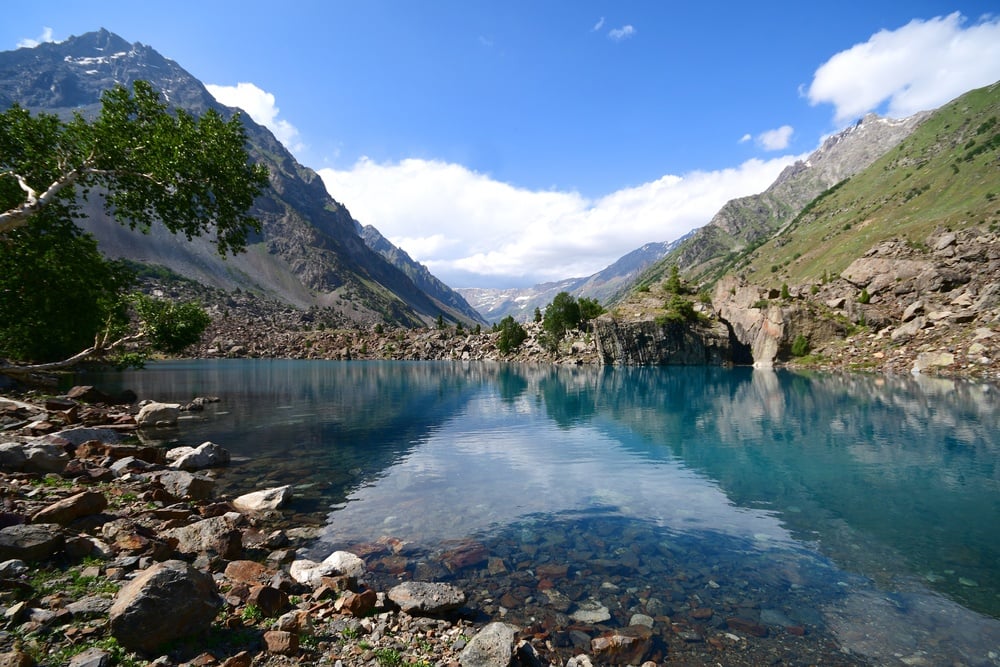 West of Rakaposhi is the magical Naltar Valley, famed in winter for its skiing as the 'Magic Carpet of Pakistan' – ski competitions are held here under the watchful eye of the Pakistan Air Force… But we are here for the hiking and luckily the natural scenery here is incredible. The village of Naltar is set in a pine forest with magnificent mountains rising up around, one of those captivating half mythical, half alpine places that make exploring Pakistan on foot so rewarding. Sure a jeep ride is fun but it can only really get you from A to B, whereas walking puts you directly in that landscape, and Naltar Valley is somewhere you really DO want to be!
It will take a jeep ride to get to Naltar in the first place, most likely from Gilgit about 25 miles south. You can then hike a track from the village to the three Naltar lakes, one green, one dark, and the last one is this unreal azure that is truly spectacular… Early to mid-summer is the best time to visit as even up here at 3,000 metres above sea level it can get pretty uncomfortable.
12. Fairy Meadows and Nanga Parbat Base Camp
I've been lucky enough to visit the Fairy Meadows three times now, it's a truly amazing place. It's not just the name that's mythical, the place itself is magical. I've been to The Fairy Meadows in February (very challenging as there was waist deep snow in places) and August and September. If you go at the right time of the year, i.e. when it's not covered in snow, you can push on to Nanga Parbat Basecamp – an 8 hour round trip hike. Trekking to the Fairy Meadows itself is pretty easy and can be done in a couple of hours, check out this post for my trip report on The Fairy Meadows.
Looking down over the Fairy Meadows is the snowy fortress of Nanga Parbat (9th highest in the world, remember).