Nestled deep in the Karakoram range of Northern Pakistan lies a mountain or should I say a series of legendary mountains steeped in mystery, cloud, and ice. Towering above them all is the 2nd biggest mountain on earth: K2.
For experienced adventurers looking to escape the crowds found in Nepal and around Everest, tackling the K2 Base Camp trek is a once in a lifetime opportunity to experience a kind of magic, beauty, and local culture not found anywhere else on our planet.
The K2 Base Camp trek is a MUST for anybody serious about taking on one of the least frequented long-distance hikes in the world. Why? Because, well, it is a whole hell of a lot of fun and the atmosphere is second to none.
Below, I answer the most important questions surrounding what it is actually like to trek to K2, what to pack for two weeks in the Karakoram, K2 Base Camp trek cost, on the ground logistics, how to choose the right tour company, required permits, traveling in Pakistan, and much more.
Time to lace up your alpine boots amigos. Let's get to know what it takes to get to the base of the Savage Mountain.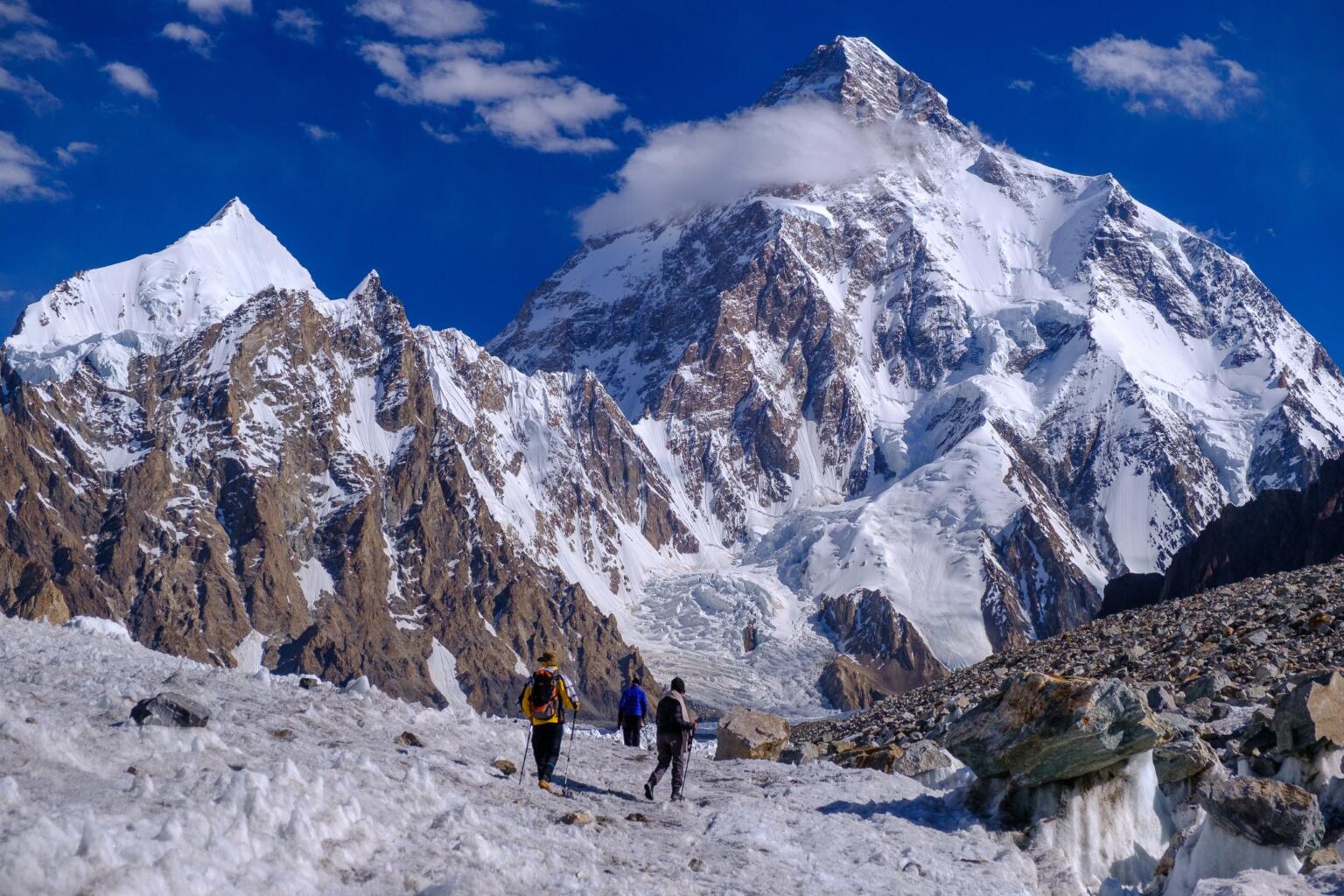 The Ultimate Guide to the K2 Base Camp Trek
What the Hell is the K2 Base Camp Trek Exactly?
As the name suggests, this hike is a trek to the base of the K2 mountain (Balti name: Chogori). That's the obvious bit though. Unlike the trek to Everest Base Camp, arriving at the K2 base is not the end-all highlight of the trip. Far from it. In reality, the trek is MUCH more than that. Here is the general breakdown:
Pretty much without exception, all groups set off by jeep from the dusty Balti bazaar town of Skardu. Jeeps are needed to reach a far-flung outpost on the edge of civilization at Askole. After leaving the small farming village of Askole, the trail enters Central Karakoram National Park, where trekkers will spend the next few days making their way to the Baltoro Glacier.
From the Baltoro, the real fun begins. A majority of the trek is spent walking on the mighty Baltoro Glacier (about 65 KM) until it comes to the confluence with the Godwin-Austen Glacier. This majestic place is called Concordia, aka the "Throne Room of the Gods".
Concordia is home to one of the best campsites I have ever been to, with 360-degree views of almost every major peak in the area including Gasherbrum 4, Broad Peak, Marble Peak, Mitre Peak, and of course the impressive, swirling cloud-capped K2 in all her glory.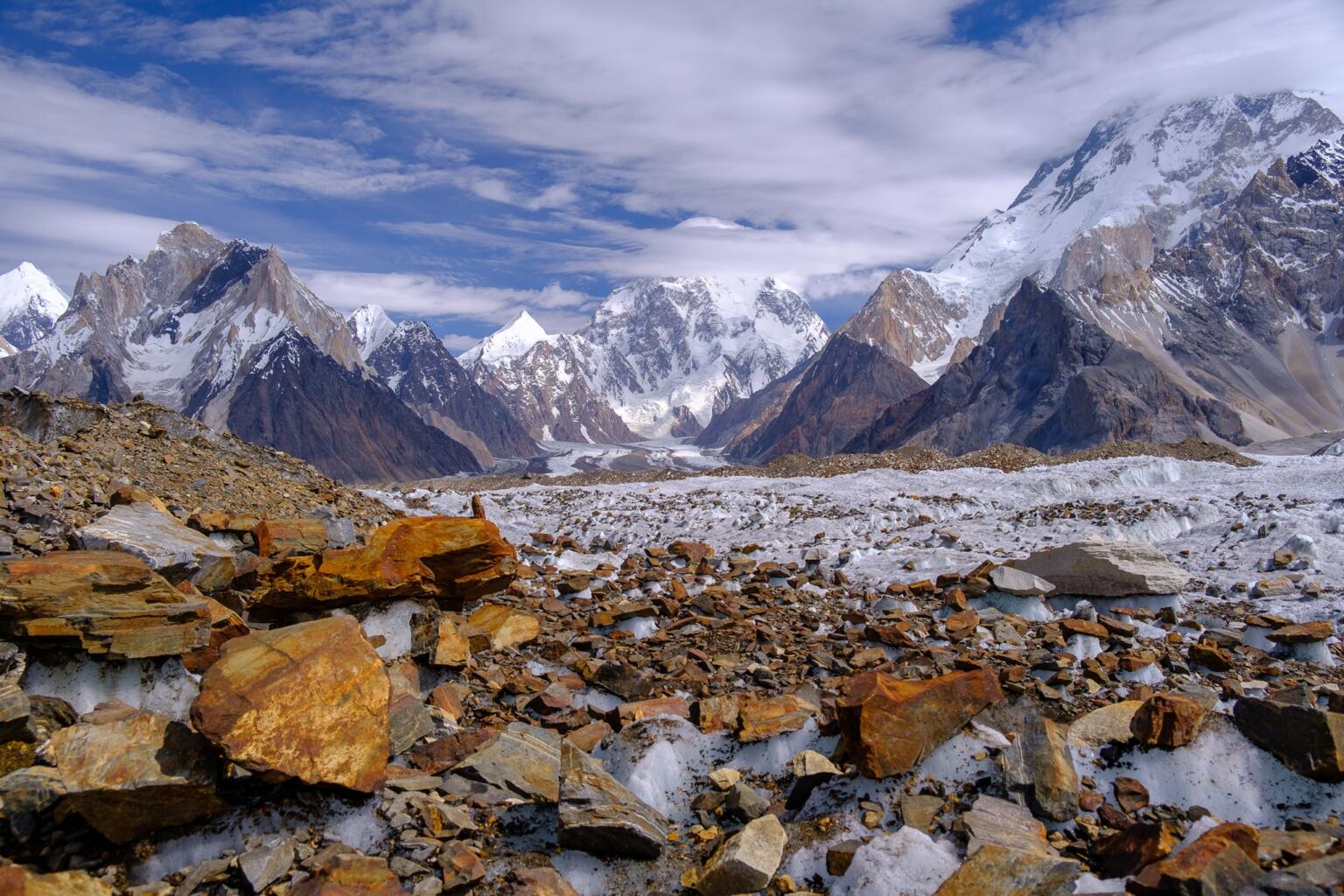 Return Route Options for the K2 Trek
From Concordia, one has two options to finish the trek.
Option 1: Hike back how you came, down the Baltoro Glacier to Askole (which takes 4-6 days). Option 2: The much more exciting and interesting option is to head up the valley to Ali Camp (4800 m), where you will prepare to cross the Gondogoro La (5600 m), hiking through the night to do so. Gondogoro La is a high-altitude mountain pass that proved to be the highlight of the trip for me. From the top (if the weather is clear) the views are second to none.
After descending the La (on a fixed rope, clipped in with a harness), the trek follows the green valley below for several days before arriving at the beautiful Balti village of Hushe. Groups make their way back to Skardu from here using 4×4 jeeps.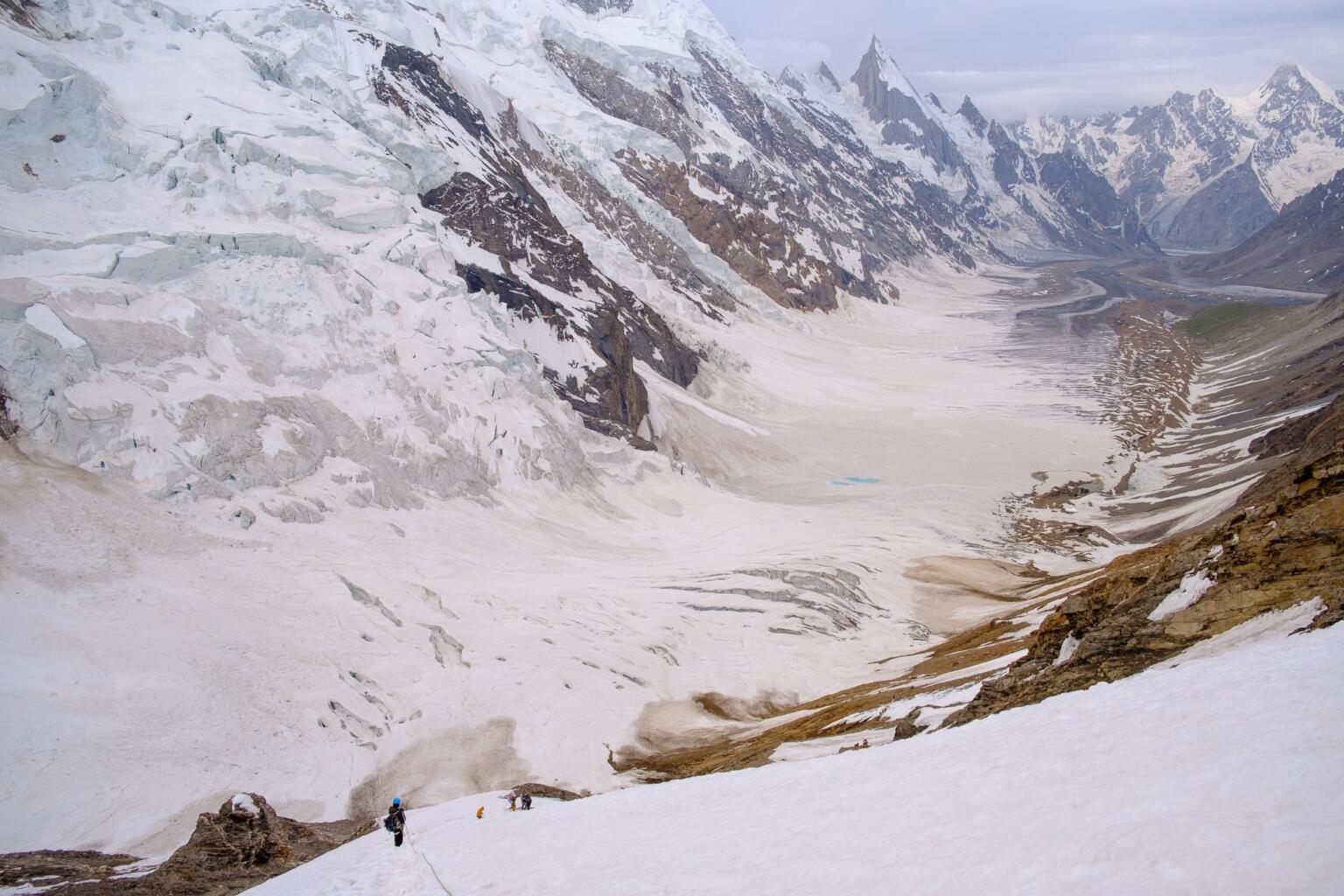 How to Plan the K2 Base Camp Trek
Before you get your boots on the ground in Pakistan, a significant amount of forethought and planning needs to be undertaken. Unlike trekking in Nepal or Patagonia, you cannot just show up and do the K2 trek on your own.
All foreigners must have a licensed guide with them. You will not be allowed to enter the Central Karakoram National Park (where K2 and the other 8,000 meter peaks in the area are located) without a guide.
The K2 Base Camp trek is an expedition-style trek, which means everything you will need for the two weeks you are away from civilization must be carried with you and your team of porters. Once you leave the end-of-the-line village of Askole on day one of the trek, there are no permanent human settlements (apart from a ragtag army base near Concordia).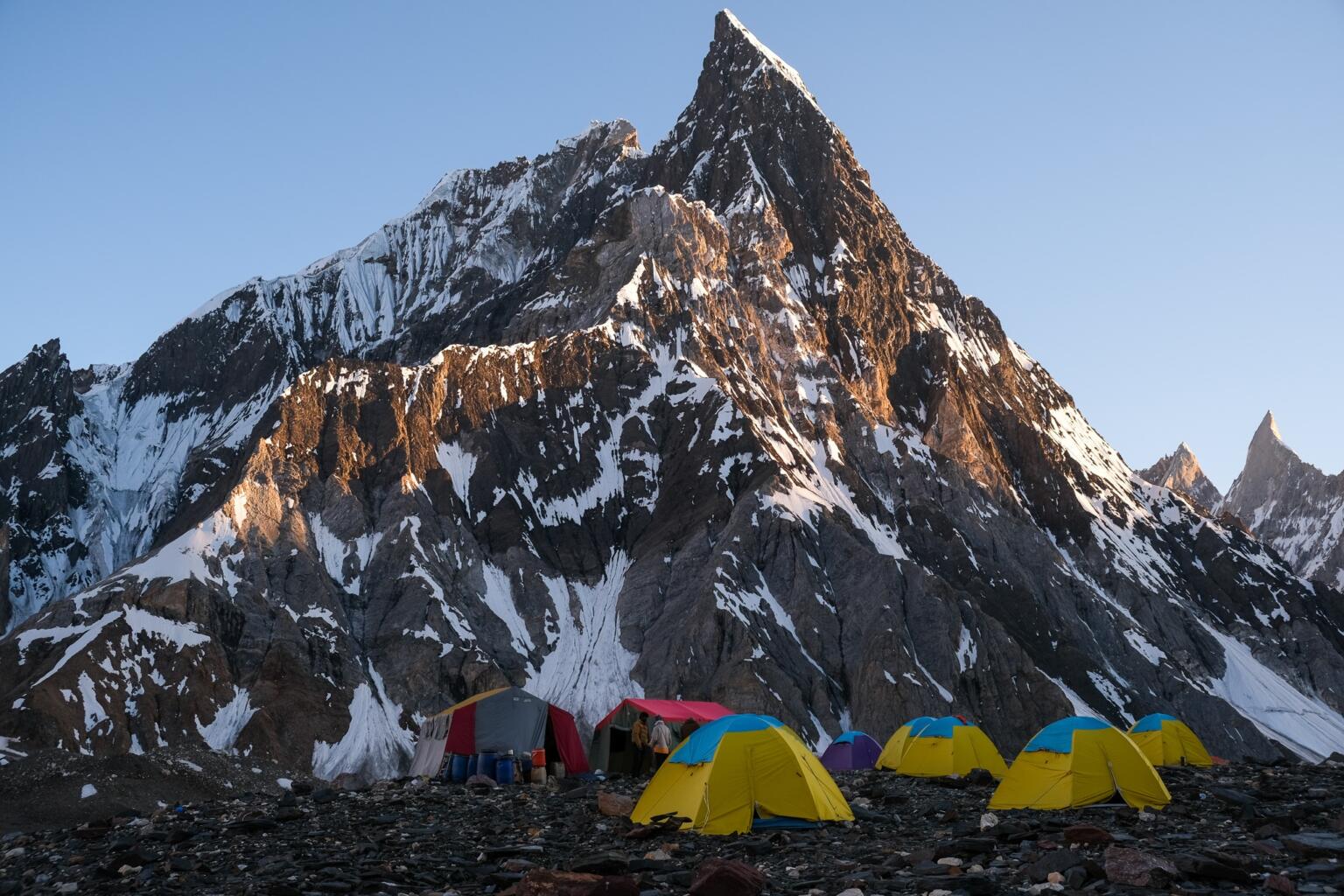 In addition to needing a licensed guide, you will also need to obtain a No Objection Certificate (NOC). This permit allows you to travel into the National Park, which lies in a restricted military area, as the park borders China to the north and India to the east. Then there is the Pakistani visa to apply for, which actually needs to happen before the NOC is issued. Ready to give up yet? Don't stress!
All of this sounds complicated, but in reality, it is a fairly straightforward process. At least the process should be straightforward if you choose a solid tour operator to go with. Which brings us to my next point…
How to Choose a K2 Base Camp Trek Tour Operator
A quick Google search will reveal a plethora of Pakistan tour companies offering to fulfill your dreams of completing the K2 Base Camp trek. Like most things in life, not all tour companies are created equal.
The whole quality spectrum is on offer. Budget backpackers might be tempted to go for the cheapest possible option, which in the end, may work out for them just fine. Still, though, it does pay to consider your options and to look carefully at what each tour operator offers.
I found that there are three tiers of quality when it comes to this trek: budget operators, mid-level operators, and luxury operators. So what are the real differences? I went on a quest to find out…

Unlock Our GREATEST Travel Secrets!
Sign up for our newsletter and get the best travel tips delivered right to your inbox.
K2 Base Camp Trek Cost
Budget Operators: Barebones outfits, who often come with quality English-speaking guides and staff, but lack the funding to have many of the comforts found in the other tiers of quality, including a decent food budget.
Many budget tour companies disguise themselves as mid-level operators, and, oh, they will try to charge you just as much as a mid-level company that will offer much better quality at the end of the day.
If you don't want to starve whilst en route to Concordia and K2 do NOT choose a cheap tour operator unless your budget absolutely demands it. I totally get wanting to do the trip on the super cheap. If you don't mind eating a little less and having fewer comforts, then a budget operator may be who you want to go with.
Since the K2 Base Camp Trek cost is never going to be dirt cheap, it is worth splashing out the few hundred bucks extra to go with a quality operator. I can promise you that.
Budget Price Range: $1500 – $2300
Mid-Level Operators: Mid-level operators are most likely to cater to the largest demographic of the trekking community. One can expect reasonable comforts such as chairs, tables, nice tents, a generator to charge electronics, a plentiful food budget, excellent pre-tour communication, visa support, and a western trekking guide to accompany the local Balti mountain guides.
Mid-Level Price Range: $2500- 3500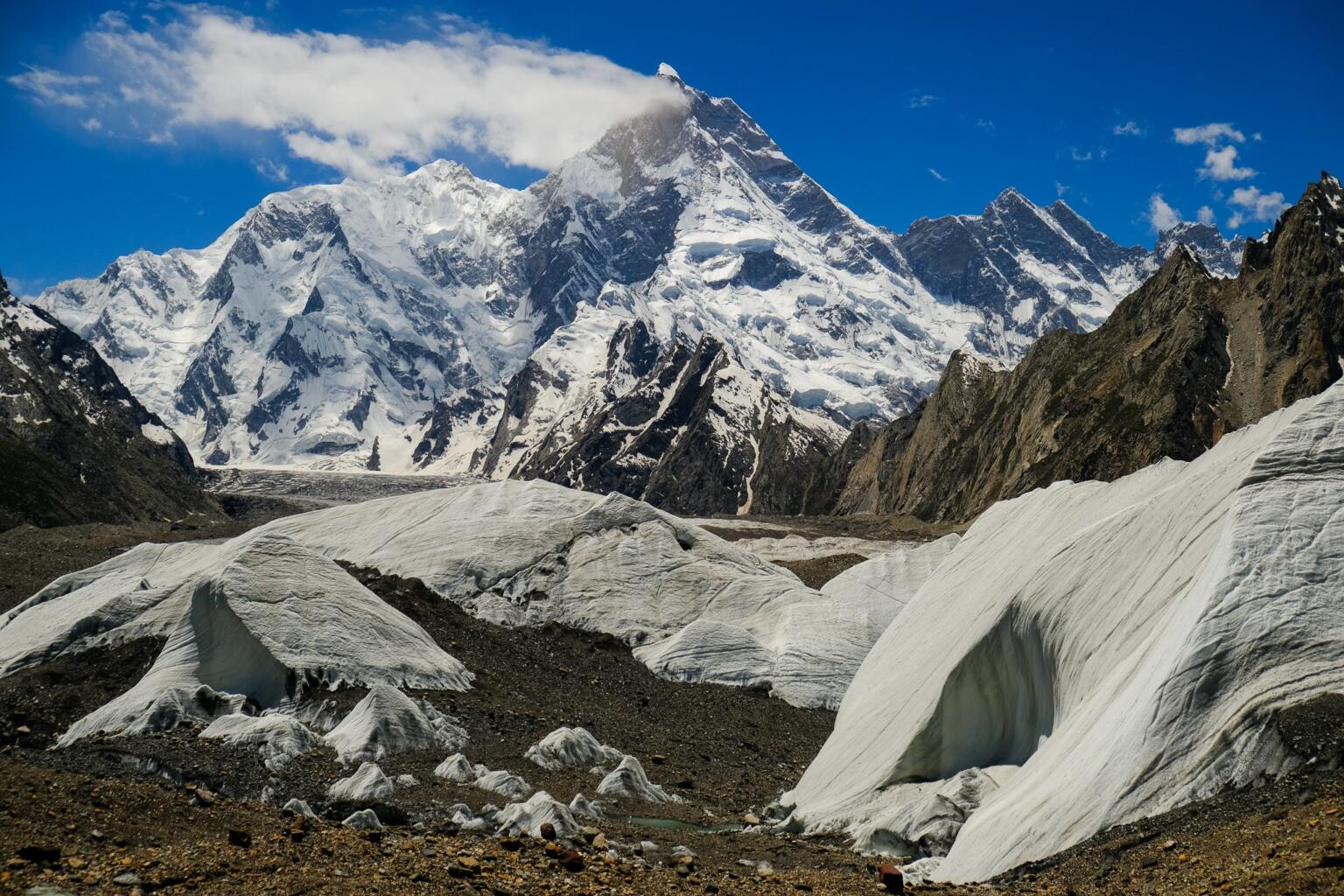 Luxury Operators: People who want to be as comfortable as possible whilst trekking across multiple glaciers for two weeks usually go the luxury route. Luxury operators are always foreign companies who understand very well how to run and execute a very comfortable and well-planned trek.
For a high price, you can expect several western guides and several Balti guides, a very well stocked mess tent (maybe even with espresso), excellent/plentiful meals, high-end camp chairs, table cloths, air mattresses, white linens (not really)…and maybe a golden toilet?
Luxury operators typically cater to an older crowd who can afford to be more comfortable and are prepared to pay for it. Ian Taylor trekking has the reputation of being a solid high-end operator.
Luxury Price Range: $3500 – $7000+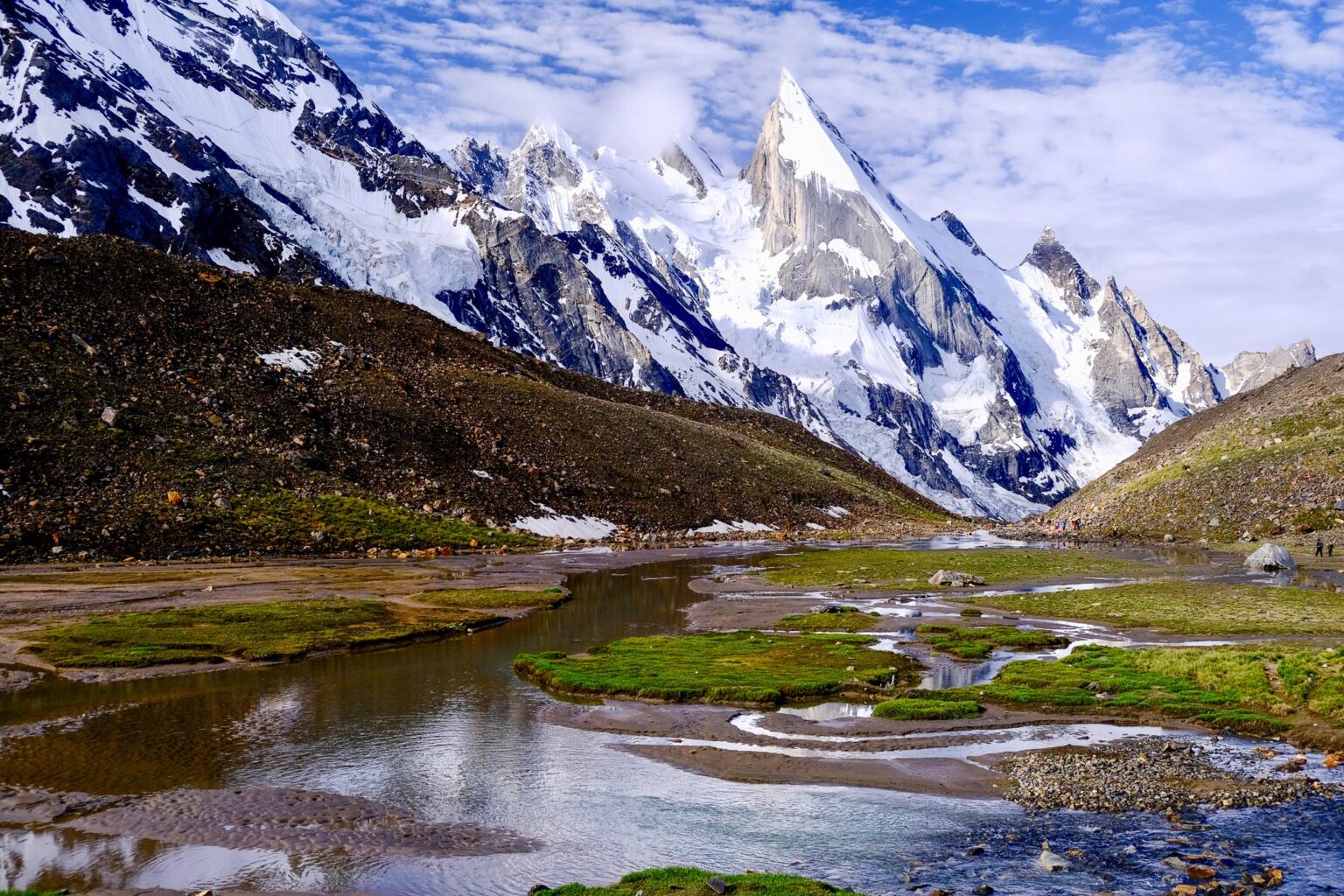 What to Pack for the K2 Base Camp Trek
As always, when planning a major trip into the mountains, having the right gear is one of the bests ways to prepare yourself for a happy and successful trekking experience. Showing up unprepared is pretty much a one-way ticket to the ultimate suffer-fest.
Please, don't be "that person" who shows up with a summer sleeping bag, no down jacket, and city trainers. You will suffer the consequences, and you will possibly put yourself and your group at risk by being underprepared. Below, I have assembled a list of everything I had with me on the K2 Base Camp trek, as well as a list of stuff that I wish I had brought!
Keep in mind that almost every tour company without fail provides each guest with a 12-kilo porter budget. This means that you should not have the carry the bulk of your stuff as you move between camps. This porter service allowance is also a game-changer regarding what you can bring. This what to pack section is massive, so settle in.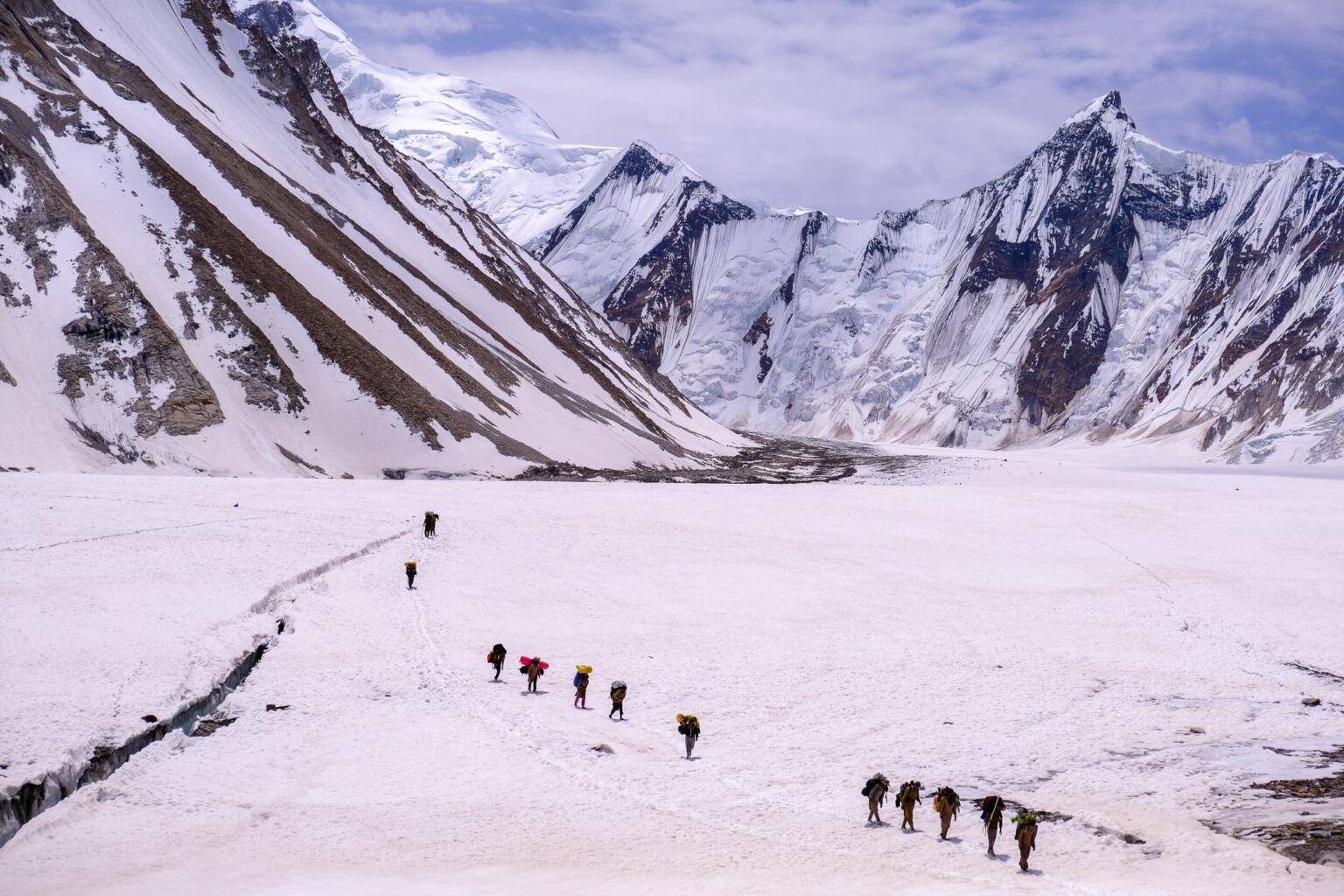 Essential Gear Kit for the K2 Trek
Expedition Duffle Bag: These bags are great for keeping the majority of your "camp" stuff organized. Expedition bags are typically very tough, weather-resistant, and are very easy for the porters to strap onto the mules.
You probably do not need more than an 8o liter bag, but if you have a bulky sleeping bag or other large items, getting a few extra liters is not a bad idea. This bag is where the majority of your stuff will be, sleeping bag, clothing, alpine boots, crampons, helmet, harness, excess snacks, etc. Be sure to not overpack your duffle (it's easy to do) as you will have to pay more for porter services if the bag weighs more than 12 kilos.
Recommendation: Northface Expedition Duffle
Trekking Backpack: Since you will be packing the majority of stuff into your expedition duffle, you do not need to bring a massive backpack. This is the pack that you will hike with daily. I recommend going with a 35 – 45-liter backpack.
You will use this backpack to carry your daily essentials like water, rain gear, clothing layers, snacks, your camera, suncream, and passport. You must have experience using this backpack. Make sure it fits properly, and it is comfortable to wear for long periods.
Recommendation: Gregory Paragon 48
Check out our best hiking backpacks review.
Trekking Boots: Perhaps the single most important piece of kit you pack is your hiking boots. If you are going to splurge on something, splurge on quality hiking boots. For most of the K2 trek, you do not need a serious mountain boot. That said, you want a hiking boot that can take a beating from all of the rocks found on the Baltoro Glacier, stay dry when splashed with water, and crucially, do not give you any soon-to-be festering blisters.
As always, BREAK YOUR BOOTS IN BEFORE COMING TO PAKISTAN.
Without fail someone always turns up to tackle the K2 trek with a shiny new pair of hiking boots. After one day of trekking (also without fail), they have blisters the size of small grapes swelling up on their feet. Break in your boots and save yourself from a world of pain.
Recommendation: Lowa Renegade GTX
Check out my review of the best hiking boots.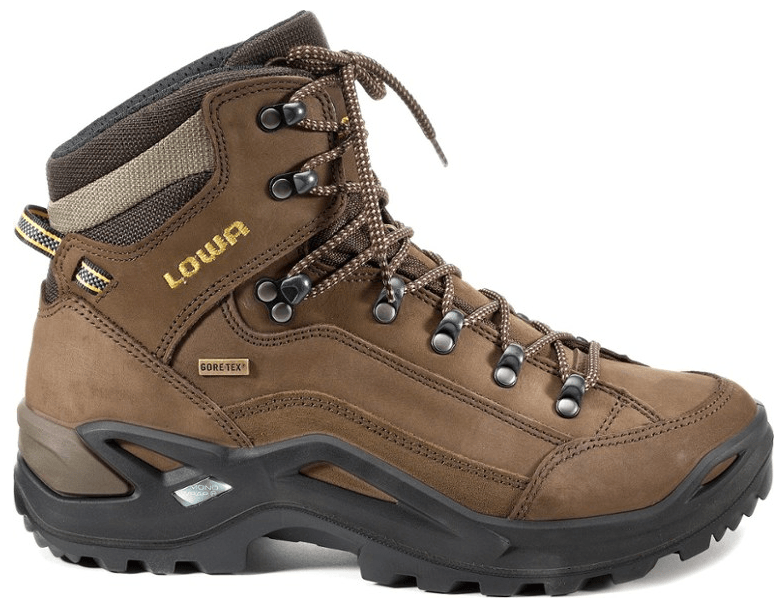 Alpine Boots: Having a good pair of alpine boots with you will only be a benefit when the going gets tough (and the trail is covered in snow). In all likelihood, there are only a few places where you will really need them: Concordia to K2, Concordia to Ali Camp, Ali Camp – Gondogoro La.
It is also possible to hike in alpine boots (summer mountain boots) for the entire duration of the trek. A summer alpine boot is not an unreasonable choice.
That said, alpine boots will be hotter and heavier on your feet than standard trekking boots, especially down at the lower elevations. Also, if you have crampons, you will need a proper boot to receive them.
Recommendation: La Sportiva Trango Tower
Sleeping Bag: A sleeping bag is another piece of gear that you DO NOT want to skimp on. Temperatures can plummet well below freezing at any time of the year, especially around Concordia, Goro 2, and Ali Camp. If you bring a summer rated sleeping bag, you will be putting yourself in a potentially life-threatening situation. Plus, nobody wants to be cold for days on end. Invest in a good sleeping bag and guarantee yourself many nights of solid (and warm) sleep.
Recommendation: Marmot Lithium 0
Sleeping Pad: Most tour operators provide you with a sleeping pad. Unless you are going with a luxury tour operator, the pads they provide are these super-thin foam mats that do not offer much in the way of comfort. They do make for a good barrier to the cold ground (you are sleeping on a glacier for most of the trek), but in terms of comfort, I'll just say that you feel the rocks beneath you.
If you already have a quality sleeping pad, better to bring it as it will most definitely be more comfortable than the ones provided to you.
Recommendation: Theram-a-Rest NeoAir XTherm
Gaiters: I almost always hike with gaiters now, as they help to keep stones, mud, and water out of my hiking boots. For a majority of the trek, you do not need gaiters. Up at the higher elevations though, I found them to be very handy and practical.
If you wear them at a lower altitude, you will find them to be too hot. For the snowy sections of trail around Concordia, Ali Camp, and Gondogoro La, having gaiters was a godsend.
Recommendation: Black Diamond GTX Front Point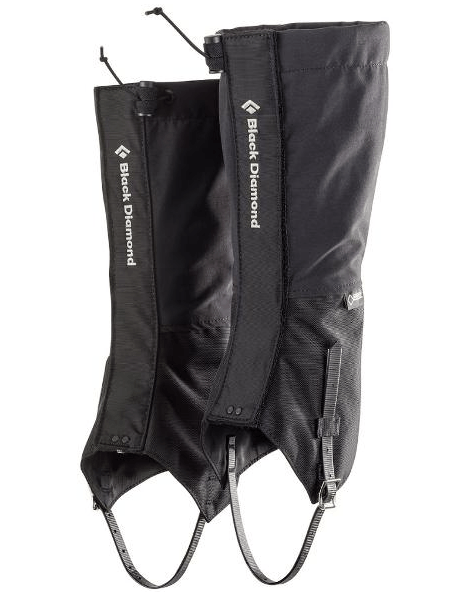 Crampons: Crampons are not mandatory for the K2 trek. In my opinion, though, it is much better to have them than to not, especially if you are going to attempt Gondogoro La in August you will almost 100% not need them as there is no ice present.
For expeditions starting in June or early July though, not packing crampons would be a mistake.
Recommendation: Petzl Sarken Leverlock Universal
Microspikes: Also a very legitimate option for gaining purchase on the ice (plus they are cheaper than crampons). If you have never worn crampons in your life before, I recommend that you bring Microspikes instead of full-on crampons.
Recommendation: Kahtoola Micro Spikes
Helmet: When crossing the Gondogoro La, there is a high danger of rockfall. This is truer if you are crossing later in the day and the warm sun is melting ice high above on the mountain. You only need the helmet for the few hours you are descending the La, but it could certainly save your life if you are unlucky enough to be struck by a large stone.
I have heard of people getting killed by rockfall on the Gondogoro, so bringing a helmet is a no brainer.
Recommendation: Black Diamond Half Dome
Harness with Locking Carabiner: The final piece of kit needed for the Gondogoro La crossing is a climbing harness. Without it, you cannot securely clip into the fixed rope. You will also need a sling with a locking carabiner attached.
This will serve as your lifeline in case you slip and fall on the descent.
Recommendation: Petzl Corax
Trekking Poles: I am a firm believer in the importance of using trekking poles. Given the uneven terrain found on the glaciers, having a solid set of trekking poles is key to taking the weight off of your knees, maintaining balance, and preventing falls. If you are new to using trekking poles, now is the time to learn.
Recommendation: Black Diamond Alpine FLZ
Check out our full Black Diamond Alpine FLZ review.
Headlamp: A staple on any trek. Handy for evenings at camp and needed for ascending Gondogoro La in the dark.
Recommendation: Petzl Actik
Check out this article on the best headlamps for trekking.
Water Filter Bottle: Water sources found along the trail are sketchy and can be polluted by a variety of heavy minerals, animal manure, and even human waste (the sad truth). All hail the mighty Grayl Geopress. The Grayl Geopress is the ultimate badass water filter bottle.
It is actually a purifier, which means that it removes bacteria, heavy metals, viruses, and countless other invisible devils hell-bent on ruining your hike. Perhaps along with my favorite hiking boots, having my Grayl Geopress was probably the single most important piece of gear I brought with me. While others were spending their days dashing behind rocks to relieve their terribly upset bowels, I had clean drinking water every single day.
Recommendation: Grayl Geopress
Check out my full Grayl Geopress review.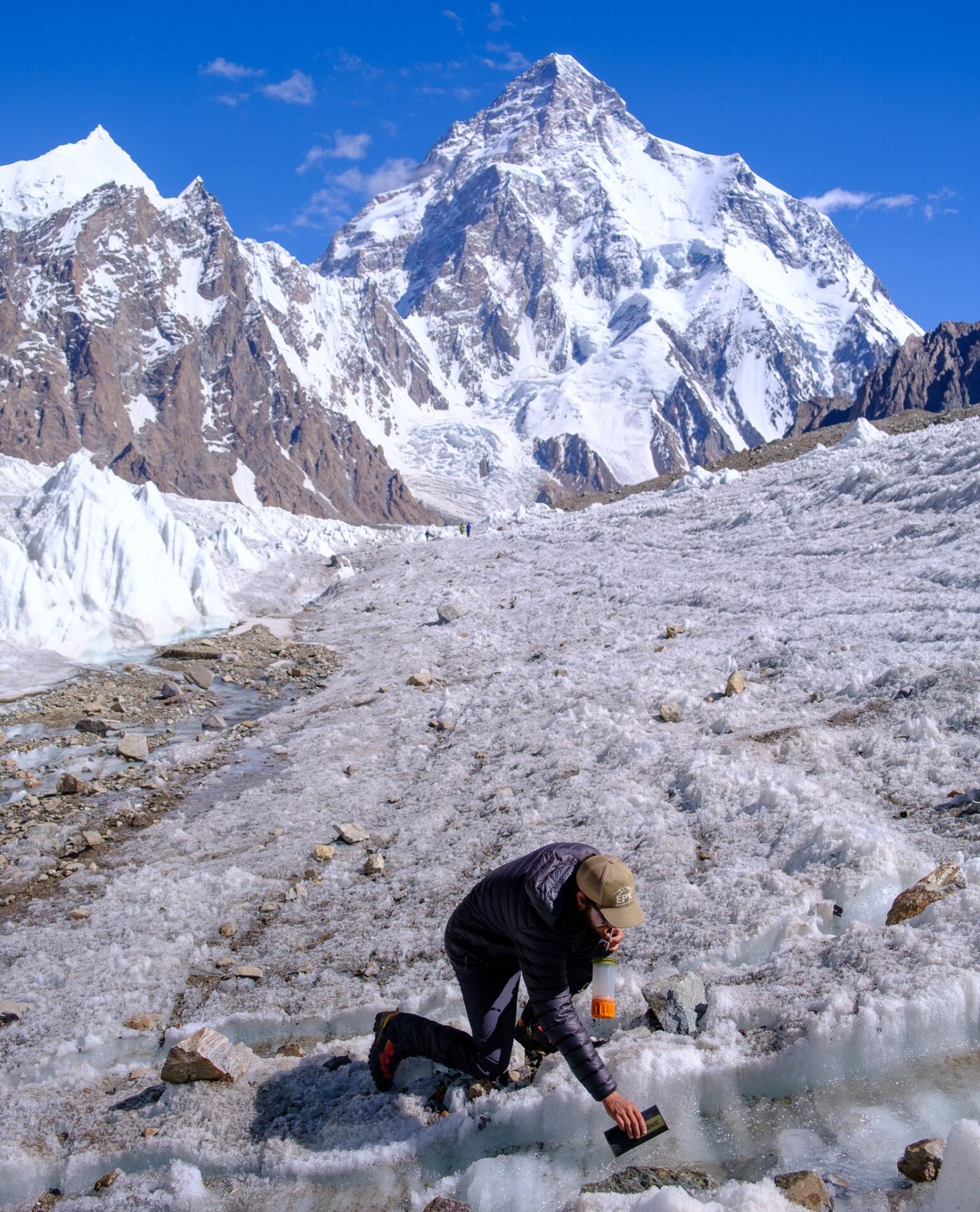 Dry Bags: Be 100% sure that your most important items stay dry when they arrive at camp. I typically keep all of my clothing, sleeping bag, and important electronics and documents in dry bags. Plus, you can stuff a dry bag with your down jacket and other fluffy clothing to make a damn good improvised pillow.
Recommendation: Sea to Summit Lightweight Dry Bag
Power Bank: Most tour operators will have a small generator with them for most of the trek. However, it is much more convenient to be able to charge your stuff inside your tent. Also, the guides only run the generator at night for a few hours (to provide lighting), so your time to charge stuff is quite limited.
When your power bank runs low, you can charge it or your other electronics on the generator. Ah, the luxuries of modern times.
Recommendation: Rav Power 26800
Camera: For capturing the raw awesomeness of the Karakoram of course. Recommendation: Fujifilm X-T3.
First Aid Kit: Again, your guide should have a proper mountain first aid kit, but they will not have everything. Bandaids (plasters), wet wipes, hand sanitizer, lip balm, suncream, antibiotic cream, and electrolyte tabs are all crucial personal supplies to have in the mountains. Bring moleskin for blisters, antibiotics for stomach issues, and Diamox for altitude sickness (optional).
Recommendation: Adventure Medical Kits Ultralight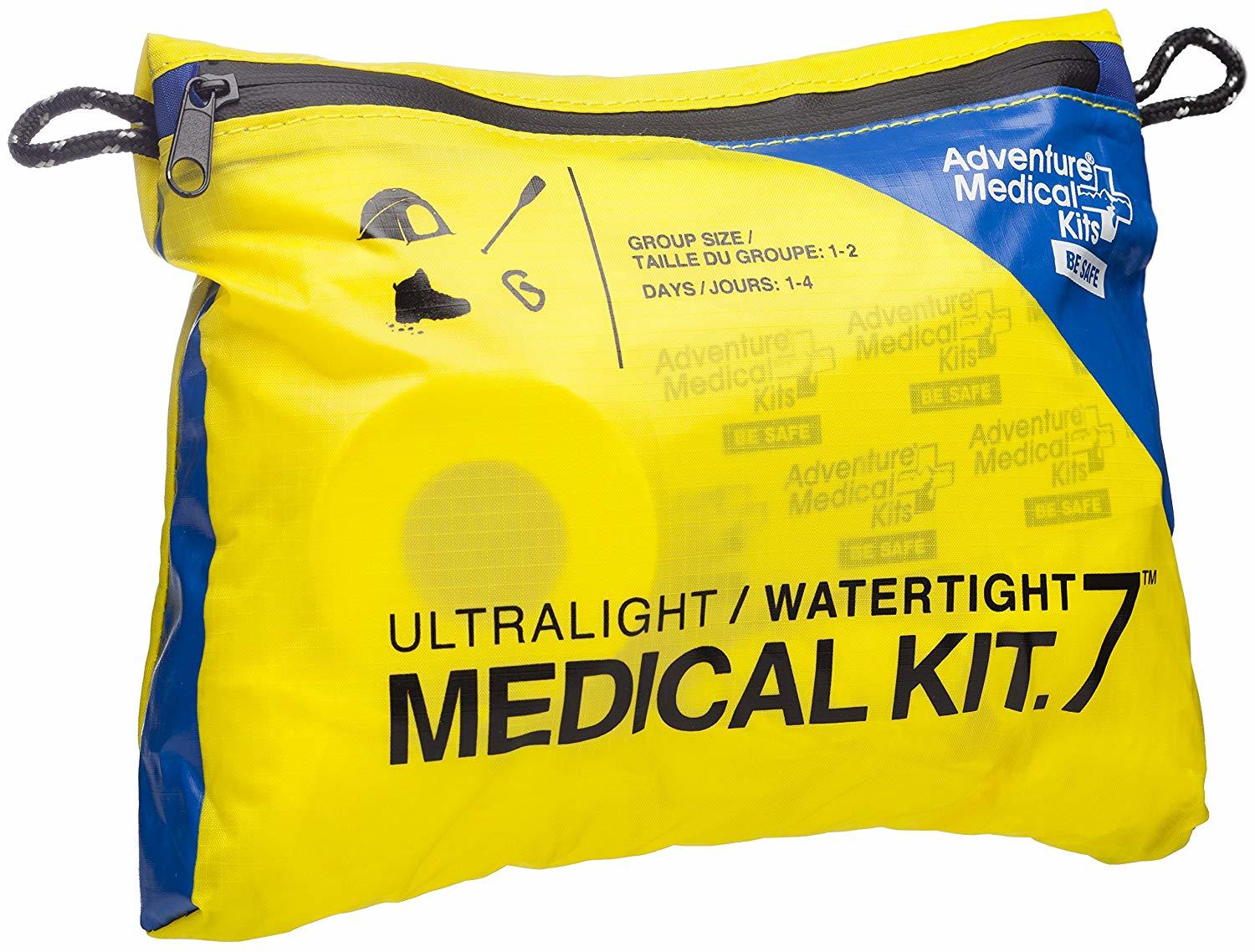 Essential Clothing for the K2 Base Camp Trek
Now that we have covered essential gear, let's take a look at the clothing systems required for this trek.
Down Jacket: Like hiking boots, a sleeping bag, and a water filter bottle, having a good down jacket is 100% crucial for the K2 Base Camp trek. Down jackets provide excellent insulation for those chilly nights at camp and early morning starts on the trail. This insulation provides you with the ability to lock in your body heat, even when temperatures fall to freezing or below.
Recommendation: Patagonia Down Sweater Hoodie
Check out my full review of the best down jackets.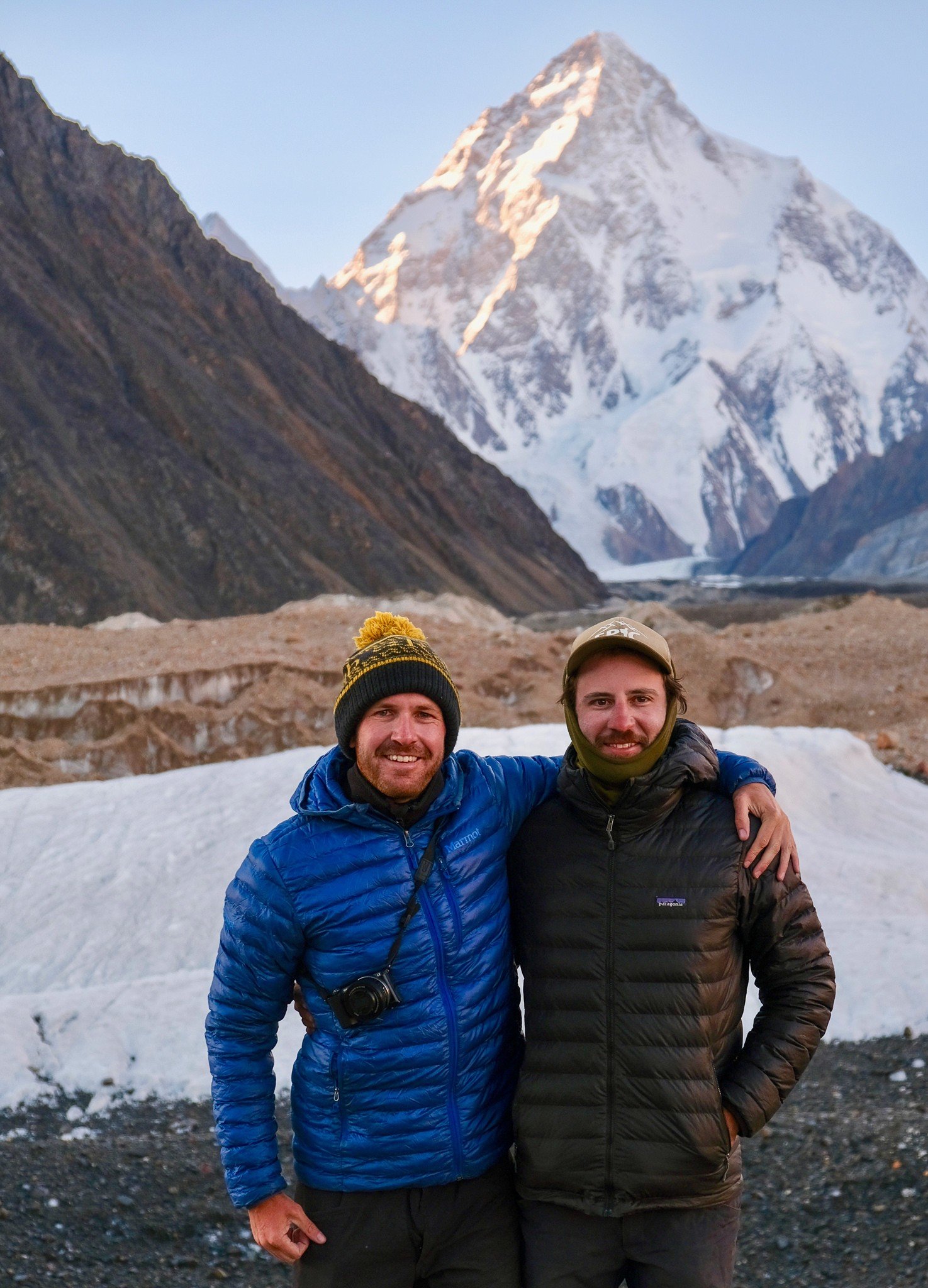 Hard Shell/Rain Jacket: When the going gets wet, windy, snowy or all three, you need a way to lock in your warmth and keep yourself dry. A rain shell is the key to a successful layering system as they function as a sort of warmth seal in addition to acting as a barrier to the elements.
Cheap rain jackets just do not cut it in the Karakoram. They leak, get clammy inside, and will result in your down jacket and other layers below getting wet. You don't want that. Stay dry amigos.
Recommendation: Arc'teryx Beta AR.
Check out my full Arc'teryx Beta AR review.
Fleece: The fleece layer is likely to be your most commonly used torso layer. When it is not quite cold enough to throw on the down jacket, the fleece acts as a comfy around the camp layer. You can also hike in the fleece without getting totally overheated.
Recommendation: Patagonia Better Sweater
Base Layer Top: I don't think I took my base layer off for the entire two weeks I was hiking to K2 Base Camp. In addition to providing warmth, the base layer gives you much-needed protection from the searing Karakoram sun. Even if the weather is quite warm, I still recommend wearing your base layer top to help prevent sunburn (or sunstroke).
Recommendation: Merino Icebreaker 200 Oasis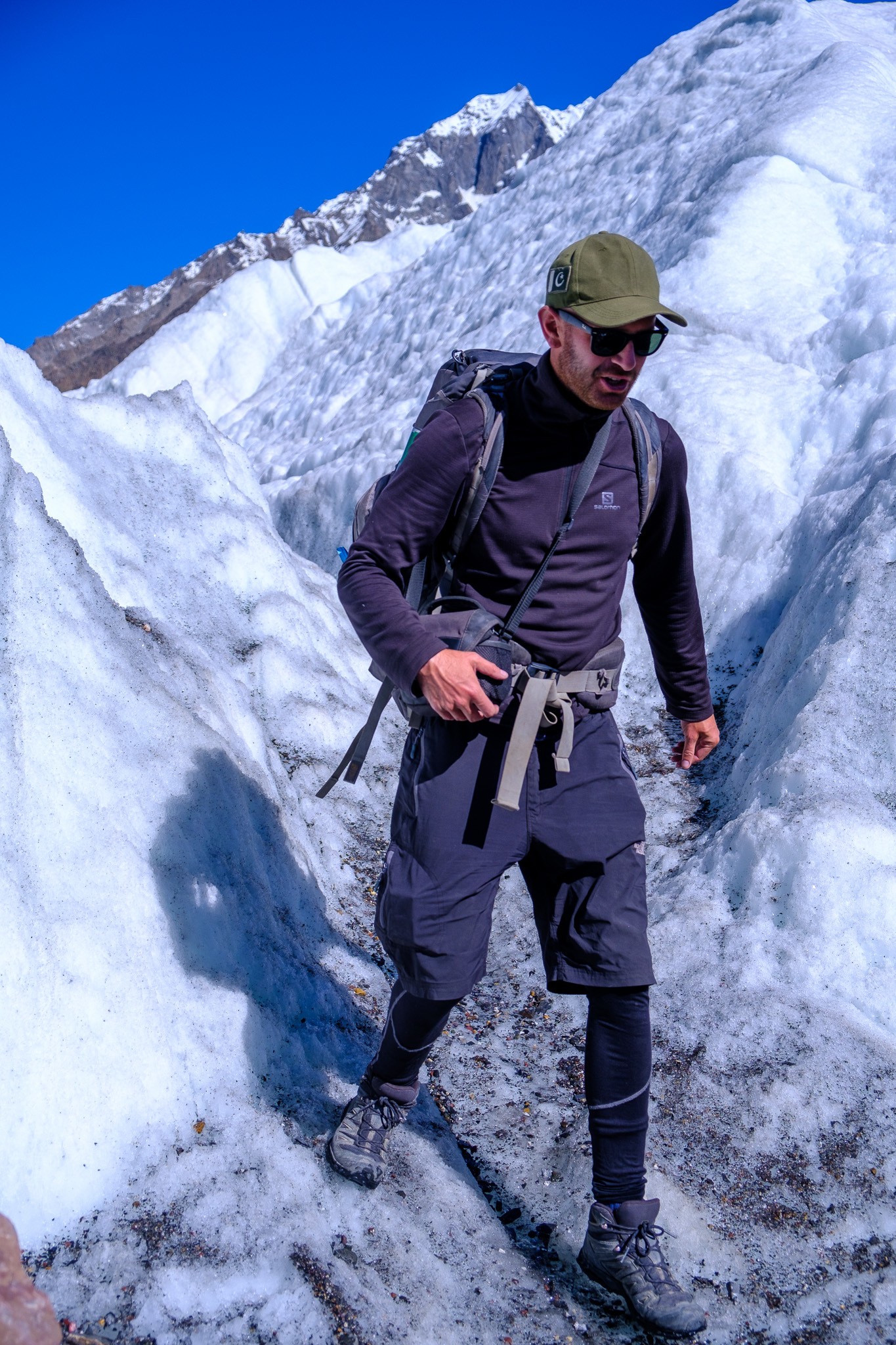 Base Layer Bottoms: If you are a cold sleeper, base layer bottoms will be good for you. For particular frigid nights hanging out at camp, having the ability to chuck on another layer for your legs is nice. I found that I rarely hiked with base layer bottoms on, as they get too hot too quickly. The one exception might be the Gondogoro La crossing depending on weather conditions.
Recommendation: REI Lightweight Base Layer Bottoms
Sun Hat and Warm Hat/Beanie: Hats are a personal preference. A baseball-style trucker hat or safari broad bill that will work. Whichever style you prefer, DO bring a hat. The skin on your face will thank you. Also, bring a warm hat/beanie for the cold temperatures
Recommendation: Patagonia Fitz Roy Trucker
Sunglasses: You don't know the sun's true force until you're walking along a bright white glacier for days. This is why a SOLID pair of sunglasses is essential for the K2 base camp trek. And I don't mean a cheap pick you found at the Skardu bazaar, but a high-quality, non-destructible pair. Always have a backup or two–especially if you're eyes are at all sensitive to light.
Recommendation: Abaco Polarized
Buff: This tiny piece of fabric may not seem useful or necessary, but once you have integrated a Buff into your gear kit, there is no going back. They have so many practical applications from serving as a dust mask to keeping the sun off of your neck. Plus, you could use it as a mask to rob a bank. Just kidding, but seriously, you could.
Recommendation: Buff Lightweight Merino
Gloves: Very important for keeping your hands warm whilst trekking at altitude. Also, gloves are mandatory for gripping the rope as the group descends Gondogoro La. Make sure the gloves are not bulky and that you are able to have some decent dexterity. Waterproof gloves are best.
Recommendation: Sealskinz Multisport Insulated Gloves
Trekking Shirts (3-4): Go with something synthetic. Avoid cotton. I recommend bringing two shirts, but you may well want more. Don't spend a fortune on fancy trekking shirts.
Recommendation: REI On the Trail Run
Lightweight Trekking Pants (1-2): Trekking pants are probably the item you need to worry about the least. You can find an acceptable pair of trekking pants for under $50. You don't need anything fancy. I took two pairs with me. One lightweight pair for most trekking days, and a thicker, warmer pair for the higher altitudes.
Recommendation: REI Sahara Roll-Up
Warm/Multisport Trekking Pants – Lightweight trekking pants won't keep your legs warm in freezing temperatures or wind the wind rips across the valley floor. You don't need down pants, but choose something with a bit of insulation.
Recommendation: Arc'teryx Gamma AR softshell pants
Socks (6-7 pairs): Trekking socks can be expensive, but they are worth the investment! Avoid cotton socks at all costs! A nice pair of trekking socks will mean the difference between making yourself susceptible to blisters or not. Plus, they dry quickly and don't get nearly as rank as fast as cotton socks do. By the end of the trek, they will be rank though, be sure. 5-6 pairs are sufficient.
Recommendation: Darn Tough Hiker Boot
Underwear (4-6 pairs): Your call. I like to wear cotton myself as they breath better than synthetic. The drawback is that they stay sweatier for longer. 4-5 pairs are all you need.
Recommendation: Smartwool Merino Sport 150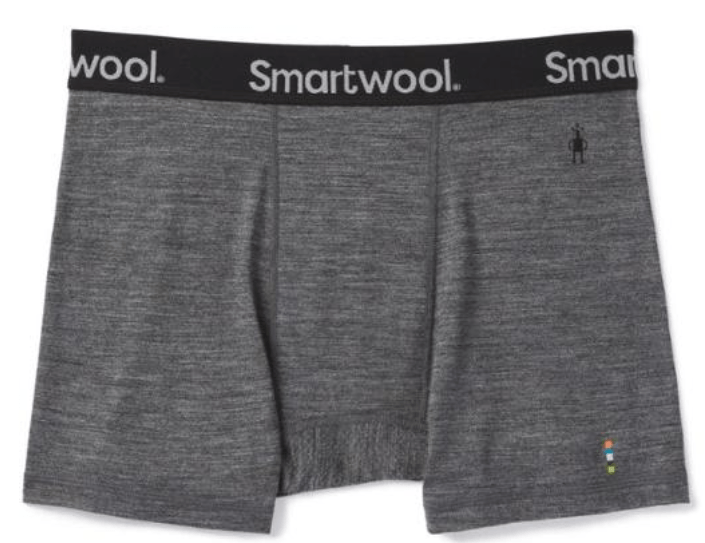 Non-Essential, but Awesome Items to Pack for the K2 Base Camp Trek
Satellite Messenger Device: Having two-way texting capabilities from anywhere in the world is badass. Stay in touch with your family, friends, partner, or whoever else you want from the comfort of your tent. You can also send tracking information, get altitude readings, and send your exact GPS location to your loved one.
Most devices also have SOS emergency response settings, in case of hard times. Keep in mind that your guide should have a satellite phone with them for emergencies.
Satellite messenger devices also require a monthly paid subscription. They are well worth it in my opinion as I used mine nearly every day en route to K2. Our Garmin-In-Reach Mini review will tell you more about it.
Recommendation: Garmin In-Reach Mini
A Good Book: This is almost an essential item! There is a lot of downtime on the K2 Base Camp Trek. Bring along your Kindle or a good book so that you can have something to do during rest days and evening time.
Recommendation: Buried in the Sky: Extraordinary Story of the Sherpa Climbers on K2's Deadliest Day
Staying Safe on the K2 Base Camp Trek
Trekking in mountain environments is inherently dangerous. Certain factors like weather, rockfall, acts of God, etc. are beyond your control. The best thing to do though is to properly prepare for factors within your control.
Take your time when walking on sketchy stretches of the glacier. You do NOT want to roll your ankle out here. Purify your water! The water sources along the way are not guaranteed to be clean. Pack the right gear and keep yourself hydrated and warm. Be observant of your surroundings and do not take unnecessary risks.
Make sure that the company you go with has an emergency plan in place. Confirm the group has a satellite phone, radio, and other communication devices. Take solid travel insurance that will actually help you in a worst-case scenario situation. Which brings us to my next point…
You also need to bear in mind that the K2 base camp is well in the Altitude Sickness Zone. Altitude sickness is caused by thinner, less oxygenated air effecting blood circulation. It begins to kick in at around 2500 metres and symptoms include shortage of breath, dizziness, confusion, troubled sleep and in some cases death. To avoid AML, you must steadily acclimatise to altitude so plan your ascent itinerary accordingly. You can also take tablets that help your body adjust.
How to Choose Travel Insurance for the K2 Base Camp Trek
If you are going on a multi-week backpacking trip in the Karakoram of Pakistan, you are going to NEED travel insurance. I suggest that you go with a plan that will cover you for damage to your personal effects and offers compensation for emergency helicopter rescues (just in case). Read the fine print and confirm that you are covered for adventure sports like trekking at altitude.
Some companies won't cover you if an accident occurs over a certain altitude. Since the maximum altitude gained on the K2 trek is around 5,600 m, you'll need to be covered up to that elevation.
As a wise man once said, if you can't afford travel insurance, you shouldn't be traveling. Traveling without insurance is risky and you should consider getting insurance before you go. We use World Nomads who specialise in covering digital nomads and backpackers.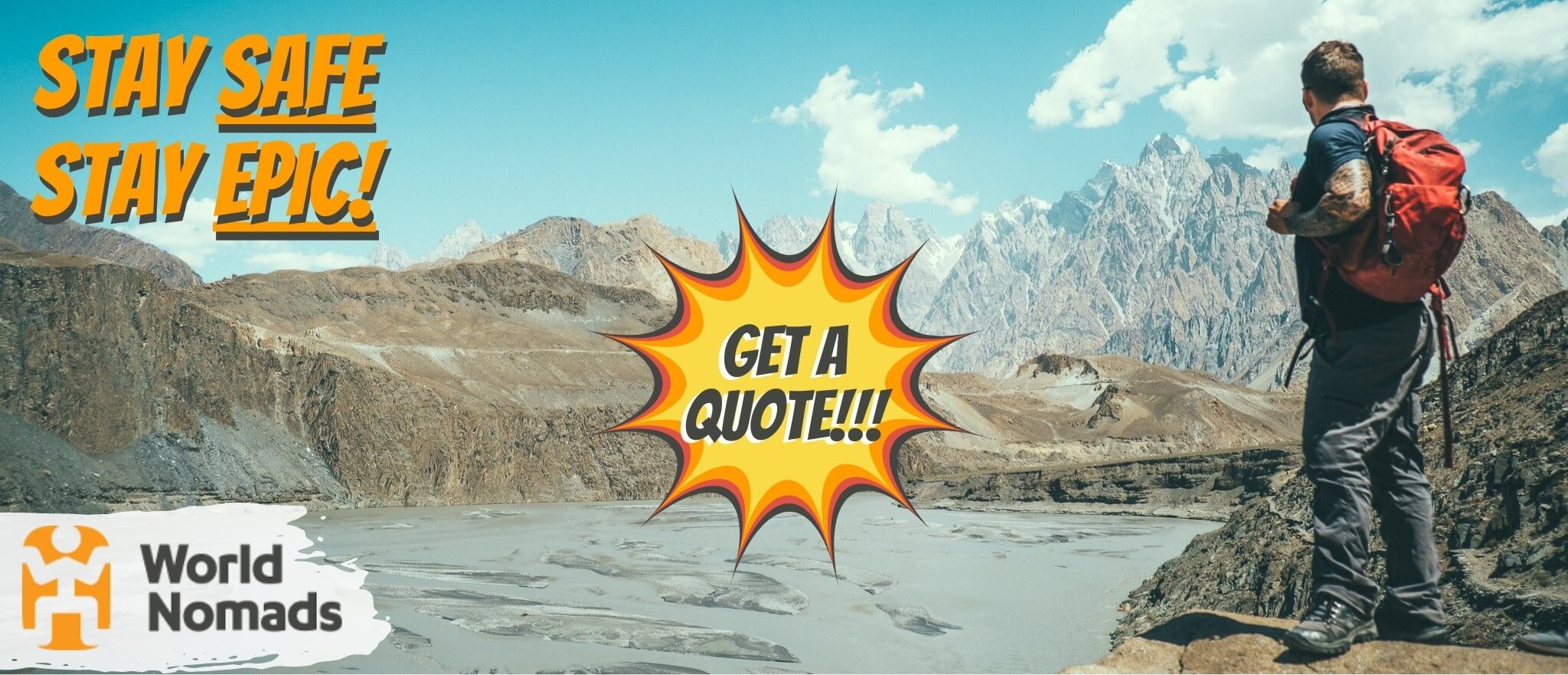 World Nomads' mission is to support and encourage travellers to explore their boundaries. They offer simple & flexible travel insurance, and safety advice to help you travel confidently.
They've been doing it since 2002 – protecting, connecting, and inspiring independent travellers just like you.
Get a quote below or read our in-depth review!
World Nomads provides travel insurance for travelers in over 100 countries. As an affiliate, we receive a fee when you get a quote from World Nomads using this link. We do not represent World Nomads. This is information only and not a recommendation to buy travel insurance.
How to Apply for a Pakistani Visa and NOC
Pakistani Tourist Visa: Luckily, it has never been easier to apply for a Pakistani Tourist Visa thanks to the new Evisa program launched by the Pakistani Government early on in 2019.
Before, travelers had to submit their passport and documents directly to the Pakistani consulate in their home country. The wait times were long; the process complicated, and for certain nationalities, it was pretty expensive. With the Evisa program, from the time you submit your documents to the time you have a visa approval notice is about 5 – 10 days. Awesome!
Foreigners still have to obtain a Letter of Invitation to apply for a visa. Every licensed tour operator offering the K2 Base Camp trek can issue the LOI and other supporting documents you need to apply for your visa. Once you have had your visa approved, it's time to apply for your NOC.
Update June 2021: The Pakistani Government has just introduced a new visa scheme for trekking and mountaineering in the Karakoram. Under the new scheme – all parties planning on going to K2 BC or entering central Karakoram National Park can now apply for the Trekking and Mountaineering Visa instead of the regular tourist visa. Your tour operator can help you with all of the information you need to apply. This will make things easier when it comes to getting all of the final permitting done just before the trek since the visa is specifically for trekking and mountaineering activities.
If you're JUST planning on coming to Pakistan to trek or summit a mountain, this is the best option. However, if you want to trek to K2 and also explore other parts of Pakistan independently, you can also get your permits arranged with a tour company while traveling on a tourist visa. This was specifically seen and confirmed in early July 2021.
The No Objection Certificate (NOC): I'll start by saying that for travelers, obtaining the NOC is NOT your responsibility to apply for. Your tour operator should sort this out for you. The NOC is a necessary permit that allows you to enter the restricted area within the Central Karakoram National Park. Without one, you cannot start the K2 Base Camp Trek.
Obtaining the NOC can take anywhere between 3 weeks and 2 months to complete, as there is only one office in Islamabad that processes these permits. Once you have your visa in hand, all you need to do is send a copy of your passport and visa approval notice to your tour operator and they will start the process of applying for the NOC. You should start this process as soon as your visa is approved.
When to Start the K2 Base Camp Trek
The season in the Karakoram is short and to maximize your chance for clear views and a successful Gondogoro La crossing, you'll need to be strategic about when you start the trip.
July is typically the best month to do this trek. The weather is stable, skies are more likely to be clear, and there is less snow at the higher elevations.
Also, there is little to no ice on the Gondogoro La descent, which removes the need to use crampons. The earliest you would want to attempt the trek would be towards the end of June. Any earlier than that and you risk ending up with poor weather/snowfall, limited views, and lots of snowpack above 4500 meters.
August is also a fine month to start the trek, though August is typically when most groups are on the trail.
Keep in mind that the first days of the trek in July and August are hot, dusty, and exposed to the fierce Karakoram sun. Out here though the fierce sun is much more ideal than a thick blanket of cloud obscuring all of the best views and big peaks.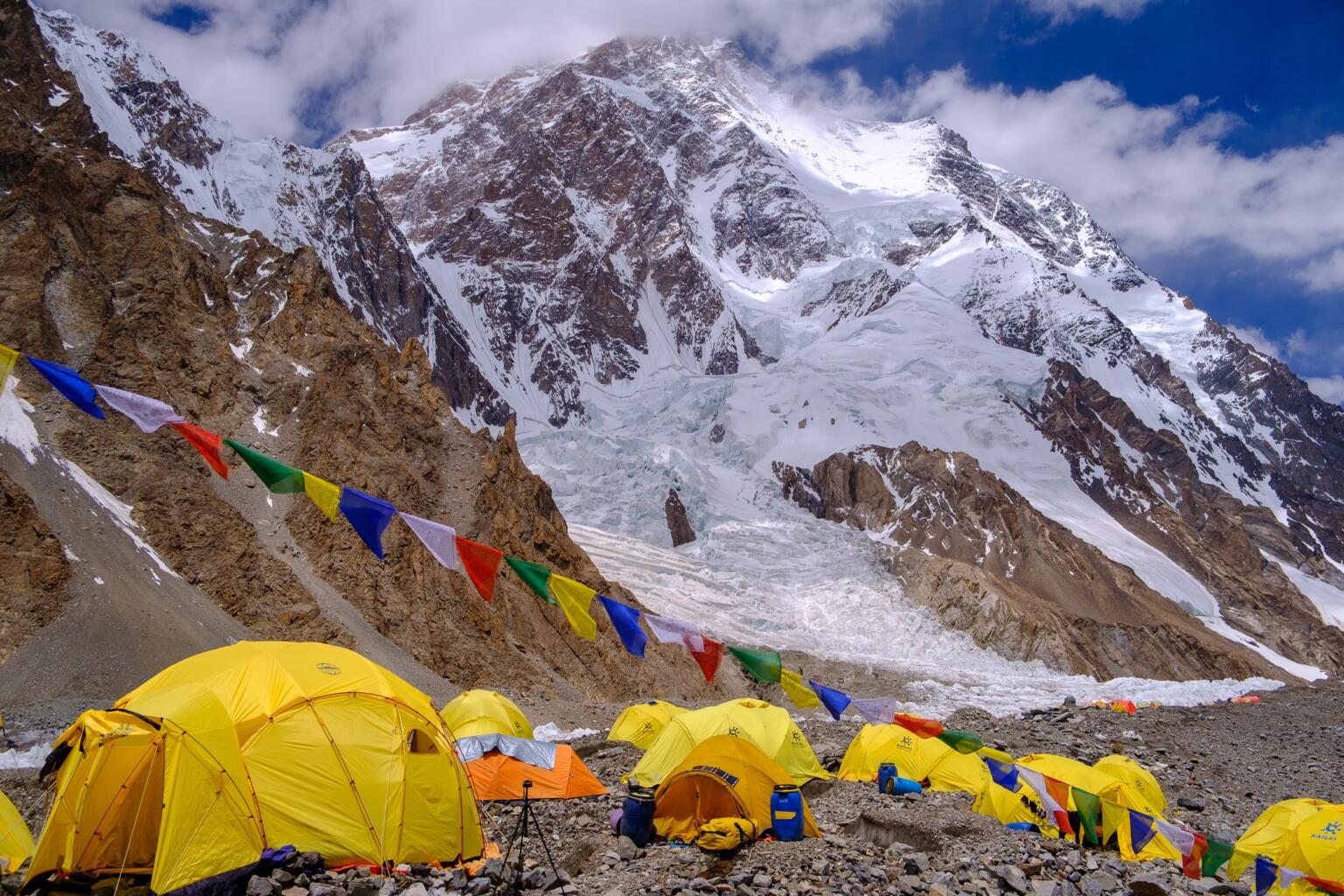 What is Accommodation Like on the K2 Base Camp Trek?
During the trek to K2 and back trekking groups stop off at a series of seasonal camps, set apart at intervals with reasonable elevation gains. All accommodation along the K2 Base Camp Trek is in tents, which the porters carry, set up, and break down daily.
Depending on the time of year, a group will have to share the campsite with two or three other groups. This means that including guests, guides, porters, cooks, and pack animals a campsite could host more than 150 people at any one time. This can come to a bit of a shock to those seeking a true wilderness experience, but it is the reality.
Camps take on a sort of festival atmosphere. People mingle about, sipping steaming cups of chai. Sometimes the porter teams join forces for a rowdy night of singing and dancing. If you don't mind being around people in the middle of a remote mountain range, then you will love the camaraderie.
At the lower elevations, these fixed camps have individual toilet "cubicles", and always have a source of running water (though this water is not always safe to drink). At the higher camps, the cooking teams forage for the clearest glacier water they can find, sometimes with mixed results.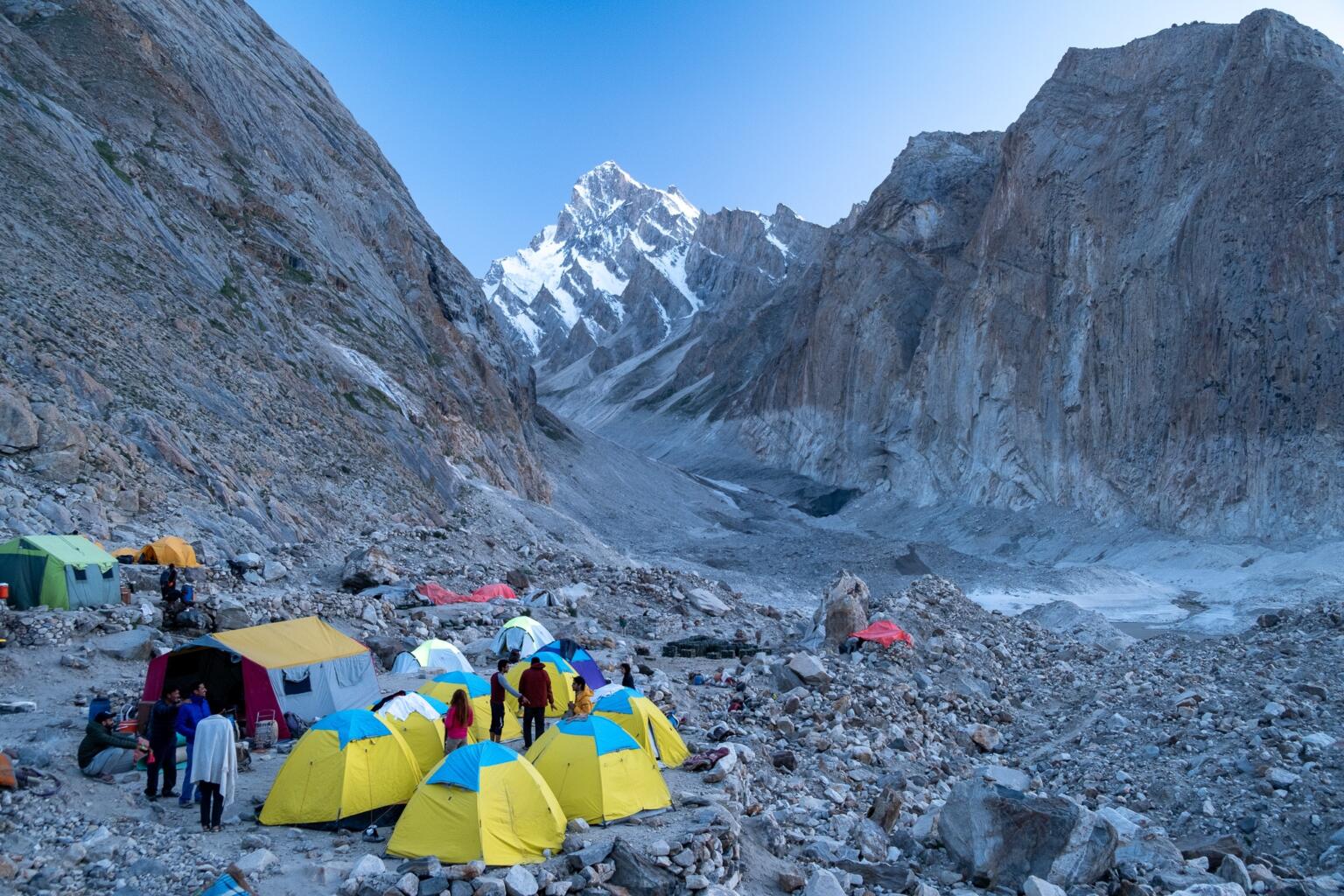 Where Do Groups Start the K2 Base Camp Trek From?
Folks flying in from overseas should arrive into the Islamabad Airport. From there you will join your group and either fly to Skardu or make the journey overland by road. Budget Operators opt to drive as it is considerably cheaper—yet another reason to avoid budget operators.
By road, it takes a hellish 30 hours to reach Skardu as the road (from the KKH to Skardu) is appalling. The flight from Islamabad takes 45 minutes and offers up killer views of Nanga Parbat and other major peaks in the area.
Skardu is the largest city in Baltistan. There is not a whole lot to see and do in Skardu before you start the trip, but a visit to the Kharpocho Fort and Buddha rock are well worth it. Skardu is the place where your guides and cooks will organize themselves before the trek. It is from here that they buy the food, organize the porters and jeeps, finalize the NOC permits, and purchase any last-minute good needed for the trek.
A walk through the chaotic Skardu bazaar provides a welcome introduction to mountain life in Pakistan. There are a few gear shops in town too if you need to pick up something you forgot. The gear shops are located on the main road of the main bazaar, pretty close to the large, colorful Jamia Imamia Mosque. Don't expect a western selection of gear though. These gear shops are about as big as my bedroom.
Still, though, you can find things like trekking clothes, helmets, crampons, climbing equipment, trekking poles, and the like.
From Skardu, groups take 4×4 jeeps to Askole to start the trek. Skardu to Askole by jeep takes between 7-9 hours with a lunch stop. Bring a dust mask/scarf/buff/bandana for the ride.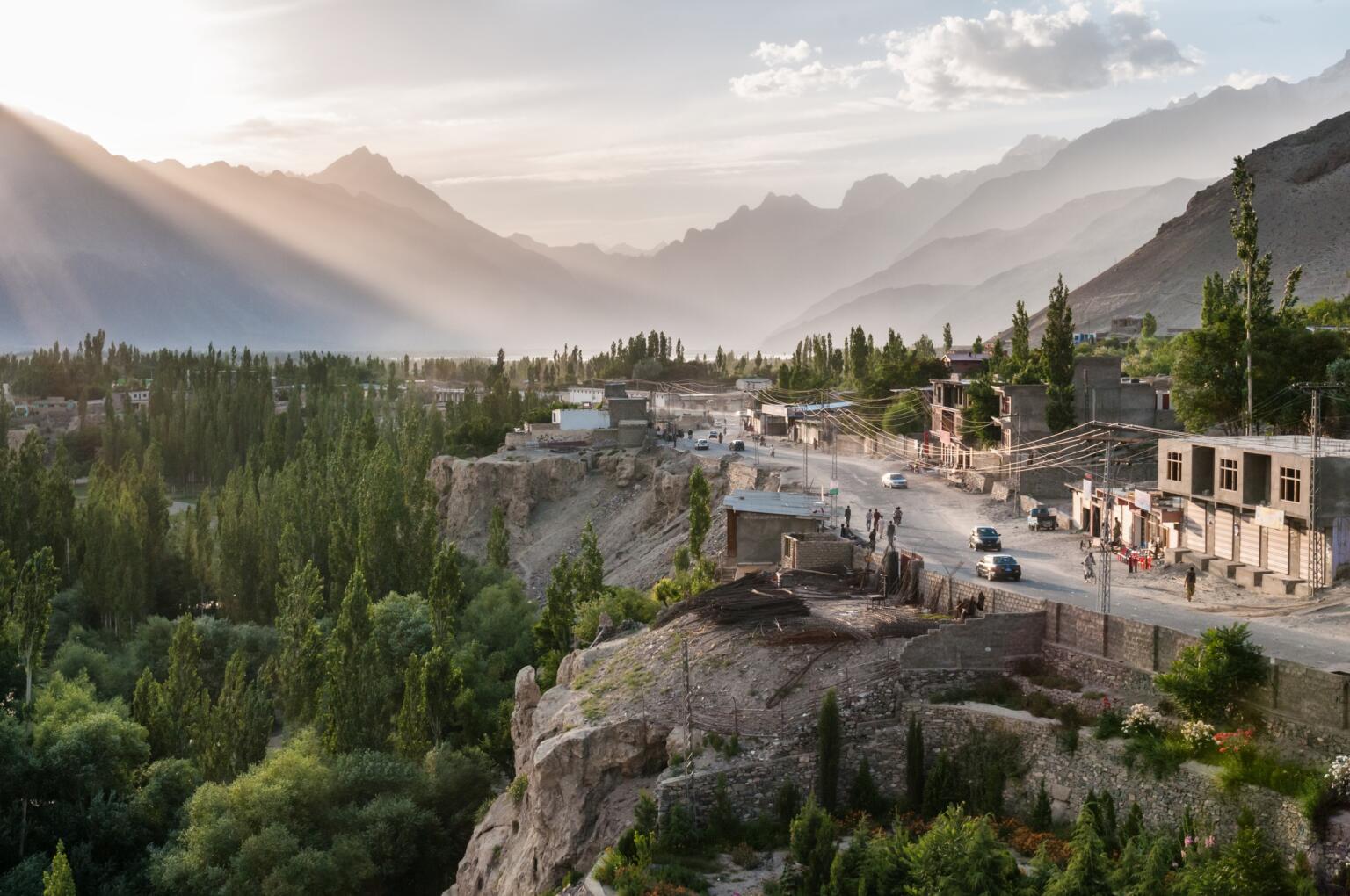 Top Tips for the K2 Base Camp Trek
Below is a list of helpful tips to maximize your chance for an awesome few weeks in the mountains…
1. Go with a good tour operator: The most crucial decision you will make regarding the K2 trek revolves around which company you go with.
2. Arrive with a good state of fitness: The more fit you are, the more you will enjoy your time in the mountains. Period.
3. Bring a Grayl Geopress – These bottles are amazing. Nothing is worse than trying to trek with an upset belly obtained from drinking dirty water.
Save $$$ • Save the Planet • Save Your Stomach!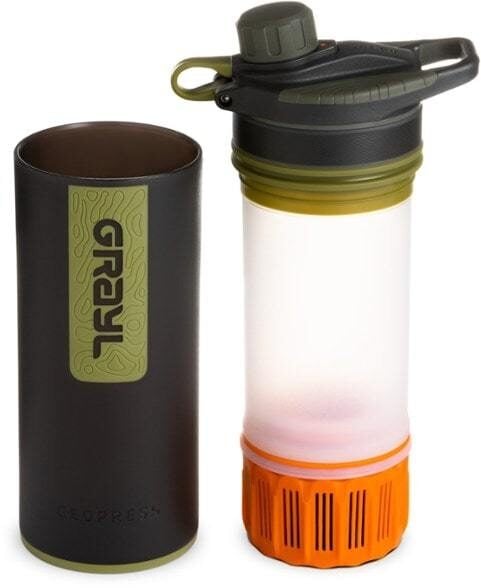 Drink water from ANYWHERE. The Grayl Geopress is the market's leading filtered water bottle protecting your tum from all the waterborne nasties. PLUS, you save money and the environment!
Single-use plastic bottles are a MASSIVE threat to marine life. Be a part of the solution and travel with a filter water bottle.
We've tested the Geopress rigorously from the icy heights of Pakistan to the tropical jungles of Cuba, and the results are in: it WORKS. Buy a Geopress: it's the last water bottle you'll ever buy.
Buy a Geopress!
Read the Review
4. Use suncream and sun protection: Spend money on quality sunscreen, a good hat, and a nice top base layer. The sun is super intense, shade is non-existent, and you'll need every bit of protection you can get. Bring a few tubes of lip balm also!
5. Wash your hands often: Sanitary norms sharply degrade in the mountains. Do your best to wash your hands regularly and/or use hand sanitizer after using the toilet and before eating.
6. Break-in your boots: Do not turn up with brand new boots. I am repeating myself here because it bears repeating.
7. Buy a good sleeping bag: There are certain pieces of gear that you simply can not be a cheap ass about. A sleeping bag is one of those things. Go for a 0 degree F bag.
8. Get to know the porters and guides: Part of the experience of the K2 trek is getting exposure to Balti culture. Take the time to chat with your team of hard-working porters, cooks, and guides. They always have amazing insights into what life is like in Baltistan and on the Baltoro Glacier.
9. Bring snacks: The availability of quality snack food in Skardu is very limited. Bring your favorite assortment of snacks from home and chow down during trail breaks. Nuts, jerky, energy gels, Cliff bars, dark chocolate, superfood powder, bliss balls… these are all solid snack foods.
10. Be Patient: Things do not always go as planned in Pakistan and sometimes delays can occur. This is true whether you are on the trail, road, or in the city. Bring a positive attitude and your patience A-game, and try not to take yourself or the situation too seriously.
A Brief Climbing History of Climbing K2
Over the years, K2 has developed a reputation as one of the most difficult and dangerous 8,000-meter peaks to climb in the world. Of the five highest mountains in the world, K2 is the deadliest where approximately one person dies on the mountain for every four who reach the summit.
The 1954 Italian Karakoram expedition finally succeeded in ascending to the summit of K2 via the Abruzzi Spur on 31 July 1954. The expedition was led by Ardito Desio, and the two climbers who reached the summit were Lino Lacedelli and Achille Compagnoni.
The team included a Pakistani member, Colonel Muhammad Ata-Ullah, who had been a part of the 1953 American expedition. Also on the expedition were Walter Bonatti and Pakistani Hunza porter Amir Mehdi, who both proved vital to the expedition's success in that they carried oxygen tanks to 8,100 meters (26,600 ft) for Lacedelli and Compagnoni. The ascent is controversial because Lacedelli and Compagnoni established their camp at a higher elevation than originally agreed with Mehdi and Bonatti.
Being too dark to ascend or descend, Mehdi and Bonatti were forced to overnight without shelter above 8,000 meters leaving the oxygen tanks behind as requested when they descended. Bonatti and Mehdi survived, but Mehdi was hospitalized for months and had to have his toes amputated because of frostbite. Sketchy Italians…
As of 2019, no expedition has ever made a successful winter ascent, despite numerous attempts. Whoever eventually manages a winter ascent on K2 will become immortalized forever in mountaineering lore, that is for certain.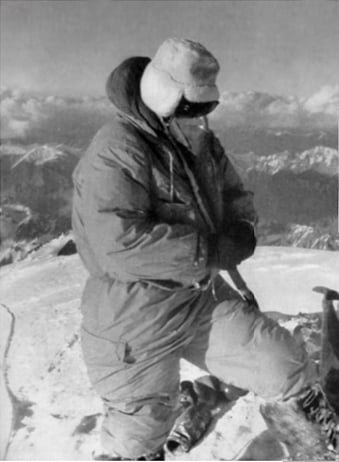 Final Thoughts on the K2 Base Camp Trek
By now, you should be beyond stoked to add this epic trek to your bucket list of adventures. Honestly, the K2 trek is one of the coolest adventures you can go on and the rewards are endless.
Towering mountain peaks, cerulean glacier pools, remote wilderness, Balti culture, alpine passes, comrades to adventure with, I mean, what else do you need?
Hopefully, this K2 Base Camp trek guide will help you prepare to have an awesome adventure of your own!
See you in the mountains amigos.
---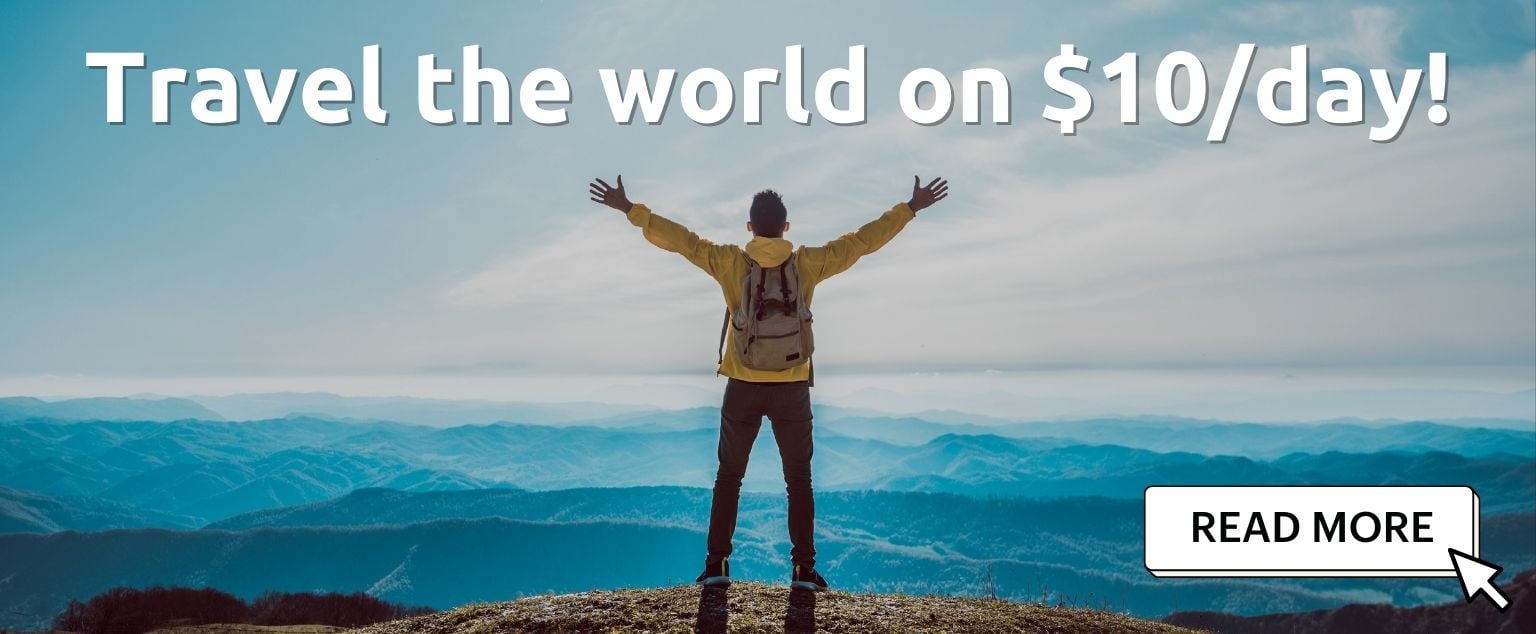 And for transparency's sake, please know that some of the links in our content are affiliate links. That means that if you book your accommodation, buy your gear, or sort your insurance through our link, we earn a small commission (at no extra cost to you). That said, we only link to the gear we trust and never recommend services we don't believe are up to scratch. Again, thank you!