Backpacking with a tent is a no-brainer. Accommodation is, without a doubt, the absolute biggest budget killer of any great journey. And if you have any intention of backpacking around the world's more expensive areas (Australasia, North America, Western Europe, etc.) it's almost a necessity.
It's also freedom. Why stay in a grotto backpacker dorm in a noisy, busy city when you could stay in a forest? Or on a beach… Or up a mountain! The options are endless!
Unfortunately, our fine providers of backpacking and outdoor gear have realised just how much we rely on these portable fabric bungalows. So, they've jacked up the price.
Would you like a cheap camping tent that's likely to crumble at the first sign of trouble or our super-deluxe $400+ beast built to withstand a category 4 cyclone?
That's how the proposition is usually phrased but why the hell are you camping in a category 4 cyclone anyway? The truth is you can make do easily on cheap backpacking tent.
That doesn't mean you don't want the best cheap backpacking tent! You definitely want the best budget tent for your needs. Especially if you are going camping in that category 4 cyclone.
So let's talk about that. I've rounded up the best budget backpacking tents you can get in several specified categories so you'll find what suits ya, I'm sure. But before that, let's talk about the considerations to make in how to choose the best backpacking tent for yourself.
But before even that, I wanna hit home on why I truly-dooly-diddly-doodly think it's better to just buy a cheap budget tent.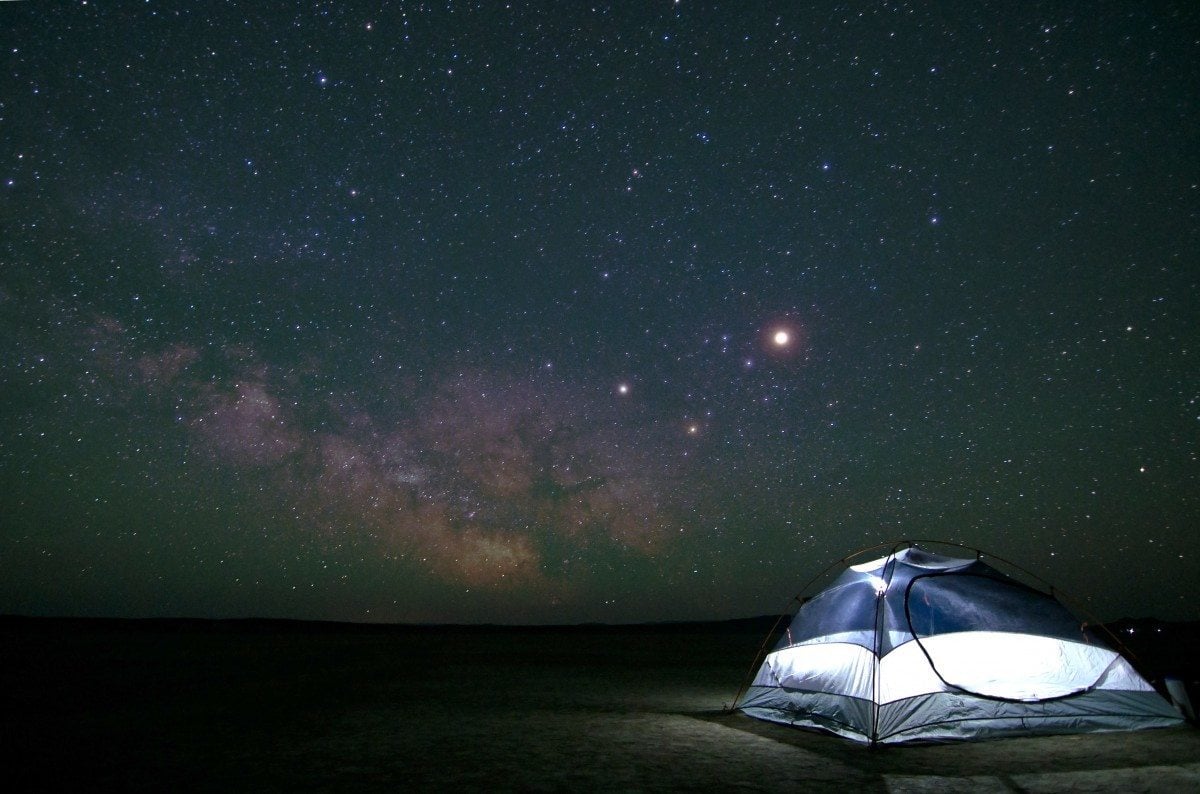 Quick Answer: The Best Budget Backpacking Tent
Jump to -> Tent Reviews
BEST OVERALL BUDGET TENT FOR BACKPACKING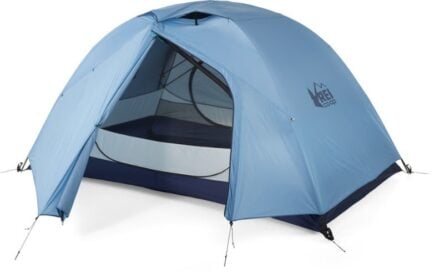 BEST OVERALL BUDGET TENT FOR BACKPACKING
REI Co-op Half Dome SL 2 Plus
Price: > $$$
Packaged Weight: > 2 lbs. 9 oz.
Footprint: > Nay
THE BEST BUDGET 1 PERSON BACKPACKING TENT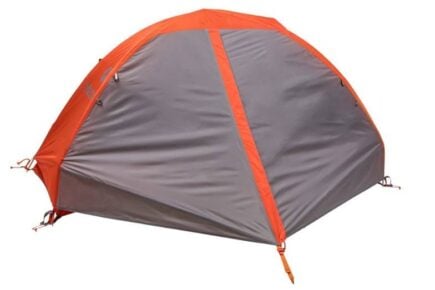 THE BEST BUDGET 1 PERSON BACKPACKING TENT
Marmot Tungsten 1P
Price: > $$$
Packaged Weight: > 3 lbs. 12 oz.
Footprint: > Yay
THE BEST BUDGET 4-SEASON BACKPACKING TENT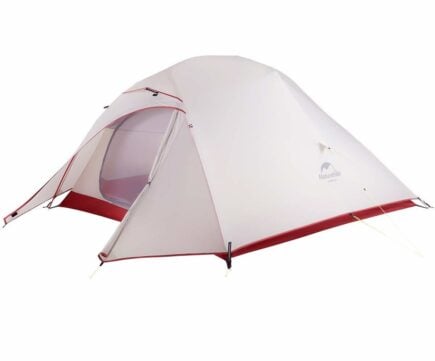 THE BEST BUDGET 4-SEASON BACKPACKING TENT
NatureHike Cloud-Up
Price: > $$
Packaged Weight: > 5.7 lbs.
Footprint: > Yay
BEST BUDGET TENT RUNNER-UP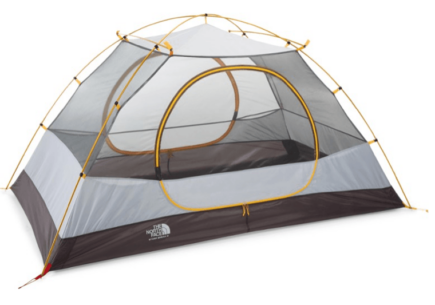 BEST BUDGET TENT RUNNER-UP
Big Agnes Fly Creek HV UL 2
Price: > $$
Packaged Weight: > 2 lbs. 4 oz.
Footprint: > Nay
Ladies & Gents, It's Time to Step Your GEAR Game Up. 😉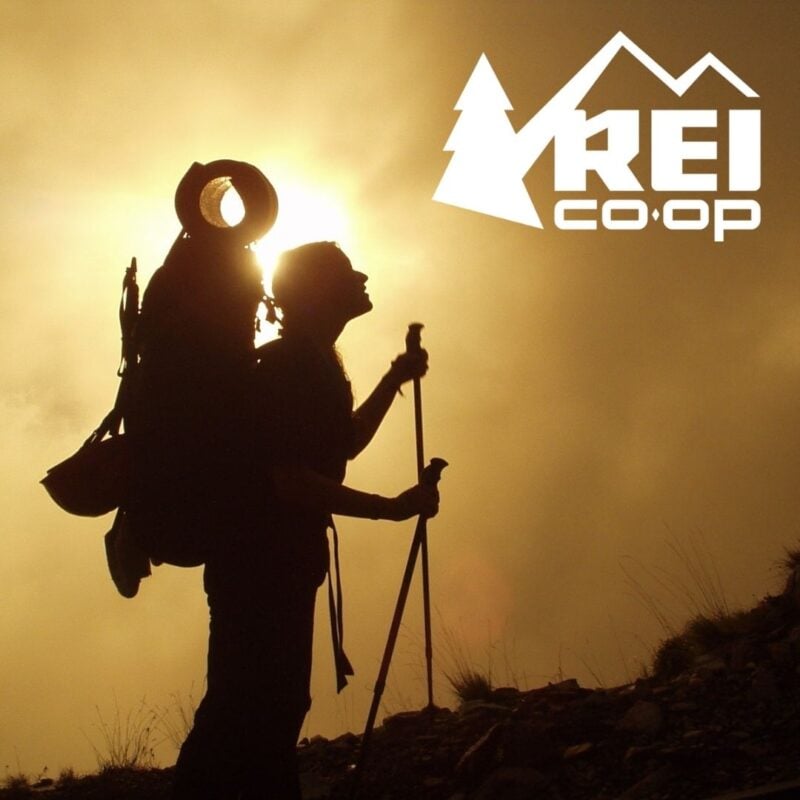 REI is one of America's biggest and most-loved outdoor gear retailers.
Now, for just $30, get a lifetime membership that entitles you to 10% OFF on most items, access to their trade-in scheme and discount rentals.
Join REI Today!
#1 Best Overall Budget Tent for Backpacking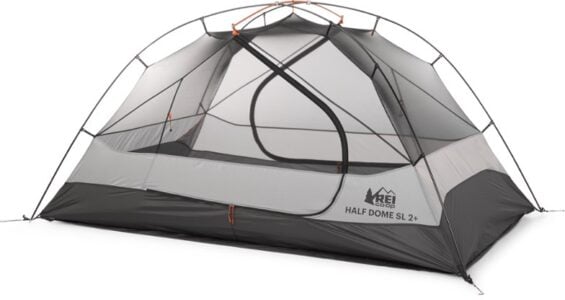 Specs
Price: $279
Weight: 3lbs 14 oz (2.2 kg)
Type: 3-Season
The REI Half Dome 2 Plus wins the draw on sheer merit of all-round excellence.
The Half Dome is roomy; it's like having a little fabric bungalow all to yourself. Vertical walls create a much more spacious environment (with a lot more headroom) that mops the floor(space) with every other tent on this list.
So what else makes this the best 2 person budget backpacking tent. It has double doors with double vestibules, interior pockets – like an absolutely ridiculous amount of pockets. As someone who wears glasses from wakey-time to sleepy-time, I'd just like to say that tents without interior pockets should burn in a fire. It's also got interior loops for hanging things inside the tent and the ventilation of the Half Dome is incredibly on point.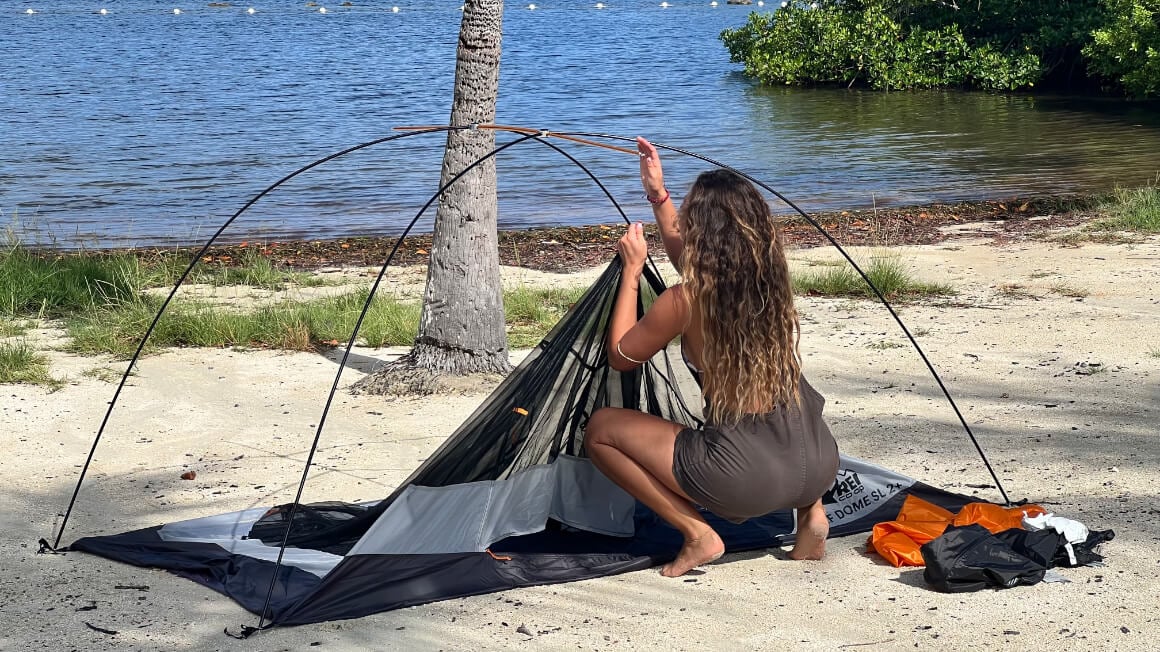 So what's the drawback with the REI Half Dome? Well, it's weighty, clocking in at 5.5 lb (2.5 kg) and that's why I say this is a tent designed for two people. The spaciousness of the tent has been given great thought, the durability of the materials has been upped to prevent any premature tent death, and at the cost of all that, you have a tent that's pack-load is better shared between two people.
All around, REI knew who they were aiming for with this tent and they well and truly hit the mark. If I wasn't perpetually alone and unloved, this would be the tent I'd share with someone – no doubt whatsoever.
Want to know more? Check out our full-length REI Half Dome 2 Plus review.
Pros
Affordable
High-quality design
Cons
Expensive when compared to similar tents
#2 Best Budget tent Runner-Up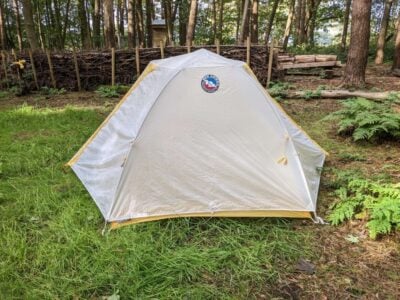 Specs
Price: $399.95
Weight: 2 lbs 3 oz (1 kg)
Type: 3-Season
Alright, Big Agnes: these guys do really solid tents as well and the Big Agnes C Bar 2 is no exception. However, it comes at a catch: it's small. Although, what did you expect from a budget lightweight tent?
So how small is it? Well, it would be fairer to call this 2 person tent a 1.5 person tent. If you're travelling as a pair, you're either going to want to chop someone in half or just get used to farting on each other pretty quick. The design leaves very little wiggle room around the shoulders and the walls taper in just to make matters worse.
But there is an upside to the C Bar's squishiness: it's light! Four pounds (1.8 kg)! If you are a travelling pair and you aren't bothered by the sleep farts, that's a seriously small pack addition for a shelter for two.
Oh yeah, footprint… it doesn't come with one but that's fair for such a lightweight 2 (1.5) person tent coming in at such a cheap amount.
The Big Agnes has only one door and vestibule. This design choice means that stashing 2 peoples gear is a nightmare (it's gonna be a Jenga-type scenario) but it also means you get excellent rain protection. Once you're locked in, you're locked in.
Overall, if you're travelling long-term as a pair, this probably isn't the best budget backpacking tent for you. Eventually, you'll have an argument. Eventually, you'll want space and that's when a night farting on each other really turns sour.
But, if you're backpacking solo, the Big Agnes presents an excellent option as a cheap lightweight one man tent because you'll have that extra 0.5 of a human worth of space.
Want to know more? Check out our full review of the Tiger Wall UL 2.
#3 The Best Budget 1 Person Backpacking Tent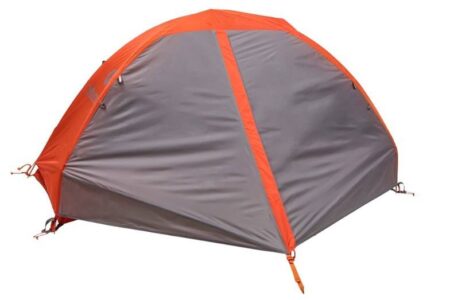 Specs
Price: $193
Weight: 3lbs 8 oz (1.6 kg)
Type: 3-Season
If you're in the market for an actual budget 1 person backpacking tent though, let's talk about the Marmot Tungsten 1P. It's a sweet choice for the solo adventurer who isn't expecting a "cuddle" buddy anytime soon.
It's a good tent at a tight price. Tight is apt – it is a cheap 1 person tent after all – but it still doesn't have that coffin feel. The walls are vertical creating a much roomier space and the D-shaped door and vestibule are on the side meaning you can open up for even more spaciousness (weather permitting).
The Marmot Tungsten is also made of solid material and is extremely durable (Marmot is good for this). It's even got the bonus feature of a 'lampshade pocket'. Stash your headlamp in there and you've got yourself some ambient lighting. This isn't necessarily a feature unique to the Marmot Tungsten but it's always a dope addition all the same.
The Marmot Tungsten 1P weighs in at 3.75 lb (1.7 kg) meaning it doesn't quite make the cut as a budget ultralight tent, but it's pretty damn feathery all the same! They've also lovingly included the footprint. It's also got decent waterproofing for a tent of this ilk.
As far as your options for a cheap one-man tent go, the Marmot Tungsten is one of your best choices. It's a cheap one-person tent that doesn't feel like its quality has been sacrificed for the budget restrictions.
Cons
Marginally heavier compared to similar 1-person tents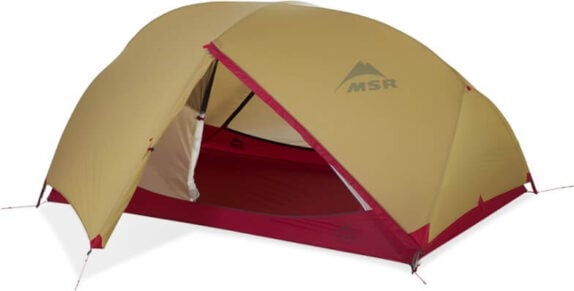 Specs
Price: $549.95
Weight: 3lbs 4 oz (1.47 kg)
Type: 3-Season
MSR make damn good tents. So good, in fact, that the MSR Hubba tents made the top pick for both our best backpacking tent and our best 3 person tent. I also know because it was the MSR Hubba Hubba NX 2 I had in New Zealand.
The tent's material is top-notch and of trademark MSR quality; this thing is built to last (excluding any guerrilla assaults from subterranean sources). It has double doors, double vestibules (and MSR does good vestibules), and my favourite 'this shouldn't impress me as much as it does' feature: a glow-in-the-dark zipper!
I know the price of this tent is probably giving some of you a heart attack. But hear me out: I took the MSR Hubba Hubba on a 45-day backpacking expedition in the Arctic. This tent stood above and beyond all the elements. So this goes beyond a suggestion, its a personal recommendation. If you have purchased any MSR products before, then you know that their exceptional quality is here to stay.

Do You Want to Travel FOREVER??
Pop your email in below to get a FREE copy of 'How to Travel the World on $10 a Day!'.
Best of the Rest: Best Budget Backpacking Tents
When it comes to a budget, it is very subjective depending on the backpacker. The best of the rest include high-quality tents that are objectively more expensive compared to the products we selected above.
But hear me out, the products selected in this section of the article have been tested by Broke Backpacker writers. Even though some of the products may be more expensive, they can handle long-term abuse and are a great bang for your buck.
Specs
Price: $369.95
Weight: 2lbs 6 oz (Just over 1 kg)
Type: 3-Season
Imagine going to bed after a long day of exploration. You set your alarm for daybreak since your next few days will be even longer. You fall into a 14-hour coma only to wake up realizing you slept through your alarm. In a panic you drop your Nemo Hornet tent, stuff your pack to the brim, eat a quick bite, and head down the trail to start making up for the lost time.
Some of you might have a sour initial reaction to that price, but hear me out. Throughout my years of doing winter backpacking expeditions, I have had a Nemo tent protect me from all the elements. Their durability, versatility, lightweight and price range make their products a total home run. You spend the money now and get a bang for your buck down the road.
With color-coded guy lines and identifiable pole intersections make the tent setup idiot-proof.
Nemo also takes all the little things into consideration. Like the Light Pocket. Stick your headlamp into the Light Pocket on the ceiling of your tent and every corner is illuminated. It's awesome and super useful.
The Nemo Hornet has the best features that make it great for an easy and quick setup/take-down. We've also rated it amongst the best bikepacking tents too.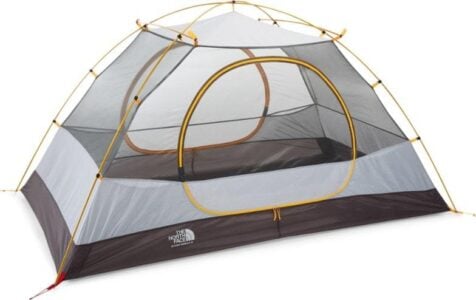 Specs
Price: $185
Weight: 5lbs 14 oz (2.67 kg)
Type: 3-Season
As an industry leader the North Face has a reputation for making some of the most reliable products on the market. Tents included.
You're in the midst of a week-long backpacking trip. Sweat has been shed, feet have the smells and you're many days away from a hot shower. The high-low ventilation allows for efficient airflow so no smells linger in the tent longer than they have to. Beyond the smells, that means warm nights allow for constant ventilation and colder nights allow you to retain heat captured in the tent.
While many two-person tents tend to run small, thats not the case with the North Face Stormbreak. The high angle walls allow for abundant headroom so you're not scraping your head on the top of the tent when you sit up.
Compact, comfortable, and affordable make this a home run for any backpacker on a budget.
Learn More: North Face Storm Break 2 review
Pros
Affordable
High-Quality Design
Cons
Heavy compared to similar tents that size
#7 The Best Budget 4-Season Backpacking Tent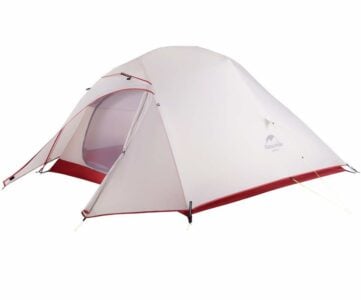 Specs
Price: $145
Weight: 5.7 lbs (2.6 kg)
Type: 4-Season
Coming in with a 1, 2, or 3 person model is the NatureHike Cloud-Up for the best budget 4-season tent. The more friends you can pack in the warmer it gets!
Now, realistically, you're taking a calculated risk with a budget 4-season tent. For more extreme conditions it tends not to stinge on your gear given that… you know… hypothermia thing. Still, the NatureHike Cloud-Up is a good option if you're determined on buying from the budget end of the spectrum. It's lightweight, it's cheap, and it will still hold its own in winter conditions. Let's call it a backpacker's 4-season tent.
It's a one door tent with the door at the head to create a tighter enclosure. As a shelter, it can take anything short of pitched on a blizzardy mountainside but problems present with the vestibule. The Cloud-Up's vestibule only extends shortly past the door so opening it in a downpour is going to result in an interior paddle-pool.
Shaving a bit off the vestibule and floor space, however, means shaving a bit off the load in your pack. The two person model weighs in at 4.9 lb (2.2 kg) making it a good weight for a cheap 4-season tent. Even though it's a squishy fit, I'm sure you'll appreciate the extra body warmth of another human considering the weather conditions this tent is designed for.
Pros
Affordable 4-season tent
Durable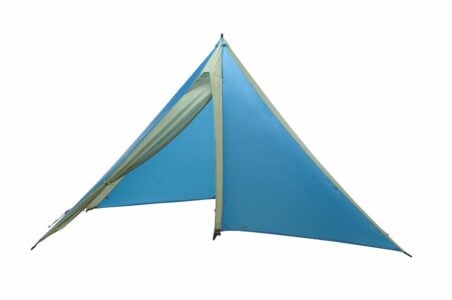 Specs
Price: $319.95
Weight: 2lb 13 oz (1.3 kg)
Type: 4-Season
Right, so this one is a bit of a weird entry but bear with me for a second. It's certainly past the limit for a budget backpacking tent but the versatility of this shelter makes up for the extra price.
This is a 4 season 'tent' though shelter much more aptly describes the Black Diamond Mega Light. There's no floor. Now, hold on, before you tell me how blisteringly stupid that is, just hear me out!
The Black Diamond is a somewhat budget 4-season shelter. Tested up to winds of 50mph, it can handle winter conditions (though, with a bit of a draft considering that whole 'no floor' thing).
Of course, that makes it an option for a cheap ultralight tent usable in any weather scenario. It comes in at 2.8 lb (1.3 kg) and there is a floor/bug netting sold separately but it adds another 3.5 lb (1.6 kg). Finally, the shelter has a whopping floor space of 50.7 square feet (4.7m2) meaning there's room to sleep up to four humans.
It's not stealthy – if urban camping is your jam – but it is roomy. It also has the extra nifty feature of being able to be supported using a trekking pole instead of the pole it travels with. That means dropping that weight even more.
So, yup, it's a weird concept but it works in execution. It'll meet the needs of any sized crew in nearly any weather conditions. The downside is you're paying an extra premium for the versatility of use… well, that and the lack of flooring.
Oh, and there's no footprint… duh
The best present of all… is CONVENIENCE!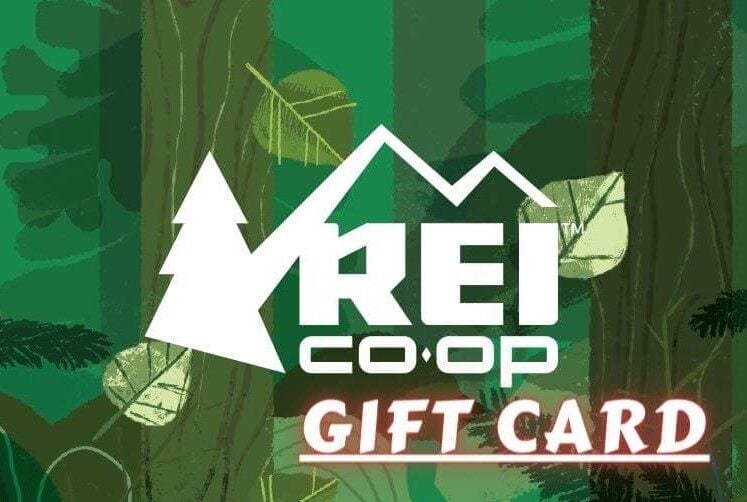 Now, you could spend a fat chunk of $$$ on the WRONG present for someone. Wrong size hiking boots, wrong fit backpack, wrong shape sleeping bag… As any adventurer will tell you, gear is a personal choice.
So give the adventurer in your life the gift of convenience: buy them an REI Co-op gift card! REI is The Broke Backpacker's retailer of choice for ALL things outdoors, and an REI gift card is the perfect present you can buy from them. And then you won't have to keep the receipt. 😉
Buy on REI!
How to Choose the Best Budget Backpacking Tent For You: Considerations to Make
Right, so you're a backpacker and you're, most likely, on a shoestring budget. That means you need to be a savvy consumer. That also means you need to know the difference between a minimum trail weight and a packaged weight. You need to know the difference between nylon-denier and polyester-denier. You need to know the difference between a guy-line, a byline etc.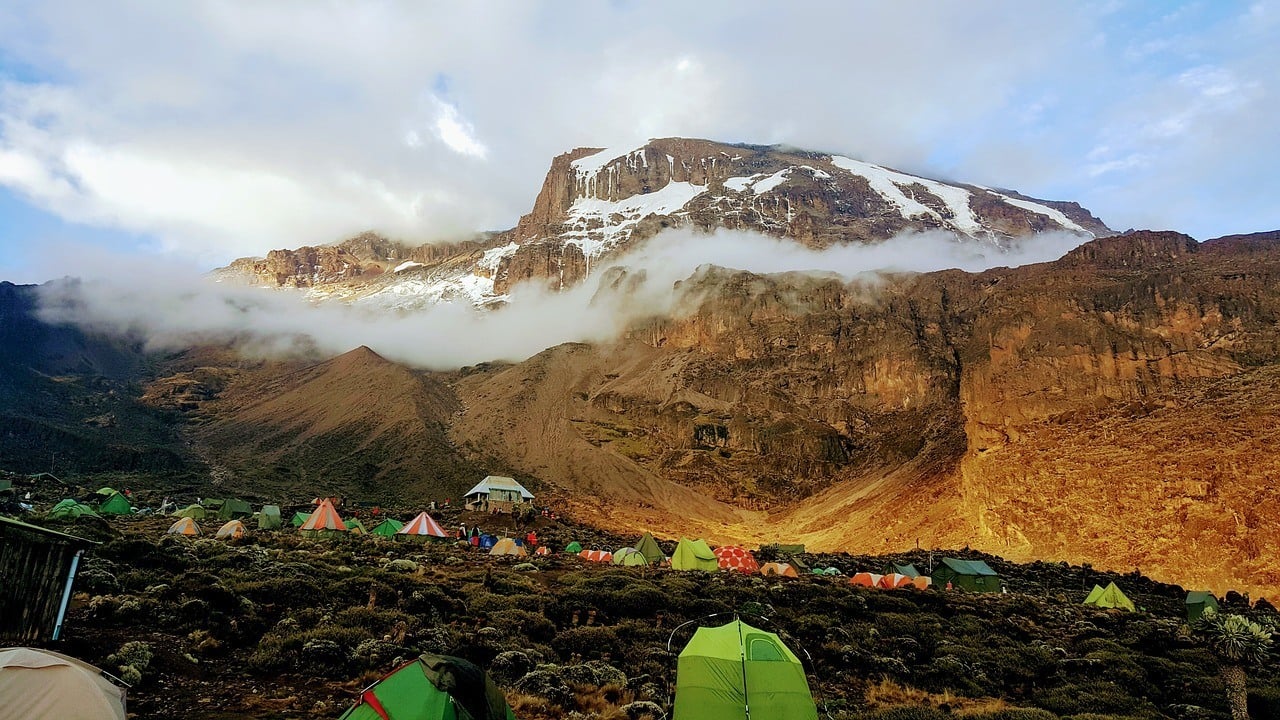 Your Travel Tent's Price
For, the record, the cheapest choice on our best budget backpacking tents list is sitting at $100 (well, $99.95). The most expensive choice is sitting at $400 which is what I would consider the upper limit of 'budget'. There is one last more expensive entry but it's a bonus choice and we'll get to that later.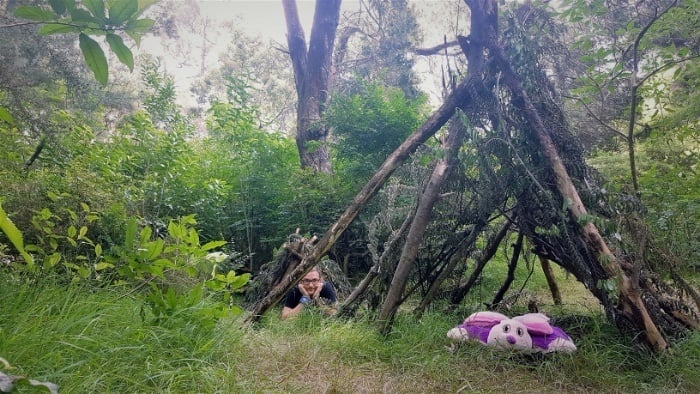 So, there's your price range; see where you fit in. Anything less than $100 ($99.95) and you're getting to the point where you may as well get a Walmart tent and anything more than $250 and you may as well check out our best backpacking tents roundup.
Your Travel Tent's Size
There are a few different aspects of your backpacking tent that I've lumped under the umbrella category of 'size':
Capacity – One man, two man, three man: you get the idea. Consider your tent's capacity to be a maximum loading. A 2 person backpacking tent is roomy with one, squishy with two, and you'll be sleeping vertically stacked with a third person inside.
Weight – Remember how I made that crack about 'minimum trail weight' vs. actual weight? Yeah, that's actually relevant. A 'minimum trail weight' is the weight of the bare-minimum components required to set up the tent which usually means just the body and poles (i.e. it's marketing spin). If you have some bucks to spend you can consider getting an ultralight tent.
Packed dimensions – Quite simply, how much space your tent takes up in your backpack when it's not in use.
Unpacked dimension – The size of your tent when it is set up. The most important thing to look at here is the height and the floor space. It's also worth noting that the shape of your tent affects the size: vertical walls have a much roomier feel than walls tapered inwards.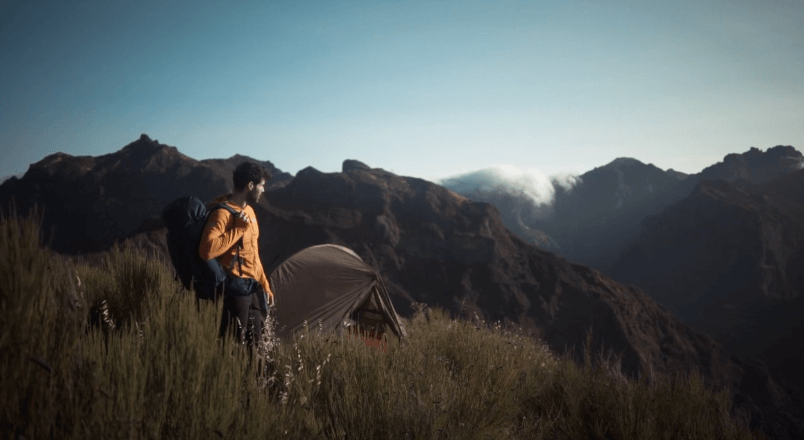 Your Budget Backpacking Tent's Endurance
Again, I've lumped a few different aspects in this category:
Seasons – You've probably already heard the term 3-season or 4-season backpacking tent. As a general rule of thumb, 3-season tents tend to be good for most climates whereas a 4-season tent is specially built for winter and the snow. More often than not, you can get away with a good 3-season tent even in a mild winter.
Weather resistance – Wind, rain, snow and the sun. A combination of all the elements over time will add to wear and tear. If you've put your tent through the wringer and notice it loses itegrity in adverse weather (rain leaks). Never fear, you can do some basic maintenence to extend the life of your tent with some Nikwax.
Durability – By which I mean how long your tent will last (by way of the material it's constructed from). Even top-notch material can let you down but it's still an important factor to consider when choosing a cheap camping tent. A tent is meant to keep you warm and stay standing in the wind: it's not meant to survive encounters with animals.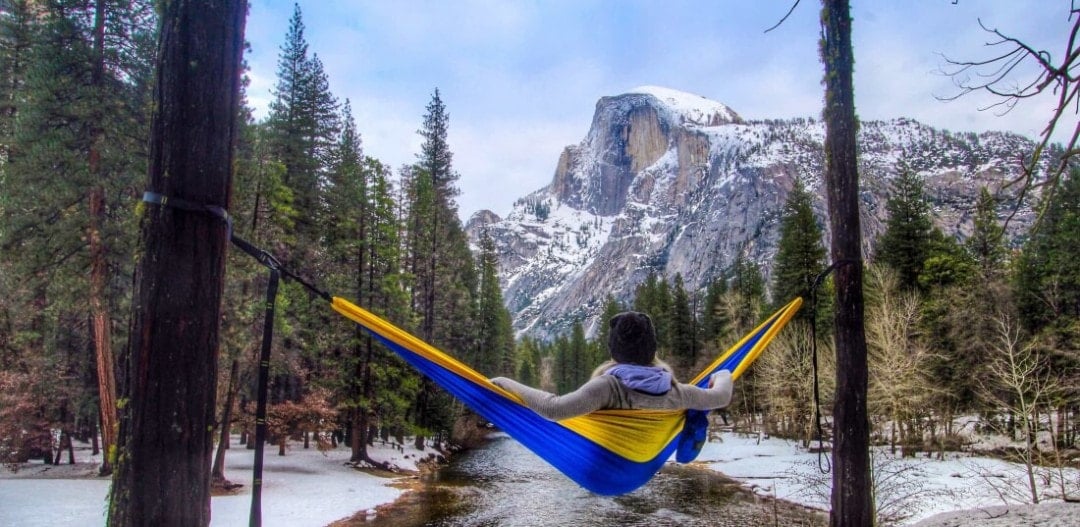 Best Budget Backpacking Tents

| Name | Capacity (Person) | Floor Space (inches) | Weight (lbs) | Price (USD) |
| --- | --- | --- | --- | --- |
| REI Co-op Half Dome SL 2 Plus | 2 | 4860 | 3 lbs 14 oz | 279 |
| Big Agnes Fly Creek HV UL 2 | 2 | 4032 | 2 lbs 3 oz | 399.95 |
| Marmot Tungsten 1P | 1 | 2793 | 3 lbs 8 oz | 219 |
| MSR Hubba Hubba 2 | 2 | 4176 | 3 lbs 4 oz | 549.95 |
| Nemo Hornet 2 | 2 | 3960 | 2 lbs 6 oz | 399.95 |
| The North Face Stormbreak 2 | 2 | 4406 | 5 lbs 14 oz | 185 |
| NatureHike Cloud-Up | 3 | 6048 | 5.7 lbs | 159 |
| Black Diamond Mega Light Shelter | 4 | 7300 | 2 lbs 13 oz | – |
FAQ about the Best Budget Backpacking Tent
Still have some questions? No problem! We've listed and answered the most commonly asked questions below. Here's what people usually want to know:

Our GREATEST Travel Secrets…
Pop your email here & get the original Broke Backpacker Bible for FREE.
Final Thoughts on Buying the Best Budget Backpacking Tent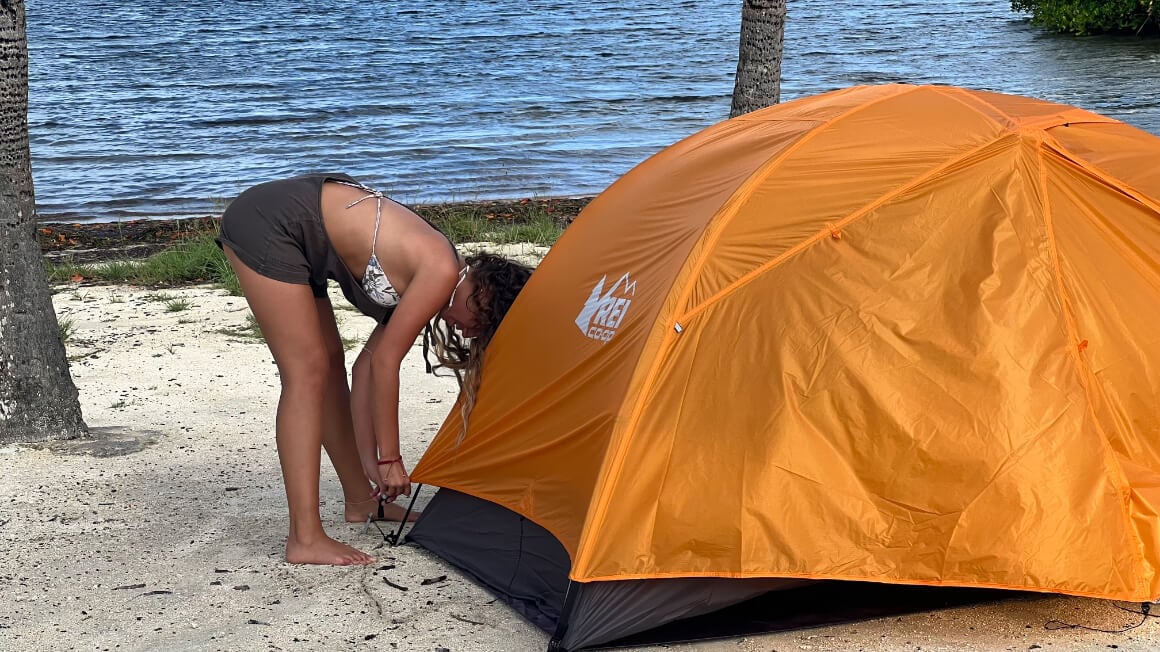 It's kind of just logical to travel with a tent. Did a long day of hitching end in the middle of nowhere between two stops? No problem! Is the guesthouse out of rooms but you can pitch a tent in the backyard for a third of the price? Boom!
It's also logical to not splash all your travel savings on the most expensive backpacking gear when you don't know if you'll need it. Like my old sleeping bag choice, you may realise that to go the no-frills route was a terrible mistake. Or, like my deceased tent, you may realise you never needed it in the first place.
Of course, that's just my opinion. Maybe the best budget backpacking tent isn't for you. Maybe you want the real deal. Hell, maybe you just want a hammock (good choice).
Tents, though, are worth the investment. Take it from someone who hasn't had one in a while. It's good to have a home.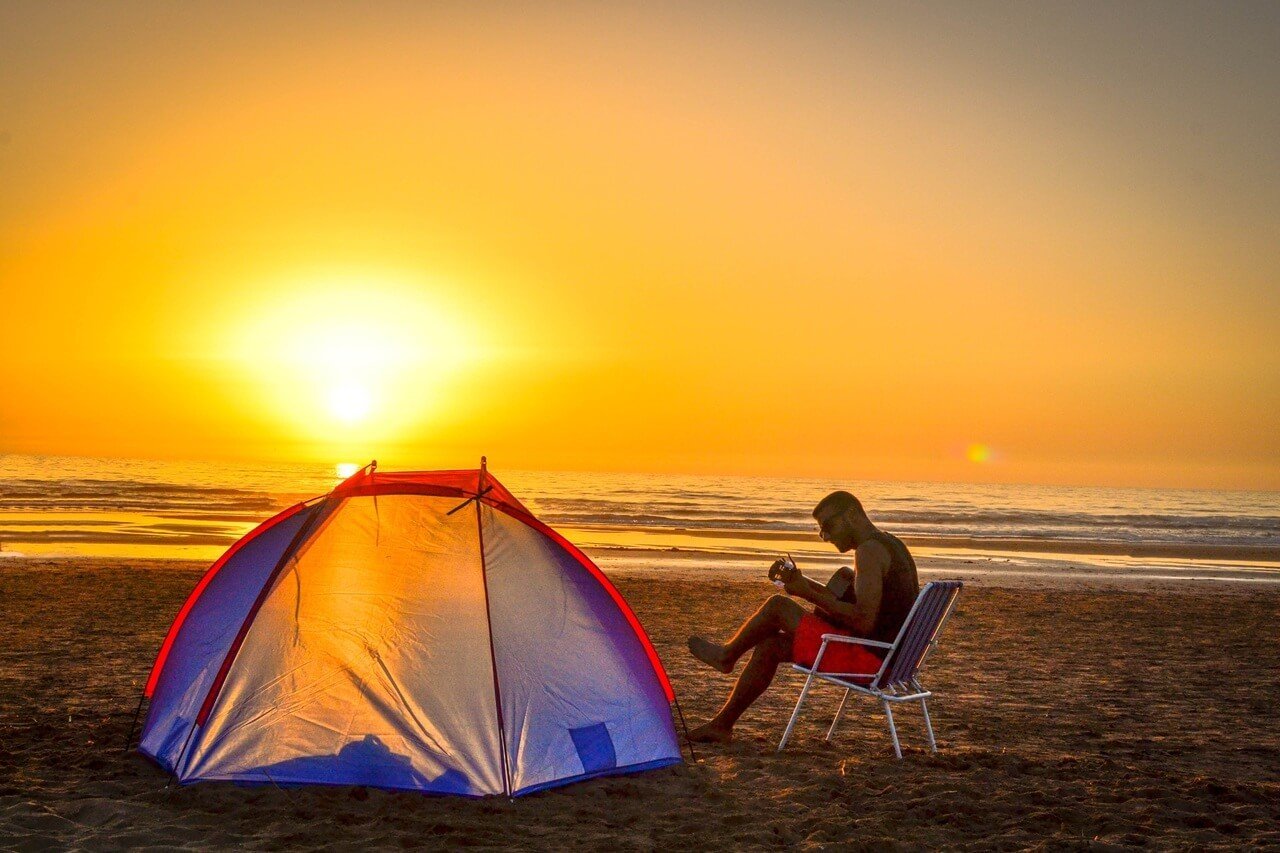 ---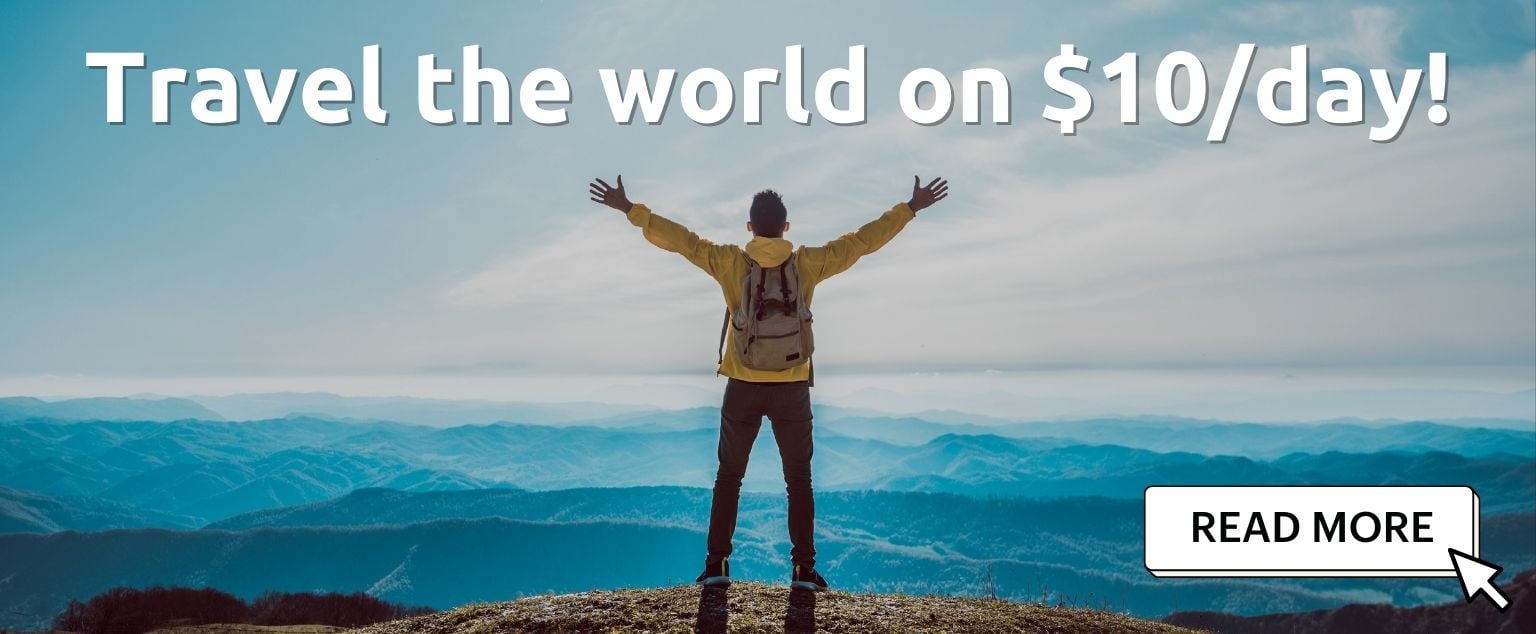 And for transparency's sake, please know that some of the links in our content are affiliate links. That means that if you book your accommodation, buy your gear, or sort your insurance through our link, we earn a small commission (at no extra cost to you). That said, we only link to the gear we trust and never recommend services we don't believe are up to scratch. Again, thank you!