Bikepacking is one of those passions that requires some serious gear in order to do it properly. Obviously every bike packer needs a decent bike but perhaps the second most important piece of gear is a good quality bike packing tent.
A bike packers tent becomes their home and their place of refuge after a long days riding. As you know, the nature of bikepacking trips can mean having to pitch up miles from civilisation and sleeping out in all conditions. But, like tortoises, bikepackers also need to carry these homes with them wherever they go.
As such, the best bikepacking tent needs to be comfortable, durable, easy to pitch and as light as possible in order to facilitate riding. Well the good news that If you're looking for the best bikepacking tents right now, this list will answer all your questions. We have tried and tested Solo tents, ultralight tents, two and three man tents – whatever you're after, we got you covered.
On my list of the top bikepacking tents of 2023, we've taken into consideration a bunch of different factors to make sure that only the best of the best has made it onto this list — how easy they are to put up, water resistance, price, durability, and more — all to make it easy to find the right bikepacking tent for your travel needs.
Quick Answer: These are the Bikepacking Tents of 2023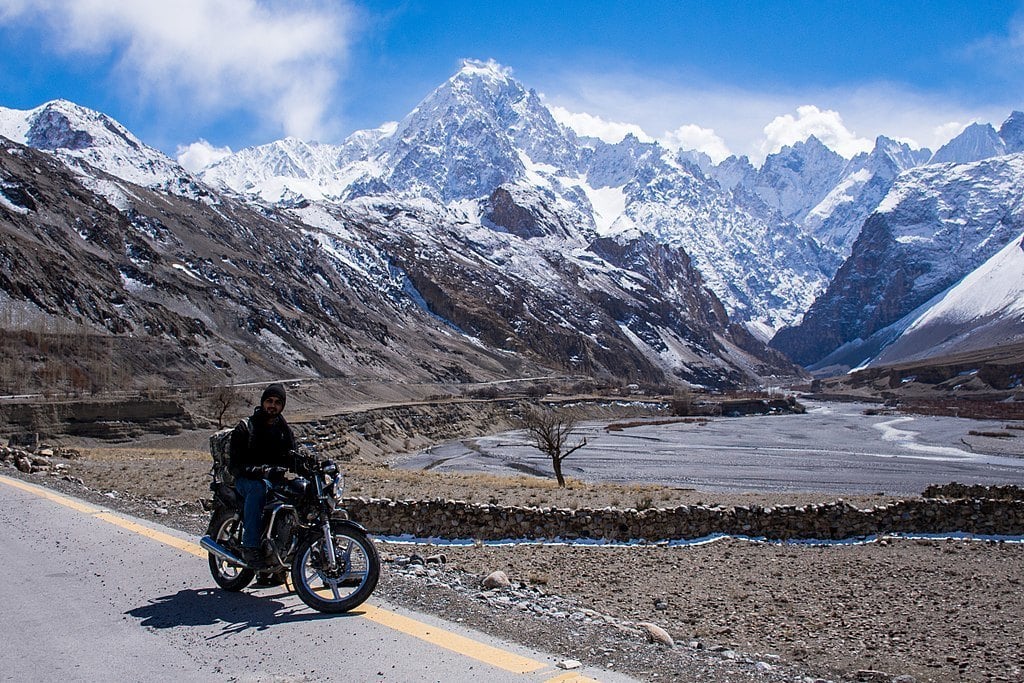 #3 Coleman Sundome Tent – Best (Solo) Budget Bikepacking Tent
#5 MSR Hubba Tour 3 – Best 3 Person Bikepacking Tent
BEST OVERALL BIKEPACKING TENT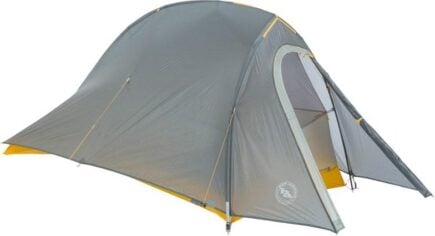 BEST OVERALL BIKEPACKING TENT
Big Agnes Copper Spur HV UL1 Bikepack Tent
Price > $$$
> Full coverage rainfly
> Dry entry vestibule
BEST (SOLO) ULTRALIGHT TENT FOR BIKEPACKING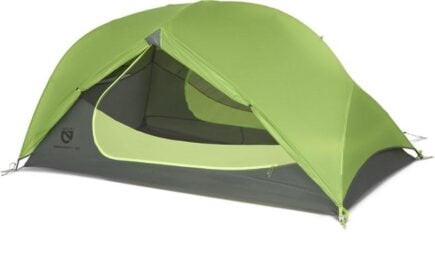 BEST (SOLO) ULTRALIGHT TENT FOR BIKEPACKING
NEMO Dragonfly OSMO 2P Bikepack Tent
Price > $$$
> High arching poles
> Easy set up
BEST (SOLO) BUDGET BIKEPACKING TENT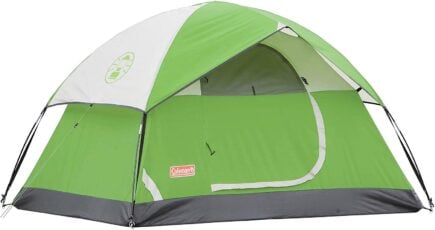 BEST (SOLO) BUDGET BIKEPACKING TENT
Coleman Sundome Tent
Price > $$$
> It has large door
> Best for mild conditions
BEST 2 PERSON BIKEPACKING TENT
BEST 2 PERSON BIKEPACKING TENT
MSR Hubba Hubba 2-Person Lightweight Backpacking Tent
Price > $$$
> 3 year warranty
> Three-season backpacking tent
BEST 3 PERSON BIKEPACKING TENT
BEST 3 PERSON BIKEPACKING TENT
MSR Hubba Hubba 3
Price > $$$
> Plenty of room for three people
> Massive ceiling pocket & 7 other pockets inside
BEST BIKEPACKING TENT FOR THE TROPICS
BEST BIKEPACKING TENT FOR THE TROPICS
Nemo Hornet OSMO Ultralight Backpacking Tent
Price > $$$
> Designed to be weathertight and rugged
> Lifetime warranty
Best Bikepacking Tents of 2023
Ladies & Gents, It's Time to Step Your GEAR Game Up. 😉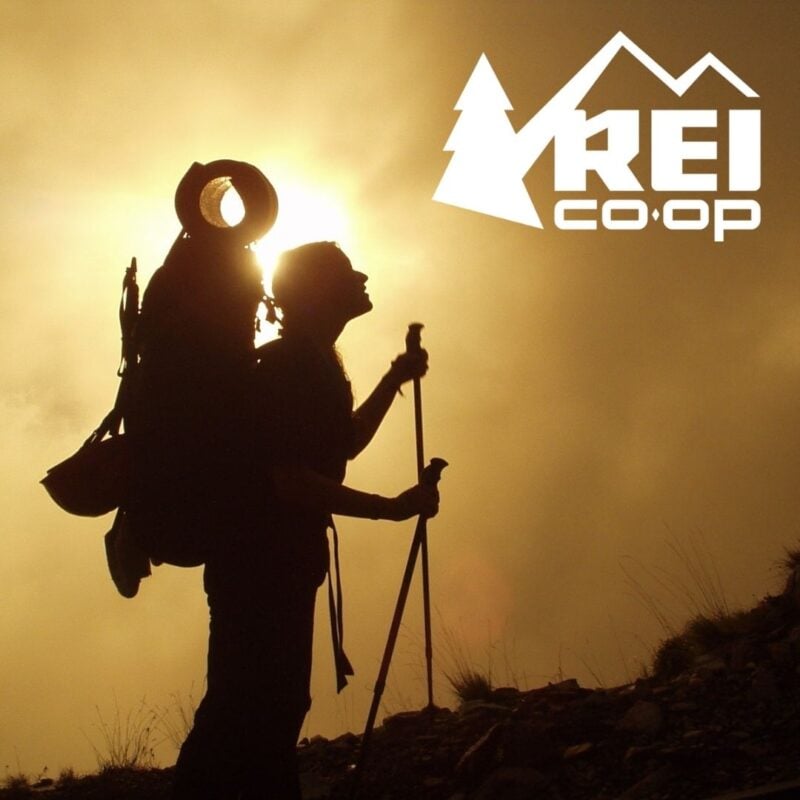 REI is one of America's biggest and most-loved outdoor gear retailers.
Now, for just $30, get a lifetime membership that entitles you to 10% OFF on most items, access to their trade-in scheme and discount rentals.
Join REI Today!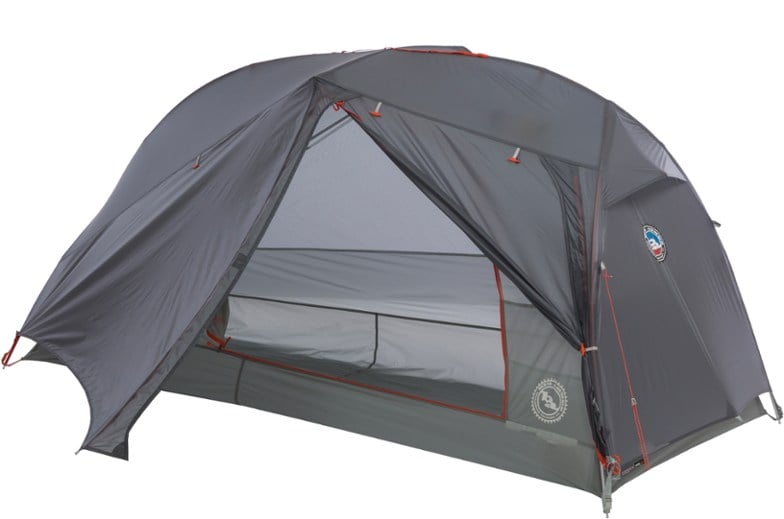 Want a cool bikepacking tent for a European bikepacking adventure? The Big Agnes Copper Spur HV UL1 Ultralight Backpacking Tent is definitely one that you should be considering, especially if you're looking for a lightweight tent.
While 2 and 3 person versions are available, for now we're going to focus on the one-person Big Agnes Fly Creek as we believe it makes the perfect solo bikepacking tent. Though the Big Agnes Fly Creek looks like a simple tent, there are actually a lot of features to this bikepacking tent that we want to shout about so here goes! The tent poles here create an architecture that provides high volume and increases the interior space. The featherlight pole system creates a floor area of 20 square feet, with a head height of 38 inches. For one of the lighter tents on the market, it offers epic storage space.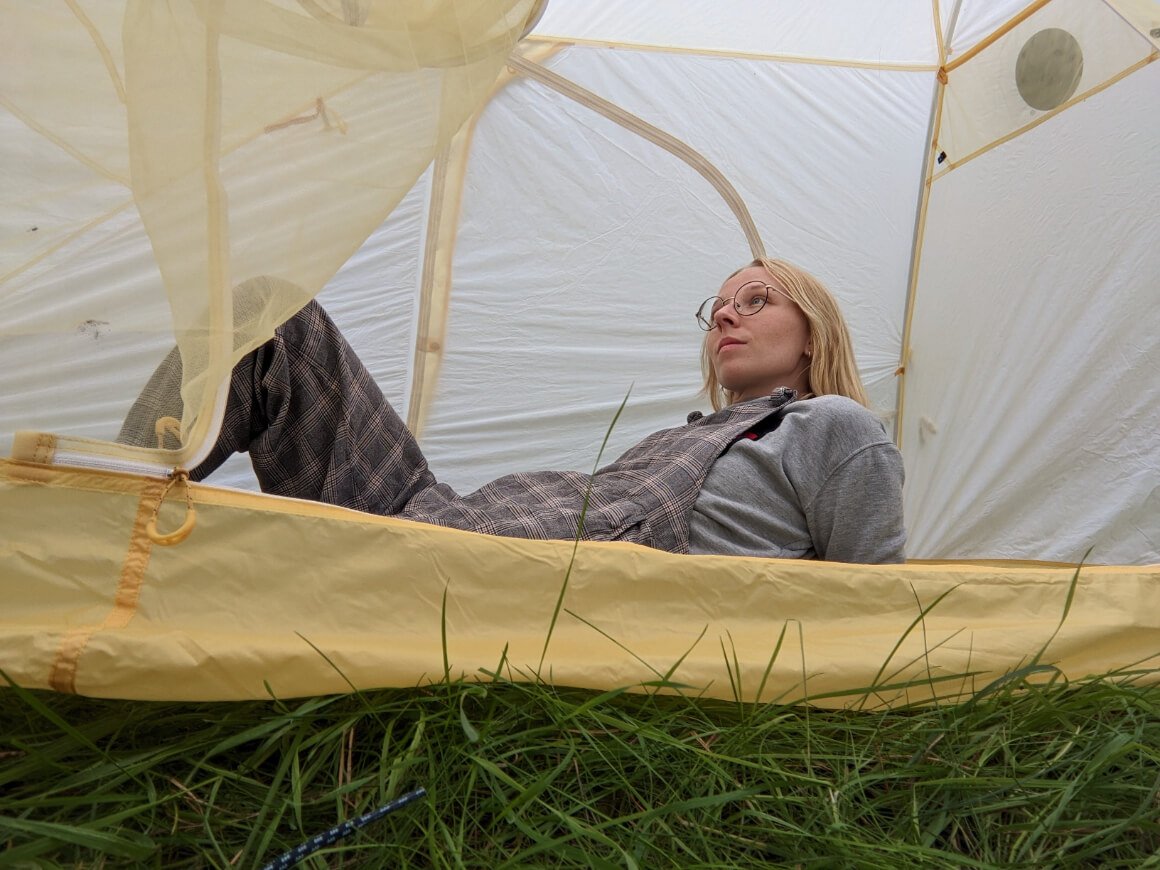 The tent fabric materials are designed to hold up in adverse weather conditions, with a full-coverage rainfly that means you should be sheltered from a storm wherever you happen to set up camp – even in the mountains. There's also a dry entry vestibule space, which does what it sounds like it might do, keeping your tent dry as you come in and out, but also providing space for you to stash your camping gear.
The packed weight of this top bikepacking tent is a very light 2 pounds 1 ounce, with a super light 1 pound 11 ounces once pitched. It's the lightest tent on our list, and it's easy to set up, too. An all-around awesome tent that will provide you with all the protection and comfort you need on your Europe adventure. In short, it's simply one of the best ultralight backpacking tents there is.
Need more info? Have a look at our more in-depth Big Agnes Fly Creek tent review.
When you're out on a ride, the last thing you want is to be carrying weight than you absolutely need to and the fact is that tent can really add weight to your load. For this reason we love ultra-lightweight tents for bikepacking trips!
We have tried a lot of differ ultralight tents over the years and consider the NEMO Dragonfly OSMO 2P Bikepack Tent to be amongst the absolute best. It offers a heady combo of lightweight packability along with high comfort levels. This awesome bikepacking tent weighs in at just 2 pounds 1 ounces so you will barely feel it on your bike.
This lightweight model is made from pre-bent DAC featherlight poles making it super easy to pack down to its modest 19.5 x 4 inches. As well as being light, this epic camping tent will fit easily into your frame bag.
Ultralight tents are usually less resilient and durable than other tents as the lighter materials are more sensitive to strains. However, the Nemo Dragonfly is as hard wearing an ultralight tent as there is. This top bikepacking tent is constructed from integrated 20D nylon and 15D nylon ripstop, with waterproof protection and the integrated groundsheet Is also very tough. The canopy is 1200mm waterproof nylon ripstop. The protected strut vents mean humidity can be easily released, too.
It's actually a very liveable tent ideal for long trips. It's got high arching poles, for an expansive interior, making it feel quite roomy. You can actually sit up inside the tent (it's 36″ in height).
There's also enough room to store your gear and sleeping bag inside, too, as the tent is covered by a large trapezoidal cover – ample room to keep your precious stuff safe, dry and out of the way. It doesn't block entry to the tent, which is a plus.
The Nemo Dragonfly boasts an easy set-up, which is a godsend. Colour-coded poles make it easy to set up (around 12 minutes) with a rainfly that snaps into place.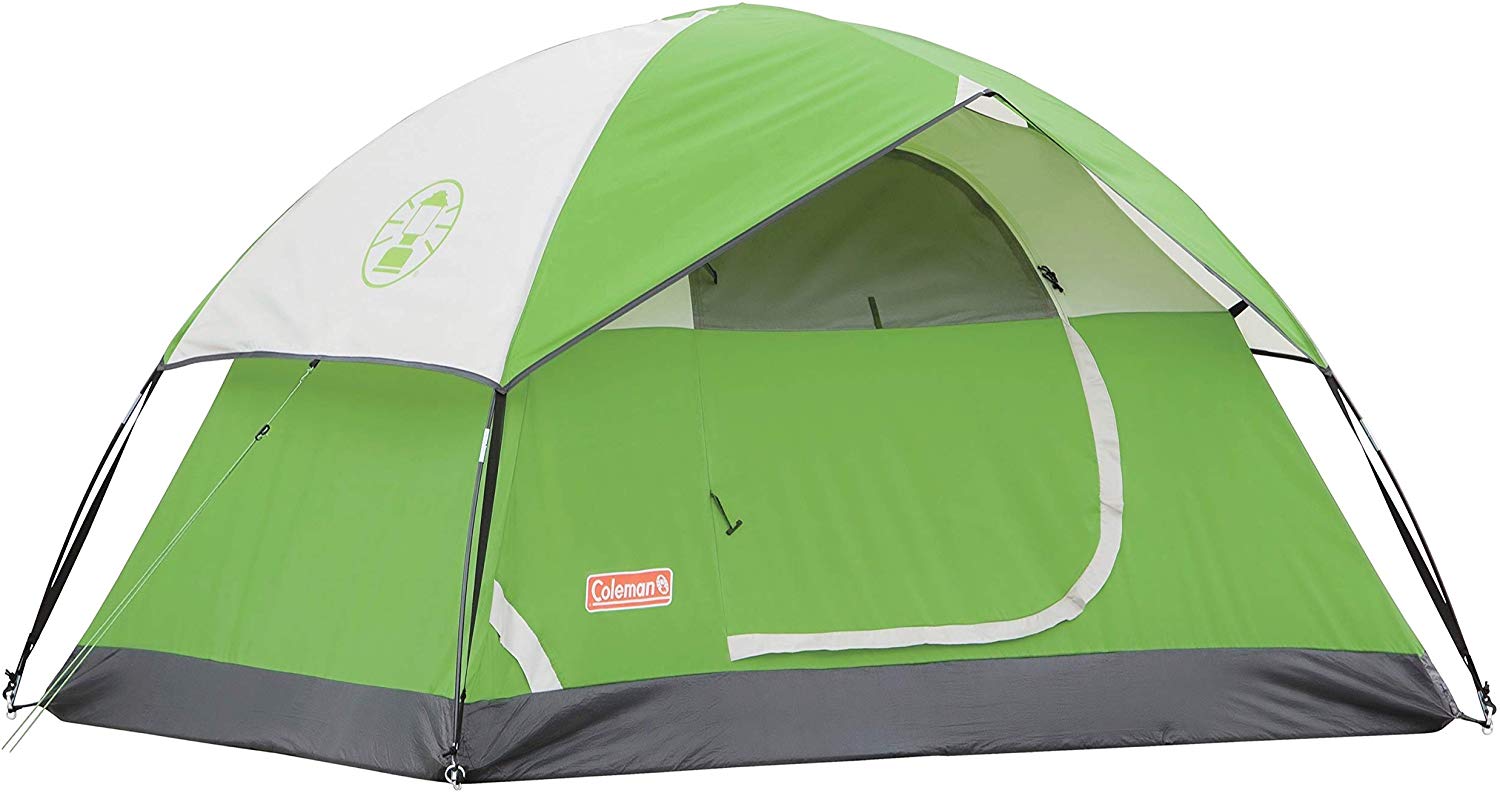 Bikepacking tents generally don't come cheap. However the Coleman Sundome Tent halves (and then halves again, and then maybe again) the price of most bikepacking tents making it the super budget-friendly bike touring tent option.
You may be thinking, 'Ok, so it's cheap, that must mean it's rubbish.' And while it is does not perform as well as some other tents in this round up, it's still a decent piece of travel gear.
Best for mild conditions, this offering from Coleman – depending on which size variation you go for (yes, you have options) weighs in at 7.2 lbs at its lightest and is relatively spacious regardless of which size you go for. It comes in two, three, four and six-man versions.
The tent has a large door, which is nice because no one likes getting tangled up as they try to get settled into their sleeping bag for the night. There's also a rear hooded window and a hooded fly for extra ventilation. The integrated groundsheet is made of 1000D polythene with welded seams to guard against any leaks; the fly and walls of the tent are coated polyester, meaning they're durable and shouldn't let any water in. If you do have to weather a storm in this tent, there are external guy points to keep you stable in high winds.
Not only is this budget bikepacking tent great value for money, but it's also easy to set up – you should be ready to jump in for some well-deserved rest after around 15 minutes, thanks to the pin and ring pole to body connections. You won't even have to look at the instructions.
Looking for other reasonably priced tents? Check out our guide to the best budget backpacking tents.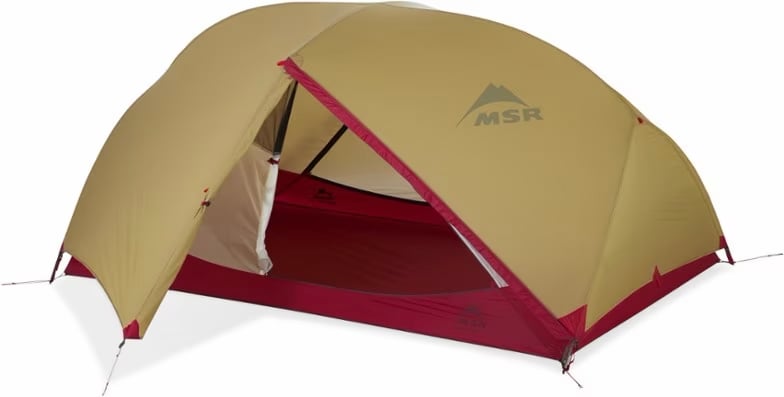 Not all biking tours and cycling excursions are done solo, of course. You may want to hit the road with your mate, or your partner, and if you do that, you'll want a two-person tent that ensures that you're as comfortable as can be.
So for the best two-person bikepacking tent out there, we would definitely recommend the MSR Hubba Hubba 2-Person Lightweight Backpacking Tent. This three-season backpacking tent is one of the top tents out there whether for bikepacking or straight up camping.
There is plenty of space for you and whoever to sit inside and share a cup of tea or coffee. The MSR Hubba Hubba is cosy and convenient addition. Size-wise it's 2.13 metres (84″) in length by 1.27 metres (50″) wide, with room to sleep side by side; the peak of the tent is 1 metre (39″) high. Ample crouching room.
When it comes to rolling up the tent and slinging it on the bike, the dimensions of this awesome bikepacking tent all packed up is 18 x 6 inches – its weight of 3 pounds 14 ounces. You can leave the flysheet or the bottom half of the tent at home for even lighter weight.
The freestanding design of the Hubba Hubba is interesting. This means you get a whole 29 square feet of floor area with no tapering sides stealing away your precious space. There are also two doors on the tent (one for each of you, right?) and an additional 8.75 square feet on either side for storing your all-important gear away from the elements.
On top of all that goodness, the set-up is straightforward (under 5 minutes!) and there's a three-year warranty, even though this super lightweight tent will no doubt last you for years. You'll be thankful you got this one!

Do You Want to Travel FOREVER??
Pop your email in below to get a FREE copy of 'How to Travel the World on $10 a Day!'.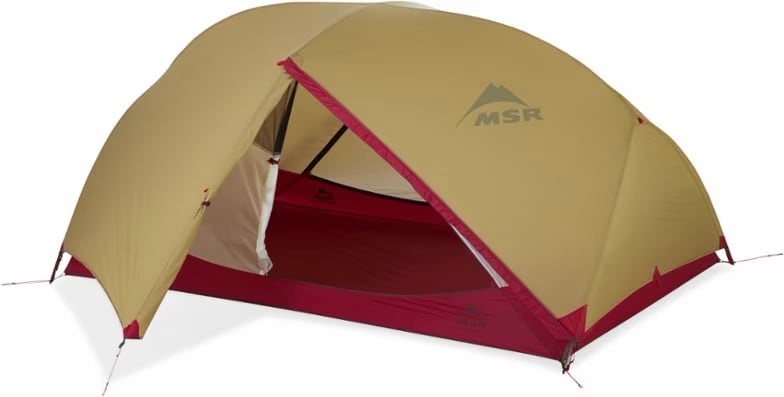 Maybe a two-person tent isn't enough for you. If you love extra space when bikepacking, or you're travelling in a group of three, this tent is the one for you!
The MSR Hubba Hubba 3 Backpacking Tent really is our top choice for the best 3 person bikepacking tent you're likely to find at the moment. It's awesome. Made by the good people at MRS, this tent has been specifically designed for three people in mind – it's not just a larger version of a two-man tent.
Made for high volume to increase living space without adding weight, the dimensions of this baby are 70 inches by 90 inches, with a floor area that covers 43 square feet – lots of room for everyone in your group to have a good night's sleep.
This bikepacking tent has one thing we like a lot: steep walls that create a decent amount of living space. Not only that but there's also room for your gear storage with dual vestibules for keeping your gear nice and dry. There's also a massive ceiling pocket and seven other pockets inside. We love pockets.
In terms of weight, adding room for one more doesn't add much to the weight of this tent: it's a mere 3lbs 7oz. Packed, that's 6.4lbs with a size of 7″ x 17″. As a fun bonus, it comes in two colourways: a punchy orange and grey combo, and a more muted olive green. Yay.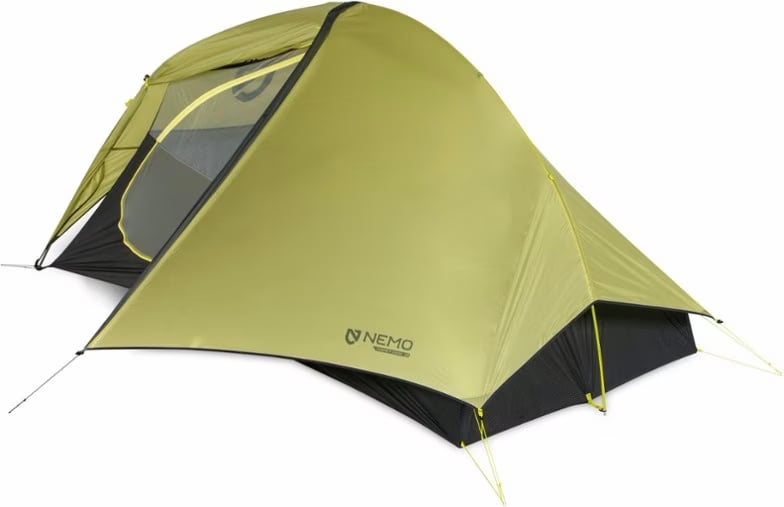 If you're thinking of a bikepacking tour around Vietnam or Thailand then you'll want something suited to the hot and humid climate of the region. Less is more when it comes to camping somewhere like this, so the Nemo Hornet Ultralight Backpacking Tent is a bloody good option.
Packing down to a very light (and pretty small) 2 pounds, 19.5 (50cm) inches by 4.5 inches (12cm), it really won't add much to your kit weight.
This top bikepacking tent for the tropics comes in both one and two-person sizes although we're focusing on the one-man version for now. It's got a single vestibule with enough space to keep your precious belongings safe from the elements, be it a downpour or the blazing sun.
Designed to be weathertight and rugged, the Nemo Hornet has a 10D nylon ripstop fly, which makes it durable, water repellent and very light; the canopy, constructed of 10D nylon ripstop as well, has no-see-um mesh to keep those pesky bugs out, but to allow a breeze in (privacy, too). It's super quick to set up. You won't have to fiddle around with confusing details and will be lounging inside your tent within minutes.
There are a few nice little added features that we want to talk about – the kinds of things that make your life a little more easy on the road. We like the Diffusing Light Pockets – slot a torch in here and it becomes a lantern for the tent. There are also guys and struts that pull out the corners, so you and your stuff don't get covered in condensation. Add to that a lifetime warranty for defects and you have yourself a winner.
Want some more info? Check out our dedicated and more in-depth review of the Nemo Hornet tent.
Lone Rider MotoTent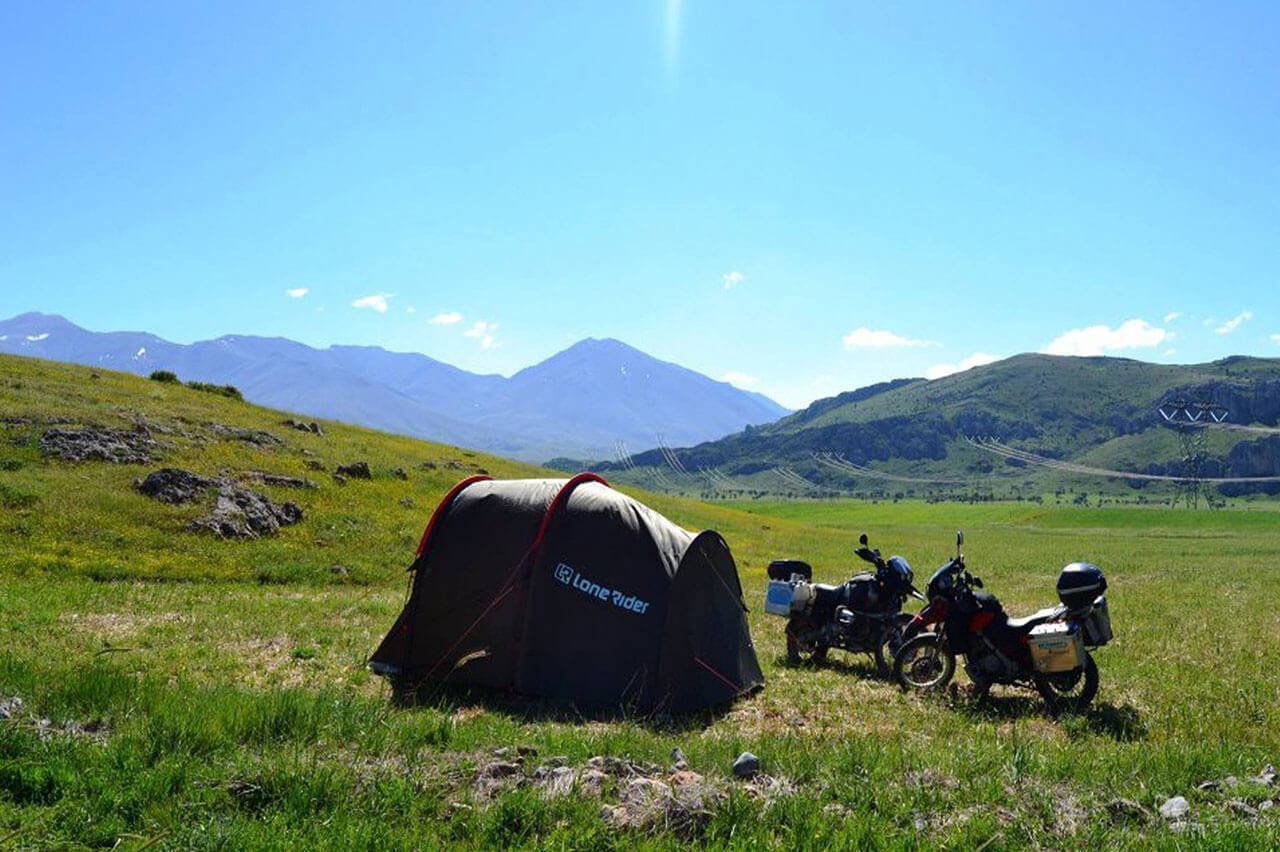 The overall best quality bikepacking tent out there at the moment has to be the Lone Rider MotoTent, for a lot of reasons. Made by bikers, for bikers, the Lone Rider MotoTent is cool because there's a dedicated space to park your ride inside the tent itself. This means it's not only kept away from prying eyes, but also from the elements, meaning rain, snow or the sun won't affect your bike in any way.
There's enough space for two riders and their gear inside (the porch is 2 metres high – 6'7″ – so you can stand up inside it), with room for panniers as well. The length is 4.15 metres. We love that you can stretch out and keep your stuff dry in this tent!
Though built specifically as a motorcycle tent, it's definitely possible to use this is if you're a cyclist, too. Bicycles can be expensive too!
It's well-built, with a high-quality groundsheet that will keep you dry, and a pretty amazing 7-minute set-up time thanks to colour coded, easy-use pole sleeves amongst other things. It's also pretty lightweight, weighing in at 5.54kg (12lb), with a bold claim that it's the lightest tent (with a motorcycle canopy) around.
The lightweight structure doesn't take away from its durability: it's got a strong tunnel design that's constructed of high-quality material, with fly fabric that's ultralight and UV-resistant with waterproof coating. Even the poles and pegs are made from aircraft-grade aluminium. It's definitely reliable.
When you want to hit the road again and start the next leg of your adventure, the Lone Rider MotoTent rolls up to a very portable 60 (24″) x 20 (8″) centimetres, so it'll easily fit on your bike. Last but not least is the 2-year guarantee, which means if your tent should become faulty, Lone Rider will replace it free of charge. Can't argue with that!
The best present of all… is CONVENIENCE!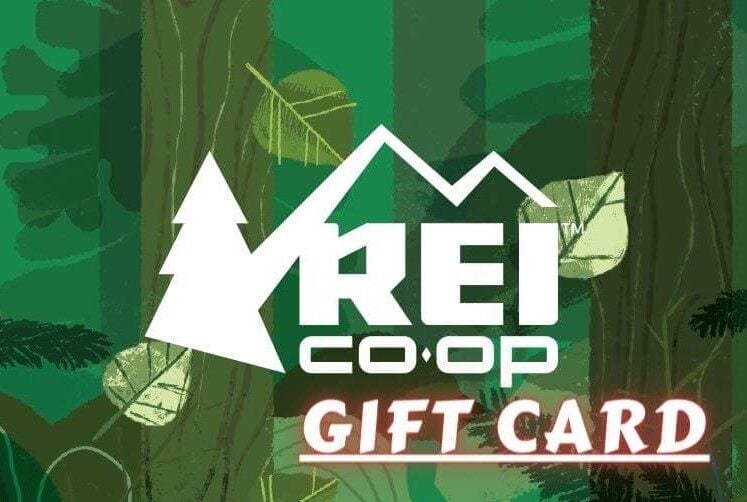 Now, you could spend a fat chunk of $$$ on the WRONG present for someone. Wrong size hiking boots, wrong fit backpack, wrong shape sleeping bag… As any adventurer will tell you, gear is a personal choice.
So give the adventurer in your life the gift of convenience: buy them an REI Co-op gift card! REI is The Broke Backpacker's retailer of choice for ALL things outdoors, and an REI gift card is the perfect present you can buy from them. And then you won't have to keep the receipt. 😉
Buy on REI!
Buyer Guide – How to Choose the Best Bikepacking Tent for You
Those were the seven best bikepacking tents going right now, the best you're likely to find anywhere. But though our handy list puts all these heavy hitters in once place to make it easy for you to make a decision, it's not always easy to pick the right tent for you. There are a lot of factors to think about.
Don't worry: as usual, we're here to help. We've put together a handy guide of things to consider when you're thinking about purchasing a brand new bikepacking tent.
1. Packability
If you're heading out on the road, not only are you going to be looking for a tent that will keep you dry and safe once it's set up but one that you will be able to pack away tightly and securely.
There's no use getting a tent that you can't pack up and put away onto your bike easily; it will become a hindrance to your trip and that is not what you want at all.
Choose a bikepacking tent that suits how you pack. Do you have a big bag, and don't mind a bit of extra weight? Then you can afford to go for something larger. If you're all about keeping extra weight, and space, to a minimum, then something that's ultralight will be what suits your bikepacking adventure.
Remember, you will want to consider the practicalities of traveling on a bike in each location including having to attach it to buses or ship overland or air, so having a smaller tent can keep costs down in this regard too.
2. Set up
Though tents aren't exactly well known for being easy to set up, it doesn't have to be this way! There are a lot of good bikepacking tents out there that are surprisingly easy to set up, making the process of arriving at your destination for the night a relative breeze.
You need to consider what sort of weather you're be riding in, and what lighting conditions you need to be able to set up a tent quickly. Too many steps and fiddly poles and you'll just end up frustrated at the end of a long day.
If you're all about doing speed and getting things done quickly, then you are going to want to focus on looking for a good bikepacking tent that boasts a quick set-up time. Tip: It's also a good idea to set up your tent in your backyard (maybe a few times) before you set off on your travels, just so you know how it works.
3. Weight
The weight of every piece you pack on a bikepacking trip is important, and as one of the bulkier items you'll be carrying with you, a tent is certainly no exception.
For that reason, ultralight tents are almost always a good call – especially if you're also riding a lightweight bike.
However, if you're only setting out for a few days, or if you're a relative newcomer to the world of bikepacking, you may not have a need for getting the most super ultra featherlight tent out there, which can run more expensive.
4. Durability
You're not going to want to fork out hundreds (and hundreds) of dollars for a tent that isn't worth it's salt. If you are going to be heading out on adventures a lot with your new bikepacking tent, then you are going to want to choose something that will last.
Value for money is a good idea, that's for sure, but if you're racing in more rugged conditions, you might want to splash some extra cash.
If there is a lot of rain and wind in your future, and maybe even rugged terrain, then you should really consider getting something that ticks all the boxes when it comes to weatherproof, durable materials.
If not, you might be ok with a more 'basic' tent.
Another thing to consider is the warrantees that a lot of bikepacking tents offer. Two and three years is good, but if you think you're going to be in the bikepacking game for the long haul, then you may want to consider something that comes with a lifetime guarantee.
5. Size
It's an obvious one, but basically, you have to think about two things: the size the tent packs down to (packability) and the size of the actual tent once it's pitched.
Since we've already covered how packability can affect how you choose the best bikepacking tent for you, we'll focus on the actual size of the tent after it's been set up.
First of all, you'll want to think about whether you can stand a one-person tent, or if you want a two-person tent for more room (or if you're going to be travelling as a couple) – or maybe even a three or four-person might be a good idea for you. It all depends on how many people you're travelling with – and how much you want to spread out.
If you've got a lot of stuff, you'll either want a big tent, or you'll want something with a lot of storage space.
Lastly, do you want something with room to stand or are you ok with just sitting? Bear in mind that some bikepacking tents can really be mini. Make sure you check the dimensions thoroughly, as tall people probably won't enjoy smaller tents!
Bikepacking Tents

| Name | Capacity (Person) | Floor Space (Inches) | Weight (lbs) | Price (USD) |
| --- | --- | --- | --- | --- |
| Big Agnes Copper Spur HV UL1 Bikepack Tent | 1 | 2880 | 2 | 549.95 |
| NEMO Dragonfly OSMO 2P Bikepacking Tent | 2 | 4176 | 3 | 579.95 |
| Coleman Sundome Tent | 2 | 5040 | 7.5 | 59.99 |
| MSR Hubba Hubba 2-Person Lightweight Backpacking Tent | 2 | 4176 | 3 | 549.95 |
| MSR Hubba Hubba 3 | 3 | 6192 | 3.8 | 629.95 |
| Nemo Hornet OSMO Ultralight Backpacking Tent | 2 | 3960 | 2.8 | 429.95 |
| Lone Rider MotoTent | 1 | 2880 | 2 | 549.95 |
FAQ about the Best Bikepacking Tents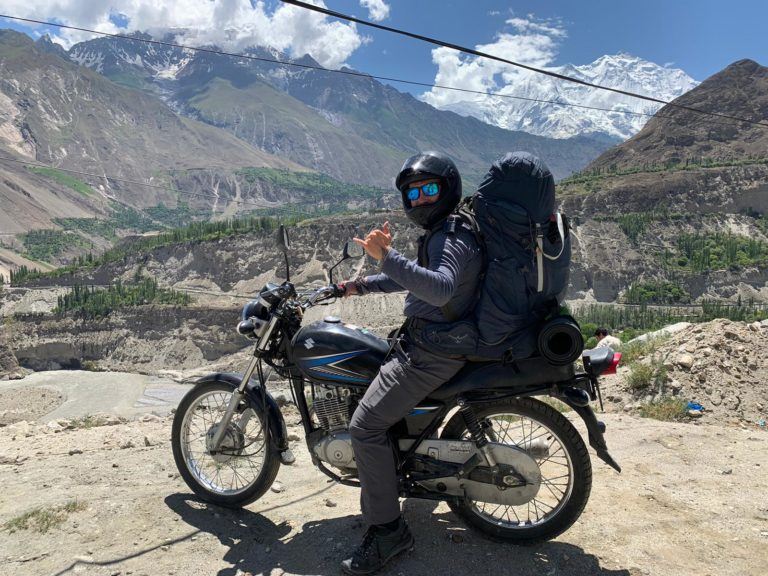 Still, have some questions? No problem! We've listed and answered the most commonly asked questions below. Here's what people usually want to know:

Our GREATEST Travel Secrets…
Pop your email here & get the original Broke Backpacker Bible for FREE.
Final Thoughts on the Best Bikepacking Tents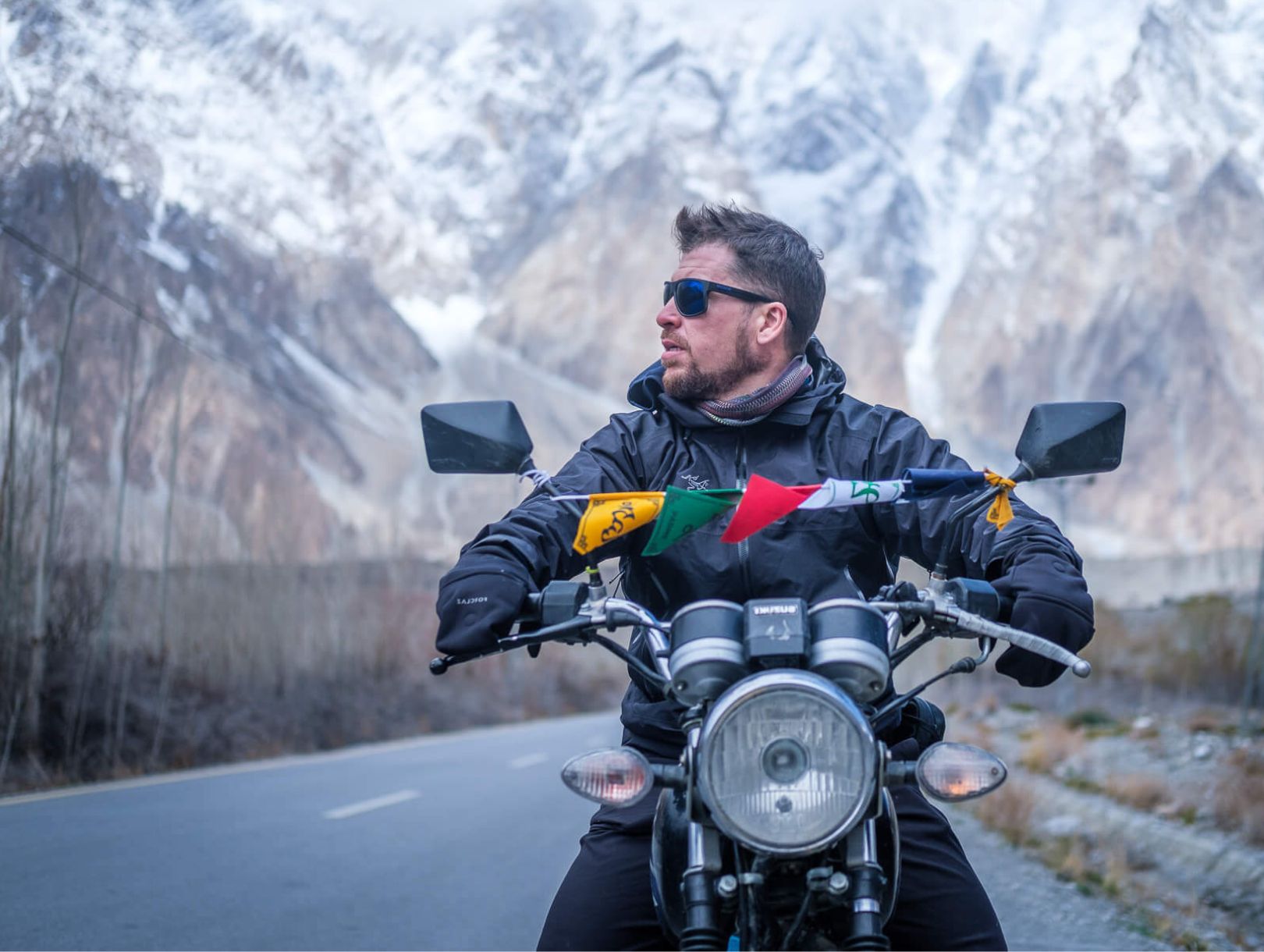 You already know there are so many reasons to go bikepacking. Whatever sort of cycling or motorbike adventure you're thinking of heading off on, it pays to invest in a bikepacking tent to make sure that your time on the road goes as smoothly as possible. A good tent will definitely be the difference between comfort and annoyance.
We are certain that, whoever you are and however you prefer to travel on your adventures, you will be able to hone in on something on our list of the best bikepacking tents.
There's a lot to choose from, but we would say that our top choice for the definitive, overall best quality bikepacking tent has to be the Lone Rider MotoTent. That space to store your bike is simply genius.
That said if you don't care all that much about having a little porch for your bike – and especially if you're on a budget – a good beginner's option would be the Coleman Sundome Tent. At that price, this highly reviewed tent is just an amazing purchase.
Let us know in the comments below which bikepacking tent you go for – and tell us if you've got a favourite that isn't on this list!
Hey, carrying a lot of weight on your bike can really make the trip that much more hard work, check the best electric bikes out there if you want to lighten the load on your legs!
You'll also need a good quality bikepacking bag for your adventure too!
---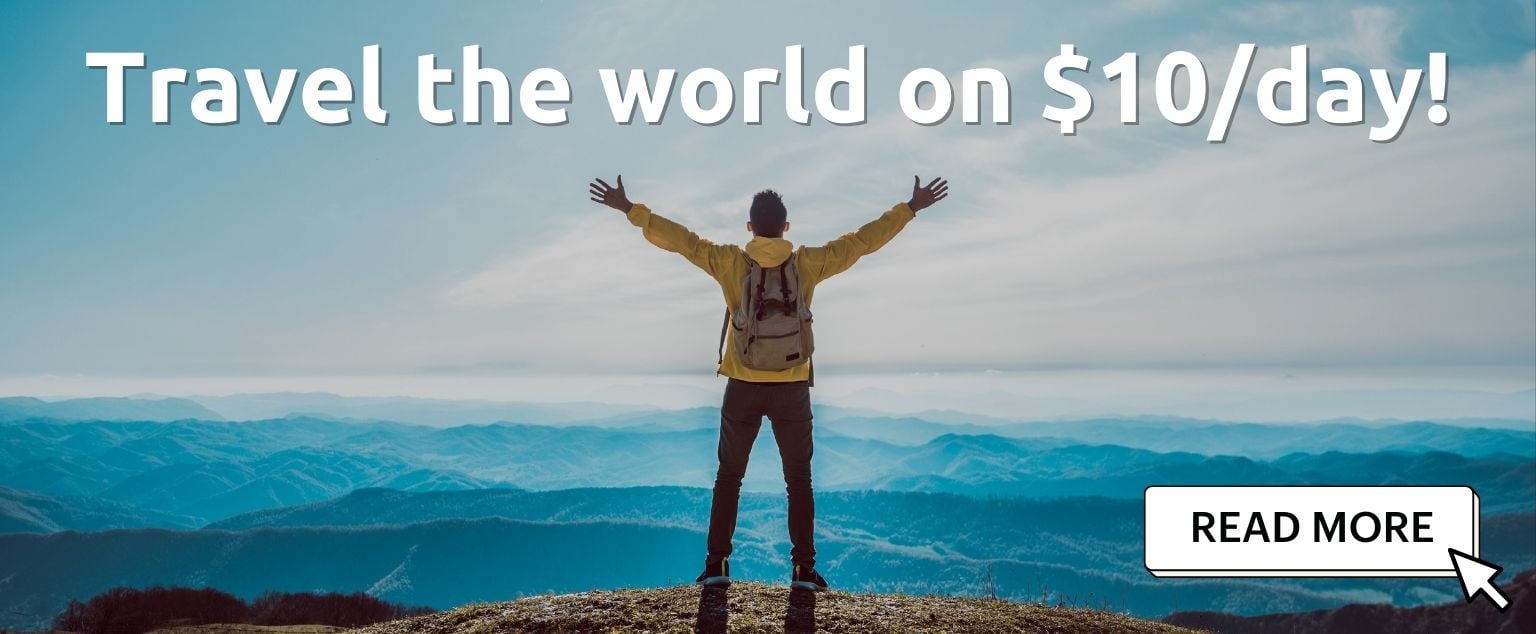 And for transparency's sake, please know that some of the links in our content are affiliate links. That means that if you book your accommodation, buy your gear, or sort your insurance through our link, we earn a small commission (at no extra cost to you). That said, we only link to the gear we trust and never recommend services we don't believe are up to scratch. Again, thank you!