We are living in an electric renaissance revolution. It started with the electric boogie, and suddenly, the entire world was literally buzzing! Electric bicycles bring everything you love about cycling and take away the speed limits and let's be honest, a bit of the effort too! Cus ya know, we don't all live in The Netherlands where it's flat as a witch's tit!
E-bikes are sweaty commuters and conscious polluters new bezzy mate! You can confidently zip across town without wondering if you'll make it up the hill with your face intact… and no one wants to turn up to an important meeting looking like a hot mess!
These two-wheeled motors have turned cycling into a lifestyle sport that's more accessible than ever. Turns out you don't have to have thighs like Chris Hoy to pedal home after an exhausting day either at the office or hiking a trail.
Ready to give yourself a buzz with an electric bike? Scroll on through our detailed buying guide of every contender to see which one suits your needs best. Make sure you do some research before taking the plunge!
Quick Answers: What Are The Best Electric Bikes?
If you already know what kind of specs you're looking for, here's a shortcut to our favourite bikes. Or, if you want to learn more about what you're getting into, scroll on and find a few questions you should ask yourself while shopping.
Why Electric Bikes Rule!
It's the perfect balance between getting some exercise in whilst not having to absolutely kill yourself to get home in a decent time. It also means those with lower levels of fitness or less mobility can still enjoy the pleasure of cycling with a bit of a helping hand.
The best electric bikes in the world are in fact way more efficient than most cars at navigating city streets especially when it comes to busy, narrow lanes where a car often get stuck! They're a lot easier and cheaper to park too! They're also a great accompaniment to a road trip or campervan holiday as they usually fit on most standard bike racks and add some versatility to your trip.
Modern e-bikes pack assisted pedal ranges of up to 80 kilometres at speeds north of 30 kilometres an hour. That's more than enough jolt to get your soul into the meeting early or to give you that well-needed boost on a steep hill whilst out exploring!
Bikes are great, we bloody love them! Exploring a new place on two wheels is the perfect way to cover a decent amount of ground whilst going a pace slow enough to really take it all in. It's a fun and healthy way to get around, butsometimes, your personal pedal power just isn't going to cut it!
Maybe you just wanna have a nice relaxing ride rather than feel like you're competing for the king of the mountain jersey in the Tour De France, ya know!
Why Use Electric Bikes?
I've shown up looking like a red-faced tussle haired monster on wayyyy too many occasions and I'm pretty over it! Ok, when I'm out in the middle of nature with no timescale or even a particular destination in mind, just expanding my horizons and my lungs at the same time, that's half the fun! But when I've got a meeting in the centre of town or lunch in a restaurant that's already way out of my league… it's not a great look!
That's where an E-bike comes in, they're super versatile and will cover the daily commute as well as those weekend adventures giving you a boost when you need it and pedal power when you want it!
An e-bikes' top speed and impressive ranges give you plenty of time to enjoy a day zipping across town without searching for plugs either. They are brilliant for city living, getting started exercising on two wheels, extending your cycling range or just making things a bit more chilled!
They take some pressure off so you can focus on having fun, they're eco-friendly enough to make you feel great about leaving the car at home, and they give you just enough push to stay fit without busting a gut! The only thing they can't do is get you out of bed in the morning!
The biggest downside to an e-bike is weight, you should consider how easy it is to travel with a bike in each location and how you might ship it if the need arises.
How Does an Electric Bike Work?
These bikes didn't try to reinvent the wheel. You're largely prepared for the electric experience if you've ridden a normal bike. An e-bike starts off with a regular pushbike frame and adds a motor, a battery, and a communicator, so everything should feel pretty familiar.
Motor
As you might expect, a motor does exactly what you think it does! It can either fully or partially assist each pedal stroke and it's this that differentiates an electric bike from a normal bike. The motor just like in a scooter or motorbike powers the wheels, but in this case, you can contribute to that movement with your own steam too and of course, speeds are a bit more subdued!
But just like cars, not all motors are made equally. There is a hefty price difference between different e-bikes, and you can expect to get what you pay for in terms of acceleration, top speeds and ride quality. Most of the price differences can be put down to what motor is used.
The key is in the contortion. As motors increase in quality, they produce more torque. That torque turns critical when tackling technical inclines and hills that just don't seem to end. Just be aware that whilst e-bikes are a damn sight quieter than a roaring Harley Davidson, the motors will still make a noticeable noise when struggling up a hill and this isn't something to be overly worried about.
Also be aware that if you have laden your bike up with some heavy gear like specialist bikepacking bags, this also adds extra strain on the motor, if this is your plan then opt for the more powerful bike.
Battery
It's a telltale sign of a bike with superpowers, the sleek bump somewhere on a bike frame. This bump is the battery, which will define many of your bike's capabilities or limitations. Obviously, bigger batteries give you more range, and they can also significantly affect the maximum throttle you can provide your engine at once.
For most batteries, 5-6 hours of charge time can give you 50+ kilometres of cruising range on most basic e-bikes. All you've got to do is plug your bike into a standard outlet when you get home, and it'll be ready to roll in a few hours. As these bikes become more commonplace, you'll also likely see charging points pop up around town in the future and you might also be able to plug in at work.
High-end batteries can last up to 800 charge cycles, and your average e-bike battery should get through at least 500 cycles if you take a bit of care.
We need to see a bit more longevity before we're really ready to crown electric bikes as the undisputed champs of local public transport. In the meantime, most e-bike models allow you to change out your battery without replacing the whole bike, and you'd be surprised at how many adventures 800 charges can take you on.
How you plan on using your bike should dictate how much you spend on increasing battery power, most e-bikes will easily cope with a standard commute around town or a weekend adventure in the hills. If you're after a more specific bikepacking bike for longer trips in more remote places, you should consider stretching your budget for longer battery life.
Communicator
The more technologically advanced the set-up, the more data points you'll have at your disposal. The last unique facet of electric bikes compared to push bikes is the LED display and sensors that monitor the health of the battery.
These displays basically took a classic bike odometer and gave it a bit of a shock to see what else it's capable of. E-bikes can walk you through charge times, maximum speeds, trip distances and always keep you aware of your effective range so you won't get caught at the base of a mountain with no power!
Basically the more you spend, the more features on your LED display you get! Some people need more detailed information about their ride like if you're on a longer bikepacking trip, other's can go without it.
Who Should Ride an Electric Bike?
I guess the real question is who shouldn't? I mean, Lance Armstrong had an unfair advantage so why the bloody hell shouldn't you!?
The thing about e-bikes is, despite the assumptions and misunderstandings, there is a place for them for almost everyone with their versatility and practicality. They are a great way to just get people outdoors, especially those that might need a bit of a push! In fact, they're being hailed as the perfect way to solve city centre congestion.
You can still grab a great workout without making it too unbearable and you'll be keen to stay out longer! You also may never have to take the bus again and instead get that refreshing taste of fresh air in the morning without turning up looking like a sweaty mess!! They're a bloody great alternative to battling the traffic and the parking wardens in a car or having to pack onto public transport like sardines every morning!
Having your own e-bike means you no longer have to stand freezing at the bus stop or curse yourself over missing the train AGAIN! Then when you've clocked off for the week your trusty electric steed can take you on yet more adventures. Hell, even strap a bikepacking tent to the side and go see the world… or at least your own country, all with the same machine!
Overall Best Electric Bike
Best E-Bike To Peddle The Metal
Best Cruiser EBike
Best Cruiser EBike
Rambo 500W Cruiser
> $$
> With fat tires and a powerful LG battery
> Strap on a rear rack
Best E-Bike For Carrying Stuff
Best Splurge Electric Bike
Best Splurge Electric Bike
Kona Remote 160 DL
> $$$$
> Full Rock Shox suspension and Maxxis tires
> Legitimate offroad stud with a powerful electric engine
Best Cheap E-Bike
Best Cheap E-Bike
Swft Volt Electric Bike
> $
> Lightweight frame and low-key motor
> Included lights and reflective tires
Great Electronic Bike For Commutes
Great Electronic Bike For Commutes
Swft Fleet
> $
> Stylish e-bike
> Pedal-assist the 48V engine
Best Folding Electric Bicycle
Best Electric Fat Tire Bike
How To Care For An Electric Bike
It's all fun and games until you get mud in the gears and have no one to turn to. From assembly to prolonging the life of your electric bike, there will be rules to follow, and it will always be a good idea to seek professional help.
Some bikes ship up to 85% assembled and can confidently be tackled on a Sunday afternoon. In contrast, others will need professional assembly.
Once you get the pedals hooked on, your e-bike won't require tons of attention. The basic care specs for an electric bike are the same as a regular bike, only with a few more details and particulars.
First off, there's the charging. Most models will allow you to choose between removing the battery and placing it in a charging station or plug the whole bike directly into a wall. If you're lucky, you may find a bike that can get about 5-10% of a charge while pedalling, but the vast majority of work will be done at home.
You don't have to stress too much about prolonging your battery life. It's a good idea to get in the habit of just plugging your bike in every time you get in-home, so you're never caught on empty.
Next comes your typical bike maintenance. Like a regular bike, it's a good idea to take your e-bike in for a tune-up at least once a year. While they're dusting off at the brake systems and lubing the gears, they should also look inside the motor and battery panel to make sure everything's getting along alright.
Finally, keep your bike climate controlled. Store your bike in a cool, dry place and don't stay out in the rain too long. Most e-bikes have plenty of waterproofing measures in place that stop a drizzle in their tracks. Still, water could eventually sneak its way inside. Beyond that, she'll be right!
The Very Best Electric Bikes
These bikes are juiced up and ready for midtown. Combining classic features you'd expect out of any high-quality
These bikes are juiced up and ready for any kind of adventure! Combining the classic features you'd expect out of any high-quality bike with futuristic technology and all with a splash of comfort – that's the recipe for an incredible electric bike.
This compilation looks at various bikes that rank highly in top niche categories while providing eye-popping advanced metrics across the board.
Ladies & Gents, It's Time to Step Your GEAR Game Up. 😉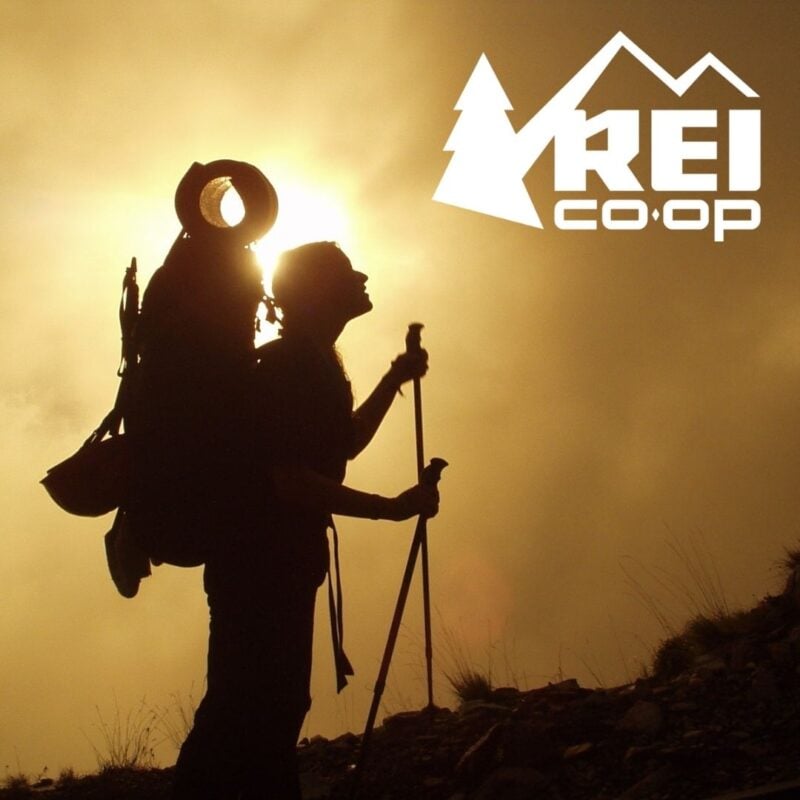 REI is one of America's biggest and most-loved outdoor gear retailers.
Now, for just $30, get a lifetime membership that entitles you to 10% OFF on most items, access to their trade-in scheme and discount rentals.
Join REI Today!
Co-op Cycles CTY e1.1 Electric Bike is our top pick for the overall best electric bike
Specs
Price (USD) – $1,299
Weight (KG) – 21.77
Range (KM) – 64.4
Charge Time (hours) – 6
Gears – 7
To make it to the top of the overall leaderboard, you've got to handle yourself pretty well in heaps of different situations, and that's precisely what this Co-Op Cycles e-bike delivers. It's slightly on the heavy end, but that extra weight is quickly balanced out by the impressive motor that will take the pressure off your legs on any tricky uphill sections.
The CTY features puncture-resistant tires and high-end components that help you duck, dive, dip, duck and dodge your way through city traffic and potholes regardless of the weather! It's literally designed to navigate the concrete jungle and the, ya know, actually jungle with ease!!
This bike doesn't take on any specific niches and instead positions itself as an excellent option for everyday use as well as being pretty nifty out on the trails too as it's 'ard as nails!
There's also plenty of room on the back if you want to attach your commuter pack to your bike.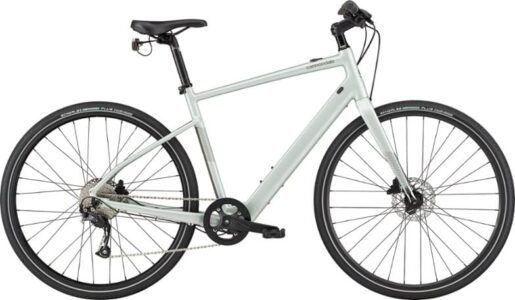 Our pick for the best e-bike to peddle the metal is Cannondale Quick Neo SL 2 Electric Bike
Specs
Price (USD) – $2,550
Weight (KG) – 15
Range (KM) – 64
Charge Time (hours) – 3
Gears – 9
You can bend the matrix to your will and reach speeds previously unheard of in the biking world with the help of this absolute speedster! Ok, slightly dramatic but hey, this is a sick bike! Cannondale is a well-known name in the high-performance bike world. They have long established themselves as a high-end option for the adventurous, and this time they've gone electric to make a super fun, low-key city screamer that can still hold its own on rougher terrain too.
One of my favourite perks of this bike is the disguised motor and battery. Nobody needs to know that bike locked to the street sign has a thousand dollar motor lurking within! It's a serious perk not only when you're trying to keep your bike safe, but the design also means that it's light enough to use pretty much like a normal bike once the battery has given up!
Sure, some people want a flashy bike that screams for attention and maybe this bike goes a bit too far to fly under the radar for some people. Even the Cannondale logo is pretty incognito! But minimalists who want a light-as bike with a fricking motor attached will have many happy days speeding this neo around the block.
With the bike being pretty low key, there's no additional storage so you're going to have to stick to the mantra of the bike and go pretty minimalist with your packing. If you're headed off to work be sure to pick up a good quality laptop backpack to keep your gear safe on your ride.
Meet the best cruiser e-bike: Rambo 500W Cruiser
Specs
Price (USD) – $1,999
Weight (KG) – 27
Range (KM) – 56
Charge Time (hours) – 8
Gears – 7
With fat tires and a powerful LG battery, this E-bike can handle snow, sand, grit and grime to take you from point A to point B with no trouble. Fat tire e-bikes have revolutionised off-road travel, allowing adventurers to reach spots well off the beaten track. So not only can you liven up your commute by taking the scenic route home from work, but on your days off you can really take this bike on some wild adventures into the great outdoors.
The aptly named Rambo has a whole line of accessories custom made to work wonders alongside its slick frame and rugged design. Strap on a rear rack to hold the groceries or a change to front suspension folks for some wild days on the trails, it really is a super adaptable bike for both work and play.
Fat tires aren't known for their speed but for their tank likeability to keep on trucking. If you're looking for a vehicle to get you there whatever the weather or terrain, you've found it in this powerful beast of a bike!
When you're out on your epic adventures on this all-weather animal, be sure to bring along a good quality waterproof backpack to keep your shit dry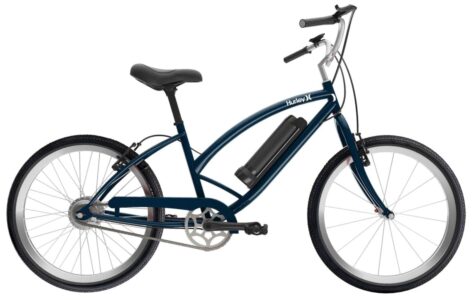 Hurley Kickflip 26″ Cruiser E-Bike – Navy is one of the best e-bike for carrying stuff
Specs
Price (USD) – $799
Weight (KG) – 20
Range (KM) – 32
Charge Time (hours) – 7
Gears – 1
Ok, so you're not going to be doing any kickflips on this thing, though I'd love to see someone try (not even sure what that would look like!). But hey Hurley, points for trying with the cool name!
Hurley is a company totally dedicated to beach days, and their e-bike is no different. Taking the beach cruiser vibe and putting a 250-watt engine on it, this laid back speedster will get you down to the surf in no time without any wasted energy!
The bike comes in a classic look that looks right at home cruising along the coast. It combines a low rider's handlebars with colourful alloy wheels to bring a distinctly retro vibe into the e-bike industry. It has all the classic qualities of 60's beach cruisers, single-speed, comfy seat and no shocks, perfect for the boardwalk or coastal path.
These bikes pair well with a few accessories to haul even more gear. Add on a basket to the front for a classic look and an easy way to carry a lightweight day pack. You can even mount a surfboard carrier too so you'll be hitting the waves in no time.
For best splurge electric bike, checkout Kona Remote 160 DL
Specs
Price (USD) – $7,299
Weight (KG) – 25
Range (KM) – Varies
Charge Time (hours) – 5
Gears – 12
You get what you pay for when it comes to bikes, and if you want the real deal, Kona is a great brand to invest in. The DL on this model stands for deluxe, which is just one of the many superlatives we would use to describe this powerhouse of a bike.
This bonafide beast of an E-bike packs in full Rock Shox suspension and Maxxis tires and is ready to tackle the most unforgiving mountain terrain you can throw at it. This bike is a legitimate offroad stud with a powerful electric engine strapped to it that will take you on some proper offroad adventures!
It's not the lightest thing out there and it's sure to turn a few heads if you rock up to your meeting on this powerful and heavyweight machine. But you'll look fucking cool tbf! You might just not want to leave it strapped to a lampost all day in a city centre, partly because it would be a waste! Throw on a hydration pack and hit the trails before rolling into work like an absolute boss!

Do You Want to Travel FOREVER??
Pop your email in below to get a FREE copy of 'How to Travel the World on $10 a Day!'.
Our top pick for the best cheap e-bike is Swft Volt Electric Bike
Specs
Price (USD) – $999
Weight (KG) – 20
Range (KM) – 51
Charge Time (hours) – 5
Gears – 1
There are great bikes to be had across the cost spectrum. You could buy seven of these e-bikes for every one Kona, and if you don't plan on riding off the pavement, you'd hardly feel a difference.
Swift makes simple but stylish bikes for hitting the town and not really much else. The cheap price means these bikes are pretty niche but if you're only a casual rider wanting to simply ride into work without much effort then you really can't go wrong.
The lightweight frame and low-key motor don't scream out for attention, but the included lights and reflective tires light the night for your evening commute. All the lights work off the same electric motor, so you don't have to worry about stocking up on AAs either.
It's a barebones e-bike at a great price that promises to get you 8 kilometres through town in half the time as a car or 3x faster than your average public transport.
There's now additional storage on this budget option, so get yourself a decent tech backpack to throw on and you're good to go for your commute.
#7 Great Electronic Bike For Commutes – Swft Fleet
Meet the great electronic bike for commutes: Swft Fleet
Specs
Price (USD) – $999
Weight (KG) – 23
Range (KM) – 60
Charge Time (hours) – 6
Gears – 1
Commutes are starting to look a lot more leisurely for some of us. In fact, for many of us these days the commute is less of a frantic dash for the bus to avoid the disapproving glances from the boss and more of a cruise around town for the nearest coffee shop to set yourself up in! Stick with the times with this fun and functional single-speed cruiser.
Shoppers looking for an affordable boost to roll short distances through paved streets won't need more than this reliable choice. This stylish e-bike can take you twenty miles between pedal strokes and zip you to and from the coffee shop in no time at all, so why not take the scenic route!?
Pedal-assist the 48V engine, and you can ride around all day at a reasonable speed. The Fleet brings a comfortable springy seat and is preinstalled with a few headlights, so you won't need to rush home before sunset.
Pedego Latch – Electric Folding Bike is one of the best folding electric bicycle
Specs
Price (USD) – $2,795
Weight (KG) – 20
Range (KM) – 85
Charge Time (hours) – 3.3
Gears – 3
No car on the market can challenge the fuel economy of this pedestrian powerhouse. The e-bike compacts into thirds and can be carried in one hand. Unfold it and hum along up to 85 KM on less than a quarters worth of energy and a few pedal strokes.
A bike this small must take effort to utilise every inch of space. A fully adjustable handlebar allows you to set the tone and the height of your ride. A back bar capable of hauling some gear along for the ride sits atop the powerful 250 W motor. It's a pretty decent rack that you would easily fit something bigger like a duffel bag on if needed.
The features don't stop in the build. Riders can control their battery life and pedal power by cycling through the full-throttle, halfway assist, and unassisted pedalling. The Latch takes a traditional folding bike style and throws a motor on it.
If you're familiar with folding bike riding, you'll instantly feel at home with this electric option and you'll love the versatility a bike like this allows. From jumping on a train or tram with the bike to leaving it under your desk once you're at work, having something so compact in the city is always a bonus!
The best present of all… is CONVENIENCE!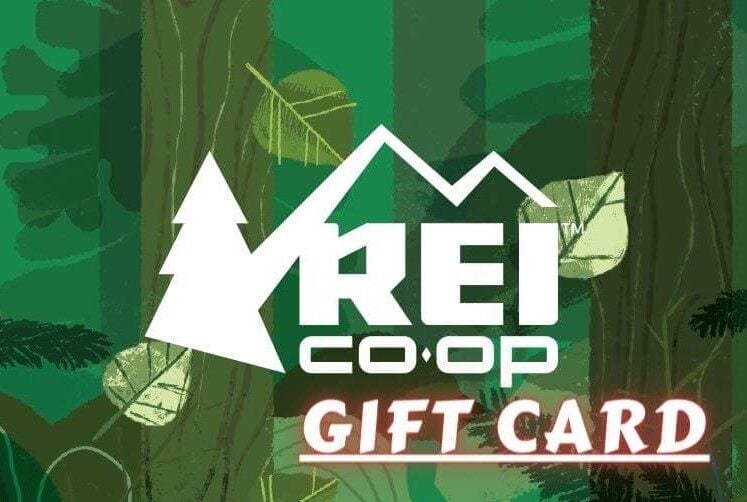 Now, you could spend a fat chunk of $$$ on the WRONG present for someone. Wrong size hiking boots, wrong fit backpack, wrong shape sleeping bag… As any adventurer will tell you, gear is a personal choice.
So give the adventurer in your life the gift of convenience: buy them an REI Co-op gift card! REI is The Broke Backpacker's retailer of choice for ALL things outdoors, and an REI gift card is the perfect present you can buy from them. And then you won't have to keep the receipt. 😉
Buy on REI!
Pedego Trail Tracker: 24″ Edition is our top pick for the best electric fat tire bike
Specs
Price (USD) – $2,995
Weight (KG) – 102
Range (KM) – 48
Charge Time (hours) – 6
Gears – 7
BEASSSSTTTT! Most fat tire e-bikes roll through sand easily enough but don't feature the plethora of high tech features like the trail tracker includes. This mammoth bike with its fat tires and seven speeds allows this tank to get you through 4-seasons of weather on all terrains.
The only thing it's lacking to make it feel just shy of being a proper mountain bike is having full suspension. But with a fat bike, you do get a certain amount of shock absorption from those huge tyres for a fraction of the weight.
The included statistical LED display monitors your speed, battery charge, odometer, and trip length to get a full readout of you and your bike's health. It even has a USB charging port for a quick juice up on your phone during your trip out. You could even use it to keep your action cam going whilst you record all your sick adventures on the trails.
The bike has all the framework to function as a great electric trail runner capable of taking you deep into the woods in the sun or snow, all at a relatively affordable price for a bonafide off-road e-bike.
Specs
Price (USD) – $1,899
Weight (KG) – 35
Range (KM) – 60 – 80
Charge Time (hours) – 5
Gears – 7
This fine all terrain e-bike rocked us good and proper when we first it come to market in 2023. With its light frame, powerful engine and impressive BMS battery life, the Mokwheel Basalt feels like a great leap forward for electric bikes generally.
Now, this one is fat bike but the Mokwheel Basalt stands out as a unique variety among fat bikes as it's engineered to traverse terrains where other e-bikes may falter. Cyclists seeking to embark on laden journeys or automobile camping with their e-bike will find the range of accessories offered by the Mokwheel Basalt to be magical. Mokwheel company provides a power inverter capable of operating everything from an electronic grill to a laptop, as well as compact, collapsible solar panels that can recharge the e-bike in a minimal time span of approximately five hours.
For such an impressive bike, it is also well priced coming in at under $2k. Sure this is still way too much for a lot of people but represents good value for those who can stretch to it and justify such a splurge.

Our GREATEST Travel Secrets…
Pop your email here & get the original Broke Backpacker Bible for FREE.
Final Thoughts
As we wrap things up, I'd like to take a nice deep breath and absorb some of the prices we saw today.
Some of the best e-bikes carry prices higher than a halfway dependable used car, and none can be had much south of $1,000. That ain't cheap, but it will be if you ride long enough.
The beauty is in the return when you invest in an e-bike. Here's why.
Unlike a car or the train, an e-bike is a one time purchase, and the drain on your electric bill is nothing compared to constantly buying monthly passes or topping up the tank each week.
Given just a few months and even an expensive model will easily pay for itself in both money and time saved on your commute. Add that to the fact that many of these bikes also double as a very usable trail bike too and you've got both your business and leisure activities covered in one purchase, oh and some decent exercise too (as long as you fancy it!)
If you're ready to commit to a bike, I recommend building a relationship with the local fixer. These bikes are built to last decades, especially with a bit of TLC.
With the right pit crew, you won't need much more than a few parts switched out or upgraded throughout the years, and when duty calls, it's always nice to have a mechanic's number saved you can trust.
This new decade is pushing the e-bike industry full speed ahead. From rugged off-roaders to stylish boardwalk cruisers, you can find any bike model in the business gone electric. That means you don't have to sacrifice anything when choosing your new mode of transportation.
Start your search with some of the bikes on this list, and let us know which roads they take you down.
---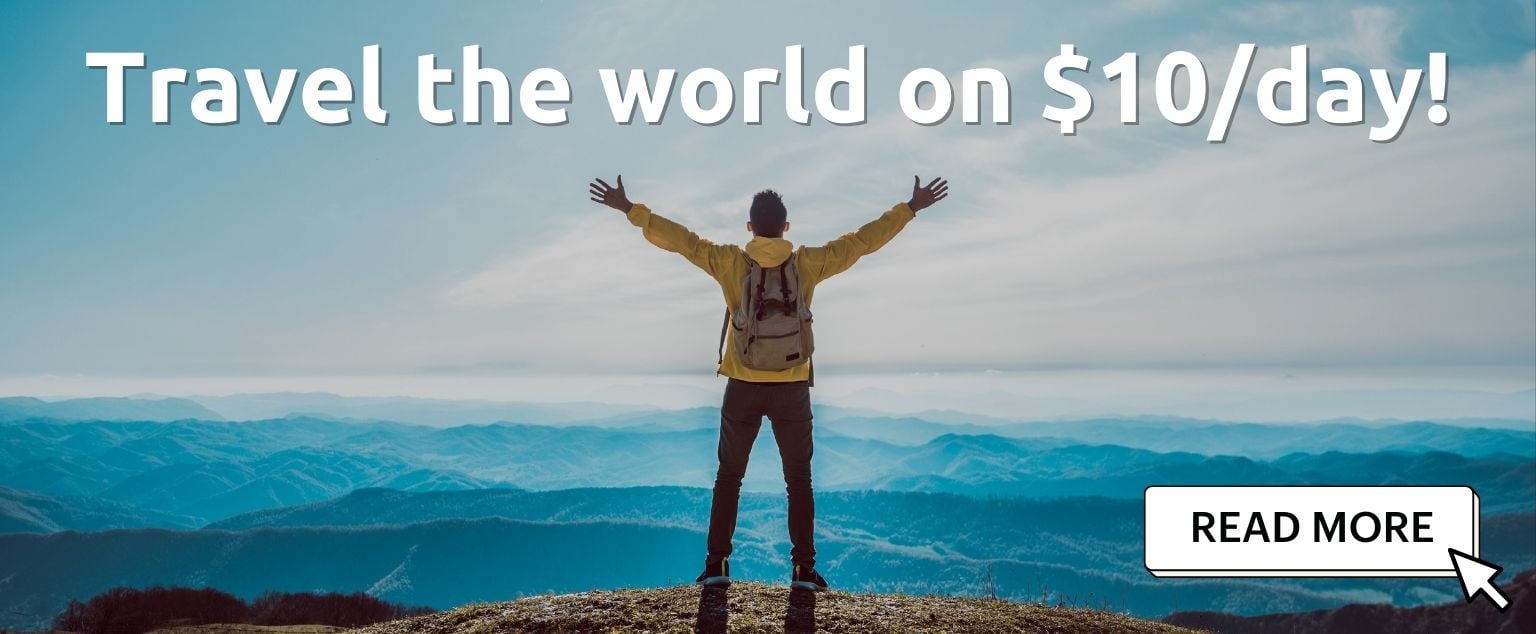 And for transparency's sake, please know that some of the links in our content are affiliate links. That means that if you book your accommodation, buy your gear, or sort your insurance through our link, we earn a small commission (at no extra cost to you). That said, we only link to the gear we trust and never recommend services we don't believe are up to scratch. Again, thank you!