As a person who totally geeks out on outdoor gear, I can say that few companies have been producing industry leading quality for as long as MSR. The MSR Hubba Hubba 2-person tent is the pinnacle of everything I love about this company.
I have camped and hiked in places all over the world and I can tell you that nothing compares to the overall performance the MSR Hubba Hubba 2 person delivers.
For those backpackers keen to both save money and get off the beaten path whilst traveling, packing a good tent is a must. How to choose a tent to take backpacking can be challenging. Which is why we've done this extensive Hubba Hubba review just for you!
MSR Hubba Hubba 2 Person Tent Review
Let's get down to the Hubba Hubba tent review. So, with so many backpacking tents on the market, it is easy to get hooked into a low-quality tent with an attractive price tag. Mistake! Red flags!!
A cheap tent makes you feel good only for about five minutes from the time of purchase. Eventually (sooner rather than later) that tent will fail you. It will leak, it will tear, and it will generally let you down and take a little bit of your soul when it does.
Not the MSR Hubba Hubba tent.
The MSR Hubba Hubba is the best 2-person backpacking tent on planet earth. The Hubba Hubba combines quality, light-weight materials, excellent livability, and plenty of toughness to keep you charging through your backpacking adventures for many years to come. When it comes to the best tent brands, MSR are a company you can be sure will provide epic quality, especially when it comes to lightweight tents with a tiny packed size.
This super in-depth review gives you a detailed run-down of this truly awesome backpacking tent. Learn about packability and tent weight, interior specs, weather protection, price, competitor comparison, and much more.
Basically, by the end of this Hubba Hubba 2 person tent review, you will be in possession of all of the facts that come together to make the MSR Hubba Hubba the best backpacking tent money can by.
Ladies & Gents, It's Time to Step Your GEAR Game Up. 😉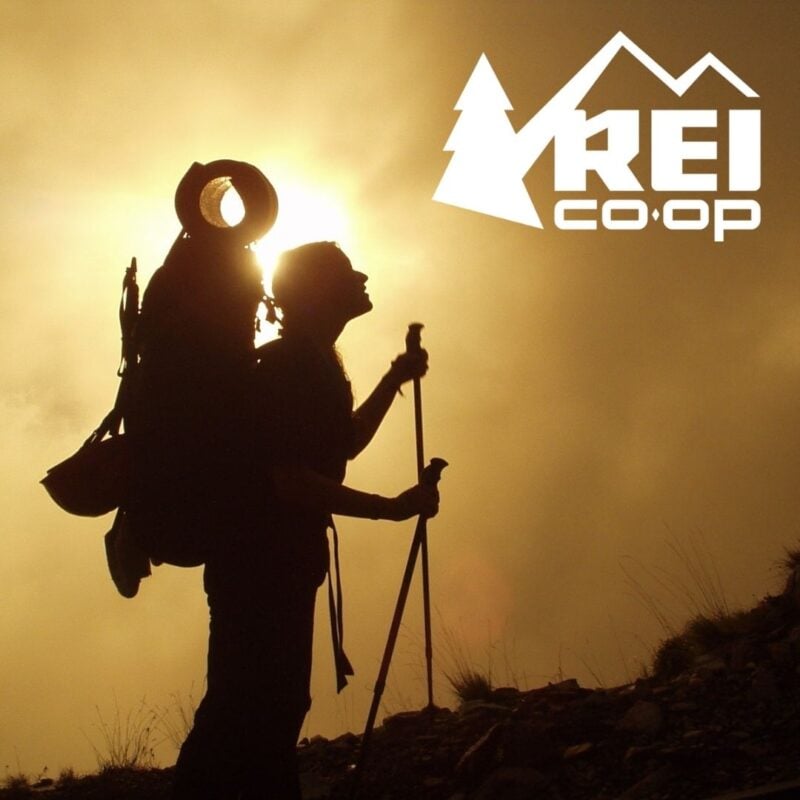 REI is one of America's biggest and most-loved outdoor gear retailers.
Now, for just $30, get a lifetime membership that entitles you to 10% OFF on most items, access to their trade-in scheme and discount rentals.
Join REI Today!
What Makes the MSR Hubba Hubba the Best 2 person Backpacking Tent on the Market?
Here are some of the questions this MSR Hubba Hubba review will answer:
Is the MSR Hubba Hubba really comfortable for two people?
What can I expect from the tent's interior?
How much does the MSR Hubba Hubba cost?
Is the Hubba Hubba lightweight or ultralight?
Is the Hubba Hubba really waterproof?
How easy is the MSR Hubba Hubba to set up?
What is the Hubba Hubba's closest competitor?
MSR Hubba Hubba Liveability and Interior Specs
As far as 2-person backpacking tents go the Hubba Hubba falls in the middle of the spectrum with regards to interior space. It is not as luxurious as say the REI Half-Dome Plus, but it weighs significantly less. At the same time, it is not as small and cramped as some of the more minimalist ultra-light 2-person tents.
For two people with two large backpacks, sleeping pads, sleeping bags, etc, there is plenty of room for personal comfort.
Whether you're just camping out one night or on a multi-day adventure, the Hubba Hubba is a truly fantastic place to rest your bones at the end of the day.
The unique pole configuration maximizes headroom and elbow space throughout the tent. You can easily change clothes and maneuver about as needed.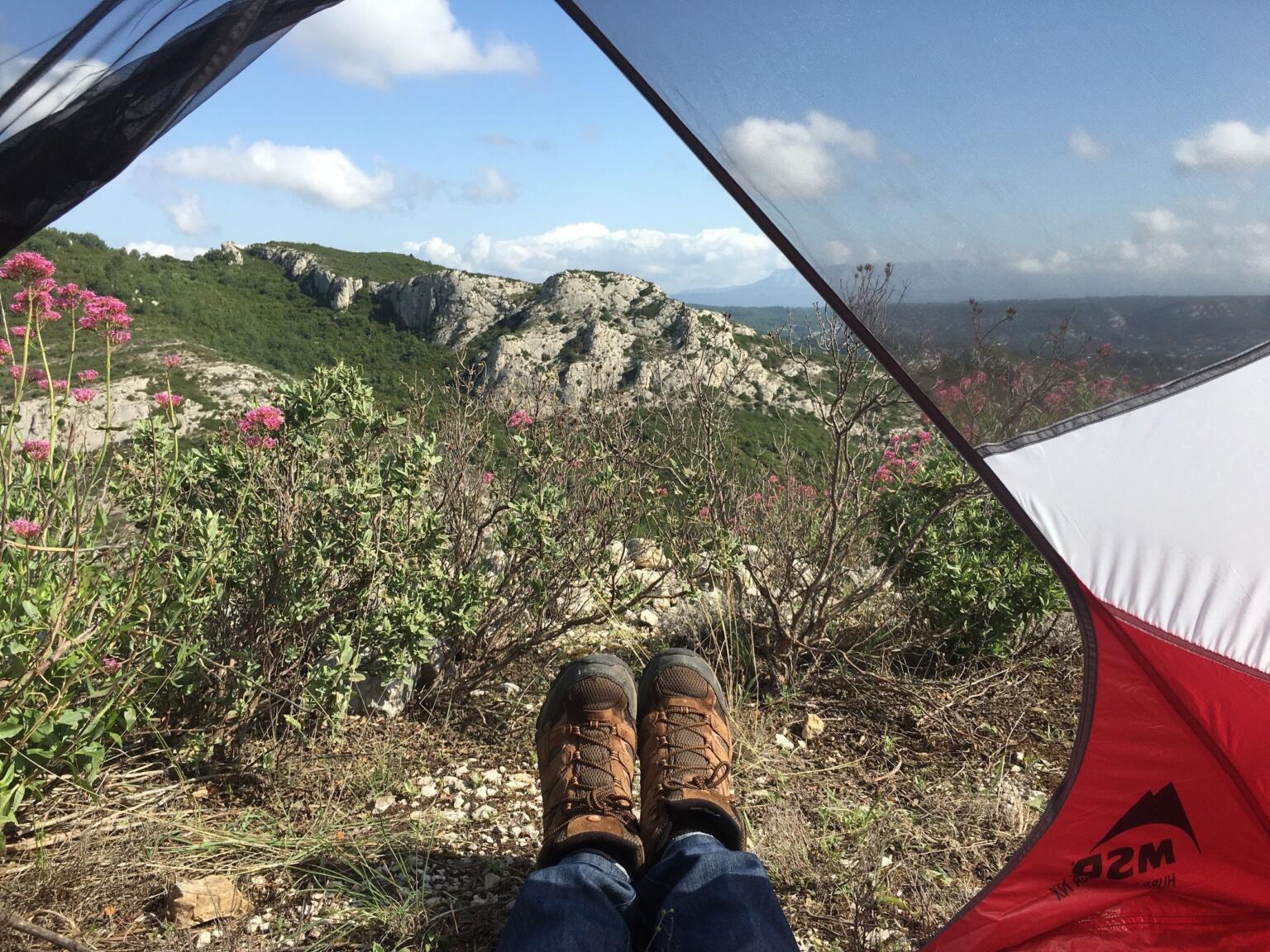 The Interior Nitty Gritty
Next in our Huba Huba review, is the inside. The body has two tent doors, mesh panels for breathability, and solid panels for warmth and privacy. Also, the rainfly easily rolls up for a killer stargazer view. Few things in life beat laying comfortably in your tent with your lover watching the stars glitter like diamonds in a clear night sky.
I love how the inner tent feels really spacious due to the fact that the walls are not tapered. You'd be hard-pressed to find another tent in the same weight-class with as much interior space and positive livability.
Two large "StayDry" doors help ensure water doesn't drip into the inner tent when doors are opened. These two doors basically function like little rain gutters. Thanks to the MSR engineering department!
The two large vestibules are perfect for storing your backpack and keeping it dry. Furthermore, the bathtub style floor with taped seams keeps everything dry and all moisture outside thanks to the epic floor fabric.
My one and only complaint about the Hubba Hubba's inner tent design is the lack of pockets. I find myself asking "how hard was it to add a few more storage pockets?".
The Hubba Hubba does have two medium size pockets at either end near the ventilation window, providing some decent places to store gear. However, for organizational freaks like myself, the inner tent is lacking in the pocket department. That said. two pockets are certainly better than none.
We will list the Hubba Hubba dimensions elsewhere in the post.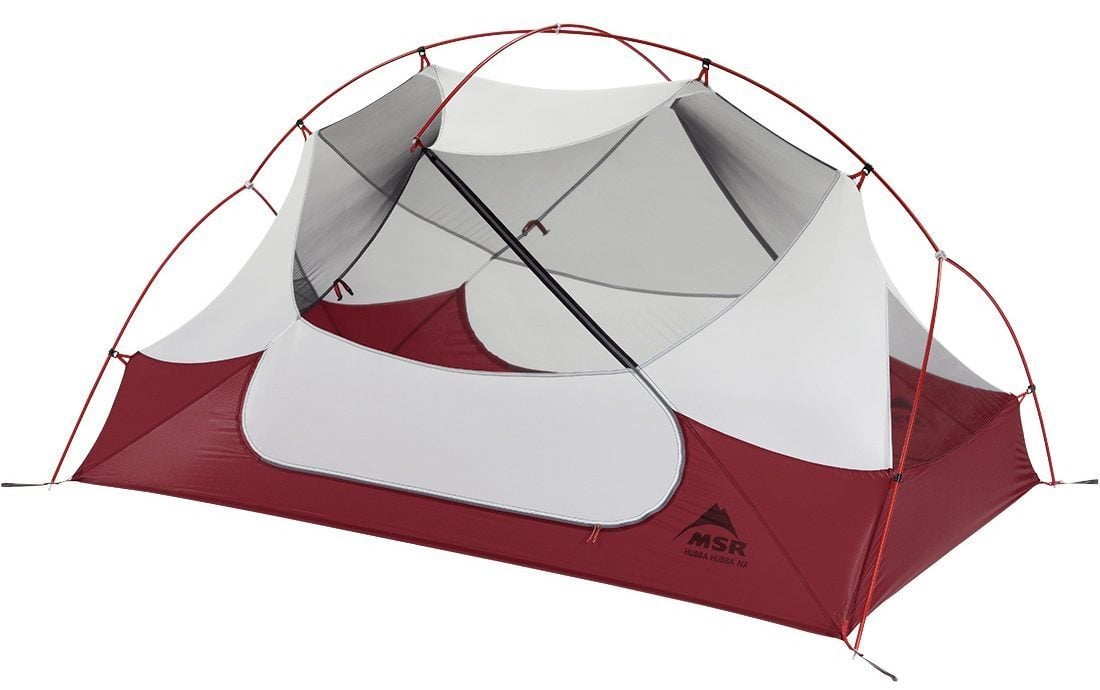 How much does the MSR Hubba Hubba 2-P cost?
MSR Hubba Hubba 2-Person Tent: $549.95
*Prices vary depending on the year/model. The new MSR Hubba Hubba costs $549.95 More on this in just a moment.
Whether you are a regular reader of this blog or just stumbling across it for the first time there is one thing you should know.
I love quality gear and I only spread the good word about the absolute best gear for backpackers. Quality gear comes at a price. That said, it is an investment that you should only have to make once. Good news for you: the MSR Hubba Hubba 2-person tent is the ONLY tent you will ever need.
You might think $549.95 is too much money to spend on a tent. I agree it is expensive. I'm with you on that. However, the reality is that having agreat tent is so damned important that I must state it plainly here. It is your sanctuary, your safe, dry place. Investing in a good tent will save you a ton of money down the line too.
Other quality tents on the market will run you back even more. So honestly, for everything the Hubba Hubba has on offer; packaged weight, space, durability, weather protection, etc… the Hubba Hubba simply can't be beaten, it's a truly great tent.
Furthermore, I believe every backpacker should travel with a backpacking tent and I also believe each backpacker should travel with the best backpacking tent possible.
Is It Good Value?
MSR is an industry leader with regards to tent quality. As all seasoned adventurers know, the feeling of being warm, comfortable, and dry in your tent where ever you are in the world is a truly priceless feeling.
As soon as you get settled for the night in your Hubba Hubba, you are stoked, all smiles, and it is immediately clear that you made the right tent choice…
Top Tip: At the time of writing it is possible to score one of these amazing tents on Amazon and REI for $299.00. That's a quarter of the price and a solid bargain if ever I have heard of one.
*Note for 2020 Model: The 2020 MSR Hubba Hubba 2-P tent has already/will debut at $449.95. For past season models, expect the price to be around $299.00.
Key Features of the MSR Hubba Hubba
So, let's get to one of the most important features of this MSR Hubba Hubba review, a run-through of the key features of the tent including its weight, packability and all-important ventilation.
How Much Does the MSR Hubba Hubba Weigh?
Quick Answer: 3 lbs. 13 oz
Technically the Hubba Hubba falls into the ultralight category. At just 3 lbs. 13 oz. you hardly even notice the tent in your backpack. The Hubba Hubba tent weight is one of the best in its class.
One super cool aspect of the Hubba Hubba is that it can be pitched using only the poles, the rainfly, and the Hubba Hubba Footprint (sold separately) or a basic tarp. If you are really looking to cut weight this is a great pitch option!
If you go the pole-rainfly-footprint route you can get the packaged weight down to a staggering 2 lbs. 2 oz.
Packability
Since we are talking about weight here, let's also talk about packability and packed size.
How well does the Hubba Hubba fit inside your backpack? Very well. The Hubba Hubba comes with an ultra-compact compression sack so it squeezes down into a nice tight log shape inside its stuff sack.
I have had other tents in the past which were great functionally, though always took up way to much space in my backpack. Many years ago I hauled a 6-pound tent around South America for six months and it was constantly in my way. However, it wasn't the weight so much as the bulk that bothered me but the packed size and massive stuff sack.
Now that I have this 3 lbs. 13 oz beauty I find that it takes up about half the amount of space as my former tent. The difference is huge. I can now even go with a smaller backpack (58 liter) and all of my gear fits perfectly alongside the Hubba Hubba in its stuff sack.
MSR Hubba Hubba Breathability and Ventilation
The Hubba Hubba offers up several features that allow for fantastic airflow. There is nothing worse than sleeping in a stifling, breeze-less tent.
The designers at MSR when all-out with the mesh screen paneling, allowing for both epic views and plenty of space for air to flow uninterrupted.
As I mentioned before, both the rain-fly and the tent body doors roll up so at any time you can regulate the flow of fresh air. For chilly damp nights, there is enough ventilation to allow condensation moisture to escape without creating a wet environment in the tent.
I have been woken up before by the dreaded condensation drips from other tents and it ain't no fun. Having a tent that is well ventilated is key for both keeping unwanted moisture out and allowing for moisture produced by people to escape without settling.
The best present of all… is CONVENIENCE!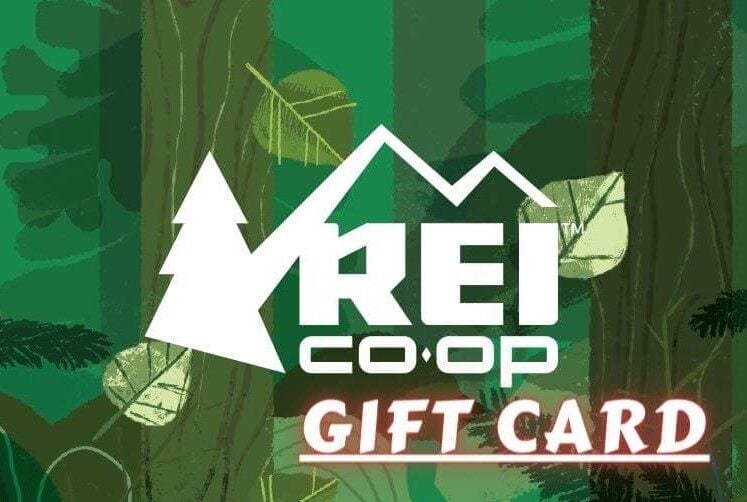 Now, you could spend a fat chunk of $$$ on the WRONG present for someone. Wrong size hiking boots, wrong fit backpack, wrong shape sleeping bag… As any adventurer will tell you, gear is a personal choice.
So give the adventurer in your life the gift of convenience: buy them an REI Co-op gift card! REI is The Broke Backpacker's retailer of choice for ALL things outdoors, and an REI gift card is the perfect present you can buy from them. And then you won't have to keep the receipt. 😉
Buy on REI!
MSR Hubba Hubba vs the Weather: The Ultimate 3-Season Backpacking Tent
By all accounts, the Hubba Hubba was meant to endure some truly horrendous weather and super heavy rain. If you have ever spent time in the mountains, you know how quickly the weather can change.
From a technical perspective, the MSR Hubba Hubba is a 3-season tent. This means its ideal and intended use is during the spring, summer, and fall. However, note that it can be used as a 4-season tent if you live somewhere warm like California, or where I live here in Southern France.
The Hubba Hubba rainfly is made of 20-denier, high-tenacity ripstop nylon that's "Durashield" polyurethane with a silicone coat. That's tent-speak for anti-rain, anti-sleet, anti-wet tent fabric that will cast a protective dry shield over weary backpackers.
You will feel like a turtle cozy in his shell. If the turtle's shell was made out of "Durashield" polyurethane and silicone treated that is.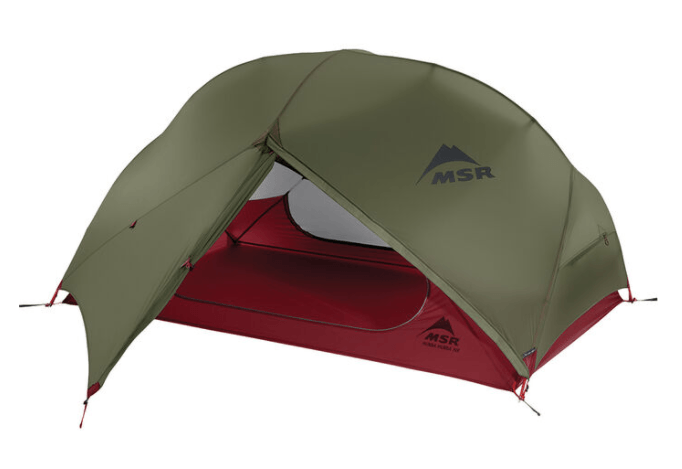 Important Note on Leaky Tent Reports (Updated April 2020)
For the last few months, we have been receiving many comments from our readers reporting leaking tent seams. I too recently experienced leaks myself and I was none too happy. I wrote this article before my tent leaked, but I want to recognize that this has been a problem for me and for others.
From Fall 2019 – Because of all of these reports and my own experience, I reached out to MSR for an explanation and here is what they had to say:
MSR have decided on a program that will "upgrade" the tent fly for all consumers who purchased a tent with Xtreme Shield. As a brand with a legacy of industry-pushing innovation, quality and durability, they want to recognize and respect the trust consumers have placed in MSR products and therefore, are adding additional sealing to the rainfly seams on all 2019 shelters in the following series: Hubba, Carbon Reflex, FreeLite, Zoic and Thru-Hiker Wings.
Moving forward, this will be standard on all tents with Xtreme Shield. If someone has already purchased a tent, they can either send the rainfly to MSR to be professionally sealed, or for customers who are experienced with seam sealing and wish to do it themselves, MSR will supply a bottle of sealant.
So basically guys, if you have experienced leaky tent issues, get in touch with MSR ASAP and they will sort you out. Hopefully our sleeping bags stay dry now!
From April 2020 – By all reports, MSR has fixed the seam seal issue. You can now buy the Hubba Hubba in confidence that it will not leak and this issue with the leaking seems has been resolved by MSR properly sealing all of the tent seams going forward. Hurray!
MSR Hubba Hubba Set-up and Breakdown
Ok so I didn't actually time myself, but I can honestly say that the Hubba Hubba is one of the easiest, most straight-forward tents I have ever set up. It can easily be set up by one person. Of course, it is faster with two but not at all necessary.
After sleeping in this tent on and off for several weeks while traveling in Pakistan recently, I was able to set the whole tent up alone (including the rain-fly) in under 5 minutes.
Two humans with eyes, arms, and legs can set up this tent in about 2-4 minutes. A bit longer if you are truly trying to brace the tent for a crazy wind storm.
While we are on the topic of wind and tent stakes I will mention that the tent only comes with six. Whilst you can totally pitch the tent with six, I do recommend you pick up several more. You will need a few more tent stakes on hand if you want to properly utilize all of the exterior loops and guy-lines designed to brace the tent in high winds.
Remember the Hubba Hubba is a free-standing tent 2 person backpacking tent, meaning in calm, dry, mild weather, you don't even need stakes as the tent only needs it poles, not the stakes to be pitched. That said, it is always a good idea to stake your tent as the weather can change without warning.
The MSR Groundhog tent stakes (sold separately) weigh next to nothing as they are aluminium, so it is a good idea to bring them along on your travels/hikes if you can.
Tent Pole Updates for 2020!
Listen up friends! The new 2020 MSR Hubba Hubba tent series features an upgraded tent pole system! What was a tough and reliable pole system before, is now a thing of indestructible engineering beauty.
MSR worked with Easton Manufacturing for over five years on the development of the Easton Syclone Poles, which are made ultra-strong and flexible to resist breaking. Exclusive to MSR tents, these next-generation poles are made of futuristic composite materials, which make them virtually unbreakable. These are better than the standard MSR tent poles.
The new tent poles are built using lightweight, aerospace-grade materials and are the most badass backpacking tent poles ever made – and the future of tent pole technology. The future I say!
If you have ever broken a tent pole, you know how much that scenario sucks. You already know how important it is to have tent poles that are tough as nails! If your tent poles break, it is virtually game over for the tent. You can't really set up a tent without the poles of course.
With the new Easton Syclone Poles, you now can have even more confidence in the solid build/design of your MSR Hubba Hubba tent. Well done MSR!
What a thing of beauty it is when aerospace materials meet backpacking gear. I love it.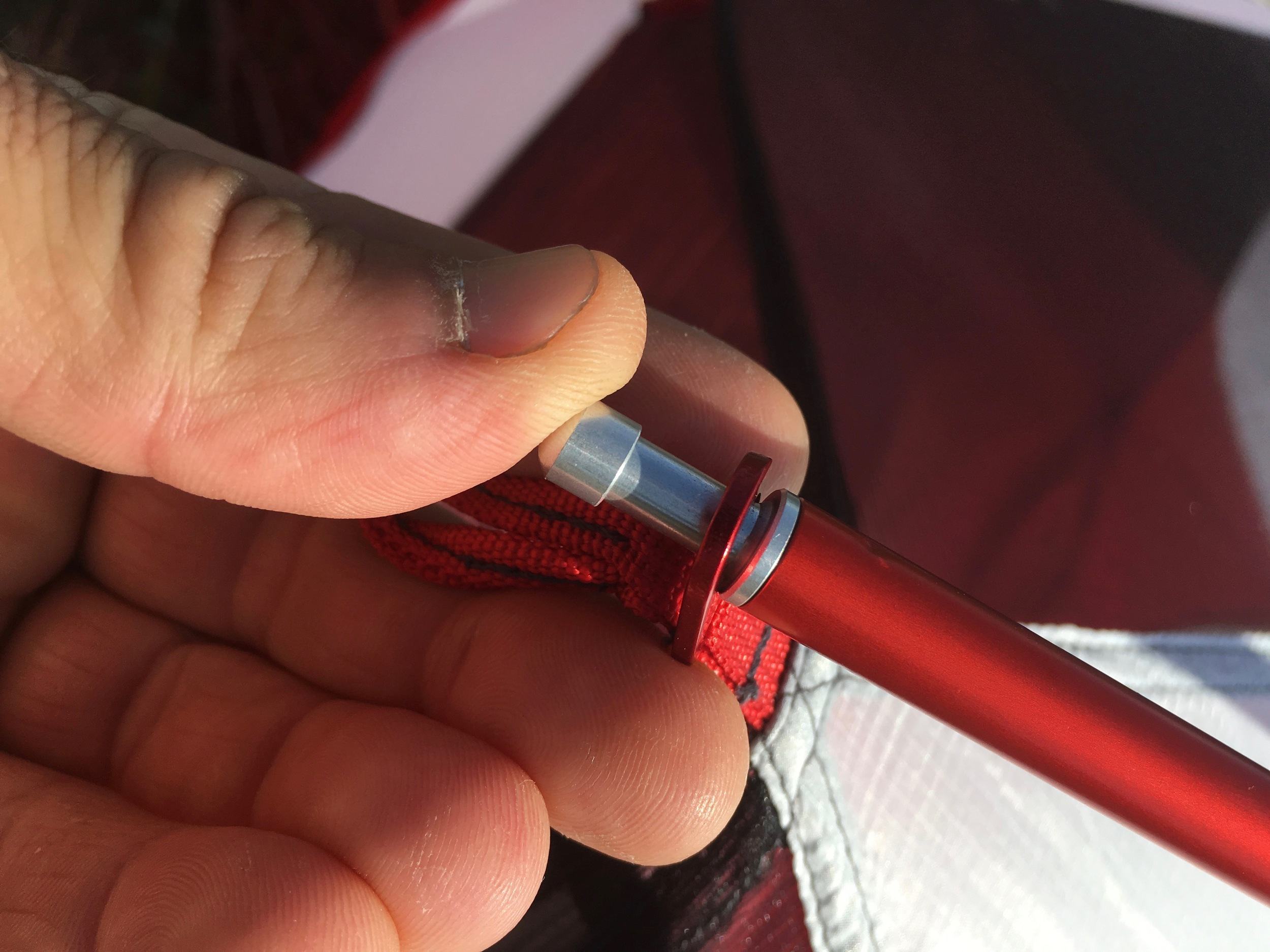 MSR Hubba Hubba vs the World: Competitor Comparison
There are several other fine tents on the market, but in my opinion, they can't match the overall performance, price, and weight of the MSR Hubba Hubba.
For a great budget option, and significantly more weight, I can recommend the REI Half Dome Plus. It is roomier inside, certainly. Though when you are counting ounces for a long backpacking trip, one has a hard time justifying carrying a tent this heavy.
Big Agnes is also producing great tents. Their Big Agnes Copper Spur HV UL2 is probably the Hubba Hubba's closest competitor. At just 2 lbs. 3 oz. it is more than a full pound lighter than the Hubba Hubba, which is significant.
The drawback with the Copper Spur HV UL2 is that it can feel a bit cramped inside. Also, I have heard reports of the rainfly fabric ripping in places, though I have not personally experienced this. One final point is that the Copper Spur is $450 making it one of the priciest options in its class. Be sure, the Copper Spur HV UL2 is an excellent tent in many respects.
Learn More: Big Agnes Copper Spur UL2 review
That said, my preference still lies with the MSR Hubba Hubba.
For my complete guide on how to choose a tent to take backpacking, click here.
Some other great two-person tents that also might be worth checking out to see if they work for you are the Nemo Hornet and the North Face Storm Break 2.

Our GREATEST Travel Secrets…
Pop your email here & get the original Broke Backpacker Bible for FREE.
How and Where We Tested The MSR Hubba Hubba
The only way to really test a tent out is to take it out camping for a few nights and so that is exactly what we did. We took this bad boy out for a few different test drives in different weather conditions to make sure we really put it through its paces for this MSR Hubba Hubba review
In order to fairly and consistently assess this tent and compare it to others we tried and tested over the years, we applied the following metrics;
Ya'll don't get this level of commitment from the other MSR Hubba Hubba reviews!
Packed Weight
You can go onto a tent manufacturer's website and find out what the packed weight of a tent is but that KG/Ibs number only really comes to life when you actually try to carry a tent up a hill all day!
So, rather than just spouting out how much this or any other tent weighed. We actually took them out with us on several hikes to get a feel for not only the weight but how well distributed it was. This is exactly what we did with the Hubba Hubba 2-person tent.
Packability (Packing and Unpacking!)
No two tents are the same. Some are nice and easy to pitch and un-pitch, and others pretty much require a degree in engineering. So when we took the MSR Hubba Hubba for a test ride we were sure to pay particular attention to how easy or complex it was to both put up and to put back in the darn bag afterwards. God knows how annoying some tents can be to repack!
Warmth, Waterproof and Ventilation
We put our bodies on the line for this one and put our money where our mouths are. The only way to test how it feels to spend a night in a tent is to do just that. We made sure to do this in different temperatures and weather conditions to get a feel for the warmth, insulation, ventilation and waterproofing on the MSR Hubba Hubba.
Of course, there's a fine balancing act between a tent keeping you warm and dry and one that allows sufficient ventilation to keep you cool and avoid condensation inside the tent.
In terms of testing out the waterproofing, testing in the North West of England pretty much guaranteed some rain but on occasions when the skies uncooperatively remained dry, we simply tossed a bucket o' water over the tents!
Spaciousness and Comfort
Tents are not exactly designed for throwing parties (ok, some are) but still, ideally you want a tent to have enough space to do whatever you're planning on getting up to inside… we won't judge!
So, as with the other areas of our testing, the only way to get an idea for the internal space is to spend a night inside with whatever gear or people you planning on taking!
Build Quality and Durability
All of our testers were instructed to subject tent poles to a good bit of good-natured pressure, look closely at the seam sewing and feel the thickness of the fly sheets. Our testers also took the MSR Hubba Hubba 2-person tent out on a few different trips over actually quite a long period of time to see the longevity of it.
I hope now you feel that you possess all of the need-to-know facts and the pros and cons of this truly amazing backpacking tent. Having a solid understand and perspective of a potential tent purchase is very important!
I had a lot to say about the Hubba Hubba because it has so many fine qualities I personally look for in a backpacking tent. Unlike many other MSR tent reviews, this one is from sustained and personal usage.
The adventure potential with an MSR Hubba Hubba in your backpack is LIMITLESS. This truly is the best 2-person backpacking tent in the world. My hope is that it will take you to places that you have previously only dreamed of. That is what good gear does. It makes dreams and ideas a reality. And a comfortable reality at that!
Having a good tent expands possibilities, saves you money long-term, and keeps you safe as you ramble through the intense natural environments of this earth. The Hubba Hubba will open doors to a whole other theater of backpacking venues, experiences, and of course, cozy nights of sleep.
If you want the latest and greatest version of the MSR Hubba Hubba 2-P, be sure to check out the 2023 Hubba Hubba series!
The world of adventure awaits: be sure to pick up an MSR Hubba Hubba 2-person tent and start getting the most out of your gear and your adventures…
What is our final score for the MSR Hubba Hubba 2 person tent? We give it a rating of 4.5 out 5 stars!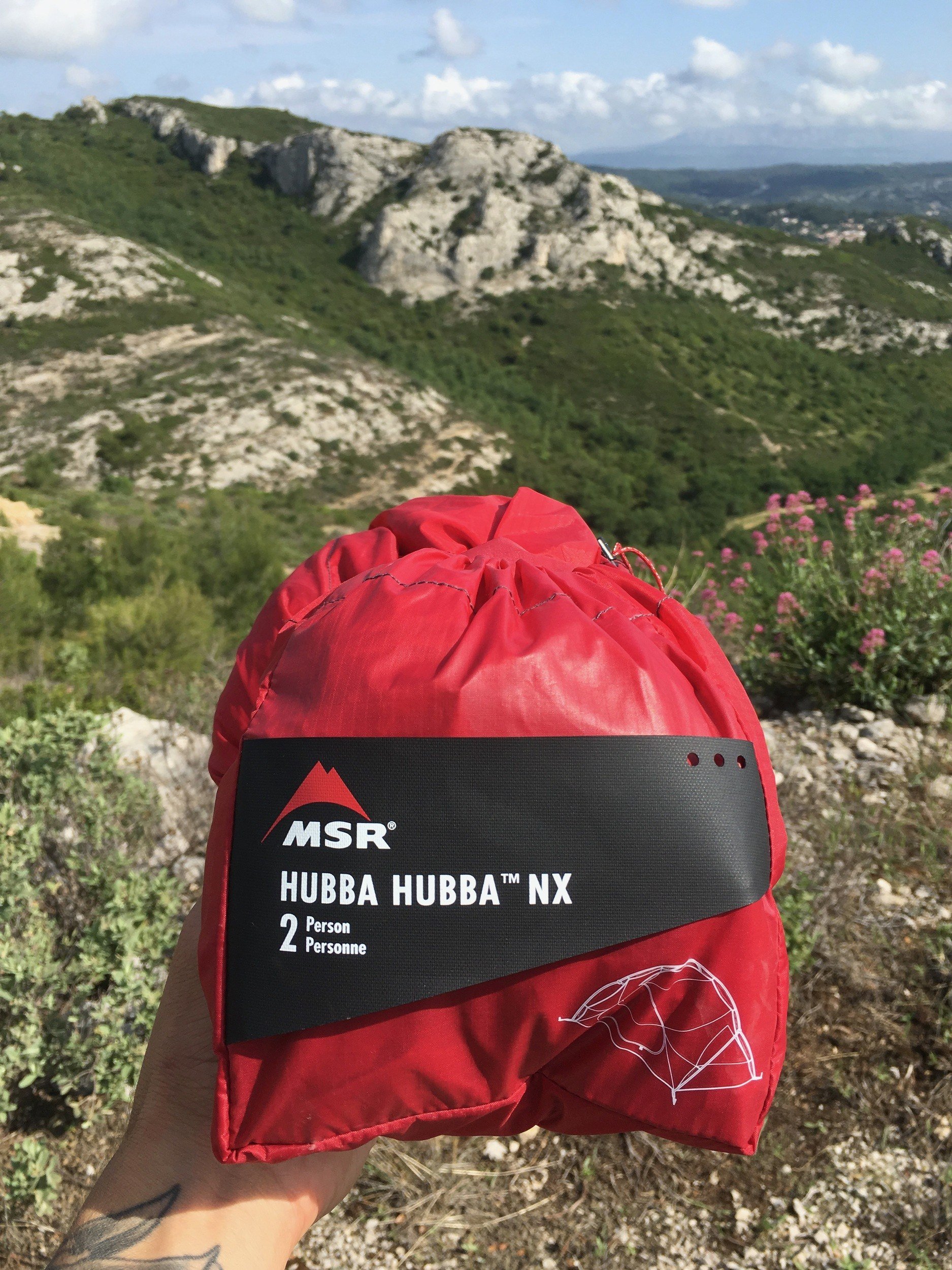 What are your thoughts? Did this brutally honest review of the MSR Hubba Hubba 2-person tent help you?
Looking for something similar but bigger? Check out the best 3 person tents instead.
Anything I didn't answer in this Hubba Hubba tent review? Let me know in the comments below – thanks guys!
---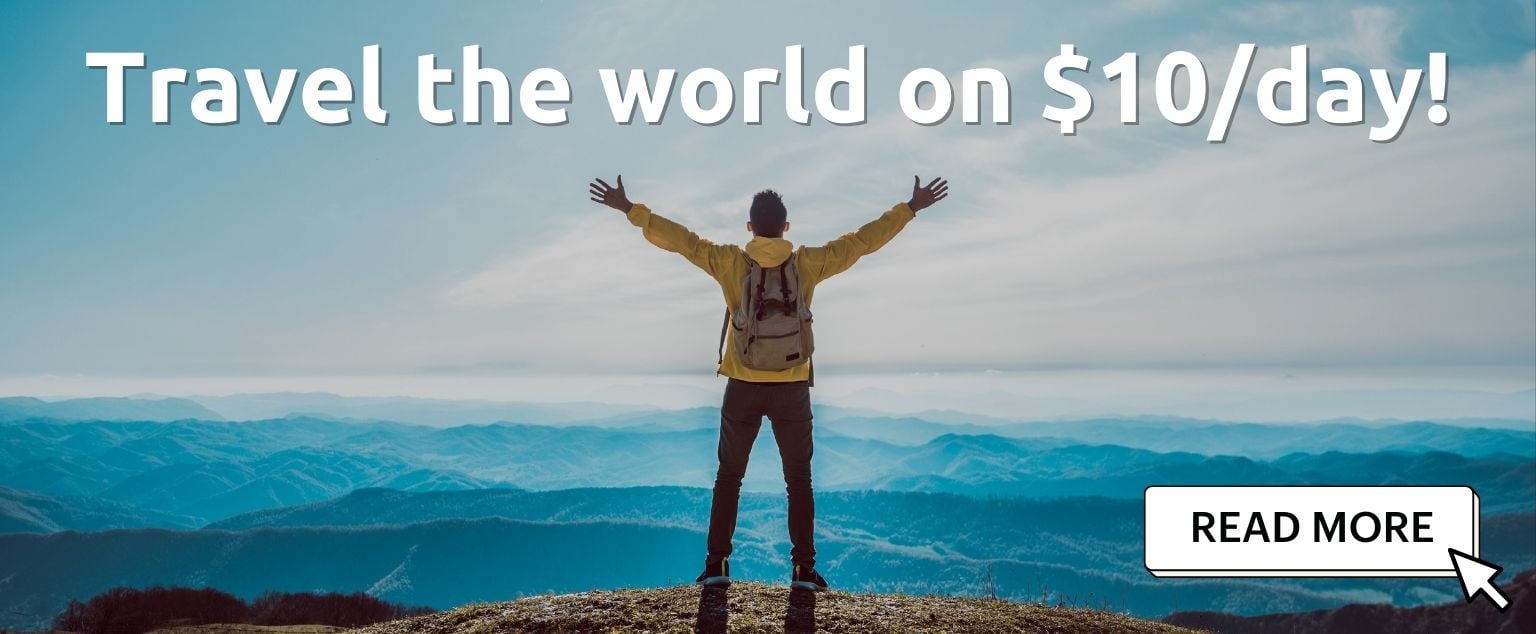 And for transparency's sake, please know that some of the links in our content are affiliate links. That means that if you book your accommodation, buy your gear, or sort your insurance through our link, we earn a small commission (at no extra cost to you). That said, we only link to the gear we trust and never recommend services we don't believe are up to scratch. Again, thank you!