Every big box store and outdoor supplier in business has stocked a tent on their shelves, but very few tent brands can consistently get you through a rainy night. No matter where you're headed, your shelter could make or break your trip, so choose wisely.
Whether you're heading out mountaineering, off with the family for the weekend, or looking to save a few bucks on hotel rooms this festival season, we'll walk you through the best brands in the business for explorations of all shapes and sizes.
You can't be considered one of the best camping tent brands without a signature tent, so this buying guide will also cover some of our favorite tents from our favorite brands.
Your tent is the only thing standing between bug bites, freezing temperatures, and surprise downpours. Don't go cheap when shopping for a good night's sleep. The right tent might seem expensive, but having a reliable shelter in the bottom of your bag for years to come will allow you to push the limits of your outdoor adventures.
We've trusted these tent brands to get us through rainy nights in mountain ranges around the world, and we've learned the hard way which companies are legit and which tent brands to avoid.
Quick Answers – What Are The Best Tent Brands?
#1 Best Overall Tent Brand – Big Agnes Tiger Wall
#2 Best Camping Tent Brand – NEMO Hornet OSMO Ultralight
#3 Best One Man Tent Brand – Vango Soul 100
#4 Best Hiking Tent Brand – MSR Hubba Hubba 2
#5 Best Festival Tent Brand – The North Face Eco Trail 3
#6 Best Technical Tent Brand – Sea To Summit Alto TR2
#7 Best Budget Tent Brand – REI Co-Op Half Dome
#8 Best Backpacking Tent Brand – Marmot Limelight
Big Agnes – Best Overall Tent Brand
Big Agnes – Best Overall Tent Brand
Tiger Wall
> $$
> Lightweight
> Easy set-up
Nemo – Best Camping Tent Brand
Vango – Best One Man Tent Brand
Vango – Best One Man Tent Brand
Soul 100
> $
> Roomy interior and good vestibule space
> Tunnel-style tent
MSR – Best Hiking Tent Brand
MSR – Best Hiking Tent Brand
Hubba Hubba 2
> $$
> Versatile
> Built-in DuraShield Coating
The North Face – Best Festival Tent Brand
The North Face – Best Festival Tent Brand
Eco Trail 3
> $$
> Comfortable and functional
> Plenty of room for three people
Sea To Summit – Best Technical Tent Brand
Sea To Summit – Best Technical Tent Brand
Alto TR2
> $$
> Strong ventilation system
> Wide-ranging rain fly
REI Co-Op – Best Budget Tent Brand
REI Co-Op – Best Budget Tent Brand
Half Dome
> $
> Includes four overhead vents
> Sturdy, durable, and comfortable
Marmot – Best Backpacking Tent Brand
Marmot – Best Backpacking Tent Brand
Limelight
> $
> Comes with an included footprint
> Backed up by Marmot's lifetime warranty
What Makes a Good Tent?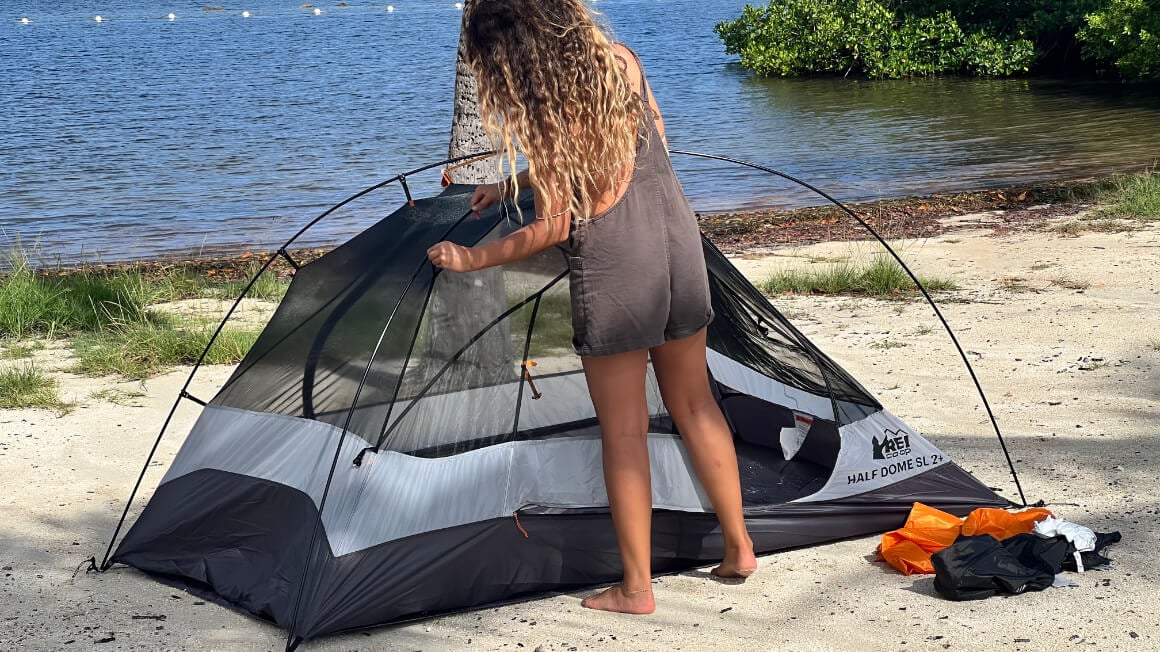 The easy answer to this question is: Big Agnes. But the complete answer is far more complicated than that.
But even the best brand of camping tent can sometimes strike out swinging. You can't blindly trust a name to provide perfect tents every time, and you shouldn't refuse to consider a tent with incredible specs just because you've never heard of the maker.
That being said, we'd be confident heading out for a frothing weekend in the woods with most tents produced by the brands on our list, who have shown time and time again that they understand what it takes to build a good tent.
Below, we'll break down popular tent specs, poles, and fabrics to get an idea of what the best tents are made of and examine what makes a tent great.
What Factors Make the Brand Good or Bad?
Quality
First and foremost, you have to make a good product. There is no point in saving money on a budget tent if it doesn't protect you from the elements! Be sure to pick from the best outdoor brands.
That's why you won't find some popular cheap tent brands on our list. Tent brands to avoid like Coleman and Ozark Trail are available anywhere outdoor gear is sold and will be enough to get the job done if you're car camping on a warm, clear night.
Trouble is, I don't want just 'enough'; I want my tents to go above and beyond, that's why tents like the MSR Hubba Hubba NX rate well with me.
Committing to a 10-pound tent means you don't have room to grow alongside your gear. You may not be planning any epic adventures right now, but if the only tent you own is too heavy to hike with, you're never going to take the plunge.
The most fantastic nights of my life have been spent far away from the nearest parking lot.
Many tents will allow you to car camp for the weekend, but good brands provide the necessary quality to reach the mountaintop.
Reliability
With minimal care, the best camping tent brands for camping provide shelters that you can store away until it's time to get outside. Once you get into the woods, relying on your tent means you feel comfortable setting it up in a hurry if the clouds start rolling through, and knowing that no matter the weather outside, there's space for you and your gear to stay warm and dry.
What a good tent brand can deliver, is consistency. You know that all of their products are of a certain standard.
Value for Money
This factor will change from person to person. A tent's value for the money largely depends on the camper, and what they want their tent to do.
Someone relying on their tent to stay warm 14 thousand feet up will have a completely different definition of the appropriate amount to pay for a tent than someone heading on a summer festival circuit.
While most of the brands on our list won't have the cheapest tents on the market, we feel these companies provide the most value per dollar by building quality tents chock full of life-saving weather protections.
And remember, if the value for the money sounds too good to be true, it probably is, unless REI made that tent.
Environmentally Friendly
Every vote counts, but so does every dollar. We have more power than we realize when spending money, even if it's just for our next weekend trip.
While I can't justify buying a poor-quality tent just because the company supports things I believe in, if I'm trying to decide between a few good options, and one company uses PFC free waterproof coating or recycled materials, it's enough to tip the scales.
The world is dying, folks. As broke backpackers, we're brought together by our love for the great outdoors. The least we can do is make an effort to protect our favorite spots to pitch our tents, and the easiest way to do that is to support brands who are committing to an environmentally friendly approach to doing business. Tents have not always been good for the environment, so let's change that.
Identifying a Good Tent
From the ground up, a good tent will use lightweight materials that won't add too many pounds to your backpack and won't surrender to the first threat of foul weather.
Let's break down all the parts of the whole that come together to make a good tent. Each ounce of your tent is there for a reason, from your stakes to your poles and across your tent body.
Tent Fabric
Your fabric will dictate the warmth and breathability of your tent, as well as how easy it is to pack. Most tents use nylon or polyester body fabric, but not all nylon is made equally.
Look for rip-stop or canvas to be incorporated into certain areas of your tent, especially at stress points like the tent opening or pole connections. Material reinforcement at these areas will ensure high winds or a chaotic set-up won't rip your shelter.
The other metric to help gauge your tent fabric is the Denier. You'll often see a number somewhere between 10-70D next to your tent's fabric make-up. This D-rating shows how thick the diameter of your yarn is. The higher the D rating, the more robust, warmer, and more rip-resistant your tent fabric will be, but that durability also comes with a heavier weight.
Many ultralight tents go for low D-ratings in favor of fewer ounces in design. If your tent has a low D rating, you may want to consider an additional footprint to help make sure your floor lasts as long as the rest of your tent. Ultralight yet warm fabrics are hard to come by, and any tent that can do both will be incredibly expensive.
There is no perfect tent fabric makeup; 4-season tents will have a completely different make-up than an ultralight offering. No matter what your tent aims for, it needs to be as robust and tear-resistant as possible, and good tents accomplish that by using high-quality nylon and canvas.
Tent Poles
Tent poles are often the first thing to break, as they need to be strong enough to hold your tent in shape but light enough to fit in your pack.
On the heavy end of the spectrum are fiberglass poles, most commonly seen in budget tents. Often, they'll be coated with a layer of steel or aluminum for extra reinforcements. These poles have to be thicker to provide the same strength as aluminum or carbon poles and still are pretty fragile.
Because of their heavyweight and low durability, these poles are for car camping and cabin-style tents that don't expect to face serious terrain.
Aluminum poles can provide the same strength as fiberglass poles at a much lower weight. Modern tent manufacturers use aluminum more than any other material for their poles because they can do everything relatively well. While not quite the lightest material on the planet, they strike a great middle-ground between light and tough.
DAC Featherlite aluminum poles are probably the safest pick for your tent poles. Most of the best tent brands on the market use these lightweight aluminum poles on the lightest tents in the market because of their revolutionary combination of lightweight strength.
They'll hardly add an ounce onto your pack and stay strong in winds up to 70 MPH.
DAC Featherlite has one main competitor: carbon. Carbon fiber poles are strong and lighter than aluminum when done right. Some ultralight carbon poles can be more fragile than their aluminum counterparts and can snap under strong winds.
Easton is the company to look for if you're shopping for carbon fiber tent poles. They've teamed up with MSR to provide some of the lightest and strongest poles out there, but they won't be cheap.
Design
You can find tents out there of all shapes and sizes. The best tent brands understand that every stitch counts, and you can be sure to find a tent out there with the dream specs for your next camping trip.
There are also tons of tents that provide cramped conditions, extra unnecessary rooms, and complicated multi-step constructions in the name of innovation. Ask yourself these crucial questions when shopping for your tent.
How easy is set-up?
The first time is never easy, but after a few practice runs in the backyard, you should be able to get your tent set up in 10 minutes or less.
How easy is it to access?
Camping with a partner is a lot more fun with two doors. And remember, your tent isn't just supposed to keep you dry but also protect your gear. Does your tent have enough accessible vestibule space?
Is it spacious?
Ultralight tents are notorious for providing no interior space. Some of the fanciest tents on the market won't even let two people sit up straight at the same time. Lightweight is always great, but unless you're mapping out a thru-hike, its okay to budget a bit of comfort.
Does it look pretty?!
There's no need to pretend like we aren't a little concerned with the look of our gear. If I'm stuck deciding between two tents, and one only comes with a highlighter green rain fly, chances are I'm going with the other tent.
Sustainability
Unfortunately, many tents are throwaway – made out of materials designed to tear after some wear and cheap enough that shoppers don't mind buying an entirely new tent every few years.
In these times of eco-conscious travel, kudos to tents that are sustainable. Good tents will include a repair and patch kit that will allow you to quickly stop up small rips in your mesh or nylon flooring, and good tent brands provide the infrastructure to fix large tears or guarantee their tents for life.
Sustainability will also make your tent more affordable in the long run. If you buy a tent built to last, you can justify the extra dollars with the peace of mind of knowing you won't have to shop for a new tent anytime soon.
These Are The Best Tent Brands
These brands took it all into account and have consistently offered up quality tents built to last.
Ladies & Gents, It's Time to Step Your GEAR Game Up. 😉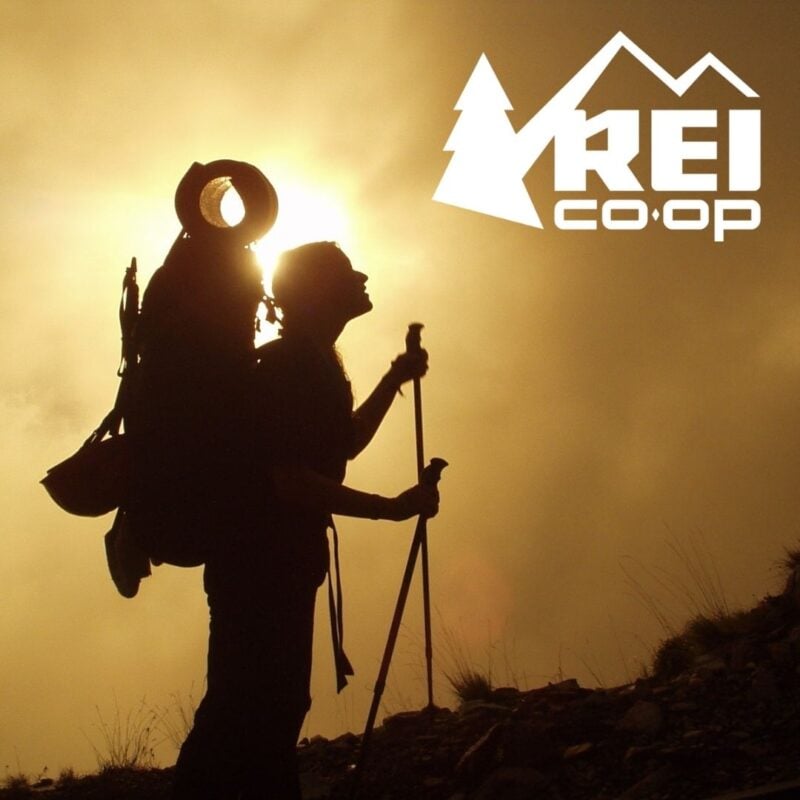 REI is one of America's biggest and most-loved outdoor gear retailers.
Now, for just $30, get a lifetime membership that entitles you to 10% OFF on most items, access to their trade-in scheme and discount rentals.
Join REI Today!
#1 Big Agnes – Best Overall Tent Brand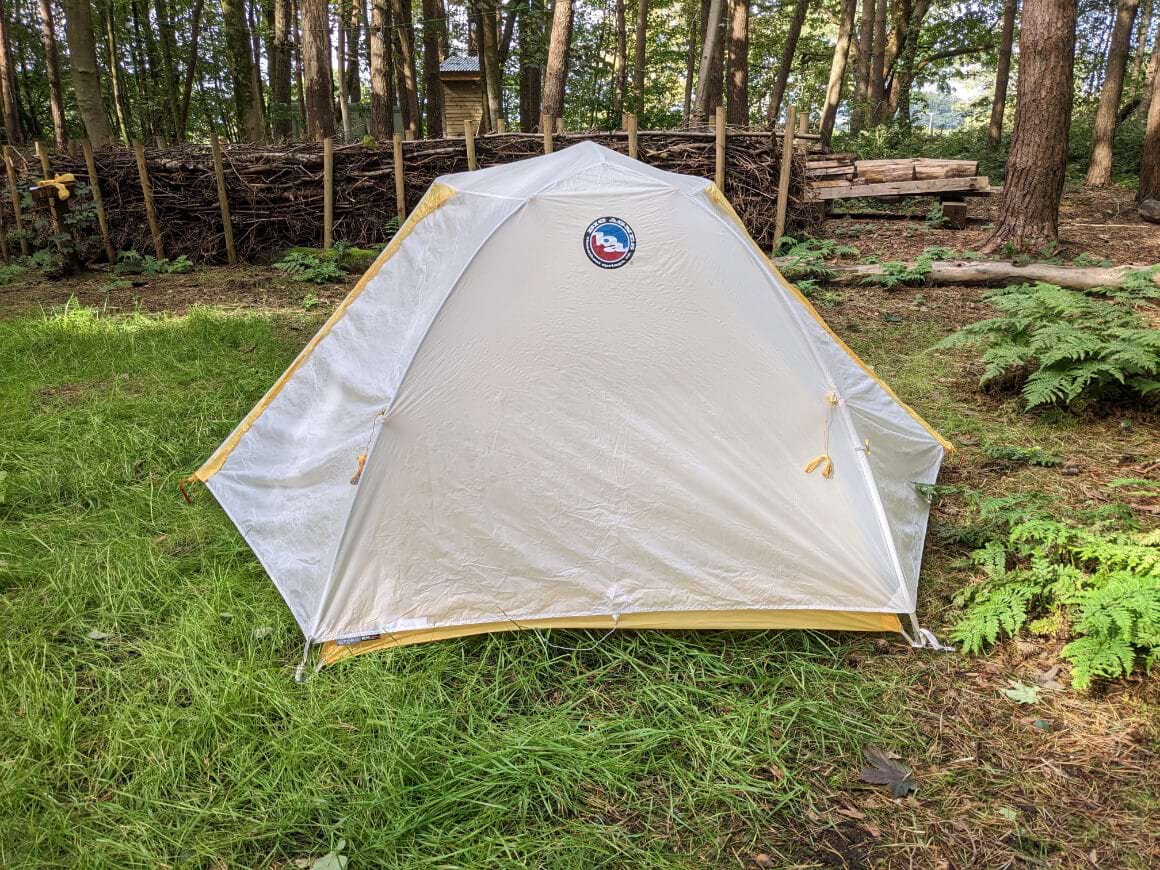 Big Agnes marked the new millennium by storming onto a crowded outdoor scene and serving up tents and sleeping pads that walk the line between performance and casual. Twenty-one years later, the brand has helped out thousands of adventures and has yet to sacrifice quality in their pursuit of success.
They believe life is too short for lousy camping gear. With this mentality guiding their operation, you won't find any of their tents selling for very cheap. Instead, you'll find tents focused on being comfortable and lightweight.
Big Agnes has tents competing in all sorts of categories. Whether you're looking for ultralight, weekending, car camping, or big group tents, you can be sure to have plenty of headroom with this brand.
The best tent from our favorite tent brand earned its stripes by staying lightweight without sacrificing comfort. We can't get enough of the canopy shape of this ultralight tent, which allows two people to sit up inside the protective shelter that packs down to 2.5 lbs.
The Tiger Wall embodies exactly what the Big Agnes brand is building. This beauty has an easy set-up, right at the intersection of lightweight, comfort, and durability. Because of their blend of comfort and performance, thru-hikers and overnighters both love the Tiger Wall.
You can certainly find cheaper tents, more spacious tents, and lighter tents, but you'll struggle mightily finding something that ranks this highly across every category.
#2 Nemo – Best Camping Tent Brand
Nemo's founder spent a sleepless night atop Mount Washington thanks to a subpar Bivy set-up and decided that if he wanted a technical tent done right, he'd have to do it himself. Hiking down shaken but motivated, he began scheming, and nearly 20 years later, the company is still throwing aside accepted norms and churning out the hits.
Tents were Nemo's first product, and they set out with the mentality to bring tents to market that were meaningfully better than what was already out there.
AirSupported Technology landed the company projects to work with Lunar and Martian exploration alongside developing their signature tents. The name has never been synonymous with comfort. Nemo is a performance-first brand, cranking out awesome camping tents that are lightweight, fast, and packable.
In addition to creating technically advanced tents, Nemo provides a great place to work, consistently ranking as one of New Hampshire's Top 10 Best Places to Work. The brand wants to create high-performance outdoor gear that puts you in a great place to have some fun.
A performance tent from a performance brand, the Hornet is light as a feather and stiff as a board in foul weather. The ultralight tent comes with a lifetime warranty, which makes us trust the featherlight carbon pole and 10D nylon fly to stay durable while shedding pounds.
If 2.5 pounds is too much for one back, the Hornet stuff sack easily splits into two to let your partner help out. Once you set up your one-pole tent, you'll find a surprisingly roomy 28 square feet of protected space.
The space is thanks to Nemo's volumizing guyouts, struts, and pole clips, which expand sidewalls and headspace and ensure there's space for your gear at the foot of your bed.
The top tent from this high-performance company is fit for three seasons of all-weather conditions and can come with you to the mountaintop.
#3 Vango – Best One Man Tent Brand
Across the pond from Nemo's New Hampshire office, Vango has crafted classic tents that have climbed Everest and conquered peaks worldwide, all from their home base in Scotland.
The one-person tents are hard to find in North America, perhaps the only thing holding the company back from mainstream notoriety as one of the best ultra-technical tent brands on earth.
Those who do know what Vango can do are rarely disappointed. The company works with the Duke of Edinburgh, the Scottish Scouts, and Shelterbox to provide high-quality materials and tents to charitable organizations.
In the 2010s, Vango switched its focus to airbeam technology, which solidified the group as a great one-person tent brand. This airbeam replaces traditional poles and allows Vango tents to reach new levels of lightweight.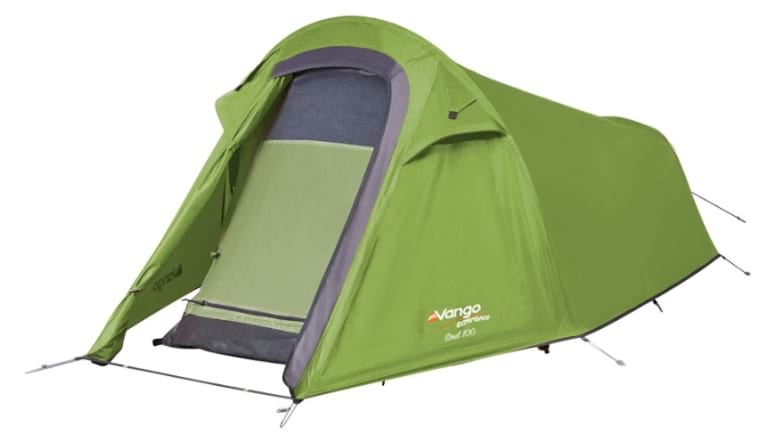 This starter tent is a luxurious option from a high-performance company. The tent provides a roomy interior and good vestibule space for a one-person, tunnel-style tent without sacrificing protection and lightweight performance.
You'll be plenty safe from wind and rain inside the 70D polyester walls and have room to play. Vango advertises a living area and a bedroom space inside this spacious tent. While we wouldn't go as far as to call the Soul 100 a two-room apartment, we were blown away by the size-to-weight ratio packed into this tent.
The Soul is a first tent option for a burgeoning outdoor person. Vango provided an excellent, affordable price alongside a high-performance tent to ensure that your first foray into the outdoors will be a warm and dry success.
MSR stands for Mountain Safety Research, which is exactly how this company started. MSR was originally a newsletter that kept climbers aware of the best tent brands before the internet let schmucks like me fill you in.
Somewhere along the way of meticulously testing best-in-class tents, climbing poles, and outdoor equipment at the time, the company founders began to see areas where the industry could improve and took it upon themselves to make the woods a safer place.
Now, the popular mid-range brand focuses on churning out tents, camp stoves, snow tools, and trekking poles that focus on weather resistance and durability.
They tackle outdoor gear behind the mentality that safer, reliable equipment is the key to unlocking adventure. This brand is not focused on flash. They focus on pumping out reliable products that can work anywhere.
I'll scream it from the rooftops every chance I can get – whether you're a long-term traveler, backpacker, car camper, or thru-hiker, the Hubba Hubba is the best two-person tent out there. Many lightweight models say they can fit two warm bodies inside, but the Hubba Hubba lets you do it with comfort.
Sure, this means a few extra ounces compared to the lightest tents out there, but we've seen tons of ultralight tents in our day, and none seem as versatile as this one.
On sunny days you can shed the tent body and hike out with an incredibly lightweight shelter built from feather-lite poles and rain fly, and when it's time to hunker down, your tent body will protect you with built-in DuraShield Coating.

Do You Want to Travel FOREVER??
Pop your email in below to get a FREE copy of 'How to Travel the World on $10 a Day!'.
#5 The North Face – Best Festival Tent Brand
Often seen at Himalayan base camps and front left, the North Face has clear mountaineering roots but has branched out well into offering up tents for casual weekends as well as extreme conditions.
North Face's pedigree speaks for itself. Since the brand's humble origins driving from California to Argentina in the '60s with the founder of Patagonia, they've spent decades protecting climbers on the world's most technical ascents.
Built on sustainability, passion, and performance, the term the North Face implies the coldest, iciest, most difficult path to climb on mountains in the Northern Hemisphere, and this company wants to be right in the thick of it.
North Face knows as well as anyone that not everything in life has to be for a technically demanding situation. Sometimes, the weekends are for kicking back, wandering from stage to stage, and hopefully making it back to the tent at the end of the night.
This Eco Trail 3 makes a great festival tent and takes a storied brand passion for outdoors craftsmanship and turns it into something comfortable and functional. There's plenty of room for three people and a few snacks to fit inside this practical tent, which can withstand the heavy rains that canceled Bonnaroo.
The Eco Trail 3's casual functionality is highlighted by its light blue and yellow coloring, which isn't crass but will make it easier for your friends to come home after getting lost in the crowds.
The tent is on the heavier side of the tents we tested, so if you're backpacking you may feel its weight and packability a little more on your back. But if you're driving to the festival and weight isn't a huge concern, this is without a doubt one of the best festival tents on the market.
#6 Sea To Summit – Best Technical Tent Brand
This technical brand traces its origins down under. Intrepid explorers of Perth in the '60s were surrounded by dodgy lightweight tent options not suitable for the wild outback, and Sea to Summit sought to change that.
Over the next 20 years, the company supplied Australian adventurers with tents that would work no matter the conditions, which caught the eye of climbers with big ambitions. In 1990, Australian mountaineer Tim Macartney-Snape decided to climb Everest starting at sea level, and he called up Sea To Summit to make the gear that would protect him on a five-month journey into the sky.
That expedition changed climbing and catapulted Sea To Summit into a household name for mountaineers and adventurers looking to get the most out of their gear. Today, the brand has options for everything from car campers to alpine conquerors.
A technically advanced tent from a tech-savvy brand, Sea to Summit literally flipped traditional pole design on its head to provide more headroom out of an ultralight tent. The center ridge poles slope upwards instead of downwards to open the vertical walls and doors inside this roomy two-person ultralight tent.
Sea to Summit calls the system Tension Ridge pole design and provides benefits all the way down to the increased vestibule space, which will allow you to sit and slip your boots on while staying dry on a rainy morning.
The 3-pound tent gets its shape off of one pole, which makes the set-up a breeze. Besides these innovations, the tent checks off all the boxes; a strong ventilation system, a wide-ranging rain fly that campers can roll back on starry nights, and lightweight materials at every corner.
# 7 REI Co-Op – Best Budget Tent Brand
REI is our last hope that big box stores can still have a soul. Across the country, the co-op's shelves are full of high-quality brands, but REI didn't stop there. In addition to stocking the best in outdoor brands, the company has produced its own line of outdoor equipment that is affordable and surprisingly functional.
REI's tents are worlds better than anything you would find at cheapo Walmart or Canadian Tire. Their in-house selections take advantage of the company's supply chain to stay cheap but still drop eye-popping stats.
Ultimately, our favorite thing about REI is the customer service. Some cheeky campers have nicknamed the brand Return Everything Incorporated because you can return any product within six months of purchase for your money back, no questions asked!
That's an awful nice policy to have in the back of your mind before making a big purchase making them, a GREAT shout for budget tents.
Unless you're planning a months-long trek, ultralight mission, or scaling Everest, REI Co-ops budget tents will provide you with more than enough protection, headspace, and legroom to enjoy the great outdoors.
The Half Dome has been REI's signature tent for decades, and the newest model gives you everything you need to start exploring by the weekend. An included footprint and sturdy rainfly protect over 35 square feet of living space.
Most of us will never notice the difference in a few ounces of packed weight, but every camper will enjoy stretching out after a long day's hike. This extra space makes the Half Dome an excellent base camp to set up before day hikes or shorter backpacking trips.
All that space stays cool thanks to a great ventilation system that includes four overhead vents and the option to roll open both doors for a crosswind. It's not breaking any weight records, but the Half Dome is sturdy, durable, and comfortable as hell.
#8 Marmot – Best Backpacking Tent Brand
Marmot has zigged where the industry has zagged, staying away from the ultralight competition to focus on making backpacking available for everyone. Their top tents prove you don't have to be rich to afford a great backpacking tent, as long as you're okay supporting an extra pound or two.
We really appreciate that Marmot recently started using perfluorocarbon-free waterproofing materials, helping to prove even the best-camping tent brands don't need to harm the environment to make it easier to enjoy the outdoors. Their tough-as-nails three-season tents are traditional and simple to set up, featuring an X-shaped pole design and two big doors for plenty of ventilation.
Not every brand needs to seek to reinvent the industry. Marmot has found its niche in maintaining a steady flow of quality tents that provide loads of interior space at an affordable price.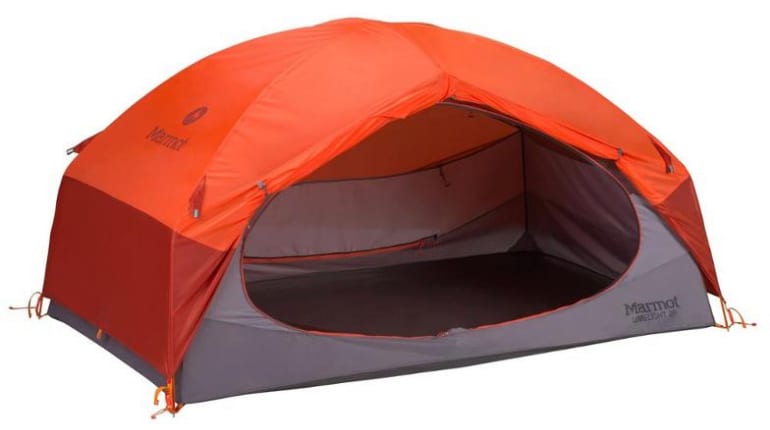 Calling this everyman's tent the limelight is a bit ironic, as this tent embodies the Marmot brand by shying away from the spotlight, instead promising a sturdy yet straightforward home for wanderers.
Pre-bent poles add a splash of luxury to this affordable tent by creating vertical walls that open up more sleeping areas and headspace. As with all of their tent options, the Limelight comes with an included footprint that will save you another trip to the store and provide further peace of mind when setting up on rocky terrain.
We wish the Limelight would come with two doors, as my camping partner is not a huge fan of being crushed when I'm on the way to the bathroom in the middle of the night. Nobody is perfect, but this quality tent backed up by Marmot's lifetime warranty is sure to provide a great home at the end of a nice day outside.
The best present of all… is CONVENIENCE!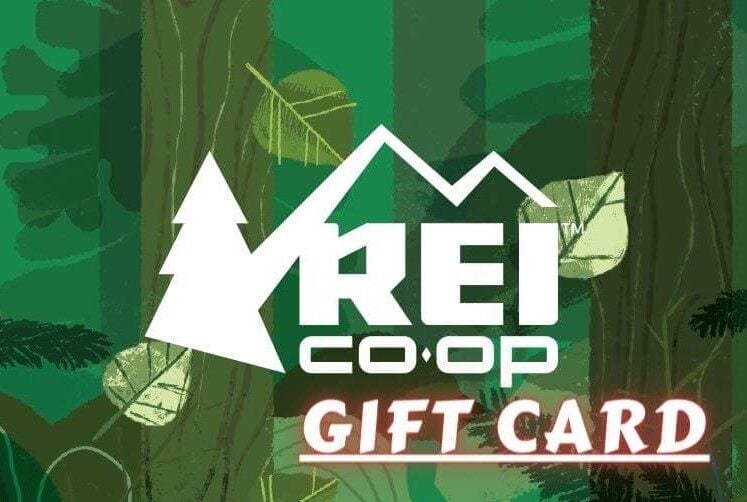 Now, you could spend a fat chunk of $$$ on the WRONG present for someone. Wrong size hiking boots, wrong fit backpack, wrong shape sleeping bag… As any adventurer will tell you, gear is a personal choice.
So give the adventurer in your life the gift of convenience: buy them an REI Co-op gift card! REI is The Broke Backpacker's retailer of choice for ALL things outdoors, and an REI gift card is the perfect present you can buy from them. And then you won't have to keep the receipt. 😉
Buy on REI!
Best Tent Brands

| Name | Dimensions Unpacked (CM) | Weight (KG) | Capacity (Person) | Price (USD) |
| --- | --- | --- | --- | --- |
| Tiger Wall | | 1.13 | 2 | 449.95 |
| NEMO Hornet OSMO Ultralight | | 1.02 | 2 | 399.95 |
| Hubba Hubba 2 | | 1.47 | 2 | 549.95 |
| Eco Trail 3 | | 3.3 | 3 | – |
| Alto TR2 | | 1.34 | 2 | 499 |
| Half Dome | | 2.14 | 2 | 329 |
| Limelight | | 2.55 | 2 | – |

Our GREATEST Travel Secrets…
Pop your email here & get the original Broke Backpacker Bible for FREE.
How and Where We Tested To Find The Best Tent Brands
Truly, the only way to test out a tent is to take it out for a few nights and put it through the paces, so that's exactly what we did. Our team grabbed one of the tents included in this roundup and headed out into the wilderness to bring you an honest and true round-up.
In order to fairly and consistently assess and compare them against one another, our testers applied the following metrics;
Packed Weight
You can go onto a tent manufacturer's website and find out what the packed weight of a tent is, but that KG/Ibs number only really comes to life when you actually try to carry a tent up a hill.
The lighter a tent feels when strapped to your back, the better.
Packability (Packing and Unpacking!)
No two tents are the same. Some are nice and easy to pitch and un-pitch, while others feel like a puzzle missing a few pieces. Some of our testers struggled to get their tents up and situated, while others enjoyed a quick and easy setup.
Our testers awarded a tent points for being easy to pack and unpack while deducting points for being difficult. Fair enough right?
Warmth, Waterproof and Ventilation
When you spend a night sleeping in a tent, you really get to know it. If it doesn't hold enough warmth you spend the night shivering, and alternately, if it does not allow sufficient ventilation you wake up sweaty and sticky.
Obviously, when assessing the warmth and ventilation capabilities of a tent our testers took into account the weather and the sleeping bag they were using.
In terms of testing out the waterproofing, testing in the North West of England pretty much guaranteed some rain but on occasions when the skies uncooperatively remained dry, we simply tossed a big ole bucket of water over the tents!
Spaciousness and Comfort
Tents are not exactly designed for throwing parties (ok, some are) but still, ideally you want a tent to have enough space to sit up right?
Again, this is something you only really get a feel for after spending a night inside a tent which is precisely what we did.
Build Quality and Durability
All of our testers were instructed to subject tent poles to a good bit of good-natured pressure, look closely at the seam sewing and feel the thickness of the fly sheets.
Note that ultralight tents are not as durable as heavier ones, so there is always a tradeoff between packed weight and longevity when it comes to tents, but we still expect even the lightest tents to withstand the elements.
Best Tent Brands – Final Thoughts
From budget to boundary-pushing, I've covered the spectrum of tent brands that truly give a damn. Every company on our list has put serious time, effort, and brainpower into protecting your nights spent outside, so you can worry less and do more.
I trust Coleman for a variety of my car camping and cookstove gear, and the outdoor company has been helping make camping more accessible for a hundred years, so you might be surprised to see their name left off this list.
Here's the simple truth: Coleman tents aren't nearly light or weatherproof enough to be considered the best in the industry. Coleman has plenty of great gear to shop for, but you're better off looking elsewhere for your next tent.
There is a tent from Big Agnes that is perfect for any trip, whether you're a hardcore ultralight hiker or a weekend festival lover.
No matter which tent you choose, I recommend buying a size larger than the number of people you plan to stuff inside the tent body. While two people can technically sleep in a two-person tent, there's nothing better than a bit of space to stretch out after a day's hike.
If I missed your favorite brand, let me know why they deserve to be on our list in the comments below!
---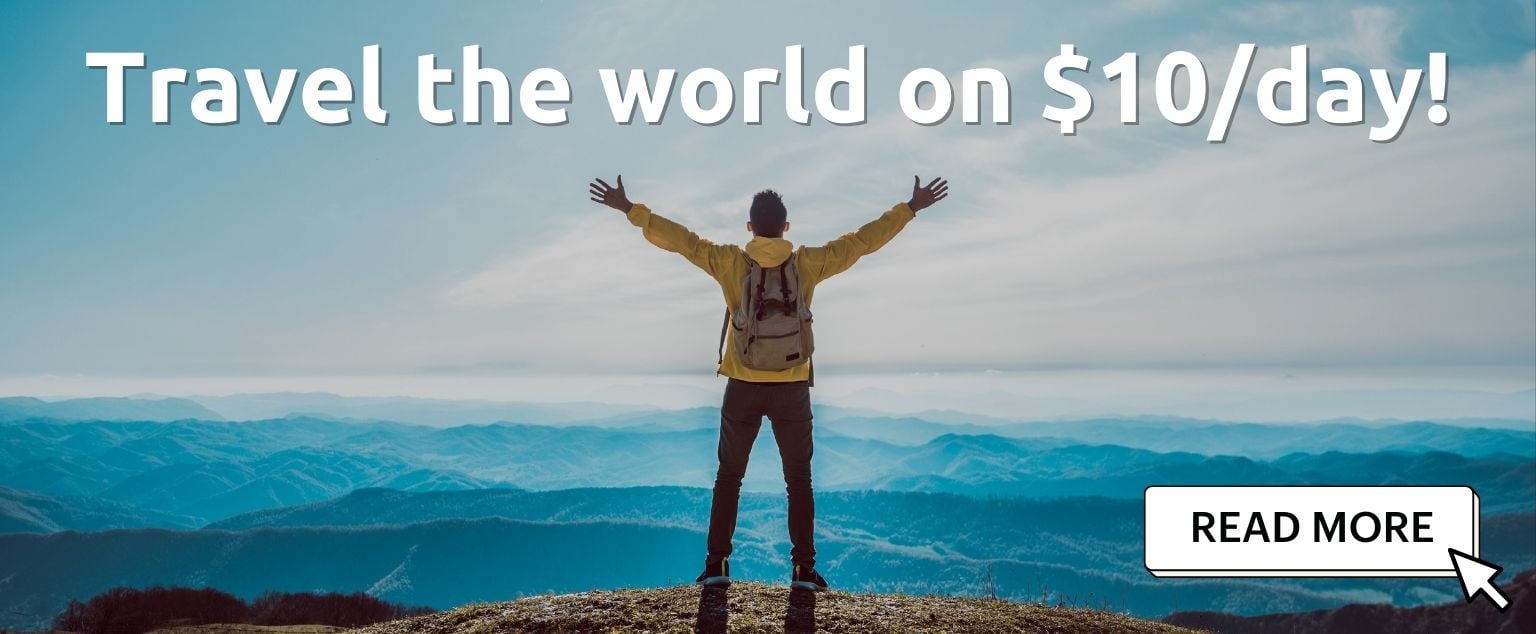 And for transparency's sake, please know that some of the links in our content are affiliate links. That means that if you book your accommodation, buy your gear, or sort your insurance through our link, we earn a small commission (at no extra cost to you). That said, we only link to the gear we trust and never recommend services we don't believe are up to scratch. Again, thank you!