A good camping canopy is one of the most versatile and useful pieces of camping equipment you can have. From sun shades to rain protection, camping canopies and pop-up tents come in all shapes and sizes.
Adding a solid canopy to your kit will prove useful in a variety of scenarios and the good news they don't require a massive investment either.
We've braved minimalist overnight backpacking trips, sunburns, and rainstorms for you (let's be honest, it was fun) by researching the top screen shelters and easy pop-up tents for backpackers, car campers, overlanders, and beachgoers. Since the best camping canopies are ideally multi-purpose, we've also included a section on how to select the model that will best fit your camping style as well.
Read on to see our top picks…
Quick Answer: These are the Best Camping Canopy Tents of 2022
Overall Best Camping Canopy
Best Beach Tent Shelter
Best Beach Tent Shelter
Neso Grande Sunshade
> $
> Lightweight
> Water repellent and provides UPF 50+ sun protection
Best Screened Camping Canopy
Best Camping Canopy for Backpacking
Best Ultralight Camping Canopy
Best Camping Canopy for Your Vehicle
Best Camping Canopy for Your Vehicle
Thule Approach Awning
> $$$
> Easy to set up
> Water and abrasion resistant
Best Camping Canopy Options of 2022
Whether your old beach tent has seen a few too many years and you're hoping to upgrade, or you're purchasing a pop-up tent for the first time, here are the top picks for 2022 camping canopies.
Ladies & Gents, It's Time to Step Your GEAR Game Up. 😉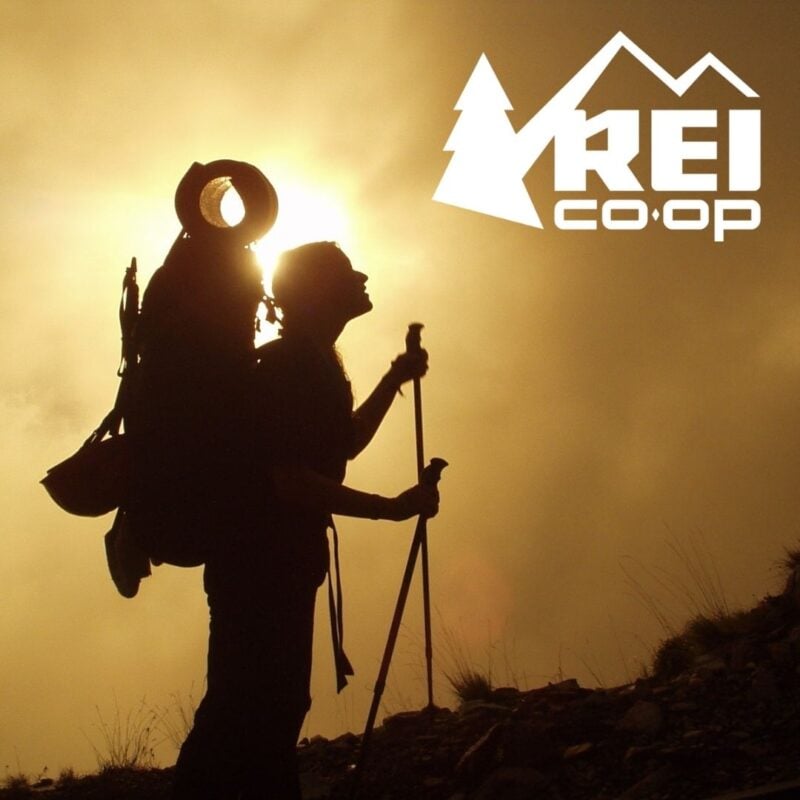 REI is one of America's biggest and most-loved outdoor gear retailers.
Now, for just $30, get a lifetime membership that entitles you to 10% OFF on most items, access to their trade-in scheme and discount rentals.
Join REI Today!
Our pick for overall best camping canopy is REI Co-op Screen House Rainfly
Specs
Best Use: Car camping, beach, backyard
Weight: 3 lbs. 10 oz
Capacity: Four to six people
Square Feet: 55 square feet
When searching for a multi-purpose camping canopy, look no further than the REI Co-op Screen House Rainfly. This is a totally freestanding structure, but it also can be used with many of the different REI tents available.
It's equally easy to pack along for a day at the beach or bring with you on a road trip to add a porch space onto your tent. With a peak height of 85 inches, there's also plenty of standing room underneath.
The aluminum frame provides decent stability, although in windy conditions it's better to use the stakes and guy lines provided to reduce risk of tipping. There are also two removable wind walls which can be clipped on for additional protection.
Although the shelter is big, comfortable, and easy to set up, the size and weight mean that it's not suitable for backpacking. However, it's perfect for car camping, day trips to the beach, or simply setting up in the backyard for a BBQ night or for kids to play.
Pros
Stable and easy set up
Has a bugscreen
Lots of room
Cons
Not good for backpacking
Not good in high winds
Caddis Rapid Shelter is our top pick for best easy pop up tent
Specs
Best Use: Camping
Weight: 52 lbs. 14.4 oz.
Capacity: Five to eight people
Square Feet: 100
Setting up the Caddis Rapid Shelter only takes about a minute, and voila, you have a pop up tent for a sun shade or rain cover! With a peak height of 106 inches and 10ft x 10ft sides, there's plenty of space underneath to set up a table and chairs.
The durable, rust-resistant steel frame and 210-denier top fabric provide a very sturdy structure that can withstand both extended sun exposure and rain. However, the hefty material means that the pop up tent weighs in at almost 30 pounds, so it's best for car campers, festivals, or at the cabin.
Although the top fabric is very durable, there are no walls or bug screens, so the sides will always be completely exposed. This isn't an issue when the weather cooperates, but if you want something with more protection, a different canopy tent is probably better.
Pros
Strong and stable
Easy set up
Reasonable price
Cons
No walls or bug screen
Heavy and bulky
Meet the best beach tent shelter: Neso Grande Sunshade
Specs
Best Use: Beach, camping
Weight: 6 pounds, 8 ounces
Capacity: Up to seven people
Square Feet: 210.25 square feet
Trips to the beach are fun, but the sunburn you deal with afterwards definitely is not! The Neso Grande is a great beach canopy big enough for families or groups to enjoy while spending time on the sand.
For its size, the Neso is relatively lightweight, so it's easy to carry from the car to the beach, although it's still on the heavy side for backpacking. Once packed, the carrying bag can fit inside a standard suitcase, so it's a great choice for beach vacations.
However, the Neso Grande is non-freestanding, so it takes a bit more time to set up. There are two poles to support the main body of the canopy, and each corner must then be weighted down by the corner anchors, which can conveniently be filled with sand or rocks.
The shelter is made from four-way stretch nylon/Lycra material, which is water repellent and provides UPF 50+ sun protection. Although it makes an excellent sun shade, the Neso Grande is not the camping canopy if you want something capable of protecting you from a rainstorm.
Pros
Relatively lightweight
Corner anchors can be filled with natural material
UPF 50+ sun protection
Cons
Non-freestanding
Not good for rainy conditions
Blows over in strong winds
REI Co-op Screen House is one of the best screened camping canopy
Specs
Best Use: Camping, festivals
Weight: 13 pounds
Capacity: Five+ people
Square Feet: 100 square feet
Buggy weather can be one of the biggest challenges when camping in the woods. When the mosquitoes get bad but you still want to stay outdoors, a screen house is the perfect solution.
The Huge REI Screen House gives you 360 degrees of view while also keeping out the pesky bugs. In addition to the screened sides, the perimeter on the bottom is made of solid fabric to help keep out beetles and other crawling insects.
Although the shelter has a freestanding design, if conditions become a little windy, it's best to purchase the guylines to help secure it. For additional weather protection, you can get the Screen House Rainfly to go with the product.
Although the Screen House is super spacious and can easily fit a picnic table underneath, it's a heavy and bulky product which takes more time to set up. For this reason, it's best for car camping or in situations where you'll be leaving it up for an extended period of time like at a cabin for a week-long camping trip on the lake.
Pros
Lots of room
Mesh walls and solid perimeter
Organizational pockets
Cons
Guylines not included
Heavy
Rainfly must be purchased separately
Our pick for best camping canopy for backpacking is Sea to Summit Escapist Tarp Shelter
Specs
Best Use: Backpacking, camping
Weight: 10.5 ounces (medium), 13.3 ounces (large)
Capacity: Two people
Square Feet/Covered Area: 55.25 square feet (medium), 96.63 square feet (large)
If all the options we've listed so far just don't meet your weight requirements, then turn to the Escapist Tarp Shelter. Both the medium and large shelters are less than 1 pound when packed, making it a reasonable addition for many backpackers.
Once packed into the stuff sack, the entire tarp is about the size of a 24 ounce water bottle, making it easy to fit in your pack or secure on the outside using a carabiner.
The shelter can serve multiple purposes as a sun shade, tent awning, or an A-frame tent. With waterproof 15-denier silicone fabric, it's weather resistant enough to keep you dry in light rain showers, although wind presents more of an issue since water can still be blown underneath.
Since it's non-freestanding, you'll either need to find a suitable tree to set up the shelter, or purchase poles separately for additional set up options. There's also a separate Inner Bug Tent you can buy to increase the livability of the tarp.
Pros
Lightweight
Small packed size
Multi-function
Cons
No bug mesh
Poles sold separately
Kammok Kuhli Ultralight Weather Shelter is our top pick for the best ultralight camping canopy
Specs
Best Use: Backpacking, camping
Weight: 10 ounces
Capacity: Two people
Square Feet/Covered Area: 80.7 square feet
For long backpacking trips and solo campers, this Ultralight Shelter does a good job of being durable and weather-resistant without being too heavy. Although it won't hold up to torrential rainstorms, showers or even light snow dustings won't be an issue.
The Patagium fabric has a silicone/polyurethane coating and sealed seams for a more weather proof shelter. On each corner, there are also Hypalon anchors to help maintain the shape even in stronger winds.
You'll either have to find suitable trees to secure the shelter, or purchase the separate trekking poles for more versatile set-up options. 4 stakes come with the tarp, although you may want to get more to ensure all 8 guy points can be properly secured.
The Kuhli works great as an additional awning for your tent, a cooking shelter at camp, or waterproof protection for hammock camping.
Pros
Lightweight
Easy set up
Water resistant
Cons
Only four stakes
No poles included
Small
#7 – Best Camping Canopy for Your Vehicle – Thule Approach Awning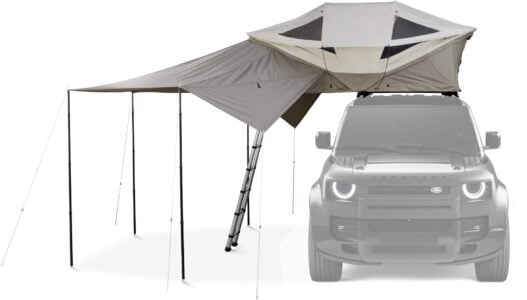 Our pick for best camping canopy for your vehicle is iKamper Awning Skycamp 3.0
Specs
Best Use: Car camping
Weight: 9 pounds, 8 ounces
Capacity: Four people
Square Feet: 129.34 square feet
If you already have one of the iKamper Skycamp roof-top tents, then this awesome awning is the perfect addition to your camp set up. Roof-top tents tend to be very comfortable but they're small, so having a sheltered space next to your vehicle is super helpful to protect you from rain or glaring sun.
The awning is easy to set up and is coated with a 3,000mm polyurethane solution making it water and abrasion-resistant. Since it zips into the main entrance of your iKamper roof top tent, there are no gaps in the protected area when you exit the tent.
Although this awning is more expensive than other models on our list, if you already do a lot of camping with your roof top tent, it can definitely be a worthwhile investment. With the larger protected space, your car camping set-up can become much more livable and comfortable for longer excursions.
Pros
Covers a large area
Easy set up
Cons
Need to have iKamper roof top tent
Expensive

Do You Want to Travel FOREVER??
Pop your email in below to get a FREE copy of 'How to Travel the World on $10 a Day!'.
Best of the Rest: Even More Awesome Camping Canopy Options
Still haven't found the right camping canopy? No worries! Even after picking out our favorites, there were still more worth mentioning. Here are some other options for camping shelters and pop up tents which might be exactly what you're looking for.
If the lightweight camping and backpacking canopies we already mentioned were a bit too small for you, then the MSR Rendezvous Sun Shield is a great option. With enough room for four people, this shelter has UPF 50+ sun protection, but it can also protect you from the rain and wind.
Weighing less than 4 pounds, it's still fairly easy to carry around, and it is a nice pick for groups of backpackers who want a sheltered area at their campsite. Two poles are included (you can purchase taller ones separately), and the 7-point pitch helps to keep the shelter stable in wind and rain.
It's not quite as durable as some of the camping canopies on our list, but for days at the beach or as long as you're not dealing with torrential rain and wind, it still holds up well to the elements.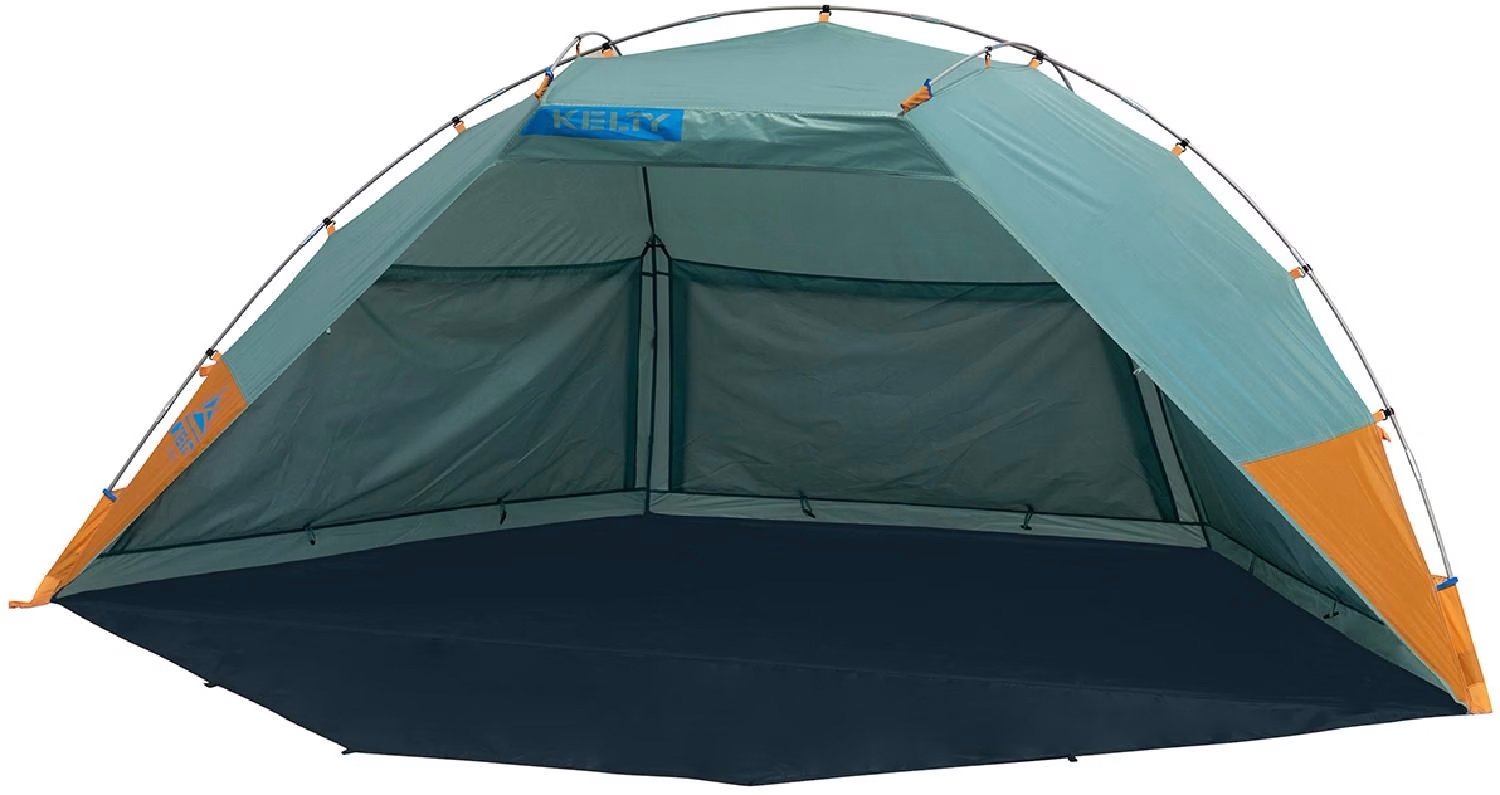 A smaller camping shelter option, the Kelty Cabana Shelter is ideal for shade protection at the beach or having a protected space to sit and sporting events. The unique shell design can be rotated to achieve the perfect position based on the sun's position or direction of the wind. 
Underneath, you'll have 45.5 square feet of protected area, enough for a few people to sit comfortably. However, since the peak height is only 53 inches, there's no standing room, so it's best for setting up a picnic blanket or some camping chairs. 
A footprint is included, which helps so you don't have to sit on the wet ground at an event. There are also four mesh pockets inside to store snacks, electronics, or other gear, and interior loops for attaching other items like flashlights or string lights at night.
At only 7 lbs. 5 oz. once packed, it's easy to carry around or fit in a backpack to bring with you too if you go camping at a festival or a beach. 
A great option for a free-standing sunshade, the Nemo Victory provides 56 square feet of covered area. With a peak height of 68 inches, there's also standing room underneath, unless you're super tall.
There are two poles to support the canopy of the tent, making it easy to set up on the beach, at a festival, or out at the cabin. At just over 6 pounds, it's also still very manageable to carry, and the entire thing packs down into a carrying bag.
Unfortunately, the Nemo Victory doesn't come with stakes, which are helpful to have to prevent the shelter from blowing around. Both side walls are covered in a mesh fabric which offers shade without blocking your view.
Although this shelter won't do much if it starts to rain, it's a great choice for sporting events or sunny days on the beach.
This two-door screen shelter is the perfect solution to enjoying picnics without the bugs. In addition to the mesh screened sides, there's also a bottom drape around the perimeter to help keep out the creepy crawlies on the ground. And with 10ft x 10ft sides, there's plenty of room for a few picnic blankets or a whole table depending on your group size.
The biggest downside to the Eureka NoBugZone 3-in-1 Shelter is it's lack of weatherability. Although it functions well as a bug shelter and offers shade, it's not going to hold up to wind or rain. But who wants to have a picnic in the rain anyway? 
It still has a durable structure thanks to the Rapid frame steel structure and polyester canopy. Weighing in at 21 pounds, it's better for car camping or trips to the cabin, although the entire shelter does pack into a carry bag to help with transportation.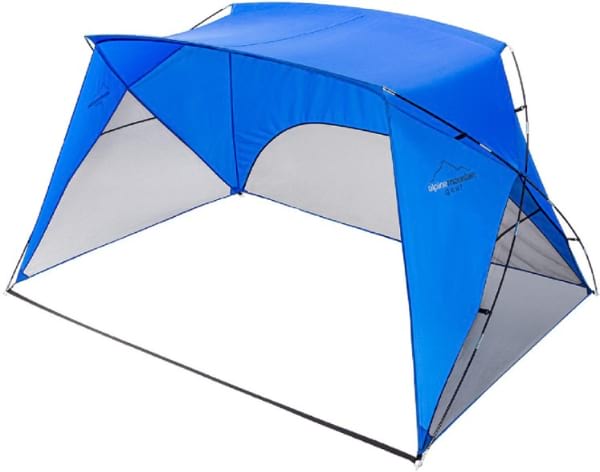 This budget-friendly sun shelter is perfect for outdoor sporting events, days on the beach, or attending music festivals. The canopy and poles pack up into a convenient carry sack which weighs 5 pounds 8 ounces, making it very manageable to carry to and from your vehicle.
However, this shelter is only intended for sitting. With a peak height of 60 inches, there's plenty of room for some chairs, but you won't be able to stand up underneath.
Three sides have a protective mesh to allow airflow, while the front is left open. It will only offer minimal protection in rain, but it's a great piece of gear for light camping, relaxing on the beach, or offering shade at a sunny outdoor festival.
A great multi-purpose shelter, the Eureka Northern Breeze 10 Screenhouse provides protection from pesky mosquitoes, harsh sun, or rain. It has a free standing design, so no need to have to attach it to nearby trees, or purchase poles separately in order to string the tarp between them. 
Each of the four no-see-um mesh walls can be rolled up and away when it's not buggy out, and the mesh is also treated with a water-repellent solution to help prevent rain from blowing underneath the structure.
When the mesh sides are down, there are two zip entries so you can get in and out from multiple sides. The entire shelter packs into a stuff sack which weighs 24 lbs. 12 oz, so it's not exactly easy to carry with you on a long hike but a short walk from the car should be fine.
The Eureka Northern Breeze 10 Screenhouse isn't strong enough for heavy wind and rain, but in light sprinkles or to provide excellent protection from bugs, it's a good choice. 
At 1 lb. 4.5 oz, the Kammok Kuhli Shelter is a bit heavier than our top pick for a lightweight camping canopy, but it's still light enough to be a good option for backpackers. The tarp offers about 90 square feet of covered space, making it suitable for two people. 
The Kammok Kuhli Shelter functions equally well as a sun shade, rain cover, or even a sleeping shelter. Since you can adjust the height, it can either be positioned higher for views and ventilation, or lower for added protection. 
Thanks to the waterproof ripstop polyurethane nylon and sealed seas, the tarp holds up fairly well even in heavy rainstorms. However, poles are not included, so you'll need to purchase those separately, or rely on finding trees on which to secure the shelter.
The best present of all… is CONVENIENCE!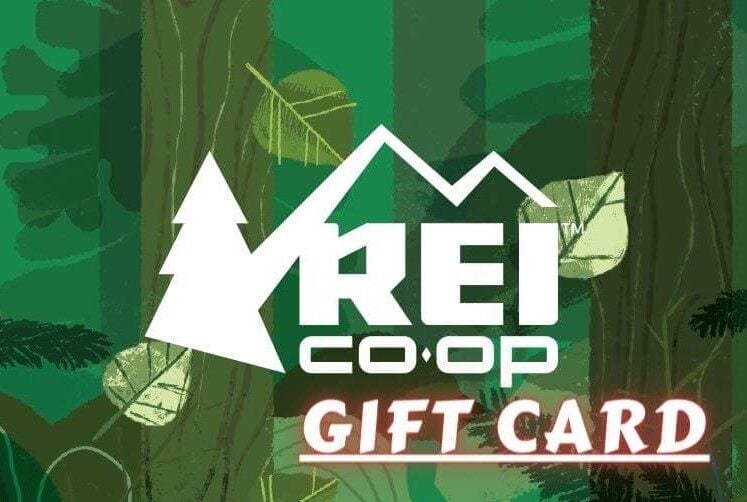 Now, you could spend a fat chunk of $$$ on the WRONG present for someone. Wrong size hiking boots, wrong fit backpack, wrong shape sleeping bag… As any adventurer will tell you, gear is a personal choice.
So give the adventurer in your life the gift of convenience: buy them an REI Co-op gift card! REI is The Broke Backpacker's retailer of choice for ALL things outdoors, and an REI gift card is the perfect present you can buy from them. And then you won't have to keep the receipt. 😉
Buy on REI!
How to Choose the Best Camping Canopy
There's a lot of variety to pick from in camping canopies. Now that you've seen some examples of some of the best picks, here are a few pointers for what to keep in mind when selecting the right pop up tent or bug shelter for you.
Best Use
How you plan on using a camping canopy is the biggest factor to help you narrow down your options. If you make frequent trips to the beach, a simple sunshade is probably best. If you're planning a week-long camping trip and want an ultralight shelter, then you'll want something compact and waterproof.
Usually, the best camping canopies can serve a variety of functions, although some tarps have clear restrictions. For example, if you know you'll be bringing the canopy backpacking, you certainly won't want to get a huge 20-pound pop-up tent.
Weight
For campers and travelers who plan on always having a vehicle with, weight usually isn't much of an issue. If you're bringing your camping canopy to your summer cabin or family picnic where you won't have to carry it very far, getting a larger and heavier model makes sense.
However, for backpackers counting each ounce they add to their packs, weight and packability is going to make a huge difference. You'll also have to plan for what other gear you'll be bringing with you and consider whether you want a camping canopy as your main shelter, or if you'll be using it in addition to a tent.
Ease of Set-Up
A lot of the bigger camping canopies are heavy and tall enough that it will take at least two people, if not more, to properly set it up. This usually isn't a problem for large groups, but it's something to keep in mind if you're a single parent camping with young kids or on a solo car camping trip.
Usually freestanding pop up tents are much easier to set up, although they tend to be heavier and more bulky to transport because of the included poles.
Non-freestanding camping canopies are often more lightweight, but you'll need to set them up either using trees or buying poles to support the tarp. Although they usually take a bit more time to set up, you can also get more creative on how you pitch a non-freestanding canopy, and you don't necessarily need flat ground to set it up properly.
Weatherability
Sometimes a camping canopy does little more than protect you from the sun. Other models feature a highly waterproof rainfly and screened walls to prevent bugs from getting in. Usually, the more protection a camping canopy provides, the more expensive it is.
Certain pop up tents may also have the choice to purchase a rainfly separately. That way, if you only plan on using the tent at the beach on sunny days, you don't need to worry about it. But for people going on camping trips, they may want to get the added protection.
Because these are all canopies and not fully enclosed tents by their very nature, none of them are going to be totally waterproof or protect you from high wind and rain. However, the type of fabric and design of the canopy or shelter determines how effective it is in providing a weatherable space.
Features
A camping canopy with additional features will often be more expensive, but can also be a more livable option. Again, going back to best use, how you plan on using the camping shelter will determine what sort of features you'll want to look out for.
Interior pockets, attachment loops, compatibility with other camping gear items, or whether poles are included are all things you may desire in a shelter.
Other times you can purchase add-ons like a rainfly or additional poles might be things you'd want to consider purchasing to make your camping canopy more versatile.
Size
Although most big canopies are also heavier, it's not always the case. Simple sun shades can cover a large area while also being fairly lightweight. Big shelters for picnics that include a rainfly and sturdy poles will definitely be heavier.
Make sure to consider not only how many people will be using the shelter, but also what gear you'll want. For example, if you're planning on getting a pop up tent for picnics and BBQs, you'll want to plan on having enough space for chairs, or possibly a table, and coolers.
For me personally, I prefer to have a canopy that is fast, light, and easy to set up. In the summer time, maybe I don't feel like bringing a tent – in which case an ultralight canopy shelter is my go to choice because it weighs a fraction of what a tent does.
Best Camping Canopy Tents

| Name | Capacity (Person) | Floor Space (inches) | Weight (lbs) | Price (USD) |
| --- | --- | --- | --- | --- |
| REI Co-op Screen House Rainfly | 4-6 | 7920 | 3 lbs. 10 oz. | 99.95 |
| Caddis Rapid Shelter 10×10 | 5-8 | 14400 | 52 lbs. 14.4 oz. | 249.95 |
| Neso Grande Sunshade | 7 | 30276 | 6 lbs 8 oz | 129.95 |
| REI Co-op Screen House | 5+ | 14400 | 13 | 209.29 |
| Sea to Summit Escapist Tarp Shelter | 2 | 13875 | 13.3 | 239 |
| Kammok Kuhli Ultralight Weather Shelter | 2 | 11620 | 10 | 134.19 |
| Thule Approach Awning | 4 | 92 square feet | 9 lbs. 9.6 oz | 349.95 |
| MSR Rendezvous Sun Shield 120 Wing Shelter | 4 | 17280 | 3 lbs 9 oz | 217.39 |
| Kelty Cabana Shelter | – | 12528 | 7 lbs. 5 oz | 119.95 |
| Nemo Victory Sunshade | – | 8064 | 6 lbs 2 oz | 199.95 |
| Eureka NoBugZone 3-in-1 Shelter | – | 14400 | 21 | – |
| Alpine Mountain Gear Sun Shelter | – | 7776 | 5 lbs 8 oz | 99.95 |
| Eureka Northern Breeze 10 Screenhouse | – | 20736 | 7 lbs 10 oz | 224.95 |
| Kammok Kuhli Shelter | – | 12996 | 1 lbs 2 oz | 124.93 |
FAQ about the Best Camping Canopies
Still have some questions? No problem! We've listed and answered the most commonly asked questions below. Here's what people usually want to know:

Our GREATEST Travel Secrets…
Pop your email here & get the original Broke Backpacker Bible for FREE.
Final Thoughts on the Best Camping Canopies
Staying protected from the wind and sun at a soccer game or enjoying a summer BBQ picnic with friends are just a few of the many uses you can find for your camping canopy. Now that you've seen all varieties of great camping canopies, hopefully you're set to add one to your camping gear.
Whether you're hoping for something to take to the beach like the Neso Grande Sunshade or something for more versatile camping uses like our top pick the REI Co-op Kingdom Porch, a camping canopy is the perfect solution to more livable camp setups and enjoying outdoor events.
---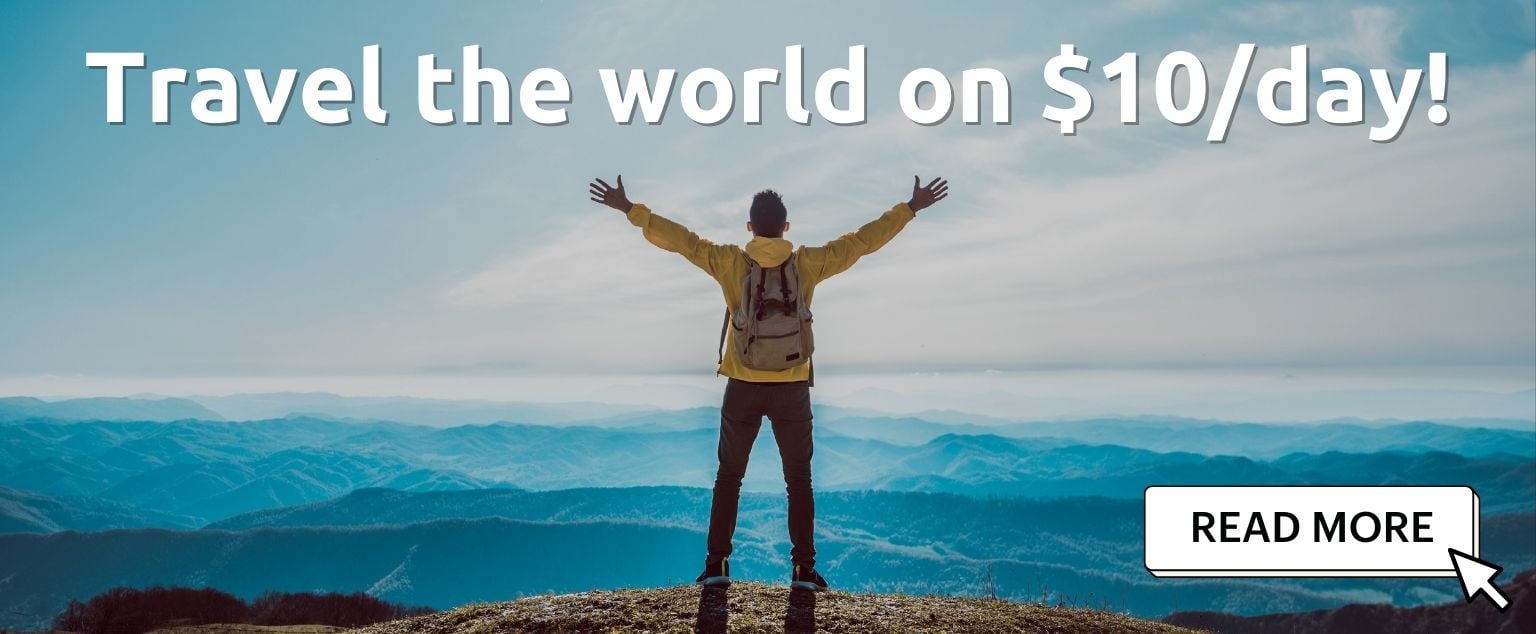 And for transparency's sake, please know that some of the links in our content are affiliate links. That means that if you book your accommodation, buy your gear, or sort your insurance through our link, we earn a small commission (at no extra cost to you). That said, we only link to the gear we trust and never recommend services we don't believe are up to scratch. Again, thank you!