Whether you've been attending a particular festival for years, or your friends have just invited you to a weekend music festival, good accommodation can make or break your experience.
Too often people get caught up in imagining the fun times and forget to plan where they'll sleep. Having a good tent for visiting a festival should be a number one priority on your "to-do" list.
It's easy to get overwhelmed with all the tent options on the market. To help simplify your search for the best festival tent, we've compiled this guide. Here you'll find some of the top products on the market, as well as tips to help with your final purchase decision.
Quick Answer: These are the Best Festival Tents of 2022
Overall Best Festival Tent
Overall Best Festival Tent
REI Co-op Grand Hut 4
> $
> Multiple pockets for storing essential gear
> Has both low and high vents
Best Festival Tent for Burning Man
Best Festival Tent for Burning Man
REI Co-op Kingdom 6 Tent
> $$
> Doors zip separately from the rainfly
> Freestanding design
Best Budget Festival Tent
Best Budget Festival Tent
Nemo Aurora 2p Tent
> $
> Footprint is included
> Two doors and vestibules
Best Rooftop Festival Tent
Most Livable Festival Tent for Groups
Most Livable Festival Tent for Groups
Nemo Wagontop 8 Tent
> $$$
> Single-walled structure
> Large windows
Best Festival Tent for Cold Weather
Best Festival Tent for a Solo Person
Best Festival Tents
For the duration of the festival, your tent is going to be your home. It's much better to come prepared, than risk having your festival experience ruined. One heavy rainstorm can soak through a poorly made tent and leave you wet and miserable for the rest of the time.
I mean, if you're going to be attending one of the top festivals in the world, you want to be dry and comfortable whilst you're at it!
Ladies & Gents, It's Time to Step Your GEAR Game Up. 😉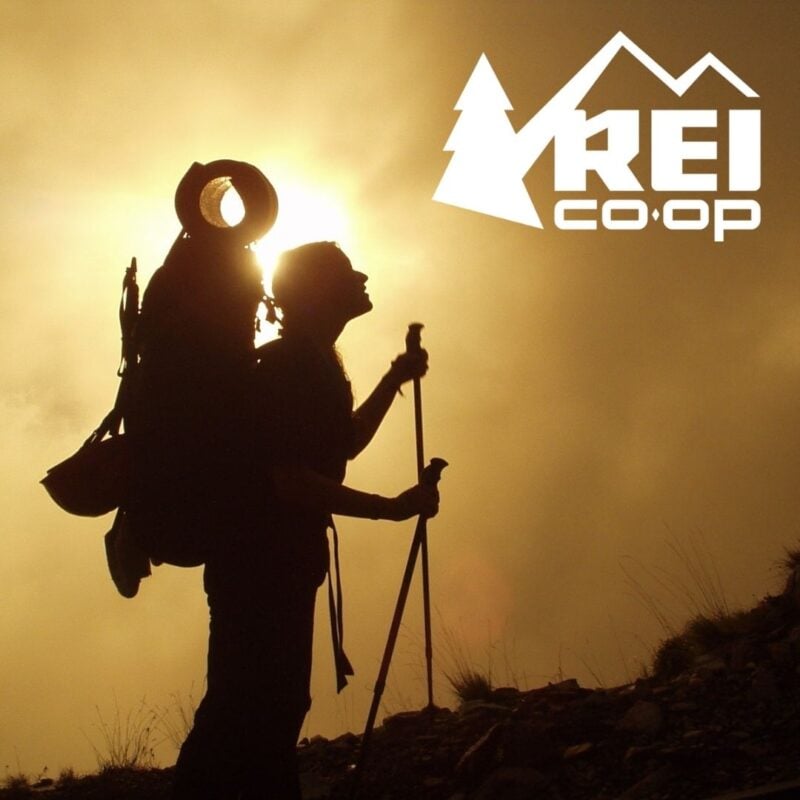 REI is one of America's biggest and most-loved outdoor gear retailers.
Now, for just $30, get a lifetime membership that entitles you to 10% OFF on most items, access to their trade-in scheme and discount rentals.
Join REI Today!
#1 – Overall Best Festival Tent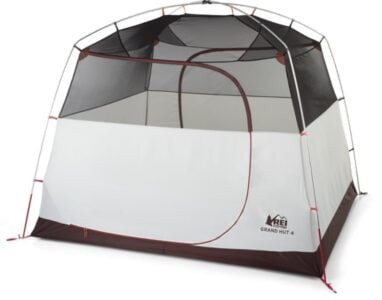 REI Co-op Grand Hut 4 is our top pick for overall best festival tent
Specs
Capacity: 4 person
Weight: 14 pounds 2 ounces
Rainfly included: Yes
Square feet: 59.7 square feet, plus 35 square feet in vestibule
This spacious tent has everything you could wish for in a festival tent and more. It's able to accommodate four people, or provide two to three people with plenty of extra space for backpacks and gear.
The nearly vertical walls help to maximize the space, and with a peak height of 75 inches, it's tall enough for most people to stand up in. Plus, with two doors and generously sized vestibules, there's no need to climb over each other or bring dirty wet clothing into the tent.
The only downside to the size is that in windy conditions the tent acts like a sail and can be blown around easily. However, this is typically an issue with most larger tents, and it's not something you'll be dealing with exclusively with the Grand Hut 4.
Inside the tent there are multiple pockets for storing essential gear, as well as helpful loops for attaching lights. When the weather is nice, you can take off the rainfly to allow the tent to be ventilated and appreciate a view of the stars through the bug-proof mesh.
To help with ventilation, the Grand Hut also has both low and high vents which allow for air circulation even when you have the rainfly on. Although the tent has a freestanding structure, you can use the guy lines and stakes which come with the tent to secure it further.
Pros
Good ventilation
Lots of inside pockets
2 doors and large vestibules
Cons
Footprint not included
Not good in windy conditions
#2 – Best Festival Tent for Burning Man
Meet the best festival tent for burning man: REI Co-op Kingdom 6 Tent
Specs
Capacity: 6 people
Weight: 21 pounds, 6 ounces
Rainfly included: Yes
Square feet: 83.3 square feet, plus 29 square feet in vestibule
Attending the week-long Burning Man event in the desert takes a lot of planning and preparation. Having a tent with good ventilation that allows for airflow is crucial when dealing with the heat of the Nevada desert.
This six-person tent is big enough for your entire group or family, and is also a great option for two people with lots of stuff. There are doors on either side, one with a vestibule and the other with a protective awning.
Another feature of the Kingdom 6 that makes it ideal for camping in a dry and desert climate, is the fact that the doors zip separately from the rainfly. This helps to minimize the amount of sand and dust getting into the tent to keep you more comfortable.
Even though it's so big, it's still easy for two people to quickly set up the Kingdom 6. It has a freestanding design and is very sturdy, although sometimes in high winds the walls can act a bit like sails. It can be helpful to use the guy lines and stakes for added stability.
Pros
Large and comfortable living space
2 doors
Great ventilation
Cons
Expensive
Footprint not included
#3 – Best Budget Festival Tent
Our pick for best budget festival tent is Nemo Aurora 2p Tent
Specs
Capacity: 2 people
Weight: 5 pounds, 7 ounces
Rainfly included: Yes
Square feet: 31. 8 square feet, plus 9.2 square feet in each vestibule
Big enough to comfortably accommodate two people for a festival, yet still light enough to function as a backpacking tent, the Nemo Aurora can satisfy both your budget and festival plans.
Although it's not as big as other options on this list, it's much easier to transport and still offers a decent living space and great durability. It's easier for two people to set up together, but still very manageable for one person to do alone.
Another big plus for the Nemo Aurora is that the footprint is included, saving you an additional cost, and helping to protect the floor and extend the tent's life. The two doors and vestibules also offer space for storing wet or dirty items to keep the inside clean and dry.
Pros
Could be used as a backpacking tent
2 doors and 2 vestibules
Footprint included
Cons
Smaller than other festival tents
A bit difficult for 1 person set up
#4 – Best Rooftop Festival Tent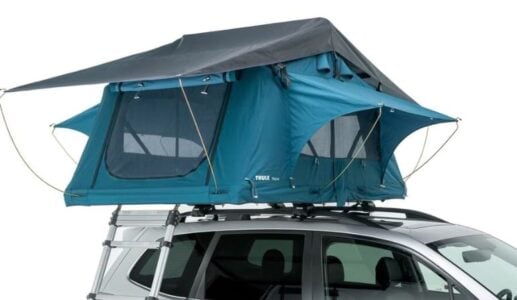 Thule Tepui Explorer Ayer 2 Tent is one of the best rooftop festival tent
Specs
Capacity: 2 people
Weight: 105 pounds
Rainfly included: Water-resistant canopy, no separate rainfly
Square feet: 28 square feet
If your budget allows for a big purchase like this, then the Thule Explorer Ayer 2 is an excellent quality roof top tent. By nature, rooftop tents are limited in terms of how big they can be, but they're also much more durable and weather resistant.
Since the tent stays mounted on top of your car, it's made of heavier and more weatherproof material. The Ayer 2 is strong enough to be considered a 4-season tent, although camping in super heavy snowstorm conditions isn't recommended.
Inside are 4 pockets for storing flashlights and gear, and the mesh panels provide excellent ventilation and a nice view from your rooftop perch.
For a bit more space and privacy, you can also purchase a separate annex which provides a protected space beneath the tent and next to your car.
Since you'll be driving to most festivals anyway, a rooftop tent is a great way to save space, plus you get the benefit of a high-density foam mattress to sleep on while camping.
This rooftop tent tends to sell out from time to time at REI, so if you are looking for an alternative check out the Thule Tepui Explorer Kukenam 3 Tent or better yet our epic review of the best rooftop tents.
Pros
4-season durability
Internal gear pockets
Comfortable mattress
Cons
Expensive
Need to plan for parking space
#5 – Most Livable Festival Tent for Groups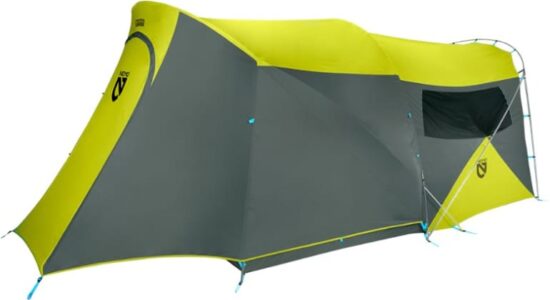 Our top pick for most livable festival tent for groups is Nemo Wagontop 8 Tent
Specs
Capacity: 8 people
Weight: 30 pounds, 3 ounces
Rainfly included: No
Square feet: 124.9 square feet, plus 26.9 square feet in vestibule
Attending a festival with a big group? You'll need a big ass tent! This huge beast of a tent offers enough space for eight people to sleep side-by-side, or is perfect for groups of four to five, plus all their gear.
Measuring 80 inches at peak height, it's tall enough for most people to stand up in easily. Unfortunately there's only one door, but at least there is a generous vestibule which makes it easier to get in and out without bringing wet, dirty things inside.
The tent is a single-walled structure, meaning that the rainfly and vestibule are built directly in the design and don't come separately. Although this is typically not ideal in terms of ventilation, the Wagontop does a decent job of fixing this problem. Large windows can be opened and closed from inside to allow for airflow.
Being such a big tent, the Wagontop 8 is definitely meant for two people (or more) to set up together. Because of the unique pole configuration, it's recommended to practice setting up the tent at least once, and not try to attempt it for the first time in the dark at the festival.
Pros
Very big and good vestibule
Large windows
Durable and high quality material
Cons
Expensive and heavy
Rainfly integrated with design, not separate
Footprint not included
#6 – Best Festival Tent for Cold Weather
Big Agnes Titan 4 mtnGLO Tent is our top pick for the best festival tent for cold weather
Specs
Capacity: 4 person
Weight: 12 pounds, 12 ounces
Rainfly included: Yes
Square feet: 56 square feet
If you're planning on attending a festival in early spring or late fall, it's definitely worthwhile investing in a more durable and sturdy tent, like the Big Agnes Titan 4.
What sets the Titan 4 apart is the external pole configuration. Not only are the poles stronger than many tents, but you can set up the rainfly without the inner tent, which makes it easier to stay dry and warm, even in bad weather.
The rainfly and inner tent combo creates a double-wall structure for added insulation and stability. It still has decent ventilation, thanks to the fly vents and large mesh windows. The zippers on both the doors are also waterproof for an added level of protection.
Unfortunately you'll have to purchase both the footprint and vestibule separately for this tent. In colder weather, having a footprint or decent tarp under the tent not only provides comfort, but also protects the floor so it lasts longer.
Pros
Very sturdy poles
External pole structure
Lots of inside pockets and light attachment points
Cons
Expensive
No footprint or vestibule
#7 – Best Festival Tent for a Solo Person
Our pick for best festival tent for a solo person is REI Co-op Half Dome 2 Plus Tent
Specs
Capacity: 2 people
Weight: 5 pounds 5 ounces
Rainfly included: Yes
Square feet: 35.8 square feet plus 22.5 square feet in vestibule
If you're attending a festival alone, you'll probably be more comfortable with a two-person tent, rather than a solo backpacking tent. Since you'll most likely be driving to the festival anyway, weight isn't so much an issue, and then you'll have extra room to spread out your gear and get a comfortable night's sleep.
The REI Half Dome 2 Plus isn't ridiculously expensive, and still provides good quality for the cost. At a little over five pounds, it's not something you'd want to carry on a long backpacking trip but for festivals, it's still a good lightweight tent enough to be easy to handle and has a simple one-person set up.
With four ceiling vents and a roll-up fly design, the Half Dome 2 Plus has great ventilation, and offers good protection if a storm rolls in. Another benefit is the vertical sidewalls which allow you to comfortably sit up in the tent instead of needing to crouch over all the time.
The two doors allow for multiple entry points, plus plenty of room for wet boots or bulky gear to stay outside the tent but still be sheltered underneath the vestibules. Check out the full REI Half Dome 2 Plus review here.
Pros
Not too expensive
Good ventilation
2 doors and 2 vestibules
Cons
Zippers sometimes have problems snagging
Footprint not included

Do You Want to Travel FOREVER??
Pop your email in below to get a FREE copy of 'How to Travel the World on $10 a Day!'.
Best of the Rest
The truth is, there are more excellent tents for festivals than could fit on this list! Although these next selections didn't quite make the cut for one of the top spots, one of them might end up being exactly what you're looking for in a festival tent.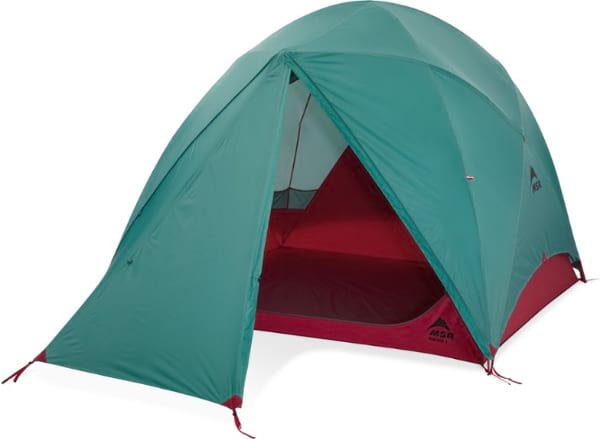 The Habitude 4 tent stands out primarily for its excellent rainfly and large vestibule. Although there's only one door, the vestibule gives you 23.5 square feet of space on top of the 62.4 square feet inside the tent.
Since the rainfly is made of a denser blue fabric, which can block out some light, early bedtimes are easier if you're too worn out from the day or are camping with kids. Thanks to the durable poles, it's also a more childproof tent option than some of the other selections on this list.
One person can manage to set up the Habitude alone, although it's easier with two people. Inside there are pockets for storing gear, plus hang loops to attach a light source to the ceiling.
The Habitude 4 holds up well to windy and rainy weather, although it's best if you purchase the footprint or at least a good tarp to go underneath. It's also a bit heavier than other four-person tents due to the thicker fabric and sturdy poles. However, for car camping and festivals, the added weight probably won't make a difference.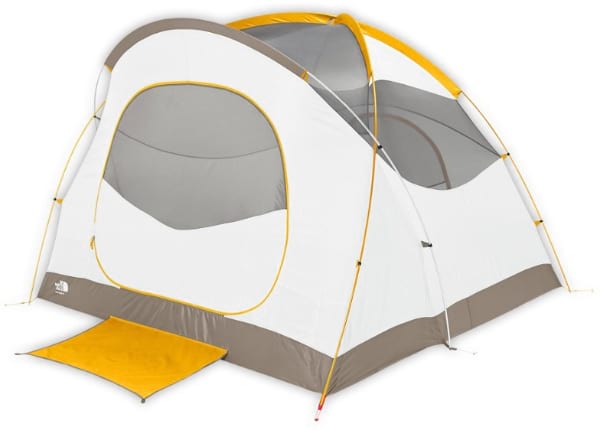 This is a decent mid-range option for a four-person festival tent. It's easy to set up, even for one person, and comes with a generous rainfly which has vestibules over both the doors.
A couple of cool additions to the Kaiju 4 are the foot wiper by one of the doors and the mesh pocket inside the tent which can prop up a tablet for evening entertainment. Inside there are also six organization pockets and loops for attaching lights to the ceiling for easy illumination.
The Kaiju 4 weighs about 13 pounds, and offers about 59 square feet of space, plus the vestibule area outside. To help protect the floor and extend the life of the tent, it is recommended to get the footprint, or at least a good tarp to put underneath.
In comparison with other tents, the Kaiju 4 also sometimes has some issues with condensation building on the inside of the vestibule doors, which is typically the result of improper ventilation. However, water usually doesn't get inside the tent as long as you're careful when entering and exiting.
For a four-person tent, the Dog House is a lightweight and more budget-friendly option. Weighing in at 8 pounds 10 ounces, it still offers a full 57 square feet of space inside the tent.
The downsides are that the tent only has one door and no vestibule, although it's possible to purchase a vestibule attachment separately. Since the poles and fabric are a bit lighter, it's not quite as durable as other tent options, but still functions perfectly well for a weekend trip to a festival.
Thanks to the vents and large mesh windows, the Dog House 4 has good ventilation that prevents condensation from accumulating on the inside of the rainfly. However, in order to better protect the floor and prevent dampness from seeping in from underneath, it's a good idea to get the footprint as well.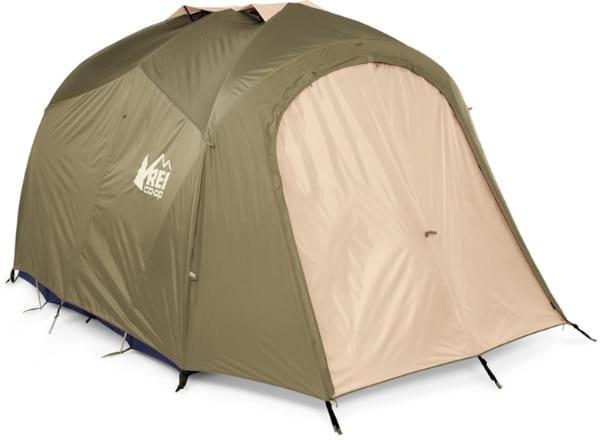 On the pricier end of four-person tents, the Kingdom 4 is a smaller version of the Kingdom 6 highlighted earlier in this review. Even though it's more expensive, the tent also offers more space and comfort, making it ideal for longer trips or when you have lots of gear.
There are two doors and one large vestibule on the front door which provides 29 square feet for storing bulky items or wet boots. Just like the Kingdom 6, this tent also has excellent ventilation and air flow to keep you cool and comfortable, even during super hot summer days.
Weighing in at 18 pounds, the Kingdom 4 is a heftier tent to carry around, but that's not a problem for car camping or festivals. It comes with a backpack-style bag, which makes it easier to carry.
The color coding on the tent and fly help a lot to assemble all the parts correctly. It's definitely easier for two people to set up together, but it's still manageable for one person, especially once you have some practice.
For a six person tent, the Caddis Rapid is a good budget option. It's not as durable as some tents, but as long as you're not experiencing torrential downpours, it's still enough to keep you warm and dry at most festivals.
Setting up the tent is fairly simple, thanks to the Rapid Tent frame system, and it comes with a good rainfly. Unfortunately there's only one door and no vestibules, which can make it more difficult to leave wet gear or dirty shoes safely outside the tent.
If you're camping somewhere with access to power, you can use the Power Port to thread an extension cord into the tent. There are also internal gear pockets and a gear loft for storing electronics, essential items, or keeping lights secured inside.
For camping groups only planning on using a tent on occasion for festivals, the Caddis Rapid is a good budget choice. However, for something more durable or for extended camping trips, it's better to invest in a more expensive but higher quality tent.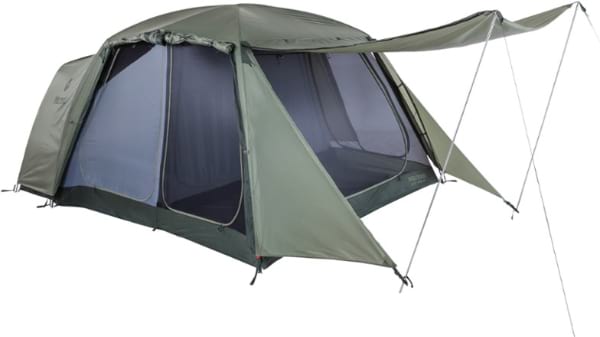 In comparison with the Caddis Rapid, the Marmot Guest House 4 is the solution for getting a sturdy and more livable four-person tent for festivals. It's certainly more expensive, but the price pays off with the high quality and great features. 
The Guest House 4 has four doors, making it easy for people to exit the tent without tripping over each other in the night. Inside the tent there's even a room divider in case you want some extra privacy. 
On the front of the tent there is a screened "porch" area which allows for extra ventilation and a nice place to relax without needing to deal with bugs.
Three of the four doors have vestibules, so it's easy to leave wet boots outside the tent. The walls of the Guest House are also nearly vertical and the peak height of 76 inches is tall enough for most people to stand up inside.
For groups or families planning to use a tent on a regular basis, the Guest House 4 is a good investment. Having the additional living room and ease of access through multiple doors can make a festival experience a lot more enjoyable.  Marmot also make a cracking 2 person tent – check out the Limelight review here.
The best present of all… is CONVENIENCE!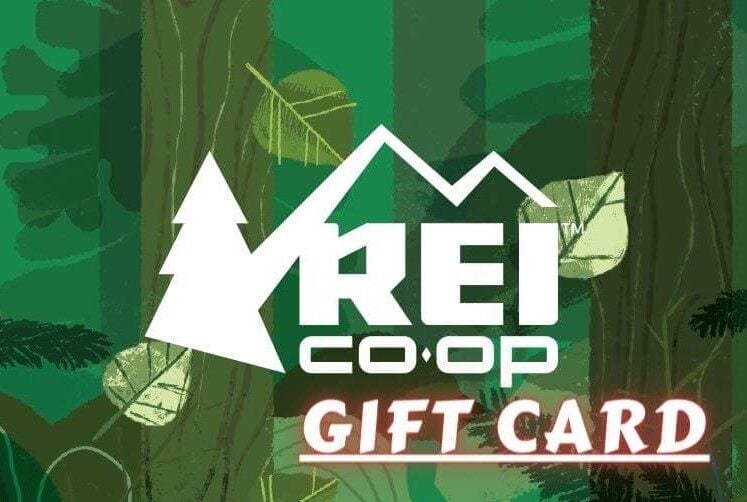 Now, you could spend a fat chunk of $$$ on the WRONG present for someone. Wrong size hiking boots, wrong fit backpack, wrong shape sleeping bag… As any adventurer will tell you, gear is a personal choice.
So give the adventurer in your life the gift of convenience: buy them an REI Co-op gift card! REI is The Broke Backpacker's retailer of choice for ALL things outdoors, and an REI gift card is the perfect present you can buy from them. And then you won't have to keep the receipt. 😉
Buy on REI!
How to Choose the Best Festival Tent
Now you have an idea about what some of the best festival tents on the market are. But how do you pick the right one? Just like purchasing any piece of quality camping gear, it comes down to your budget and what you plan on using it for. Here are some of the things you should consider before making a final purchase.
Size and Comfort
More space usually equates to a more comfortable camping experience, particularly at a festival. Obviously if you have a big group, you're going to want to get a much bigger tent, or consider getting multiple tents to accommodate everyone.
However, even for couples or trios, having a six person tent can be advantageous at a festival, especially if it's a longer event. The extra space can give you more privacy if you put up a divider, or more room to organize all your gear during your stay.
When considering size, make sure to take into account whether a tent has a vestibule area. The additional space to put wet boots, big backpacks, or camping coolers can make a difference, plus it usually helps to keep the inside of the tent drier than a tent without vestibules.
Weight
For festival goers, weight usually isn't as much of a concern as it is for backpackers. Most people drive to festivals, and usually only need to carry the tent a short distance from the car to the camping area.
If you are planning on using the tent for other camping purposes, it's worthwhile comparing weights. There are plenty of good tents that are relatively lightweight and still offer a decent amount of space.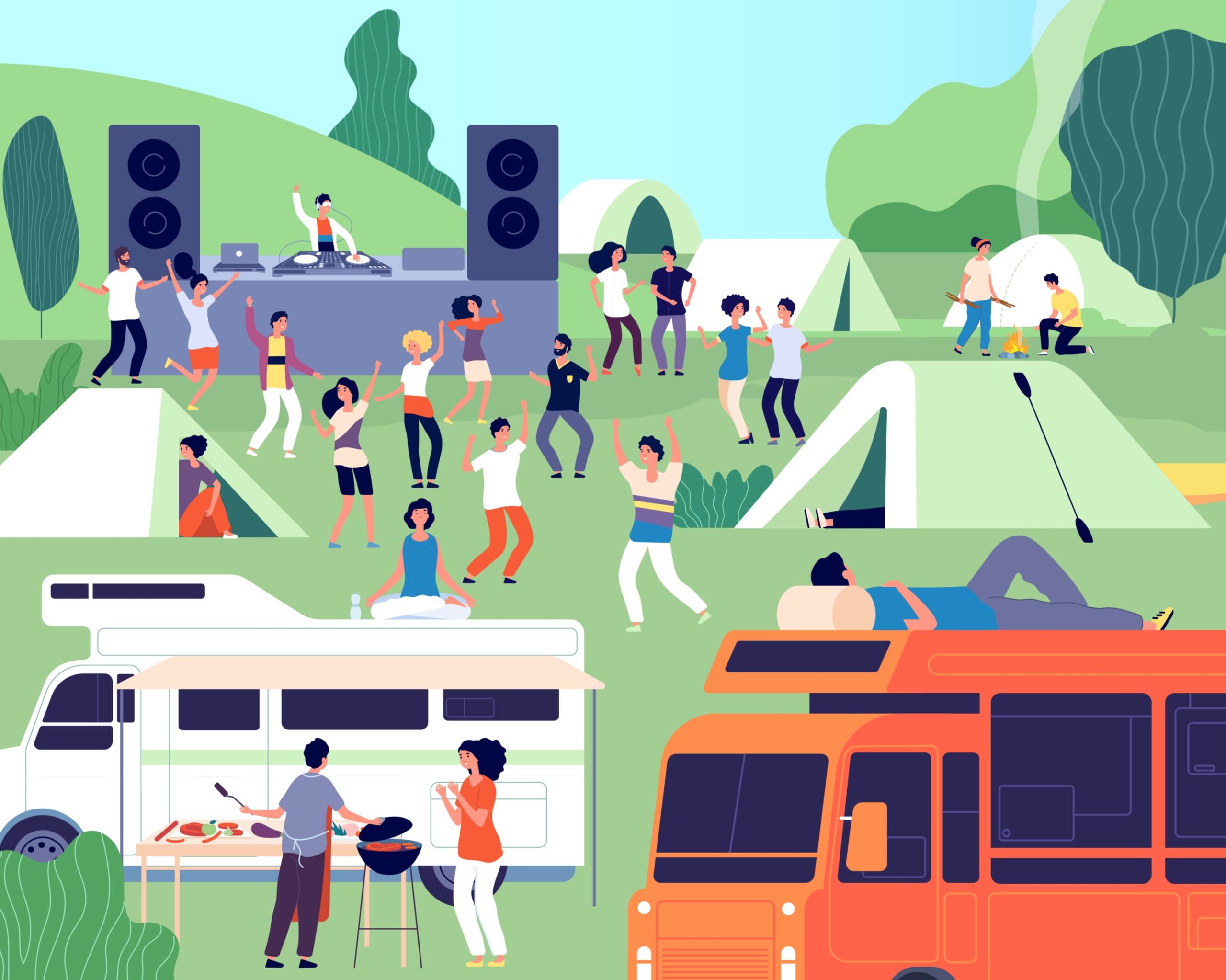 One thing to take into account is that heavier tents tend to be made from sturdier and more durable materials. If you only ever plan on using the tent for attending festivals and car camping, it might actually be beneficial to purposefully buy a heavier tent. It will last longer and provide more protection than lighter options.
Access and Doors
It's no fun getting stepped on in the middle of the night when one of your tent companions needs to leave and use the bathroom. Having a tent with multiple doors, especially for families or larger groups, is a smart move when it comes to a tent for festivals.
Tents with more doors also typically have better ventilation, which is important for larger tents. Not only does this keep you more comfortable, but proper ventilation helps to preserve the tent material and prevent damage from mold and moisture.
Weatherability
A fun festival experience can quickly become miserable if one heavy downpour is enough to soak through to the inside of your tent. Although it might be tempting to get a cheap tent for attending a festival, this means you'll be relying on luck and good weather to get you through.
Whilst having a good rain jacket is good for being out and about, being able to rest inside of a dry shelter is crucial to your festival experience.
Cheap tents tend to have more issues with bending and being damaged in the wind — but you can always pair it with a solid camping canopy.
Improper waterproofing can also allow water to enter either from the floor or by pooling on the top.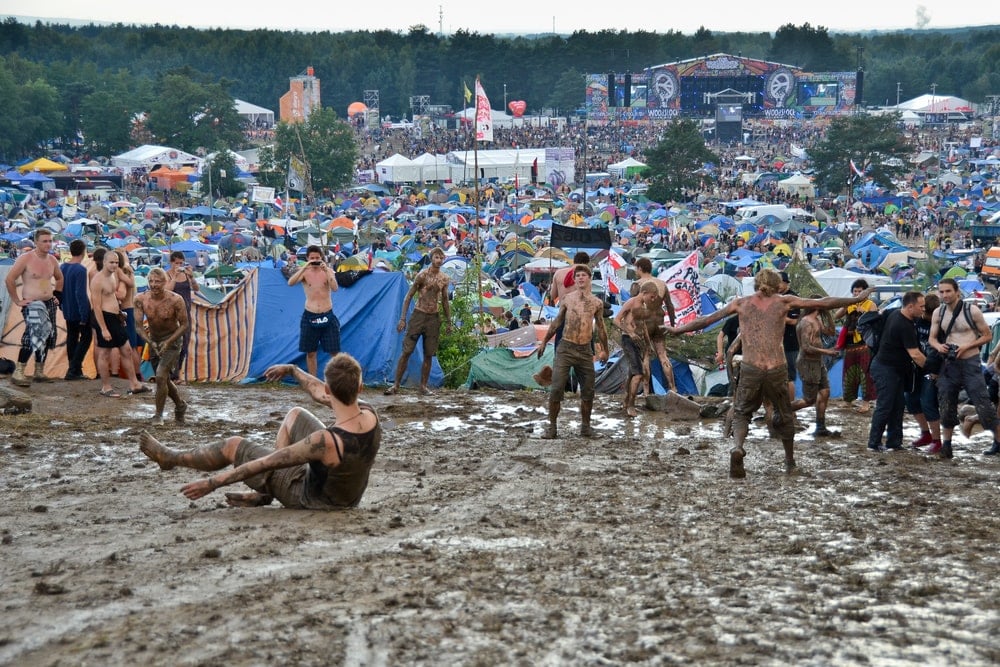 If you know that you'll be attending a festival in colder weather conditions, this can be another motivating factor to get a tent that's more weatherproof. The upfront cost will pay itself off when the tent lasts for a longer time and keeps you dry when the weather takes a turn for the worse.
Check whether the tent you're interested comes with a footprint. If it doesn't, getting one (or a good tarp) is usually a worthwhile investment since it helps both with comfort and protecting the floor of the tent.
Set-up
Larger tents usually have more complex set-up processes, although some are still much quicker than others to pitch. For four-person tents and larger it's usually best to have at least two people help set up the tent together. Although some campers have been able to master setting up large tents alone.
Since you'll be camping in one spot for several days or maybe even a week at a festival, having a tent that takes a little more time to set-up isn't a big deal in the long run.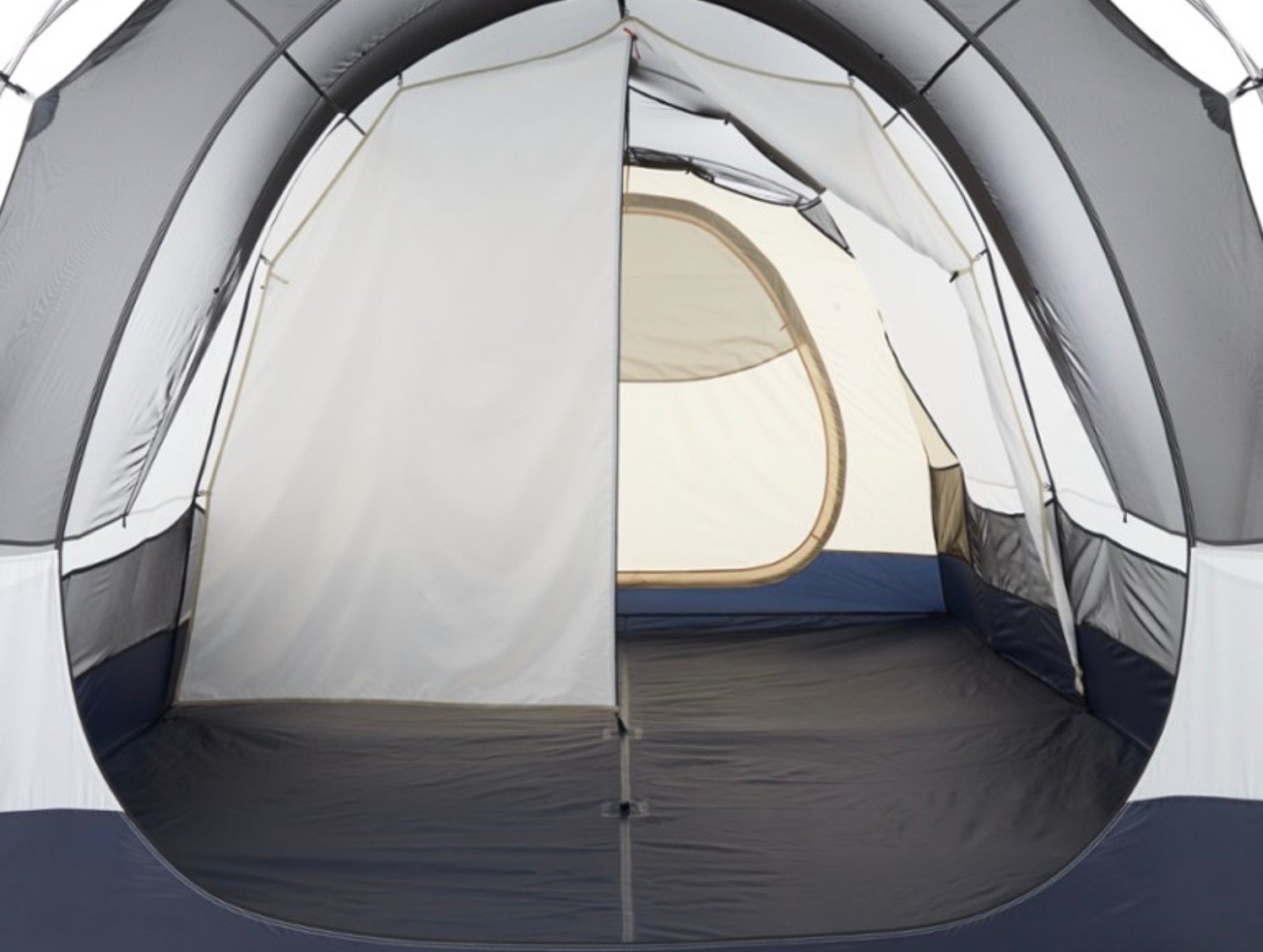 The only time you may run into issues is if trying to set-up the tent in rainy weather, and then usually it doesn't really matter how long it takes – the tent's going to get wet no matter what!
Lots of tents have color coded clips and buckles to make set-up easier. It's also a good idea to practice pitching the tent in your backyard or garage before heading out to a festival, just so you have an idea of how everything fits together.
Best Festival Tents

| Name | Capacity (Person) | Floor Space (inches) | Weight (lbs) | Price (USD) |
| --- | --- | --- | --- | --- |
| REI Co-op Grand Hut 4 | 4 | 8596 | 14 lbs 2 oz | 299 |
| REI Co-op Kingdom 6 Tent | 6 | 11995 | 21 lbs 6 oz | 499 |
| Nemo Aurora 2p Tent | 2 | 4579 | 5 lbs 7 oz | 279.95 |
| Thule Tepui Explorer Ayer 2 Tent | 2 | 4032 | 105 | 1123.95 |
| Nemo Wagontop 8 Tent | 8 | 17985 | 30 lbs 3 oz | 699.95 |
| Big Agnes Titan 4 mtnGLO Tent | 4 | 8064 | 12 lbs 12 oz | 949.99 |
| REI Co-op Half Dome 2 Plus Tent | 2 | 4860 | 4 lbs 11.5 oz | 230.29 |
| MSR Habitude 4 Tent | 4 | 8985 | 12 lbs 10 oz | 559.95 |
| The North Face Kaiju 4 Tent | 4 | 8487 | 12 lbs 11.8 oz | 336 |
| Big Agnes Dog House 4 Tent | 4 | 8208 | 8 lbs 10 oz | 279.95 |
| REI Co-op Kingdom 4 Tent | 4 | 9993 | 18 lbs 8 oz | 389 |
| Caddis Rapid 6 Tent | 6 | 14400 | 25 lbs 8 oz | 349.95 |
| Marmot Guesthouse 4 Tent | 4 | 13810 | 15 lbs. 1.5 oz. | 333.93 |
FAQ about the Best Festival Tents
Still have some questions? No problem! We've listed and answered the most commonly asked questions below. Here's what people usually want to know:

Our GREATEST Travel Secrets…
Pop your email here & get the original Broke Backpacker Bible for FREE.
Final Thoughts on the Best Festival Tents
Whether you've been a dedicated attendee of a certain festival for years, or just checking out a particular event for the first time, having a great tent for the festival is the first step towards having a successful and fun experience.
With a tent-like the REI Co-op Grand Hut 4, our top pick for a festival tent, you can focus on enjoying your time instead of worrying about getting wet if it rains at night. If you need more room for your group, then you can consider investing in one of the bigger festival tent options, like the Nemo Wagontop 8.
Your new home away from home at the festival might not be a 5-star hotel, but the basics of staying warm and dry will definitely be covered in one of these best festival tents.
Looking for something more portable? Have a look at the best ultralight tents instead if you need to lighten the load.
---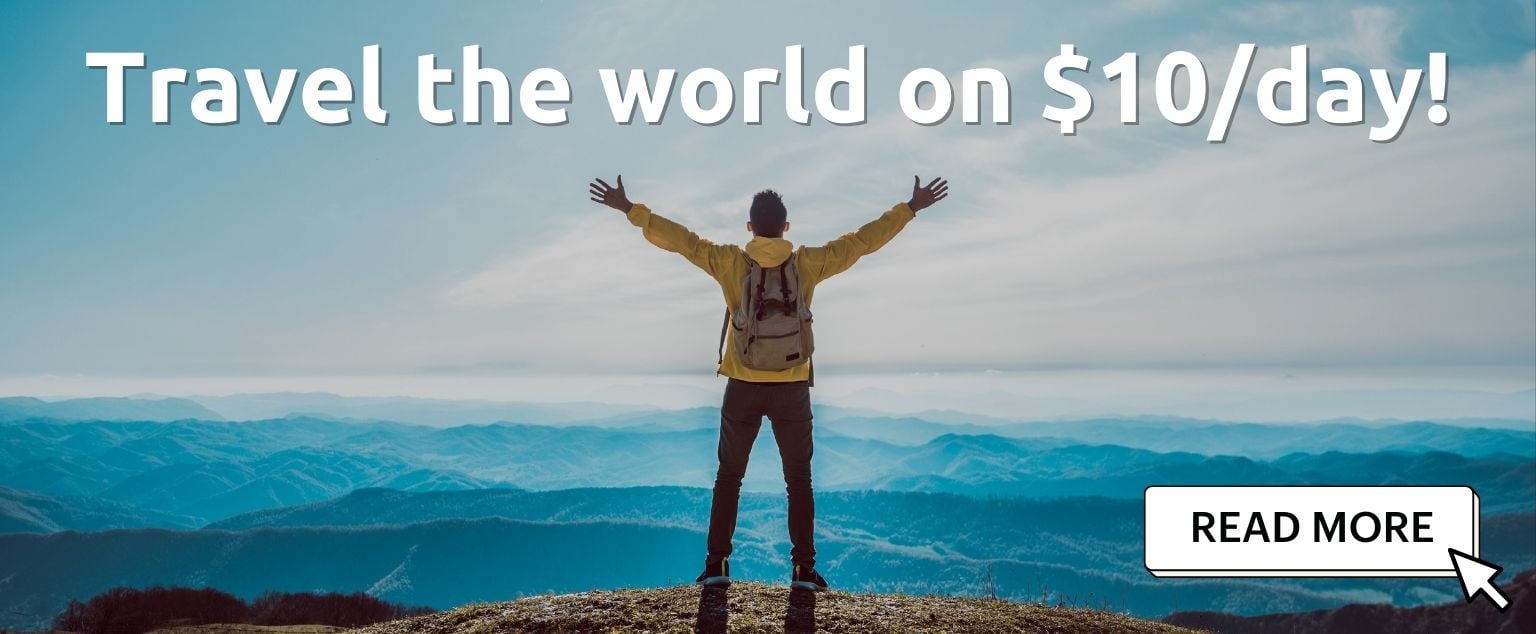 And for transparency's sake, please know that some of the links in our content are affiliate links. That means that if you book your accommodation, buy your gear, or sort your insurance through our link, we earn a small commission (at no extra cost to you). That said, we only link to the gear we trust and never recommend services we don't believe are up to scratch. Again, thank you!