Is there a single place on the planet that begs for a 'road trip' any more than the American Southwest? We certainly can't think of any! Geographically speaking, the Southwest is one of the most diverse parts of the country. Spanning six states, you'll encounter all kinds of deep red canyons, desert plateaus, and lush alpine vistas.
The trick to making the most of everything this region has on offer is to plan a good, old-fashioned roadie. Public transport isn't the best in these parts, and of course, it claws away at your sense of freedom.
But, where to begin? There's so much to see – you must be thinking, how can I plan a road trip in the Southwest that lets me see a bit of everything? Well, keep scrolling. We've created four itineraries so you can have the best road trip in the Southwest to suit your timeframe and budget!

Do You Want to Travel FOREVER??
Pop your email in below to get a FREE copy of 'How to Travel the World on $10 a Day!'.
Why Roadtrip in the Southwest?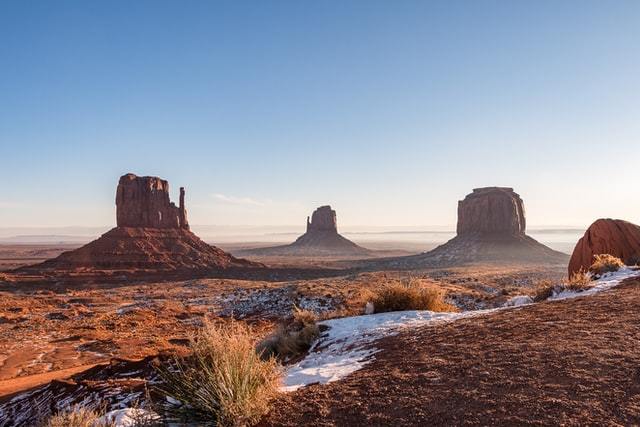 Why take a road trip in the Southwest, you might wonder? The US is a pretty big country to visit, and when it comes to road-tripping, there's no shortage of options. Well, here's why:
National Parks: Some of the greatest national parks in the US of A are right here in the Southwest. You've got the Rockies, Zion, Monument Valley. Did we miss one? Oh yeah, the Grand Canyon!
Camping: What's number one on your list of Southwest road trip essentials? A tent, of course. Fling one in your rental, and you can turn this into a real wilderness quest.
Real Wild Wild West: You've got abandoned ghost towns, saloons, and stark desert plateaus. A road trip in the Southwest slides you right into a John Wayne movie.
Phenomenal Scenery: That's the main reason for a road trip, right? The scenery in the Southwest is a total freak show, in the best kind of way.
Outdoor Activities: Nothing beats getting out and about and connecting with nature. Fortunately, the Southwest gives you bucketloads of awesome hikes and activities to spike your adrenaline.
Alright, now that's out of the way, it's time for the fun stuff. We've put our heads together to give you four fabulous Southwest road trip ideas!
From: Las Vegas
To: El Paso
Total Distance: 1,200 miles
Days: 10
Top Road Trips Stops: Valley of Fire State Park, Zion National Park, Monument Valley, White Sands National Park, Horseshoe Bend, Antelope Canyon, Lake Powell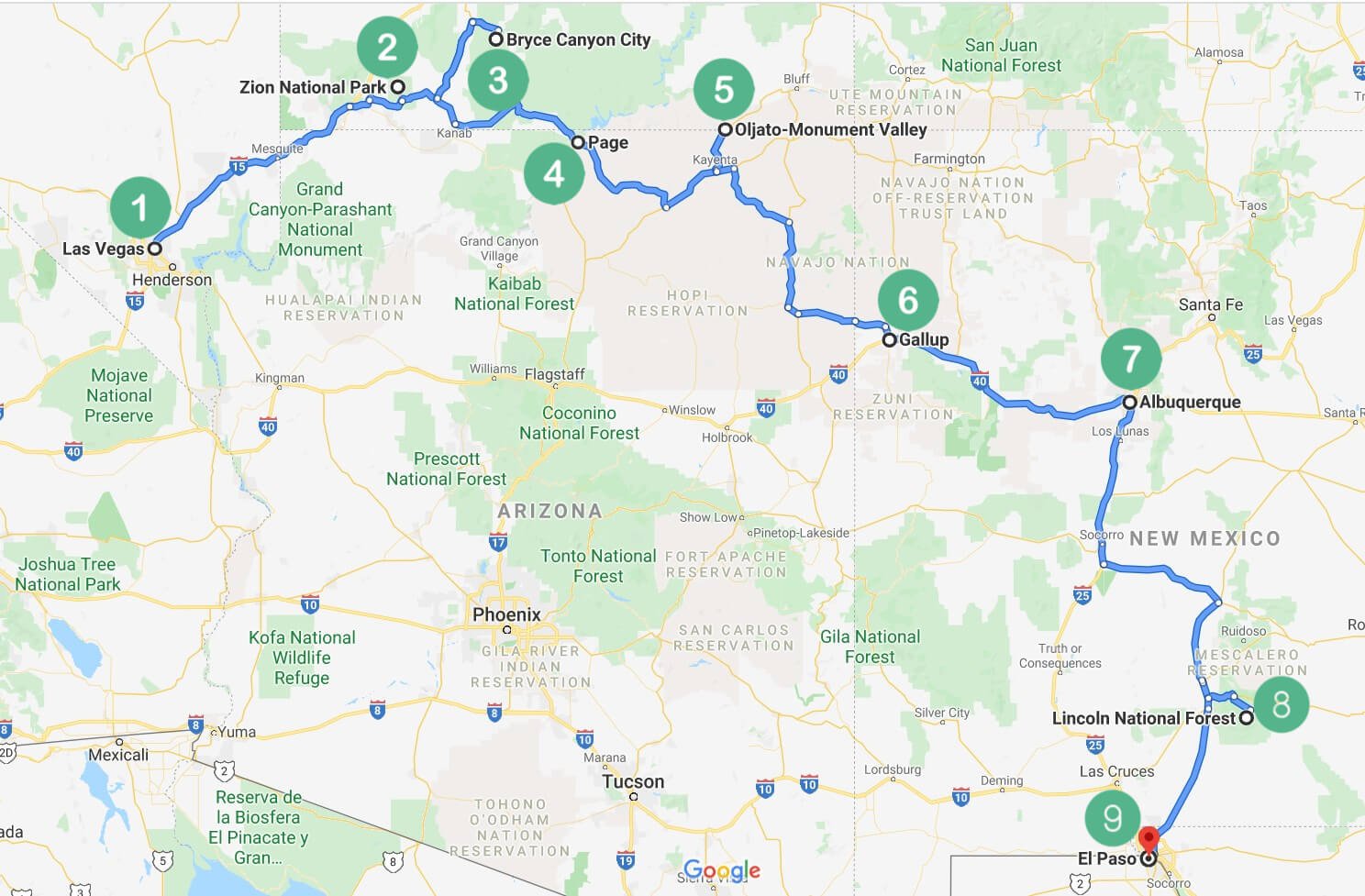 Want to hit four states and see some of the best national parks in the US? Then you definitely need our ten-day Southwest vacation trip planner. Beginning in Sin City, we'll hit the road before we flutter away our gas dollars.
This is a long drive, stopping off at some of the most iconic parks in the whole country. But we've broken it up so that there's as much adventuring as driving! We'll navigate 1,200 miles of backcountry and small towns between Vegas and El Paso. Our road trip from Las Vegas takes you through deserts, mountains, canyons, ghost towns, and much more.
Road Trip Highlights:
Camp in the Zion National Park
Check out some vintage road signs from the historic Route 66
Stand in four states at the same time
Raft down the Colorado River
Sled down the soft dunes of the White Sands National Park
Day 1-2: Las Vegas to Zion National Park (4 hours)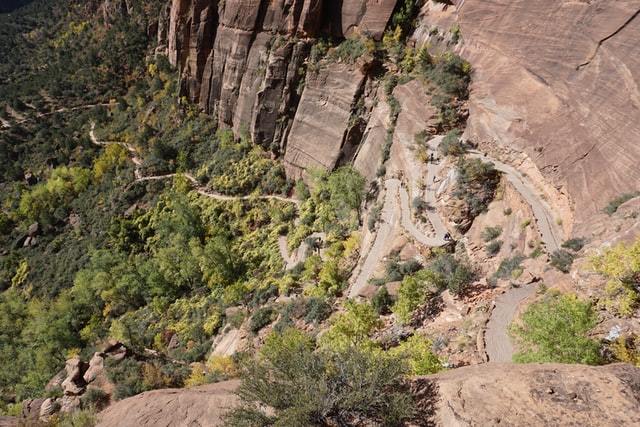 Your ultimate Southwest road trip begins in the one and only Sin City! Those bright lights will become a distant memory as you cruise through dusty desert landscapes of the I-15. You'll get your fix of red rock formations and petrified trees with a short hike at the Valley of Fire. Then, we'll continue to tonight's accommodation – who's game for camping?
Book a spot for two nights. This gives us a full day to explore Zion National Park on the second day. There are countless trails to choose from, including the so-called scariest hike in the US, Angel's Landing. Alternatively, let's get our feet wet and hike the Narrows trail through the river.
Day 3: Zion National Park to Bryce Canyon (1 hour 20 minutes)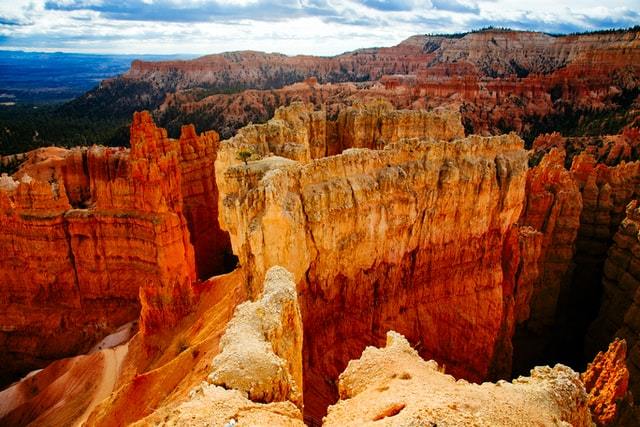 Rise and shine. If you're an early bird, you can wake early and watch the sunrise over Zion Park. If you've camped, there's really no excuse not to!
Today we head to Bryce Canyon. This is a slight detour, but these bizarre hoodoos are worth it, trust us. What we love about Bryce Canyon is that we can explore the sights entirely by car. There are plenty of hikes, but we won't judge you if you choose the auto-tour option. We can drive ourselves through the park or hop on the free shuttle if you fancy saving some gas money.
Day 4: Bryce Canyon to Page (2 hours 35 minutes)
We have a very pretty drive ahead today as we cross over into Arizona. It's a short journey, but there are plenty of sights to stop for, so be sure to leave enough time. We can even check out a cave was once used as a speakeasy, believe it or not. If you're the romantic type, this region is incredible for stargazing.
Best Stops: Paria Ghost Town, Coral Pink Sand Dunes State Park, Moqui Cave, Star Party, Lone Rock Beach, The Toadstools, Little Hollywood Land (Kanab)
Where to Eat: Jakey Lee's Coffee Shop and Bakery, State 48 Tavern, Driftwood Lounge
Where to Stay: Rodeway Inn at Lake Powell ($), Red Rock Motel ($$)
Day 5: Page to Monument Valley (2 hours 30 minutes)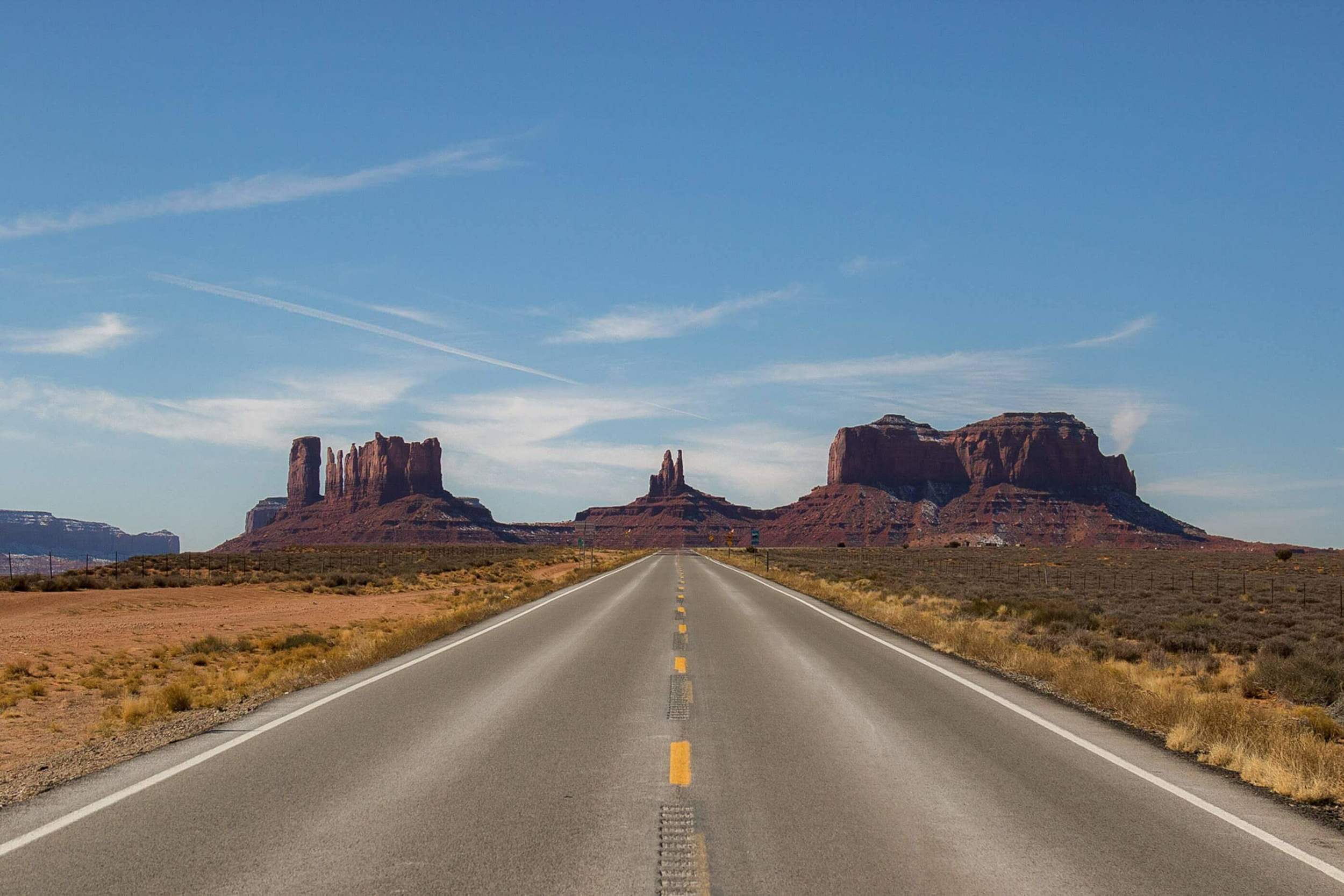 Welcome to Arizona, the third state on our epic Southwest US road trip. There are plenty of things to do around Page: Horseshoe Bend and Antelope Canyon are two must-sees on this Southwest road trip itinerary. Let's squeeze in some kayaking or a stand-up paddleboarding session on Lake Powell, or rafting down the Colorado River!
Once we've dried off, the drive to our next destination is pretty desolate – we'll take the road through the desert. We can take a motel, but you should know that camping in Arizona is where it's at.
Best Stops: Horseshoe Bend, Antelope Canyon, Lake Powell, Glen Canyon Dam Lookout, Navajo National Monument
Where to Eat: Blue Coffee Pot Restaurant, Pizza Guys, Amigo Coffee, Reuben Helfin Restaurant
Where to Stay: Mokee Motel ($) The View Campground ($), Kayenta Monument Valley Inn($$)
Day 6: Monument Valley to Gallup (3 hours)
The Navajo's Nation's Monument Valley is a soaring plateau of towering sandstone buttes. If you're a Western movie buff, you'll recognise these from the silver screen. Forrest Gump fan? Punch the GPS coordinates 37.101393, -109.990973 into the satnav.
What's also pretty awesome is that the park straddles Utah and Arizona, so you can hop across the state lines while you explore. For a bit of vintage charm, you could stay in the historic El Rancho Hotel tonight once we get to Gallup.
Day 7: Gallup to Albuquerque (2 hours)
Gallup is a small city on Historic Route 66. If you want to buy a few souvenirs, the city is famed for its arts and crafts. As we head eastwards today, we'll follow the iconic old highway itself. We'll stop off to snap old neon signs and abandoned gas stations along the way. The Acoma Pueblo is a cool stop where we can take a guided tour around the community.
Let's aim to be in Albuquerque by lunch, so we can explore the city. There are plenty of museums in town if you fancy dipping into Southwest history, or you can stretch your limbs by rowing at Tingley Beach instead. Feeling flush? Let's splash out on a hot air balloon ride.
Day 8-9: Albuquerque to Lincoln National Forest Park (3 hours 40 minutes)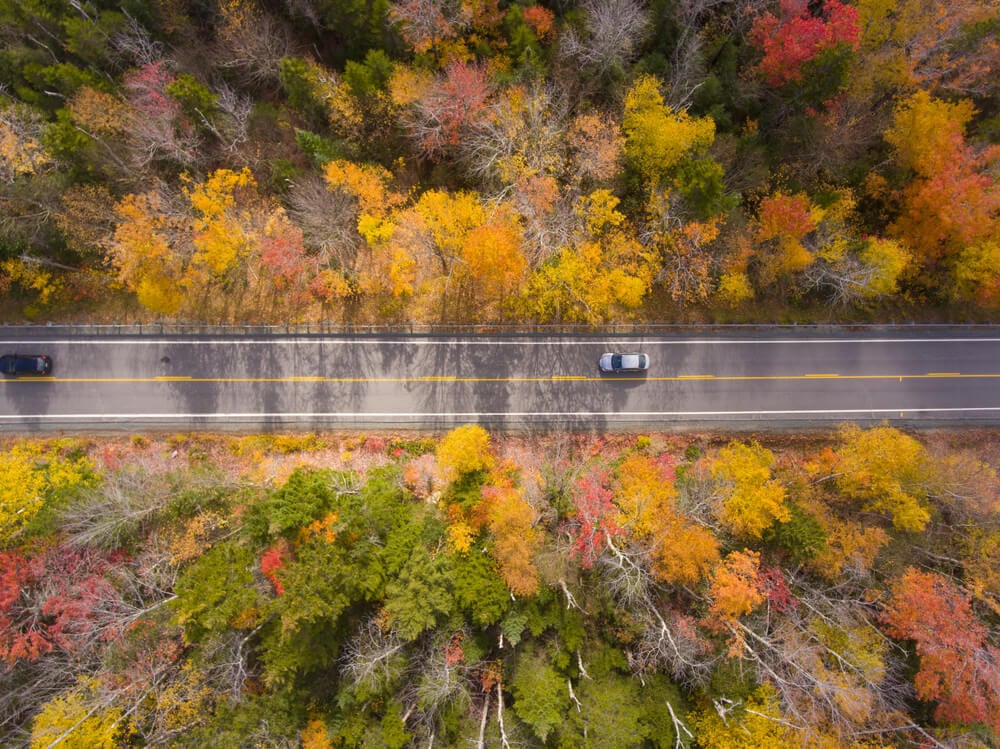 Before we leave Albuquerque, one thing we shouldn't miss is the phenomenal view from the Sandia Peak Tramway. That'll give us a sprawling panorama of the whole city, plus 11,000 square miles of New Mexico wilderness!
And then, farewell to city comforts; we're heading deep into the lush greenery of the Lincoln National Forest. Choose to camp for a few nights, or check into the local hostel.
We've planned something exceptional to wrap up our road trip in the Southwest! The White Sands National Monument is a vision after all the rusty red rocks we've seen so far. There is a mix of hikes to choose from that range from 20 minutes to 3 hours. Or get an adrenaline boost by hiring a sledge and swooshing down the dunes!
Day 10: Lincoln Forest National Park to El Paso (2 hours 20 minutes)
Before we part ways, we'll make our final state border crossing and travel into Texas. The Franklin Mountains State Park is a great stop on the way and is fantastic for mountain biking, rock climbing, and hiking.
And then, finally – El Paso concludes our road trip from Las Vegas. This is a cultural gem where we can experience the best of Southwestern charm with a splash of Mexican spirit! There's a ton of things to do in El Paso so make sure to stick around for a day or two.
Is This the Best Daypack EVER???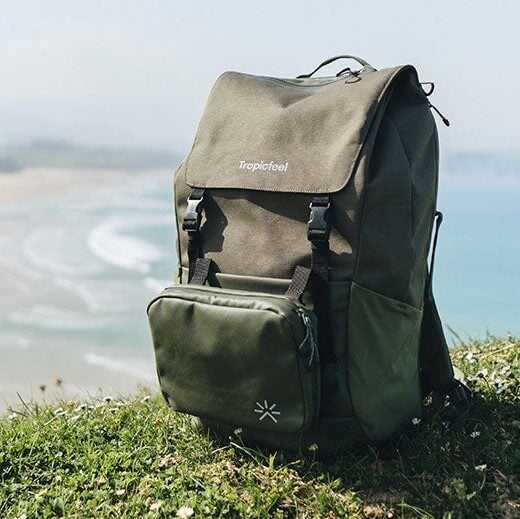 We've tested countlessday packs over the years, but the Tropicfeel Shell is something else. There are a lot of flashy backpacks on the market but not many come with a detachable wardrobe.
Weatherproof, eco-friendly, durable, feature-loaded, and comfy as fudge brownies: these are just some of the words people might use to describe the Tropicfeel Shell. But we just call it bloody beautiful.
Learn More • View on Tropicfeel
Small Pack Problems? 😉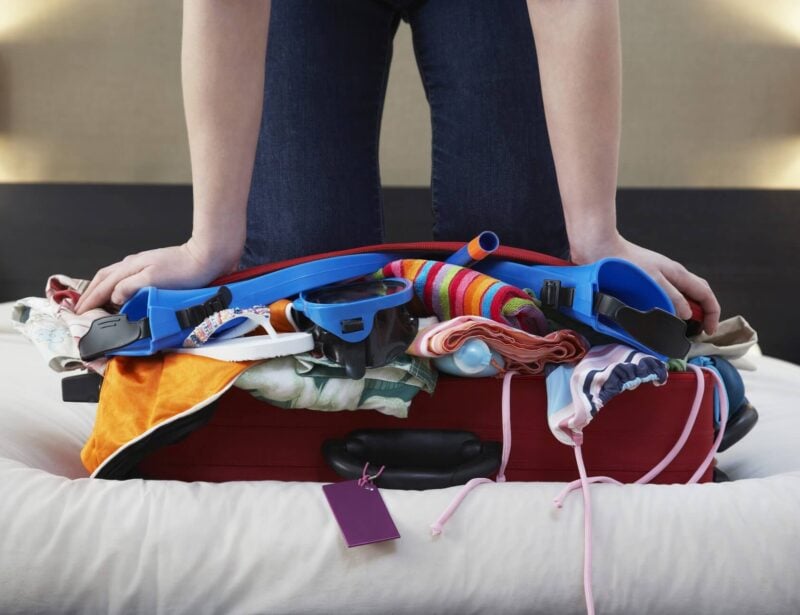 My missus travels with all her clothes in ziplock bags: don't be like my missus. UP YOUR PACKING GAME!
Packing cubes for the globetrotters and compression sacks for the real adventurers – these babies are a traveller's best kept secret. They organise yo' packing and minimise its volume too so you can pack MORE.
Or, y'know… you can stick to ziplock bags.
View Our Fave Cubes
Or Check Out the Sacks!
From: Oklahoma City
To: Phoenix
Total Distance: 1,027 miles
Days: 8
Top Road Trips Stops: Cadillac Ranch, Santa Rosa, Albuquerque, Petrified Forest, Painted Desert, Sedona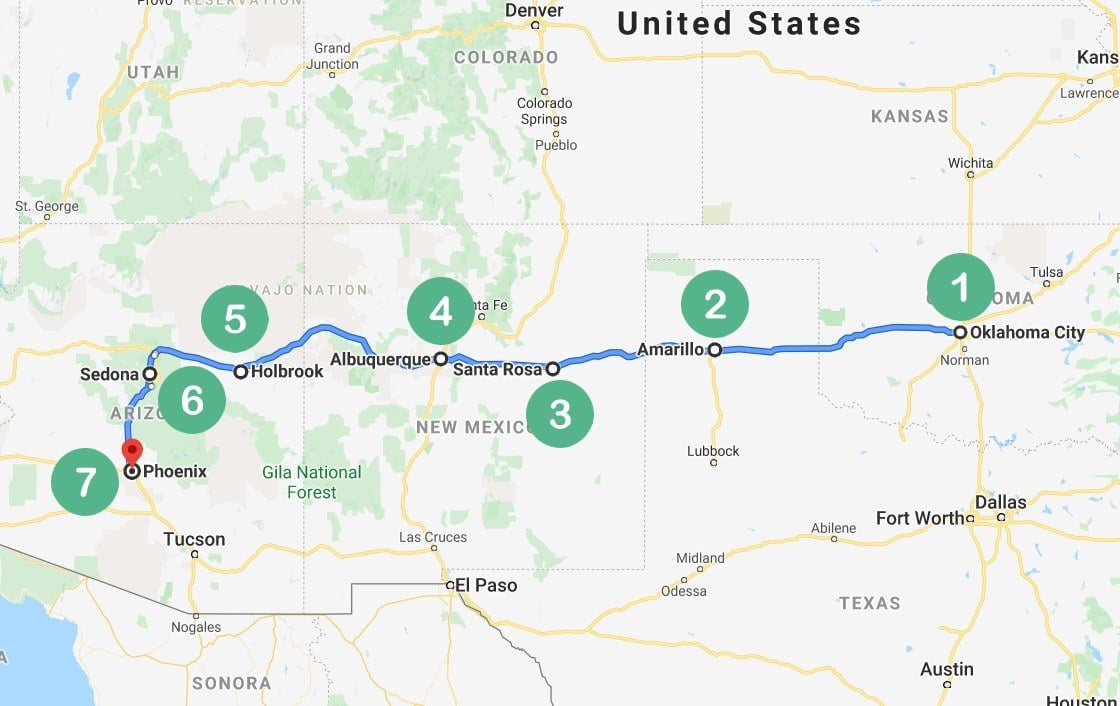 Yup, the Historic Route 66 technically no longer exists. However, you can still trace the route of Mother Road through the American Southwest. And it still makes a killer road trip. But planning a road trip in the Southwest that covers the whole 2,500 miles of the Main Street of America gobbles up your vacation days. That's why we've taken just a slice of the route.
Our road trip from Oklahoma City navigates a stretch of that legendary highway, which we'll break up with stops in small towns. Rather than heading into California, we go south to culminate with some breathtaking natural wonders in Arizona.
Road Trip Highlights:
Cruise past relics of the Historic Route 66, including neon signs, abandoned gas stations, ghost towns, and fascinating museums
Check out the auto-art installation of Cadillac Ranch
Take a dip in a sinkhole in the middle of the New Mexico desert
Explore the natural wonders that are the Painted Desert and Petrified Forest
Take a tour in one of the iconic pink jeeps of Sedona
Day 1: Oklahoma City to Amarillo (3 hours 52 minutes)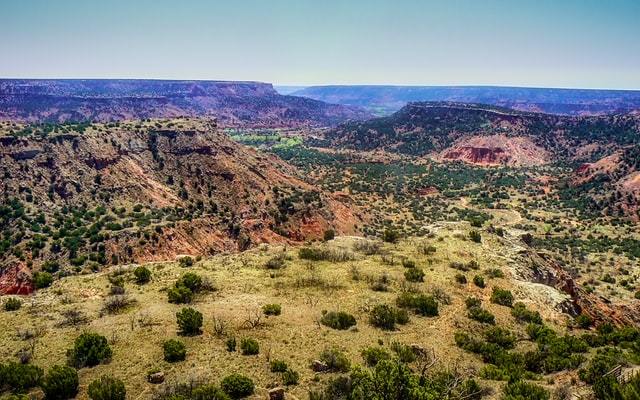 Get comfy; we've got a decent stretch of road to cover as we start our road trip from Oklahoma City. Let's visit a couple of Route 66 relics in Oklahoma City first – duck into a museum if you feel like it. Then, off we go.
Today's all about soaking up the nostalgic charm of the legendary highway. We'll stop to check out relics like the oldest gas station in Texas. There are a couple of museums where you can browse old memorabilia to break up the drive!
Day 2: Amarillo to Santa Rosa (2 hours 30 minutes)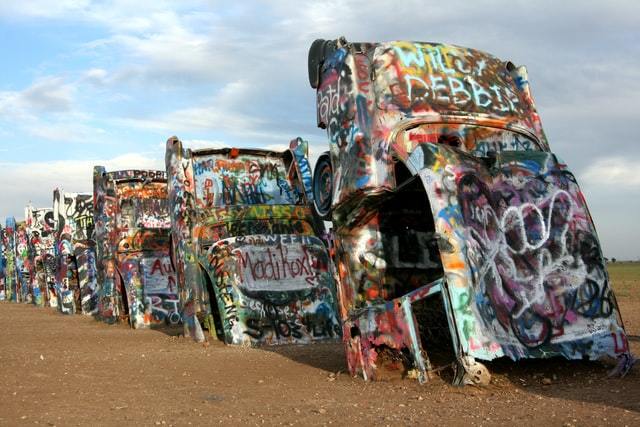 After breakfast, we'll freshen up our Instas with some snaps of the spray-painted cars at Cadillac Ranch. Belt up for a drive through the New Mexican desert. We'll grab a coffee at the aptly-named Midpoint Cafe and pose with the neon sign of the historic Blue Swallow Motel.
The Route 66 ghost town of Glenrio is a worthy pit stop before we reach Santa Rosa. Let's cool down with a dip in the natural phenomenon that is the Santa Rosa Blue Hole. This sinkhole is filled with water; if you've brought your PADI licence along, you can even scuba dive!
Best Stops: Cadillac Ranch, Santa Rosa Blue Hole, Glenrio, Welcome to New Mexico sign, Route 66 Auto Museum
Where to Eat: Midpoint Cafe, Kix on 66, Blue Swallow Motel, Comet II Drive In & Restaurant
Where to Stay: Casa del Leon ($), La Quinta by Wyndham Santa Rosa ($$)
Day 3: Santa Rosa to Albuquerque (1 hour 46 minutes)
We can stretch our legs in the Santa Rosa Lake State Park or indulge in some watersports once we've had our coffee. Shortly before we reach today's final destination, we can have a quick stroll in the Canyon Estates.
Once we park up in Albuquerque, take your pick of cool things to do. We can hire a rowing boat down at Tingley Beach. Or if we have some spare cash, sign ourselves up for a hot air balloon ride. Let's catch the sunset at the Sandia Peak Tramway.
Day 4-5: Albuquerque to Holbrook (3 hours 20 minutes)
We'll power on to Holbrook today, with a stop off in Gallup – a historical city which is handy for souvenir shopping. Oh yes, don't forget to factor in some treats for loved ones back home in your Southwest vacation trip planner!
To make things easier, we'll book into a motel in Holbrook for two nights. That way, we can spend the next few days exploring two of Arizona's finest natural wonders, hiker's heavens. The Petrified Forest is the only national park that contains a segment of the Historic Route 66. It's an enchantment of colourful ancient trees – another haven for photographers! Meanwhile, an hour's drive brings us to the intriguing badlands of the Painted Desert.
Day 6-7: Holbrook to Sedona (2 hours)
If that wasn't enough excitement for you, we have even more natural wonders a mere two-hour drive west! But first, we'll make a pitstop in the Route 66 city of Flagstaff and check out a few more sights. We'll also have a gander around a crater formed by a meteor, before catching the sunset from Airport Mesa.
Stay overnight in Sedona for two nights so we can experience this adventurer's playground. Take your pick from desert jeep tours, horseback riding, rafting, rock climbing, and mountain biking. There's even a massive natural waterslide! If you ask us, Sedona is what makes this a contender for the best road trip in the Southwest.
Best Stops: Meteor Crater National Landmark, Walnut Canyon, Amtrak Train Station Route 66 mural, Slide Rock State Park, Devil's Bridge Trail, Airport Mesa, Cathedral Rock
Where to Eat: Mother Road Brewing Company, Criollo Latin Kitchen, Diablo Burger
Where to Stay: Sedona Camping Gear ($), Wonder View Grotto ($$), Newly Built Tiny Home with Awesome Views ($$)
Day 8: Sedona to Phoenix (2 hours)
We'll drive south via Cornville and stop off at a vineyard for lunch. You might want to duck out of being today's designated driver if you want to sample the local wines.
As we approach our final destination, we can check out a couple of exciting natural attractions around Phoenix before we explore the city. And relax, that concludes our road trip from Oklahoma City.
Best Stops: Red Rock State Park, Cornville, Old Town Scottsdale, Desert Botanical Garden, Papago Park, Goldfield ghost town
Where to Eat: Page Springs Cellars, Thanks a Latte Esporess Cafe, Los Taquitos
Where to Stay: Quality Inn Phoenix ($$), Urban Guesthouse in Uptown Phoenix ($$$)
From: Denver
To: Salt Lake City
Total Distance: 746 miles
Days: 5
Top Road Trips Stops: Rocky Mountain National Park, Glenwood Springs, Arches National Park, Canyonlands, Great Salt Lake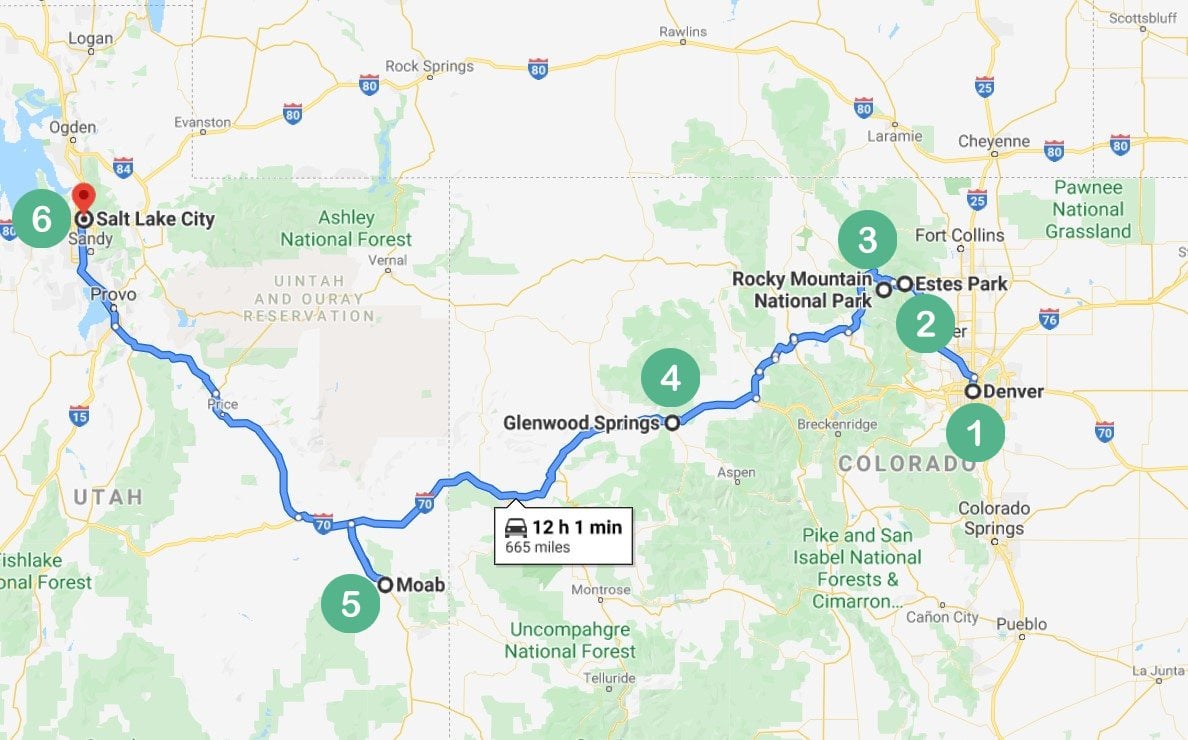 Despite taking less than one week to complete, this road trip from Denver takes you through a decent chunk of Colorado and Utah. We'll make Salt Lake City our final destination.
Along the way, we'll explore some of the finest state parks and mountain ranges in the whole Southwest, including the lush Colorado Rockies. Our itinerary prioritises the scenic routes over the fastest – so we get to see the most epic landscapes this region has on offer!
If you want to tackle this trip during winter, let's factor some skiing into our itinerary. You might want to add an extra night to accommodate this.
Road Trip Highlights:
Hike in the rugged snowcapped wilderness of the Colorado Rockies
Mountain bike in one of Utah's legendary national parks – Canyonlands or Arches
Explore fascinating ghost towns
Raft your way down the Colorado River
Take in the epic landscapes of the Great Salt Lake itself
Day 1: Denver to Estes Park (1 hour 20 minutes)
Ticked off whatever you wanted to see in the city? Cool, let's rev the rental and start our road trip from Denver. We'll kick off the road trip with the alpine glory that is the Rocky Mountain National Park (the Rockies to their friends). Today, we'll take the fastest route (Highway 36), so we have as much of the day as possible for the park.
Once we make it to Estes Park, we'll grab lunch then follow the scenic loop through the majestic mountains. This takes around four hours, but we'll be in and out of the car. In terms of hiking, there are hundreds of trails to choose from.
We vote for the Bear Lake Loop, Ute Trail, Mount Ida or Chasm Lake. These are relatively short and pack in some of the best scenery in the region. Let's hop on the tramway, too, and take in the views from Prospect Mountain.
Day 2: Rocky Mountain National Park to Glenwood Springs (2 hours 30 minutes)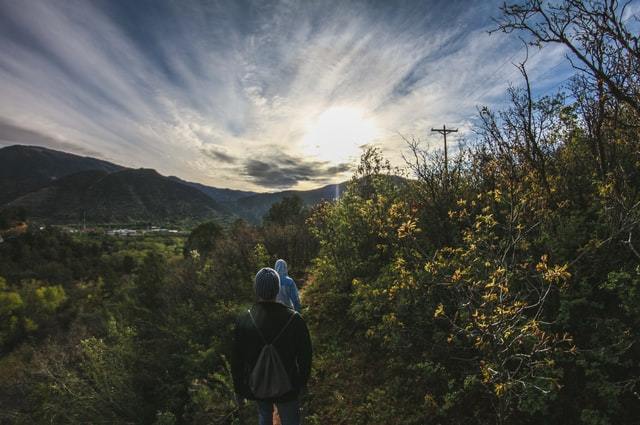 Let's tackle a short morning hike before we hit the road. This time, take the peak-to-peak scenic byway out of town. This way, we can drive right through the mountains and past a number of ski resorts. If we're in a 4X4, we'll take a detour to Dakota Hill.
Once we get to Glenwood Springs, we can wander along the Colorado River. Or, for something more adventurous – let's go rafting or book a canyon swing. Cycling along the Glenwood Canyon Bike Trail is another option, perfect for summer. And of course, we must take a dip in the hot springs. Accommodation in town is pricey, so let's stay in a cheaper guesthouse and get a day pass to the springs instead.
Best Stops: Rocky Mountain National Park, Loveland Ski Resort, Vail Ski Resort, Dillon Reservoir, White River National Forest, Glenwood Caverns
Where to Eat: Vail Mountain Coffee & Tea – Roastery cafe, Abbey's Coffee, Glenwood Canyon Brewclub
Where to Stay: Rodeway Inn Glenwood Springs ($$), Glenwood Springs Cedar Lodge ($$)
Day 3-4: Glenwood Springs to Moab (4 hours 40 minutes)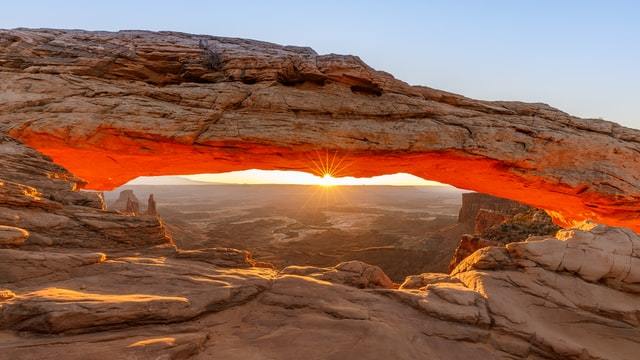 With the gorgeous Rocky Mountain National Park in our rear-view mirror, we'll cruise west into the realm of canyons. For the most scenic route, skip I-70 and drive through the mountains. It's longer but much prettier, with even more mountains to ogle. We can stop off in towns like Paonia and Delta for coffee to break it up.
Rejoin I-70 at Redlands. Let's turn off onto state route 128 so we can check out the ghost town, then follow the scenic drive through Dewey. The Fisher Towers trailhead is a pleasant two-hour hike to stretch our legs and catch the sunset. There are lots of places to stay around Arches National Park, which is a great base for exploring the area for a couple more days.
Day 5: Moab to Salt Lake City (5 hours)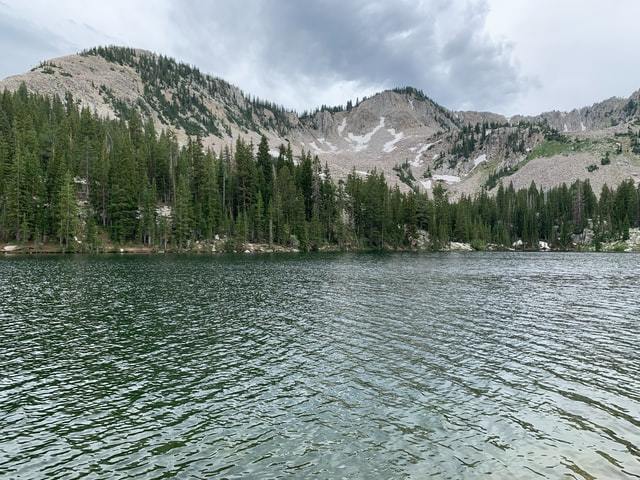 Squeeze in any last activities you fancy, top up the gas tank, and northwards we drive. We'll take the scenic road, past the San Rafael Swell and up through the Manti-La Sal National Forest.
If you stay an extra night in SLC, hang onto your rental and take a day trip to either the Wasatch or Oquirrh mountains. And, of course, don't miss the opportunity to plunge into the Great Salt Lake and see how well you float!
Best Stops: Green River State Park, Spring Canyon ghost town, San Rafael Swell, Utah Lake State Park, Temple Square
Where to Eat: Green River Coffee, Tangerine Eatery, Happiness Within, Guru's Cafe,
Where to Stay: Park City Hostel ($), Cozy Tiny House ($$), Ellerbeck Mansion Bed and Breakfast ($$$)
From: Las Vegas
To: Phoenix
Total Distance: 563 m
Days: 5
Top Road Trips Stops: Grand Canyon National Park, Slide Rock State Park, Airport Mesa, Goldfield ghost town, Tonto Natural Bridge State Park
If you're looking for short 'n' sweet Southwest road trip ideas, this one gives you tonnes of sights without chewing up all your annual leave.
Our 5-day road trip itinerary takes you to some of Arizona's best natural wonders, starting with a canyon you've possibly heard of.
Road Trip Highlights:
Savour the hues of one of the most alluring wonders of nature, the Grand Canyon
Tackle the gruelling but rewarding Humphrey's Peak track – the highest point in Arizona
Stun yourself with the rust-red delights of Sedona
Experience fragments of the Historic Route 66
Throw in a tent and camp for a real Wild West adventure
Day 1-2: Las Vegas to Grand Canyon Village (4 hours)
Pick up your rental in Sin City, load up the snacks and say farewell to Nevada – we're crossing over to Arizona.
The drive starts off as barren as you might expect as we cruise through the desert landscape of Nevada. Once we cross the state line into Arizona, things start getting greener. We'll stop off to take photographs and aim to squeeze in a short hike in the Kaibab National Park, where we can camp tonight.
Whichever accommodation you decide on, book for two nights so you can spend the entire second day exploring the Grand Canyon South Rim.
Day 3: Kaibab National Forest to Flagstaff (1 hour 20 minutes)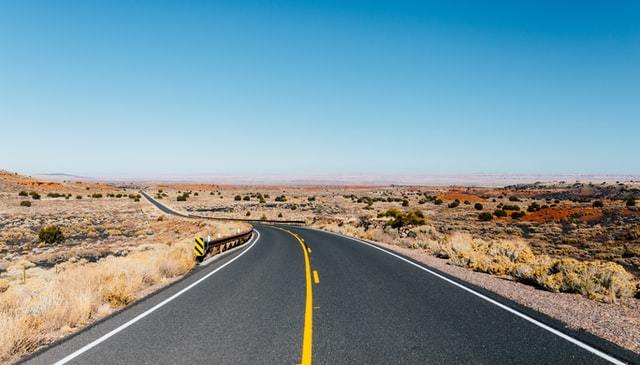 If you have the energy for a strenuous hike, we'll tackle the Humphrey's Peak trail this morning. This affords us fabulous views from Arizona's tallest peak. Access depends on the weather – the route is only accessible when it hasn't snowed. Pick up snacks from Tusayan if so, breakfast options are limited around here.
Afterwards, we'll check out the youngest volcano on the Colorado Plateau. The Bonito Vista Trail and Lava Flow Trail are gentle, easy options to recover from this morning's antics. Then, onwards to Flagstaff for the night. If you can still move your legs, let's go line dancing at the Museum Club.
Day 4: Flagstaff to Sedona (50 minutes)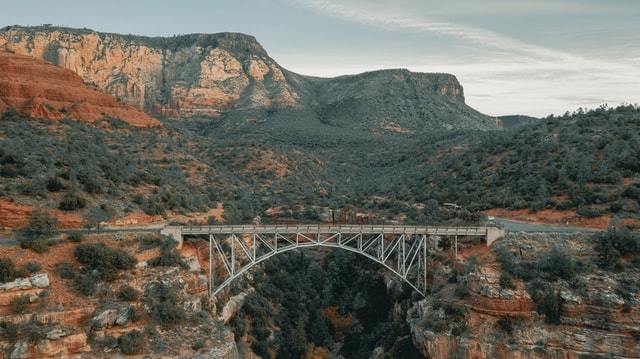 We have a short drive this morning, which is for the best because Sedona is one of the best towns in the whole of Arizona. Let's make the most of it!
The town is cradled by 1.8 million acres of national forest land and buttressed by four wilderness areas and staggering mesas. There's plenty of scope for thrill-seekers; take your pick from desert jeep tours, horseback riding, rafting, rock climbing and mountain biking. Whatever we do, we can't miss the sunset from Airport Mesa.
Accommodation is a bit pricier in Sedona, so if you've brought your tent along, now's its moment to save you a few bucks.
Day 5: Sedona to Phoenix (3 hours 30 minutes)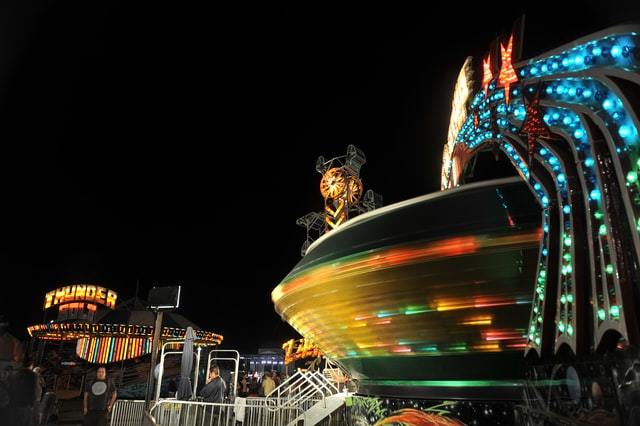 For our final day, we will take the scenic route to Phoenix through the Saguaro cactus-studded desert that forms the Tonto National Forest. There, we'll get out to see what's considered to be the largest natural travertine formation in the world.
After that, we'll stop off in Payson for lunch, the so-called 'Heart of Arizona'. The landscape here isn't what you expect from the cactus state. Clasped by the Mazatzal Mountains and dense forestry, it's got much more of an alpine vibe. Tonight, we'll enjoy a final brew in Arizona's largest city. For a quiet place to stay after a long day of driving, consider staying at a vacation rental in Scottsdale.
Best Stops: Montezuma Castle National Monument, Payson, Tonto Natural Bridge State Park, Old Town Scottsdale, Desert Botanical Garden, Papago Park, Goldfield ghost town
Where to Eat: Pinon Cafe, Common Grounds Coffee House, Virtu Honest Craft,
Where to Stay: Red Roof Inn Phoenix – Midtown ($$), Cozy Desert Oasis ($$)
Driving in the Southwest
Renting a vehicle is the best way to explore the Southwest. That could be a regular car, a 4X4, or even a campervan/RV.
Renting a Vehicle in Southwest
Renting a vehicle is one of the most popular ways for domestic and international tourists to explore the region. In general, US motorists drive conservatively. For many of the itineraries in our Southwest vacation trip planner, you'll be in the backcountry, away from the city traffic.
You must have a valid driver's licence to rent a vehicle in the Southwest. If you hold an overseas licence, you will need an International Driver's Permit (IDP) too. You should check the requirements as per your passport country.
You may pay a couple of additional fees on top of the car hire rate. Factor in the following charges when planning a road trip in the Southwest.
Young Renter Fee: You must be aged 21 or over to rent a car in the Southwest. If you are under 25, you may have to pay a 'young renter fee'. The average cost of this is $20 per day, but it can vary from state to state.
One-way Rental: All our road trips originate and finish in different cities. You'll most likely be asked to pay a drop-off fee. This should be included in your quote.
Additional Driver: Unless the additional driver is your spouse or domestic partner, you will pay a fee to add a second driver. This varies depending on the state and company.
Deposit: You will need to pay a deposit/bond when you pick up your rental. This must be paid on a credit card and is usually $200-$300.
Insurance: Another of your Southwest road trip essentials is sturdy insurance. We recommend not purchasing insurance from your rental – these guys always inflate the prices. Instead, check out an independent insurance company, such as RentalCover.com. Their rates are much friendlier.

Don't have a car? Well, we're going to have to sort that out! Use rentalcars.com to find the best deals on the web and save heaps of cash!
Road Rules in the Southwest
As with everywhere, the US is subject to road rules. And yes, they do take things seriously, like speeding, driving under the influence, and travelling without a seatbelt!
When you plan a road trip in the Southwest, here some of the weirder rules that may catch you off-guard.
Whatever you do, don't miss your exit in Arizona. Reversing down a public road is against the law.
If you fancy our road trip from Denver, request a non-black car. According to an old law, driving a black car on a Sunday is illegal.
Stick to a trusty automobile while road-tripping across Nevada. If you decide to ride a camel down the highway, you'll be smacked with a fine.
Put your comic down while driving through Oklahoma. Reading about Batman's latest exploits while driving is a fineable no-no.
It is illegal to make hand-held phone calls and send texts while driving in Arizona, Nevada, and New Mexico. Neighbouring states are likely to instigate similar rules in the near future.
On a more serious note, remember that every state in the US sets its own road laws. When crossing into different states on your road trip in the Southwest, do check each state. Also, as you cruise closer to the Mexican border, don't be surprised if Border Police wave you down. They might ask to check your documents and trunk. It's pretty common.
And don't forget, they drive on the right in the US!
Insurance in the Southwest
Before you hit the road, we just want to swoop in again with nobody's favourite topic. One of the ultimate Southwest road trip essentials is insurance for your rental car. Yes, you can buy this from your hire company. But you can save a decent bit of cash by using an independent insurance provider.
In the US, you are required to purchase liability insurance and a damage waiver. Often, this is packaged up as Collision Damage Waiver/Loss Damage Waiver. This covers damage, theft and loss of use of the rental vehicle and usually amounts to a maximum of $30 per day.
Roadside assistance is an optional extra that may come in handy for your Southwest road trip itinerary. There are long stretches between gas stations in the backcountry! Rental companies typically charge $10-$15 per day for assistance. It's worth shopping around with companies like RentalCover.com to find a plan that covers the lot in one deal.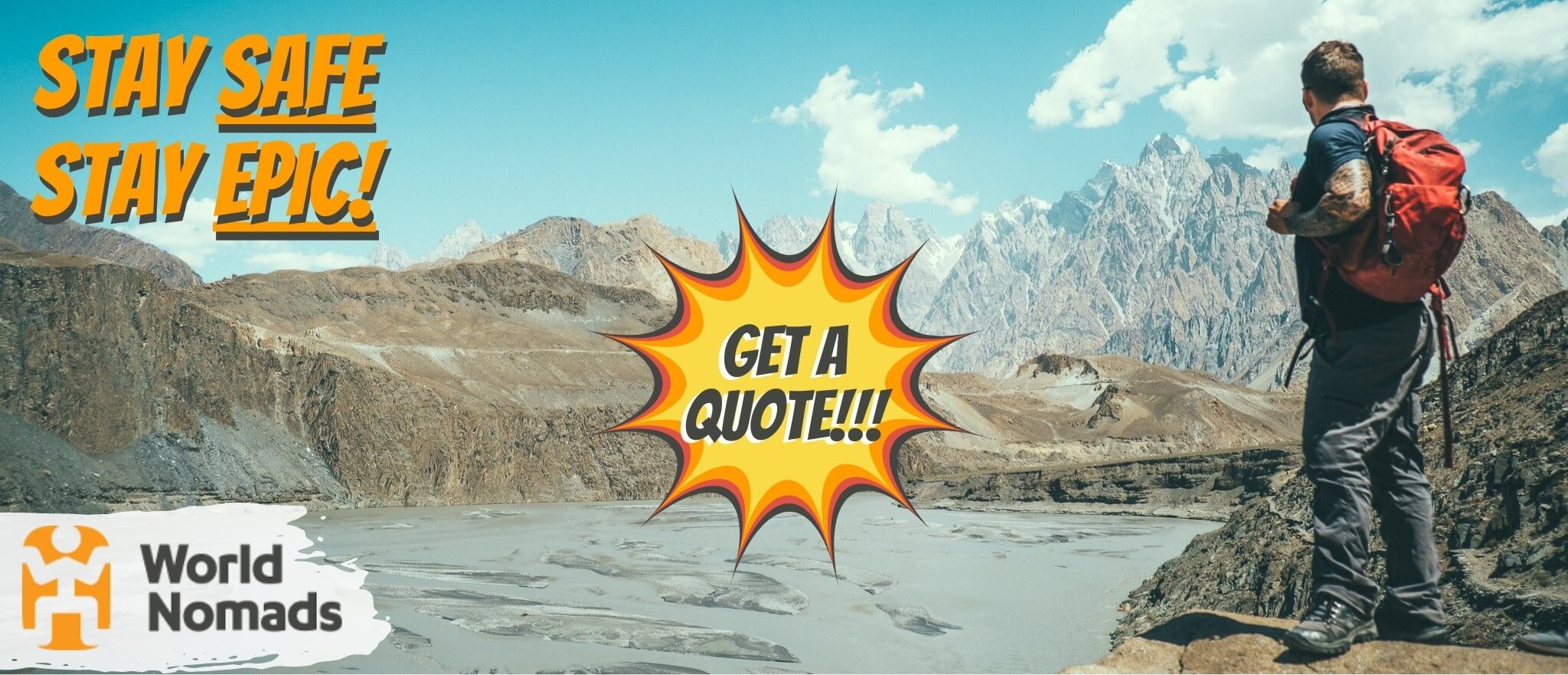 World Nomads' mission is to support and encourage travellers to explore their boundaries. They offer simple & flexible travel insurance, and safety advice to help you travel confidently.
They've been doing it since 2002 – protecting, connecting, and inspiring independent travellers just like you.
Get a quote below or read our in-depth review!
World Nomads provides travel insurance for travelers in over 100 countries. As an affiliate, we receive a fee when you get a quote from World Nomads using this link. We do not represent World Nomads. This is information only and not a recommendation to buy travel insurance.
What To Pack for a Road Trip in Southwest
If you're not careful, Southwest's wilderness will smack ya to next Monday. There are six road trip essentials I never go traveling without: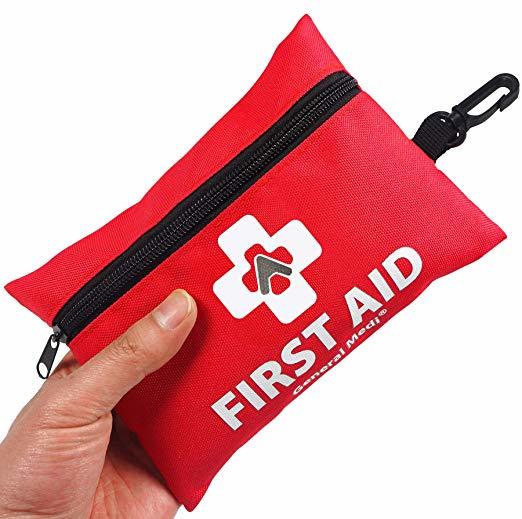 1. First Aid Kit: Even if you don't plan on doing anything extreme on your trip, like hiking, climbing, or other extreme sports, you never know what could happen. You could cut yourself while cooking, smash a finger in a car door, or burn yourself on a hot radiator. A first aid kit will be able to handle most of these minor situations.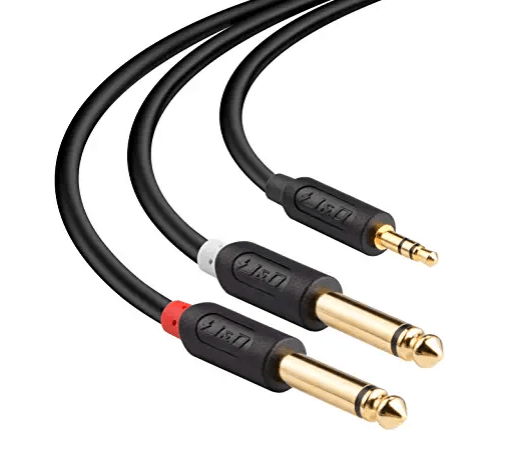 2. Aux Cord: One of the only things to do on a long car ride by yourself is to listen to music or a podcast. Since most people use their phones as an MP3 player these days, an auxillary cord is crucial to preserving your sanity. If there is no auxiliary port in your car, buy a radio transceiver or use a portable speaker.
3. Phone mount: It's very dangerous to be looking down at your phone while driving. If you need to have access to your phone, for maps and what-not, buy a mount for it. This way, you can keep your eyes on the road and your phone won't be far from your field of view.

4. Headtorch: Every backpacker should have a head torch! A decent head torch could save your life. If you want to explore caves, unlit temples, or simply find your way to the bathroom during a blackout, a headtorch is a must. Currently, I'm using the Petzl Actik Core rechargeable headlamp – an awesome piece of kit! Because it's USB chargeable I never have to buy earth polluting batteries.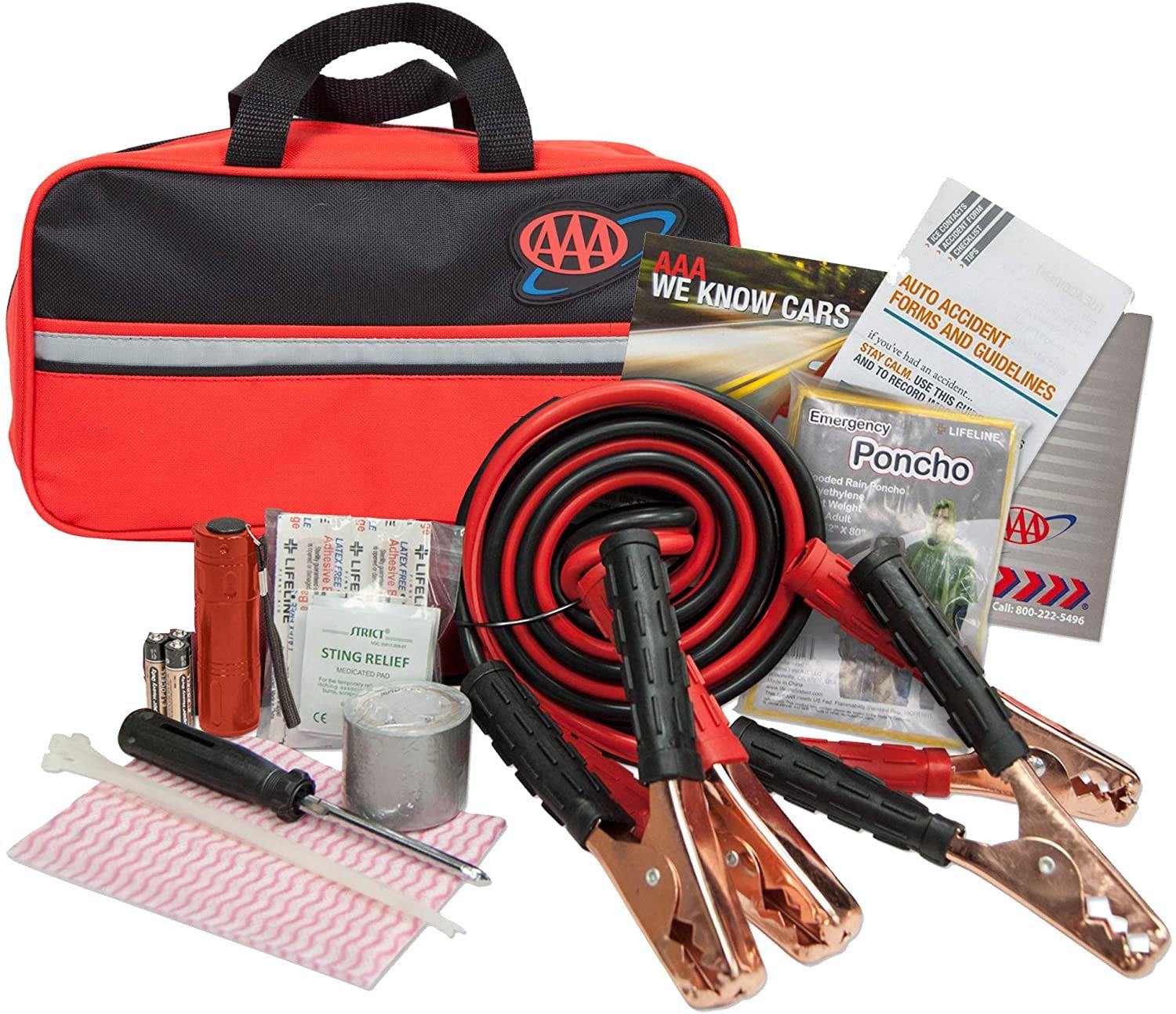 5. Roadside Emergency Kit: Just like you never know what could happen to yourself, one never knows what can happen to their car. A vehicle can mysteriously fail, break, run into a ditch; all that and then some. Most emergency kit include a pair of jumper cables, a tow rope, a set of essential tools, and ties.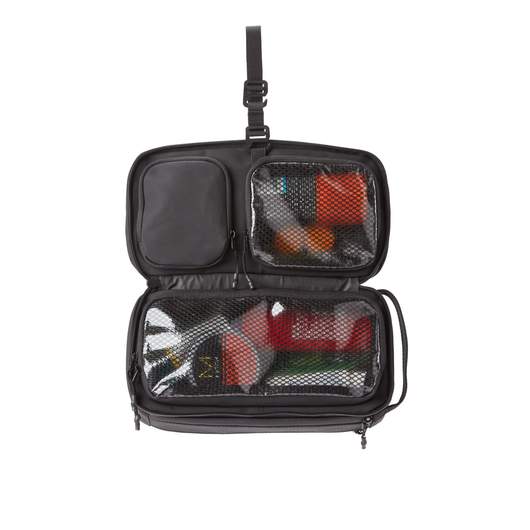 6. Toiletry Bag: I always travel with a hanging toiletry bag as it's a super-efficient way to organise your bathroom stuff. Well worth having, whether you are hanging it from a tree whilst camping, or a hook in a wall, it helps to have quick access to all your stuff.
For plenty more inspiration on what to pack, check out my full road trip packing list.
Final Thoughts on the Best Road Trips in the Southwest
Well, that brings us to the end of our top four Southwest road trip ideas! We hope you've found your perfect itinerary. Now all you need to worry about is creating an epic soundtrack for your own road trip in the Southwest!
---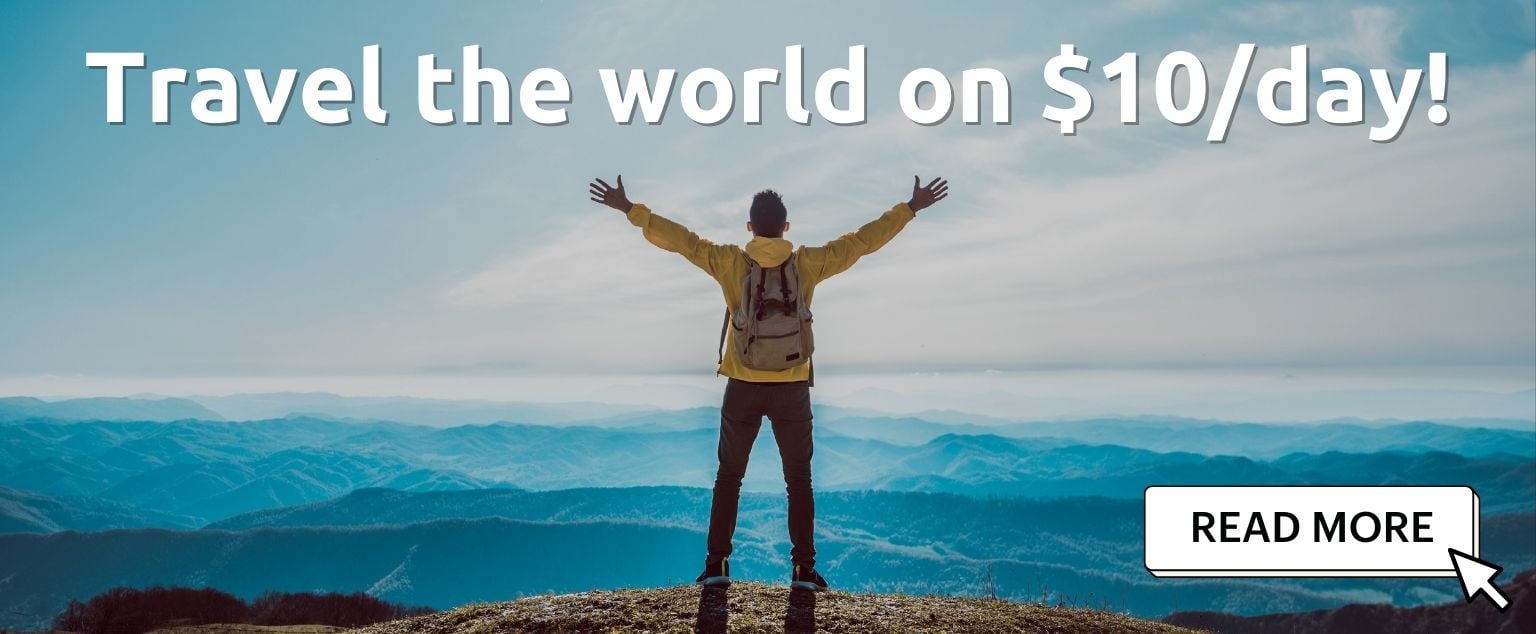 And for transparency's sake, please know that some of the links in our content are affiliate links. That means that if you book your accommodation, buy your gear, or sort your insurance through our link, we earn a small commission (at no extra cost to you). That said, we only link to the gear we trust and never recommend services we don't believe are up to scratch. Again, thank you!