Ever wanted to rent out a historic residence or stay in a hundred-year-old haunted Southern home? As Georgia's oldest city, Savannah greets its visitors with southern comfort. There is a rich history filled with intriguing ghost stories, and beautiful natural scenery.
Known as the 'Hostess City of the South", it's no surprise that this city houses some super exciting rental options. You know what they say about old homes ' – if these walls could talk!'
The city itself is interspersed with green spaces and parks. Step inside one of its historical homes and you'll feel as if you've left the 21st century.
Read on to find our favorite vacation rentals in Savannah that show off the classic Southern charm.
Quick Answer: Top 5 Vacation Rentals in Scottsdale
Overall Best Value Vacation Rentals in Scottsdale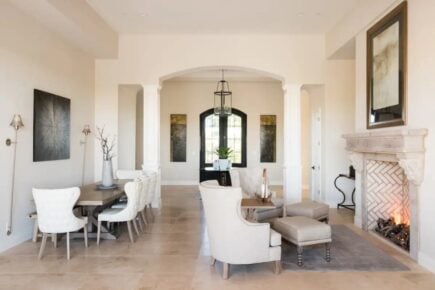 Overall Best Value Vacation Rentals in Scottsdale
Contemporary 4 Bed Hacienda with Games
> $$$
> 10 Guests
> Beautiful 1-acre property with a pool, Jacuzzi, golf greens, and recreational room
> Located in a safe gated community in North Scottsdale
Best Budget Vacation Rentals in Scottsdale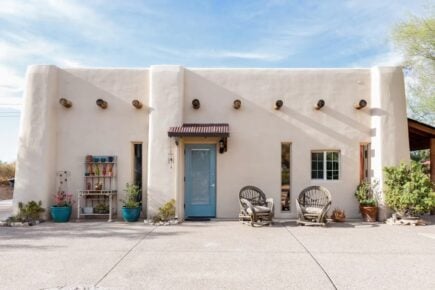 Best Budget Vacation Rentals in Scottsdale
2 Bed Western-Style House
> $
> 5 Guests
> Eclectic Western inspired home with cowboy style interiors
> Located in North Scottsdale in a residential neighborhood
Best Vacation Rentals for Couples in Scottsdale
Best Vacation Rentals for Couples in Scottsdale
Cozy Studio with Pool Access
> $
> 3 Guests
> Comfortable studio with a fully-equipped kitchen
> In a walkable area of Scottsdale, near the river and top-rated eateries
Best Vacation Rentals for Families in Scottsdale
Best Vacation Rentals for Families in Scottsdale
Upscale 2 Bed Home with Garden
> $$
> 5 Guests
> Recently remodeled home with laundry facilities and a large patio and garden, suitable for pets
> Located in a residential Scottsdale neighborhood
Over-the-Top Luxury Vacation Rentals in Scottsdale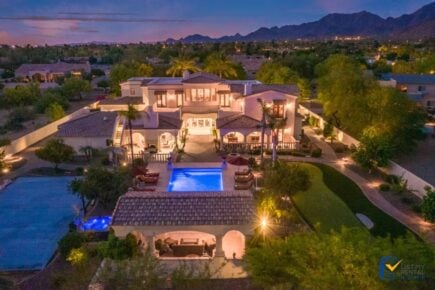 Over-the-Top Luxury Vacation Rentals in Scottsdale
Lavish 7 Bed Spanish Hacienda
> $$$
> 16 Guests
> Massive property with golf greens, pool and jacuzzi, and games room
> In central Scottsdale, near to all major attractions

Unlock Our GREATEST Travel Secrets!
Sign up for our newsletter and get the best travel tips delivered right to your inbox.
Types of Accommodation in Scottsdale
South-Western Haciendas
Known elsewhere as luxury estates and villas, haciendas are large luxurious Spanish-style homes found in Southern parts of America. Here in Scottsdale, large families and groups of friends would benefit from renting one of these huge estate homes, which often come with private pools, Jacuzzis, gardens, and even sports courts.
Scottsdale's haciendas are designed with influence from Spanish Colonial and Pueblo architecture and even follow Tuscan and Mediterranean influence. It can get confusing to identify the style of homes in this area!
These unobtrusive properties typically blend into the desert landscape and are painted in neutral tones with clay or terracotta roofs. Because of their sheer size, views, and luxurious amenities, these homes are great for big groups of travelers with a high budget.
Ranch Homes
Ranch homes are a bit easier to identify. They are typically single-story homes designed simply to maximize comfort. Expect long open-plan interiors with beautiful high-beam ceilings and lots of natural light. Leather furniture and carpeting are common in traditional homes, however, these days, many ranch houses have been renovated and refurbished with contemporary interiors.
These self-catering vacation rentals in Scottsdale are ideal for a wide range of guests, ranging in size from two to six bedrooms. Couples and small families will enjoy the privacy of these spacious homes while large families and groups of friends will benefit from the space, common living areas, and outdoor space.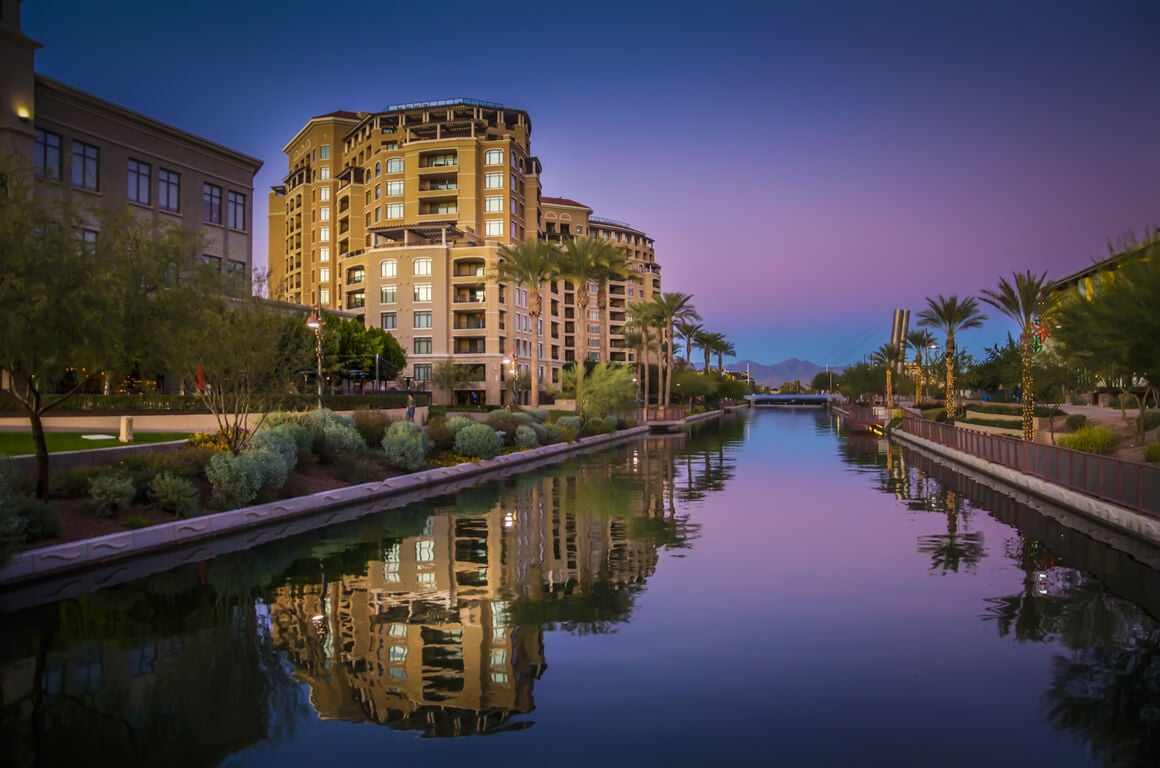 Golf and Spa Resorts
Best known for being a luxurious spa getaway spot and ranking high for its lush golf course greens, Scottsdale has many resorts and hotels. Many of these luxurious spots have private detached apartments and suites. With fully-equipped kitchens, living areas, and access to a range of resort amenities, these accommodations offer the best of both hotels and vacation rentals.
While they are typically smaller spaces rented out for a premium price, you'll be paying for top-quality amenities and luxurious living. Access to swimming pools, manicured gardens and golf courses, in-house dining, and concierge services can be expected.
As prices are high, golf and spa resorts are a great option for couples and small families, golf enthusiasts (of course), or anyone looking for a luxurious short-term stay.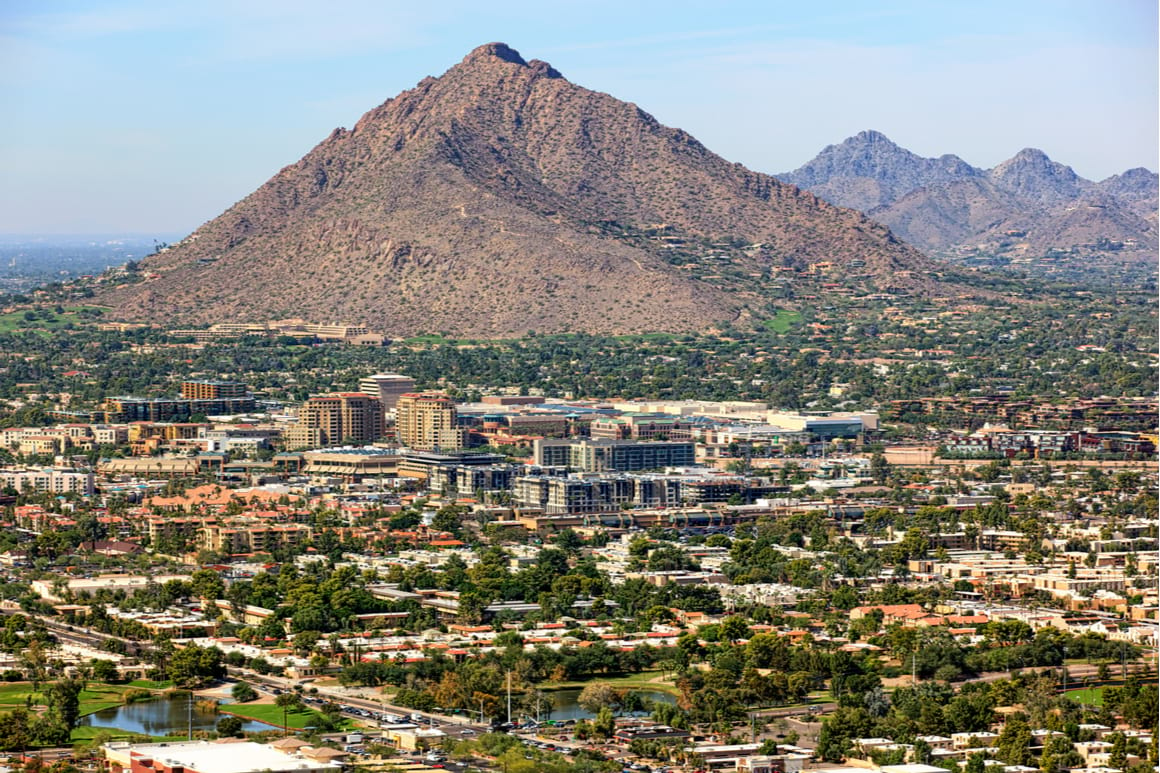 Top 20 Vacation Rentals in Scottsdale
We all know Scottsdale is known for its wide collection of hotels and luxury resorts. However, there are many fantastic Airbnbs in Scottsdale, including top-class vacation rentals.
Read on if you're interested in a more authentic and private Scottsdale accommodation experience.
$$$
 1-acre property with many amenities
10 Guests
In a gated community in N. Scottsdale
This beautiful family home is packed with all the necessities for a family vacation. The Spanish hacienda-style home is fitted with contemporary furnishings inspired by neutral desert tones and natural textures.
What makes this the overall best vacation rental in Scottsdale, you ask? Well, not only is it beautiful to look at, but the home also includes a gorgeous outdoor living space with BBQ, fire pit, a pool, and Jacuzzi with desert views. There is even a golf green, so golfers can get a morning practice in, in the comfort of their private residence.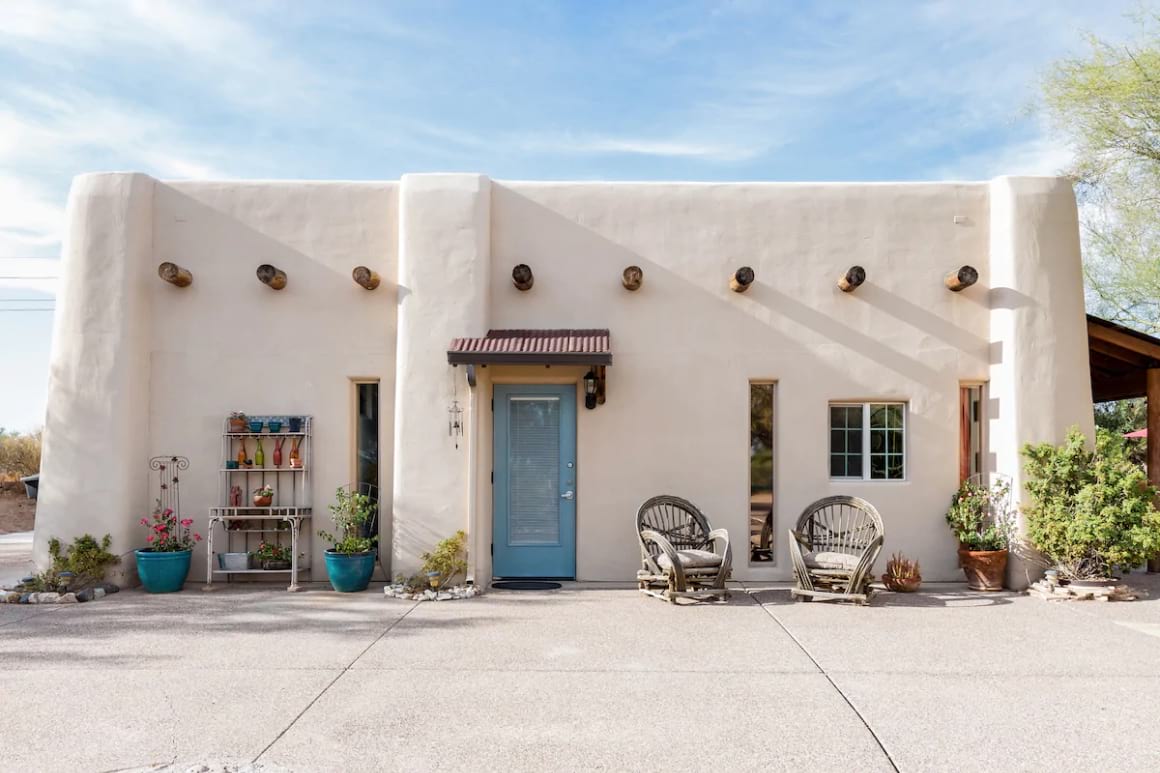 $
Western, cowboy-style interiors
5 Guests
Residential neighbourhood in N. Scottsdale
If you're searching for an exciting budget family home with tons of character, this two-bedroom western home has you covered. The natural toned clay home blends right into the desert environment, which surrounds the affordable property.
The home is filled with authentic South-Western interiors, arts, linens, and textures, and will make you feel like you've walked straight into a cowboy film. However, you'll want to spend most of your time outdoors, where you'll find a traditional Western fire pit, a hanging desert swing, and even an authentic cowboy shed in the backyard.
$$$$
Covered outdoor patio with a BBQ
12 Guests
Central location
Stunning contemporary interiors, a huge swimming pool, and modern covered outdoor living space and basketball court provide the most luxurious stay in Scottsdale. What more could you wish for from a holiday home? This extravagant five-bedroom estate is made for luxurious living.
It's the beautifully designed outdoor living area that pulls out all the stops. Expect a massive modern floating roof covering an outdoor lounge with a gas fire pit and television, an entire BBQ kitchen, and a dining table beside a huge pool and Jacuzzi.
I can just imagine watching the Super Bowl and enjoying a family BBQ at this luxury vacation rental in Scottsdale.
Is This the Best Travel Pack EVER???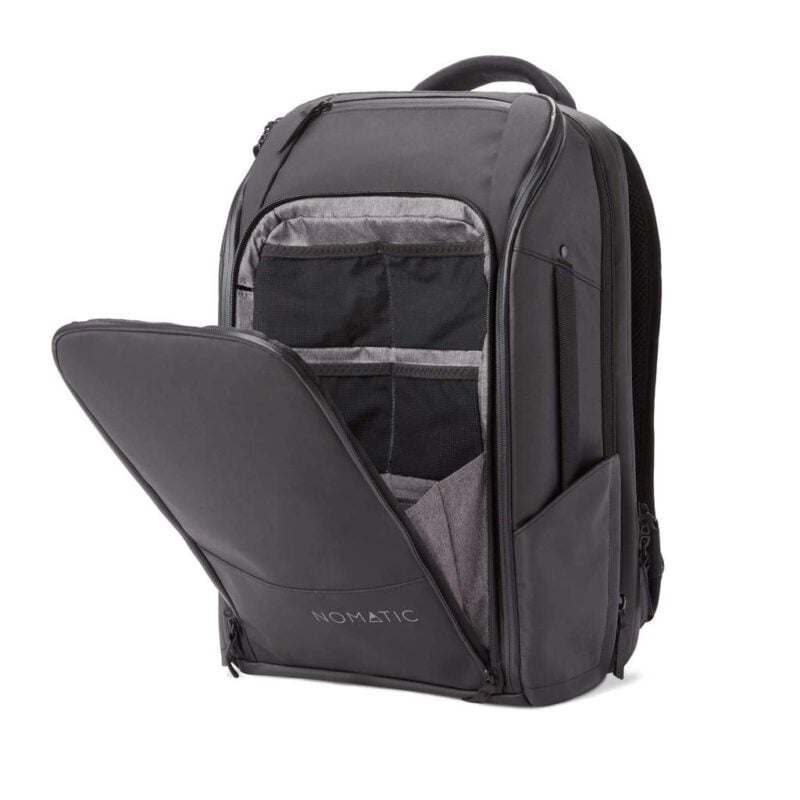 Most Luxurious Vacation Rental in Scottsdale | 7-Bed Spanish Hacienda
$$$
Golf greens, pool, jacuzzi, and games room
16 Guests
Central location near to all major attractions
This castle-like hacienda is truly one of the most over-the-top rentals in the city. The symmetrical Spanish-inspired home arcs around a dramatic pool area, which boasts a pool house with an outdoor kitchen, custom wet bar, and living area.
With a games room, outdoor golf putting green, and a sports court, you'll be spoiled with endless entertainment options. Best of all, located in a quaint desert neighborhood, you can experience all of this luxury while enjoying beautiful Arizona sunrises and sunsets from the backyard.
Best Vacation Rental in Scottsdale for Families | 2-Bed Home with Garden
$$
Large patio and garden, suitable for pets
5 Guests
Located in a residential neighborhood
Make yourself at home in this gorgeous remodeled vacation rental in the heart of Scottsdale. The stylish home features exquisite contemporary interiors, including a fully equipped kitchen, marble waterfall countertops, a center island gas stove, and top-of-the-range appliances. Anyone will want to spend a day in this magazine-quality kitchen.
The reasonably priced gem also has a huge yard with a covered outdoor BBQ and eating area. All of this, combined with the on-site laundry facilities make for a perfect family home-away-from-home.
Best Vacation Rental in Scottsdale for a Weekend | 3-Bed Home with Pool
$$$
Patio, garden, and pool
6 Guests
Central location, near top eateries and cafes
Designed in one of the area's most common architectural styles, this Mediterranean family home is overflowing with charm. This spot is ideal for a quick weekend visit, due to its convenient location and amenities.
Firstly, the home is situated in the heart of Scottsdale. You won't have to walk more than a few minutes before you come across shops, restaurants, and Scottsdale's public art installations.
Secondly, the house is fully equipped with everything you could wish for from a self-catering vacation rental in Scottsdale. This includes a full-kitchen outdoor BBQ gazebo and a stunning swimming pool.
Best Vacation Rental in Scottsdale with a Pool | 5-Bed Ranch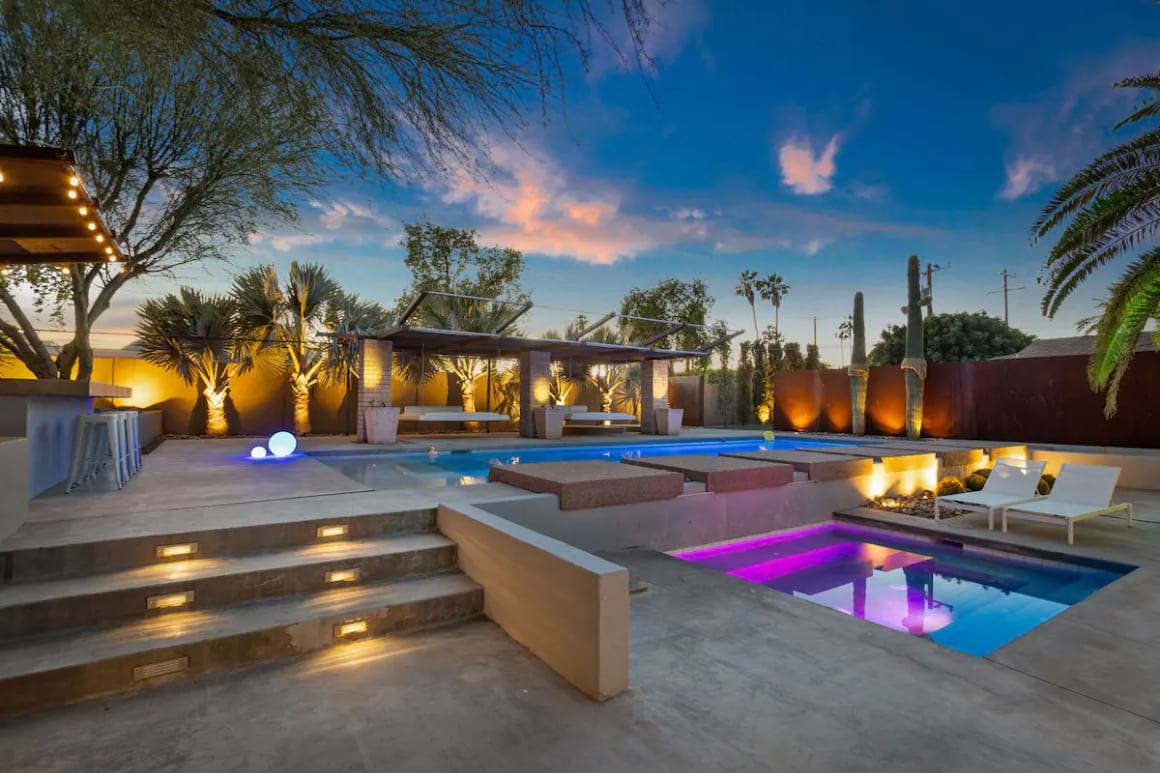 $$$
Bespoke pool and jacuzzi
10 Guests
Walking distance to Old Town
Another top luxury rental in the area, this beautiful modern home has an outdoor living area you won't want to leave. Imagine this: a covered kitchen and pool bar, an ultra-modern swimming pool and Jacuzzi with a concrete bridge, and super comfy hanging daybeds. Your only problem will be which beautiful seat you choose to settle in.
When you enter the long single-story ranch home, you'll be greeted with ultra-modern interiors and exciting lighting fixtures.
An ideal spot to watch a big sports game on TV, there are three lounges, each with a flat-screen TV. There is even a projector screen in the games den and a TV in the kitchen. You won't miss a beat of your game from this home!
$$
Access to a shared pool and lift
5 Guests
Located in Old Town Scottsdale
Suitable for wheelchair users and others with disabilities, this two-bedroom condo is in the center of Old Town and includes excellent city views. This home has been kitted out with contemporary finishes and stylish fittings and is filled with beautiful furniture in white tones.
There is even a spacious covered balcony, where you can watch the sunset into the buildings of Scottsdale. Located in a resort-style complex, guests can enjoy access to the shared swimming pool and clubhouse, filled with games and books to keep you entertained. It's easily one of the best vacation rentals in Scottsdale for wheelchair users.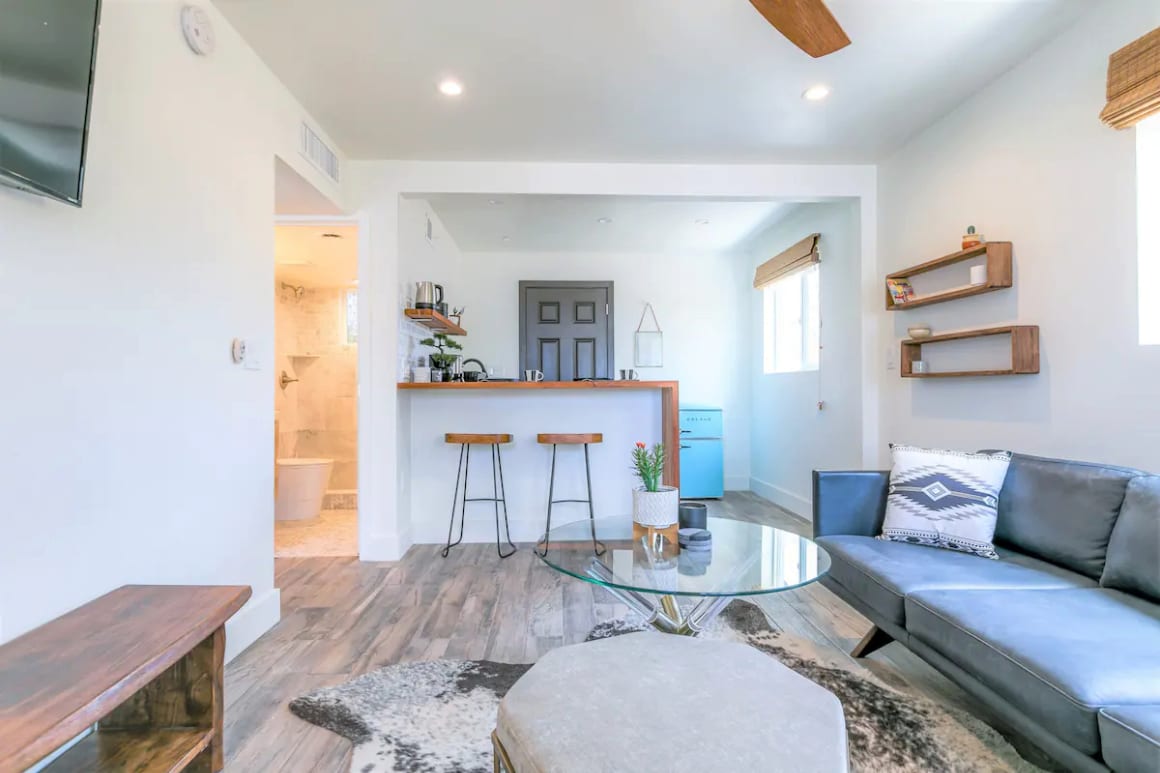 $
Quality interiors and appliances
3 Guests
Centrally located in Old Town Scottsdale
Location is key in this small-town city, which is made up of nine unique walkable neighborhoods. This home is located in the South-West Village of Old Town, only a few minutes' walk from all major attractions, museums, restaurants, and shopping districts.
This simple condo is perfect for two guests, yet can easily accommodate a third on a sleeper couch. The classy spot has been kitted out with warm wood tones and contemporary furniture. You can expect high thread-count linens and top of the range bathrooms and kitchen.
$$$$
Indoor basketball court, pool, and jacuzzi
16 Guests
Located in North Scottsdale
Scottsdale is a great location for a family vacation. Not only because the city has tons of outdoor adventures such as kayaking, hiking, and golfing on offer, but because of its spacious and interesting vacation rentals.
This hacienda estate with mountain views is a perfect example.
The Spanish-inspired home is overflowing with natural light, and comfortable seating spaces for your family to enjoy quality time together. The estate has a massive lawn, pool, and jacuzzi, as well as an indoor games room and basketball court. You might struggle to experience all that this self-catering vacation rental in Scottsdale has to offer!
Best Vacation Rental in Scottsdale for Friends | Hacienda with BBQ Gazebo
$$$$
Hueg garden, gazebo, and pool
14 Guests
Located in Ironwood Retreat
Blending into the desert in North Scottsdale, you'll find most of the city's most expensive hacienda estates. This home is no exception. Designed in a traditional Western-style, with Spanish-inspired interiors, this home has luxurious details throughout the home.
You'll notice tons of natural light flowing through central skylights in the middle of the home, as well as many arched doorways. Step outside and you can pick one of the many outdoor living spaces to enjoy some time with your friends. My favorite spots are the sunken fire pit and the BBQ gazebo lounge with a wet bar and BBQ kitchen.
Most Unique Vacation Rental in Scottsdale | Luxurious 5-Bed Home
$$$$
Beautiful modern interiors
10 Guests
Close to shopping and restaurants
I wouldn't be surprised if this home was featured in world-class architectural digests. The home was designed by a famous architect following a mixed style influenced by both nature and mid-century design. High ceilings, stone walls, warm wooden touches, and crisp linens fill the home, which looks rather unassuming from the outside.
This home, which is surrounded by manicured cacti, tropical palms, and covered over with ivy creepers, is without a doubt one of the top luxury vacation rentals in Scottsdale. It's also easily one of the top Instagram-able properties in the area.
Best Vacation Rental for Honeymooners | Western-Style Condo
$
Wooden interiors with modern furniture
3 Guests
Central Old Town Scottsdale location
This basic yet classy spot is the perfect affordable retreat for honeymooners on a budget. It's a single-story home, of which the interior has been fitted with clean tiling, sleek black cabinetry, and homey wooden countertops.
As your private desert retreat, you'll also have access to a shared courtyard with outdoor seating and a covered BBQ area. Best of all, the home is located in the center of Old Town, making it super convenient to walk to all the bars, restaurants, and shops.
Best Vacation Rental in Scottsdale for Nightlife | Classy 3-Bed Home
$$
Exquisitely designed interiors
5 Guests
Near top nightclubs and bars
Upscale interiors, a comfortable living area, and a convenient location are essential when searching for a holiday home suitable for nightlife. This gorgeous three-bedroom home is equipped with a kitchen to outdo all kitchens.
Inspired by French Provence style, this open-plan living space is so well designed, your only problem will be forcing yourself to leave it for an evening on the town. However, when you decide to leave this central city oasis, you'll only be a few steps away from Scottsdale's hottest nightclubs and bars.
Best Vacation Rental in Scottsdale with a View | 4-Bed Home with Rooftop
$$$
Hacienda style home with roof deck
Views are abundant in the city of Scottsdale, which is surrounded by lush desert spaces and rocky hills. This home, however, has a super special view. From the rooftop deck, which overlooks the pool to one side and the green desert to the other, you'll be able to enjoy a sunset over the vast landscape.
Inside this holiday rental in Scottsdale is equally as impressive, boasting homey interiors, including marble tiling and wooden cabinetry. Without conforming to a particular style, the house is filled with eclectic furniture that draws from Tuscan, Mediterranean, Spanish, and Western influences.
Romantic Vacation Rental in Scottsdale for Couples | Cozy Studio with Pool
$
A fully-equipped kitchen
3 Guests
In a walkable area near the river
This comfortable condo has more than enough space for two, as well as an additional guest on a sleeper couch if need be. This romantic, affordable, and practical oasis is located in a stylish building with a modern vibe.
Inside the shared living room, you'll find a fully-equipped kitchen with everything you might need to cook a home-cooked meal, a dining space with views, and a comfortable living room. You can even make use of the shared swimming pool, gym, and other shared amenities.
Best Hacienda Vacation Rental in Scottsdale | 5-Bed Home with Golf
$$$$
Golf, pool, basketball/tennis court
10 Guests
Near world-class hiking trails
Inspired by Spanish architecture, this extravagant castle-like home consists of turrets, towers, and cylindrical structures with opulent archways and Roman pillars.
The amenities at this hacienda will keep you and your travel party busy for days. Choose from sliding down the slide into the swimming pool, hitting a ball on the putting green, or playing foosball, table tennis, or pool. There is even a multi-purpose sports court where you can enjoy a game of tennis or basketball – the ultimate luxury hacienda.
The best part of this property is it's close to some of the best hiking trails in Arizona.
Most Remote Vacation Rental in Scottsdale | 4-Bed Home with Pool
$$$
Outdoor deck and enclosed pool
8 Guests
Near the McDowell Mountain Regional Park
This classic Mexican-inspired home is located in a quiet neighborhood surrounded by desert plants. While it feels secluded and remote, it's only a few miles drive from the city of Scottsdale.
As one of the best vacation rentals in Scottsdale for its remote location, this home naturally has exquisite desert views. There is even a rooftop deck kitted with lounge furniture where you can enjoy a margarita while watching both the sunrise and sunset with your family.
Best Golf Course Vacation Rental in Scottsdale | 6-Bed Hacienda
$$
Rooftop deck overlooking desert landscapes
12 Guests
Private golf course
Golf courses are popular here in Scottsdale. In fact, they're so popular, that it's actually commonplace for large properties such as haciendas and villas to have a private putting green. This extravagant desert oasis is located on the Estancia Golf Course, a private course just at the base of the well-known Pinnacle Peak hiking area.
When you aren't down on the golf course, you'll be able to enjoy the private pool and Jacuzzi and the huge yard packed with games and toys. Whether it's your morning coffee at sunrise or a glass of wine at sunset, we can assure you that you'll make great use of the private bar on the rooftop deck.
Best Pet-Friendly Vacation Rental in Scottsdale | 3-Bed Home with Pool
$$
Large yard and gated swimming pool
8 Guests
Located in central Scottsdale
If you're bringing your furry friends along with you on vacation to Scottsdale, and you don't want to spend an arm and a leg hiring out an entire hacienda estate, this could be the spot for you.
It's a spacious and bright home with a large yard and pool. The pool is gated so you won't have to worry about wet dogs! The interior of the house has been decorated with clean white tiling and contemporary western furniture. Located in the center of the city, you'll be able to walk your dogs with you as you adventure around this South-Western city.
Don't Forget Your Scottsdale Travel Insurance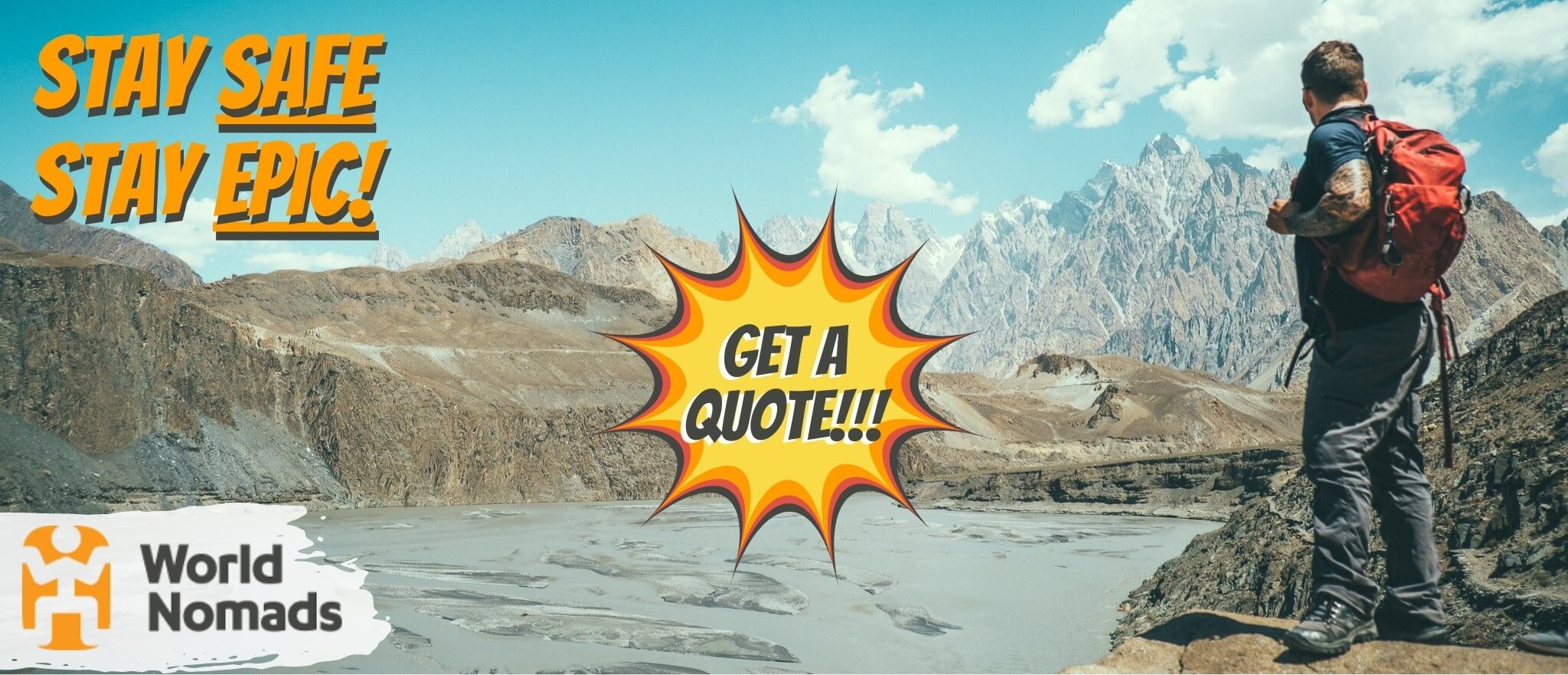 World Nomads' mission is to support and encourage travellers to explore their boundaries. They offer simple & flexible travel insurance, and safety advice to help you travel confidently.
They've been doing it since 2002 – protecting, connecting, and inspiring independent travellers just like you.
Get a quote below or read our in-depth review!
World Nomads provides travel insurance for travelers in over 100 countries. As an affiliate, we receive a fee when you get a quote from World Nomads using this link. We do not represent World Nomads. This is information only and not a recommendation to buy travel insurance.
Final Thoughts
Located somewhere between the Grand Canyon, Las Vegas, and Los Angeles, it's no wonder Scottsdale is a top location for those road-tripping across the South West. With each neighborhood offering a unique attraction and atmosphere, the city has more than enough going on to entertain art fanatics, outdoor lovers, and party-goers.
Whether you're looking to book a family gathering, a couples getaway with your loved one, a luxurious spa retreat, or a golf expedition, there is a spot to stay for every type of traveler in Scottsdale.
---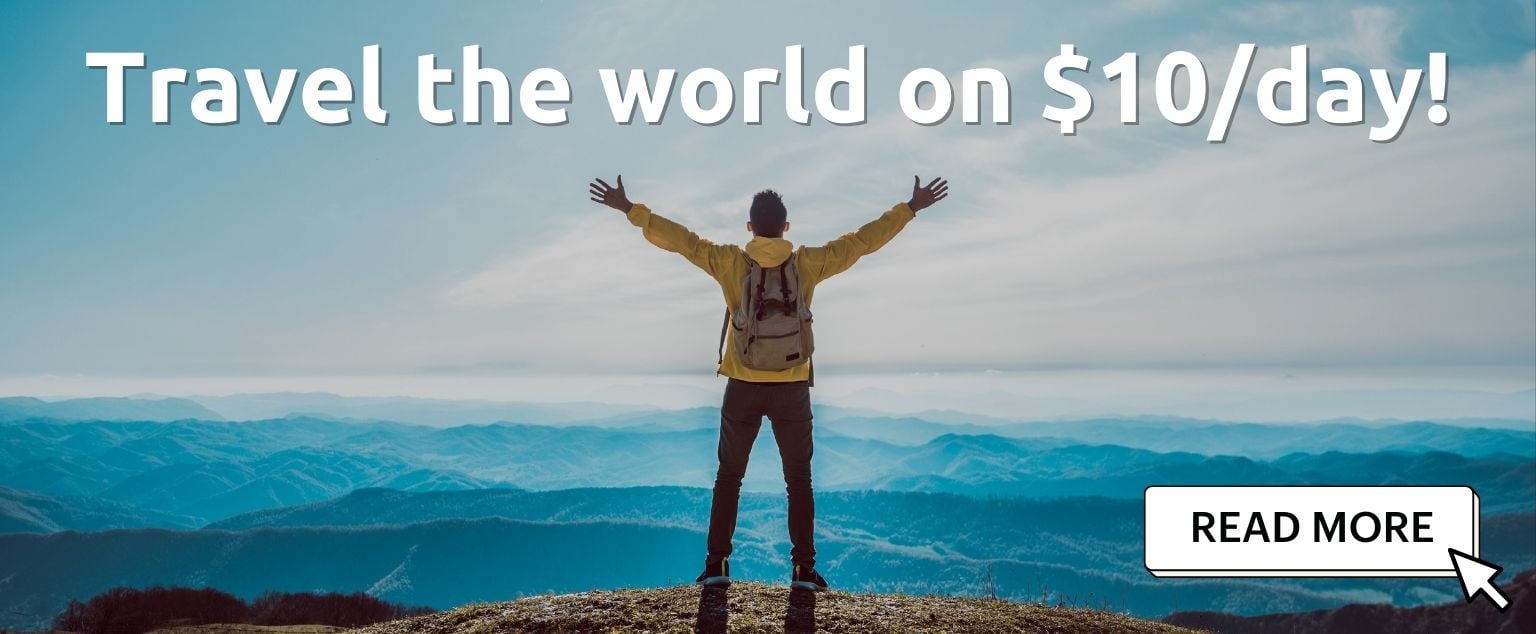 And for transparency's sake, please know that some of the links in our content are affiliate links. That means that if you book your accommodation, buy your gear, or sort your insurance through our link, we earn a small commission (at no extra cost to you). That said, we only link to the gear we trust and never recommend services we don't believe are up to scratch. Again, thank you!