Are you planning on traveling to the USA? Then, let me assure you that an absolutely epic time awaits!
I'm sure I don't have to tell you that the U.S. is a land filled with incredible wonders. Each state has its own share of offerings, from scenic landscapes to bustling city centers filled with skyscrapers and everything in between.
Of course, you're probably drawing up lists of everything you need to pack: passport, sunscreen, phone chargers, cameras, and the like… The one thing travelers tend to overlook is sorting out a local sim card. After all, nothing ruins a trip faster than being laden with shockingly high roaming charges.
With a prepaid sim card USA, you can easily order an Uber, look up your destination on Google Maps, or even squeeze in a bit of work during your stay. A reliable and cost-effective communication solution will go a long way to ensuring your safety if you're planning on visiting remote areas. Because the last thing you want is to be stranded in the middle of nowhere, right?
The good news is that prepaid sim cards are hassle-free since you can pay as you go rather than being locked in a contract. Now there are a lot of providers to choose from, but don't worry: to help you make the best choice, I'll take you through everything you need to know about choosing and buying a prepaid sim card in the U.S.
So, let's get started!
Why Choose a Prepaid SIM Card for USA Travel?
First things first before we properly get into it though: yes, free public Wi-Fi is available in the USA. However, public wifi does pose an online security risk and besides, it's impossible to deny that a well-connected phone can make a huge difference in your daily routine- especially when visiting a foreign country. When you're backpacking across the USA, you're going to want to be connected on the reg!
Indeed, your devices can come in handy in more ways than one: from documenting your travels to finding your way around a new city or even using currency convertors, a prepaid sim can help you avoid any unnecessary hassle. Budget-wise, a local sim is definitely far more affordable than hefty international roaming charges.
Owing to the sheer number of network providers available in the U.S., you'll also have plenty of flexibility when it comes to selecting a plan that fits your individual needs and budget. Most sim cards are super easy to set up and activate – ideal for travelers of all ages!
Just a quick heads-up though: as handy as they are, prepaid sim cards do come with a few small drawbacks. To begin with, you'll most likely need an unlocked phone to use the prepaid sim. The connection can also be choppy in more remote areas and inside the National Parks of the US.
The Future of the SIM Card is HERE!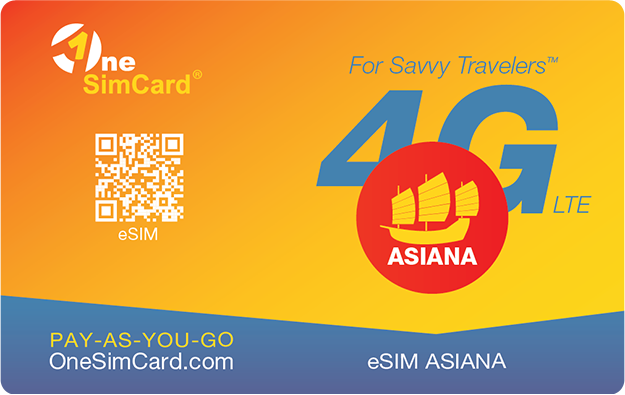 A new country, a new contract, a new piece of plastic – booooring. Instead, buy an eSIM!
An eSIM works just like an app: you buy it, you download it, and BOOM! You're connected. It's just that easy.
Is your phone eSIM ready? Read about how e-Sims work or click below to see one of the top eSIM providers on the market and ditch the plastic.
Buy an eSIM!
Factors to Consider When Choosing a Prepaid SIM Card
Whether you're browsing for the best eSim for the USA or simply want to get a regular (environmentally unsound) plastic sim card, rest assured that you'll be spoilt for choice! As handy as prepaid sim cards are though, there are a few things you should consider before making your choice. After all, what works for one traveler may not necessarily work for another.
In addition to your budget, you should also consider how much call time and data you'll probably need. At the end of the day, the best travel sim card for your trip is the one that suits your needs and budget the best.
So, here are a few factors you may want to keep in mind before buying your sim card:
Network Coverage
The first thing to consider when getting your prepaid SIM card is network coverage – something that you really don't want to take for granted! The USA is super tech-friendly, but you'll still find a few regions that are prone to poor network coverage.
As such, it does pay off to properly research the places you'd like to visit. For example, you'll find that Montara, CA has virtually no connectivity which is quite ironic since it's just a short distance from Facebook and Apple headquarters! Areas such as Montana, Utah, and Northern Minnesota are also prone to dead zones.
On the other hand, it's pretty much a given that you'll enjoy great coverage in places like NYC, Jersey City, Washington, Tampa, Boston, Philly, and Chicago.
For the best connectivity, I would recommend that you stick to major carriers, even if they're a bit more expensive than smaller companies. Some of the best providers in the country include T-Mobile (especially for 5G), and AT&T. In my experience, Holafly, Nomad, and OneSim also provide great coverage.
It's also a good idea to check the network coverage map on the carrier's website to ensure that the areas you're visiting are covered.
If you need something for the true backcountry, then have a look at the best satellite phones for travel instead.

Our GREATEST Travel Secrets…
Pop your email here & get the original Broke Backpacker Bible for FREE.
Data, Voice, and Text Plans
Be sure to pay close attention to the amount of data, call minutes, and number of texts you're actually getting.
Some providers deliberately offer lower prices to tempt you into getting their sim cards. Getting the cheapest SIM card isn't necessarily a good idea since you may end up burning through the allocated data in just a few days. Remember that if something seems too good to be true, it most likely is!
I would recommend that you take a moment to examine your needs before selecting your plan. For example, if you're planning on regularly using your phone to stream movies, social media, or GPS, you want to go for a solid data plan.
On the flip side, travelers who plan on using their phones mainly for messaging or calls may wish to get a plan with unlimited calls and texts.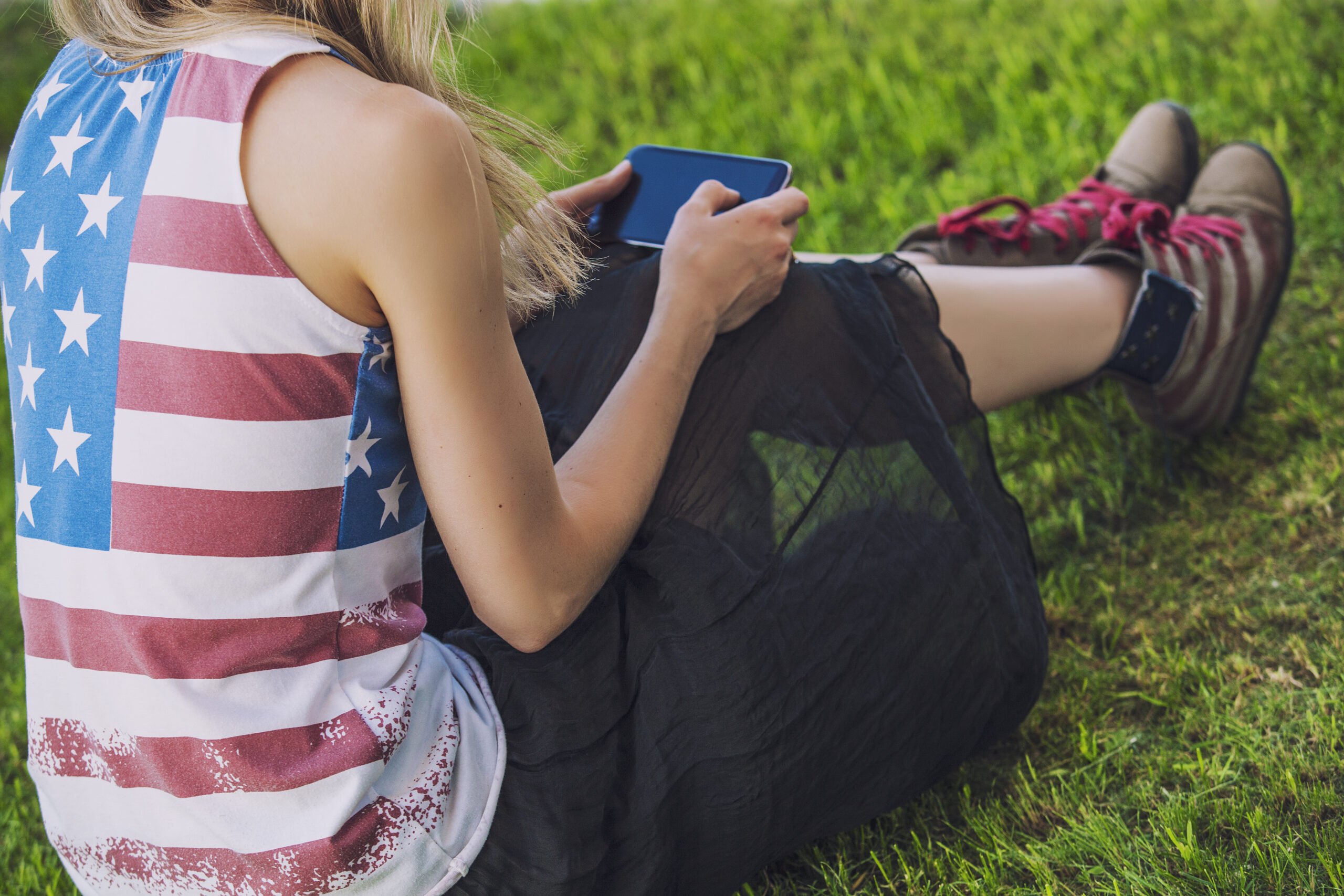 Pricing and Duration
Obviously, this is the most important thing to consider when buying a prepaid sim card from any country! This is especially relevant if you're trying to stick to a budget while ensuring you've got enough spending money on shopping, sightseeing, eating out, and the like.
As I mentioned above though, cheaper isn't necessarily better, so you really want to compare the prices as well as the offers. Most providers feature numerous pricing structures, including tiered, unlimited, or pay-as-you-go.
If you're only going to be in the country for a short time, you can save money by opting for a daily or weekly plan instead of a monthly one.
Travelers who are planning on crossing the border to visit Canada after their U.S. trip may wish to opt for a weekly or monthly North America package. This is definitely more cost-effective since you won't need to buy a whole new sim card in Canada! Grabbing one of the best travel eSims is the perfect way to organise multi-country plans.
Be sure to double-check how much top-ups will cost as well, especially if you're planning on using your phone more frequently than usual.
SIM Card Size and Compatibility
Another thing that you should consider when buying your prepaid sim card for the USA is, of course, the card size.
There are three sizes of sim cards: Nano (12.30 x 8.8mm), Micro (15 x 12 mm), and Standard (25 x 15mm). While Nano sim cards are more commonly used nowadays, some phone models (especially the older ones) still use micro and standard-size ones.
Ultimately, picking the right size sim card depends on your phone and its supported form factor. It's important to know that no two sim cards are identical even if they're of the same size. Sim cards can be CDMA, GSM, 2G, 3G, 4G, or 5G, which basically refer to different technologies and generations.
The good news is that most carriers offer Combi or Trio sim cards which basically feature all three sizes attached together. You simply need to break them apart and select the size that fits into your phone. When in doubt, you can always check the network provider's website and compare your phone model to the sim size.
If you're wondering how eSim's work, then you'll be pleased to know they don't actually use a physical sim card which is better for the environment, less fiddly and easier to switch between.
Is This the Best Travel Pack EVER???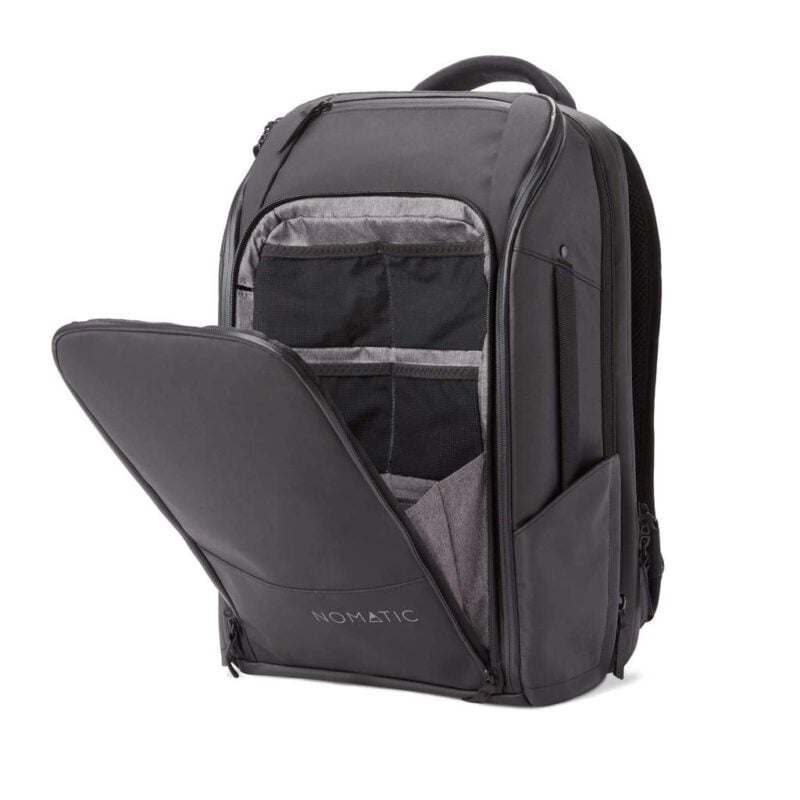 Top Prepaid SIM Card Options for USA Travel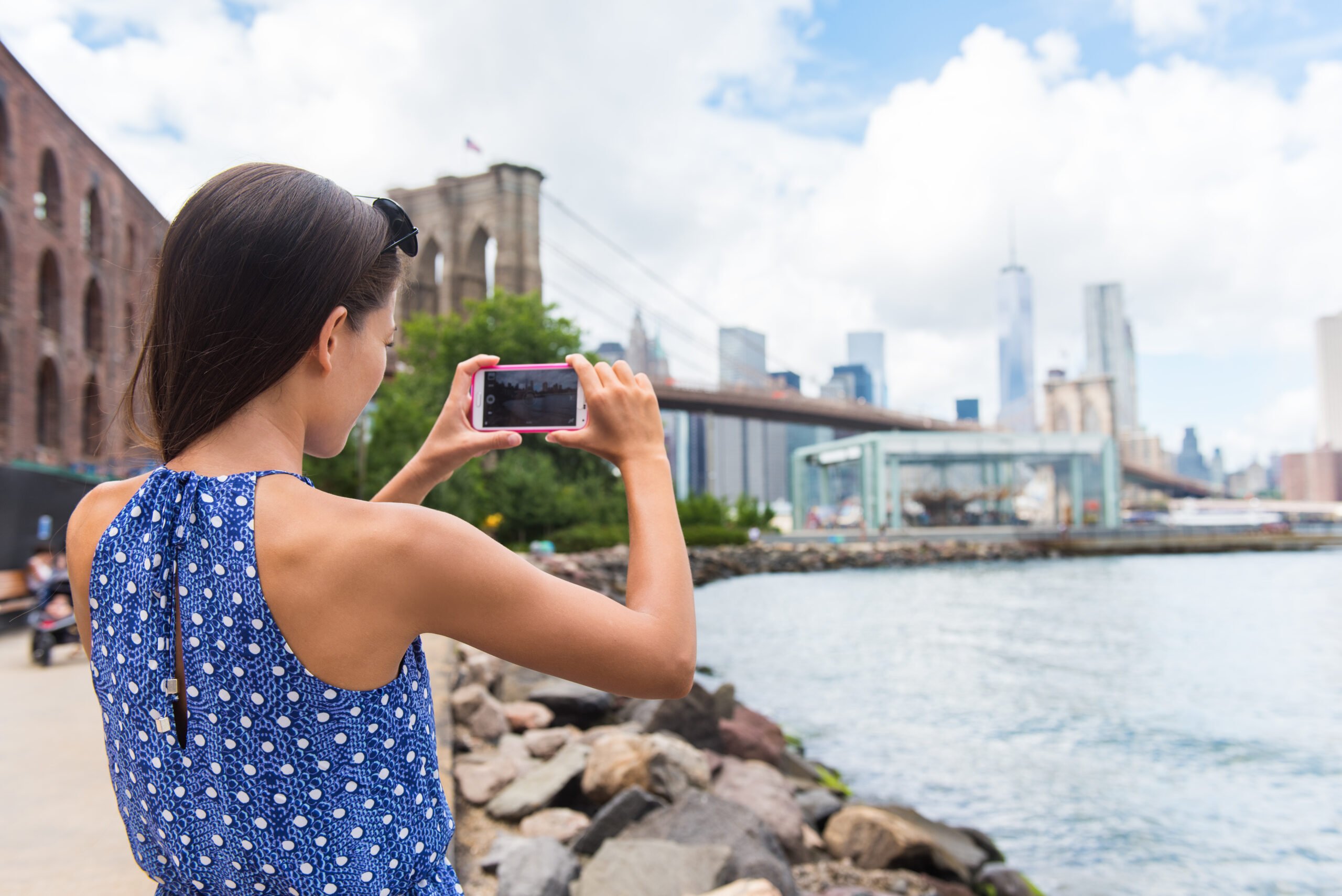 Now that we've established what you should look out for, why don't we check out the 7 top prepaid sim cards in the USA? Whether you're searching for the best international sim cards or local plans, this list has you covered!

Do You Want to Travel FOREVER??
Pop your email in below to get a FREE copy of 'How to Travel the World on $10 a Day!'.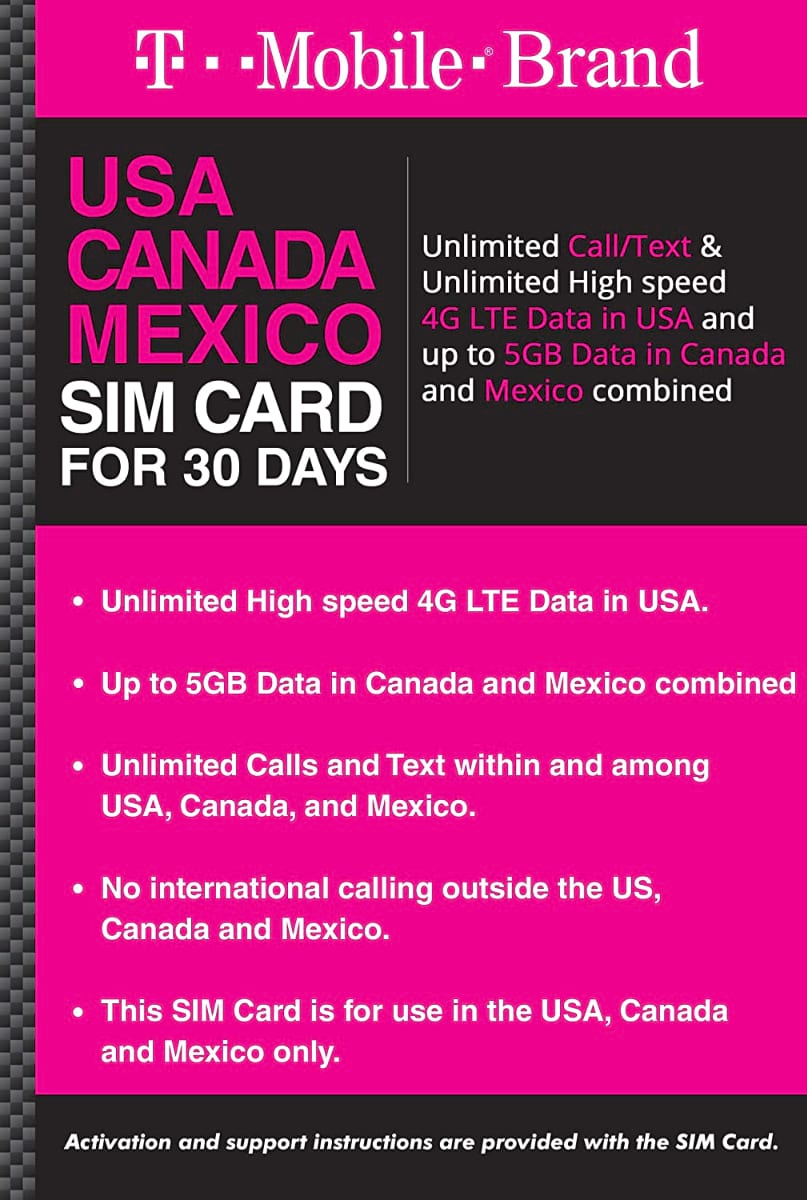 T-Mobile totally comes out on top as far as mobile internet in the USA is concerned!
The great thing about T-Mobile is that it has a wide range that covers virtually all of the tourist sites in the U.S. Best of all, this provider is known for having some of the fastest and most expansive 5G coverage in the country.
For $40 per month, you'll get 10 GB of data with unlimited calls and text, and a free mobile hotspot. A super cool feature is that you'll be able to stream unlimited music without eating up your data. If you're planning on traveling to Mexico or Canada, you can add 5GB of data, texts, and calls for an additional $5.
While this is T-Mobile's most popular package, I would recommend that you get its unlimited plan for heavy-duty use. This plan costs $50 per month and includes unlimited data as well as unlimited 3G speeds of domestic mobile hotspots.
Now, as awesome as this provider is, I do need to point out that international calls aren't included in prepaid packages. The speed throttles once you've used up the data. It's also good to know that taxes and fees aren't included… damn USA!
In my opinion, there's no better US SIM card than e-sims for traveling! Not only are they super easy to set up, but you won't actually need to mess about with fiddly bits of plastic. Talk about reducing your carbon footprint, right?
Holafly is well-known for its various prepaid e-sim plans that you can choose from according to your budget and requirements. More importantly, you'll be able to set up your sim card even before landing. Contrary to popular belief, you'll be able to keep your regular sim- as well- which means that you can use your usual WhatsApp number at the same time.
Setting up your prepaid sim is super easy. All you need to do is download the QR code and follow the instructions. Remember to turn on your phone's data roaming to ensure that your eSim receives the best coverage.
Tourists can take their pick from eight prepaid plans with prices ranging from $19 (5 days) to $99 (90 days). North American packages are also available for travelers who are planning on extending their adventure past the borders.
Now for the less-exciting news: unfortunately, eSims aren't compatible with all phones, so be sure to check your device's compatibility on the Holafly site ahead of time.
PS we've written a full HolaFly Europe review here.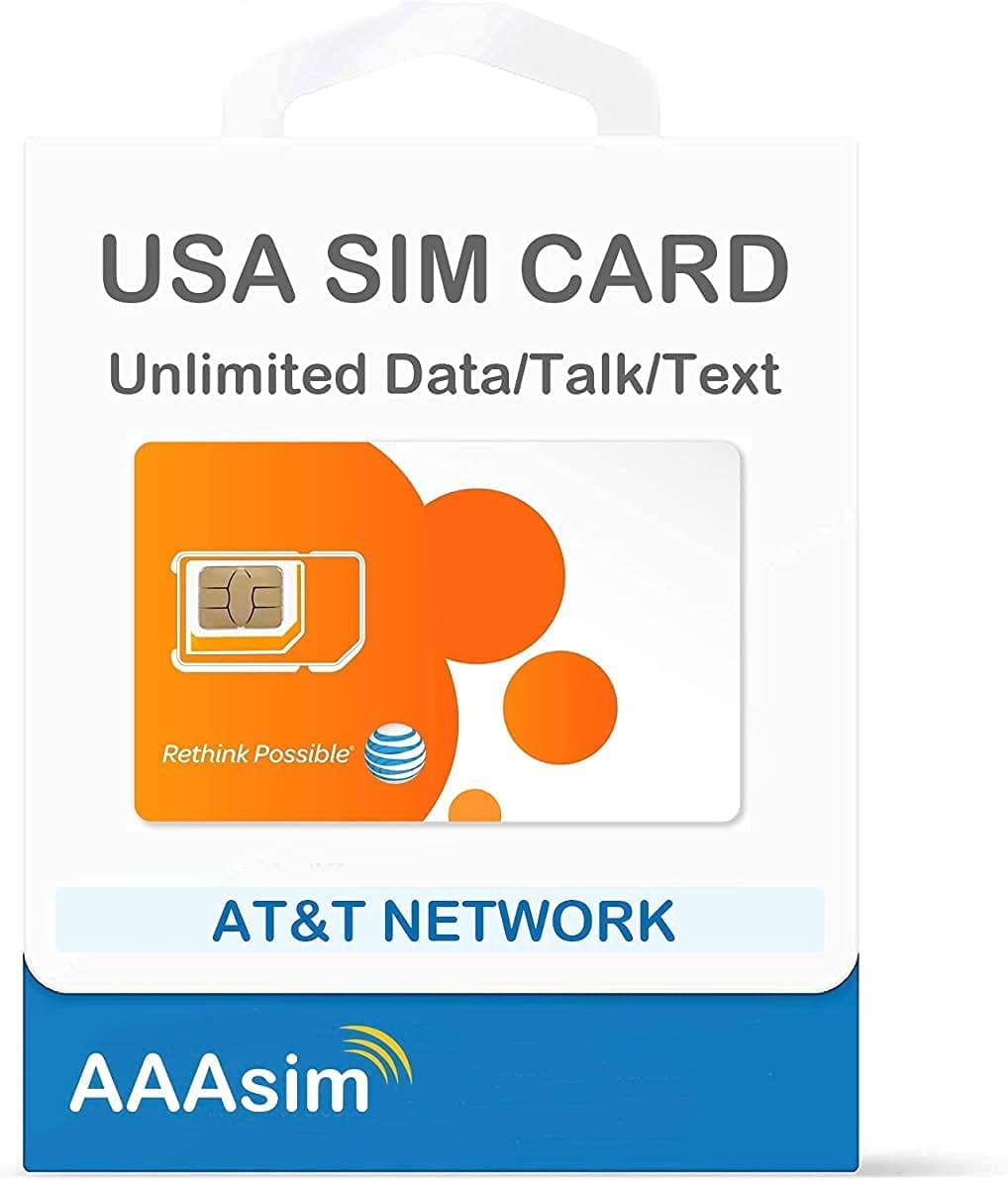 Recognized as one of the 11 biggest corporates worldwide by Forbes, AT&T offers prepaid sim cards that are specifically destined for travelers. For example, if you're going to visit Canada or Mexico, you can always opt for their 30-day USA, Canada, and Mexico plan for $52.
The company also allows you to connect up to 4 devices via tethering, making it the perfect addition to any digital nomad packing list.
Are you hoping to fit in a cruise during your USA trip? Then you'll be glad to learn that AT&T also offers two cruise packages for $60 and $100, depending on your preferences. For longer stays, you can also consider the 12-month unlimited data, talk, and texts with 5G access for $25 per month. While this plan is for light usage, AT&T also offers a 12-month unlimited package with high-speed data for $50 per month.
Three-month plans (8GB) are available for $33/month.
On the flip side, your network speed will be throttled to just 2GB once you use up your LTE data volume. According to their website, AT&T may also slow down your data speed if the network is busy. Despite their compatibility, some Android phones did have issues on the AT&T network in the past.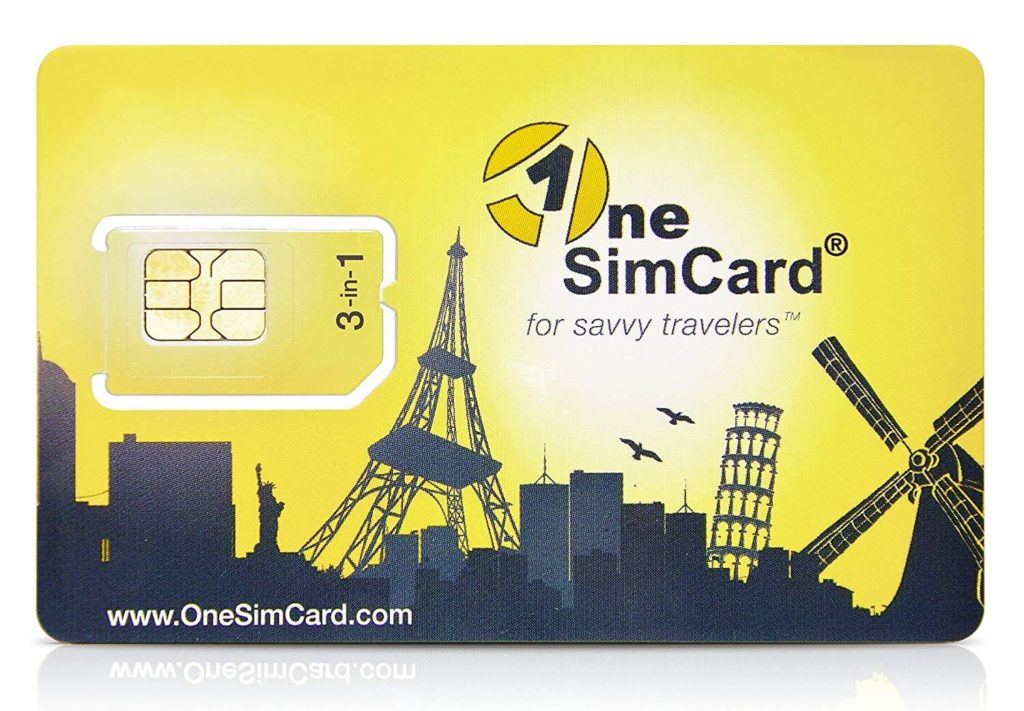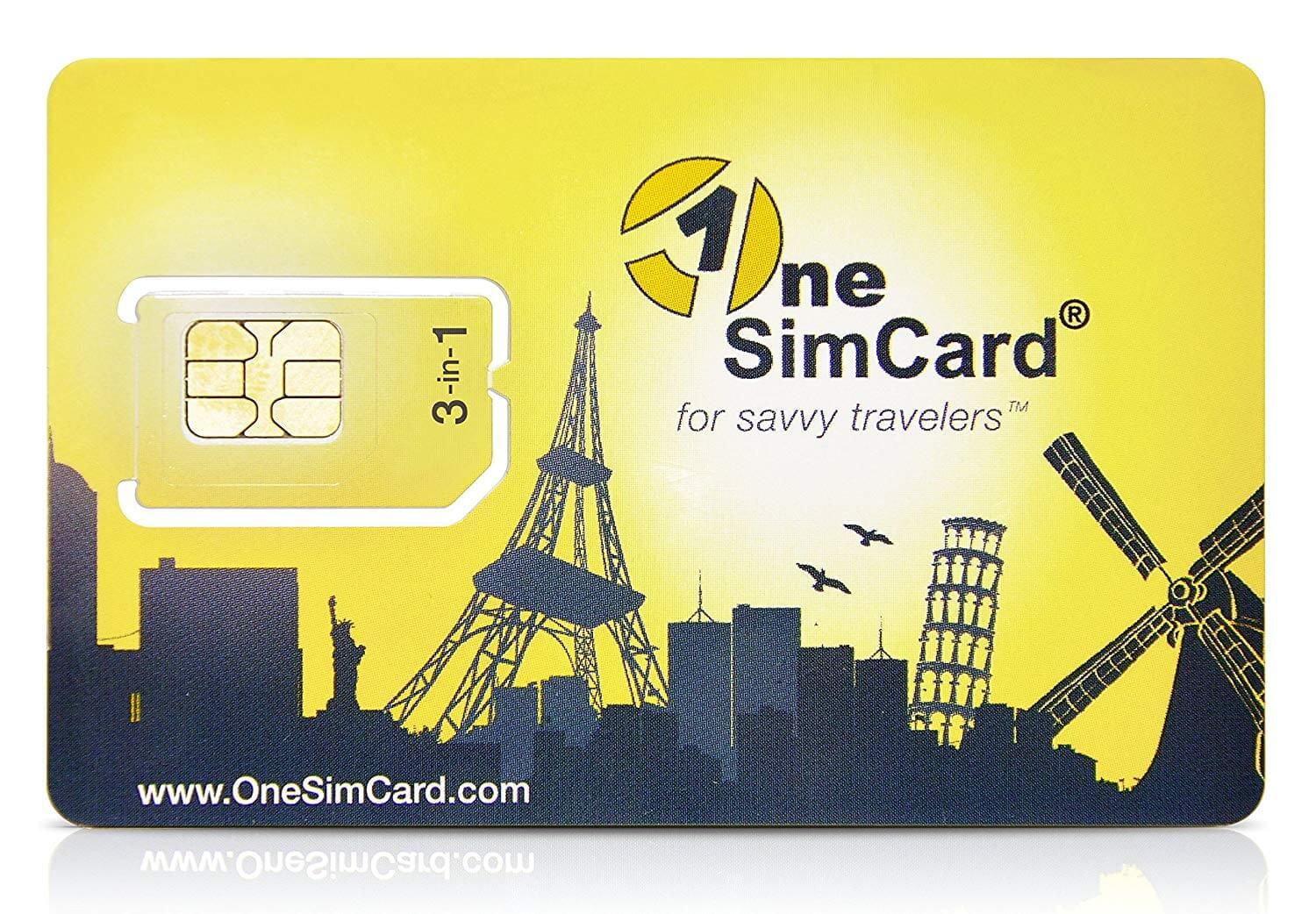 This Boston-based provider specializes in international sim packages- ideal for travelers who want to buy a US SIM card aimed at tourists!
A great option for travelers who plan on making repeat visits to the USA, OneSim is laden with advantages, but you do need to ensure that you have an unlocked phone that is e-sim compatible.
You can always consider the USA and Mexico data-only plan which starts at $5.90 for 1GB (seven days). Monthly packages of 3GB, 5GB, 10 GB, and 20 GB are also available.
Do bear in mind that because the e-Sim offers data-only packages, you won't be able to make international voice calls or send SMS messages. However, you'll still be able to use social media or make calls through apps like Skype or WhatsApp.
If you're an avid traveler, you can always consider getting the OneSim Universal Sim which includes two phone numbers in Europe, the USA, Canada, the UK, or Australia. In addition, you'll benefit from free incoming SMS messages everywhere. 4G and 5G services are available in over 50 countries. This plan costs $29.95.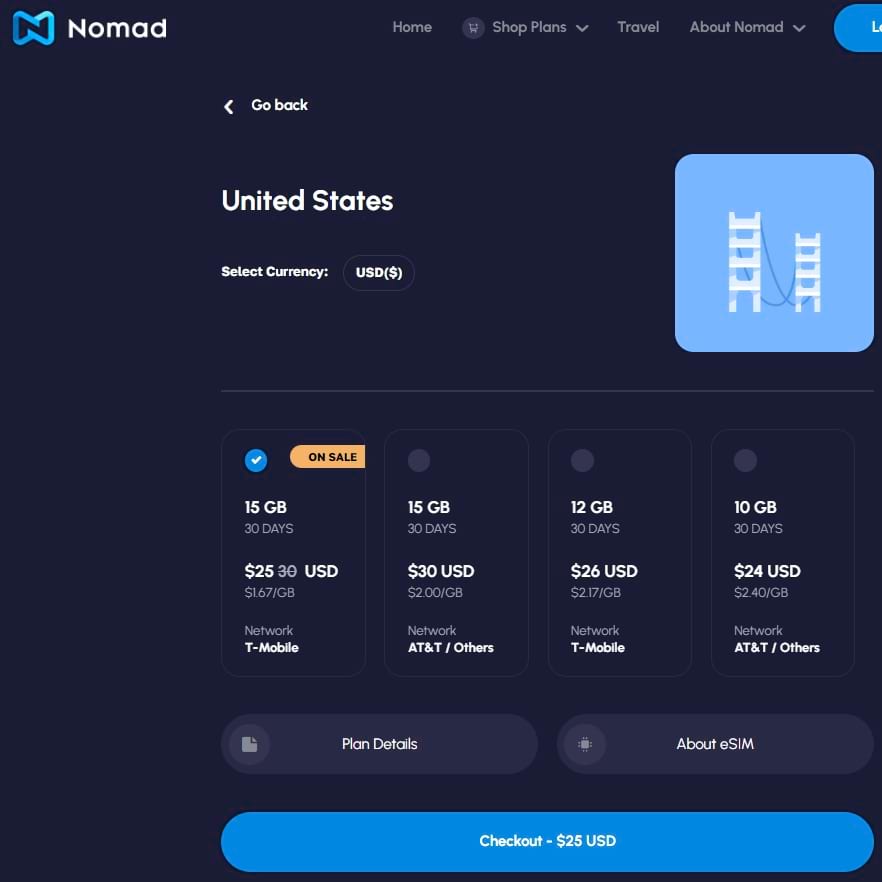 Next up on the list is Nomad, another digital eSim marketplace with various packages for just about every country on Earth!
While Nomad doesn't actually provide the package as such (they simply facilitate it), it's an excellent option for digital nomads and backpackers who cover more ground in less time. It's also quite easy to buy and install your package: you can simply browse through the Nomad website and select the eSim of your choice… then boom, you're connected!
In my experience, however, the Nomad App offers a far better browsing experience than the website.
With Nomad, you can match with the best provider according to your budget and individual needs. For example, travelers looking for a mid-range monthly plan can either opt for a 15GB T-Mobile plan for $23 or the 15GB AT&T plan for $30. For something basic and affordable, you may wish to consider the seven-day (1GB) plan for $5.5.
My main issue with Nomad is that most of their packages are data only, so you won't actually have a local number. While this may not be a problem for most travelers, it's definitely something you may wish to keep in mind when getting your e-Sim.
If you want to know a bit more, we've written a comprehensive Nomad eSim guide.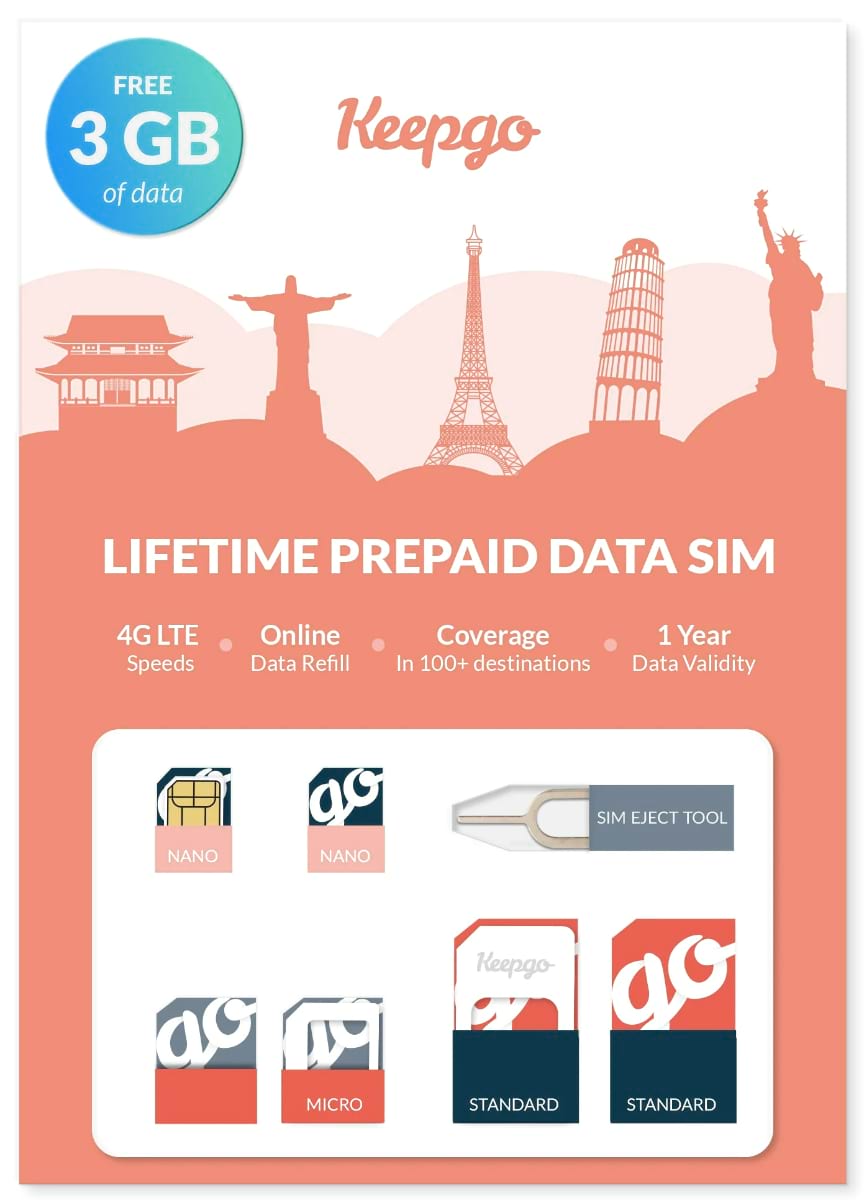 If you're looking for a prepaid sim card for the USA that provides value for money, I can also recommend Keepgo. Working on the USAMF, Union Telephone, Telna, T-Mobile, and AT&T networks, Keepgo offers several e-Sim bundles and regular sim cards.
I can recommend their Lifetime Prepaid Data sim card which offers 3GB of data for $49. Ideal for unlocked GSM devices, this package boasts high-speed internet in over 100 countries.
Other plans include 100 MB for $3, 1 GB for $24, 10 GB for $155, or 25 GB for $250.
Once your data is over, you can either use the auto-refill option or top-up on the Keepgo website. Because of the lifetime plan, you won't need to worry about unused data or expiration dates. Best of all, you can easily toggle between various network options.
In addition to international sim cards, the company also offers e-Sim plans with prices ranging from $15 to $230.
Keepgo does have a few small drawbacks though: while it claims to provide unthrottled 4G connections, this is only applicable in select areas where 4G is available. Price-wise, Keepgo is also a bit more expensive than its competitors.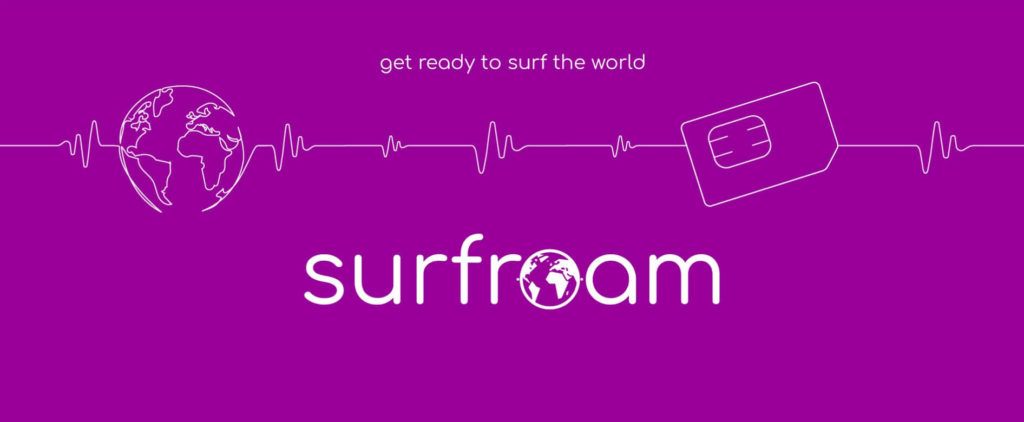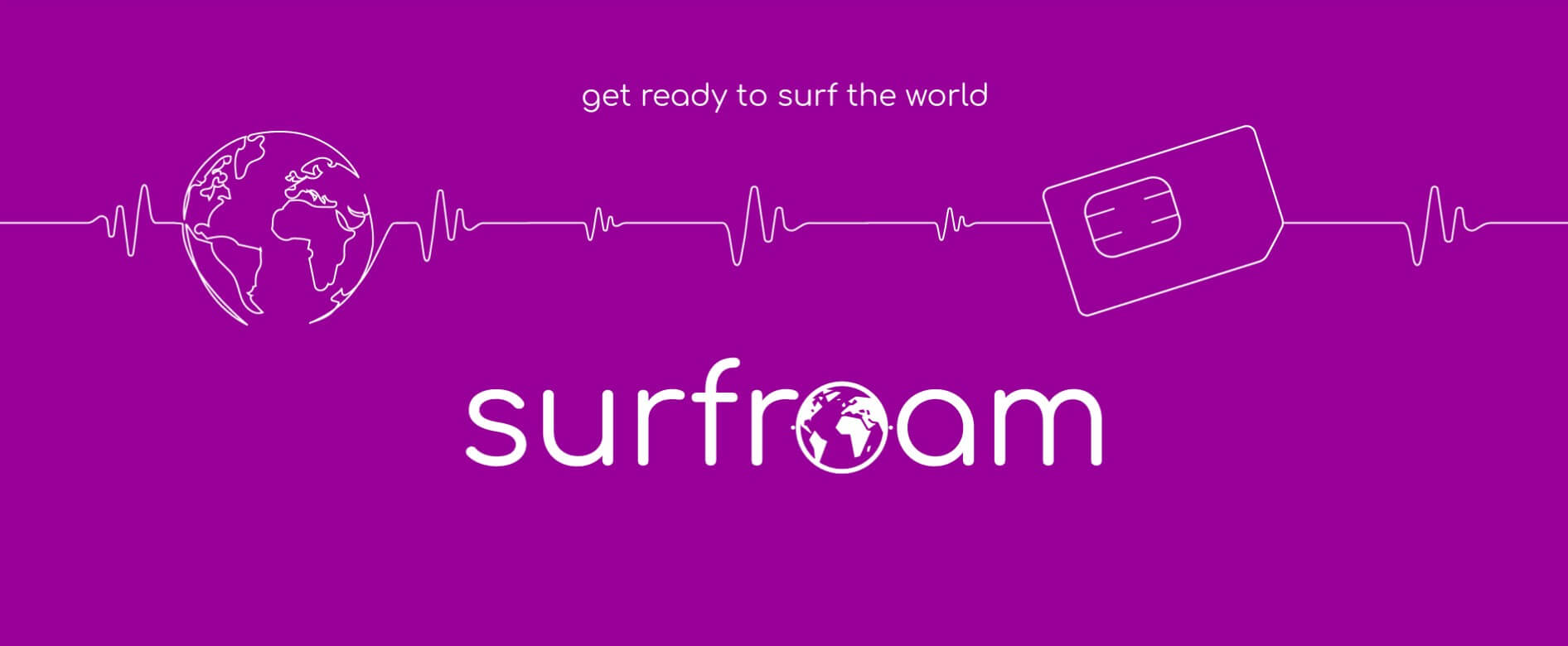 Okay, Surfroam may only provide data plans, but then again, it covers 200 countries including Yemen and Afghanistan- so you know it's reliable!
To begin with, you'll need to pay a one-time fee of $48 to get the physical sim card and this includes $27 of free credit. After that, you can top up your balance as you go. Plans start at $27 and pay-as-you-go rates start at $0.02 for the U.S.
For the eSim, you'll need to fork over a one-time fee of $32. While you won't be able to make or receive phone calls, access to WhatsApp, Facebook Messenger, and Skype is available and unlimited.
Where to Buy a Prepaid SIM Card in the USA
Because there are so many places to buy a prepaid sim card USA, you do need to be wary of scams. It's always best to purchase your sim from a reliable source to ensure both proper functioning and authenticity.
The good news is that you'll find heaps of reliable places to get your sim card in the USA, including airport kiosks, Amazon, and retail stores.
Airport Kiosks
This is easily the most convenient option for travelers since you can get your sim card as soon as you land!
More importantly, if you're not familiar with local sim cards, you'll be able to chat with official representatives who'll help you choose a plan according to your personal needs. They can also help you activate the card.
The downside with buying a sim card at the airport though is that you'll probably be charged more for less data. In addition, most of the time you'll be faced with a limited selection of cards.
It's also important to know that, unlike other countries, prepaid sim cards are not available in all American airports – especially the smaller ones. Your best bet would be to buy one from major airports like JFK, Miami Airport, or Chicago Airport.
The best present of all… is CONVENIENCE!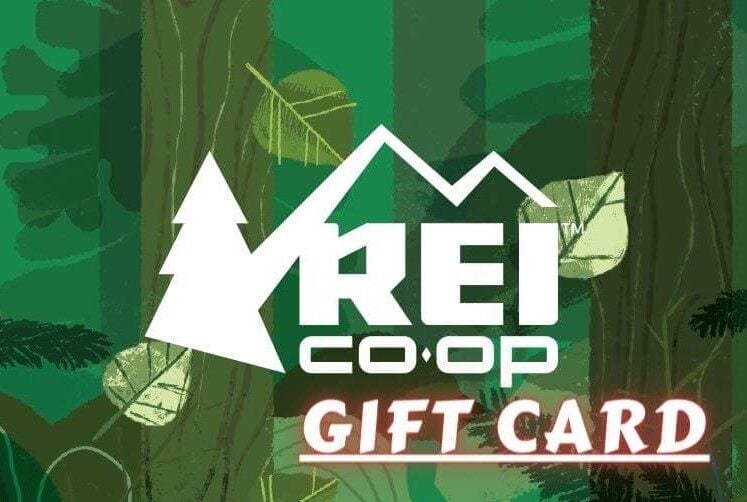 Now, you could spend a fat chunk of $$$ on the WRONG present for someone. Wrong size hiking boots, wrong fit backpack, wrong shape sleeping bag… As any adventurer will tell you, gear is a personal choice.
So give the adventurer in your life the gift of convenience: buy them an REI Co-op gift card! REI is The Broke Backpacker's retailer of choice for ALL things outdoors, and an REI gift card is the perfect present you can buy from them. And then you won't have to keep the receipt. 😉
Buy on REI!
Retail Stores
I would personally recommend that you get your sim card from an official retail store – mainly because you'll have a far broader selection of plans and carriers. Supermarkets, electronic stores, and mobile carrier shops also tend to offer lower prices.
If you've never bought a US prepaid SIM card before, you can always seek assistance from store staff. In my experience, they're best suited to advise you on your sim card needs or help you set up your sim card within just a few minutes.
You'll also find plenty of AT&T and T-Mobile retail stores speckled all over the country since they're two of the main operators in the country.
Alternatively, you can always check out stores like Walmart, CVS, Walgreens, and 7Eleven – although the staff may not necessarily be knowledgeable about the different plans on offer. In larger cities like San Francisco, New York, and Chicago, you'll often find kiosks selling MVNO sim cards like Lycamobile.
On the flip side though, it can be a bit of a hassle to locate a suitable store upon arrival, especially if visiting a new city. As such, retail stores may not be the best option for travelers who want to be connected as soon as they land.
Online
If your plan is to hit the ground running as soon as you land, then your best bet would be to get your sim card online. Whether you're shopping on Amazon, BestBuy, or directly from the network provider's website, you'll certainly be spoilt for choice!
The major advantage of buying your sim card online is that you can take the time to properly research and compare different plans even before flying out. In addition, you can have your sim delivered directly to your home address. Alternatively, you can have the card shipped directly to your hotel, Airbnb, or hostel in the USA.
More importantly, online shopping may expose you to discounts and deals that you might have missed out on otherwise.
Sounds pretty cool, right?
The only downside is that you'll need to consider potential delays and shipping times when buying your prepaid sim card online – not exactly the perfect choice for someone who's in a hurry. It may not be the best option for first-timers since there'll be nobody to help you set up and activate your sim card.
ALWAYS sort out your backpacker insurance before your trip. There's plenty to choose from in that department, but a good place to start is Safety Wing.
They offer month-to-month payments, no lock-in contracts, and require absolutely no itineraries: that's the exact kind of insurance long-term travellers and digital nomads need.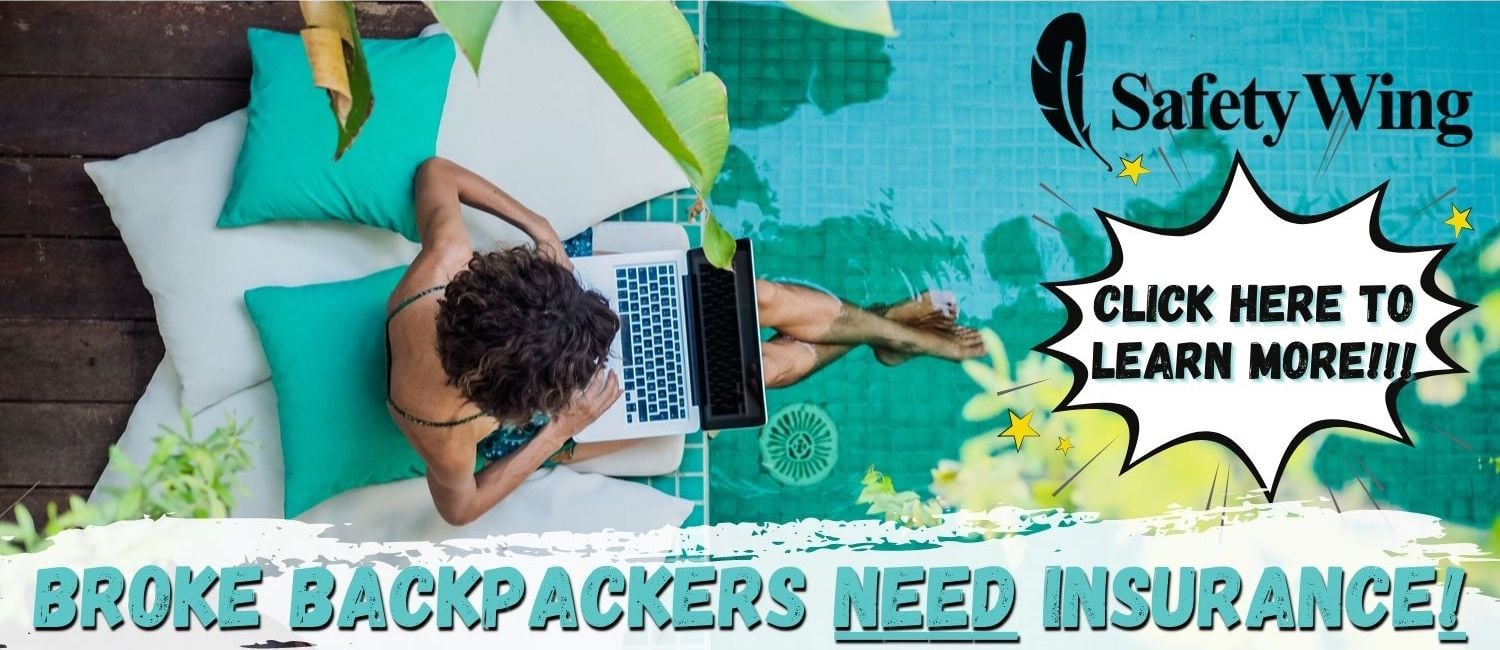 SafetyWing is cheap, easy, and admin-free: just sign up lickety-split so you can get back to it!
Click the button below to learn more about SafetyWing's setup or read our insider review for the full tasty scoop.
How to Activate Your New Prepaid SIM
Now that you've figured out where to get your prepaid USA sim card, let's move on to the second most important step: how to activate it.
Fret not: the process is super simple and straightforward- even if you've never used a US sim card before!
First things first though: before buying your prepaid sim card, be sure to check whether it's compatible with your phone, especially if buying an eSim. Once you've downloaded your eSim package, you should normally receive a QR code to guide you through the setup process.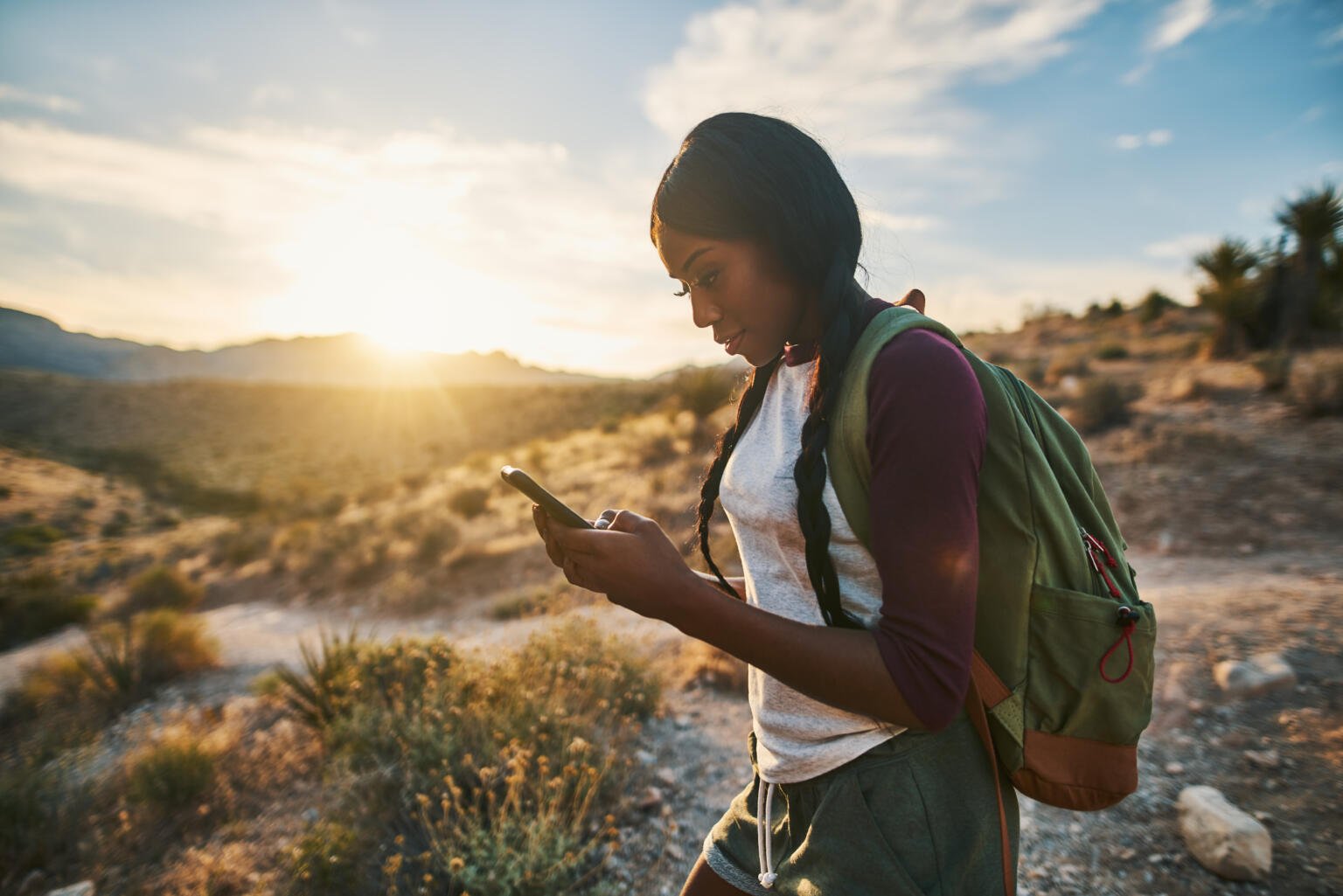 A word of advice? Try to install your eSim a few hours before your flight and use the airport's Wi-Fi to activate it upon landing. This will ensure that your eSim is ready to rock 'n' roll as soon as you reach your destination! It's one of the best ways to get online in the USA right from the get-go.
The great thing about getting a prepaid sim card is that you won't need to sign any pesky contract. However, you'll need to register your physical card so be sure to have your unlocked phone and passport ready. The U.S. registration process is quite straightforward: the store will either take your picture or make a copy of your passport. Your name and passport number will be linked to your new sim card.
Some networks like T-Mobile also provide sim protection to add an extra layer of security while protecting you from various forms of fraud. One of the most important security measures you can take is to set up a PIN code as soon as your sim is activated.
Frequently Asked Questions
Got a few more questions? Don't worry, I've got your back!
Here are some of the things travelers usually want to know about getting a prepaid sim card in the USA.

Our GREATEST Travel Secrets…
Pop your email here & get the original Broke Backpacker Bible for FREE.
Making the Most of Your USA Trip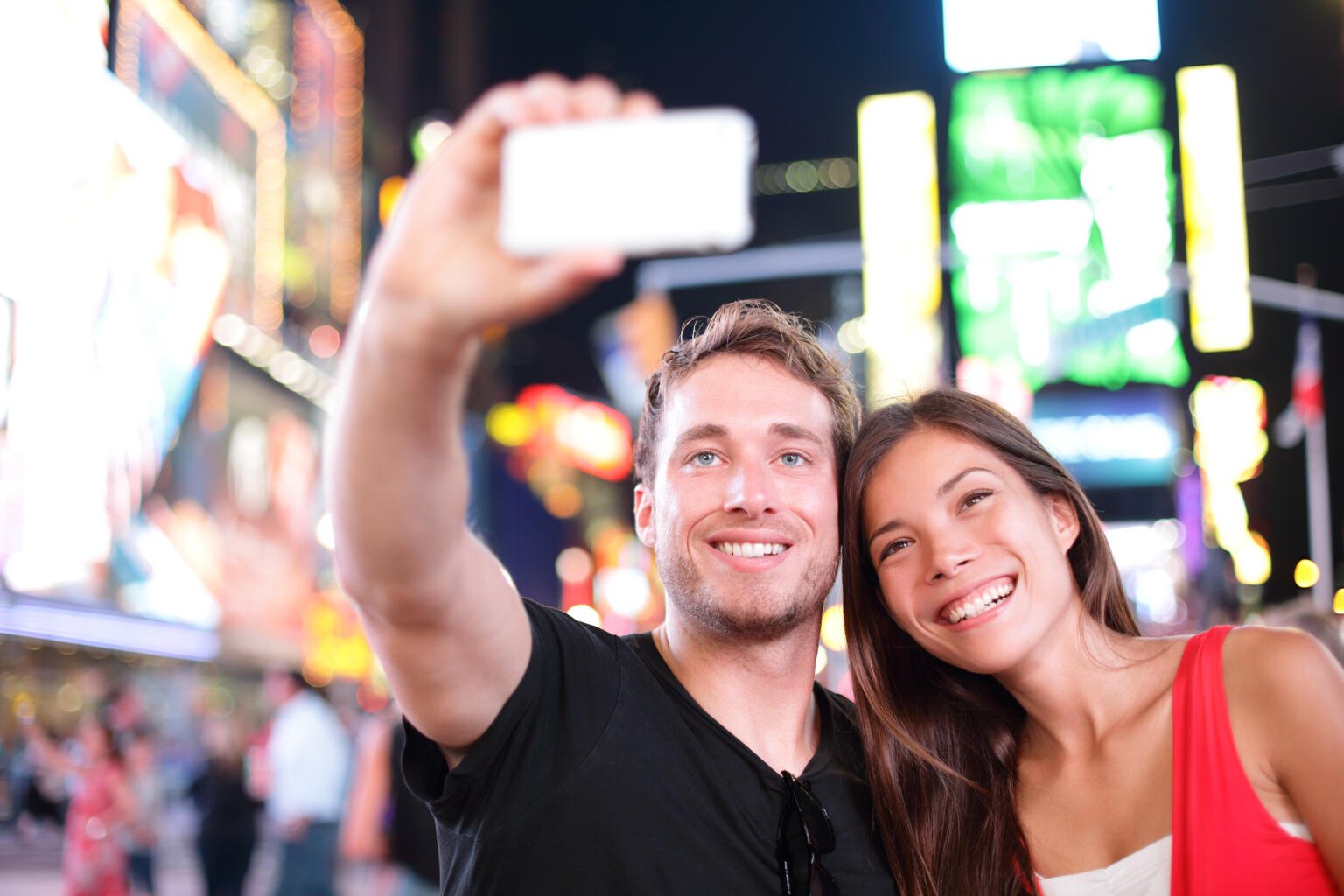 Whether you're backpacking the USA or simply planning a quick vacation, there's no denying that you'll be in for one heck of a trip! After all, this country has something for just about every type of traveler, so you certainly won't be running out of things to do anytime soon.
Choosing the right US sim card for tourists can make a huge difference in the quality of your trip. Hopefully, our sim card guide will give you an overview of the top providers and help you compare popular prepaid plans so you can make an educated decision and avoid using unsecured wifi connections.
Want to try another type of sim card? Then be sure to check out the new, revolutionary Nomad e-Sim, an app-based digital sim card covering over 100 countries that can be set up even before you leave home!
Heading north of the border? Check out the best pre-paid sim cards for Canada too.
---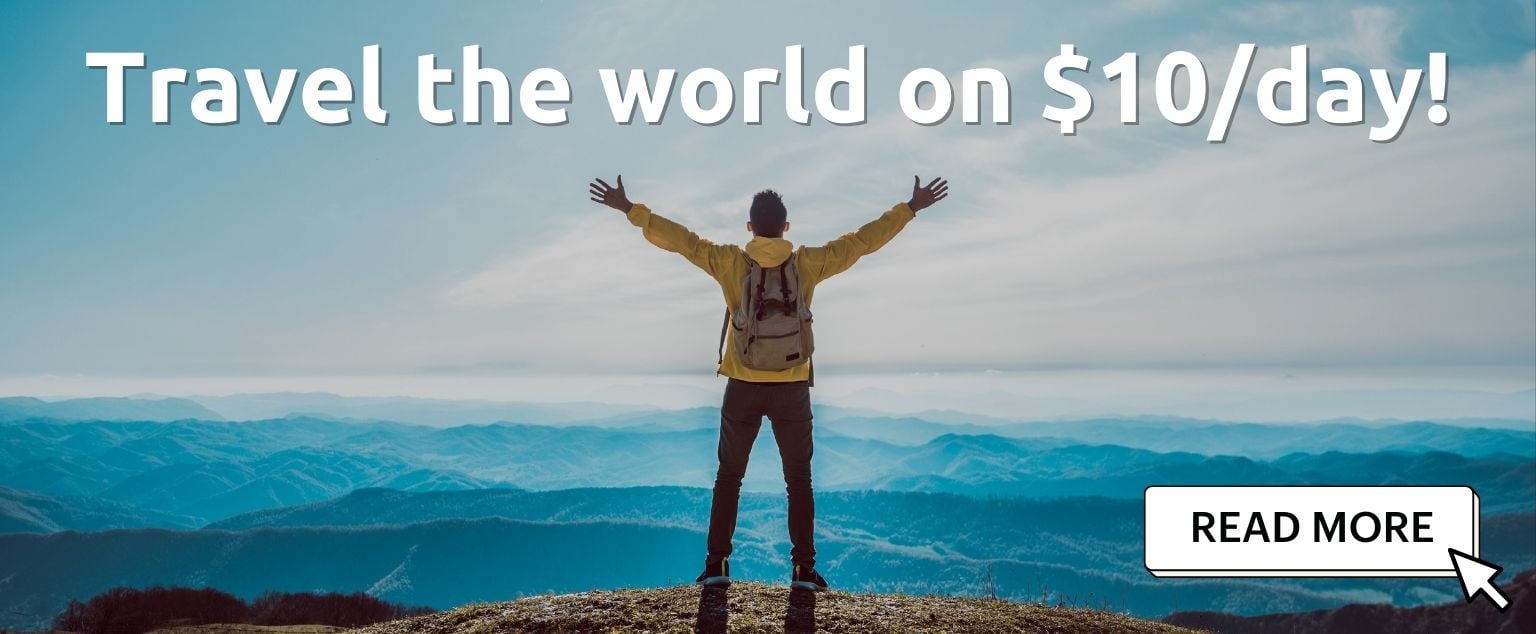 And for transparency's sake, please know that some of the links in our content are affiliate links. That means that if you book your accommodation, buy your gear, or sort your insurance through our link, we earn a small commission (at no extra cost to you). That said, we only link to the gear we trust and never recommend services we don't believe are up to scratch. Again, thank you!