Welcome to my ultimate guide to the 25 best national parks in the USA!
America is an unfathomably vast and sprawling land. As a younger American man, I felt like I didn't really know my own country until I started exploring the national parks. Over the last ten years, I have crisscrossed the country multiple times getting to know some of the very best national parks in the USA.
There is arguably no other country on our gorgeous planet where you can you find such a deep level of staggering beauty, diversity, and outdoor adventure potential that is reflected in the American national parks—really there is every type of landscape imaginable — and each one is totally epic in its own way too.
This travel guide will help you get to grips with 25 of the best national parks in the USA.
Join me as I break down the highlights and natural wonders each national park offers backpackers, what to pack for your national park backpacking trip, USA national park maps, backpacker safety information, and much more.
Whether you are planning the ultimate national park road trip, visiting the east or west coast national parks, or just planning a weekend get-away, this guide will help you get to know the 25 best national parks in the USA.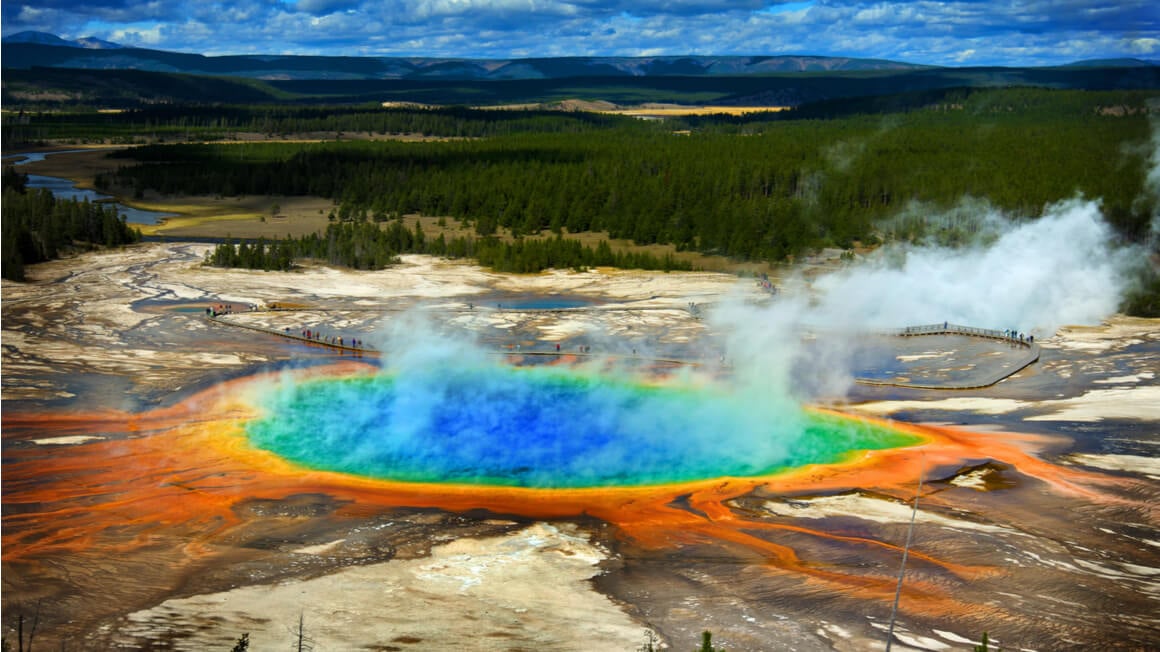 First things first. Before we dive into my best national parks in the USA list, you should have an idea of what to bring along for the journey.
What to pack for this kind of a backpacking trip depends on several things.
What time of year will you be visiting? Do you plan on taking a national park road trip? Will you be setting off into the wilderness for a multi-day backpacking trip? Are you just sticking to day hikes? Maybe a combination of all of the above?
Finding the right backpack, sleeping bag, camping hammock, travel jacket, and backpacking stove for yourself is just as important as planning the details of your national parks trip.
Whatever your national parks itinerary might end up looking like, here is a list of super informative, honest gear posts we have done to get you fully prepared for your USA national parks odyssey…
Want a good deal? Be sure to pick up an 'America, The Beautiful Pass', it's $80 and gives you entrance to every National Park in the US for 12 months, plus a whole heap more!

Do You Want to Travel FOREVER??
Pop your email in below to get a FREE copy of 'How to Travel the World on $10 a Day!'.
Find the Right Gear to Tackle the Top USA National Parks
For more inspiration, check out What's in my backpack?
Get Travel Insurance Before Checking out the Best National Parks in the USA
Is America a safe place? Do you need travel insurance when you visit?
Even if you're only going for a short time, that's more than enough time to get smote by wrathful angels. Have fun in the US, but take it from us, overseas medical care and canceled flights can be seriously expensive – insurance can, therefore, be a life-saver.
Travel mishaps can and do happen and it is well worth thinking about trusty travel insurance before you leave home. I have personally made several claims with World Nomads over the years.
Do be sure to read the terms and conditions to make sure that the policy covers your needs.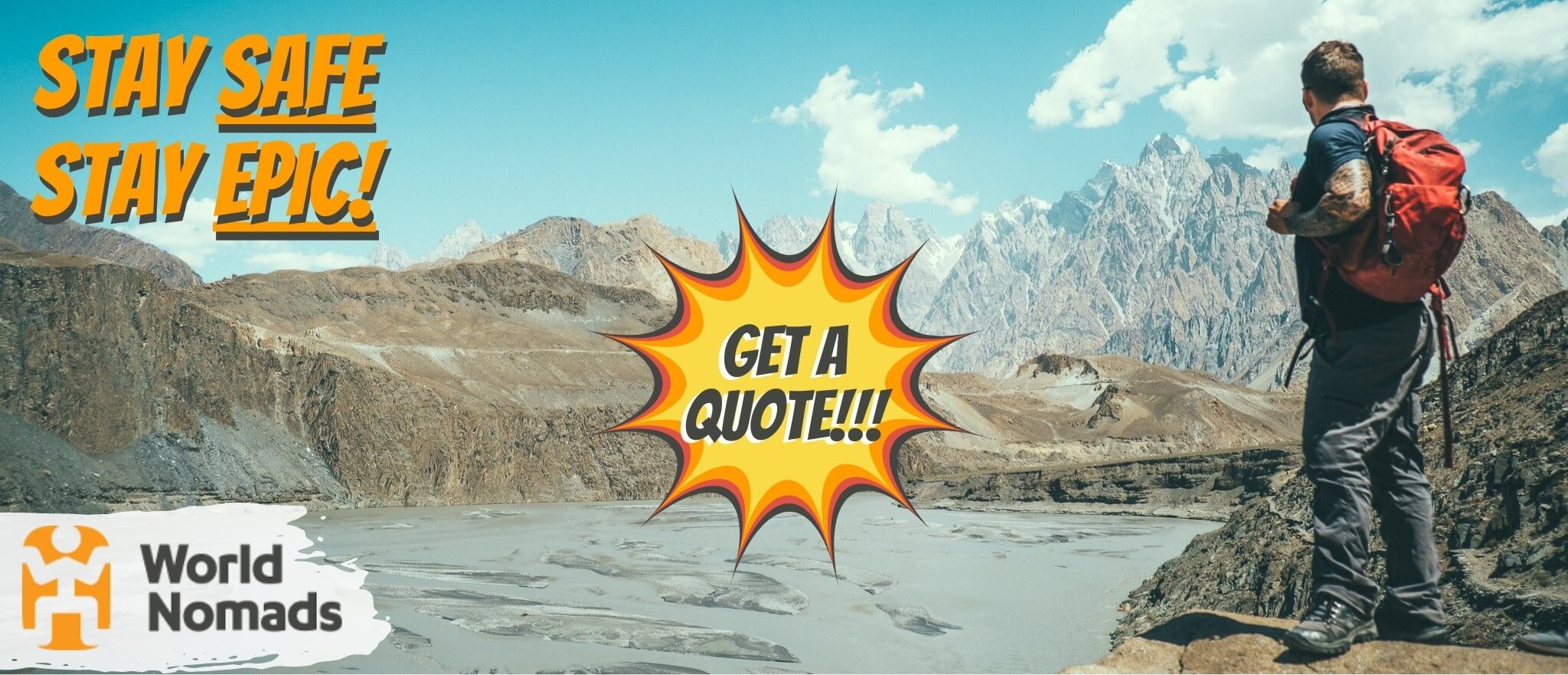 World Nomads' mission is to support and encourage travellers to explore their boundaries. They offer simple & flexible travel insurance, and safety advice to help you travel confidently.
They've been doing it since 2002 – protecting, connecting, and inspiring independent travellers just like you.
Get a quote below or read our in-depth review!
World Nomads provides travel insurance for travelers in over 100 countries. As an affiliate, we receive a fee when you get a quote from World Nomads using this link. We do not represent World Nomads. This is information only and not a recommendation to buy travel insurance.
Note: Not all of these national parks are in states bordering the west coast, but rather grouped in the west coast national parks category because they are generally located in the western United States.
#1 Yosemite National Park
Towering slabs of sticky granite towering 3,000 feet above the valley floor. Rivers and epic waterfalls galore. Alpine trekking and world-class rock climbing routes. Giant Sequoia trees. This. is. Yosemite.
Yosemite Park in north-central California has been inspiring people for centuries. This national park is one of the most popular national parks in the US, but for a damn good reason.
The park can be very busy in the summer, though escaping the crowds is easy if you explore the interior of the park on foot. With hundreds of miles of maintained trail, plus Yosemite wilderness, you can trek around for months on end and not see it all. Luckily, there are many options to stay in Yosemite, so you can get some rest and recharge in between your adventures.
Yosemite is defined by its almost impossibly large walls of granite; the result of millennia of glaciation and erosion. The grandeur of the park is hard to put into words. It is truly magnificent.
A visit to Yosemite is a must if you are visiting the California national parks, plain and simple.
Once you stand at the base of El Capitan, you can not fully fathom how Alex Honnold climbed it without a rope in under 4 hours. Much respect…
Need helping finding a place to stay? There's plenty of accommodation near Yosemite.
Best time to visit: All year round
Closest Major City: San Francisco
Highlights:
Half Dome
El Capital
Yosemite Falls
Tuolumne Meadows
Cathedral Peak
John Muir Trail
#2 Sequoia National Park
Sequoia National Park is best known for its massive Sequoia trees: the biggest trees in the world. For me, the feeling one gets when you are standing in a grove of ancient Sequoias must be close to something like attaining enlightenment.
It is humbling to be in the presence of some of the oldest living creatures on earth.
The air smells different. There seems to be more available oxygen than normal. In addition to the huge trees, rugged peaks, sunshine-filled canyons, awesome hiking trails, and abundant wildlife… the cave systems are something unto themselves. The underground Crystal Cave features cool streams and impressive rock formations.
Due to its close proximity to Kings Canyon Nation Park and Yosemite National Park, you can really pack a lot in between these three parks if you only have four or five days to explore.
Best Time to Visit: Spring and Fall
Closest Major City: San Francisco
Highlights:
General Sherman (the largest tree in the world)
Crystal Cave
Buckrock Lookout
The drive-through-tree
The Giant Forest
Moro Rock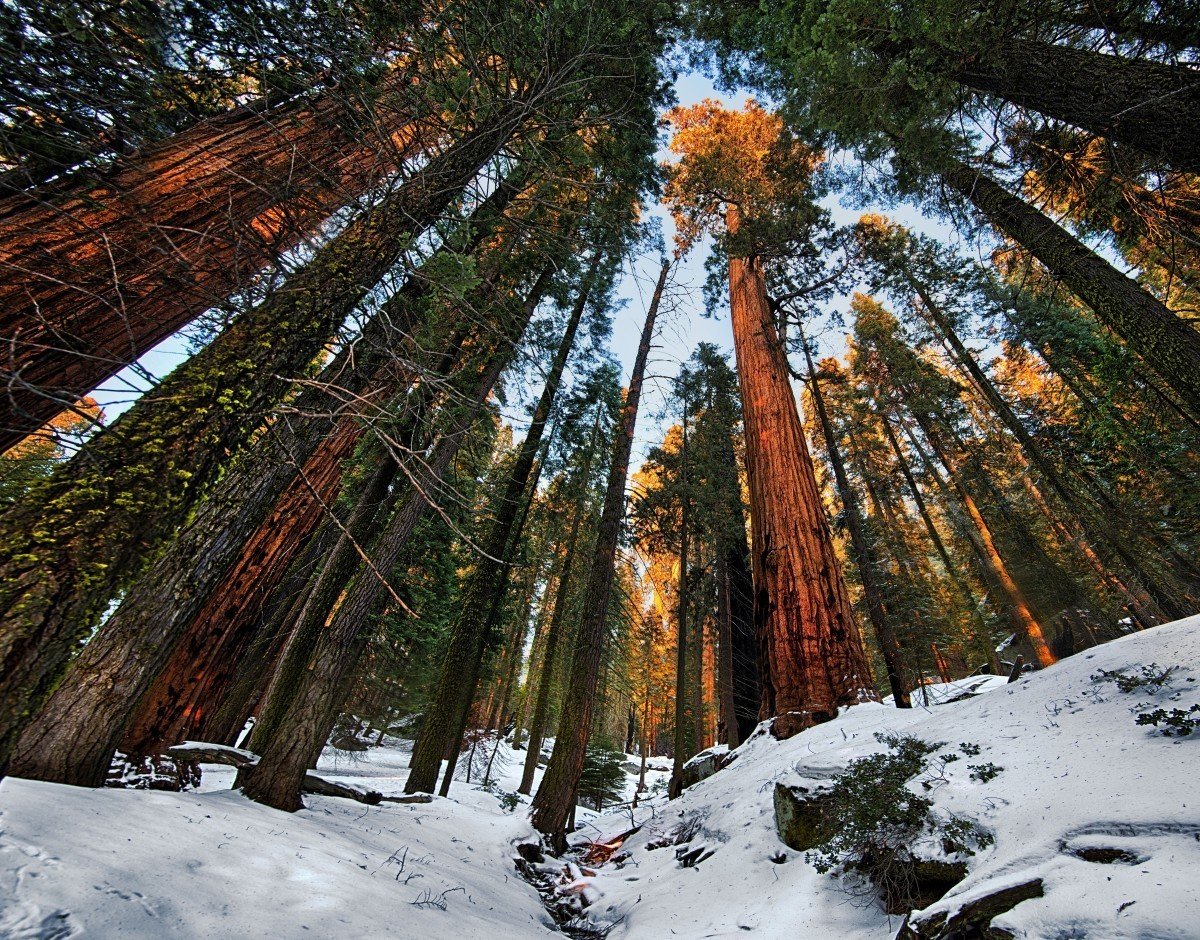 #3 Joshua Tree National Park
Yucca trees (Joshua trees) have always fascinated me, and Joshua Tree National has them in abundance (obviously). This national park is the gem of the Southern California desert. J-Tree is one of the few places in So-Cal where you can find yourself in a true desolation wilderness far from the bright lights of humanity.
You can also find many unique accommodation options near Joshua Tree NP – from restored camper vans to stargazing tiny houses, you'll find all sorts of special places.
Though if you do find yourself in LA en route to Joshua Tree, be sure to check out my Los Angeles travel guide.
Joshua Tree National Park straddles the Colorado Desert and the Mojave Desert, the latter of which is higher and cooler. The landscapes of Joshua Tree are dotted with massive granite boulders, rugged mountains, hidden oasis', cactus, abandoned mine shafts, and desert-dwelling creatures.
If you like mountain biking or rock climbing, Joshua Tree is perfect for that. If you visit during the winter, keep in mind that it can snow here!
Closest Big City: Los Angeles (Ontario and Palm Springs airports are closer)
Best Time to Visit: Spring, Fall, and Winter
Highlights:
Jumbo Rocks
Keys View (great sunset/sunrise spot)
Lost Palms Oasis
Cholla Cactus Garden
Lost Horse Mine
Star Gazing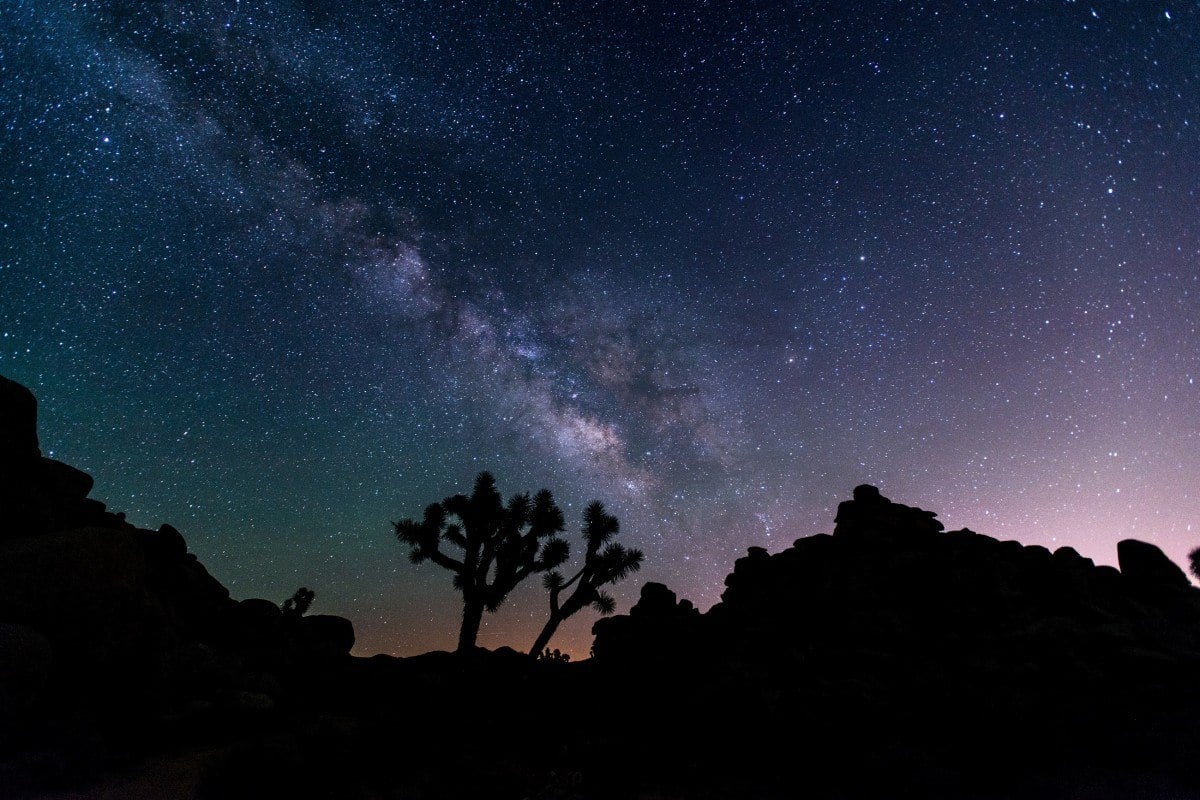 #4 Grand Canyon National Park
If the Grand Canyon were a book, it would be the geological story detailing millions of years. Prior to colonialization of Europeans, Native Americans had been coming to visit the area in and around the Grand Canyon for eons.
Evidence of a past Native American presence can be found throughout the park. The incredible, endless red rock canyons make up an area of roughly 277 miles (446 km) long with the Colorado River flowing the very of it all.
The quintessential Grand Canyon experience is actually descending into the canyon itself. Mind-blowing vistas, far-flung wilderness areas, and some of the best hikes in the USA make up just a part of the draw to Grand Canyon National Park. When it comes to impressive desert landscapes, the Grand Canyon is king.
Keep in mind there are two entrances to Grand Canyon National Park – the north rim and south rim – and they are hours apart since you have to drive around the canyon… South Rim is more popular, and North Rim is at a higher elevation, so it is not accessible for parts of winter.
Don't know where to base yourself? Check out these convenient places to stay near the Grand Canyon.
Best Time to Visit: Winter, Spring, and Fall
Closest Major City(s): Phoenix
Highlights:
South Rim
Hiking Rim to Rim
Tonto Trail
Colorado River
Grand Canyon Flight/helicopter tour
#5 Zion National Park
The first Utah national park on my list is the epic Zion National Park. Zion distinct desert landscape features plenty of steep red-walled canyons, beautiful rock formations, emerald pools, slot canyons, rivers, and waterfalls.
If you are making a national park road trip of the USA, arguably one of the most scenic drives in the west is on the road going through the center of Zion.
On foot, you can explore paths that Native Americans used for countless generations. The trails weave through impressive slot canyons, hidden swimming holes, and jaw-dropping landscapes. It is no wonder 3 million visitors a year come to Zion National Park.
Zion is filled with rich history, biological diversity, and plenty of "wow". There are lifetimes worth of hiking and exploring to be done here. Get to know some of the trademark rosy-amber canyons and waterfalls that make Zion one of the best national parks in the USA.
There is plenty of accommodation near Zion. In fact, there's a whole village dedicated to hosting visitors!
Best Time To Visit: Spring and Fall
Closest Major City: Las Vegas
Highlights:
Cathedral Mountain
Zion Canyon
East Zion Tunnel
The Grotto
Court of the Patriarchs
Great White Throne
Temple of Sinawava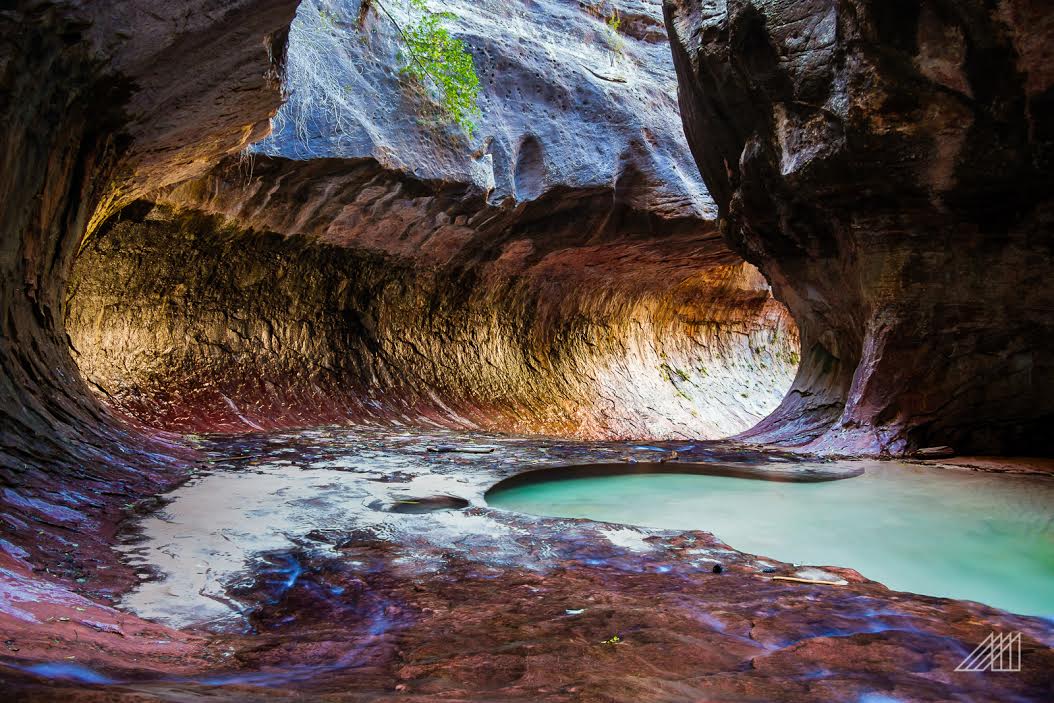 #6 Bryce Canyon National Park
The mystical Bryce Canyon National Park is a sight to behold. The park is famous for its orange-red hoodoo rock formations punctuated by outlying pine forest. What's a hoodoo? Basically, they are spire/pillar-shaped rock formations jutting out from the canyon floor. The artistic touch of mother nature has left Bryce Canyon with one of the most iconic landscapes in America.
Bryce Canyon is a top national park filled with microclimates primarily due to the vast elevation differences found throughout. Wildlife lovers can enjoy looking out for more than 100 species of birds, dozens of reptiles and mammals, and more than 1,000 interesting plant species.
Watching the sunrise cast its shade over the crimson-colored walls of the canyons is a surreal experience.
Of course, the best way to see the park is on foot. Tackle the 37-mile circuit trek and really experience what the hidden geological gems of Bryce are about.
Best Time to Visit: Spring, Summer, and Fall
Closest Major City: Las Vegas
Highlights:
Sunrise to Sunset Point Hike
Swamp Canyon
Natural Bridge
Bryce Point
Mossy Cave
Rim Trail
Navajo Look Trail
Fairyland Loop
Small Pack Problems? 😉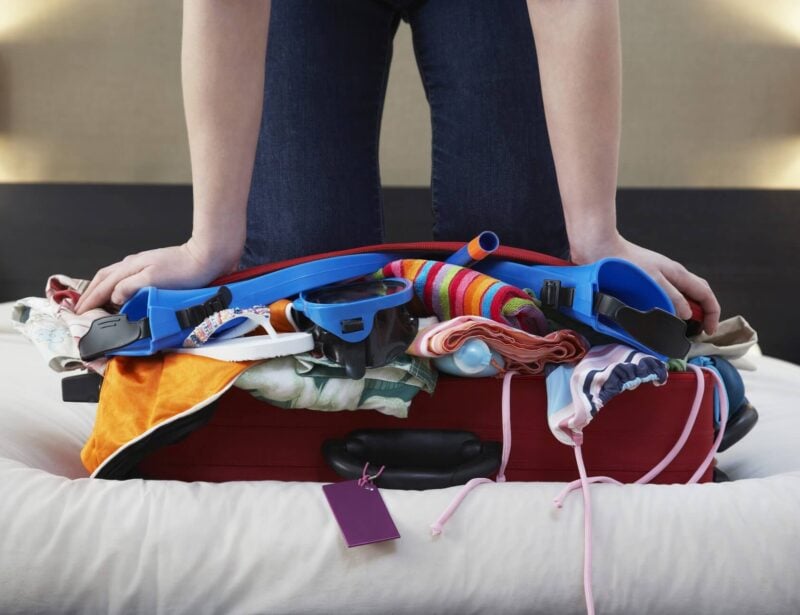 My missus travels with all her clothes in ziplock bags: don't be like my missus. UP YOUR PACKING GAME!
Packing cubes for the globetrotters and compression sacks for the real adventurers – these babies are a traveller's best kept secret. They organise yo' packing and minimise its volume too so you can pack MORE.
Or, y'know… you can stick to ziplock bags.
View Our Fave Cubes
Or Check Out the Sacks!
#7 Arches National Park
Arches National Park isn't just a Utah highlight, it is high on the list of best national parks in the USA, without a doubt.
The park gets its name from the more than 2,000 sandstone arches scattered throughout the park. Natural elements and time have gouged out some truly spectacular natural bridges and rock formations here.
The world-famous Delicate Arch certainly won't be around forever. As the natural effects of erosion take over, more and more arches are toppling over every year. Such is life.
Arches truly is a red-rock wonderland. Enjoy hundreds of miles of biking and hiking trails. Camp out under the desert stars as the creatures of the desert come out of their daytime retreats. Due to the sensitive nature of many of the arches found with the park, be respectful and don't contribute their destruction. Expect blazing desert sunsets.
Best Time to Visit: Spring and Fall
Closest Major City: Salt Lake City
Highlights:
Fiery Furnace Hike
Devils Garden Trail
Petrified Dunes
Double Arch
Delicate Arch
Windows Loop Trail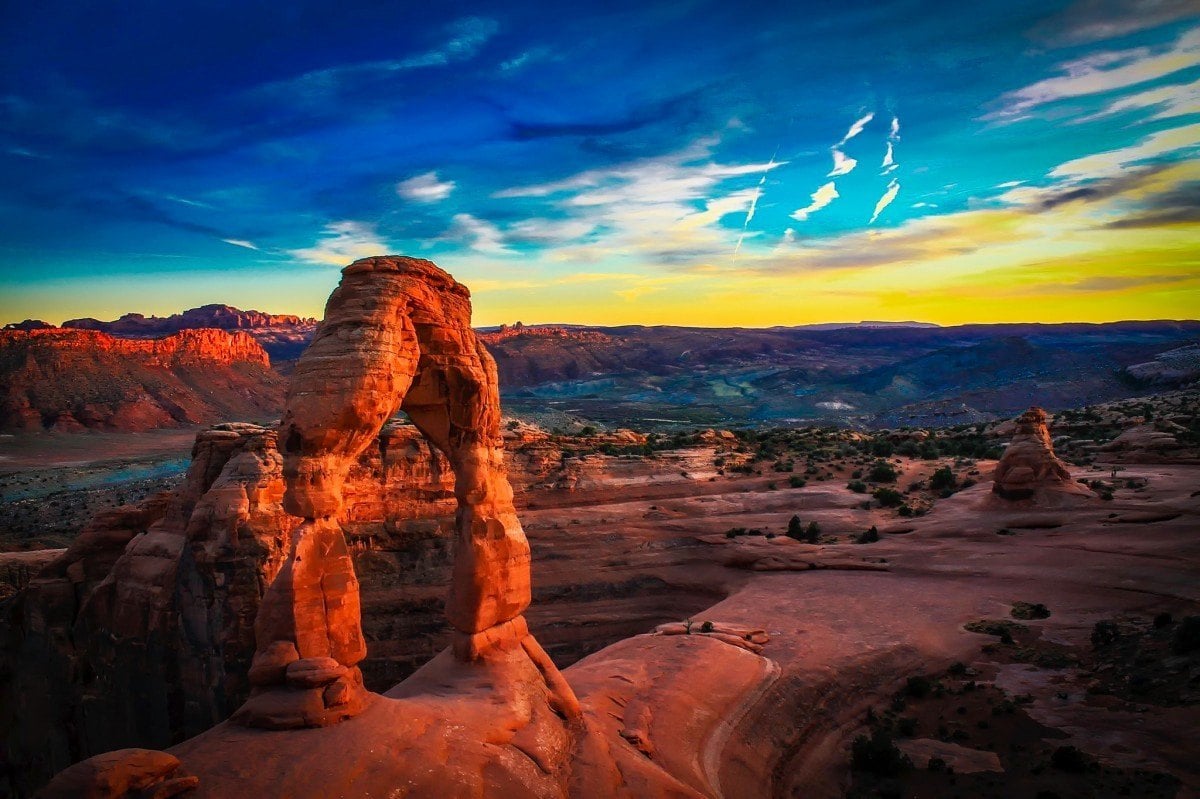 #8 Canyonlands National Park
Utah truly is the state that keeps on giving to my best national parks in the USA list. Made famous by James Franco's self-amputation in the movie 127 Hours, Canyonlands is an adventurer's wonderland. Don't worry, you should still have both of your arms by trip's end.
Canyonlands is another magnificent marvel of the power of natural erosion. Dramatic desert landscapes take over all of your senses from the moment you step foot in the park. Native American rock paintings offer up glimpses of the past. Towering pinnacles of sandstone jut up into an endless desert sky.
The turquoise waters of the Colorado River strike a great contract with the orange and red shades of the Canyon walls. Canyonlands is up there with the most epically beautiful desert national parks in the USA for sure. Hop on over to neighboring New Mexico and check out the best national parks in Santa Fe.
Best Time to Visit: Spring, Summer, Fall
Closest Major City: Salt Lake City
Highlights:
Island in the Sky
The Needles
Mesa Arch
Grand View Point
Green River Overlook
Elephant Hill Trail
Horseshoe Canyon
Horseshoe Bend
#9 Rocky Mountain National Park
Rocky Mountain National Park is one of the best national parks in the USA because of its awe-inspiring mountains.
The park is a vast sprawling landmass of protected alpine tundra, forests, lakes, and some of the highest mountain peaks in the country (Alaska excluded).
Open grasslands down in the valley are home to a large population of elk and deer species. The rivers are teaming with trout. The alpine lakes and associated scenery are truly breathtaking.
There are enough backcountry trails to keep you busy for a lifetime. And since it sees quite a few visitors over the year, Rocky Mountain NP offers amazing places to stay at.
Best Time to Visit: All Year Round
Closest Major City: Denver
Highlights:
Longs Peak
Trail Ridge Road (highest paved road in the US)
Bear Lake
Emerald Lake Trail
Estes Cone
Tonahutu Creek Trail Loop
Hallet Peak
Mountain Biking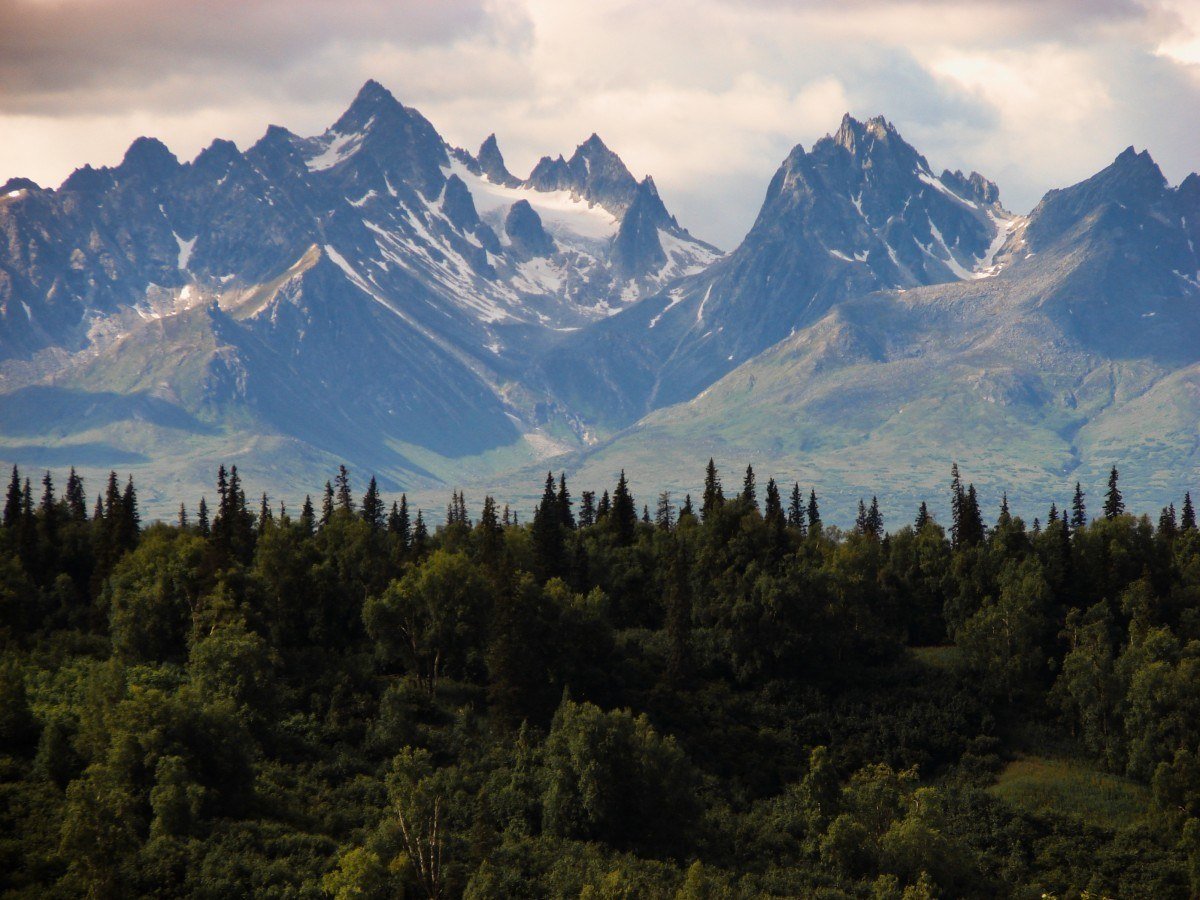 #10 Grand Teton National Park
A hiker's paradise. The fisherman's dream. A skier's heaven. The photographer's playground.
Whatever you want to call it Grand Teton National Park has got it all. From high mountain lakes to pristine rivers in the valley below, Grand Teton National Park is a feast for those who love the mountains. There is documented evidence of Native American habitation of the area dating back at least 10,ooo years.
This is the land where the buffalo used to roam en masse in the north-west corner of Wyoming.
The park encompasses the Teton mountain range, the 4,000-meter Grand Teton peak, and the valley known as Jackson Hole, a popular ski-resort town. Staying in Jackson Hole is common.
Whether you want to hike in Grand Teton, ski, or float the snake river with a beer in hand, there is something for every backpacker here.
Best Time to Visit: Year Round
Closest Major City: Salt Lake City
Highlights:
The Snake River
Grand Teton Peak
Jenny Lake/Cascade Canyon
Hidden Falls Trail
Holly Lake Trail
Paintbrush Canyon Trail
Paintbrush-Cascade Loop
Skiing in Winter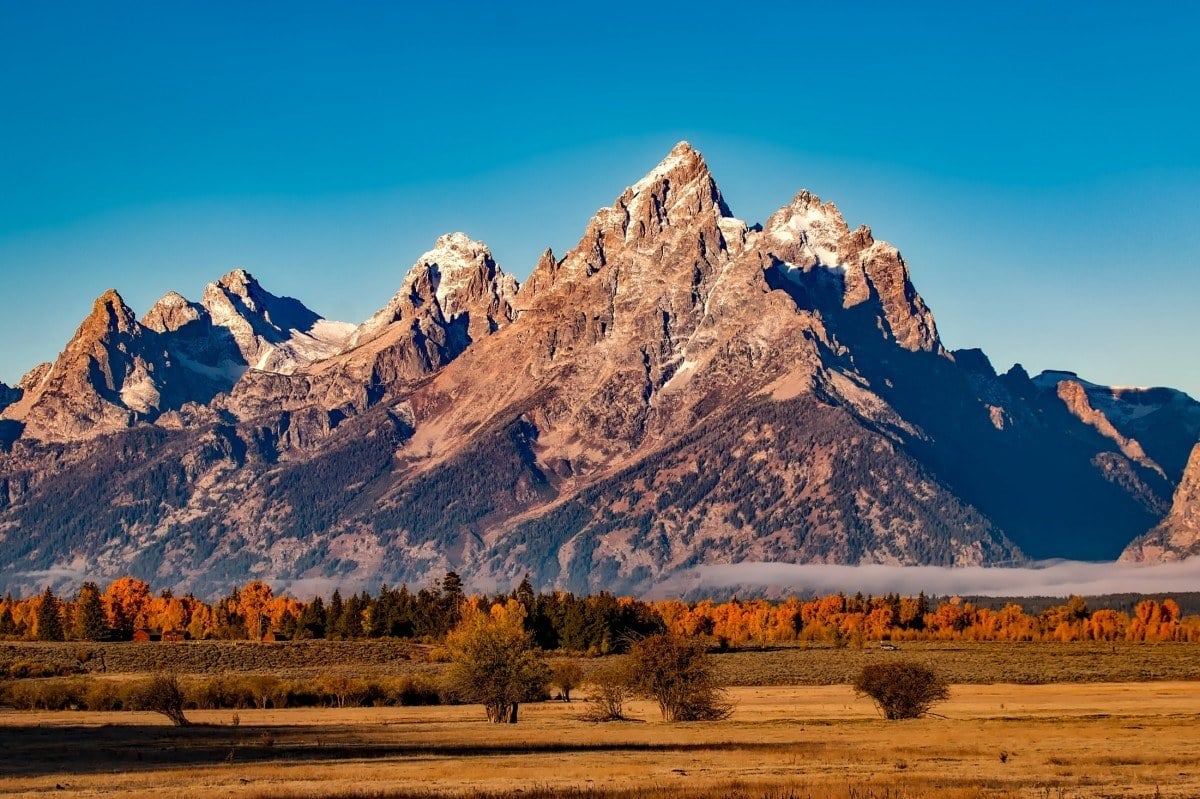 Save $$$ • Save the Planet • Save Your Stomach!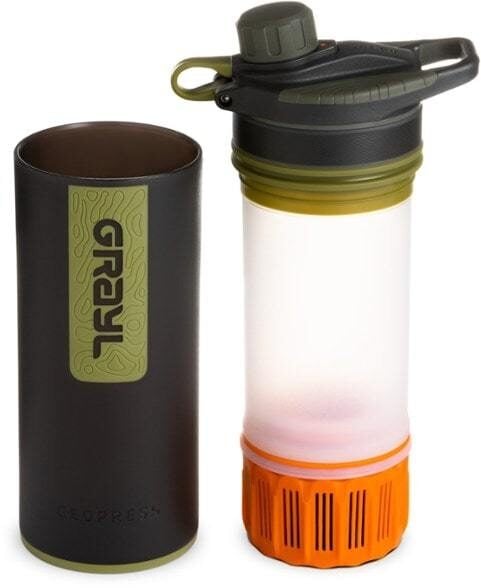 Drink water from ANYWHERE. The Grayl Geopress is the market's leading filtered water bottle protecting your tum from all the waterborne nasties. PLUS, you save money and the environment!
Single-use plastic bottles are a MASSIVE threat to marine life. Be a part of the solution and travel with a filter water bottle.
We've tested the Geopress rigorously from the icy heights of Pakistan to the tropical jungles of Cuba, and the results are in: it WORKS. Buy a Geopress: it's the last water bottle you'll ever buy.
Buy a Geopress!
Read the Review
#11 Yellowstone National Park
Yellowstone might just be the most famous park in my best national parks in the USA list. The park receives a staggering 4 million+ visitors every year.
People come from the world over to take in the spectacular geothermal activity that has transformed Yellowstone's landscapes into something otherworldly. Yellowstone is basically one giant pressure cooker. Experts estimate that when the "supervolcano" that Yellowstone National park sits on top of erupts, it will likely be the most devastating natural event in US history.
Take in the bubbly sulphuric hot pools (don't try to swim whatever you do). Bask in the glory that is the Old Faithful geyser. Hike along the gorgeous Grand Canyon of Yellowstone. Take a dip in Yellowstone Lake.
Yellowstone National park is home to a variety of large mammal species. Grizzly bears and American Buffalo are among the most legendary. Both are VERY dangerous to humans.
Don't be that tourist that gets seriously injured or killed by a buffalo. How to avoid this? Don't be so foolish and selfie-greedy that you get within a few feet of the buffalo just to take a good picture. Every year without fail, some aloof tourist is sent to the hospital due to general stupidity and lack of common sense.
Exploring the park on foot is the only way to escape the crowds and flashing cameras. Yellowstone has massive wilderness areas, so that shouldn't be too difficult.
Best time to visit: Anytime that is not the middle of summer.
Closest Major City: There is no major city close by, but there are still plenty of large towns to stay in near Yellowstone.
Highlights:
Old Faithful
Grand Canyon on Yellowstone
Yellowstone Lake
Yellowstone River
Hayden Valley
Mammoth Hot Springs
Noris Geysers Basin
Lower Geyser Basis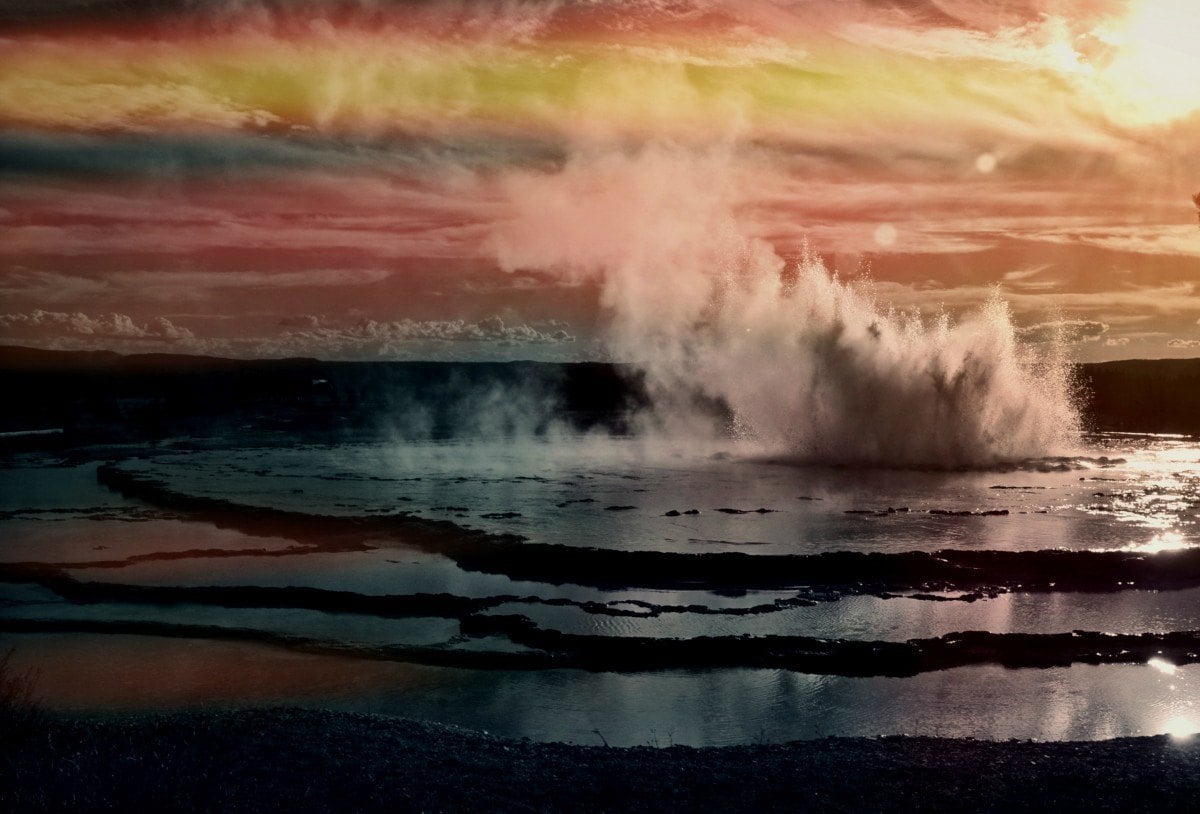 #12 Glacier National Park
Tucked away in Montana's Rocky Mountains, Glacier National Park is probably the most truly wild park on my best national parks in the USA list (within mainland America). A backpacking trip here is bound to be the adventure of a lifetime.
Miles and miles of glacier-carved mountains, untouched lakes, wildflowers, snow-capped peaks, deep forests, and meandering rivers. That is what Glacier is about.
Being that Glacier National Park is in the far reaches of Northern Montana, it receives a fraction of the visitors Yellowstone does. The crowds that do gather here have a different vibe as well. There are more hikers/backpackers and fewer buses packed with tourists.
Glacier National Park is a biosphere reserve, a World Heritage Site, and one of the world's first international peace parks, in addition to being a US National Park. Bottom line, this place is an important ecological treasure.
Love hiking and photography? Glacier is your dream destination. I love this park because it reflects an America that once was: wild, untamed, radically beautiful, and isolated. Please come here and experience it for yourself.
Glacier is a bit off the beaten track but, I promise you that the journey to arrive here is well worth it. There are quite a few awesome accommodation options as well, so you can stay at Glacier National Park a bit longer if you want.
Best Time to Visit: Mid-Spring, Summer, and Early Fall
Closest Major City: No major cities nearby. Closest towns are Whitefish and Kalispell, Montana.
Highlights:
Going-to-the-sun road
Avalanche Lake Hike
Cracker Lake Hike
Two Medicine Lake
Logan Pass
Bird Woman Falls
Paddle Boarding
Fly-Fishing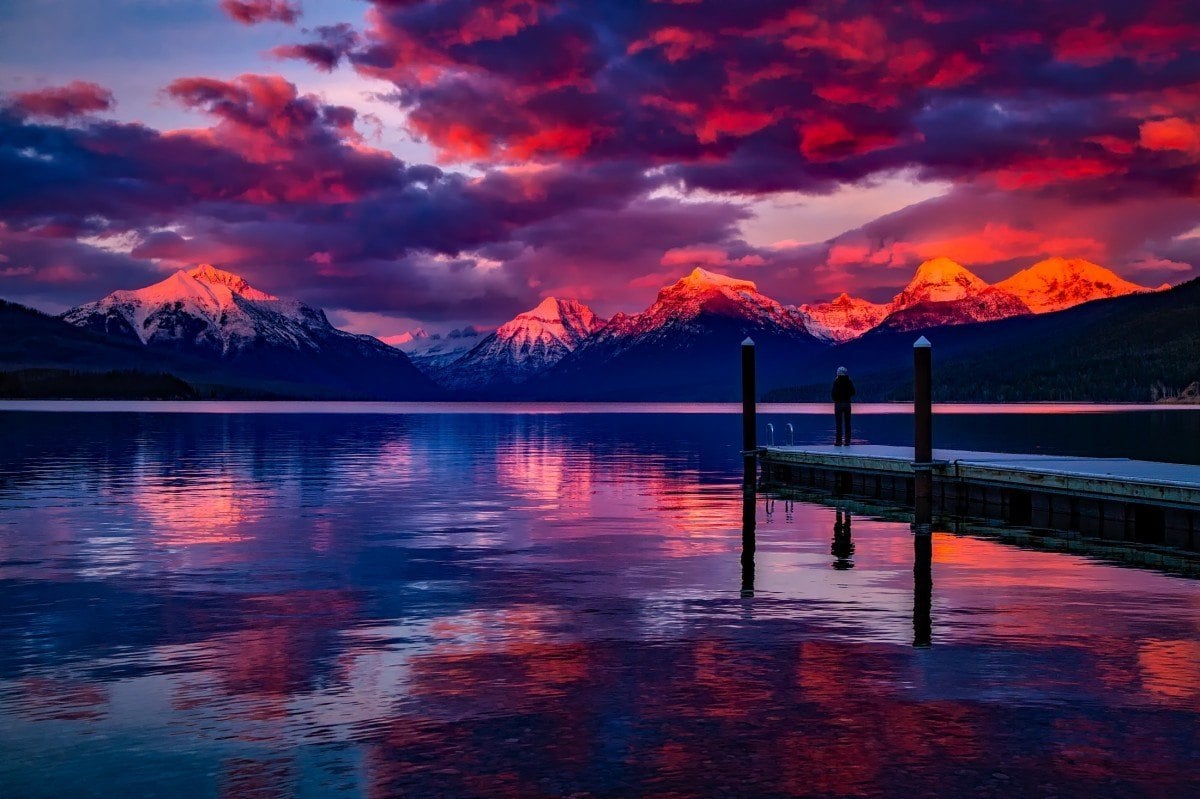 #13 Mt. Rainier National Park
Mt. Ranier National Park is one of the many gems of the Pacific Northwest region of the USA. The park encompasses a 370 square mile chunk of Washington State (not DC!). Mt Rainer is the park's highest peak (5th largest in the USA, excluding Alaska) at 14,400 feet.
It might be a fair bet to say that more locals or at least Pacific Northwest locals visit Mt. Rainer than tourists, which totally changes the feeling of a national park.
The wet, foggy climate of Washington state means that Mt. Rainer National Park is prone to be very green throughout the year. The park is home to glaciers, forests, stunning wildflower explosions in the spring/summer, and plenty of activities for outdoor junkies. Any time of year though bring a good jacket!
There is some excellent skiing and winter-related sports to be had here too.
Best Time to Visit: All Year
Closest Major City: Seattle
Highlights:
Nisqually Vista Trail
Lakes Trail
Bench and Snow Lakes Trail
Skyline Trail
Skiing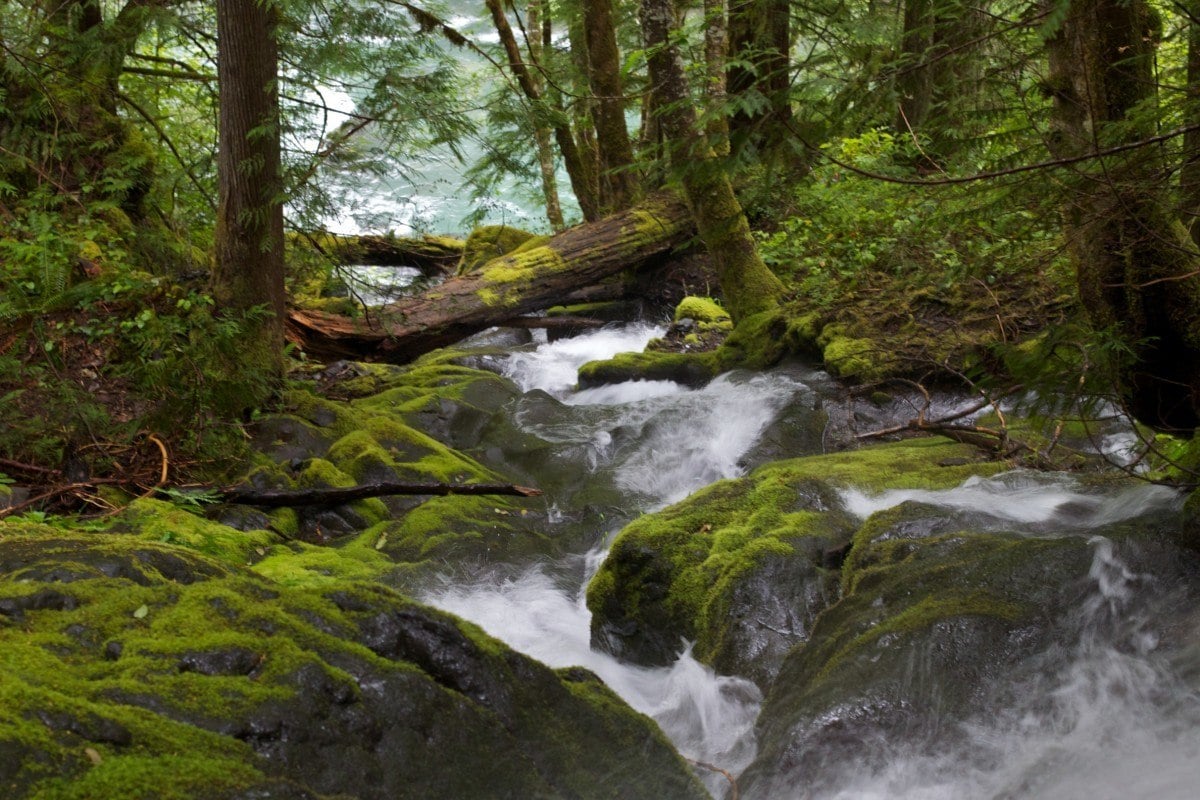 MATH TIME: The entry fee for Yellowstone National Park is $35. Meanwhile, the entry fee for the neighbouring Grand Teton National Park is another $35. That means that visiting TWO national parks alone (out of the 423 total in the USA) will run you a grand total of $70…

Or you can stuff that whole deal off and buy the 'America the Beautiful Pass' for $79.99. With it, you get unlimited access to ALL federally-managed land in the U.S.A for FREE – that's over 2000 recreational sites! Ain't that just beautiful?
BUY THE PASS!
Finding the Ultimate National Park Road Trip
Thinking about visiting a bunch of national parks across the USA in one go? For more inspiration, check out these epic USA road trip itineraries:
#14 Great Smoky Mountains National Park
Great Smoky Mountains National park is certainly one of the most important national parks in the USA.
Surprisingly, GSM is the most visited national park in the US. This is primarily due to its relative proximity to many east coast states. Hordes of people seeking a holiday in the great outdoors choose to stay in the Smoky Mountains every year.
The park itself is quite large, making up a total area of more than 500,000 acres of protected land.
Smoky Mountain National Park is is a biodiversity powerhouse. From vast variety of plants/tree species to the animals that call the Smokies home; the park is teaming with life. To name a few, bear, rattlesnake, deer, and bird populations are abundant.
This part of the USA is very rich in cultural heritage. Between the Native Americans and the early Anglo settlers of the area, the park was at one time an important place for human settlement. The structural remains of old houses and cabins can be found hidden throughout the park.
If you come in the fall, you will see the world-famous colors of the leaves as they change on deciduous trees. Really, it is like a great sea of orange, yellow, red, brown, and all of the shades between.
Best Time to Visit: Spring, Summer, and Fall
Closest Major City(s): Asheville
Highlights:
Cades Cove
Clingmans Dome
Mt LeConte
Cable Mill
New Found Gap
Appalachian Trail
If you're planning a trip to the Great Smoky Mountains National Park, check out these awesome treehouses, cabins and lodges in Tennessee!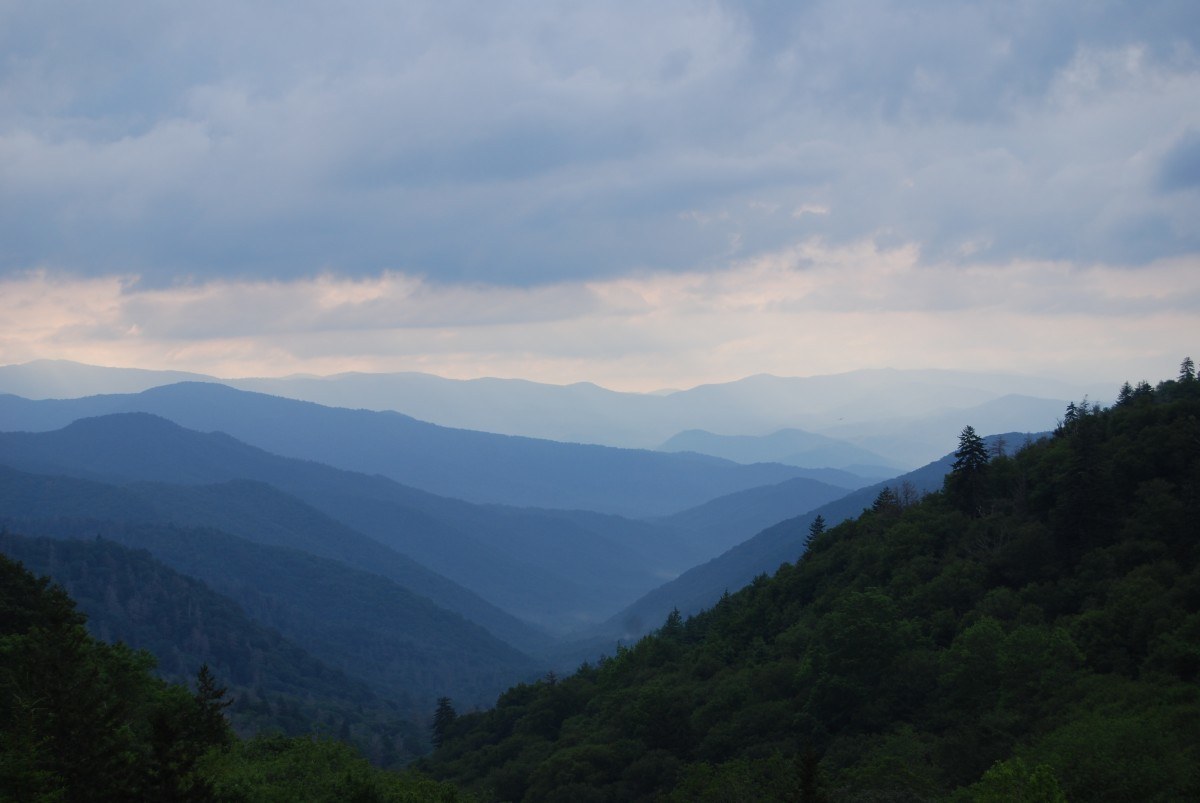 #15 Shenandoah National Park
Shenandoah National Park is located in the heart of the Blue Ridge Mountains: one of my favorite places in the whole country.
The park features a vast network of campsites and hiking trails including a section of the long-distance Appalachian Trail. Mostly forested, the park is home to soggy wetlands, murky rivers, crisp waterfalls and craggy peaks like Hawksbill and Old Rag mountains.
Shenandoah National park is simply the pride of the Blue Ridge Mountains and is not to be missed if you find yourself in this part of the USA. One of the best parts of the park is when you get high up on a ridge above the tree line. View for miles and miles of a sprawling ocean of green (depending on the time of year) reward every keen hiker.
Located surprisingly close to Washington D.C., one can easily escape the city (and its filthy politicians) in a short period of time and enjoy a small stay in Shenandoah National Park.
Whilst internationally, Shenandoah National Park might not be super famous, it is still one of the best national parks in the USA.
Best Time to Visit: All Year Round
Closest Major City: Washington D.C.
Highlights:
Traces Trail
Hightop Summit Trail
Loft Mountain
Dark Hollow falls
Appalachian Trail
Corbin Cabin Cutoff
Blue Ridge Parkway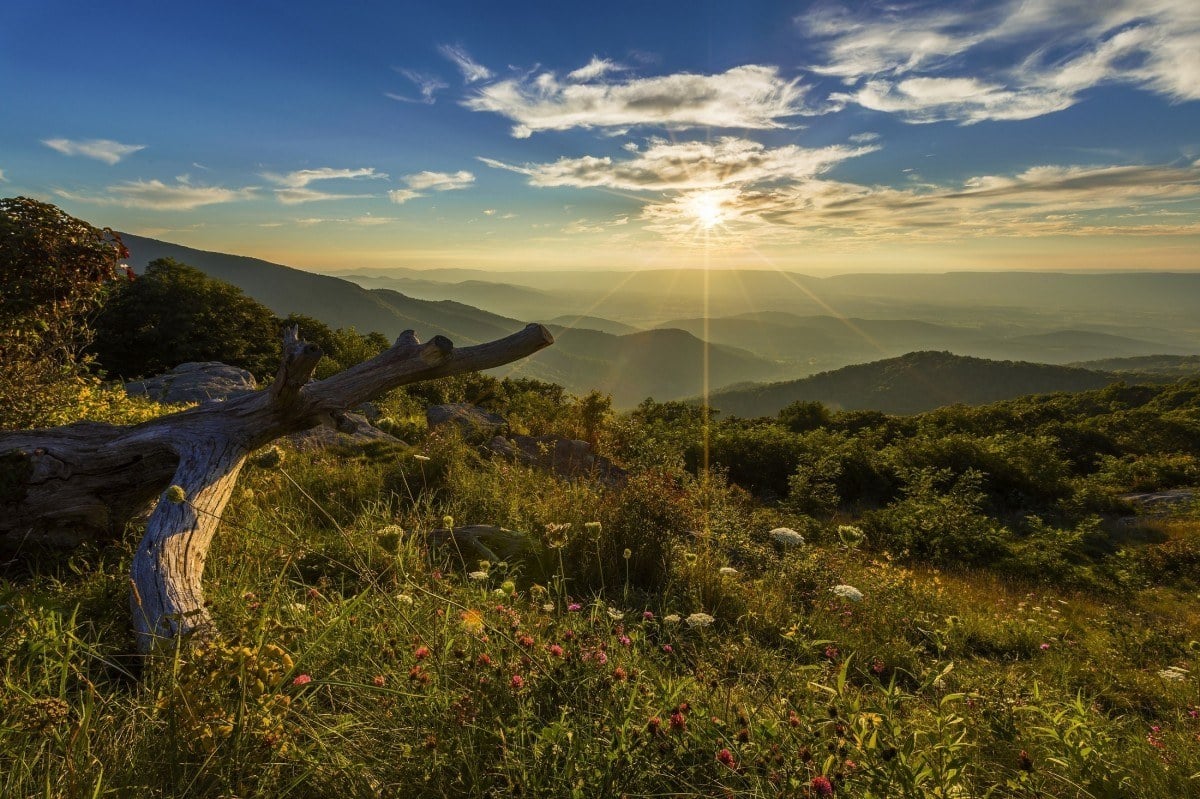 #16. Acadia National Park
When it comes to National Parks in the northeastern corner of the US, Acadia sits atop the throne.
Blessed with rugged, wild coastline dotted with lighthouses and a range out craggy, high mountains, it is no wonder that Acadia attracts millions of visitors each year.
Acadia is home to hundreds of miles of hiking trails that take you through marshland, forests, mountains, and wave-battered coastal stretches.
Whilst trekking through the marshland, keep an eye out for moose! They can be quite aggressive during the mating season. The fall colors here are truly incredible, making it the most popular time to visit the park.
Best Time to Visit: Spring, Summer, and Fall
Closest Major City: Portland, Maine
Highlights:
Cadillac Mountain
Sand Beach
Jordan Pond Shore Trail
Thunder Hole Cave
Precipice Trail
Lighthouses
Sieur du Monts
Schoodic Peninsula
Isle au Haut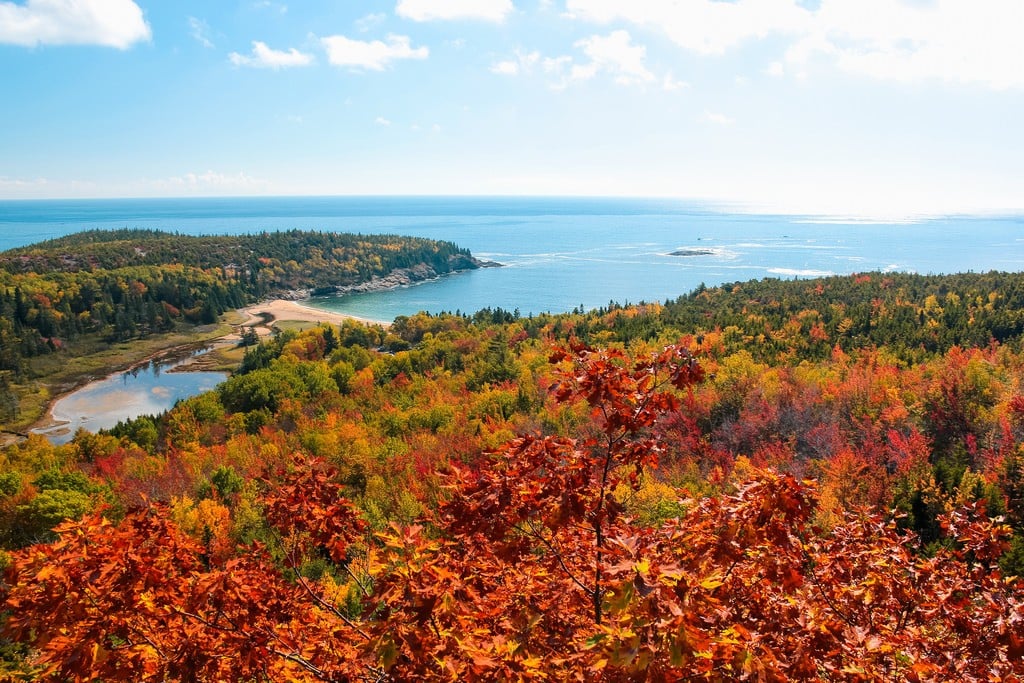 #17 Mammoth Cave National Park
You don't have to be the most famous park to make it onto my best national parks in the USA list.
For those who love thinking about and exploring caves, Mammoth Caves National Park is the ultimate destination. Mammoth Caves is the longest known cave system in the world, with roughly 400 miles that have been explored and mapped.
As a UN World Heritage Site and international biosphere reserve, Mammoth Caves is one of the most unique national parks in the USA.
Most of the attraction of the park lies below the surface of the land or the surface of it anyway. A vast network of sprawling limestone caves await. If ever there was a window into a different world, it can be found here. There is also some fantastic river rafting and hiking to be had in the area as well.
Best Time to Visit: All year round
Closest Major City: Nashville
Highlights:
Wild Cave Tour
Kayaking the Green River
Violet City Lantern Tour
Backcountry campsites
Frozen Niagara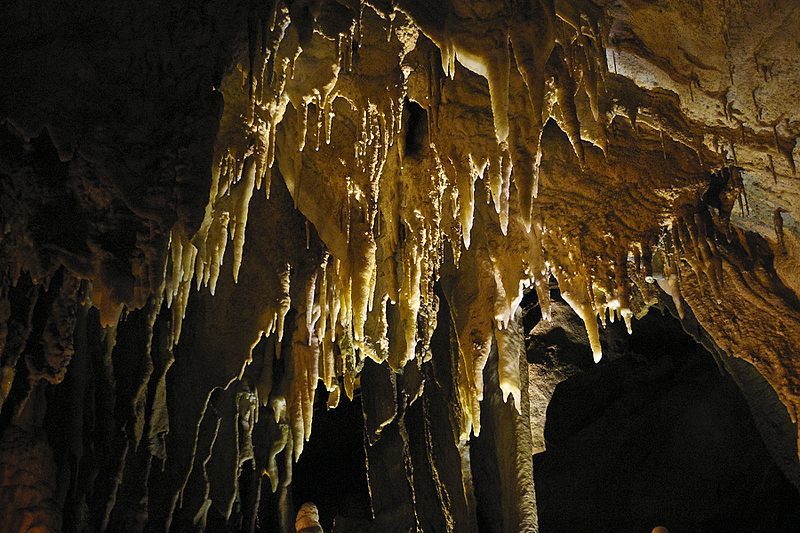 #18 Everglades National Park
There is a reason why this World Heritage Site exists as it does today. I am sure if politicians and developers had their way, the Everglades would have been developed into hideous strip malls long ago.
But nature has a way of protecting itself. Fact is, Everglades National Park is so swampy and so wild in places, that it is virtually impossible to develop it!
Everglades National Park is one of the most biologically diverse destinations on my best national parks in the USA list. From alligators and poisonous snakes to rare orchids and bizarre insects… Everglades NP is simply a nature lovers dream come true. The fact that Native Americans lived here for millennia blows my mind given just how rough and wild this place can be.
I'd say that Everglades National Park is best explored by boat, as hiking in the "backcountry" here is not an easy endeavor. That said, there are a few awesome hiking trails here too.
Best Time to Visit: All year round
Closest Major City: Miami
Highlights:
Anhinga Trail
10,000 Islands
Canoeing the Everglades
Alligator spotting
Biking trails
Shark Valley Trail
Coastal Prairie Trail
*Note that as of July 2018 many of the backcountry campsites have still not been repaired or cleaned up after last year's devastating hurricane season. Enquire at the visitor center regarding their status before setting off on a hike.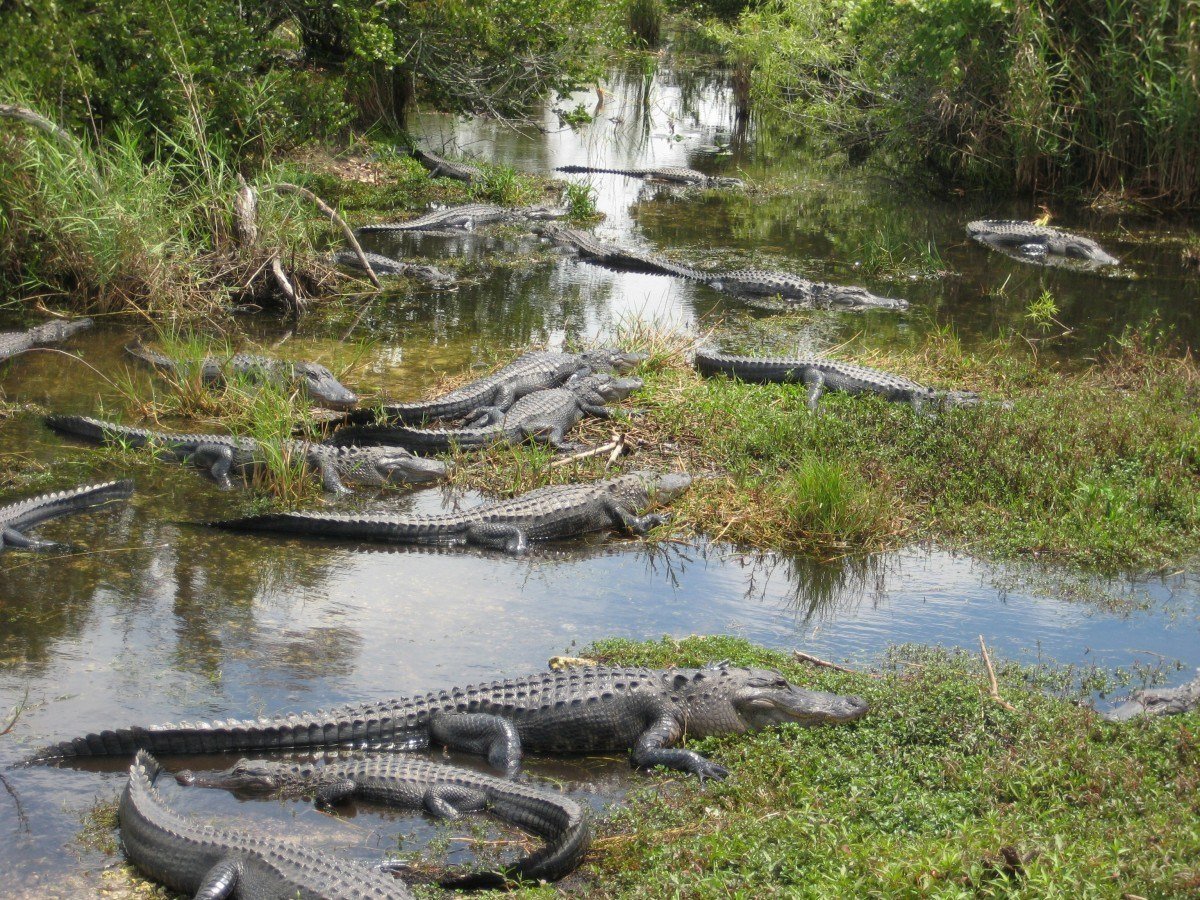 #19 Dry Tortugas National Park
Dry Tortugas National Park is an ecological wonder located at the very bottom of the Florida Keys.
Given its location in the Gulf of Mexico, this national park has a colorful history. Many a smuggler, pirate, migrant, and sailor have passed through these turquoise waters at some point in time.
I don't think it is too far a stretch to say that Dry Tortugas is one of the best national parks in the USA to enjoy some scuba diving. Luckily there are a few awesome Airbnbs in the Florida Keys where you can stay at to be close to the park.
Spot sea turtles, sharks, manta rays, and a multitude of other wildlife creatures by day, and sip rum on the beach by night. Sounds pretty damn good.
Dry Tortugas National Park is part of the Everglades & Dry Tortugas Biosphere Reserve, established by UNESCO in 1976.
Best Time to Visit: All year round
Closest Major City: Miami
Highlights:
Fort Jefferson
Windjammer shipwreck
Little Africa
Texas Rock
Pulaski Shoals Area
Long Reef Key
Moat Wall night snorkeling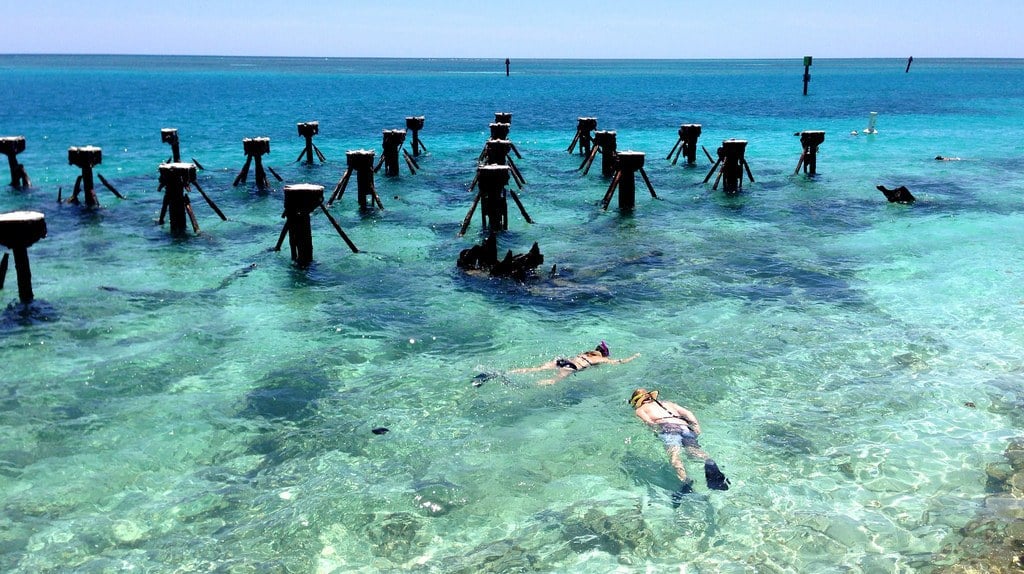 Is This the Best Daypack EVER???
Top Hawaii National Parks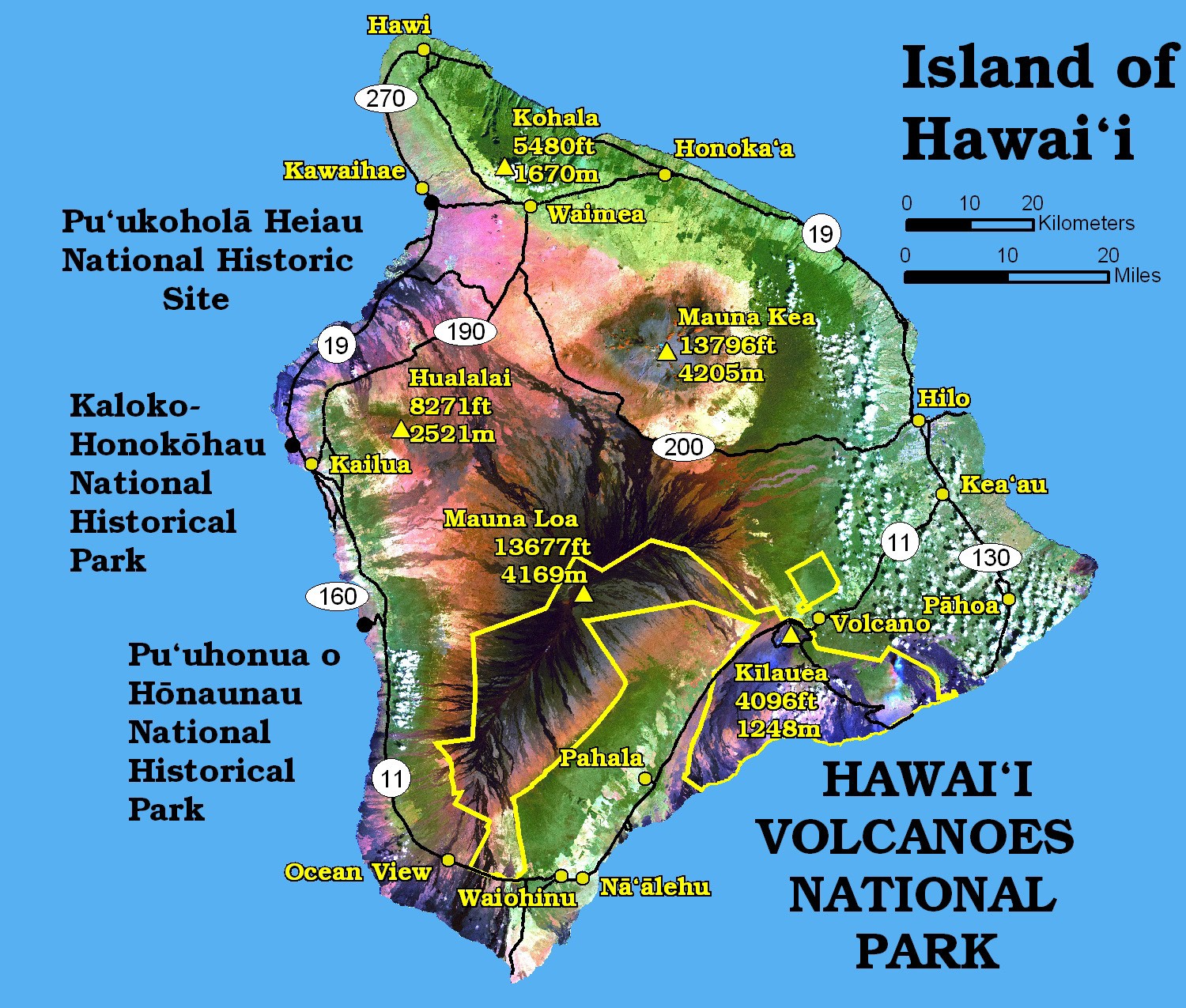 #20 Hawaii Volcanoes National Park
Hawaii Volcanoes National Park is on Hawaii Island (the Big Island). At its heart are the Kilauea and Mauna Loa volcanoes. These volcanoes are (very) active mind you. This is a land of immense power and staggering volcanic beauty.
A visit to Hawaii Volcanoes National Park is bound to be a mind-blowing experience. Steam vents, lava rivers, jaw-dropping coastline all make up the draw to these landscapes straight out of middle earth. It is not difficult to see why Hawaii Volcanoes is one of the best national parks in the USA.
Life on Hawaii's Big Island might sound dreamy as hell on the surface — and in many ways, it is — though as recent events have shown us, all hell can break loose at a moment's notice.
As of July 2018, the eruption of the Kilauea Volcano continues to dramatically change the landscape of the Big Island. Many communities have been affected. Roads have been destroyed. Park infrastructure has been damaged. Great lava rivers are still flowing as of this moment. My good friend had to evacuate her home with her family.
Most of the national park remains closed due to volcano danger/damage.
Check in with the National park Service website for up to date details.
Best Time to Visit: All year round normally, but as of July 2018, now is not the time to visit.
Closest Major City: Hilo
Highlights:
Crater Rim Road
Devastation Trail
Thurston Lava Tube
Chain of Craters Road
Earthquake Trail & Waldron Ledge
Ha'akulamanu (Sulphur Banks)
Iliahi (Sandalwood) Trail
Crater Rim Trail
*all or some of these highlights may have been impacted by the 2018 volcanic eruption. Check in the NPS before setting off to explore.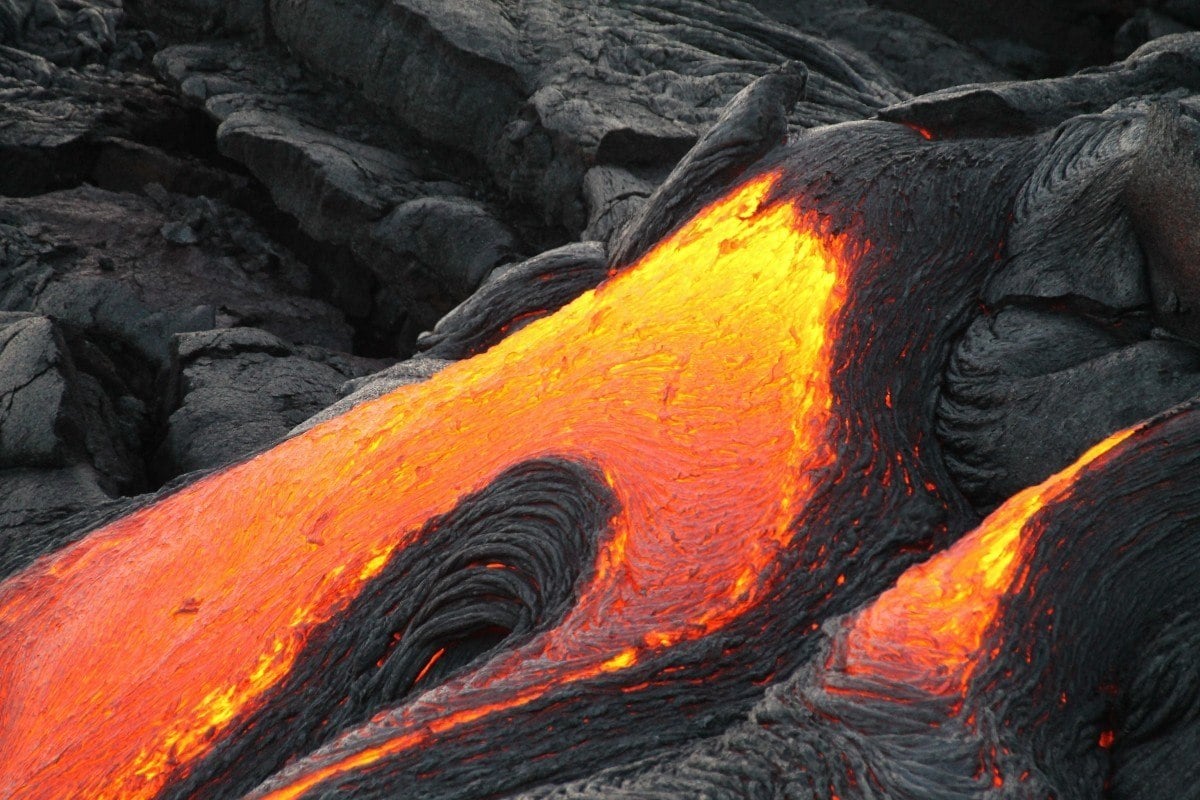 #21 Haleakala National Park
Located on Hawaii's Maui Island, Haleakala National Park is another gem of the Hawaiian Island chain. The dormant (thankfully) Haleakala Volcano lies at the center of the park, whilst the West Maui Mountains dominated the rugged surrounding interior.
There are some fantastic hiking trails for those seeking to get out into the Maui wilderness. This national park is defined by its dry, desolate landscapes.
Get a glimpse of just how wild and remote Maui was before the tourist hordes came.
Best Time to Visit: All year round
Closest Major City: Kahului
Highlights:
Pipiwai Trail
Sliding Sands Trail
Halalai'i and Pu'unaue
Kuloa Point
Haleakala Volcano summit
Stargazing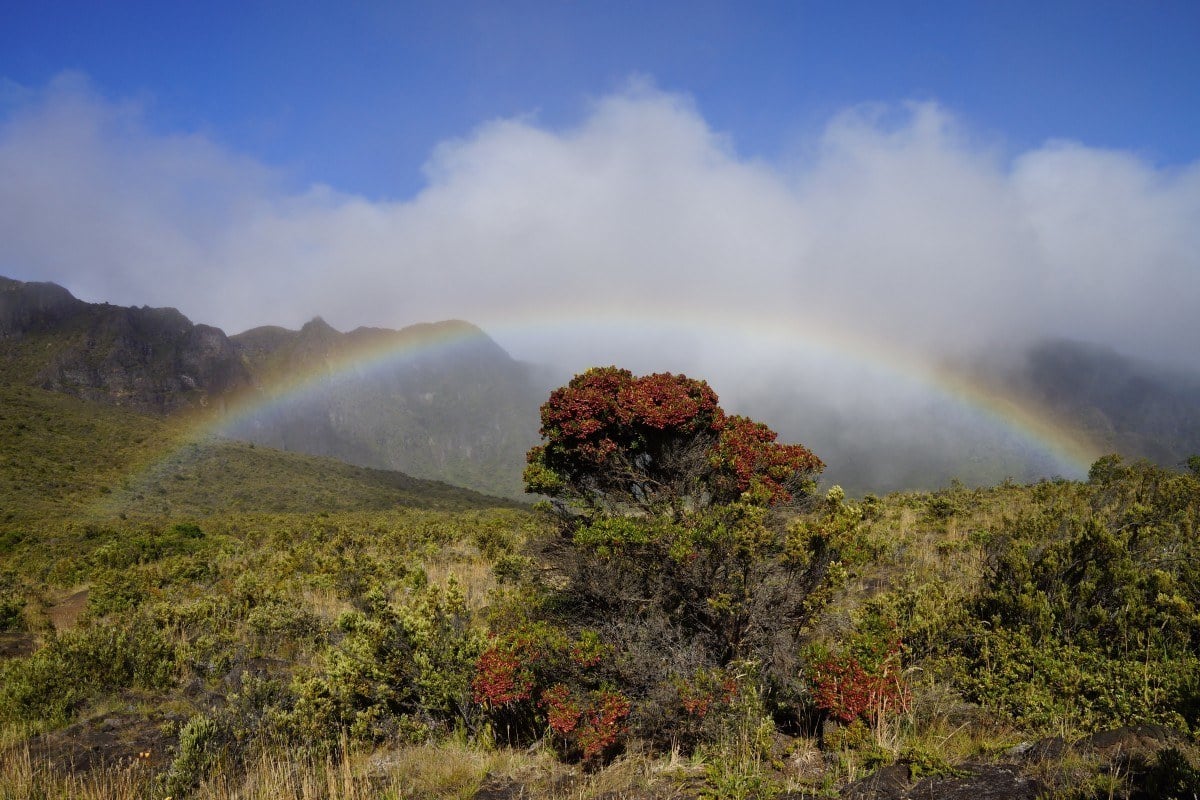 Top Alaska National Parks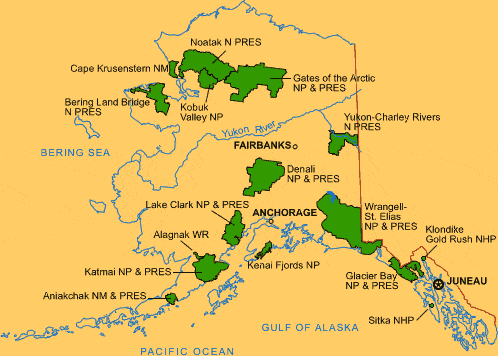 #22 Denali National Park
Denali may be one of Alaska's most popular national parks, but it is certainly worth traveling too. The park is a sprawling 6 million acre wilderness home to towering mountain peaks, grizzly bears, pristine rivers, and stunning long valleys.
I'll just say that the national parks in Alaska are on another level. The landscapes are dramatic and the rewards of in-depth exploration are endless.
If you love adventure and outdoor sports, Denali has plenty to keep you busy for a thousand lifetimes.
Alaska is America's final frontier. There is a sense of remoteness and solitude found here that is absent in the mainland US (with a few exceptions).
If you plan on tackling some multi-day backpacking or river trips here, make sure you come prepared to set forth into a true wilderness area.
There are many popular trails where you will encounter many other hikers in the summer. That said, there are literally millions of acres that are untamed and uninhabited. Getting off the beaten path should not be too difficult. Denali is certainly a top pick on my best national parks in the USA list.
Best Time to Visit: All year round (snow sports in Winter)
Closest Major City: Fairbanks
Highlights:
Savage River Loop trail
Upper Teklanika/ Sanctuary River
Primrose Ridge trail
Mt Mckinley (America's tallest peak)
Mt. Healy hike
Triple Lakes
Sugarloaf Mountain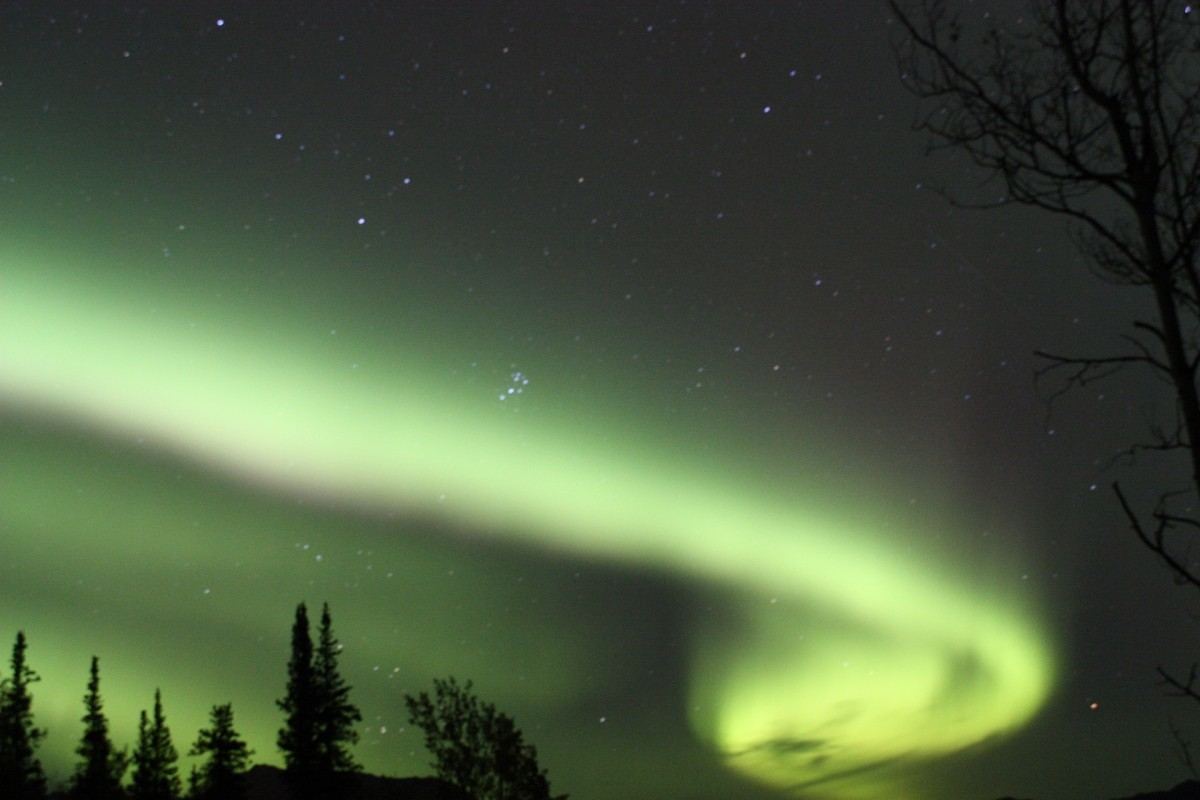 #23 Kenai Fjords National Park
The mystical Kenai Fjords National Park is a land of ice, glaciers, ultra-clear lakes, abundant wildlife (including wales and eagles), and some of the most beautiful landscapes found in North America.
Established, in 1980, Kenai Fjords is a relatively new national park.
Like other parts of Alaska, Kenai Fjords has become popular with cruise ships. I know. I know. Horrible… But there are still many avenues in which to escape the daytime visitors. The park is truly massive (like most protected areas in Alaska), so you should have no problem finding your peace amongst the humbling beauty of Kenai Fjords.
Many of the ice/snow hikes require crampons. Check in with the NPS to assess dangers and difficulty. You do really want to get onto the ice if you can!
Best Time to Visit: Late Spring-Early Fall
Closest Major City: Anchorage
Highlights:
Northwestern Glacier
Harding Ice Field trail
Exit Glacier
Bear Glacier Lake
Kayaking the fjords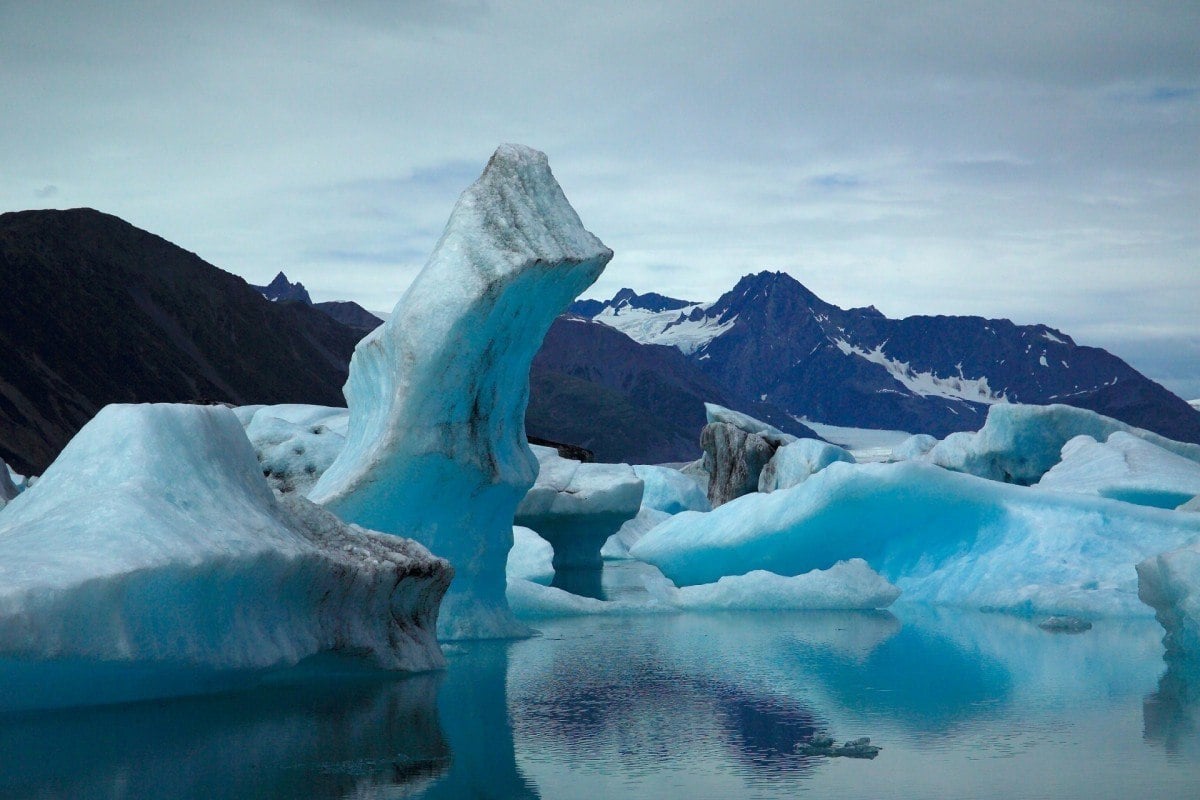 #24 Glacier Bay National Park
Glacier Bay National Park and Preserve is a vast area of southeast Alaska's Inside Passage; another heavily trafficked cruise ship route. The great thing is, however, very few, if any of the cruise people ever set foot any reasonable distance inside the park. It turns out that the all-you-can-eat buffets are an excellent deterrent from keeping folks from actually exploring or hiking.
Glacier Bay is a great place to spot whales, puffins, and other spectacular wildlife.
The landscapes found in Glacier Bay National Park, both on the coast and in the interior are simply mind-blowing.
Snow-capped mountains, jut out of saw-toothed glaciers. Wales expel water from their blow holes in unexpected bursts. Waterfalls flow from glaciated rock faces. This is Glacier Bay.
There are no maintained trails within the park wilderness areas, but beaches, recently deglaciated areas, and alpine meadows offer excellent hiking.
Be sure to get out into the wilds of the park. There are some of the best, most beautiful and remote camping spots to be found anywhere on my best national parks in the USA list.
Best Time to Visit: Late Spring-Early Fall
Closest Major City: Juneau
Highlights:
Forrest Loop trail
Bartlette River trail
Backcountry hiking
Whale watching
Glacier walking
Sea kayaking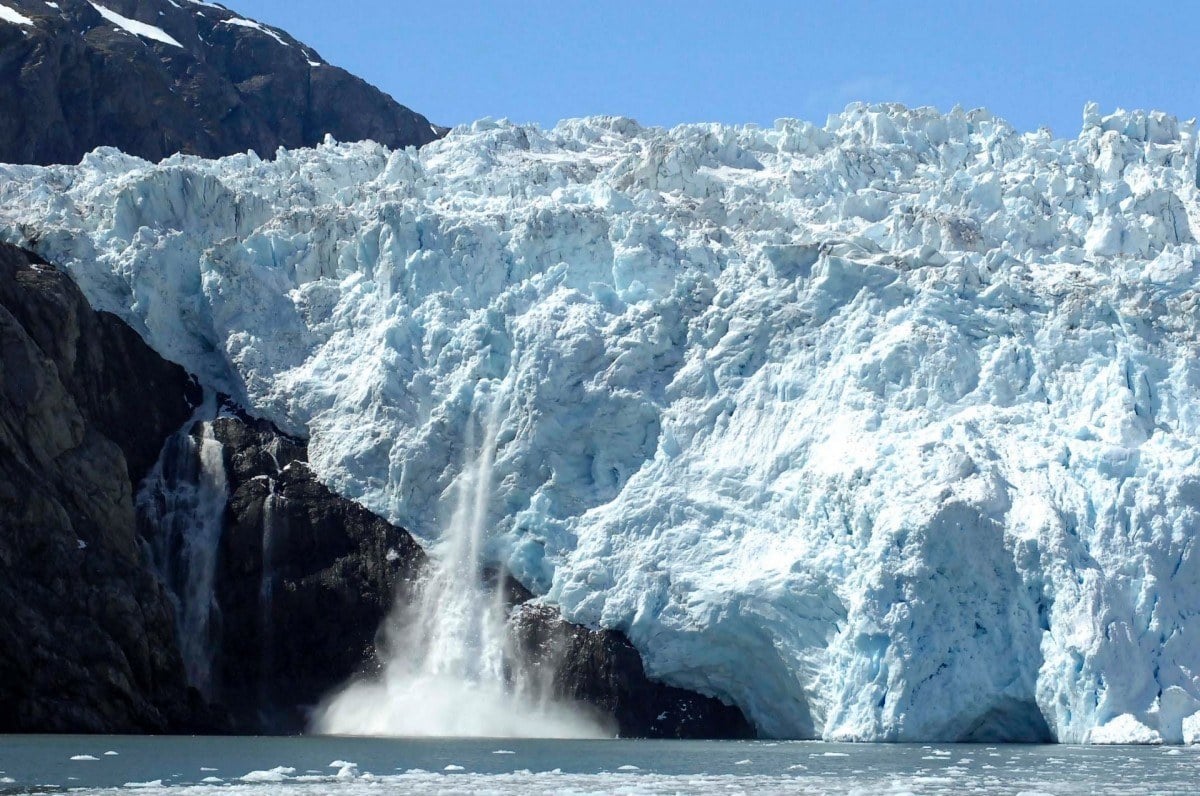 #25 Gates of the Arctic National Park
If you find yourself this far north in Alaska, congratulations! You have made it to the northernmost national park in the USA. This is a super remote, ultra-beautiful part of Alaska, that should only be taken on by serious/experienced backpackers.
Sure you could visit parts with an organized tour, but to really get the most out of your experience, you are going to have to venture out on foot.
You might half-expect a wooly mammoth to stumble out of the bush. It is that kind of place.
Blessed with 8 million square acres of uninhabited wilderness, the adventure possibilities here are endless. Miles of desolate peaks, rivers, lakes, coastline, and raw tundra seem to flow together in a never-ending sprawl.
The Gates of the Arctic National Park is a treasure of the world. It takes some effort to get here, but once you do, it is bound to be the backpacking trip of a lifetime.
I'll just say it here: fuck Donald Trump for opening up this ecological wonder to oil drilling and extraction. Hopefully, the drilling will cease before too much damage is done.
Best Time to Visit: Summer (expect basically 24 hours of daylight)
Closest Major City: Fairbanks
Highlights:
In Gates of the Arctic National Park, the highlights all center around hunting, fishing, backpacking and climbing in the wilderness areas. The options are endless. Be sure to consult with the NPS website and always carry a good map with you!
There are no established trails in the backcountry FYI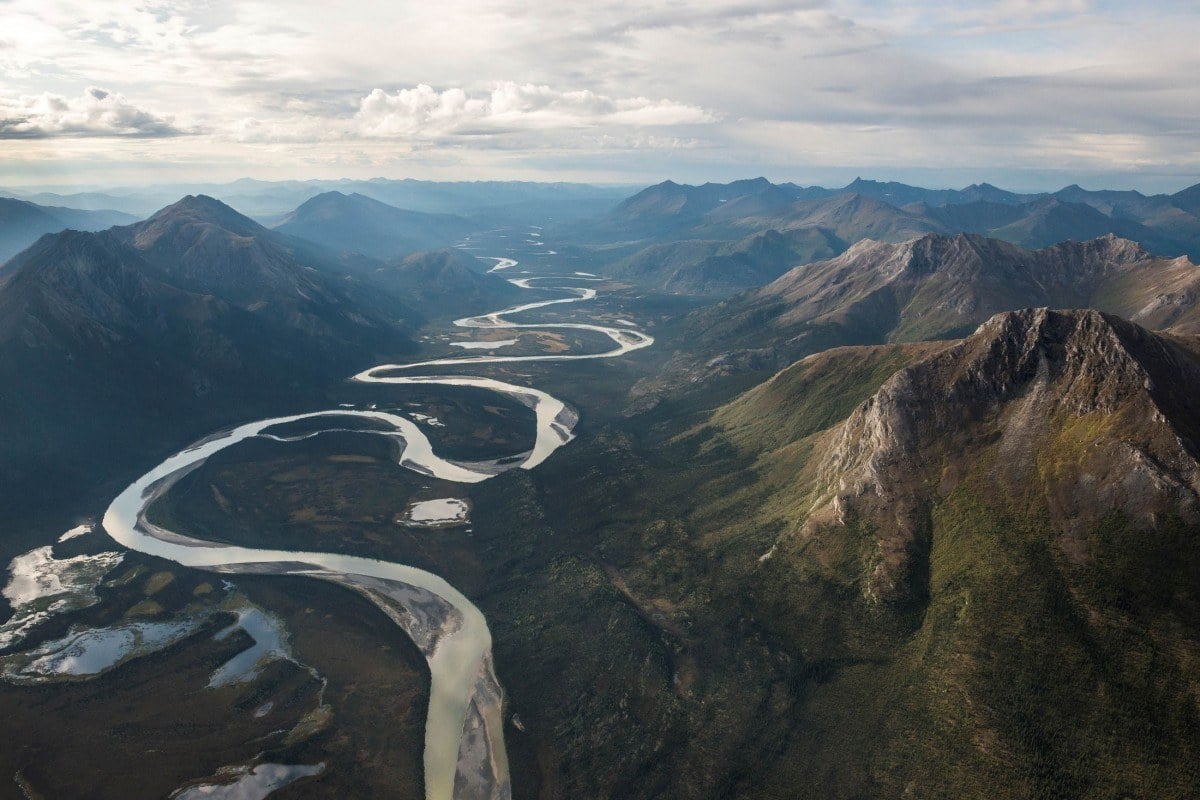 DON'T DIE OUT THERE! …Please 🙂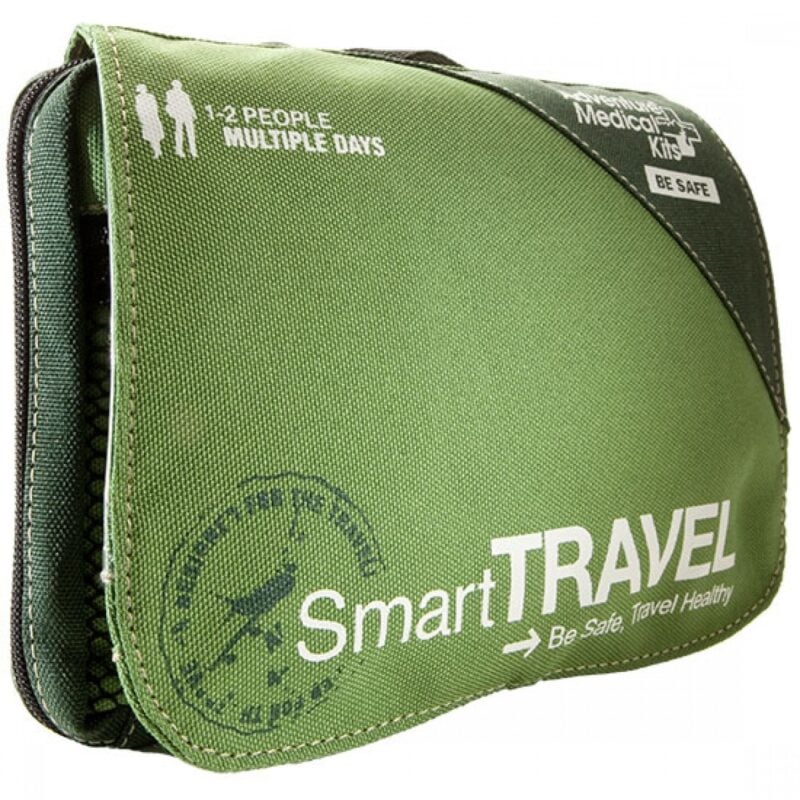 Things go wrong on the road ALL THE TIME. Be prepared for what life throws at you.
Buy an AMK Travel Medical Kit before you head out on your next adventure – don't be daft!
Buy on REI
Books to Read on the Best National Parks in the USA
Get to know some of the top national parks in America in greater detail through some of these fantastic reads:
Our National Parks — John Muir's classic collection of wonderful sketches and descriptions of the national parks of America. A very important book told from a fantastic perspective.
The Mountains of California — John Muir's detailed account of his experiences traveling through the national parks in California (before they were national parks).
My First Summer in the Sierra — Another important book by John Muir. My First Summer in the Sierra is Muir's account of his adventures and observations while working as a shepherd in the Yosemite Valley, which later became Yosemite National Park as a direct result of Muir's writings and activism. I really love John Muir, ok.
Desert Solitaire — A very moving autobiographical work of Edward Abbey, considered the Thoreau of the American West, and his passion for the southwestern wilderness. The book details the unique adventures and conflicts the author faces, from dealing with the damage caused by development of the land or excessive tourism to discovering a dead body
Death in Yellowstone — All of the reasons why you should take Yellowstone seriously. A little morbid maybe, but super interesting and entertaining.
Alone on the Wall — Alone on the Wall recounts the seven most astonishing achievements of Alex Honnold's extraordinary life and career, brimming with lessons on living fearlessly, taking risks, and maintaining focus even in the face of extreme danger. A must-read for anyone who loves rock climbing and adventure sports.
Lonely Planet National Parks USA — Always a good idea to have a Lonely Planet tucked inside your backpack.
Final Thoughts on the Best National Parks in the USA
Well there you have it friends… you have made it through my whirlwind tour of the 25 best national parks in the USA.
You now have an idea of just how massive and diverse the USA national park scene really is.
Obviously, the more time you have to explore the top American national parks, the better. If you only have a week or two, I recommend not biting off more than you can chew. Don't try to do too much! Enjoy what you do get to see and explore the places you connect with until your heart's content.
The distances within the USA can be huge, so plan accordingly when sorting out your national parks itinerary.
I deeply love my country's national parks. They hold a special power as you will soon experience. Do your part to help keep them clean and beautiful and always practice leave no trace principles when camping or trekking in the backcountry.
Best of luck on your USA national parks adventure!
---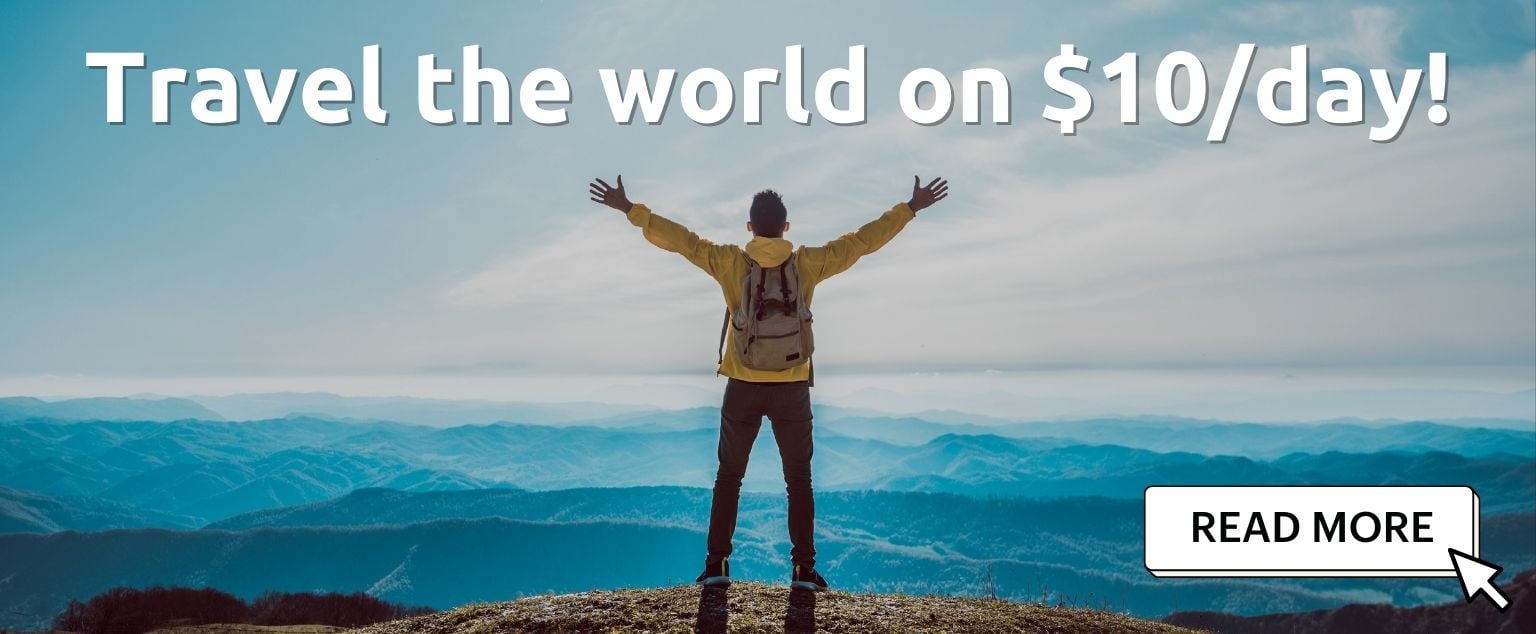 And for transparency's sake, please know that some of the links in our content are affiliate links. That means that if you book your accommodation, buy your gear, or sort your insurance through our link, we earn a small commission (at no extra cost to you). That said, we only link to the gear we trust and never recommend services we don't believe are up to scratch. Again, thank you!