Going on a road trip in California has to be one of the best ways to experience the state. With amazing national parks, world-class cities and everything in between – California has everything that a road tripper could ever want!
But California is huge, and is practically a nation unto itself. Where do you pick where to go on your California road trip? How long will you visit each place? How much will it cost?
Don't worry – we have the insider information you need for an EPIC road trip.
Written by our road-trip experts, this epic guide covers everything you need to know about your California road trip.
We'll show you exactly how to stick to a budget, where to find California's hidden gems, and give you plenty of ideas and itineraries so you can easily plan out your entire California trip!
The highway is calling – let's dive right into our insider California travel guide!
Let's be frank here: a road trip in California is not going to be cheap by any means.
It's not the kind of cost to be discouraged though since we at The Broke Backpacker still look for ways to save! Even if we are unable to travel for $10 a day we can at least help reduce the prices of a California road trip to a reasonable level.
The average daily budget for a California road trip is between $75-$150 – this includes gas, a rental car, lodging, food, drink, and entry into certain attractions. Make note of this number but please do not let it discourage you – we're going to show how to reduce it to a more budget-friendly amount soon.
The largest cost will definitely be your rental car, as it is unavoidable for a road trip. We suggest visiting California outside of peak season for cheaper prices.
California is a large state – don't be surprised to drive 5+ hours in a day – so gas prices are inevitable too. While much cheaper than say, Europe, California gas prices are one of the most expensive in the country.
Finally, lodging, food, and drink can be as cheap or as expensive as you want it. This is where you can really bring the costs down, which we'll break down in the next section.
Average Costs of a California Road Trip
Below is a list of the best itineraries for a California road trip. Varying from 5 to 14 days in length, they cover many of the top destinations in California. Each itinerary provides day-by-day highlights, which are meant to give you some good California road trip ideas.
Southern California may be the first place everyone imagines when they think about the state. Fine-sand beaches, palm trees, plenty of urban sprawl, and plenty more weed and booze, SoCal is quintessential California.
Going on a road trip in Southern California will afford you lots of chances to try all of the aforementioned activities.
The area between Los Angeles and San Diego is classically considered SoCal. Between two massive cities, you'll get to do everything from surfing to smoking to skating in the parks. You'll get to hang with hipsters in Echo Park, have date nights in La Jolla, and chillax in Venice Beach.
If you'd like to shoot for the stars, you can even make road trips to Southern California's other top spots, likes of Santa Barbara, the San Bernardinos, and Santa Catalina Island.
Road Trip Length:
5 day
Highlights:
San Diego, Los Angeles, Huntington Beach, Malibu, San Bernardino's, Santa Catalina, Channel Islands
Notable bars and restaurants:
The food carts, Lost Abbey (San Diego), Greenflash (San Diego), El Prez (San Diego), A.O.C. (LA), Night Market Song (LA), Tabula Rosa (LA)
Where to Sleep:
Samesun Venice Beach (LA), Grafton on Sunset (Los Angeles), USA Hostels Hollywood (LA), ITH ZOO Hostel San Diego, Lucky D's (San Diego)
Activities:
Surfing, brewery walks in San Diego, food tours in Los Angeles, partying in Hollywood, Venice Beach oddities, hiking on the Channel Islands
Scenic Drives:
I-5, California Highway 1 road trip, Palos Verdes Drive
Festivals and Events:
Sun and Sea Fest San Diego (July), Rose Parade and Rose Bowl (January), Adult Swim Festival (October), Desert Daze (October), Camp Flog Nawg Festival (November)
The Bay Area is (in my opinion) the best part of California – it's drop-dead gorgeous, prosperous, dynamic, and absolutely chalked full of things to do. Food, drink, nature, culture, weather; it's all here. No road trip on the California Coast is complete without stopping in the Bay.
There are just so many superlatives around the Bay:
San Francisco is probably the most beautiful city in the USA (it knows this though). Oakland is low-key the coolest part of the Bay. Napa produces the best wine in the state. Finally, a road trip down California Highway 101 will land you in Santa Cruz – the surf capital of NorCal – and then Big Sur, which is arguably the most popular part of the coast.
The Bay Area is also conveniently within a few hours' drive of amazing outdoor destinations like Yosemite National Park and Lake Tahoe. Both offer some of the most scenic drives in California, not to mention an endless amount of outdoor activities.
Road Trip Length:
7 days
Highlights:
John Muir Woods, San Francisco, Oakland, Yosemite National Park, Lake Tahoe, Napa, Big Sur
Notable bars and restaurants:
Bierhaus (Oakland), Wreck Room (San Francisco), Zeitgeist (SF), Thieves Tavern (SF), Stonefly Restaurant (Markleeville), Austin's Restaurant (Tahoe)
Where to Sleep:
USA Hostels San Francisco, Green Tortoise Hostel (SF), Knights Inn (Oakland), Yosemite Bug Rustic, Mellow Mountain Hostel (Lake Tahoe)
Activities:
Climbing in Yosemite, wine tasting in Napa Valley, swimming at Lake Tahoe, beers in Dolores Park, art walks in Oakland, staying in Big Sur
Scenic Drives:
Highway 1, Tioga Pass, Lake Tahoe Scenic Drive, Silverado Trail
Events:
Treasure Island Festival (October), SF Pride Parade (June), SF Chinese New Year (February), Outside Lands (August), Festival Napa Valley (July)
Eastern California is a side of the state that not too many see. A lot of people are turned off by the region's heat, desolation, and lack of coastline.
While the East may not be as popular as a road trip on the California Coast, it is still beautiful in its own way.
As you make a road trip on California's 395, you will be presented with unexpected natural splendor. To the west, the eastern slopes of the Sierra Nevada rise very prominently. To the east, the Great Basin stretches on for unfathomable miles.
This California road trip route offers a lot of the state's best destinations, like Death Valley, Mt Whitney, Lake Mono, and Lassen Volcanic Park. All of these locations are stunning and it goes without saying that some of the best hikes in California are around these parts.
Road Trip Length:
10 days
Highlights:
Death Valley, Alabama Hills, Bishop, Lake Mono, Lake Tahoe, Lassen Volcanic National Park
Notable bars and restaurants:
Holy Smokes Texas Style BBQ (Bishop), Aaron Schat's Roadhouse (Bishop), The Stove (Mammoth Lakes), John's Pizza Works (Mammoth Lakes), La Vecchia (Reno), Peg's Glorified Ham n Eggs (Reno)
Where to Sleep:
Grafton on Sunset (Los Angeles), USA Hostels Hollywood (LA), Morris Burner Hostel (Reno), Moderne Hostel (Mammoth Lakes), Hostel California (Bishop), Mellow Mountain Hostel (Tahoe)
Activities:
Climbing Mt. Whitney, skiing at Mammoth Lakes, hiking in John Muir Wilderness, paddleboarding at Lake Tahoe, gambling in Reno
Scenic Drives:
Highway 395, Lake Tahoe Scenic Drive, Lassen Scenic Byway
Events:
Burning Man (August), Reno Artown (July), Reno Hot August Nights (August), Mammoth Festival of Beers and Bluesapalooza (August), Mammoth Village Summer Jam (June), Bishop Manzanar Pilgrimage (April)
A road trip on the California Coast is the stuff of dreams – it's one of the most romantic parts of the entire USA and has inspired countless people to pack up their lives and move west. Ultimately, it is a superbly beautiful place to travel around and, crucially, very easy as well.
You can take a road trip on California Highway 1 and 80% of the time you will never leave the coast. Seriously, the ocean is within sight for the near entirety of the trip. For those who want to be close to the sea, this California Coast road trip route is about as close as it gets.
You will also visit most of the state's top locations while on a Highway 1 California road trip as well. This includes San Diego, Los Angeles, Big Sur, San Francisco the Redwoods; all that and then some.
Road Trip Length:
14 days
Highlights:
San Diego, Los Angeles, Santa Barbara, SLO, Big Sur, San Francisco, Marin Country, Redwoods National Park
Notable bars and restaurants:
Greenflash (San Diego), El Prez (San Diego), A.O.C. (LA), Night Market Song (LA), Tabula Rosa (LA), Wreck Room (San Francisco), Zeitgeist (SF), Oaxaca Grill Restaurant (Eureka), Annie's Cambodian Cuisine (Eureka)
Where to Sleep:
USA Hostels Hollywood, ITH ZOO Hostel San Diego, HI San Luis Obispo, HI Monterey, USA Hostels San Francisco, Emerald Forest Cabins (Eureka)
Activities:
Hanging out in Santa Cruz, hiking in SLO, road trip along Big Sur, food in LA, photography with the Redwoods, beers in San Diego
Scenic Drives:
The entire road trip on California Highway 1
Events:
Kinetic Grand Championship (May), Redwood Coast Music Fest (May), Reggae on the River (August), Pride Parade (June), Outside Lands (August), Sun and Sea Fest San Diego (July), Desert Daze (October)
Below is a list of the best road trip stops in California. Study them well and decide which ones you like the most. Check out this post for romantic getaway ideas found along your California road trip route.
Road Trip to Los Angeles
When people imagine California, the first place that comes to mind is Los Angeles. Let's just get it over with. Not that it isn't a great place to visit in California. In many ways, Los Angeles does epitomize Californian life – hopeful, buzzing, fortunate, decadent, and decrepit all at once. I can think of no better place to start a road trip in California than the "City of Angels."
Located in Southern California on the Pacific Coast, Los Angeles is an enormous city. It's the second-largest city in the USA and has dozens of unique districts that offer their own flair. To speak to each one would require a lot more time than we have in this guide so we'll have to gloss over a lot of LA. If you want to get a better idea for the city, then check out our in-depth Backpacking Los Angeles guide.
Los Angeles does a lot of things to do. It is statistically superlative: the most LGBT-friendly city in America, one of the most ethnically diverse cities, and one of the most sexually active. In summation, LA is really good at being open-minded and enjoying itself.
Much of LA's reputation precedes it. World-famous Hollywood is still a playground for the rich, famous, and beautiful. Santa Monica is still the place for family fun and fresh-out-of-college greenhorns. Venice Beach is still full of weirdos.
There is a lot more to LA these days. Once crime-ridden and neglected areas like Koreatown, Silverlake, and Echo Park are on the rise. Hipsters are becoming the new socialites, not aspiring actors. If there's one thing I can credit LA for, is that it's always surprising me.
So stay in Los Angeles for good food, good parties, and good vibes. You'll find it to be one of the most unique things to do in Southern California.
Road Trip to San Diego
People often imagine Los Angeles as a laid-back surfer town with sick beaches and good vibes but this is not always the case. If this what you're looking for, you should visit San Diego instead as it is the more the stereotypical Southern California road trip experience.
San Diego is a fun, easygoing beach city that is renowned for its excellent surf, seriously spectacular weather, and righteous residents.
San Diego is south of Los Angeles and sits right on the border of Mexico. Literally, from a large hill, you can Tijuana and the Mexican border. This makes trips to Mexico very easy and also imbues the city with a very Latin vibe.
Aside from Balboa Park, the best places to visit in San Diego are the many coastal neighborhoods or one of the many cultural sites.
San Diego has a lot of history, both as an ex-colonial town and important military base during World War years. You'll a decent amount of Spanish-inspired architecture in San Diego and many landmarks like the Cabrillo Monument, the USS Midway, and the Old Colonial Park.
Seriously, you can't go wrong with just laying on the beach in San Diego. The city beaches here are some of the best in California and should not be missed. Coronado, Mission, La Jolla, and Pacific are all noteworthy ones.
Be sure to grab a drink or attend a concert while road tripping in San Diego. The Gaslamp Quarter (Downtown) is definitely ground zero for parties in San Diego though Mission and North Park are also good. There are many breweries around San Diego and it's often ranked one of the best beer cities in America. Check out ListenSD for all up upcoming music shows.
Road Trip to Santa Barbara and San Luis Obispo
Heading north from Los Angeles we begin our real road trip in Southern California; the area we're about to describe is known as the Central Coast and arguably the best area in the state.
When driving northbound, you definitely have to drive on California Highway 1 and 101. These coastal routes are among the most famous roads in California because they hug the coast perfectly and offer breathtaking scenery.
Leaving Los Angeles and the ultra-luxurious Malibu, you'll first pass through Ventura. Ventura is a nice coastal town with a couple of things to do; mostly it's a welcome respite from mad LA. Look out for the iron bells on the 101, which mark the original pilgrimage of Junipero Serra, who was one of the most important religious figures in Californian history.
Keep driving on the 101 and you'll eventually you'll arrive in Santa Barbara. Santa Barbara is one of the most beloved cities in California due to its historical significance, downtempo vibe, and excellent beaches.
The Mission Santa Barbara and County Courthouse are two of the best examples of the local (Catholic) Mission-style architecture. They're nice to appreciate but only for about 15-30 minutes.
Much better is East Beach and Leadbetter Beach, which could rival any Californian beach in terms of beauty. Try visiting more cultivated spots like Lotusland and the Botanic Gardens also.
If you'd like to stay in Santa Barbara for the night be sure to check out the best places to sleep in the city. (Hint: the lodges are really nice here.) Otherwise, let's move on.
Back on the road again, we head further north towards San Luis Obispo. You'll notice by now the landscape becoming increasingly green and rugged, which comes to a zenith in San Luis Obispo. Upon arriving in San Luis or "SLO," you'll see that it's a gorgeous college town.
San Luis Obispo is surrounded by woods, volcanic-formed hills, and rugged coastline, all of which are prime places for hiking and adventure sports. It's also close to Paso Robles, a popular spot for wine-lovers passing through the area.
For the more hedonistic travelers, there is an excellent farmers market in SLO every Thursday that offers live music and plenty of fresh food. Wine tours in the Edna Valley are also recommended.
Road Trip to Big Sur and Monterey
The coastline between Los Angeles and San Francisco, referred to as Big Sur, is considered by many to be one of the top destinations in California.
This part of the California Coast is an absolute feast for the eyes. With wind-warped trees, towering cliffs, and some of the most rugged topography in the state, this will be one of the highlights of your road trip on California Highway 1.
Not long after you enter Big Sur from San Simeon in the south, you're afforded views of one the most photographed places in California: McWay Falls. This near-perfect waterfall empties straight onto a gorgeous beach and is framed by equally inspiring sea cliffs. There are several trails around this area that take you to various little canyons and cascades.
Moving along, you'll drive further into Big Sur and past many remote beaches. Pfeiffer Beach is one of the most famous due to the keyhole formation in a local seastack and sparkly, purple sand. You can access several more beaches from Andrew Molera State Park via hiking trails.
Continuing on you'll round Point Sur and be afforded some epic views of the coast. There are lots of vistas here on the side of the road so be sure to pull over for photos.
You'll also see the impressive Bixby Creek Bridge, another oft-photographed landmark in Big Sur. Don't forget to stop by Garrapata Beach for a break.
Last but not least on our Big Sur road trip is Point Lobos, which has lots of gorgeous coves that are accessed via trails. Beyond Lobos is Monterey and the upscale Carmel, a charming little beach town that deserves a day or two to be explored.
If you're looking for some excellent surf, nearby Santa Cruz is legendary for its waves as well as its alternative lifestyles and omnipresent fog. Don't be surprised to smell the grass. Check out this post for fun things to do in Santa Cruz. If you need cheap accommodation in Santa Cruz, check out these stunning motels.
You can either sleep in Big Sur or around Monterey Bay. We love Monterey and the local hostel there but camping in Big Sur is an awesome experience.
Road Trip to San Francisco
San Francisco has always been in a league of its own. Though it often competes with Los Angeles for the title of "coolest city in California," it is in so many ways incomparable to any other city, both in America and the world for that matter.
A supremely confident place with a host of attractions that most international cities dream of having, San Francisco is simply one of the coolest places in California.
San Francisco is a different city from Los Angeles both culturally and geographically. Here, ubiquitous, bright sunny days are swapped for more moody, misty ones and people here are generally more alternative in their lifestyle choices. That is not to say LA and SF are at odds with one another. At the end of the day, the two cities probably have more in common than not.
There is just a fuck ton to do in San Francisco and, like Los Angeles, we can't cover everything in this brief section.
My advice for what to do in San Francisco is to just start walking around. As one of the densest urban areas in the USA, there is literally something to see on every street corner.
Take a walk down Market Street to see the city's skyscrapers. Tour the ultra-touristy Fisherman's Wharf and make your way past Marina District to the elegant Presidio. Get Italian food in North Beach. Explore the ritzy Nob Hill and Russian Hill food and bar scene. Wander around the increasingly gentrifying Mission, Haight, and Castro districts, which were once the hubs of civil action.
Of course, no road trip to San Francisco is complete without seeing the Golden Gate Bridge too.
If you want to really dive into the city, then be sure to read out more comprehensive backpacking San Francisco travel guide!
Road Trip to the Greater Bay Area
It's sometimes easy to forget that San Francisco is a part of a much larger urban organism, one that is among the most dynamic in the USA. Referred to as the Bay Area, there are many cities besides worth visiting when planning a trip to SF. The most noteworthy of these include Oakland, San Jose, and the combined counties of Marin and Napa. Between these other destinations, there is an even greater amount of things to do outside of San Francisco.
San Jose aka "Silicon Valley" is the center of the technological world in California and probably the entire United States. Here are some of the richest, most daring company headquarters in the world, including Google, FaceBook, and Apple, and yet San Jose is kind of a boring place.
Oakland is a way more fun to visit, arguably more than San Francisco actually. Granted, Oakland has had a pretty rough reputation in the past for being crime-ridden and underprivileged, but it is quickly becoming one of the most eclectic and interesting places in California.
The lifestyle here is notably more relaxed than San Francisco and much more geared towards the anti-establishment mentality. With soaring costs of living though, this could all change.
Berkeley is famous for its local university but is a charming place to visit otherwise. Think hippies who made a lot of money and wanted to settle down; that's Berkley. The local Cal Sailing Club also offers free sailing tours in the Berkeley Marina on certain nights, which is one our favorite free things to do in California!
North of SF is Napa Valley, famous for its world-class wineries, and Marin County, arguably the prettiest part of the Bay Area. This area is also where rich hippies settle down. Both make for excellent day-long road trips from San Francisco. Be sure to check out Mount Tamalpais and the Bay's own redwood collections.
Road Trip to Yosemite
One of the most popular road trips from San Francisco is to Yosemite National Park in the Sierra Nevada. Sacred to rock climbers and incomprehensible to first-timers, Yosemite is one of the best places in California and the entire world for that matter. If you're planning on a road trip to California's national parks, Yosemite is absolutely mandatory.
Yosemite is a short 4-hour drive away from the Bay Area. You'll drive along the 508 and Highway 5 through the Central Valley before merging onto the 120, which will take you all the way to the edge of the park.
Beyond Yosemite, the 120 is also one of the most beautiful and famous roads in California because it goes over the Tioga Pass. Views are plentiful and astounding in the summer but during the winter the pass is closed.
Most people end up staying in Yosemite Village where the Visitor's Center is. You'll have to pay a $35 per vehicle entry fee for Yosemite National Park.
If you are visiting more than one national park on your California road trip route, then we highly suggest buying an America the Beautiful pass. It allows unlimited entry to all national parks for one year, and only costs $80 (limit one per vehicle).
In Yosemite Valley, you'll see all of the park's most iconic features, including the hallowed Half Dome and El Capitan. Both of these granite gods are legendary rock climbing destinations and arguably the most famous places to go sport climbing in the world.
For the more casual outdoors person, Yosemite has some of the best hikes in California. The trails leading up to Glacier Point via 4 Mile, Vernal/Nevada Falls via Mist, and Yosemite Falls are all spectacular. You can even hike to the top of Half Dome with a highly competitive permit. Several viewpoints, like Tunnel View and Glacier Point View, are accessible by car as well.
Road Trip to Lake Tahoe
Lake Tahoe is an unfathomably beautiful lake, the likes of which is a great source of pride for Californians. Lying deep in the Sierra Nevada and on the border of the state of Nevada, Lake Tahoe is the largest alpine lake in the USA and the largest freshwater lake in California.
It is one of the most popular road trip spots in California among locals and visitors alike.
There are several roads leading to Lake Tahoe. Both Highway 50 (to South Lake) and 80 (to North Lake)will take you to the lake from the Bay Area and both will take 3-4 hours to drive. If you're looking for a piece of American history, try taking a detour over Donner Pass, which is another famous road in California due in part to the story of the Donner Party.
Arriving at Lake Tahoe, you will be knocked dead in your tracks by the beauty of the lake. It is a massive body of water with huge boulders intermittently strewn and a painter's palette of colors.
The water, a deep turquoise and blue, is often considered some of the clearest in the world and ranked right up there with Lake Baikal and Crater Lake.
There are several places to stay at around Lake Tahoe. The major towns are South Lake Tahoe and Tahoe City in the north. There are several little villages, resort towns, and campgrounds all around the perimeter of Lake Tahoe as well.
Summer is the most popular time of year to visit Lake Tahoe. Swimmers, hikers, and boaters all enjoy the crystal clear (and very cold) water at this time as well as the scenery. There are several gorgeous beaches, both obvious and hidden, around Lake Tahoe.
Lake Tahoe has awesome skiing in the winter. Tahoe gets absolutely dumped on by snow during this time, sometimes 8 feet at a time, though as of late the snow seasons have been hit or miss. The opening of the ski season varies wildly depending on the year as the climate is becoming increasingly unpredictable.
Home to the number one rated hostel in all of California, nowhere else can compete with South Lake Tahoe neighborhoods in terms of budget accommodation options. Check it out yourself and decide what suits you best!
Road Trip to Northern California
Northern California, excluding the Bay Area and Sacramento, is a very different place than the rest of the state. With a penchant for successionism and a far, far sparser population/infrastructure, Northern California can feel like a completely separate state.
It receives far fewer visitors than the more southern California destinations and, for this reason, is actually kind of exotic. With hidden coastlines, gigantic flora, and a string of overactive volcanoes, Northern California is an excellent place for an adventure.
Your Northern California road trip route will probably start in the state capital of Sacramento. A misunderstood city, Sacramento is often mislabeled as "dull" or "backwater." In reality, Sacramento has an amazing cultural scene, with excellent dining and lots of history, not to mention an exploding arts scene thanks to the influx of hipsters.
Driving north along I5, you'll travel quite a ways before you reach anything noteworthy, first of which is the Lassen Volcanic National Park. Due to its isolation, Lassen is one of the least visited parks in the state but has some of the most unique offerings. There are bubbling thermal pools here, surreal landscapes, and one of the most active volcanoes in the country.
Traveling north along the 89, a very scenic drive in California, you'll pass by Burney Falls, which is one of the prettiest falls in the state. Beyond Burney, you'll see the massive Mt. Shasta in the distance, which, at 4322m, is one of the most bulbous mountains in the lower 48.
In the summer, you can climb the mountain over several days or get a good view from Castle Lake/Heart Lake.
Making the long drive west over the Trinity Alps, which is great for wilderness backpacking, you'll eventually land in Redwood National Park, home of the giants. Truly, one of the most beautiful places in California, do not miss the state parks around RNP.
At this point, you've met back up with Highway 101 and the California coast. Road trip back down through Eureka and Humboldt County, the weed growing capital of California, until you arrive back in the Bay Area or keeping driving north to Oregon!
National Parks in California
California has a whopping 9 national parks, which is more than any other state in the USA! Between these many parks are some of the best hikes in California as well as some awesome campgrounds and villages. On your California road trip route, visiting at least some of the nationals parks are absolutely mandatory!
Yosemite – Yosemite is Mecca for rock climbers and photographers. Here are some of the most imposing, most dramatic, and most beautiful rock walls in the entire world. Everyone who visits Yosemite and the valley is awestruck.
Kings Canyon/Sequoia – Two separate national parks that are located right next to each other. Sequoia National park is famous for its towering sequoia trees e.g. General Sherman and Tunnel Tree. Kings Canyon is a craggy, mountainous terrain that is typical of the High Sierra. Lake Marjorie in Kings is one of the most beautiful places in California.
Death Valley – One of the lowest and hottest places on Earth! Characterized by high mountains, surreal geology, and the tallest dunes in North America. Be sure to look for accommodation in Death Valley ahead of time as well – you don't want to be stuck in the heat without a place to stay.
Joshua Tree – Very popular place for boulderers and weekend road trippers from Los Angeles. Very unique flora and fauna and arguably the best stargazing in the state. There are also great accommodation options near Joshua Tree National Park.
Redwood – The Land of the Giants. This enormous park is full of giant redwood trees, which are among the tallest trees on the planet. One of the lushest and most ancient places in California.
Lassen Volcanic – Lesser-visited park in Northern California. A very geologically active place full of bubbling lakes and active volcanoes. A little Yellowstone.
Pinnacles – Small and newest national park in the country, but significant national park southeast of San Francisco.
Channel Islands – Islands that have huge ecological diversity. Good for whale watching, scuba diving, and hiking.
Off the Beaten Path California Road Trip Ideas
California is an absolutely massive state and so there are plenty of opportunities to get off the beaten path. Most travelers stick to the popular routes while road tripping in California as well, which means these locations will be way quieter. Consider visiting these remote and special destinations in California while on your adventure.
Lost Coast – The name alone gives away this location's anonymity! Located in Northern California south of Eureka, this area experienced massive depopulation in the 30s thus giving it its name. The Lost Coast is one of the most underdeveloped and remote places in California for this reason and is stunningly beautiful. The eponymous Lost Coast Trail is very popular with backpackers and hiking this may be your only chance in Cali to have a beach to yourself.
John Muir Wilderness – John Muir is a legend in the outdoor community thanks to his herculean effort to navigate and preserve California's nature. Long gone, he is now honored with a section of wilderness in the Sierra Nevada named after him. The John Muir Wilderness and Ansel Adams Wilderness has some of the most beautiful natural attractions in all of California including Thousand Islands Lake/Minaret Lake, Bear Lakes Basin, and Sailor Lake. To appreciate this area, you'll have to go wilderness backpacking for several days, at least, or maybe even for a whole month if you want to complete the whole John Muir Trail!
Eastern Sierra Nevada – The Western side of the Sierra Nevada receives far more visitors than the blistering hot Eastern side. If you can be there in the Spring or Autumn, the Eastern Sierras are absolutely breathtaking! Aside from hosting the highest mountain in the lower 48, Mt. Whitney (4421m), the Eastern Sierras are far more rugged and barren than the Western side, making them look like an alien planet. Travel between the towns of Lone Pine and Bishop for the best of the Eastern Sierra.
California Roadside Attractions
Americans have a weird affinity to the strange landmarks that are usually found out in the middle of nowhere. These roadside attractions have become so admired that many people go on a trip just see them! If you're around one of these sites on your California road trip, be sure to drop by. Did we mention that a lot of these stops are among the best cheap things to do in California as well?!
Galleta Meadows (Borrego Springs) – A collection of fantastical iron-welded sculptures in the middle of the desert!
Salvation Mountain (Niland) – A pretty famous attraction on the edge of San Diego. Surreal and Gaudi-like shrine in the desert. Definitely one of the most unique things to do in Southern California.
Cabazon Dinosaurs (Cabazon) – One of the OG California roadside attractions! A favorite for many.
Neverland Ranch (Los Olivos) – The former residence of the infamous pop singer, Michael Jackson. Now an abandoned palace that sometimes attracts offerings from ardent fans.
Forestiere Underground Gardens (Fresno) – An impressive and intricate series of underground passageways with gardens everywhere. Very pretty place.
Trees of Mystery (Klamath) – An amusement park of sorts with, most notably, two giants statues of Paul Bunyon and his ox Babe.
International Museum of Bananas (HWY 111 near the Salton Sea) – Hope you like bananas for this one! Or else you're going to go bananas if you visit here….
California Scenic Drives
There are many famous roads in California, renown for both their beauty and history behind them. Those who want to take the long-way-round should definitely check out these scenic drives in California.
Highway 1 – Highway 1 and its neighbor Highway 101 run the near entire length of the California coastline. It is arguably the most romanticized road in all of America outside of Route 66. From north of San Diego to the border of Oregon (HWY 101), you can see the best of the California coastline. For those looking for the best California road trip route, Highway 1 is without question the road for you.
Silverado Trail – Wine-os rejoice! The Silverado Trail is an awesome Californian scenic drive north of San Francisco through prime winery territory. On this byway, you'll have lots of chances to try the local drops, responsibly of course.
Route 395 – Most travelers stick to Highway 1 on their road trip through California, which is totally understandable but they're missing out on the epic Route 395. Running all the way from the outskirts of Los Angeles to the Canadian border, 395 passes through some of the most stunning landscapes in Eastern California. If you're looking for more deserts and mountains on your California road trip, Route 395 is undoubtedly the better choice. Be sure to drop by Mono Lake, which is one of the most interesting places in the USA!
San Diego to Las Vegas – This way passes through some of the finest desert landscapes in the state. Watch the sea slowly recede behind you and an ocean of sand rise ahead. You'll pass by the Anza Borrego Desert, the Salton Sea, San Bernardino National Park, Joshua Tree, and the Mojave Desert on this route. Big Bear Lake makes for a picturesque place to stop for a rest stop.
Why Visit this Part of the World
How many songs have been written about the state of California? Hundreds? Thousands? Whatever the final count it is, it should be made apparent that people are quite fond of this state. California Dreamin' by the Mamas and Papas; California Love by Dr. Dre; every single song every written by the Red Hot Chili Peppers (these guys really like Cali); the list goes on and on.
California is one of the most attractive, most prosperous, and most desirable places in not only the USA but the whole world. The landscape here is absolutely jaw-dropping, the lifestyle is notorious if not expensive, the food is honestly some of the best in the country, and the legendary parties are, for the most part, just as you'd expect them to be – that is wild and crazy.
In a lot of ways, California is the epitome of American decadence and, at the same time, its problems.
Everyone knows about California, and I mean everyone. I've met village people in the Karakorum of Pakistan who don't know what a cellphone is but know what California is. That's saying something.
For those who want to get a taste for the American dream, and for those who want to see some of its greatest natural attractions, California is probably your best option.
Granted, you will see some ugliness in the state, including rampant homelessness, gentrification, and gang-related crime. With an open mind though, you'll be able to digest these harsh realities and look beyond towards California's greater positives. At the end of the day, California simply has everything going for it.
Getting Insured
Whilst the USA is generally safe for tourists, not everything goes as planned.
Traveling without insurance would be risky so do consider getting good backpacker insurance sorted before you head off on an adventure.
I have been using World Nomads for some time now and made a few claims over the years. They're easy to use, professional and relatively affordable. They may also let you buy or extend a policy once you've started your trip and are already abroad which is super handy.
If there's one insurance company I trust, it's World Nomads.
ALWAYS sort out your backpacker insurance before your trip. There's plenty to choose from in that department, but a good place to start is Safety Wing.
They offer month-to-month payments, no lock-in contracts, and require absolutely no itineraries: that's the exact kind of insurance long-term travellers and digital nomads need.
SafetyWing is cheap, easy, and admin-free: just sign up lickety-split so you can get back to it!
Click the button below to learn more about SafetyWing's setup or read our insider review for the full tasty scoop.
Top Tips for Broke Backpackers
Below is a list of California road trip ideas for saving money. Try and practice these as much as possible.
Rent an economy car: Prices can be as low as $25/day depending on the time of year and how far in advance you reserve. Economy cars are also more fuel efficient so you'll save on fuel. Use apps like ViaMichelin to find cheap gas, which, seriously, always ends up being one of the most surprising and costly expenses on a road trip.
Use vehicle relocation services: These brilliant services offer huge discounts to people on the condition they get a vehicle to a certain place at a certain time. No joke, you can rent a car sometimes for as low as $1/day! Availability is very limited though, so keep a watchful eye on the sites. Check immova and Cruise America to start with.
Sleep overnight in an empty lot: Though not technically legal in California, people sleep in parking lots all the time. Make sure the lot is safe by asking around. Walmarts are reportedly good places to park overnight as they allow overnight parking.
Camp: Unless you want to fork out big bucks for a lodge, you have to camp. Campgrounds are way less expensive and sometimes even free. Check out this post for a breakdown of the best tents to take backpacking. If you're feeling really adventurous and want to save some cash, consider picking up a backpacking hammock.
Cook your own food: Eating out can be very expensive in California. Cook your own food as much as possible to save – I recommend bringing a portable backpacking stove. Otherwise, have a fancy night out at a food cart.
Do free shit: There are lots of free things to do in California! From hiking to laying on the beach to going to the local monuments; all of these things cost you nill. Be sure to keep your ear to the ground for all things free in California.
Buy an America the Beautiful Pass: Seriously, if you're visiting more than two national parks, you'd be a fool not to buy this.
Pack a travel water bottle: It's good for your wallet and the environment.
Good news is that there is a huge array of hotels and apartments in California. The bad news is that they're all expensive, even by American standards. Staying in San Francisco can be ESPECIALLY expensive.
For those road tripping in California on a budget, you're either going to have to get very creative or accept the fact that you'll be crashing in some pretty basic digs.
Cheap hotels in California are like those in much of the USA – barren, bland, and sometimes bleak. You'll find some pretty decent motels and budget hotels in California, ones that are clean and tidy, but they'll still be an eyesore and often located in a rough part of town. You'll be paying at least $60-$80/night minimum as well.
AirBnBs in California are usually around the same price as hotels, if not cheaper. Since you'll often be staying in someone's home or in a shared space, there's a better rapport and at least some character.
Californians can be really creative with their homes as well – I've seen luxury Airstreams, yurts, and even a Gingerbread house on AirBnB!
To save the most money, stick to hostels and campgrounds on your road trip through California. Hostels in California are actually really nice (some of the best hostels in the US, in fact) and are usually the most affordable accommodation available. Camping is the best way to experience the beautiful nature in California; it's also the cheapest way to visit California.
If you're feeling lucky you could try your hand at couchsurfing! Lots of people use this though so competition is quite high in California.
Camping in California
Camping in California won't just help you stick to a budget, but is a great way to make the most of your road trip experience. Campgrounds are way cheaper to stay at than hotels or apartments, and often may be your only means of lodging. If you're going to go on an affordable road trip in California, camping will be a necessity just as much as pleasure.
There's all sorts of nature in California and, consequently, countless places to go camping. There are several types of campsites in California that range in price and amenities. Some common examples include walk-up sites, cabins, and primitive sites. You can even stay in a fire lookout, which has to be one of the coolest things to do in California!
The grand majority of campgrounds in California will require payment that can either be accepted via an electronic authorization or a physical drop box at the actual grounds. In regards to the latter option, some people get away with not paying since receipts are not always checked. Whether or not one actually pays or not is none of our business, but the money does go towards maintaining the grounds for future guests.
If you intend on going on a "National Park Road Trip" in California and want to sleep inside one of them, prices will be much higher and availability will much lower. When camping in California's most popular outdoor areas like Yosemite or the Redwoods, I highly recommend reserving ahead.
If there is no reservation system, get to the campground as early as possible to claim a walk-up campsite. Generally, the more expensive sights have running water, clean bathrooms, and fire pits. Primitive camping often requires you bring your own water (or means of filtering natural water nearby).
For a complete list of official campgrounds in California, you can refer to this website here for a useful search engine.
Camping in California – Gear Checklist
Camping is one of the best ways to travel cheaply in the USA, and California has some of the finest camping in the whole country. You could sleep in your car or an RV while road tripping in California but sleeping outside under the stars is way more fun. Having a good tent will keep you comfortable on those chilly nights and give you lots of flexibility when it comes to finding a place to sleep.
Here are some other essentials that we recommend if you plan on camping out…
Check out our full road trip packing list for more inspiration on what to bring on your road trip!
Free Camping in California
There are a number of free campgrounds in California that road-trippers should totally take advantage of. Refer below for a list of these. Note that electricity, bathrooms, and running water are not guaranteed at any of these. Bring water just in case.
Books to Read during your California Road Trip
These are some of my favorite travel reads and books set in California. Read one or two and you may have some great road trips ideas for California…
Renting a car is the most popular way of getting around California. There are a myriad of car rental agencies here that offer varying deals and varying models.
To find the best rental car deal in the USA, use search engines that compare the prices from individual companies. We personally like using rentalcars.com as they've never failed to give us a great price.
You can also rent an RV in California, which means you don't have to worry about packing camping gear. They cost a bit more to rent, but they do make for some epic travel stories!
We suggest booking a campervan with Outdoorsy as they usually have a good selection and good prices. Better yet, Broke Backpackers also get a $40 discount with Outdoorsy! Just use the coupon code "BACKPACKER" when checking out.
The roads in California are generally very good and a sedan or economy car should deliver you to most of California's top destinations. Only in the most remote portions of the state and the Sierra Nevada, will the roads be so bad that you need 4×4 or at least high clearance.
If you're on a road trip in California in the winter and want to go to the mountains, you will definitely need all-wheel or 4-wheel drive.
If traveling onwards, check out our West Coast road trip guide then!
Tips for Saving Money on Car Rentals in the US
We mentioned before that you can reach out to vehicle relocation services, like immova and Cruise America, as a way of saving heaps of cash on rentals. Pursue these as best you can as they can save you a lot of money. Don't get your hopes up too much though, as availability is always limited.
Car insurance isn't always mandatory in the USA but is highly encouraged. This being said, you don't necessarily have to buy car insurance from the company you're renting from. Purchase a RentalCover.com policy to cover your vehicle against any common damages such as tires, windscreens, theft, and more at a fraction of the price you would pay at the rental desk.
Many credit card companies offer free car insurance if you book the car with the proper card. Call your credit card company for more information regarding terms and conditions.
Best Time to Visit California
With so many places to see, and so many things to do in California, it's tough to know when the best time to visit is. With a very mild climate, compared to the rest of the USA, and a plethora of activities appealing to all sorts of travelers, California can, honestly, be visited at any time of the year.
California is a big state and so is subject to several different types of climates. Most of the coast has a lovely Mediterranean-like climate while the interior is dominated by harsh desert or alpine conditions. There are unique pockets strewn throughout the rest of the state.
Generally speaking, California has four seasons regardless of geographic position. Most of the state has warmer, drier summers and cooler, wetter winters. Temperatures and annual rainfall vary depending on latitude and local geography. Northern California gets much more rainfall and is generally more temperate while the south is quite arid and very hot depending on how far from the coast you are.
In terms of road tripping in California on a budget, the summer months should be avoided at all costs. During this time there way too many tourists and prices are even higher than usual.
On another note, forest fires are becoming very common and very violent in recent years. They usually start in July and can rage until September. Air quality may be very poor in August.
Spring and Autumn are the best times to visit California because there are fewer people and the weather is still agreeable. The mountains may still have snow or be on fire depending on the season. Southern California will have very comfortable temperatures at this time.
If you like winter sports, you can totally visit California in the winter! There are lots of world-class ski resorts (Mammoth Lakes, Squaw Valley, Heavenly, etc.) in the Sierra Nevada and the surf is sometimes epic with big winter storms coming through.
Food in California
California is consistently rated by several national publications as one of the top states in the country for foodies. Thanks to its bountiful crops, large immigrant population, and demand for high-quality products, California is simply one of the best places to eat!
Most of California's restaurants will be located in the larger cities. Los Angeles and San Diego are most famous for their amazing and authentic Mexican food, which, swear to God, is the best you'll find north of the border.
San Francisco is known more for its eclecticism and diversity of culinary offerings due in part to the fact that it has more restaurants per capita than anywhere in the country. You'll find excellent Asian food in the Bay Area, where many immigrants have settled throughout the century: Vietnamese, Chinese, Thai, India, you name it.
Sacramento, considered the breadbasket of California, has an amazing farm-to-table food scene and the city is one of the greatest hidden culinary gems in the state. Expect excellent farmers markets year round. You'll also find some affordable motels in Sacramento which are perfect for road trippers.
When driving on the highways, you'll encounter a mix of fast food and holes-in-the-wall along the way. Along the major routes, like I5, you'll see a lot of burger and taco joints including the infamous In-and-Out Burger, which you should definitely try at least once (get the animal style).
On the smaller, satellite roads, you'll see more diners and mom-and-pop joints, which are, in my opinion, far better. In these little haunts, you'll get great home cooking and for a low price.
If you're trying to stick to a budget in California, you'll have to limit how much you eat out. Rely more upon off-the-beaten-path diners when driving and food trucks when in the cities.
Seriously, food trucks will be your best friend on any road trip in California as they offer cheap and delicious eats. If your hostel or campground has cooking facilities, use them too!
Get your Buzz on in California
It's hard to imagine an easier place to unwind or party in than California. The wine is superlative, the beer is endless, the bars are raucous, and weed is legalized. How can it get much better than this?
You will have lots of opportunities to drink and smoke on a road trip in California. Whether or not you choose to do so in the cities or at the campgrounds makes no difference. Everywhere you go, there will be booze or cheeky smokes. Though remember my young backpackers, the drinking and marijuana age is 21 and over.
All of the larger Californian cities have a huge selection of bars and nightclubs. Los Angeles and San Francisco, in particular, have some of the best nightlife in the country. You could find anything that you could possibly want in these cities from dives to speakeasies to burlesques to underground raves. You can even procure your favorite drugs in these places quite easily if that's your thing.
Partying in the big cities regardless of how you do so will almost always be expensive. Cover charges are exorbitant in places like Hollywood and the price of drinks/drugs will not be far behind.
On the other hand, California has some cheapest retail prices for booze in the entire USA. There are alcohol superstores in California that are dangerously inexpensive, and you can buy alcohol in just about any food store in California (which is not the case in many states).
A better road trip idea for California would be to buy alcohol from a supermarket and then prefade. Few things can top a pint of cheap camp whiskey or craft beer enjoyed next to the fire.
Weed is legal in California! To buy weed in California, all you need to do is have a valid ID that proves you're over 21 years of age and go to a dispensary. Dispensaries look and behave very much like any bottle shop with educated clerks and a wide selections of strains. Note that dispensaries only accept cash.
Being a Responsible Backpacker in California
Remember to be a respectful camper while on your California road trip. Depart from the grounds at a decent hour, follow leave no trace principles, and be very, very aware of fire bans. Forest fires are an enormous problem in California and are often caused by reckless campers.
Californians are also very conscious of the environment and like to take care of it, as should you.
Reduce your plastic footprint: Perhaps the best thing you can do for our planet is to make sure you do NOT add to the plastic problem all over the world. Don't buy one-use water bottles, the plastic ends up in a landfill or in the ocean.
I know it can be hard, but do your best to use the least amount of plastic water bottles that you can. Refill the ones that you do buy! Use a Grayl Geoprress. Refill at your hostel/guest house! There are plenty of ways to reduce plastic!!!
Pack a tough and cool travel water bottle. You'll use it every single day whether you are traveling or not! Help save the planet, and pick up a water bottle here.
Check out our post on how to be a responsible backpacker.
Make Money Online Whilst Traveling in California
Want to stay in the USA longer? Worried that you don't have enough cash for a longer California road trip? One idea is to make money while traveling!
Teaching English online is a great way to earn a consistent income—from anywhere in the world with a good internet connection. Depending on your qualifications (or your motivation to obtain qualifications like a TEFL certificate) you can teach English remotely from your laptop, save some cash for your next adventure, and make a positive impact on the world by improving another person's language skills!
It's a win-win! Check out this detailed article for everything you need to know to start teaching English online.
In addition to giving you the qualifications to teach English online, TEFL courses open up a huge range of opportunities and you can find teaching work all over the world. To find out more about TEFL courses and how you can teach English around the world, read my in-depth report on teaching English abroad.
Broke Backpacker readers get a 35% discount on TEFL courses with MyTEFL (simply enter the code BACKPKR), to find out more, please read my in-depth report on teaching English abroad.
Whether you are keen to teach English online or looking to take your teaching game a step further by finding a job teaching English in a foreign country, getting your TEFL certificate is absolutely a step in the right direction.
---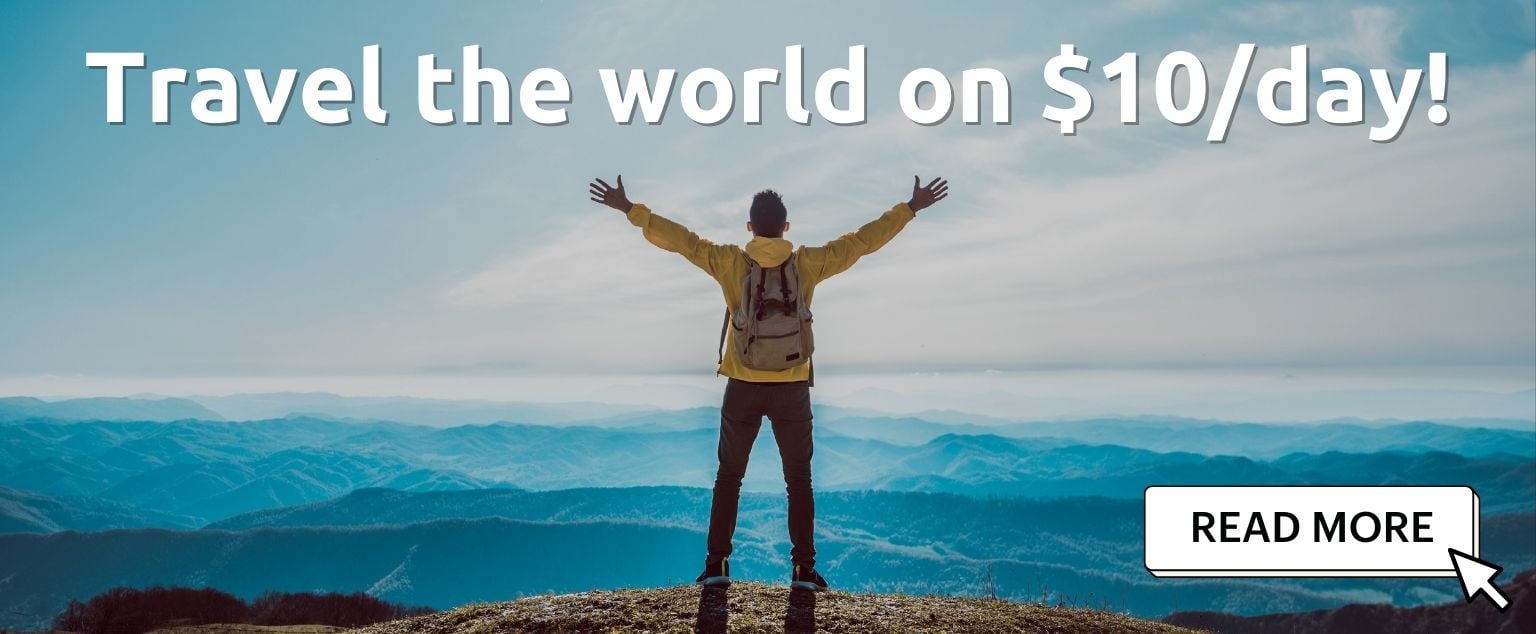 And for transparency's sake, please know that some of the links in our content are affiliate links. That means that if you book your accommodation, buy your gear, or sort your insurance through our link, we earn a small commission (at no extra cost to you). That said, we only link to the gear we trust and never recommend services we don't believe are up to scratch. Again, thank you!