Attracting more tourists than any other state in the USA, California has to be on your American itinerary. Whether you're searching for sun-kissed beaches, iconic cities, or awe-inspiring national parks, it's all here in the Golden State.
When it comes to choosing where to stay in California, you have some decisions to make. Of course, you can choose a hotel or a hostel, but if you're on the trip of a lifetime, why not treat yourself?
Vacation rentals in California often prove to have a lot more character and individuality than your average hotel. And if you're travelling as part of a group, they can also provide better value for money! The only problem? There's a LOT to choose from.
That's where I come in. In this post, I'll show you 15 of the best Airbnbs in California. From LA to Palm Springs, you're sure to find your ideal vacation rental in Cali. Let's take a closer look!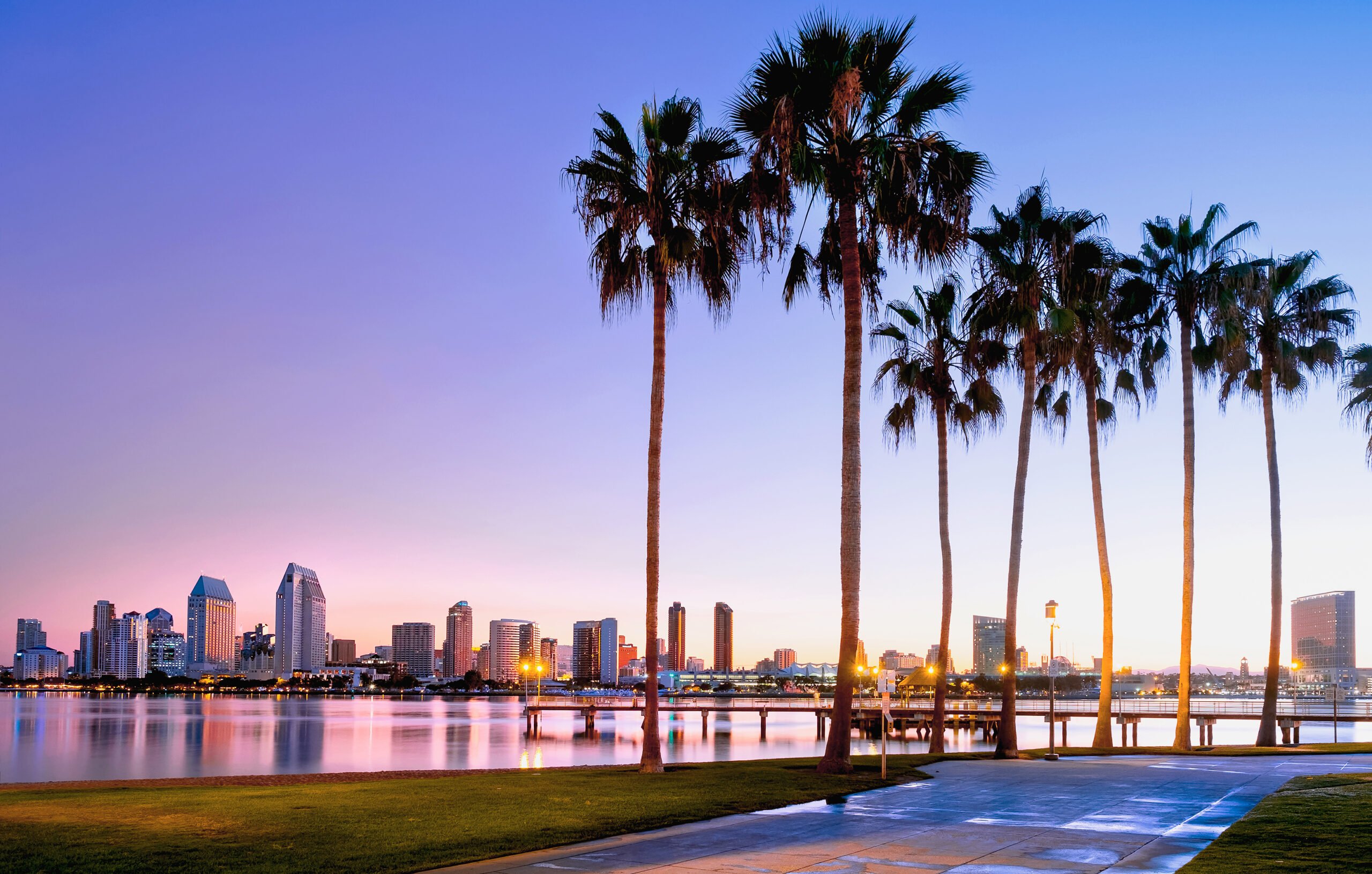 Quick Answer: These are the Top 5 Airbnbs in California
Best Airbnb in Los Angeles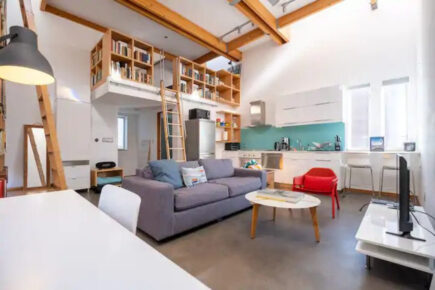 Best Airbnb in Los Angeles
Modern Studio Steps from the Beach
> $$$
> 4 guests
> Private roof deck
> Designed by an architect
Best Airbnb in Hollywood
Best Airbnb in Hollywood
Historic LA Oasis with Courtyard
> $$
> 3 guests
> Near Hollywood Bowl
> Historic Casita dating back to early 1900s
Best Airbnb in San Francisco
Best Airbnb in San Francisco
Coastal Victorian Home
> $$$$$
> 6 guests
> Fully stocked chef's kitchen
> Ideal for groups
Best Airbnb in The Bay Area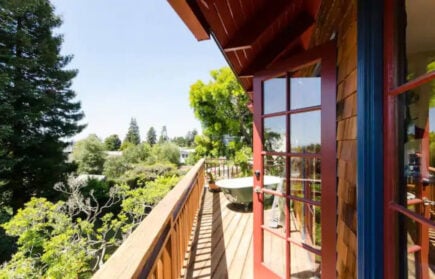 Best Airbnb in The Bay Area
Jewel of North Berkeley
> $$$$$$$
> 14 guests
> Awesome bay views
> Quiet residential area
Best Airbnb in San Diego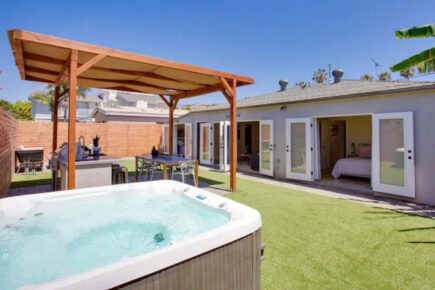 Best Airbnb in San Diego
La Jolla Dream House
> $$$$$
> 8 guests
> Beachfront location
> 5 person hot tub and pool

Unlock Our GREATEST Travel Secrets!
Sign up for our newsletter and get the best travel tips delivered right to your inbox.
What to Expect from Airbnbs in California
What to expect from Airbnbs in California depends on where you plan to stay. If you're staying somewhere like Malibu or Venice Beach, you can expect a beachfront villa with a swimming pool and awesome views.
However, you should expect the polar opposite if you're planning to visit Yosemite. It's more likely to be a cosy little cabin there in the woods.
Something else that might dictate what you get is your budget. While I'd all love to stay in a Hollywood villa or a Palm Springs ranch-style home, these can cost upwards of $1,000 per night. In case you don't have a movie star budget, that's a lot…
What's certain is whichever location you've got your heart set on in California, there'll be something to suit your budget, taste, and personality. It's just up to you to find it, and I don't mind giving our help at all!
But before you take a look at my top picks, here's a quick overview of the most common types of properties in California.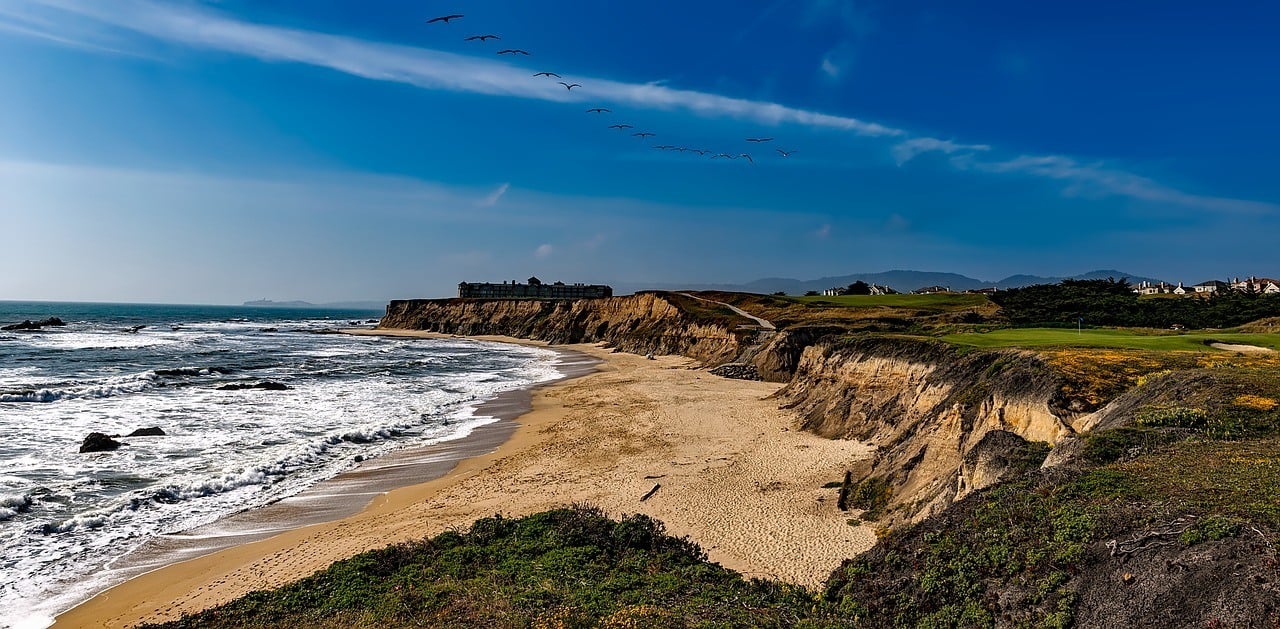 Private rooms
Whether you want to be right smack in the middle of all the action or a little further away by the coast, private rooms are the cheapest way to go – perfect for those backpacking California.
A tip is to check the listing for private bathrooms as some private rooms may have shared bathrooms. You might also be lucky to have your own private entrance, but this is quite rare.
Staying in a private room on a property gives you the luxury of your own private space with all the amenities of a house from home.
Plus a house owned by locals gives you an advantage. Airbnb hosts have excellent insider tips and they can tell you their favorite local haunts for the best coffee, the best meals, and the best places to shop for an epic California road trip.
Apartments and Condos
Modern, spacious and worth their price, condominiums are pretty much all over the state, especially in the more urban areas like San Diego Bay or downtown San Francisco. They are perfect for all types of travelers – couples, single travelers who want a whole place to themselves, groups of friends, and even families.
You can select from simple one bedroom condos to more exquisitely decorated units with expensive furnishings situated in prime locations. Most condos have shared amenities, such as gyms and pools, which guests can use at no additional cost, but do verify this first before booking. Again, you don't want your vacation ruined with unexpected charges.
Residential Homes and Villas
Traveling with friends and family means needing a little space all to yourself, and luxurious amenities such as a game room, outdoor hot tub, a pool, and perhaps ever direct access to the beach. This type of accommodation understandably costs more because of all the extra perks but you'll be guaranteed a comfortable and unforgettable stay.
When booking entire homes, make sure to check with your host if there are any additional fees if you want to use the added amenities, so you are not surprised with fees that you haven't figured into your budget.
Why Stay in an Airbnb
If you're not already convinced that staying in a vacation rental over a hotel room is a fabulous choice for your holiday, let's look at five reasons to stay in an Airbnb.
Local Experience: With a local host, you can get to know where you're staying through their eyes. That means eating out at the best secret spots and discovering the best backcountry hikes, for example!
Unique Properties: As you're about to see, there are some seriously cool properties on Airbnb. From architect-designed loft apartments to treehouses in California to historic Spanish casitas, get ready to be blown away!
Privacy: Many Airbnb properties offer self-check-in, and if you wish, you can filter for completely private accommodation.
Affordability: I'm not saying Airbnbs are cheap. What I'm saying, however, is that your money will go further. You'll see that if you compare a vacation rental to an equally priced hotel!
Safety: With host and guest vetted by the platform, you can both have peace of mind during your stay. If there are any urgent issues, Airbnb customer support is available 24/7.
The Top 15 Airbnbs in California
Now that you know a little more about what to expect and why you should stay in an Airbnb, let's get to the part you've been waiting for. Yes, these are the 15 best Airbnbs in California, arranged by location.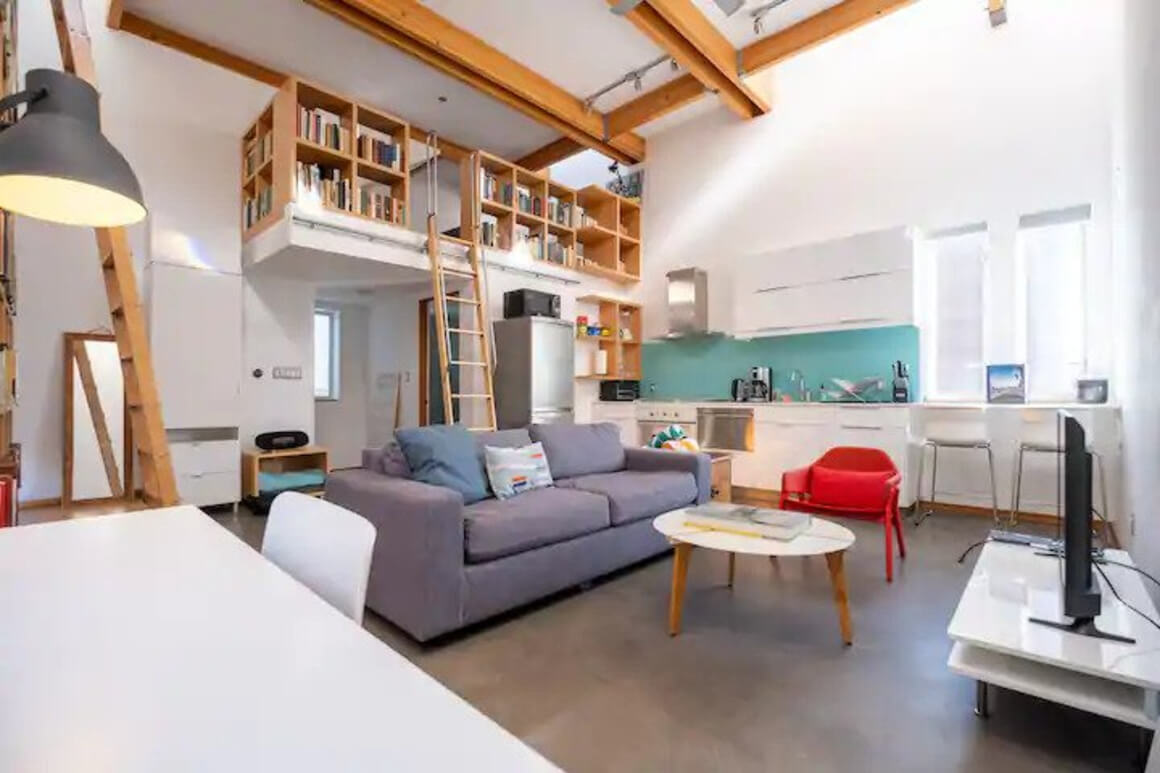 4 guests
Designed by an architect
There are a lot of different areas to choose from when you're visiting LA. I'd suggest Venice Beach. Other parts of the city are easily accessible and who doesn't want to be near the sea?
This modern studio loft sleeps up to four guests, either on the queen bed or the sofa bed, but it could easily be a romantic Airbnb for a couple.
Designed by architects, there's lots of space and light it's within walking distance of the beach. Why not pick a book from one of the many cubby holes and head up to the roof terrace to soak up the sun?!
3 guests
Historic Casita dating back to early 1900s
Hollywood is a hilly area, so it's a good idea to have somewhere that you can relax and recuperate when you're not out exploring.
Check out this awesome early 20th century casita! It's just a hop, skip, and a jump from the Hollywood Bowl, and the rear courtyard that's shared with your hosts is the ideal little sun trap.
There's a queen bed, and though the listing says for three people, I think this is most suitable for a couple.
$$$$$
Fully stocked chef's kitchen
Travelling as a family or with a group of friends? Then check out this Airbnb Plus in San Francisco for six guests. It's in the old hippy haunt of Lower Haight, so it's quite easy to get to all the popular tourist attractions and nightlife from here on public transport or by car.
It's a lovely place for lazy days or nights in too – there's a fully-stocked chef's kitchen where you can prep meals, and a spacious living room that lets in lots of light. Perfect for movie nights!
Is This the Best Backpack EVER???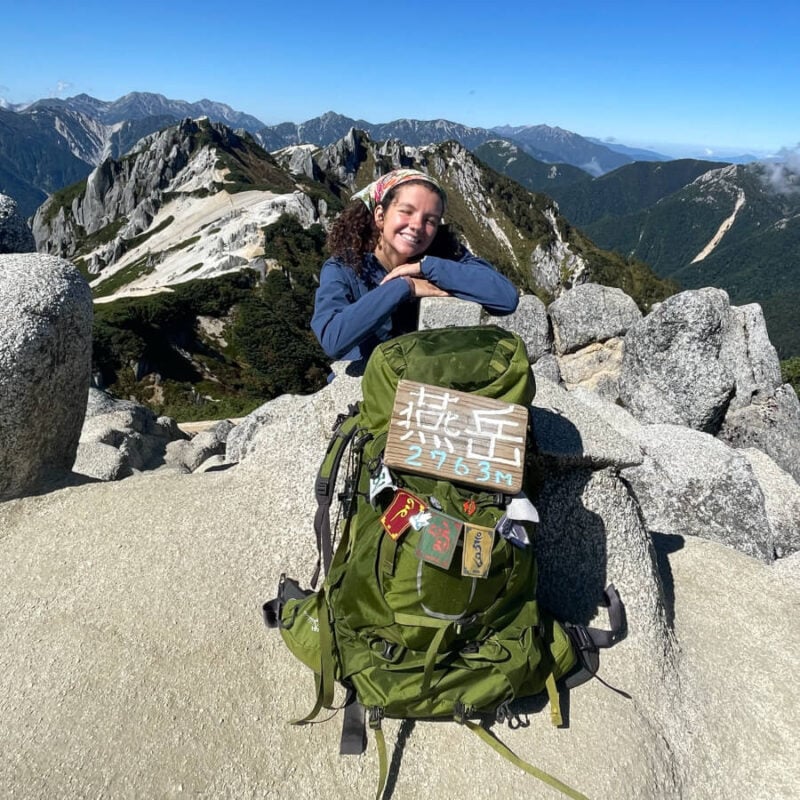 14 guests
Quiet residential area
Just across from San Francisco is this absolute gem in North Berkeley (former home of the Beat writers). One of the most beautiful Airbnbs in the Bay Area, there's space for up to 14 guests and dedicated children's bedrooms. So, it's ideal for large families!
The private patio has a picnic table and even a soaking tub, so there is a myriad of ways to catch the sun here. The neighbourhood is peaceful and quiet, yet it's just a couple of blocks from the Gourmet Ghetto. Foodies, get your fill!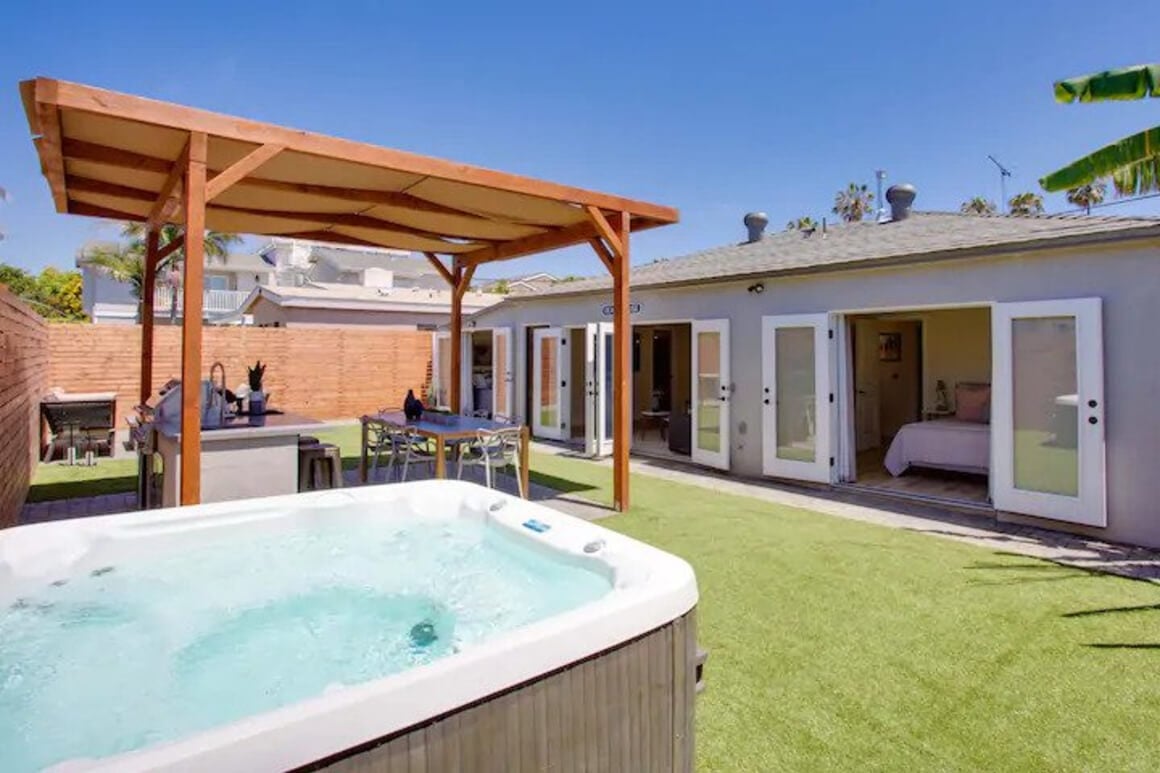 8 guests
5 person hot tub and pool
With more than 80 beaches in San Diego, a good way of deciding where to stay is by starting at your favourite beach.
La Jolla Shores are a surfing and paddleboarding hot spot, with excellent snorkelling and wildlife watching. So that's what led us to pick this home just steps from the beach.
When you're not out at the beach, kick back in the private pool or the hot tub with seven of your closest friends or family. Dry off by sitting around the fire pit with a beer or bottle of wine!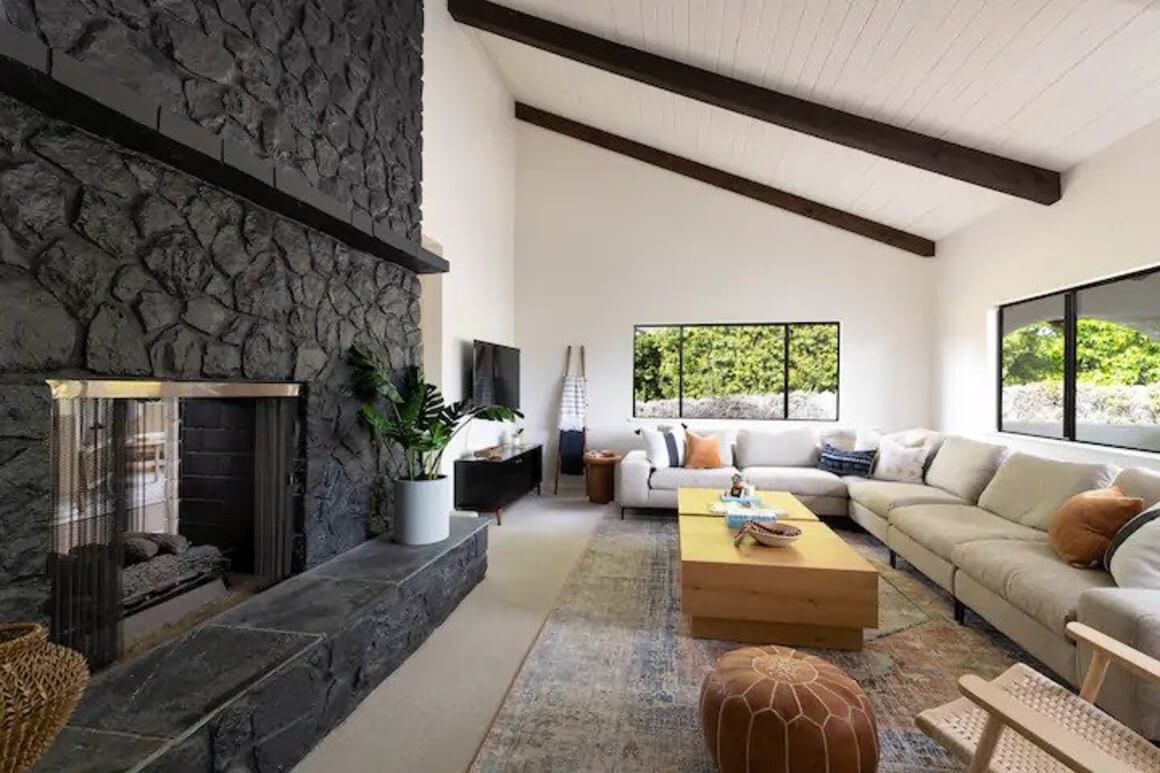 With access to one of the only privately-accessed beaches in central California, do you need any more convincing to stay here? You do? Okay, well check out the enormous living space which has been designed by expert interior artists, and the stunning outdoor area.
There's seating for 14 and you can enjoy a meal that's been rustled up in the fully-equipped kitchen. When you want to explore the surrounding area, you can use the bikes which are included – and the nearest path is less than a mile away. It's a base for the perfect vacation!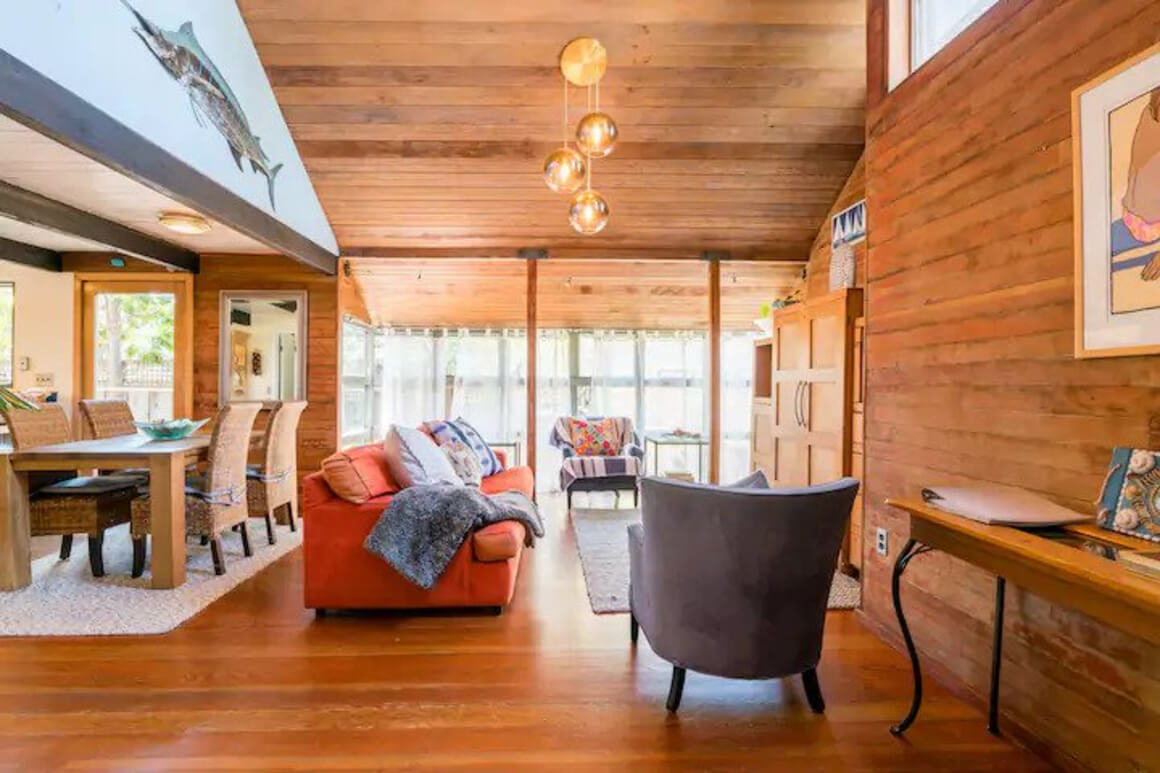 Twin Lakes Beach is said to be the best one in Santa Cruz. So, it makes sense to stay nearby, right? This two-story designer home has an open plan, and there's lots of light coming in through the big windows.
With room for six, it's great for a vacation with friends or family, and the private deck in the upstairs bedroom has awesome views of your surroundings. There's a wraparound deck on the lower floor too where you can enjoy a morning coffee or glass of wine.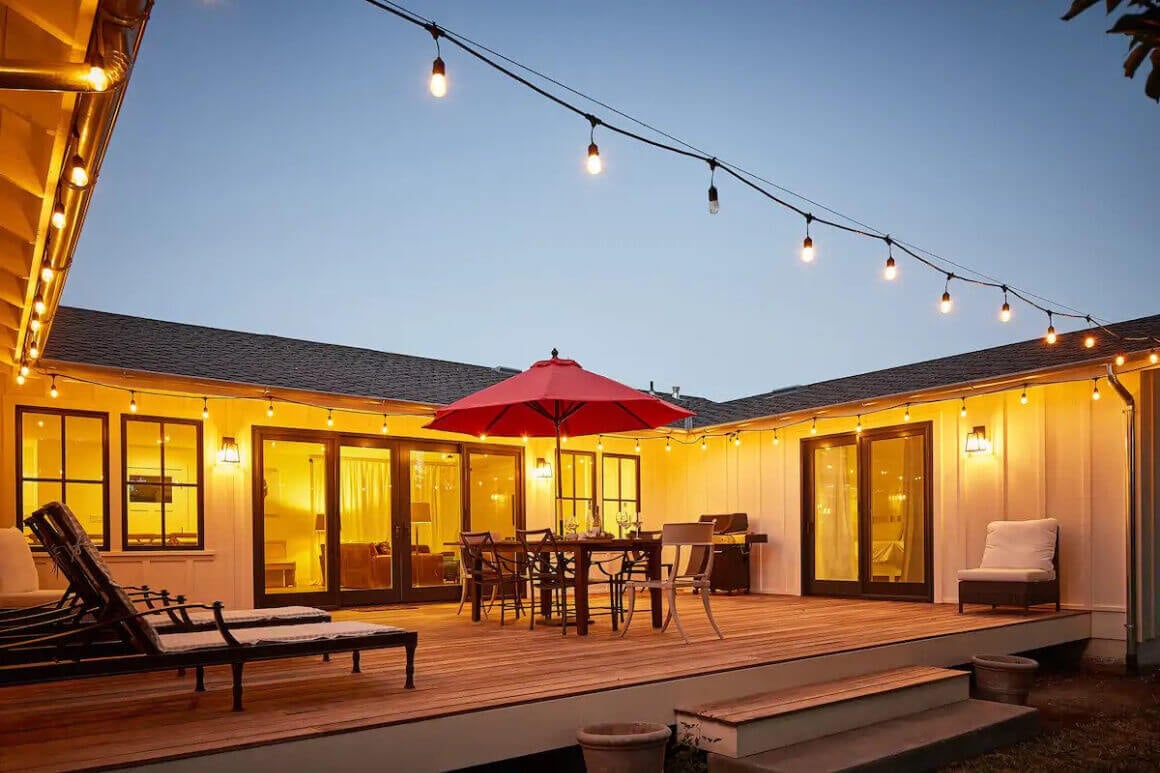 $$$$$
Chef's kitchen and wine fridge
8 guests
Vineyard and mountain views
Welcome to wine country with this gorgeous farmhouse, one of the coolest places to stay in the Napa Valley.
Located just a stone's throw from Sonoma Square, you've got a whole range of places to eat and sample the fine wines of the valley. This place is perfect for foodies!
If you'd prefer to show your own culinary flair, you'll be pleased to know there's a chef's kitchen on site and a wine-fridge. It's just up to you to find the right pairing! Once you've finished dinner, head outside to watch the stars from around the fire pit or in the hot tub.
$$$$$$
Private pool w/ mountain views
Malibu is one of the most exclusive parts of California. While there is no shortage of beach villas offering fabulous bay views, I've gone for something a little different.
This luxurious villa is the ultimate weekend getaway in the heart of wine country, where you can spread out and enjoy quality time with your friends and family.
This stunning villa comes with floor to ceiling windows, a spacious family room, plus ten acres of property to explore. This three bedroom home has a queen size bed in every room, plus every room has incredible mountain views so there's no arguing over who gets which room.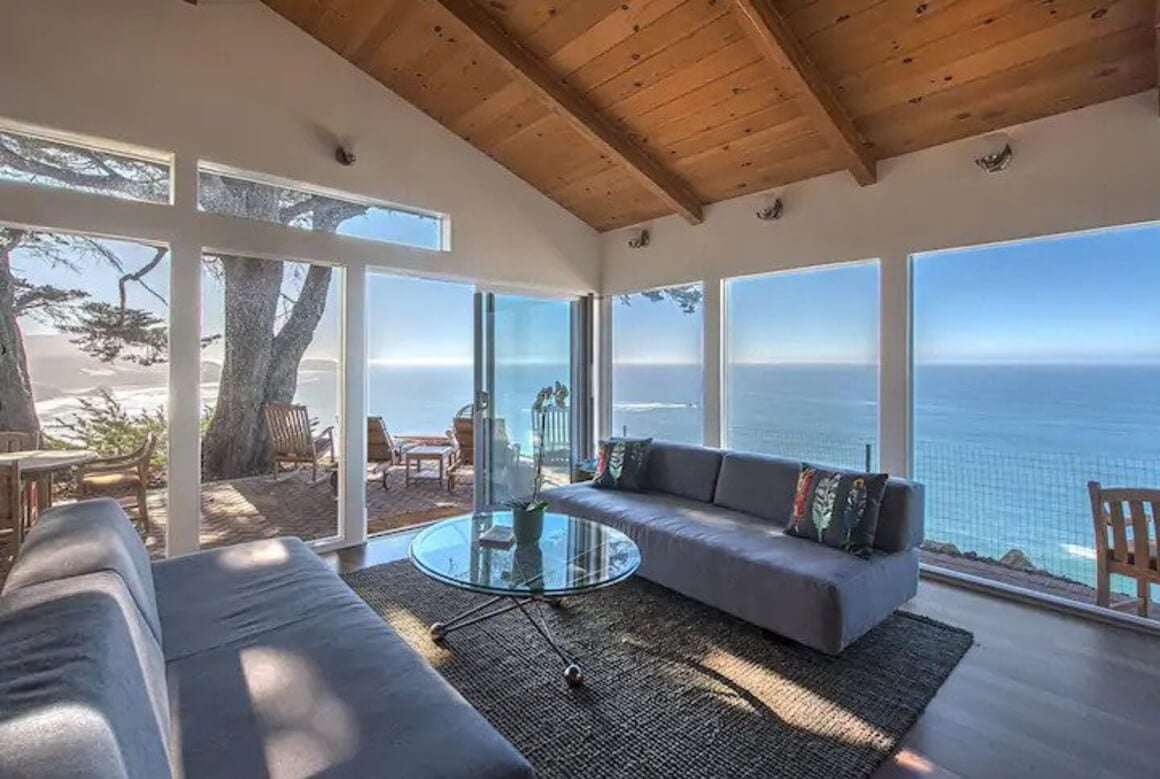 6 guests
Sweeping ocean views
Finding places to stay in Big Sur isn't easy as there aren't that many. It's not impossible though. This house right on the ocean front is a great stop on one of the United State's most beautiful drives – Highway One.
With room for up to six guests, it's good for groups of friends and older family. The living room's huge windows give uninterrupted views of the Pacific Ocean! The downside to this property?
It's not fenced and the cliffs drop steeply into the oceans below. Families with small kids and pets may want to check somewhere else!
Surprisingly, the capital of California isn't LA or San Francisco. It isn't even San Diego! It's a place that is mentioned much less – Sacramento.
If you want to get to know its burgeoning art, food, and nightlife scenes, then check out this luxurious one bedroom guest house in the Triangle District.
This designer home has won awards for its innovative design, plus it has space for up to four guests, either on the queen sized bed or the sofa bed. The home comes with either a covered patio or balcony, and the cozy living areas come with a huge library for book lovers to explore.
When it's time to go exploring, you are within walking distance of many bars and artisan bakeries. This is the ultimate romantic getaway.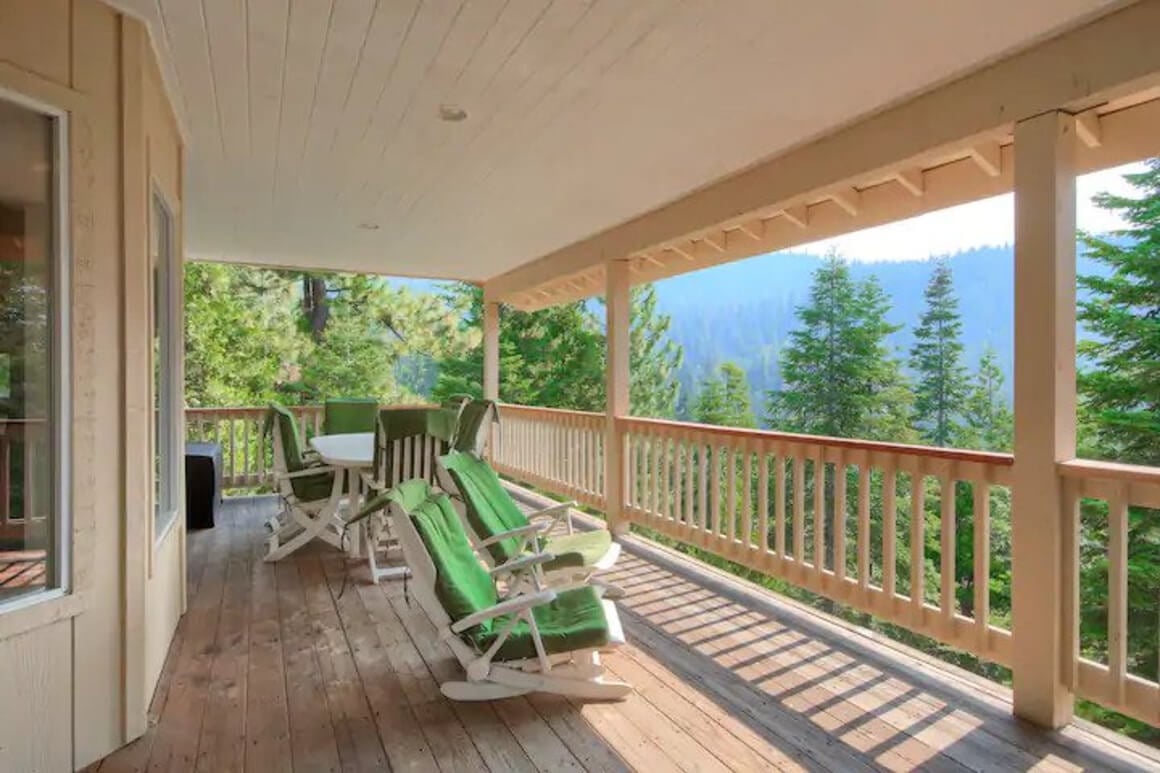 10 guests
Two decks and living rooms
Out of all the Airbnbs in California that has made my list, this is the only cabin. And that's because it's in Yosemite National Park – or at least as close to the entrance as you can get.
Sit out on the rocking chairs on the back porch and take in the stunning views while dinner grills on the BBQ. If it gets too cold to sit out, you can always retire to one of two cosy living rooms for a nightcap. This is the perfect cabin in California for nature lovers.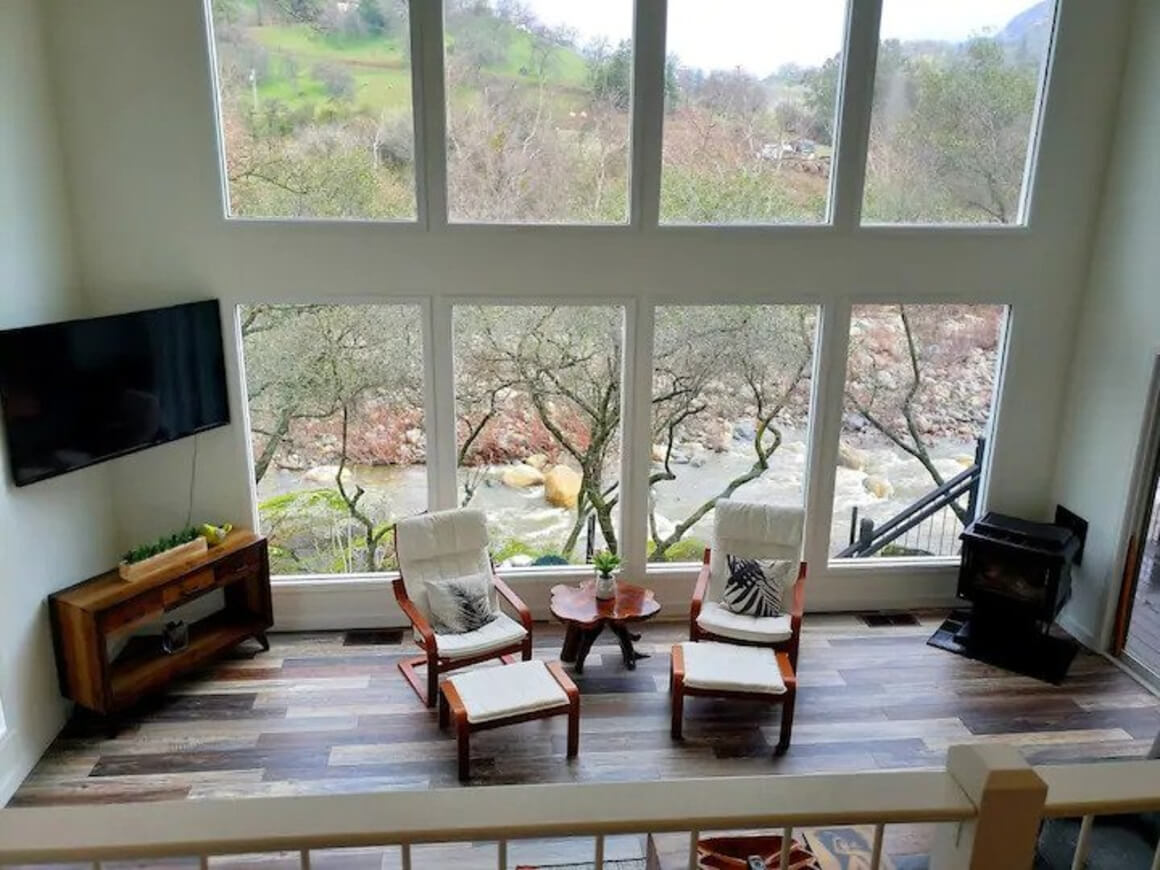 $$$$
Five minutes from park entrance
8 guests
Superb views of Kaweah River
The Sierra River House sits by the Kaweah River, just five minutes from the entrance of Sequoia National Park.
You'll want to relax after a busy day of hiking, and this peaceful and spacious home is a perfect place to do so. There's a wood stove for the nights when it gets cold, and you can take advantage of a movie on the big screen or kick back and read a book in front of the large windows.
Or, you could just admire the views from the outdoor deck! This is the ultimate peaceful getaway.
7 guests
Complimentary water sports equipment
Staying at Long Beach? You may as well be as close to the sand as you can get. And as you can see from the photo, there's nowhere better than here!
With only a boardwalk separating you and the powdery sand, grab one of the complimentary boogie boards, surfboard, or kayaks and head straight for the ocean!
After a day of playing in the waves or cycling along the boardwalk, come back to chill in the open plan living spaces of this modern duplex.
6 guests
Outdoor dining area
Palm Springs has some of the most beautiful landscapes in the state, from Joshua Tree National Park to Mount San Jacinto. So what you're going to need to look for in Airbnbs in California is a place with a view.
While there are a whole host of Airbnb Luxe properties, we figured they might be a little out of many people's price ranges. This cool ranch-style property is a luxurious villa with a nod to the area's Spanish influence.
There's an al-fresco dining area with a fireplace that'll keep you warm on cool desert nights. During the day, you'll be able to cool off from the intense heat in the saltwater pool!
FAQs About Airbnbs in California
Here's what people usually ask me about vacation rentals in California.
Don't Forget Your California Travel Insurance
ALWAYS sort out your backpacker insurance before your trip. There's plenty to choose from in that department, but a good place to start is Safety Wing.
They offer month-to-month payments, no lock-in contracts, and require absolutely no itineraries: that's the exact kind of insurance long-term travellers and digital nomads need.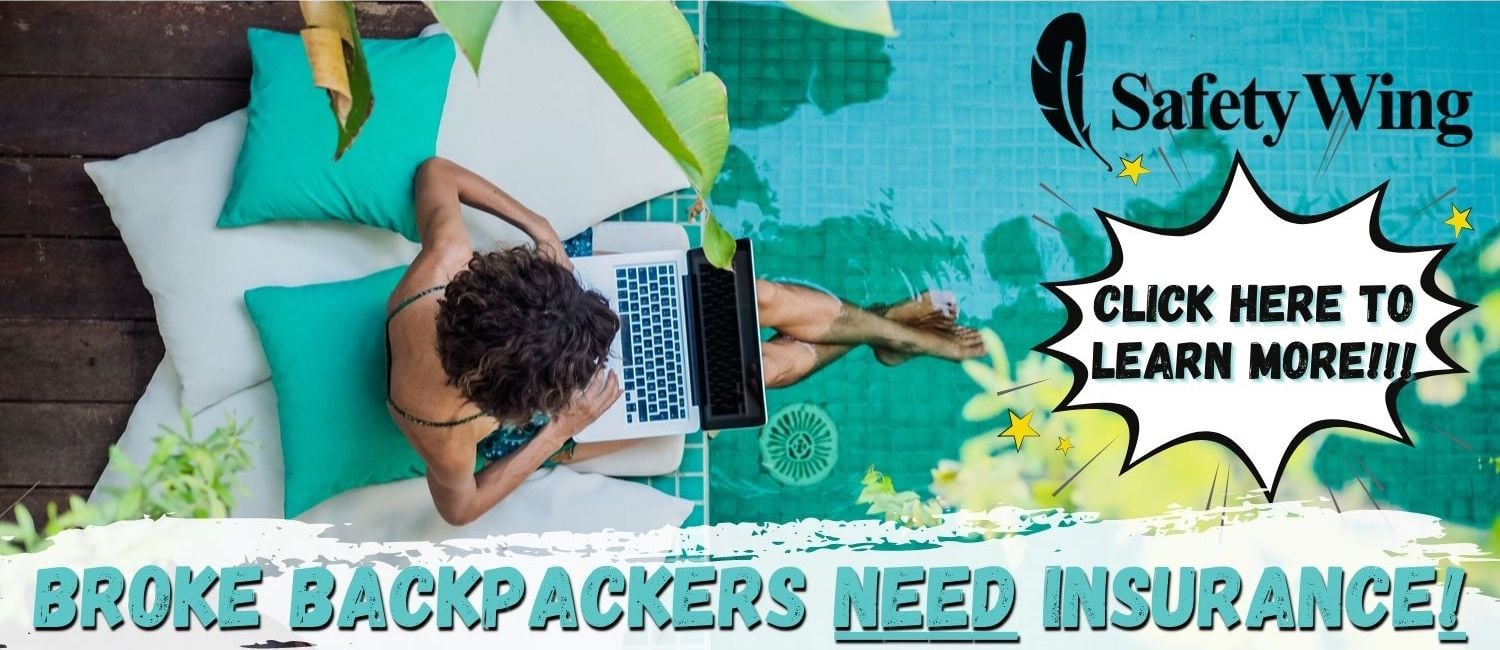 SafetyWing is cheap, easy, and admin-free: just sign up lickety-split so you can get back to it!
Click the button below to learn more about SafetyWing's setup or read our insider review for the full tasty scoop.
Final Thoughts on California Airbnbs
Well, there you have it. Those are the best Airbnbs in California. Whether you want to stay in a romantic beachfront apartment, a Napa Valley farmhouse, or a mountain retreat in Yosemite, there's an Airbnb in California for you.
We hope that you've found somewhere in California where you're staying. If the property on this list didn't match your requirements, don't worry too much. The Broke Backpacker has comprehensive lists on Airbnbs in many of the locations above, where you'll definitely find one for you!
We hope that wherever you choose to stay in California, you have a great trip. To make sure you're safe throughout your travels, be sure to check out World Nomads for travel insurance policies too.
---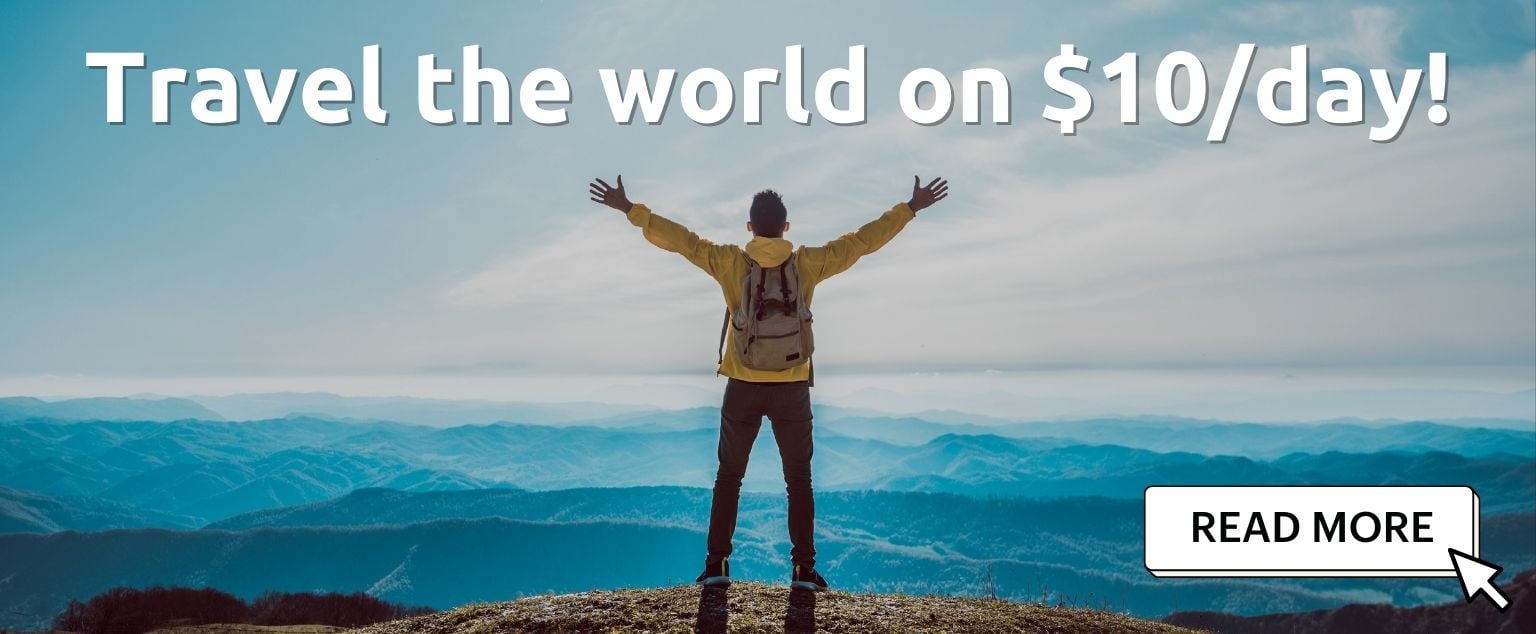 And for transparency's sake, please know that some of the links in our content are affiliate links. That means that if you book your accommodation, buy your gear, or sort your insurance through our link, we earn a small commission (at no extra cost to you). That said, we only link to the gear we trust and never recommend services we don't believe are up to scratch. Again, thank you!