Enter you, cruising the dusky beachfront in open topped Maserati and wearing expensive branded sunglasses that don't make a difference to sun glare at all…
AHAHAH. Nope. Get on the subway.
LA is famous for many things, including overpaying people for pretending to be other people, hosting several of the most glamorous parties on the planet, and LEGOLAND.
Being affordable is sadly not one of these things.
So how are you to navigate this pit-trap of tourism, celebrity, and overpricing? Will you leave victorious and covered in Kendall Jenner's lipstick? Or feeling like an ageing burlesque performer on an off-night?
In your time of greatest peril, you're going to need my RAZOR-SHARP backpacking Los Angeles travel guide to sort out all the issues that arise in such an exceptional city. Let us distance ourselves from cliché, and unravel the true secrets of LA…
A major facet of any Californian foray, Los Angeles is carefully coiffured and preened by Hollywood's underpaid writers to induce feelings of youthful vibrancy (or startling melancholy, depending in the state of the writers' marriage).
But does it hold up to it's on-screen appearance…?
Los Angeles is a city that sprawls. Think long-limbed feline or your disappointment in Avatar 2. Of course, there are the stunning attractions of Santa Monica, the temptations of Hollywood, and a downtown filled with questions, but there isn't a focal point, so be ready for a fair amount of movement!
Famous for long sunsets, beachfront mansions and neon lit parties where you can flirt with disgruntled C-grade celebrity, LA certainly holds an openness that many cities lack. There is also a ton of street life – performers, basketball games and general idleness make it seem pretty lively, especially on the beachfront.
My advice; treat it like a collection of towns, and make use of one of the top metro systems you can find on any trip round the USA. The best way to be in LA is to take things slow. Adjust to the pace, and remember that every time you leave the house, your wallet will try a 'new viral weight-loss trick approved by top doctors'.
What Are The Major Attractions in Los Angeles?
Los Angeles and its associated areas would take a long time to thoroughly explore. It's a massive area, and there's a ton to see and do. Even so, the very best places to visit in Los Angeles can be narrowed down.
Here's what you shouldn't miss out on during your trip:
Hollywood
Venice Beach
Griffith Observatory
Santa Monica
The Getty Center
Sunset Boulevard
How Long Should I Spend in Los Angeles?
Let me start off by saying that LA is massive, and attractions are spread out. Which is why I recommend you stay for at least 3 days, though 5 would give you way more flexibility. You'll have plenty of time to hit the hotspots, as well as take day trips from LA.
Having a rough plan of what to do in Los Angeles is the key to a successful visit. To give you a guideline, I've created a three-day Los Angeles itinerary, featuring the best (but also the most mainstream) places to visit in Los Angeles.
Note: For this itinerary, you don't necessarily need to rent a car, though you would have more freedom if you did. This pertains mostly to Day 2 and 3. The choice is yours.
Day 1 in Los Angeles: Hollywood and Downtown LA
To start your Los Angeles trip, check out a few Hollywood Stars' names set in the sidewalk on the Hollywood Walk of Fame located on the famous Hollywood Boulevard. Pass by the famous Chinese Theater. Avoid the stupid touristy shops selling movie memorabilia.
Hollywood is filled with plenty of quirky not-touristy shops to pop into as well including some epic thrift/second-hand shops. Next up: China Town.
China Town isn't super impressive, though you can buy almost thing there, including fireworks, pocket knives, and every Chinese knick-knack under the sun.
Next, spend the whole afternoon exploring the historic Downtown Los Angeles. Check out the LA Flower Market (in the Fashion District). When the time comes for a snack or an early dinner, definitely hit up the Grand Central Market for your choice of delicious food.
For the ideal end of your day, head to Griffith Observatory to catch the sunset over the Hollywood Hills and the skyscrapers of Los Angeles. After dinner, you can hit the town in search of a few frosty micro-brews, or just turn in early and save energy for tomorrow.
If you are staying in Hollywood again, there are dozens of fun bars. Ask your friendly hostel staff which bars are best in your area.
Day 2 in Los Angeles: Venice Beach and Around
Day two begins with an early (or maybe slightly slow) morning, depending on how your night went.
If you got your own wheels sorted, you're good to go. Hit the freeway in the direction of Santa Monica, and stop at The Getty Center for a bit of free entertainment before your beach day.
In Venice Beach, there is enough to keep you thoroughly entertained all day. You can rent a bike and cruise the boardwalk. Check out the local rippers at the famous skatepark (where I spent time during my teenage years)..
If it were me, I would probably stay in Venice for the night, but since you have a car (or maybe not) you can head down the road a few minutes to Santa Monica.
Santa Monica is a bit cleaner, more upscale, and much less festival-like. Well, it is just a normal beach town I suppose.
Be sure to check out the Third Street Promenade. The boardwalk area is nice enough and the Santa Monica Pier is the classic place to watch the sun go down as the surfers catch their final waves for the day.
Day 3 in Los Angeles: Universal and Beyond
Let's start off your last day in L.A. with a trip to one of the most iconic theme parks in the country: Universal Studios. Hop on some of the thrilling rides or check out the working movie studio, the choice is yours.
After a fun-packed day, catch a sunset from the Hollywood Sign, one of those L.A. attractions that everyone should see.
After admiring one of the best views in the city, grab dinner and performance at The Hollywood Bowl, a famous outdoor amphitheater that tends to have something going on.
Spending More Time in LA?
Los Angeles County is HUGE, so if you have more time to spare, there's a ton more to keep you busy in and around the city. While I definitely think you should take the time to check out the top L.A. attractions, Los Angeles has a lot more to offer than the Hollywood Sign.
From some of the best hikes in California to unique museums you won't quite find anywhere else, L.A and its surrounding beach towns can easily fill your schedule for a few weeks. Consider getting off the beaten path a bit in some of these places:
Hike at Runyon Canyon: Treat yourself to some seriously epic views with this rewarding local hike that's located out in West Hollywood.
Shop at the Farmer's Market: Browse through more than 85 stalls at this popular (and historic) open-air farmer's market. It's been open since 1934 and has the coolest items.
Check out the Walt Disney Concert Hall: For a heft dose of truly iconic architecture, look no further than this shimmering silver-colored concert hall. I doubt you've ever seen a building shaped quite like this! Plus, the acoustics inside are fabulous too.
Explore the California Science Center: Anyone will enjoy this world-class science center, which features immersive exhibits and even boasts an American space shuttle.
Spend a day on Zuma Beach: Located in nearby Malibu, Zuma Beach is one of the nicest in the area and is ideal for swimming, surfing, or catching some rays. If you're a little time rich, Airbnbs in Malibu are worth the splurge!
Los Angeles is the kind of city where you could spend a few months exploring and still never experience it all.
Here is my list of the top 10 things to do in Los Angeles to get your ideas flowing…
1. Eat Taquitos at Olvera Street, Downtown Los Angeles:
Located just across from LA Union Station, Olivera Street is where LA as a city began. Now it is an important historic and cultural centre for Latin American communities. Try the Taquitos with green avocado sauce at Cielito Lindo. So damn good. So good in fact I think I'll repeat myself.
2. Stargaze the Griffith Observatory
Griffith Observatory is a great place to catch the sunset, take in views of the Hollywood Sign and hills, and generally gain perspective on the great beast known as Los Angeles. Griffith Park itself, where the observatory is located, is totally worth a visit too.
3. Visit Universal Studios Hollywood
This famous theme park is so well known for a reason–it's the only working movie studio and theme park on Earth! Take a private studio tour to get behind the scenes, or spend the day in the park which features Harry Potter and Jurassic Worlds.
4. Check out Venice Beach
Surf. Sand. Subculture.
That is Venice.
Oh and some of the best people watching anywhere in the USA.
4. Go to A LA Dodgers Baseball Game
If you are coming from overseas, I realize that baseball might be a foreign concept. To see the game in person is to understand more of its cultural importance within LA and the greater USA. In any case, Dodger Stadium is a great place to spend a summer evening eating salty peanuts and taking in the scene.
6. Take a Meal or Two at Grand Central Market Los Angeles
Love it! All of the amazing diversity of LA cuisine represented in one place, for low prices. Heaven. The Grand Central Market is a must-visit if you are exploring downtown LA.
7. Hike to the Sunken City
In 1929, a landslide caused a neighborhood of fancy homes to crumble into the sea. Ok, the name "Sunken City" makes this place sound more epic than it actually is.
That said, a hike on the coast in San Pedro to the site of the Sunken City is beautiful. Plus it is cool to see just how powerful nature can be when it decides to reclaim the land.
8. See Celebrity Homes in Beverly Hills
A luxury homes tour with a twist, as you'll be seeing everything from a top an electric bike! Pass by top sights like Rodeo Drive and the famous Beverly Hills sign, along with 30+ celebrity abodes.
9. Go to a Weed Dispensary
Since January 2018, an ever-increasing number of legal marijuana dispensaries have opened for business. If you possess a valid ID and 21 years of age, you can buy some of the best weed on planet earth in all its various forms.
It's that simple. The pot shop is fast becoming a favorite amongst people backpacking in Los Angeles.
10. Hike the Trans Catalina Trail
If you have the time to spare, I highly recommend tackling the 37-mile Trans Catalina Trail spanning the island.
Staying on Catalina Island is beautiful, and it's only about 46 miles off the coast of LA. The island is home to wild buffalo, stunning scenery, and plenty of Hollywood history. Don't be like me and do this hike in August as it's hot AF.
In the event that a Couchsurf host isn't available or you want to move around a bit, you are going to need to book one of LA's top hostels. They're not just a great place to meet like-minded travelers, they're normally a lot more affordable too. If you're backpacking Los Angeles on a tight budget, this is your go-to.
You can also check out some of the Los Angeles Airbnb listings. You might just be able to score a private room for almost as cheap as a dorm bed, if you're lucky.
As I mentioned before, you will no doubt be spending your time outside the city center. There are some really cool vacation rentals in Los Angeles that are not downtown.
For those really wanting to travel on the cheap, there are some good motels in LA that don't dent your budget too badly. You can save some money without foregoing privacy.
The Best Places to Stay in Los Angeles
When choosing where to stay in L.A., you can't go wrong with any of these fab listings:
Every budget traveler backpacking Los Angeles should have an honest and realistic idea of what the associated travel costs are here. Like most places in a developed western country, a trip to Los Angeles can be as expensive or as cheap as you want to make it.
Staying in Hollywood is for the most part is going to be way pricier than staying in a less famous area. It's all about choices.
Los Angeles is blessed with plenty of cheap or free things to enjoy. There are also 5-star hotels and places to eat in Los Angeles where you can spend a month's rent before dessert arrives.
LA ain't South America. However, with a little preparation and budget savviness, you can backpack Los Angeles on the cheap.
If you are on an extremely tight budget, it would be possible to visit Los Angeles on as little as $25- $40 a day. This would involve outside forces coming together to help you in some way or another, IE utilizing Couchsurfing and friends.
A comfortable budget allowing you to eat well, do things, stay in a hostel, and even rent a car would be more like $80-100+ a day.
A Daily Budget for Los Angeles
Here is what you can expect your average daily backpacking costs to be in Los Angeles:
Los Angeles on a Budget – A Few Tips and Tricks
In order to have a successful trip backpacking Los Angeles on the cheap, you will need to be very budget-conscious. Stuff here adds up fast. One bad choice of where to eat or where to sleep can send your budget into the meat grinder.
Visit Free Museums!: The Getty, LACMA (free every other Tuesday 11 am- 5 pm), and the Natural History Museum are all free (except for certain dates).
Eat Mexican Food: Mexican food in Los Angles is cheap, abundant, and delicious. I am an LA-area native and I miss Mexican food on a weekly basis. You can score a seriously filling and delicious meal for under $10, even less at a taco truck.
Drink Cheap Beer at the Bar: In many bars, if you order a typical American beer IE Budweiser, Coors, PBR, ETC, you can usually score a pint for about $3. Go for happy hour and 2×1 specials.
Take the Bus/Public Transportation: I'll be honest with you: LA is lagging when it comes to public transit, but there is still enough connections to get by. The Metro is great for quickly getting from Downtown LA to Hollywood.
Hang out at the Beach: Hanging out at the beach is free and besides the beach is at least half the reason Los Angeles ever became world famous.
Walk: Walking in Los Angeles does have its limits. Distances can be huge! That said, plan your daily travel route in a way that doesn't have you doubling back in an Uber or on the metro multiple times. Explore Downtown LA and cities like Hollywood, Venice Beach, and Santa Monica as much as you can on foot.
Couchsurf: If you can swing it, staying with a local for free is an obvious boon to cutting down your biggest cost, accommodation.
Pack a travel water bottle and save money every day!
Why You Should Travel to Los Angeles with a Water Bottle
Plastic washes up all over Los Angeles County… so do your part and keep the Big Blue beautiful!
You aren't going to save the world overnight, but you might as well be part of the solution and not the problem. When you travel to some of the world's most remote places, you come to realise the full extent of the plastic problem. And I hope you become more inspired to continue being a responsible traveller.
Plus, now you won't be buying overpriced bottles of water from the supermarkets either! Travel with a filtered water bottle instead and never waste a cent nor a turtle's life again.
Good news! Southern California and Los Angeles are home to year-round sunshine. Growing up, I remember many Christmas days when I was in shorts and a t-shirt. However, during the summer, the temperatures can be intense.
Los Angeles receives a majority of its over 42 million annual visitors during the summer months (June- August). Beaches are slammed, and traffic feels worse, though it is probably the same.
Main attractions found throughout the city and around tend to be more crowded in the summer. Winter and summer do have very different vibes in LA.
The best time to visit Los Angeles is in the spring. Temperatures are mild, the sun is shining, flowers are blooming, and the days are starting to get longer again. The fall is nice too. Summer is doable; just be prepared for crowded beaches and long, sweaty days.
Avoid August. Temperatures routinely break 100 degrees F and the smog and air pollution hovers over the city in a stagnant dirty cloud. A bonus to backpacking Los Angeles in the winter is that it is possible to go skiing or snowboarding in the mountains 2-3 hours from LA.
What to Pack for Los Angeles
Here are a few items I definitely think you should add to your California travel packing list:
Generally speaking, Los Angeles is a safe city to travel in. Major landmarks and touristy areas are very safe. There are certain parts of the city with high rates of violent street gangs, drugs, and major crime issues. Cities and areas like Compton, South Central LA, and Skidrow should either be avoided altogether or at least off-limits at night.
Los Angeles is MUCH safer than it was in the 1980s and 1990s, be sure.
All the same, don't go wandering into unknown areas, loaded with cash, and your attention diverted towards staring at Google Maps for directions. Keep your wits about you at all times, especially in the city center, in Hollywood at night, and around Skidrow, always.
Backpacking Los Angeles does not need to be a dangerous endeavor. Employ the same travel safety methods that you would in any city in the world and you should be just fine.
Sex, Drugs, and Rock 'n' Roll in Los Angeles
There's certainly no shortage of any of the above in L.A., the city thrives on it all. From legal weed and craft beers to ecstasy and meth, literally any drug on the planet can be found in this city. You should be extremely careful though–fentanyl overdoses are a big issue in the city and they have been for years.
If you do want to try a non-legal drug, always test before trying. LA offers test kits to the public at numerous locations, and it's always worth doing. I highly recommend playing it safe and enjoying the city's legal weed scene, which is one of the most developed in the world. A word of warning on edibles though: they are EXTREMELY strong. The high is often very different from smoking too, so always start with less and wait long enough to give them a chance to kick in.
Always keep your wits about you in the City of Angels and remember that the city does attract a very wide variety of people and not all may have good intentions. Don't allow yourself to be sucked into a situation you're not comfortable with–whether it be with a love and sex on the road debacle or a problematic situation with newfound friends.
Getting Insured BEFORE Visiting Los Angeles
Medical care in the US is expensive! It's a great idea to get insured before visiting, especially when traveling to a major city like Los Angeles.
World Nomads' mission is to support and encourage travellers to explore their boundaries. They offer simple & flexible travel insurance, and safety advice to help you travel confidently.
They've been doing it since 2002 – protecting, connecting, and inspiring independent travellers just like you.
Get a quote below or read our in-depth review!
World Nomads provides travel insurance for travelers in over 100 countries. As an affiliate, we receive a fee when you get a quote from World Nomads using this link. We do not represent World Nomads. This is information only and not a recommendation to buy travel insurance.
Los Angeles is served by one major international airport: Los Angeles International Airport, aka LAX. Though it is important to keep in mind that there are several other main (some international) airports that should be considered when booking airline tickets.
These include John Wayne Airport (SNA), Ontario Airport (ONT), and Hollywood Burbank Airport (BUR), which is legally known as the Bob Hope Airport.
In my experience, flights in and out of LAX are always the cheapest. If you are traveling to LA in the low season (November, for example) it is possible to find round-trip flights from Europe for as little as $350. Norwegian and XL Airways are the best cheap airlines connecting Europe and Los Angeles as of now.
The cheapest way to get from Los Angeles to San Francisco or vice versa is to take the bus which can cost as low as $18 (7 hours/Megabus). You can try to travel by hitchhiking between the two cities is a possibility too, but comes with the associated risks.
FlyAway offers shuttles between LAX and Union Station (in the Los Angeles City Center) seven days a week for $9.75 each way (estimated travel time: 35 mins).
How to get around Los Angeles
A brief look at some of La La Land's best methods of transportation:
Quick Answer:
LA Metro: Primary trains running all around Los Angeles Area. Good for long and short journeys.
Metro Bus: Buses serving additional routes close to metro lines.
Dash: Quick Downtown bus transport.
Flyaway: Airport shuttle bus – LAX – City Center route is very convenient.
Uber / Lyft: Ride sharing apps, well, you know what they're about. Great for short distances.
Taxi: The original ride hailing service, now on its last breath. Thanks, Uber.
How to Choose the Best Transportation in Los Angeles
The best way to get around whilst backpacking Los Angeles depends on what you plan on doing. Really, I would try to avoid driving at all costs if you plan to stick around the city center and Hollywood. There is simply no need to rent a car if you spend most of your time in those two places.
The traffic in Los Angeles is part of the reason I will never live in Southern California again, so help me God. Driving in LA traffic is stressful and unpleasant, and Los Angeles public transportation leaves much to be desired.
The metro is the best way to get between Los Angeles and Hollywood. A one-way fare is $1.75. If you plan on taking the metro multiple times in one day go for a metro day pass, as its cheaper ($7).
Uber is also a great option for short distances and it is typically cheaper then hailing a cab (sorry guys!).
If you really want to get out and explore the greater Los Angeles area, you will need to rent a car. Having your own wheels is essential for getting to the beach, going on most hikes, and traveling off the beaten path.
Avoid driving during rush hour (7 am – 10 am and 3 pm – 6:30 pm)! Unfortunately, traffic is just part of the backpacking Los Angeles experience. For a tiny car rental without insurance, you can find deals as low as $20/day.
The US has very strict work policies, so don't expect to be able to land a proper job in Los Angeles unless you're a citizen or permanent resident.
Digital nomad life is possible, though definitely NOT cheap, so be sure you truly understand L.A.'s exorbitant costs of living before moving long term.
Volunteering opportunities also exist. And if you're looking to travel long-term on a budget in Los Angeles whilst making a real impact on local communities, look no further than World Packers.
World Packers is an excellent platform connecting travelers with meaningful volunteer positions throughout the world. In exchange for a few hours of work each day, your room and board are covered.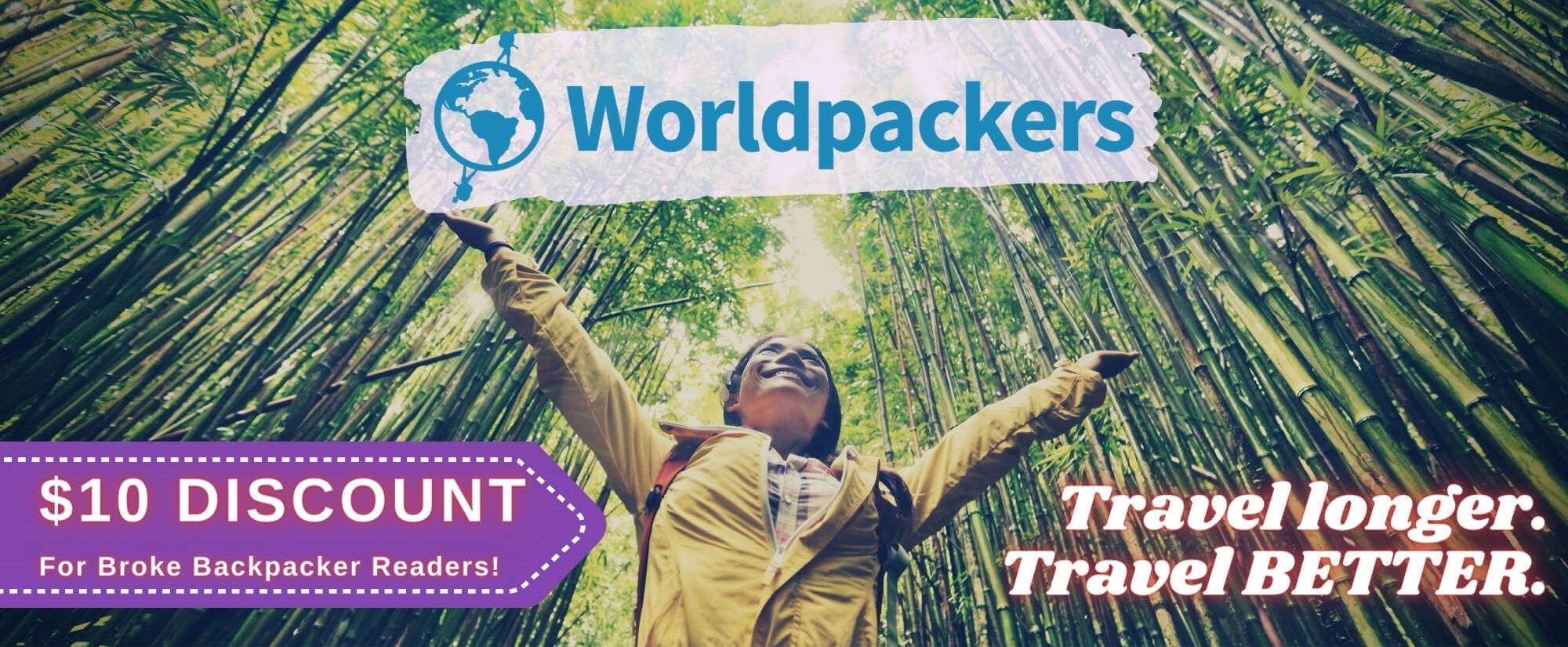 Worldpackers: connecting travellers with meaningful travel experiences.
The nightlife in Los Angeles has something for every traveler. Perhaps no city in the world is better known for its wild and lavish parties than LA.
Just to be clear, the likelihood of you finding yourself at a legendary Los Angeles party if you are a newly arrived broke backpacker are slim to none. Saying that, I don't know how you operate, so anything goes I guess.
No matter what is your idea of a good time, you will find it whilst backpacking Los Angeles. On any given night of the week, you are liable to find a live show spanning all genres: punk, techno, hip-hip, reggae, pop, rap, metal, alternative, bluegrass, folk, indie…it is all on the table.
Same goes for clubbing, if that is your thing.
Whilst some of the bigger name music venues are not so cheap, there are plenty of hole-in-the-wall clubs, bars, and low-key venues that have reasonable prices. Many might not even have a cover charge.
The sky is the limit, really. You could find yourself sipping champagne with celebrities and spending more money than you have made in the last two years in a single hour. Or you could be chilling on the beach around a bonfire sipping back a few beers after an afternoon of surfing.
Whether you enjoy hearing some soulful bluegrass, going nuts at a punk show, or just feel like having a game of pool with your mates at the bar, it shouldn't be too hard to find what you like in the City of Angels.
Dining in Los Angeles
Now onto one of the best parts about traveling: eating and drinking! Los Angeles is blessed with a very diverse population. Every imaginable nationality has culinary representation in Los Angeles.
If you crave it, you can certainly find it. Mexican food – and Hispanic food in general, for that matter – is the most abundant for obvious reasons. Latin American ethnicities make up a large percentage of the population of LA county and it's one of the best places in the USA to try Latin cuisine!
Here is a quick run down of the different types of places to eat and drink in Los Angeles:
Diner/Cafe ($-$$): Diners can be generic franchise stores open 24/7, frying up all things American IE bacon and eggs, pancakes, burgers, sandwiches, milkshakes etc. Diners can also be high-end, offering seasonal brunch menus that use local ingredients. These are of course better, though more expensive.
Food Trucks ($-$$): I love food trucks. Sometimes the tastiest, most authentic taco or Bahn Mi sandwich you will ever have will come from a food truck. Often food trucks are very cheap compared to sit-down places. Try as many as you can! The Avenue 26 taco stand at 26th and Humboldt in Lincoln Heights has the reputation of blowing away the competition. Locals and travelers alike swear by it. Go.
Fast Food ($): As I said before, I will probably judge you from afar if you eat shit fast-food, though I know that sometimes budget restrictions and/or alcohol call for desperate measures. Do it if you must. One exception to fast food is In-n-Out Burger. Talk to anyone in California and they will tell you they make the best cheap burgers around. It's true…
Restaurant ($$-$$$): The whole gauntlet of restaurants can be found in LA. If you love food, try to save money in your budget to eat at least once at a nice-ish spot of your choosing. For the best Thai food in town, try Night Market Song. Worth traveling to.
Bar/Pub ($-$$): Bars also vary across the board in Los Angeles, but generally speaking they are good places to both socialize and blow your budget. Go to a bar whilst backpacking Los Angeles, but try not to get more than a drink or two if you want to hold onto your money.
Club ($$$): Clubs are always expensive. They are, well, clubs. People go to them to party and have fun. If going to a club is your idea of a good time, there is no shortage of them in LA. Just be prepared to pay for the pleasure.
Cheap Eats in Los Angeles
Los Angeles has some of the most expensive food in the world, but it also has some killer budget eats that will have you coming back for more.
Thanks to its thriving street cart scene, Los Angeles is actually one of the only places in the US where you can find such quality tastes at low prices.
It's no secret that LA is one of the most popular places to visit in the world. The city of the rich and famous is as glam as can be, all while boasting some of the best weather in the country and a wide variety of things to do.
No California trip is complete without a few days here, but as this Los Angeles travel guide has shown, exploring this city doesn't have to break the bank. There are plenty of hikes, museums, hole-in-the-wall-eateries, and even underground tunnels to explore if you just know where to look!
Here are some cool experiences that most visitors to L.A. don't even know about:
Hikes in and Around Los Angeles
Los Angeles and the surrounding tangle of concrete, freeways, buildings, and humanity can be quite overwhelming. So where does one go to find a little peace? Let's dive into some of the best walks and hikes in Los Angeles…
Runyon Canyon: This park is in West Hollywood, and makes for a great urban escape. Killer views of LA can be gained, and the outer loop hiking trail will definitely wipe you out in the summertime.
Trans Catalina Trail Hike: If you have 2 or 3 days to spare, this hike traversing Catalina Island is bound to be a highlight of your backpacking Los Angeles experience. Who knew that there are buffalo on an island just off the coast of LA? Well, they're not exactly native. Humans put them there, but they are still cool. This is one of the best hikes in the USA!
Cahuenga Peak and The Wisdom Tree: This is an excellent hike that takes you to the Hollywood sign, but without the normal troupe of tourists. Few people know about it because it is a new trail, so enjoy the peace while it lasts.
Santa Monica Mountains: Once you leave the city behind and head for the coast a whole other world of hiking opportunities awaits. The hikes in the Santa Monica Mountains are quite varied and range from easy jaunts to difficult, steep hot treks.
Sandstone Canyon: This hike is popular, but for good reason. There is excellent rock climbing and sweet views of the ocean once you get up high enough. If you are going to make the effort to do one day hike whilst you are backpacking Los Angeles, this is the one.
Los Liones Trail to Parker Mesa: A moderate coastal hike with great views and just enough solitude (during the week at least) to make you forget you're in LA.
Malibu Creek State Park: Want to check out a lake, a small river, and do a bit of rock climbing? This is the spot for you.
Joshua Tree NP: With extra time in LA, it's worth taking a weekend trip to hike in Joshua Tree National Park, just 3 hours away (which is nothing to Californians). There is plenty of epic hiking (and rock climbing) at Joshua Tree. This is also one of the best places to watch the stars in the US.
Beer and Brewpubs in Los Angeles
Over the last several years, craft beer has gained immense popularity in America and quality brewers have finally come to LA. Here is a list of some of the top Los Angeles Breweries/Brew Pubs. No trip backpacking Los Angeles is complete without trying a few local cold ones.
Los Angeles Ale Works: Hawthorne, food trucks on site.
Smog City Brewing Company: Long Beach, ranked at the top of the best beer in La list.
Brewyard Brewing Company: Glendale, California lager specialists.
Brouwerij West: San Pedro, fun vibes.
Wine Bars in Los Angeles
Back in the day, Southern California grew a ton of wine grapes. Times have changed and local grape farming is not what it use to be. That said, there are still plenty of good wineries making quality products in Southern California, and of course heaps up north in Napa Valley, Sonoma, Paso Robles, etc.
Here are a few places to drink wine in Los Angeles:
Tabula Rasa: Hollywood, a hidden gem in the middle of Thai town.
Restoration Wine Bar: Torrence, Fine wines, craft beers.
A.O.C: Los Angeles, amazing, authentic tapas.
Getting Off the Beaten Path in Los Angeles
If you are in town a couple of extra days (or months) there is plenty to keep you busy. Take a look at some fine off-the-beaten-path adventures to be found in Los Angeles:
Check out LA's lesser-known beaches: El Matador State Beach – This beach in Malibu might just be the best-kept beach secret in the Los Angeles Area. Stunning rock formations dominate the coastline, instead of people. My kind of spot. Abalone Cove Shoreline Park in Palos Verdes and Leo Carrillo State Beach in Malibu are also winners free of human hordes.
Go to a Music Venue that is not the Hollywood Bowl: Ok so the Hollywood Bowl has hosted some fantastic musical acts, including The Beatles, but there are other places to grab a decent show. There are numerous great music venues, that are definitely worth a visit.
Go to a Not-So-Famous Museum: There are many. To name a few: The Museum of Broken Relationships, the Museum of Jurassic Technology, and the Historic Native American South West Museum.
Explore the Hidden Tunnels of Los Angeles: Street art, urban decay, and plenty of history make the secret tunnels (former bootlegging hub) a fascinating place to explore.
Here's what people usually asked when heading out on a backpacking trip to Los Angeles.
And we've now reached the very end of this Los Angeles travel guide! I hope you now feel much more prepared for your visit to the City of Angels.
If you haven't realized by now, this city is truly incredible. From your traditional famous activities to off-the-beaten-path hikes and picture-perfect beaches, it's no wonder that visiting Los Angeles is a dream for many. There are so many things to do in this city, but be careful with your spending. One night out in Hollywood or Beverly Hills could easily do some serious damage.
Whether you want to walk the streets of the rich and famous or simply lounge on a stunning stretch of sand, Los Angeles has something for everyone.
So what are you waiting for? Book that ticket, lock in your accommodation, and get ready for a wild ride in one of the most infamous places on Earth!
And if there's only one thing you take from this guide let it be this: do not, and I repeat, DO NOT, miss out on the legendary street tacos!
Author's Note: Special thanks to my good amigo Tim Donohue for his contributions to this article.
Updated May 2023 by Abe Lea
---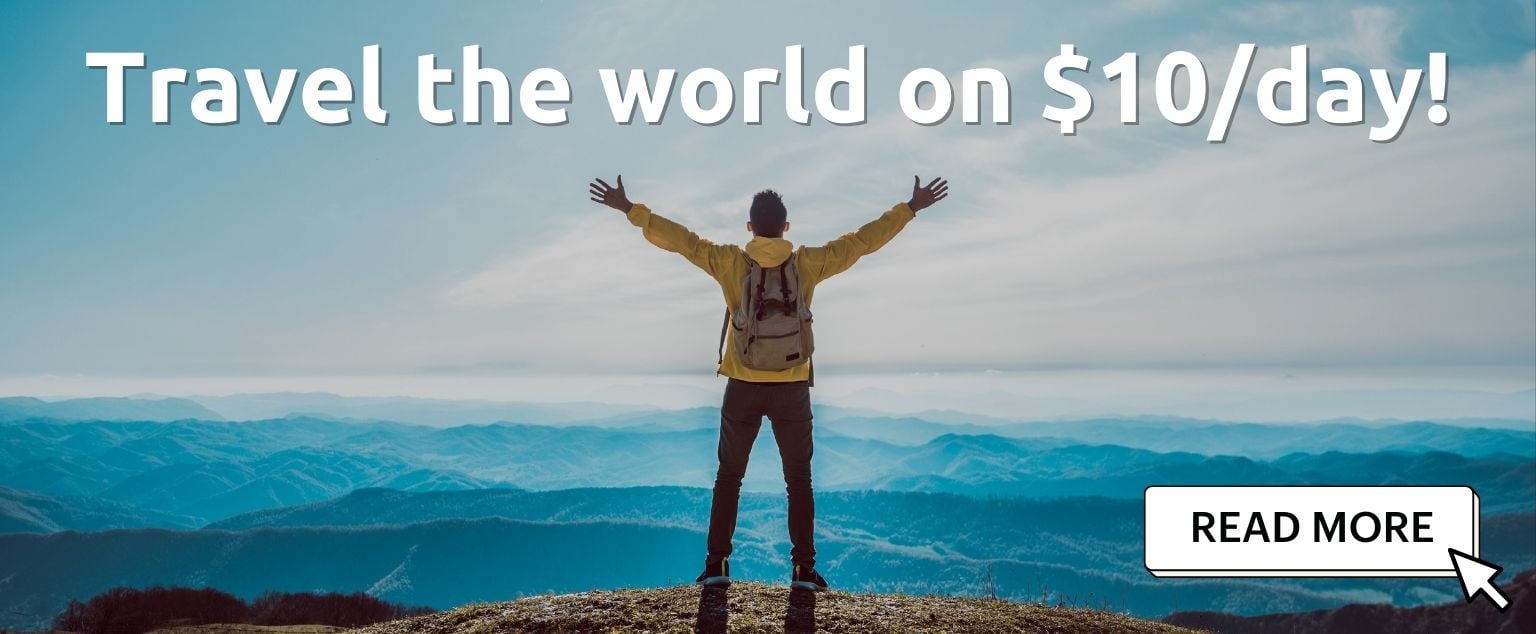 And for transparency's sake, please know that some of the links in our content are affiliate links. That means that if you book your accommodation, buy your gear, or sort your insurance through our link, we earn a small commission (at no extra cost to you). That said, we only link to the gear we trust and never recommend services we don't believe are up to scratch. Again, thank you!