Home to movie stars, beaches, film studios, amusement parks, sunny days and quite literally a TON of cultural things to do and see, Los Angeles is one of the most iconic cities in the US.
But on the other hand, LA is also the home of some of most the infamous gangs in the world including the Crips and the Bloods. Violence in certain parts of the city is an everyday occurrence.
I bet you're probably wondering, "is Los Angeles safe?" And to answer that question we've put together an epic insider's guide on how to stay safe in Los Angeles. We're here to help!
In this guide, we are going to be tackling a WHOLE LOAD of different issues including whether or not Los Angeles is safe to travel for families or whether living in Los Angeles is safe. You name it – we've surely got it covered in this guide.
How Safe is Los Angeles? (Our take)
Los Angeles – iconically and universally known simply as LA – is the biggest city in California. Everybody knows it for the being the home of Hollywood and the celebrity mecca of the entire world.
And although it IS safe in many parts of the city, there are some dangerous places. Skid Row is known for its MASSIVE homeless community. Then there's South Central and Compton, plagued by gangs, shootings, and violence.
There are also earthquakes adding to the list of dangers. In fact, there are around 10,000 of these EVERY YEAR. Tho most of these are minor and you may not even notice them!
And there are forest fires. These can be totally wild and deadly.
But none of these are reasons you CAN'T spend time exploring this iconic city. Los Angeles is pretty safe in general and boasts bountiful beaches and cool LA stuff to do.
However, it's a BIG CITY and you've got to be aware of how to keep yourself safe.
There is no such thing as a perfect safety guide, and this article is no different. The question of "Is Los Angeles Safe?" will ALWAYS have a different answer depending on the parties involved. But this article is written for savvy travellers from the perspective of savvy travellers.
The information present in this safety guide was accurate at the time of writing, however, the world is a changeable place, now more than ever. Between the pandemic, ever-worsening cultural division, and a click-hungry media, it can be hard to maintain what is truth and what is sensationalism.
Here, you will find safety knowledge and advice for travelling Los Angeles. It won't be down to the wire cutting edge info on the most current events, but it is layered in the expertise of veteran travellers. If you use our guide, do your own research, and practise common sense, you will have a safe trip to Los Angeles.
If you see any outdated information in this guide, we would really appreciate it if you could reach out in the comments below. We strive to provide the most relevant travel information on the web and always appreciate input from our readers (nicely, please!). Otherwise, thanks for your ear and stay safe!
It's a wild world out there. But it's pretty damn special too. 🙂
Is Los Angeles Safe to Visit? (The Facts.)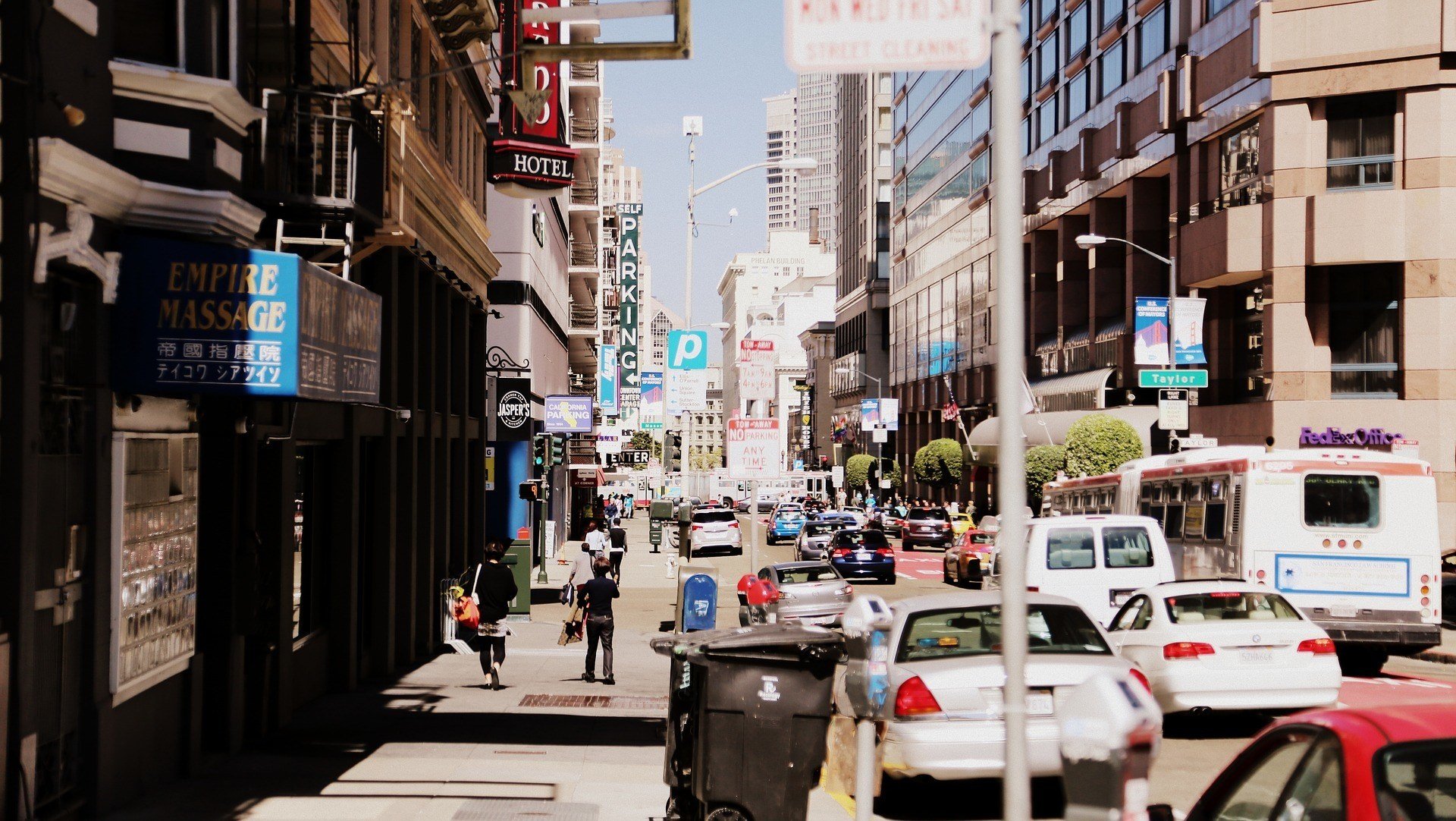 The good news is that Los Angeles is safe to visit. Just ask the 35 million tourists who come here every year.
Yes, it has a reputation for being somewhat dangerous but it is also known for being a clean and safe holiday destination. The high crime rates MIGHT alarm you, but in comparison to other big cities in the US, Los Angeles has "the largest decline in crime of any major American city" – according to the FBI. It's the country's 5th safest large city.
It's a melting pot of a city: 70% of its population is non-white, most of which are Hispanic.
Crime rates are LOWER in Los Angeles than in San Francisco, Las Vegas and New Orleans.
Of course, the city DOES want tourists to visit and have a trouble-free time whilst there here. At the same time, the LAPD want visitors to know about crime prevention tips so they don't get caught out. Makes sense.
But the infamous Skid Row is CRAZY. This place is home to the largest homeless population in the United States (over 20,000). And it's been that way since the 1970s.
Is it Safe to Visit Los Angeles Right Now?
There are a few seasonal problems that Los Angeles faces. Definitely.
Wildfires are unpredictable and often tragic. 2018's Woolsey Fire razed approximately 96,949 acres of land. It was described by the city's mayor as one of the largest fires in LA's history. It was serious. People fled for their safety. Some people died.
And then there are earthquakes. Thousands a year. You obviously won't feel ALL of them, but around 20 of them are more serious than Magnitude 4.0. There's a fault in the north end of the city called the Santa Ynez Fault and there ARE concerns about a major earthquake occurring in the near future.
But that's just life in an earthquake zone. The chances of an earthquake putting your visit and your well being at risk are very slim.
Mid-to-late summer in Los Angeles means awful air condition. There are even warnings on TV and radio to not go outside. It's HONESTLY THAT BAD.
When it comes to the homeless community, it's important to note that it doesn't pose TOO much of a risk. Then again, Skid Row should NEVER be visited by a tourist. Mental health issues and drug addictions that remain untreated make people here unpredictable.
On the whole, crime IS going down in recent years. But it's definitely still there. Pickpockets, burglaries, violence… Yep, all the normal big city stuff.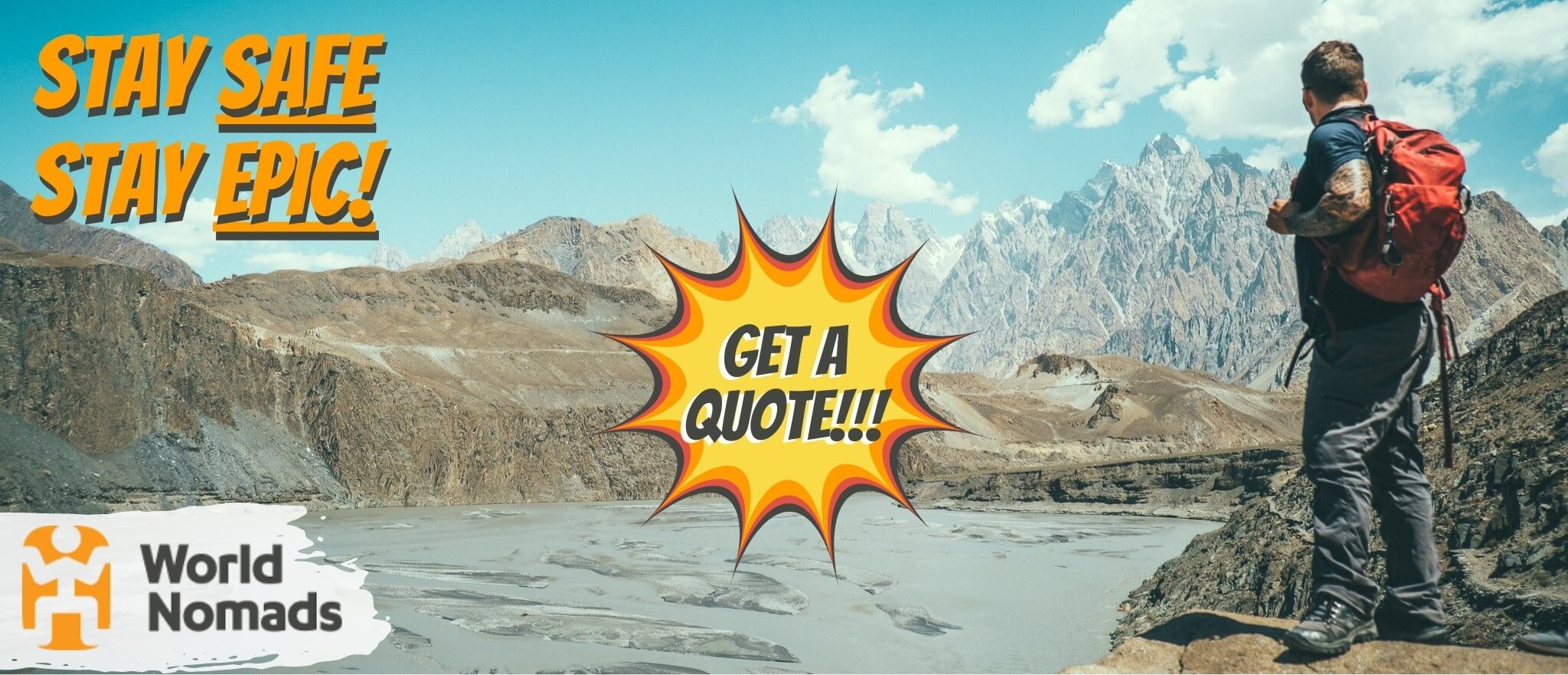 It's good to get lost sometimes, but it's also good not to get too lost. There are people that want you home in one piece.
There's one travel insurance provider The Broke Backpacker trusts for all his wildest shenanigans… World Nomads!
Click the button below to get a quote on your insurance or read our in-depth review of World Nomads' coverage. And then… let the shenanigans begin. 😉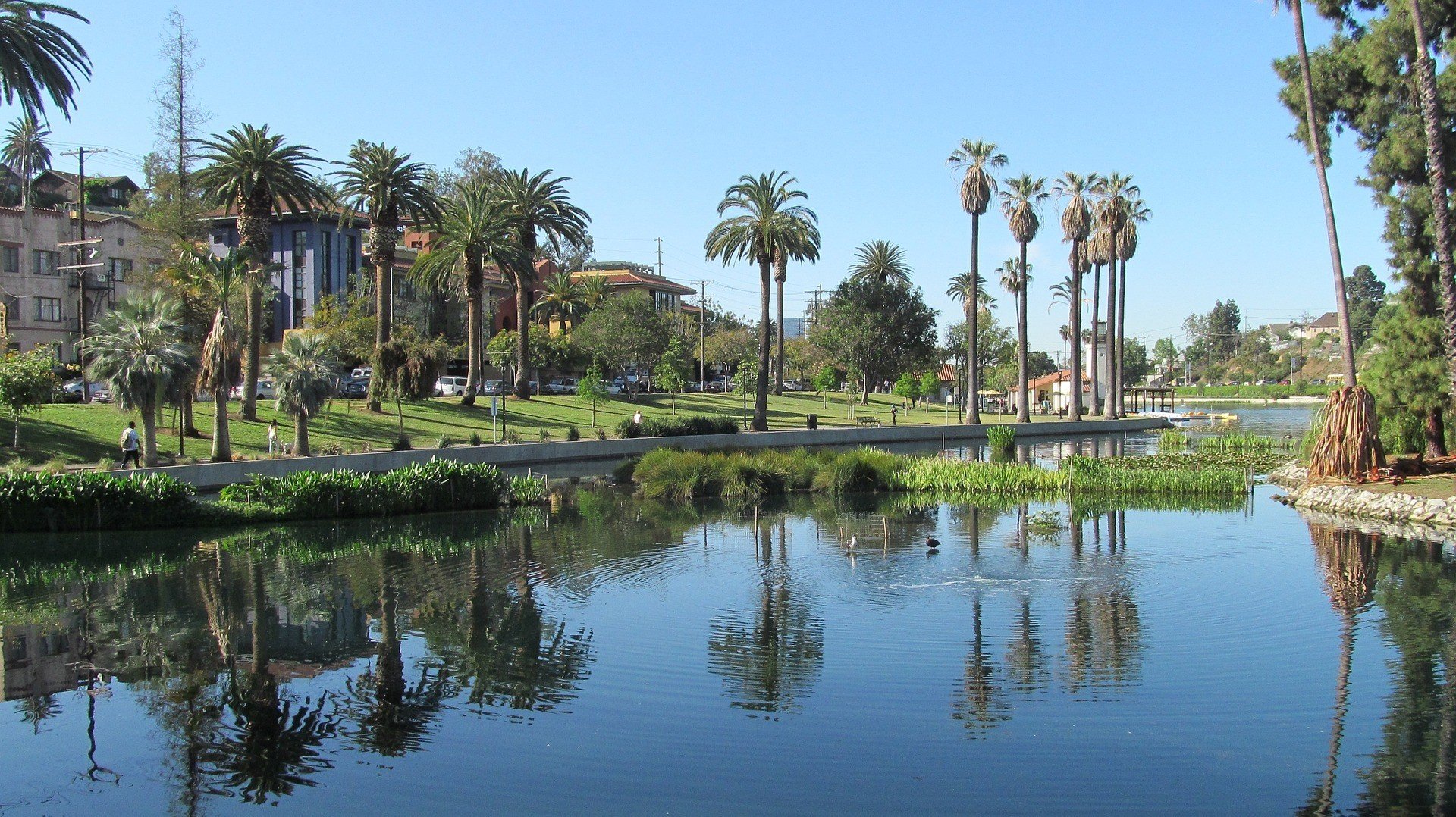 You can NEVER be too careful with exploring a new city, and especially one that has such a toxic cocktail of gangs, drugs, and violence all masked with a kind of celebrity sparkle that makes you think, "it can't be THAT bad." So it's best not to be caught off guard.
To help you be as safe as possible when you're visiting the City of Angels, here are our top safety tips for traveling to Los Angeles:
At night avoid certain areas – Boyle Heights, South Central, Westlake, and Pico-Union. Crime hotspots. Marina del Rey and Culver City, too. Similarly, Venice Beach, whilst FINE in the day, has a big problem with meth at night.
Then there are popular tourist spots like Hollywood Walk of Fame – a bit of an issue with pickpockets.
Try to explore LA without flashing your cash – looking too rich can draw attention you probably don't want.
Conceal your wallet or purse – or use a money belt so it's less easy to reach.
Know what to do in the event of an earthquake – get under a sturdy table, cover your head and neck, etc. Read up on it!
Be aware of riptides – dangerous offshore currents can be deadly. Don't panic and don't swim against the current.
LA has a smog problem – keep an eye on the local news and stay indoors when it's REALLY bad.
Protect yourself from the sun – LA gets 320 days of sun a year (apparently), and you DON'T want sunstroke. Trust us. Sunscreen, stay in the shade, sunglasses and a hat. For real.
Weed is decriminalized – if you have 28.5 grams on you it's a "misdemeanor" and you MIGHT get fined. So be aware.
Understand about the city – immigrants and refugees from all over have come here. Different languages are spoken.
Try not to act like a tourist – blend in with the locals as much as you can.
And try not to look lost – both this and looking like a tourist is going to make you MORE of a target for crime.
Be aware of distraction techniques pickpockets might use – falling over, bumping into you, dropping stuff. They often work in teams, so don't get fooled by obvious stuff happening "accidentally" in front of you.
Don't hang your bags on the back of chairs – or your phone on the table. They could easily disappear.
Be careful when you're getting money out at ATMs – be aware of your surroundings; make sure no one's taking TOO much of an interest in what you're doing.
Stick to well lit busy streets in the city – goes without saying. More risk on dark, quiet streets.
If someone is hassling you – make a fuss, attract attention. This will probably freak them out.
Leave anything you REALLY don't want to be stolen in the hotel safe – no-brainer. Or don't bring it with you at all.
The best thing you can do to keep yourself safe in Los Angeles is to simply BLEND IN. Don't walk around with flashy watches, designer handbags, anything like that – it'll make you a target. Make sure you know where you're going before you head out (looking lost is bound to attract thieves too). Don't wander around down dark streets. Be aware of your surroundings.
In short, you should travel smart.
Insider Safety Tips from the Broke Backpacker Team
Travel SAFE and Make a Difference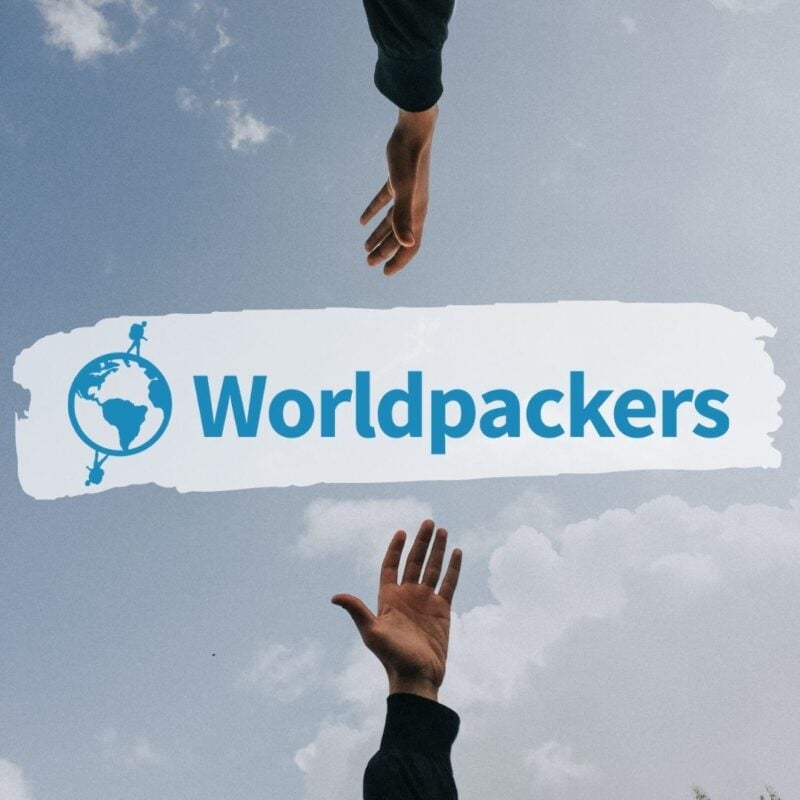 Worldpackers connects travellers with hostels, schools, NGO's and many more for work exchange opportunities. Chat with your host before you arrive to have a soft landing and then experience your destination differently! Local connections make your trip a lot safer – and open up a whole new culture experience.
Worldpackers trips are insured! They'll help you find a new host and cover up to 7 nights in a hostel so you're not left on your own if a host falls through.
Use the discount code BROKEBACKPACKER for a $10 discount. Plus, get 3 free months on your membership during their summer promo!
TRAVEL BETTER NOW
Keeping your money safe in Los Angeles
Every traveler's worry pretty much anywhere in the world is going to be without a doubt losing money. It's probably the most common way to put a short end to your otherwise amazing trip away.
In Los Angeles, there's a fair bit of crime. We're not going to lie. And rather than putting it all down to fate, you can increase your chances of keeping your money safe in Los Angeles by simply using a travel money belt!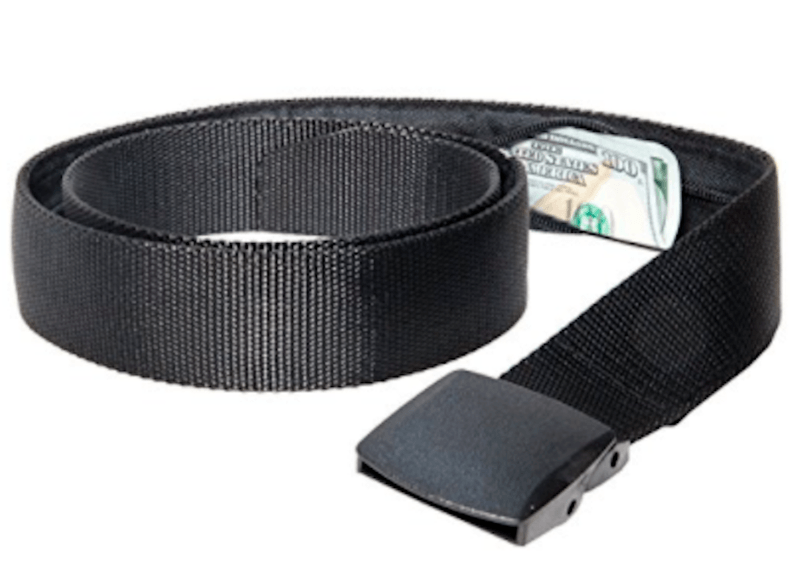 The Pacsafe Money Belt is our best bet. It's affordable, it looks and acts like a belt, and it's sturdy – what more could you ask for out of a money belt!
It's affordable. It's sturdy. It LOOKS like an actual belt. Three reasons why this is EASILY our top choice for a money belt.
So to stop would-be pickpockets in their tracks, have nothing in your pockets to start with. Slip dollars into your money belt and there you have it. And it's even easier if it's the Pacsafe Security Belt since it's not obvious at all. No bulges or tons of compartments to deal with. You may be worried about keeping your money safe in Los Angeles, but with a money belt… That won't be a concern at all!
If you need a little more room for your passport and other travel valuables, have a look at a full-size money belt that tucks under your clothes instead.
Definitely. Los Angeles is absolutely safe to travel alone and backpacking in LA can be a lot of fun!
There are definitely pros to solo travel, too. You get to do WHAT you want to do, WHEN you want to; you've got no one else to answer to, and you get to challenge yourself – and reap the rewards. 
But LA is a BIG city, and there are risks involved when you're in a big town by yourself. As well as being more of a target for petty theft, you're more likely to feel lonely and disconnected in a city. So to help you do all that, here are some LA safety l tips for Los Angeles…
Be aware of your surroundings ESPECIALLY at night time. In some places, Los Angeles can be a completely different place at night than it is in the daytime. Take Venice Beach for example: daytime = fine… nighttime = meth heads congregating. So take our advice into consideration and maybe do some extra research just to be on the safe side. But as a general rule, take care after dark.
Make sure you don't drink too much when you go out at night. Drinking a load and getting completely wasted is a good way to lose your senses, get into bad situations, or even just get lost going home (which can end up pretty dangerous). So be SMART and know how to get home. Preferably with a taxi company.
Don't get into arguments whilst you're out drinking, either. Bar fights are not uncommon and can get pretty nasty. Just not a good idea to lose your cool. If someone seems like their goading you into something, ignore and remove yourself from the situation.
It's weird, but people ACTUALLY try to scam you in LA by dressing up as celebrities or saying they're a "famous director" or they're from a talent agency. Most likely, a celebrity ISN'T going to be coming up to you. And a director PROBABLY doesn't want to cast you. Sorry guys, but these are scams. Ignore.
If you want to meet other people, make sure you stay somewhere social in LA. Obviously, you should do your research before you book. Make sure you're staying somewhere that suits you. Making friends with other travelers is a good idea when it comes to keeping sane when you're by yourself.
On a similar note, don't go off the grid. Keep in touch with friends and fam back home and let them know what you're up to. Pretty simple, but not only will you always have a nice connection to keep you grounded, but you'll also have the benefit of SOMEBODY knowing where you are rather than NOBODY knowing what you're doing. And that's a much safer way to go about things.
Ask the staff at your hotel or hostel, or even just people when you're out and about what's good to do in Los Angeles. Chances are the locals will know a lot more cool stuff going on than your guidebook! And they can tell you where's safe, too.
Be careful with leaving your stuff unattended on beaches. Maybe it'll be ok, maybe it won't. But it's better to be safe than sorry. So DEFINITELY don't take valuables to the beach.
Try to travel light. The more things you carry, the more likely you are to be a target. And anyway, you do NOT want to be lugging around a LOAD of heavy luggage around a city – and definitely not in a usually hot and sunny place like Los Angeles. Trust us: it's not fun at all.
Where's there's crowds, there's going to be crime. That's just how it goes. But in Los Angeles, it may be worth the trouble because this city also offers you a good time!
You'll get to chill on Venice Beach, see how your hands (and feet) match up to the stars' outside the Chinese Theater and go hiking in the hills. Like in ANY big city, you'll have to travel smart – watch your belongings in crowds and watch out at night… But really, solo travelers will love LA!
Travel with peace of mind. Travel WITH a security belt.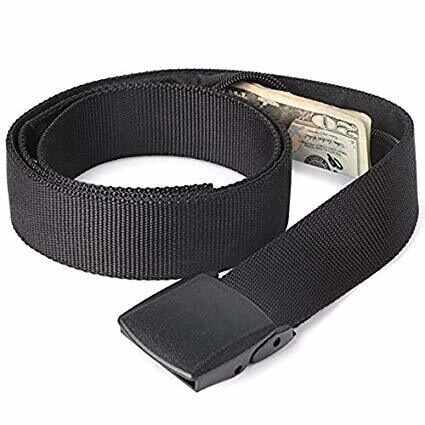 Get your cash stashed with this awesome Pacsafe money belt. It will keep your valuables safe no matter where you go.
It looks exactly like a normal belt except for a SECRET interior pocket perfectly designed to hide a wad of cash or a passport copy. Never get caught with your pants down again! (Unless you want to.)
Hide Yo' Money!
Is Los Angeles safe for solo female travelers?
Is LA dangerous for women?LA might be safe for lone travelers in general but for solo female travelers, Los Angeles is… safe-ish. Granted, it's like any massive city where women might be more at risk and it shouldn't be any more difficult than these other places.
We're definitely not here to put you off visiting a world famous city like LA. Absolutely not. Females DO go there. By themselves, too.
So to help you out, we've got together a load of tips for solo female travelers in Los Angeles!
If you're traveling around the city at night, it's better not to use public transport by yourself. It's known for being more than just a bit dodgy after dark – even more so for women. So get a taxi instead. Or better yet, Uber or Lyft, which are all too prevalent in the city.
In Los Angeles, catcalling does happen. More than anything else, this is just ANNOYING. Here you can judge the situation for yourself, sometimes you'll be ok to say something back, other times it's best to ignore. To be on the safe side, just let it bounce off you and keep moving!
Keep emergency numbers at the top of your phone. This is just in case you want to call somebody at short notice (i.e. in an EMERGENCY) – the sort of thing when scrolling through your phonebook looking for a specific number will lose your precious time.
If you DO feel like you're in danger, or that a situation is getting too much, make sure you draw attention to yourself. Shouting "FIRE" can actually be more effective than "HELP", weirdly.
Get on a guided tour. Not only is this a GREAT way to actually learn about Los Angeles, but it's a pretty good way to get chatting to fellow travelers. Always a good idea to connect with people, even if you DON'T end up becoming best mates.
With that in mind, staying at a social hostel in LA with a female-only dorm is another AWESOME way to make friends with not just other travelers, but other WOMEN traveling by themselves. That means getting to share stories, tips, and maybe even making a travel buddy to hit the town with.
But make sure you DO YOUR RESEARCH when picking where to stay. Reviews from women are going to be a lot more worthwhile than those from men, letting you know just how secure it is for female travelers.
And wherever you choose to stay – regardless if it's a hostel or private Airbnb in LA – make sure you don't answer your door to any random knock. Use the peephole first to see who it is. Answering the door to strangers can let in trouble.
Tell somebody where you're going if you're heading out for the day/night. This could be someone at your hostel (staff or another traveler). It could just be a friend back home. Either way, it's much safer that people know your whereabouts.
At the same time don't feel like you have to tell strangers everything. Someone you meet on a night out, or even in the day, might seem a bit TOO interested in you. Like asking exactly where you're staying, what your travel plans are, if you're married or not. If it seems sketchy, you don't have to answer.
And definitely, don't leave your drink unattended. Drink spiking can happen and it's really not nice.
Don't wander down dark, deserted streets by yourself. This is a bit of a no-brainer, but in the moment it can seem convenient. Please take your safety seriously and stay to lit, populated places.
Women visiting Los Angeles are going to have a pretty awesome time, we've got to say. You shouldn't be too worried about going out and about, even at night. And if you make some friends at your amazing social hostel, then you're bound to have an even better time!
There's not TOO much to worry about, and you can pretty much dress how you like. But you just need to keep in mind that when you're in Los Angeles, you're in a BIG CITY. And that means a mix of a whole lot of different people. Some of them will be nicer than others…
But that's city life in general. If you're from another big city, going to LA will be MORE like a change in weather and scenery than having to do anything TOO differently safety-wise. Stick to ways you secure yourself in your home country and travel smart – you should be FINE!
DON'T DIE OUT THERE! …Please 🙂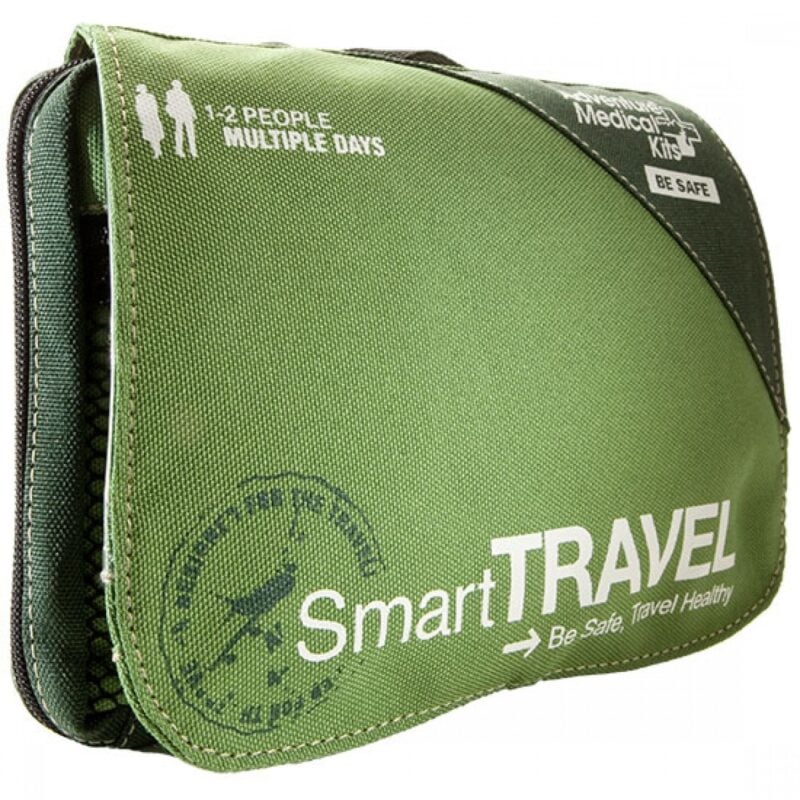 Things go wrong on the road ALL THE TIME. Be prepared for what life throws at you.
Buy an AMK Travel Medical Kit before you head out on your next adventure – don't be daft!
Buy on REI
Is Los Angeles dangerous to visit for families?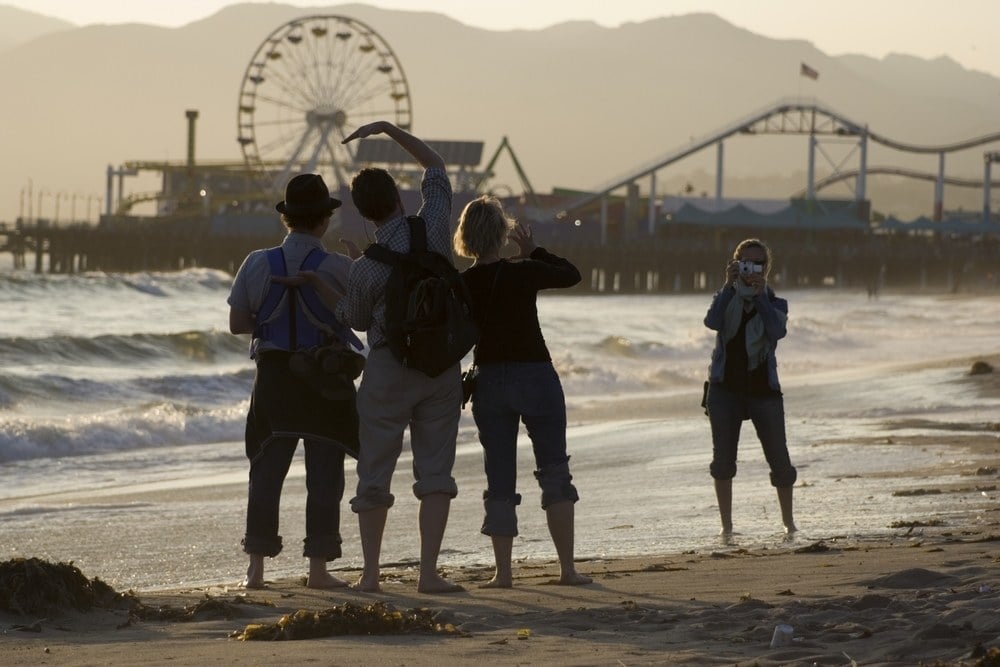 OF COURSE, Los Angeles is an AWESOME place to take the kids. And yes – it's safe to travel for families.
We mean, there's a Disneyland Resort here for one. Not only that, but there's Universal Studios too. And Knott's Berry Farm theme park is here too. Oh, and Six Flags. There are a TON of super fun places for families in LA.
Beautiful tree lined streets, a ton of parks, playgrounds, everyone's favorite foods (pizza and burgers), as well as beaches make PERFECT for a family holiday. There's even a load of museums as well like the Griffith Observatory with its planetarium and California Science Center. 
People might NOT think that Los Angeles is perfect for families, or even child-friendly, with its busy traffic-packed roads and seedy side… But we beg to differ. Consider the following:
MUCH of Los Angeles is green and mountainous and there is a load of family-friendly neighborhoods.
You're going to want to WATCH OUT for that heat, though. Sunshine here is a thing. Cover your children in sunscreen and make sure everyone's covered up when you head out on a day in the sun.
A lot of restaurants are set up for families. We're talking children's menus. Hotels quite often boast family rooms, which is always a plus.
There are also discounts for a whole range of attractions. So yeah, it's a GREAT place to take your children!
You pretty much won't have to worry about a thing, especially your children getting bored – there's just too much to do!
Is it safe to drive in Los Angeles?
Is LA safe for drivers? Well yes. Driving in Los Angeles IS safe… But it can be a bit tricky if you don't know about driving in America.
It's the classic grid layout, so you can't get too lost, and everything's quite well marked. But there are a TON of numbered streets and knowing what lane to be in can cause a PANIC.
Using a map application like Google Maps or Waze helps because even if you know the route, these apps will tell you what lane you should be in before you approach crucial intersections or exits.
And speaking of exits, unlike in many places in the U.S., highway exits in L.A. are more often marked with the street name than the exit number. It's just as easy a system, but important to know beforehand so you don't miss your exit on the endless turnpikes.
Downtown areas can be hard too since they lack a grid system. Roads often have TWO names. Go figure. Once again, use a maps application and stick to it as missing your turn might mean circling the block a few times and quite a bit of delay.
If you ARE going to hire a car to get around the city, then you really should plan ahead. Have an itinerary when you visit and know where you're going. The last thing you want to do is not know where you're going. This could end in an accident.
Depending on what area you're in, you should probably drive with your doors locked and windows up. Especially in traffic. And you'll want to stay alert of what's going on around you in sketchier areas of town.
Theft DOES happen, so keep your valuables out of sight when you park the car. The trunk is the best place for stuff.
Don't leave obvious tourist stuff on the seat. Like a map. There's more of a risk if would-be thieves KNOW you're a tourist.
When you DO park your car, make sure you park it somewhere well lit and busy. Remote areas are a no-no.
It kind of goes without saying, but WEAR A SEATBELT, don't drink and drive (not even an open drink IN the car – not even passengers), and you've got to give way to pedestrians.
Driving in Los Angeles IS safe, like any developed country, but it's easy to become LOST Angeles (please laugh). Make sure you use your GPS and you should be fine.
Using Uber in Los Angeles
A much easier way to get around than driving yourself, Uber is a good option. 
And Uber is safe in Los Angeles.
Uber will get you around the city pretty easily. And they don't come with all the costs of having to pay for petrol, tolls, parking, all those add-on costs.
But, yep. It's safe. All usual Uber benefits apply – knowing what car will turn up, reading reviews of drivers, not needing cash. All good.
Are taxis safe in Los Angeles?
Taxis in Los Angeles are ALL OVER the place. There are 9 different companies operating in the city. And even MORE operating in the wider area.
They're all pretty safe. And you won't have to worry too much as long as you get into an OFFICIAL City of Los Angeles Taxi.
These have an official City of Los Angeles Taxicab seal on the door. They're insured, regularly inspected, and the drivers have to be trained and professional.
All cabs in the city must have meters. If you can see a cab doesn't have one, it's not official. But they CAN still offer you a flat rate – especially journeys from the airport to certain parts of the city.
If you're staying in Hollywood or any other big tourist areas, there are plenty of taxi ranks around. And you might find quite a few driving around Hollywood and Downtown. But don't expect that to be the case elsewhere.
If you need a taxi, download an app. Or get your hostel, hotel, restaurant, club, bar, to order one for you.
Oh, and tipping is a thing. Don't forget.
But taxis in Los Angeles ARE super expensive because the city is massive and takes time to navigate. Plus there's traffic. Uber might be a better bet.
If you've got a bit of cash, you can actually hire a limo. Like a proper A-lister. Only if you're feeling flush.
Taxis in Los Angeles are safe though. And you SHOULD use them to get home at night.
Staying safe on LA public transportation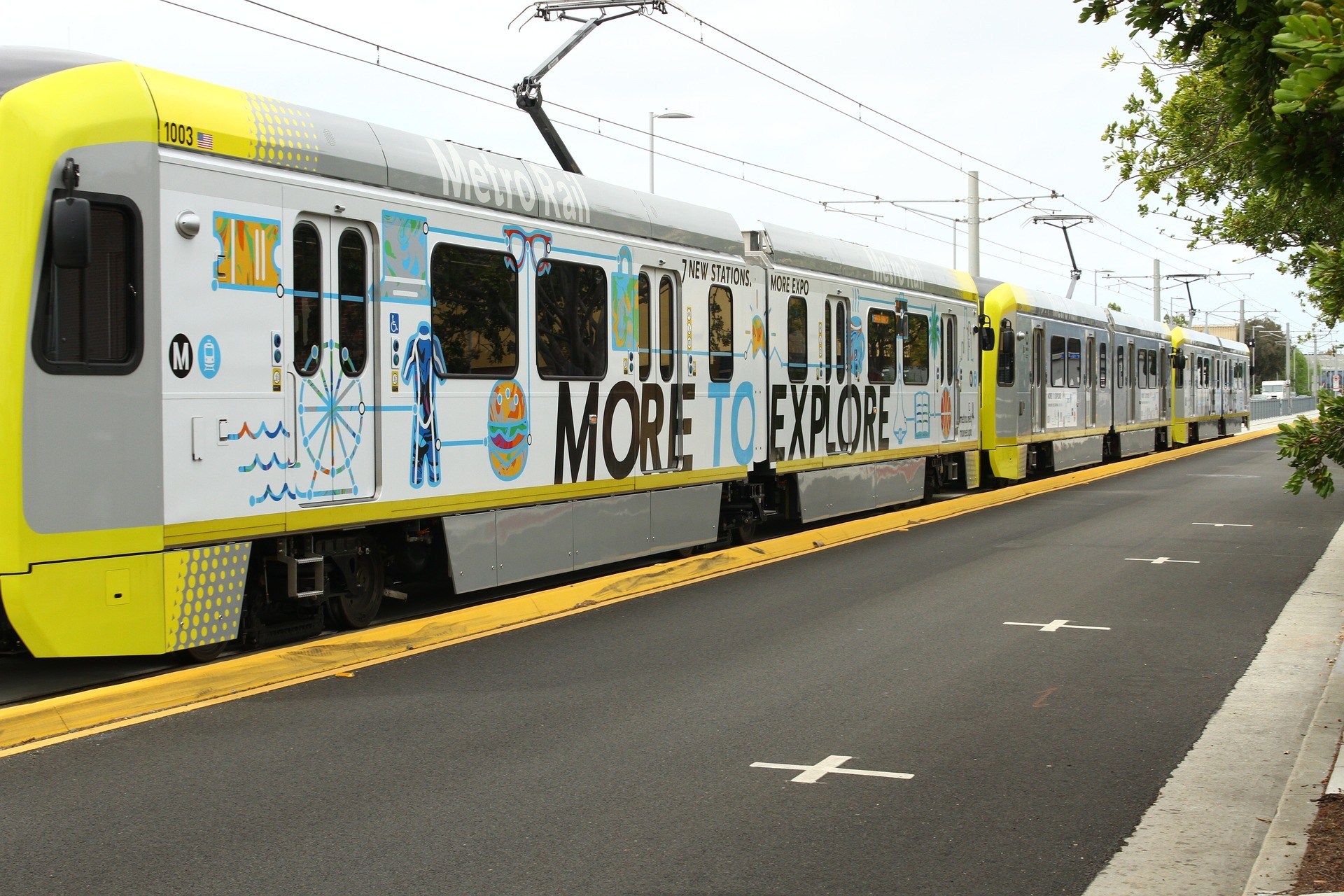 When it comes to public transport in Los Angeles, it's all about the bus and the train. Los Angeles public transport isn't always the best but locals DO use the buses and the metro to get around the city. It's safe, but you should keep an eye out at busy times (rush hour) for pickpockets.
And at night… we'd say avoid using public transport alone in Los Angeles. Empty carriages are a HUGE no-no. Risky.
If you ARE going to use the public transport in LA, you should get yourself a TAP card. Pick one up at a metro station (or order one online) and you can then use it on the metro and bus and top it up when you need to. Just remember to keep it filled with a few dollars. Simple.
The regular fare on the bus is $1.75. That's pretty good. It will take you MOST places.
The Metrobus system is pretty comprehensive. There's about 200 of them around the city. These weave around major roads and different communities. Some are rapid, some are commuter.
There are municipal buses that take you into different areas around LA county. They still take the TAP card which is always a plus.
Another bus type is the DASH bus. These are run by the local government and they've got 33 routes running to all sorts of local communities. They're pretty small and go all over the place – a nice way to see a more local side to Los Angeles. A good way to get to farmers markets and museums and all sorts of places.
And then there's metro rail. This is a mix of 4 light railway lines and 2 subway lines. It's actually a good way to get around. Pretty cheap too. They've got stations in crucial areas, like the Staples Center.
According to recent stats (published in 2018) crime on the metro system was DOWN on the previous year. Always a good thing. It's relatively safe, but just be careful at night. 
Overall, public transport in Los Angeles is pretty safe. Just BE AWARE of your surroundings. Travel smart, folks!
Bum bags aren't just for Adidas lads and super dads!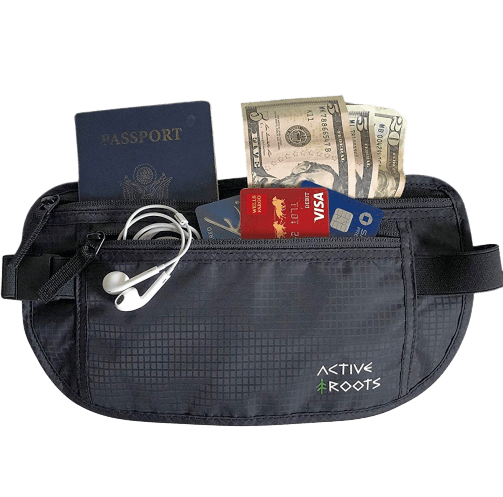 Seriously, once you enter the travel belt life, you never go back. You can NEVER overstate just how useful having all your most important valuables right around your waist is.
A full-sized travel belt stays tucked under your shirt and keeps your valuables – documents, passport cash, headphones, lip balm, illicit goodies 😉 – organised and on-hand for moment's notice.
Hide Yo' Money!
Is the food in Los Angeles safe?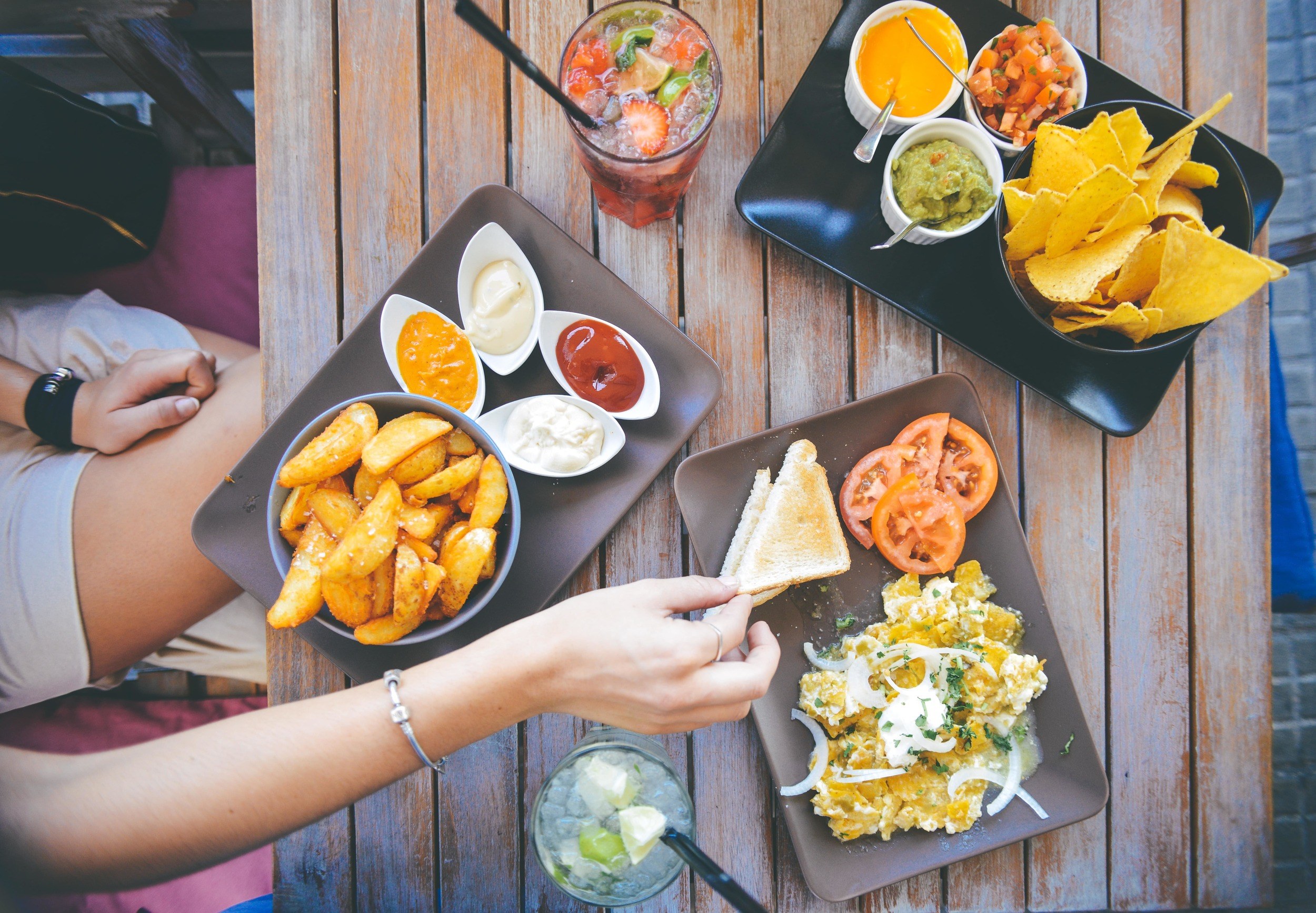 Food in LA is ALL about the variety. You can pretty much get ANYTHING you want in this huge city. There's also a huge amount of QUALITY produce going on in Los Angeles. It's all about the ingredients. From chic restaurants to food carts; LA has it all.
Make sure you try LA's tacos – these are, hands-down, the best street food in the city. Also, American stereotypes like bacon-wrapped hot dogs and the CLASSIC American hamburger can be had here, too. But to make sure you do it like a pro, here are some tips for eating in Los Angeles.
A LOT of food trucks are open till 2 am and cater for people leaving late night bars and clubs. The busy ones are fine to visit but beware the abandoned roach coaches.
Try your best to steer clear of tourist-oriented restaurants. More than likely these places WON'T be serving the best food possible, the prices are going to be hiked up and – possibly – hygiene won't be HIGH on their list of priorities.
And to get the best out of your food adventures in Los Angeles, be picky. There are a TON of different places to eat and not everywhere is going to have the same quality. So get online and look at reviews on Google or read some foodie blogs to get an idea of the best places to eat in Los Angeles. Your stomach will thank you.
With all that food on offer, you'll be spoilt for choice. But you should probably EASE YOURSELF IN. Seriously – the portions are big, and the taste sensation is huge. To avoid stuffing yourself silly, go easy on everything for the first few days. And actually, it's normal to order one dish and a salad (or another side) to share between two people. Too much for you? Ask for it to-go in a doggy bag, but remember to ask for "No plastic, please!"
Meat can be a bit dodgy sometimes, mainly if it hasn't been cooked through. So just make sure it has been. If it hasn't, don't be scared to call a waiter over and send it back. That's fine.
Seafood can be HORRIBLE if it's bad. So if it smells funny or tastes weird, stop eating. You do NOT want food poisoning from seafood, trust us.
Make sure you wash your hands because cities can get super grimy. You don't know what sort of germs your mitts have been picking up all day so make sure they're clean before you start eating. A lot of LA's food involves using your hands to eat, so that's an extra reason to wash 'em.
The food in Los Angeles is safe, of course. The hamburgers here are iconic and you can try them all over the city. From famous chains like In-N-Out to cool eateries like Umami Burger to ones open until 4 in the morning like Stout! If you're a burger fan, you're literally going to love eating in Los Angeles.
And let's not forget that LA is the center of America's healthy eating craze. It's not all processed meat. Those celebs have to have their detox juices! So it's pretty easy to balance out all that fast (but oh-so-good) food with healthy stuff, too.
And DON'T forget to tip waiters!
Can you drink the water in Los Angeles?
Yep. You can drink the water in Los Angeles.
In fact, in 2017 it was reported by the LA Department of Water (yes, it has one of those) that the 160 billion gallons of water that it provided the city EXCEEDED standards. We're talking health, cleanliness, safety.
So go ahead and drink it. Bring a refillable bottle too because it gets HOT here and you'll want to stay hydrated.
A Grayl Geopress water bottle can help you harvest drinking water if you're planning on exploring any of the natural areas outside the city.
Save $$$ • Save the Planet • Save Your Stomach!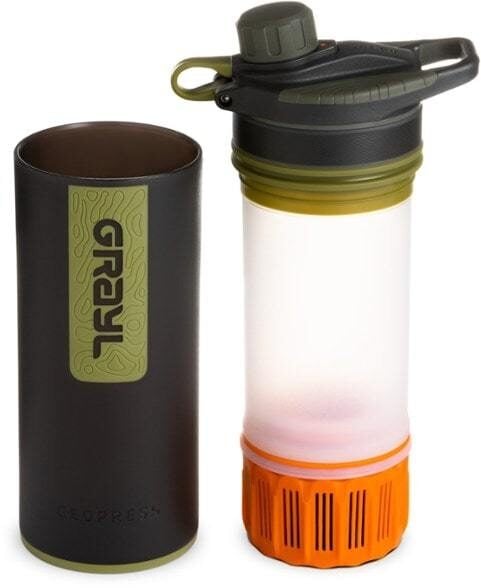 Drink water from ANYWHERE. The Grayl Geopress is the market's leading filtered water bottle protecting your tum from all the waterborne nasties. PLUS, you save money and the environment!
Single-use plastic bottles are a MASSIVE threat to marine life. Be a part of the solution and travel with a filter water bottle.
We've tested the Geopress rigorously from the icy heights of Pakistan to the tropical jungles of Cuba, and the results are in: it WORKS. Buy a Geopress: it's the last water bottle you'll ever buy.
Buy a Geopress!
Read the Review
Is Los Angeles safe to live?
Los Angeles MAY be known as the home of Hollywood's elite. And yes, it was where the Fresh Prince of Bel Air found his home.
But not all neighborhoods are created equal. There is a range of places to live – and not all of them are safe.
There are cool hipster hangouts, fitness geek spots, preppy mommy family neighborhoods, college-centric areas, and there are ghettos. The whole shebang.
That's not to say the city in general ISN'T safe to live. In fact, it's often up there as one of the best places to live in America. And that's because of its many sunny days, its entertainment options, and its economy. Obviously.
If you're thinking of living in LA, you'll have to be aware of things like pickpockets, bike theft, car theft. And LIVING there, it's more likely that you'll experience crime at some point than if you just visit as a tourist. That's just statistics.
You'll want to AVOID areas with high crime rates, like Fairfax, Crenshaw, and parts of Hollywood. Instead, head for areas with LOWER crime rates like Brentwood, Pacific Palisades or Flintridge.
Then there are the celeb hangouts of Calabasas, Westlake Village, and Agoura Hills. If you've got the money, these places are safe.
A nice place to live is Miracle Mile. This is just west of Downtown. There are short commutes to the city center. And there are loads of museums, entertainment, and eating options.
But basically, yes: Los Angeles is safe to live.
Like anywhere in the world, it depends on the neighborhood. Do your research and choose wisely!
The Future of the SIM Card is HERE!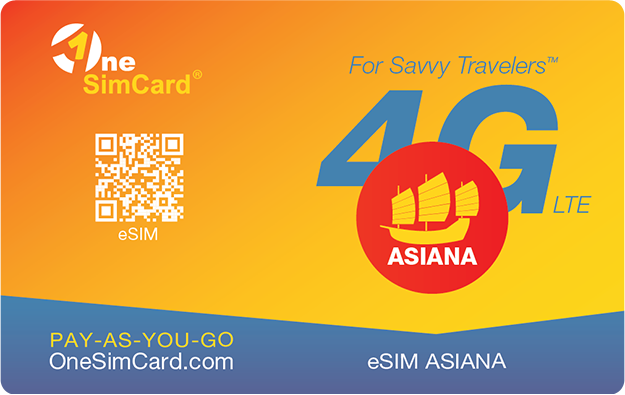 A new country, a new contract, a new piece of plastic – booooring. Instead, buy an eSIM!
An eSIM works just like an app: you buy it, you download it, and BOOM! You're connected. It's just that easy.
Is your phone eSIM ready? Read about how e-Sims work or click below to see one of the top eSIM providers on the market and ditch the plastic.
Buy an eSIM!
How is healthcare in Los Angeles?
The healthcare in Los Angeles – like the rest of America – is pretty expensive.
It's good and safe, and all that stuff, but you WILL need travel insurance. Unless you're super rich.
If something happens to you and you need an ambulance in LA, you'll call one and it'll take you to the nearest hospital that's best for the treatment you need. So you could end up in a pretty expensive place.
There are 72 hospitals in LA that will take emergency patients. BUT a basic emergency ambulance cost is around $1000. And for advanced life support, that's $1300. But then the charges can mount on top of that, for things like specialist equipment. Absolutely mental.
So you won't have to worry about the state of the hospitals, they'll be fine. It's the COST that's the worry.
To keep costs low and if you're not actually feeling that bad, head to a pharmacy. There's plenty of them around the city. You can ask for advice over the counter and buy a range of medication over the counter, too. Pharmacies also have drop-in clinics which can be helpful.
If you just need to see a doctor, ask your accommodation and the staff should be able to help you find one nearby.
Urgent care clinics also exist. You can drop into these without an appointment – as long as it's not an actual emergency. Search online for the nearest one.
Going directly to hospital treatment will ALWAYS cost more. But then again, it won't really matter because you will have travel insurance… won't you?! 
Note: Check FIRST with the doctor you plan on visiting that they accept your travel insurance. They might not!
FAQ about Staying Safe in Los Angeles
Here are some quick answers to common questions about safety in Los Angeles.
Final thoughts on the safety of Los Angeles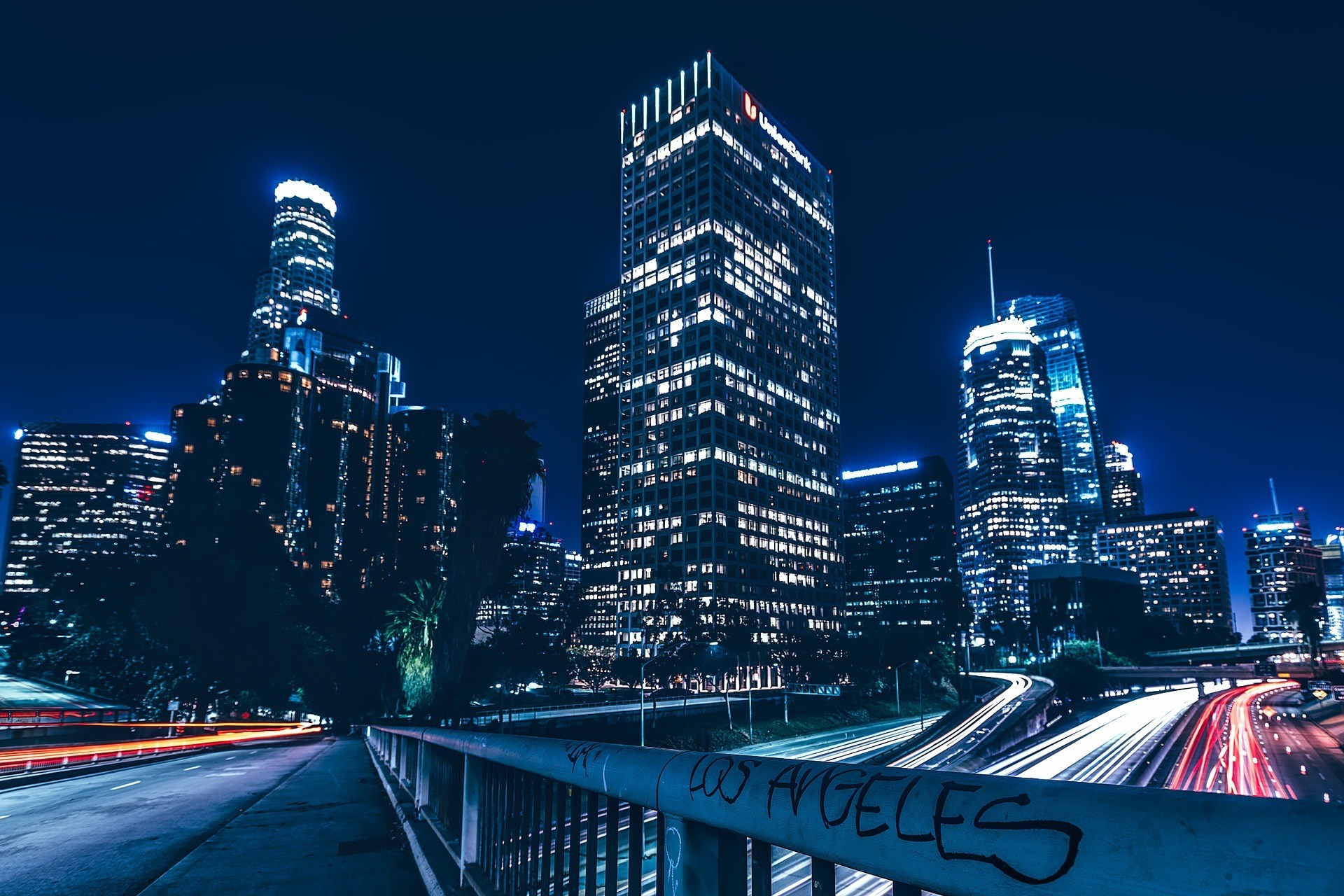 Yes, Los Angeles is known for gang violence. And yes, Los Angeles is known for its crime in general. And yes, even more infamous than these two are its worrying issues with homelessness and drug use. There are a TON of reasons to think about Los Angeles as a straight-out, unsafe place to visit. And if you've never even been to America before, chances are these facts are properly freaking you out.
Crime and other antisocial issues in Los Angeles are usually confined to certain neighborhoods. And these certain neighborhoods are almost definitely NOT going to be visited by you. Unless you're filming a documentary, or you get TOTALLY lost, or you're just plain crazy, you will not be heading into crime hotspots. Tourist areas, hipster pockets, places you'll visit – they're fine!
Ok, so you MAY have to worry about the odd pickpocket. But that's nothing a travel money belt won't solve.
You should also be very wary walking down quiet, poorly lit streets after dark. And getting onto empty carriages on the metro at night. If any of this sounds familiar, that's because this is stuff you probably already do at home. LA is no different. So go, eat, drink and be merry with the stars.
Don't Forget your Los Angeles Travel Insurance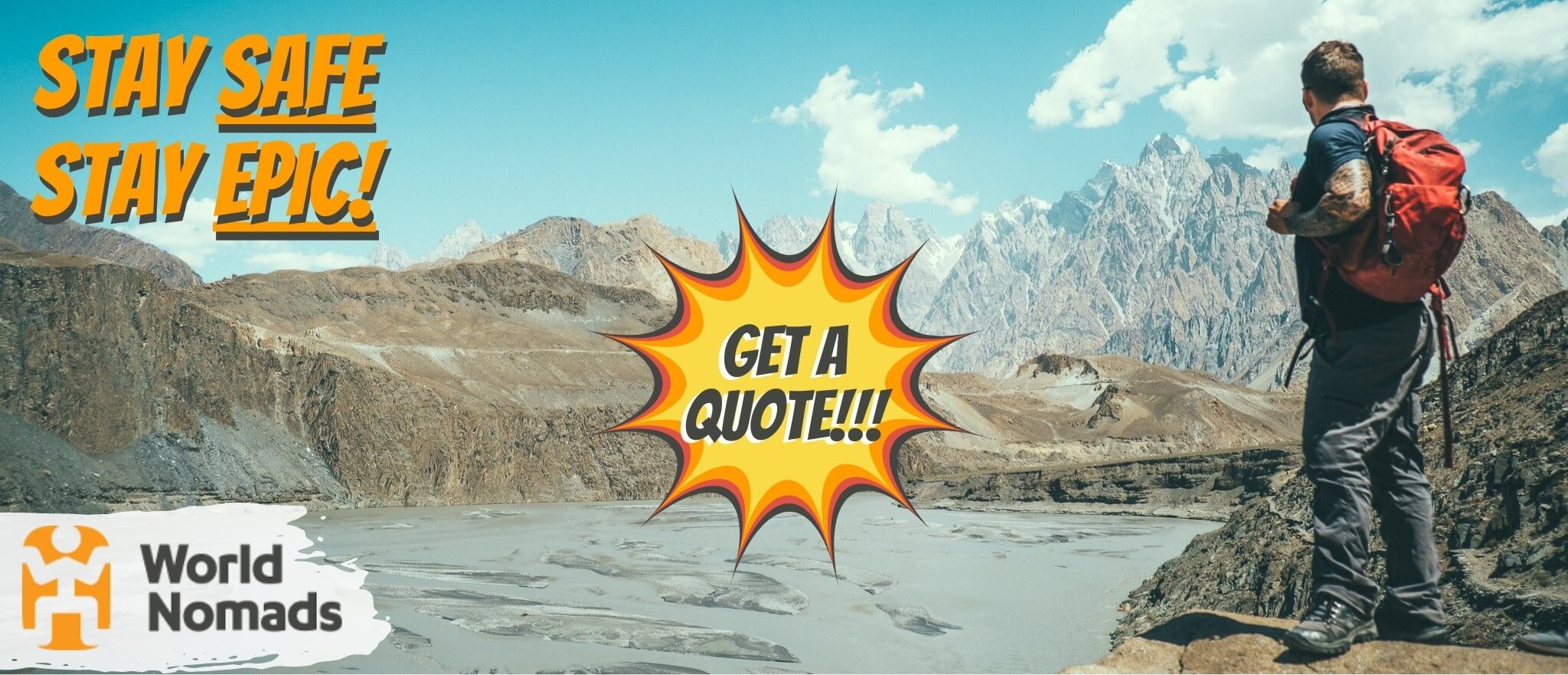 It's good to get lost sometimes, but it's also good not to get too lost. There are people that want you home in one piece.
There's one travel insurance provider The Broke Backpacker trusts for all his wildest shenanigans… World Nomads!
Click the button below to get a quote on your insurance or read our in-depth review of World Nomads' coverage. And then… let the shenanigans begin. 😉
Disclaimer: Safety conditions change all over the world on a daily basis. We do our best to advise but this info may already be out of date. Do your own research. Enjoy your travels!
---
Bye for now, but not forever!
If you want MORE top-tier Broke Backpacker content like this, then sign up for our weekly newsletter below to get the latest and greatest!
And for transparency's sake, please know that some of the links in our content are affiliate links. That means that if you book your accommodation, buy your gear, or sort your insurance through our link, we earn a small commission (at no extra cost to you). That said, we only link to the gear we trust and never recommend services we don't believe are up to scratch. Again, thank you!