What can you say about Los Angeles? It's the city of angels, known just as much for its tourist vibe as it is for its entertainment and its close connections with the television and media industry. For anyone who's interested in relaxing in the sun while they watch for celebrities or taking photos at famous movie sites, this is the place to come.
But Los Angeles doesn't usually appeal to every type of traveler. If you're not interested in seeing celebrities' gates or immersing yourself in a culture that seems devoted to appearances and little more, this destination can seem like one to avoid. However, despite the advertisements, there is more to this city than meets the eye. And it's definitely a place worth visiting if you're interested in some fun nights out, more entertainment options then you could ever see, and some amazing food.
To help you find the places in Los Angeles that appeal to you, we've created this easy guide to this flashy city.
And if you need more inspiration on where to stay in Los Angeles, consider checking out one of the best vacation rentals in the city.
Los Angeles is home not only to many famous tourist attractions (and the hopes and dreams of aspiring young performers hoping to catch their big break), but also an immense metropolis of distinct neighbourhoods that appear to be mini-cities within themselves. Get the low down on where to stay in Los Angeles before delving into the magic below.
#1 – Venice Beach – One of the more unique places to visit in Los Angeles!
Why it's so awesome: If you get sick of the polished perfection of Hollywood then Venice Beach is another gem of visiting Los Angeles. This is an area that, despite the rush of tourists, holds onto its bohemian vibe and remains stubbornly eccentric. Some would even call it a little crazy. No matter who you are or what you like, this place will welcome you and offer people and attractions that suit your preferences.
What to do there: One of the best things to do in this area is people-watch, and you'll find no shortage of fascinating and unusual people on the boardwalk. You'll see everything from bodybuilders to skaters and everything in between. When or if you get sick of that, grab lunch at one of the many great restaurants or cafes in the area. Also, if you like to read then make sure you check out Small World Books for a kooky selection.
#2 – Rodeo Drive – A great place in Los Angeles if you love to shop!
Why it's so awesome: If you've seen the movie Pretty Woman, then you've seen Rodeo Drive. This is the shopping center of Los Angeles for people who enjoy designer everything and high-class, expensive boutiques. Just walking along this street can make you feel as if you're on the set of a movie. It's also located in Beverly Hills, which is one of the safest places in LA!
What to do there: Obviously you could drop a lot of cash in this area if you have it spare. You'll find every prominent label in existence in this street, and none of them are cheap. But if you don't have the money or any interest in buying designer clothes then it's great to just window shop in this area. Also, if you enjoy architecture, make sure you check out the nearby Anderson Court, a shopping mall that was designed by Frank Lloyd Wright.
#3 – Universal Studios Hollywood
Why it's so awesome: Universal Studios in Hollywood isn't technically a studio for actors anymore, instead, it's a theme park that celebrates everything to do with the movies. This is the place to come if you love Harry Potter, the Fast and the Furious or any other Universal Studio movie and want to walk in the footsteps of the stars. And it isn't just for kids either. Apart from rides and shows, they also have bars and restaurants as well as rides that are based on shows that are too scary for kids!
What to do there: There's no shortage of things to do at Universal. This is a place to take the kids, or a handful of your friends, and just be a child again. Check out the Walking Dead Attraction, watch a movie at the cinema, drink butterbeer at the Harry Potter-themed pub and go on all the rides. And if you're looking for a little more of a thrill, watch the Water World Show, or try the Revenge of the Mummy ride for some real scares.
#4 – The Broad – One of the most incredible free places to go to in Los Angeles
Why it's so awesome: This is a contemporary art museum with a difference. Not only is it free to get into, which makes it a great place to offset your spending in other places in Los Angeles, the displays are also groundbreaking. Particularly popular are the Infinity Mirrored Rooms, designed by Yayoi Kusama. These are mirrored rooms that reflect LED lights that go on forever, just as they do in space. The display is so popular that there's usually a wait of hours to get in!
What to do there: Make sure you see the Infinity Mirrored Rooms but don't miss the other displays either. The museum has several permanent displays as well as rotating ones. So check out what's on before you go so you know what the must-sees are.
#5 – The Museum of Jurassic Technology – One of the more unique places to visit in Los Angeles!
Why it's so awesome: This museum mixes fact with fiction in a way that leaves you wondering which is which. Despite the name, it has nothing to do with the movie, instead, it focuses on scientific wonders both real and imagined. It's a kooky little place and one that's a nice break from the movie-obsessed city, so make sure you add it to your Los Angeles itinerary!
What to do there: This is a place to enjoy the oddities and try to work out what's real and what's not. There are a lot of weird things in this museum, from minuscule sculptures to bats that can fly through walls, and spending some time here is an exercise in getting your mind bent into a new shape!
#6 – Griffith Observatory
Why it's so awesome: Los Angeles' light pollution means that you can't see any stars from the city, which might make an observatory seem a little redundant. However, there's more than just a telescope at this place. You could easily spend a few hours here exploring the relationship between man and the rest of the universe through the exhibitions, so it's well worth taking that time to just look around.
What to do there: While you're there, make sure that you check out the Hall of the Eye and the Hall of the Sky displays. These two displays are connected and are fascinating enough that you probably won't realize you're actually learning more about man's connection to the universe as you watch!
#7- The Getty
Why it's so awesome: You wouldn't think that Los Angeles would be home to one of the finest art collections in the world and yet the Getty contains just that. You'll find art by Monet, Renoir, and Van Gogh as well as a very impressive collection of amazing photographs taken by some of the biggest names in this field.
What to do there: This is the type of collection that you need to take your time with. Make sure you look for your favorite artists but be open to new names as well. That's the great things about places like this, they open your mind to all kinds of new possibilities.
#8 – The Hollywood Walk of Fame
Why it's so awesome: Everyone has heard about the Hollywood Walk of Fame, where more than 2,500 celebrities have their names and handprints immortalized in concrete. If you're a film fanatic, or just want to take a photo next to your favorite star's handprint, this is a great place to spend a little time.
What to do there: Browse the names. The Walk of Fame is larger than you might think and when you walk along with it, you'll probably find a few names you hadn't expected. This iconic spot isn't as glitzy as it looks in the movies or on awards nights, but it's well worth a look anyway.
#9 – Walt Disney Concert Hall
Why it's so awesome: If you enjoy music and architecture then this venue combines the two interests. The building itself was designed by Frank Gehry and is a spiky, strangely attractive building that juts into the air at seemingly random angles. But even if architecture isn't your thing, the music here will make up for it. The acoustics are amazing, and the concerts are absolutely first-rate too.
What to do there: Make sure you take a photograph with this building in the background because it would make a quirky and interesting shot. Also, check the local programs to see what concerts are on while you're in the city. The best of the best play here, and there's nothing like seeing a great concert in a place that's designed to get the most from the music.
#10 – TCL Chinese Theater – Cool place to see in Los Angeles with friends!
Why it's so awesome: This is the prime spot for movie premiers in Los Angeles, which means that the biggest stars in the world have spent time in this theater. But if this second-hand celebrity encounter isn't enough, the theater itself is still worth seeing. Its Chinese-style pagodas and temples are both iconic and striking and it's an important symbol of America's celebrity culture.
What to do there: You have to buy a ticket to see the inside of the theater but it's free to just explore the courtyard. This building has become a symbol of celebrity culture and glamor because of its proximity to the Walk of Fame so you can get some great photos while you're there, so make sure that you bring your camera with you. It's worth buying a ticket to see a movie though if only so you can say that you've watched a movie in the same theater that's held the world's biggest stars.
#11 – Try To Escape From The Escape Game
Why it's so awesome:If you are after something challenging, immersive but totally then then the LA Escape Game may be just what you are looking for. The Escape Game LA features a variety of different rooms which participants (that's you and your crew) must try to escape from by working as a team, solving clues and completing puzzles.
What to do there: All of their games are designed to be suitable for everybody, from first-time players to experienced escapologists. No matter which one you decide to play, you're sure to have an absolute blast!
#12 – Santa Monica Pier
Why it's so awesome: Sometimes it's nice to remember that even in Los Angeles, there are places that offer ordinary fun. It isn't all celebrities and high-end boutiques; the Santa Monica Pier offers the kind of fun that's best enjoyed with friends or family. There's a Ferris wheel, cotton candy, and amazing sunsets to enjoy at this location. So, take an afternoon and get reacquainted with things that were probably part of your childhood. It is one of the best day trips to take from LA.
What to do there: This is the place for old school fair activities. Ride the Ferris wheel and the roller coaster before you tuck in to typical fair food such as cotton candy and hot dogs. And stay late in the day because the sight of the sun setting over the Pacific is something that everyone should see at least once.
#12 – Farmers Market
Why it's so awesome: The Farmers Market was founded in 1934 by a collective of farmers and nothing much has changed since that time. The market is held at 3rd and Fairfax, and it's where all the locals go to enjoy good food, buy fresh goods, and enjoy a bit of community. There are now more than 85 shops at the market, and you'll find everything from a barbeque place to a kebab stand there.
What to do there: All you need to do while you're in this area is eat, drink and watch the people. This area has a laidback vibe that seems to conflict with the rest of the city. But this vibe has also contributed to the strong sense of community that the market has created. So just take your time and relax in the open-air bazaar, explore the many stores, and if you want to do some celebrity spotting afterwards then head down to The Grove shopping area nearby, where stars go to pick up the milk.
#13 – Disneyland Park – Awesome place to visit in Los Angeles with kids!
Why it's so awesome: What isn't awesome about Disneyland? It's a place that's dedicated to stories, to dreams, and to letting your imagination run wild. Of course, it's also dedicated to outrageous prices, crowds, and heat, but you can ignore that for one day to see some of your favorite Disney characters walking around.
What to do there: There's no end of things to do here with seven lands that are all dedicated to different themes and Disney cartoons. Make sure you try out rides like the epic Indiana Jones Adventure and the Grizzly River Run if you like a bit of a thrill. And if you're not one for rides, then just stroll down Main Street USA. This is one of the main streets in Disneyland and there's always something going on there from parades to fireworks and visiting Disney characters. Make sure you keep your camera at the ready!
#14 – Hollywood Bowl
Why it's so awesome: This is a place where you can listen to music while you're outside under the night sky. The venue plays host to a range of musical styles which are great on their own, but the real draw is the relaxed vibe. Chances are that cramming together in the bleachers and sharing your food with the people next to you will net you some new friends! And that's what places like this are all about.
What to do there: While you're in the city you absolutely must see a show at the Hollywood Bowl. And it doesn't really matter which one either. The whole point of this place is to listen to music while you're under the night sky. And this goal makes for a really relaxed atmosphere, so take your food and drink and share it with the people sitting next to you to make some new friends.
#15 – Griffith Park – One of the nicer places in Los Angeles to sightsee!
Why it's so awesome: Chances are you'll be getting around by car and by public transport while you're in Los Angeles and sometimes there's nothing better than taking a break from that and stretching your legs. And when you can do that in a place with panoramic and iconic views of the city, all the better!
What to do there: This park is extremely accessible and popular amongst locals and tourists alike. If you enjoy walking you can make it all the way up Mount Hollywood and be treated to views of the Los Angeles basin and the Hollywood sign. And if you're a little more adventurous, you can hire a horse at the nearby private stables and take the specially marked trails to the same spots.
#16 – Los Angeles County Museum of Art (LACMA)
Why it's so awesome: This art museum has been modernizing of late, with more contemporary displays than ever before. You can see artwork from the ancient past as well as these more modern pieces and it will give you an education on art that you will never forget.
What to do there: This is a peaceful, enlightening place to spend an afternoon. Wander the halls and see through the eyes of some of the greatest artists who have ever lived. With that kind of inspiration, maybe you'll get inspired to create something yourself!
#17 – The Museum of Death – Quite the quirky place in Los Angeles!
Why it's so awesome: This museum doesn't shy away from the spookiest parts of humanity. It's devoted entirely to the memorabilia left behind by some of the most infamous serial killers in history and other exhibits to do with murder and death. This is the place where you can look at some of history's most famous and sadistic instruments of death and be reminded of just how precious life is.
What to do there: If you've ever been morbidly curious about crime scene photos or the most famous serial killers in history, you'll learn about them here. Dahmer, the Manson Murders and original photos from the Dahlia Murders all have a place here. Basically, it's a museum that will make you thoroughly creeped out about the people all around you.
#18 – The Underground Tunnels of Los Angeles – One of the most underrated places to see in Los Angeles
Why it's so awesome: These tunnels were once service tunnels, but during the days of Prohibition they became a way to transport liquor to speakeasies all around the city. During these long-ago days, the Major's office ran the show, and people from all walks of life wandered around drinking below the law-abiding portion of the city.
What to do there: It's an adventure in itself to find these tunnels. You need to go behind the Hall of Records on Temple Street where there's an almost hidden elevator. The passages below are filled with strange street art, and gated where some areas have become unstable over the years. So remember to stay safe, take some friends with you, avoid the blocked-off areas, and just explore.
#19 – The Old Zoo Picnic Area
Why it's so awesome: Modern zoos can sometimes be good places where the focus is on education and protecting endangered animals. But this isn't always the case, and, in the past, it was hardly ever the case. The Old Zoo Picnic Area is a stark reminder of that reality. This zoo was closed in 1966 but some of the cages still remain, a reminder of a past that shouldn't be forgotten.
What to do there: This is now a picnic area with benches and grills where you can hang out with your friends and have a nice meal. But don't forget to at least acknowledge the other side of this place. There's a trail that will take you up from the caves and around to more of the abandoned cages so you can experience just what it was like to be on the other side of the bars.
#20 – Necromance
Why it's so awesome: If you're tired of the usual souvenirs then check out this shop. Here you'll find a wide range of antiques and oddities from medical instruments to stuffed animals. All of the goods in this shop are antiques and you could easily spend an hour or so looking at all the strangeness people have made through the ages!
What to do there: Make sure you buy something to take home. You obviously don't have to choose something macabre like a Victorian bone saw, but there's a wide range of goods available, so there will be something that will appeal to you or to someone you know!
#21 – Hollywood Forever Cemetery
Why it's so awesome: This place is a slightly macabre look at celebrity culture and a reminder that nothing lasts forever. Even if you don't like this lesson, the parks are truly beautiful and are listed on the National Register of Historic Sites, so they're really worth seeing.
What to do there: If you like classic Hollywood films then make sure you attend one of the summer movie screenings and watch the action projected on the wall of a mausoleum! Just bring a blanket and some food and you can lie out under the stars and enjoy some classic cinema very close to where the stars of it could be buried. Apart from that, the cemetery is home to lots of stunning statues and mausoleums. So, if you're interested in that kind of artwork then you'll find lots of interesting examples when you walk around this site.
#22 – Phantasma Gloria – One of the more unique places to visit in Los Angeles!
Why it's so awesome: This is a sculpture that's designed to capture the light in all its glory. Over 24 feet tall and 50 feet long, the artist has created this web on his property and eventually it will wrap all the way around his yard. It's made of colored glass, wire, and colored water and will only get bigger over time!
What to do there: This sculpture is a marvel of engineering and inventiveness. It's open by appointment only on Saturdays and Sundays between 10 and 4, when the sun hits it just right. While you're there, look closely at the twists of wire and glass, you'll see dolphins and other shapes within the carefully crafted sculpture and start to understand the intricacy of the artist's vision.
#23 – Cathedral of Our Lady of the Angels – One of the most religious places to see in Los Angeles
Why it's so awesome: This church is spectacular, and for the amount of money spent on its construction it really should be. The archbishop at the time wanted to make a statement with the Cathedral and spared absolutely no expense on its construction. He spent 5 million dollars on a table, 3 million on a single set of doors, and 2 million for the wooden ambo and it shows. The result is an opulent display that really draws attention.
What to do there: If you're Catholic then this Cathedral would hold great significance. The lower level houses a crypt with more than 6000 church officials, Gregory Peck, and the relics left behind by the early Roman martyr Saint Vibiana. But even if you aren't Catholic, it's worth visiting the site just to take in the opulence and rich furnishings of this fortress-like construction.
#24 – Ennis House
Why it's so awesome: The Ennis House was designed by Frank Lloyd Wright in the early 1920s and is a marvel of engineering and architecture. It was restored in the 1970s after rain and earthquake damage and was designated a Los Angeles Historic Cultural Monument in 1976.
What to do there: Visitors are only allowed into the building on rare occasions so make sure you keep your eyes open during your trip to see if there's a chance you'll be able to go inside. But even if you can't, the exterior of the house is stunning on its own, and if you're a fan of Buffy the Vampire Slayer, you'll probably recognize the building as it was used during the iconic TV show!
#25 – Garden of Oz
Why it's so awesome: This is a private garden in the Hollywood Hills that the owner has turned into a fantastical and whimsical space! Instead of concrete and dirt flower beds, you'll find mosaics, thrones and fantastical creatures all over this area. It features hundreds of plants, a yellow brick road, and whimsical displays that bring to mind Munchkin land from the iconic movie.
There are also numerous thrones throughout the area, each of them dedicated to someone who's important to the artist's life. To that end, there's a throne for Rosa Parks, the Dalai Lama, Elvis Presley and a friend of the artist who survived the Hiroshima bombing.
What to do there: This garden is on private property and the owner doesn't give tours, though the neighborhood children apparently all have keys so they can play in the space. But if you're interested, you can easily see most of the garden from the street and take in the whimsical beauty of the eclectic space.
#26 – Velaslavasay Panorama
Why it's so awesome: If you want to see something truly unique then this is where to come. In the 1700s and 1800s, a new form of media was invented known as panoramic paintings. This was a form of 3D media that fell out of flavor when film and photos came along. Enormous paintings were displayed in circular rooms or on moving rollers to creating a moving landscape for the audience. And this venue is bringing back this old art form, with 360-degree displays that include light and sound.
What to do there: The display at this venue changes frequently so find out what's on and go to see it. The shows include soundtracks as well as lights to create a truly 3-dimensional experience that has to be seen to be believed. A beautiful reminder of an old art form that deserves a place in today's art world!
#27 – The Hollywood Sign
Why it's so awesome: Built-in 1923, the Hollywood sign was meant to last eight months but has become one of the most iconic sights in the city! You can see the sign in countless movies, TV shows, and celebrity photos and you really should own your picture of the sign too!
What to do there: It's a fair hike up to the sign, around 45 minutes depending on how fast you go, and once you're up there don't try to climb or touch the fence that protects the site. Just take photos up there and take in the views. From this high-up landmark, you can see all of downtown Los Angeles, the Santa Ana Mountains and the Palos Verdes Peninsula. And you don't have to stop at the sign either. If you want even better views, there are steps that go higher that will let you see even further and take in even more of the city.
#28 – Downtown – An awesome place to visit in Los Angeles for half a day!
Why it's so awesome: Los Angeles is a busy, exciting city and the best way to see it is on foot. By taking a walking tour on your own or with a group through the Downtown area you'll be able to see some cool architecture and buildings that you recognize from the sets of movies and TV shows!
What to do there: Take lots of pictures while you're wandering around. Los Angeles's buildings range from Art Deco style to historic theaters and the mix is both interesting and indicative of the city's history. If you do take an organized tour, make sure you book early as they're popular, but you'll also be fine walking around on your own. If you're a fan of nightlife, then Downtown LA is also your best bet to find a hostel where you can stay close to all the fun.
#29 – Runyon Canyon Park – A beautiful and scenic place to check out in Los Angeles
Why it's so awesome: Green spaces in the middle of concrete and stone jungles are like gems in cities like Los Angles and this park is perfectly positioned to give you a break from the rush if you need it. It's seldom visited by tourists which makes it the perfect place to have a rest before you dive back into the high-tech busyness of the city.
What to do there: There are some great views throughout the canyon. You can see the San Fernando Valley and the Pacific Ocean from selected spots as well as the Hollywood sign. This is a popular spot for the locals to exercise, so while you're doing some hiking you might just see a celebrity keeping their world-famous body in shape too!
#30 – Peterson Automotive Museum
Why it's so awesome: This strange-looking building is located on the Miracle Mile, which was the first commercial development in the city that was designed for the benefit of drivers. And this museum celebrates that history in fine style. Apart from the historical information you'll learn here, you'll also get to see displays of some of the world's most amazing cars, including the Batmobile!
What to do there: What else? Look at cars! You'll be able to learn about the industrial process as it is today and as it was in the past and see an entire showroom dedicated to luxury vintage vehicles. If you're a car buff, this will probably be your version of heaven. And even if you don't like cars you can explore the driving simulation stations and augmented reality scavenger hunt experience.
#31 – La Brea Tar Pits and Museum
Why it's so awesome: If your kids love dinosaurs, and what kids don't, then they'll love this museum. These tar pits have been bubbling for hundreds of thousands of years and more than a million animal bones have been found in their depths. And a lot of them are on display in the museum for your kids to marvel at.
What to do there: The tar pits are free, so check them out and take photos with your group or kids to mark the occasion. Then, if you're interested in learning more, make sure you check out the attached museum to explore the creatures whose bones were preserved in the bubbling mess.
#32 – Zuma Beach
Why it's so awesome: This is Malibu, where everyone is beautiful and movie sets are everywhere and you can explore the same beaches you've probably seen in countless movies and on TV shows. Zuma Beach is a great place to explore that natural beauty and exclusive vibe, and it's considered one of the best beaches in Los Angeles too.
What to do there: This is a beach where you should spend some time just people watching. But when you get sick of that, it's a great place for activities too. The water is very clean, the waves are great for surfing and there are a lot of shops around where you can get a snack when you get tired of the sun. All in all, this beach makes for a great day in the sun!
#33 – Sunset Boulevard – A great place to visit in Los Angeles at night
Why it's so awesome: If you haven't seen this street in movies then you probably never go to the theater. This street actually had a movie named after it, which is why people line up to take their picture under the street sign. And even if you're not interested in that, the street is known for its nightlife and is lined with classic music venues where you can listen to some great tunes while you have a drink.
What to do there: Go there during the day to take your pictures in the sunlit streets and under the sign but also make sure you go there at night. Some of the bars and clubs here are legendary for their musical talent, including the Roxy Theater and the Rainbow Bar and Grill, so make sure you check them out.
#34 – Third Street Promenade
Why it's so awesome: If you want to do some shopping in a slightly less touristy place then this shopping center is a good choice. You'll find all your favorite shops here as well as some more unusual choices such as a toy shop obsessed with puzzles and a rare books shop.
What to do there: Visit your favorite shops while they're there and available and see if you can get some bargains. Make sure that you have lunch while you're in the area too, as the restaurants here are the best in the city. But it's the promenade's atmosphere that's the most interesting, with street performers and a noisy, busy atmosphere that's set up for anyone who wants to people watch.
#35 – Warner Brothers Studios
Why it's so awesome: If you want to see iconic movie and TV sets and props then you'll experience all that and more at this landmark venue. The Batmobile, Harry Potter props and shows like The Big Bang Theory and Ellen DeGeneres all have a home here and you'll get to experience them all!
What to do there: This studio is located 5 miles north of Hollywood and is an easy trip from the city when you have a free afternoon. You can wander the grounds and get a tour guide to show you around. And unlike some other studio tours, when you visit this location you can even walk around working sets!
#36 – Greystone Mansion and Park – A nice quiet place to see in Los Angeles
Why it's so awesome: If you've watched TV in the last ten years then you've probably seen shots of this mansion even if you didn't know where it was at the time. Despite its popularity in the cinema and on TV, this is actually a neglected landmark that's a quiet respite from the city. So if you're looking for a little break in a beautiful garden with a koi pond, flowers, and fountains, then this is the place you're looking for.
What to do there: You can't go into the mansion, but the grounds are open to visitors. Make sure you have a good walk around and see if you recognize any areas from your favorite shows and take a photo to remember the moment. Apart from that, just enjoy the serenity and beauty of the gardens.
#37 – Paramount Pictures Studios
Why it's so awesome: If you like movies then taking a tour around a place that makes them is an incredible treat. Some of the set designs from this studio's most popular shows are still in place so you can walk into the scene and actually experience a part of the movie from the inside. As an added bonus, there are several different types of tours. So, if you like to walk, take the walking tour. And if you're a little more restricted in what you can do or want to do, the golf cart tours are probably right for you.
What to do there: You can take a two-hour tour around the studio during which you'll actually get to look at some incredibly famous sets all from the comfort of a golf cart. You can see the set of I Love Lucy, Titanic, or even Mission: Impossible. There's also an After Dark tour for adults only where you'll get to see some of the sets that aren't really suitable for children.
Get insured for your trip to Los Angeles!
ALWAYS sort out your backpacker insurance before your trip. There's plenty to choose from in that department, but a good place to start is Safety Wing.
They offer month-to-month payments, no lock-in contracts, and require absolutely no itineraries: that's the exact kind of insurance long-term travellers and digital nomads need.
SafetyWing is cheap, easy, and admin-free: just sign up lickety-split so you can get back to it!
Click the button below to learn more about SafetyWing's setup or read our insider review for the full tasty scoop.
Find out what people want to know about the best places to visit in Los Angeles
Los Angeles is often seen as a place that's all surface and flash with nothing underneath and this reputation isn't entirely undeserved. However, that doesn't mean that there aren't entertainment and food options for almost every taste in this sprawling city. After all, Los Angeles is a city that's set up to enthrall and amuse, and it does both of these extremely well as you'll see when working through this list.
---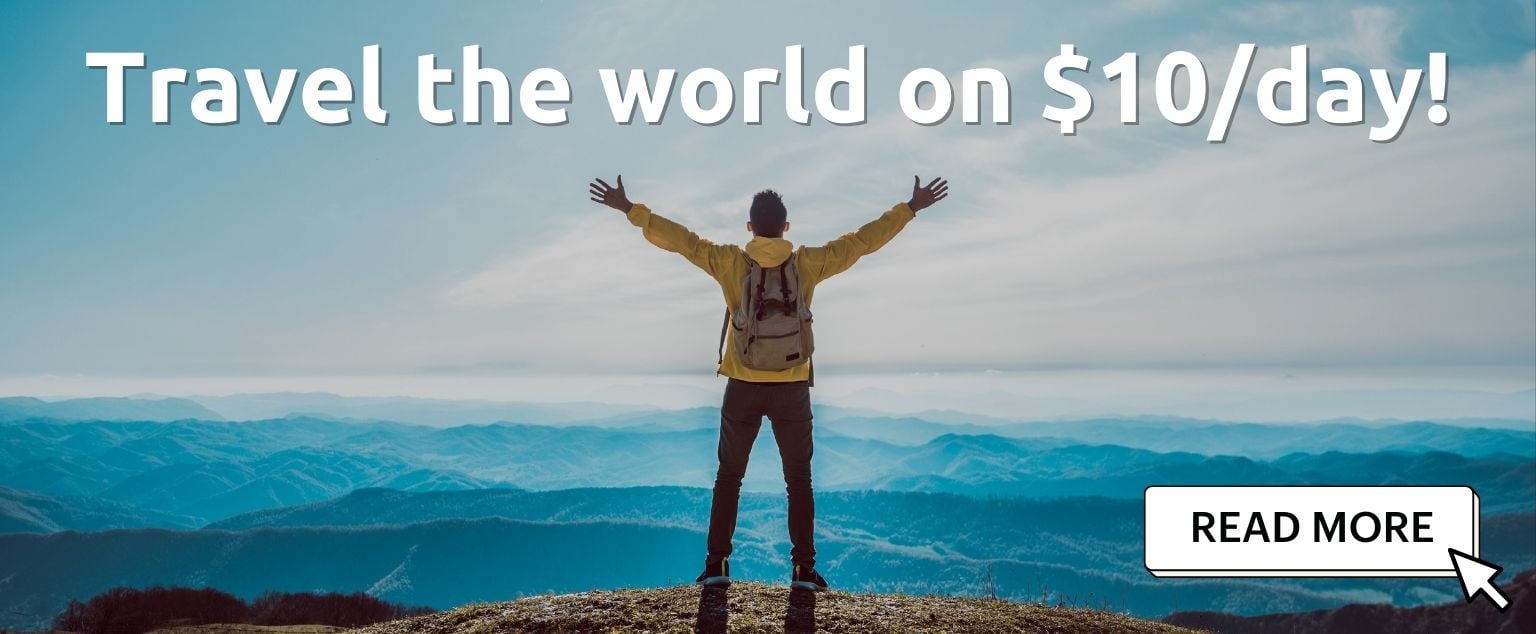 And for transparency's sake, please know that some of the links in our content are affiliate links. That means that if you book your accommodation, buy your gear, or sort your insurance through our link, we earn a small commission (at no extra cost to you). That said, we only link to the gear we trust and never recommend services we don't believe are up to scratch. Again, thank you!