There are literally hundreds of thousands of hiking trails in America; every state has a seemingly endless variety of amazing routes to discover, so you can imagine how difficult it is to narrow down a list to the 25 best hikes in the US.
The USA is a hiker's dream country for many reasons. America is absurdly diverse and contains virtually every type of landscape within its borders: deserts and mountains, rainforests and thousands of miles of coastline.
To help you make sense of America's greatest footpaths, I bring you this epic guide to the 25 best hikes in the USA!
From the Grand Canyon and the lava fields of Hawaii to the Rockies, Tetons, Smokies, and the Sierras, America's hiking trails take you through every type of terrain and climate. It's no wonder that millions of people from the US and around the world hit the trails each year.
I've explored countless states (and 2,000 miles+ of trails) in search of the best hiking trails in the USA. This guide is the result of my hiking and research.
From challenging day hikes and multi-day missions to long-distance epics, there is a trek for every type of keen hiker on my list.
Now, let's get to know some of the best hikes in the US…
Every adventure begins with the right gear. Frankly, without proper equipment, hiking isn't that much fun. If you have ever had an ill-fitting pair of hiking shoes or a sleeping bag that doesn't actually keep you warm, then you know what I am talking about.
Not only is owning the right gear important for comfort and fun, but it is also essential for staying safe in unpredictable weather patterns and harsh natural environments.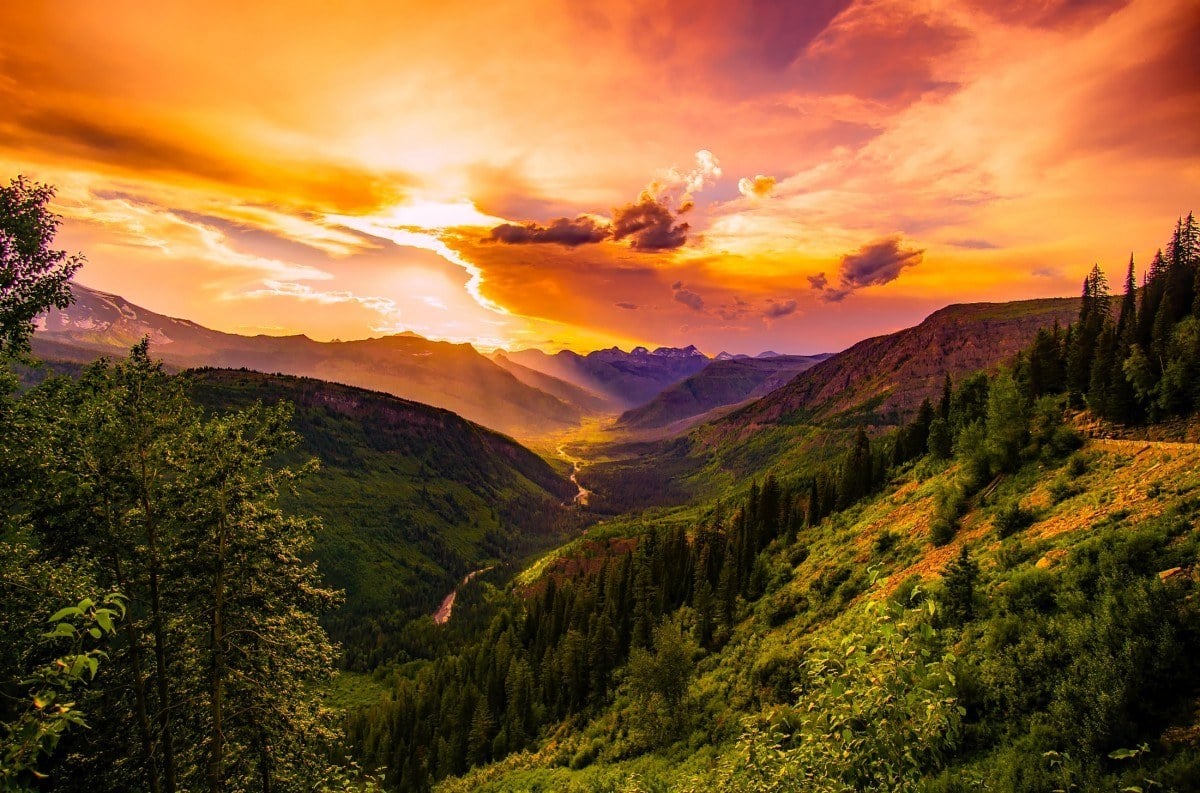 The best hikes in the USA are found in remote, wild, and potentially dangerous environments scattered throughout the country. The first step for any hiking trip is to assess the gear you own and what gear you may need to buy.
We at the Broke Backpacker are very passionate about quality backpacking gear. Our team has spent countless hours testing and reviewing the top outdoor equipment on the market.
Below are a series of gear reviews that will put you in touch with everything you need to have a successful and comfortable (and safe!) hiking adventure.

Unlock Our GREATEST Travel Secrets!
Sign up for our newsletter and get the best travel tips delivered right to your inbox.
Choose the Right Gear to Tackle the Best Hikes in America
Best Hiking Trails in the USA: Find Your Adventure in 2020
1. Lost Coast Trail, California
Length: 24.6 miles (39.6km)
Days: 3-4
Best time to hike: All year, Fall is best.
Nearest Town: Shelter Clove
The Lost Coast Trail in Northern California is often forgotten about. Why? Well, because it is kind of lost. Logging companies tried and failed to build a road through here. Instead, Highway 1 cuts inland from the coast into the windy coastal hills and redwood forests. Few people have even heard of the Lost Coast.
Fun fact: This section of coast running from Northern Mendocino into Humboldt county is the largest undeveloped coastline in the USA outside of Alaska!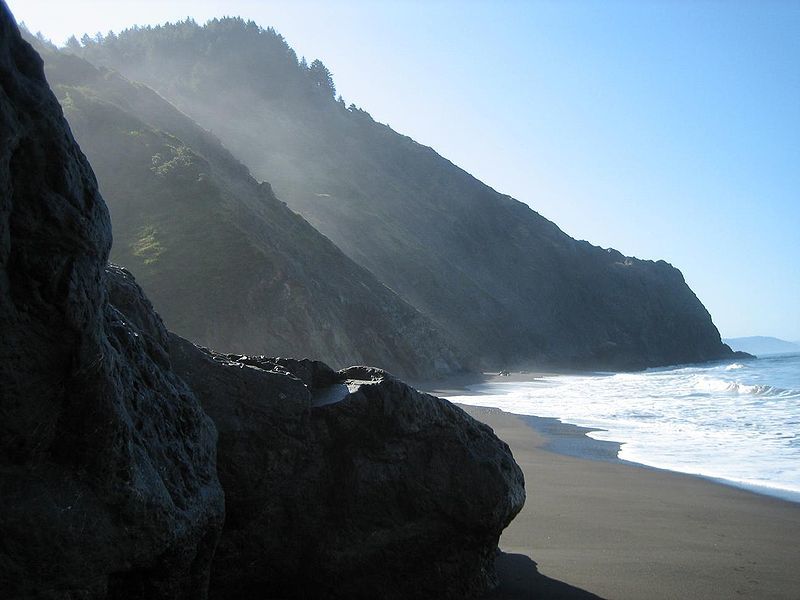 This nearly 25-mile hike can be walked either direction (north-south or vice-versa) starting from Mattole Beach or Black Sands Beach near Shelter Cove. Each trailhead have parking lots where you can park your vehicle. If you don't have anyone picking you up at the end of the trail, there are also shuttle busses taking your from one and to the other.
For those keen for an even longer hike, the southern section of the Lost Coast Trail runs to Usal Beach some 30+ miles south of Black Sands Beach. Most people tend to stick to the Northern section though.
The Lost Coast trail winds its way along barren, misty stretches of beach and forest. The tide schedule must be factored into the hike and it is recommended that hikers carry bear-proof canisters.
A misjudgment in the tide schedule could literally mean the end for you. There are a few miles of the trail that are impassable at high tide, so do your research.
This hike is one of the best hikes in the USA because of its unique and remote location in a state of nearly 40 million people. I love it out here!
2. Tonto Trail, Arizona (Grand Canyon National Park)
Length: 70 miles (113km)
Days: 4-6
Best time to hike: Spring, Fall, Winter (avoid July and August, you will melt.)
Nearest Town: Grand Canyon Village
For those who really want to experience the Grand Canyon from within the Canyon itself, the Tonto Trail is an awesome multi-day trek to make that dream a reality.
The Tonto Trail is officially classified as a South Rim Hike and runs from Garnet to Red Canyon. It's considered one of the best hikes in Arizona and is known for its stunning views.
The Tonto Trail starts 3000 feet below the rim, so you can only access the trailhead by foot, and leave your vehicle at the Grandview or Bright Angle trailhead.
Water can be an issue on the Tonto, especially in the summer. Suitable water sources include Hermit Creek, Monument Creek, and Garden Creek— but remember (very important!) you MUST filter or treat the water as it can be laden with heavy metals/unpleasant bacteria.
The backcountry campsites found along this route must be reserved via a wilderness permit with the Backcountry Rangers Office. If you strike out, there are plenty more conventional places to stay around the Grand Canyon itself.
Enjoy spectacular views of the Colorado River and the endless sea of massive red rock canyons!
3. Trans-Catalina Trail, California
Length: 38.7 miles (62km)
Days: 3-5
Best time to hike: All year, (Summer is HOT AF)
Nearest Town: Avalon
Usually, I wouldn't touch Southern California with a 10-foot pole for the best hiking trails in the USA list (ok, Joshua Tree is awesome and some other spots are too). That said, the Trans-Catalina trail is worth knowing about.
Catalina Island is some 22 miles south of the mainland and couldn't be more different than mainland Southern California. Well, at least the rugged interior of the island is a world away from traffic/people-ridden So-Cal.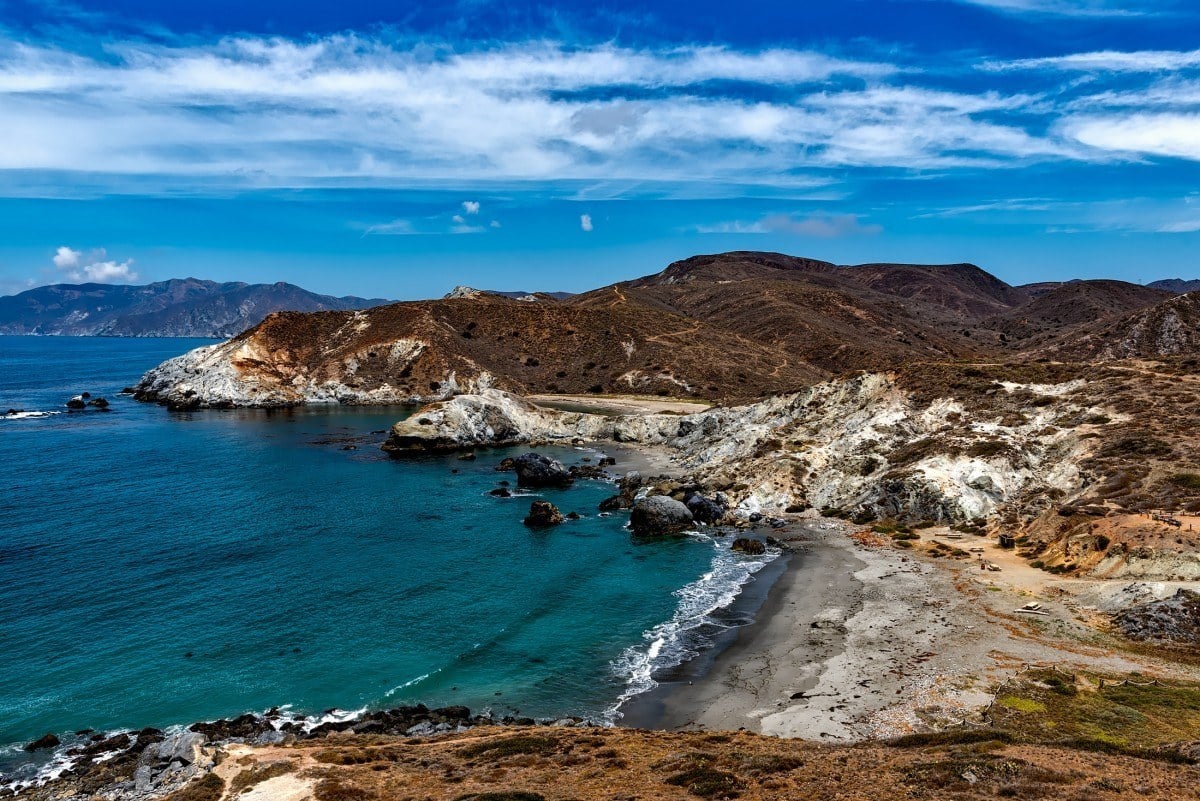 The trail starts near Avalon on the eas-tip and crosses the whole island to the starlight beach on the western end. If you're staying in Avalon, make sure to get your hiking and camping permit at the Catalina Conservancy office. From here, it's just a couple of miles to the trailhead, so technically, you could walk that distance. The hiking can be intense as it is pretty exposed throughout the whole route. I do not recommend tackling this hike in the summer.
I did it in August and it was a poor choice indeed. I felt like I was melting and probably approached heat-stroke on several occasions. At the same time, I had the time of my life spotting buffalo, camping on secret beaches, and soaking in the dramatic desert-island landscapes.
You can really walk this hike at your own pace. If you tend to be a slower hiker or you are hiking it in the heat of the summer, consider taking 4 days to complete the hike.
4. Mount Katahdin, Maine
Length: 2.4-9 miles
Days: 1 (8-12 hours)
Best time to hike: Summer
Nearest Town: Millinocket
Mount Katahdin is the legendary peak where Appalachian Trail thru-hikers either begin or end their epic journey. 
The hike up Katahdin may not be very far in terms of distance, but as you can see from the time-on-trail – 8-12 hours – it is a tough nut to crack. The juice is worth the squeeze, however; an ascent of Katahdin offers up sweeping views in all direction from the state of Maine's tallest mountain.
Mt Katahdin's nature is incredibly protected by Baxter State Park, which is why we'd recommend reserving a parking lot at the trailhead online. The parking space is limited in order to keep the number of visitors at a low rate. Simply driving to the park and leaving your vehicle anywhere won't be allowed.
The trail is mercilessly steep and slow going in places along the so-called Knife's Edge trail. With the right fitness level, the hike is an absolute pleasure rewarded by the epic scenery found at the top. It's also a popular stopover for people on a New England road trip that fancy a bit of action and had enough of sitting in a car.  
5. Kalalau Trail /Napali Coast, Hawaii
Length: 22 miles (35.4 km)
Days: 2-3
Best time to hike: All year
Nearest Town: Hanalei
I am not the first to dub the Kalalau Trail one of the best hikes in the US. The Napali Coast on the Hawaiian island of Kauai is one of the most breathtaking places found on planet Earth. Staying on Kauai is literally like like staying in paradise. The landscapes look like something straight out of Jurassic Park and Avatar (oh wait, they were filmed here!).
The Kalalau Trail is blessed with stunning beach scenes, waterfall swimming opportunities, rivers— all of which are framed by the mountains in the backdrop.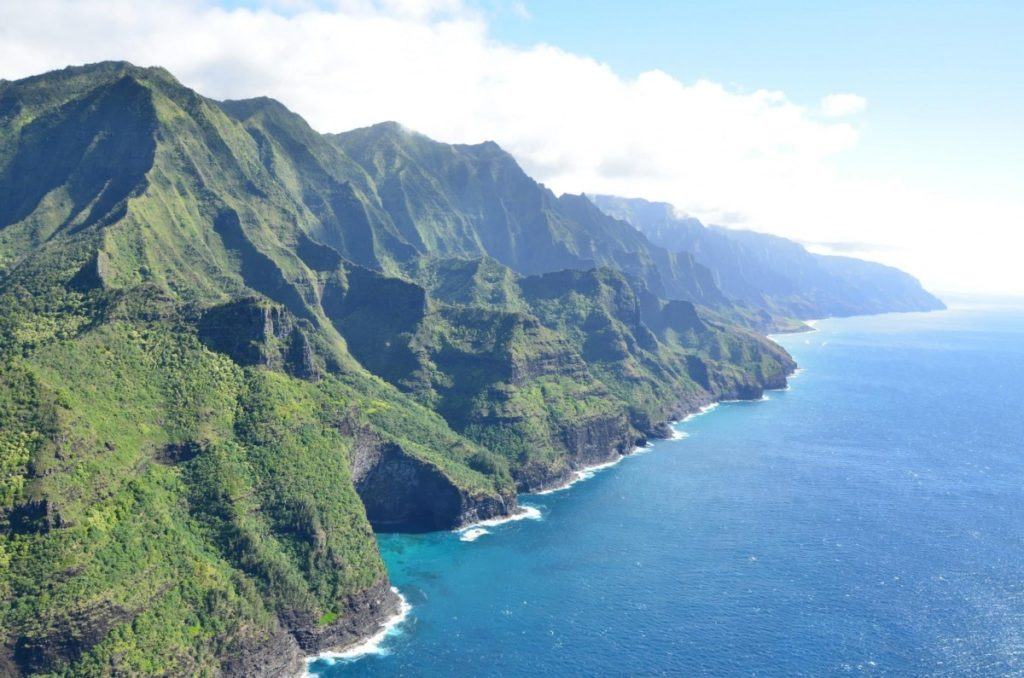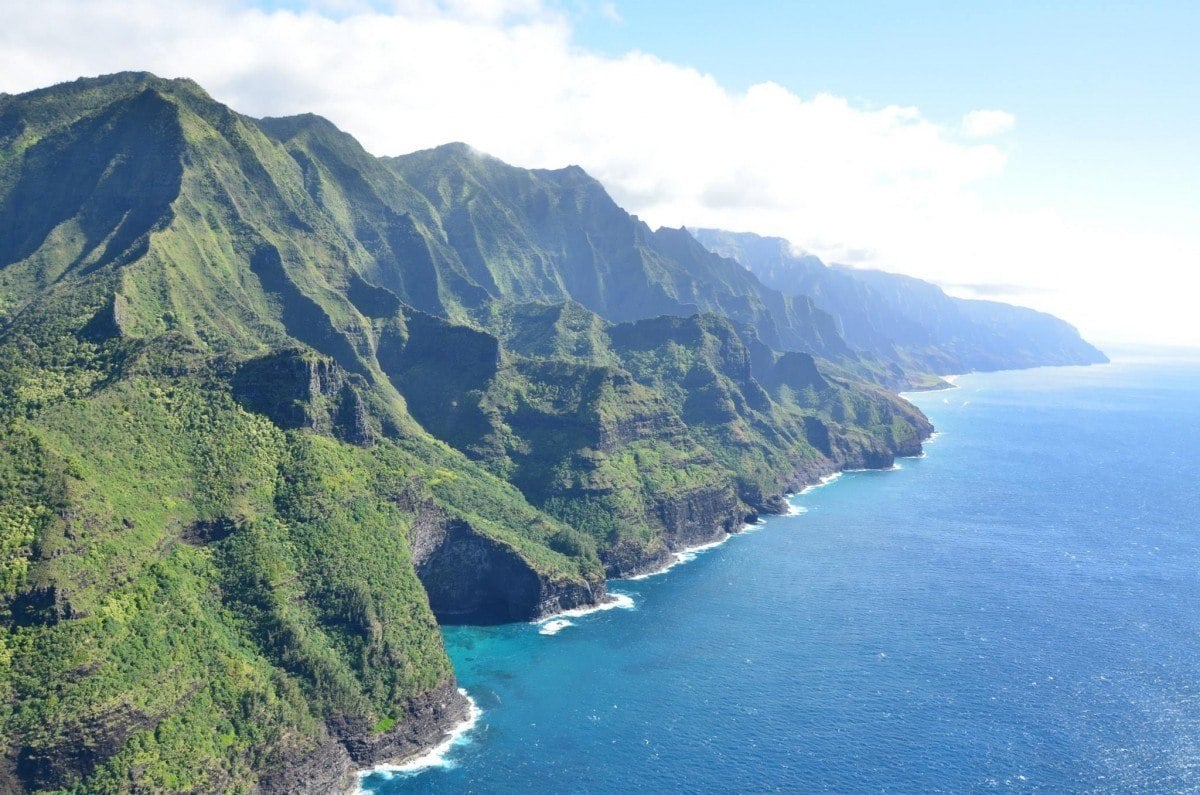 There are multiple ways to get to the trailhead. Shuttle buses bring you directly to the trailhead. You can also drive there, however, parking space is very limited on the North Shore, meaning you'll have to reserve a spot well in advance. The trailhead starts at Ke'e beach and ends at Kalalau Beach. There are multiple camping options on the trail, but you'll need a permit for those.
This trail is rugged, remote, and requires some advanced planning. The camping permits need to be applied for months in advance. Rainstorms can come suddenly with the intensity of a flash. Hikers have been swept away when mellow creeks turned into raging torrents.
The Kalalau Trail can be done as a day hike to Hanakapi'ai waterfall, but to really get the essence of what the Napali Coast is about, you should tackle the whole trail.
Come prepared, and you will leave with the memories of a lifetime.
Small Pack Problems? 😉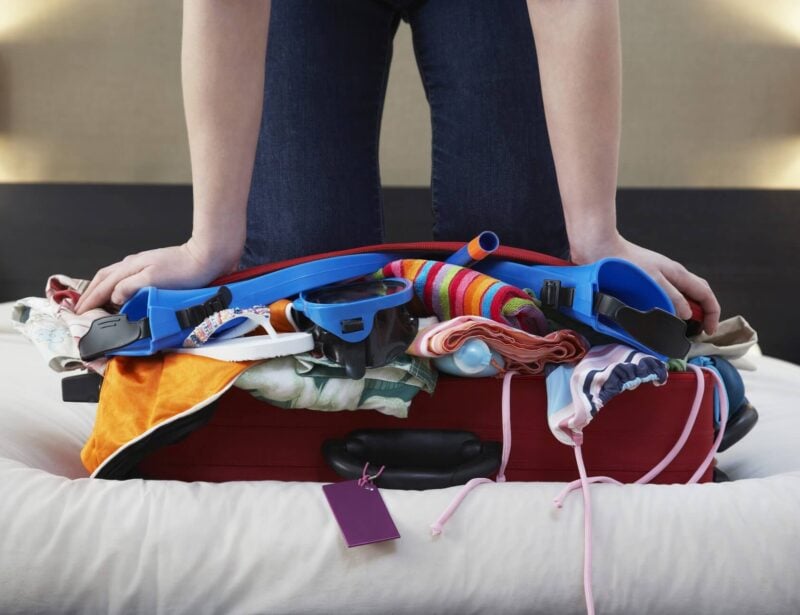 My missus travels with all her clothes in ziplock bags: don't be like my missus. UP YOUR PACKING GAME!
Packing cubes for the globetrotters and compression sacks for the real adventurers – these babies are a traveller's best kept secret. They organise yo' packing and minimise its volume too so you can pack MORE.
Or, y'know… you can stick to ziplock bags.
View Our Fave Cubes
Or Check Out the Sacks!
6. The Wave, Arizona
Length: 5.2 miles (8.3km)
Days: 1 day (2-4 hours)
Best time to hike: All year
Nearest Town: Kanab
Instagram may have made The Wave even more famous than it already was. True. But, this magical landscape of swirling red sandstone in the Vermilion Cliffs National Monument is not to be missed.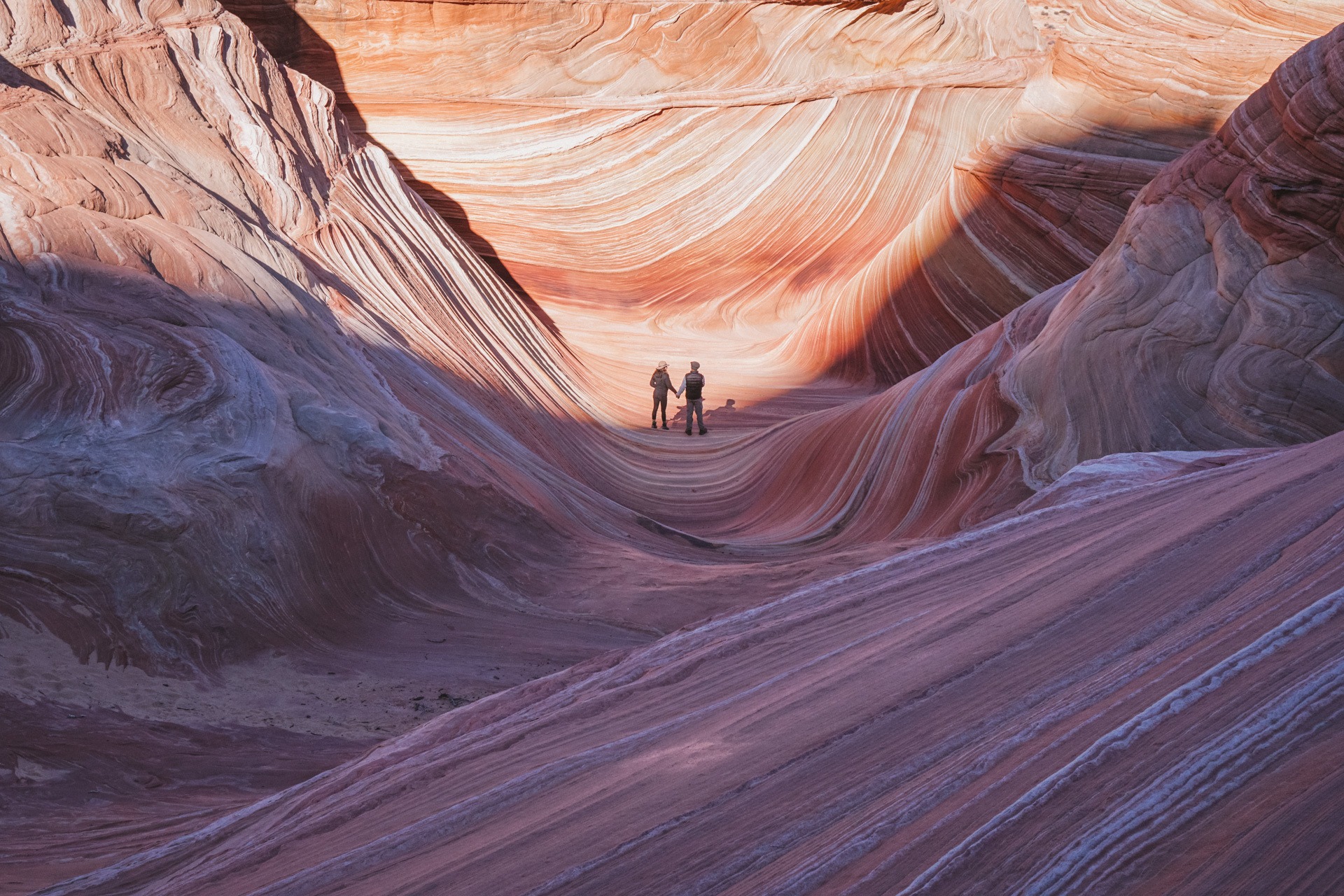 But…wait for it…
Because of the overwhelming popularity of the site, the Bureau of Land Management limits foot traffic to 20 people/day. Yup. 20.
You'll need a stroke of luck to get the permit, but if/when you do, you can be certain that you are about the tackle perhaps the best desert day-hike in the USA. Be sure to pack plenty of water as there is none available on the trail.
7. Cracker Lake, Montana (Glacier National Park)
Length: 12.6 miles (20 km)
Days: 1-2 days
Best time to hike: Summer
Nearest Accommodation: Many Glacier Hotel
Glacier National Park is so damn beautiful that I really had a hard time just covering one hike from this park on my "best hikes in the USA" list as the more remote side of Glacier National Park is also definitely worth a visit. The scenery is dramatic and the crowds are not quite as abundant as you'd expect from such a beautiful USA national park (although it can get busy during summer).
The hike to Cracker Lake can be done as an intense, tiring day-hike or a comfortable overnighter. I recommend the latter. Trust me, once you arrive here the last thing you will want to do is turn around and leave.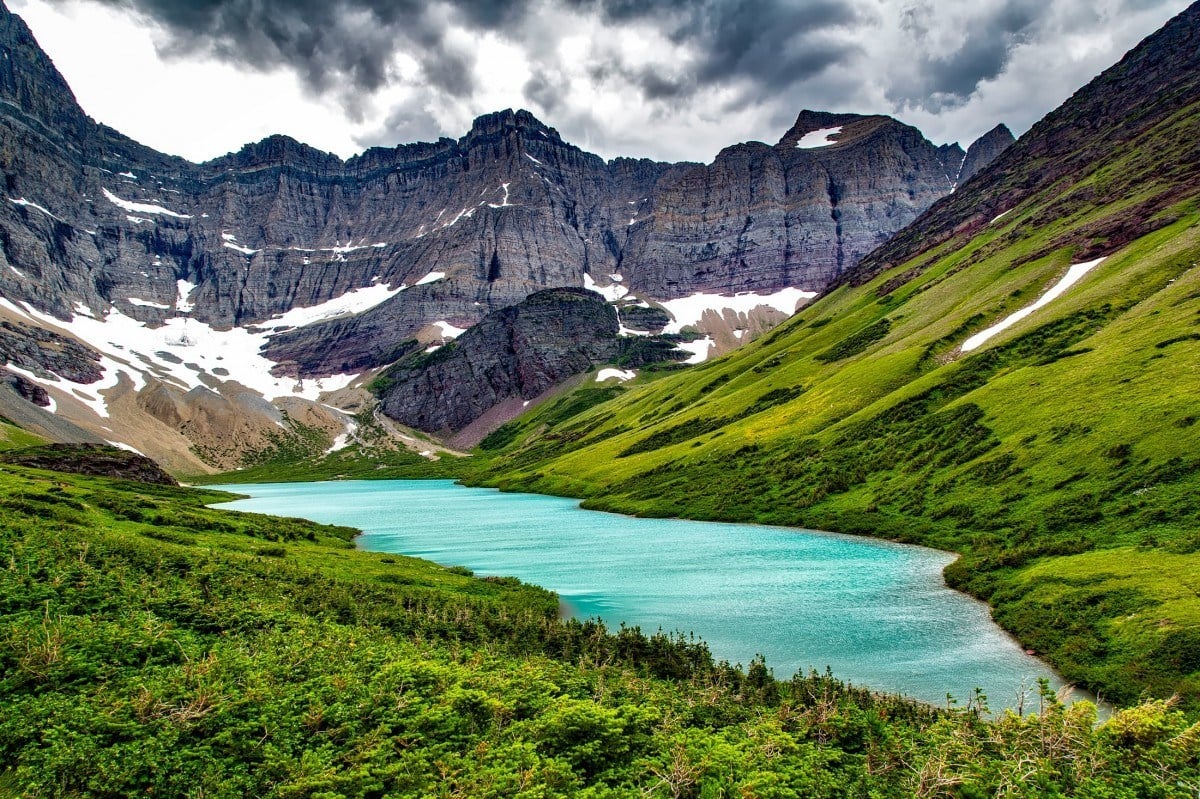 The hike to Cracker Lake in Glacier National Park begins from the Piegan Pass/Cracker Lake Trailhead, located at the south end of the parking lot above the Many Glacier Hotel. Almost immediately after starting your hike, you'll reach a split in the trail where you need to turn left.
Due to its northern location, Glacier National Park remains quite cold for the majority of the year. On a fine, clear summer's day, I can't think of a better place to be.
8. Mauna Loa Summit, Hawaii (Hawaii Volcanoes National Park)
Length: 17 miles (28 km)
Days: 1
Best time to hike: All year!
Nearest Town: Hilo
Mauna Loa is one of the most impressive mountains to be found on any Pacific Island in the world. Located on the Big Island of Hawaii, the Mauna Loa summit trail is a tough day-hike through lava-scree Martian landscapes. Once you summit, all of that tough work is rewarded by truly epic views.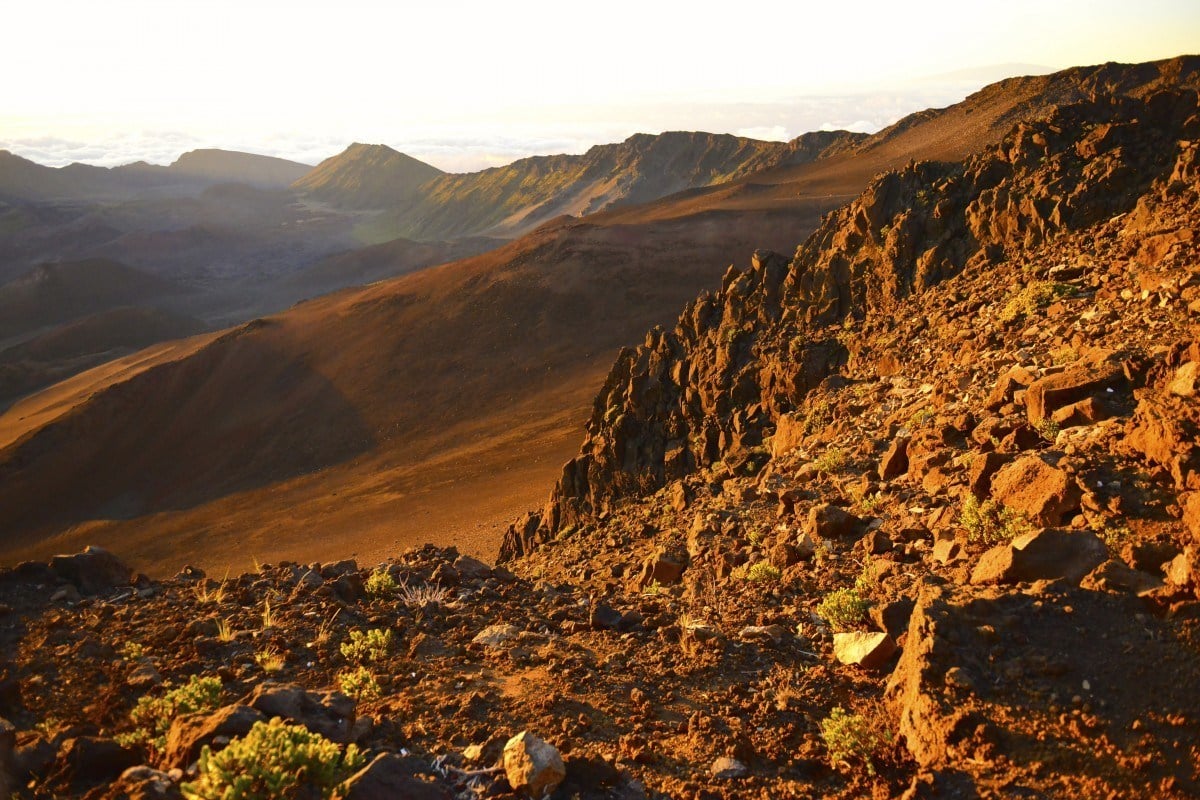 Start early and pace yourself so that you can have the maximum amount of time to enjoy the summit. To get to the trailhead, from either side of the island, take the Saddle Road, Hwy. 200, to the Mauna Loa Observatory Road (it's well-marked). Follow this sometimes one-lane road for 17.5 miles to the parking area for hikers.
Note: As of this moment, a majority of Hawaii Volcanoes National Park remains closed due to volcanic activity. Check with the National Park service for updates regarding trail closures and general safety information.
Even if the trail isn't closed, the corrosive/toxic volcanic ash is no fun to breathe. I believe it is better to wait until the air clears, which hopefully will be soon.
9. Long's Peak, Colorado
Length: 15 miles (24.1 km)
Days: 1 Day (12-14 hours)
Best time to hike: May – October
Nearest Town: Estes Park
Long's Peak in Colorado is one of the state's most impressive 14,000-foot peaks one can climb. The hike is as difficult as it is rewarding and it can be considered one of the best hikes in Colorado.
Most hikers set out in the wee hours of the morning when it's still dark. By doing so, you are able to catch the sunrise above the tree line and also give yourself plenty of time to complete the hike before sundown.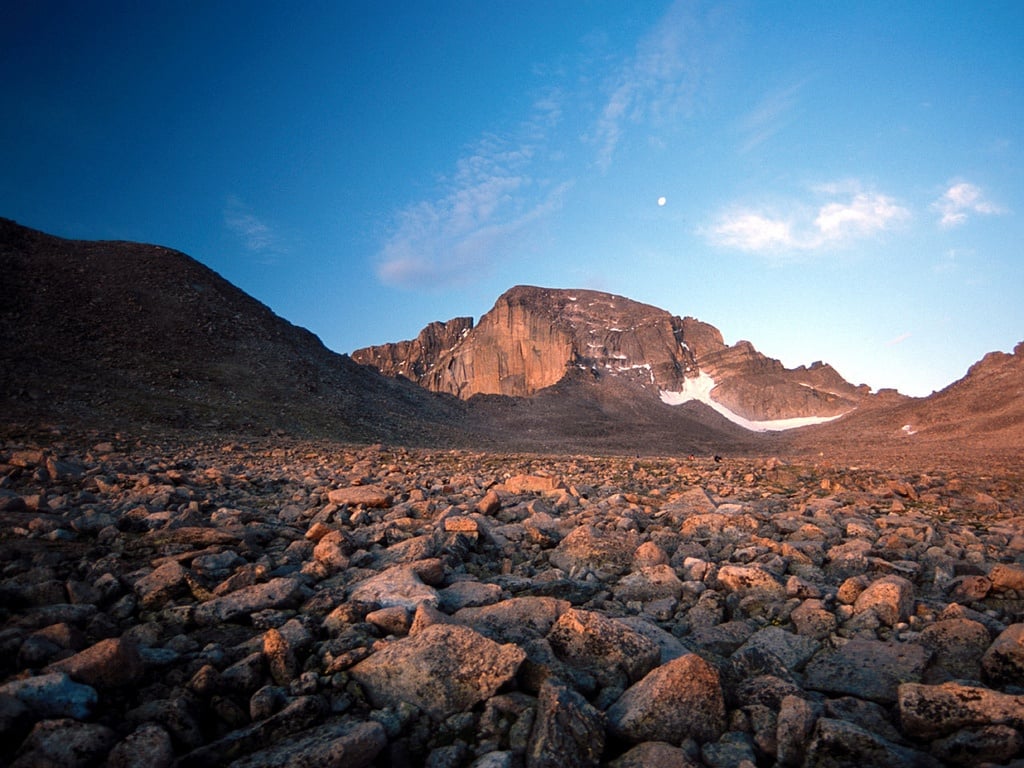 The Long's Peak hike via the standard Keyhole route climbs more than 5,000 feet. Half the people who attempt Long's peak do not make it to the summit. Why? The easy answer is that it ain't easy. Another contributing factor to a failed summit bid is a late start. Don't expect to complete this hike end-to-end if you start at 10 am.
If you take your car to the trailhead, be sure to arrive well before sunrise. All spots are normally taken before you see the first light of the day, so you better get up early. To get to the trailhead in the first place is relatively easy. Simply drive down on Highway 7 and turn right onto Longs Peak Road. Continue to drive 1 mile and you're at the parking lot.
Give yourself plenty of time and bring an abundance of real food, snacks, and water. If you set yourself up for success, you should crush it.
Save $$$ • Save the Planet • Save Your Stomach!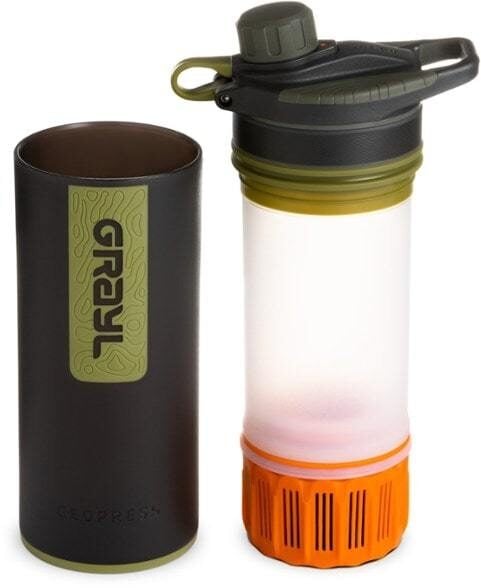 Drink water from ANYWHERE. The Grayl Geopress is the market's leading filtered water bottle protecting your tum from all the waterborne nasties. PLUS, you save money and the environment!
Single-use plastic bottles are a MASSIVE threat to marine life. Be a part of the solution and travel with a filter water bottle.
We've tested the Geopress rigorously from the icy heights of Pakistan to the tropical jungles of Cuba, and the results are in: it WORKS. Buy a Geopress: it's the last water bottle you'll ever buy.
Buy a Geopress!
Read the Review
10. The Narrows, Utah (Zion National Park)
Length: 5-16 miles (depending on the route)
Days: 1 (5-10 hours)/2 days
Best time to hike: May-October
Nearest Town: Springdale
Hiking in Zion National Park will give you some of the best trails in the USA, if not in the whole world. Few places on earth offer up the opportunity to get down in a canyon to gawk at 18 million years of eroded rock walls.
The Narrows refers to two hikes, both the 3.6 miles (5.8 km) bottom-up hike from the Temple of Sinawava to Big Springs, as well as the 16 miles (26 km) top-down hike from Chamberlain's Ranch back to the Temple of Sinawava (for which we recommend bringing a backpacking tent and making it an overnight).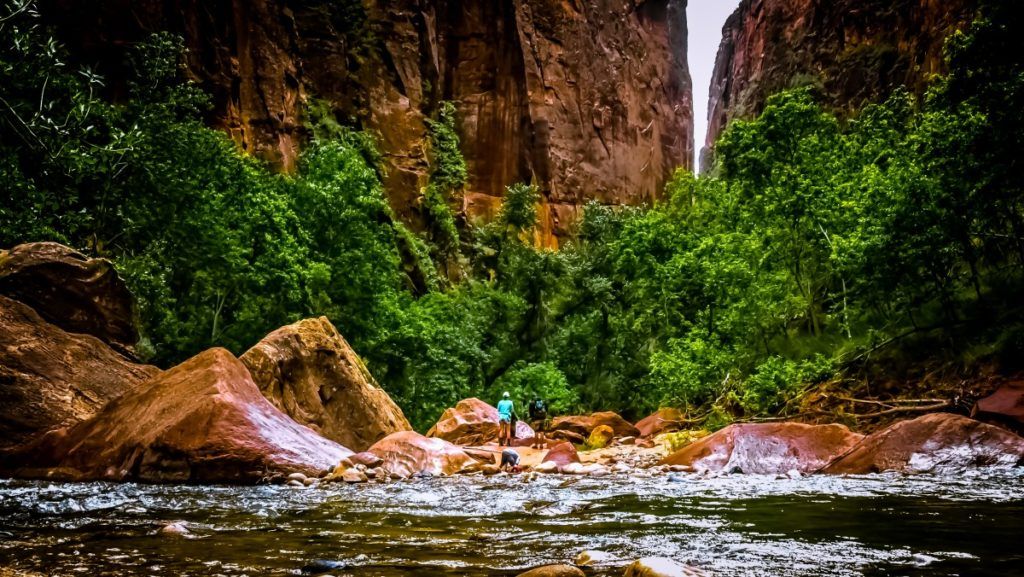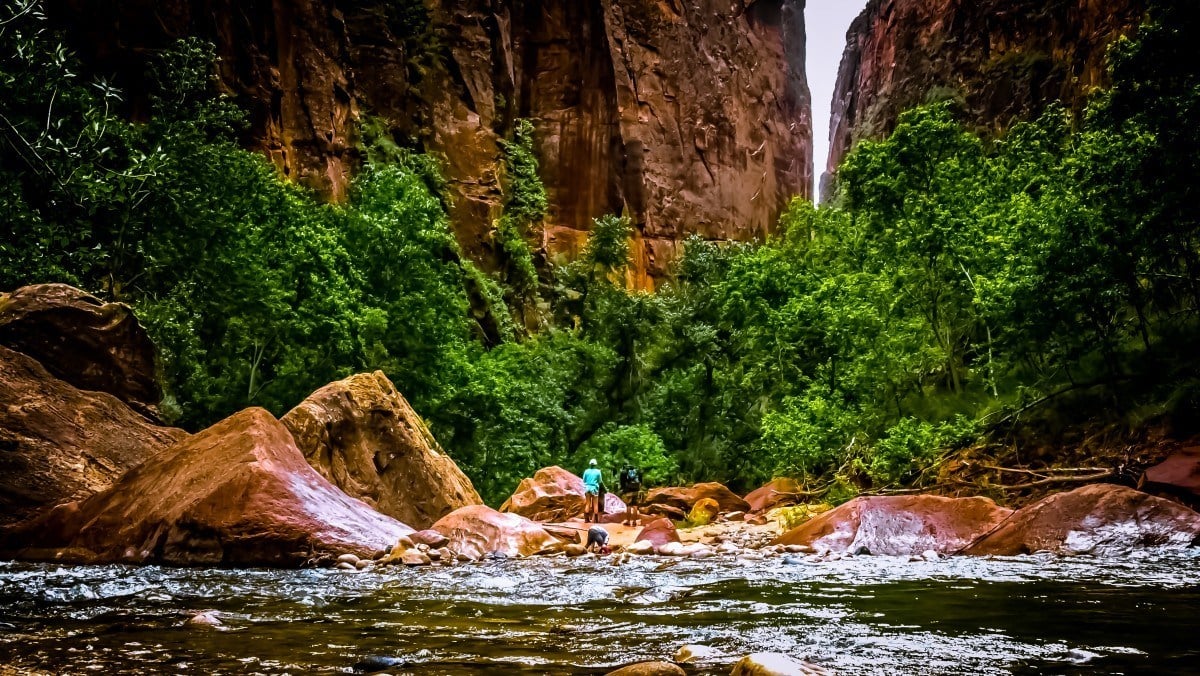 You'll have to get a shuttle bus to the trailhead if you want to start at the Chamberlain Ranch, as well as a permit for this trail, since it's located on private property. 
For one of the best day-hikes of your life, I recommend tackling the bottom-up hike. Hiking is done largely in the river as – for a third of the route – the river runs canyon wall to canyon wall.
Water levels change from season to season; most hikers will wade at least waist-deep and many will swim a few short sections.
Flash flood danger is a very serious threat to consider when hiking the Narrows, and hiking slot canyons in general. If rain is in the forecast, stay the hell out of there! In stable weather conditions, however, set off and enjoy the truly spectacular scenery.
The Narrows is undoubtedly one of the best Utah hiking trails. There are so many other great hikes where this came from, but we can't possibly put them all in this one blog post. Start here, though, and discover the rest of what Utah has to offer as you go!
11. Grayson Highlands, Virginia
Length: 8.5 miles (13.6 km)
Days: 1 (5-8 hours)
Best time to hike: April-November
Nearest Town: Jefferson
Wild ponies. Rhododendron tunnels. Rolling hillsides. The tallest mountain in Virginia. This is what the Grayson Highlands is all about. I first passed through the Grayson Highlands during my Appalachian Trail thru-hike in 2015. I was blown away by the scenery (though it snowed on me on May 1st!).
A day spent exploring the Grayson Highlands gives you the opportunity to summit Virginia's highest mountain: Mt. Rogers. Though the mountain is impressive, there are not really fantastic views at the top as it is thickly forested.
The real pleasure is wandering through the table-top meadows alongside the wild ponies. This section of the AT was without a doubt one of my favorite hikes on the Appalachian Trail.
12. Half Dome, California (Yosemite National Park)
Length: 17 miles
Days: 1 (12 hours)
Best time to hike: May-September
Nearest Town: Curry village
Half Dome is one of America's most iconic natural formations and one of the best hiking trails in Yosemite. At over 2,500 feet, Half Dome is a massive slab of granite towering high above Yosemite Valley. Hikers keen enough to tackle the grueling trek are rewarded with mesmerizing views that are difficult to fully comprehend.
The summit of Half Dome is gained with the help of the Via Ferrata style series of cables and steps. If you are afraid of heights, then this hike is not for you.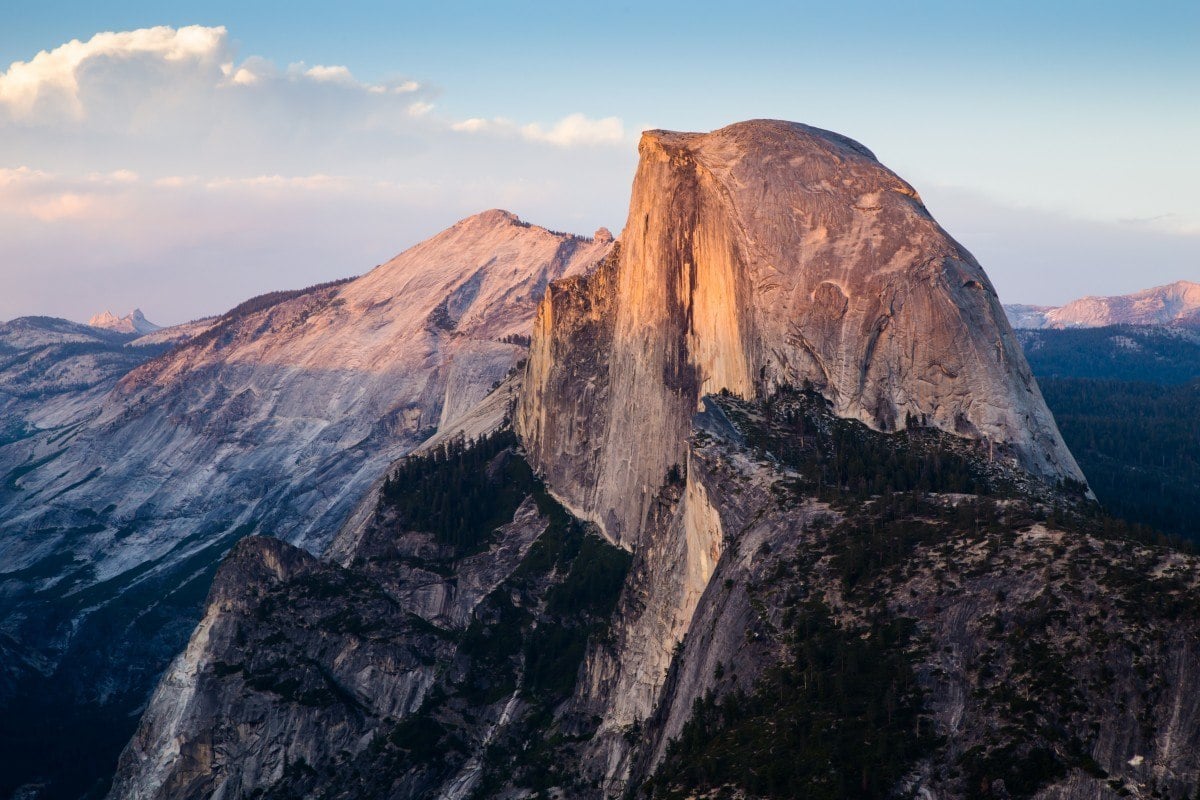 Half Dome is one of the most famous rock formations in the world and has the associated human traffic. My advice is to start your hike early. You absolutely do not want to get stuck in a long line of people at the foot of the cables. If other hikers are ahead of you on the cables, be very wary of falling rocks from above. Also make sure you sort your Yosemite accommodation beforehand, as lots of places get booked out very fast.
Hiking up Half Dome is sort of a right of passage for hikers visiting Yosemite National Park. There really isn't another hike like it, but Yosemite National Park has several of the best hikes in the USA; Half Dome just happens to be one of them.
Tip: Such an epic hike with cables means permits are extremely competitive. Make sure to go through the official Yosemite reservation process to try and snag your group permit when planning a trip to Yosemite.
MATH TIME: The entry fee for Yellowstone National Park is $35. Meanwhile, the entry fee for the neighbouring Grand Teton National Park is another $35. That means that visiting TWO national parks alone (out of the 423 total in the USA) will run you a grand total of $70…

Or you can stuff that whole deal off and buy the 'America the Beautiful Pass' for $79.99. With it, you get unlimited access to ALL federally-managed land in the U.S.A for FREE – that's over 2000 recreational sites! Ain't that just beautiful?
BUY THE PASS!
13. Titcomb Basin, Wyoming
Length: 28 miles (45 km)
Days: 2-3
Best time to hike: July-September
Nearest Town: Pinedale
The Wind River Range in Wyoming is home to multiple hiking gems, but hiking in the Titcomb Basin is one of the most visually rewarding. Over the course of 28 miles (or more) the landscapes are very impressive indeed.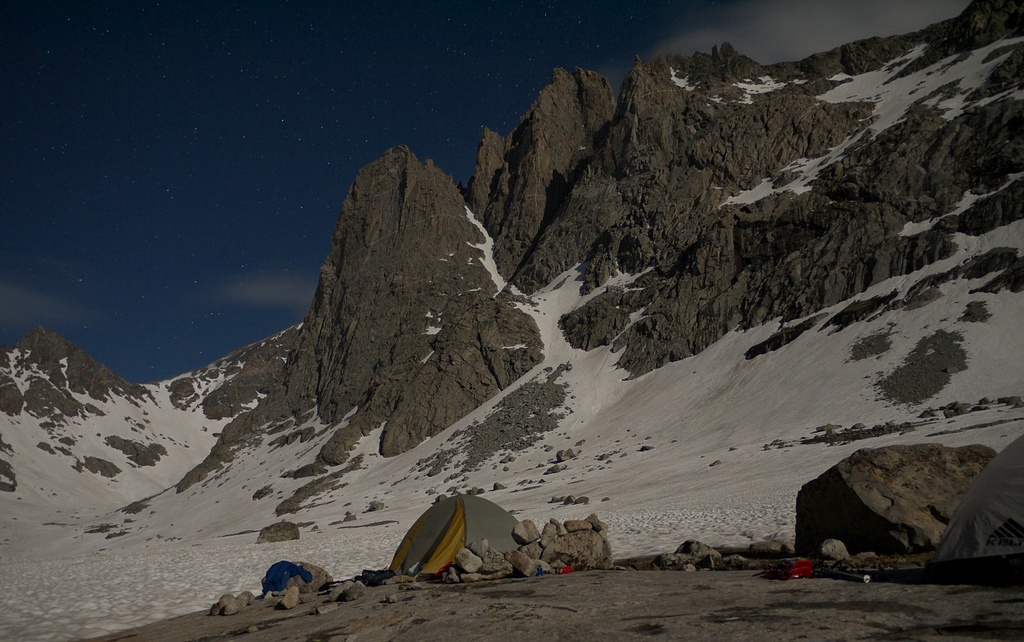 Weave your way through boulder-strewn tundra-esque mountains. Stop for lunch at serene alpine lakes. Set up camp at the base of snow-capped peaks. This is the Wind River Range!
There are some truly excellent atmospheric camping spots along the way. Generally, the "real Titcomb basin" doesn't start until the valley narrows just south of the lower lakes. Island Lake is a popular campsite, where hikers opt to base themselves for day-hikes.
This part of Wyoming is desolate, rugged as hell, and offers up some of the most spectacular landscapes to be found anywhere in the western United States.
14. John Muir Trail, California
Length: 211 miles (339 km)
Days: 15-21
Best time to hike: July-September
Nearest Town: Curry Village
For a committing, well-varied route through the heart of the Sierra Nevada mountains, look no further than the magnificent John Muir Trail.
First off, this hike passes through three of the best national parks in the USA, Yosemite, King's Canyons, and Sequoia. Most folks typically begin the hike at the Northern Terminus within Yosemite, Happy Isles. The hike officially ends atop the summit of Mt. Whitney; the highest mountain in the continental United States.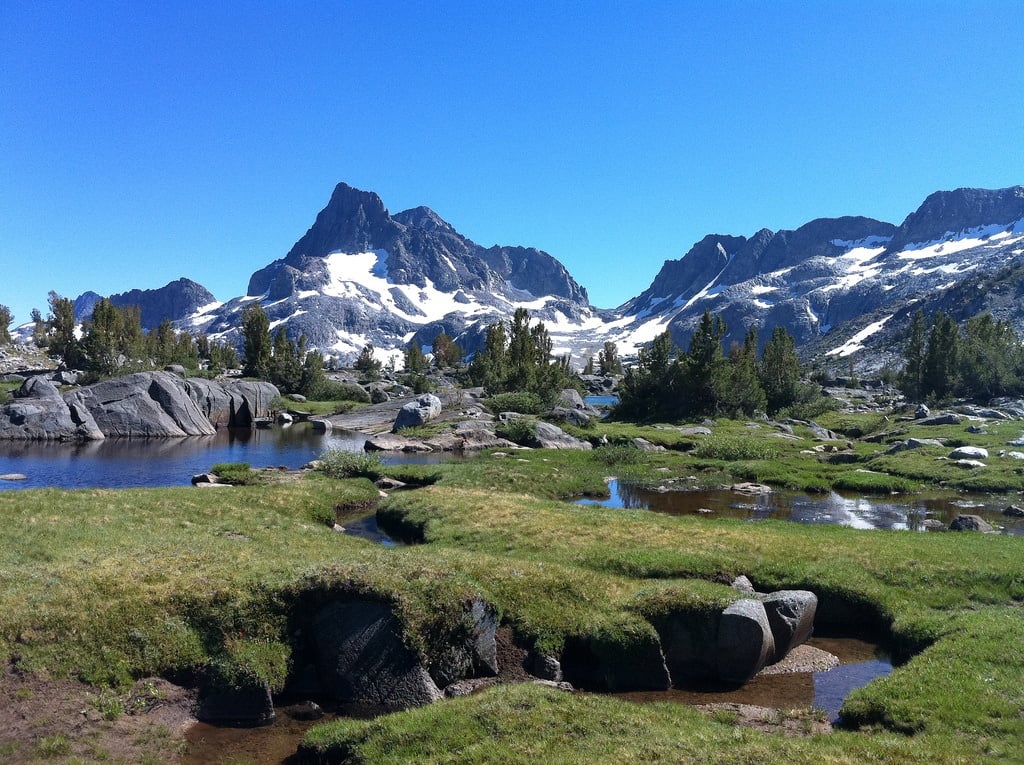 For about 160 miles (260 km), the trail follows the same footpath as the longer Pacific Crest Trail (PCT). The trail is named after one of my favorite humans from history, the environmentalist/author/badass, John Muir.
The JMT takes some logistical planning as resupply points are few and far between. There are large sections of this trail that are vast wilderness areas. With a bit of due diligence and proper planning, the JMT is one of the best long-distance hiking trails in the world.
15. Kesugi Ridge Trail, Alaska (Denali State Park)
Length: 36.2 miles (58.3 km)
Days: 2-3
Best time to hike: July – August
Nearest Town: Anchorage
Ah, Alaska. For those of you who don't know, Alaska is incredible. I could easily have filled up this best hikes in the US list with Alaska-only hikes, but that wouldn't be fair to the other states now would it?
Denali State Park is packed full of adventure opportunities, and the Kesugi Ridge Trail offers up an excellent taste of what Denali is all about.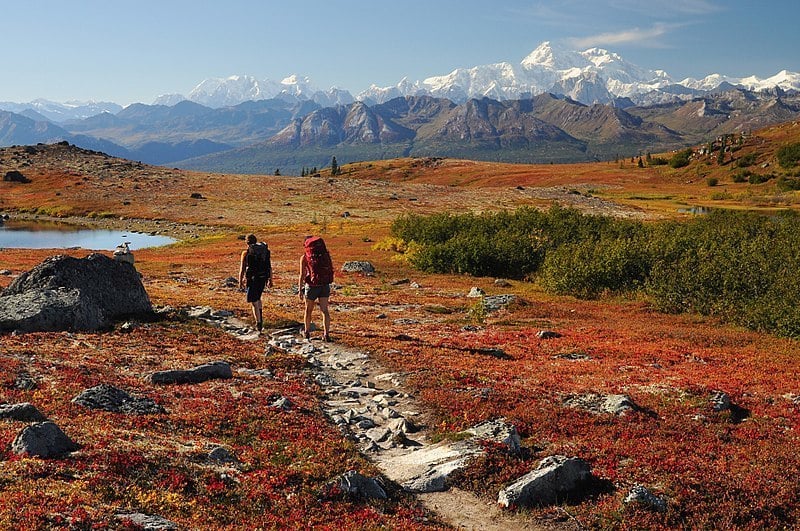 This hike can easily be customized as there are no less than four different starting/ending points. Among the popular hikes in Denali, the Kesugi Ridge trail is well-known, though not as popular as some of the others.
As with most semi-serious hikes in Alaska, the Kesugi Ridge trail can be tough going. There are several steep climbs and boulder fields to cross. It's a good idea to check in with the park service regarding flooding on the Troublesome Creek trail.
DON'T DIE OUT THERE! …Please 🙂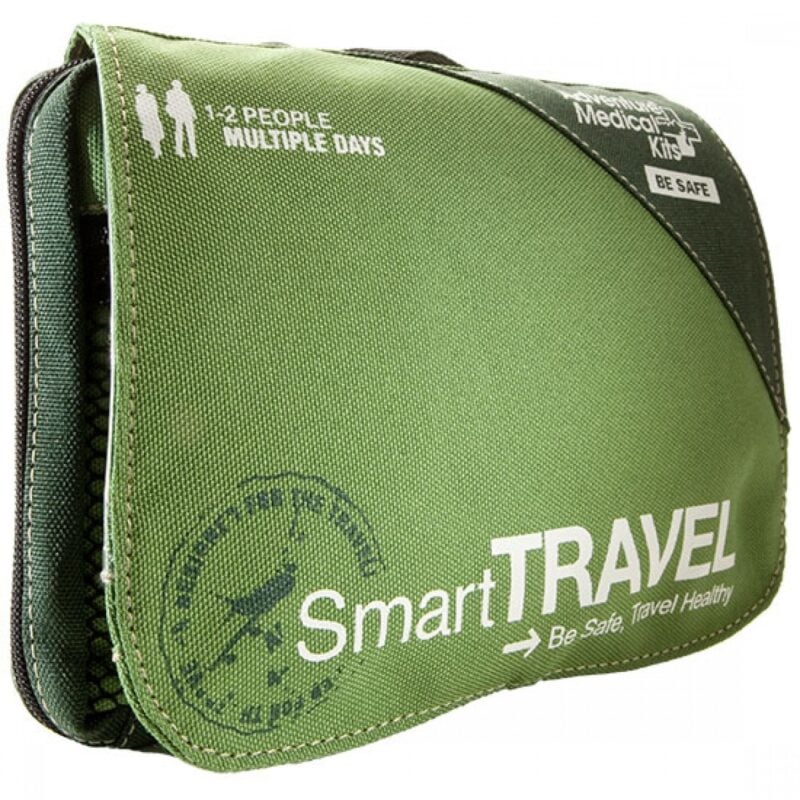 Things go wrong on the road ALL THE TIME. Be prepared for what life throws at you.
Buy an AMK Travel Medical Kit before you head out on your next adventure – don't be daft!
Buy on REI
16. Art Loeb Trail, North Carolina
Length: 30.1 miles (48.4 km)
Days: 3
Best time to hike: Spring – Fall
Nearest Town: Brevard
The Art Loeb trail in North Carolina was one of my first solo multi-day treks I took on at age 18. Though not terribly long, there are at least three significant mountains to traverse including Black Balsam Knob (6,214 ft), Tennent Mountain (6040 ft) and Pilot Mountain (5095 ft).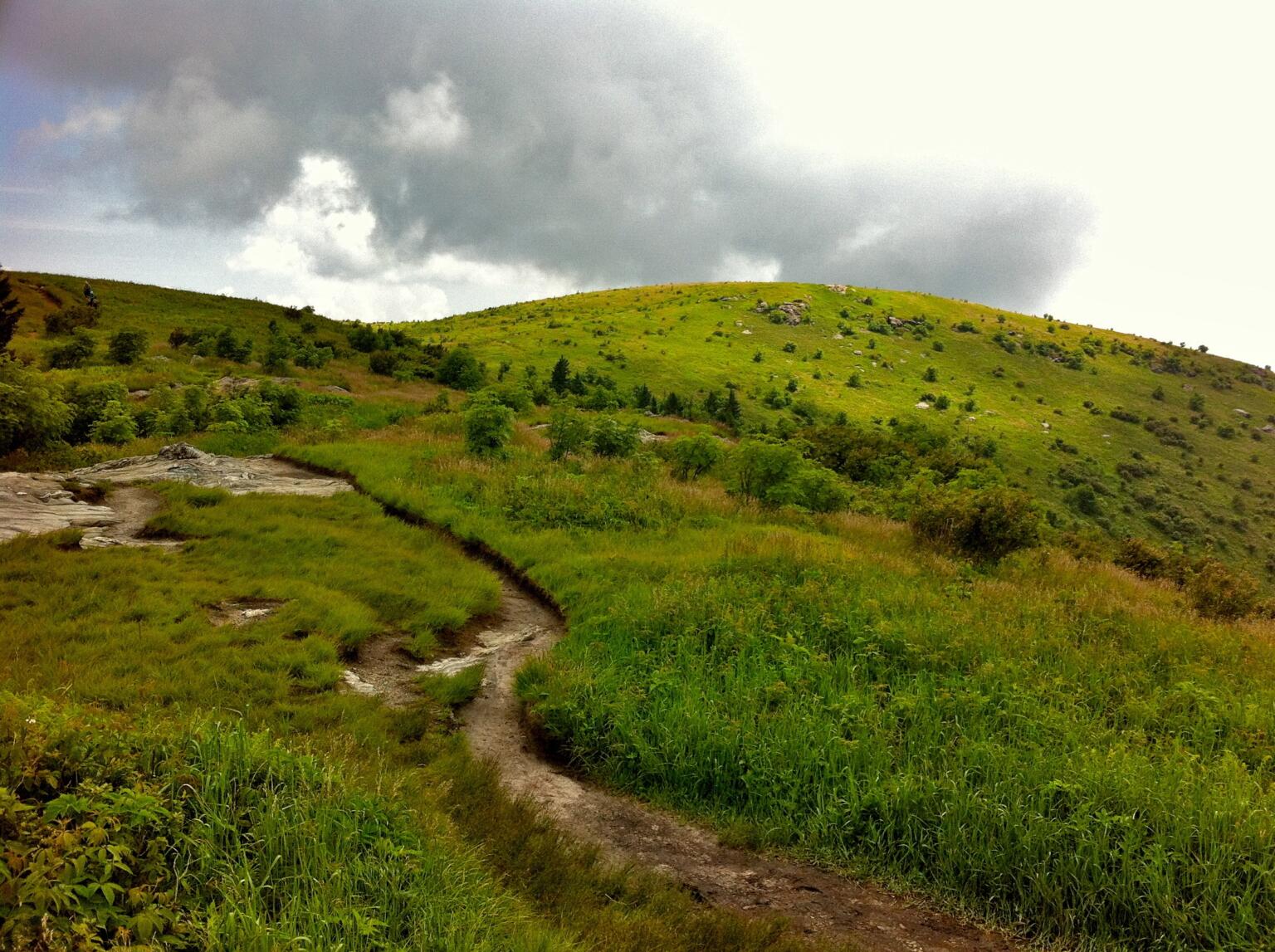 I tackled this trek in April and found myself trekking in cold sleet and relatively deep snow on the 3rd day, somewhere around Pilot mountain. Likewise, one can experience fine weather in April; it just depends on the year and your luck.
The diversity of the Art Loeb really plays a big role in stoking my love of this trail. Over the course of 30 miles, the trail passes through or over Appalachian balds, forest, meadows, and typical Blue Ridge Mountain splendor.
The Art Loeb trail is one of the best hikes in the south-eastern US.
17. Tomales Point Trail, Califonia
Length: 9.4 miles (15.1 km)
Days: 1
Best time to hike: All year!
Nearest Town: Point Reyes Station
I know what you're thinking, ANOTHER hike in California? Well, the Tomales Point trail is too good to leave off this best hikes in the USA list.
The hike out to Tomales Point is a full-on sensory experience complete with a jaw-dropping coastline, wild elk, and hills so green that you will wonder if you are actually hiking in Ireland, not California.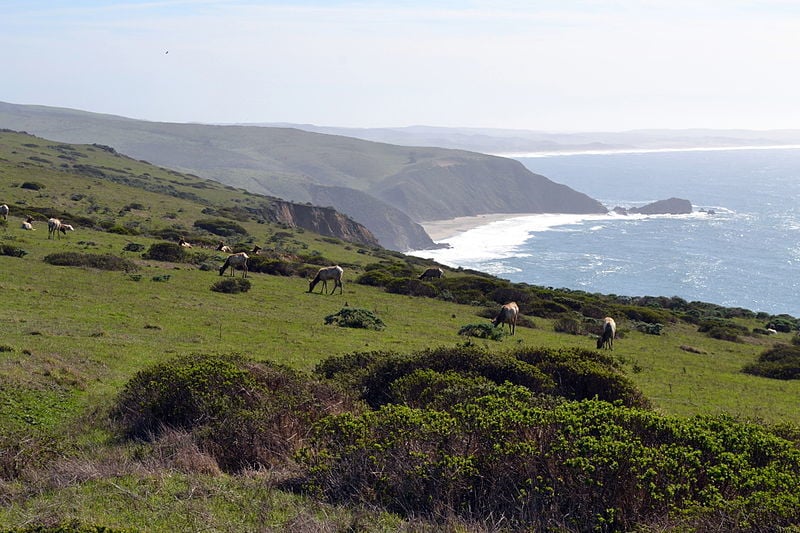 Due to its location north of San Fransico, the hike to Tomales Point makes for an excellent city escape. That said, it is a hell of a long day if you plan to make it to Tomales via San Francisco and then return back to SF for the night, but by no means impossible. Alternatively, pitch up a tent in one of California's best camping spots.
The hike itself isn't too difficult, but it is actually one of the best day hikes in the USA, let alone on this whole list. Bring a picnic and watch the elk graze with the Pacific Ocean stretching out behind them.
18. Mount Adams South Climb, Washington
Length: 11.2 miles (18 km)
Days: 1-2
Best time to hike: May – September
Nearest Town: Trout Lake
As far as medium-difficulty mountain summits go, the hike up Mount Adams is one of the best hikes in America for its genre. In the summer, the hillsides explode in an ocean of colorful wildflowers. Snow remains on the summit year-round, and many hikers opt to ski down the mountain (or more accurately to the end of the snowline).
You should know that this trail is popular due to its accessibility and relative ease. The Mount Adams trek should not be attempted in anything other than fine weather. Despite the trail being straightforward and I dare say, obvious, every year hikers get lost and end up in serious peril or worse.
Note: If you're from out of state and plan on doing this hike, you're better off staying in Portland, Oregon. It's closer to Adams than Seattle.
19. Red River Gorge Loop, Kentucky
Length: 36 miles (57.9 km)
Days: 2-3
Best time to hike: Fall
Nearest Town: Slade
The Red River Gorge in Kentucky is not on most hikers' radars if they are unfamiliar with the gorge. Some of the big name national parks in the US get so much attention that equally impressive places are often overlooked.
Among excellent short hiking opportunities on offer here, the Red River Gorge loop is the best chance to take in a variety of scenery. In the fall, the mountains are engulfed with beautiful vibrant autumn colors as the leaves change—really it's magical.
In addition to great hiking, the Red River Gorge is famous for having some of the best rock climbing venues in the eastern USA.
There are many side trails along this loop that give you a choice between easy day trips or extended backcountry adventures.
There is certainly a trail for every type of hiker in the Red River Gorge, which makes it extremely accessible for both families and weekend warriors. Book yourself a log cabin and have all the best hikes on your doorstep.

Our GREATEST Travel Secrets…
Pop your email here & get the original Broke Backpacker Bible for FREE.
20. Smokey Mountain National Park Section of the Appalachian Trail, Tennessee
Length: 71 (114 km)
Days: 3-4
Best time to hike: April – October
Nearest Town: Hot Springs
Whether you live nearby or just want to get a taste of #ATlife for a couple of days, the Appalachian Trail section running through the Smokies is a must-do hike.
Starting at Fontana Dam, this AT section was one of my most memorable couple of days I had during my AT thru-hike. Access is relatively easy considering you can drive right to the trailhead.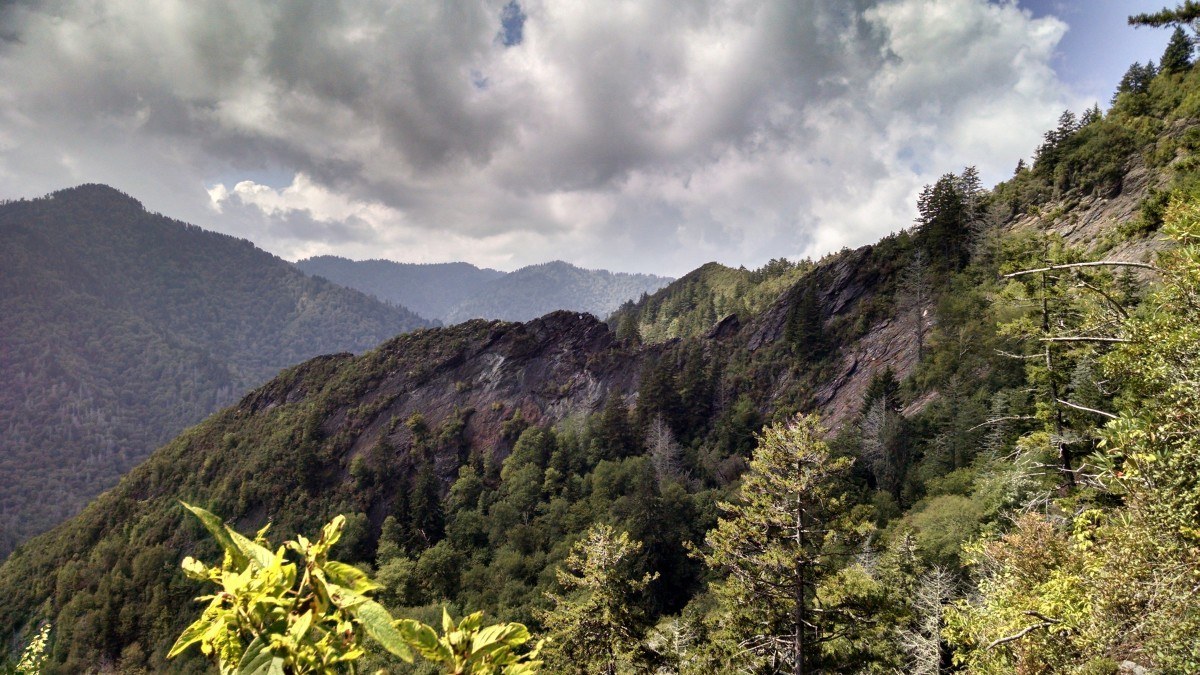 A brilliant thing about hiking on the AT is the abundance of hiker huts found along the way. You can stagger your hiking days according to your own pace and time frame, stopping at the huts along the way (which are free).
You don't even need to carry your own tent if you plan to stay at the huts (though I highly recommend you do bring a tent in case).
There is no better way to experience the Smokey Mountain National Park than on foot. Take a few days to enjoy the hell out of the AT. Upon finishing your hike, you'll find comfort knowing that Tennessee moonshine is never too far away.
21. The Long Trail, Vermont
Length: 272 (437 km)
Days: 20-39
Best time to hike: April – October
Nearest Town: Williamstown
For hikers who find themselves in the northeast with a decent chunk of time on their hands, the Long Trail is a worthy challenge. The Long Trail runs the length of Vermont! You shall get to know this awesome state intimately!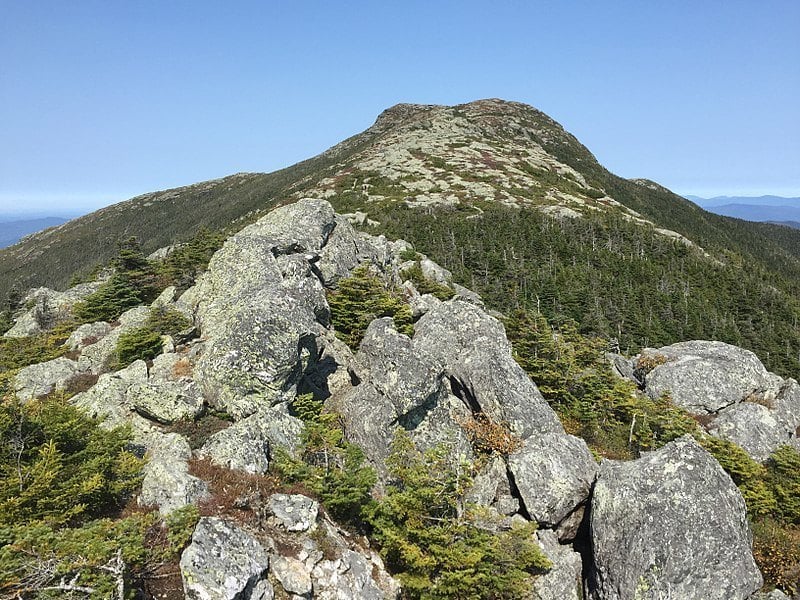 Fun fact: the Long Trail is the oldest long-distance hiking trail in the USA (excluding, of course, pre-colonial Native American footpaths).
The Long Trail follows the main spine of the gorgeous Green Mountains and shares roughly 100 miles of trail with the AT. It is also possible to hike sections of the Long Trail if you only want to tackle a portion of it over a weekend.
22. Mt. Mitchell Summit, North Carolina
Length: 11.4 miles (18.3 km)
Days: 1
Best time to hike: March-November (fall colors are best in October)
Nearest Town: Asheville
A hike up Mt. Mitchell gives you the chance to walk up the highest point in the US east of the Mississippi River. With an early start, the hike up Mt. Mitchell can be done in a day. There is quite a bit of elevation gain to contend with from the starting point at the Black Mountain Campground on the Toe River.
One downside to the Mt. Mitchell hike is that the summit is connected by a road. All throughout the year, people flock to the summit to enjoy the epic views of the Blue Ridge Mountains.
Like most of the eastern US, the fall colors on and around Mt. Mitchell are nothing short of stunning. Bring along plenty of food and water to fuel your summit hike!
23. Petrified Forest Loop, North Dakota
Length: 10.6 miles (17 km)
Days: 1 (7-9 hours)
Best time to hike: May – September
Nearest Town: Cripple Creek
The Petrified Forest in North Dakota is unlike any other place you have ever been. This is a land of surreal landscapes, American buffalo, elk, antelope, and petrified wood specimens that have seemingly turned to stone.
The good news? The Petrified Forest loop isn't strenuous and can be enjoyed in one day. A majority of the hike is through rolling grassland. You will be humming "where the buffalo roam" to yourself in no time.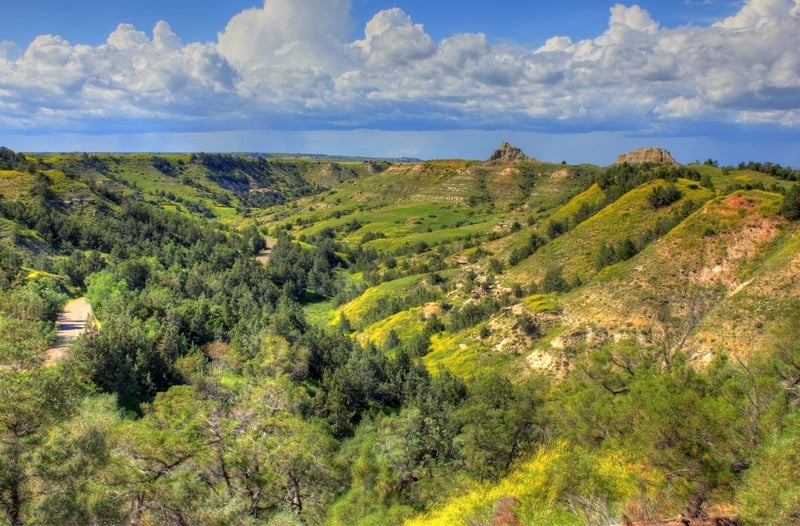 There isn't a reliable water source to be found on this hike, so plan accordingly.
To access the Petrified Forest Loop, go west on I-94 then take exit 23. Go north along Forest Service Road 730 and follow the signs for the Petrified Forest.
Note that the north trail has a larger concentration of petrified wood. Prepare to have your mind blown.
24. Mt. Washington Summit via Tuckerman's Ravine, New Hampshire
Length: 8.4 (17 km)
Days: 1 (8-10 hours)
Best time to hike: June – September
Nearest Town: Gorham
The challenging north-east summits just keep on coming. Mt. Washington is located in New Hampshire's beautiful White Mountains; this summit will challenge just about anybody who isn't a super athlete (and even they will feel the burn).
The distance of the Mt. Washington summit hike may not seem overly long, but don't kid yourself. This hike is intense and needs to be taken seriously.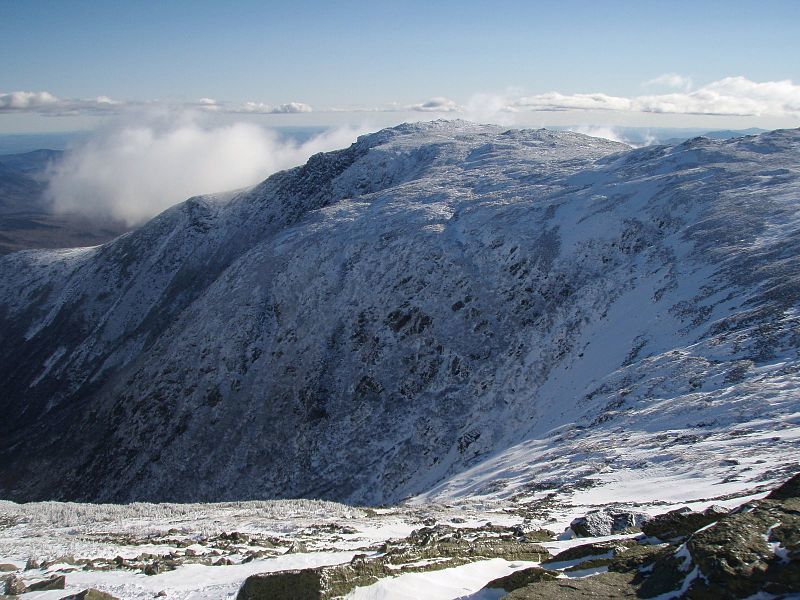 That said, it is absolutely one of the best hikes in the USA, and easily in the top 5 regarding all of the eastern US.
The mountain is notorious for its erratic weather. On the afternoon of April 12, 1934, the Mount Washington Observatory recorded a wind speed of 231 miles per hour (372 km/h) at the summit! Bloody hell! Above all else, Mt. Washington needs to be approached with respect.
Keep in mind that the Boott Spur Trail offers better views in fine weather, but does take longer than the approach via Tuckerman's Ravine.
25. Appalachian Trail, Georgia –  Maine
Length: 2,190 miles (3,524 km)
Days: 4-6 months +
Best time to hike: March – October
Nearest Town: Hot Springs (you'll pass lots of other towns on the way)
Last but certainly not least, we have come to the Appalachian Trail. I hiked 1,200 of the 2,190 miles of the AT in 2015, and even now a week doesn't go by that I don't think about returning to complete it.
The Appalachian Trail casts its siren song over many backpackers; though in reality, the AT is fully completed by few (myself included). The AT is without a doubt one of the best hikes in America for long-distance hikers. This hike is unlike any other on my list; an AT thru-hike takes months to complete and requires steadfast motivation day after day.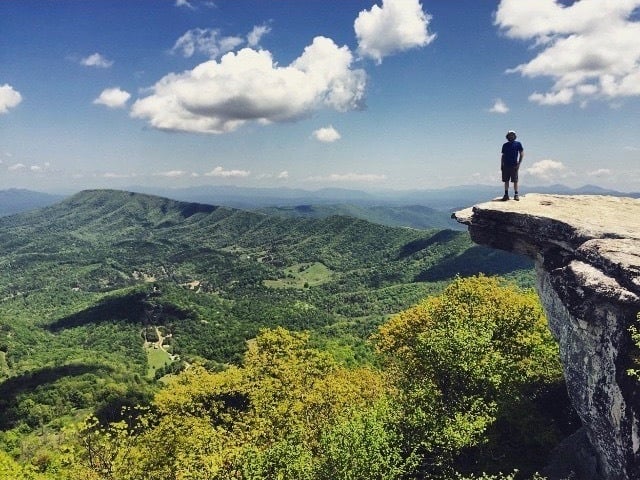 My time on the AT is among some of the most memorable experiences of my life. If you are able to hit the pause button on all of life's responsibilities for a couple of months, go a do the damn thing.
Be careful though, long-distance hiking is addicting. Furthermore, the community of hikers you meet along the trail bond in a way similar to that of a military band of brothers (and sisters).
Be sure that an Appalachian Trail thru-hike is very challenging. Of course, there are few achievements in life that can match a successful thru-hike… The best things in life are never easy. That is certain.
Books to read on the Best Hikes in the US
Get to know some of America's beautiful landscapes and hikes in greater detail through some of these fantastic reads:
Do You Need Insurance?
Do you need Travel Insurance for your hike? Even if you're only going for a few days, that's more than enough time for a 127 days scenario. 
Travel mishaps can and do happen and it is well worth thinking about insurance before you leave home.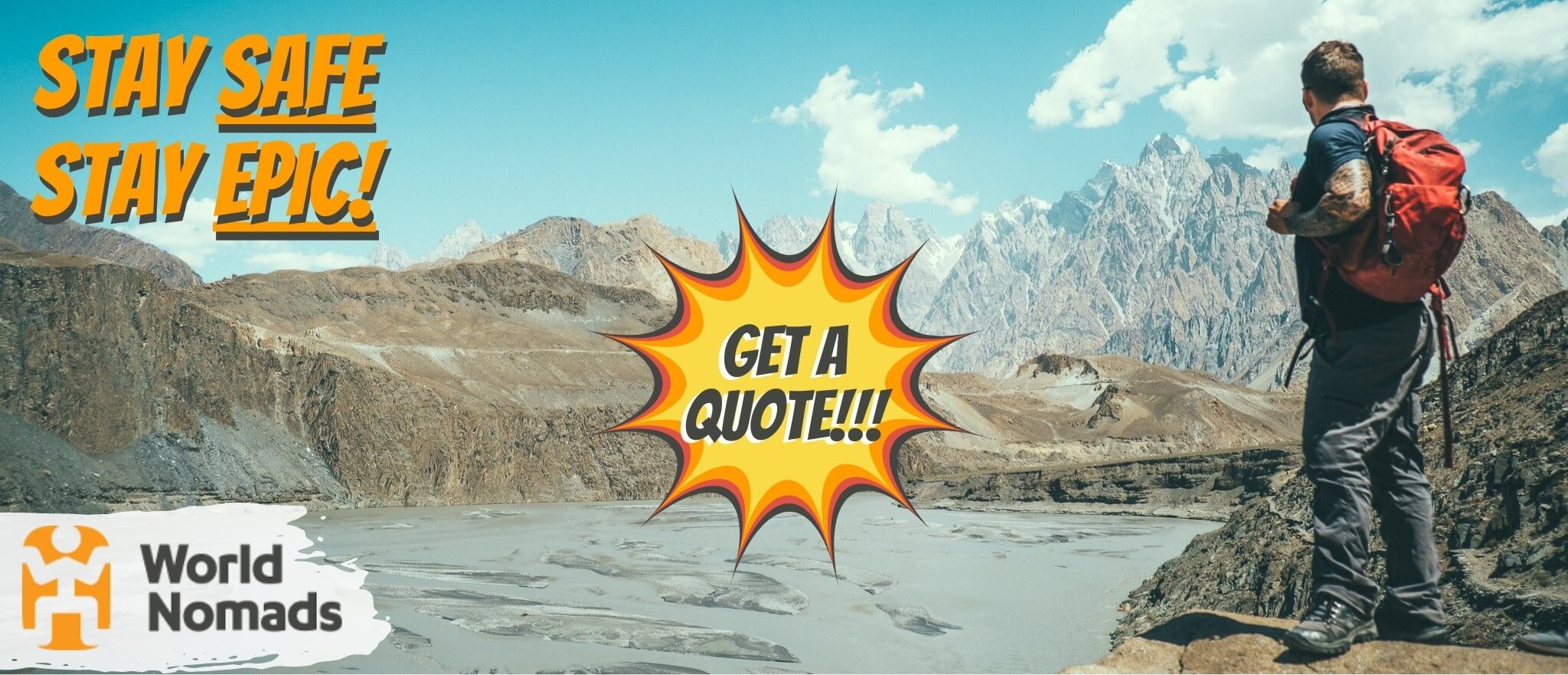 World Nomads' mission is to support and encourage travellers to explore their boundaries. They offer simple & flexible travel insurance, and safety advice to help you travel confidently.
They've been doing it since 2002 – protecting, connecting, and inspiring independent travellers just like you.
Get a quote below or read our in-depth review!
Final Thoughts on the Best Hikes in the USA
By now, I am sure your inspiration is firing and you're keen for an adventure of your own.
America is truly a hiking playground. There are so many amazing places to explore. I hope this guide to the best hikes in the USA was helpful, and most importantly, I hope it has inspired you to take a few (if not all) of these hikes on.
I deeply love my country's wild places. They hold a special power as you will soon experience. Do your part to help keep them clean and beautiful, and always practice leave no trace principles when camping or trekking in the backcountry.
Wherever your hiking path will lead you, please be respectful to the environment along the way. Always hike out your own trash and reduce (or eliminate!) the amount of single-use plastic. Pick up a water bottle and/or a water filter and use them!
Most of all, have the time of your life getting to know some of these epic American hikes for yourself.
---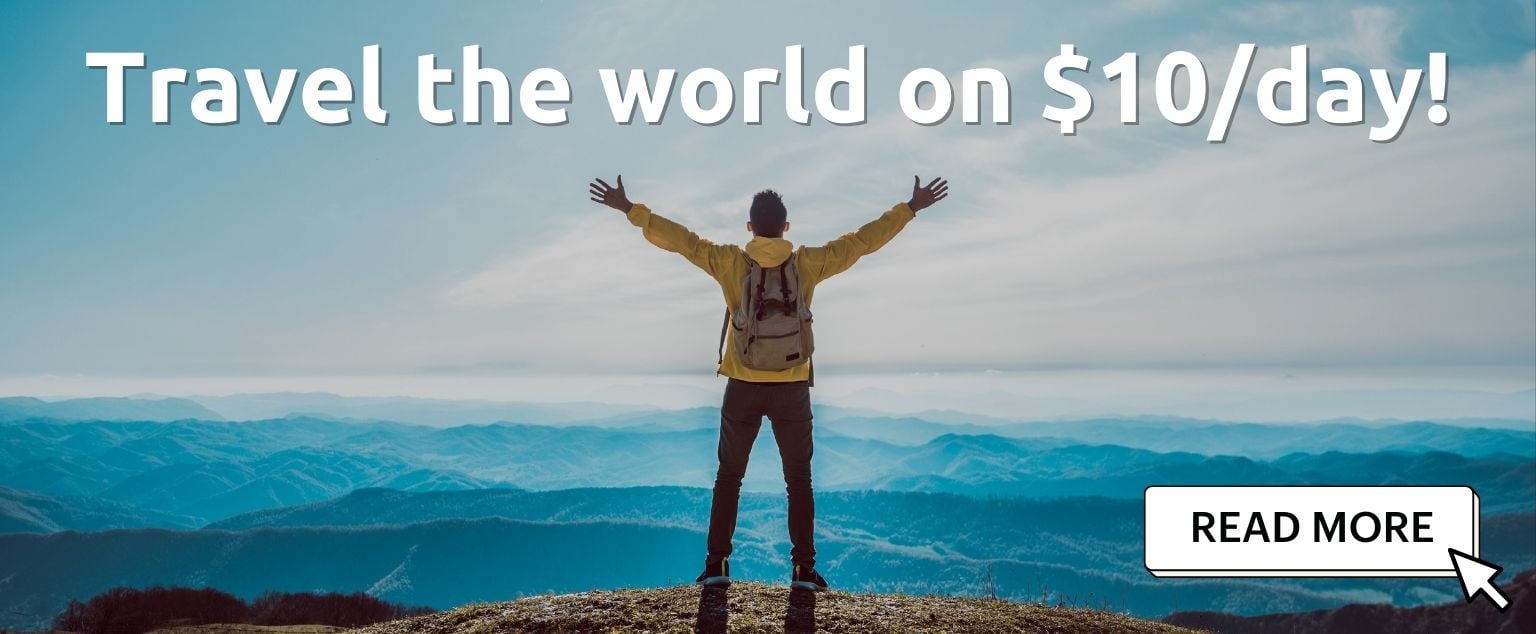 And for transparency's sake, please know that some of the links in our content are affiliate links. That means that if you book your accommodation, buy your gear, or sort your insurance through our link, we earn a small commission (at no extra cost to you). That said, we only link to the gear we trust and never recommend services we don't believe are up to scratch. Again, thank you!