Colorado has long been known as a hiker's paradise. The state's greatest treasures are the epic Rocky Mountains that practically engulf the entirety of it.
There is such an overwhelming amount of trails here that sorting through all of the best hikes in Colorado can actually be a bit of a pain. As someone who used to live in Colorado, I can attest that my biggest problem was almost always choosing where to go in the first place!
There is almost no end to the number of trails and backcountry treks in this part of the world, and most, if not all of them, are worthy of your attention.
In the end, I formulated my own list of top hikes in Colorado, which became my bucket list. These were the cream of the crop; the ones that I absolutely had to do. Through countless hours of research and speaking with other locals, I knew that these were hands-down the best of Colorado.
It is my pleasure to share this list of Colorado's best hiking trails with you! I love nothing more than inspiring people to visit some of the most beautiful places in the world.
I am very confident that trekkers will be satisfied, nay astonished.
Let's get hiking!
A great hike can quickly go south if your gear is not up to the challenge. Rain, thunder, wind, cold, heat; all of these could potentially ruin a great trek and leave you in a dangerous situation. It would be such a shame to start one of the best hikes in Colorado and have to turn back because you weren't prepared for the elements.
In order to be prepared for adverse situations, you absolutely must have the right equipment. I cannot tell you how many times I've seen hikers with poor equipment (seriously, some have been barefoot) bail out early because the going was too tough.
At the Broke Backpacker, we take outdoor supplies very seriously. We've spent hundreds of hours testing, reviewing, and abusing a lot of gear, and have become pretty good at separating the heroes from the zeroes.
It is my pleasure to share my experiences with you so that you may become a better adventurer.
Below are a series of gear reviews that will put you in touch with everything you need to have a successful, enjoyable, and safe hiking adventure.
Don't be a rook and bring a brand new pair of hiking boots or use your smartphone as a flashlight. Invest in quality items and you'll find that your adventure will only get better.
Note: Most of these hikes are located in the Rocky Mountain National Park, which means that the best and maybe only months to hike them is from July to October.
You can attempt many of them during the winter with the proper gear and preparation, but I must remind you that the Rocky Mountains are very cold at this time. If you're not well equipped enough, I'd recommend checking out the amazing road trips Colorado has to offer and come back at the right time next year.
Choose the Right Gear Before you Visit Colorado
Before you hit the hiking trails, you're going to need to prepare yourself. Here are all the items I recommend you take with you on your hiking trip.
Now you know what to pack for the hiking trails in Colorado, it's time to take a look at the best hikes in the state.
From exploring one of the best national parks in the US (Rocky Mountain, of course!) to the challenging Royal Arch Hiking trail, you'll find a Colorado hiking trail that caters to every level of fitness and experience on this list.
1. Four Passes Loop
The Four Pass Loop is not unheard of – for years people have known that this is one of the top 10 hikes in Colorado. I know several hikers who have done this loop multiple times because once is never really enough to satiate them. It's also one of the best scenic hikes in Colorado.
The Four Pass Loop starts at the extremely popular Maroon Bells Lake, which is already one of the most popular places in Colorado. Walk a bit down the Maroon Scenic Lake Trail and the crowds begin to thin a little.
The hike truly begins once you reach the West Maroon Trail/Snowmass Trail Fork.
Pick either trail at the fork (both form the loop and lead to one another) and start walking up. For the next 3-5 days, you'll be circumnavigating the Maroon Bells-Snowmass Wilderness and the Elk Mountains. Via these four passes, you will be afforded astounding views of the Rocky Mountains.
Most of the time, you will have up close and very personal views of mountains like Trail Rider, Snowmass, and Maroon Peak.
There are several waterfalls along the way and, depending on the time of year, endless fields of wildflowers. There are several geologic wonders in this area so expect all sorts of hues from red to blue to green.
I'd recommend finding a nice place to stay overnight before you start your travels. Note that you must arrive very early to Maroon Lake if you wish to use the parking lot. The lot is closed in the summer from 8am-5pm due to heavy traffic.
There is a shuttle bus otherwise which departs every 20min from the Aspen Highlands Ski area. If you don't want to drive to the pick-up point yourself, you can take the bus from Downtown Aspen directly to the Ski area. You can find out more details about the Loop Pass online – make your you do your research before you start your adventure.
2. Ice Lakes Basin
The Ice Lakes Basin is a very popular hike for a very good reason – the eponymous Ice Lake is arguably the bluest in the entire Rocky Mountains.
Many people gasp at the sight of such pure azul colors and remark that this is the best scenic hike in Colorado, period. The lake itself is worth the relatively moderate hike; throw in some spectacular wildflowers and a theater of 13ers and you've got yourself a no-brainer.
The hike starts near South Mineral Campground, which is located near Silverton, at a manageable grade before leveling at Lower Ice Lake. By now, you will see why people consider this one of the best wildflower hikes as the basin is often carpeted with local flora.
You will be impressed by this lake but don't stop pushing on to the ultimate goal, Upper Ice Lake. The trail into the upper basin steepens considerably, but give it a good push and you'll make it soon enough.
Upper Ice Lake is the crown jewel of the trail. It is an extremely deep shade of blue, surrounded by a number of gorgeous peaks.
I suggest that you consider spending the night here and maybe even hike up to Grant/Swamp Pass. This high point offers amazing views of the surrounding landscape, but reaching it is not for the faint-hearted.
The closest cities to this trail are Silverton and Ouray. If you're staying in Ouray and want to get to the trail, drive south on Highway 550, make a right turn at Country Road 7 and head down this gravel road for almost 5 miles.
From Silverton, you'll head towards Highway 550 and drive north until the Country Road 7 turn. Take a left and follow the road until the parking lot.
3. Sky Pond
Rocky Mountain National Park offers several superlative hikes. While I love the likes of Dream Lake and Emerald Lake (the Emerald Lake trail is quite scenic, to say the least), I just can't help but love the hike up to Sky Pond a little bit more.
The rocky trail is quieter than most others in the near vicinity, with several excellent landmarks along the way, and the Sky Pond itself is rad as hell.
The hike to Sky Pond begins at the Glacier Gorge Trailhead, which is located on the extremely busy Bear Lake Road. If you're visiting during the busy season and can't make it early in the morning, you should probably rely on the local Rocky Mountain shuttle then.
Once you've started walking, the first point you'll reach is Albert Falls. This is one of the most popular waterfall hikes near Denver and, as such, is very crowded.
The crowds will begin to thin a bit beyond here and many will head to Mills Lake. You're heading for The Loch and once you arrive, you'll have probably forgotten about the hordes. The picturesque Loch is the largest of the many crystal clear alpine lakes in the area.
Beyond The Loch, the trail continues to the Lake of Glass and Sky Pond. The trail becomes rough at this point and you'll have to do a bit of scrambling, notably at Timberline Falls, but once you overcome these obstacles, you're gravy.
Both the Lake of Glass and Sky Pond will be before you; although the former is worthwhile, the latter is a real stunner. Sky Pond is known for its jagged geography, the likes of which have inspired names like The Sharkstooth.
The nearest city is Estes Park. If you drive up early enough, you can score a parking spot for your car. If you're staying in Denver or Boulder, plan in 2 hours of driving until you reach the trailhead. If the Glacier George trail parking lot is full, you can also drive to Bear Lake.
There you can find a short connector trail that brings you back to the original Sky Pond Trail.
4. Longs Peak
The 14,259 ft Longs Peak is one of the most climbed 14ers in Colorado thanks to its convenient location. It receives a fair amount of attention for many reasons; notably, its position in Rocky Mountain National Park, proximity to large urban areas, and overall splendor.
The climb to the top of Longs Peak is certainly one of the best "hikes" near Denver and arguably one of the most gratifying in the state.
As a 14er, Longs Peak comes with its own set of risks and should never be taken lightly. Avalanches, thunderstorms, rockslides, and all sorts of other dangerous unknowns can pose a fatal situation for hikers. Furthermore, serious endurance and stamina are needed to complete it.
On that note, it is always recommended that you make an alpine start to avoid getting caught in an afternoon storm. Be wary, always.
Longs Peak is essentially a glorified hike though, not so much a technical climb. Most people with good fitness and a fair amount of outdoor experience will be able to finish this climb. The Keyhole, a distinct landmark, is the only non-technical way to the peak and, though there's a fair bit of boulder hopping and exposure, many still make it to the top via this route.
If you should make it to the top of Longs Peak, then congratulations; you just knocked out one of Colorado's great 14ers. Views will abound and, on a clear day, you'll see deep into the state. I recommend bringing supplies and a backpacking tent if you're going all the way up though.
If you have no desire to make the summit, Chasm Lake – at the base of the peak – is an excellent alternative. This is one of the most spectacular crystal clear alpine lakes in the region and totally worth the hike alone.
The closest accommodation options can be found in Estes Park. From here, drive south on Highway 7 until you reach the turnoff for the Longs Peak Ranger Station. It's another mile from the turnoff to the parking lot. Note that the day-hikers usually arrive at the lot between 3-5am. So if you want to score a spot for your car, you better get up early.
5. Crater Lake via Monarch Lake (Indian Peaks)
The Indian Peaks Wilderness is the perfect alternative to Rocky Mountain National Park – it's quieter, wilder, more remote, and just as beautiful. The area's flagship trail is the one to Crater Lake from Monarch, hands down one of the best hikes in Colorado.
Note that sleeping overnight in the Indian Peaks Wilderness requires an overnight permit. You can organize one of these at a ranger station nearby or in the Denver-Boulder area. Because of the permitting situation, this has become one of the more popular day hikes.
The hike officially starts at the Cascade Creek Trailhead, which is on the other side of Monarch Lake. Monarch Lake is beyond Lake Granby and Elkdale. The trail is manageable most of the time though there are some steep sections and forks that you'll have to be aware of.
Along the way, you'll pass waterfalls, wildflowers, and the occasional rushed day hiker.
The beautiful body of water known as Mirror Lake is the first lake in the series. By this point, you should have a clear view of the most prominent feature in Indian Peaks: Lone Eagle Peak.
This peak quite literally soars above the surrounding topography and is very eye-catching. Although Mirror Lake is a tempting place to stop, Crater Lake is just ahead and even more desirable due in part to its close proximity to Lone Eagle.
I'd recommend finding a nice accommodation around Monarch Lake before you start the hike. There are quite a few camping options too if you're more of an outdoor person.
Start the hike by checking in at the Ranger Station at the parking lot and heading out on the north side of the Monarch Lake Loop (a flat, easy 4-mile loop around Monarch Lake). On the far side of the lake at ~ 1.5 miles, stay left on Cascade Trail to start the climb.
6. Missouri Lakes
The Missouri Lakes Basin is one of the best day hikes and one of the prettiest hikes in Colorado! With scenery like this, one would think that they'd have to go on an enormous thru-hike; alas, this trail is only 7 miles roundtrip.
Factor in that the trailhead is only a reasonable 2.5 hours away from Denver, and what you have is one of the finest weekend road trips in Colorado!
Starting at the Fancy Lake Trailhead, this trek begins high and ends high. There are few portions that are actually difficult; most of the incline is quite gentle.
Depending on what your idea of a reasonable drive is, the Missouri Lakes is certainly one of the easiest hikes near Denver, at least if you're looking for scenery like this.
The Missouri Lakes is a gorgeous group of high alpine bodies set in a wonderful cirque of Rocky Mountain peaks.
The basin hosting these alpine lakes is quite large and there is plenty of room to explore and make camp. On that note, I highly recommend staying the night here; all you need to do is fill out a free overnight permit at the trailhead.
The Missouri Lakes are admittedly pretty busy at times. Though given the expansiveness of the region, there are plenty of opportunities for making little excursions. Missouri Pass and Fancy Pass are two great ways to get off the beaten path but there is a lot more to see in the Holy Cross Wilderness.
The closest cities to this hike are Leadville and Vai. Note that you need to have your own car to get to the trailhead.
I'd suggest using google maps to get to the Homestake Road #704. Once you're there, continue 3 miles on this dirt road to a T intersection at 10,200 ft. Turn right and the trailhead will be on the left.
7. South Colony Lakes and Crestone Group
The South Colony Lakes Trail is the most popular hike near Denver that no one has ever heard about. Infamous among outdoor junkies for its alpine scenery and the legendary Crestone Needle, there are few hikes in the state that are as complete as this one.
The Crestone Group is located near the border of New Mexico in the Sangre de Cristo Range. Many people have already seen the western flank of the Crestone Group from the Great Sand Dunes National Park; you're going to be climbing up the eastern flank.
I'd recommend staying in Denver before you start your hike. The South Colony Lakes Trailhead is located on a rough dirt road that may require a 4×4 vehicle.
The road is almost more harrowing than the hike itself as there are large ruts and sometimes washouts. Cautious drivers may want to park down the trail a bit and walk.
The trail itself is lovely. There is a waterfall along the way and quite a few wildflowers in the summer. However, to complete it does take some real stamina and good endurance.
As you arrive at the alpine lakes, overnight camp spots will be clearly obvious. Most camp here in order to make summit pushes to either Crestone Needle or Humboldt Peak early the next morning.
Regardless if you intend to climb or not (you must be prepared to), the area is still stunning, and spending an evening here is a great experience.
8. Lost Creek Loop
The Lost Creek Loop is a very different hike than the rest on this list. Whereas many of Colorado's hikes are about mountain vista and epic views, Lost Creek is a far more intimate experience.
You'll be trading in climbing mountains for navigating gulches, but regardless of these differences Lost Creek is still one of the coolest hikes in Colorado.
The Lost Creek Loop starts at the Lost Creek Trailhead, which is near the Spruce Grove Campground. As you begin walking on the trail you may feel like the trail itself is not as well-laid as other trails.
Many hikers have said that Lost Creek feels a bit rougher than other Colorado hikes and that the trail is more of a web of smaller trails. Even when this is the case, rangers regularly come through and make waymarkers so you don't get lost.
Campsites and water, although numerous, are sometimes tedious to find. You'll need to do a bit of searching while backpacking in Lost Creek, but that's half the fun of it!
In fact, many people fall in love with Lost Creek because it offers such a different experience. Along with this trail, you'll see lots of unique landmarks, like great stone towers, huge meadows, and winding creeks.
All-in-all, this hike is a great way to mix up things up when pursuing the best Colorado hikes.
The closest accommodations can be found in Jefferson, CO. From here, drive 28 miles on Highway 77 until you reach the Lost Creek Trailhead on the left. You can leave your car there and start the hike through the Spruce Grove Campground.
9. Huron Peak
The Collegiate Peaks Wilderness hosts one of the densest collections of 14ers in the state. At 14,102 ft, Huron Peak is not the highest peak in the region (it's 9th) but it's certainly one of the most accessible if not most scenic.
For anyone looking to bag their first 14er, Huron Peak is a great introductory mountain. Thanks to its relative proximity to Denver as well as ease, Huron Peak is also one of the best day hikes in the state.
There are two trailheads to the start Huron Peak: a lower one and an upper one. The lower one is accessible to all types of vehicles; the upper one will require 4-wheel drive.
The climb up to the summit of Huron Peak is straightforward and well-trafficked. There's very little in the way of bushwalking or scrambling, but there is a pretty steep section at the very end.
The average hiker completes this hike in about 5-7 hours. Take note that you'll want to be off the mountain before 1 or 2 pm. During the summer an early start at the trailhead is necessary to avoid afternoon thunderstorms.
The summit of Huron Peak is what you'd expect from a Colorado 14er – epic. You will have unchecked views of the Collegiate Wilderness. The Apostles will be smack dab in front of you and I can only imagine how many photos have been taken here. Most spend 30-60 minutes on the summit.
The best accommodation can be found in Leadville or Bueno Vista. Both cities are less than 20miles from the trailhead.
Head towards Chaffee County 390. From here, drive 11.8 miles to Winfield Ghost Town. After making a left turn, just past the old mining town, the parking area for 2WD vehicles is roughly 0.1 miles away. The trailhead is located just past the main parking area, roughly 2.1 miles from Winfield.
10. Elk Park/Needleton Loop
The Weminuche Wilderness, found between Durango and Silverton, is probably the finest portion of the entire Colorado Rocky Mountains. It is an unparalleled beauty with rugged peaks, hidden alpine lakes, and a number of 14ers – making it one of the most beautiful hikes in Colorado.
Although there are several shorter treks in this area, no one route is better than the mighty Needleton Loop. This loop leads you through most of the Weminuche's finest portions and is not only one of the backpacking trips in Colorado, but one of the best trails in the entire USA as well.
Hiking anywhere in the Weminuche is not going to be easy. There are lots of logistics involved with this region; getting to the trailhead (Elk Park) requires a ride on the local historical train and there is no way around this, unfortunately.
Luckily, there are quite a few accommodations really close to the train station where you can rest your head before the hike.
The trail itself is often hard to discern and frequently merges with and diverges into others in the area. Only experienced hikers should attempt this one.
You will be amazed as you make into the Weminuche and start the Needleton Loop.
This is true Rocky Mountain National Park backcountry, the likes of which hides countless treasures like the gorgeous Twins Lakes, climbing Winsom Peak, and even visiting the Chicago Basin – the premier destination in the wilderness. Color me jealous, you lucky bastards.
Best Colorado Hikes – Honorable Mentions
Below is a list of excellent trails in Colorado that just barely missed the cut. While I would love to talk about all of these trails (Colorado Springs was a tough exclusion), there are just too many great adventures in Colorado.
Research some of these further for more ideas on finding the best hiking trails.
Boulder Trails – Flatirons, Royal Arch Trail, Lake Isabelle
Colorado Springs Trails – Seven Falls, Garden of the Gods, Fountain Valley Trail, Upper Fish Creek Falls
Rocky Mountain NP Trails – Colorado Trail, Dream Lake, Emerald Lake Trail, Ouzel Falls
Telluride Trails – Bridal Veil Falls, Sneffels Skyline, Blue Lakes Basin
Breckenridge Trails – Mohawk Lakes, Quandary Peak
Glenwood Springs Trails – Hanging Lake
Grand Junction Trails – Devil's Kitchen, Rattlesnake Arch
San Juan Mountains – Warner Point Nature trail
Ridgway, Ouray, Telluride – Blue Lakes Trail
Further Reading for more Colorado Hiking Trails
Want to read more about the best hikes in Colorado? Then check out this Colorado reading list to dive deeper into the state's backcountry and to blaze your own hiking trails!
Best Summit Hikes in Colorado – A guidebook outlining the 80 best summit hikes in Colorado! Includes many of the states 14ers and countless more. Written in an engaging way.
The Best Front Range Hikes – A compendium of the best hikes in Colorado's Front Range, which is where most of the state's population lies.
100 Classic Hikes Colorado – A more generic exposition of some popular hikes in Colorado. Covers a wide variety of hikes in the state including, but not limited to, some 14ers and waterfall hikes near Denver.
60 Hikes Within 60 Miles of Denver – One of the greatest things about Denver and Boulder is the sheer amount of hiking trails around them. There are countless hikes near Denver and this book makes sure that you don't drive more than an hour to find them!
Don't Forget Your Travel Insurance
World Nomads' mission is to support and encourage travellers to explore their boundaries. They offer simple & flexible travel insurance, and safety advice to help you travel confidently.
They've been doing it since 2002 – protecting, connecting, and inspiring independent travellers just like you.
Get a quote below or read our in-depth review!
World Nomads provides travel insurance for travelers in over 100 countries. As an affiliate, we receive a fee when you get a quote from World Nomads using this link. We do not represent World Nomads. This is information only and not a recommendation to buy travel insurance.
Do your part to help keep these hiking trails clean and beautiful, and always practice leave no trace principles when camping or trekking in the backcountry.
Wherever your hiking path will lead you, please be respectful to the environment along the way. Always hike out your own trash and reduce (or eliminate!) the amount of single-use plastic. Pick up a water bottle and/or a water filter and use them!
Leaving no trace also means respecting the surrounding nature. Often times there is a reason you must stick to the trails, especially in protected reserves, parks, and lands. Don't trample all over the vegetation, etc.
Most backpackers understand this, but it may bear repeating. If you love, respect, and spend a lot of time in the outdoors, do your part to keep it pristine and maybe even consider volunteering your time or dollars towards causes that help protect it.
Now get out there and crush the best hikes in Colorado!
---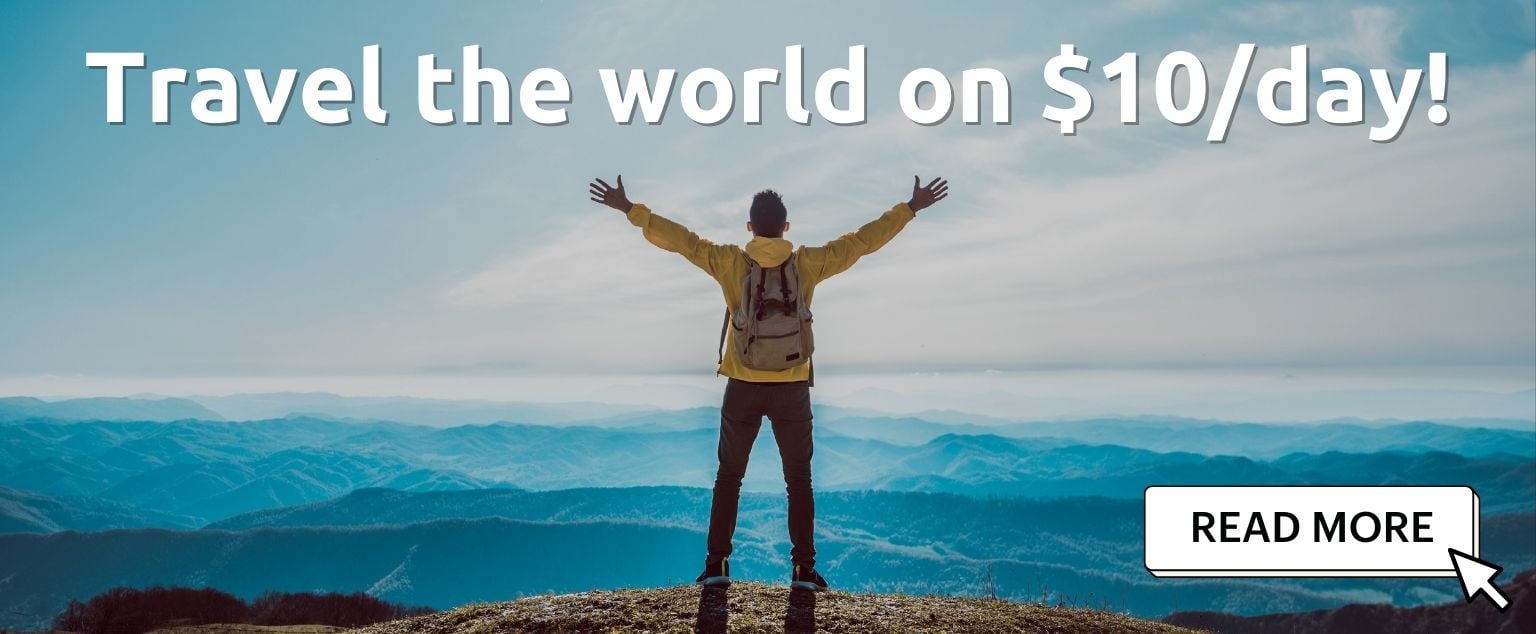 And for transparency's sake, please know that some of the links in our content are affiliate links. That means that if you book your accommodation, buy your gear, or sort your insurance through our link, we earn a small commission (at no extra cost to you). That said, we only link to the gear we trust and never recommend services we don't believe are up to scratch. Again, thank you!