Colorado has so much going for it. This American state is packed full of tons of nature, from epic mountain ranges to extreme river rapids, as well as some cool cities. Marijuana is also legal here, if that's your jam!
With so much nature and history knocking around this state, you'll naturally find about a zillion things to do in Colorado. That's a given, of course, but a lot of those things are going to be the stuff that everybody else is doing. Trying to find the hidden gems is more difficult.
So that's why we've put together this pretty epic list of the best off the beaten track things to do in Colorado. Our aim is to make life easy for you, so we've got a load of unique and unusual things to do across the state that are going to keep you busy and 100% entertained!
1. Soak up the history of Denver
Why not start your trip to Colorado by understanding the history of its capital, Denver? This city is pretty famous for its Old West feel and is full of old architecture and known for tales of gunfighters, crime families and conmen. Go and admire the frontier town atmosphere, take in views of Union Station and other landmark buildings, see what's going on.
We'd say that taking a Denver tour is best place to start when you want to see what makes a city tick is to see what you can discover when you simply wander around using the power of your own two legs.
2. Learn about Titanic survivor Molly Brown at her former house
Visiting the Molly Brown House is an architectural gem in itself; it was built in 1887 and definitely takes you back in time. But it's not just one of the best things to do in Colorado for its admittedly pretty facades. This was the house of "The Unsinkable Molly Brown". How'd she get that name, you ask? Simply by surviving the sinking of the Titanic, that's how. She happened to be traveling alone in a 1st class cabin at the time (a pioneering solo traveler). Pretty amazing – and you can earn all about her here. Perfect for any fan of Titanic.
For more Places to Stay, check out our full Colorado Neighborhood Guide!
3. Get your fill of Denver's foodie scene
Do you like food? Good, because Denver has a real vibrant culinary landscape going on and you should definitely make it your quest (we're using that word) to discover what the cuisine here is on offer. There's a lot of history layered in between the different dishes on offer, making it a good way to find out about who made the city what it is. Think Mexican and indigenous influences. Try shishito peppera la plancha combined with sheep's cheese, Rocky Mountain oysters (yes, that's a thing), Olathe Sweet Corn, to name just a few.
You'll leave a few pounds heavier, we bet.
4. Go wild in Garden of the Gods…
Garden of the Gods is quite literally one of the most stunning natural areas in the whole of Colorado, if not the entire United States. There are all sorts of famous spots to catch a glimpse of the breathtaking landscape here, from the North Cheyenne Canyon to the Helen Hunt Falls.
One of the best ways to take it in, if your legs aren't up to (and feel like tackling some offroad areas), get yourself in a Jeep and get stuck into the wildest areas that this place has to offer. Definitely one of the best outdoors-y things to do in Colorado; it's such a scenic area.
5. … Or head to Garden of the Gods for prime climbing
If a Jeep or other 4×4 just won't cut it for you, and you're actually more of an outdoors person who likes to be in it rather than just drive through it, how about climbing? Garden of the Gods also has some absolutely awesome climbing routes (Montezuma's Tower is ah-mazing) and makes for one of the best adventurous things to do in Colorado. We mean, how could you not get better views of this stunning location without climbing up high? It's not just for veteran climbers: people with different experience levels can get on board with this one.
6. Discover the cliff dwellings at Mesa Verde National Park
Dating back to well to almost 1,000 years ago, the cliff dwellings at Mesa Verde National Park represents some of the best-preserved of their kind. In fact, they're the best preserved in all of North America. Who built them? The Puebloans did, indigenous people of this region of the Americas who constructed the stunning cliff-based buildings back in the 1190s AD. These have been given names like Balcony House, and Cliff Palace, which has 150 rooms. For one of the most interesting things to do in Colorado, ranger-led tours can (and should – trust us) be arranged before your visit.
7. Take a hike in the Rocky Mountains
A trip to Colorado without hiking is like sacrilege. There's tons of places you could be getting into the great outdoors here, none quite as spectacular as the Rocky Mountains themselves. Nature trails run for miles and miles past alpine lakes and snow-capped mountains in this rugged natural wonderland. Hiking here is one of the best outdoorsy things you could do in Colorado. Don't worry: there's different hikes to suit different abilities. Lily Lake Loop, for example, is super easy and is great for all the views without much of the puff involved.
If you love nature, you might even like one of the USA yoga retreats in the Colorado mountains
8. Go see Denver Mint in action
It's not every day you get to go see how actual money gets made, so why not head on over to Denver Mint? And thankfully the only cash involved is the stuff you'll see being made: you have to part with anything because it's free. It ain't just about money though – it's history. Dating back to 1792, Denver Mint is the sole manufacturer of all those dimes and dollars in your pocket. That's a huge claim to fame and makes it easily one of the most interesting, and most unusual, things to do in Colorado. If you're a history fan, or if you're looking for stuff to do in Denver when it's raining, this is a must.
9. Ride the amazing Durango and Silverton Narrow Gauge Railroad
Running continuously since 1882, the Durango and Silverton Narrow Gauge Railroad is genuinely one of the most scenic railroads in the whole of the USA. Riding the railroad is one of the more touristy things to do in Colorado, but we literally don't care: it's amazing. Hop on one of the coaches straight outta the 1880s (the interiors are immense; get ready to blow up your Instagram) and be whisked into a past of frontiersmen and cowboys.
Originally built to transport gold and silver from mining towns, since the 1910s it's been a touristed rail journey and we can see why. The scenic route along the Animas Valley is stunningly dramatic.
10. Zipline around Manitou Springs
A great way to get an adrenaline rush and a great vista without having to climb up the side of a sheer cliff face is ziplining. It's one of our most favourite things. Colorado isn't short of places to get your fill of this sport (is it a sport?). Pretty epic, and one of the best adventurous things to do in Colorado. Head on over to Manitou Springs for a collection (5 to be exact) of some awesome ziplines strung out over the foothills at the bottom of the famous Pike's Peak. Some of these ziplines are over 600ft long, which is perfect for all you adrenaline junkies out there.
11. Learn all about weed at Seed & Smith
Well, it's no secret: Colorado has legalised weed and the rest of the US is following suite. And the city of Denver – as well as the people who live there – is hot on the heels of making the marijuana industry as legitimate as possible. You've heard of craft ales, right? Well here they have craft weed.
Seed & Smith is a good place to start learning about it the industry in America, but in the state of Colorado particularly. They even have a "sniff station" here to get your nostrils full of 420-friendly scents. Taking a weed tour is definitely one of the more unusual things to do in Colorado and one for anybody who's interested in just how the heck it all works.
12. And while you're at it, visit a Cannabis Church
You've been to a craft weed producer. You've learned all there is to know about how their gardens grow here. So now you should visit the International Church of Cannabis – and yes, that exists. Visiting this place has got to be one of the most unique things to do in Colorado. Unoccupied for a few years until 2017 when it was reopened as a church for so-called "Elevationism".
The colours inside this crazy church are a technicolor wonderland – well suited to weed, we guess! It's an interesting appropriation of a religious building: don't go expecting some hippie squat, this is some truly a very well done renovation. Bonus: the altitude of this place is "high" (rumour has it that it's exactly one mile above sea level).
13. Browse the best '80s themed shop in the world
Ok, so maybe you've partaken in some of Colorado's cannabis culture, maybe you haven't, but trust us: you do not need to be high to experience this modern marvel. Fifty-Two 80's is a shop that's dedicated wholeheartedly to 1980s Saturday morning cartoon culture, amongst other things. It's a place to come and relive childhood memories in a cave of '80s memorabilia.
Located on S Broadway Street, Denver, it's a treasure trove of everything from He-Man figurines to retro arcade games. Possibly the most amazing, but most hipster thing to do in Colorado. Embrace it though – you won't want to leave (no, really – even the staff here are friendly!).
As a state, Colorado is pretty safe. The most amount of crime, like anywhere in the US, happens in the major cities. If you want to avoid crime, the usual stuff like avoiding sketchy neighbourhoods and poorly lit streets, being aware of your surroundings and not carrying valuables around will definitely help.
Cannabis is legal, which is cool, but that doesn't mean you should go mad on it – especially if you're not used to it. Ease yourself in before hitting anything too strong. Be aware that you cannot smoke OPENLY in public.
Nature can be pretty brutal. Climbing and hiking should be done ideally with an experienced guide, but if not, tell people where you're going and prepare for any kind of weather; bears in Colorado are active from March to November, as well!
Basically it's about knowing your limits and being aware. Read our tips for traveling safely before you fly and always get travel insurance. Check out our roundup of the best travel insurance.
14. Book a room at the Stanley Hotel
Have you heard of The Shining? If you're a fan of the film, of Stephen King, or of spooky sh*t in general, we definitely recommend going to the place where it all began: the Stanley Hotel. It's here where King got the inspiration for the book, after apparently experiencing some weird stuff going on at night in room 217. For one of the best things to do in Colorado at night, book a room here, stay the night, and see what the heck's going on.
You'll also get to watch the R-rated, uncensored version of the film: it's on loop on all the TVs in every room, 24 hours a day. Pro tip: book way in advance because this place gets full up quick!
15. Have dinner at the madness that is Casa Bonita
Casa Bonita is possibly the most famous, most outrageous place to eat dinner in Denver, and is one of the very best things to do in Colorado at night. If you've never heard of it, get ready to really, really want to go: it's a replica of a Mexican village in a strip mall. This crazy restaurant seats 1,000 people at a time, makes like you're in a fiesta the whole time, features puppets, shoot-outs, and crazy characters, making it a pretty, um, special place to dine. There's cliff diving and a haunted cave, but you probably remember South Park's Cartman telling you that.
16. Go for drinks and snacks (but really for the view) at Peaks Lounge
It might not be the cheapest thing to do in Colorado, but heading up to the Peaks Lounge at the top of the Hyatt Regency is definitely one of the best things to do in Denver at night. The view from up here on the 27th floor of the Hyatt building offers up an immense vista of the city skyline. Have cocktails as the sunsets and watch the buildings of Denver begin to glitter in an urban light show that you really should capture to show off just where you are and what you're doing. To top it all off, Peaks Lounge has great service (as it should) and an awesome ambience. Definitely one of the best things to do in Colorado for couples, actually.
Looking for a specific place to stay? These are our highest recommendations for places to stay in Colorado.
This incredible ski resort in Colorado comes complete with an outdoor pool, a Jacuzzi, and free wifi. It is a short drive from Vail, the perfect place to stay for a winter and ski getaway. All of this and more makes it our number one choice for the best hotel in Colorado.
Best Hostel in Colorado: Fireside Inn
The Fireside Inn is our pick for the best bed and breakfast in Colorado. It is located just two blocks from Breckenridge's main street and is in a fantastic location for enjoying the Colorado Rockies. This hostel has large rooms, plenty of amenities, and a hearty breakfast is available. It's also considered one of the best hostels in Breckenridge, so you're in for a real treat!
Check out our favorite vacation rentals and VRBOs in Colorado for even more choice!
17. Up, up and away with a sunrise hot air balloon ride
Speaking of couples, here's an awesome thing for couples to do in Colorado: a sunrise hot air balloon ride. Yeah, yeah, we know, you have to get up super early to actually experience this, but honestly, it's worth it. On a clear day, you'll be able to see 100 miles in all directions as you watch the Rocky Mountains gradually light up as the sun rises. You'll even be able to spot wildlife like deer and coyotes from the basket as you float on by. Awesome.
18. Experience the ultimate unwind at Desert Reef Hot Springs
If the idea of floating in the air doesn't exactly, um, float your boat, then we've got another awesome thing for couples to do in Colorado: hit up one of their many hot springs. One of the best is Desert Reef Hot Springs. This geothermically heated water flows from 1000 feet below ground and makes for a mineral-rich, relaxing soak with your partner.
This is especially good if you've been hiking or simply just pavement pounding seeing the sights around Denver or something, really helps loosen up those muscles. A hidden gem of the state, a visit to Desert Reef Hot Springs ranks high in our favourite off the beaten track stuff to do in Colorado. Warning: clothing is optional.
For places to stay near hot springs, consider staying near Glenwood Springs that offers many thermal pools to dip into.
19. Gawp at the Cathedral Basilica of the Immaculate Conception
The International Church of Cannabis is one thing, but the Cathedral Basilica of the Immaculate Conception is another level entirely. Conceived in the mid-19th century and finished by 1911 and costing a cool half a million dollars, this impressive cathedral is a pretty impressive place to visit. It's the kind of thing you might expect, well, not in the USA, but here it is in all its Catholic glory.
When it comes to free stuff to do in Colorado, coming to gaze at the impressive marble altar, stained glass window, and sheer scale of this awesome cathedral (its twin spires are 210-feet tall!) is definitely up there. It's one of the coolest, least touristy things to do in Denver. Take loads of snaps.
20. Get your swim on at Grand Lake
There are plenty of places to go for a swim spread all around the state of Colorado, but Grand Lake is the largest body of water you can find: it's the largest and deepest in the state. So if you're in the area, and you're looking for free stuff to do in Colorado, well, come on down to Grand Lake and get swimming.
That's more leaning towards things to do in Colorado in summer, however. But you don't have to swim. You could simply sit on the sandy beach, or go for a boat ride, or just gaze longingly at the water from afar. It's cool to visit no matter what you end up doing.
21. Follow in the footsteps of dinosaurs along the Picketwire Canyon Trackway
Did you know that you can actually walk along dinosaur tracks? Well, you can and you can do it in this very state. It's honestly so cool and one of the more… off the beaten track things to do in Colorado. There are over 1,300 tracks making up the Picketwire Canyon Trackway and come from a line-up of famous dinosaurs like apatosaurus and allosaurus.
It costs nothing, so if you're strapped for cash and looking for free things to do in Colorado, come here. You can even see "trample zones" and areas where you can even see tail marks left in the rock. When it comes to history millions of years can't be beat, really, can it?
Books to Read while Visiting Colorado
Centennial – A sweeping epic written in honor of Colorado's bicentennial. Follows several characters from all walks of life as they try to make something in the then New American West.
On the Road – A tour-de-force of the Beatnik movement and arguably one of the greatest travel novels ever. Follows the wanderings of the wild and dazed Denverian Dean Moriarty through the eyes of Sal Paradise. A large portion of this novel takes place in Colorado.
Plainsong – Intertwining stories from the inhabitants of Coloradan town in the East Plains. Gorgeous book that has received numerous accolades.
22. Get cultured at Denver Museum of Nature and Science
When you're away with kids, the top priority (basically) is to keep 'em entertained and at Denver Museum of Nature and Science, you can do just that. We mean, what pre-teen adolescent doesn't love space? Or dinosaurs? Because there's plenty of all that stuff going on here. The planetarium is pretty cool actually. It even makes for one of the best things to do in Colorado when it rains because there's nothing worse than getting totally rained off indoors with bored, restless kids practically scuttling up the walls of your hotel.
We love the part here where you get to discover your own fossils! Or learn about Egyptian mummies. We told you: there's tons to do!
23. Go for thrills and spills at the 111-year-old Lakeside Amusement Park
It's not just any old amusement park – but it is old. Lakeside Amusement Park was opened back in 1908 on the shores of Lake Rhoda and is still a family-run affair to this day. Take a picnic along and visit the park for one of the most fun things to do in Colorado with kids. Complete with views of the mountains from the tops of the rides, you can try out bumper cars or hit the roller coaster. If you're travelling with young children, no sweat – there's even rides for smaller children here too. Then again, visiting this slice of history is a pretty cool experience, no matter what age you are.
24. Taste some of Denver's top beers
We've learnt already that Denver has some pretty interesting craft weed companies setting up shop, but way before all of that was another legal intoxicant: beer. There are a lot (and we mean a lot) of local breweries to discover around the Denver area, so if you're into your beer this could quite easily be the best thing to do in Colorado.
Some particularly well-known names you should hit up are The Grateful Gnome (yes, that's its real name), Novel Stand Brewing Company, and Bruz Beers, to name just a few. Visiting these places you should be able to get a few tasters of what's going on in the craft beer scene. Just make sure to check the opening times.
25. Whet your appetite at Boulder Farmers Market
Denver may have a good food scene, but so does the city of Boulder. One of the best places to see this in action is at the Boulder Farmers Market. Dating back to 1972, it's open on Saturdays and Wednesdays and serves up a load of fresh produce to marvel at, kooky crafts to pick up, and some excellent live music – we mean, who doesn't love a good market?
There's also some truly awesome street food to tuck into. Eating your way around the market, doing a spot of people watching and generally soaking up the atmosphere is one of the more hipster things you could be doing in Colorado, but who cares? It's one of THE best markets in the entire country! Everything is locally grown and sourced.
Check out the hostels in Boulder for your stay in this fun city.
26. Go on an epic rafting adventure along Royal Gorge
The Royal Gorge is a pretty epic spot. Hosting the tallest suspension bridge in the world, the soaring walls of this cut in the Earth tower 1,000 feet above the raging Arkansas River. If you're up for the challenge, how about some white river rafting to best soak up the dramatic natural scenery? Even though it's one of the most adventurous things you can do in Colorado if you're a first-timer, don't worry: it can be done! It's the sort of experience that'll either make you think, "wow, I really need to do this again!" … or "that was terrifying, let's never do that again." Who knows? But you won't know unless you try!
27. Drive the super scenic Loveland Pass
If hiking, ziplining, rock climbing and white water rafting constitute way too outdoors-y stuff for you to be getting up to in Colorado, that's ok. There's plenty of ways to see the true scale of the scenery of this state without even getting out of your car. The Loveland Pass is one of those ways. Passing through the Rocky Mountains at 11,990 feet above sea level, the views from here are going to be pretty spectacular. Some say it's the highest mountain road that's open even when there are snowy conditions. It can be pretty hairy if you drive it during snow season (you will need snow chains!) and even in spring and summer there's still a risk of altitude sickness. If you want adventurous stuff to do in Colorado, note this one down!
Colorado is a pretty big state. You'll be basing yourself in a city (we'd recommend Denver), but being the home of the Rocky Mountains and a whole load of historic mining towns, there are some awesome day trips in Colorado that you can fill your time with. We've chosen a couple of the best to give you an idea of what sort of coolness is available.
Ride the train in Georgetown
Just a few hours' drive from Denver lies the historic settlement of Georgetown. Besides its heritage buildings and districts steeped in silver mining history, Georgetown (established in 1859) is a chilled out mountain town to explore for a day. But here it isn't just about pavement pounding and ducking into a few cute cafes and eateries along the way. It's also about the train.
That's right: the Georgetown Loop Railroad takes you out of the city on a narrow gauge railway, along and across Clear Creek, for some prime mountain views on a history-laden steam train, complete with vintage carriages to match. Any sort of person wanting to soak up the past of this area will enjoy this one, but if you're a train fan… this day trip in Colorado is going to make your head explode. In a good way.
Take a hike at Pawnee National Grassland
Yes, it sounds like something from Parks and Recreation, but disappointingly it actually isn't. That said it's only disappointing if you thought you were getting a tour of the office from Leslie. What the Pawnee National Grassland is, well, it's a chance to hike in some pretty breathtaking, majestic scenery – but it's not the sort of scenery you'd associate with Colorado.
A lot of people come to this state for its mountains. Granted, there are a lot of those. But the Pawnee National Grassland is a vast area of flat, seemingly unending grasslands where you can hike along 20,000 kilometres of trails taking in the vast steppes-like, prarie style environment with a few freak stacks dotting the alien landscape for good measure.
Located in the South Platt River Basin, the rolling hills is a good place for spotting everything from birds to antelope. Nature-lovers will love this portion of wilderness. And getting there is as simple as an hour-three-quarter drive from Denver.
Ski- and nature-lovers looking for a getaway should definitely check out Steamboat Springs! This area of Colorado is laden with natural beauty and quiet slopes.
Figuring out just how to plan your trip to Colorado can be tricky. Ok, so you've got a load of things to do, and a ton of day trips in Colorado to keep you occupied, but how do you fit them all in? Good question. And it's one that we'll be answering with our handy 3 day itinerary for Colorado to help you organise that schedule of yours with only the best things to do in Colorado.
Quick side note: having one or multiple places booked to stay overnight is a great way to start a successful trip. Check out these amazing Airbnbs in Colorado for the ultimate home to recharge before starting the next adventure.
Day 1
Begin your Colorado trip in Denver – that's the best base, we'd say – by learning about the history in the capital of Colorado itself. The sights here date back to the Old West era and a good place to start is Union Station: it's not just a transit hub, it's a vibrant landmark in itself with loads going on. Feels (looks) like Europe. From here walk 10 minutes to the oldest part of the city, Larimer Square.
Soak up all pretty buildings and charming streets along the way. You can even find something to eat in this part of town if you need it – The Market at Larimer Square is a deli (read: good option). But if you can hold out, we'd recommend jumping on a tour with a local who'll be able to show you all the tastiest treats in town. Locals know best.
After your afternoon of devouring basically everything in sight, chances are you'll be thirsty. So why not balance out all that food with a beer or two? Denver boasts some of Colorado's top breweries and is famous for its craft (and historic) beers. Check out Novel Stand Brewing Company in the Baker area for a tasting session, or head north for Belgian-style brews at hip taproom Bruz Beers.
Day 2
One of the most unmissable things to do in Colorado is to hit up the Rocky Mountains for a spot of hiking. It's a no-brainer. An hour and a half drive outside of Denver, join one of the many, many trails. We'd recommend Twin Sisters Peak (which is even more reachable if you're staying in Boulder). It's quite challenging though and will take pretty much all day.
If you opted for a shorter hike (like the flat but still beautiful Lily Lake Trail), then you'll have time for some afternoon fun. Let off some steam on the way back into Denver at Lakeside Amusement Park. It isn't any amusement park though: it's over a century old. Ride the rides, get some lunch at one of the easy eateries here, and then head back into the city.
Since you've been hiking, you'll be sweaty. Take a shower then head out again for a bit of glamour at Peaks Lounge at the Hyatt Regency. This isn't just a fancy dinner and drinks situation because you'll mainly be here for the views. They are litrerally amazing. Come for sunset and watch the city light up as you sip cocktails. Not the cheapest thing to do in Denver, but definitely worth that skyline vista.
Day 3
Start your day the right way at Denver Diner. This is a classic, classic place that's open 24 hours a day and offers up a huge speciality breakfast (one is called "Stoner's Delight" FYI). Suitably stuffed, roll yourself for 6 minutes to Denver Mint. Opening at 8am, this place is literally the only place that still produces American coinage. Pretty cool to see it all happening. Tip: it's closed Fridays and the weekend.
From Denver Mint hop on the number 5 bus (or get a taxi) and you'll arrive at Seed & Smith in a matter of 20 minutes or so. Here's where you can learn all about the world of recently legalised marijuana. It's a squeaky clean dispensary and much more than just a bunch of stoners selling weed. If you've partaken, never fear: there's a McDonald's a stone's throw from here.
For an amazing finale to your time in Colorado it's a 25 minute drive or taxi ride to the wonder that is Casa Bonita. This mad Mexican-themed restaurant-slash-entertainment palace pairs up nicely with the visit to the weed dispensary because, well, it just does. Trust us. Alongside their all you can eat deal, there's otherworldly treats on offer. Fried ice cream anyone? Stuff your face and watch the cliff divers.
Don't forget your travel insurance for Colorado
World Nomads' mission is to support and encourage travellers to explore their boundaries. They offer simple & flexible travel insurance, and safety advice to help you travel confidently.
They've been doing it since 2002 – protecting, connecting, and inspiring independent travellers just like you.
Get a quote below or read our in-depth review!
World Nomads provides travel insurance for travelers in over 100 countries. As an affiliate, we receive a fee when you get a quote from World Nomads using this link. We do not represent World Nomads. This is information only and not a recommendation to buy travel insurance.
Here are some quick answers to common questions about what to do and see in Colorado.
Colorado definitely isn't some hidden island out there in the ocean. But it is a vast American state which will constantly throw up surprises and you'll always be finding off the beaten track things to do in Colorado. From its nature to its urban centres, this state could keep you occupied for a long time. And whether you're looking for stuff to do with your family, a few romantic things to do with your partner, or if you just wanted to find a few kooky, weird things to do in Colorado, our guide has you covered with some pretty interesting activities. Make sure you set aside plenty of time, though!
---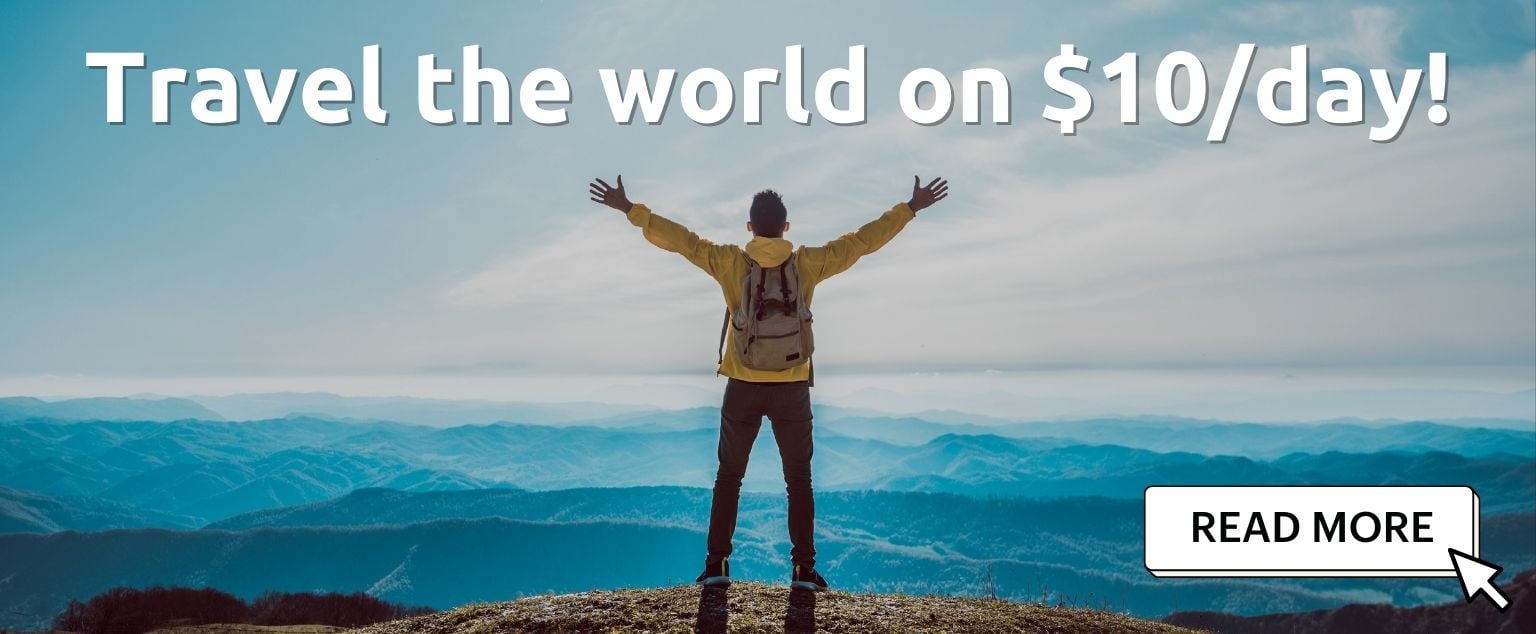 And for transparency's sake, please know that some of the links in our content are affiliate links. That means that if you book your accommodation, buy your gear, or sort your insurance through our link, we earn a small commission (at no extra cost to you). That said, we only link to the gear we trust and never recommend services we don't believe are up to scratch. Again, thank you!