Home to the tallest mountains in the North American Rockies, the US state of Colorado boasts many stunning landscapes. A playground for fans of the great outdoors, the state also boasts fascinating cities and towns with a plethora of things to see and do.
Covering more than 260,000 square kilometres (100,000 square miles), Colorado is the USA's eighth-largest state. Deciding what to add to your Colorado itinerary can be a challenging task!
We've thoroughly researched the Centennial State to bring you the ultimate list of the best places to visit in Colorado. With a blend natural treasures, national monuments, thriving cities, and offbeat towns, planning your Colorado trip should be a whole lot easier.
There are bound to be some places on this exciting list that surprise you!
Need a place quick? Here's the best neighbourhood in Colorado:
BEST AREA IN COLORADO
Denver
Denver is our recommendation for where to stay if you're visiting Colorado for the first time. Here you can explore the state's rich history and visit some of its most amazing galleries.
Places to visit:
Visit the Colorado State Capitol Building.
Stop and smell the roses at the Denver Botanical Gardens.
Choose from more than 70 excellent beers on tap at the Falling Rock Tap House.
Now onto the fun stuff! Here are the best places to visit in Colorado!
These are the BEST Places to Visit in Colorado!
As the 8th largest state in the USA, you're probably wondering about how you're going to see all the places you are about to discover below AND where to find accommodation. Be sure to check out where to stay in Colorado for our top picks on where to stay and explore a while. Now, onto the fun stuff…

Unlock Our GREATEST Travel Secrets!
Sign up for our newsletter and get the best travel tips delivered right to your inbox.
#1 – Denver – Possibly one of the most important places to visit in Colorado
State capital city
Numerous museums
Many microbreweries
Plenty of diversity
Why it's awesome: One of the best things to do in Colorado is visiting Denver. Sitting at the point where the Rocky Mountains meet the Great Plains, Denver (nicknamed the Mile-High City) is Colorado's cosmopolitan state capital. Proud of its mining and cowboy roots, the city is a lively hive of activity with a vibrant arts scene, interesting and diverse neighbourhoods, plentiful biking trails, myriad museums, and a booming nightlife.
Did you know that Colorado produces more beer than any other US state too? The city also boasts great shopping, pretty parks, a sense of environmental responsibility, and a thriving performing arts scene. With plenty to see and do and something for all ages, there are many reasons to explore Colorado's capital.
What to do there: Discover tons of cool new facts and see a wide range of exhibits at Denver's diverse museums. Step back in time at the beautifully preserved Victorian gem that is now the Molly Brown House Museum, former home of a Titanic survivor. Learn how pioneers of colour greatly assisted in the Old West at the Black American West Museum and Heritage Centre, gaze at the skies at the Chamberlin Observatory, admire eye-catching pieces in Denver Art Museum, and take kids to the hands-on Children's Museum of Denver.
Admire the glorious domed building that is the Colorado State Capitol, take a summer gondola ride, and relax in beautiful parks like Washington Park and City Park. Denver Zoo is a great place for a family day out, and everyone is sure to have fun at the large Elitch Gardens amusement park. Tour the city's many microbreweries, and shop till you drop at Larimer Square and Cherry Creek Shopping District.
#2 – Dinosaur National Monument – Awesome place to visit in Colorado with kids!
Dinosaur fossils
Ancient terrain
Rock carvings
Outdoor activities
Why it's awesome: Close to the border between Colorado and Utah, Dinosaur National Monument is a fascinating desert landscape where, per the name, dinosaurs once roamed. Remnants of pre-historic creatures can be seen in the fossil beds. The red-coloured rocks are around 150 million years old and date back to the Jurassic Era. The area also has fascinating ancient petroglyphs, detailed rock carvings created by pre-Columbian peoples. The views across the national monument are incredible and there are varied outdoor adventures for people of all ages.
What to do there: If you have your own vehicle, drive through the craggy countryside and soak up the splendid vistas. Get active on an assortment of cycling and hiking trails and enjoy horse riding, camping, and fishing in the area too. Pack a picnic and dine al fresco as you admire the views. Marvel at ancient dinosaur remains embedded in the sandstone rocks; the best way to discover the top spots is on a tour with a ranger.
Don't forget to pick up a free activity pack for kids. You can see even more fossils in the fascinating Dinosaur Quarry Exhibit Hall. Find ancient rock art created on the landscapes by the Fremont people and be in awe of the people and creatures that went before you on the lands.
#3 – Aspen – Easily one of the most fun places to check out in Colorado
One of Colorado's top winter ski resorts
Great summertime outdoor activities
Beautiful scenery
Star-studded and luxury vibe
Why it's awesome: Located in the Rocky Mountains, Aspen originally started life as a mining town. By the mid-1900s it had become a popular ski resort and by the end of the 20th century, Aspen had begun to attract a number of famous faces. The luxurious ambience continues to attract affluent holidaymakers and celebrities today. While in the winter months is one of the best places in Colorado for terrific snow sports, it's also a summertime treasure, with plentiful ways for visitors to enjoy the great outdoors. Downtown is a high-class shopping and entertainment area, with many top-notch boutiques and stores, awesome restaurants, lively bars, spas, and salons. There are also a number of historic buildings in the town too, offering a glimpse into the area's past.
What to do there: Whether visiting in the summer or winter, Aspen Mountain is a Colorado must do with many accommodation options, including some of Colorado's best VRBO's in the area. Winters offer excellent skiing and snowboarding on the challenging slopes and in the summers you can enjoy long hikes surrounded by nature and admire picturesque vistas from the Silver Queen Gondola. Snowmass and Buttermilk Mountain are other winter hotspots in Colorado. Other summer activities include golfing, fishing, trekking the rugged terrain of the Aspen Highlands, and hiking the family-friendly trails of Rio Grande and Grottos.
If you want an adrenaline rush, have a go at paragliding, mountain biking, and white water rafting. See the stunning twin peaks of Elk Mountain, known as the Maroon Bells, stroll past historic architecture like the Elks Building, Hotel Jerome, Pitkin County Courthouse, and Aspen Community Church, admire art at Aspen Art Museum, and catch a live performance at Wheeler Opera House.
#4 – The Garden of the Gods – Certainly one of the most exotic places to see in Colorado!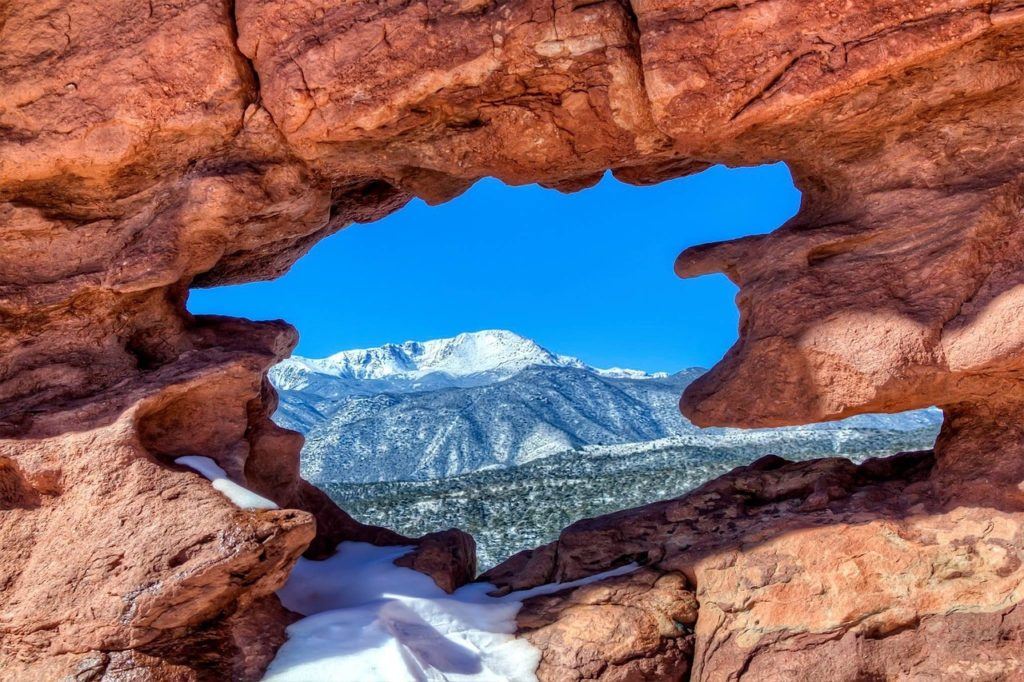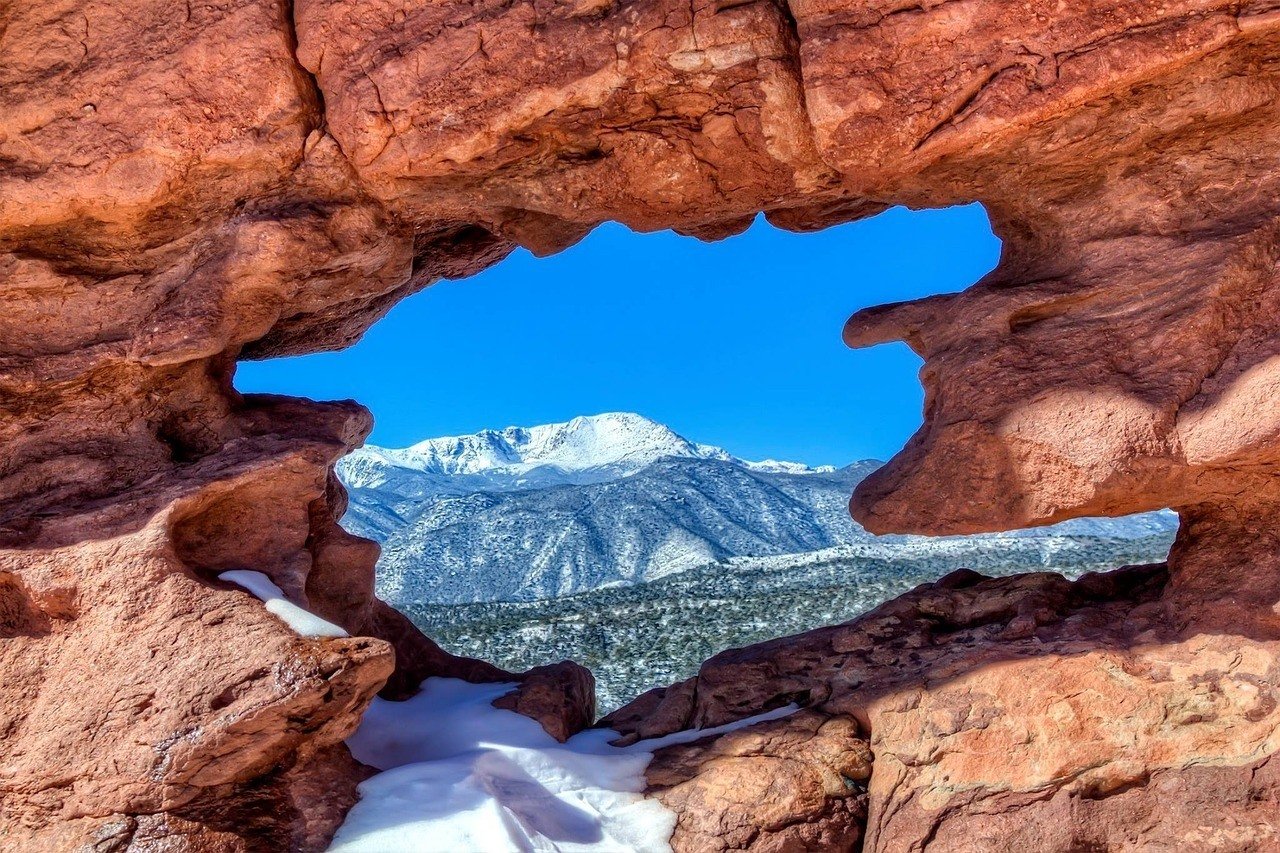 National Natural Landmark
Splendid scenery – bring you camera!
Geological wonderland
Family-friendly destination
Why it's awesome: Located in Colorado Springs, The Garden of the Gods is a stunning natural treasure. Today, it is a public park and a National Natural Landmark. The striking rock formations that The Garden of the Gods is famous for are several million years old. Ancient peoples once visited the area and various native groups have a strong affinity with the unusual landscapes. The park has a rich eco-diversity and visitors can enjoy a variety of outdoor activities and educational experiences. There is no admission fee for the park.
What to do there: Start your visit at the Garden of the Gods Visitor and Nature Center to pick up a map, learn more about the park's formation and past, see exhibits related to the park's nature and geology, and buy souvenirs. Snap pictures of the park's most famous formations, including the Three Graces, Cathedral Valley, Sentinel Spires, Gray Rock, the Sleeping Giant, and the Kissing Camels. Hike and bike along well-marked trails and find lesser-travelled trails for a quieter experience in nature's splendour.
Segway and jeep tours are ideal if you want to cover more ground and save your energy! You can also explore by horseback, have a thrilling time with a rock-climbing adventure, and hunt for ancient petroglyphs. Look out for diverse wildlife too, including various species of birds, foxes, sheep, and deer.
#5 – Georgetown – A great place to see in Colorado if you love architecture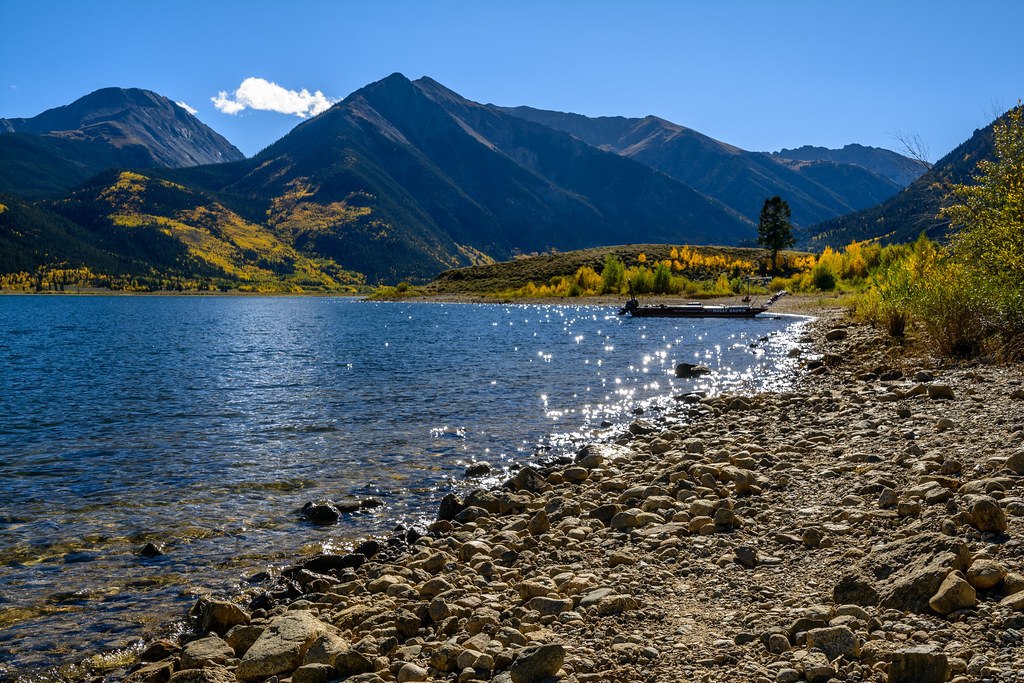 Numerous historic buildings
Hiking trails
Spectacular lake
Old mining town
Why it's awesome: One of the most famous places in Colorado for history buffs, the old mining town of Georgetown was founded in the late 1850s. Victorian-period buildings line the main street and it's a top place to peek into the past and admire the beautiful architecture. There are many interesting old buildings, including Georgetown Public School, the Masonic Temple, Grace Episcopal Church, and Alpine Hose Firehouse No. 2. There's a scenic lake close to the town and the area has excellent hiking trails – if you like hiking, consider also taking a trip to Glenwood Springs just a couple hours drive away. Local museums teach visitors more about the area's past, and there's a charming sightseeing train in the summer months. Several movies have shot scenes in Georgetown's beautiful streets.
What to do there: Call into the Georgetown Heritage Center to learn more about the town's heritage and history and to see various historic artefacts and exhibits. The Hamill House Museum also offers a peek into the past, with original features and historic furnishings within a glorious Gothic Revival building. Take a ride on the popular and charming Georgetown Loop Railroad, which was built in the 1880s. The steam train passes old silver and gold mines as it makes its way through gorgeous scenery. Admire the scenic Georgetown Lake, enjoying summertime boating and year-round fishing.
#6 – Mesa Verde National Park – One of the more unique places to visit in Colorado!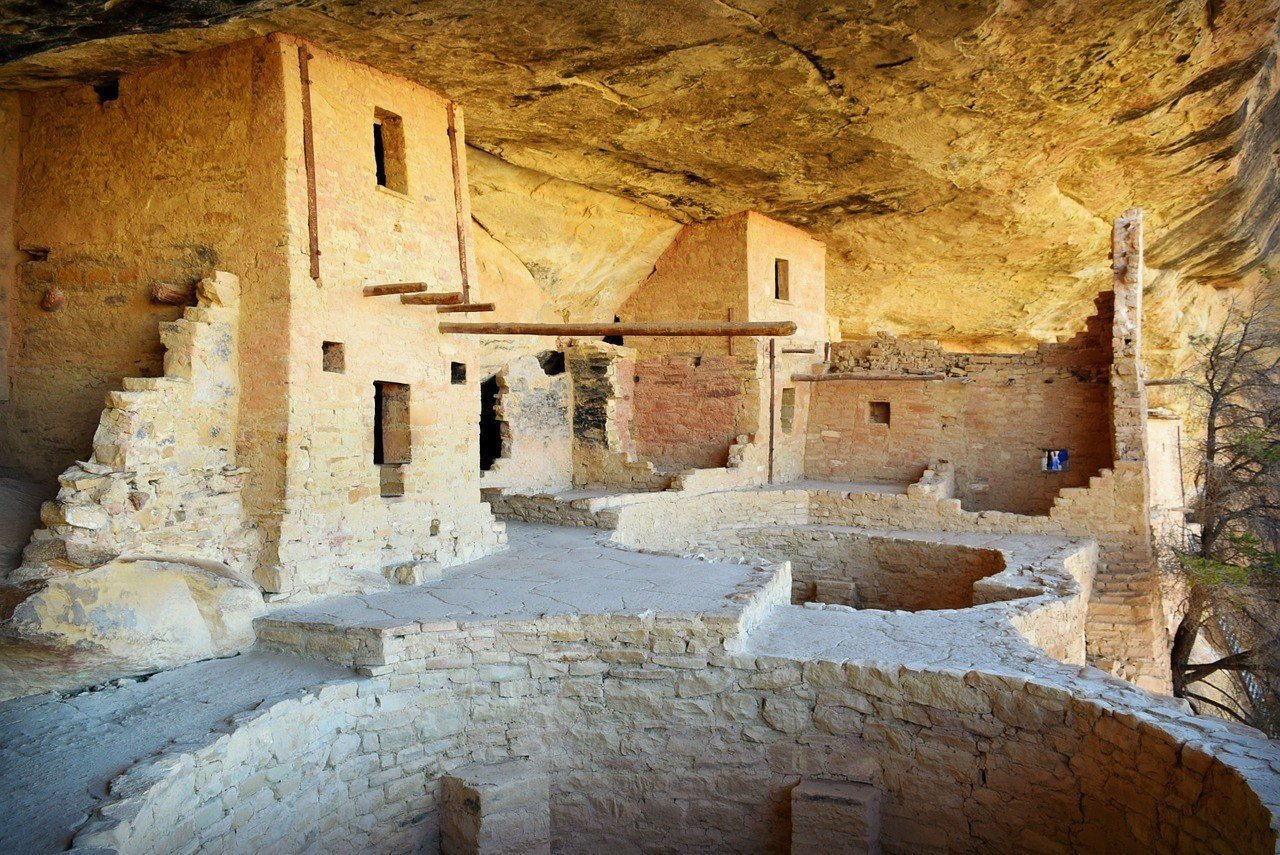 UNESCO World Heritage Site
A fascinating archaeological site with ancestral homes
Outdoor activities
Striking views
Why it's awesome: The splendid Mesa Verde (Green Table in Spanish) is the biggest archaeological preserve in the USA. A UNESCO-listed site, it is filled with ancient homes built by the Puebloan peoples. The homes date back to between 550 AD and 1300 AD and offer fascinating insights into times gone by. There are homes built into the cliffs, multi-storey abodes, and more, with more than 4,500 archaeological sites scattered throughout the scenic landscapes. Abandoned for reasons unknown, the homes were forgotten for many years until a chance discovery by two cowboys seeking refuge from a snowstorm in 1888. The site can be visited all throughout the year, though some spots will be closed in the winter months. However, cross-country skiing is allowed in some places.
What to do there: Begin your trip to the Colorado must-see of Mesa Verde National Park at the Far View Visitor Center and Chapin Mesa Archaeological Museum to learn more about the sites and the people that once called the area home. Drive along several exciting loops, including the Mesa Top Loop Road and the Cliff Palace Loop Road, where you can see both cliff homes and those built on the ground. If you want a more off-the-beaten-track experience, head to Wetherill Mesa.
Join special tours for greater understandings and discoveries, including the four-hour 700 Years Tour, tours of Balcony House, tours of Long House, and the Cliff Palace Tour. Cliff Palace is well worth a visit—it's the biggest cliff home in the park and has more than 150 rooms! See ancient rock art along the Petroglyph Point Trail, hike in glorious surroundings, camp beneath the stars, spot diverse wildlife, admire the endless views, and visit Spruce Tree House.
#7 – Fort Collins – One of Colorado's coolest historical sites!
Delightful Old Town
Places of natural beauty
Top place for foodies
Awesome breweries
Why it's awesome: Easy to reach from Denver, the university town of Fort Collins is home to a wealth of cool sights. The charming Old Town has a terrific selection of historical buildings and it was one of the inspirations for Disneyland's Main Street, USA. As well as historic treasures the town also has a youthful feel, thanks to the large university, natural gems right on the doorstep, and several excellent breweries. Additionally, it's one of the best places to eat in Colorado, with an abundance of restaurants that cater to diverse tastes. Indeed, Fort Collins boasts more eateries per capita than most other towns across the nation!
What to do there: Take a stroll through the picture-perfect Old Town, admiring the historic buildings and aesthetic appeal. The brick buildings today contain shops, galleries, and cafes, but the facades transport you back to the 19th century. Rest for a while in one of the lovely restaurants on Old Town Square and perhaps indulge in a glass of locally brewed beer.
You can also visit a number of breweries, including Big Horn Brewing, Equinox Brewing, Fort Collins Brewery, and New Belgium Brewing. Escape into nature and enjoy outdoor activities at places like Horsetooth Reservoir, Riverbend Ponds, Bobcat Ridge, the canyon of Cache La Poudre, and Pineridge Natural Area.
Extend your stay in town with a night in one of Fort Collins' hostels.
#8 – San Luis – One of the most religious places to see in Colorado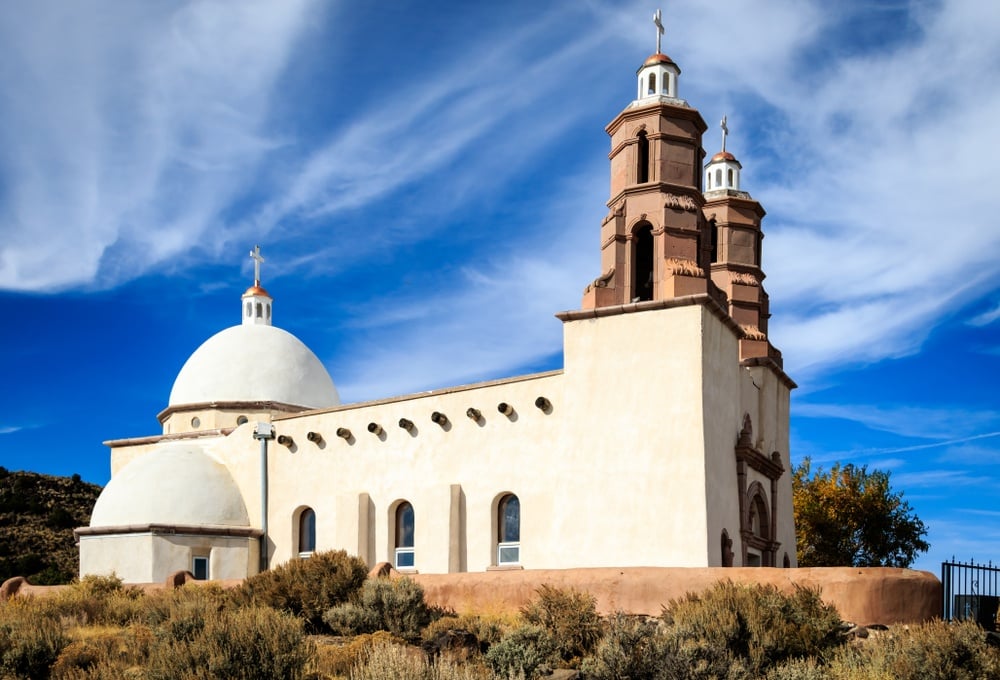 Spiritual vibe
One of the state's oldest towns
Lesser-visited destination
Surrounded by nature
Why it's awesome: Close to the state border with New Mexico, the San Luis Valley is a little-explored part of Colorado. Historically home to a large Hispanic population, San Luis (founded in the 1850s) is both one of the oldest towns in Colorado and one of the state's most spiritual places. It is home to the Centennial State's oldest church and also some of the most unusual things to do in Colorado. Nestled among mountains, there are also plenty of ways to get out and about and enjoy nature.
What to do there: Wander through San Luis, seeing the old wooden houses and the quaint historic church. Follow the pathway lined with bronze sculptures of the Stations of the Cross and stop by the unusual public commons of La Vega, a place where people still set their livestock free to graze. Learn more about the area's history at the Sangre de Cristo Heritage Center and relax in Blanca Vista Park. The quirky roadside attraction of the UFO Watchtower is worth a quick stop and you can get up close to fearsome alligators at the Colorado Gators Reptile Park. The pretty Zapata falls is close to hand and you can unwind with locals on the shores of Medano Creek.
#9 – Florence – One of the most romantic places to visit in Colorado!
Natural hot spring
Awesome views
Many antique shops
Soaring suspension bridge
Why it's awesome: Located in the southern part of Colorado, Florence is a charming small town at the foot of the mountains. A place for soothing relaxation and soulful adventures in nature, Florence is a top destination for couples who are visiting Colorado. Often said to be the state's antique capital, the town has numerous stores that sell quirky, interesting, and valuable antiques. There are excellent restaurants and cafes as well as a cool brewery, and just outside town, there are adventure activities for fun-loving couples and natural hot springs for those who would prefer to take it easy and chill.
What to do there: Wander around Florence and pop into some of the brilliant antique stores and quaint cafes before visiting the Florence Brewing Company. Enjoy a virtual reality experience at Papa's Restaurant, soak up the mountain vistas, and catch a play at the Rialto Theater. For some blissful relation, head to the Desert Reef Hot Springs, a natural hot spring that's open all year round. It's family-friendly and clothing is optional. Visit the Royal Gorge Bridge, from where you can enjoy terrific views, and arrange varied outdoor activities, such as camping, horse riding, hiking, mountain biking, rock climbing, fishing, and rafting. For something different, how about a llama trek?! Get the ultimate buzz with your loved one with a skydive at Florence Airport.
Is This the Best Daypack EVER???
#10 – Rocky Mountain National Park – One of the most amazing places in Colorado!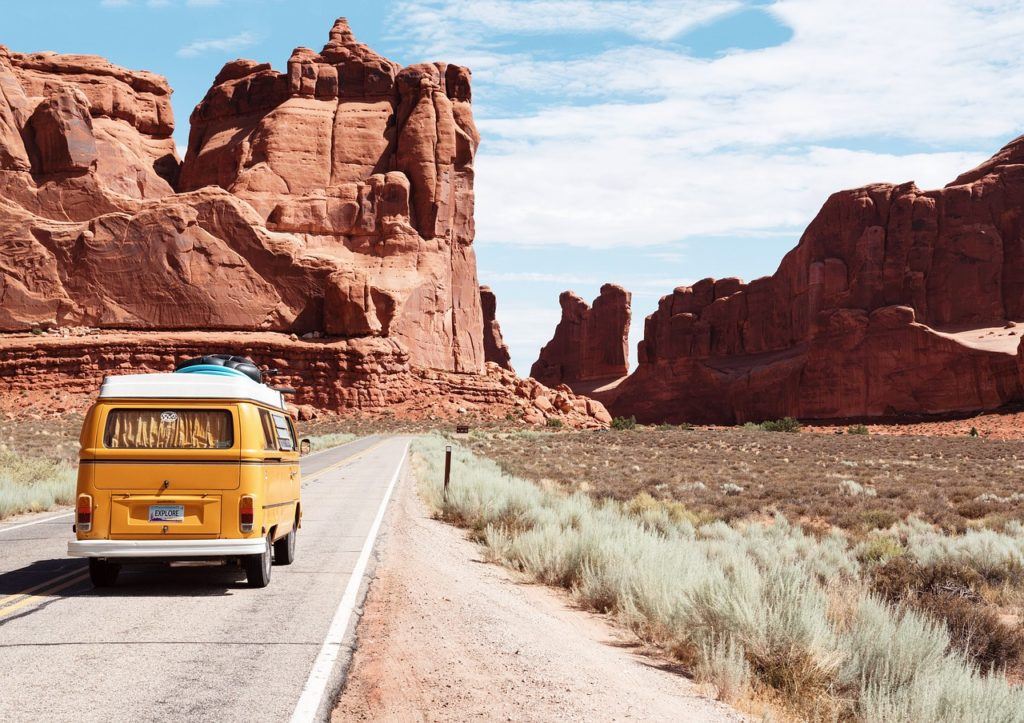 Diverse landscapes
Stunning scenery
Variety of flora and fauna
Excellent choice of outdoor activities
Why it's awesome: Rocky Mountain National Park is a UNESCO-listed World Biosphere Reserve. One of the most-visited national parks in the USA, indigenous groups used to hunt for food in the area. Later, gold and silver were mined in the mountains. One of the highest national parks in the US, it is home to the country's highest road. It is also split by the Continental Divide. The terrain includes mountains, meadows, forests, lakes, rivers, waterfalls, and tundra. There's an abundance of wildlife; the park is one of the most eco-diverse places in the USA. There are numerous outdoor activities for visitors to enjoy too, and it's among the most famous places in Colorado.
You can stay in and around the Rocky Mountain National Park, however, choosing to stay in one place for only a couple of nights and moving onwards to the next location is the best way to explore the massive park.
What to do there: Enter the national park at one of the five visitor centres and take time to explore the diverse sections. Region 1 is known for its sweeping meadows filled with wildflowers and many moose. Don't miss the unusual horseshoe bend near the Never Summer Mountains. Other highlights include Lakes Verna, Bowen, Timber, Lone Pine, and Nokoni, as well as Adam Falls, Granite Falls, and Skeleton Gulch. The Alpine Region 2 is a great place to spot wildflowers, marmots, and bighorn sheep.
In Region 3 you can experience life in the open wilderness, with several glorious waterfalls (such as Chasm Falls and Bridal Veil Falls), the Mummy Mountains, ponds filled with beavers, glistening lakes, and a bird sanctuary. Discover the park's heartland in Region 4, with Bear Lake, Flattop Mountain, Sprague Lake, Dream Lake, Lake Helene, and many other features. Region 5 is known for its plethora of waterfalls and rugged backcountry.
Throughout the national park, you can spot an array of creatures, including birds, hares, deer, bears, elk, cougars, wolves, porcupines, lynx, and coyotes. Definitely don't get too close to the cougars, travel safety 101! You can enjoy a variety of outdoor pursuits in the popular national park, including hiking trails of varying lengths and difficulty levels, horse riding, rock climbing, fishing, scenic drives, rafting, kayaking, skiing, snowboarding, and Nordic walking. When planning your Colorado itinerary, it's well worth scheduling at least a few days to fully do the gorgeous national park justice. Campgrounds throughout the park make it easy to spend longer exploring.
For an unforgettable experience, check out these awesome cabins and tree houses in Colorado, most of which are close to Rocky Mountain National Park!
#11 – Ute Mountain Tribal Park – One of the most underrated places to see in Colorado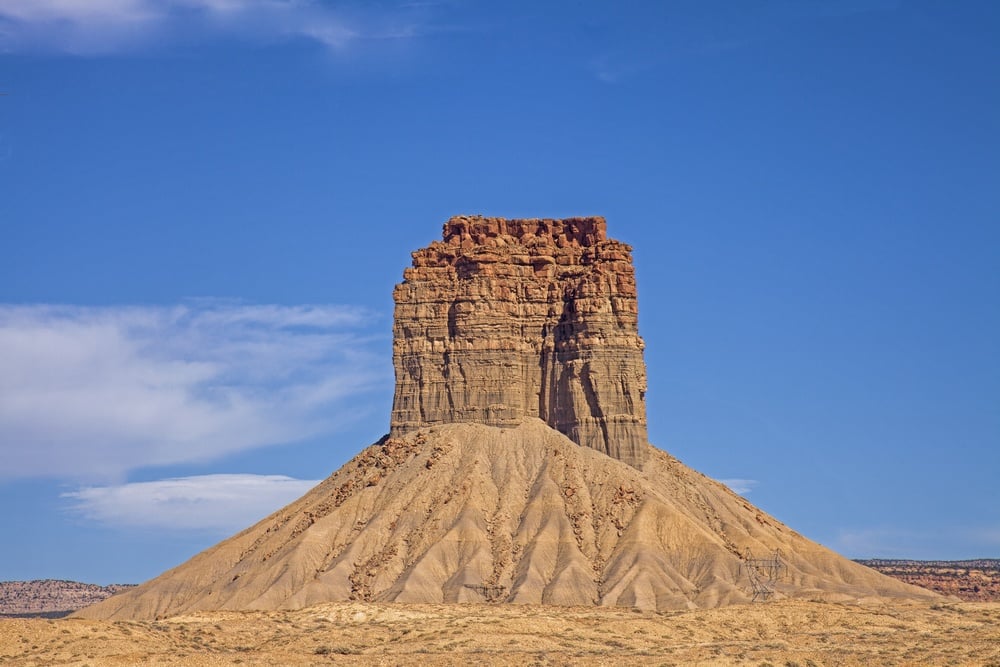 Long and interesting history
Lesser-visited destination
Experience tribal life of the past and present
Ancient artefacts and rock art
Why it's awesome: Ute Mountain Tribal Park is owned and managed by a native tribe. It offers fascinating glimpses into times gone by and is a lot less crowded than the nearby Mesa Verde National Park. The well-preserved tribal park has fascinating rock carvings that help to bring the past to life and see how yesteryear's people lived. There are also many ancient sites, some that date back to prehistoric times, and there are also numerous artefacts that provide even more insights into the people of the past. A visit to Ute Mountain Tribal Park is sure to be exciting!
What to do there: Arrange your guide to explore the fascinating Ute Mountain Tribal Park—independent visits are not allowed. The half-day tours provide a great overview while the full-day trips let you see more of the ancient landscapes. For an even greater thrill, you can also arrange to camp within the park's boundaries. Hike along original Puebloan trails, climb towering ladders to reach some of the more hidden ancient dwellings high in the cliffs and see amazing rock art. Marvel at enormous cave homes like Lion House, Eagles Nest, and Tree House, and wonder at the unspoilt landscapes that have been left almost exactly as they were when ancient tribes roamed the lands.
#12 – Browns Park National Wildlife Refuge – One of the most incredible free places to go to in Colorado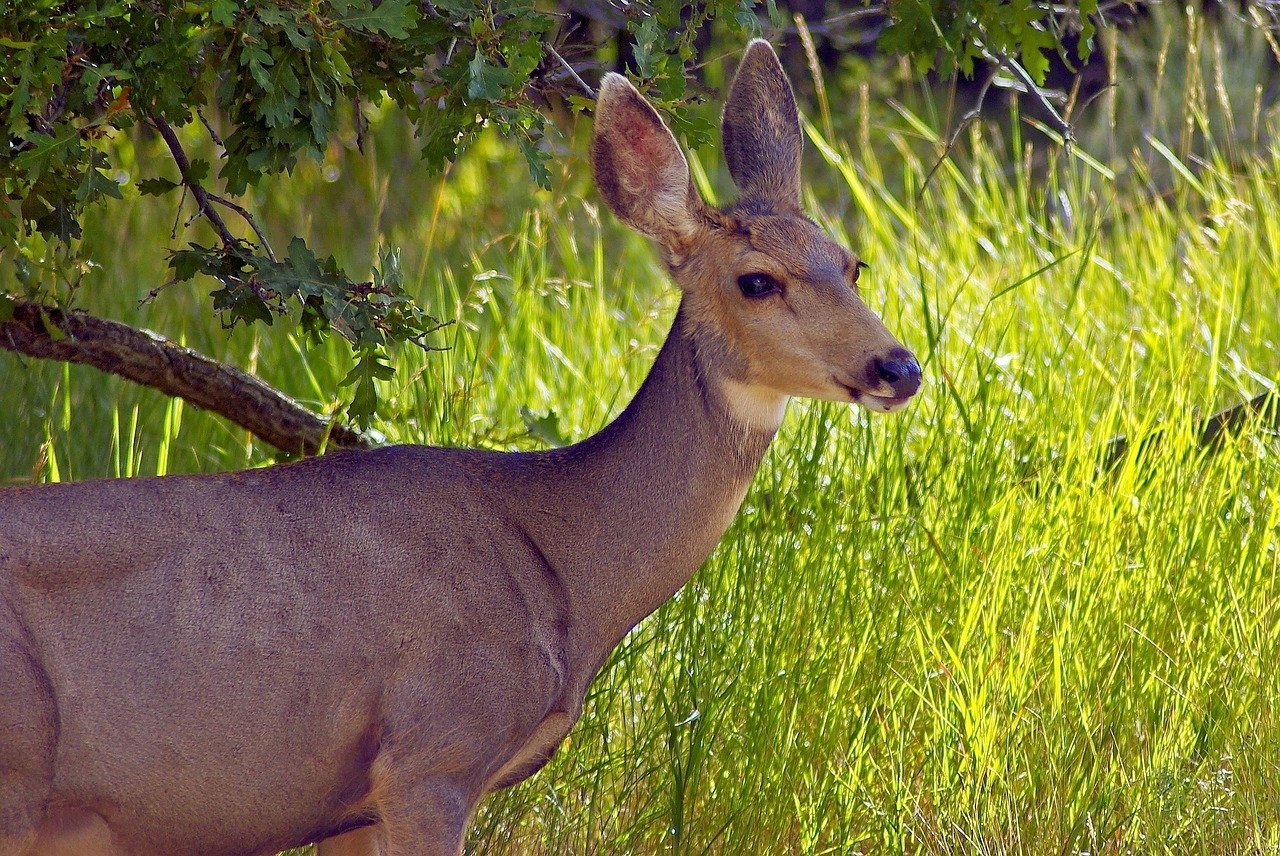 Remote location
No entry charge
Numerous bird species and home to various mammals
Historic site
Why it's awesome: Located in a remote mountain valley in the far northwest of the state, Browns Park National Wildlife Refuge is a top place to visit in Colorado for anyone interested in nature; it is especially great for keen ornithologists. The refuge seeks to offer safe and sought-after habitats for different birds to nest and also for migratory species. Depending on the season the refuge can contain around 200 different types of birds. A variety of mammals also call the area home. The large refuge covers some 12,150 acres (4,917 hectares). There is no cost to explore the landscapes and spot interesting wildlife.
What to do there: Visit the site where Fort Davy Crockett once stood, a historic trading post in operation during the 1830s and 1840s. Little remains of the site today, but there is a marker to show where the fort was once located. Lookout for a large variety of wildlife—having binoculars can help you to identify the various birds. Birds that can be found in the refuge include waterfowl, ducks, Canadian geese, falcons, eagles, sparrows, jays, flycatchers, and hummingbirds. Mammals that live in the refuge include bighorn sheep, elk, deer, and otters, and you may also see bats and various reptiles.
Small Pack Problems? 😉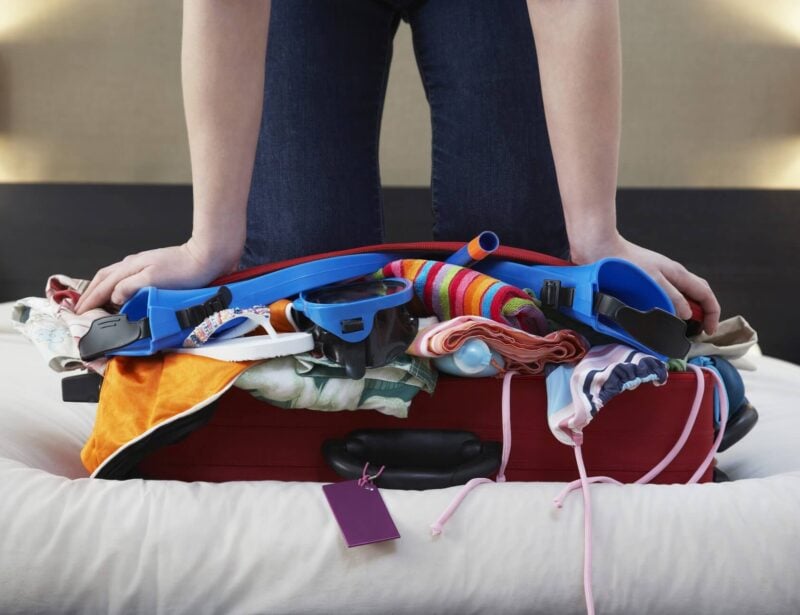 Wanna know how to pack like a pro? Well for a start you need the right gear….
These are packing cubes for the globetrotters and compression sacks for the real adventurers – these babies are a traveller's best kept secret. They organise yo' packing and minimise volume too so you can pack MORE.
Or, y'know… you can stick to just chucking it all in your backpack…
Get Yours Here
Read Our Review
#13 – Black Canyon of the Gunnison National Park – One of the nicer places in Colorado to sightsee!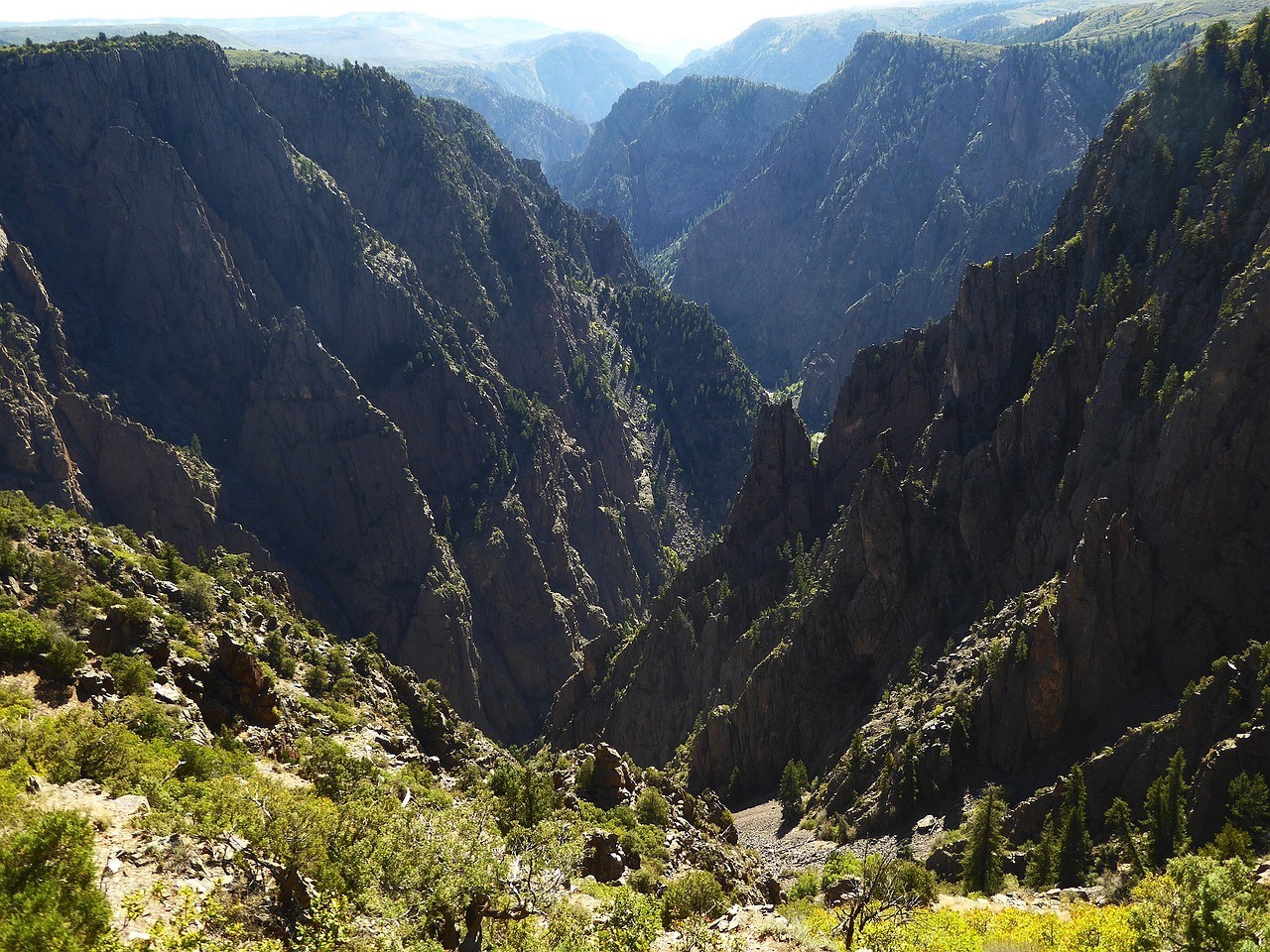 Some of the oldest and most dramatic landscapes in North America
Outdoor activities
Excellent wildlife-watching opportunities
One of Colorado's quietest national parks
Why it's awesome: The Black Canyon of the Gunnison National Park is one of the most amazing points of interest in Colorado. Fewer people visit the national park when compared with other national parks in the state, so those who do pay a visit can enjoy relative peace and quiet away from the crowds. Featuring dramatic landscapes that include the state's tallest cliff, the park takes its name from the fact that some parts of the yawning canyon are so deep that they see an extremely small amount of sunlight each day. The striking landscapes used to arouse superstition in native tribes, who would avoid the area. The Gunnison River winds its way through the impressive canyon and various plants and animals call the area home.
What to do there: Wake up early to watch the spectacular sunrise over the North Rim and admire stunning vistas across the gaping chasm. Follow adventurous hiking trails and drive along the picturesque US Highway 50 and Colorado Highway 92 for magnificent and unforgettable views. The steep East Portal Road is another terrific drive in the area. If you're feeling adventurous you can also undertake the challenging hike right down to the bottom of the canyon.
Exhilarating rock climbing offers even more adrenaline-inducing fun. Peer down into the dark depths at the South Rim and stop at viewpoints like Painted Wall, Chasm View, and Pulpit Rock. The gushing river offers great fishing and boating opportunities. When it comes to wildlife spotting, keep your eyes peeled for bears, elk, cougars, otters, deer, coyotes, beavers, and different types of avian species. As night falls the lack of light pollution makes it a top place for star-gazing, and you can spend a night under canvas at one of the campsites.
#14 – Creede – A nice quiet place to see in Colorado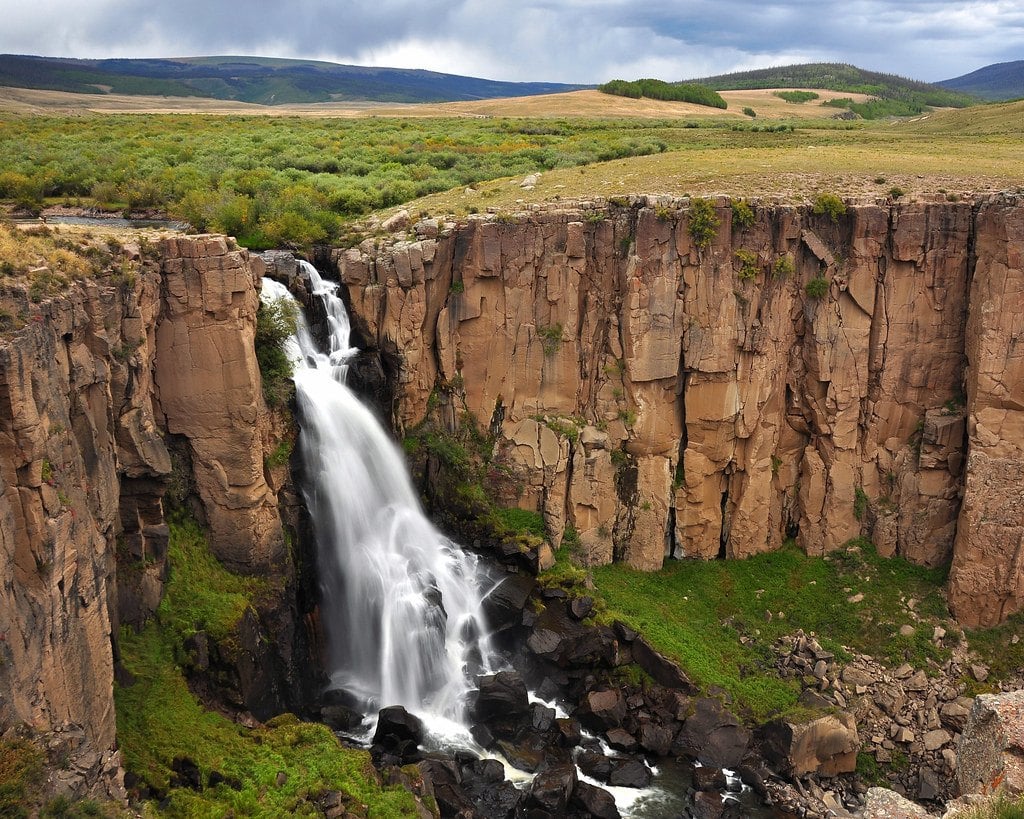 Off the beaten track
Pretty and historic town
Sublime setting in an old volcanic caldera
Outdoor adventure hub
Why it's awesome: If you're thinking about what to do in Colorado to get away from the tried-and-trodden tourist trail, a visit to Creede would be perfect. Located in a previous volcanic caldera and surrounded by dramatic mountains, the remote town boasts a small-town vibe and many terrific things to experience. There are outdoor activities galore, historic spots, friendly eateries, and cool ranches that provide a wonderful place to stay when you visit one of the most beautiful attractions in Colorado. The town was established as a mining town in the 1800s and is in an ideal location for exploring some of Colorado's most stunning backcountry.
What to do there: Stroll along Creede's historic Main Street to be transported back to the town's silver-mining era. Charming buildings from the 1800s today house enticing restaurants and stores that sell all manner of goods. You can experience more of Creede's mining heritage at places like the Creede Historical Museum, the Underground Mining Museum, and the Last Chance Mine. Get out and about into the surrounding areas and you're sure to be blown away by the natural splendour.
In the winter months, you can enjoy excellent skiing, sledging, ice skating, and snowshoe walking. The summer months offer great hiking, mountain biking, and ATV exploring, as well as water-based activities like fishing and rafting. Time permitting, drive at least part of the stunning Silver Thread Byway and visit the picturesque North Clear Creek Falls.
#15 – Great Sand Dunes National Park – Cool place to see in Colorado with friends!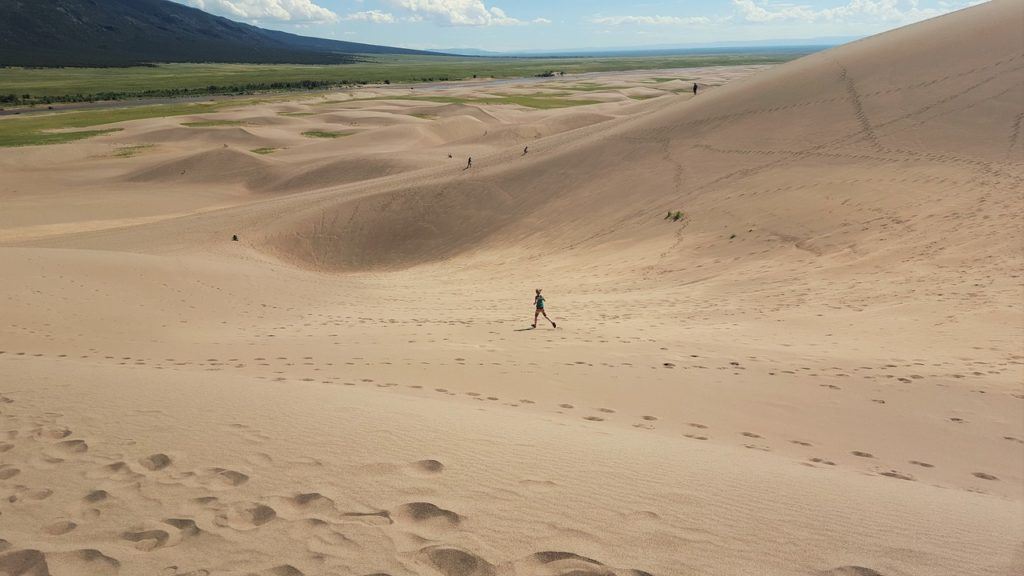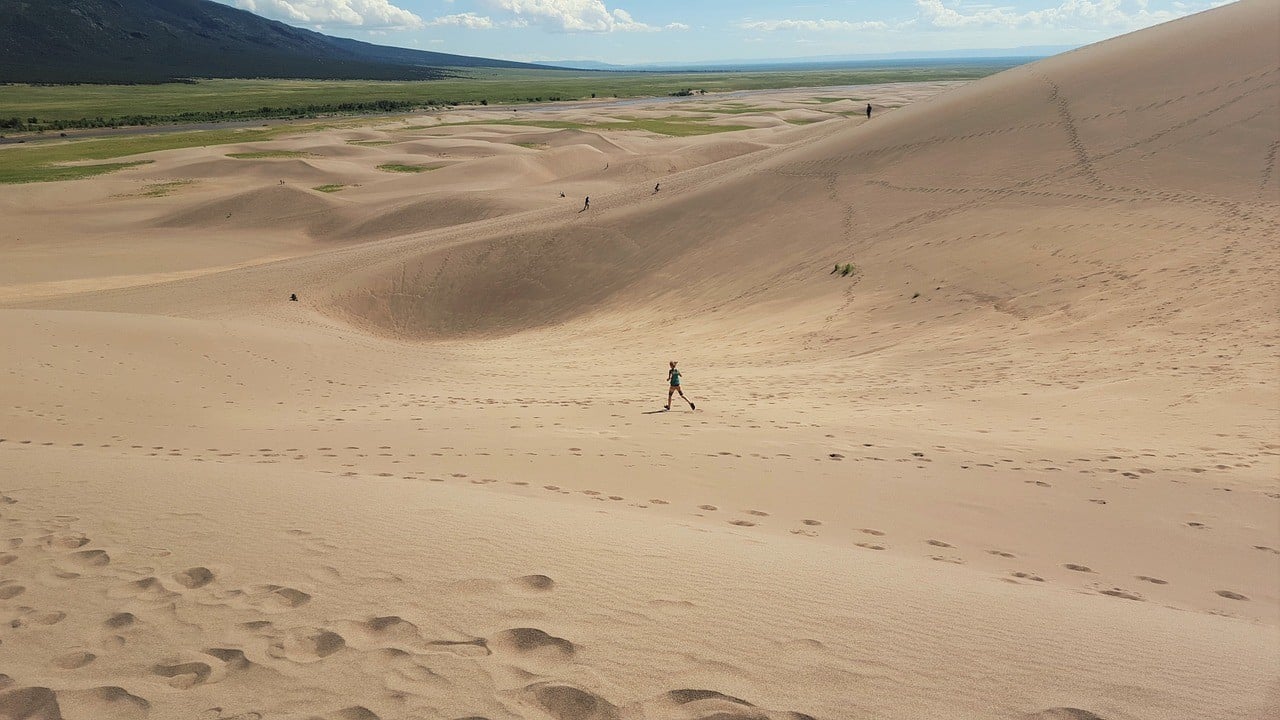 Highest sand dunes in North America
Thrilling and fun activities
Sunbathe on the sands
Star-gazing opportunities
Why it's awesome: Great Sand Dunes National Park is among the best landmarks in Colorado for friends (and families/couples) looking for exciting outdoor adventures that are a bit different to the norm. The national park boasts the tallest sand dunes in North America and a sandy wilderness where you can bask on the sands and sunbathe. Free ranger-led events are held on certain days of the week, providing greater insights into the area's formation, history, star-gazing, and more. Visitors can watch a stunning sunset in the evening and at night times the dark skies are perfect for star-spotting.
What to do there: If you're feeling energetic you can summit the tallest dune in North America. The hike takes around five hours though it will certainly give you bragging rights when you travel to Colorado. There are plenty of other dunes to scramble up too, including somewhere you can whoop in excitement as you sledge back down. Equipment can be rented within the national park. The sand is also ideal for relaxation and getting in touch with your inner child by building a sandcastle! In the summer, dip your toes in the refreshing Medana Creek for a beachy feel. Don't pass up the chance to visit the scenic Zapata Falls too, located just outside of the park's entrance.
#16 – Boulder – A must-see for foodies!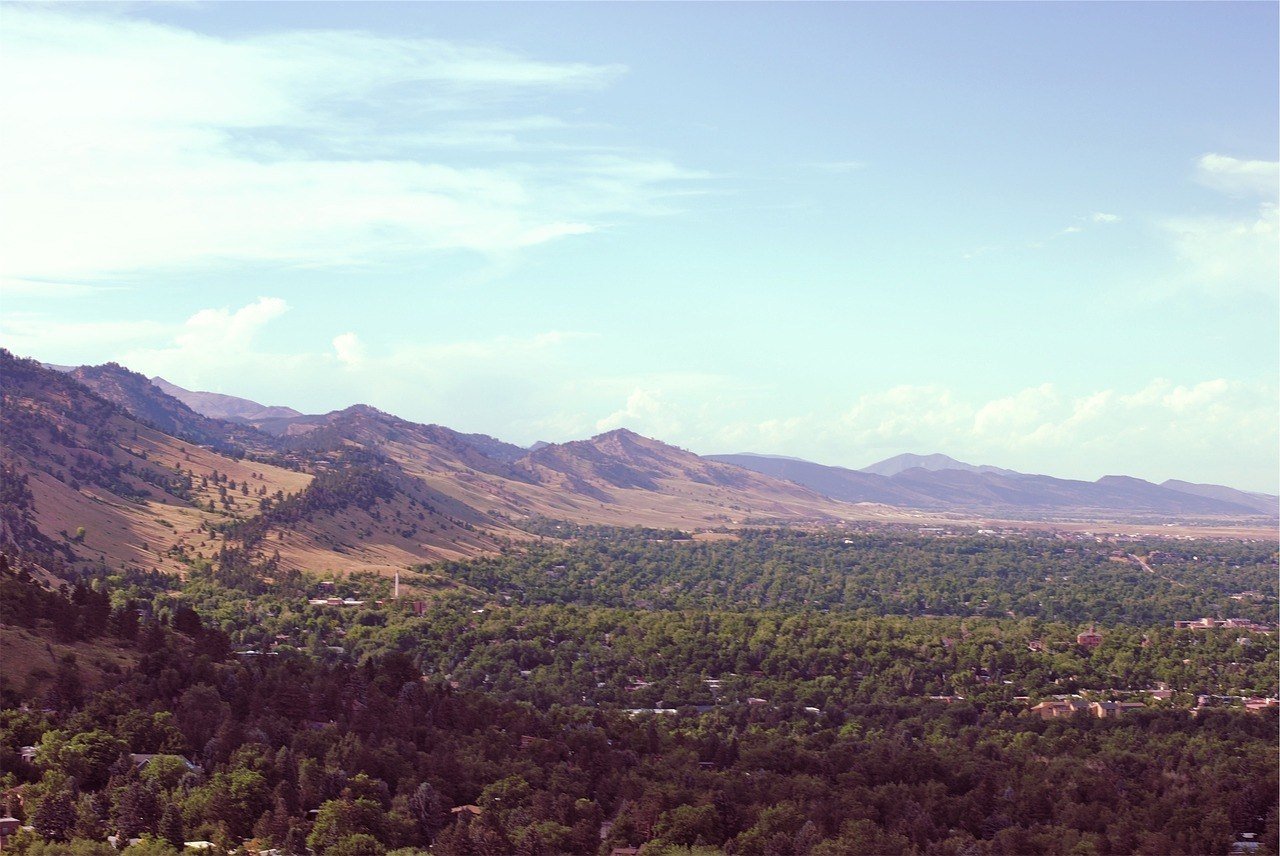 Vibrant university town
Located in the foothills of the Rocky Mountains
Known as a foodie destination
Diverse things to see and do
Why it's awesome: Founded as a mining town in the late 1850s, it wasn't long before locals started to see the value in the glorious natural surroundings and taking steps to preserve the wonderful scenery. Referred to as the "Happiest City in the US" by National Geographic, today Boulder offers a wealth of experiences to visitors. The surrounding natural areas boast fantastic views and outdoor pursuits, while the town has a great mixture of cultural, modern, and historic places of interest. A university town, Boulder is known for sports, alternative cultures, food, healthy living, and a forward-thinking outlook.
What to do there: Wander through Boulder's vibrant downtown, seeing various street performers do their thing along Pearl Street and visiting local museums and art galleries. The Museum of Boulder at the Tebo Center is a must for anyone who wants to get to know the area more. Jump into the world of science with tours of the National Oceanic and Atmospheric Administration and the National Center for Atmospheric Research. Tour the Celestial Seasons Tea Factory and spend an evening at the theatre.
Snap plenty of pictures of the majestic Flatirons, inhale deliciously fresh air along the Boulder Creek Path, hike along many different trails, explore Chautauqua Park, go rock climbing at Eldorado Canyon State Park, and enjoy things like rafting, biking, and skiing depending on the time of year. Satisfy your taste buds in Boulder's many eateries, with a huge selection of global fare available. A visit to the weekly farmers' market is also highly recommended.
Check out the Boulder hostels on offer for your trip.

Our GREATEST Travel Secrets…
Pop your email here & get the original Broke Backpacker Bible for FREE.
#17 – Red Feather Lakes – Quite the quirky place in Colorado!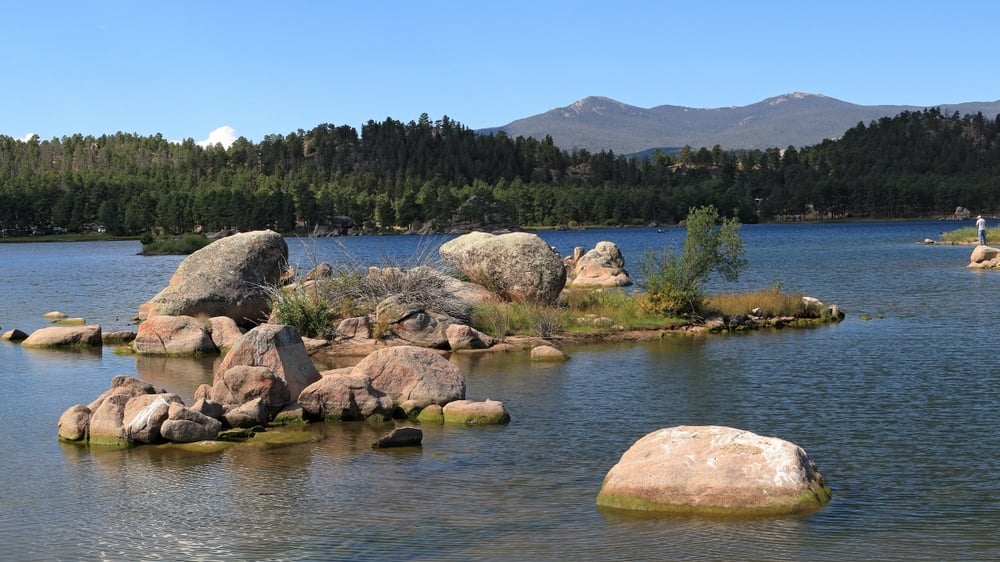 Relaxing mountain town
Fabulous natural playground
Away from the typical tourist trail
Unusual sights
Why it's awesome: Red Feather Lakes is a chilled-out natural haven near the Roosevelt National Forest. The area was first settled at the start of the twentieth century, with ranchers and loggers making their homes there. Today a great place to disconnect and get away from the world for a while, the town has great outdoor activities, scenic views, and a couple of cool and unusual attractions. You'll find the biggest stupa in North America at a spiritual Buddhist complex and a road filled with interesting and whimsical statues.
What to do there: Visit the Cache La Poudre River for terrific water activities such as fishing, kayaking, and rafting. Discover the flora, fauna, and views of the Roosevelt National Forest, go horse riding at Beaver Meadows Resort Ranch, and enjoy the tranquil and calm ambience. Follow a dirt trail often known locally as the Gnome Road and look out for tiny statues peering out at you from the bushes and rocks.
Small kitsch toys stretch along the path between Hiawatha Lake and Apache Lake. One of the town's must-sees is the impressive Shambala Mountain Center, where you can gaze up at the towering stupa, absorb an air of spirituality, and appreciate the eye-catching architectural details.
#18 – San Juan National Forest – A nice non-touristy place to visit in Colorado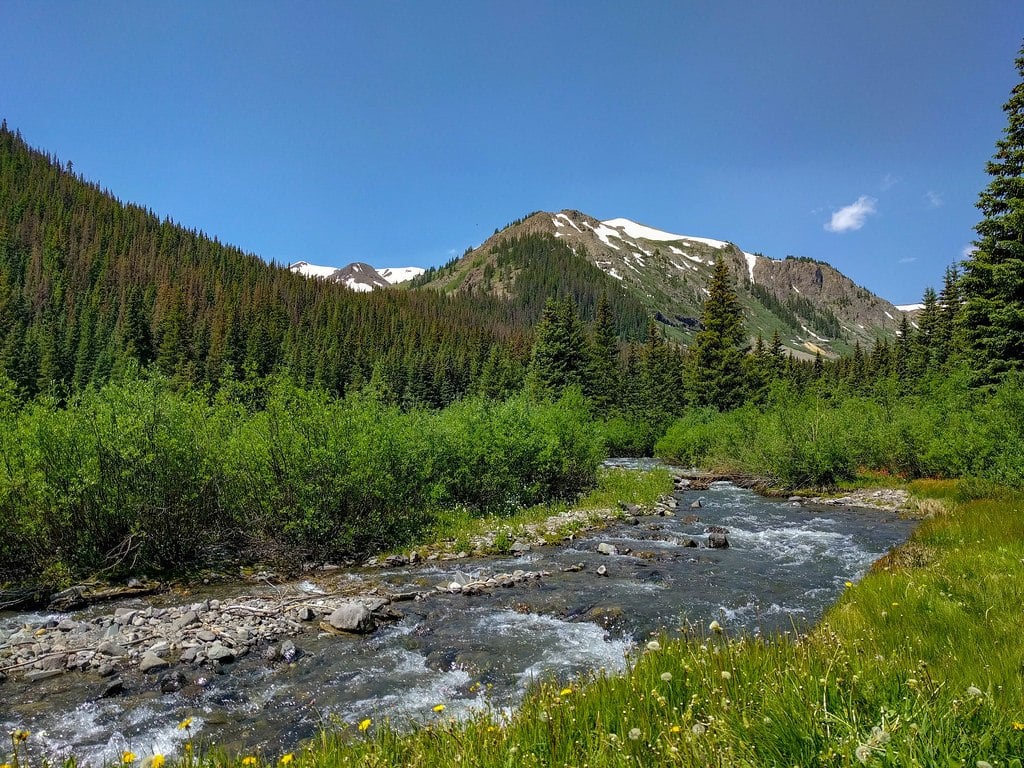 Home to Colorado's only true geyser
Wild natural beauty
Great camping and hiking
Scenic views
Why it's awesome: Situated near Durango, San Juan National Forest is a peaceful destination away from the crowds. Like many places in the state, it offers plenty of ways to enjoy the great outdoors and many splendid vistas. There are areas of wilderness, scenic driving routes, hiking trails, and a wide selection of campgrounds. For visitors who want to get back to nature even more, there are also designated places where you can wild camp. Various creatures call the rugged forest home. The forest has the only true geyser in all of Colorado too!
What to do there: Look out for diverse wildlife, including foxes, birds, sheep, and bears. Do remember to practice bear safety when in the wild. San Juan National Forest is among the best places in Colorado for camping, with some 40 camping grounds and a number of places where you can go even more basic and adventurous and enjoy wild camping. Hike along scenic trails, including the looped Ice Lake Basin Trail with awesome vistas of shimmering lakes, and the Highland Mary Lake Trail, with rolling tundra, verdant meadows, and colourful wildflowers. Tackle your skills with a hike in the challenging Needle Mountains.
If you prefer to explore by vehicle, the San Juan Skyway and the Alpine Loop promise lots of variety and excitement. Ride the charming Durango and Silverton Narrow Gauge Railroad for even more amazing views. Feel connected with Mother Nature as you enjoy activities like fishing, kayaking, rafting, cycling, horse riding, and cross-country skiing. Don't miss seeing the forest's geyser, which is often deserted.
Get insured for your trip to Colorado!
ALWAYS sort out your backpacker insurance before your trip. There's plenty to choose from in that department, but a good place to start is Safety Wing.
They offer month-to-month payments, no lock-in contracts, and require absolutely no itineraries: that's the exact kind of insurance long-term travellers and digital nomads need.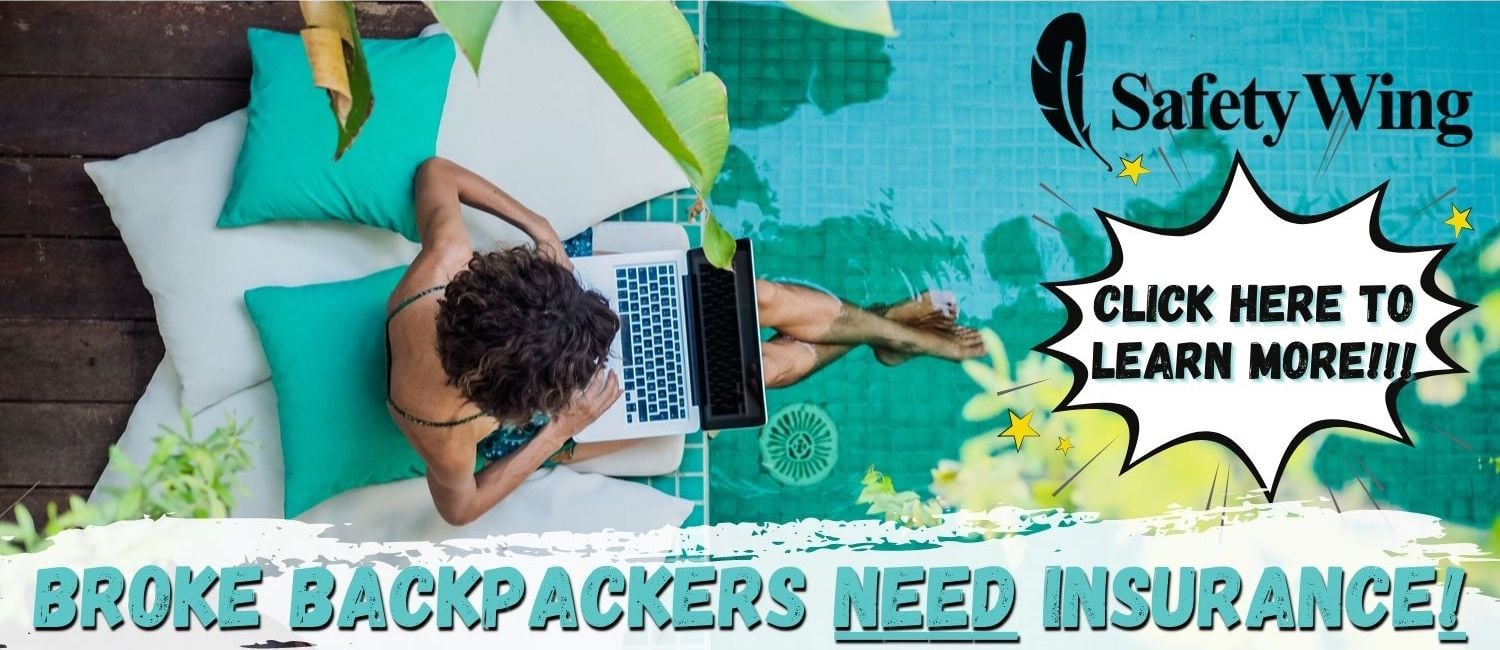 SafetyWing is cheap, easy, and admin-free: just sign up lickety-split so you can get back to it!
Click the button below to learn more about SafetyWing's setup or read our insider review for the full tasty scoop.
FAQ on the Best Places to Visit in Colorado
Find out what people want to know about the best places to visit in Colorado
Don't miss the best places to visit in Colorado!
Colorado is a haven for adventure lovers and fans of the great outdoors, and the many cities and towns offer enticing glimpses into times gone by as well as modern attractions and amenities. There are so many awesome places to add to your Colorado itinerary!
In addition to the above, consider planning trips to Breckenridge, Durango, Colorado Springs, Gunnison, Pagosa Springs, Crested Butte and Steamboat Springs. Discover the Red Rocks, be dazzled by the Hanging Lake, and admire the Seven Falls and Rifle Falls. Get off the beaten track in Crestone, an arty hub with a spiritual and New-Age vibe, head to Rye to see the unusual Bishop's Castle, and marvel at the views of Colorado National Monument.
From stunning national parks filled with natural gems and former mining towns to bustling cities and unusual sights, Colorado offers something for everyone. Whatever season you choose to travel to Colorado, you'll find plenty to keep you busy.
There's no need to stress about what to do in Colorado when planning your trip … this fabulous list of the best places to visit in Colorado has you covered!
And if you want to see all of the places on the list, don't worry, there are plenty of amazing Airbnbs in Colorado waiting for you too. Spend the day exploring and come back home to a comfy, relaxing place to recharge.
---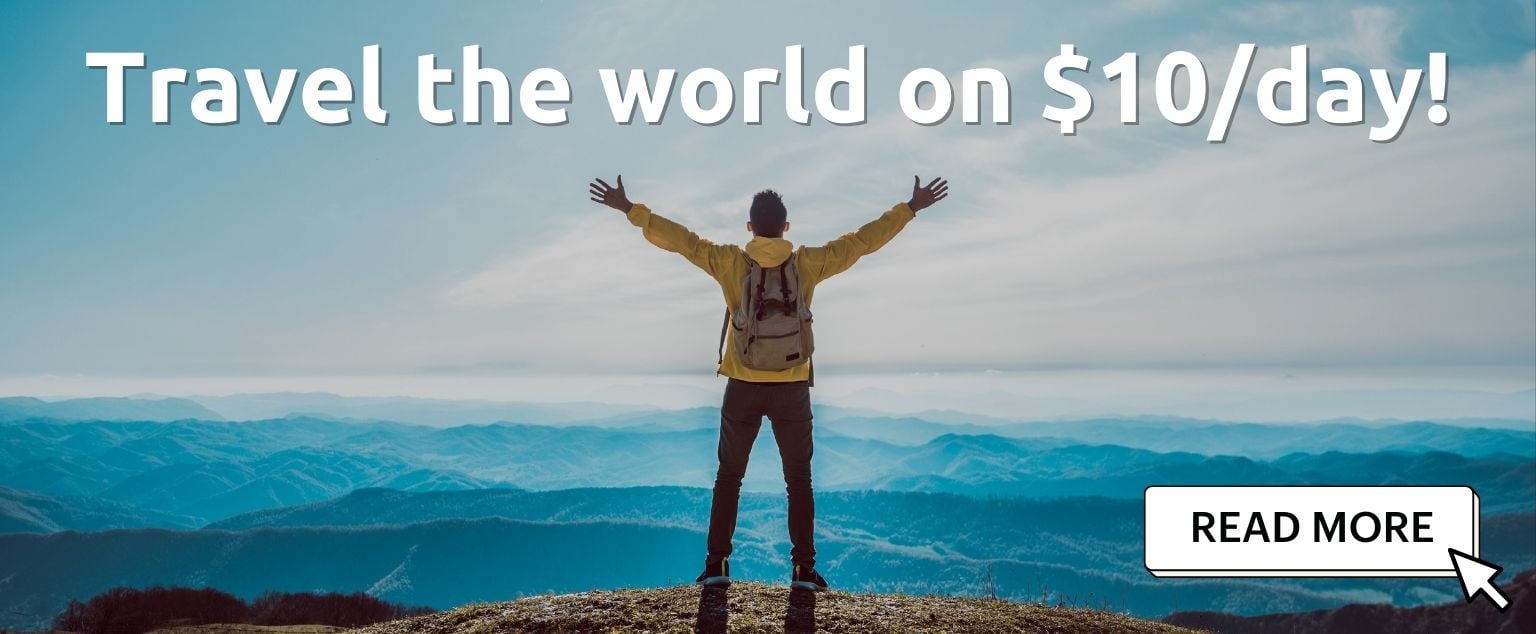 And for transparency's sake, please know that some of the links in our content are affiliate links. That means that if you book your accommodation, buy your gear, or sort your insurance through our link, we earn a small commission (at no extra cost to you). That said, we only link to the gear we trust and never recommend services we don't believe are up to scratch. Again, thank you!