Located in the USA's Rocky Mountains, Colorado is an adventure-lover's paradise. Home to spectacular soaring mountains, it's a place to get high – literally! Incredible wildlife, amazing national parks, diverse cities, and historic sites abound, and there are fabulous year-round outdoor pursuits. You can enjoy summertime hiking, mountain biking, and climbing, and hit the slopes for awesome winter skiing and snowboarding. There's definitely no time to feel bored in Colorado!
If you're tired of sleeping in the same old worn and stuffy hotel rooms, how about opting for a cool VRBO in Colorado instead? Often providing more bang for your buck, as well as much more character and a greater feeling of independence, there are top-class vacation rentals in all of Colorado's major hotspots – and tucked away from the crowds in blissful solitude. VRBOs invariably offer great facilities and amenities too – it is a win-win!
Still not sure what to look for in a VRBO? Don't worry, this article will tell you everything you need to know to find the best VRBO in Colorado for your trip. You can also check out our top picks for a fantastic stay in the Centennial State.
Quick Answer: These are the Top 5 VRBO in Colorado
Overall Best Value VRBO in Colorado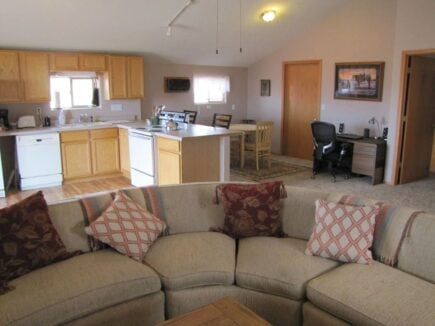 Overall Best Value VRBO in Colorado
Rosie Knight Ranch
> $
> Four Guests
> Amazing views
> Outdoor adventures
Best Budget VRBO in Colorado
Best Budget VRBO in Colorado
1959 Vintage RV Cabin
> $
> Two people
> Choose your location
> Retro vibes
Best VRBO for Couples in Colorado
Best VRBO for Couples in Colorado
Luxury 5-Star
> $$$
> Two people
> Ski-In Ski-Out
> Cozy fireplace
Best VRBO for Families in Colorado
Best VRBO for Families in Colorado
Granby Retreat at The Ranch
> $$
> Twelve Guests
> Toys and games
> Hot tub
Over-the-Top Luxury VRBO in Colorado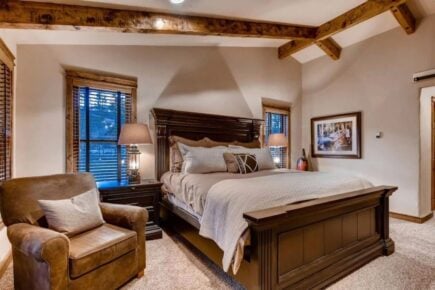 Over-the-Top Luxury VRBO in Colorado
Lodge at Ski Hill
> $$$$
> Twenty visitors
> Movie room
> Games room with wet bar

Unlock Our GREATEST Travel Secrets!
Sign up for our newsletter and get the best travel tips delivered right to your inbox.
What to Expect from VRBOs in Colorado
You're really spoilt for choice when it comes to finding stunning VRBOs across Colorado. Enjoy a home-from-home feeling and stay in the heart of local communities in a house or apartment. Get cozy in a practical studio and save money by renting a private room or basement. Venture into the countryside and stay in a rustic cabin, quaint cottage, or luxury villa.
You'll find some less run-of-the-mill accommodations too, such as caravans and campers, and you can even book to stay in tiny houses, bunkhouses, and tree houses. There are properties to suit varying group sizes spread right throughout the state.
Whether you're looking for sleek and fancy city living, local vibes, or just you and nature, you won't be disappointed.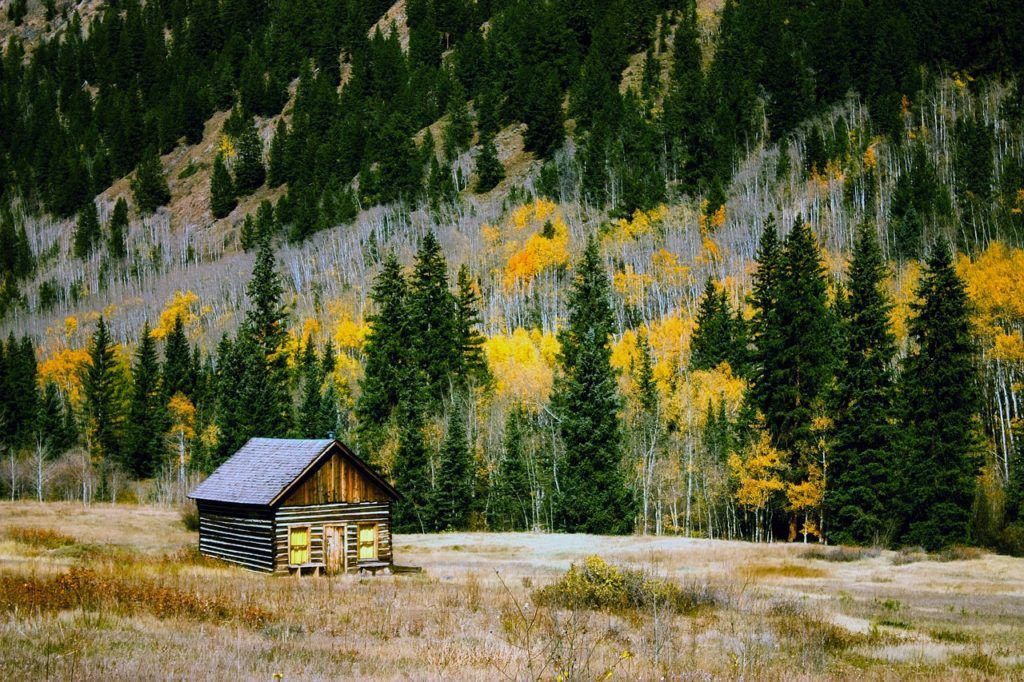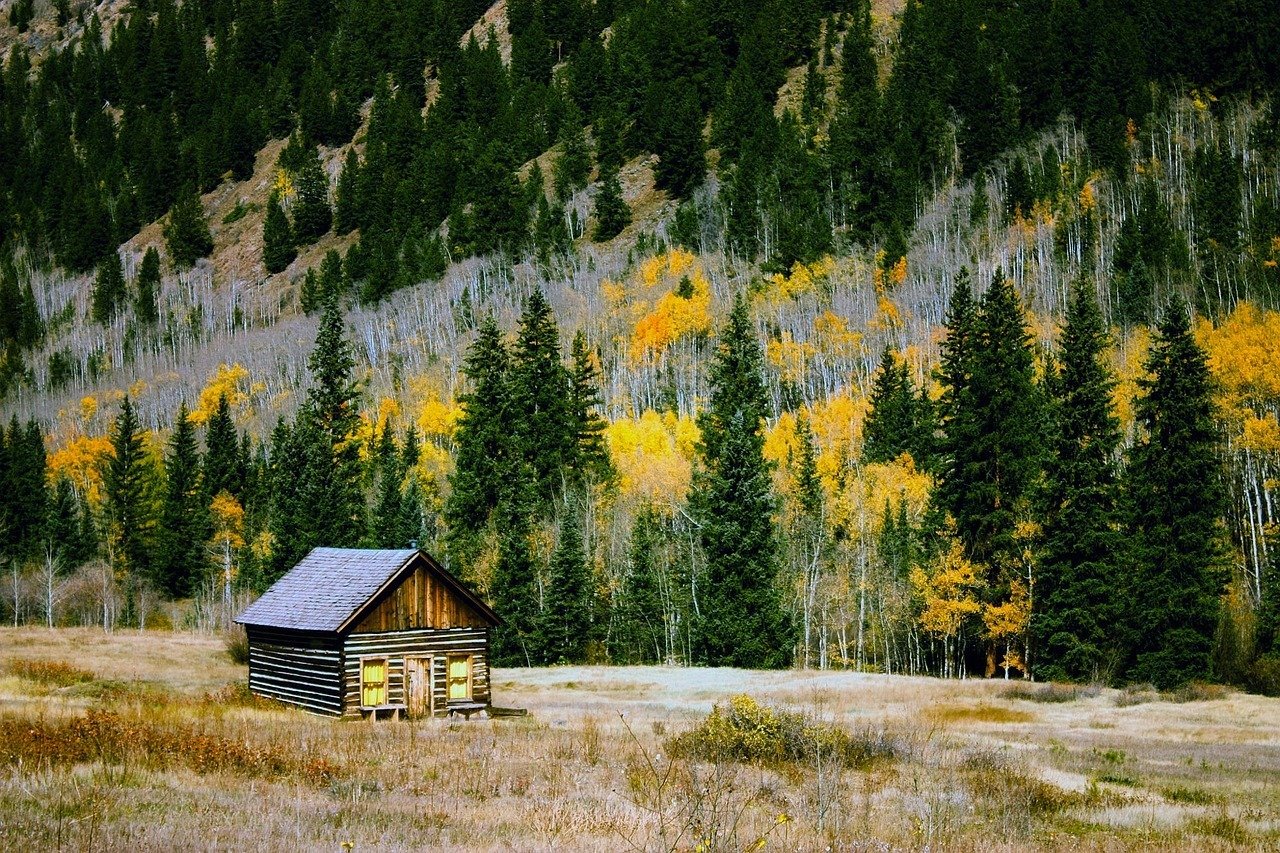 Houses
When you search for "houses" in Colorado you'll find a wide range of property types under the general description. Bungalows, townhouses, chalets, and cabins are just a few types of house you can expect to see. There are modern builds with current trends and up-to-date amenities, as well as historic properties with all the charms of yesteryear.
You will be able to find the perfect sized home to suit your group of friends and families, and a major benefit of staying in a house over a hotel is that you'll have plenty of space for everyone to stay together.
Many properties also allow dogs! Bring along your four-legged friends on vacation too.
Stay in bustling suburbia, in prime residential areas with easy access to major towns and cities, or find a secluded detached property, with few neighbors to interrupt your peace and quiet.
Apartments
Apartments and condos in Colorado are especially popular with couples and solo travelers, although larger apartments with multiple bedrooms are great for families and friends too.
An apartment offers more of a homey feeling and better standards of comfort than a hotel room. For example, it's common to have cooking facilities and a separate seating area. Plus, they are found in residential blocks rather than being surrounded by other holidaymakers and travelers – it's easier to make friends with your neighbors and get top local tips!
Apartments listed with VRBO are typically close to the action, whether that be as prime city center real estate or in popular winter ski resorts.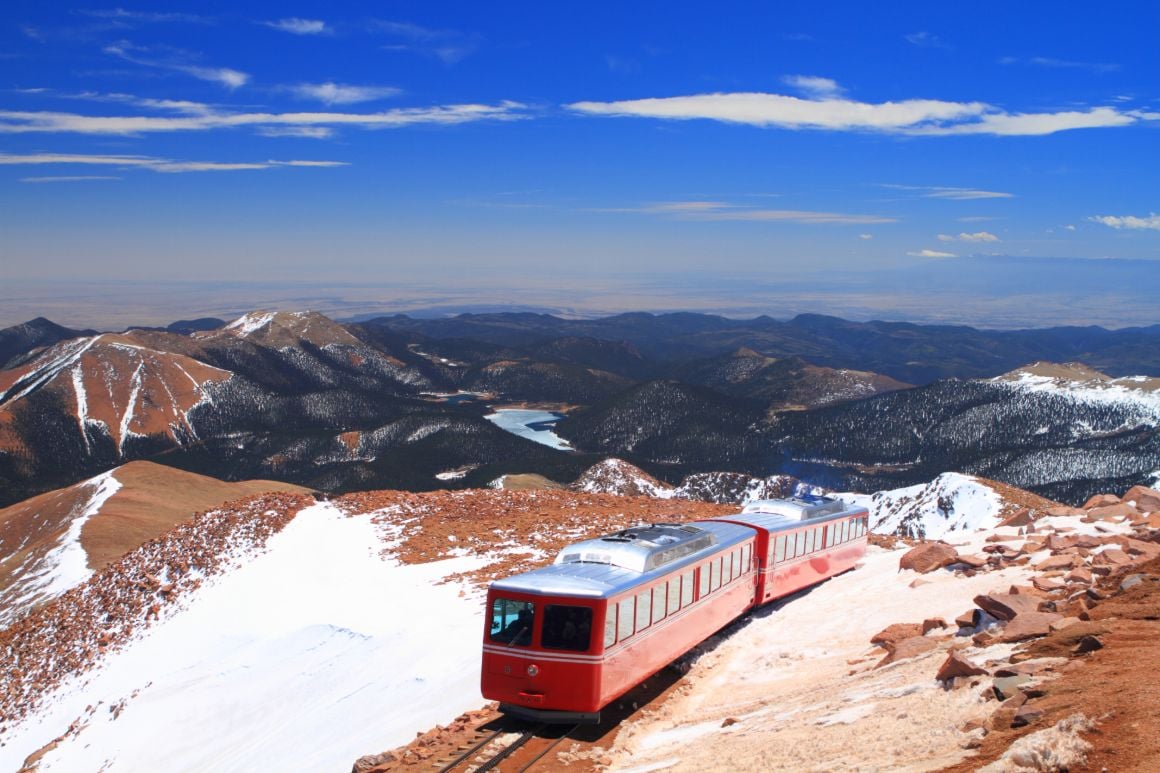 Cabins
Filter your search of VRBOs in Colorado to cabins, and you're sure to be blown away by the choices.
Cabins can be found all throughout the state, though typically in natural settings rather than in urban sprawls. Ideal for people who value peace and quiet, Colorado's cabins offer terrific access to the great outdoors. Close to hiking trails, national parks, ski slopes, back-country skiing terrain, lakes, or waterfalls, there's something truly special about staying in a rustic log cabin.
Search through the listings and you may be surprised by some of the brilliant features – ski-in access, private hot tubs, roaring log fires, fire pits, and astounding views are just a few examples.
Why Stay in a VRBO
From location and price, to comfort and convenience, VRBOs in Colorado come out on top when compared with hotels.
Unique Properties: With such diversity in accommodation types and features, you can make your VRBO accommodation part of your overall trip experience, rather than simply a base to rest your head.
Last-Minute Booking: If you're road-tripping around Colorado and looking for a place to stay, VRBO will notify you of places still available to book, no matter the time of night.
Privacy: Many VRBOs offer self-check-in along with total freedom to come and go as you please. There's no need to worry about locked doors, curfews, or off-duty receptionists if you get there later than expected.
Safety: VRBO takes responsibility for vetting all hosts and guests for everyone's protection and peace of mind. Customer support is available around the clock.
The Top 20 VRBOs in Colorado
We've covered the many reasons to stay in a VRBO in Colorado, and what you can expect. Having seen the sheer diversity in rental properties, you're probably keen to know more! So, let's dive right into our selections of the all-time best VRBOs in Colorado.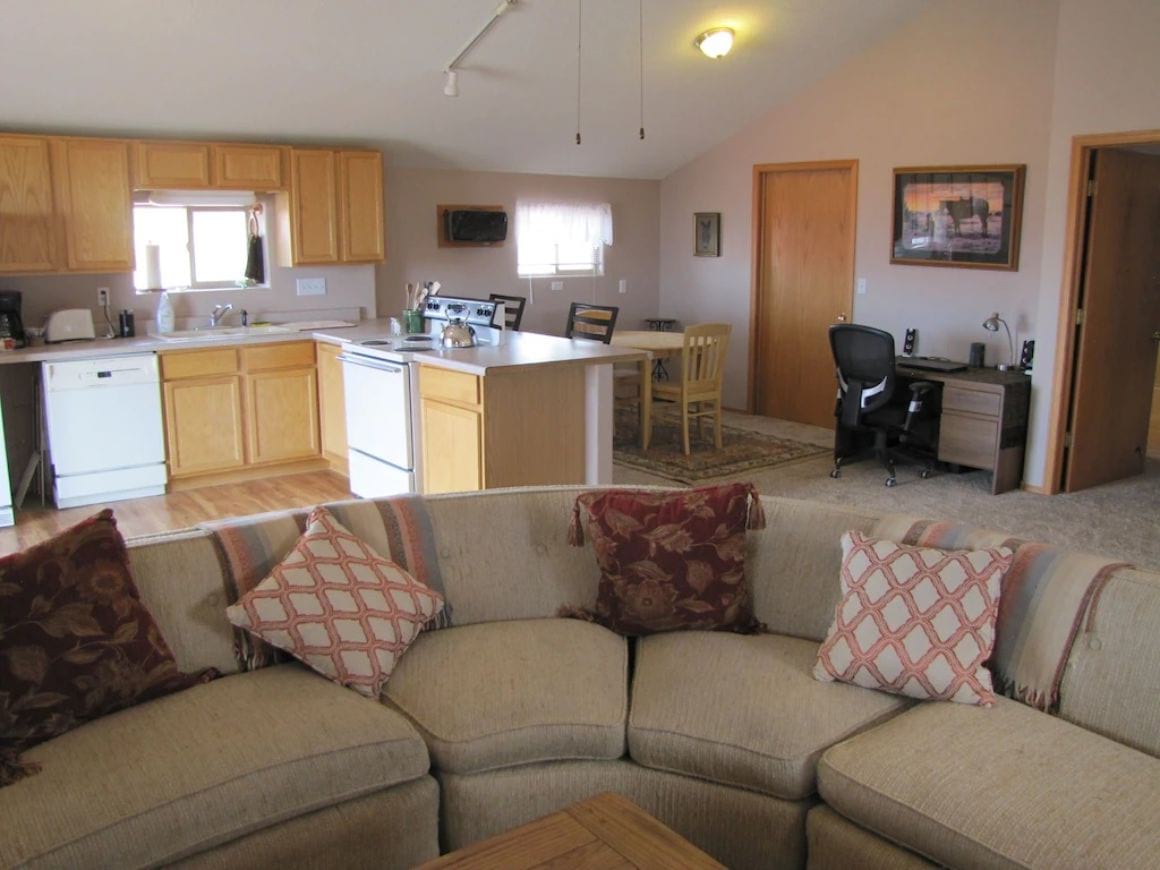 Four Guests
Outdoor adventures
Surrounded by glorious nature on the slopes of Grand Mesa, the private two-bedroom apartment at Rosie Knight Ranch is one of the best VRBOs in Colorado for travelers who want peace and quiet. Combined with easy access to outdoor activities and comfort, this apartment has a ridiculously good price.
You've got skiing, hiking, fishing, and horseriding practically on the doorstep, and it's common to spot local wildlife, including deers, foxes, and birds. You can also meet the ranch's own creatures, such as the dogs, horses, and chickens.
Places to visit nearby:
Grand Mesa National Forest
Gunnison River Pleasure Park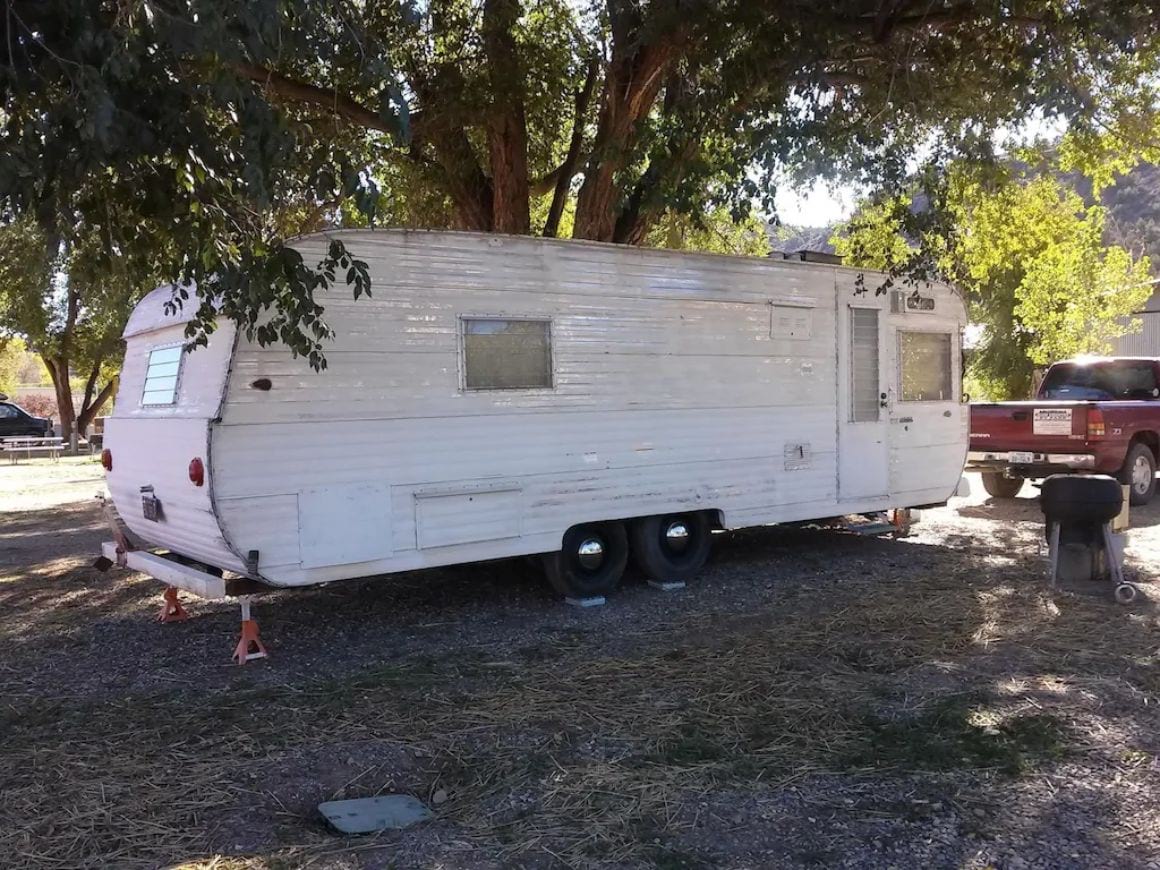 Like the idea of going retro in an old RV? Simply pick a place and your cozy RV will be there and ready when you arrive!
It has basic cooking facilities, and you can set up an alfresco dining area outside. There's a simple bathroom, and you can enjoy a sense of nostalgia as you travel back in time. It's definitely one of the most budget-friendly VRBOs in Colorado.
This is the perfect place to stay for exploring all the best things to do it town!
Places to visit nearby:
Perfect VRBO for Solo Travelers – Aurora Gem
One to two Guest
Close to the airport
This clean and modern apartment is in a friendly neighborhood, and close to restaurants and shops. Exploring the city of Aurora is easy from this comfortable base, with Denver just nine miles away and the airport within 16 miles.
The super comfy bed with high-end bedding and plump pillows provides a perfect spot for restful night's sleep after a day out and about. Extra little luxuries, like fluffy towels and a Keurig coffee machine, take the comfort up even more notches.
Places to visit nearby:
Aurora Hills Golf Course
Cherry Creek State Park
Is This the Best Backpack EVER???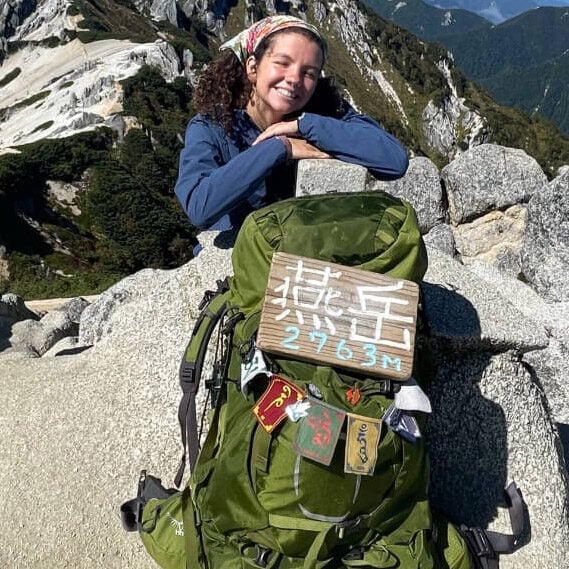 Most Romantic VRBO for Couples – Luxury 5-Star
This beautiful private condo oozes romance galore. Step out onto the secluded patio to admire the picture-perfect views across the forest and Snake River.
The high-class wooden furnishings exude charm, and there are even two bathrooms – no need for a lover's tiff over who goes first! You might even want to take a dip together in the deep, jetted tub.
The king-sized bed and the comfy over-stuffed sofa in front of the fireplace are ideal for snuggling in close. Spend time alone in your blissful sanctuary or treat yourselves to some TLC in the communal pool, hot tub next to a waterfall, sauna, and spa.
Why not take a trip to the appropriately named Loveland Ski Area too?!
Places to visit nearby:
Keystone Lake
Independence Mountain
This Colorado VRBO is a top pick for families who want loads of convenience and tons of activities, but are keen to stay away from the tourist crowds. Happy kids usually equal happy parents – thankfully, there's heaps here to make everyone smile, from the Wii, board games, TVs, and sleds, to the private hot tub, kids' bunk beds, and infant play yard.
The fully-equipped kitchen is perfect for catering for fussy eaters and there's a high chair for little ones dining.
Get out in nature and bond over activities like hiking, skiing, fishing, and biking, and chill out in the nearby community swimming pool.
Places to visit nearby:
Twenty visitors
Games room with wet bar
This stunning eight-bedroom VRBO in Colorado's famous ski resort of Breckenridge has everything you need to feel truly spoilt – and so much more!
What's important to you on vacation? Lots of space and comfort? Check. Six bathrooms, two jet tubs, and a private hot tub? You got it. Your very own mini cinema room? Sure thing!
There's a games room with a pool table, wet bar, and table football, you'll have access to a mini home gym, a bunkroom for kids or singles, five luxurious king-sized beds, and even a long, stately dining table where you can enjoy meals prepared in the large, modern kitchen. And, there's ski-in, ski-out access! What more could you want?
Places to visit nearby:
Breckenridge National Historic District
Copper Mountain Village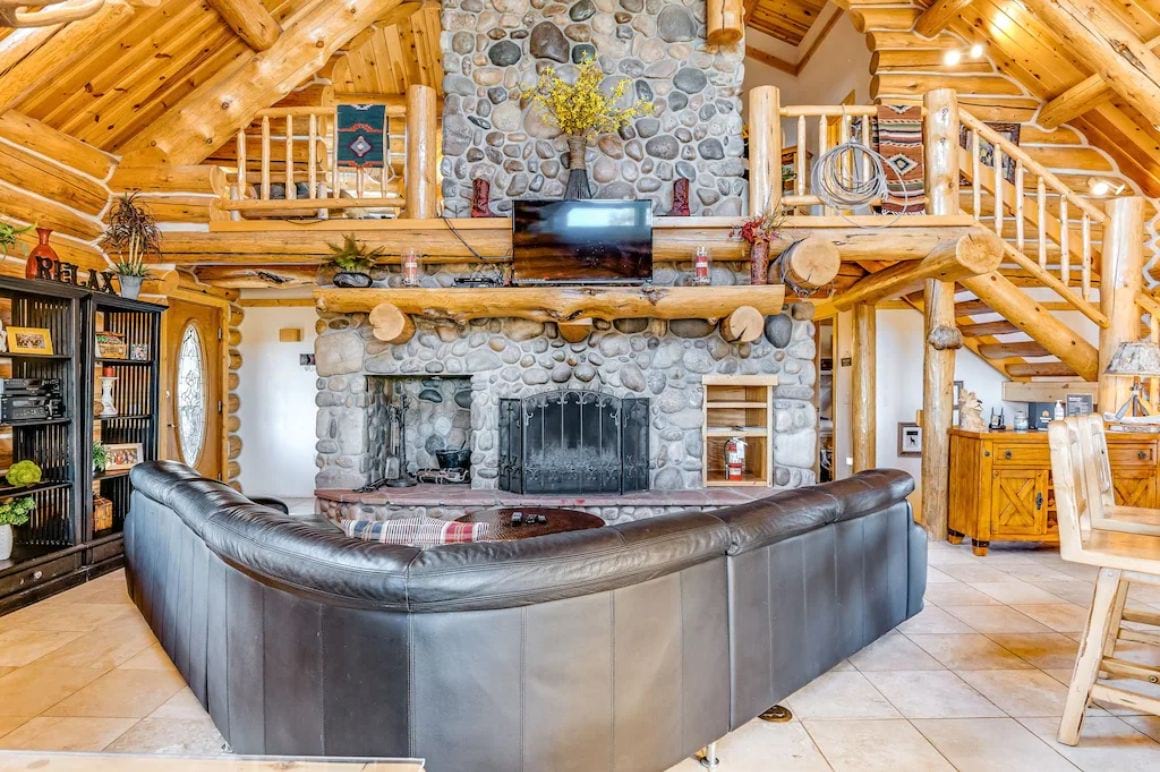 Ten visitors
Quirky designs
For its great price and excellent amenities, this is our winner for the best house listed on VRBO in Colorado. Inside its cute, colorful, and quirky, with attractive woodwork, stonework, ornaments, and textiles. Plus, the views are pretty special!
When it comes to fun and relaxation, there's a card table, shuffleboard, and private hot tub for six, not to mention the large, enticing leather sofa in front of the stone fireplace.
Lap up the glorious vistas from the wraparound deck and have a blast exploring the surroundings.
Places to visit nearby:
Pagosa Hot Springs
Crater Lake Trail
Rocky Mountain Wildlife Park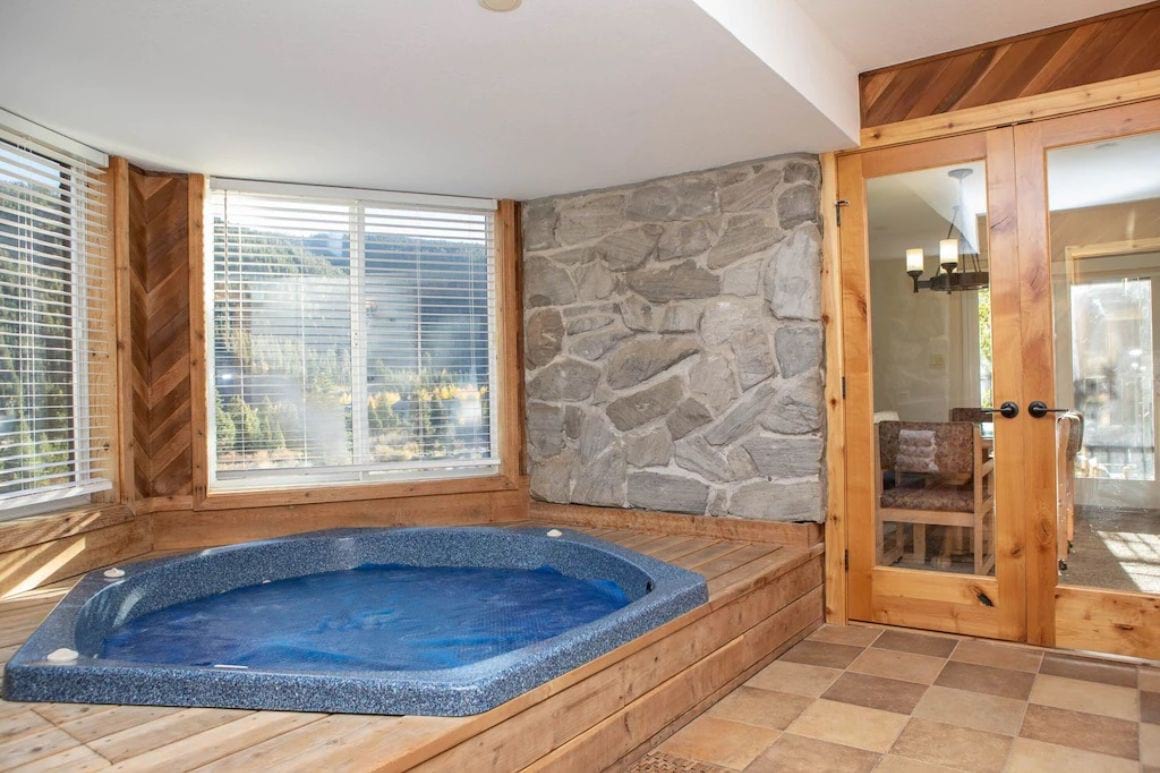 Eight travelers
Private indoor hot tub
This Colorado VRBO is tough to beat if you're looking for a fabulous, spacious, and well-equipped apartment in the Keystone area. In a fab year-round location, the ski lifts and slopes are a short walk away, while in the summer you can hike along trails surrounded by vibrant wildflowers, play golf, and go horseback riding.
Come back after a day out and relax in the indoor hot tub while you enjoy the sweeping views through the large window.
Places to visit nearby:
Keystone Ski Area
Lake Dillon
A truly one-of-a-kind Colorado VRBO, this gorgeous round wooden cabin lets you go off-grid and escape the world. It sits at an elevation of 9,000 feet atop a moraine. Soak up the stretching vistas through the large windows, show off your cooking prowess on the BBQ, and hike in solitude along the private nature-surrounded trails.
When darkness falls, gaze up at the inky starry skies in wonder, before piling wood on the burner and falling into a blissful slumber in the rustic bunkbeds.
Places to visit nearby:
Pitchpine Mountain
South Delaney Lake
Mount Zirkel Wilderness
Best Tiny House on VRBO in Colorado – Tiny House Destiny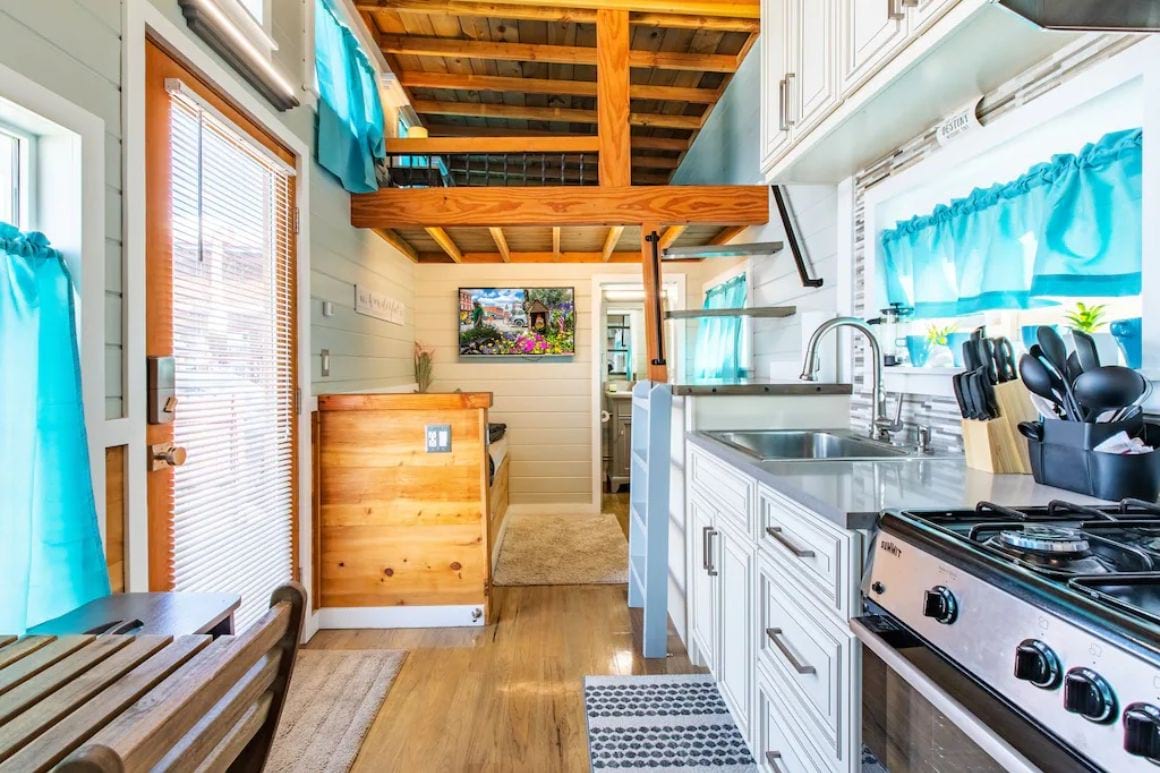 Two Guests
Close by to must-see sights
This tiny house certainly doesn't hold back! Combining little luxuries, high standards of comfort, and everything you need for a home-from-home feeling, it features a well-equipped kitchen, bathroom with stand-up shower, large loft bedroom, living area, and work desk. You'll be amazed by how roomy it feels!
Leadville's historic highlights and the soaring mountains are within easy reach, and you get the bragging rights of having stayed in the highest incorporated city in all of North America!
Places to visit nearby:
Twin Lakes
National Mining Hall of Fame and Museum
Mount Elbert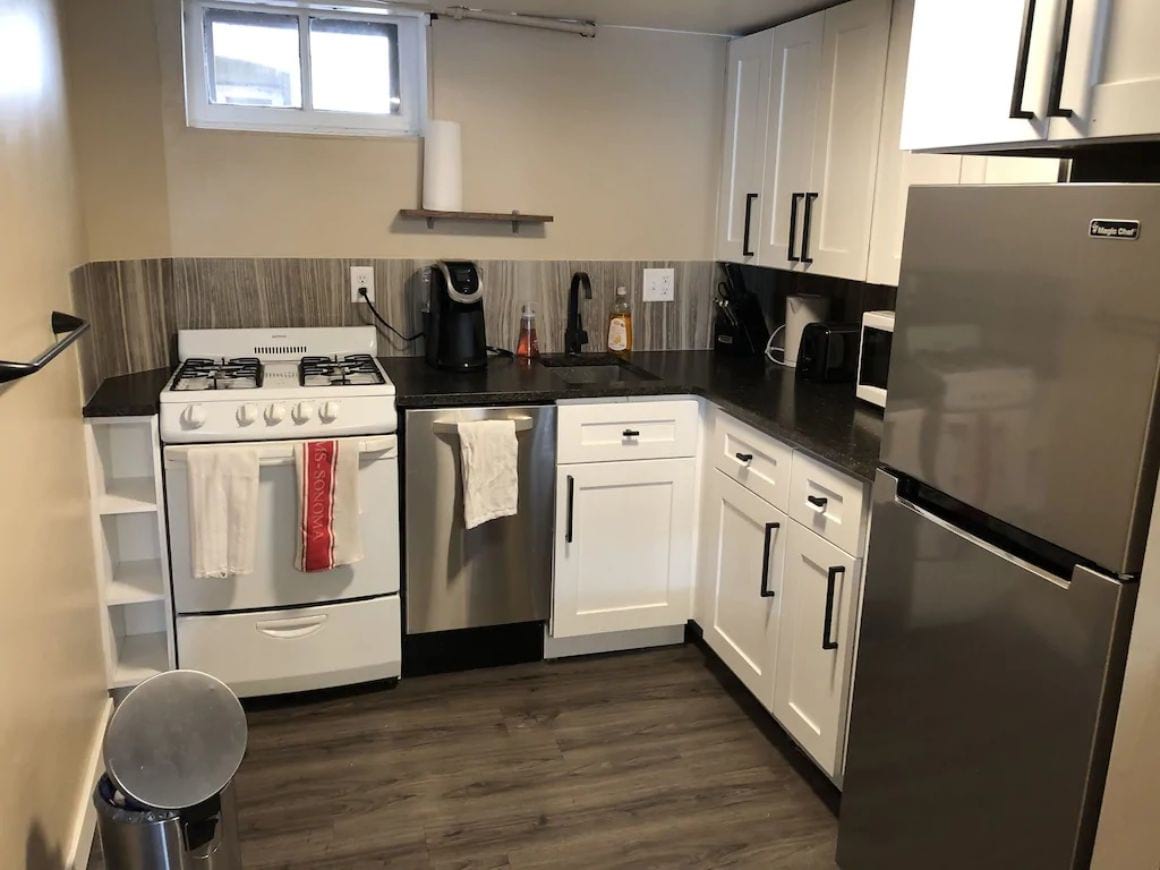 Book a mate's break right in the heart of the action. Located in Denver's cool Cheesman Park neigborhood, you'll find loads of terrific entertainment and live music within walking distance.
You're also just a short way from Capitol Hill and the CBD, which are prime spots for nocturnal fun.
Hungover after your night on the town? Cook up a hearty breakfast in the well-equipped kitchen.
Places to visit nearby:
Pepsi Center
Coors Field
Denver Botanic Gardens
Fifteen visitors
Exquisite interiors
Boasting huge windows, high ceilings, wooden floors, timber beams, and lots of luxuries, this is one of the best VRBOs in Colorado's stylish resort of Aspen. Perfect for families and friends who love outdoor adventures and swanky accommodation, it has six gorgeous bedrooms, several seating areas (inside and out), a large kitchen, and five bathrooms.
Fancy a soak in the tub? This home has several, including one outside! There are other surprising features too, like the pool table, kids' teepee, and elegant piano. And the views are totally out of this world!
Places to visit nearby:
Aspen Mountain
John Denver Sanctuary
Aspen Art Museum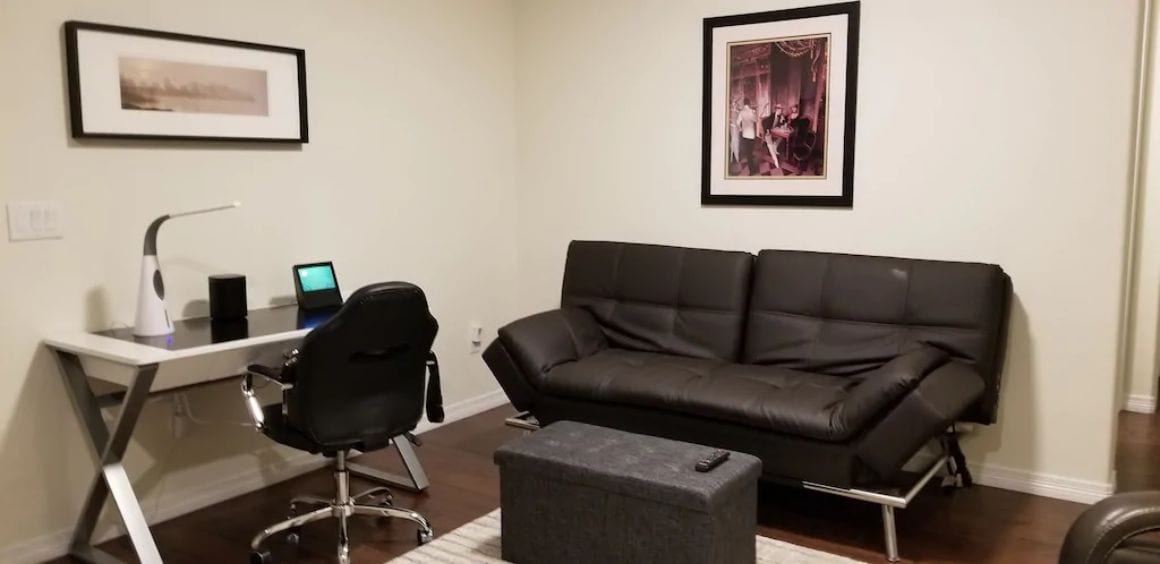 Don't be put off by the fact this place can sleep up to six – it has one individual bedroom and a large living area, rather than multiple bedrooms. It's our favorite VRBO in Colorado for digital nomads for several reasons.
One – the workspace with desk, leather office chair, Wi-Fi, and printer is set up with business in mind. Two – the sleeping and working spaces are separate. Three – long-term renters are welcome. Four – you can take a break and chill in the communal pool or relax in front of the TV. And five – it's well located for easy access to the Denver Metro Area and Airport.
It definitely ticks all the boxes!
Places to visit nearby:
Lone Tree Arts Center
Ridgegate Trail
Meridian Golf Club
Best VRBO in Colorado for a Group of Friends – Legado Lodge
Call up your besties because this is one of the best VRBOs in Colorado for a group of friends. It can accommodate up to 12 adults (with extra space for four kids), five separate bedrooms, multiple living areas, a kitchen big enough to cook up a feast, and four full bathrooms.
Head outside to enjoy the gas BBQ and hot tub, with stunning views all around.
Skiing trails are close by, and it's a short stroll to the shuttle route and several chair lifts. No need to worry about cramming your cars to bursting—with ample parking for six vehicles you can all just meet up here.
Places to visit nearby:
Breckenridge Riverwalk Center
Breckenridge Ski Resort
Copper Mountain Village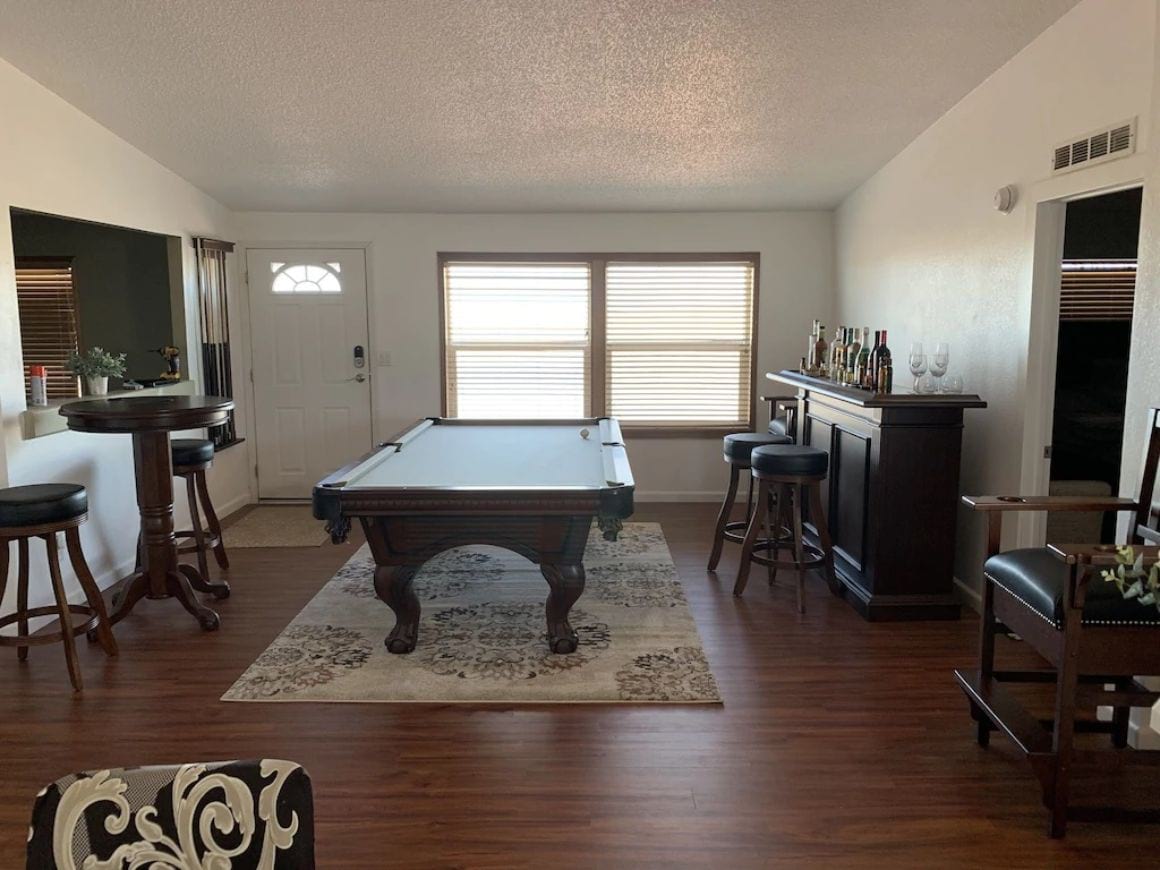 You'll find everything you need for lively and fun nights in with your crew in this fabulous 1,300-square-foot Colorado VRBO near Colorado Springs.
Mix drinks at the bar, shoot some pool, have a cook-up on the charcoal BBQ and play darts – the open-plan design makes mingling a breeze. Add extra fun to your nights with the popcorn and snow cone machines.
Three bedrooms (two with twin beds) makes slinking off to bed easy.
Feeling the aftereffects? Cook a hearty brunch in the industrial-style kitchen, and soothe your soul in the hot tub.
Places to visit nearby:
Dragonman's Shooting & Paintball Range
Aztec Family Raceway
Paint Mines Interpretive Park
Most Unique VRBO in Colorado – Elouisa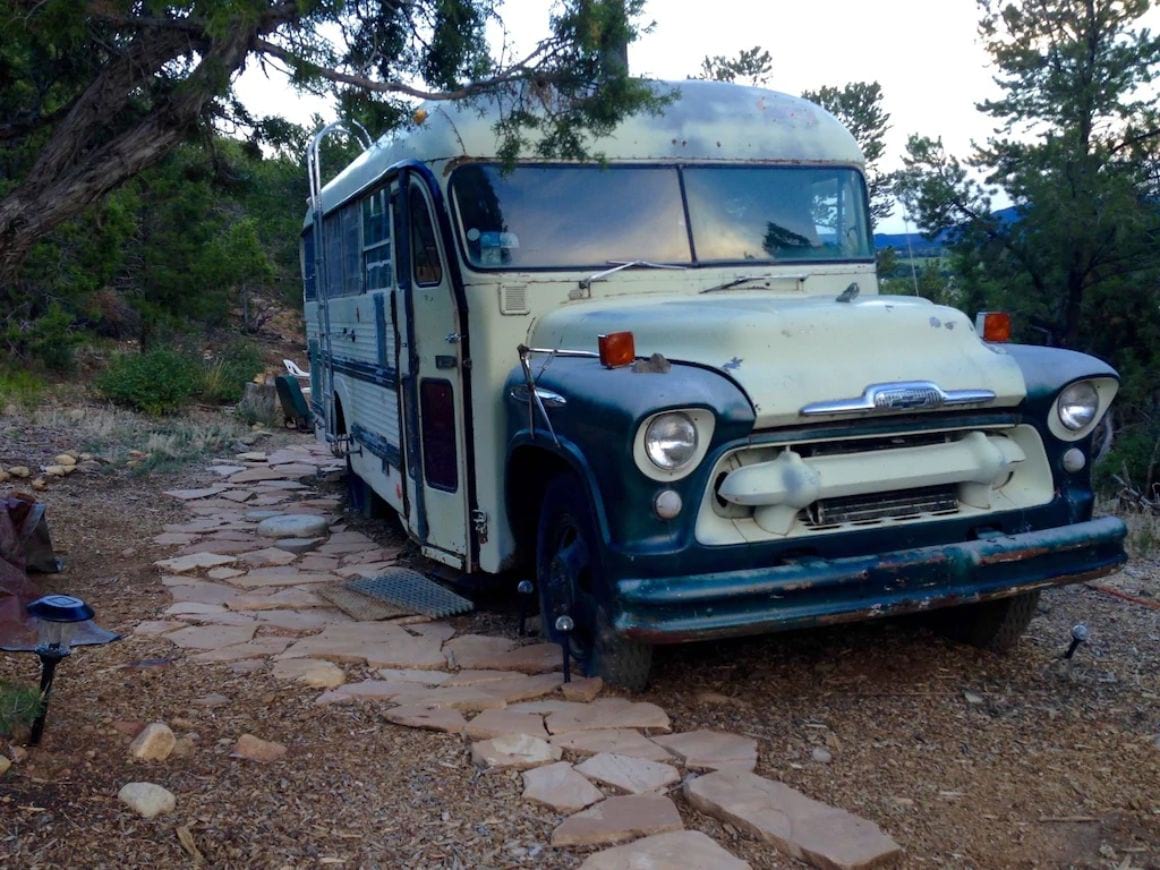 Two travelers
Private bathroom close by
You've done hotels, apartments, cabins, and chalets. You've camped it up in RVs and tents. You may even have stayed in yurts and teepees. Now, it's time for something totally different – stay in a converted school bus!
Among the most unique VRBOs in Colorado, it's also one of the best Colorado VRBOs for nature lovers and people who want to escape into the wilderness. It's unlikely you'll encounter another soul in the surrounding woodlands, yet you're not actually that far from Mancos town if you need anything.
From the unique home, try out all the unique things to do in Colorado.
Places to Visit Nearby
Mesa Verde National Park
Bauer House
Artisans of Mancos
If you're planning weekend in Colorado Springs, this six-person property is ideal for families and groups of friends. You can easily walk to downtown yet enjoy a friendly neighborhood feeling when you return.
Part of a gorgeous craftsman home, the private apartment has a light-filled open-plan living/kitchen area with a selection of games and toys to keep younger guests entertained.
Places to visit nearby:
Pikes Peak Center
Garden of the Gods
Manitou Cliff Dwellings
Best VRBO in Colorado for Fishing – Canyon Escape
Two travelers
Homey ambiance
Situated right alongside Boulder Creek, this quaint cabin offers exceptional opportunities for fishing in the clear waters. Mix and match your outdoor adventures with hiking, biking, climbing, kayaking, and skiing also close by.
Set in beautiful woodlands, the rustic cabin is any nature lover's dream! Cook your catch on the wood-burning stove and relax in a tranquil haven.
Places to visit nearby:
Boulder Falls
Flatirons
Fox Theater
Twenty people
Located in the Elk Mountains
There are many superb VRBOs in Colorado with incredible vistas, so what makes this one special? Well, you can admire the glorious views while soaking in your own private outdoor pool! There's a pretty patio and hot tub too, but the pool makes the marvelous mountains even more magical. The views don't end there, the many large windows offer the same stunning scenery.
Other awesome features include a ping pong table, smart TV and SONOS speakers, BBQ, cozy fireplaces, garage parking, and handy equipment for children.
Places to Visit Nearby
Snowmass Village
Burnt Mountain
Krabloonik Dogsled Rides
Best VRBO in Breckenridge – Ski Hi Lodge
Sixteen visitors
Direct ski slope access
This stunning accommodation may well be one of the most beautiful VRBOs in Colorado. The Breckenridge Lodge has six individually styled bedrooms and five bathrooms making it perfect for big groups.
The beautiful large open-plan family area is a real winner, with comfy seating in front of an elegant stone fireplace, a pool table, and a mini bar (complete with a selection of glasses for the perfect cocktails). And outside, there's a grill and a hot tub in front of a toasty wood fire.
Don't Forget Your Colorado Travel Insurance
ALWAYS sort out your backpacker insurance before your trip. There's plenty to choose from in that department, but a good place to start is Safety Wing.
They offer month-to-month payments, no lock-in contracts, and require absolutely no itineraries: that's the exact kind of insurance long-term travellers and digital nomads need.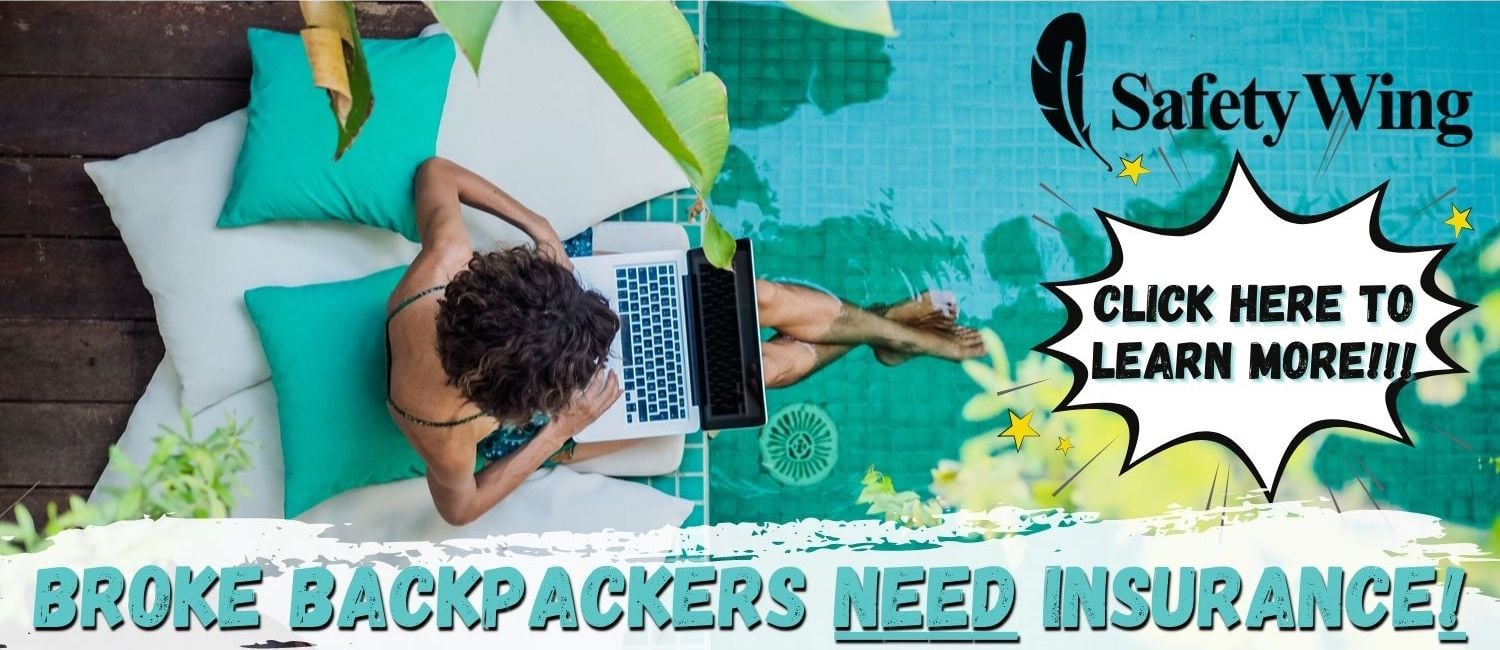 SafetyWing is cheap, easy, and admin-free: just sign up lickety-split so you can get back to it!
Click the button below to learn more about SafetyWing's setup or read our insider review for the full tasty scoop.
Final Thoughts on Colorado VRBOs
From city sightseeing to magical outdoor adventures, Colorado's VRBOs are in the perfect locations for you to have a stay to remember. Denver, Aspen, Breckenridge, Aurora, Colorado Springs – where will you choose?
Whether you're seeking an intimate cabin or love-nest apartment, a convenient house for families and friends, spectacular lodges, or something a bit different from the norm, Colorado has the lot.
The best Colorado VRBOs come with top-class facilities to aid those special moments. Private hot tubs, roaring fireplaces, breathtaking views, and top-quality kitchens are just a few of the things that can take your stay from just okay to simply wonderful.
---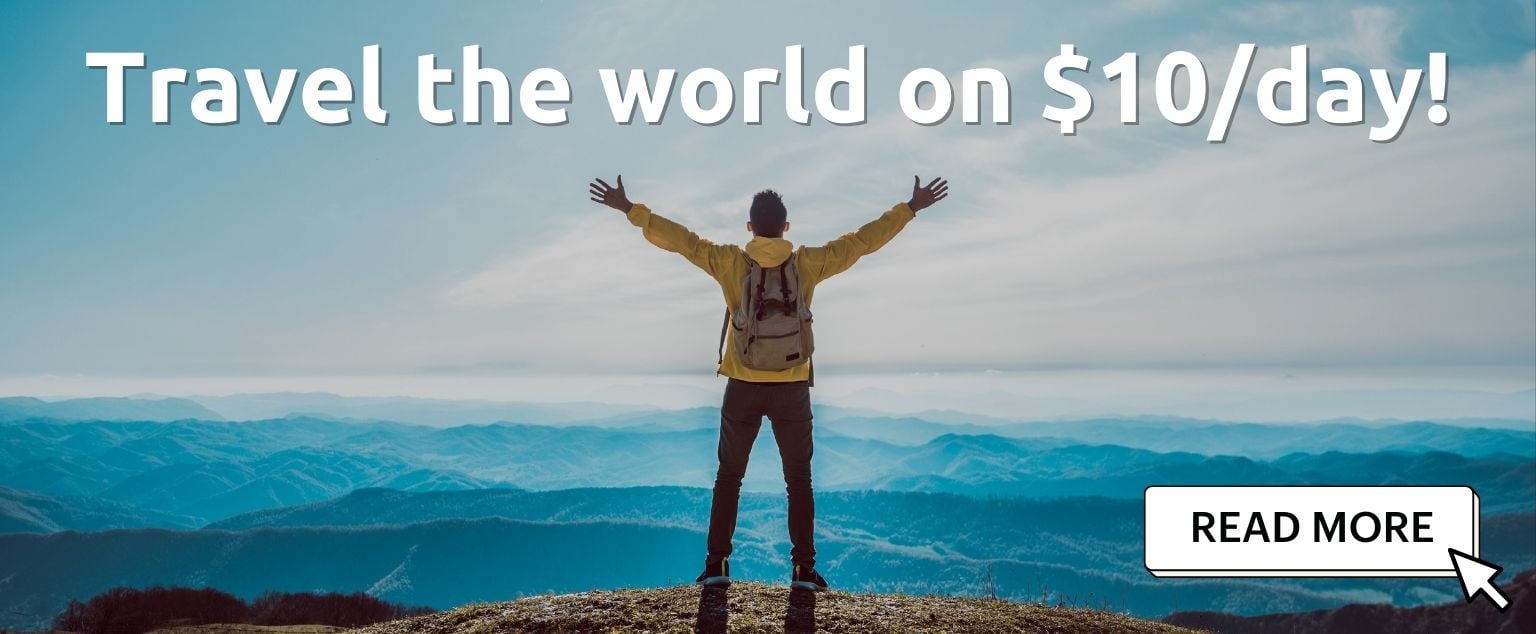 And for transparency's sake, please know that some of the links in our content are affiliate links. That means that if you book your accommodation, buy your gear, or sort your insurance through our link, we earn a small commission (at no extra cost to you). That said, we only link to the gear we trust and never recommend services we don't believe are up to scratch. Again, thank you!