The state of Colorado is known for Rocky Mountain National Park, incredible ski resorts, and fantastic forested trails. Every year, thousands of people looking for an outdoor adventure plan trips to Colorado!
If you're planning on visiting Colorado for your next vacation, you'll want to consider looking at unique accommodation in Colorado instead of staying at some stuffy business hotel. In such a magical place, there are plenty of fun options that combine the best aspects of camping and luxury all in one.
To help with your search, we've done the hard work for you and put together a list of the best cabins and tree houses in Colorado. With so many awesome options, picking a spot can be overwhelming so we've narrowed it down to the top places for a variety of travel styles and budgets.
BEST BUDGET CABIN IN COLORADO
BEST BUDGET CABIN IN COLORADO
Little Cabin in the Woods
> $
> 2 Guests
> Outdoor fire pit
> Great location for hiking
BEST CABIN FOR COUPLES
BEST CABIN FOR COUPLES
Riverside Meadows Cabins
> $$
> 2 Guests
> Spacious patio and garden
> Located alongside Rio Grande River
OVER-THE-TOP LUXURY CABIN
OVER-THE-TOP LUXURY CABIN
Aspen Vacation Home
> $$$$
> 7 Guests
> Equipped kitchen
> Ideally located near the bus stop

Unlock Our GREATEST Travel Secrets!
Sign up for our newsletter and get the best travel tips delivered right to your inbox.
Unique Accommodation in Colorado
Colorado is a large state, so depending on where exactly you plan on visiting Colorado, the options for unique accommodation will vary slightly. Most of Colorado's top attractions are natural wonders, like national parks and forests for hiking, mountains for skiing, and hot springs for relaxing.
There's a wide variation in location for the best cabins and tree houses in Colorado. Some are situated closer to towns and cities if you prefer to be closer to civilization. But there are also great options for total immersion in nature where you're surrounded by incredible scenery!
Most cabins and tree houses in Colorado are open year-round, and have heating or fireplaces to keep you comfy and cozy during the cold winter months. Summers can get hot but you'll have great natural air conditioning from the mountain breeze in Colorado!
If the price is a concern for your trip, rest assured that you can find plenty of great budget options. Since tree houses require more maintenance, there is more choice when it comes to budget-friendly cabins in Colorado, but these properties will still guarantee a unique experience.
Families, solo travelers, couples, or large groups can all find great options for unique accommodation in Colorado. There's no need to be stuck in a tiny hotel room when you can experience the wonders of the outdoors in a woodland cabin or lofty tree house!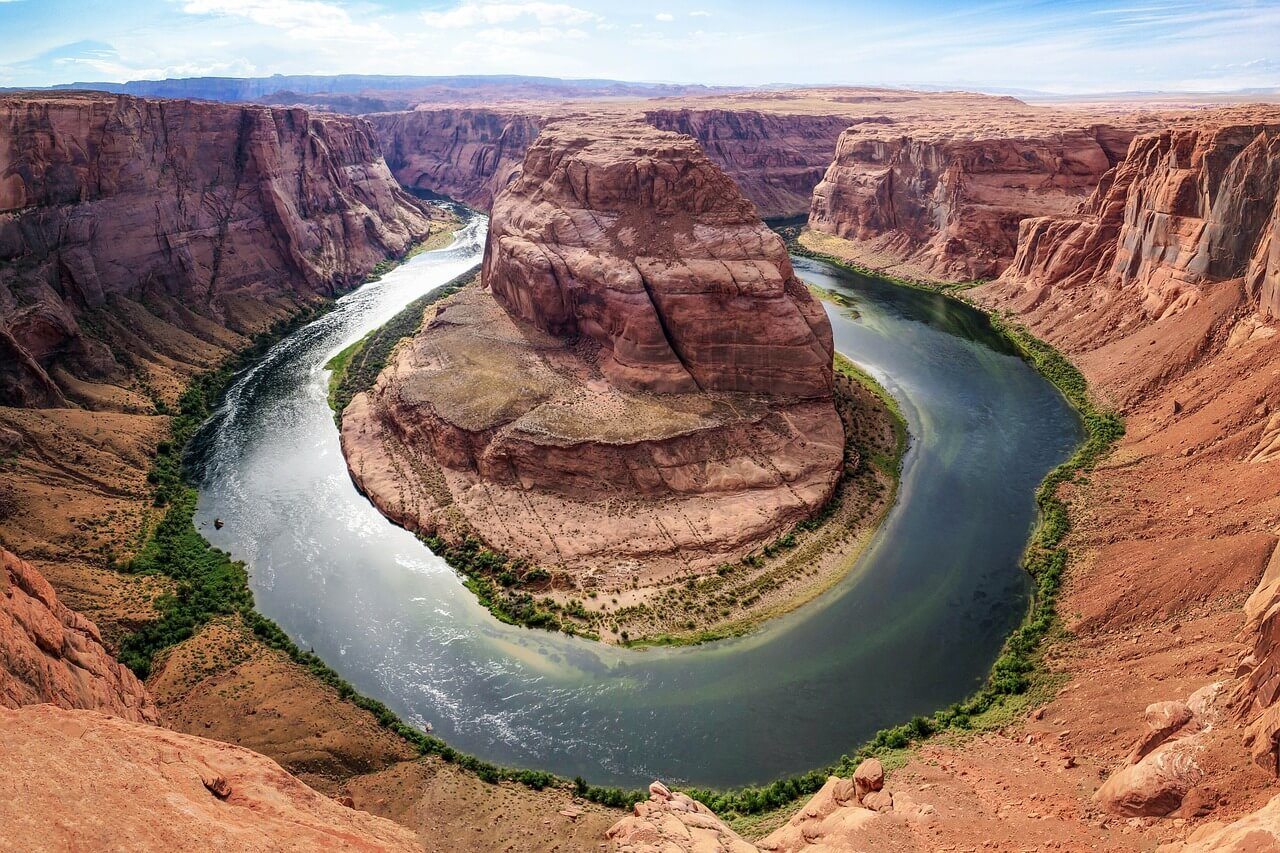 Staying at a Cabin in Colorado
Cabin properties vary from tiny off-grid spots for hard-core campers to luxurious resort-style buildings with electricity, water, Wi-Fi, and all the familiar comforts you'll find in your own home! This diversity in size and style makes it possible for everyone to find something that fits their needs.
One of the first things to take into consideration is the location of the cabin. If there is a particular area of Colorado you're interested in visiting like Rocky Mountain National Park or certain hot springs, check the surrounding area to see what options are available.
Most cabins will offer free parking on-site, making them convenient places to stay if you're on a road trip or renting a vehicle for your Colorado vacation. Sometimes in more popular tourist destinations, there are also public shuttle buses during the summer bringing visitors to the nearby attractions.
Depending on how close to nature you want to get, you can find some cool cabin properties that will offer an experience closer to camping in Colorado, thanks to the outhouses and campfires. These rustic and remote locations definitely add an extra touch of adventure to your Colorado vacation!
If you're not so enthusiastic about entrenching yourself in nature, there are plenty of cabins with excellent modern facilities including electricity, heating and Wi-Fi. It's possible to stay close to town or out in the wilderness in the best cabins in Colorado!
Staying at a Tree House in Colorado
When you envision a tree house, you may picture a children's lofty playhouse, right? Well, get rid of that thought and prepare for a truly remarkable vacation by staying in a tree house in Colorado! Of course, as the name suggests, you will quite literally have a bird's eye view perched on the limbs of a tree.
Tree houses can range from more basic camping properties to quite luxurious "nests" with views of the Colorado forests and mountains. Some places come equipped with running water and electricity, while others will require you to give up these luxuries as part of the experience!
Other places are hooked up with Wi-Fi, running water, heating, and sometimes even TVs to give your tree-top experience a modern flare. Even if you're staying at a tree house, the property owners are usually on-hand to answer questions and concerns that may arise.
Most of the best tree houses in Colorado are in isolated and secluded areas, yet still within easy driving distance from towns and cities. The bonus of this is that you won't have any close neighbours or light pollution. This can be a great scenario if you enjoy the sounds of nature, but might not be the best option if you prefer to be closer to shops and restaurants.
While tree houses in Colorado are very safe, there could be some concern about staying in one of these properties with young and curious children. If you're a family traveling to Colorado and you want to stay in a tree house, make sure that the property is suitable for children before making your reservation.
The Top 15 Cabins and Tree Houses in Colorado
Now that you have an idea about what makes cabins and tree houses so special and unique, get ready to be blown away by the options on this list. Staying at one of these awesome options for unique accommodation in Colorado will guarantee a trip of a lifetime!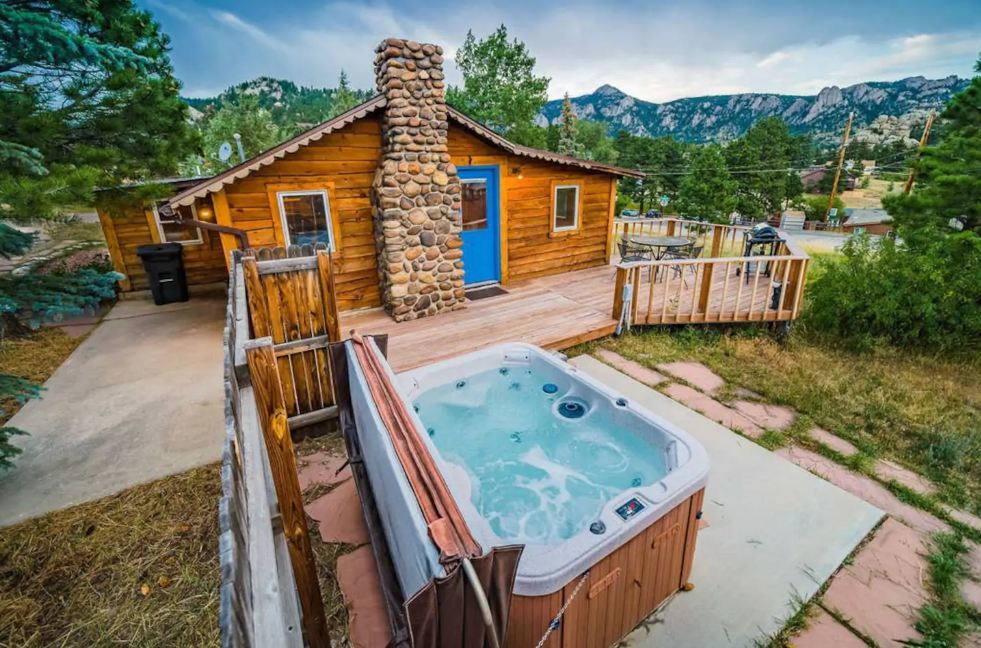 Private hot tub
Gorgeous mountain views
Feel close to nature, but also enjoy a central location close to the shops, attractions, and amenities of the beautiful Estes Park, one of our favourite places to visit in Colorado. This comfy one-bedroom cabin has a fully equipped kitchen, TV and Wi-Fi, laundry facilities, plus an outdoor hot tub with spectacular views!
You can easily walk around Estes Park, or take a short drive to the other forests and parks in the area. Whether you're coming to enjoy hiking in the summer or skiing in the winter, this cabin is always a guaranteed cozy place to stay!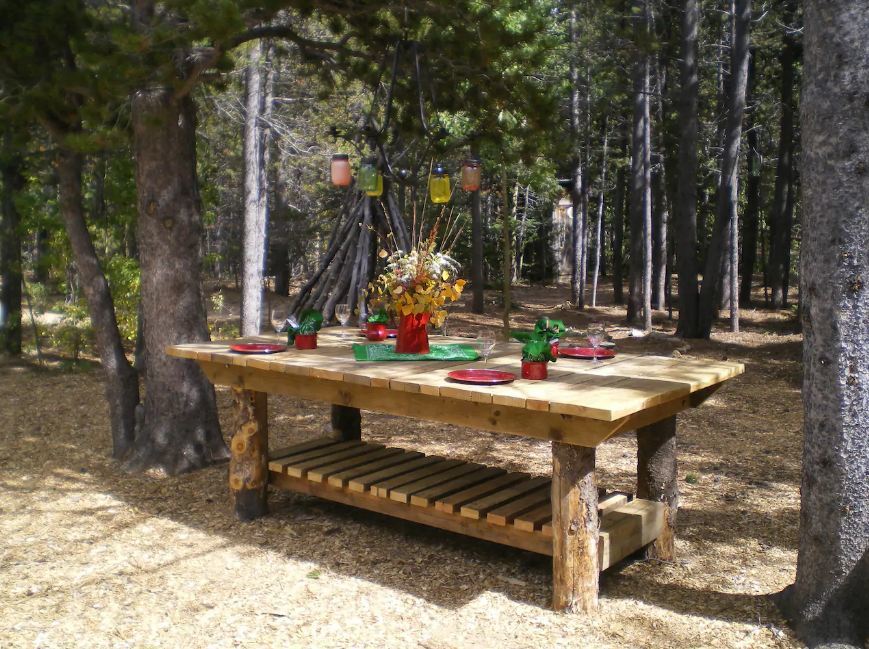 Outdoor fire pit
Great location for hiking
This little cabin will provide the perfect base for outdoor enthusiasts and offers a truly unique experience at any time of year! The one-room private cabin has an indoor fireplace to keep you toasty and warm in the winter, a separate outhouse, and a deep well for water.
You can visit the Brainard Lake Recreation Area, Rocky Mountain National Park, or just sit and appreciate the peace and serenity surrounding the cabin. A 2-burner propane stove and wood for an outdoor fire is provided, and you can bring ice and groceries to prepare your favorite camping meals!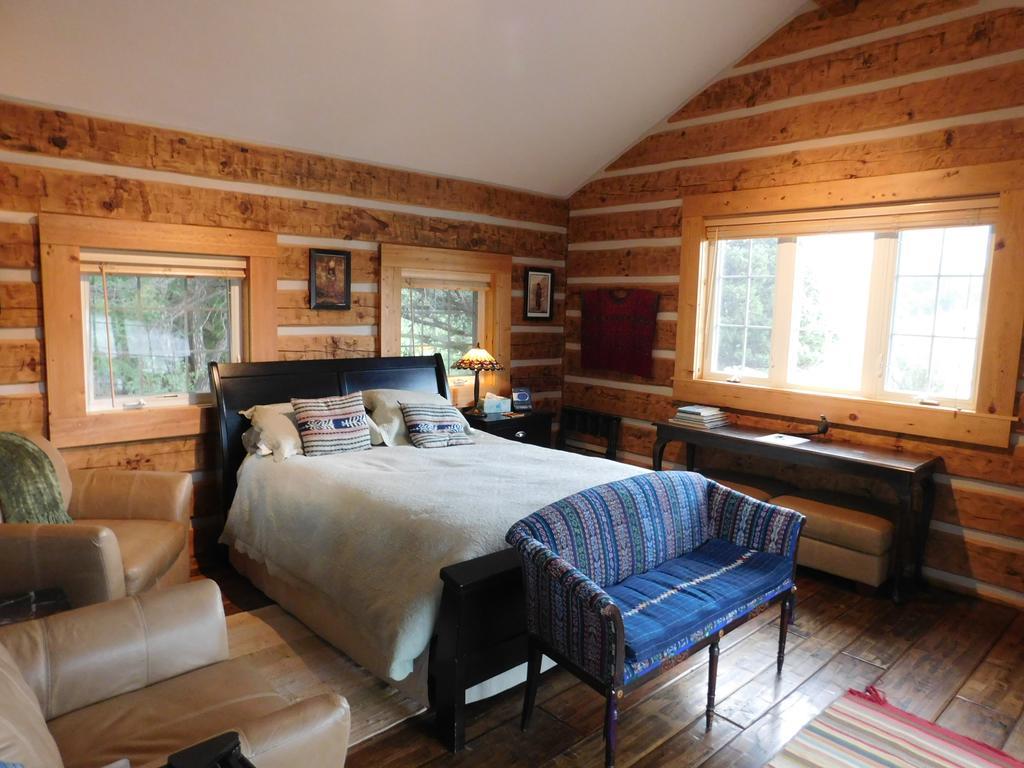 Spacious patio and garden
Located alongside Rio Grande River
A great cabin retreat close to the Rio Grande Club & Resort, Riverside Meadows has all the charm and character you need for a romantic vacation as a couple. Your private cabin comes equipped with a comfortable queen-sized bed and a private bathroom, heating, a TV and a refrigerator.
Guests at the Riverside Meadow Cabins can enjoy year-round free activities including fishing, kayaking, rafting, and snow-shoeing. At the end of a day of adventures, come back and relax in the communal hot tub or make a fire and stay in your cozy cabin!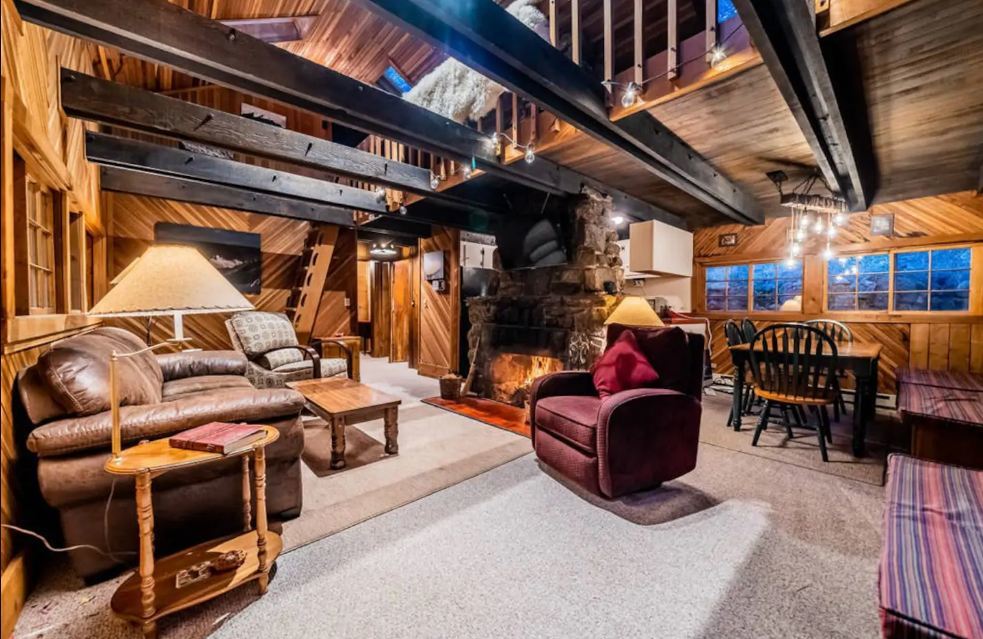 Comfortable living areas
Short drive to Rocky Mountain National Park
Planning a trip to Colorado with your friends? Skip trying to book hotel rooms and instead rent this entire private cabin equipped with a kitchen, laundry facilities, heating, and Wi-Fi. One of the biggest selling points of this spot is the wildlife that roams the area and you can expect to see elk and deer right outside the window!
The tastefully decorated cabin has 3 large rooms and an indoor fireplace and offers a cozy weekend escape. Estes Park and other top attractions are only a short drive away where you can go hiking, mountain biking, rafting, and skiing. At the end of the day, you can relax and enjoy a beautiful view of the forests and mountains of Colorado from the cabin.
An Eco-Friendly Traveller NEEDS an Eco-Friendly Backpack!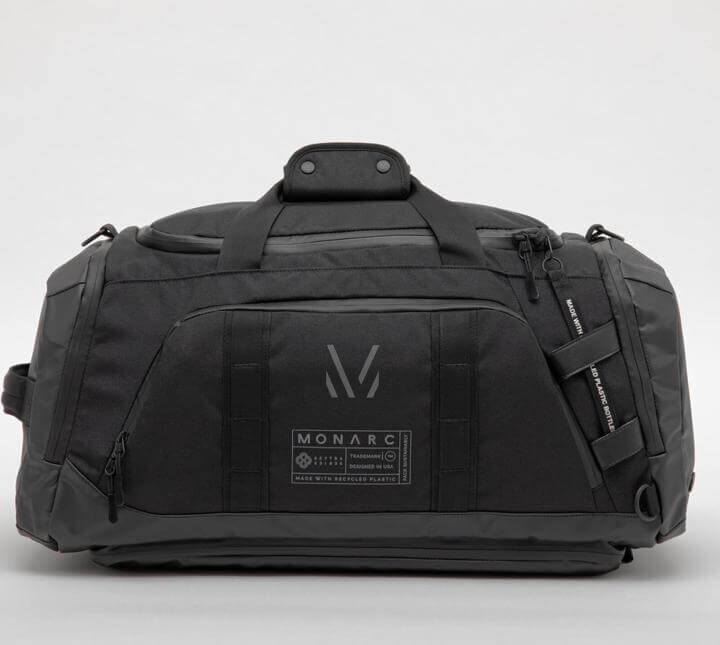 50 recycled plastic bottles – that's what goes into every Monarc Settra: the world's MOST SUSTAINABLE backpack.
Whether you're rocking duffel mode or backpack mode, if you're a traveller that gives a flying hoot about their environmental impact, then there's only one backpack you should consider – the plastic-negative Monarc Settra.
Learn More Now!
Incredible setting nestled in the trees
Campfire space
This sweet retreat in the trees makes for an exceptional place for a group of friends to stay during a trip to Colorado! The hand-built cabin has a beautiful view of Cattle Creek as well as a fully equipped kitchen, TV, and bathroom with a rock shower. Not only does it come with an indoor fireplace, but a hot tub too, making for the perfect weekend getaway.
Located in Carbondale, the tree house is just a 15-minute drive from Glenwood Springs and there's free parking on site. Nearby attractions include hot springs, an adventure park, and great hiking opportunities in the Rocky Mountains area!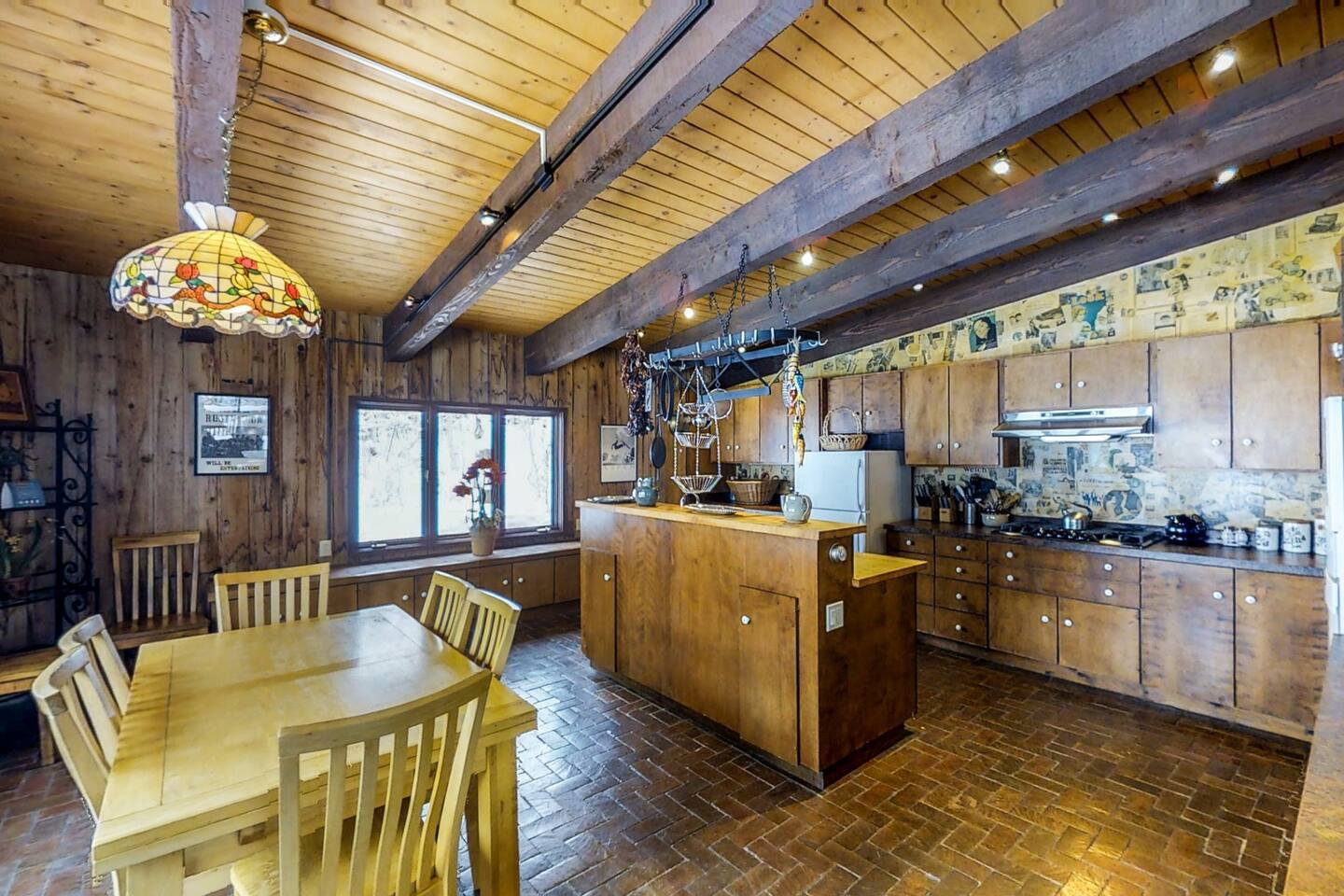 Equipped kitchen
Ideally located near the bus stop
Less of a cabin and more of a luxurious mountain retreat, this stunning vacation home has four bedrooms and three bathrooms, one of which has a soaking tub! You can cook your own meals in the spacious kitchen or relax on the balcony overlooking the trees.
The cabin is close to Aspen, Colorado, which is the site of the Aspen Music Festival and other fun events throughout the year. Nearby, there are plenty of options for outdoor activities like hiking, biking, and skiing, making it an ideal spot to visit.
Best Cabin for Families visiting Colorado – Brown Bear Cabins
Large garden area
Cosy living room with fireplace
If you're searching for a place to stay in Colorado with your entire family, look no further as the Brown Bear Cabin is the perfect option. Located in Ridgway, you'll be close to popular activities like hot springs, ski resorts, and some of the best hiking trails in Colorado.
The cabin has three bedrooms, two bathrooms, and comfortable living spaces, plus you'll have complimentary Wi-Fi to stay on top of the news. There is free parking available on-site and it's only 5 miles to the town of Ouray where you can find tourist attractions, shops, and restaurants.
Hot tub
Rustic wooden style
One of the best budget cabins in Colorado, the quaint Grand Lake Cabin is perfect for backpackers or budget travelers who are looking for a fun place to stay at a great price. Explore the hiking trails then head back and relax in the hot tub or enjoy a BBQ in your own garden.
During the summer you can relax in the outdoor picnic area, and in the winter the cabin stays nice and toasty, and is the ideal place to enjoy a glass of wine while playing a few board games that are available on the property. Grand Lake Cabin is an awesome spot to have as a base for a backpacker's adventures in Colorado!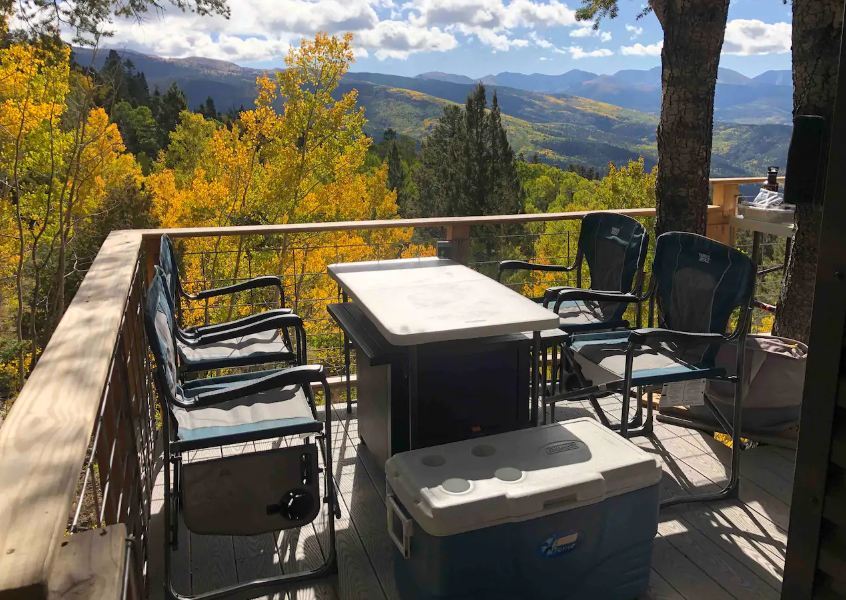 Camping kitchen
Spectacular views
Going backpacking through the USA and looking for an authentic glamping (glamorous camping) experience in Colorado? Well, this cool off-grid tree house will certainly fit the bill. Reconnect with nature and take a break from the distractions of technology while still having homey comforts!
There's a small camping kitchen area, a composting toilet, and camping essentials like bug spray and sunscreen. The high altitude of the property means that you'll need to adjust to avoid altitude sickness, but after that, it's the perfect place to truly experience the magic of the Colorado wilderness at a reasonable price.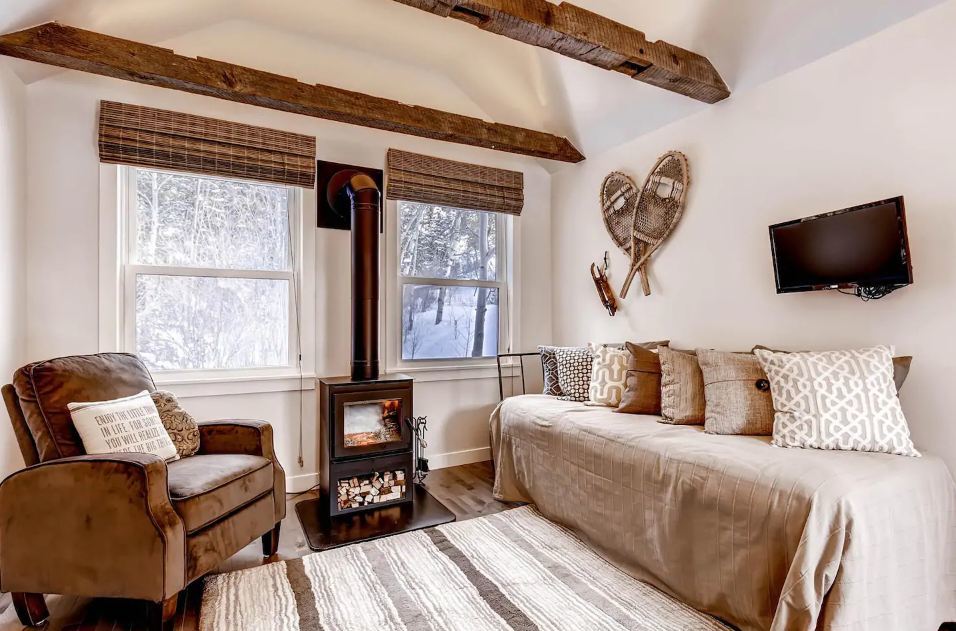 Equipped kitchen
Indoor fireplace
Close to Denver and set in a historic area of Colorado which dates back to the Gold Rush, this luxury cabin in Colorado will allow you to enjoy your time in Colorado in comfort and style. The two-bedroom cabin has a bathroom that comes stocked with toiletries, a fully equipped kitchen, an outdoor grill, and patio space with great views.
You can drive to Idaho Springs in just a few minutes and there are many ski slopes nearby. The cabin matches the history of the area, and gives you a comfortable place to relax after spending your day horseback riding, hiking or mountain biking.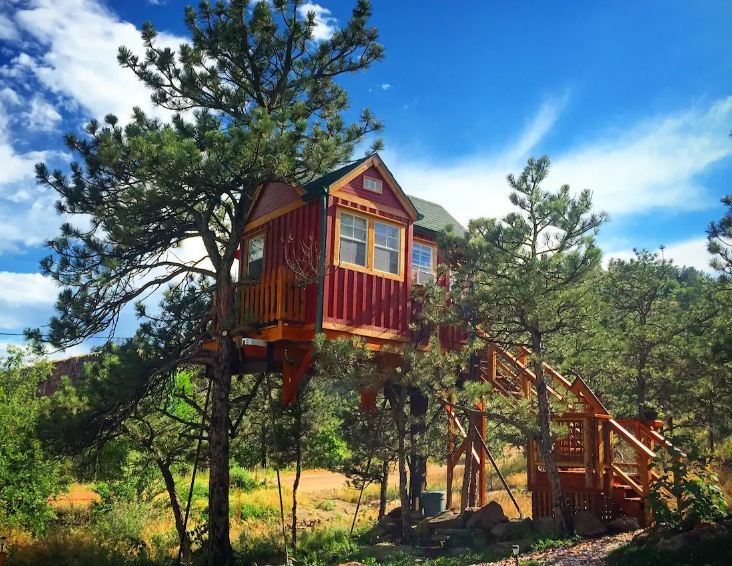 Air conditioning and heating
Close to RockyGrass festival
The perfect space for a couple looking for unique accommodation in Colorado, the Little Red Tree House has all the comforts of home like electricity, an equipped kitchen as well as a truly jaw-dropping view of the beautiful Colorado landscape.
You'll be walking distance from Lyons, Colorado, which is the location of the RockyGrass festival as well as numerous restaurants and stores. The surrounding area is full of hiking trails and biking paths, and you can even go tubing on nearby rivers!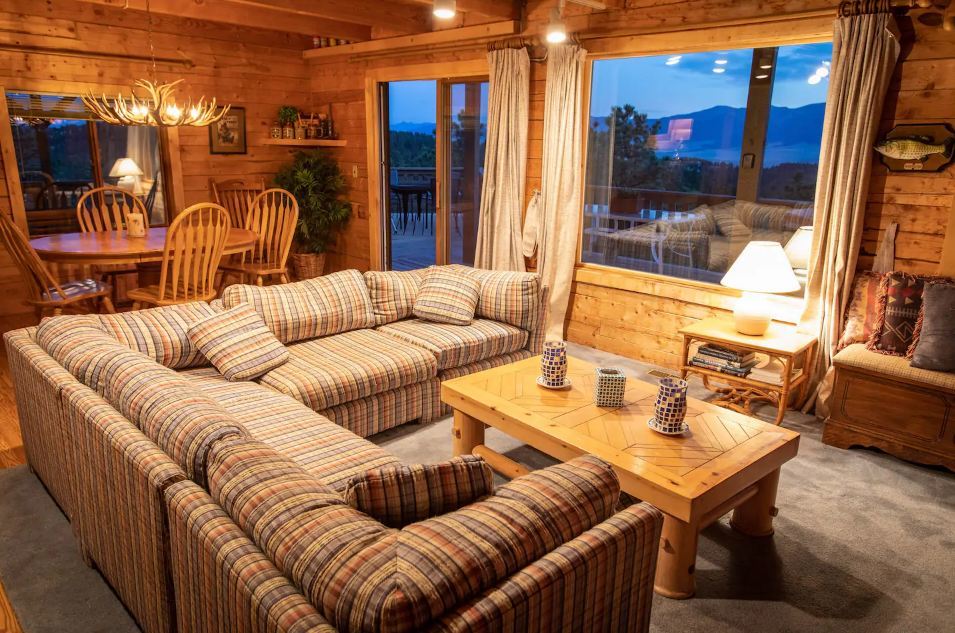 Hot tub with panoramic views
8,800 ft. elevation
For a lofty experience in Colorado, check out this private hilltop cabin with spectacular views over the Wet Mountain Valley! The two-story cabin has two bedrooms, plus sofas and can accommodate up to 8 people if necessary.
Due to the high elevation and steep staircase needed to reach the cabin entrance, this option is better suited for people who are in good physical condition and enjoy the outdoors. The town of Westcliffe is a 15-minute drive from the property, and the lack of city lights make the cabin a great place to spot wildlife and stargaze.
If you're planning on exploring more of this area, check out the beautiful city of Colorado Springs which is nearby. There is so much to do here with activities to keep you busy all day!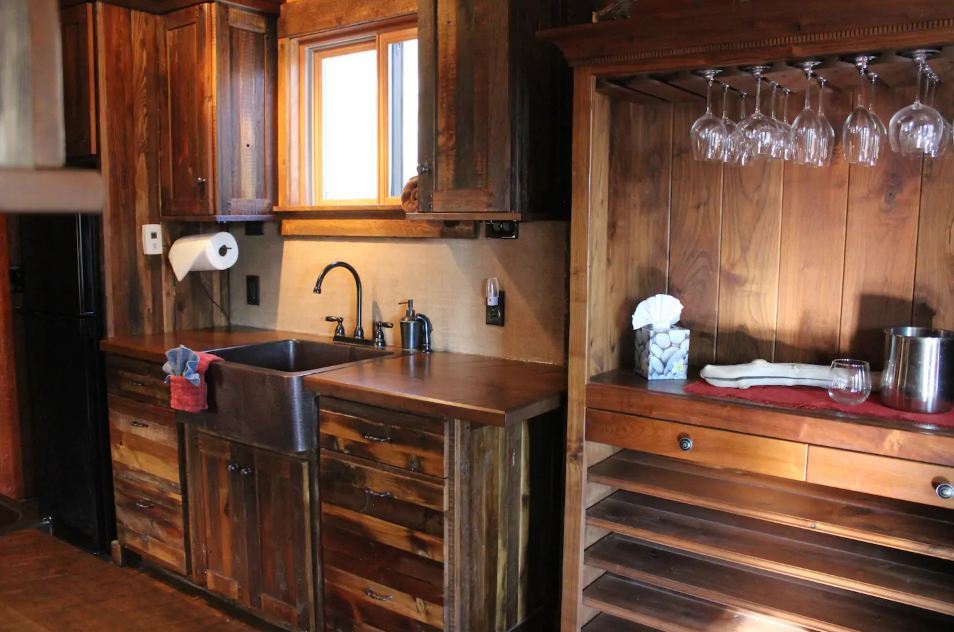 31+ day rentals
Aspen forest setting
For travelers looking for a long-term retreat in a beautiful Colorado forest setting, this is a great choice. Spend your time hiking in the woods, or write that book you've always wanted to – this is the perfect place to escape to!
The cabin comes fitted with all the comforts of home like heating, Wi-Fi, and an equipped kitchen, as well as comfortable bedroom fitted with a queen-size bed. The property is tucked high up in the mountains and is just a 20-minute drive from Leadville where you can pick up supplies.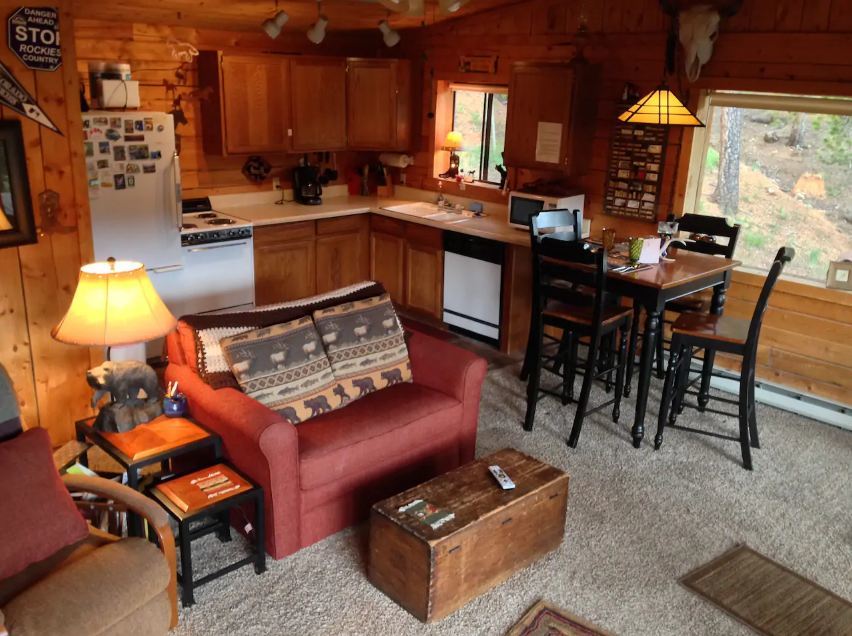 Just a 45-minute drive from Denver, this awesome cabin is close enough to the city, yet far enough away, allowing you to experience the best of the Colorado wilderness.
You'll have homey comforts like an equipped kitchen and outdoor grill, but the best part of this cabin is the indoor fireplace and the hot tub. Nearby attractions include ski resorts, hot springs, hiking trails, fishing, and scenic rivers so you can try out all of the top activities in the area.
Indoor fireplace
River-side setting
Located right next to a beautiful mountain-fed creek, this stunning cabin is open year-round, although you might need to contend with snow and ice in the winter! Don't worry though, the cabin has a cozy fireplace, Wi-Fi, an equipped kitchen, and other homey comforts so it's perfect for those winter nights in.
The property owners have a manual for suggestions of what to do in the area, as well as local maps and guides. There are plenty of places to go hiking, skiing, fishing, and rafting to experience all the cool outdoor activities of Colorado!
FAQ about Cabins and Tree Houses in Colorado
Here's what people usually ask us when they look for vacation homes in Colorado.
Don't Forget Your Colorado Travel Insurance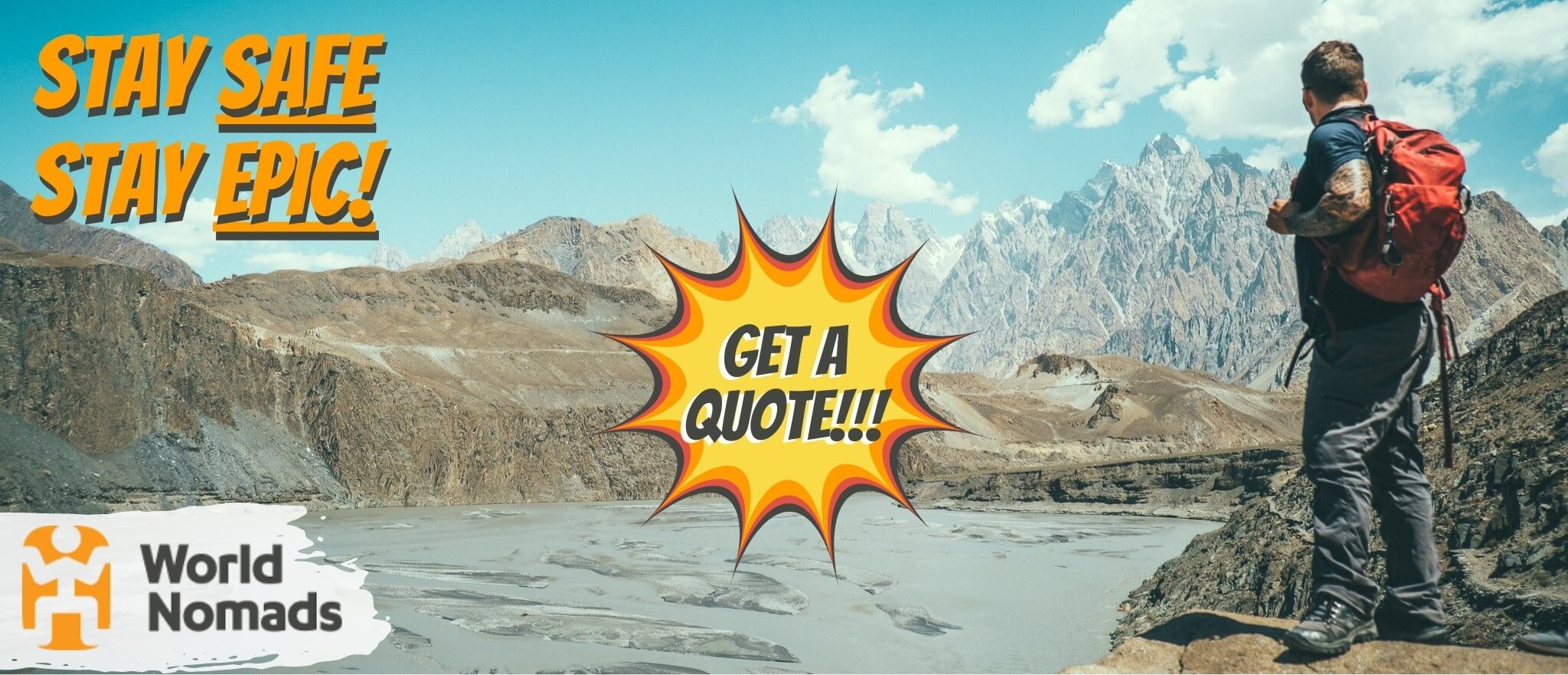 World Nomads' mission is to support and encourage travellers to explore their boundaries. They offer simple & flexible travel insurance, and safety advice to help you travel confidently.
They've been doing it since 2002 – protecting, connecting, and inspiring independent travellers just like you.
Get a quote below or read our in-depth review!
World Nomads provides travel insurance for travelers in over 100 countries. As an affiliate, we receive a fee when you get a quote from World Nomads using this link. We do not represent World Nomads. This is information only and not a recommendation to buy travel insurance.
Final Thoughts on Cabins and Tree Houses in Colorado
Whether you're a skiing enthusiast excited to experience the legendary Colorado slopes or a family hoping to find the perfect vacation for a couple of energetic kids, staying at a cabin or treehouse in Colorado is the perfect setting for your trip!
With one of these cool options on the list, you can find everything from the best budget cabins in Colorado to out-of-this-world luxury treehouses! Get as close to nature as you want, or hold on to modern comforts and style to fit your personal travel needs and preferences.
---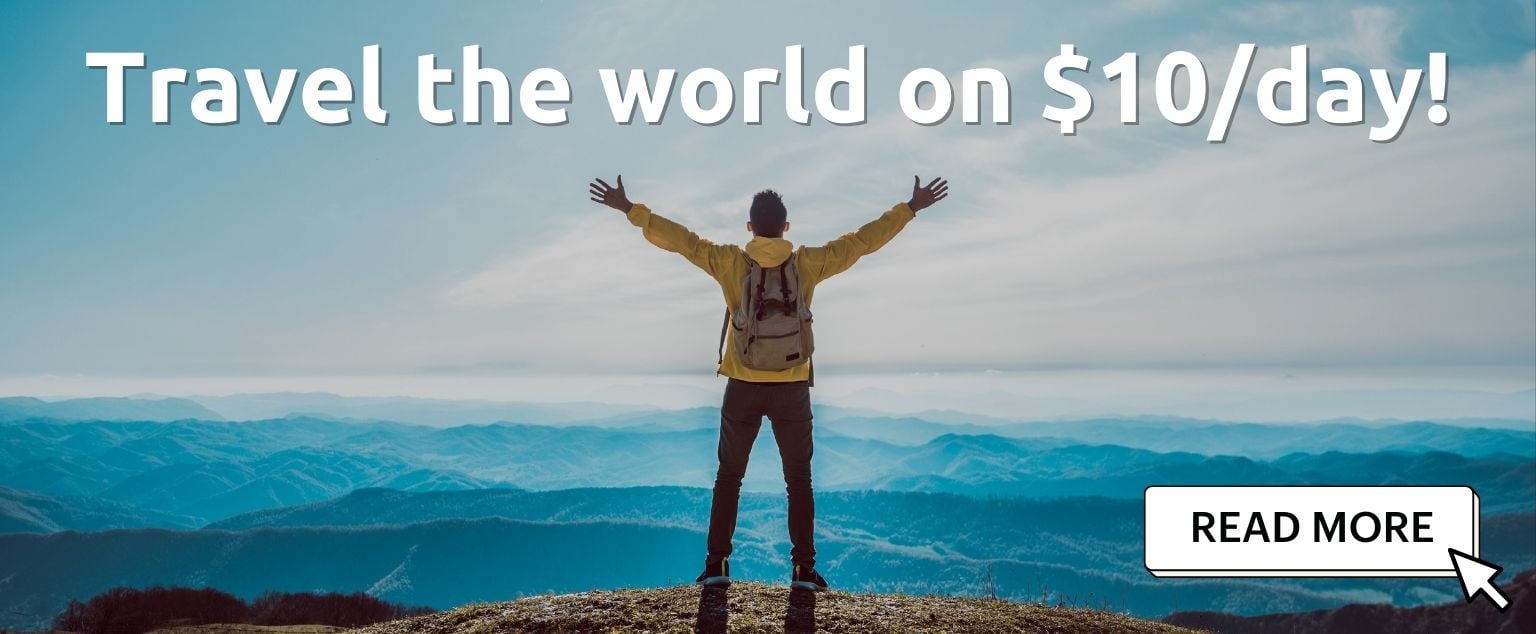 And for transparency's sake, please know that some of the links in our content are affiliate links. That means that if you book your accommodation, buy your gear, or sort your insurance through our link, we earn a small commission (at no extra cost to you). That said, we only link to the gear we trust and never recommend services we don't believe are up to scratch. Again, thank you!