With a stunningly vivid landscape of canyons, forests, rivers, and mountains, Colorado is undoubtedly an outdoor enthusiast's dream come true! I
f you're not the outdoorsy type, however, fret not: this charming state is also home to plenty of quirky and urbanized cities, like Denver, where you'll find plenty of eclectic bars, nightclubs, and shopping opportunities to entertain you during your trip.
Owing to its vast array of things to do and explore, Colorado is often hailed as one of the best US destinations for outdoor enthusiasts. Its gorgeous wildlife promises a whole lot of fun, including horseback riding, camping expeditions, river rafting and so much more! Colorado also has a few desert lands, complete with majestic sand dunes.
Staying in a cabin in Colorado instead of the usual hotels or B&Bs is one way to be truly immersed in the beautiful surroundings of Colorado. Not only are they more spacious than a hotel room, but they also perfectly fit into the rugged terrains that the state is known for, and offer much better views.
Does this all sound good to you? If so, read on to find out the absolute best cabins in Colorado.
In a Hurry? Here's Where to Stay in Colorado for One Night
FIRST TIME IN COLORADO
Downtown Cabin for 2 with Hot Tub
Featuring gorgeous mountain views, this lush cabin comfortably sleeps two in its rustic interior with modern amenities. Located in Estes Park, this space offers a hot tub, outdoor dining area, and barbecue facilities.
NEARBY ATTRACTIONS:
Images of Rocky Mountain National
Gem Lake Trail
Lumpy Ridge Trail
Is this amazing Colorado Cabin booked for your dates? We've got your back with our other favorite properties below!

Unlock Our GREATEST Travel Secrets!
Sign up for our newsletter and get the best travel tips delivered right to your inbox.
Staying in a Cabin in Colorado
There are plenty of awesome spots all through Colorado, but you'll find the very best cabins closer to the mountains and forests, near to all the best hiking trails in the state. If money is an issue, don't worry, the sheer number of options available means that you'll most certainly be able to find a place that matches your budget without having to compromise on comfort.
Now, cabins in Colorado vary from rustic and basic to charmingly shabby-chic yet steeped in luxury. Group travelers will be glad to learn that there are plenty of places with five or more bedrooms as well. Because most of these abodes are found in scenic and secluded places, they're also perfect for a romantic getaway with your significant other or simply a solo retreat for recharging those batteries!
What to Look for in Cabins in Colorado
The first thing you need to consider when choosing a cabin in Colorado is the location. The state is massive, and there are a ton of great national parks and mountain regions to explore. If you're venturing on a Colorado road trip, you're in for a treat, as you'll see there are many great cities in Colorado to stay in.
Once you have decided on where to stay in Colorado, you can start narrowing down your search filters to look at the amenities.
The great majority of spaces do have decent Wi-Fi but some properties – especially those very remote ones – may not have internet or proper cell service so be sure to enquire about that beforehand if you'll need Wi-Fi during your stay.
When booking a cabin in Colorado, it's also worth paying attention to the routes that will take you to whatever places to visit you want to see: some off-grid properties are nestled in the middle of nowhere and if complete seclusion isn't exactly what you're after, you may wish to opt for something that's closer to towns or villages. If you are taking that road trip, a place with parking would be really handy.
Some cabins feature a full, house-sized design, complete with separate bedrooms while others boast open-plan, studio layouts. It goes without saying that studios tend to be more affordable than a huge house, but their kitchen facilities might be more basic. The size of a studio would be perfect for couples or solo travelers, but most cabins do offer additional beds for extra guests if you're a family on a budget.
Remember that cabins are usually remote, so they are for travelers who would like to completely immerse themselves in nature, which can get lonely if you're traveling alone. If you want a social atmosphere, you might find a private room in a shared cabin! Just be sure to properly stock up on groceries and essentials prior to your adventure.
OVERALL BEST VALUE CABIN IN COLORADO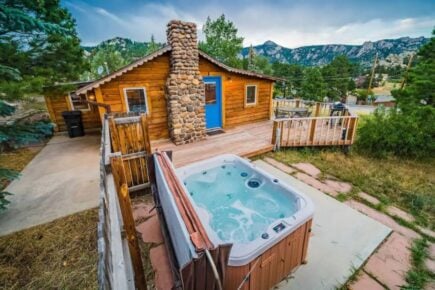 OVERALL BEST VALUE CABIN IN COLORADO
Downtown Cabin for 2 with Hot Tub
> $$
> 2 Guests
> Hot tub and fireplace
> Views of Lumpy Ridge from deck
BEST BUDGET CABIN IN COLORADO
BEST BUDGET CABIN IN COLORADO
90's-Style Log Cabin for 2 in Pine
> $
> 2 Guests
> Outdoor patio with mini grill
> Soothing valley views
THE ABSOLUTE CHEAPEST CABIN IN COLORADO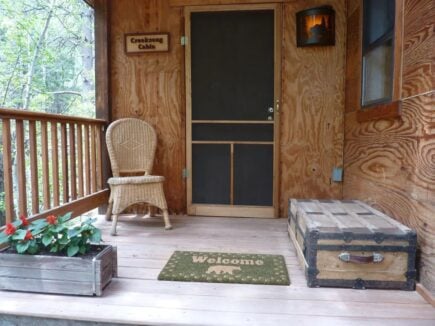 THE ABSOLUTE CHEAPEST CABIN IN COLORADO
Mountain Retreat for 2 in Jamestown
> $
> 2 Guests
> Optional sauna
> Proximity to mountain stream
BEST CABIN FOR COUPLES IN COLORADO
BEST CABIN FOR COUPLES IN COLORADO
Romantic Hillside Cabin for 2
> $$
> 2 Guests
> Hot Tub on private patio
> Mountain and valley vistas
BEST CABIN FOR GROUP OF FRIENDS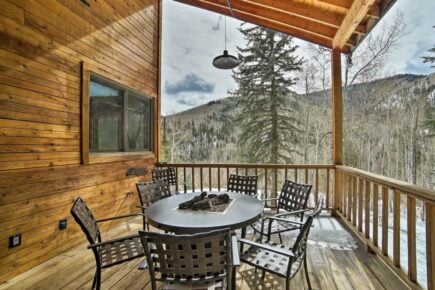 BEST CABIN FOR GROUP OF FRIENDS
Alpine Cabin Near Telluride for 16
> $$
> 16 guests
> 2 living rooms with fireplace
> Close to Dolores River Valley
OVER-THE-TOP LUXURY CABIN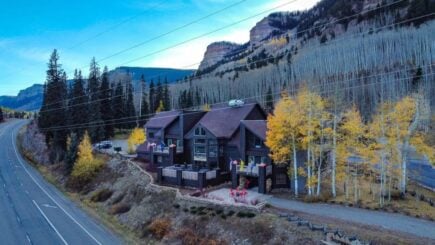 OVER-THE-TOP LUXURY CABIN
Luxurious Mountain Retreat for 16
> $$$$
> 16 Guests
> Several hot tubs
> Ski-in, ski-out facilities
AMAZING LUXURY CABIN IN COLORADO
AMAZING LUXURY CABIN IN COLORADO
120 Acres Property in Black Hawk
> $$$
> 12 Guests
> Disc golf course and ATV trails
> Overlooking the Rocky Mountains
The Top 13 Bed and Breakfasts in Colorado
Now that you know what to expect from a cabin in Colorado, it's time to look at the best of the best. Here are thirteen of the best cabins in the state.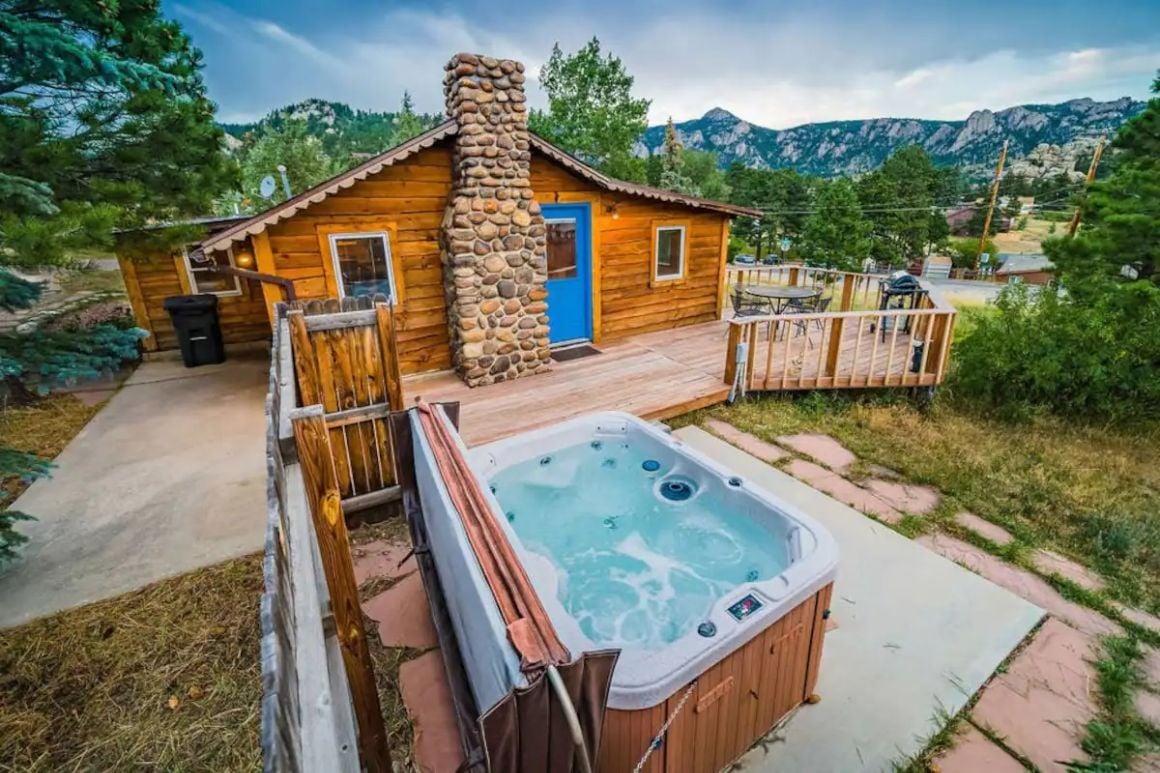 $$
2 Guests
Hot tub and fireplace
Views of Lumpy Ridge from deck
Wake up to gorgeous mountain views every morning with a stay in this cabin in Colorado! Perfect for two guests, this space has it all: a rustic setting, picturesque vistas, outdoor dining space with barbecue facilities, and even a hot tub for soothing those muscles after hiking.
This one-bedroom cabin also has a full kitchen, fireplace in the living room, and two ottomans that convert to single beds- perfect for squeezing in two extra guests! Its prime location in Estes Park promises easy access to attractions such as the Rocky Mountain National Park, Snowy Peaks Winery, and Lake Estes.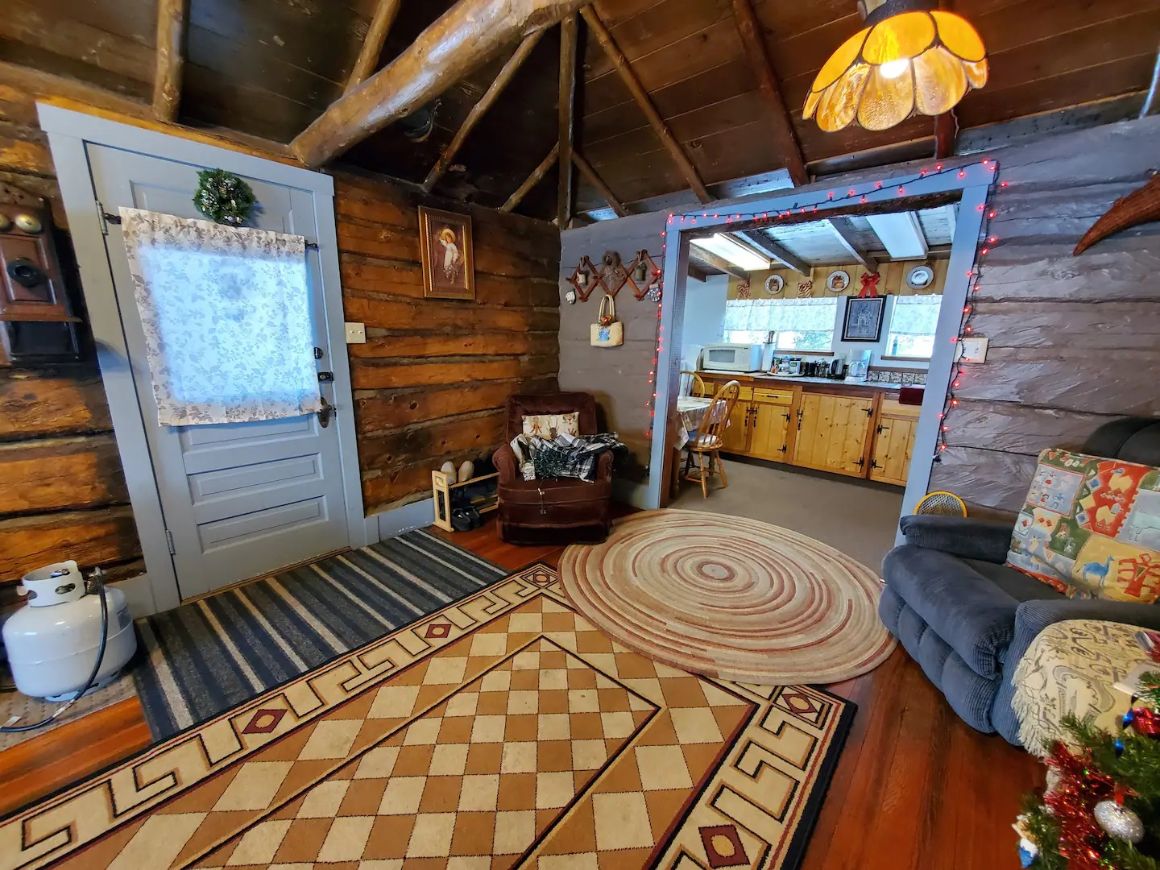 $
2 Guests
Outdoor patio with mini grill
Soothing valley views
With 1900s-style accents and amenities, this quaint cabin in Colorado is surprisingly affordable given its excellent location. Indeed, you'll be close to popular things to do in Colorado such as the Pine Valley Ranch Park, Cathedral Spires Park Trailhead, and the North Fork South Platte River- perfect for outdoorsy travelers!
Now, if you'd rather stay in and relax, you'll be glad to learn that the cabin has a comfortable living room with a fireplace, basic kitchenette, as well as a furnished outdoor patio. The bedroom comfortably sleeps two, but the couch and extra bed provide extra space for two more people.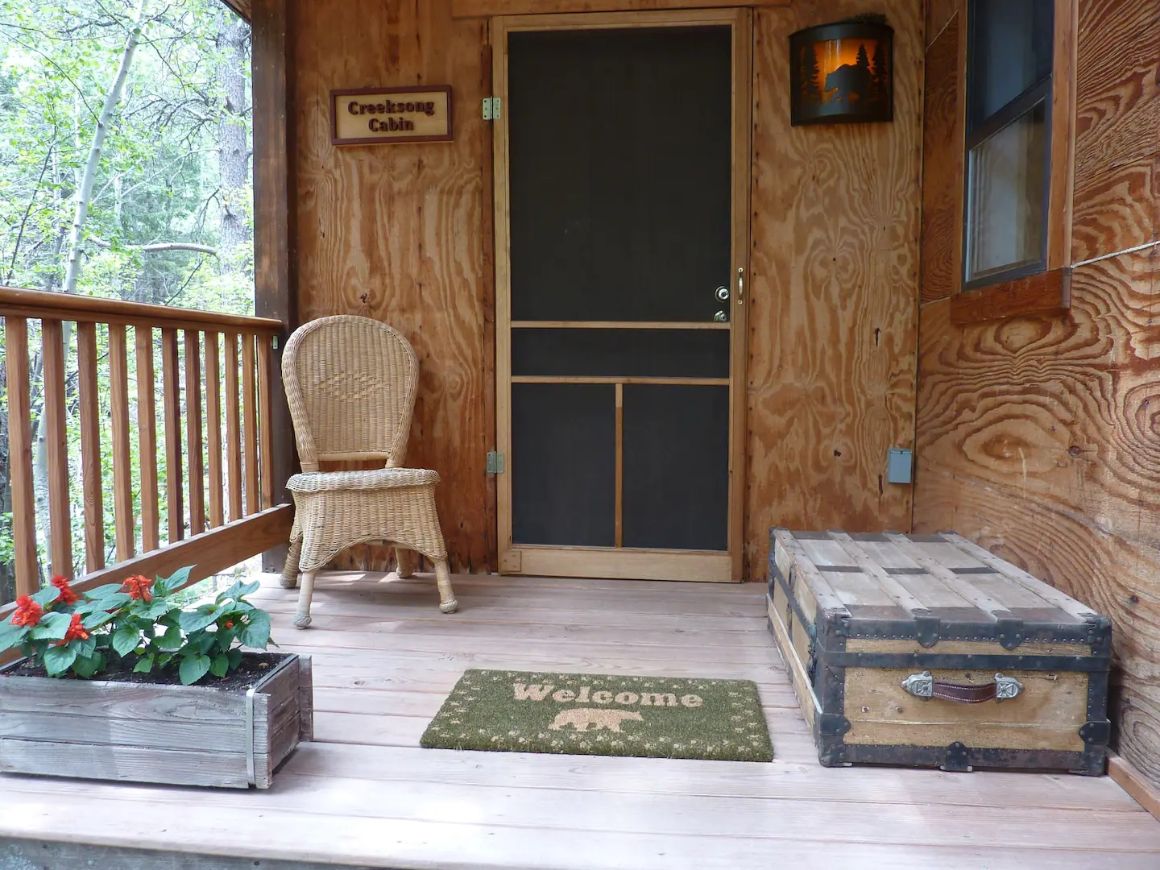 $
2 Guests
Optional sauna
Proximity to mountain stream
Budget travelers, this one is for you! Not only is this open-plan studio super affordable but it also happens to be LGBTQ-friendly.
With a double bed for two guests, this cabin also features a fully-equipped kitchen and plenty of lush outdoor space. Fall asleep to the melodious gurgle of running water every night thanks to the soothing mountain stream that runs just outside the window!
When you feel like exploring, you can always take a quick drive to the Brainard Lake Recreation Area and the Indian Peaks Wilderness. The world-famous Rocky Mountain National Park is an hour away.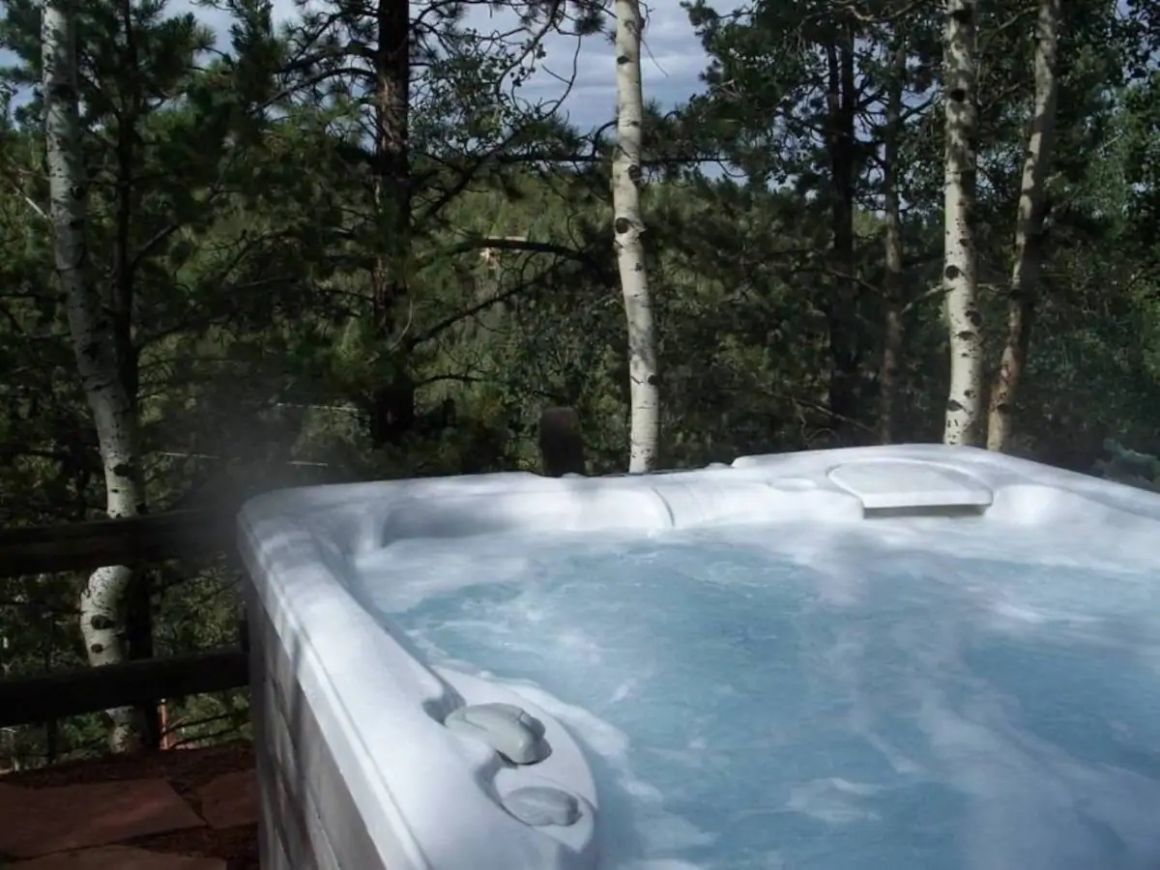 $$
2 Guests
Hot Tub on private patio
Mountain and valley vistas
This romantic cabin in Colorado has everything you need for a memorable holiday with your significant other! Nestled at over 9,000 feet above sea level, this hillside space is surrounded by plenty of picturesque greenery.
With a well-equipped kitchen, indoor fireplace, and patio, this cabin has one bedroom to accommodate two guests. It even comes with a hot tub – perfect for relaxing after a day of exploring!
With a stay in this gorgeous cabin Airbnb in Colorado, you'll be close to popular spots like Mueller State Park, Eleven Mile Reservoir, and the beautiful South Platte River.
Is This the Best Travel Pack EVER???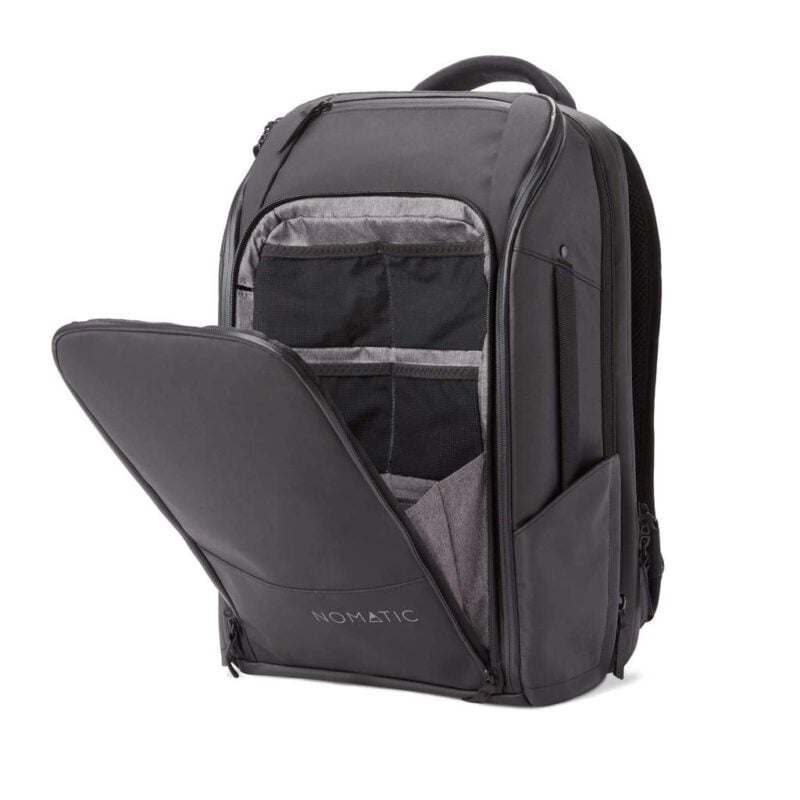 $$
16 guests
2 living rooms with fireplace
Close to Dolores River Valley
Kick off your group holiday with a stay at this sprawling cabin in Colorado. Offering eight bedrooms for sixteen guests, this mountain retreat features two separate living areas, both fitted with plush seating and wood-burning fireplaces.
What better way to unwind and relax after exploring the many rivers and hiking trails in the vicinity, right? This home additionally features two fully-equipped kitchens and a deck with a gas fireplace.
With attractions such as the Dolores Brewery, Canyons of the Ancients Museum, and the McPhee Recreational area just a quick drive away, you'll certainly never run out of things to do!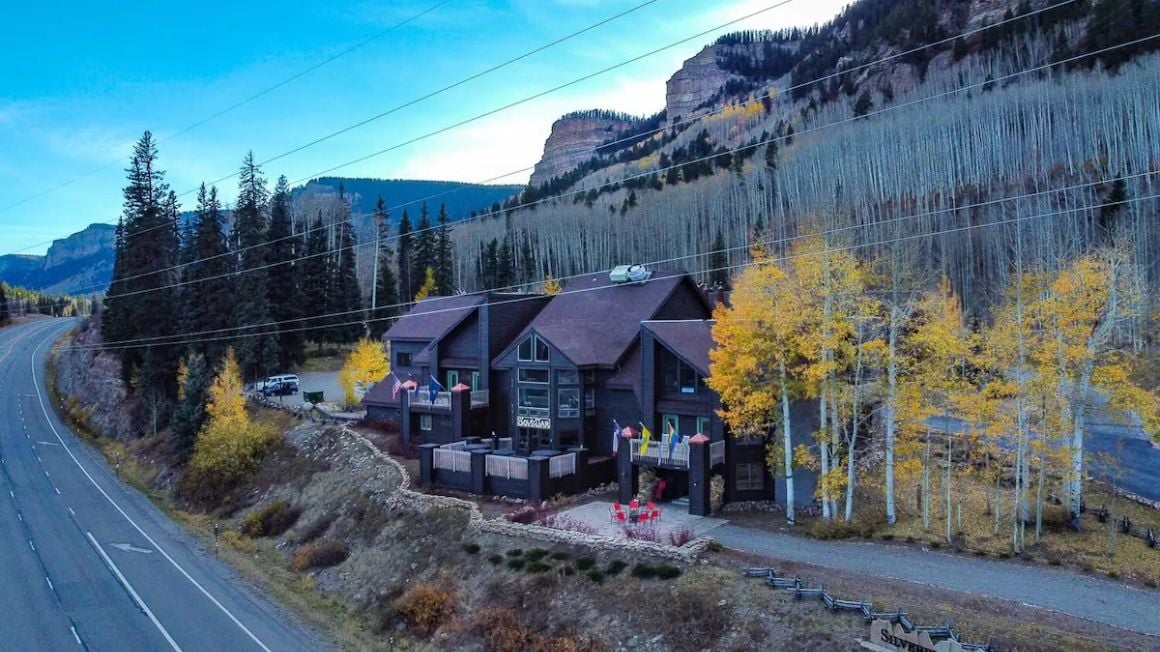 $$$$
16 Guests
Several hot tubs
Ski-in, ski-out facilities
Now, this luxury cabin in Colorado may have eight bedrooms to comfortably accommodate 16 guests, but you could actually squeeze up to 48 persons if you absolutely must, thanks to the many pullout couches and extra beds available!
And no, you won't need to wait in line to soak your sore muscles after skiing since this establishment provides several hot tubs. It also features a full kitchen and ski-in, ski-out facilities with free shuttle service.
A stay in this luxurious cabin places you close to attractions such as the San Juan National Forest, Mesa Verde National Park, and Four Leaves Winery.
$$$
12 Guests
Disc golf course and ATV trails
Overlooking the Rocky Mountains
Located in Black Hawk, this exquisite property sits on a shockingly gorgeous 120-acre estate.
With six bedrooms for 12 guests, the estate has everything you can think of to stay entertained: on-site hiking and ATV trails, fire pits, disc golf course, hammock, hot tub, rock outcroppings, and more. The interior is just as lavish, with a modern, full-sized kitchen and even a theatre.
After you've checked out everything the property has to offer, you may wish to explore neighboring attractions such as the Eldora Ski Resort in Colorado and Alpine Park, Boulder Falls, and the historic Nederland Mining Museum.
$$
6 Guests
Modern, well-equipped kitchen
Close to Cripple Creek
With three bedrooms for six guests, this family cabin has a gloriously rustic interior, complete with wood-burning stove, and a kitchen. Now, if you don't feel like cooking while on vacation, you'll be glad to learn that Cripple Creak's best eateries lie just a quick drive away.
Whether it's horseback riding at the neighboring ranch or exploring nearby sights like the Cripple Creek Museum, the Gold Coin Mine, and the Vindicator Valley Trailhead, you can bet there's plenty to keep the whole family occupied!
$$
1 Guest
Gas grill on stone patio
Sweeping views of Pikes Peak
This intimate, albeit exceptionally homely, mountain escape lies in a secluded area of Woodland Park. While you'll get to enjoy plenty of soothing isolation, you'll still be close to attractions such as popular Pikes Peak, The Broadmoor Seven Falls, and Cave of the Winds Mountain Park.
Solo travelers can claim the loft bedroom's queen-sized mattress all to themselves or share the space with three more guests thanks to the sofa bed in the living room. The cabin also comes with a modern kitchen but with Manitou Spring's most famed restaurants just a short drive away, why bother cooking, right?
$$
2 Guests
Shared yard inside rock alcove
Unique mountain and canyon views
This truly spectacular cabin in Colorado was meticulously built in a privately-owned rock canyon alcove, right on the flank of Ute Mountain. Pretty epic, don't you think?
Now, just because it was built in a rock doesn't mean that you'll need to forget about comfort. Quite on the contrary, this stunning vacation rental in Colorado provides a well-equipped kitchen, furnished patio, indoor fireplace, and one-bedroom for two. A sofa bed in the living room accommodates two more people.
This property commands an excellent location near the Canyons of the Ancients National Monument, Hawkins Preserve, and Crow Canyon Archaeological Center.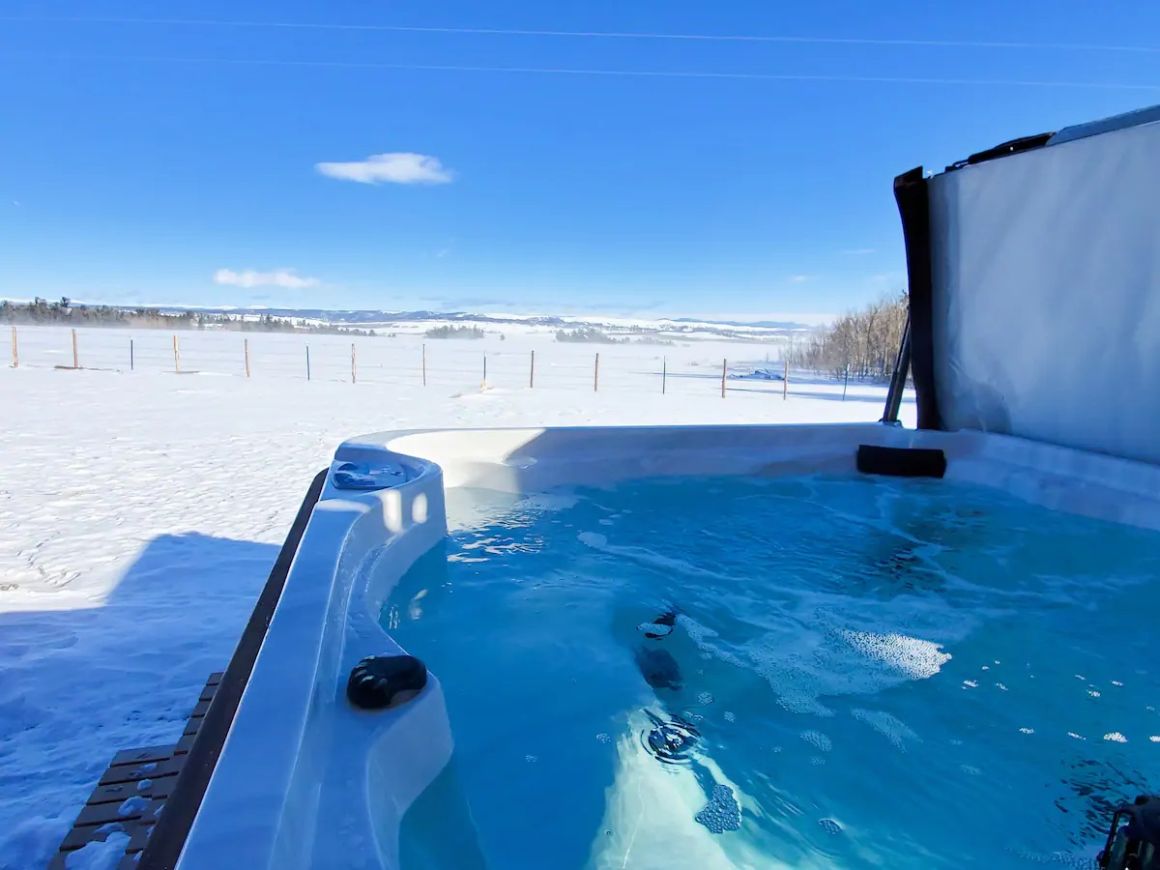 $$
4 Guests
Hot Tub with views
High altitude location
With 360-degree views of Fairplay, this mountain cabin lies at an altitude of 10,000 feet – perfect for travelers who want to get away from it all.
This quiet cabin features two bedrooms for four people with an extra single bed for any additional guest you may wish to have over. Boasting a well-outfitted kitchen, this space also has a fireplace, cozy living quarters, and even a hot tub where you can relax while enjoying majestic sunsets.
Nearby, you can spot wildlife at the National Forest, fish at Fairplay Beach, or soak up some history at the South Park City Museum.
$$
6 Guests
Generously-sized deck
Magnificent mountain views
Offering the very best views of Longs Peaks, this is one cabin in Colorado that easily ticks all the boxes: a large functional kitchen, family room with fireplace, and a massive deck where you can stretch out with your favorite drink while watching the sun dip beneath the mountains. This space also provides two bedrooms and three beds for six guests.
When you're done exploring the 2.5 acres of beautiful land that surrounds the cabin, be sure to check out Estes Park's top sights such as the Aerial Tramway, Lakes Estes, and the Kent Mountain Adventure Center.
$$$
2 Guests
Outdoor and indoor hot tubs
Located in an expansive estate
Looking for the perfect honeymoon accommodation? This log cabin in Colorado provides ample privacy, unblemished mountain views, and 54 acres of secluded land. With one indoor and one outdoor hot tub, this mountain retreat boasts one bedroom for two guests.
The modern kitchen comes with everything you'll need to prepare a meal and there's even a full-sized theatre with sectional leather seating for cozying up in front of a movie!
Plenty of fun adventures awaits nearby with venues such as the Grand Z Casino, Central City Opera House, and the Golden Gate Canyon State Park just a quick drive away.
Don't Forget Your Colorado Travel Insurance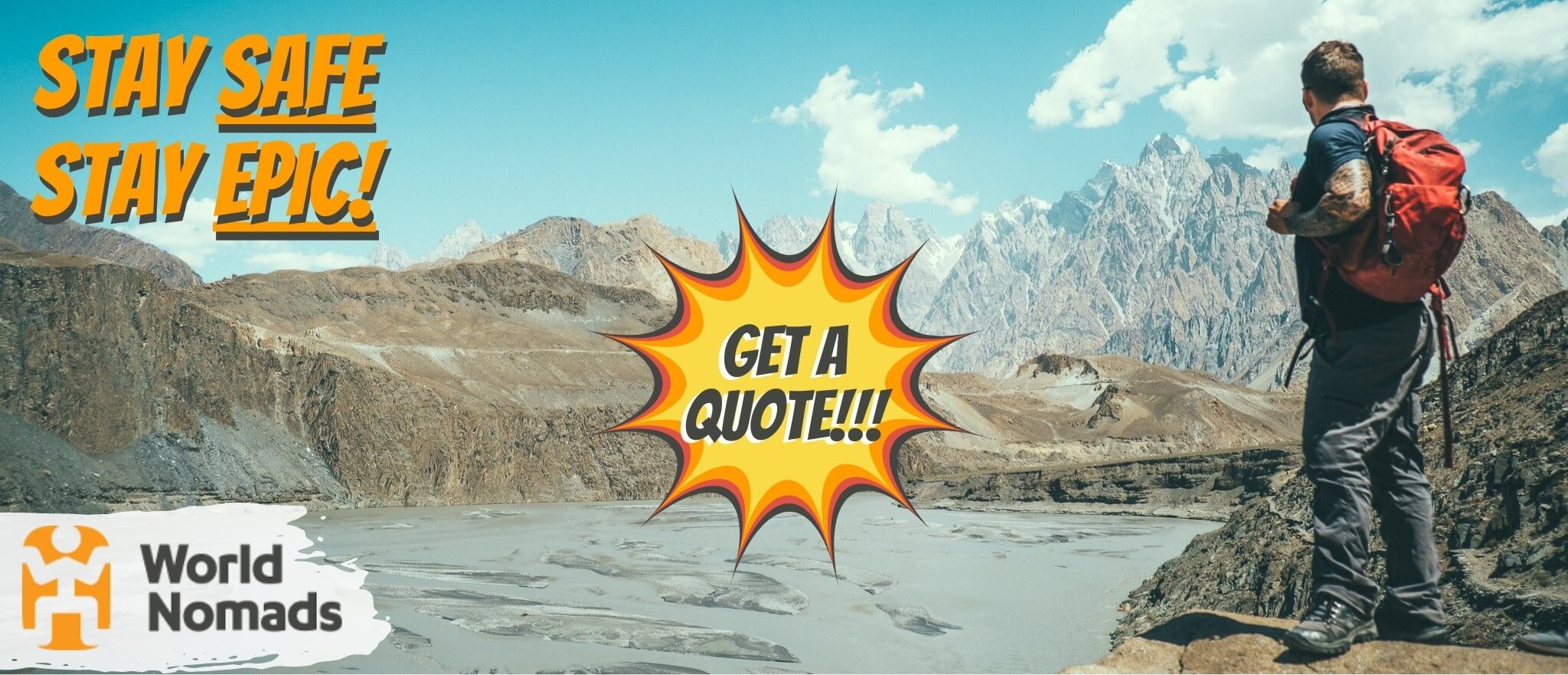 World Nomads' mission is to support and encourage travellers to explore their boundaries. They offer simple & flexible travel insurance, and safety advice to help you travel confidently.
They've been doing it since 2002 – protecting, connecting, and inspiring independent travellers just like you.
Get a quote below or read our in-depth review!
World Nomads provides travel insurance for travelers in over 100 countries. As an affiliate, we receive a fee when you get a quote from World Nomads using this link. We do not represent World Nomads. This is information only and not a recommendation to buy travel insurance.
Final Thoughts on Cabins in Colorado
Whether you're just making an overnight stop on your road trip, or you just want a few days to chill and reconnect with nature, Colorado's certainly got you covered in terms of accommodation.
Now that you have a list of the absolute best cabins in Colorado, it's time to pick one and hit the road. If you ask me, these humble abodes are also perfect for exploring some of the country's most remote yet picturesque terrains.
Before planning your trip, you might want to consider getting travel insurance just to play it safe. A good insurance plan doesn't only provide peace of mind, but it also prevents small mishaps from wrecking one of the best holidays you'll ever take.
---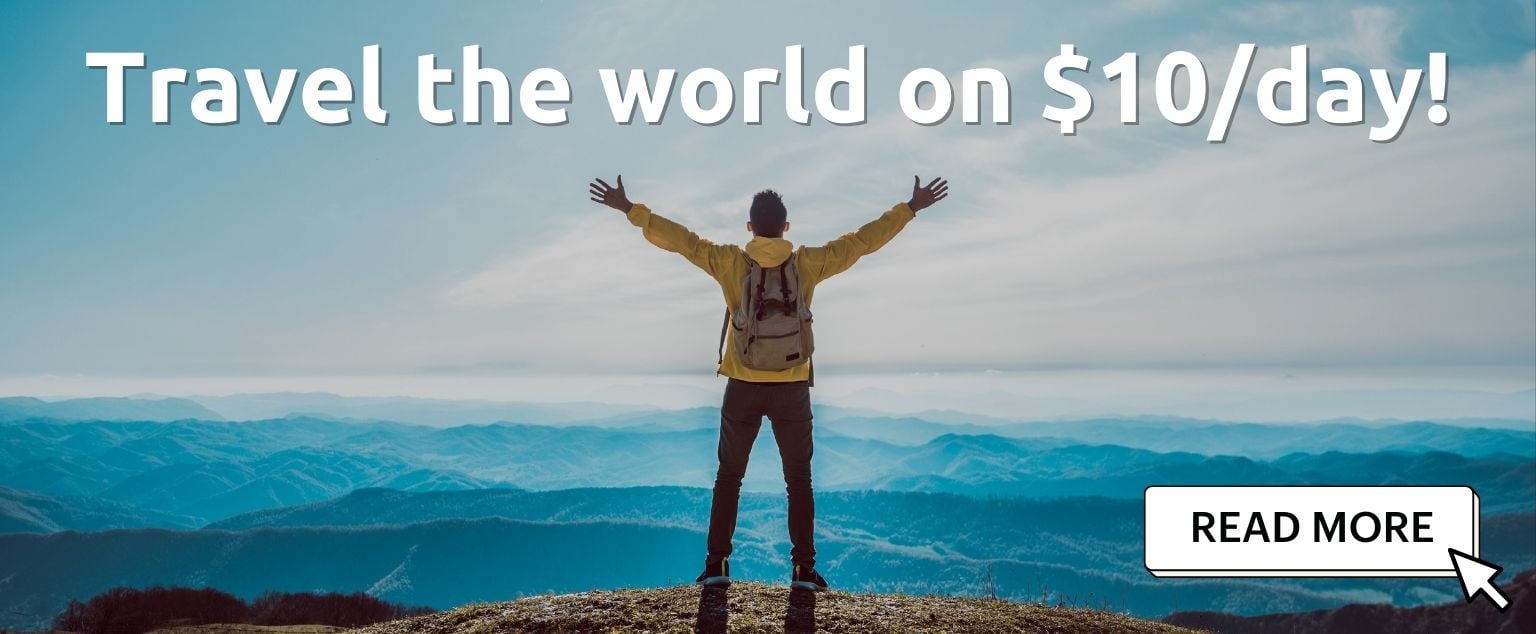 And for transparency's sake, please know that some of the links in our content are affiliate links. That means that if you book your accommodation, buy your gear, or sort your insurance through our link, we earn a small commission (at no extra cost to you). That said, we only link to the gear we trust and never recommend services we don't believe are up to scratch. Again, thank you!