It's hard to summarise what's great about the USA in a short intro, but we'll have a go anyway! One of the most varied countries in the world, you can go from hip megacities to stunning national parks, to epic road trips all in the same vacation! Unless you've got a year or two, you're not going to see everything the US has to offer in one go. However, you're welcome to try and pack in as much as you can.
When it comes to travelling around the USA, huge distances and expensive places to stay mean that it's not the most backpacker-friendly destination. However, that shouldn't put you off as there are always ways. Instead of looking at Hiltons (though we hear the Paris kind is cheap to rent), Sheratons, and Radissons, cast your eyes to the more humble hostel.  And yes there are some awesome hostels in the USA just waiting to give you a good old welcome.
With that in mind, we've decided to help you out. We've put together this list of the best hostels in USA, taking into account different travel styles, personalities, and budgets!
Our expert travel writers have curated this list so that you'll find the perfect hostel in America for you. Whether you're heading to LA, New York, or New Orleans, we've got you covered!
Quick Answer – What are the Best Hostels in USA
The Top Hostels in USA
Let's begin with the pick of the very best hostels in USA. These are the cream of the crop, and by staying in any of these American hostels, you're sure to make memories that will last a lifetime and just have a great experience overall!

Do You Want to Travel FOREVER??
Pop your email in below to get a FREE copy of 'How to Travel the World on $10 a Day!'.
Nightly social events
Outdoor courtyard with BBQ
Awesome location
Lots of indoor common areas
Looking to keep your costs down but still have an awesome experience? Look no further than Auberge NOLA Hostel in New Orleans! Not only is it a top cheap American hostel, but you can really let your hair down and party here too. There are nightly social events which might include anything from bar crawls to BBQs in the outdoor courtyard! When the weather's not so great, head inside to one of the indoor common areas where you're sure to find it easy to make new friends and get chatting.
The Overall Best Hostel in USA – USA Hostels Hollywood – Los Angeles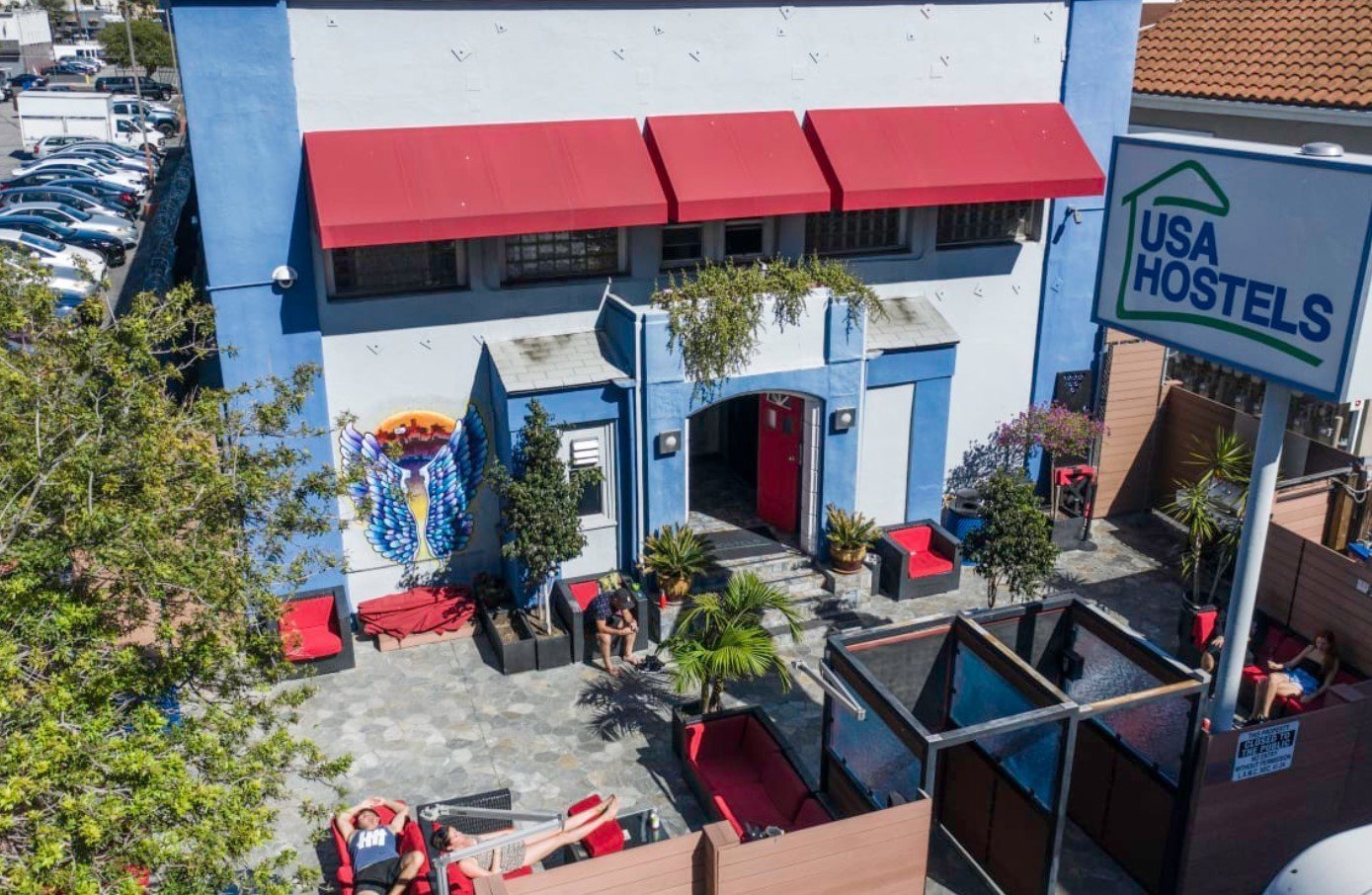 Multi award-winning
Free breakfast
Daily activities
Relaxing patio area
The first stop on our list of the best hostels in USA is where else but Hollywood?! From the sunny courtyard to the comfy beds, you're bound to feel cosy in this home away from home in one of the most glamorous locations in the world. And don't just take our word for it, take a look at that list of awards. Since 2006, this awesome American hostel won 13 awards including the best hostel in Los Angeles seven times.
Start your day with the awesome free breakfast before immersing yourself in one of many free activities! Whatever your travel style, you'll fit right in at USA Hostels Hollywood.
USA Hostels Hollywood is one of our favourites in USA but they're not taking guests right now. We're not sure if they're closed for good but we hope they'll come back soon.
Best Party Hostel in USA – Miami Party Hostel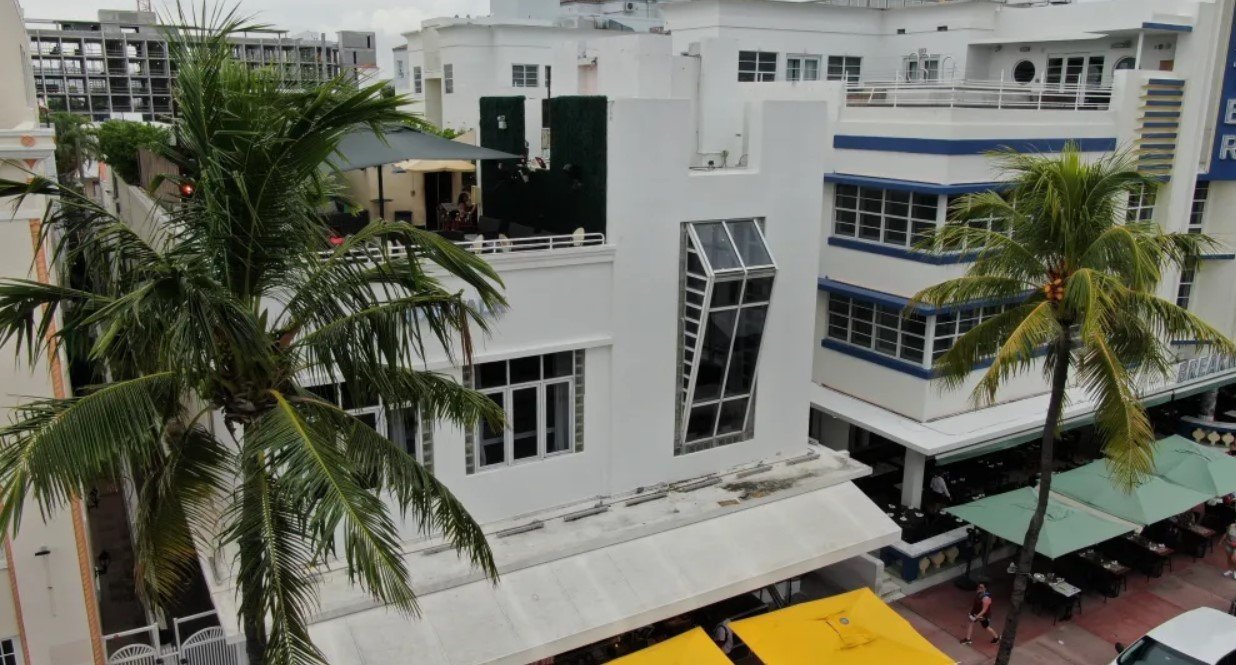 Bar and Cafe
Nightclub on-site
Outdoor Terrace
Games Room
When it comes to partying in USA, there's no better city to do so than Miami. This place not only has a bar and cafe where you can soak up hangovers from epic nights out, but there's a nightclub IN THE HOSTEL! So, you don't even need to leave the building to find some of the city nightlife. Chill out the next day on the rooftop terrace with some shisha!
Miami Party Hostel is one of our favourites in USA but they're not taking guests right now. We're not sure if they're closed for good but we hope they'll come back soon.
Broadway, Central Park, and Times Square are just a few places to visit in New York. It is one of the most iconic cities in the world, and it's often the first place on many travellers' USA itineraries. New York can be frightfully expensive but our chosen hostels will save you money. These three prove that you don't have to compromise on quality and style to have an awesome accommodation experience in the city that never sleeps!
One of the best hostels in America
This loft-style youth hostel in New York is our favourite place to stay in the city that never sleeps! It's hidden away in one of the trendiest neighbourhoods in Brooklyn, so you'll feel like a movie star. To keep your costs down in New York, Moore Hostel offers you a range of freebies, including tea and coffee, movie nights, and yoga classes. Proof that you don't need to be on the go all the time to enjoy this crazy city. Don't want to blow all your budget on a night out in New York? Then just head to one of the hostels awesome international stand-up comedy nights.
A legendary American hostel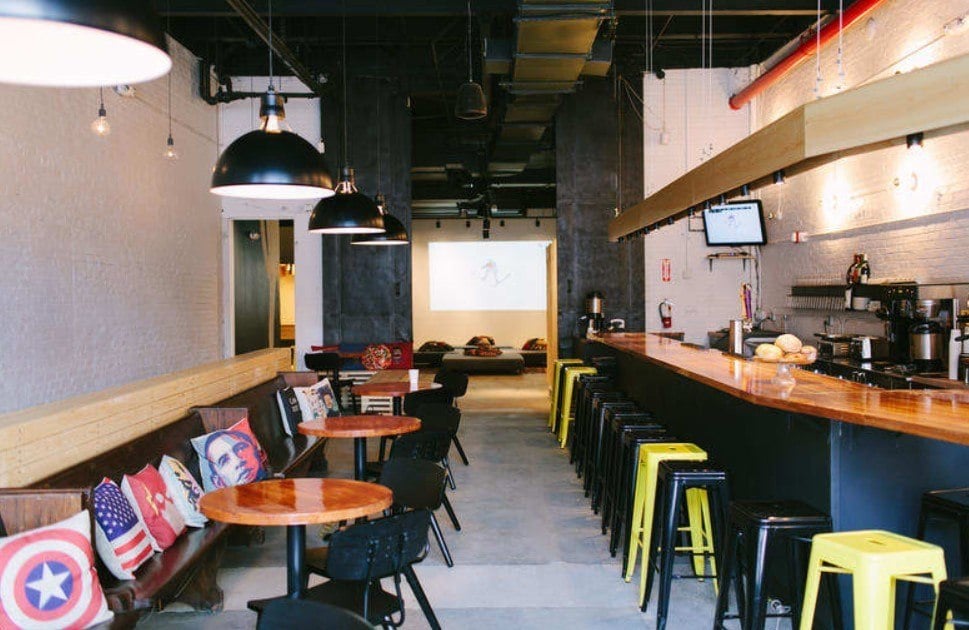 Rooftop terrace with skyline views
Bar with local beer
Wine and beer tastings
Regular events
For one of the cheapest hostels in New York, look no further than the Local NYC. Staying here means you can enjoy an industrial-style building with floor to ceiling windows, giving awesome views of the New York skyline. Want to get a clearer pic? Ditch the windows and head up to the rooftop, where there's an awesome terrace. If you feel like it, why not take up a coffee or a locally made beer from the bar up there? Travelling solo and want to make friends? There are movie nights, board games, and wine/beer tastings – so you can bond over a mutual interest!
An awesome American hostel for solo travellers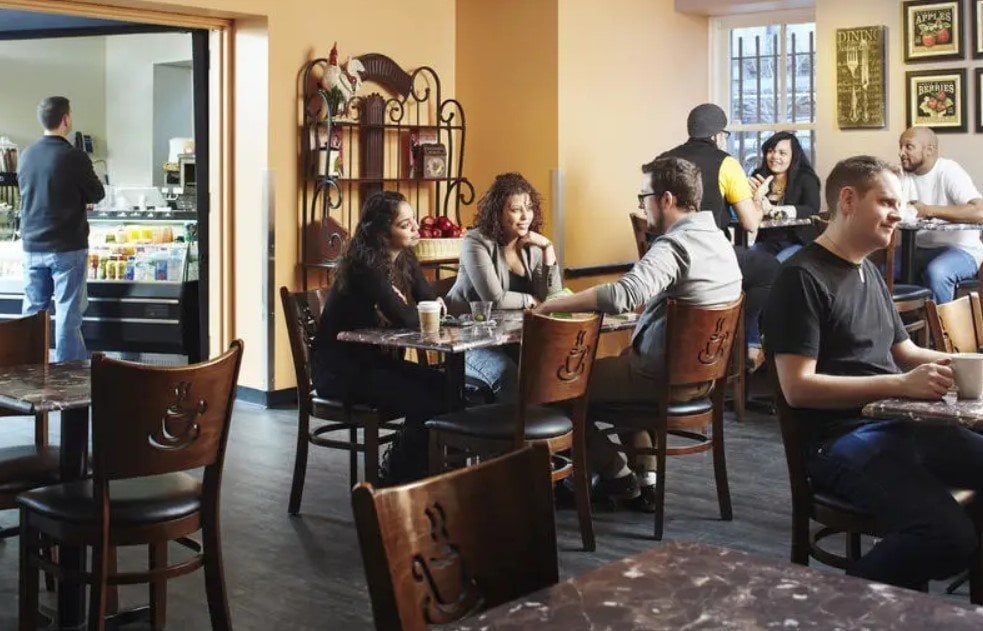 Billiards room
Big kitchen
Outdoor private patio
Wheelchair friendly
Our third and final New York hostel is one of the most popular in town, with more than 8,000 reviews. It's one of the best hostels in USA if you're looking to make friends during your trip – partly thanks to the largest private outdoor patio in Manhattan! From there, you can enjoy views of the NYC skyline, or just the imposing castle shape of the hostel itself. There are events on pretty much every night here, whether that's a pool tournament in the billiards room, or a big group meal prepared in the 36-burner kitchen!
Is This the Best Backpack EVER???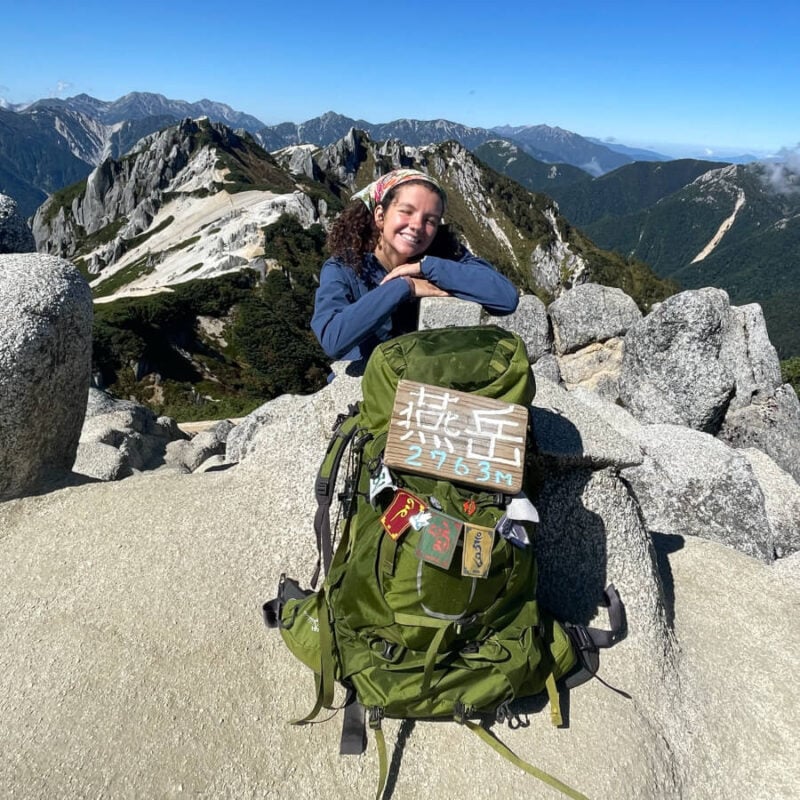 Famed for it's Irish heritage and iconic place in American history, Boston is one of the East Coast's truly great cities. If you are spending a few here days then check out these awesome Boston Hostels.
Overall Best Hostel in Boston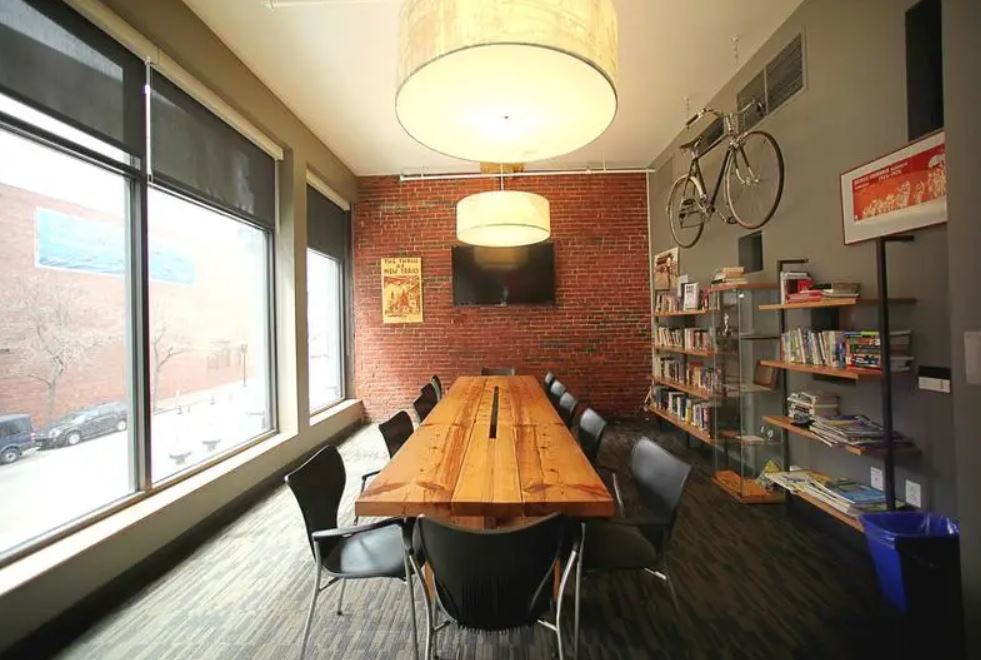 $$
Free Breakfast
Washing Machine
24 Hour Reception
How can this not be the overall best hostel in Boston? They've got you covered for all of your travel needs. Close to the subway and located in Boston's vibrant China Town, this hostel is like a cool hangout to meet like-minded Boston backpackers. It's decorated really stylishly too and they have loads of different room types to choose from.
The staff will help you out with your Boston travel tips and even feed you a big, FREE breakfast which is always tasty. There's even a coffee bar in the lobby so you can fill up of caffeine and baked snacks.
Best Hostel for Solo Travellers in Boston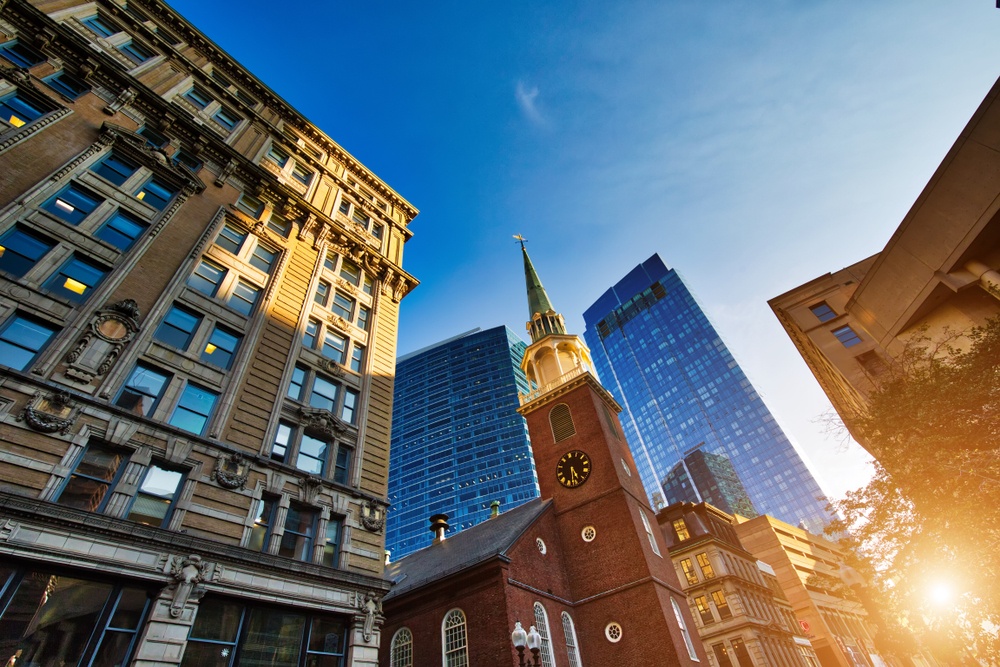 $$
Free Parking
Common Room
Luggage Storage
A really sweet little budget place to stay in the city, this place is the best hostel for solo travellers in Boston. The staff here really know how to look after guests and will more than happy to answer any questions you might have. All of the different rooms on offer at this budget hostel in Boston are really homely and clean, it might feel like you are staying with an old aunt, but you'll feel safe and well looked after the whole time.
Is Portland the hipster capital of the world? It could well be – and it's an awesome place to visit! For eating out, this city is much cheaper than most major US cities, and there are some awesome natural parks nearby too! When it comes to hostels in Portland, it's all about quality over quantity. We've included three of the four hostels in Portland, but all have excellent review scores and you're assured of an awesome time.
Recommended hostel in the USA
Free breakfast
Multiple award winner
Leafy gardens with BBQ
Sociable common rooms
Portland is home to some of the best hostels in USA, but HI Portland edges the others. Not just according to us either – it came 3rd in the worldwide medium hostel category IN THE WORLD at this years Hoscars! It's got a number of other awards under its belt too, and that's no surprise really! Start your day with a free breakfast, explore the city, then come back to enjoy the leafy gardens where you can challenge one of your new pals to a board game!
Weather's not so good? You can always just chill in one of the cool common rooms!
A top cheap American hostel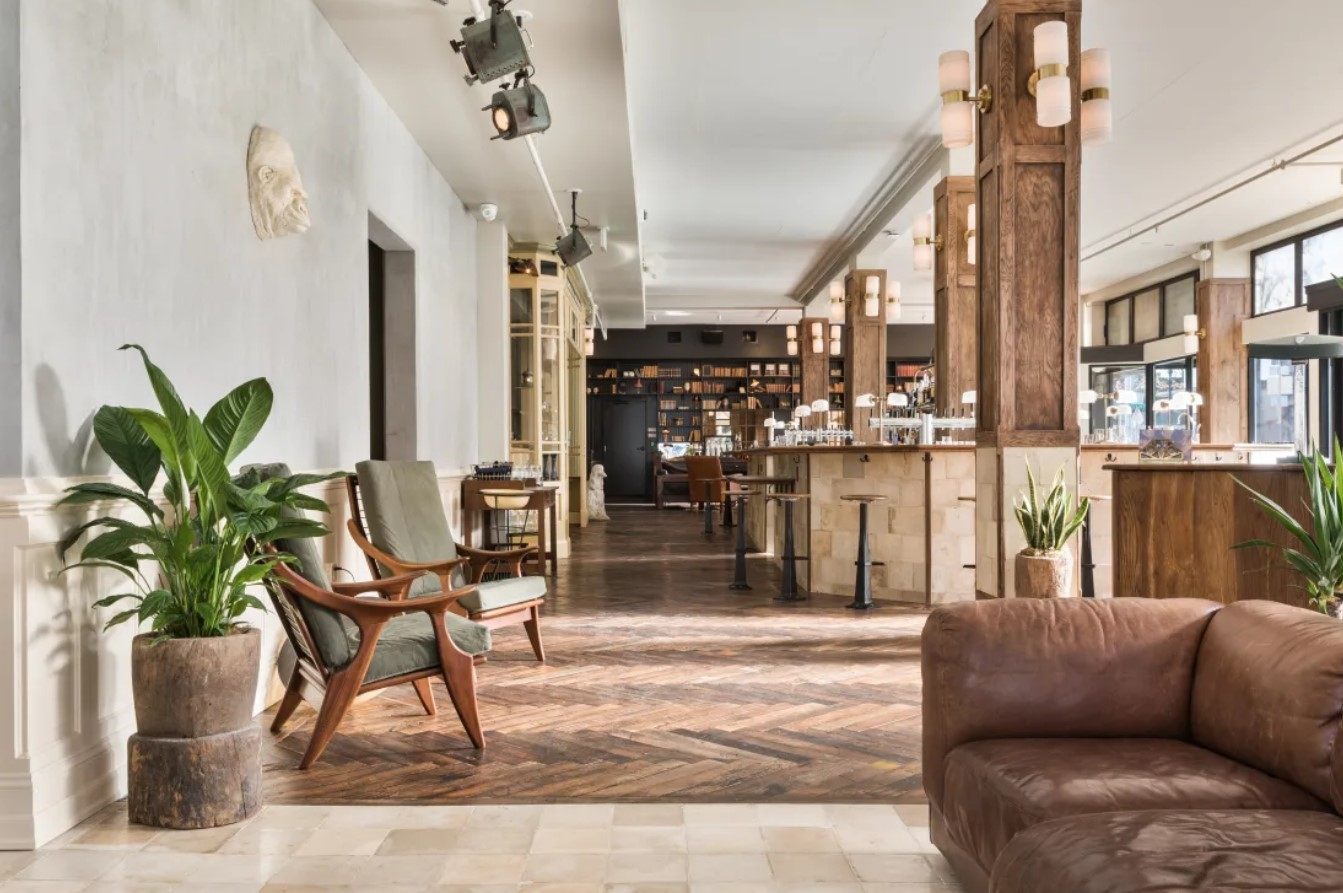 Free breakfast
Cosy hangout spot
Open mic nights
Outdoor movie screenings
When it comes to cheap American hostels, HI Portland Hawthrone has to be on your itinerary! You may not be breaking the bank by staying here, but you wouldn't know! You still get a lot of bang for your buck, including a free breakfast at the on-site restaurant Dóttir! There are loads of other features too, including a sauna, rooftop terrace, bar and library! If all that's not enough, there are regular events too including live music which is sure to be the beginning of a great time in Portland!
Travelers House
An All American Boutique Hostel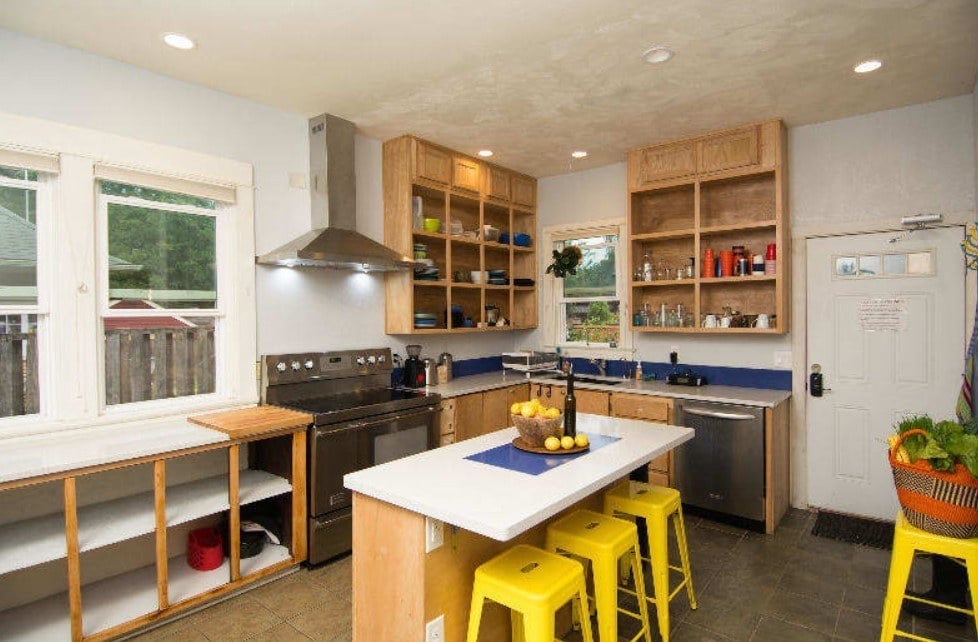 Free DIY pancake breakfast
Backyard fire pit
Book exchange
Free tea and coffee
Want something a little more upmarket than your average youth hostel in USA? We don't blame you… Sometimes it's nice to splash out a little extra on somewhere that'll make you feel more like you're at home. And that's Travelers House!
Meet other travellers over the backyard fire pit in the evenings over a beer or two, then have breakfast together the next day. Did we mention that breakfast is free and you get pancakes? What's not to love! If you'd prefer to enjoy some quality me-time, just pick something out from the book exchange and enjoy!
Travelers House is one of our favourites in USA but they're not taking guests right now. We're not sure if they're closed for good but we hope they'll come back soon.
If you want all the best things a city can offer, then throw in surfing and hiking too, you might get something that looks a little like Los Angeles! Oh, and it's home to the world's most glamorous movie industry! There are hostels across the city and they'll give you a slice of the high life for a fraction of the price of a five star hotel!
An Awesome American Hostel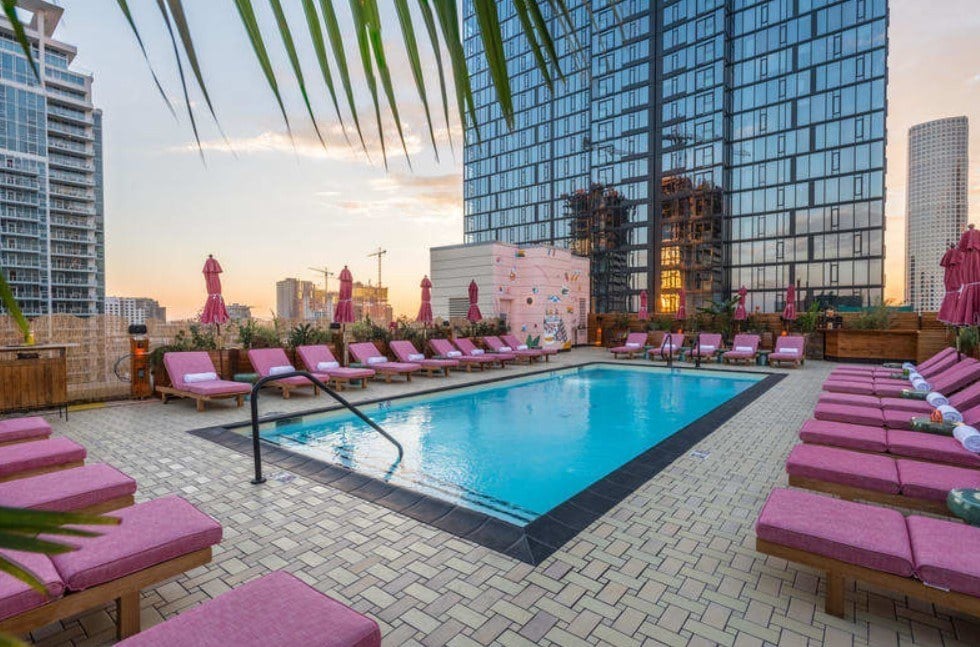 Swimming pool
Free breakfast
Live entertainment and DJs
Awesome views of LA
We've two words for you. Rooftop pool. That's just one of the many bonuses you get by staying at one of the best American hostels there is. The view of the LA skyline from said pool is another one. This awesome LA hostel is best suited to travellers who want to enjoy the party lifestyle the city is famous for – there's often live entertainment and DJs that will make your stay unforgettable. If all the eating and drinking LA has to offer is catching up with you, then be sure to stop at the fitness centre for a workout. However, we're sure you look great!
A top American hostel for budget travellers
Free breakfast
Daily free activities
By the beach
Bicycle Hire
There's so much of LA, it might be worth staying in two different places. Spend a few nights in the centre, then move out towards the beach for one of the best cheap hostels in USA – HI Los Angeles Santa Monica. Almost 5,000 reviewers agree that it's a pretty awesome place to stay. Not only is the price of a bed here low, but you get lots of freebies thrown in too.
Enjoy your free breakfast while you decide which free activity to take part in later – it could be a pub crawl, a comedy night, or a tour of Venice Beach! If you don't want to do the tour as part of a group on foot, rent a bike on-site instead.
Recommended American hostel for visiting Hollywood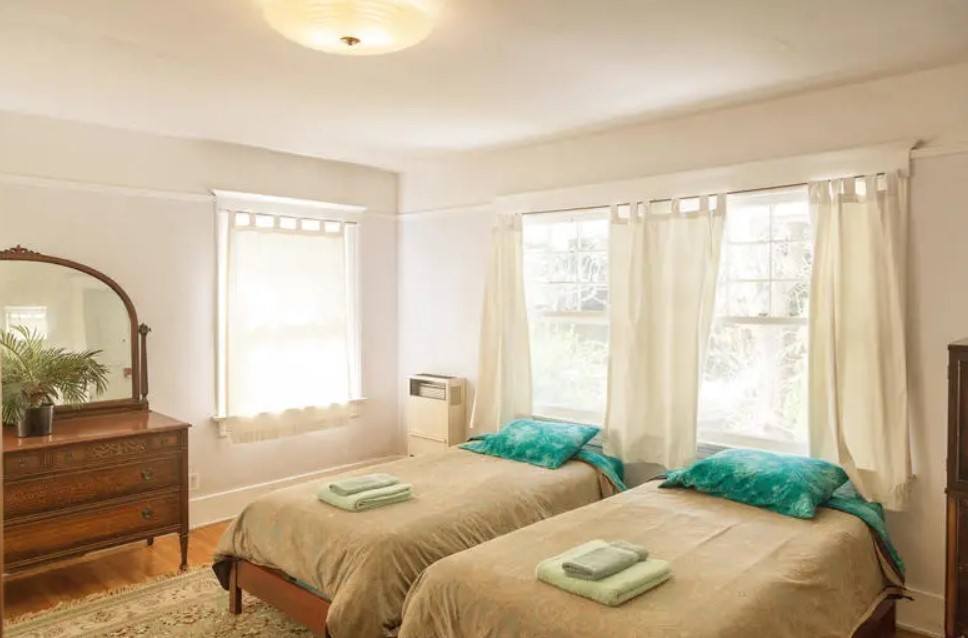 Top location
Fully equipped kitchen
Discounted pub crawls
Patio with BBQ
Right in the centre of where all the stars live and work in Hollywood, those backpacking in the USA can enjoy a traditional home that's become a hostel. Orange Drive Hostel is within walking distance of the Walk of Fame, The Dolby Theatre, Sunset Boulevard, and a whole load of other awesome attractions that any self-respecting film buff wouldn't dream of missing! It's not just about movies though – there are ways to meet other travellers aplenty here. Maybe you'll join pub crawl or just chill out on the patio over a BBQ!
One of the most culturally and historically intriguing cities in the USA, New Orleans has a lot to offer visitors. From the spirit of jazz in the French Quarter, to the grisly history of Madame La Laurie's house, to Nicholas Cage's pyramid in a cemetery (don't ask), there's something for everyone to do in New Orleans.
A legendary hostel in the USA
Award winner
Spacious common areas
On-site cafe
In the heart of the French quarter
You already saw one New Orleans hostel was one of the best hostels in USA, so you're going to have to make some tricky choices when you stay in the Big Easy. Allow us to complicate things more with not only our favourite hostel in New Orleans, but the best new large hostel in the world 2020 – HI New Orleans!
That impressive award comes as no surprise when you find out more about this place – the location is pretty much unbeatable in the heart of the French Quarter. You'll want to set some time aside to enjoy the hostel though – whether that's for a game of pool or chilling in a cool common room!
One of America's favourite cheap hostels!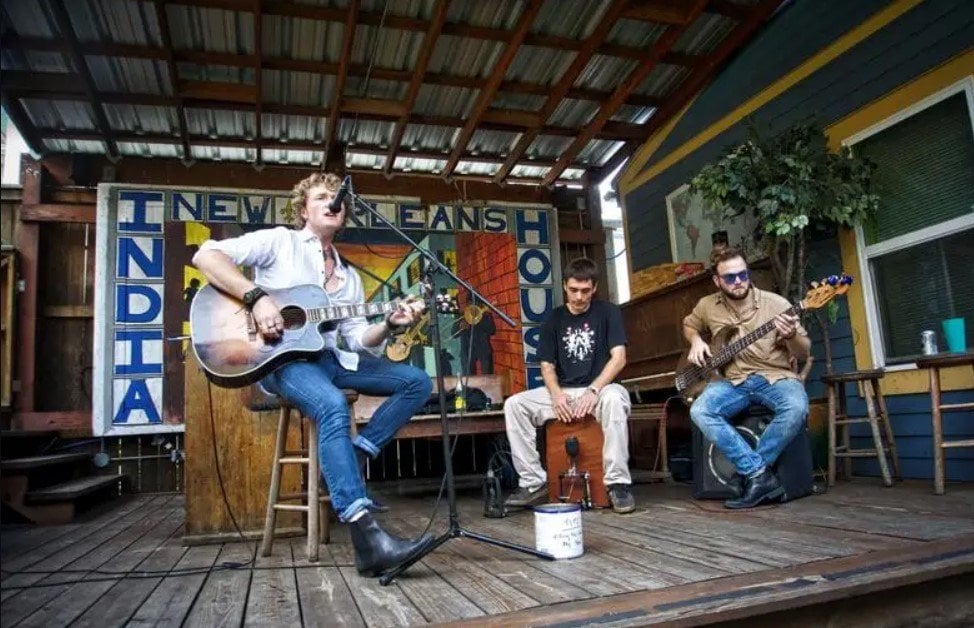 Swimming pool
Jam sessions
Open-air kitchen
Free parking
Another awesome American hostel, backpackers in New Orleans flock here for its low prices, awesome atmosphere, and endless supply of things to do – including taking a dip in the backyard pool. There are plenty of floats, so even if you don't want to swim, you can enjoy sunning yourself on a flamingo float. Perhaps you'll do that to the backdrop of a jam session, or the tantalising scents of someone whipping up a delicious meal in the open-air kitchen.
An awesome American hostel for families and couples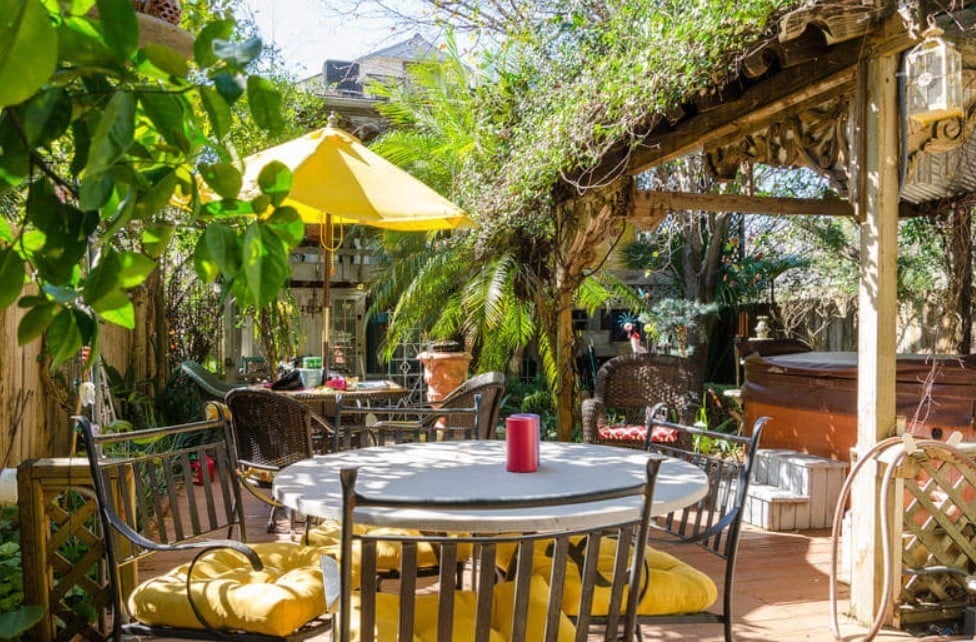 Great private rooms
Excellent location
Tasteful furnishings
Outdoor jacuzzi hot tub
There's no shortage of awesome hostels in New Orleans and Madame Isabelle's just makes your choice even harder. We'd say this is a good shout for small groups of friends and couples – as well as the standard dorms you'd expect from a hostel, they do some pretty great private rooms for up to 3 people. Not that solo travellers shouldn't consider this place by the way – there are awesome free events pretty much all the time, including beer bong, bike tours, and music crawls.
Whilst LA is all about the endless space, the heat and the glitz, San Francisco is it's cooler, cooler, and more compact cousin up the road. Whether you're in San Francisco to check out the bay, bar hop or visit Alcatraz, these hostels are a good base.
Best Cheap Hostel in San Francisco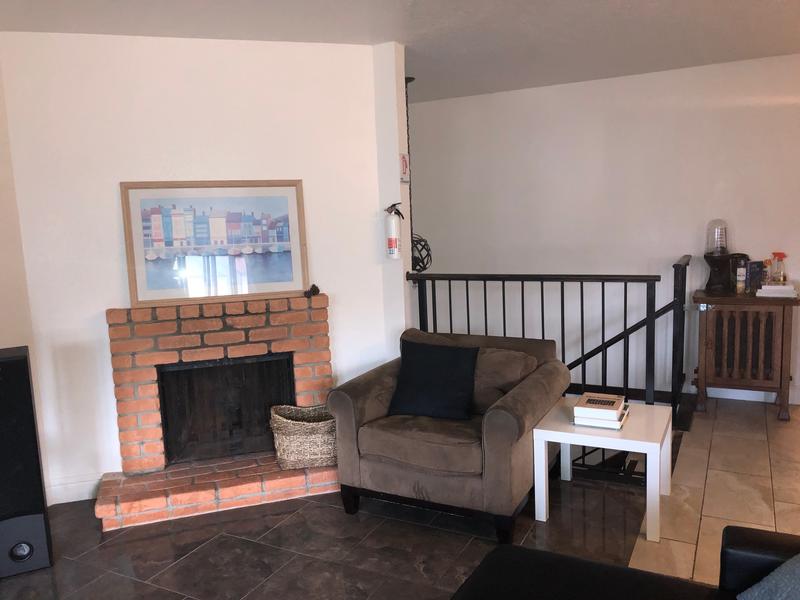 $
Steam Room
PlayStation
Free Parking
Hostel is Cannabis friendly! This is California!
The best cheap hostel in San Francisco for budget backpackers, SFO Crashpad is also a great choice for people wanting a hostel near San Francisco Airport.
Less than ten minutes' drive from the airport, the hostel is also within a 15-minute drive of San Francisco downtown.
Frequent buses connect the hostel with surrounding areas. Enjoy sweet dreams in a mixed dorm for four and make full use of the hostel's facilities, which include a kitchen, dining area, lounge, free Wi-Fi, and a washing machine.
HI-San Francisco City Center
Best Hostel for Solo Travelers in San Francisco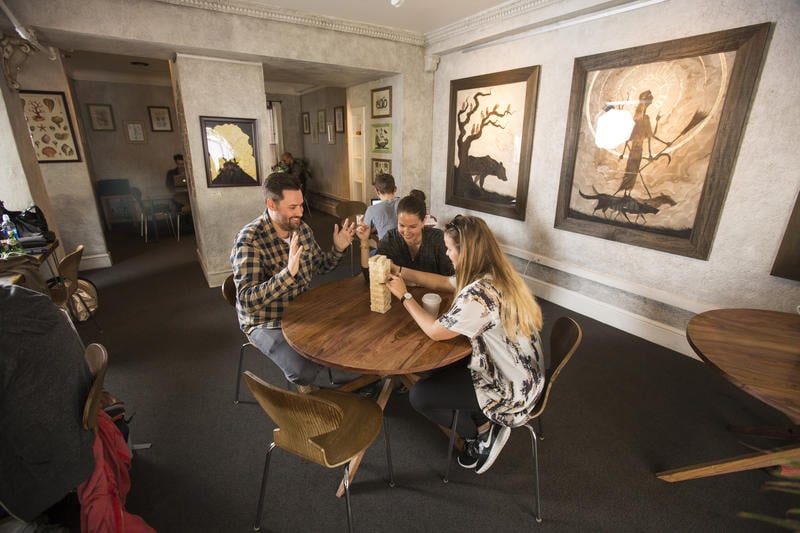 $$$
Free Breakfast
Onsite Bar/Cafe
Tour Desk
1920's style boutique hostel
Discounted Airport Transfers available
With single-gender dorms as well as mixed rooms, each with their own bathroom, top-rate facilities, heaps of activities, and a funky location, HI –San Francisco City Center is our top choice for the best San Francisco hostel for solo travellers.
It's easy to meet new people and feel right at home here. The historic building has splashes of its past splendour with all modern amenities.
Wi-Fi is fast and free and there's also a free breakfast every morning.
Make the most of your backpacking trip in San Francisco with the tour desk and let the friendly staff let you into insiders' secrets. There's a kitchen, lounge, book exchange, laundry facilities, onsite bar-cum-café, and more!
HI-San Francisco City Center is one of our favourites in USA but they're not taking guests right now. We're not sure if they're closed for good but we hope they'll come back soon.
USA Hostels San Francisco
Overall Best Hostel in San Francisco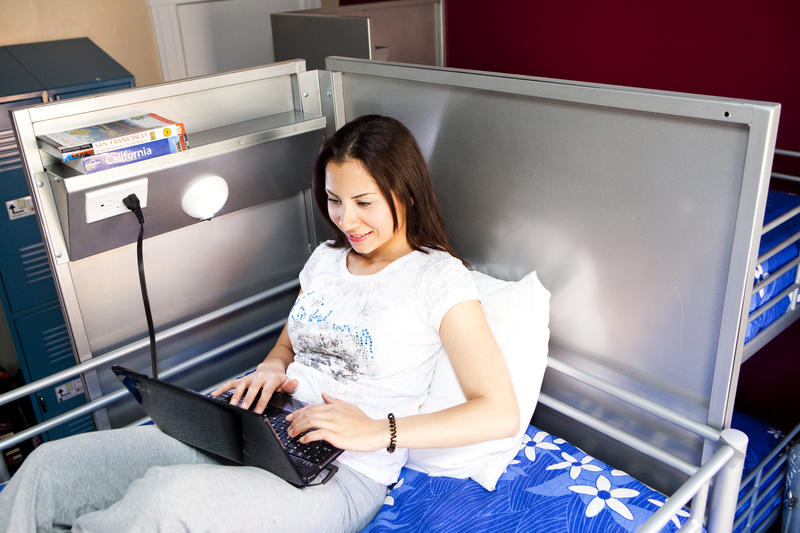 $$$
Free Breakfast
Onsite Bar/Cafe
Tour Desk
1920's style boutique hostel
Discounted Airport Transfers available
The myriad facilities and freebies at USA Hostels San Francisco make this our pick for the overall best hostel in San Francisco in 2020.
It may be a bit pricier than other digs, but the free breakfast, Wi-Fi, walking tour, luggage storage (on the day of check-out), and discounted tours save you way more in the long run.
It's also one of the coolest hostels in San Francisco. Whether you want to relax and chill or be a social butterfly and mingle, this hostel caters for all.
You won't just find a kitchen, dining area, and lounge—there's also a yoga room! Dorms have lockers and the pod beds provide plenty of privacy when it's time to get some shut-eye.
The maximum dorm size is 4 people which massively reduced the chances of been stuck with a snorer!
USA Hostels San Francisco is one of our favourites in USA but they're not taking guests right now. We're not sure if they're closed for good but we hope they'll come back soon.
Is there anywhere better in the USA to party than Miami? The jury's out on that… but if you're not into nightlife, there are plenty of other things to keep you occupied! The golden sand beaches are primed for sunbathing, while the city's arts and architecture can delight you when the weather's not so great (but that's rare). Hostels here will mean you can funnel your lower accommodation costs into beers, cocktails, and food.
A highly recommended hostel in USA
Swimming pool
Indoor and outdoor restaurant
Cool social spaces
Awesome panoramic views
If you know hostels, you'll know the name Generator, which boasts some of the coolest and most modern hostels in Europe. It happens to have a branch in Miami too, which is one of the coolest hostels in USA! There's space for almost 350 guests here, so you'll probably find someone milling around the cool social spaces or at either the indoor or outdoor restaurant whatever time of day you're around. Make sure you take a dip in the swimming pool after a hot and sweaty day exploring the city.
Miami Beach International Hostel
One of the best cheap hostels in USA
Free breakfast
Award winner
Pool table
Bar with happy hour
When you're staying in Miami, let's face it, a lot of people want to make sure every single dollar goes towards drinks and partying! Nothing wrong with that, but you'll need a hostel that understands that! Not only does this awesome American hostel offer one of the cheapest bed prices in Miami, but it's got a bar with a happy hour and a pool table. The perfect place for pres! Breakfast and dinner don't cost any extra here – the perfect way to line your stomach before a wild party or a keg night!
Miami Beach International Hostel is one of our favourites in USA but they're not taking guests right now. We're not sure if they're closed for good but we hope they'll come back soon.
Rock Hostel
Top American hostel for solo travellers
Free breakfast
On-site bar and restaurant
Discounted tours
Book exchange
There are few hostels in Miami where you'll arrive alone and not leave with a gazillion friends, and Rock Hostel is no different. Events here will make it super easy to meet people and get conversations flowing, including wine tasting, boat trips, and group nights out. If you're hungry, no need to head out and search for places to eat for hours, just pop to the on-site bar and restaurant which serves up some pretty great food.
Rock Hostel is one of our favourites in USA but they're not taking guests right now. We're not sure if they're closed for good but we hope they'll come back soon.
The capital city of Texas, this city's popularity is growing year on year. Music fans can rejoice that it's the 'Live Music Capital of the World', and if you're planning to visit SXSW Festival, you'll have to book a hostel in Austin WELL ahead of time. Repeat, book early if you want to come for SXSW. It's also got some incredible outdoor attractions nearby which you won't want to miss.
A top American hostel for solo travellers
Free breakfast
Bar and restaurant
Guest kitchen
Book Exchange
Right in the heart of Austin, you'll find the Firehouse hostel, which used to be the longest standing fire station in town. It's the biggest hostel in Texas, so you'll not have any trouble meeting new people and making friends for your adventures in the lone star state. Of course, there's the free breakfast but you can also make your own food if you wish in the well-equipped guest kitchen. Long day and you can't be bothered?
No problem, there's a bar and restaurant too serving Tex Mex classics! The lounge also does local beers and hand-made cocktails, which you can enjoy to the backdrop of some awesome live music!
Drifter Jack's Hostel
One of the coolest hostels in USA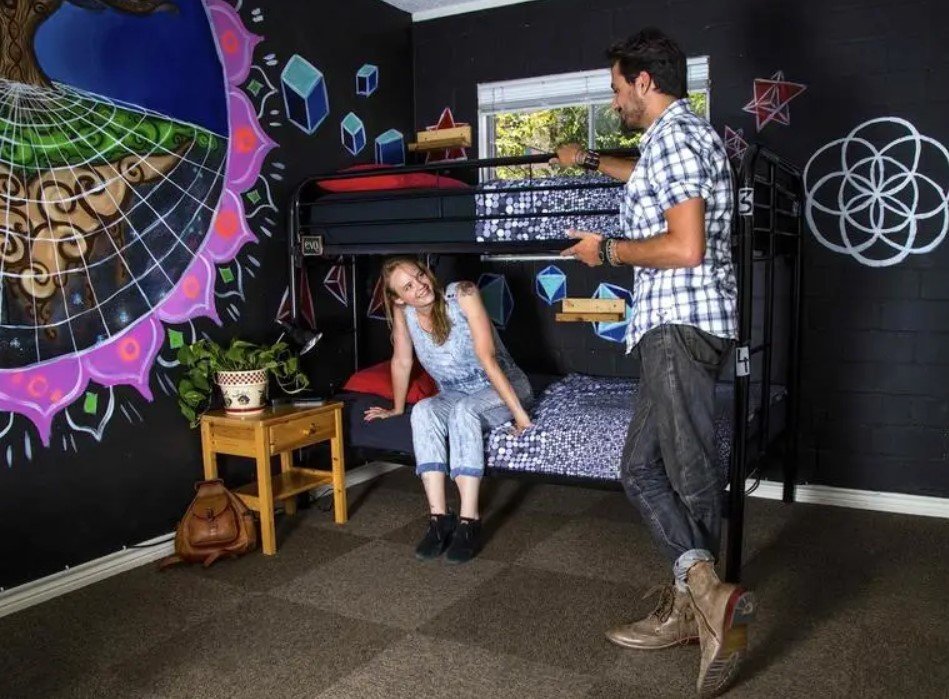 Great location
Painted by local artists
Free iPad and laptop use
Pool table and games
This colourful and artistically designed spot is yet another of the top hostels in USA. The walls have been painted by local artists, which gives it a unique touch and plenty of character. That's not the only thing worth staying though – it's a great place to meet fellow travellers. Enjoy a conversation in the common room, or get competitive by challenging a new friend to a board game or a round on the pool table! Need to sort out onward travel or personal admin? Use one of the hostel's iPads or laptops FOR FREE!
Drifter Jack's Hostel is one of our favourites in USA but they're not taking guests right now. We're not sure if they're closed for good but we hope they'll come back soon.
HI Austin
A legendary cheap hostel in USA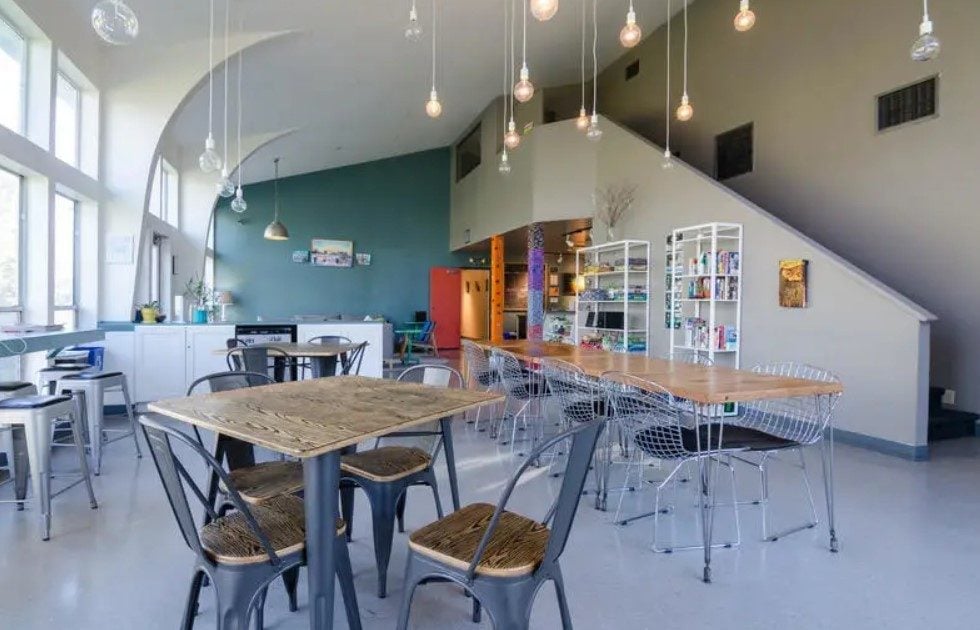 Free continental breakfast
Outdoor Terrace
Games room
Fun and friendly staff
Outdoor lovers will appreciate the awesome location of HI Austin. It's right on the shores of Town Lake, so, you have the best of both worlds; peace, quiet, and tranquillity, whilst being just moments away from Downtown Austin! In the morning, enjoy a free continental breakfast with an awesome view of the lake on the outdoor terrace. Spend your day either enjoying the sights of the city centre, or take a hike or a bike along the Colorado River's awesome trails. When you're properly tired out, come back and make the most of the games room!
HI Austin is one of our favourites in USA but they're not taking guests right now. We're not sure if they're closed for good but we hope they'll come back soon.

Our GREATEST Travel Secrets…
Pop your email here & get the original Broke Backpacker Bible for FREE.
The last stop on our list is the Windy City. Unless you're an Italian purist, you're going to love the deep pan pizzas here and sports fans will be in heaven too. Although you probably think of skyscrapers when Chicago springs to mind, there are almost 600 parks so you can take advantage of green spaces while you're here.
Another awesome American hostel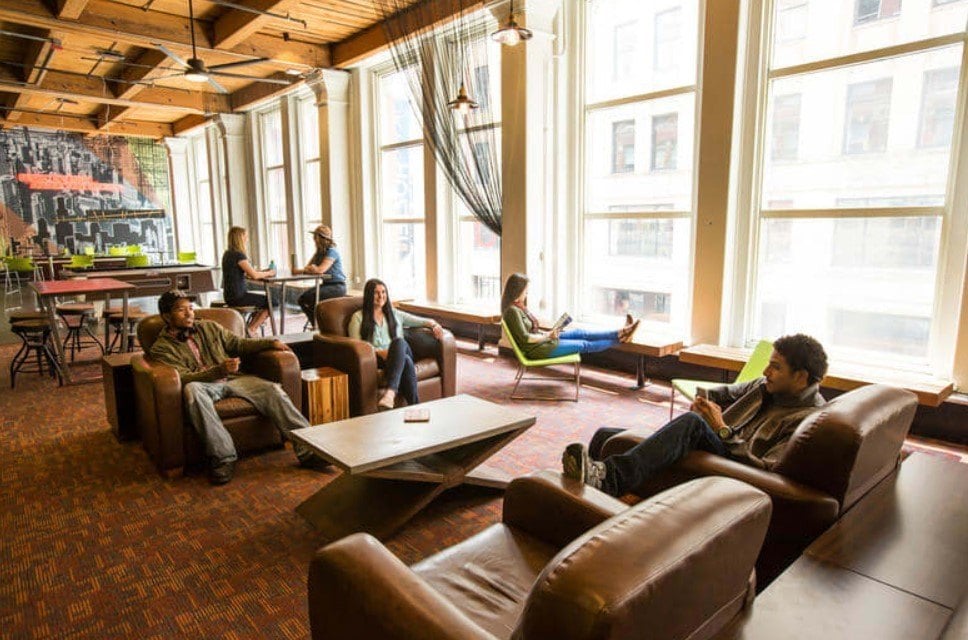 Free Breakfast
Ping pong table
Free activity nights
Fully equipped kitchen
Not only does this cool Chicago hostel get the thumbs up from us, but from Hostelworld too… and more than 5,000 reviewers! And it's not hard to see why. Whether you're travelling solo, with your other half, or as part of a big group, this place can easily suit you.
There are lots of free activity nights that can help you get acquainted with the city and save money at the same time. You'll be visiting the hottest clubs and jazz bars in the windy city of Chicago! If you'd prefer to do something in the day time that doesn't revolve around alcohol, there are meet-ups with free ice cream and snacks! Awesome!
Up there with the best cheap hostels in USA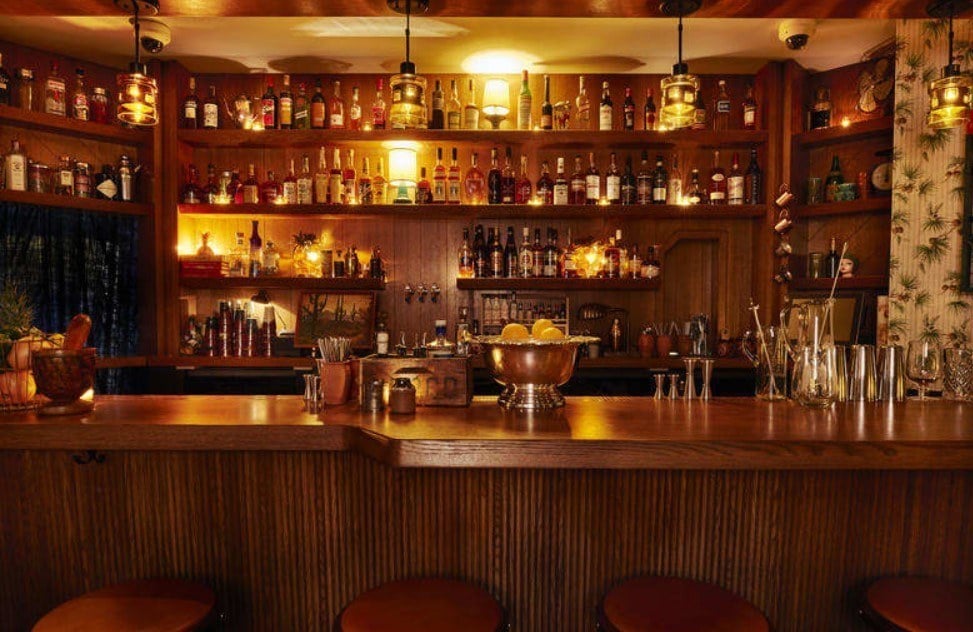 Awesome location
Cocktail bar on-site
Room service available
Innovative design
You wouldn't believe it by looking at the photographs, but the Freehand Chicago is one of the best cheap hostels in USA; it doesn't look like a cheap hostel at all. The classic building dates back to 1927 and it's been designed by the famous design firm Roman and Williams. You first stop here should be the Broken Shaker cocktail bar, where you can fuel up on delicious food and treat yourself to a tasty cocktail!
Legendary American hostel for sports lovers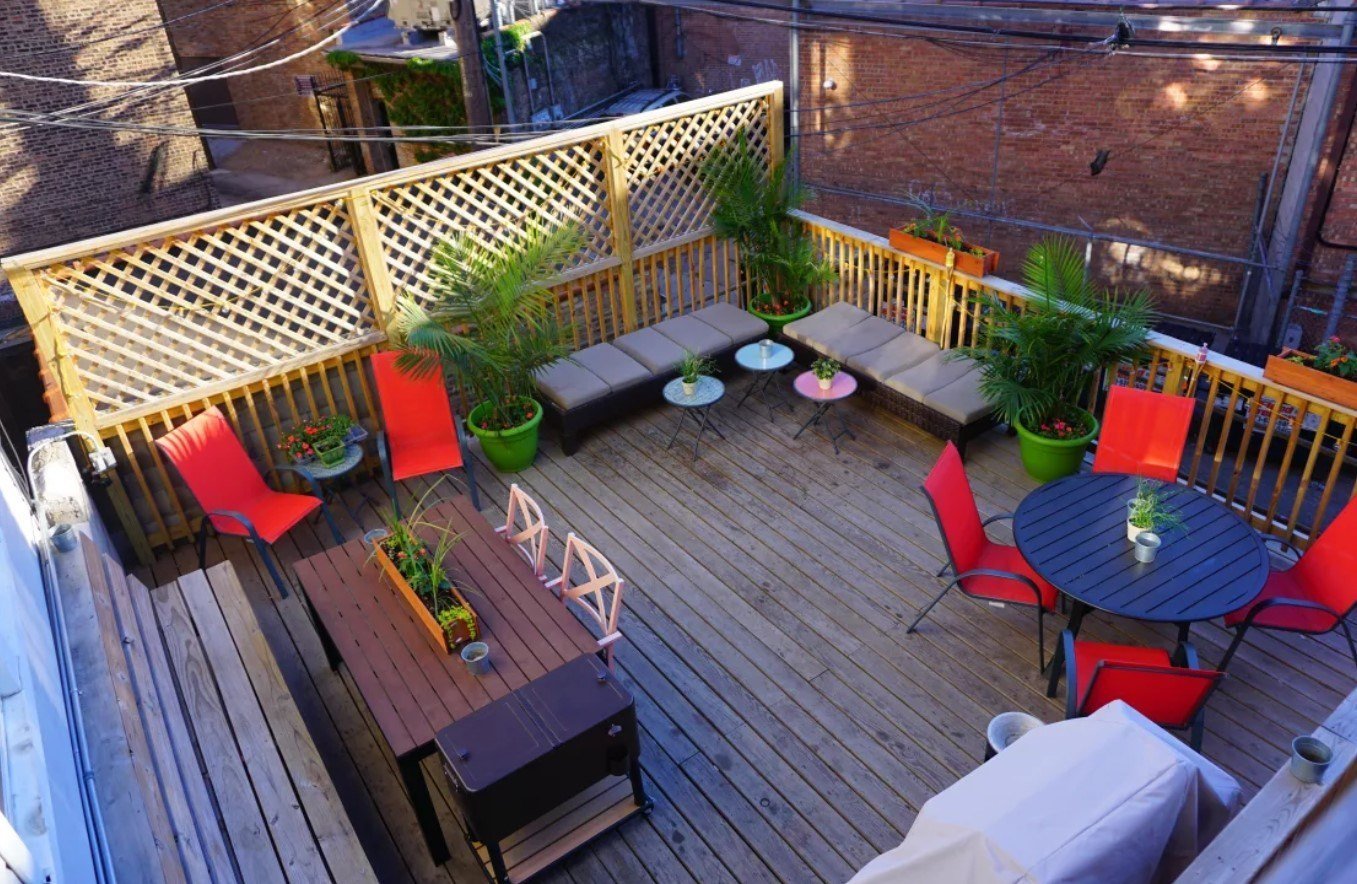 Opposite baseball stadium
Ping pong table
Free barbecues
Free city walking tours
Last but not least on our list of the best hostels in USA, here's the Wrigley Hostel. No, it's nothing to do with chewing gum, but all you sports fans will know it refers to the historic Wrigley Field Baseball Stadium! So, if you're coming to catch a game, you sure won't be disappointed with this place! Not big into your sport? Not a problem. You can still take advantage of freebies like barbecues and city walking tours, and a free breakfast each morning of your stay! As well as all that, you're in the most vibrant nightlife district in Chicago, so there are lots of bars and clubs nearby!
Before You Book Your Hostel in USA
So what are the essential need to know facts about visiting the US? Let's take a look!
Currency – The US Dollar – $1 = $1!!!
Language – English. Although Spanish is widelly spoken and semi-official in many parts of California and Florida.
Visa – Many visitors can get a 3 month Visa on arrival but MUST complete the ESTA application before hand. We recomened doing it immediately in case there are any complications. If you have a "lively" travel history you may be questioned about it and this cause issues in entering the country. For example, I was sent for a bag search at LAX on the basis I had visited Colombia 3 years earlier…American logic eh?
Anything Else? – The US is a big country and it's expensive. The political situation in March 2020 is divided but that should not deter you from visiting.
We have written previously about backpacking, and staying safe in the US.
Map of Where to Stay in USA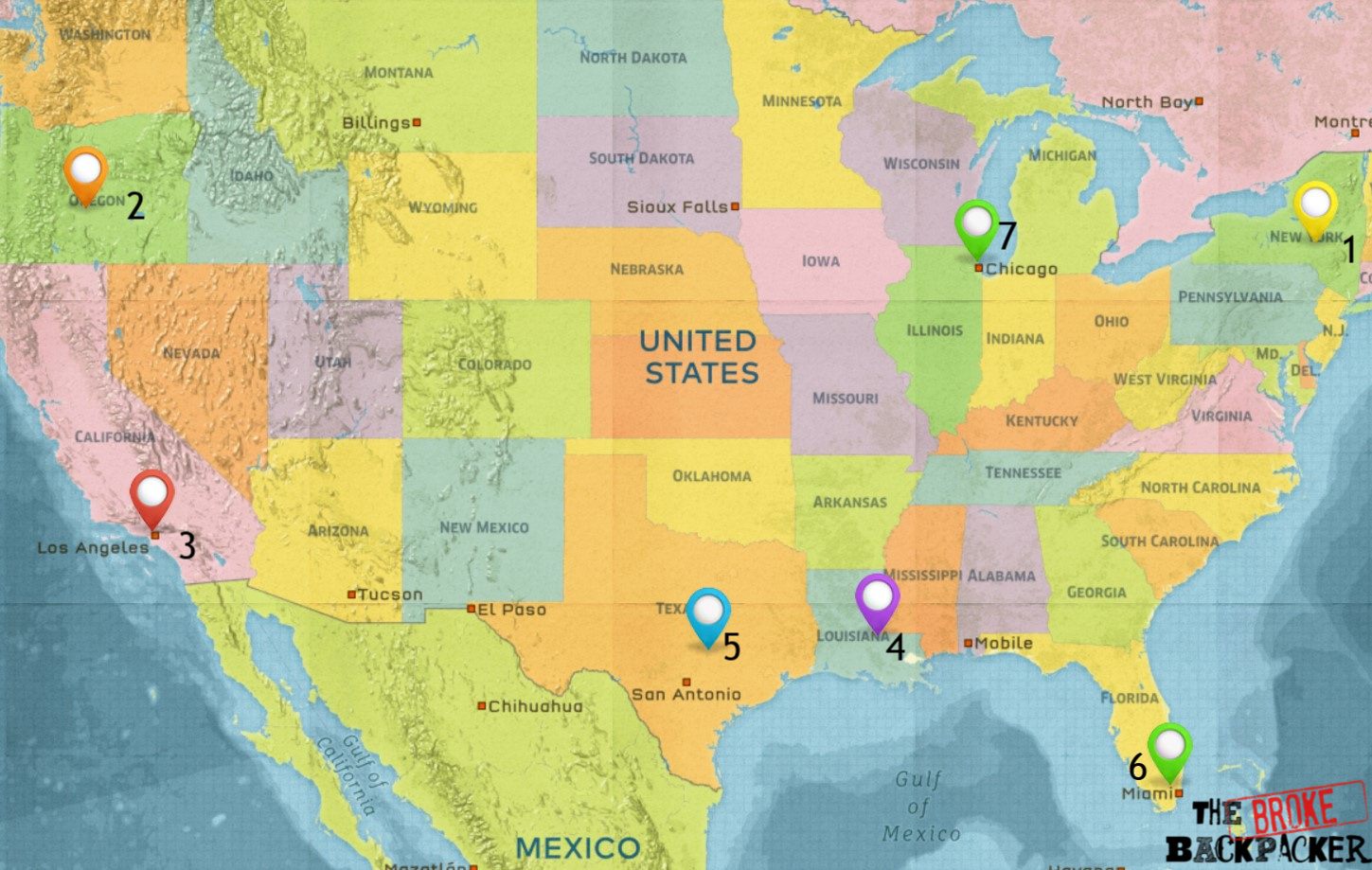 What to Pack for your American Hostel
Pants, socks, underwear, soap?! Take it from us, packing for a hostel stay is not always quite as straight forward as it seems. Working out what to bring and what to leave at home is an art we have perfected over many years.
Check out our definitive Hostel Packing list for our top packing tips!
Why You Should Travel to USA
So, that concludes our list of the best hostels in USA. We're sure that you'll agree that there's a lot of choice! Whether you want to be right in the heart of Manhattan, relaxing on a Californian beach, or a stone's throw from the coolest jazz bars in New Orleans, there's an American hostel for you.
The only thing is now you're probably a bit overwhelmed with recommendations on where to stay in USA. If that's the case, keep it simple, and go for our favourite overall hostel in each city. If you have a lot of flexibility over where you're going to be, make a special trip to where our top overall hostel in America is: USA Hostels Hollywood. Not only does it have an awesome location, it'll provide great value for money and an unforgettable experience!
Now that we've helped you plan your vacation, it's time for us to go. All that's left is for us to wish you an incredible trip to USA. We hope you have an amazing time.
Do you own or run a kick-ass hostel? Want to be featured on this list? Get in touch at [email protected]
Travel Insurance for USA
ALWAYS sort out your backpacker insurance before your trip. There's plenty to choose from in that department, but a good place to start is Safety Wing.
They offer month-to-month payments, no lock-in contracts, and require absolutely no itineraries: that's the exact kind of insurance long-term travellers and digital nomads need.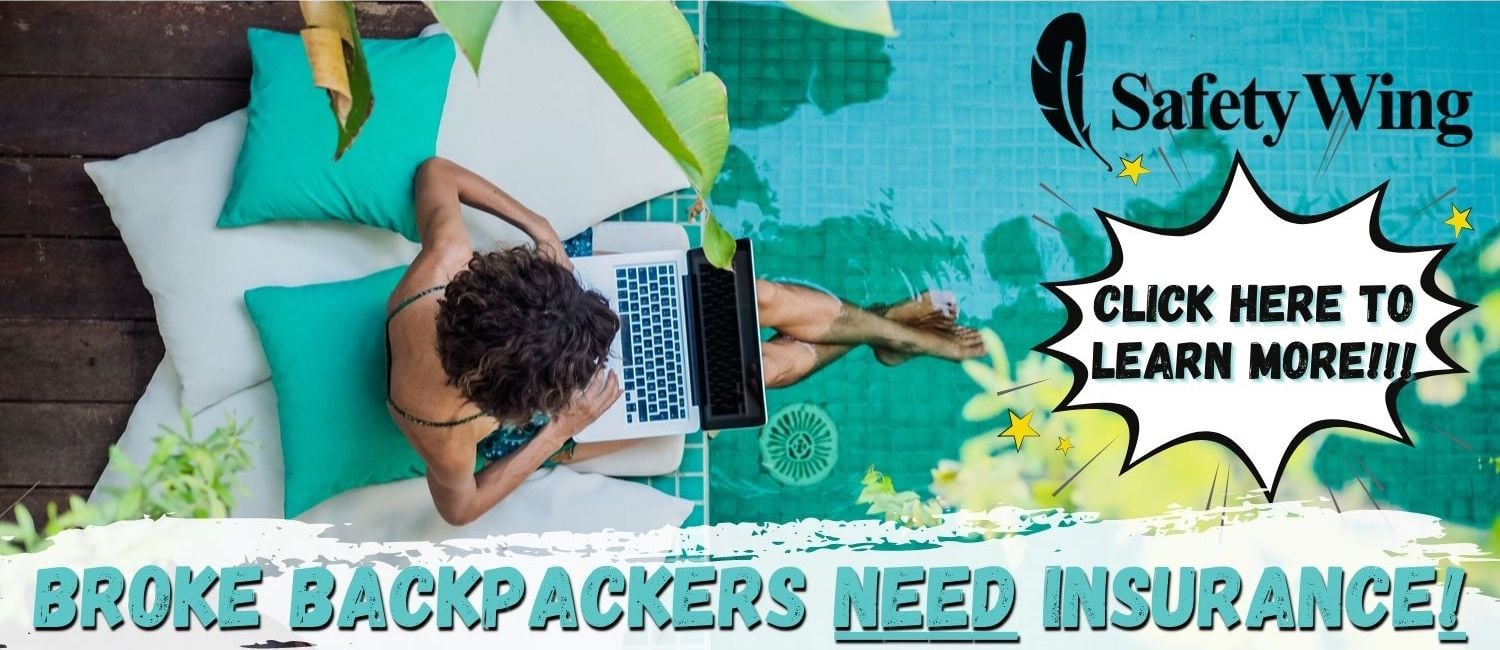 SafetyWing is cheap, easy, and admin-free: just sign up lickety-split so you can get back to it!
Click the button below to learn more about SafetyWing's setup or read our insider review for the full tasty scoop.
---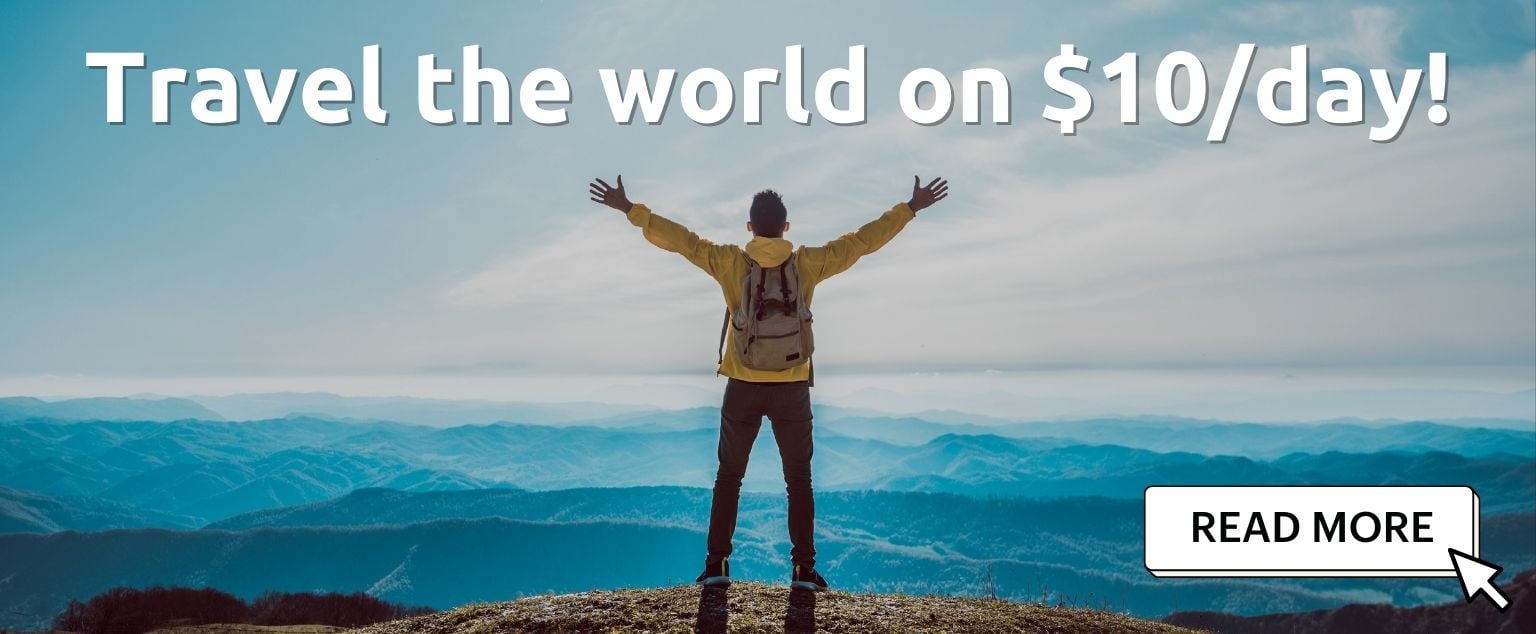 And for transparency's sake, please know that some of the links in our content are affiliate links. That means that if you book your accommodation, buy your gear, or sort your insurance through our link, we earn a small commission (at no extra cost to you). That said, we only link to the gear we trust and never recommend services we don't believe are up to scratch. Again, thank you!