Characterized by scatty deserts, high stake rolls, and the Adonis of all presidential buildings, the USA exhibits a self-love matched only by the top contestants on RuPaul's Drag Race…
…BUT VALIDLY.
It is an immense country, home to California, Los Angeles, Washington D.C, and a healthcare system where you're more likely to walk out with fewer limbs than you walked in with…  (specifically an arm and a leg)
Whilst Hollywood picks out the juiciest shots of New York and Vegas, wilder highlights lie inland: The Precambrian geology of Utah, the toasty hot springs and outdoor adventure of Yellowstone, and the wide, freeing spaces of the Grand Canyon.
I will be lining up the best places to visit in the USA, so you can knock them down. Blessed with an eclectic mix of bustling tourist spots, famous landmarks and natural spaces so pretty they could disassemble a member of the Mossad, the U.S makes for a special visit.
So let's dive right in!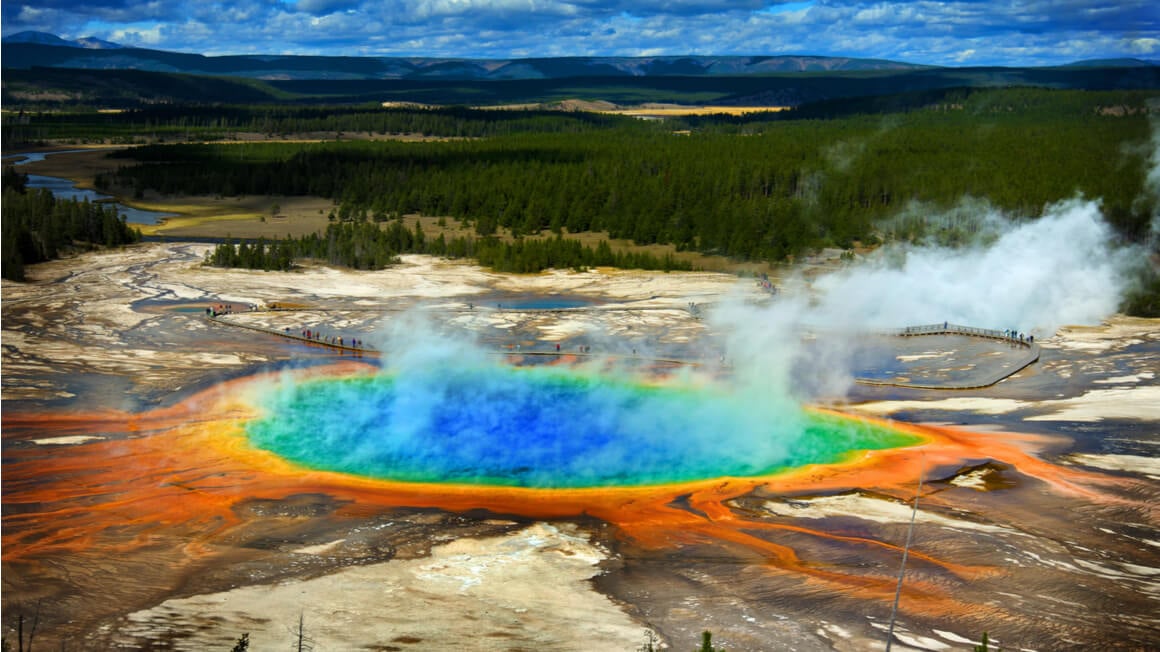 What are the Best Places to Visit in the USA?
Travelling the U.S. is an awesome thing to do. So let's get right into it!

Unlock Our GREATEST Travel Secrets!
Sign up for our newsletter and get the best travel tips delivered right to your inbox.
1. Utah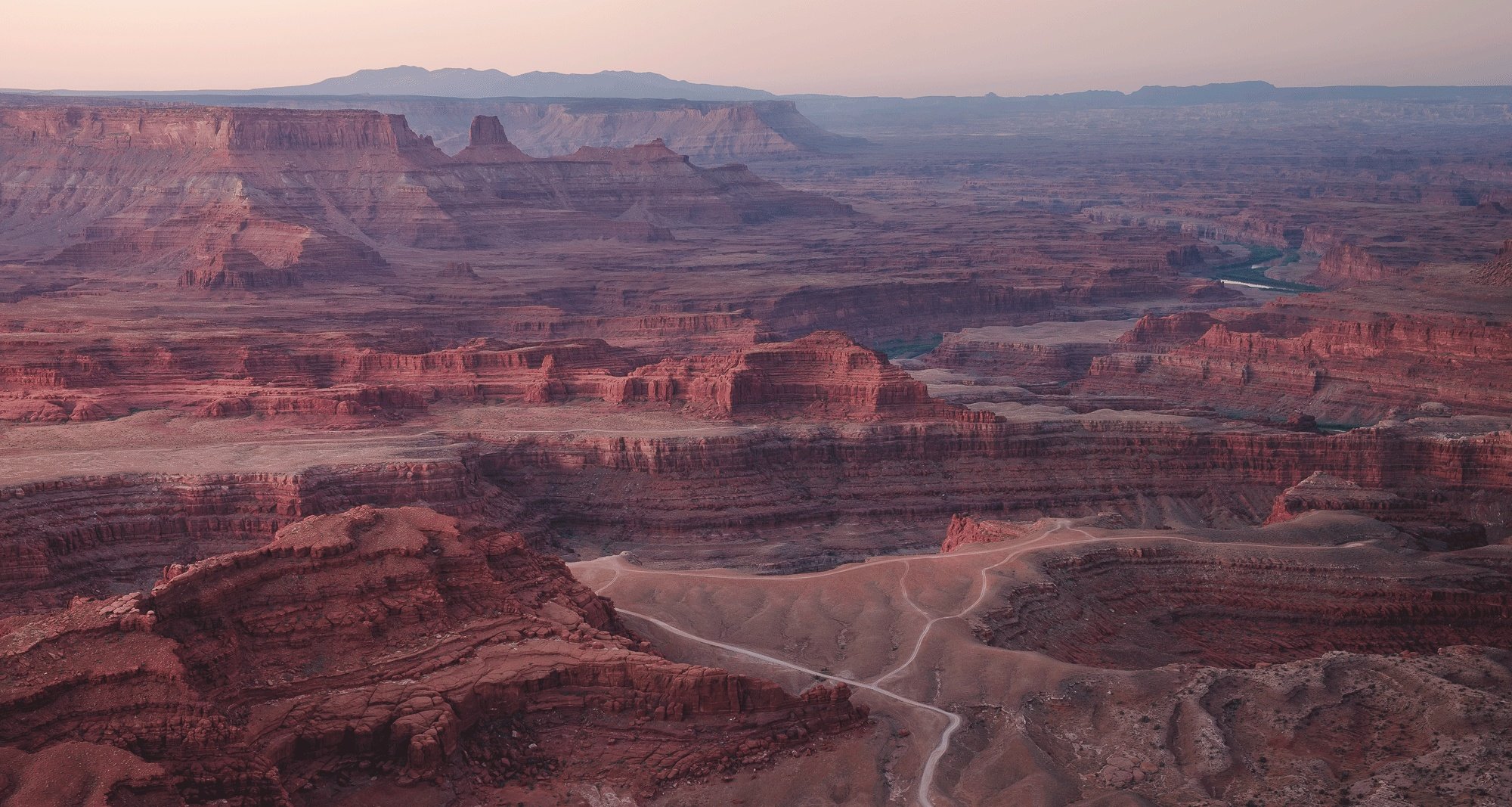 Arches national park (the holey land)
Zion national park
Salt Lake City
Is this landscape real???
It bears the names of holy figures – of Zion, St. George, Mt. Nebo, and the Jordan River. Dabble in Utah's epic national parks and you'll see why the LDS pilgrims felt the need to do so – both the desert landscape and natural history of Utah are absolutely rapturous.
With towering walls of stone, intricately carved natural bridges, and otherworldly spires that seem to defy physics, there is nowhere quite like Utah.
Utah is just plain awesome and without a doubt one of the best places to visit in the USA. There's so much to do in Utah – climbing, camping, hiking, quad biking, paragliding; if you can think of an outdoor adventure, it's here.
That being said, just being in this state is usually enough. It's a must-see place in America, undoubtedly.
2. Grand Canyon National Park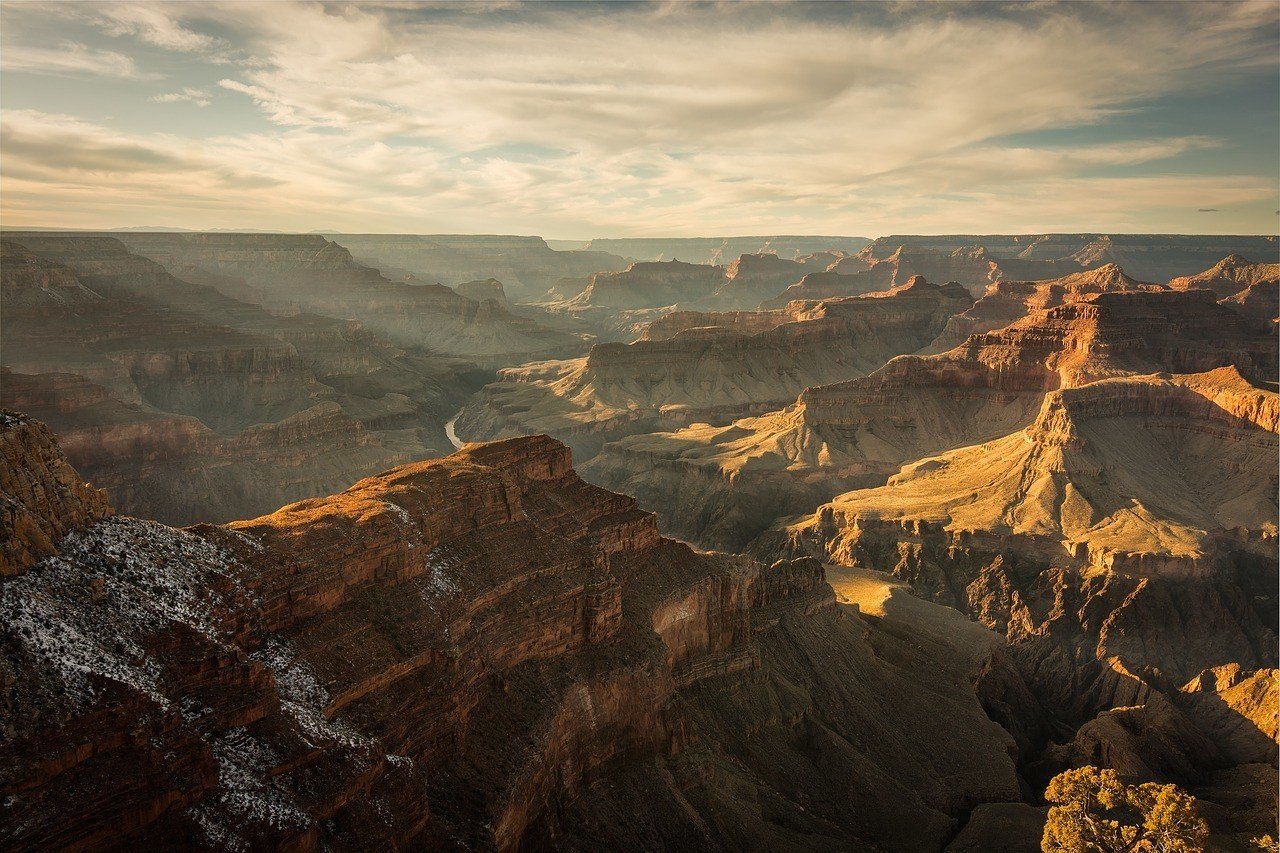 Thrilling Heights
Sprawling Landscapes
Kind of Utah too
Well-prepared for tourists
Including the Grand Canyon on any list of "Best Places to Visit in America" is nothing new. This national park is probably the single most popular tourist destination in the US, at least when it comes to the outdoors. And while we've all seen the rift a million times in postcards and advertisements, nothing really compares to being there in person.
If your fitness allows it, we'd highly recommend going on a full-day guided hike through the Canyon. That way you'll stay safe, but experience the insane beauty of the park.
There are a bunch of great hiking trails around the Grand Canyon as well. The Vermillion Cliffs, Antelope Canyon, and Horseshoe Bend are just a few of many to be named.
There is quite a bit of lodging around the Grand Canyon, which means one could easily use it as a base for exploring the rest of Northern Arizona and Utah.
3. Yosemite National Park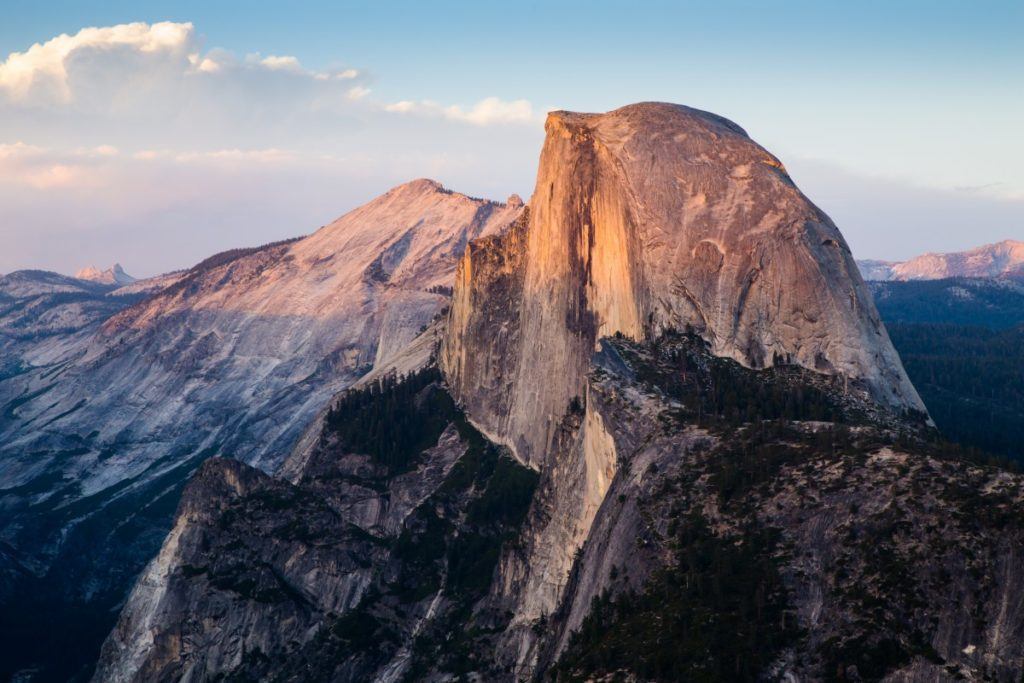 Yosemite Valley
95% wilderness
The Half Dome
Giant sequoia groves
As one of the key reasons why national parks are such a big thing in America, Yosemite national park is a unique and special experience for any traveller.
Home to an array of spectacular hiking trails, sudden cliffs, and jaw-dropping views, Yosemite is a place not to be missed. Its location in California also makes it an ideal place to visit on a west coast tour- a great break from the city and the beach.
There are a number of more adrenaline-boosting activities too, from white water rafting and mountain biking to climbing and trail running. The adventure focus of this place makes it a perfect holiday destination, and there are great places to stay too!
4. San Francisco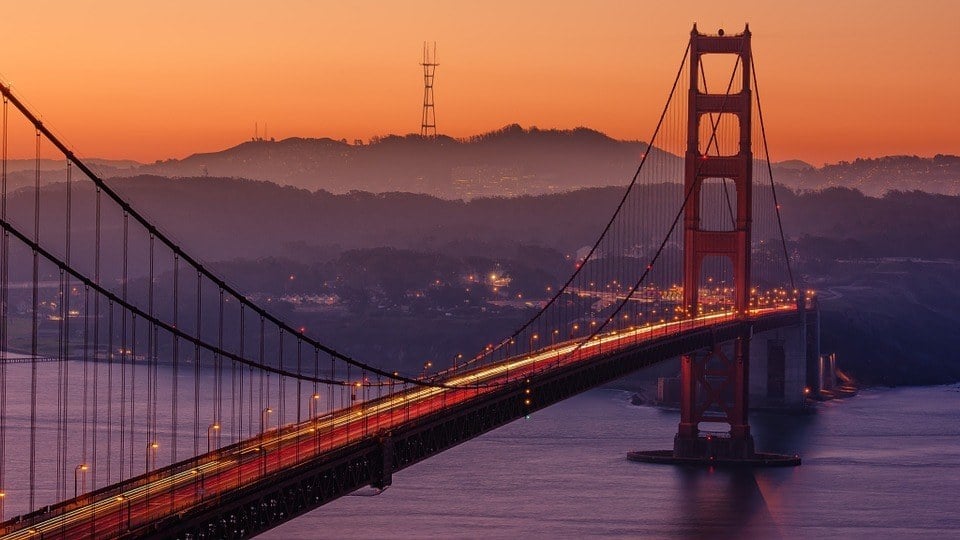 Alcatraz Island
Fisherman's Wharf
The Golden Gate Bridge
Awesome nightlife
I've been to San Francisco about 6 times now and every time it surprises me. For some reason, I always forget how gorgeous and dreamy this city really is. It only takes a few moments to remember why this is one of the most popular tourist destinations in the US…
In terms of aesthetics, San Francisco is borderline perfect. The Golden Gate Bridge (which you should definitely experience via a relaxed cruise towards sunset), the bay and Marin County; a sprinkling of these would be enough to visit but I've barely even cracked into the city.
Spend several intimate days with this city and you'll be in love. Hell, we'll even take the pissing bums at the Civic Station BART, though we'd much prefer drinking a beer in Dolores Park or riding the trolley.
To learn more about saving a buck in San Francisco, check out our backpacking San Francisco guide.
5. Yellowstone National Park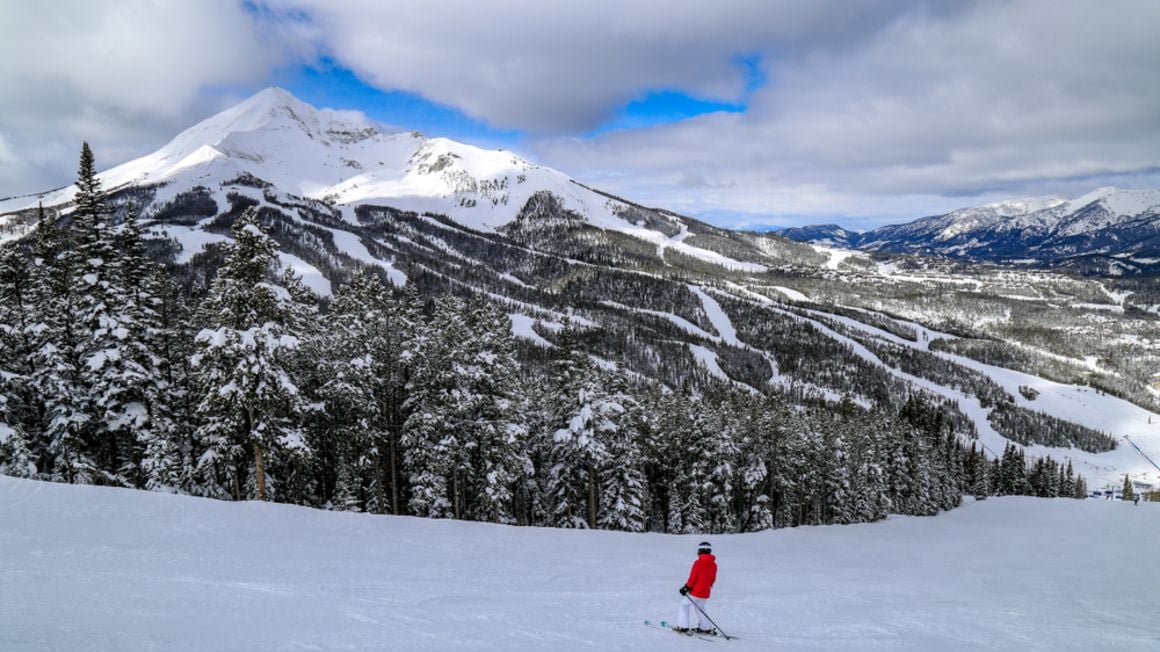 America's first national park
Old Faithful
A great mix of wildlife (yah, grizzlies too)
Almost 3500 miles
Yellowstone national park is one of North America's most popular. With over 50% of the world's hydrothermal features, the largest buffalo herd in America, and a dormant supervolcano, it is no wonder that it receives so many visitors.
There are hundreds of outrageous hiking trails, things to do and see, and parts to explore. Skiing at Yellowstone is an unforgettable experience, but can sadly get quite expensive.
However, travelling here doesn't need to be expensive, and you can often find cheap deals, tours and things to do. Take pleasure in the simple beauty, and don't go looking for expensive dinners!
Yellowstone national park is an awesome place to visit.
6. New York City
Statue of Liberty
Central Park
Empire State Building
More merchandise than you can carry
Everyone – and I mean everyone – knows about New York City. I've met shepherds in the mountains of Pakistan who didn't know who their own president was but knew about New York City.
A caveman could be thawed out tomorrow and chances are the first thing he'd see is an I Heart NYC shirt.
There is simply no experience comparable to spending a few days NYC. Where else can you listen to over 800 languages or find literally everything under the moon, even durian fruit from Malaysia – fucking durian!
There's even an appointed Mayor of Nightlife here to represent the nocturnal culture – that's taking the title, "City that Never Sleeps" to a whole new level.
Without question, New York is absolutely one of the best cities to visit in the USA. I know it, you know it, and the guy living in a cave knows it. No trip to America is complete without stopping in this city. And with a city this famous, you can be sure that there is loads to do. Too much almost. That's why it's actually a good idea to just hop on a one-day sightseeing tour to get all of the must-sees out of the way.
Ready to book your accommodation? Make sure you do so in one of these awesome neighbourhoods in New York City!
7. Oregon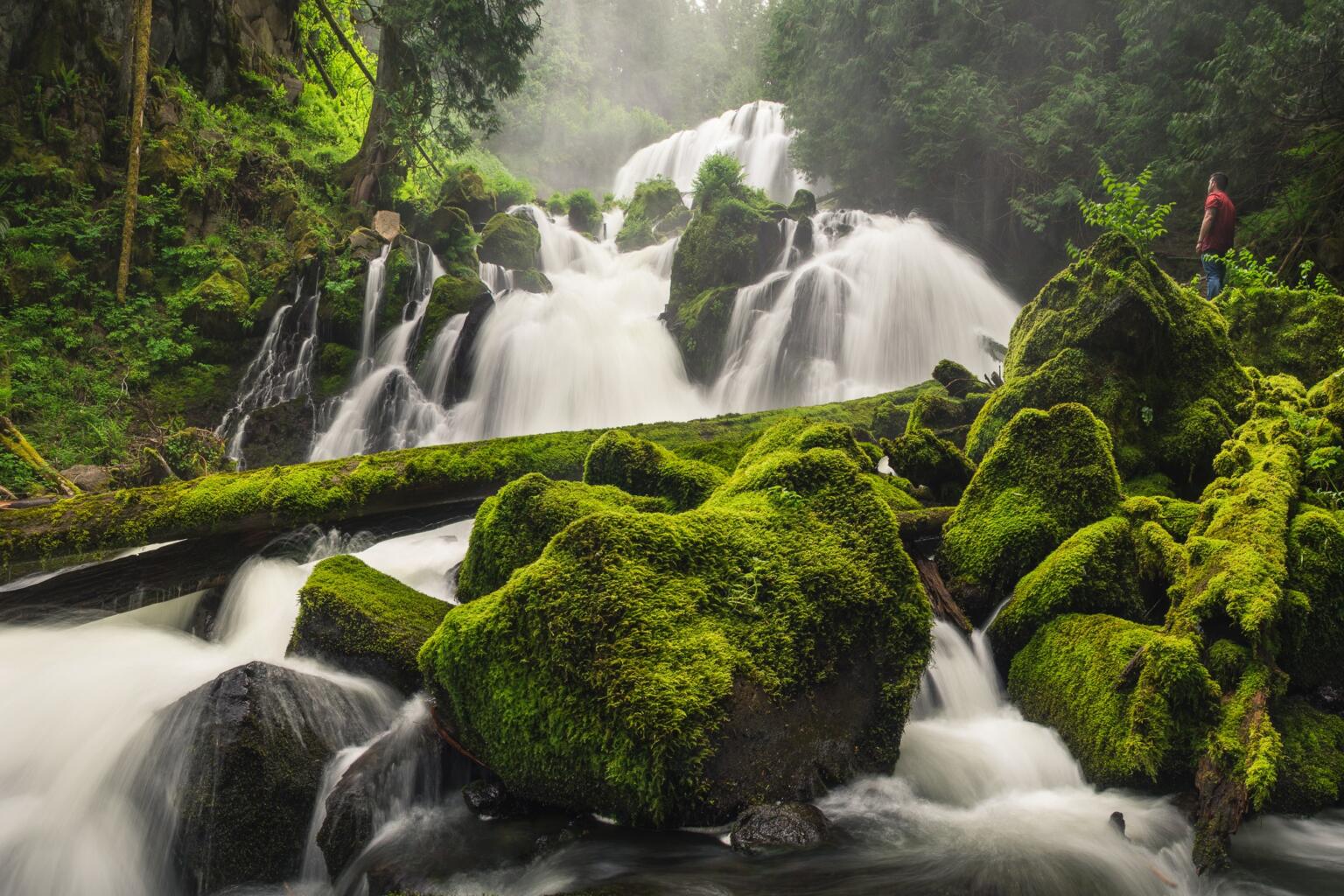 Crazy diversity
Overlooked wild spaces
Oregon – the very name conjures up whimsical images of woods, waterfalls, alehouses, and hipsters. While I cannot confirm the existence of such things anymore (who has seen a real hipster in years, honestly?) I can say that Oregon is still one of the best states in the US!
From the deserts of Eastern Oregon to the Coast to charming, if not grungy, Portland, Oregon is full of amazingly diverse experiences and places to visit. Some of them are almost magical, like the Columbia Gorge Waterfalls, which are part of pretty much every tour in Oregon.
Here, you can ride a bike, go surfing at Oswalt West, and ski at Mt Hood, all in the course of a single day! Few places in the USA can compete with Oregon's huge range of attractions and, honestly, it is one of the finest examples of American beauty.
Lots of people are organizing trips in Oregon these days and it is quickly becoming one of the most popular states in the USA. Many claim it's one of the most beautiful and best states to visit, so best visit now before it becomes totally overrun.
8. Rocky Mountain National Park
Largest Mountain range in NA
Great Skiing
Colorado River
Mountain Biking
The Colorado Rockies are one of the most famous places in the USA for several reasons:
Tasting like Coors Beer
"A little place called Assssspen." (Dumb and Dumber joke.)
Insanely amazing outdoor adventures
The hiking trails in Colorado are some of the finest in America and many have dreams of summiting a 14er or going on a backpacking trip while visiting Colorado. The amazing Colorado river provides access to crazy watersports too.
And the skiing; oh how the skiing dominates every conversation in the state. Admittedly, the slopes are spectacular in Colorado and seemingly never-ending.
Even better, there always seems to be a clumsy Texan who eats shit on a ski run. God forbid they actually hurt themselves… but if they're unscathed, it's comedy gold.
9. California Coast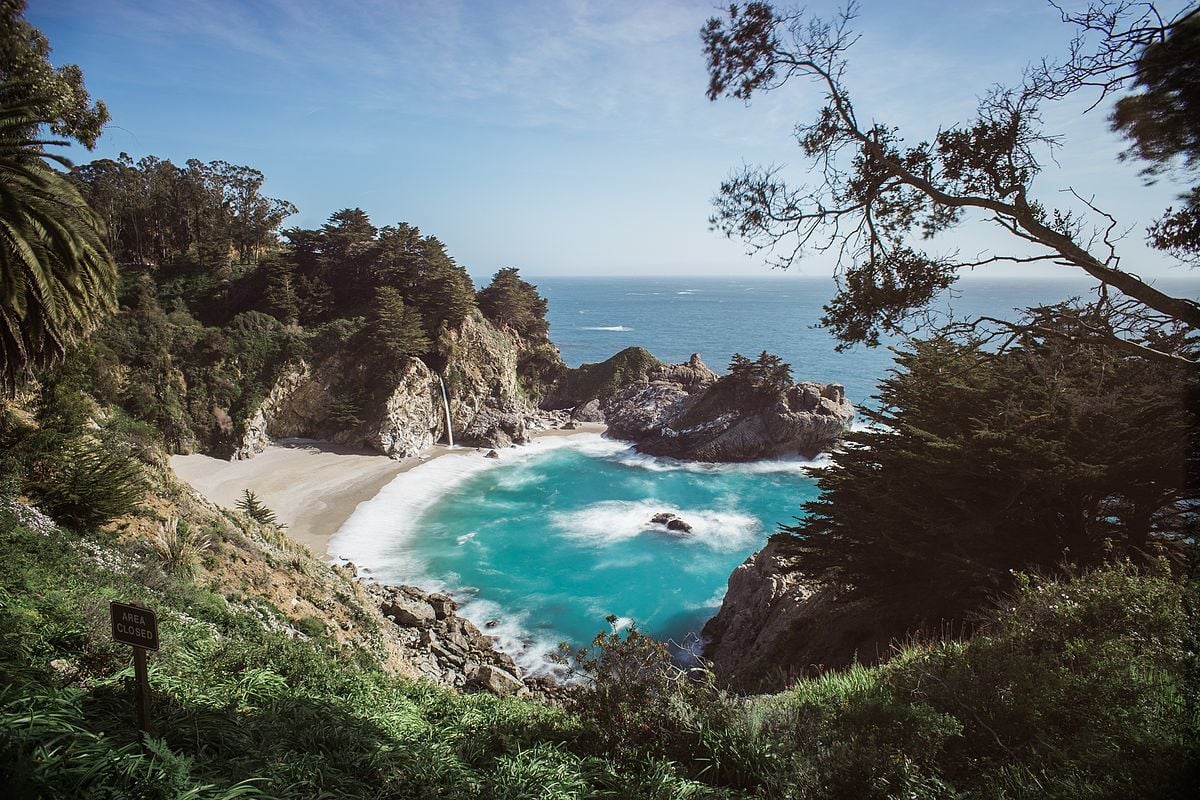 Vacuum packed geography
Beaches
Ask anyone what their top US road trip would be, and most will probably say the California Coast. Over the course of 650 miles and one epic road trip, you'll have the chance to see some of the most beautiful places in America. It's no wonder California is considered one of the best states to visit.
You'll also get to pass through some of California's most iconic destinations, like La Jolla, Malibu, and the Redwoods.
You're going to see a huge array of geography on the California Coast. Starting in the surfer's paradise of San Diego, you'll notice that the coast is quite desert-like – palm trees dominate the boardwalks and the sun is shining nearly constantly. San Diego might be one of the best places to dive into the world of water sports. Whether that's surfing, sailing, jet-skiing – there are plenty of cool options to explore.
Travel further north and the landscape begins to change – the shoreline becomes more rugged, more vegetated, and more scenic. Few places are as stunning as the stretch along Big Sur and camping here is an absolute must.
Want to learn about San Diego's amazing scene, which includes beer, music, and tacos? Read our dedicated San Diego city guide then!
10. Acadia National Park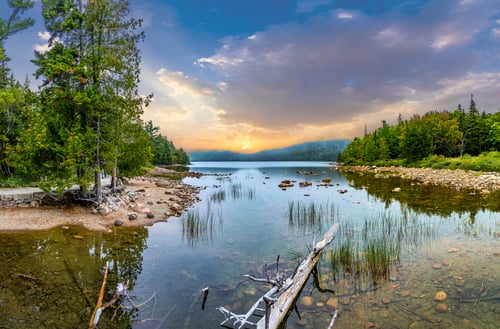 Cadillac Mountain
Mount Desert Island
Thunder Hole
Great Long Pond
Acadia National Park houses some of the most stunning natural scenery on the eastern seaboard and is the only national park found in Maine. With a location like this, it's worth the extra effort to reach from New York.
There is an abundance of fantastic places to stay in Acadia, and most of them boast unbelievable views. Hiking trails are mega-popular, but the beaches are highly prized too, especially in the warm summer.
The Schoodic peninsula provides a less busy alternative to the park's main Island. Equipped with over 8km of bike trails, it makes a great family day out.
11. Death Valley National Park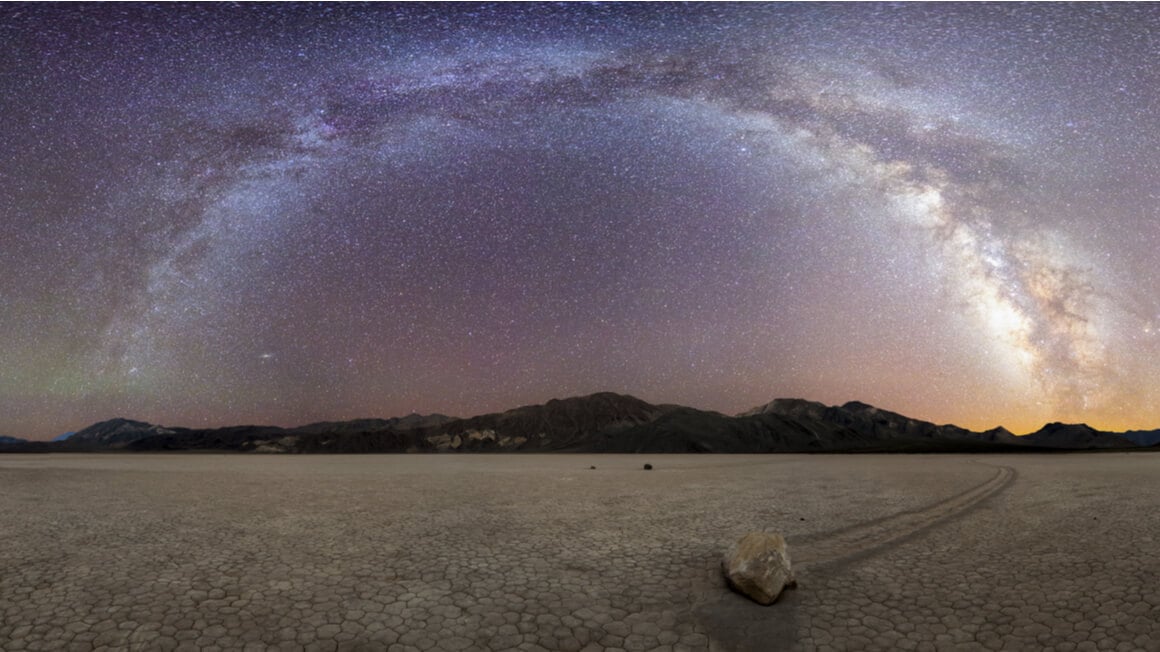 Insane desert
Surprising diversity of life
Hottest, driest and lowest national park
Home to a ton of speed records
While there is a perception that Death Valley is just a hell on earth (the name doing no favours here), this national park is home to snow-capped peaks, sparkling oases, and fields of wildflowers. There is a wealth of life here!
Home to some unbelievable hiking trails, there are walks out there that will give you scenery you can't find anywhere else in the world. In the summer, temperatures are often above 40 degrees Celsius, so it is worth researching the best times to visit if you're looking to properly explore.
Death Valley is undeniably a bucket-list location, and there are loads of great places to stay nearby! There is no excuse for leaving this awesome part of the U.S. out of your itinerary, because it slaps.
12. Washington DC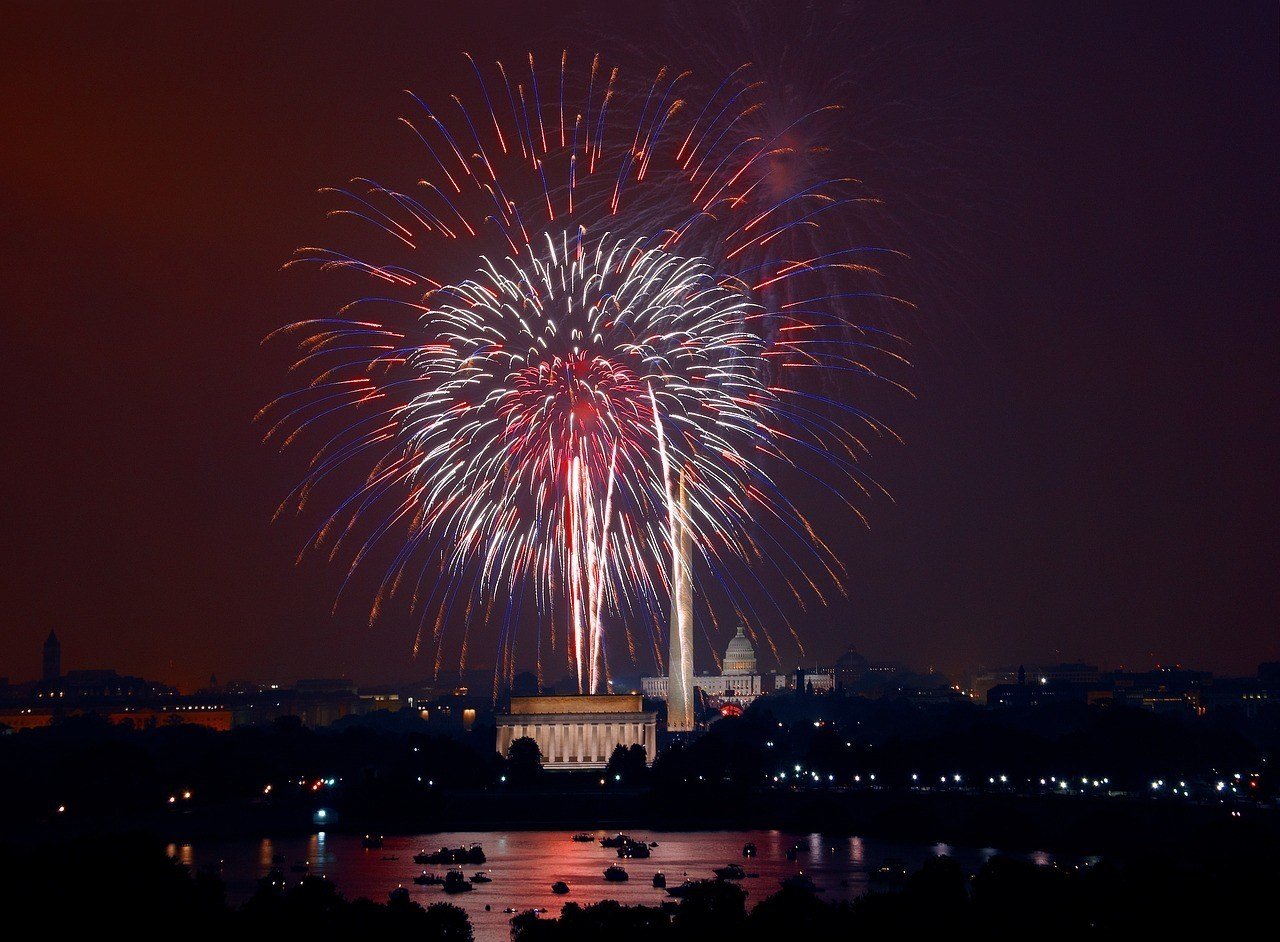 I have a dream
Lincoln Memorial
White House
Jefferson Memorial
It's the nation's capital, the supposed City Upon a Hill, and the representation of everything good and bad about America. Regardless of its political undercurrents, Washington DC is one of the best cities to visit in the US, thanks to its oversaturation of history, culture, and monuments.
As such, a lot of DC's neighborhoods are changing, for better and worse. Adams Morgan and The Shaw are firmly gentrified, while Columbia Heights and H Street are on the verge of being "discovered."
But the monuments – magnificent edifices to the nation – still make DC one of the best places to visit in America. The Washington Monument, Lincoln Memorial, and Jefferson Memorial are all here and are as glorious as ever. For a bit of a different vibe, you can explore each monument at night.
13. Montana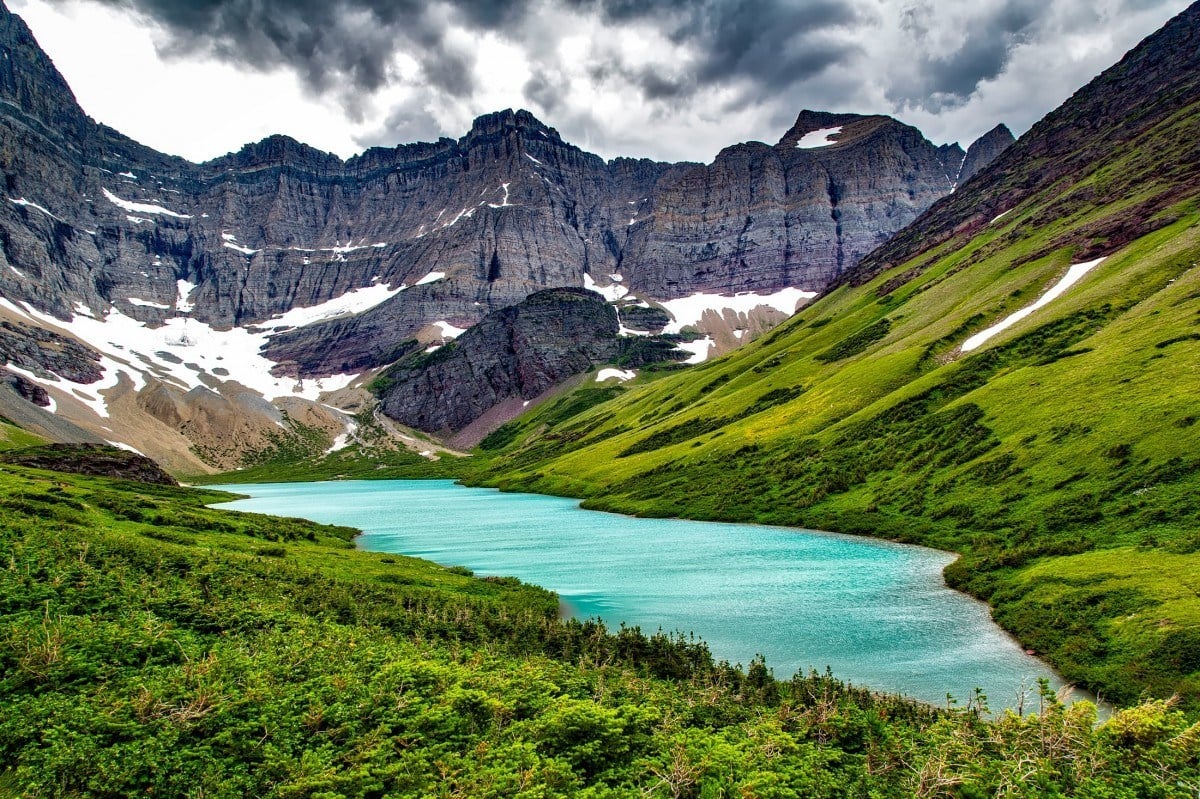 Glacier national park
Whitefish
Montana is a bit like Arcadia – a legendary place that is often spoken about but rarely visited by the vast majority. It's a state where one can escape all of the evils of the world and just go for a walk, a joy ride, a fishing trip, or have a beer with yourself. In fact, it's a true paradise for going on epic outdoor adventures and activities.
Montana is one of the best states to visit in the US; plain and simple. It's gorgeous, unique, unabashed, and welcoming. When you're backpacking around the United States, add this to your itinerary because it's a must-do.
Every day, more and more people are visiting, and many fear that it will lose its rustic charm (Glacier National Park certainly feels overrun in the summer). Spend some time staying in Montana soon while it's still somewhat raw.
14. Northern Idaho
Coeur d'Alene
Hiawatha cycling route
Silverwood theme park
Farragut state park
Idaho gets a really bad rap for being boring and good for nothing besides growing potatoes. While I certainly can't deny that the southern part of the state is like this, the north is a whole different story.
Contrary to many's perceptions that Idaho is just flat and featureless, Northern Idaho is actually very mountainous. The American Rockies actually begin in Idaho and are no less stunning than those in Montana or Colorado. You can also find many quaint cabins in Idaho that offer unparalleled views of the Rocky Mountains and other scenic points in the state.
Some of the best skiing in the country is around Sun Valley and there are lots of world-class hikes in the Sawtooths. I myself was pleasantly surprised to stumble upon Sandpoint, a lake resort tucked away in the mountains – to me, Sandpoint is like the American version of Lake Como.
So give Idaho a chance! It's not the most visited place in the USA, but that's probably why it's so great.
15. Olympic Peninsula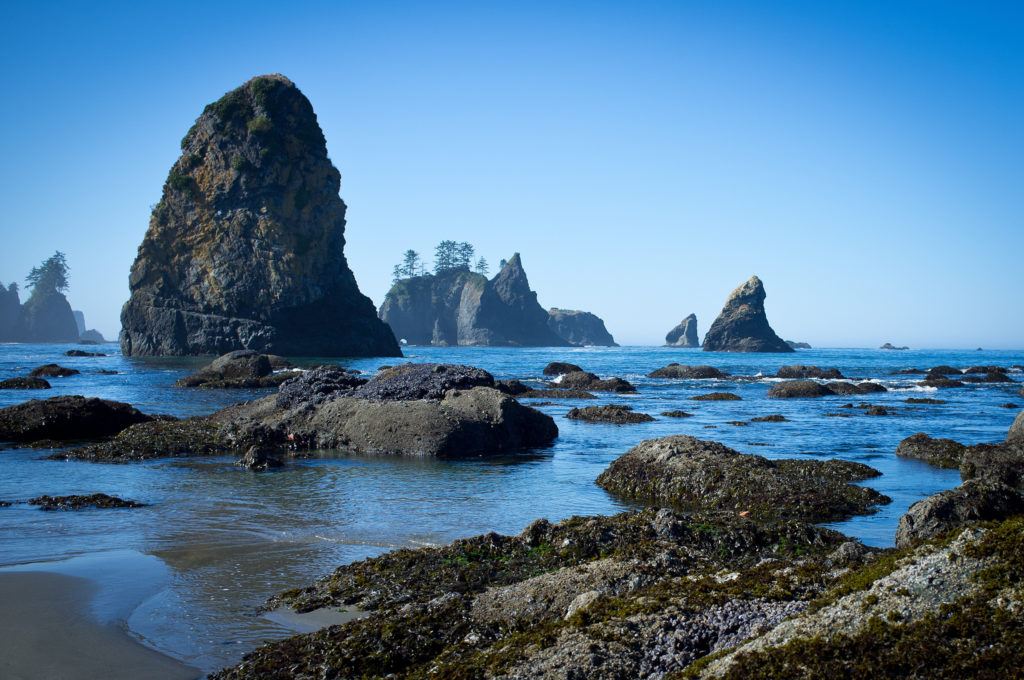 Lush
Olympic National Park
Hoh rain forest
Lake Crescent
The Pacific Northwest is notable for a lot of reasons – craft coffee, rain, and Nirvana, among other things. Nature is obviously a huge reason to visit this region and while we love places like Mt Rainier or the San Juans Islands, few can compete with the spectacular Olympic Peninsula.
The Olympic Peninsula is one of the most unique ecosystems in the world and offers a crazy array of geography. It receives a shit ton of rain – even by PNW standards – which, in turn, makes it amazingly lush.
Aside from the flora, the Olympic peninsula also hosts mountains, glaciers, vast wildlife, and some of the best beaches on the West Coast. The ability to see so many different landscapes in one place certainly makes this USA national park one of the best places to visit in the USA (in the summer, particularly).
16. Sierra Nevada Mountains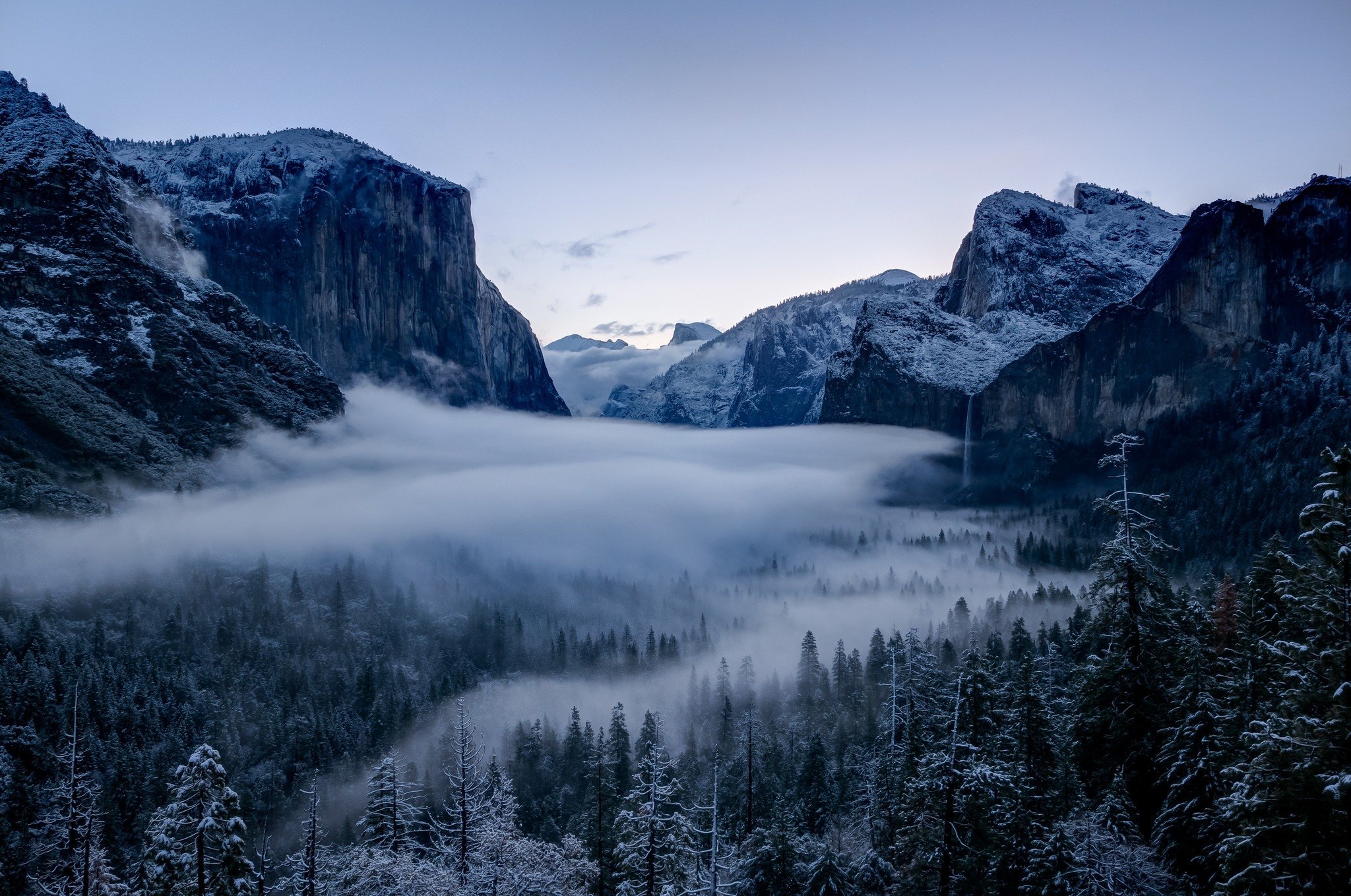 More forest than you need
King's Canyon
The pre mentioned Yosemite, of legendary climbing fame, is located about 3 hours away from San Francisco and is a very popular place to visit. King's Canyon is in the southern portion of the range and it hosts some of the best hikes in California.
We're being modest though – because the Sierra Nevada actually holds several superlative titles. The highest point in the lower 48, Mt Whitney is located in these mountains. So is the largest alpine lake in North America – Lake Tahoe. Let's not forget the towering sequoias either, which are considered the largest trees on Earth.
So the next time someone says that the Rockies or Appalachians are the only mountains in the US, you tell them about the Sierra Nevada. While you're at it, drink an Otra Vez Gose from the eponymous brewery – that shit is amazing,
17. Santa Fe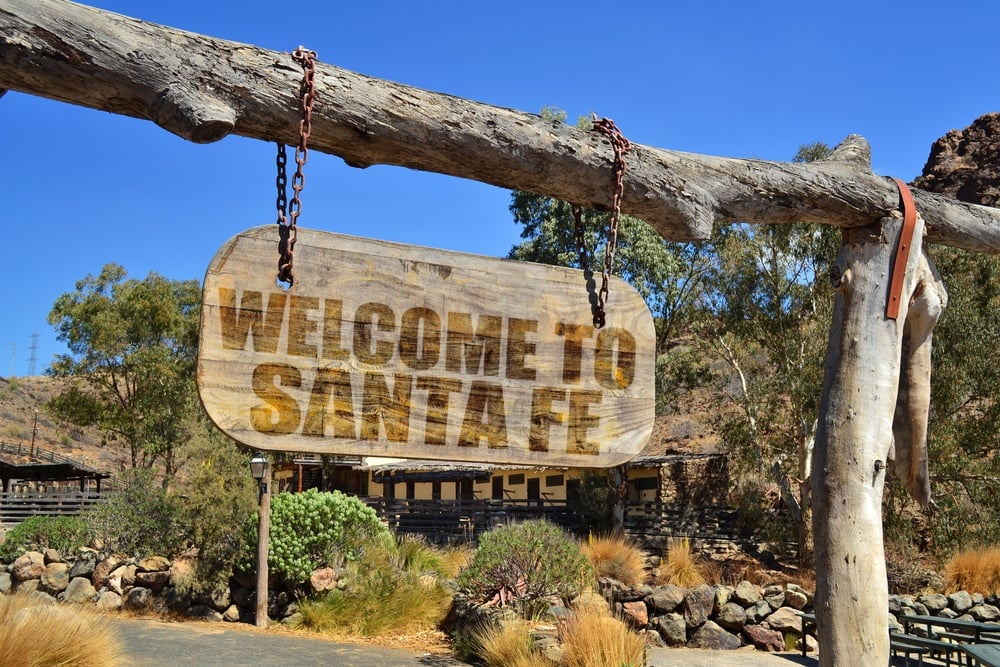 Spanish town
Canyon Road's art institutes
Santa Fe Opera House
Taos Ski valley
Santa Fe is a wonder; a city that manages to hit all of the marks of a great tourist destination. There's unique heritage, a thriving art scene, a plethora of outdoor activities, and amazing food (GREEN CHILI EVERYTHING).
And yet, Santa Fe still manages to be underrated. In fact, not many people visit Santa Fe at all, let alone know where it is (New Mexico if you didn't already). When you compare Santa Fe's humble 2 million annual tourists to Denver's 30 million or Phoenix's 20 million, it's kind of upsetting actually.
Statistics be damned though; Santa Fe is still one of the must-see places in the USA! The art alone is worth the journey here. For God's sake: there's a gallery called Meow Wolf that was built by George RR Martin – how fucking cool is that!
18. Wyoming Rockies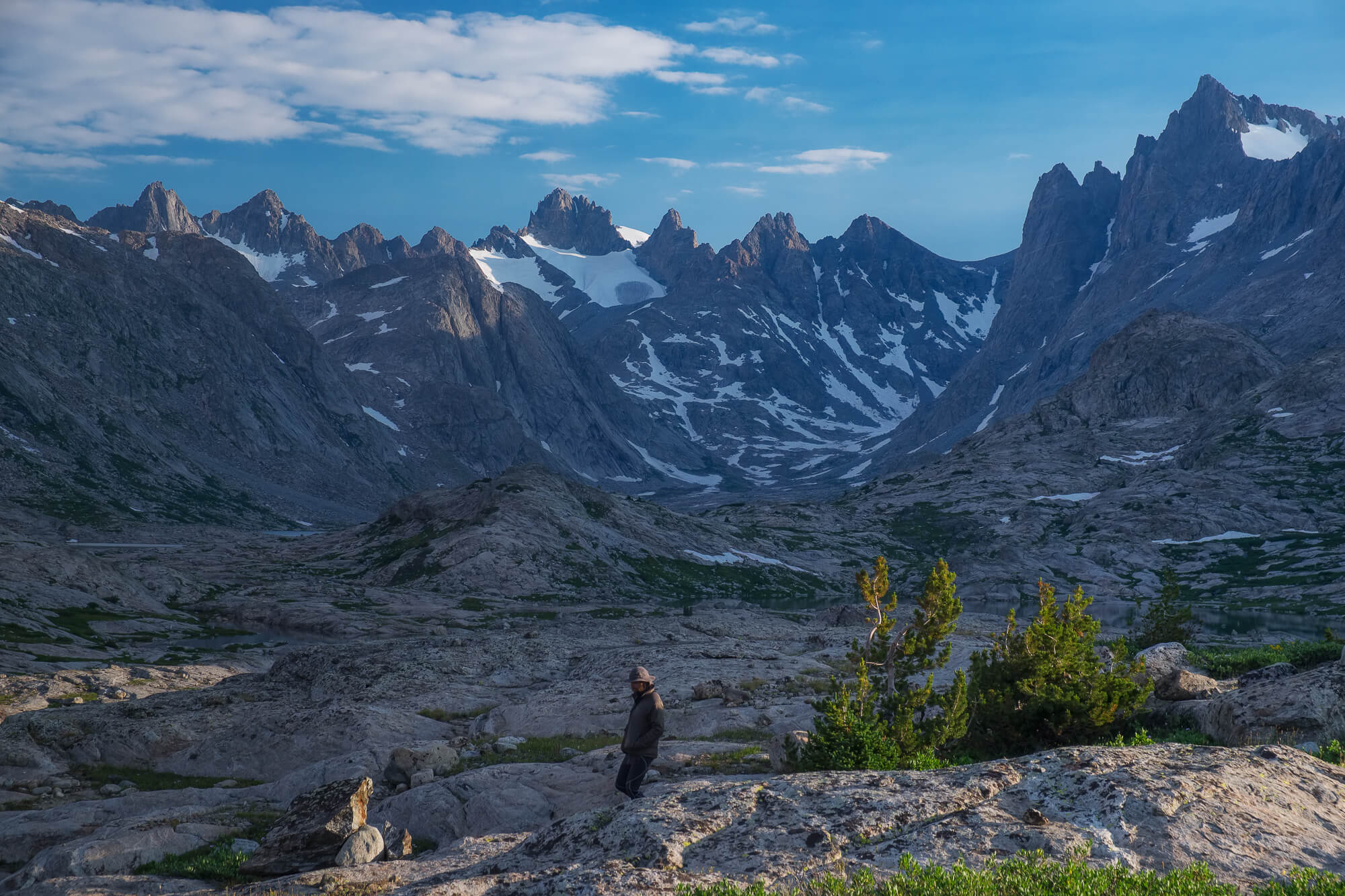 Not just the Rockies-Wyoming Rockies!
Yellowstone National Park
Grand Teton National Park
Titcomb basin
The Rockies stretch over about 6 different states, so you shouldn't be surprised to hear that these mountains look and feel different in each one. Some people love the Colorado Rockies; others swear by the mountains in Montana because, admittedly, Glacier is pretty fuckin' rad.
My favorite part of the Rockies though? Wyoming.
First and foremost, two of the best national parks in the USA are located here – Yellowstone and the Grand Tetons. Both are among the top places that every American should see before they die as their scenery has become iconic. They're best discovered by foot and with a guide, unless you're an experienced hiker.
The best part of the Wyoming Rockies, better than the Tetons even, is the Wind River Range. This lesser-known area is home to some of the best hiking trails in the USA, like the stupendous Titcomb Basin. The best part though – you're relatively free of the crowds! I'd take the Winds over the rest, any day.
19. Los Angeles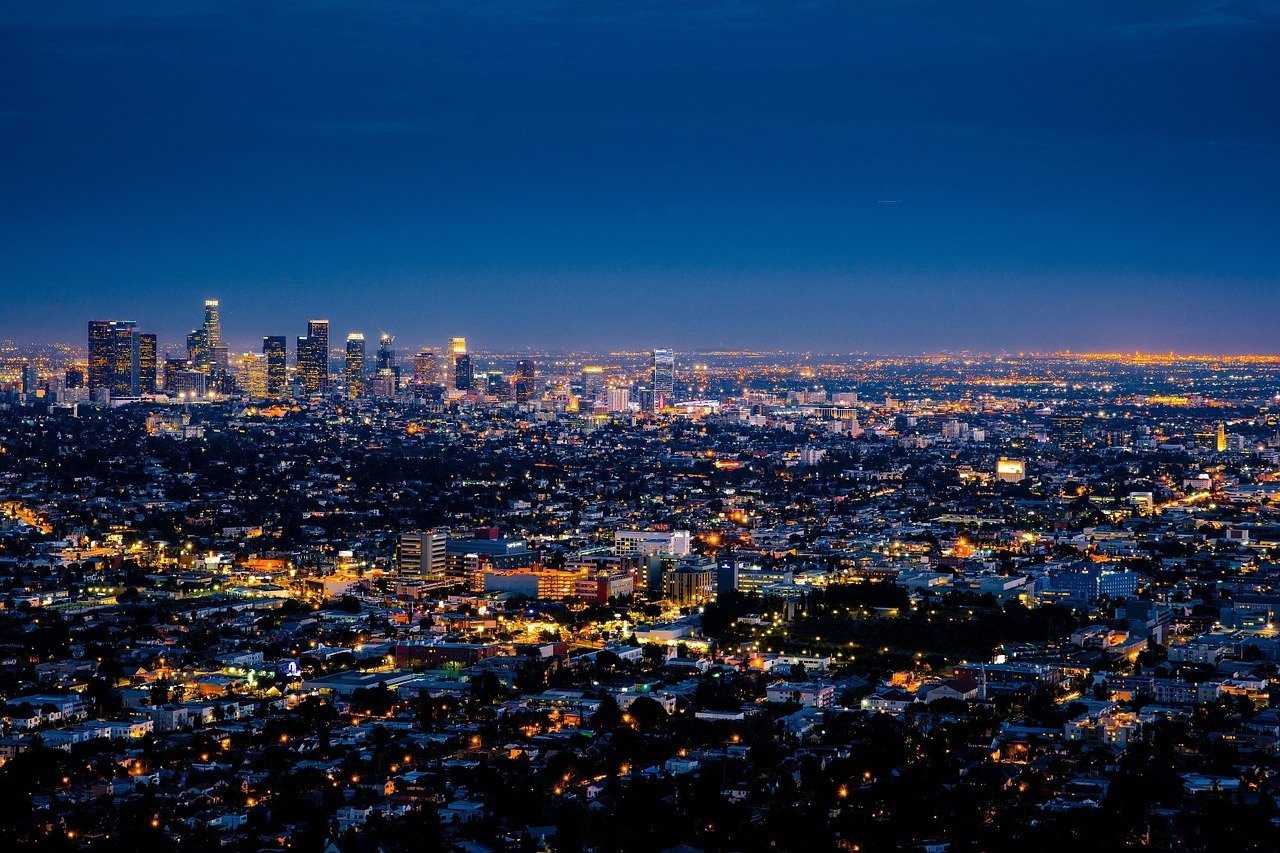 Venice Beach
Universal Studios
I have a bit of a love-hate relationship with Los Angeles – every time I visit, I just can't find the right place for myself. The thing that keeps me coming back though is the fact that I can never possibly see the entire city. Even if you join the Grand City Tour, there's always another place you could check out.
Los Angeles is fuckin' massive. There are so many different districts in this city and each one has its own identity. Travel from Santa Monica to Echo Park and you'll feel like your in completely different cities. Alas, it's still LA.
LA is extremely diverse as well. In fact, Los Angeles is often considered one of the most ethnically diverse cities in the US, more so than even New York City. There are so many different cultures here and, as we mentioned before, each has its own neighborhood. A walk in LA is like a walk around the world.
20. Las Vegas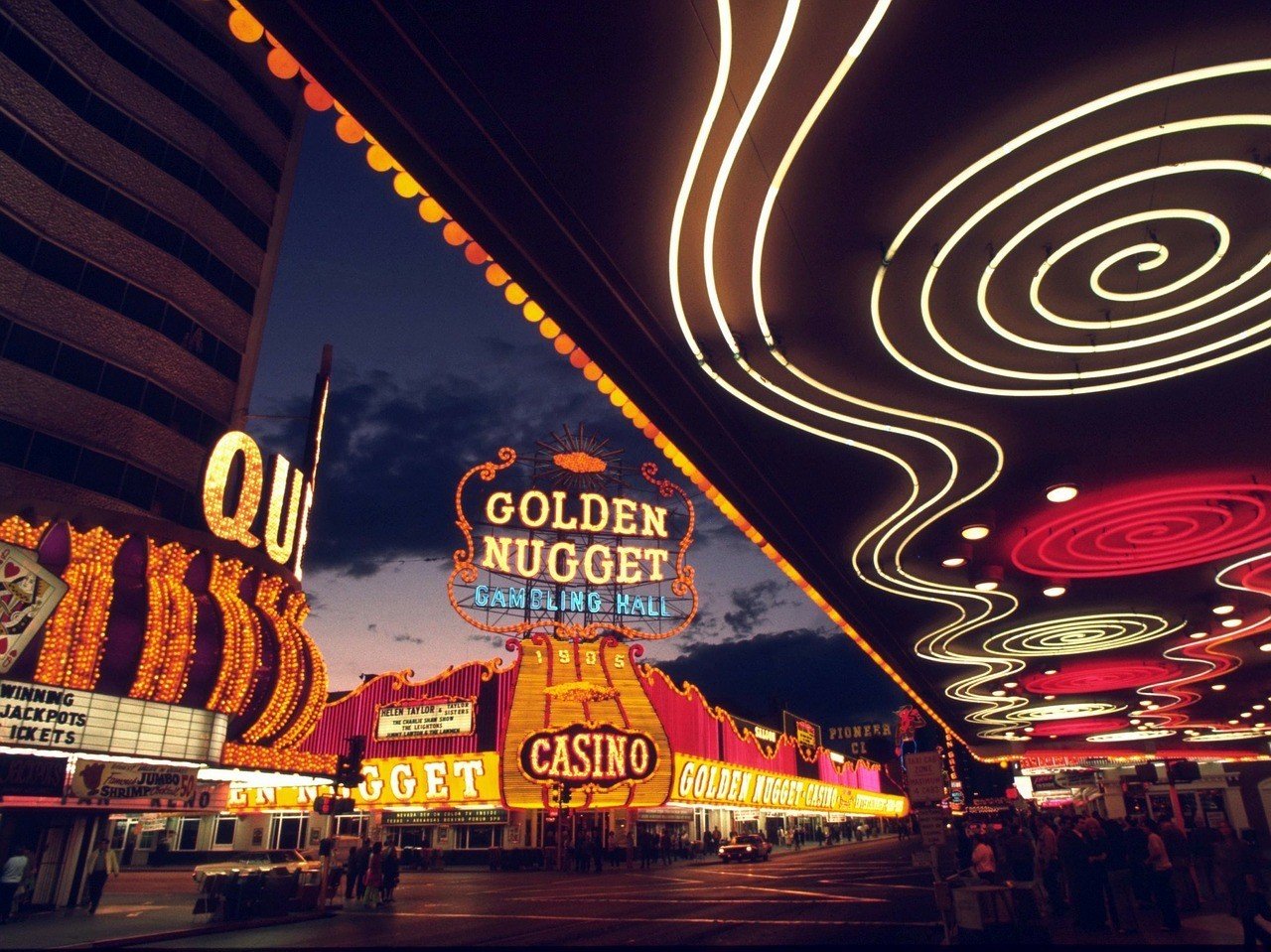 Sin, betting, more sin…
Unique atmosphere
Great place to base yourself
Sin
Quick! Let's name off as many nicknames for Las Vegas possible:
Sin City
The Entertainment Capital of the World
Glitter Gulch
The City of Lost Wages
Jesus, it's no wonder Vegas has the reputation that it does – based upon these monikers, everyone must think that Vegas is just good for partying and throwing away your hard-earned money.
Here's a new title for Vegas: The Best Location in the Southwest. Why this?
Las Vegas is located between some of the best places to visit in the USA. Zion National Park, the Grand Canyon, the Sierra Nevada; all of these areas are within a couple hours drive of Vegas. There are plenty of guided tours that take you to the attractions outside of Las Vegas, so you can opt for that if you don't want to drive yourself!
So next time you're thinking about visiting Las Vegas, use it as a launching point for the entire American Southwest. When you've wrapped up your trip in this region, grab a drink at the like of Atomic Liquors or Beauty Bar – as kitschy as they are, they're still fun.
Get insured for your trip to USA!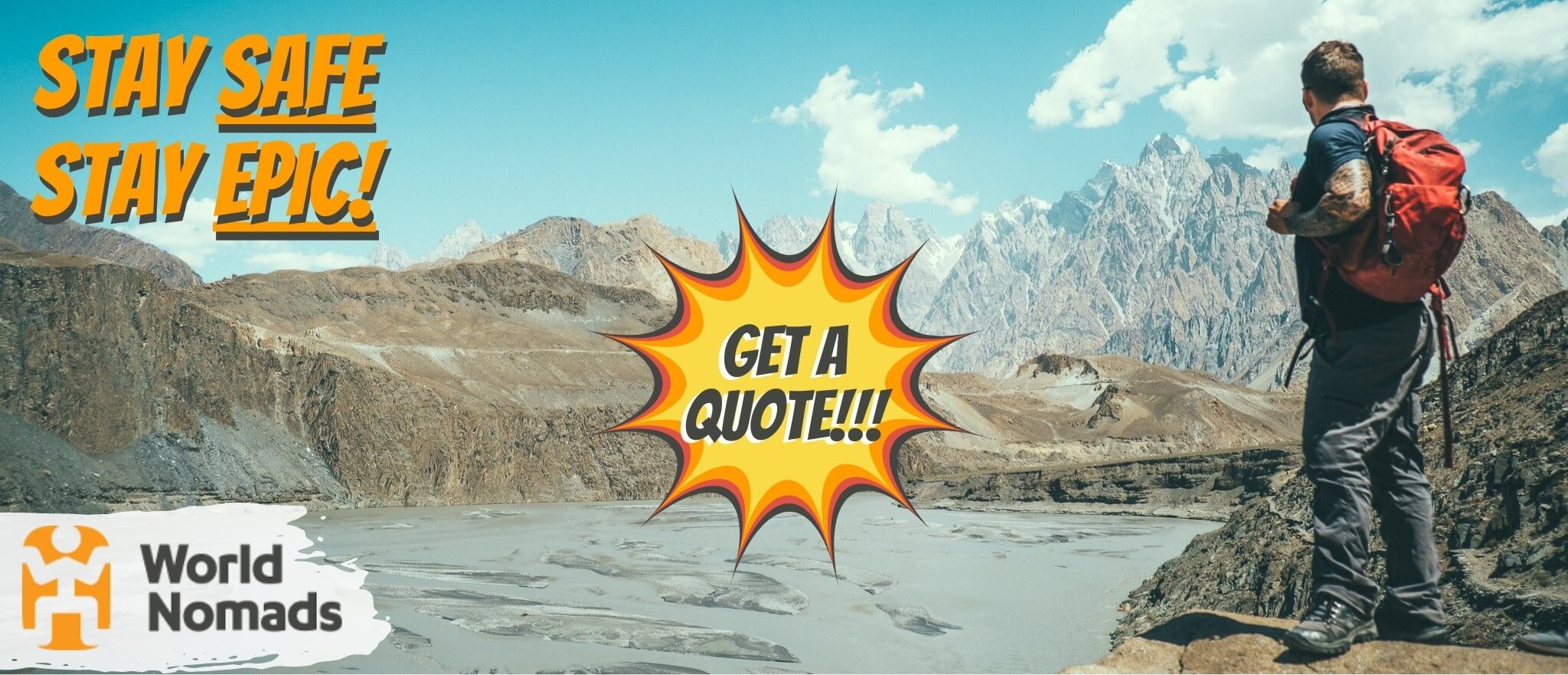 World Nomads' mission is to support and encourage travellers to explore their boundaries. They offer simple & flexible travel insurance, and safety advice to help you travel confidently.
They've been doing it since 2002 – protecting, connecting, and inspiring independent travellers just like you.
Get a quote below or read our in-depth review!
World Nomads provides travel insurance for travelers in over 100 countries. As an affiliate, we receive a fee when you get a quote from World Nomads using this link. We do not represent World Nomads. This is information only and not a recommendation to buy travel insurance.
FAQs on the Best Places to Visit in the USA
Here's what we're usually asked about the best places to visit in the U.S.A!
Final Thoughts
So there you have it, my top places to visit within the boundaries of this amazing country…
If you think that there are better cities or destinations in America, then please share your own in the comment section below! We'd love to hear what you think of our choices and, likewise, we'd love to hear your own choices as well.
Otherwise, get out there and start exploring the USA. For all it's faults and complexities, it's still one of the most diverse and magnificently beautiful places on this planet. It's a big damn country so get out there and start visiting the USA's best!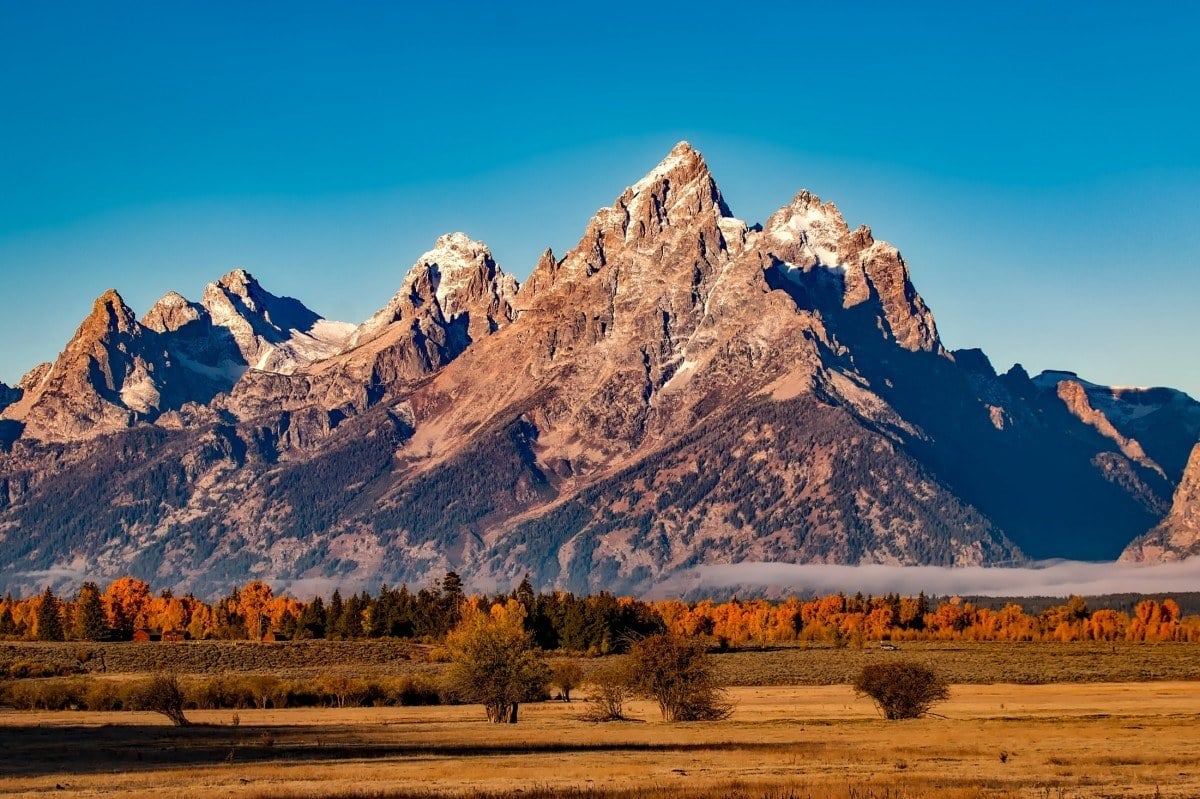 ---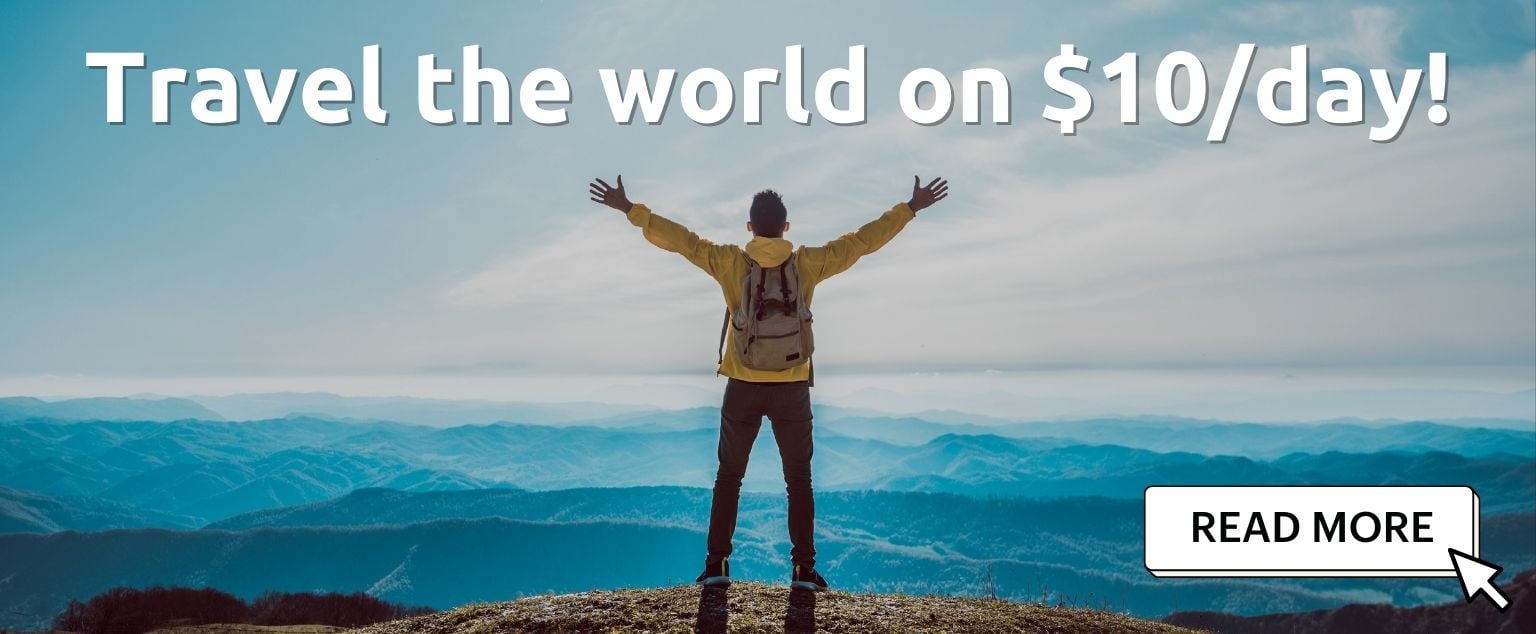 And for transparency's sake, please know that some of the links in our content are affiliate links. That means that if you book your accommodation, buy your gear, or sort your insurance through our link, we earn a small commission (at no extra cost to you). That said, we only link to the gear we trust and never recommend services we don't believe are up to scratch. Again, thank you!