Big Sur Camping: Finding the Magic of Big Sur
On the Central California coast, a magical, sparsely populated land of waterfalls, rugged mountains, redwood trees, stunning beaches, and blazing sunsets has been attracting people of all walks for decades. Artists, hippies, surfers, hikers, beach bums, burnouts, and every shade of tourist ventures to this land… that land is called Big Sur.
In recent years, I have spend a lot of time exploring Big Sur's beaches, mountains, canyons, and rivers hunting for the best Big Sur camping spots. This ultimate guide to camping Big Sur is the result of my experiences getting to know this beautiful and wild stretch of coast.
This epic Big Sur camping guide will show you the best places to camp in Big Sur. Join me as I break down the best time of year to go camping in Big Sur, the best free campsites, top paid campsites, the best car camping spots, and maybe even a glamping spot or two.
By the end of this guide, you'll be ready to hit the road (or the trail) in search of your perfect Big Sur camping spot.
Let's dive right in…

Unlock Our GREATEST Travel Secrets!
Sign up for our newsletter and get the best travel tips delivered right to your inbox.
Before we talk about all the best places to camp in Big Sur, let's answer the burning question…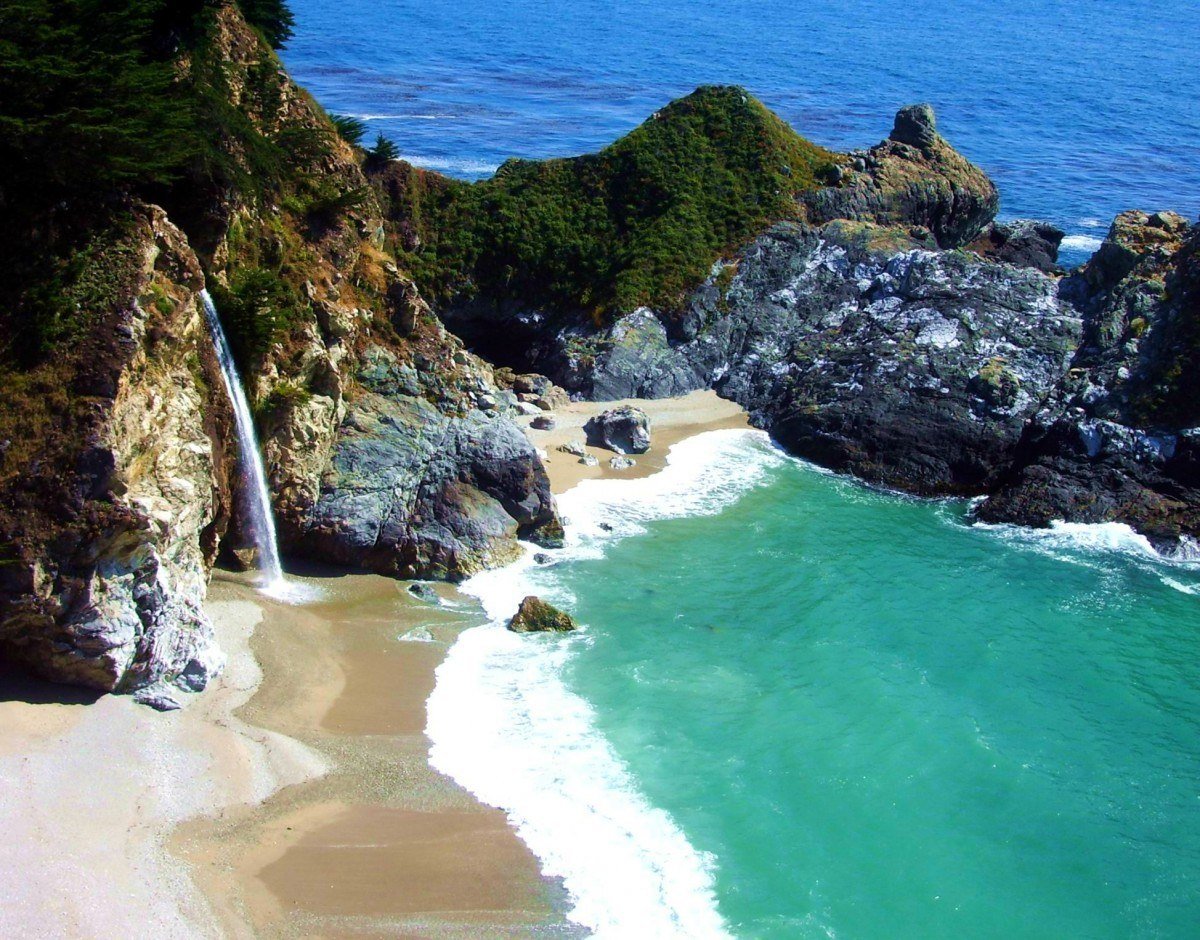 Who the hell is Big Sur?
Or more appropriately, where is Big Sur?
The 70-mile+ of coastline that makes up the Big Sur region runs between Carmel Highlands in the north and San Simeon in the south. The Pacific Coast Highway 1 runs along the Big Sur coast, sandwiched between by the dramatic Santa Lucia Mountains rising abruptly from the Pacific Ocean.
From San Francisco, northern Big Sur is roughly a 2 1/2 hour drive. That is if you don't hit any traffic.
Big Sur has no definitive borders, though the general consensus is that the above-mentioned stretch of highway and the surrounding mountains from south of Carmel to the north of San Simeon makes up greater Big Sur area.
California is the most populated state in the US. Big Sur, by contrast, has a fraction of the permanent residents occupying other parts of the California coast.
Big Sur is not and cannot be densely populated due to the rugged nature and isolation of its topography. There is no shortcut to get into and out of Big Sur by car. The only access is via the Pacific Coast Highway (known from here on as Highway 1). This route, however, is one of the best road trips in California.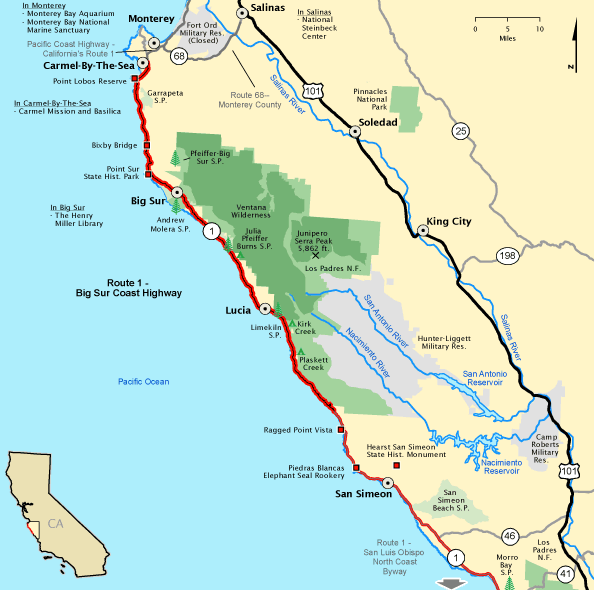 It is possible to hike into Big Sur via crossing the Santa Lucia mountain, but it isn't common. Certainly 99.9% of people drive to Big Sur.
The majority of the interior region of Big Sur is part of the Los Padres National Forest, Ventana Wilderness, Silver Peak Wilderness and/or Fort Hunter Liggett— all of which are prime candidates for badass places to camp in Big Sur.
Free Big Sur Camping: What You Need to Know
Free camping in Big Sur is a contentious issue. To be specific, it is technically considered free camping in Big Sur when the camping takes place next to Highway 1, which isn't really tolerated anymore.
With so many people visiting Big Sur each year, the associated abuses involved with high numbers of people have made it quite difficult to find free camping spots along Highway 1.
In fact, most if not all lay-bys, turn-offs, and small nooks found just off Highway 1 are off-limits for tent, car, and RV camping. In some places, you can get away with car or van camping in Big Sur, but it is never a 100% guarantee that police or national park service officers won't come knocking on your car window in the middle of the night.
The point being, both the locals and the police have had enough of the disrespectful campers shitting everywhere and leaving behind piles of rubbish.
If you do intend to camp off a forest service road (which I will cover in a minute), ALWAYS be smart about where and how you go to the toilet (with no toilets). Remember to:
Urinate at least 70 steps from water sources.
Bury your waste.
Take your trash with you.
Don't let your used toilet paper blow hither and thither in the wind.
But most of all, be good to Big Sur; be a responsible traveler.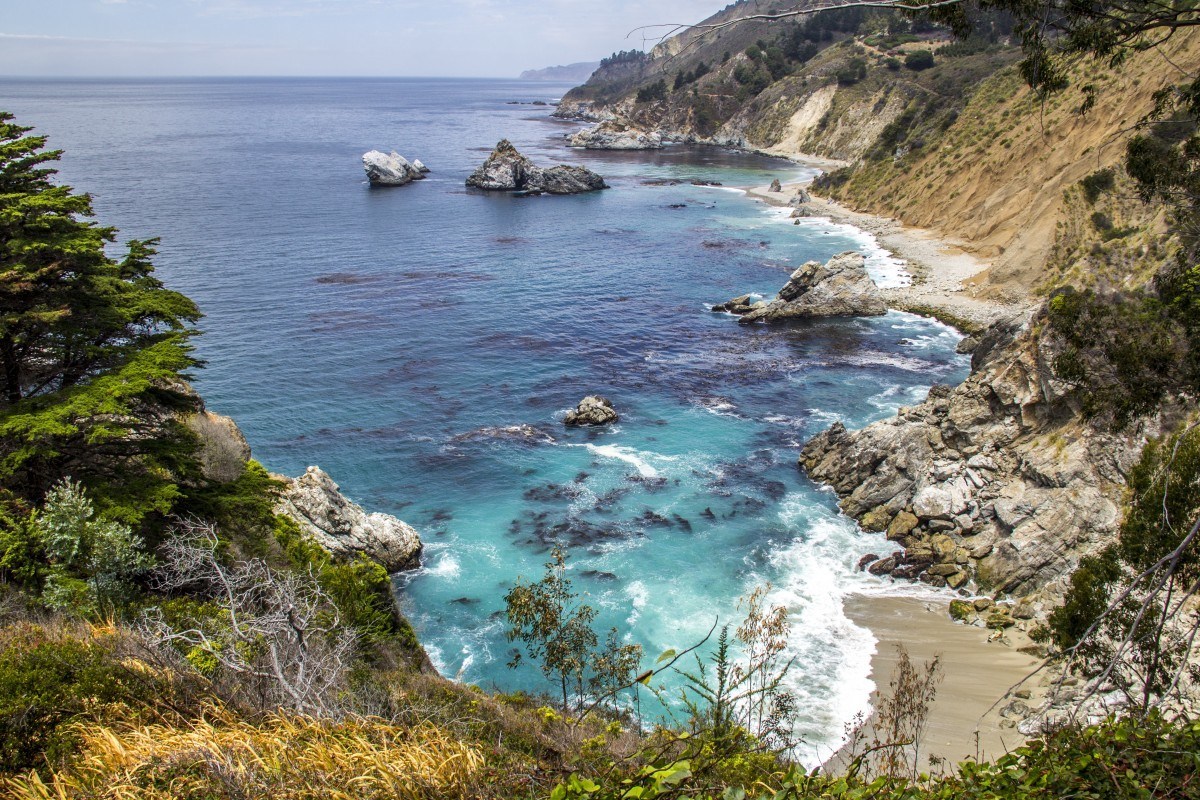 It's highly recommended to make use of flameless products like battery-powered candles to avoid human-caused wildfires. If you do choose to make a fire, never leave your fire unattended. ALWAYS clean up your burn-out pile and make sure there are no leaves, grass, wood or other dried out materials left behind.
Best Free Big Sur Camping Spots
Almost without exception, if it is free Big Sur campsites you seek, then you are going to have to get off Highway 1. There are numerous forest service roads running through or adjacent national forest land owned by the government that offer the best free camping spots in Big Sur.
Below, I cover the best free spots for camping in Big Sur that can be accessed by car…
Big Sur Free Camping Spot #1: Nacimiento-Ferguson Road
The Nacimiento-Ferguson Road was the classic free Big Sur camping spot. It also became one of the most popular, but for good reason.
Located a few miles south of the tiny town of Lucia, the Nacimiento-Ferguson Road is a windy, steep road dotted with a variety of small "campsites". Really these campsites are just flat spots off of the road where people have been setting up shop for decades.
In the past, some folks even parked here semi-permanently, though I think law enforcement has put an end to long-term camping here.
Any time of the year you could find people camping along this road. I'm not sure exactly how many spots there are; possibly, nobody knows. The fact is, there are lots of places to park and pitch your backpacking tent, and the higher you go up the road, the better the views are of the sea.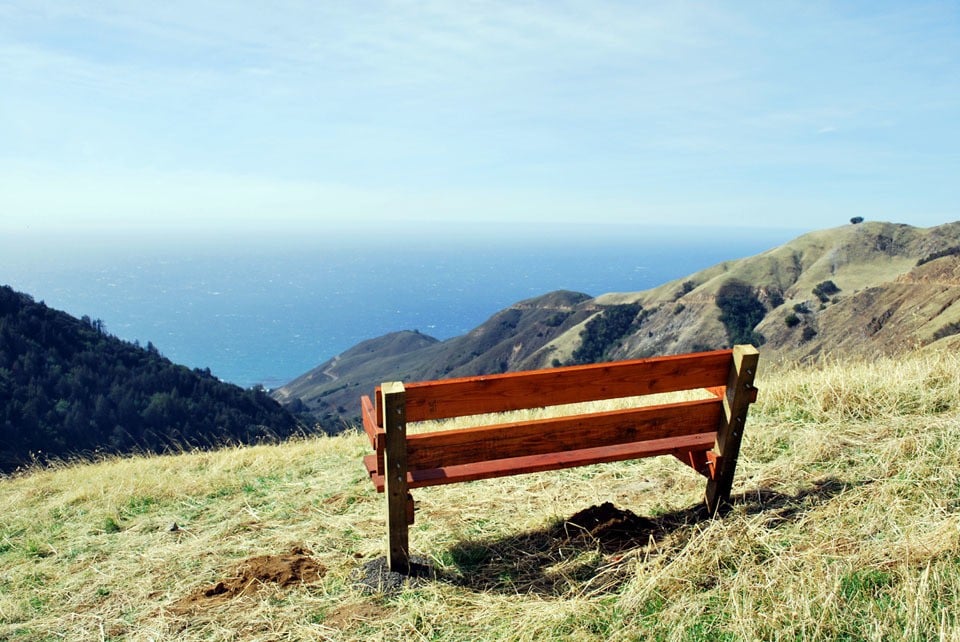 In the peak of the summer in years past, the Nacimiento-Ferguson Road was absolutely loaded with cars and people. You might have found yourself driving the road for 20-30 minutes before finding an available place to stop.
Sanitation and rubbish issues are a big problem on the Nacimiento-Ferguson Road. With zero facilities on offer, it is not a surprise that campers here have made a mess of things.
UPDATE: Nacimiento-Ferguson Road Camping Prohibition for 2019/2020
After the Big Sur mudslides in 2017 that forced road closures further south on Highway 1, camping was made illegal along Nacimiento-Ferguson Road.
The official word from the Forest Service was that the camping along the road is forbidden until August 19th, 2020.
Here is what the Forest Service said in their statement: "A violation of these prohibitions is punishable by a fine of not more than $5,000 for an individual or $10,000 for an organization or imprisonment for not more than six months or both."
Note: The Forest Service order says you can't camp within 300 feet of the road. So, if you park and walk into the bush more than 300 feet, in theory, this is allowed.
Camp at your own risk. If you do camp I think it best to depart the campsite at first light.
2. Plaskett Ridge Road
The Plaskett Ridge Road located in southern Big Sur is great for those with a 4×4 vehicle. This pot-holed track follows a backcountry route into the Big Sur interior. The best places for Plaskett Ridge Road camping is found towards the top of the hill where it flattens out and opens up to grassy meadows and hillsides.
The Plaskett Ridge Road is far more rugged than the Nacimiento-Ferguson road, thus it does not see the same amount of traffic. All the same, this is Big Sur we are talking about. Most likely there will be other people camping up there as well.
3. Los Burros/Willow Creek Road
Los Burros Road is another classic free Big Sur camping area that offers great views and peaceful camping. Like all place in Big Sur, the secret is out when it comes to Los Burros.
That said, compared to some of the other campsites on my list, Los Burros can be less populated with campers…and it is a fucking gorgeous spot!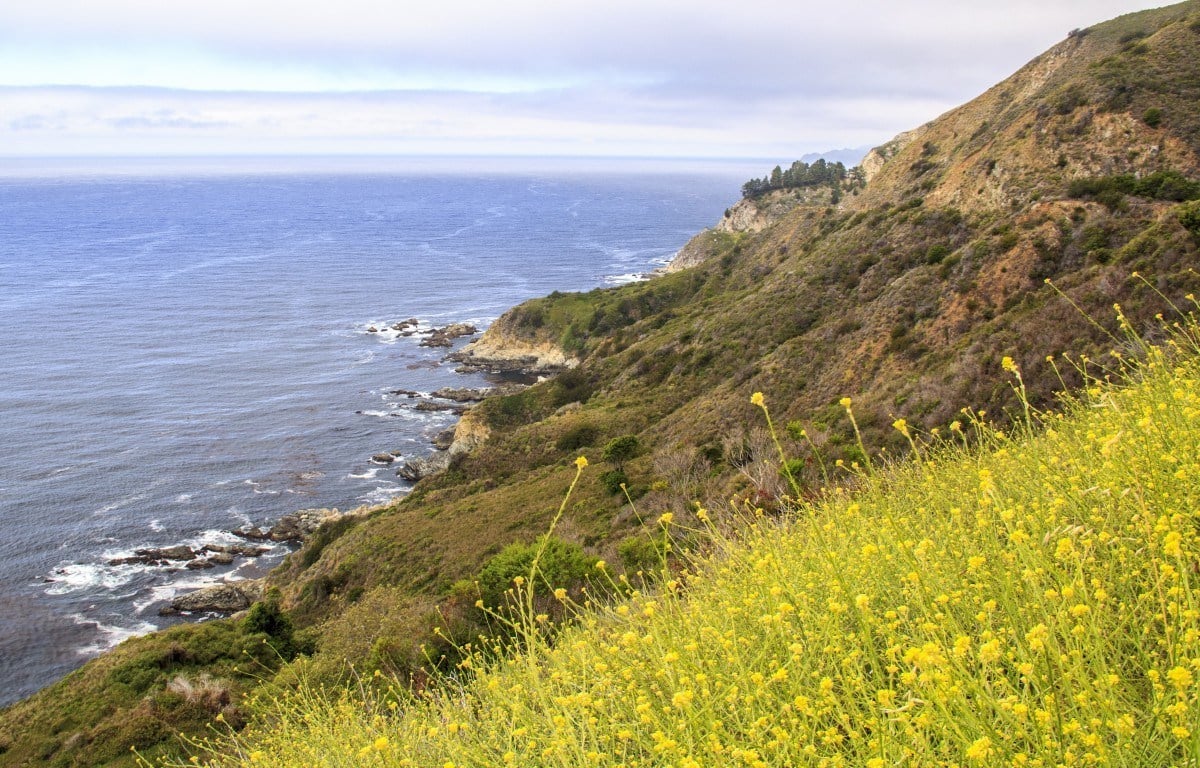 If you're RV camping, I don't recommend trying to park here. In fact, I would keep RV's off of all of the free Big Sur camping spots I cover. They are just too big, and turning around on these roads is impossible (mostly).
If you come in season (end of summer), you can pick wild blackberries to your heart's content. The drive up the road isn't super long, though it can be very steep in some places. Go early in order to snag the best spots. Don't be afraid to walk a bit into the bush in search of the best tent sites.
Note: Be aware that there is TONS of poison oak in the area.
2000+ Sites, Unlimited Access, 1 Year of Use – All. Absolutely. FREE!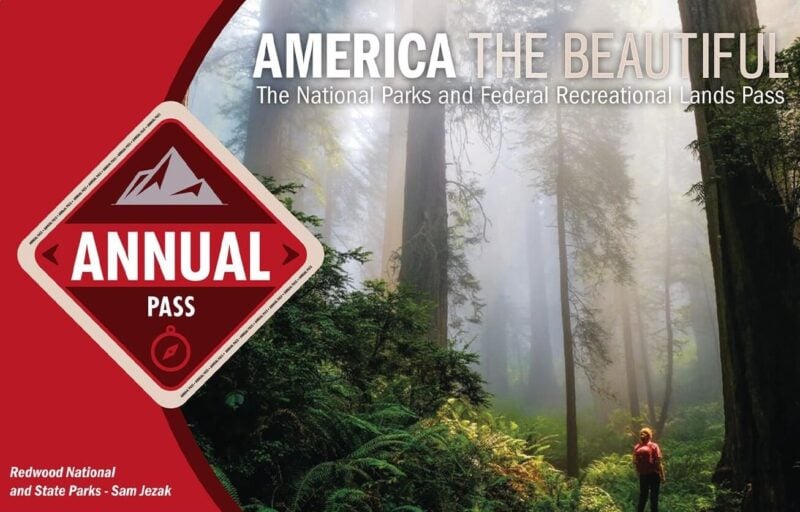 The USA is blisteringly beautiful. It's also blisteringly expensive! Visitng two national parks in day can run you $70+ in entry fees.
Orrrr… you kick those entry fees to the curb, buy an annual 'America the Beautiful Pass' for $79.99, and get unlimited access to ALL 2000+ federally managed sites in the States totally FREE!
You do the math. 😉
Buy the Pass!
In my opinion, the best Big Sur campgrounds involve a trek or hike. There is an endless amount of awesome Big Sur backcountry camping to uncover, and you'll be rewarded with some of the best hiking in California state.
As is the case with most places, far fewer people set out on foot to explore a place. Even of those who do, fewer still do so with the intention to camp overnight.
I have seen insane traffic pile-ups, congestion, and masses of humanity just outside some of the popular state parks. After parking my truck at the visitors center and hiking 10 miles to the Sykes Hot Springs in the Ventana Wilderness, I found myself pitching my tent next to the Big Sur River with nobody in sight.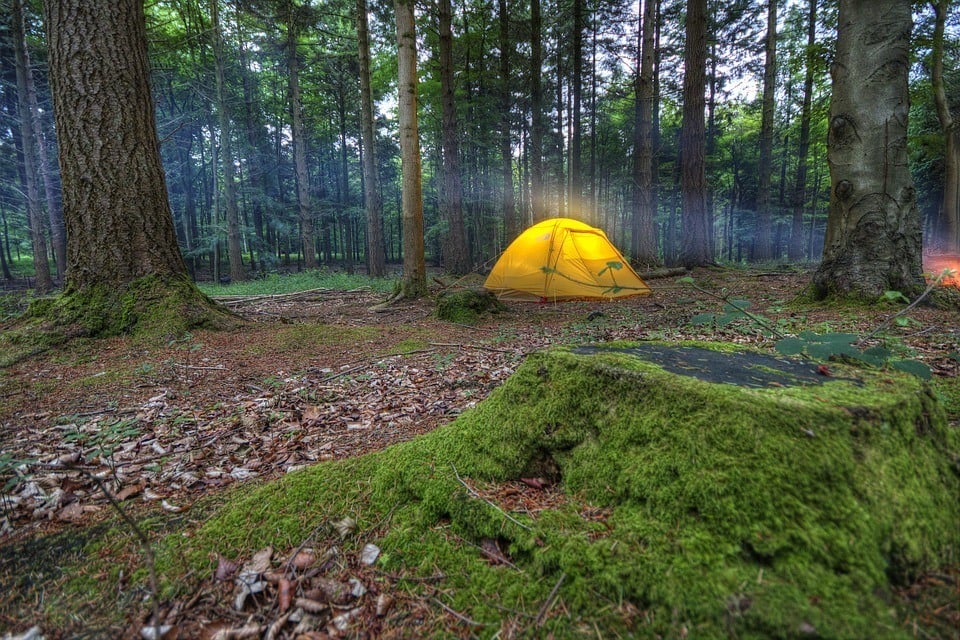 Camping out in the wilderness areas is the best way to escape the crowds, hands down. It's the best way to experience the best hikes in the USA. Plus, you can be certain that no police or ranger will hassle (or fine) you for camping.
Within the Santa Lucia Mountains and Los Padres National Forest, there are at least 55 designated trail camps and countless others that are unofficial or undiscovered campsites.
Below are some of my favorite backcountry Big Sur camping spots…
1. North Coast Ridge Trail
The North Coast Trail hike to Cook Spring Camp is less committing than Sykes. The hike itself is only 5 miles (one way) and should take no more than three hours to complete.
This hike starts from the end of Cone Peak Road on the old road/trail; it is known as the North Coast Ridge Trail at this end. The ridgeline trail begins along the north flank of Cone Peak and follows a craggy ridge with sweeping views of the coast and mountains.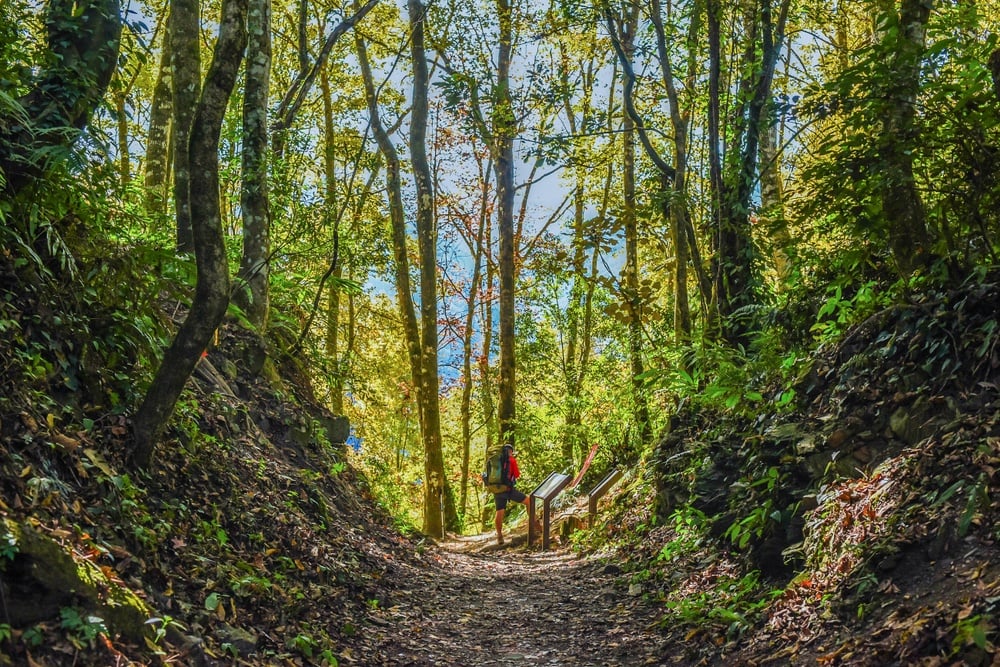 This hike leads to Cook Spring Camp, a rather primitive backcountry camp under a stand of sugar cone pine trees. There is a water spring at the camp that should be flowing any time of year, however, packing a filtered water bottle for hiking is always a recommendation, even in highly-developed nations. The Ventana Wilderness does experience drought and the last thing you want is for the spring to be dry when you arrive.
Because the hike is rather short, it wouldn't be a bad idea to hike in with plenty of water on-hand too. This might be unnecessary, but you never know.
2. Santa Lucia Creek/Last Chance Falls
Last Chance Falls is a truly magical waterfall—arguably one of the best backcountry waterfalls in all of Big Sur. The falls are, however, very seasonal. You might show up in the summer and not see a single drop of water flowing. Though in the fall, winter, and spring, the flows can be epic.
There are a numerous amount of waterfalls to see throughout the Santa Lucia Creek Gorge. Overnight camping options include staying at the Arroyo Seco campground or the primitive Last Chance Falls campground.
Creek crossings found on the hike can be difficult if the water flow happens to be particularly fierce. Always use caution when crossing streams, and simply don't risk it if you are in doubt.
3. Ventana Double Cone Trail / Lone Pine Camp
A hike on the Ventana Double Cone Trail is a great opportunity to gain one of the best views in all of Big Sur.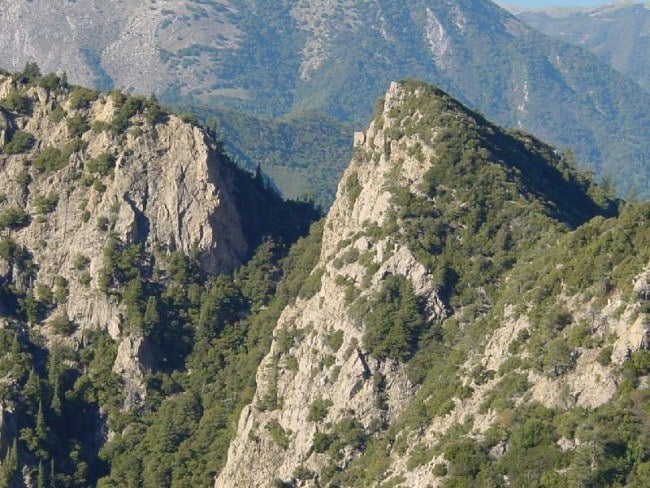 The easiest start is from Bottcher's Gap. To arrive, take Highway 1 south from Carmel for roughly 20 miles. Make a left at Palo Colorado Rd and drive through a remote cluster of houses dotted among some massive redwoods adorning the canyon.
Drive the road to its end, about 8-9 miles where it stops at Bottcher's Gap. Don't drive through the gate, even if it is open!
The best camping option is probably Lone Pine Camp, though you can wild camp in many other places should you choose to. Water sources can be far and few between. Keep that in mind when choosing a place to camp.
4. Sykes Hot Springs
*Note: Sykes Hot Springs via Pine Ridge Trail is closed until further notice (fire damage). Once it opens though, it is a hike not to be missed!
The hike begins at the Ventana Wilderness ranger station parking lot. The trail itself is an undulating footpath (10 miles one way) that takes you away from the coast and into the rugged interior of the mountains. If you're moving at a steady pace, the hike should take you no more than 4-5 hours (with frequent stops to enjoy the waterfalls).
There are several ascents and descents, with little to no shade from the sun. Start early and avoid the heat of the day. In the summer, you must leave early if you want to get your pick of campsites once you arrive at Sykes Hot Springs.
The hot spring pools sit perched above the river. They aren't super large, about 8 feet in diameter. The pools can accommodate several adults (perfect for couples). The water temperature seems to consistently be at or near 100° F.
This place is the essence of what makes Big Sur camping so magical. I hope this track opens soon!
Save $$$ • Save the Planet • Save Your Stomach!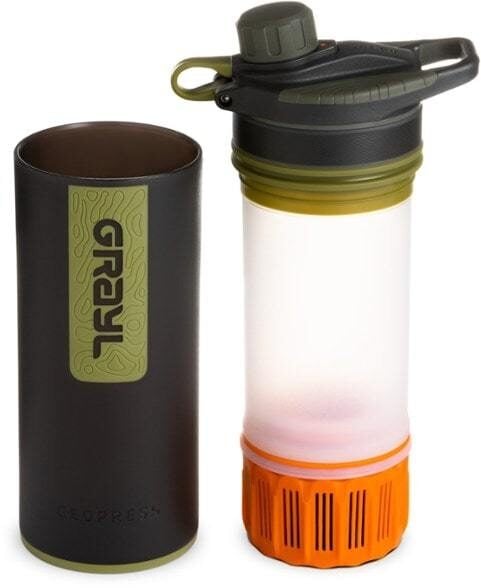 Drink water from ANYWHERE. The Grayl Geopress is the market's leading filtered water bottle protecting your tum from all the waterborne nasties. PLUS, you save money and the environment!
Single-use plastic bottles are a MASSIVE threat to marine life. Be a part of the solution and travel with a filter water bottle.
We've tested the Geopress rigorously from the icy heights of Pakistan to the tropical jungles of Cuba, and the results are in: it WORKS. Buy a Geopress: it's the last water bottle you'll ever buy.
Buy a Geopress!
Read the Review
Camping at Big Sur's State Parks
Big Sur is blessed with four beautiful state parks, and each has something special on offer. From within these state parks, one can experience the quintessential Big Sur Coast, epic day hikes, redwoods, waterfalls, and, of course, some of the best Big Sur campgrounds imaginable.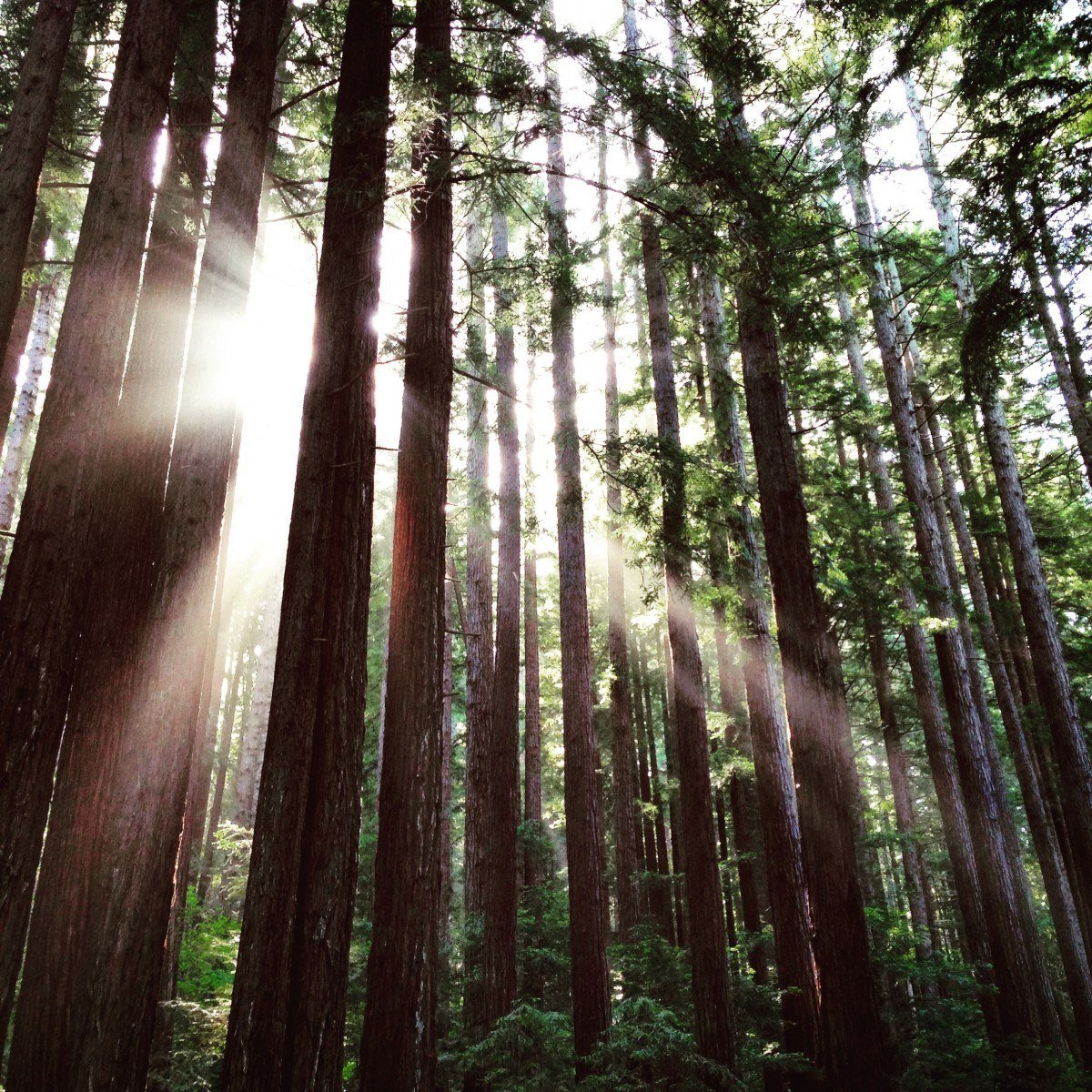 Since camping on Highway 1 is illegal (and camping on certain Forest Service roads is too), state park campgrounds offer up a stress-free alternative to free guerrilla camping.
The campsites are located in beautiful places, often with stunning views of the Pacific ocean, forest, or mountains. The only catch? They can be crowded as hell and of course, you need to pay.
For most paid campsites, booking your campsite in advance is 100% necessary. If you wait to the last minute to book a Big Sur state park campground, I can pretty much guarantee you won't get a spot. In the summer, the state park campgrounds are booked out every night, often months in advance.
Don't let that put you off! Camping in California is one of the best ways to experience everything the state has to offer, and emptier campgrounds during low season can be very enjoyable indeed.
1. Andrew Molera State Park Camping
Andrew Molera State Park is the only state park campground that is first come/first served, meaning you can't reserve a place. Of course, not having to make reservations has its benefits and its pitfalls.
Since there are only 24 campsites available on any given day, be sure to get there early (very early in some cases) to ensure you snag a campsite.
Andrew Molera is my favorite coastal Big Sur state park campground. There are plenty of awesome day hikes, secluded beaches, and jaw-dropping views (especially at sunset). The landscapes are dreamy as hell and will leave you very much "wowed" by the day's end.
If you like to surf, there are a few decent breaks accessed within Andrew Molera.
You'll need to hike for couple hundred meters to reach the campsites, so be prepared to make the short trek (> 7 minutes).
Tip: Try to get a campsite with a fire ring and picnic table! Cost: $25/night; $10 extra for firewood.
June 2020 – Note: The Trail campground at Andrew Molera is closed and has been for some time. I will post an update when the campground opens, but as of now, it isn't possible to camp here.
2. Julia Pfeiffer Burns State Park Camping
Julia Pfeiffer Burns State Park is yet another totally magical Big Sur camping destination. The campsites are nestled on a cliff under some trees overlooking the ocean. Big Sur camping doesn't get any better than this!
The obvious major drawback? There are only two goddamn campsites! The campsites at Julia Pfeiffer book out faster than a $2 rodeo in rural America. You need to be very "on it" if you have any hopes of securing a spot and reservations can only be made up to six months in advance.
Upon checking the availability schedule, I found both campsites are fully booked for the next six months. Bummer. Pretty much as soon as you know you are coming to Big Sur, check the Julia Pfeiffer reservation website and book whatever is available within your time frame.
The campsites are magical, though for $30/night I have a hard time justifying camping at Julia Pfefier at all.
If you do somehow manage a reservation, hopefully, you will get to see some whales, dolphins, or other amazing sea creatures!
3. Limekiln State Park Camping
Limekiln is a small forested state park two miles south of Lucia. The park features the beauty of the redwoods, rugged coast, and cultural history of the limekilns.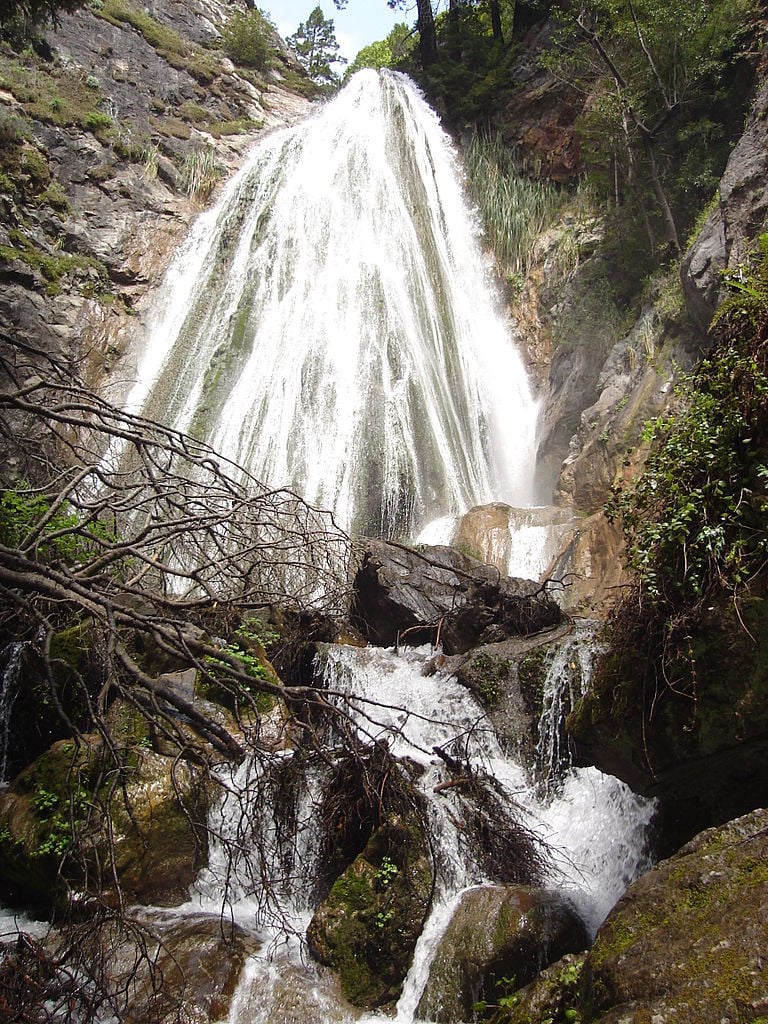 Fun fact: A lime kiln is a kiln used for the calcination of limestone (calcium carbonate) to produce the form of lime called quicklime (calcium oxide). The park contains four lime kilns from an 1887–1890 lime-calcining operation.
The real draw is the redwood forest and 100-foot waterfall called Limekiln Falls. Limekiln campground contains 24 sites which must be reserved ahead of time.
4. Pfieffer Big Sur State Park Camping
Pfeiffer Big Sur State Park (not to be confused with Julia Pfieffer State Park) offers up all of the best aspects of Big Sur. There are a series of excellent hiking trails, brilliant ocean views, and wildlife viewing opportunities.
Every awesome place has its downsides though. The campground here is massive (174 sites) and can be quite the circus at any time of year. Also, there is no ocean/beach access from within the park. Try to get a campsite along the Big Sur River in the far back reaches of the campground.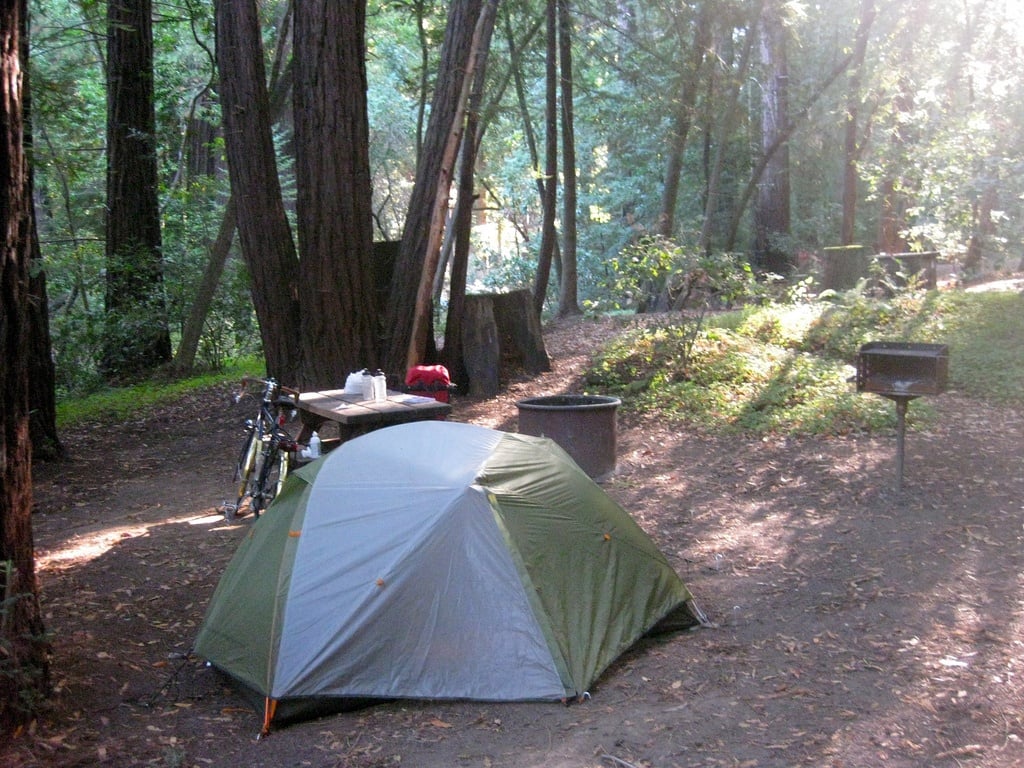 A stay here has the potential to be peaceful, but with the number of campsites, you should have realistic expectations of the campground vibe/noise/human traffic.
Campsites for 1 car and tent costs $35/night.
5. Kirk Creek Campground
Kirk Creek is certainly one of the best places to camp in Big Sur. With oceanfront views and plenty of hiking trails nearby, Kirk Creek is a Big Sur camping favorite of mine, and one of the best spots if you want to camp on a Big Sur cliffside.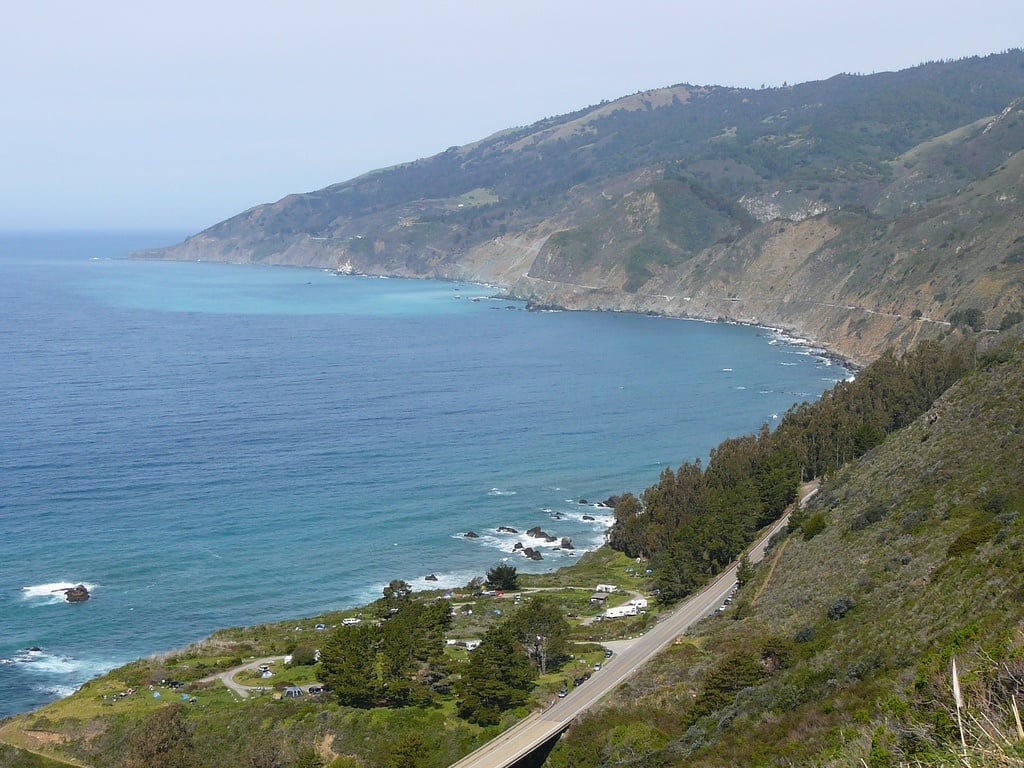 In total, Kirk Creek has 35 paid campsites, costing $35/night. None of the sites have electricity, but you don't need that anyway, right?
Two things to remember about Kirk Creek:
There is no cell phone signal in the area.
Poison Oak is everywhere. DO NOT bushwhack through the vegetation unless you are 100% sure there is no Poison Oak!
Is This the Best Daypack EVER???
Camping is one thing, but hitting the road is another. On every adventure, there are five things I never go traveling without:
Somewhere to hide your cash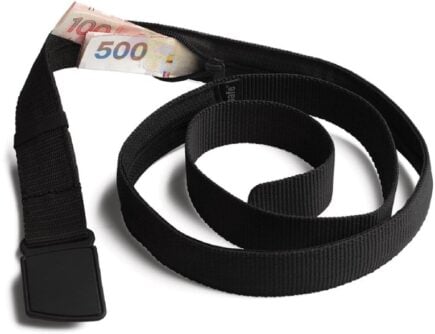 Somewhere to hide your cash
Travel Security Belt
This is a regular looking belt with a concealed pocket on the inside – you can hide up to twenty notes inside and wear it through airport scanners without it setting them off.
A travel water bottle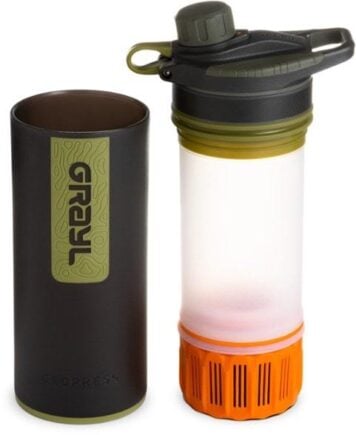 A travel water bottle
GRAYL Geopress Filtered Bottle
Having a filtered water bottle means you can drink from just about any source. The GRAYL Geopress is hands-down the most effective one we've ever used as well!
For those unexpected messes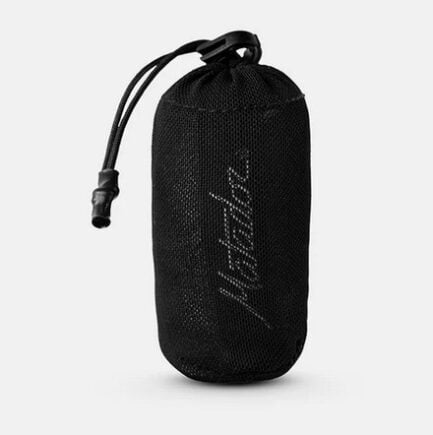 For those unexpected messes
Microfiber Towel
Hostel towels are scummy and take forever to dry. Microfibre towels dry quickly, are compact, lightweight, and can be used as a blanket or yoga mat if need be.
When the power goes out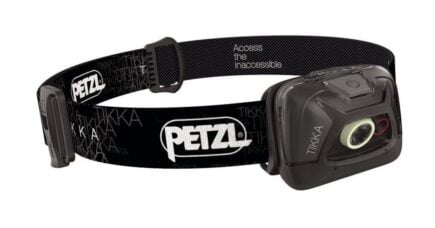 When the power goes out
Petzl Actik Core Headlamp
A decent head torch could save your life. If you want to explore caves, unlit temples, or simply find your way to the bathroom during a blackout, a headtorch is a must.
Sleep anywhere
Sleep anywhere
Camping Hammock
Taking a tent backpacking is not always practical but hammocks are lightweight, cheap, strong, sexy (chicks dig hammocks), and allow you to pitch up for the night pretty much anywhere.
To stay a clean backpacker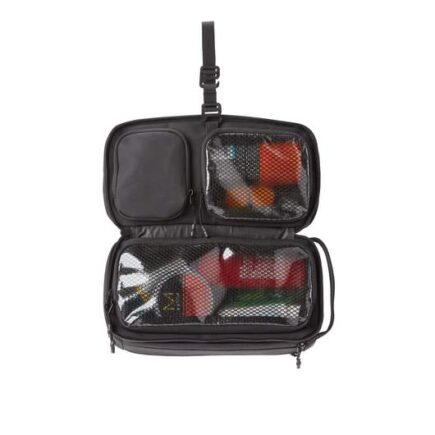 To stay a clean backpacker
Hanging Toiletry Bag
I always travel with a hanging toiletry bag as it's a super-efficient way to organize your bathroom stuff. Well worth having as it helps to have quick access to all your stuff.
For more ideas on the essentials for outdoor adventures, check out our jumbo-sized roundup of the best gear to take backpacking.
Once you know your style, check out some of our other excellent gear posts!
What to Pack for a Big Sur Camping Trip in the Backcountry
Having a pleasant camping and trekking experience begins and ends with having the right gear. There are some pieces of gear that are absolutely essential to staying comfortable, safe, and happy in the backcountry whilst experiencing camping in Big Sur for yourself.
To start packing for your camping trip to Big Sur, you can by browsing our Camping Packing Master Checklist. What you're going to want to take is going to very much depend on your style. Are you…
An avid trekker.
A family vacationer.
An off-the-grid disappearer.
A road-tripping vanlifer.
Etc., etc.
Give some thought to this and how you'd like your Big Sur camping adventure served. Outside of the obvious essentials (a tent, sleeping bag, and food), it's these variables that are going to govern your packing.
Small Pack Problems? 😉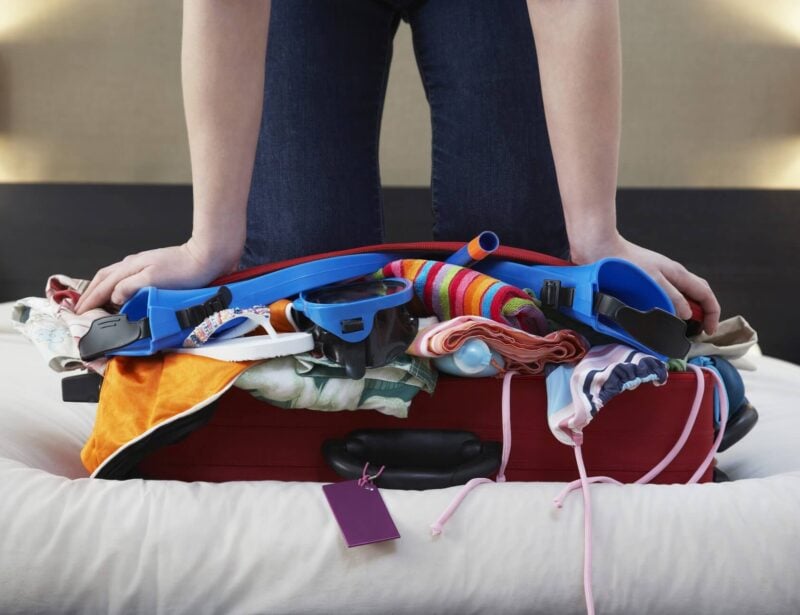 My missus travels with all her clothes in ziplock bags: don't be like my missus. UP YOUR PACKING GAME!
Packing cubes for the globetrotters and compression sacks for the real adventurers – these babies are a traveller's best kept secret. They organise yo' packing and minimise its volume too so you can pack MORE.
Or, y'know… you can stick to ziplock bags.
View Our Fave Cubes
Or Check Out the Sacks!
Big Sur Camping Tips
We're drawing to the end of the Big Sur camping guide now but before we do, I'm throwing some delicious travel tips at you. Whether you're free camping in Big Sur or at a paid campground, you're going to want to keep this info in mind.
When to Visit Big Sur
Big Sur enjoys a mild, temperate coastal climate throughout the year. Periods of intense drought and heat do happen in the summer. Warm temperatures are really felt in the interior when you move away from the coast.
Obviously, the summer is crazy busy up and down the coast. Huge, legendary traffic jams occur nearly on a daily basis from June-August. Around holidays too, Highway 1 is totally nuts chockablock with holidayers driving the classic West Coast route.
In order to get the maximum level of enjoyment, I highly recommend that you visit Big Sur in the shoulder season (which is pretty much anytime that isn't the peak of summer).
The truth is Big Sur can be super busy any time of the year. You might turn up on a Tuesday in late February only to find masses of people at every turn. Likewise, the opposite could be true. Having said that, it's a great place to visit in September and October for a great balance between weather and crowds.
Every time I have gone to Big Sur in the off-season – I have visited at all times of the year) – there has never been a consistent pattern of when it's busy and when it's not. Certainly, in the winter there tend to be fewer people on the roads.
Springtime is a beautiful period to experience Big Sur. The weather is mild with a potential for fewer people to be around, and the grey whales are migrating to the Arctic from March-April!
Staying Safe whilst Camping in Big Sur
Hidden behind the veil of undeniable beauty are the dangers involved with camping around Big Sur, and really just visiting Big Sur in general. Here are some of the biggest threats to your safety that immediately come to mind:
Poison Oak: This devil of a plant is truly fucking awful. I have personally gone to the hospital no less than four times after contracting a serious poison oak rash all over my body (and I do mean all over). Learn how to identify it and stay the hell away from it. Absolutely NEVER EVER burn poison oak. If you inhale poison oak smoke, the consequences are life-threatening, for real.
Tourist Drivers: Many Big Sur visitors show up in a rental car with little to no experience driving on steep, narrow coastal roads. My friend was involved in a head-on collision once while driving Big Sur. She survived, but totaled her car and suffered several broken bones. The point is, there are lots of terrible drivers on the road in and around Big Sur.
Pay extra attention when pulling back out onto the highway from a turnoff. Likewise, when you are approaching a vehicle stopped at a turnoff, be prepared for them to pull out at any moment. People simply don't pay attention!
Wildfire: Wildfires in California are no joke. On remote and inaccessible regions like Big Sur, fire can be really serious and scary. Always be careful with fire and never abandon a campfire without being 100% sure it is out. Make an escape plan in case a wildfire breaks out.
Mudslides: After periods of prolonged drought followed by heavy rain, mudslides are frequent up and down the coast and can be very dangerous. Avoid driving in heavy rain if you can!
Rattlesnakes and Ticks: Snakes and ticks are very different creatures, but two that should be on your radar. It is always a good idea to do a "tick check" at the end of the day. Always watch where you put your hands in feet whilst trekking in the backcountry.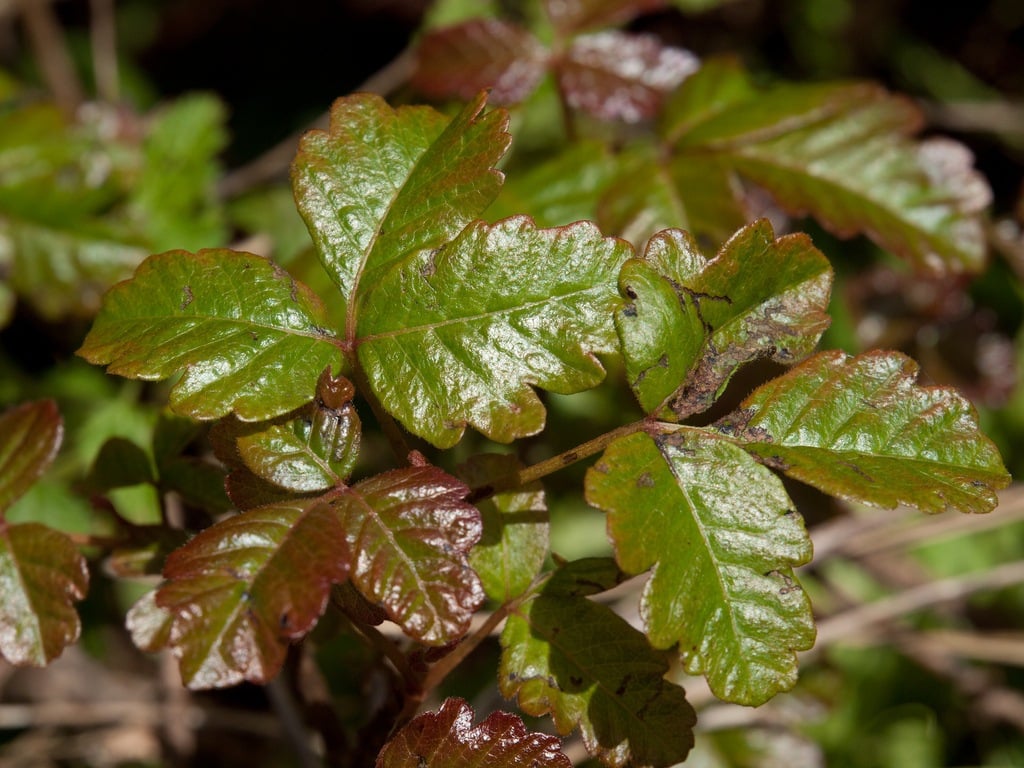 Get Insured Before Camping in Big Sur's Wilderness
Posion oak… rattlesnakes… ticks… Staying safe in America's nature can be a lot more than most people bargain for.
In that case, perhaps you better consider some insurance before you go hunting backcountry places to camp in Big Sur.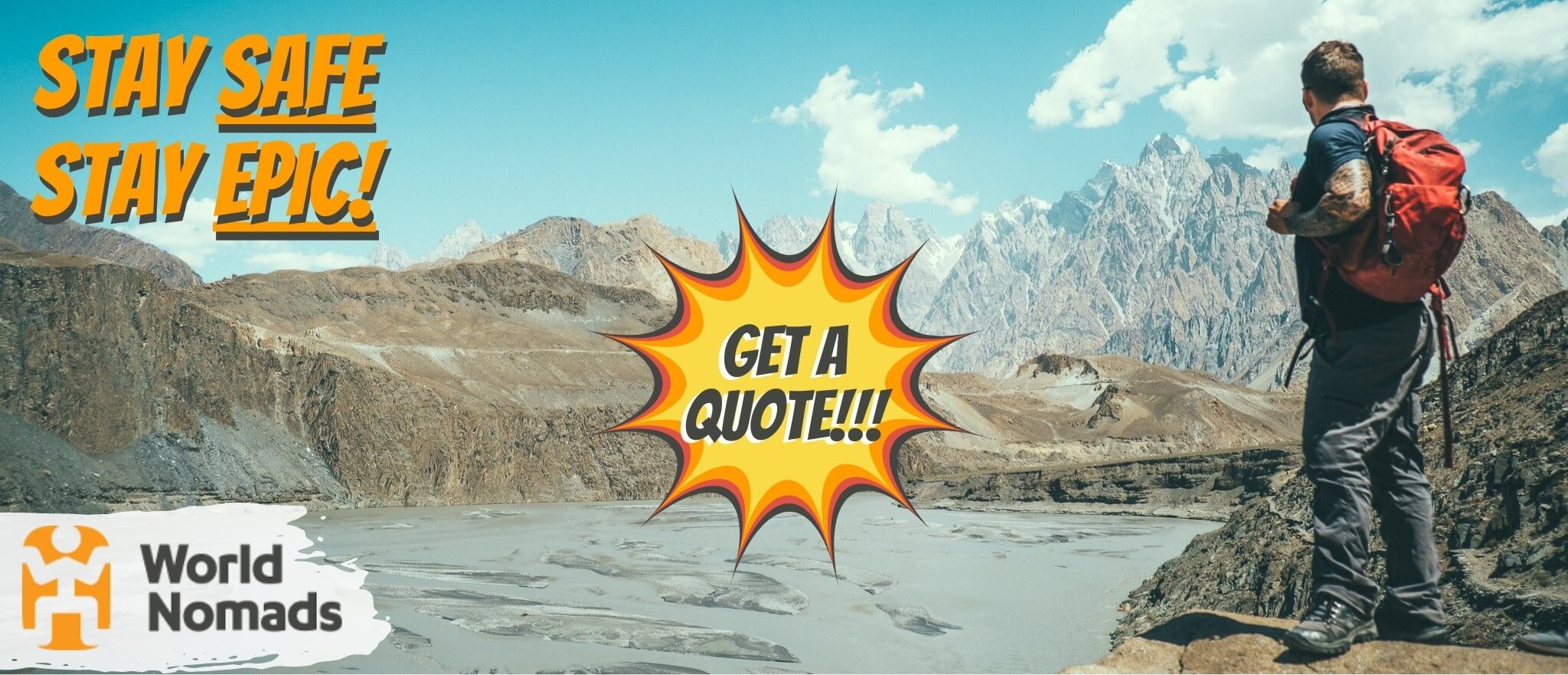 World Nomads' mission is to support and encourage travellers to explore their boundaries. They offer simple & flexible travel insurance, and safety advice to help you travel confidently.
They've been doing it since 2002 – protecting, connecting, and inspiring independent travellers just like you.
Get a quote below or read our in-depth review!
World Nomads provides travel insurance for travelers in over 100 countries. As an affiliate, we receive a fee when you get a quote from World Nomads using this link. We do not represent World Nomads. This is information only and not a recommendation to buy travel insurance.
Being a Responsible Backpacker whilst Camping in Big Sur
Experiencing the beauty of Big Sur is truly epic. There are few places in the world where you can stroll through untamed redwood forests, tackle burly mountains, and stare longingly at the great Pacific Ocean all in one place (and often from the comfort of your car).
Do not take the pristine landscapes in Big Sur for granted. Do your part to help keep Big Sur's camping places awesome for the next group of travelers.
Locals in Big Sur have had to endure a lot of shit from tourists (literally, in some cases). You are not entitled to camp wherever the hell you want. Be respectful to the environment, locals, and fellow campers. Learn what Leave No Trace Principles are and use them!
Most of all, have the time of your life and experience as many Big Sur camping spots as possible!
Bad weather got you down or just feeling generally burnt out? If you are tired of staring at the inside of your tent night after night, you can book a hotel for a night or two.
Keep in mind that accommodation in the Big Sur area is EXPENSIVE. Most hotel rooms are at least $100/night at an absolute minimum. If you want to get a hotel room, be prepared to fork over some cash.
Here are some of my favorite hotels in Big Sur:
You can also check out VRBOs in Big Sur for some more options.
Final Thoughts on Camping in Big Sur
There you have it, friends. We have come to the final act of my guide to Big Sur camping…
I hope you found the information in this guide helpful!
Big Sur is a hell of a dreamy place – certainly one of the most magical places in the USA to visit – and there are a lot of cool camping opportunities to be found here. However, the sad truth is that Big Sur has changed quite dramatically over the years. This wild stretch of coastline is not the Big Sur of the 1960s anymore (which of course is true everywhere)!
As one local put it to me: "Big Sur is blown out. There are no hidden gems anymore." Whilst I do not 100% agree with that sentiment, in many ways it is true.
Mass tourism has come to Big Sur.
If you have realistic expectations of what Big Sur has become, in addition to possessing the motivation to get off the beaten path, you'll have an amazing time exploring and camping in Big Sur. Despite the tourist hordes, Big Sur is still one of my favorite sections of the coast I have explored – anywhere on earth.
Get out there and experience it for yourself. Making a Big Sur camping trip or two is without a doubt the best way to take it all in. Good luck, amigos!

---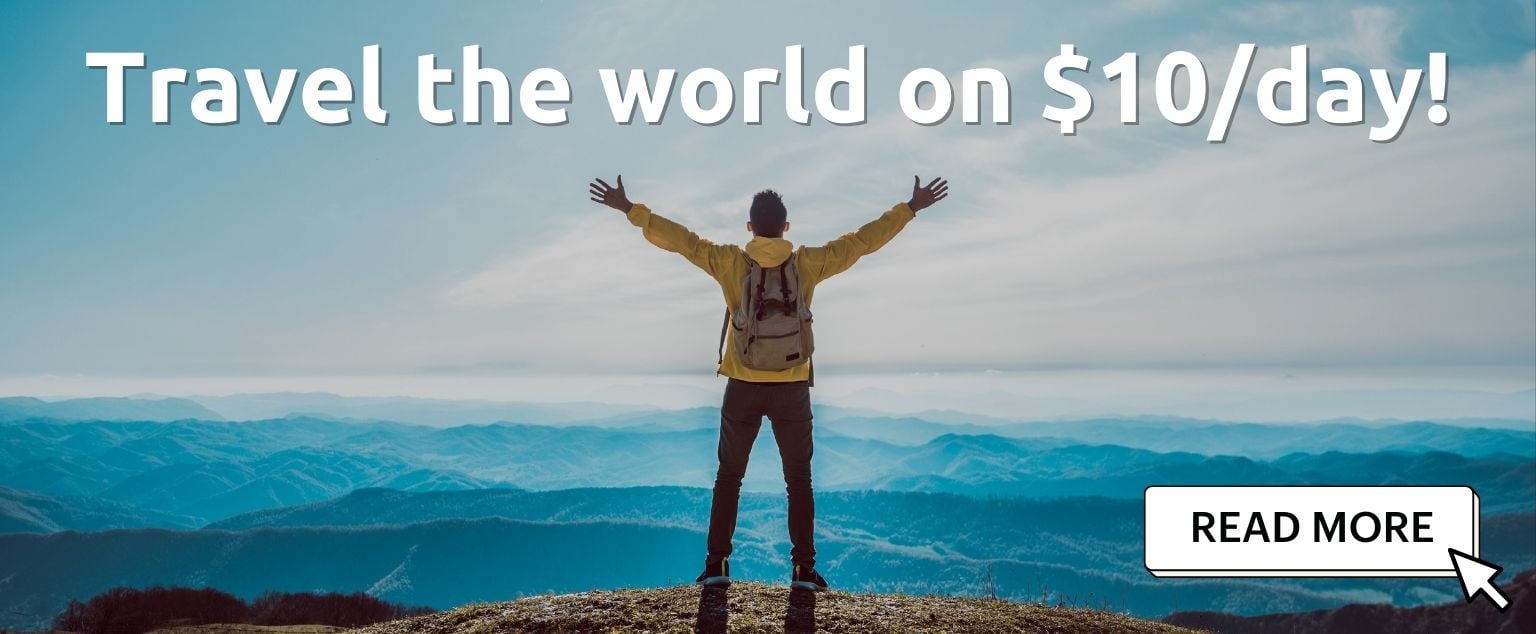 And for transparency's sake, please know that some of the links in our content are affiliate links. That means that if you book your accommodation, buy your gear, or sort your insurance through our link, we earn a small commission (at no extra cost to you). That said, we only link to the gear we trust and never recommend services we don't believe are up to scratch. Again, thank you!