Welcome to Big Sur, the home of coastal road trips, towering cliff faces, monstrous peaks, and deep valleys. Among the rugged landscape, much remains untouched. The remoteness, the ocean winds, and the cold water floating down from the Arctic are all part of what makes this region so spectacular.
The area's coastal towns of Monterey and Carmel-by-the-Sea both have a rich history.
Monterey was placed on the map by the John Steinbeck novel, Cannery Row. Once the major player in the Sardine industry, Monterey is now a beautiful coastal vacation spot. While Carmel-by-the-Sea is a throwback to early Spanish missionaries and Mexican ranchos.
For an unforgettable road trip, drive down Highway 1, split the Pacific Ocean and the Santa Lucia Mountains while watching the fog lift off the valley floor.
One of the best ways to experience what Big Sur is all about is to get up close and personal with its ancient landscape. A stay at a VRBO in Big Sur promises the ultimate coastal experience.
You can jump right into the action and be among the mountains, the coniferous forests, and the sharp valleys that run down to the crashing waves of the Pacific Ocean.
In this post we are going to give you all the info you need to know about rentals in Big Sur, and how to live like a local.
Quick Answer: These are the Top 5 VRBOs in Big Sur
Overall Best Value VRBO in Big Sur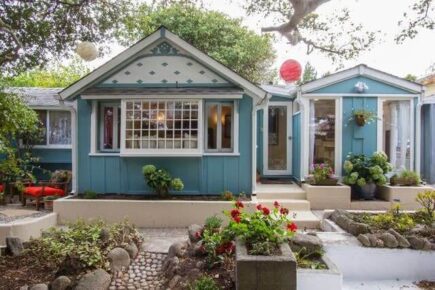 Overall Best Value VRBO in Big Sur
Historic Writer's Retreat
> $
> 2 guests
> Historic studio
> Central location
Best Budget VRBO in Big Sur
Best Budget VRBO in Big Sur
Carmel Valley Guest House
> $
> 2 guests
> Pool
> Large lawn
Best VRBO for Couples in Big Sur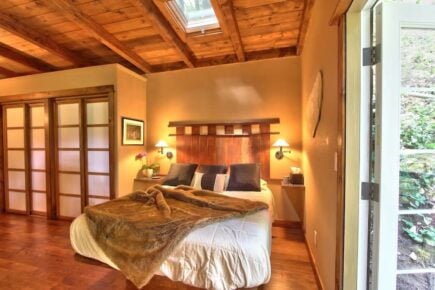 Best VRBO for Couples in Big Sur
Cabin in the Redwoods
> $$$
> 2 guests
> Minutes from Highway 1
> Forest views
Best VRBO for Families in Big Sur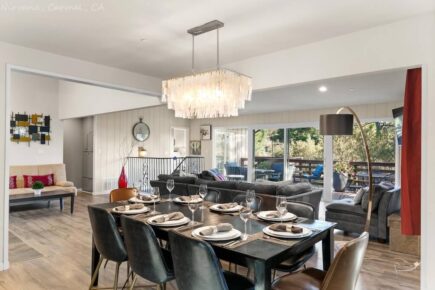 Best VRBO for Families in Big Sur
Family Fun on Highway 1
> $$$$
> 8 guests
> Close to shops
> Jacuzzi
Over-the-Top Luxury VRBOS in Big Sur
Over-the-Top Luxury VRBOS in Big Sur
Ocean Villa
> $$$$$
> 18 guests
> Panoramic views
> Gym & sauna
What to Expect from VRBOs in Big Sur
The variety of VRBOs in Big Sur work for solo travelers, couples, and larger groups. If you are searching for a way to stay among the St Lucia Mountains, or be close to the jagged coastline, VRBO has a place for you.
Many of the VRBOs we have listed here, and on the website, are located in Carmel-by-the-Sea. This wonderful town is at the northern end of the famous Big Sur drive – the iconic section of Highway 1 between San Francisco and Los Angeles.
The accommodation options are perfect for those wanting to have a Big Sur adventure without breaking the bank. As we head into the mountains, you will discover cabins, hideouts with impressive views, and oceanside homes that are great for families.
VRBOs place you right in the thick of it. After all, regardless of where you start, the highlights from seals at Piedras Blancas Rookery to Bixby Creek Bridge are best reached via car.
If you're planning to hike the area, take a look at our guide for the best Big Sur Hikes.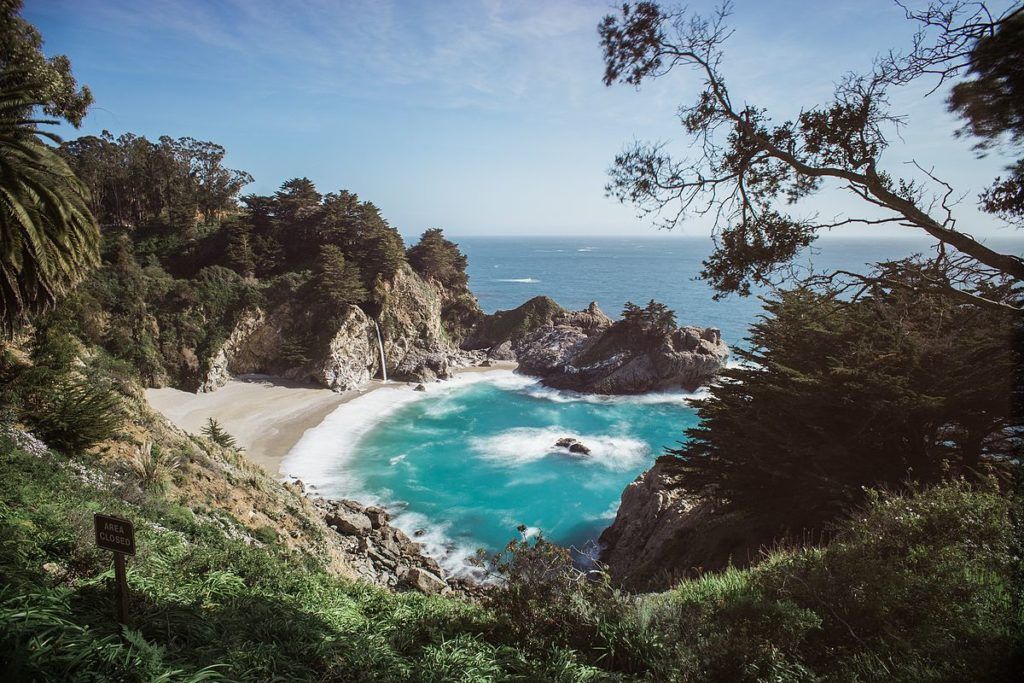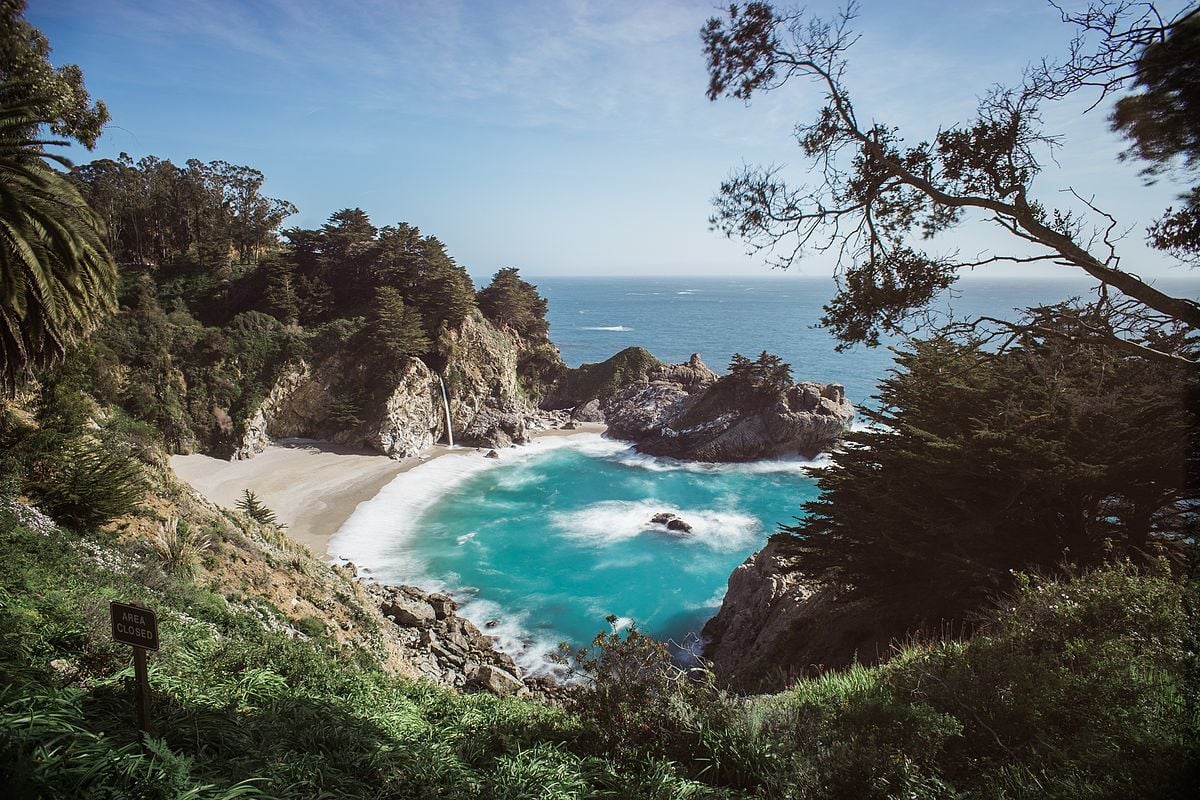 Condo
As a part of a larger complex, condos can be the perfect option for solo travelers, those travelling on a budget, and couples after a last-minute getaway.
In Carmel-by-the-Sea and Monterey, you will find an abundance of condos. Usually a few stories up, you may even be able to snag yourself a great view of the Pacific Coast.
As mentioned, condos are usually a part of a larger complex, this means you will have access to many resort-like facilities that will help take your trip to the next level – all without paying a hotel price. Have your own private space with one or two bedrooms, along with a full kitchen and living space as well as communal areas.
If you are used to staying in hostels or simple hotels, a condo will be a great change of pace providing you with amenities and extra luxuries you won't find elsewhere.
Cabin
The classic American cabin is the way to go when trying to experience the great outdoors. This is particularly true when venturing to Big Sur.
Cabins are quite common on VRBO in this region, and will place you right where you want to be – in the mountains and surrounded by nature.
In Big Sur it is common to not have neighbors close by allowing for ultimate peace and serenity. You will have private access to nearby hiking trails to enjoy nature up close, and find a true escape to recharge and relax.
A cabin environment is great for reconnecting with your partner away from the chaos of the big city. On quiet evenings grab a blanket and cuddle up in front of the fireplace.
The cabins in Big Sur are usually accessed via Highway 1, giving you easy access to all the best spots in the area.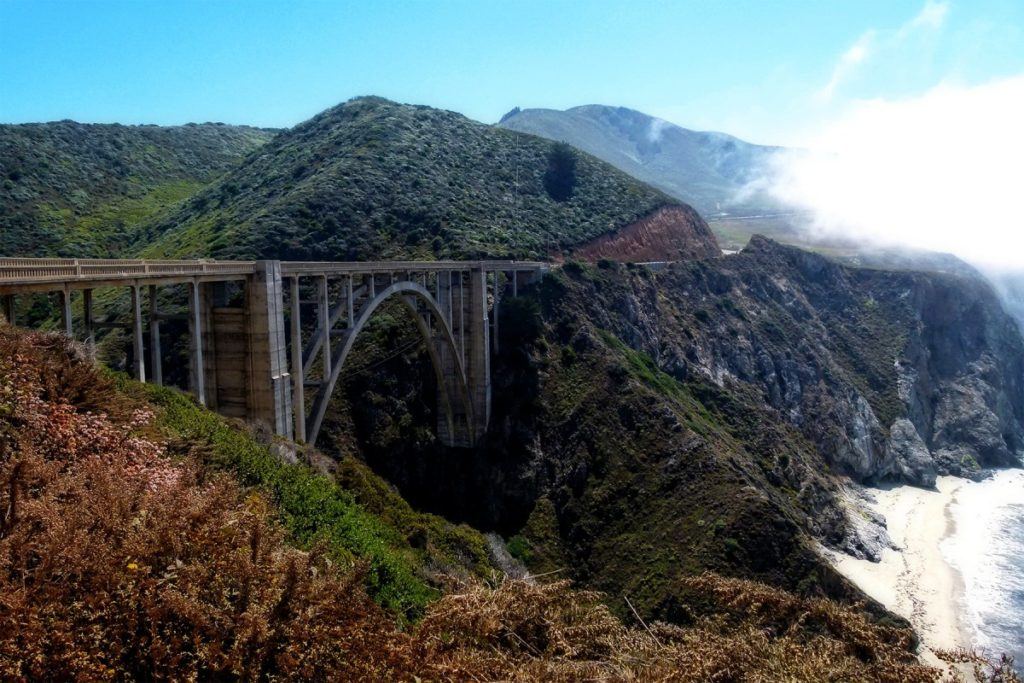 Cottage
Perfect for families and groups of friends, cottages are a popular option for visitors to Big Sur and its surrounding towns. Through Carmel, Monterey, and south along the coast, cottages dot the map and provide beachfront accommodation with nightly sunset views.
Some of the cottages are designed for families and have bunk beds, spacious dining areas, and board games for the whole family to enjoy.
Based on large acreage, you can let the kids roam and throw the ball around the yard, hang out with friends and enjoy the expansive space.
Overall, cottages are a prime way to enjoy Big Sur with a group. Spend your getaway close to the beach or up in the mountains away from the crowds.
Why Stay in an VRBO
In a remote place like Big Sur, there aren't a lot of major hotels or hostels. VRBO utilizes local homes to bring the best parts of Big Sur to you.
Local Experience: By aligning yourself with local hosts, you are opening yourself up to their knowledge and opening the door to a more authentic experience.
Unique Properties: Rather than stay at an old hotel or a rundown hostel, stay at regional properties built by locals for locals. Many of these properties were created to maximize the experience of Big Sur.
Privacy: Instead of sharing a room with others, have entire homes to yourself. These often include private balconies and spacious yards.
Affordability: Many homes, studios, and beachside cottages go at a lower rate than hotel rooms. Additionally, you'll have access to personal kitchens, no noisy lobby, and easy check-in.
Staying Long-Term: VRBO hosts love long-term visitors – in fact, they reward them with a discounted stay!
The 20 Top VRBOs in Big Sur
Here we go! Let's get stuck into the best VRBOs in Big Sur.
Below you will find fantastic options for every group and budget, check it out!
The best VRBO in Big Sur, this charming and historic studio shot to our number one spot like a bullet.
The studio was once owned by John Steinbeck who lived here while writing some of his most-known novels.
History aside, the cozy VRBO is well located just a short walk from Cannery Row. This section of downtown Monterey is home to retail boutiques, fresh seafood restaurants, and many on-water activities.
After a day of exploring the town and surroundings, relax on the outdoor patio or chill inside the colorful living space.
3 Places to Visit:
17 Mile Drive
Fisherman's Wharf
When it comes to budget VRBOs in Big Sur, it doesn't get much more simple and convenient than this guesthouse.
Located in the Carmel Valley right alongside the Carmel River, the home sits among the fresh mountain air and the towering coniferous forests.
Just steps away from the nearby village, which has delicious family-run restaurants and local wines, it is also only a short drive to Carmel itself.
Wake up to the sounds of nature, and enjoy a cup of coffee on the front lawn. After a long drive down through Big Sur, relax in the guesthouse pool with views of the mountains beyond.
3 Places to Visit:
Carmel Beach
Garrapata State Park
Perfect VRBO for Solo Travelers | Oceanview Condo
Gaze out over the west coast to Del Monte Beach, and beyond, at this excellent seaside condo. Ideal for solo travelers, this VRBO in Big Sur is placed in the heart of Old Monterey.
Enjoy the sounds of waves crashing, and head down to one of the complex's two pools to chill out in the Jacuzzi and sauna. You can meet fellow travelers, and find someone to explore Cannery Row with.
There is an abundance of local attractions nearby including whale watching and sea kayaking. Don't be shocked if you see an otter or seal hanging out on your local beach!
The condo has its own parking space for travelers adventuring by car.
3 Places to Visit:
Presidio of Monterey
17 Mile Drive
Is This the Best Travel Pack EVER???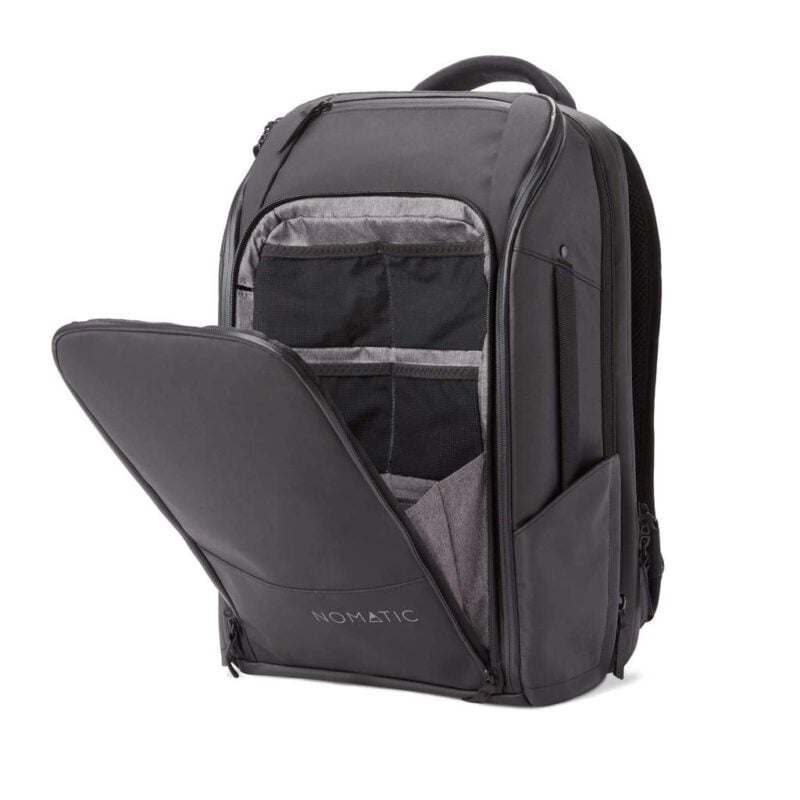 $$$
Minutes from Highway 1
When planning a romantic escape, it is the perfect time to try out a unique experience. If that sounds like something you would love, then check out Littlehouse in the Redwoods.
This small, cozy cabin is dwarfed by the surrounding redwood forests, which makes for the ideal romantic hideaway. The private spot has no neighbors, and features endless views of trunks and leaves.
You can kick back on the large deck and take in the sights and sounds of nature all around. At night, retreat to the warm wooded cabin and relax on the luxurious bed.
Accessed via Highway 1, the cabin is just ten minutes away from all the adventures Big Sur has to offer.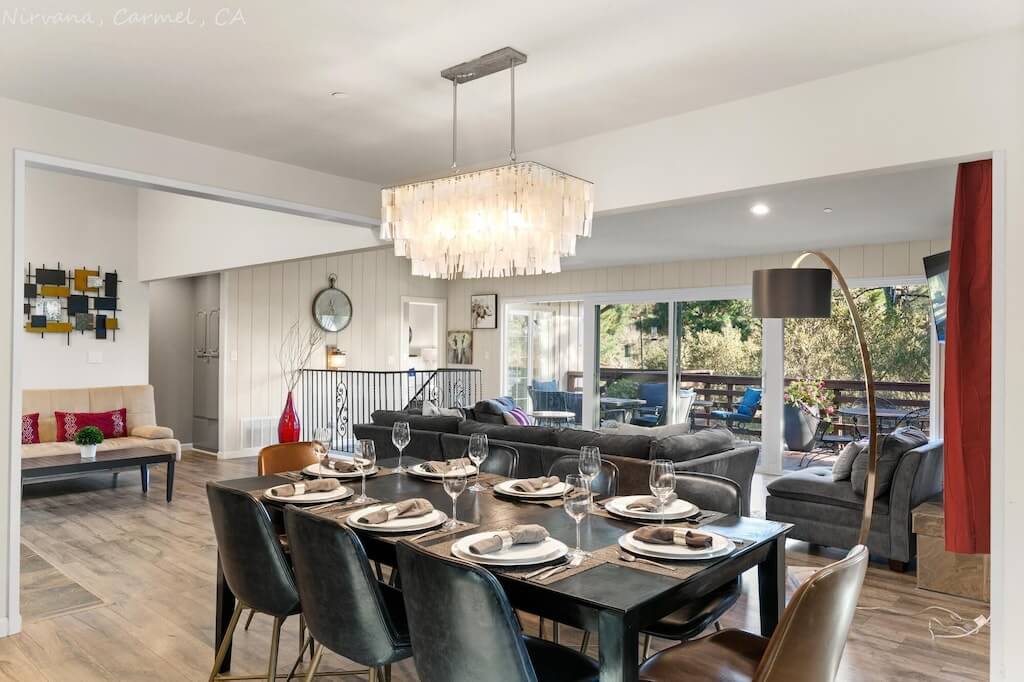 Carmel Nirvana promises an awesome family getaway. Gather around with the kids, fire up the BBQ, and look out over views of the Hatton Canyon.
Located just a short walk from Carmel Beach, you will have plenty of time to hang out on the sand and watch the waves roll in. Venture through local streets packed with restaurants and shops, even a spa for a relaxing afternoon of pampering!
A spacious and bright home, featuring a sprawling living area, everyone will feel comfortable and relaxed.
The master suite is a real gem with a private balcony, while the other bedrooms have king beds that can be split into singles – perfect for kids!
As for location, it is placed right off of Highway 1, ready for the family road-trip of a lifetime.
3 places to visit:
Monterey County Fairgrounds
Mission Basilica
Over-the-Top Luxury VRBO | Ocean Villa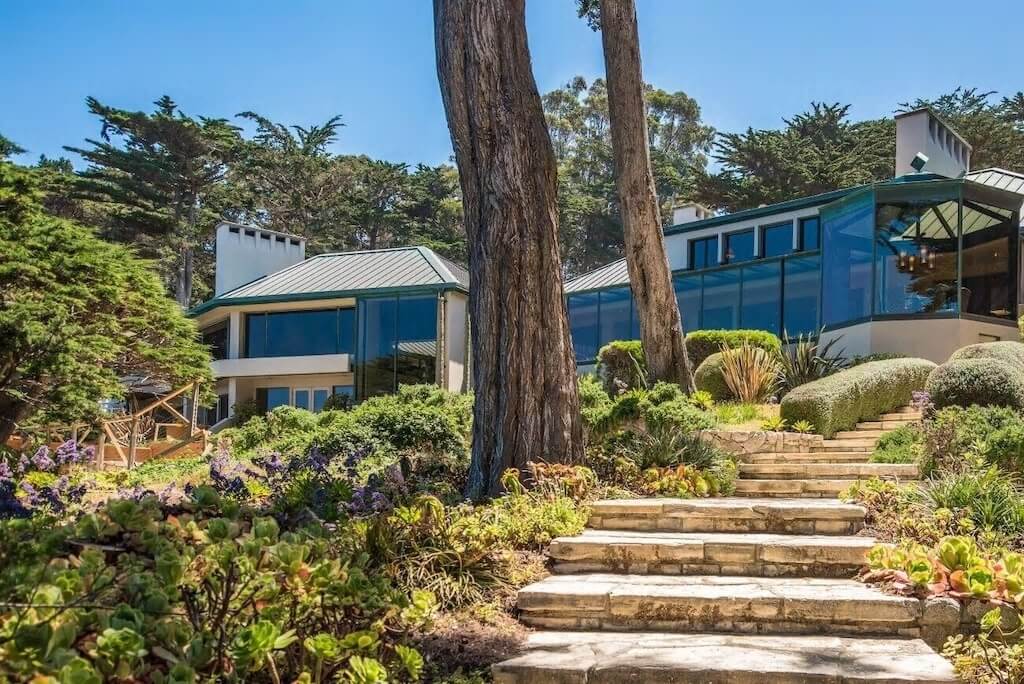 For those with a mega budget, this place is a beautiful find, and the best VRBO in Big Sur for outrageous luxury.
The Seven Coves Lodge ocean villa offers high-class living – it has even been featured in movies and TV shows!
Across 2.2 acres, you will never be out of sight from the impeccable coastal views. There are two huge living spaces to entertain friends and family, and an incredible dining area encompassed with vast windows. Each room within the home has stunning views.
And if that wasn't enough, the patio and pool are perfect for sunny family gatherings. It really doesn't get much better than this.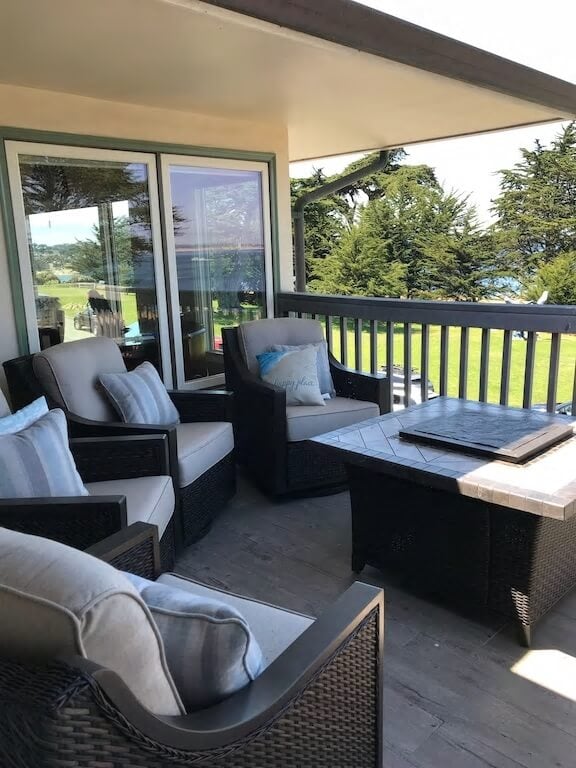 At this VRBO in Big Sur, you can watch the sun go down every night from your private patio and look out over the waves all day long.
Just steps away from Lover's Point, and the wonderful Pacific Grove Beach, a 10 minute walk is all that stands between you and the famous Cannery Row.
Enjoy all the trappings of home while on your adventure. Make a homemade dinner to be served in the living room with views looking out to the beach, or read a book on the back lawn under the shady trees.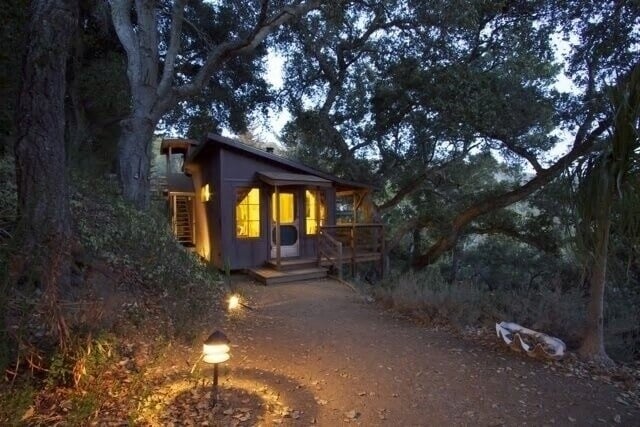 2 guests
Serene and peaceful
Escape into the mountains at this secluded VRBO cabin in Big Sur. It is the perfect location between Big Sur and the convenience of Monterey. Up above the coast, 1,000 feet above the water, there is a clear view of the fog that rolls in and out each day.
The cabin has 3 vast decks each looking out over varying views of the surrounding hills and canyons, the perfect spot for enjoying an early morning coffee. The space is so quiet and solitary, animal sightings are common along with some rare glimpses of bobcats.
After a day of taking advantage of the proximity to Big Sur, you can relax in the tub and fire up the sauna. Replenish your soul at this beautiful mountain getaway.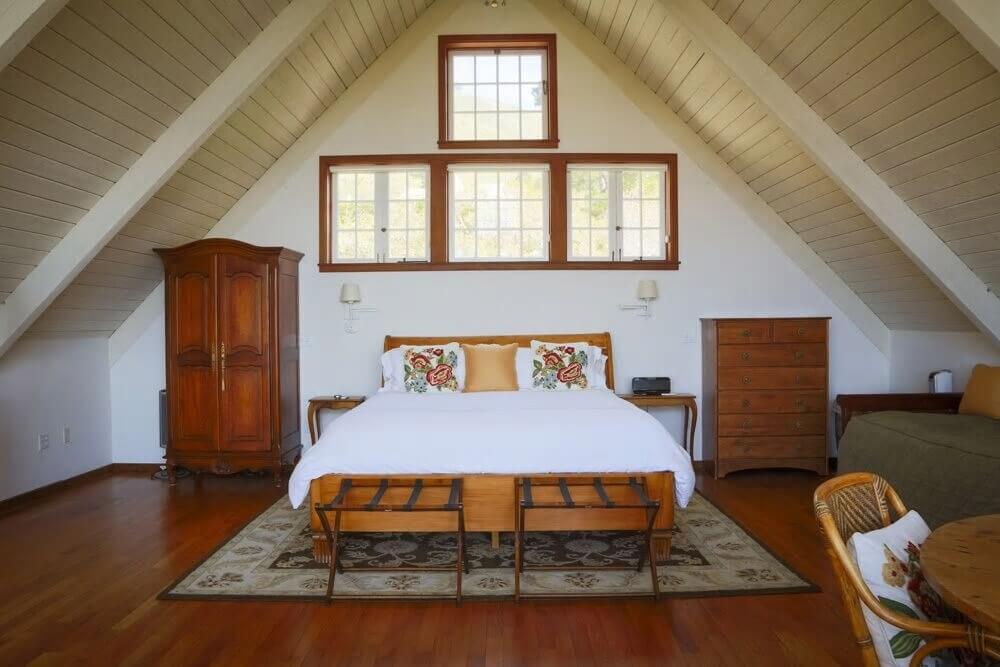 Located in the Carmel Highlands looking down over Big Sur and the Pacific Coast, this cozy cottage is a tranquil setting where you can drop your bags, and switch off from the chaos of the real world.
Bask in the lack of noise, and listen out for the rustling of tree leaves as the breeze runs past. With warm days and cool evenings during the summer, enjoy nightly sunsets perched high above the ocean.
In the cooler months, you can cuddle up in front of the fireplace and question why you would ever leave such a peaceful cottage.
When you're ready for an adventure, it is just a quick drive to Carmel, Point Lobos, and only 30 minutes to Big Sur.
8 guests
2 push bikes provided
Inspired by French cottages and Tuscan retreats, VRBOs in Big Sur sure know how to turn it on.
Surrounded by the beautiful greens, yellows, and oranges, you can kick back at this amazing estate feeling like you have ventured into the Tuscan countryside.
Encompassed with 360-degree views from sun up to sundown, it is easy to spend hours simply admiring the surroundings. Hiking the trails will give you an even better perspective of this wonderful landscape.
The home has two bikes on site waiting for you to ride around venturing into the countryside for epic Big Sur views.
At the end of the day, relax with friends and by the wonderful outdoor pool. And don't forget to look up at the sunset!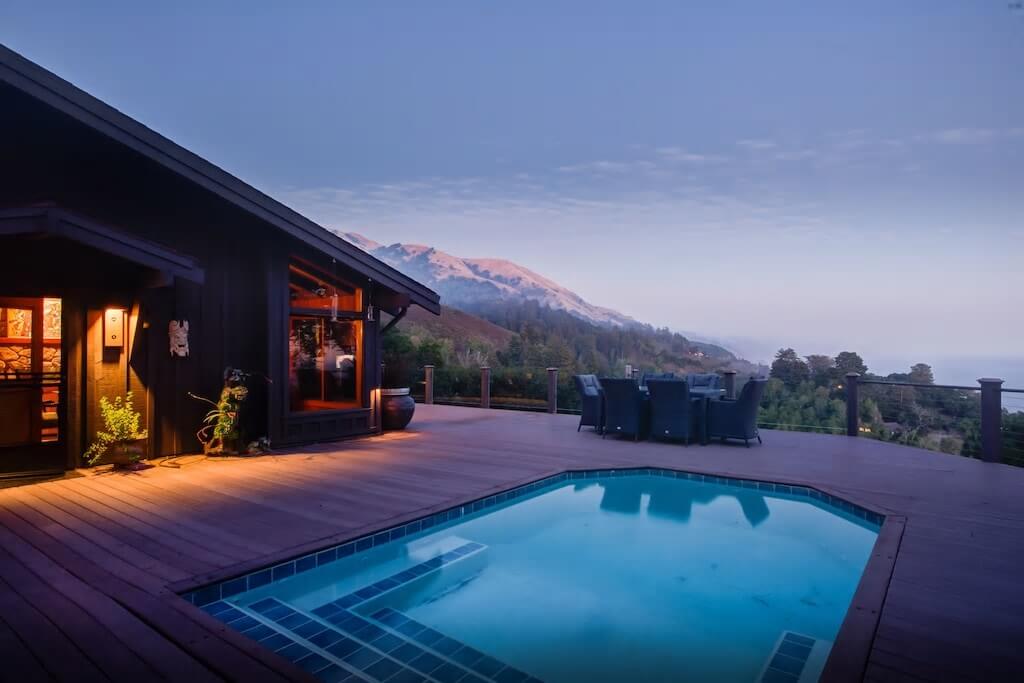 This VRBO in Big Sur easily wins the prize for most spectacular views. Surrounded by panoramic sights of the mountains, greenery and ocean, we are at a loss for words.
Stunned by the beauty of the landscape, we don't blame you if you want to spend your whole stay on the terrace, however, you can also stroll the private hiking trails, or wander down to Post Ranch and the Big Sur Bakery for a snack.
From the pool, alfresco dining table, and even indoor living areas, your eyes will never peel away from the outstanding setting.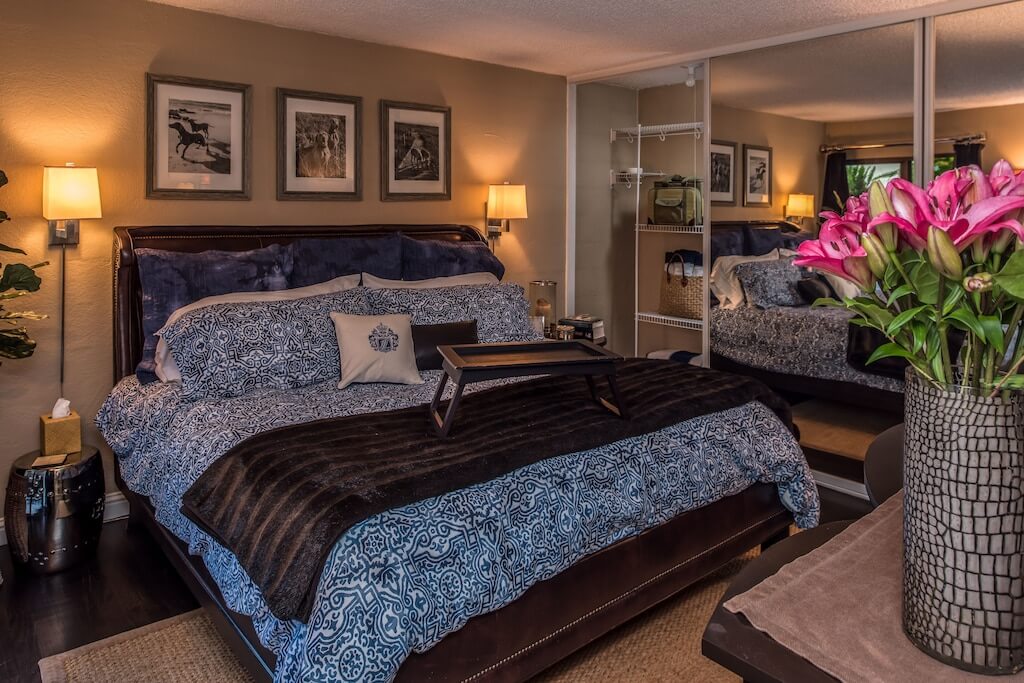 As on of the best VRBOs in Big Sur for digital nomads, this home promises comfort, style and convenience.
Working on vacation can be a pain, but it is made much easier at this spot with a bed tray for your laptop and impressive WiFi.
When your work is done, head down to the communal pool, meet fellow adventurers, and maybe play a game of billiard.
Ideally located between Monterey and Carmel everything you need is just a short drive away.
Carmel is a classic neighborhood in the Big Sur region. Originally settled by the Spanish, it is home to San Carlos Boromeo – the oldest building in California, built in the 17th century.
With amazing ocean views, a great living setup, and is just a quick walk into Carmel itself, this condo is perfect for a relaxing stay.
When you're not lazing on the deck and sipping on some local wines, you can be exploring old Spanish buildings, remnants of early ranchos, and, of course, venturing Big Sur.
The wonderful beach-style decor creates a welcoming living space that makes you feel at home, and the complex itself is home to pools, hot tubs, and a gym.
Best Short-Term Rental VRBO | Quiet Bungalow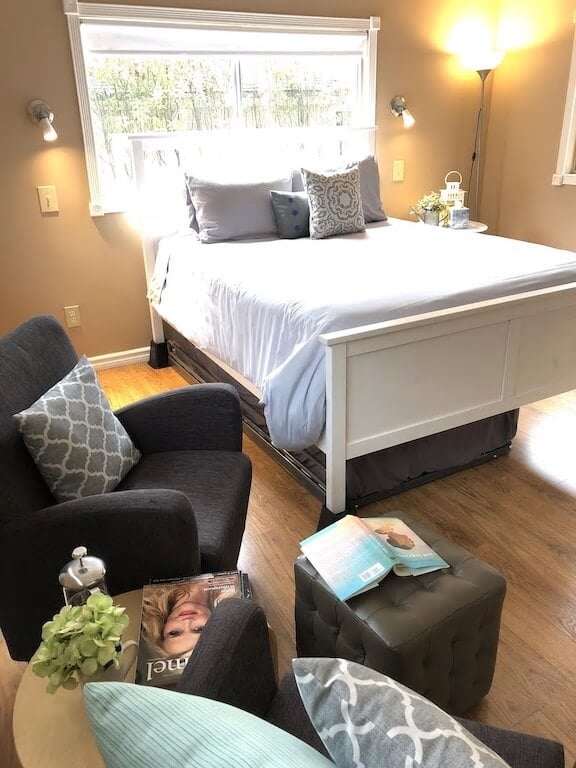 VRBOs in Big Sur are perfect for those looking for a long escape to relax and recharge. This bungalow is in a quiet section of Carmel, within walking distance of the restaurants and shops along Ocean Avenue.
Take advantage of the incredible discounts for short-term stays, and use the time to make this historic town your home.
The coast is just five blocks away from the bungalow, where you can hang with friends and family while watching the sun go down.
With a simple and cozy space, you will quickly feel at home while being surrounded by other residents of Carmel. Great local tips and hidden gems are just a "hello" away.
When it's time to see Big Sur, simply jump in the car and drive south.
Most Beautiful VRBO in Big Sur | Stunning Ranch
There are so many beautiful VRBOs in Big Sur. In fact, it is hard to find an ugly one. But when it comes to sheer beauty, we couldn't ignore this ranch-style home.
The sleek mahogany interior feels luxe and expensive, while the front and back lawns are incredibly spacious. You'll have plenty of room to entertain guests, throw a ball, or play games on the grass, even explore the lawns that roll all the way down to the Pacific Ocean.
Each bedroom features views out over the grounds and provides a private hideaway for each guest.
When it's time for an adventure, you will be just minutes away from Highway 1 and Point Lobos State Park.
Stunning VRBO for Honeymooners in Big Sur | Your Dream Home
Located at the end of a private driveway, this home features 360-degree views of redwood ridges, mountains, and the Pacific Ocean.
For those on their honeymoon, this is the best VRBO in Big Sur for you. Without any neighbors, you will have this mountainous paradise all to yourself.
Have a dip in the hot tub while gazing out over the hills, listen to the sounds of birds, and feel the wind passing through the trees.
You can cuddle up in front of the outdoor fireplace and look forward to catered meals, spas, and guided hikes – all of which can all be arranged for you.
Best VRBO in Big Sur for a Group of Friends | Carmel Valley Retreat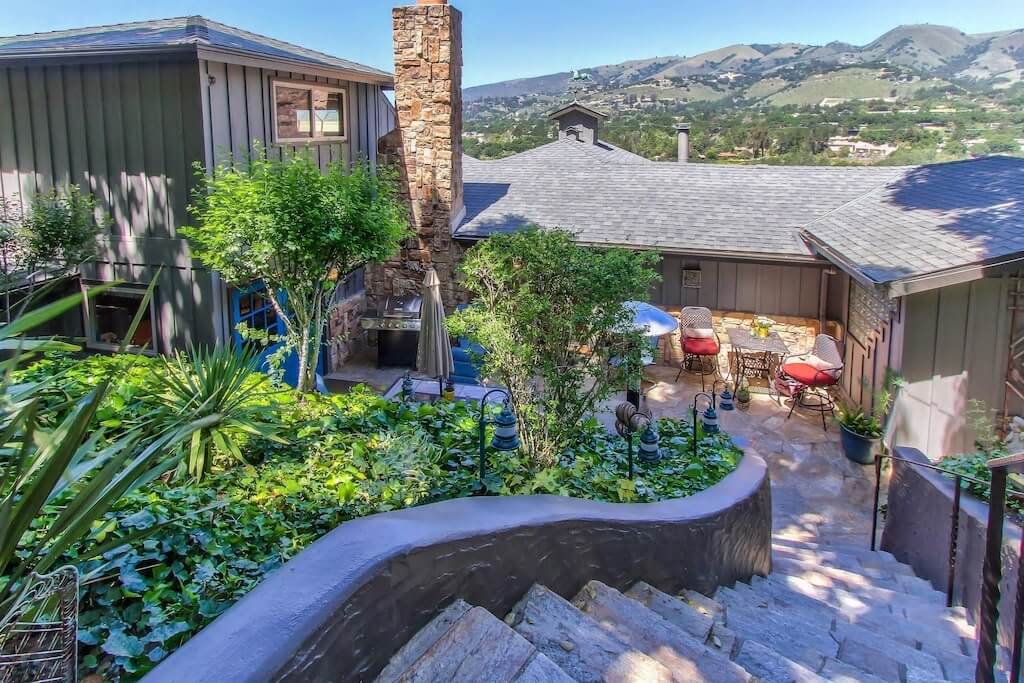 If you and a bunch of friends are looking for a group adventure, you need to see this mountain home.
A gorgeous Carmel Valley estate, this spot has more than enough room, and privacy, for you and your friends to have an awesome trip.
The cobblestone patio is packed with tables and chairs for trying local wines and enjoying the valley views. The spacious living room will be great for hanging out when the nights get chilly with lots of space for board games.
With so many rooms, you will likely end up with your own king bed and views that lookout out to the mountains.
This newly renovated mountain home is the perfect place to throw the party of the year. With incredible sunset views and a dining room with 180-degree windows, there's no better place to party.
The multiple decks, garden walks, hot tub, and gazebo is ideal for gathering with friends and hanging out under the sun. Meanwhile, the large, professional kitchen has everything you need to prepare huge feasts.
After a couple of beers, enjoy chilling by the fireplace and playing some card games.
For adventures, Big Sur, Pebble Beach, and the many local vineyards are all close by.
Super Accessible VRBO in Big Sur | Downtown Carmel
Come and stay in the heart of Carmel, the perfect starting point for your travels down to Big Sur.
Located just a single block off of Ocean Avenue, this home has easy access to Carmel's fantastic restaurants, shopping, and galleries. It is just a couple of blocks west of Carmel Bay and the marine conservation area.
At home, put your feet up in front of the fireplace, or enjoy the backyard patio with mountain views.
You can sleep every night on the spacious king bed, and wake up refreshed and ready to launch into the day's adventures.
This amazing wooden home takes the cake as the most unique VRBO in Big Sur.
High up in the mountains the house looks out over beautiful views, and sits right in the heart of nature.
Promising a cozy stay in the mountains with sunrise and sunset views from your multiple porches, it is an unforgettable accommodation.
Despite being in what feels like a remote setting, you are just a hop, skip, and jump from Carmel, with easy access to complete all of your Big Sur adventures.
Don't Forget Your Big Sur Travel Insurance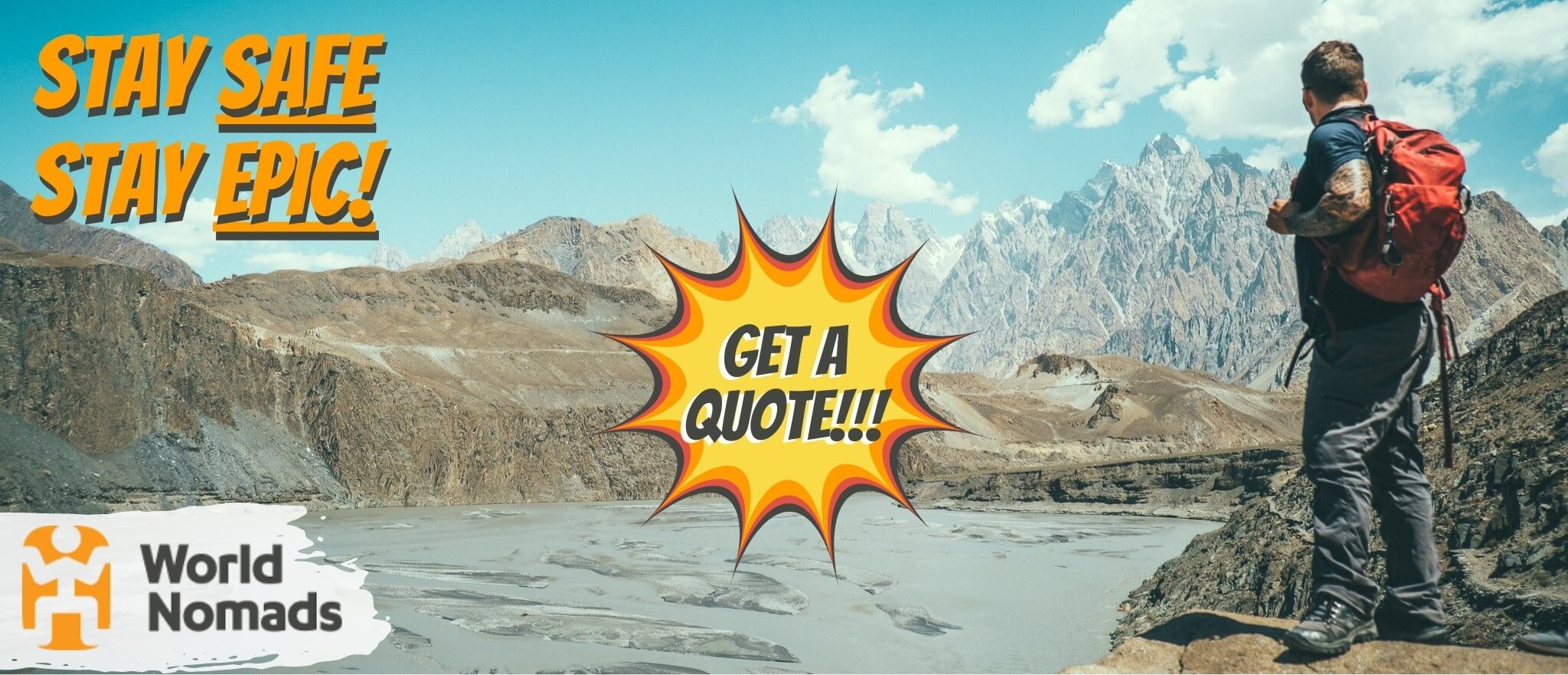 It's good to get lost sometimes, but it's also good not to get too lost. There are people that want you home in one piece.
There's one travel insurance provider The Broke Backpacker trusts for all his wildest shenanigans… World Nomads!
Click the button below to get a quote on your insurance or read our in-depth review of World Nomads' coverage. And then… let the shenanigans begin. 😉
Final Thoughts on Big Sur VRBOs
It is easy to see why VRBOs in Big Sur are the best places to stay in the area. You can find yourself in the hills where hotels won't dare to venture, while staying in interesting homes that bring nature and the spirit of Big Sur to your doorstep.
Whether you are traveling alone and want to experience some solitude, or in a large party looking for a large estate, these VRBOs in Big Sur will help to elevate your experience.
One thing is clear, regardless of which place you choose to stay, you will witness famous sunsets, a rugged coastline, and epic roads that make Big Sur an iconic destination.
---
Bye for now, but not forever!
If you want MORE top-tier Broke Backpacker content like this, then sign up for our weekly newsletter below to get the latest and greatest!
And for transparency's sake, please know that some of the links in our content are affiliate links. That means that if you book your accommodation, buy your gear, or sort your insurance through our link, we earn a small commission (at no extra cost to you). That said, we only link to the gear we trust and never recommend services we don't believe are up to scratch. Again, thank you!