Going on a West Coast road trip has to be one of the most magnificent experiences in the USA. This region, comprising of California, Oregon, Washington, is one of the most beautiful regions in the world and offers countless things to do and places to see.
While traveling on the West Coast, you'll have the option of taking many road trip routes. You can take a road trip on Highway 101 along some of the finest coastlines in the world, or you can navigate through the epic Cascades and the Sierra Nevada mountains inland.
Being raised in Oregon, and having taken several road trips on the West Coast, I have a lot to share with you, my fellow broke backpackers.
In this USA West Coast road trip planner, we'll cover several topics, including how to stick to a budget, the best places to visit on the West Coast, and plenty of ideas and itineraries to easily organize your entire trip.
So come with me as we go on a road trip of the West Coast, USA!
Let's face it – while backpacking the USA, whether on foot or in a car, you're probably going to spend a lot of money. The West Coast is a big and beautiful place with lots to do and see, so you're going to need all the help that you can get to save cash.
Even if you're unable to travel on $10/day like in some of my favorite countries, this West Coast road trip guide will at least help you minimize expenses.
Each West Coast state will cost different amounts of money. California will be the most expensive state, followed by Washington, and then Oregon.
Generally speaking, the average daily budget for a road trip on the West Coast will be between $175 – $250 – this includes gas, a rental car, lodging, food, drink, and activities.
Gas is very expensive on the West Coast and will lead you to an early bankruptcy if you're not careful. Do everything you can to limit the costs of gas by planning/sticking to routes, using a fuel-efficient car, and carpooling.
Going on a road trip in the USA with a group is fun, more environmentally friendly, and cheaper. Traveling with other people is the best way to save money, but we understand this isn't always possible!
No fear! You can also save money on a solo trip by camping and staying at hostels, grocery shopping, and taking your time (i.e. not driving 500 miles a day).
Food and lodging will cost as much as you're willing to invest. Staying in fancy digs and eating out for every meal will obviously drain your funds. Camping out and cooking for yourself will save you much more money in the long run.
You will probably visit several national parks as well and each has a fee. Pick 1-2 parks, or invest in an America the Beautiful Pass.
While these costs might seem steep, always remember you can always save a TON by camping. But even if you don't spend any nights under the stars, you can rest assured that your money is allowing you to see some of the very best places to visit in the US.
Average Costs of a USA West Coast Road Trip
Below is a breakdown of the average costs of a USA West Coast road trip:
While there are TONS of epic places to stay along the West Coast, here are three that are absolutely worth reserving in advance!
This mountain villa in Waterville, Washington just might be the most incredible Airbnb on the West Coast. Built on the edge of a ridge that overlooks the Columbia River and some stunning mountains. Enjoy it all from a truly legendary deck that features a jacuzzi and panoramic views. Only one hour from Leavenworth and 15 minutes from the nearest town, you'll get to be as secluded as possible while still having 21st-century amenities in reach.
This Oregon Coast beach cottage is mere steps from one of the West Coast's most legendary beaches. Multiple comfy beds, a large kitchen and a wood-burning stove all add to the homey feel–just 100 yards from the ocean. You'll also have easy access to local breweries and some hiking trails if you've had enough beach time!
Where you stay in LA matters a LOT, so why not choose this iconic condo located right near the City of Angels' main attractions? The 1 bedroom condo features glass windows, 20 ft ceilings, and a rooftop pool that you'll definitely be thankful for if visiting in the summer! You can also count on a super comfy bed, a TV, fast Wifi and EPIC views of LA.
Below is a list of sample road trips up (and down) the West Coast. Varying from 10 days to 30 days in length, they cover many of the West Coast's top attractions. Each itinerary provides day-by-day highlights, which are meant to give you some awesome West Coast road trip ideas.
Since the West Coast is massive and I can't go into every single detail for each location, I've created more specific road trips to help you out a bit. Get ready for a heavy dose of driving in the USA inspo!
A road trip on Highway 101 is one of the most popular and most desirable adventures in the entire United States. This route features an amazing coastline that shifts every step of the way. While you'll see other states too, this is the California trip of your dreams!
Starting in Southern California, you'll see palm trees and surf-worthy swells slowly turn to dramatic cliffs. By the time you reach the Olympic Peninsula, you'll be surrounded by lush, temperate rainforest, the likes of which you can see nowhere else in America.
On the road trip from San Diego to Seattle, you will pass by several of the most interesting cities in the region, Must-do's include visiting Los Angeles, Santa Barbara, and Seattle. Between these many places, you will have your pick of bars, restaurants, and local markets.
Ultimately, a road trip on Highway 1 is a no-fail and we wouldn't be surprised if people decided to spend more time on this itinerary.
Highlights: San Diego, Los Angeles, Big Sur, San Francisco, Redwoods, Oregon Coast, Olympic National Park
Notable bars and restaurants: Zeitgeist (San Francisco), A.O.C. (LA), Lost Abbey (San Diego), Annie's Cambodian Cuisine (Eureka), Pelican Brewery (Cape Kiwanda), The Schooner (Netarts), Local Ocean Seafoods (Newport), Chestnut Cottage (Port Angeles), Granny's Cafe (Port Angeles)
Where to Sleep:
You've only got 10 days on this West Coast Road Trip and it's definitely not a lot of time for such a massive creation. Don't expect to see each and every highlight on the way, especially when visiting LA where traffic can get hectic to say the least.
You'll have to plan your activities ahead to enjoy a stress-free adventure. The best activities are surfing around SoCal, camping in Big Sur and whale watching. If you're more of an active person, you should check out the hiking trails on the Olympic Peninsula. Exploring San Francisco and the Redwoods is a great experience too.
If you're into scenic drives, check out Highway 101 and Highway 1 – both offer incredible views!
Depending on when you're visiting, you'll be able to attend some cool festivals. Here are the coolest:
Festival of the Dark Arts in Astoria (February)
Goonies Day in Astoria (June)
SF Outside Lands (August)
Desert Daze (October)
Kinetic Grand Championship (May)
Redwood Coast Music Fest (May)
This is quite literally the opposite of a road on Highway 101 – this route primarily covers the eastern portion of California, Oregon, and Washington, areas that are defined by arid landscapes and rugged mountains.
Starting this road trip in California, you'll begin in the hottest official place in the USA before escaping to the Sierra Nevada. You'll pass by Yosemite, Lake Mono, and Lake Tahoe before reaching Oregon. Here, you'll get a break from the desert by visiting Crater Lake before heading to the deserts around John Day again. By the time, you reach Washington, you'll be in the rolling hills of the Palouse.
Given the harshness of the landscape, it's advised that you undertake this road trip in late-spring or early-fall. Although it's the desert, there is still a high probability of snow in the passes.
Highlights: Death Valley, Sierras, Lake Tahoe, Lassen Volcanic NP, Crater Lake, Bend, Wallowas, Palouse
Notable bars and restaurants: Holy Smokes Texas Style BBQ (Bishop), The Stove (Mammoth Lakes), Peg's Glorified Ham n Eggs (Reno), Crux Fermentation Project (Bend), McKay Cottage (Bend), Roosters Country Kitchen (Pendleton)
Where to Sleep:
The best activities on this road trip are definitely climbing in Yosemite and canoeing at Lake Tahoe. For everyone that's into adventures and adrenaline, you can ski and then stay at a cabin on Mammoth Lakes and hike the John Muir Wilderness. Biking around Crater Lake and taking epic photos in the Palouse is a bit more relaxing.
For Scenic Drives on this road trip, we'd recommend the Tioga Pass, Lassen Scenic Byway and Highway 395. There are more drives that you can find online, but these ones are our favorites.
The best events you can attend are:
Burning Man (August),
Mammoth Festival of Beers and Bluesapalooza (August)
Bishop Manzanar Pilgrimage (April)
What the Festival (June)
Bend Brew Festival (August)
One look at the map for this itinerary and you will probably exclaim how random it looks. Given that we will be visiting every national park between California and Washington, it's pretty clear that there will be a great deal of driving.
But there's going to be equal, if not a greater amount of majesty. The nationals parks of the Western USA are famous and arguably form the finest collection in all of North America. You're going to see deserts, valleys, giant redwoods, lakes, mountains; if you can think of a landscape, it's going to be featured here.
Luckily, there will be plenty of breaks on this best national parks edition of a West Coast road trip. We'll see many of the West Coast's major cities, including Portland and Bellingham, and have the chance to take a brief road trip on Highway 101. So even if you are itching to go camping and get a little dirty, there will still be some showers along the way.
Highlights: Joshua Tree, Kings Canyon, Channel Islands, Yosemite, Crater Lake, Olympic, Mt Rainier, North Cascades
Notable bars and restaurants: Stonefly Restaurant (Markleeville), Austin's Restaurant (Tahoe), Aaron Schat's Roadhouse (Bishop), John's Pizza Works (Mammoth Lakes), Peg's Glorified Ham n Eggs (Reno),
Where to Sleep:
On this road trip, you'll come across the absolute best hiking trails in the US. You can do a separate road trip in Redwoods, bike around Crater Lake or check out the awesome beaches of Olympic Peninsula if hiking is not your thing. For the more creative ones, you'll love taking pictures at the Death Valley.
All scenic drives that we mentioned above can be visited on this road trip too, but I'd recommend checking out the Cascade Loop and Lassen Volcanic Scenic Byway.
Since this itinerary includes various cities, you've got an incredible number of festivals and events you can attend. Research online to find out when and where you can find the ones of your interest.
This is it – the most complete road trip from California to Washington that you can do in 30 days. Just about every destination that has been covered so far in previous road trips is included here. This includes a road trip on the California Coast, a road trip from San Francisco to the Sierra Nevada, the Oregon Coast, the Washington Cascades, Olympic Peninsula, and much, much more.
All of the major cities on the West Coast are included as well. There will be plenty of places to visit while staying in Los Angeles, San Francisco, Seattle and every other city for that matter. Regardless of where you choose to spend your time – be it in the cities or in nature – it will be time well spent.
This itinerary also has the added benefit of featuring the amazing San Juan Islands, located at the end of a Highway 101 road trip. These are among the most beautiful places to stay in Washington and a mandatory given the amount of time you have.
Highlights: Los Angeles, San Luis Obispo, Big Sur, San Francisco, Sierras, Lake Tahoe, Redwoods, Oregon Coast, Crater Lake, Bend, Portland, North Cascades, Seattle, Olympic Peninsula
Notable bars and restaurants: A.O.C. (LA), Lost Abbey (San Diego), Zeitgeist (San Francisco), Annie's Cambodian Cuisine (Eureka), Crux Fermentation Project (Bend), Cartopia (Portland), Dick's Drive-In (Seattle)
Where to Sleep:
Well, you've got a whole month on your hands! So you better do everything the West Coast has to offer, right? Whether it's surfing while staying in Santa Cruz, exploring LA's nightlife or hiking in the Sierra Nevada – you'll never get bored.
A couple of things I'd definitely recommend though are sailing in the San Juans, alpine climbing in North Cascades and taking the delicious beer in Bend. What you end up ding during the 4-week road trip is completely up to you, but you can be sure to have a blast!
Hit up the road and check out the most beautiful scenic drives in the West Coast. They include the Highway 101, US-26 and Crater Lake Rim. If you've got a nice car and love driving around, add these to your list as well.
Below is a list of the best road trip stops on the West Coast. Study them well and decide which ones you like the most for your road trip.
Southern California Road Trip
Southern California or SoCal is the drier, sunnier part of California, known for its desert landscapes, Latin-influences, beach culture, and urban sprawl. It is distinct from Northern California in many ways and should definitely be discussed in its own section.
Southern California is by no means small – it hosts millions of residents, leagues of land, several national parks, and a lot of coastlines – but for the sake of brevity, we must condense all of Southern California into a single section.
The region is best known for its easy-going and Epicurean culture. Metropolises, like Los Angeles and San Diego, host huge populations of people who just want to have fun in the sun, do business, and maybe get famous. The parties in Southern California are often extravagant and it goes without saying that places like Hollywood or Santa Barbara get really crazy.
Southern California is also well-known for its desert landscapes and climate. Sunshine is plentiful, temperatures are warm, and rain is infrequent.
Superlative national parks, like Death Valley and the magical Joshua Tree, exhibit the arid beauty of Southern California. Add in some of the best beaches on the West Coast and you can why the surfer and beach culture is strong here.
In the end, Southern California is a paradisiacal place, both in mind and reality. People flock here in pursuit of dreams, warmer climates, and sometimes for no reason at all. I can think of no better place to start a fantastic road trip up the West Coast than Southern California.
Northern California Road Trip
Northern California or NorCal is a bit more temperate than SoCal, both in climate and attitude. The weather is moodier, people are slightly more cosmopolitan, and the food is far more eclectic.
You won't find the desert beaches and vast deserts of SoCal; NorCal has grander forests, more alpine areas, and a rougher coastline. Its home to many of the best hikes in California.
Nothing illustrates the difference between NorCal and SoCal better than comparing Los Angeles and San Francisco. Whereas LA is more defined by its entertainment and pleasure industries, San Francisco is a technological utopia that hosts some of the most influential industries in the world i.e. Google.
As a city, San Francisco is far denser, better planned, and all-in-all more modern than Los Angeles. Staying in San Francisco can be refreshing and recharging, especially after spending a long time on the road. It has superior public transport, more public works, and a greater amount of accommodation options.
San Francisco also benefits from being a part of the greater Bay Area, which offers West Coast road trippers a huge array of activities.
There's the increasingly affluent but always gritty Oakland in the East Bay as well as the gorgeous if not opulent Marin County in the North Bay. The stunning Napa Valley has some of the best wineries in California and the coastline around SF is spectacular.
Along the coast, Big Sur, Monterrey, John Muir Woods, and Point Reyes are all worth visiting.
Finally, Northern California offers some of the best landscapes in California. Legendary areas like Yosemite, Tahoe, and the Redwoods are all worth visiting as are the lesser-known ones like Lassen, the John Muir Wilderness, and the Lost Coast.
Northern California is definitely one of the best places that you'll visit on your West Coast road trip route. Like Southern California, we had to, unfortunately, be very brief with this region.
Oregon Coastal Road Trip
Whimsical Oregon – home to hipsters, endlessly flowing beers, and some of the most enchanting beaches and hikes on the West Coast.
Over the years, Oregon has been the recipient of many titles and stereotypes, some of which are spot-on. Though not the enclave for the weird that it used to be, Oregon is still one of the most endearing and charming states in the entire country, and is still utterly unique.
Oregon is one of the most geographically diverse states on the West Coast. It has deserts, mountains, rainforest, beaches, gorges, and volcanoes; you name it, and Oregon has got it. Because of this, there is an immense amount of things to do in Oregon, from relaxing to finding the best hikes you've ever seen.
The largest and most well-known city in Oregon is Portland. Famed for its craft beer scene, amazing food, and uncanny residents, backpacking Portland is definitely one of the best experiences you can have on your West Coast road trip. Grab a bike, grab a brew, grab a friend, and go for a joy ride in the city.
If you're looking for a good hike, there are several trails near Portland in Forest Park, the Columbia River Gorge, and at every Portlandians favorite landmark, the elegant Mt Hood.
Almost as famous as Portland is the Oregon Coast. The Oregon Coast is far more rugged, moody, and, arguably, more beautiful than the California Coast, and people love to visit here in order to getaway.
The Oregon and California Coasts are, thankfully, connected via the amazing Highway 101, which runs further all the way up to Washington. Taking a road trip on Highway 101 up the West Coast is undoubtedly one of the best ways to experience the region.
Oregon's Highway 101 attractions include Cannon Beach, the Oregon Dunes, and Cape Perpetua.
Eastern Oregon Road Trip
Many imagine Oregon to be a dreary, rainy wonderland full of trees and hippies. While this is true for the Western portion of Oregon, few realize that this not the case for nearly two-thirds of the state.
Eastern Oregon is situated in the mostly high desert. Here, the people are more conservative, the landscape is harsher, and the sagebrush rolls on endlessly. It's an ideal place to grab a quality Oregon cabin and really get acquainted with this unique class of nature.
Eastern Oregon is separated from the rest of the state by the Cascade Mountain Range. These mountains extend north through Washington and south to Northern California.
The Cascades have a profound effect on the climate. Eastern Oregon receives far less rain than the west and is much more arid. The Oregon Cascades are beautiful as well, and many of the top places to visit on a West Coast road trip are located in this range.
The aforementioned Mt Hood, superlative Crater Lake, and countless waterfalls throughout the state can be found in the Oregon Cascades.
The desert dominates Eastern Oregon. Locations like the Painted Hills, Alvord Desert, Smith Rock, and Owyhee Canyonlands are all wonderful representatives of Eastern Oregon's stark beauty.
Those looking for more than just desert though will be happy to hear that places like the Wallowa Mountains and the Blue Mountains offer more alpine experiences.
There are lots of things to do in Eastern Oregon. Aside from seeking solitude, people often visit Eastern Oregon for adventurous activities. Whitewater rafting, skiing, and hiking are all excellent here.
Staying in Bend, the largest city in Eastern Oregon, is an excellent place idea as it offers lots of outdoor opportunities year-round.
Road Trip to Seattle
Visiting Seattle is a must while road tripping the West Coast. It's one of the most prosperous and dynamic cities in the Pacific Northwest. It's a culturally rich place that has helped gestate the careers of some of the greatest icons in American history including Ray Charles, Nirvana, and Jimi Hendrix.
Economically, it is one of the fastest-growing American cities and hosts several important companies like Amazon, Microsoft, Boeing, and Starbucks. Lying on the banks of the Puget Sound and in the shadow of the massive Mt Rainier, Seattle may also be the most beautiful city on the West Coast.
Seattle is best explored at a leisurely pace. Allocate lots of time to walk around and visit the many cafes in the city. Drink coffee and beer in copious amounts and be sure to eat the local seafood, which is bountiful in the city. Basically, try not to rush through Seattle's many places to visit.
Though there are several restaurants to visit around Seattle, no trip to the city is complete without a visit to the iconic Pikes Place Market.
Seattle is a very outdoorsy city. Lots of backpackers love Seattle because of its laid-back, hipster vibe. There are tons of parks around the city that offer amazing views of the surrounding cityscape/landscape and display quintessential PNW lushness, including evergreens and maples.
From parks like Jose Rizal, Kerry Park, Discovery, and Seaword, you'll have astounding views of the city and Cascade Range. Seriously, these viewpoints are some of the best I've ever visited.
There are several notable museums in Seattle. The ultra-modern Museum of Pop Culture, Seattle Art Museum, and the Chihuly Garden are all gorgeous museums and among the best places to visit in Seattle.
Consider sailing on Elliot Bay as well. You can charter a larger, more luxurious sailboat, which will obviously cost more, or choose a more affordable option. You can rent a kayak for good rates and even sail for free every Sunday with the Center for Wooden Boats, the latter of which is one of the best free things to do in Seattle!
Olympic Peninsula Road Trip
The Olympic Peninsula hosts Washington's best beaches, a national park, rugged mountains, and some of the densest and wettest rainforest in North America. It is an Arcadian destination where you could get lost for days (or weeks); it is, without a doubt, one of the top West Coast road trip destinations.
The Olympic Peninsula is located west of Seattle across the Puget Sound. You can reach the peninsula from Seattle by road via Tacoma and Olympia or by ferry.
Our favorite West Coast road trip route, Highway 101, actually starts/ends at the Tumwater/I-5 junction, just south of Olympia, and circles the entire Olympic Peninsula too. (As if this road couldn't get any better?)
The vast majority of the Olympic Peninsula is a part of the Olympic National Park. Within the park, you'll find all sorts of natural attractions. Here you can go hiking, mountain climbing, and rafting all within the course of a day, maybe.
Near Port Angeles is the Hurricane Ridge Road, which grants access to the Hurricane Ridge. Aside from hosting a ski resort, Hurricane Ridge has one of the most jaw-dropping vistas in the state, as you'll see huge swathes of peaks and forest.
Continuing west and then south around the Olympic Peninsula, you'll reach the furthest shores of Washington state. Along the western portion of the Olympic Peninsula are a series of ultra-rugged and remote beaches among the most beautiful places on the West Coast.
Most of these require either a 4×4 car or hike on foot to reach. Some of the best beaches of Washington's Olympic Peninsula are Rialto Beach, Shi Shi Beach, and Ruby Beach.
Finally, the Hoh Rainforest is accessed via a series of dirt roads on the western edge of the peninsula. The Hoh is one of the most incredible rainforests in the world. Overrun by mammoth trees and covered nearly head to toe in lush moss, the Hoh seemingly offers nearly every shade of green imaginable.
Road Trip to Bellingham and the San Juan Islands
North of Seattle is the Salish Sea, which, apart from linking Seattle to the Pacific Ocean, hosts a number of idyllic islands and communities. Most notable are the San Juan Islands – a gorgeous archipelago that offers some of the most bucolic and relaxing settings in the Pacific Northwest. It's the perfect place to grab a quirky Washington treehouse and just bask in the awesomeness of nature. These in addition to Bellingham on the mainland are some of the best places in Washington.
Driving north from Seattle, you'll first pass by Anacortes, which is the primary docking area for ferries to the San Juans as well as Vancouver Island.
South of Anacortes is Whidbey Island. Though not as gorgeous as the San Juans, Whidbey is still very nice and actually offers one of the most scenic drives in Washington. Whidbey Island is connected by bridge to the mainland at Deception Pass.
We'll revisit Anacortes and the San Juans later but let's continue onto Bellingham for now.
Bellingham is one of the coolest towns on the West Coast, thanks to its awesome brewery scene, young population, and outdoorsy culture. It's primarily a college town, inhabited mostly by students, but lots of people end up falling in love with Bellingham and settling here permanently. Like any good student town, the nightlife is usually ramped up, and the beer, in particular, is quite good in Bellingham.
Bellingham is very close to Canada, Mt Baker, and the San Juan Islands, which makes it a great base for exploring the Pacific Northwest.
The San Juan Islands are one of the best places to visit on a West Coast road trip. Here is a Pacific paradise with untouched woods, calm waters, and gorgeous scenery. Small towns like Friday Harbor make for amazing places to stay for a rest stop.
People love to visit the San Juans to unwind and escape from civilization. Migrating orcas are frequently seen in the San Juans as well, which makes them popular with whale watchers.
You can reach the San Juans via ferry back in Anacortes. The ferry runs all year though less frequently in the winter.
Cascades Road Trip
Though the Cascade Range extends all the way into Oregon and California, the portion in Washington is arguably the best. The Washington Cascades are home to two of the West Coast's best national parks – Rainier and North Cascades – in addition to several superlative wildernesses.
For mountaineers, hikers, and anyone interested in the outdoors, the Washington Cascades are among the most beautiful places .
The Washington Cascades can be roughly broken into 4 sections: the Gifford-Pinchot, Mt. Rainier, the Okanogan-Wenatchee, and North Cascades.
The Gifford-Pinchot section of the Cascades is the most southerly part of the range and is a part of the eponymous national forest. Here you'll find Mt Adams – the second highest peak in the Cascades – and Mt St Helens – the famous active volcano. Some of the most beautiful waterfalls in the Pacific Northwest are also in the Gifford-Pinchot.
Mt Rainier is the largest mountain in the Cascades and hosts a national park. Mt Rainier National Park offers some of the best hikes and camping opportunities in Washington. The Summerland, Wonderland, and Tolmie Lookout trails are some of the most popular. Mt Rainier is also famous for its wildflowers, which bloom around July.
The Okanogan-Wenatchee area is home to many of Washington's premier ski resorts. Stevens Pass, Snoqualmie, and Leavenworth are all notable locations.
Leavenworth is a very charming town in its own right and was designed to resemble a Bavarian village. Nearby to Leavenworth is the Alpine Lakes Wilderness and superlative Enchantment Basin, both of which offer amazing hiking opportunities.
Finally, the North Cascades – near the border of Canada – has some of the most rugged and remote peaks in the country. There are lots more hiking opportunities to be had around the North Cascades. Popular trails include Hidden Lake Lookout, Lake Anne, Sahalie Arm, and Copper Ridge. There is excellent skiing at Mt Baker as well, which is the highest mountain in the area.
Eastern Washington Road Trip
Eastern Washington is very different from the Western portion of the state. Lying on the other side of the Cascade Range, Eastern Washington is more arid and desert-like, much in the same way as Eastern Oregon.
This part of Washington is distinctly more agrarian as well, and people tend to lean towards of the conservative side of the political spectrum. Regardless of its differences, Eastern Washington is a gorgeous place to visit and offers some of the most unique places to visit in Washington.
Though we'll be frank when we say there is not a whole lot to do in Eastern Washington. Aside from a few very notable and beautiful attractions, 80% of Eastern Washington is either boring farmland or shrubbery. Definitely consider visiting this region but don't allocate too many days to it.
Spokane is the largest city in Eastern Washington. It's a peaceful city that doesn't see much in the way of tourism. There are a few notable landmarks in the city like Spokane Falls, Davenport Arts District, and Manito Park.
Architecture fans may enjoy wandering around the city to see the works of Kirtland Cutter, who was one of the most influential architects in the PNW.
Most people just use Spokane as a base to explore the surrounding landscape. Spokane benefits from the excellent road trips nearby. The ever-charming Coeur d'Alene, and Sandpoint, Idaho are both very close to Spokane as is the Canadian border. Mountain lovers will love having the Northern Rockies right at their fingertips in Spokane.
South of Spokane is the Palouse, a very pastoral region that could easily rival Tuscany in terms of beauty. With rolling hills and endless fields, many photographers love Palouse. Consider a visit if you are looking to escape to the countryside. Steptoe Butte offers one of the best views of the hills.
Palouse also has one of the best waterfalls in the Pacific Northwest: Palouse Falls. This mighty waterfall drops into a gorgeous canyon and makes for excellent photographs. Hikers can walk to the base of the waterfall through the canyon itself as well.
Off The Beaten Path West Coast Road Trip Destinations
Looking for some more unique West Coast road trip ideas? Then check out these off-the-beaten-path locations for a chance to see something different!
Nevada Road Trip
Nevada is a state directly east of California, best known for debaucherous Las Vegas. Because of its proximity to Los Angeles (a 4-hour drive), Las Vegas and Nevada are frequently visited on a California road trip.
Visit Las Vegas for a chance to party big and win bigger at the casinos, and consider visiting the rest of the state. There are several excellent attractions in Nevada that have nothing to do with LV like the Valley of Fire, Great Basin National Park, and Reno.
Lake Tahoe is probably the biggest draw in the area. There are many cool things to do in Lake Tahoe, and it's an ideal place to have your own vehicle.
Idaho Road Trip
Idaho is a relatively neglected state that doesn't get much attention from the rest of the country. While some of it is admittedly unimpressive – the south is an endless expanse of ugly agriculture and weird towns – there are still a lot of cool things in Idaho.
Boise is quickly becoming one of the most charming cities in the Western USA and has a great culinary scene. The mountains of Idaho, being a part of the northernmost section of the American Rockies, are also very beautiful. The Sawtooth Range, Nez-Perce Woods, and the lake town of Sandpoint are all very attractive places worth visiting.
One of the best ways to see these mountains is to stay in a cabin in Idaho, as they offer unrivaled views of the mountains and the best scenic spots in the state.
Vancouver Road Trip
If you've finished your West Coast road trip route and want more, then why not continue your trip into Canada? While Vancouver isn't exactly off the beaten path, it is just across the Washington-Canada border and one of the most gorgeous cities in the entire world.
Backpacking Vancouver offers many adventurous opportunities including skiing, hiking, sailing, and ferries to Vancouver Island. Granted, there aren't many coastal roadways in British Columbia but the mountains are superlative and only a few hours drive away from Vancouver!
The US national parks are among the most beautiful places on the West Coast! Visit any one of the following areas for a glimpse of the best of the West Coast's splendor and get ready to take lots of pictures.
California National Parks
Kings Canyon/Sequoia (SoCal) – Home to the giant sequoias, which are one of the tallest trees in the world. Framed by quintessential-Sierra Nevada craggy peaks.
Channel Islands (SoCal) – Islands that have huge ecological diversity. Good for whale watching, scuba diving, and hiking.
Yosemite (NorCal) – Granite wonderland full of some of the sheerest and most dramatic rock walls in the world. A Mecca for rock climbers and hikers. Plan your visit to Yosemite ahead of time!
Death Valley (SoCal) – One of the hottest and most inhospitable places in the world. Defined by surreal geology, mountains, and enormous sand dunes.
Joshua Tree (SoCal) – A desert national park close to Los Angeles. Home to unique flora and fauna. Popular with boulders, climbers, and weekend warriors.
Redwood (NorCal) – Park dedicated to some of the oldest and greatest trees on the planet. One of the California Coast's best attractions.
Lassen Volcanic (NorCal) – A highly volcanic area defined by bubbling thermal pools and active volcanoes, and one of the best camping spots in California.
Pinnacles (NorCal) – Set-up to preserve unique rock formations and local bat populations.
Oregon National Parks
Crater Lake (Oregon) – The only national park in Oregon and one of the best places in Oregon. Insanely deep and clear lake sitting in a collapsed caldera.
Washington National Parks
Mt Rainier (Washington) – The highest mountain in the Cascades and home to the largest glaciers in the lower 48. An alpine paradise.
Olympic (Washington) – One of the most geographically diverse regions on the West Coast. Mountains, glaciers, rugged coastline, and rainforest all in one place.
North Cascades (Washington) – "The Alps of the USA." Vast and wild national park that protects some of the most beautiful mountains in America.
Americans have a weird affinity to the strange landmarks that are usually found out in the middle of nowhere. The roadside attractions on the West Coast have become so admired that many people go on a trip just to see them! Below is a list of some of the most interesting West Coast roadside attractions.
Forestiere Underground Gardens (Fresno) – An impressive and intricate series of underground passageways with gardens everywhere. Very pretty place.
Trees of Mystery (Klamath) – An amusement park of sorts with, most notably, two giants statues of Paul Bunyon and his ox Babe.
Salvation Mountain (Niland) – A pretty famous attraction on the edge of San Diego. Surreal and Gaudi-like shrine in the desert. Definitely one of the most unique things to do in Southern California.
Cabazon Dinosaurs (Cabazon) – One of the OG California roadside attractions! A favorite for many.
Oregon State Hospital Museum of Mental Health (Salem) – A real mental institution that was used for filming One Flew Over the Cuckoo's Nest. Now displays important artifacts from the movie as well as archaic therapeutic techniques.
Octopus Tree (Tillamook) – An old spruce tree that came to be shaped like an octopus by unknown means.
The Oregon Vortex (Gold Hill) – Place where the laws of physics are purportedly non-existent due to paranormal activity.
Rosie (Sekiu) – An anthropomorphic fish statue complete with a pink skirt, bra, and tennis shoes. Doesn't get much weirder than this.
Codger Pole (Colfax) – Local totem pole built to commemorate a local football game. Depicts the players as they appeared in the 1930s during their first match. Dedicated in 1988 during their final rematch.
Wild Horses Monument (Vantage) – Dedicated to Washington state's centennial. A collection of iron horses galloping on a ridgeline over the Columbia River Gorge.
You have endless options for gorgeous roads on the West Coast. Choose any one of these scenic routes listed below to gain more West Coast road trip ideas!
Each drive features some of the best places to visit on a USA West Coast road trip and several other scenic byways detours as well.
1. Highway 101/1 (California/Oregon/Washington)
One of the finest drives in the entire USA. Road trip from San Diego to Seattle via Highway 1 and 101, which hugs the near entirety of the West Coast.
Watch the coastline change from desert-like to temperate and see some of the finest scenery of all. Highway 101 attractions include the California Redwoods, camping at Big Sur, the rugged Oregon Coast, and the lush Olympic Peninsula in Washington.
2. Highway 395/97 (California/Oregon/Washington)
A great alternative to a road trip on Highway 101 – this route takes you through Eastern California and the Cascades of Oregon and Washington. See epic mountain vistas and visit some of the best national parks in the West.
Highlights include Death Valley, Yosemite, Crater Lake, Bend, the Columbia River Gorge, and Leavenworth. This California-to-Washington state road trip begins in Los Angeles and ends in Seattle, and requires a transfer between Hwy 395 and 97 near Lassen NP.
3. Highway 26 (Oregon)
Travel from sea to sky and get a taste of Oregon's geographic diversity. Start at Cannon Beach on the Oregon Coast and travel eastbound on 26. Pass by Portland and stop at the mighty Mt. Hood.
Continue down 26 to reach the Oregon High Desert and be sure to stop by Bend, Smith Rock, and the Painted Hills along the way.
4. Cascade Loop (Washington)
Hands-down the most scenic drive in Washington state. This enormous loop starts and ends in Everett – north of Seattle – and offers a little bit of everything. Begin by taking the Stevens Pass Greenway deep into the Cascade Mountains.
From there, head north and loop back around back west via the superlative North Cascades Highway. Finally, end your Washington state road trip in the Puget Sound via the Whidbey Isle Scenic Byway.
Here are some things you should definitely know before hitting the roads of the West Coast!
Best Time to Visit West Coast
Depending on what you want to do on your road trip and what kind of climate you like, the West Coast can be visited at any time of the year. With temperate winters, sunny summers, and few extreme weather patterns, the West Coast is relatively pleasant no matter what time of the year it is.
The West Coast of the United States is a huge region with many distinct climates. The northern areas (Oregon and Washington) are well-known for being wet, dreary, and grey while California is famous for being warm, sunny, arid, and smokey.
Note that these are generalizations and that individual climates are, in reality, far more complex (but we'll get into that soon).
Summers on the West Coast are usually bright, warm, and dry, and depending on the latitude and proximity to the sea, summers can be more or less very long and very dry.
While this means that you can be guaranteed good weather, it also means higher prices. Wildfires also start in the dry summers, which have become an enormous problem in recent years.
Winters on the West Coast are very mild and most of the yearly precipitation falls during this time. Snow is not very common for West Coast cities located near the sea.
Portland and Seattle may see a few snowy days in the winter while San Francisco and Los Angeles may only see snow once in a lifetime. Both the Cascades and the Sierra Nevadas receive plentiful snow and skiing is a very popular activity in these mountains.
Autumn is a usually lovely time to go on a road trip down the West Coast. Temperatures are still pleasant and nights are crisp. November is a transition month and when the rainy season usually starts – the Pacific Northwest can receive bucket loads of rain and, hopefully, California is no longer on fire.
Spring is also a good time to go on a USA West Coast road trip. The rain is slowly subsiding, temperatures are rising, and the hordes of tourists haven't arrived yet. This is the greenest time in California, though Oregon and Washington (the Evergreen State) are pretty much always green (aside from the very eastern parts).
Why Visit this Part of the World
The West Coast is hands-down one of the best parts of the United States and could rival any other state, country, landmass, whatever, in terms of splendor. While an East Coast road trip is certainly beautiful and historical, it comes in second place when compared to the magic that exists along the Pacific Ocean.
Why? Insane geographic diversity, for one.
As you road trip from California to Washington, you'll watch the landscape shift before you, from stunning beaches and alpine wonderlands to huge groves of rainforest and desolate deserts. Nowhere else in America can offer as much scenic beauty as the West Coast can.
The sublimity of the land is not lost on the locals as they are among the most eco-friendly people you'll meet. Nothing is more important to them than the ground they walk on and they will do everything they can to preserve it.
That is not to say people on the West Coast are stuffy or stiff-collared. West Coasters love to have a good time. Whether you're in a Hollywood nightclub, a Portland dive bar, or a farmhouse brewery in Washington, you're sure to have a good time with whoever is next to you, familiar or stranger.
The West Coast has more going for it than any other American region; more, for that matter, than some entire countries as well. Call me biased – I was raised in Oregon – but I think it is one of the best places in the world.
Visit the West Coast for the food, people, weather, and majesty; most important of all, visit to just see what all the hype is about.
Top Tips for Broke Backpackers
Below is a list of West Coast road trip ideas for saving money. Try and practice these as much as possible.
Rent an economy car: Prices can be as low as $25/day depending on the time of year and how far in advance you reserve. Economy cars are also more fuel-efficient. Use apps like ViaMichelin to find cheap gas, which, seriously, always ends up being one of the most surprising and costly expenses on a road trip.
Use vehicle relocation services: These brilliant services offer huge discounts to people on the condition they get a vehicle to a certain place at a certain time. No joke, you can rent a car sometimes for as low as $1/day! Availability is very limited though, so keep a watchful eye on the sites. Check immova and Cruise America to start with.
Sleep overnight in an empty lot: Though not technically legal, people sleep in parking lots all the time. Make sure the lot is safe by asking around. Walmarts are reportedly good places to park overnight as they allow overnight parking.
Camp: Unless you want to fork out big bucks for a lodge, you have to camp. With a solid backpacking tent, campgrounds are way less expensive and sometimes even free.
Cook your own food: Eating out can be very expensive. Cook your own food as much as possible to save – I recommend bringing a portable backpacking stove. Otherwise, have a fancy night out at a food cart.
Do free shit: There are lots of free activities on the West Coast! From hiking to laying on the beach to going to the local monuments; all of these things cost you nill. Be sure to keep your ear to the ground for all things free in the West.If you're feeling really adventurous and want to save some cash, consider picking up a backpacking hammock.
Pack a filtered water bottle: It's good for your wallet and the environment.
Books to Read during your West Coast Road Trip
These are some of my favorite travel reads and books set in the Western USA. Read one or two and you may have some great road trips ideas for the West Coast…
Make Money Online Whilst Traveling on the West Coast
Want to stay in the USA longer? Worried that you don't have enough cash for a longer West Coast road trip? One idea is to make money while traveling!
Teaching English online is a great way to earn a consistent income—from anywhere in the world with a good internet connection. Depending on your qualifications (or your motivation to obtain qualifications like a TEFL certificate) you can teach English remotely from your laptop, save some cash for your next adventure, and make a positive impact on the world by improving another person's language skills!
It's a win-win! Check out this detailed article for everything you need to know to start teaching English online.
In addition to giving you the qualifications to teach English online, TEFL courses open up a huge range of opportunities and you can find teaching work all over the world.
Whether you are keen to teach English online or looking to take your teaching game a step further by finding a job teaching English in a foreign country, getting your TEFL certificate is absolutely a step in the right direction.
Broke Backpacker readers get a 35% discount on TEFL courses with MyTEFL (simply enter the code BACKPKR), to find out more, please read my in-depth report on teaching English abroad.
Traveling in the USA is generally safe, but you never know what can happen while on the road! Do consider getting good backpacker insurance sorted before you head off on an adventure.
World Nomads' mission is to support and encourage travellers to explore their boundaries. They offer simple & flexible travel insurance, and safety advice to help you travel confidently.
They've been doing it since 2002 – protecting, connecting, and inspiring independent travellers just like you.
Get a quote below or read our in-depth review!
World Nomads provides travel insurance for travelers in over 100 countries. As an affiliate, we receive a fee when you get a quote from World Nomads using this link. We do not represent World Nomads. This is information only and not a recommendation to buy travel insurance.
We all need a clean bed and a hot shower after a long camping road trip. The West Coast, thankfully, has a ton of lodges and hotels that cater to all sorts of travelers. You can stay at a fancy resort, basic motel, charming apartment, and much, much more while traveling on the West Coast.
Hotels in America are fairly generic and expensive. If you're on a budget and need to limit how much you spend on lodging, then you'll need to stick to USA budget hotels and motels. These are very rudimentary accommodations – sometimes with little more than four walls, a roof, and a bathroom – but they'll get the job done. Expect to pay no less than $60-$70 for budget hotels on the West Coast.
Airbnbs are usually more affordable than hotels and are far more charming. There are some pretty amazing AirBnbs in the USA that can really make your time in the West more special. I've seen incredible treehouses in Washington, converted box cars, teepees, luxury airstreams, and even a gingerbread house while surfing for the best Airbnb on the West Coast.
There are many hostels in the USA and these are usually the most affordable lodging options on the West Coast, especially for solo travelers. The quality of hostels in this part of the USA is very good and actually often superior to conventional hotels.
If you're feeling lucky you could try your hand at Couchsurfing! Lots of people use this though so competition is quite high.
Best Places to Stay on Your West Coast Road Trip
Here are some of the best places to stay all along the West Coast.
Camping while traveling is absolutely one of the best ways to experience the majesty of the West Coast. This region has some of the most spectacular landscapes in the country and some truly awesome campgrounds. For those on a West Coast road trip, camping is an absolute must.
There are all kinds of campgrounds on the West Coast that offer a wide range of amenities and rates. Generally speaking, there are four types: private, public, dispersed, and backcountry. Below is a brief explanation of each.
Private – Larger campgrounds that offer the most amenities including communal kitchens, showers, and maybe onsite restaurants. Most appropriate for demanding campers. Most expensive as well. Payment is made through the office of the owners.
Public – More basic campgrounds that offer limited but crucial amenities. Running water, electricity, and bathrooms should be but are not always present. Good prices. Payment is made to a public organization either online or via a dropbox at the camp.
Dispersed – aka wild camping and primitive camping. Camping in an area that is not an official campground but is still legal. Little to no amenities. Almost always free.
Backcountry – Camps located in the wilderness areas. Almost always require a hike to reach. Often no facilities so campers must bring food, cooking gear, camp supplies, etc. Permits are usually required and can be arranged at a nearby ranger station.
A lot of campgrounds, especially those at the national parks, can fill up very quickly. Consider booking a campground ahead of time to ensure that you have a spot. If you plan on sleeping at more unique sites – like yurt camps or a fire lookout – you will definitely have to book ahead.
Lots of campgrounds have walk-up sites available, which you'll need to arrive early to claim. If you strike-out on the walk-up sites as well, there may be overflow camping nearby.
West Coast Camping – Gear Checklist
The West Coast has some of the finest camping in the whole country. This means a proper road trip packing list is essential.
You could sleep in your car or an RV while traveling on the West Coast but sleeping outside under the stars is way more fun. Having a good tent will keep you comfortable on those chilly nights and give you lots of flexibility when it comes to finding a place to sleep.
Here are some other things that I recommend adding to your RV packing list if you plan on camping out…
Free West Coast Camping
Those on a road trip down the West Coast should totally take advantage of the many free campgrounds spread throughout the state. Keep on reading for a list of some of our favorite free West Coast camping spots.
Note that some campgrounds listed in this guide may require a 4×4 vehicle to access.
Renting a car is the most popular way of getting around the Western USA. There are a myriad of car rental agencies here that offer varying deals and varying models.
To find the best rental car deal in the USA, use search engines that compare the prices of individual companies. I personally like using Rentalcars.com as they've never failed to give me a great price.
You can also rent an RV or campervan, which means you don't have to worry about packing camping gear. You will have to empty and refill the various waste and water tanks to live the van life though, which will require a visit to the proper facilities. RVs also cost more to rent, use more gas, and demand higher prices at campgrounds.
Make sure you also purchase a RentalCover.com policy to cover your vehicle against any common damages such as tires, windscreens, theft, and more at a fraction of the price you would pay at the rental desk.
We suggest booking a campervan with Outdoorsy as they usually have a good selection and good prices. Better yet, Broke Backpackers also get a $40 discount with Outdoorsy! Just use the coupon code "BACKPACKER" when checking out.
The roads are generally very good and a sedan or economy car should deliver you to most of the West Coast's top destinations. Only in the most remote portions of the Sierra Nevada and the Cascades will you need to be concerned about having 4-wheel drive.
If you're on a West Coast road trip during the winter and conditions are poor, you will definitely need all-wheel or 4-wheel drive.
Tips for Saving Money on Car Rentals in the US
I mentioned before that you can reach out to vehicle relocation services, like Cruise America, as a way of saving heaps of cash on rentals. Pursue these as best you can as they can save you a lot of money. Don't get your hopes up too much though, as availability is always limited.
Car insurance isn't always mandatory in the USA but is highly encouraged. This being said, you don't necessarily have to buy car insurance from the company you're renting from. Purchase a RentalCover.com policy to cover your vehicle against any common damages such as tires, windscreens, theft, and more at a fraction of the price you would pay at the rental desk.
Many credit card companies offer free car insurance if you book the car with the proper card. Call your credit card company for more information regarding terms and conditions.
Here are some things to do on the West Coast that you just can't miss!
Food on the West Coast
When national polls release their lists for the best food in the USA, the West Coast states usually inhabit the top 10. Washington, California, and Oregon all have amazing food that comes in every known shape, color, flavor, and size that you can possibly imagine.
Whether you're looking for fresh produce, excellent seafood, or something international, you're sure to find some good eats on the West Coast. From food tours in Seattle to the hundreds of iconic street carts in SoCal, you're sure to try something worth remembering.
The West Coast benefits from some of the most bountiful agriculture and fishing sectors in the entire USA. Fresh seafood, vegetables, and fruit are often expected when dining out on the West Coast.
Farm-to-table dining – where local ingredients are sourced directly to local restaurants – is an increasingly popular trend that is both responsible and delicious.
The West Coast also has an enormous immigrant population, which means you can find just about any type of food in the world here. Southern California is lauded for its authentic Mexican and Latin American food.
San Francisco is a melting pot of cultures and offers a huge variety of dining, but the Asian cuisine, in particular, is excellent. Though less demographically diverse, Oregon and Washington still offer awesome international foods mostly because the people there just like all types of food.
You can eat at a huge variety of establishments. Diners, restaurants, cafes, bistros, organic farms, and outdoor markets; everywhere you look there is food.
Dining out can be expensive on the West Coast, so you should be choosy if you're on a budget. To save money on eating out, take advantage of the ubiquitous food carts, which – swear to God – have food that is equal to if not better than restaurants.
Get your Buzz On
No matter when, where, or with whom you're with – people on the West Coast love to kick back with a drink or smoke. With some of the best beer, wine, and spirits in the USA as well as legalized marijuana, there are endless opportunities to relax and partake in drug tourism while on a road trip down the West Coast.
Whether you're at a warehouse rave or just chillin' by the fire with a pint of local camp whiskey, makes no difference.
Residents from each West Coast state have their own preferences when it comes to drinking. Oregonians and Washingtonites tend to stick to craft beer and the local bud.
Though Californians also enjoy a lackadaisical smoke and brew (who doesn't?), they have reputation for going harder and partying more than their northern neighbors.
The most and best parties are usually in the larger cities of San Francisco, Los Angeles, and Seattle. These cities have the most bars, clubs, and just a greater selection of places to drink. The larger cities also host a greater amount of shows and touring musicians.
Portland and San Diego definitely have their fair share of bars and shows, but these cities feel more local and somewhat laidback.
The West Coast produces a myriad of local spirits and alcoholic beverages and they are among the finest in the USA. All of the West Coast states brew excellent beers, though Oregon generally takes the spotlight for the best of all them.
California is famous for its vineyards, which produce excellent Cabs and Chardonnays (and Pinots on the Central Coast), while Washington, with its endless apple orchards, is leading the way of the "cider revolution."
Finally, marijuana is legal in every Western US state! You can easily pick up a bag of kush in any state, just so long as you have an ID proving you're over 21 and bring cash. Smoke up, my friends.
Being a Responsible Backpacker
Remember to be a respectful and responsible backpacker while on your West Coast road trip. Depart from the grounds at a decent hour, follow leave no trace principles, and be very, very aware of fire bans. Forest fires are an enormous problem in the Western USA and are often caused by reckless campers.
West Coasters are also very conscious of the environment and like to take care of it, as should you.
Reduce your plastic footprint: Perhaps the best thing you can do for our planet is to make sure you do NOT add to the plastic problem all over the world. Don't buy one-use water bottles, the plastic ends up in a landfill or in the ocean.
I know it can be hard, but do your best to use the least amount of plastic water bottles that you can. Refill the ones that you do buy! Use a Grayl Geopass. Refill at your hostel/guest house! There are plenty of ways to reduce plastic!!!
Pack a tough and cool travel water bottle. You'll use it every single day whether you are traveling or not! Help save the planet, and pick up a water bottle here.
By now, you should know everything there is to know about the West Coast and possible road trip hotspots. I know, it's a lot to take in, and you've still got numerous options to choose from – which is why it's important to plan ahead properly instead of just hitting the road.
Sort your packing list, your car, or stylish RV and your insurance first, come up with a rough itinerary and then you can be almost 100% sure that you'll have a successful trip.
Of course, all road trips are flexible and you can always make spontaneous decisions (which is the best thing about them), but if you've got the time and your budget allows it, take a month and follow my complete 30-day west coast road trip. That way, you won't miss out on anything! And if you don't like it, just skip one stopover and go to the next one.
Now, enough talking! Let's hit the road… the West Coast awaits!
Updated April 2022 by Samantha Shea
---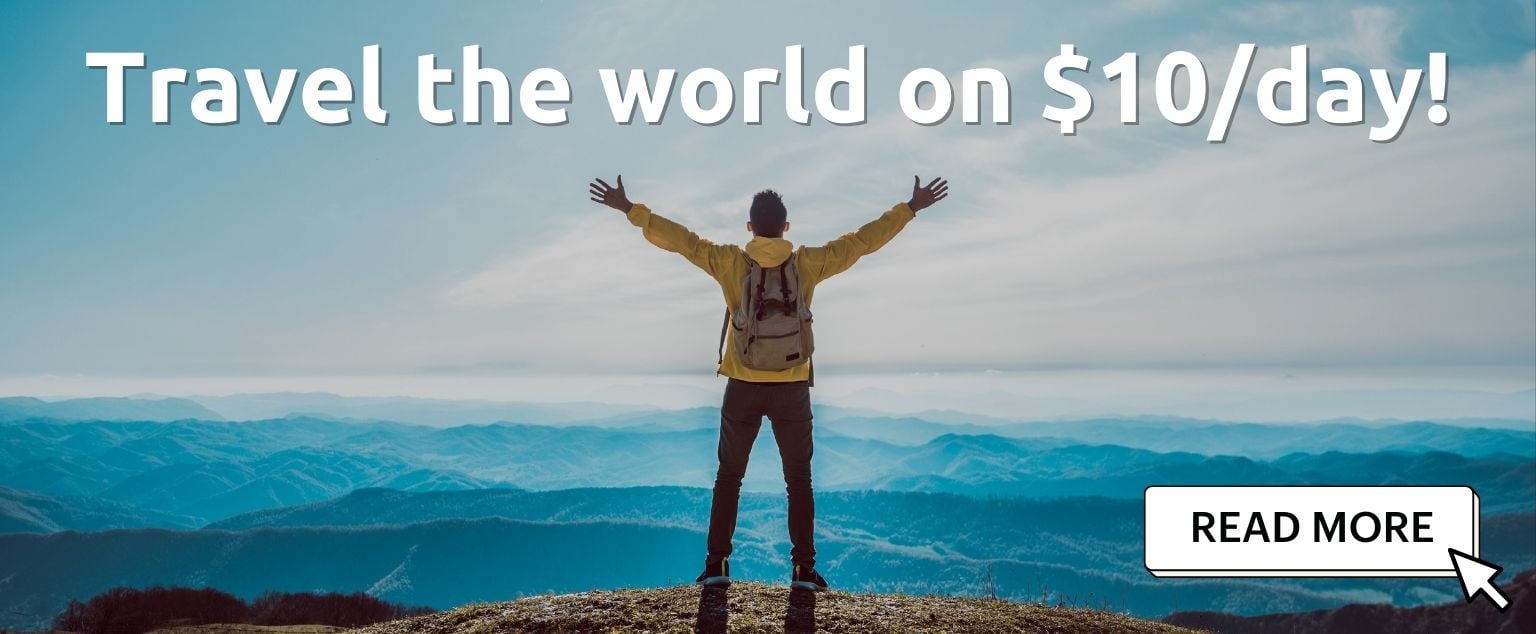 And for transparency's sake, please know that some of the links in our content are affiliate links. That means that if you book your accommodation, buy your gear, or sort your insurance through our link, we earn a small commission (at no extra cost to you). That said, we only link to the gear we trust and never recommend services we don't believe are up to scratch. Again, thank you!