Raised in Portland, Oregon for most of my life, I absolutely adore taking out-of-towners on hikes, which is why I'm stoked to put together a list of the 10 best hikes in Oregon.
I'm always gushing about how Oregon has the best waterfalls and looks like the setting for The Lord of the Rings, and, honestly, few things in this world make me giddier than taking people to my favorite places in Oregon.
There are hundreds of trails crisscrossing the state, and, while many of them are worthy of hiking, I have my own opinions for the best hikes in Oregon.
Over the years, I have assembled a repertoire of my favorite trails from around the state, from easy hikes near Portland and epic trails in the Cascades to remote backpacking trails in Eastern Oregon.
You want to hike in Oregon, well, I've got an answer for ya.
There are so many hikes in Oregon that it would be impossible to list them all, but I have created this guide to the best of the best hikes in Oregon, so you know which trails are best suited for you depending on the time of year you visit, your fitness level, and the length you plan to hike.
There is a pretty good selection here that should be appropriate for all types of hikers and age groups.
I love everything about Oregon, from its mountains to its beaches to its raging rivers and epic waterfalls. It's my hope that this guide will help you better appreciate the state, although I doubt that'll take much work. Oregon's beauty can certainly speak for itself.
Whether you're just hiking for the day or going for a big backpacking trip, you have to be properly equipped. Nothing is worse than getting caught in a rainstorm without a rain jacket, and I can't tell you how many times I wish I hadn't forgotten my headlamp.
God forbid that you end up in a really hairy situation where missing certain equipment could mean a life or death situation…
For the sake of your comfort and safety, you need to seriously consider having the proper backpacking gear essentials. Shitty equipment can ruin even the best hikes in Oregon, which would be a huge shame if you traveled this far in the first place.
We take outdoor equipment very seriously. We've spent hundreds of hours testing, reviewing, and abusing a lot of gear, and have gotten pretty good at separating the heroes from the zeroes.
Below are a series of gear reviews that will put you in touch with everything you need to have a successful, enjoyable, and safe hiking adventure.
Don't be a rook and bring a brand new pair of hiking boots or use your smartphone as a flashlight. Invest in quality items and you'll find that the best hikes in Oregon will only get better.
For more inspiration, check out our comprehensive Adventure Packing List!
1. Trail of the Ten Falls
Distance: 7.8 mi (12.55 km)
Days Required: 1 Day
Best Time of Year: Anytime
Type: Loop
Silver Falls is one of the most beloved state parks in all of Oregon. It's close proximity to Portland, outstanding stewardship, and unquestionable scenic beauty are testaments to its popularity. If you're visiting Portland on a quick trip, this will be one of your best options.
Most importantly, it has some of the most accessible and most beautiful waterfall hikes in Oregon. There is no better way to see said falls than the Trail of the Ten Falls, unquestionably one of the best hikes in Oregon.
The Trail of the Ten Falls is a stunning loop that visits nearly every waterfall in Silver Falls State Park. Via this trail, you'll visit superlative examples like the mighty South Falls, Lower Middle Falls, and North Falls. Any of these falls would be worth a hike on their own; the fact that you can visit all of them on a single trail is just too good to be true.
The trail itself is very well maintained and appropriate for almost any age or skill level. There are guardrails near most of the trickiest spots and very few treacherous locations otherwise; though always be cautious about falling off cliffs!
The trail will certainly be muddy from late-Autumn to early-Spring and some steps may feel slippery during this time. That said, if you can visit the park during October, you'll be treated to a grand show as many of the trees turn from green to gold.
Note, the Canyon Trail section of this hike is off-limits to dogs.
Since this an easy hike near Portland and also one of the best in the state, it can get very crowded. To avoid sharing the trail, visit during the offseason and/or on weekdays.
2. Paradise Park at Mt Hood
Distance: 12 mi (19.1 km)
Days Required: 1-2 Days
Best Time of Year: Summer
Type: Lollipop
There are few hikes at Mt Hood that can offer as much scenic diversity as the one to Paradise Park. Here, you'll see brilliant displays of alpine wildflowers, serene waterfalls, and up-close and personal views of the southwestern face of Mt Hood itself. This hike is a real show-stopper, to say the least, and should leave any and all hikers in a state of sublimity.
Paradise Park refers to a meadow on the southwestern flank of Mt Hood and is the final destination. To reach the park, you must first start at Timberline Lodge and start on the hallowed Timberline Trail.
The Timberline Trail, which is a subsection of the Pacific Crest Trail – one of the downright most amazing hiking trails in the USA – circumnavigates all of Mt Hood, but you'll just be walking on a portion of it.
The Timberline Trail bends and weaves through alpine woods and meadows. The views will be astounding almost constantly, and the Three Sisters and Mt Jefferson should all be visible on a clear day.
Many people exclaim that the wildflowers along this trail are the best in Oregon. The mighty Mt Hood will always be at your (right) side as well.
Once you pass the Zigzag Canyon Overlook, you must diverge from the Timberline Trail and join the actual Paradise Park trail.
This trail leads you to the park and loops around to rejoin the Timberline further on. The Timberline Trail continues onto Ramona Falls, which is one of the most beautiful waterfalls in Oregon and good day trek from Paradise Park.
Upon arriving at Paradise Park, you will quickly realize where it got its name. Wildflowers will be at their peak display and Mt Hood will be looming over you in a divine pose.
You will also find several well-maintained backcountry sites here, so spending the night is highly recommended (assuming you packed the right camping gear, of course).
3. Ecola State Park
Distance: 4-14 mi (6.44-22.5 km)
Days Required: 1 Day
Best Time of Year: Spring-Autumn
Type: Lollipop
Ecola State Park offers some of the best hikes on the Oregon Coast, conveniently located within a few hours drive from Portland.
Here, you'll be able to experience all of the usual tropes of staying in the Oregon Coast area including sea stacks, lush forests, cliffs, and lovely beaches. Note that it costs $5 to park at Ecola.
There are two trails that start near Ecola:
Crescent Beach
Tillamook Head.
Both trails run in opposite directions and hikers can do them separately or combined.
The Crescent Beach Trail (3.6 mi round) leads you through coastal wood to one of the best beaches on the Oregon Coast. The walk itself is fairly languid and arguably one of the easiest hikes near Portland. Along the way, you'll have awesome views of Chapman Point and Bird Rocks to the south. Families of deer frequent this area as well.
Crescent Beach itself is a beautiful long beach with fine sand and little debris. It is rarely crowded – sometimes devoid of anyone.
Tillamook Head is a much longer trail and requires more planning. Most people start from the picturesque Indian Beach, which is a 5-minute drive from Ecola. (You used to be able to walk from Ecola to Indian Beach but the trail was washed out in 2017.)
You can hike the Tillamook Head Trail either as an out-and-back or as a one-way traverse. Most people are satisfied with hiking out to the Tillamook Head Viewpoint and WWII Bunker before turning back (3 mi round). William Clark reportedly visited the Head himself and was amazed by its grandeur.
Others decide to continue all the way around the Tillamook Head and make for Seaside. This path (6 mi one way) often entails a shuttle-hike. Unless you're planning on walking 12+ miles in a single day, you'll need a second car for this option.
4. South Sister Climb via Devil's Lake TH
Distance: 11.2 mi (18 km)
Days Required: 1-2 Days
Best Time of Year: Summer
Type: Out-and-back
South Sister is the third tallest mountain in Oregon and the highest summit you can achieve without technical gear. Essentially a long hike straight up, South Sister is a very popular route for first-time climbers and beginner hikers.
For those who conquer the mountain, it's an unforgettable experience and undoubtedly one of the top hikes in Oregon.
South Sister aka Charity is one of the Three Sisters of the Central Cascade Range. All three "Sisters" are volcanoes of varying activity but don't worry – you'll know well beforehand if one is going blow.
The beginning of the climb is relatively straightforward. You'll hike about 1.5 miles through a forest before emerging onto a sandy plain. To the right, you'll see a turnoff to Moraine Lake, which is a popular place to camp for multi-day climbers.
From here the real challenge begins. You'll gain 4000 feet over the course of 3 miles, totally exposed to the elements. On hot days, dehydration is a very serious problem so bring lots of water.
Also, the terrain is an unforgiving mix of sharp scree and sand, which will often give way after every step. It'll feel like you lose one step for every two you take.
Should you make it to the top, you'll gain some of the best views in Oregon. At 10,358 feet, you'll see nearly every major peak in the state and far into Eastern Oregon's depths.
5. Jefferson Park
Distance: 11-13 mi (17.7-20.92 km)
Days Required: 1-3 Days
Best Time of Year: Summer
Type: Out-and-back or car-to-car
Jefferson Park is a legend in the Oregon hiking community – a remote, Arcadian location that has become one of the most popular outdoor escapes.
Lying at the base of Mt Jefferson, the second-highest peak in the state, the park is a wonderland inhabited by pristine lakes, virgin woods, and fields of wildflowers.
With well-maintained trails and a series of excellent backcountry sites, Jefferson Park is as comfortable to hike as it is beautiful.
There are several entrances into Jefferson Park, the most well-known trailheads being South Breitenbush and Breitenbush Lake. Each one is about 11-13 miles total round trip. There was another trail, Whitewater, but it was completely destroyed in a wildfire.
The Park Ridge Trail via Breitenbush Lake TH is undoubtedly the best way to enter Jefferson Park these days as it's shorter and more scenic.
The road to the trailhead is a bit rough but a competent driver could get a sedan up there. The trail into the park can disappear sometimes as you cross several talus slopes; be aware.
There are few places in Oregon more beautiful than Jefferson Park. It is an alpine paradise that you could spend days exploring. You can visit the park in a single day but we highly recommend sleeping here for at least a few nights.
It is a well-known fact that Jefferson Park is one of the best hikes in Oregon, and becoming increasingly popular as more people visit the state.
To cope with larger crowds and to protect the park, the Forest Service has implemented a mandatory permit system for overnight campers. As such, you'll have to organize a permit prior to visiting Jefferson Park.
6. Abiqua Falls
Distance: Between 1-5 mi (1.61-8.05 km) depending on road
Days Required: 1 Day
Best Time of Year: Anytime
Type: Out-and-back
There was a time when Abiqua Falls was just a local secret. The jig's up now! You can blame the internet but just about every tourist and traveller backpacking the USA knows about this waterfall these days. Its increased popularity still doesn't detract from its majesty though, and even with the crowds, Abiqua Falls is still one of the best waterfall hikes in Oregon.
Abiqua Falls is located not too far away from Silver Falls State Park, as the crow flies. Accessing it requires a whole different set of forest roads though so combining the two isn't reasonable.
Beyond the Abiqua Falls trailhead is a steep descent and there are a couple of places where you'll need to use a rope to get down. Thankfully, a guardian angel keeps a set of trail ropes in working order. BE VERY CAREFUL in rainy or wet conditions.
Abiqua Falls will amaze you when you arrive. The near-perfectly shaped horsetail falls is set in the most perfect basalt theater.
The basalt – a remnant of volcanic activity – is shaped into surreal patterns and resembles many of the famous falls from Iceland. Brave hikers can even go swimming in the plunge pool, which is, fair warning, frigid cold.
7. Eagle Cap Peak
Distance: 19 mi (30.58 km)
Days Required: 2-3 Days
Best Time of Year: Summer
Type: Out-and-back
The Wallowas and their crown-jewel, the Eagle Cap Wilderness, are an Oregonian's idea of a mountain getaway. While tourists and weekend warriors road tripping through Oregon choke most of the trails near Portland, the Wallowas remain much quieter.
For residents of the state, the Wallowas offer some of the best hikes in Eastern Oregon and none is more desirable than the one to Eagle Cap Peak and Mirror Lake.
Most people allocate 2-3 days to reach the summit of Eagle Cap. The approach is gorgeous and navigates through lovely glacier-carved valleys and high meadows.
After about 7.5 miles, you will arrive at Mirror Lake, which, true to its name, bears the reflections of the surrounding peaks. Most hikers decide to sleep here for the night and, as such, it can be pretty crowded sometimes. If you want to sleep somewhere quieter, you can hike an extra half-mile in either direction to either Upper Lake or Moccasin Lake.
The next morning is the push to Eagle Cap Peak, which is not that bad. The way is less of a climb and more of a steep hike. The trail is dusty but solid and nothing like the arduous South Sister.
As you approach the summit of Eagle Cap, a panorama of the Wallowa Wilderness will be unfurled in front of you. There will be endless vistas of granite and ponderosa pine, and all of it will be yours.
8. Broken Top
Distance: 8.40 mi (13.52 km)
Days Required: 1-2 Days
Best Time of Year: Summer
Type: Out-and-back
Broken Top is one of the most unique hikes in Eastern Oregon and features a little bit of everything. This trail features epic vistas, clear glacier lakes, fields of wildflowers, and surreal rock formations.
It is becoming a more and more popular place in America to visit every year though as hikers and photographers discover this gem. Get here soon before the trail is overrun and its status as one of the best hikes in Oregon is threatened!
Broken Top is located not too far away from South Sister. The unofficial trailhead is a bit of journey to get to and will require a 4×4 to reach due to large ruts and ditches. At the trailhead, you'll have to fill out a permit card that is free of charge.
As you start the hike, Broken Top should be in front of you the entire time. You'll be heading for the eastern side of the caldera where the glacier lake is.
The "trail" – it's actually an old man-made ditch – is a bit rough at times and you may end up bushwacking a bit. If you feel lost, just follow the creek that flows between Broken Top and Ball Butte, the latter of which is due east.
Climbing into the collapsed crater (careful of snowdrifts), Broken Top treats you with a show. Here is one of the best-preserved glacial lakes in Eastern Oregon and, if you arrived in late-July, a kaleidoscope of wildflowers.
Behind the lake are a series of craggy fingers that make for great photo ops. If you decide to hike to the true summit of Broken Top, you will have amazing views of the surrounding Sister's Wilderness.
9. Oregon Coast Trail
Distance: 425 mi (684 km)
Days Required: 30-60 Days
Best Time of Year: Summer
Type: Thru
This is the best hike on the Oregon Coast!
The Oregon Coast Trail, which literally starts at the California border and finishes on the other side of the Columbia River, covers the near entirety of the coast and is about as total an experience as you can get. It is the ultimate Oregon hike and probably one of the finest hikes on the entire West Coast.
At 425 miles, the Oregon Coast Trail appears somewhat daunting. Luckily, you'll be following the classic West Coast driving route and never too far away from civilization; there's always a town or state park within a day or two's walk. Frequent markets and mom-and-pop restaurants mean that you won't have to pack a huge cache of supplies either.
For wilderness seekers, this may be a letdown. For those who want to learn more about the coastal communities and don't want to deal with PCT-level logistics, this trail should be a blast.
The Oregon Coast Trail is best done in summer when rain is sporadic. Hiking in the winter and spring increases your chances of being caught in a storm, which can be terrifying. Swells can reach biblical heights and washouts become a very real danger. The last thing you want to do is be stuck in the rain for weeks at a time or, God forbid, be swept away at sea.
There is so much to see on the Oregon Coast. Cape Kiwanda, Pistol River, Cannon Beach, Thor's Well; all of these places and then some will be along the Coast Trail. If you have lots of time to kill and just can't decide where to hike, go and see everything via the Oregon Coast Trail!
10. Painted Canyon and the Owyhee Honeycombs
Distance: 18 mi (29 km)
Days Required: 2-3 Days
Best Time of Year: Spring/Autumn
Type: Out-and-back
The Owyhee Canyonlands is one of the last true wildernesses in the entire Western USA. This region straddling the border of Oregon and Idaho sees extremely few visitors and you're more likely to see a rattlesnake than a hiker on the trails.
For those who seek solitude and adventure, the Owyhees are irresistible.
The Owyhees consist of an intricate system of multi-colored canyons and delicate hoodoos. One of the most adventurous trails in the Owyhees lies in the foreboding Honeycomb section of the region.
The Honeycombs offer some of the finest scenery in the whole Canyonlands and is hands down one of the best hikes in Oregon. For the most part, you'll be using the Painted Canyon Trail to navigate this region. Though the trail is fairly long, it doesn't cover the entirety of the Honeycomb area; you'll have to bushwack a bit to see everything.
The Painted Canyon Trail is defined by the Owyhees' colorful geology, which shifts from orange to red to brown. The texture of the rock is quite serrated and gives the Honeycombs their namesake.
Many people compare the Owyhees to the desert landscapes of Utah and, upon visiting, it's no surprise why. Climb to the top of Juniper Ridge for an expansive view of this forgotten land.
Best Hikes in Oregon – Honorable Mentions
Crater Lake – Crater Lake is beautiful from any angle both high and low – a definite must-visit national park in the USA – however, you can probably see the best of it without walking too far from your car. Many of the best viewpoints are a mere 5 minutes from the parking lots. Granted, the very best views are from Garfield Peak and this does require a hike; the views are just not that much of an upgrade.
Steens Mountain – Whilst I loved my time hiking in the Steens, I have to admit I was more impressed by the Steens Mountain Road. The road itself is a marvel and affords views that are just as good as any trail in the area. You can bushwack a bit, say to Wildhorse Lake, which is beautiful but a bit anticlimactic.
Columbia River Gorge – There are several hikes from the Columbia River Gorge that would've easily been among the 10 best hikes in Oregon. The only reason they didn't make the list is that many of the trails are still not 100% up-to-parr following the Eagle Creek Fire in 2018. Granted, there is still a lot of good hiking here – Mosier Twin Tunnels has a good trail – but the whole area won't be back to old self for a while.
Samuel H Boardman – Arguably the finest stretch of coastline in Oregon but most of the hikes are less than a mile long. While we love visiting epic places like the Natural Bridge, Thunder Rock Cove, and Arch Rock, we hesitate to classify their approaches as "hikes."
Smith Rock – This was a tough one to leave but, like many locations on this list, is left out of the top 10 because you can see enough of it from the pavement. If you really wanted to hike, the Misery Ridge Trail and Summits Trail are both very good and totally worth doing. Book yourself
There are a few last tidbits to throw at you!
Further Readings: Books about Oregon Hiking and Wilderness Adventures
Want to read more about the best hikes in Oregon? Then check out this Oregon reading list to dive deeper into the state's backcountry and to blaze your own trails!
Being a Responsible Hiker in Oregon
Do your part to help keep these trails clean and beautiful, and always practice leave no trace principles when camping or trekking in the backcountry. Ethical, sustainable, and responsible travel is the name of the game!
Wherever your hiking path will lead you, please be respectful to the environment along the way. Always hike out your own trash and reduce (or eliminate!) the amount of single-use plastic. Use a reusable water bottle, water filter, and/or filtered water bottle!
Leaving no trace also means respecting the surrounding nature. Often times there is a reason you must stick to the trails, especially in protected reserves, parks, and lands. Don't trample all over the vegetation, etc.
Most backpackers understand this, but it may bear repeating. If you love, respect, and spend a lot of time in the outdoors, do your part to keep it pristine and maybe even consider volunteering your time or dollars towards causes that help protect it. Volunteer on a trail maintenance crew, for example!
Staying Safe While Hiking Oregon's Backcountry
Yeah, it's easy to get carried away when everything is just damn nice to look at! However, be smart. Watch for bears, don't go tumbling off any coastal cliffs, and, for the love of God, please, don't touch the poison oak. Before you go hiking, read up on how to stay safe in America's wildnerness.
And certainly, most definitely, please… get insured! It's crazy important to buy excellent travel insurance coverage before embarking on any grand adventures.
ALWAYS sort out your backpacker insurance before your trip. There's plenty to choose from in that department, but a good place to start is Safety Wing.
They offer month-to-month payments, no lock-in contracts, and require absolutely no itineraries: that's the exact kind of insurance long-term travellers and digital nomads need.
SafetyWing is cheap, easy, and admin-free: just sign up lickety-split so you can get back to it!
Click the button below to learn more about SafetyWing's setup or read our insider review for the full tasty scoop.
And on a final note, please do read up on the leave no trace principles before embarking on any grand hiking adventures in Oregon. It's super important. And have fun!
(That's also super important.)
---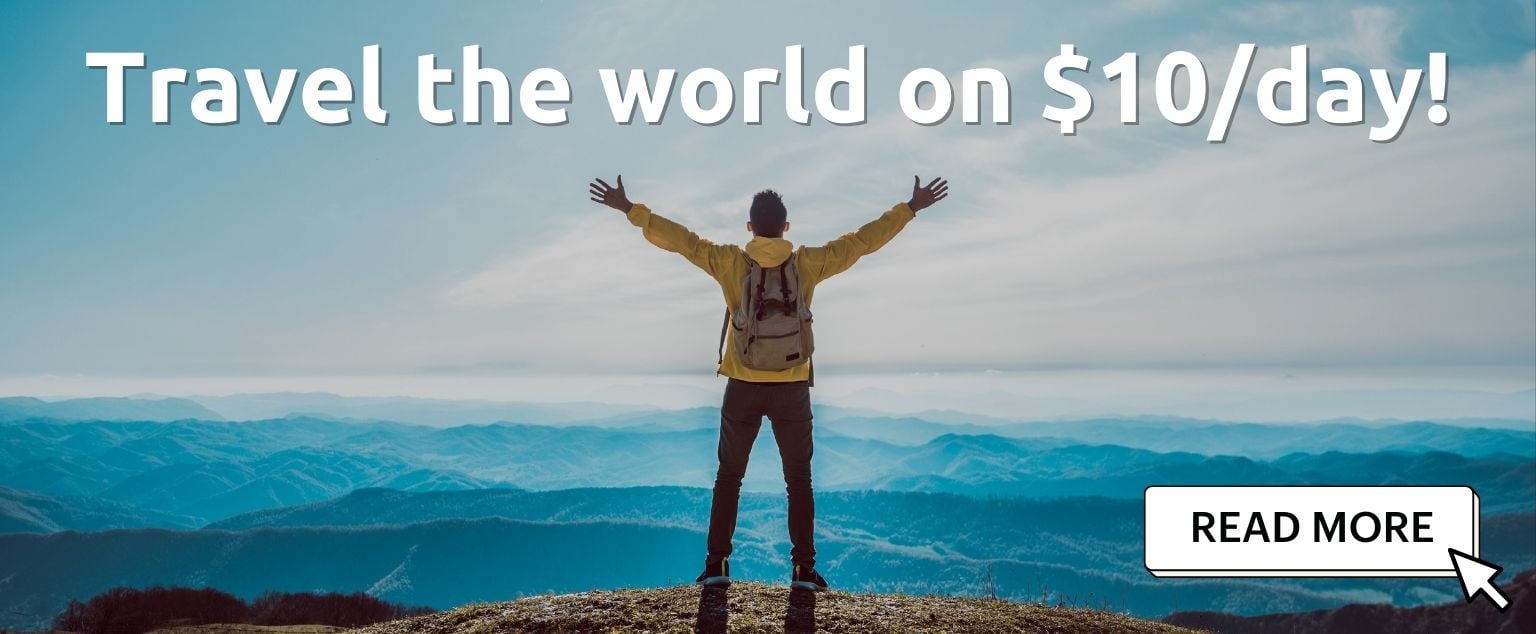 And for transparency's sake, please know that some of the links in our content are affiliate links. That means that if you book your accommodation, buy your gear, or sort your insurance through our link, we earn a small commission (at no extra cost to you). That said, we only link to the gear we trust and never recommend services we don't believe are up to scratch. Again, thank you!