Going on a road trip in Oregon has to be one of the best ways to experience the state! With your own car and the freedom of the road, you'll be able to go wherever you want and see whatever you like in this glorious state.
Oregon is a magical place full of beautiful landscapes, interesting people, and amazing food and drink. There are few other destinations in the world where you can surf and ski in the same day and, for that matter, drink some of the best beer of your life all the while.
There's a lot to do in Oregon but, make no mistake, this is a big, wide-open state, one that requires plenty of time and patience to see.
Renting a car in a foreign state or country can be intimidating. Travelers may not know where to go or what to do. They may be worried about expenses or spending too much money pointlessly as well.
Don't worry – we have the insider information you need for an EPIC Oregon road trip.
Written by a road-trip expert and local, this epic guide covers everything you need to know about visiting Oregon by car or campervan.
We'll show you exactly how to stick to a budget, tell you about the best things in Oregon, and give you plenty of ideas and itineraries so you can easily plan out your entire trip!
So let's start planning your dream Oregon road trip!
Oregon is about average when it comes to the costs of living, though it is quickly becoming one of the more expensive states. A road trip in Oregon can be affordable or it could be expensive – it all depends on how you want to do it.
We at The Broke Backpacker always try to go on affordable adventures and are always looking for ways to travel cheap! Even if we are unable to travel for $10/day, as we do in our favorite countries, we can at least help you reduce the prices of an Oregon road trip.
The average daily budget for an Oregon road trip is between $150-$200 – this includes gas, a rental car, lodging, food, drink, and entry into certain attractions. Make note of this number but please do not let it discourage you – we're going to show how to reduce it to a more budget-friendly amount soon.
Gas will undoubtedly be your largest expense while on a road trip in Oregon. It's sometimes hard to predict how much gas you will use but it is almost always is more than you expect. Do not take this expense lightly and do you everything you can to limit it.
Other than gas, the costs associated with a road trip in Oregon really come down to how you want to travel, eat, sleep, and drink. These run gamut from driving in a cheap economy car to a gas-guzzling SUV and eating out in expensive restaurants to cooking your own food at a campground.
If you are mostly cooking for yourself, camping, and exploring Oregon's wild places, you can reduce that cost in half. Traveling with at least one other person will also keep costs much lower.
Think about what you want to do on your Oregon road trip route and then set a budget.
Below is a breakdown of the average costs of a road trip in Oregon.
Average Costs of an Oregon Road Trip
Below is a list of sample Oregon road trip routes. Varying from 5 to 14 days in length, they cover many of the top destinations in Oregon. Each itinerary provides day-by-day highlights, which are meant to give you some good Oregon road trip ideas.
The Oregon Coast is probably the most beloved road trip in the entire state and is a popular area for a holiday stay with both locals and out-of-towners. People flock here to get away from the rat race for a little while and tend to just laze about on the beach or in a local diner.
The Oregon Coast itself is not well-known for its warm weather or clear days, but rather its rugged beauty. Dramatic cliffs, tide pools, and sea stacks are the most notable landmarks here – palm trees are markedly absent.
The best part about a road trip on Oregon Highway 101 is that you'll never be far away from the coast. This route hugs the near entirety of the shoreline and only deviates when passing through an epic forest. For 90% of the way, it'll just be you and the ocean.
Oregon's Cascade Range is not the highest nor the most epic in the USA – these mountains are fairly gentle and draw attention only when there is a volcano around. Hidden in the lush fur of these slopes though are, hands-down, the best waterfalls in the country, not to mention some of the most beautiful lakes in the world. Better yet, some of Oregon's best cabins and treehouses are found here, so book a stay amongst the forests for a once-in-a-lifetime experience!
Mt Hood and Crater Lake are the Cascade's most famous landmarks and both are must see places in Oregon. In between these two are countless more treasures, including, but not limited to, Jefferson Park, Marion Falls, Clear Lake, and the Three Sisters Wilderness. I'm barely scratching the surface as well.
Following a road trip in the Cascades, you will also have the chance to drive up the Willamette Valley, which has some of the finest Pinot Noirs in the world. Nothing really beats a glass of wine or a B&B at a vineyard after spending a week in the mountains.
If you need more recommendations on where to stay on your road trip, check out these cottages in Oregon.
A visit to Eastern Oregon will be a wholly unique experience compared to the Western portion of the state. Deciduous rainforests and beaches are swapped for desert-scapes and hazy mountains. If you wanted to see a side of Oregon that few are even aware, this is the one.
There are lots of things to do in Eastern Oregon. Smith Rock offers some of the best climbing in the country while the Wallowas (AKA the Oregon Alps) offer some of the best skiing and hiking in Colorado. Steens Mountain and the Alvord Desert are two of the greatest hidden gems on the West Coast and are known only to adventurous Oregonians.
The culture is also distinct from the rest of the state. Cowboys, whiskey guzzlers, social pariahs; all of these are the types of people you'll see in Eastern Oregon.
This the best road trip in Oregon – hands-down. Hell, this is one of the best drives in the USA! You see everything and then some! The coast, the Cascades, the deserts of Eastern Oregon; all of these areas will be available to you with this itinerary.
In addition to the grand majority of the locations listed above, you will also have more time in Southern Oregon. This region is one of the most neglected parts of the state, which is unfair considering what it offers. The river rafting is epic, Ashland is one of the most charming cities you've never heard of, and the wine is arguably even better than that of the Willamette Valley.
So if you have time to kill and want to see the best of Oregon, look no further than this route. Oregon is beautiful and this is the best way to see it.
Below is a list of the best road trip stops in Oregon. Study them well and decide which ones you like the most.
Road Trip to Portland
The City of Roses. Little Beirut. Rip City. Bridgetown. Stumptown. Call it what you will but few names can actually capture the intangible flavor and uniqueness that Portland excludes in abundance.
For years, Portland was a city of obscurity, full of eccentrics and abject people. For residents, this anonymity was an ideal situation that allowed them to cultivate their weirdness. Portland has only been "discovered" in recent years by the rest of the world and has since developed into a full-on tourist destination.
Portland is not a big city by American standards. There are no large attractions in Portland like a Hollywood Sign or Liberty Bell. Life is simpler (and better) in Portland because people care mostly about good food, good beer, and good health (both physically and spiritually). For these reasons, the best things to do in Portland are to just eat, drink, and go for a walk.
The best districts in Portland to walk around are definitely the Alphabet District, the Pearl, Alberta Arts, Hawthorne, and Laurelhurst. Other neighborhoods like Belmont, Mississippi, Division, and Chinatown are also worth visiting. On either side of the Willamette River are the Eastbank Esplanade and Tom McCall Waterfront, which are both great places to wander around.
A hike through the lush Forest Park makes for a lovely day. Inside and on the outskirts of the large park are some of Portland's best attractions like Pittock Mansion, the Rose Gardens, and Japanese Gardens.
If there were must-see landmarks in Portland then they'd probably the bridges. Portlandians are in love with their bridges and take great pride in them. St. John's Bridge is a crowd favorite as is the iron Hawthorne Bridge.
I'd go into more detail on the city, and talk about the many restaurants and bars, but, unfortunately, there is not enough time and space available in this guide. That's what the our Portland Budget Travel guide is for – blessings!
Road Trip through the Columbia River Gorge
With endless outdoor opportunities, the much loved Columbia River Gorge is like a playground for adults! Those looking for the best hikes near Portland should head directly to this scenic area. Also, there are some excellent breweries nearby offering crucial post-hike beers.
Starting in Troutdale and driving along the Historic Columbia River Highway, you'll first arrive at the Portland Women's Forum, which has one of the most iconic views of the Gorge. You'll see the Vista House perched on the walls of the gorge in the distance as well as the Columbia River.
From there you can continue on to picturesque Laurotell Falls and Bridal Veil Falls (see if you can find the elusive Upper Bridal Veil Fall). Nearby Angel's Rest is a very popular sunset hike for locals as well.
The next stop is Multnomah Falls, which is arguably the most spectacular waterfall in Oregon. This near-perfect waterfall drops over 500 ft amidst verdant foliage and is one of the most photographed places in Oregon. In front of the falls is an equally photogenic bridge, which makes the scene look like Rivendell.
Beyond Multnomah Falls, you'll pass by many other superlative portions of the Gorge, notably Oneonta Gorge and Eagle Creek. These are some of the most beautiful places in Oregon as well as the most crowded. Note that this part of the Gorge was damaged recently by a wildfire and that some trails may be closed.
Past Eagle Creek is Cascade Locks, home to the historical Bridge of the Gods, which is where the PCT crosses into Washington. Further along is the Hood River, which is one of the coolest towns in Oregon. Here are, hands-down, some of the best breweries in Oregon in addition to some killer windsurfing and gorgeous views of Mt Hood and Mt Adams.
Road Trip to Mt Hood
Oregon's pride and joy, the image that most Oregonians can recall from their earliest memories, is Mt Hood. For outdoor enthusiasts and mountain lovers, Mt Hood will be the crowning achievement on their road trip in Oregon.
Getting to Mt Hood is very easy as one of the states main arteries (Highway 26) runs literally right next to it. The drive is gorgeous and a little perilous if you're visiting Mt Hood in the winter.
If your car is not able to drive in the snow, which is very common beyond December, you can still catch a local shuttle in Sandy to the main alpine settlements: Government Camp and Timberline, the latter of which is famous for appearing in Stanley Kubrik's The Shining.
Along 26 are several stops that you should absolutely make time for. Trillium Lake and Mirror Lake are local favorites, however, it's also one of the most famous hikes in the USA, so the trails can be quite crowded.
There are several awesome spots on the eastern and northern flanks of Mt Hood that can be accessed by several forest roads. Cloud Cap, Tamanawas Falls, and Lost Lake are great places to check out.
If you're a skier, then Mt Hood is unquestionably one of the best places in Oregon to visit in the winter. The skiing here is world-class and runs come in many forms, from tended to the backcountry. If you're visiting Oregon in the summer, no worries; Timberline Lodge has the longest ski season in the country and is open 365 days a year.
Mt Hood is one of the most climbed glaciated mountains on the planet, second only to Mt Fuji. It is a great introductory peak for beginners and requires only a long day to summit. You will still need the proper adventure equipment to climb in as well as current condition reports.
Oregon Coast Road Trip
The Oregon Coast is not the typical kind of beach getaway – it's not warm, it's not very comfortable, and it's not at all like those tropical postcards.
Rainy, rugged, and utterly romantic, the Oregon Coast is a marvel in its own way. If you're travelling the USA for the adventure and appreciate a harsher beauty(or possibly like to wear both sandals and sweaters at the same time), you will instantly fall in love with this place.
The Coast is long and nearly 100% accessible via the Oregon Coast Highway 101. A road trip on this highway will give you tons of opportunities to experience the local attractions. The Oregon Coast can roughly be divided into three parts (North, Central, and South) and between the three, there are, honestly, too many things to see and do.
Starting north you have the top weekend getaways for Portlandians – Astoria, Seaside, Cannon Beach, and Manzanita. Astoria is mostly famous for being the setting for Steven Spielberg's The Goonies.
Seaside is a cute town popular with families and is a bit touristy. Cannon Beach is equally as touristy but hosts the stunning Haystack Rock.
Manzanita is the most laidback of the bunch and is aw great base for day trips to Oswald West State Park and Neahkahnie Mountain, both of which offer some of the best Oregon Coast hikes.
Moving south we head past Tillamook, the cheese capital of Oregon, and past Cape Kiwanda, one of my favorite places in Oregon, before arriving in Newport, famous for the highly-regarded Oregon Coast Aquarium. Beyond Newport is ultra-rugged Cape Perpetua, home to the Devil's Churn, Thor's Well, and Sea Lion Caves.
After Perpetua, we drive to Florence and the epic Oregon Sand Dunes, which originally inspired Frank Herbert to write the sci-fi masterpiece, Dune. Quad biking on the dunes is one of the most popular things to do on the Oregon Coast, though there are plenty of other places to go for a nice walk.
Saving the best for last, we wrap our Oregon Coast road trip in the south. The stretch between Bandon and Brookings is superlative with state parks like Face Rock, Samuel H. Boardman, and Pistol River all providing amazing settings. Some of the best hikes on the Oregon Coast are also around Boardman.
Willamette Valley Road Trip
The Willamette Valley is the breadbasket of Oregon and the source of much of its delicious produce. It also hosts some of the most respected wineries in the USA, which produce some of the finest Pinots in the entire world, not to mention a number of interesting towns and natural attractions.
The Willamette Valley runs for about 150 miles from Portland south to Eugene. The largest highway in Oregon, Interstate 5, runs through the Willamette Valley meaning you can travel by car to California.
I5 itself doesn't really have a lot of great views and the drive itself is pretty boring. Deviate slightly from I5 and there's lots more though.
There are over 500 wineries spread throughout the Willamette Valley. The greatest concentration of wineries is around Highway 18 near McMinnville, Salem, and Newberg. You could easily spend an entire day touring these vineyards and trying some of the best wine in the country but please remember to drive safely.
To the west of the Willamette Valley, you'll the see the Cascade Range rising. The Cascades, running all the way from Washington to California, are like the geographic spine of the state and heavily influence the weather.
Hidden inside of the Cascades are some more great waterfalls, which make for great day hikes close to Portland.
Silver Falls State Park is one of the most popular places to visit in Oregon because it offers great scenery and easy trails. Nearby is the much more intimate albeit difficult Abiqua Falls, which has become a local favorite.
Penetrate even deeper into the Cascades and you'll find hidden gems like Olallie Lake, Bagby Hot Springs, Jefferson Park, Marion Falls, and Three Fingered Jack.
Eugene is worth dropping by if you have a moment. Eugene was once considered the "hippie capital" of Oregon though it's more gentrified now. You can still get a taste of the counterculture in the bluesy Whitaker District.
Road Trip to Bend
Located on the other side of the Cascades in the High Oregon Desert, Bend is, in a lot of ways, like a foil to Portland. Bend is smaller, more rural, more politically conservative, and even more laid back than "big city" Portland.
Bend still has that quintessential Oregon charm though and ultimately makes for an awesome stop on any Oregon road trip route.
You'll have to cross the Cascades in order to arrive in Bend. You can cross the Cascades via several passes and each offers their own set of attractions. I personally enjoy driving along Highway 20/126 because I have a chance to visit some of my favorite places in Oregon including Koosah Falls, Clear Lake, Tamolitch Falls, Proxy Falls, and Linton Falls. Note that only the larger highways like 26 may be open in winter.
Bend mostly gets attention for the surrounding landscape, which you'll be introduced to on the drive in. The city itself is really cool though and actually a really fun place in Oregon to hang in, so it's definitely worth staying in Bend for a couple nights. If you need ideas for places to stay in Bend, consider checking out one of the incredible vacation rentals. The local breweries, like Deschutes and Crux, are some of the finest in the state and the food ain't bad either.
People usually head outdoors immediately upon arriving in Bend. Around the city are some of the best mountain biking, skiing, climbing, and hiking in Oregon, making the area a paradise for outdoors people.
Nearby Mt Bachelor is one of the best places to visit in Oregon in winter as the snow is legendary. North of Bend is the holy Smith Rock, which is often considered the birthplace of American rock climbing. East is endless sagebrush.
I definitely suggest driving on the Cascades Lakes Byway in the summer. You can visit local favorites like Tumalo Falls and Sparks Lake, all the while being afforded views of the Three Sisters. South Sister is a popular and relatively easy climb.
Road Trip to Crater Lake
Oregon only has one national park but it is easily one of the most stunning parks in the USA. Crater Lake is a marvel, an enormous body of water held high in the air on top of a collapsed volcano. The water is one of the deepest shades of blue that you will ever see and, officially, some of the clearest. There's simply nothing else like it in the world.
Crater Lake is located a couple hours south of Bend in the Cascade Mountains. There are several entrances to the park but only one, Munson Valley via Highway 62, is open (sometimes) in the winter. You'll have to pay to enter the park though rates change depending on the time of year (summer: $25 winter: $15).
There is a lot to do at Crater Lake, though most people just stand there and stare in awe at it. You can hike, climb to one of the many surrounding peaks, descend down to the lake's edge for a very cold swim, or simply drive around the rim in the summer on the Rim Road.
Several times in the year the road is closed to vehicular traffic so that bikers and pedestrians may enjoy the park without being disturbed, which is a really nice touch.
Though there is more to do in the summer, the best time of year to visit Crater Lake is in the winter. During this time, there are very few people, tons of snow, and just a powerful stillness to the place. The silence in the winter is almost total and you'll be shocked, maybe even scared at how serene it is.
You can, of course, camp at Crater Lake though campgrounds can fill really quick. If you strike out camping, the nearest large town is Klamath Falls and it has plenty of lodging.
Eastern Oregon Road Trip
An Eastern Oregon road trip is a must for anyone who wants to get the full Oregonian experience. Some of the USA's most beautiful places are found in this part of the state and anyone interested in a more rugged adventure will enjoy Eastern Oregon very much.
A lot of people often imagine Oregon covered in trees and being rained on 24/7; few realize that almost two-thirds of the state is actually a mix of desert terrain and stark mountains.
Lying on the other side of the Cascades, Eastern Oregon is, contrary to the common image, arid, hot, and sometimes bitterly cold. This austere landscape is gorgeous though and only solidifies Oregon as one of the most geographically diverse states in the USA.
The most popular place in Eastern Oregon is probably the kaleidoscopic Painted Hills, located in the John Day Fossil Beds. These hills are a geologic wonder and famous for their bright colors.
Surrounding the John Day area are the Ochoco, Malheur, and Umatilla forests as well as the Blue Mountains and Strawberry Mountains. Fun fact: the Blue Mountains are home to the world's largest organism – a 2400-year-old fungus that covers over 2,000 acres.
In the far northeastern corner of the state are the Wallowa Mountains aka "The Alps of Oregon." The Wallowas are an outdoor wonderland that offer great skiing opportunities and some of the best hikes in Oregon.
Most of the Wallowa Mountains fall within the Eagle Cap Wilderness though local townships like Joseph and Enterprise are worth visiting as well.
Nearby to the Wallowas is the historically significant Snake River and Hell's Canyon, the deepest canyon in the entire United States.
There are many more hidden parts in Eastern Oregon that are really out in the middle of nowhere. To learn more about some of these remote locations among others, refer to the section below where we talk about secret Oregon.
Off The Beaten Path Oregon Road Trip Ideas
Oregon has so many hidden treasures for you to discover! To see something different, start with these relatively unknown locations, which are among the most uniques places to visit in Oregon.
1. Steens Mountains
The epitome of off-the-beaten-path in Oregon; these mountains are located in the far southeastern corner of the state and it takes a real journey to get here. Drive to the top of the mountains via the astounding Steens Mountain Road.
Be on the lookout for wild horses and, in the autumn, the golden aspens. On the other side of the Steens is the Alvord Desert – a surreal playa that is popular among both artists and off-roaders who like to go for joy rides.
2. Owyhee Canyonlands
One of the last untouched desert frontiers in America, full of hoodoos, stone towers, and delicate ravines. The Owyhee Canyonlands are often compared to the national parks and landscapes of Utah albeit not as extensive.
Popular among hikers, rock climbers, and river rafters though not many people actually make it out this far due to rough and remote roads. Definitely one of the most beautiful and unique places to visit in Oregon.
3. Southern Oregon Road Trip
Though not exactly hidden, Southern Oregon often receives far less attention than the rest of the state. People usually visit to attend the famous Shakespeare Festival in charming Ashland or when passing through on a road trip from California, but there is a lot more happening than most are aware of.
The Rogue Valley has a burgeoning wine and beer scene that will soon rival the Willamette Valley. In terms of natural attractions, there is the Rogue River with its world-class rapids as well as the rugged Siskiyou Mountains and Oregon Caves, all of which make for great adventures.
Oregon Roadside Attractions
Americans have a weird affinity to the strange landmarks that are usually found out in the middle of nowhere. The roadside attractions in Oregon have become so admired that many people go on a trip just see them!
Below is a list of some of the most interesting roadside attractions in Oregon. Did we mention that a lot of these stops are among the best cheap things to do in Oregon as well?
Peace Candle of the World (Scappoose) – A former silo that was filled with wax and painted red to resemble a giant candle. Promotes world peace.
Enchanted Forest (Salem) – An amusement park filled with fairytale-themed rides and attractions. Whimsical and a little creepy.
The Oregon Vortex (Gold Hill) – Place where the laws of physics are purportedly non-existent due to paranormal activity.
Short Bridge Ghost Town (Short Bridge) – A seemingly derelict town that is actually a very well designed prop.
Octopus Tree (Tillamook) – An old spruce tree that came to be shaped like an octopus by unknown means.
Prehistoric Gardens (Port Orford) – A series of lifesize dinosaur recreations in the coastal rainforest. Intended to look like a prehistoric zoo.
Peterson Rock Garden (Redmond) – An estate full intricate statues and structures made from rocks and stones.
Oregon Corndog (Rockaway Beach) – Home to the world's largest (artificial) corn dog. There's also a bucking mechanical corn dog ride complete with a saddle.
Evergreen Aviation and Space Museum (McMinnville) – Holy ground for anyone interest in aviation. Hosts a large collection of planes, most importantly the Spruce Goose, one of the largest planes ever designed.
Oregon State Hospital Museum of Mental Health (Salem) – A real mental institution that was used for filming One Flew Over the Cuckoo's Nest. Now displays important artifacts from the movie as well as archaic therapeutic techniques.
Oregon Scenic Drives
Everywhere you look in Oregon, there's beauty; much of it can be seen from the seat of your car! Those who want a glimpse of the state's splendor from behind the wheel should definitely check out these scenic drives in Oregon.
Highway 101 – A road trip on Oregon Highway 101 is a great way to experience the best of the Oregon Coast. Most of the Oregon coast's top attractions are within a stone's throw from the highway as well. Highlights include the views from the slope of Neahkahnie Mountain, driving past the Oregon Dunes, and seeing the sea stacks of Bandon and/or Cannon Beach. This highway also makes for a natural transition when road tripping from California as the 101 runs all the way up the West Coast to Washington.
Interstate 84 – Drive through one of Oregon's greatest points of pride: the Columbia River Gorge. With high walls and dense woods, the Gorge is like something out of Scandinavia. Aside from being gorgeous by itself, the Gorge has lots of hiking opportunities as well as some of the best waterfalls in Oregon.
Highway 138 – One of my favorite scenic drives in Oregon. Depart from Crater Lake and head northwest through the Cascade Range. Along the way, you'll have the opportunity to visit some of the prettiest and most unique places in Oregon, including Mt. Thielsen (aka the Lightning Bolt) and Toketee Falls. 138 eventually enters the Umpqua River Valley, which is equally remarkable.
Highway 26 – A great commute that affords road trippers glimpses of the tableau that is the Oregonian landscape. On this scenic drive through Oregon, you'll have the chance to experience the state's amazing geographic diversity. Start on the coast (Cannon Beach) and drive east through the city of Portland, the alpine forests at the base of Mt. Hood, and then down to the Oregon High Desert. 26 goes all the way to Boise, Idaho but the Painted Hills are a great place to stop.
Why Visit this Part of the World
Oregon is one of the brightest and quirkiest places in all of the USA. It is a spectacular state that provides everything that makes for an awesome road trip: great food, gorgeous natural attractions, engaging people, and best of all, an easygoing culture that loves to enjoy itself.
Due to its relative isolation, Oregon has always been a hideaway for the abject in society, which has shaped both its history and demographgics for better or worse.
In short, many people – the eccentric, unaccepted, burnt-out, adventurous sorts – who felt confined in conventional American life all fled to the farthest corner of the US, that is the Pacific Northwest. The result of this migration is now an established culture that champions the strange and alternative.
Oregonians are very proud of their eccentricities. You'll often see people in the cities of Portland and Eugene doing, saying, and wearing whatever they want, sometimes to a bombastic level.
Libertarianism and separatism are very popular concepts in Oregon, both among urban and rural centers. Regardless of politics though, Oregonians are very outspoken people.
And why shouldn't they be outspoken? Oregon has some of the most fantastic landscapes in the USA, a mostly forward-thinking society, and a people that really give a shit. Quality, ecologically-friendly products are of the utmost importance here and social progressivism is often at the forefront of people's lives here.
There are very few places as interesting or as enthralling as Oregon. Between the hugely varied landscapes and the larger-than-life personalities, this is a state that grips you and doesn't let go. It plants a seed and takes root in everyone's mind and everyone has a hard time ending an Oregon road trip.
Getting Insured
Traveling without insurance would be risky so do consider getting good backpacker insurance sorted before you head off on an adventure.
ALWAYS sort out your backpacker insurance before your trip. There's plenty to choose from in that department, but a good place to start is Safety Wing.
They offer month-to-month payments, no lock-in contracts, and require absolutely no itineraries: that's the exact kind of insurance long-term travellers and digital nomads need.
SafetyWing is cheap, easy, and admin-free: just sign up lickety-split so you can get back to it!
Click the button below to learn more about SafetyWing's setup or read our insider review for the full tasty scoop.
Top Tips for Broke Backpackers
Below is a list of Oregon road trip ideas for saving money. Try and practice these as much as possible.
Rent an economy car: Prices can be as low as $25/day depending on the time of year and how far in advance you reserve. Economy cars are also more fuel efficient so you'll save on fuel. Use apps like ViaMichelin to find cheap gas, which, seriously, always ends up being one of the most surprising and costly expenses on a road trip.
Use vehicle relocation services: These brilliant services offer huge discounts to people on the condition they get a vehicle to a certain place at a certain time. No joke, you can rent a car sometimes for as low as $1/day! Availability is very limited though, so keep a watchful eye on the sites. Check immova and Cruise America to start with.
Sleep overnight in an empty lot: Though not technically legal in Oregon, people sleep in parking lots all the time. Make sure the lot is safe by asking around. Walmarts are reportedly good places to park overnight as they allow overnight parking.
Camp: Unless you want to fork out big bucks for a lodge, pack the car with your camping essentials. Campgrounds are way less expensive and sometimes even free.
Cook your own food: Eating out can be very expensive in Oregon. Cook your own food as much as possible to save – I recommend bringing a portable backpacking stove. Otherwise, have a fancy night out at a food cart.
Do free shit: There are lots of free things to do in Oregon! From hiking to laying on the beach to going to the local monuments; all of these things cost you nill. You can get started with this awesome guide to free activities in Portland from OregonLive. Be sure to keep your ear to the ground for all things free in Oregon.
Pack a travel water bottle: It's good for your wallet and the environment.
Sometimes you need a roof over your head and your own shower to clean all that grime away from camping. Luckily, there are a whole range of accommodation types in Oregon catered to all sorts of travelers.
It might be a good road trip idea in Oregon to stay at a lodge once or twice for a recharge. Sticking to a budget while not staying in a dump will still require a bit of research.
There are plenty of budget hotels and motels in Oregon but they suffer from a drab and uninspired design that is endemic to most cheap American lodging.
You can check into a cheap hotel in Oregon for a night, and will often have to, but don't expect much. At more than $60/night minimum, staying in these cheap hotels can start to feel like a waste very quickly.
Although the USA's hostel scene is lacking outside the major backpacking destinations, you can find hostels in Oregon that are affordable and fun.
AirBnBs in Oregon are often cheaper and far more intimate than generic hotels. There are some really crazy AirBnB rentals out there as well! I've seen yurts, teepees, tree houses, renovated barn houses, and much more listed for rent in Oregon.
These would certainly be among the best places to stay in Oregon when visiting.
To save the most money on your road trip through Oregon, consider sticking to hostels and campgrounds. Hostels in Oregon are quirky and full of character not to mention the most affordable form of accommodation.
If you're feeling lucky, you could also try your hand at finding a host with Couchsurfing! Lots of people use this though so competition is quite high in Oregon.
Best Places to Stay in Oregon on a Budget
Camping in Oregon
Camping is absolutely one of the best ways to sleep on a road trip through Oregon because
It's cheap and…
It's fun!
There's nothing better than a night outdoors with a car full of goodies, a roaring fire, and a good pint of camp whiskey. Americans love it, Oregonians especially love it, and so should you!
There are campgrounds everywhere in Oregon and in all sorts of varieties. There are standard sites, primitive sites, RV parks, glamping, something called "treetop camping" and many, many more types that just get more and more ridiculous. You can even stay the night in a fire lookout, which has to be one of the coolest places to stay in Oregon.
You can use this search engine to find a campground in Oregon. Be sure to keep your eye an AirBnB as well – there are lots of interesting private camps listed.
Campgrounds in Oregon offer a range of amenities and at a range of prices. Most facilities will require a small fee to be paid, which goes toward keeping the grounds tidy and clean.
You can sometimes pay online but most of the time there will be a form at the actual site that you need complete on your own. Even though registrations from these are not always checked, please be respectful and pay the nominal fee for your stay.
If you intend on staying at a campground near of the more famous attractions in Oregon, like the Painted Hills, Smith Rock or Crater Lake, then you definitely consider reserving a space ahead, especially in the summer months. Campsites can fill up very quickly in Oregon.
If there appears to be no space leftover at your prospective campsite, there may still be walk-up sites available. Get to the grounds as early as possible to snag these spaces.
Camping in Oregon – Gear Checklist
Camping is one of the best ways to experience the USA, and Oregon has some of the finest camping in the whole country. You could sleep in your car or an RV while road tripping in Oregon, but sleeping outside under the stars is way more fun.
Having a good-quality camping tent will keep you comfortable on those chilly nights and give you lots of flexibility when it comes to finding a place to sleep.
Here are some other essentials that we recommend if you plan on camping out…
For plenty more inspiration on what to pack, check out my full road trip packing list.
Free Camping in Oregon
Those on a road trip in Oregon should totally take advantage of the many free campgrounds spread throughout the state. Note that electricity, bathrooms, and running water are not guaranteed at any of these. Also be aware that many free campgrounds in Oregon may require a 4×4 vehicle to reach.
Refer below for a list of some of our favorite free campgrounds in Oregon or this website for a complete archive of free campgrounds.
Books to Read during your Oregon Road Trip
These are some of my favorite travel reads and books set in Oregon. Read one or two and you may have some great road trips ideas for Oregon…
One Flew Over the Cuckoo's Nest – One of Ken Kesey's most famous novels, thanks in part to the film of the same name. Paints a picture of mental health and conformity through the lens of a man who's just too full of life.
Sometimes a Great Notion – Ken Kesey is a literary demigod in Oregon and this is arguably his greatest novel. A tale of a hardheaded logging family that goes on strike, leading the town to drama and tragedy.
The River Why – A quintessential American coming-of-age tale, both for the protagonist and the nation the book represents. Set in Portland and the Oregon Coastal Range.
Night Dogs – Vietnam War vet deals with violence in the streets and in himself. An excellent if not authentic crime novel.
The Lathe of Heaven – A man wakes up one day to discover that his dreams can affect reality itself. A novel exploring human creation and destruction. Set in Portland, which was the ultimate home of the author, sci-fi legend Ursula K Guin.
Dies the Fire – All electronics are rendered useless by a magnetic storm, resulting in humanity's return to the Dark Ages. Brutality, desperation, and sword fights in Portland follow.
Lonely Planet: Washington, Oregon, and the Pacific Northwest – It's sometimes worth traveling with a guidebook.
Renting a car is the most popular way of getting around Oregon. There are a myriad of car rental agencies here that offer varying deals and varying models.
To find the best rental car deal in the USA, use search engines that compare the prices from individual companies. We personally like using rentalcars.com as they've never failed to give us a great price.
You can also rent an RV or campervan and travel by way of vanlife, which means you don't have to worry about packing camping gear. You will have to empty and refill the various wascampete and water tanks though, which will require a visit to the proper facilities. RVs also cost more to rent, use more gas, and demand higher prices at campgrounds.
Make sure you also purchase a RentalCover.com policy to cover your rental vehicle against any common damages such as tires, windscreens, theft, and more at a fraction of the price you would pay at the rental desk.
We suggest booking a campervan with Outdoorsy as they usually have a good selection and good prices. Better yet, Broke Backpackers also get a $40 discount with Outdoorsy! Just use the coupon code "BACKPACKER" when checking out.
The roads in Oregon are generally very good and a sedan or economy car should deliver you to most of Oregon's top destinations. Only in the most remote portions of the state and the Cascades, will the roads be so bad that you need 4×4 or at least high clearance.
If you're on a road trip in Oregon during the winter and want to go to the mountains, you will definitely need all-wheel or 4-wheel drive.
Tips for Saving Money on Car Rentals in the US
We mentioned before that you can reach out to vehicle relocation services, like immova and Cruise America, as a way of saving heaps of cash on rentals. Pursue these as best you can as they can save you a lot of money. Don't get your hopes up too much though, as availability is always limited.
Car insurance isn't always mandatory in the USA but is highly encouraged. This being said, you don't necessarily have to buy car insurance from the company you're renting from. Purchase a RentalCover.com policy to cover your vehicle against any common damages such as tires, windscreens, theft, and more at a fraction of the price you would pay at the rental desk.
Many credit card companies offer free car insurance if you book the car with the proper card. Call your credit card company for more information regarding terms and conditions.
Best Time to Visit Oregon
The best time to visit Oregon really depends on what you want to do. With lots of activities year round, you could go on a road trip in Oregon and always have something to do. Drinking beer is, of course, something that happens 365 days of the year.
There are several different climates in Oregon. Generally speaking, everything west of the Cascade Mountains is maritime e.g. there's a lot more rain and mild temperatures. East of the Cascades is much drier and prone to extreme temperature shifts, which is a characteristic of the high desert.
Precipitation occurs almost always in the winter months regardless of location.
Summer is a great time to visit Oregon because the skies are almost always clear and rainfall is sporadic. There are lots of festivals during this time of the year and most Oregonians spend their free time outdoors.
What little rain does fall in the summer is usually the result of occasional storms, which sometimes come in the form of thunderstorms. Thunderstorms often cause forest fires, which have become more common in recent years due to increasing summer temperatures and decreasing rainfall.
Spring and autumn are lovely seasons to visit Oregon but are somewhat brief. Summer usually goes into September and winter often feels very long (November-March).
Winters in Western Oregon are notoriously dreary as rain falls almost every day and the skies are almost always overcast. Being the tortured souls that they are, Oregonians love to be homebodies and stay warm with a beer at this time.
Luckily, the Cascades and parts of Eastern Oregon receive plenty of snowfall in the winter, giving winter athletes plenty of opportunities. In fact, Oregon has some of the best slopes on the West Coast.
Food in Oregon
Oregon is often ranked as one of the top foodie states in the country by several major publications; more often than naught, it's #1. Thanks to a thriving farm-to-table scene and a population with a real culinary passion, Oregon has, seriously, some of the best food that you'll ever eat.
Nearly every part of Oregon offers some amazing local product. To the east is grade-A cattle; to the west are the sublime bounties of the sea; and in the middle is the Willamette Valley, a hugely prosperous agricultural area.
When on a road trip in Oregon, there are so many ways to satiate your appetite. You can visit one of the many authentic farmers' markets, swing by a roadside diner, book a table at a eclectic restaurant or eat at a food cart.
For those on a budget road trip in Oregon, I highly recommend eating at the small hole-in-the-wall joints and food trucks to save to money.
Hands down, the best food is found at the many food carts, for which Oregon is famous for. The food here is affordable, inventive, sometimes revolutionary, and always delicious.
Food carts are often labors of love, which means the food is extraordinarily cared for. If given the choice, I will always choose a food cart over a restaurant.
Like the anonymous food carts, the mom-and-pop restaurants found in bumfuck nowhere are also among the best things in Oregon. Simple as they may be in offerings, the ambiance and loving meals they provide are one of a kind.
I can think of many places that are so good they warrant road trips themselves. The gigantic burgers of Helvetia Tavern or the soothing ice cream of K & R Drive In are certainly worthy, if not sweet memories for me.
Get your Buzz On
Whether it's because of the demand for alcohol during those depressing winter months or because the region produces some of the finest hops, grapes, and other botanicals for making beverages, makes no difference; Oregon loves to produce and consume booze in all of its forms.
Oregon makes some of the best wine, beer, and spirits in the USA and that is a fact that locals will defend with a fiery passion. (Go Pinot Noir, not California Cab.)
Agricultural epicenters like Hood River, the Willamette Valley, McMinnville, and Medford consistently produce the best booze in the state. Amongst these regions are dozens if not hundreds of wineries, distilleries, and breweries that offer countless alcoholic varieties.
Throw in the fact that many of these sites are located in gorgeous, bucolic settings and you have some of the most fun places to stay in Oregon.
If you had to choose one place to sample local wares or go party for that matter, it'd definitely be Portland. You cannot throw a rock in this city and not hit a bar; they're simply everywhere.
Nearly every type of bar as well: dives, speakeasies, country haunts, beer halls, urban wineries, clubs, and many more. Strip clubs are particularly well represented in Portland, so much so that the city actually has the highest concentration per capita in the country beating out both Orlando and Las Vegas.
No piece about getting buzzed in Oregon would be complete without talking about the marijuana, which is 100% legal in the state. Like alcohol consumption, you must simply be over a certain age (21) and only smoke it in certain places like on your property or away from businesses. You can buy weed a local dispensary, which only requires you to bring an ID and cash.
Being a Responsible Backpacker in Oregon
Remember to be a respectful camper while on your Oregon road trip. Depart from the grounds at a decent hour, follow leave no trace principles, and be very, very aware of fire bans. Forest fires are an enormous problem in Oregon and are often caused by reckless campers.
Oregonians are also very conscious of the environment and like to take care of it, as should you.
Reduce your plastic footprint: Perhaps the best thing you can do for our planet is to make sure you do NOT add to the plastic problem all over the world. Don't buy one-use water bottles, the plastic ends up in a landfill or in the ocean.
I know it can be hard, but do your best to use the least amount of plastic water bottles that you can. Refill the ones that you do buy! Use a Grayl Geopress. Refill at your hostel/guest house! There are plenty of ways to reduce plastic!!!
Pack a tough and cool travel water bottle. You'll use it every single day whether you are traveling or not! Help save the planet, and pick up a water bottle here.
Check out our post on how to be a responsible backpacker.
Make Money Online Whilst Traveling in Oregon
Want to stay in the USA longer? Worried that you don't have enough cash for a longer Oregon road trip? One idea is to make money while traveling!
Teaching English online is a great way to earn a consistent income—from anywhere in the world with a good internet connection. Depending on your qualifications (or your motivation to obtain qualifications like a TEFL certificate) you can teach English remotely from your laptop, save some cash for your next adventure, and make a positive impact on the world by improving another person's language skills!
It's a win-win! Check out this detailed article for everything you need to know to start teaching English online.
In addition to giving you the qualifications to teach English online, TEFL courses open up a huge range of opportunities and you can find teaching work all over the world. To find out more about TEFL courses and how you can teach English around the world, read my in-depth report on teaching English abroad.
Broke Backpacker readers get a 35% discount on TEFL courses with MyTEFL (simply enter the code BACKPKR), to find out more, please read my in-depth report on teaching English abroad.
Whether you are keen to teach English online or looking to take your teaching game a step further by finding a job teaching English in a foreign country, getting your TEFL certificate is absolutely a step in the right direction.
---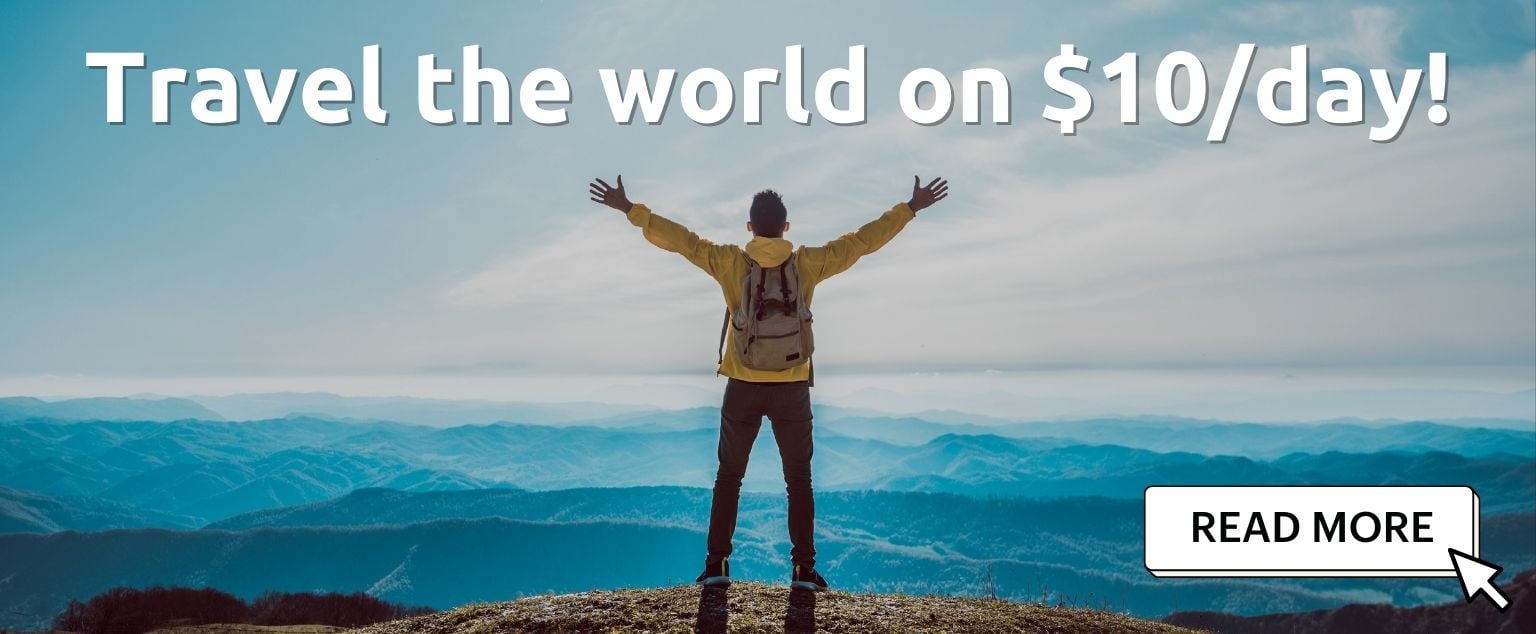 And for transparency's sake, please know that some of the links in our content are affiliate links. That means that if you book your accommodation, buy your gear, or sort your insurance through our link, we earn a small commission (at no extra cost to you). That said, we only link to the gear we trust and never recommend services we don't believe are up to scratch. Again, thank you!