Nicknamed The City of Roses, Portland is the largest city in the US state of Oregon. Within easy reach of both mountains and the coast, there are plenty of outdoor activities to enjoy in the not-too-distant surroundings. Famous for its beautiful scenery, Portland also has many parks and gardens, a great selection of interesting museums, and lively art and music scene. The thriving microbrewery industry has helped Portland to become known as the Beer and Food Cart Capital of the World. There are certainly plenty of ways to enjoy your time when visiting Portland.
Portland is a large and sprawling city; it is the second-biggest city in the Pacific Northwest. Planning your trip can be time-consuming, particularly if you're visiting for a short time. With so many things to see and do, not to mention the diversity in the wider area, it can be difficult narrowing down your options and deciding what to add to your Portland itinerary and what to skip.
We're here to make your life that little bit easier! This ultimate guide to the best places to visit in Portland should cut your research time and make planning your trip a whole lot easier.
With a mixture of outdoor adventures, cultural attractions, and things to suit all ages, interests, and budgets, there are recommendations for everyone. Plus, some of these best places to visit in Portland are certain to surprise you!
Need a place quick? Here's the best neighbourhood in Portland:
BEST AREA IN PORTLAND
Downtown
This area is home to famous street markets, noteworthy museums and galleries, and some of Portland's most instagrammable locales, including the "Keep Portland Weird" mural.
PLACES TO VISIT:
Sink your teeth into a delectable and delightful doughnut at Voodoo Doughnuts.
See interesting works of art at the Portland Art Museum.
Stand at the centre of Portland's living room in the Pioneer Courthouse Square.
Now onto the fun stuff … the best places to visit in Portland!
These are the BEST Places to Visit in Portland!
Portland plays host to some great accommodation options in some of the best areas of the city. Check out where to stay in Portland and book yourself a comfortable place to rest your feet at the end of the day! Then, continue on down to all the fun…

Unlock Our GREATEST Travel Secrets!
Sign up for our newsletter and get the best travel tips delivered right to your inbox.
#1 – Columbia River Gorge – A beautiful and scenic place to check out in Portland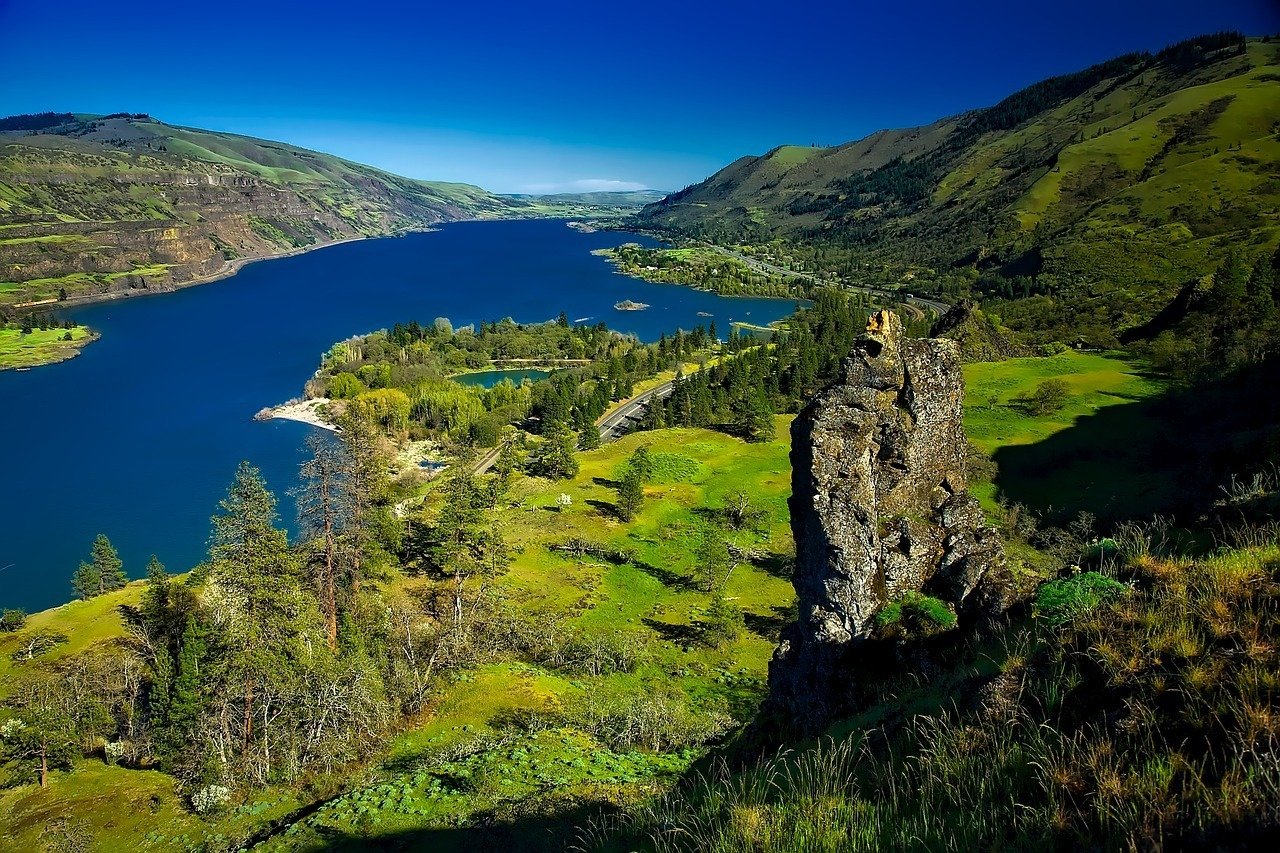 Amazing views
Hiking opportunities
Why it's awesome: The Columbia River Gorge stretches for some 130 kilometres (80 miles), reaching the edge Portland's metropolitan area. Easy to reach from downtown, the stunning gorge is one of the most scenic natural points of interest in Portland. The canyon gapes up to 1,200 metres (4,000 feet) deep in parts. A National Scenic Area, it's also a popular leisure spot. With glorious views, many waterfalls, plentiful wildflowers, and craggy cliffs, it's also a great place for diverse outdoor activities. There are many tempting spots to drink and dine in the surroundings too. If you really like the outdoors, you might want to stay in one of the stunning Eco-lodges in Portland.
What to do there: Admire the stunning views of the river, mountains, and canyon, and visit waterfalls like Bridal Veil and Latourell Falls. Take long hikes through nature, conquer Dog Mountian, go cycling along challenging mountain-biking routes, and stroll through colourful wildflowers at Rowena Crest. You can also try your hand at various watersports along the raging river. Pop into one of the beautiful wineries located along the gorge and treat your taste buds in a local farm-fresh restaurant.
#2 – Freakybuttrue Peculiarium – Quite the quirky place in Portland!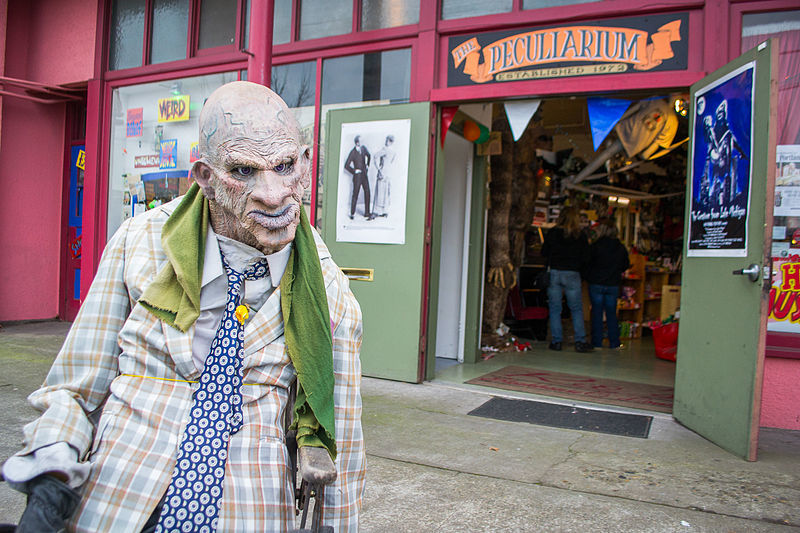 Strange attraction
Unusual gift shop
Odd assortment of memorabilia
Ice cream shop
Why it's awesome: A combination of a shop, museum, art space, and odditorium, visiting the Freakybuttrue Peculiarium is one of the most unusual things to do in Portland. Bizarre, quirky, and, arguably, somewhat creepy, the attraction is said to have been set up in 1967 by a local explorer with a penchant for all things a bit strange and different to the norm. Although the backstory is simply that—a story—the weird and wonderful space is chock-full of peculiarities.
What to do there: Step into the peculiarium and ogle the unusual exhibits on proud display. See odd things like fake severed limbs, a spooky dolls' house, lots of kitsch memorabilia, pictures that could have come straight out of somebody's nightmares, and a full-sized replica that depicts an alien autopsy! There's nothing too wacky for this place! Walk past the huge statue of Bigfoot to enter the gift shop where you can pick up your own selection of unusual items and joke objects. When you've finished, be sure to call into the onsite ice cream shop for strange flavours and toppings.
#3 – Oregon Zoo – Awesome place to visit in Portland with kids!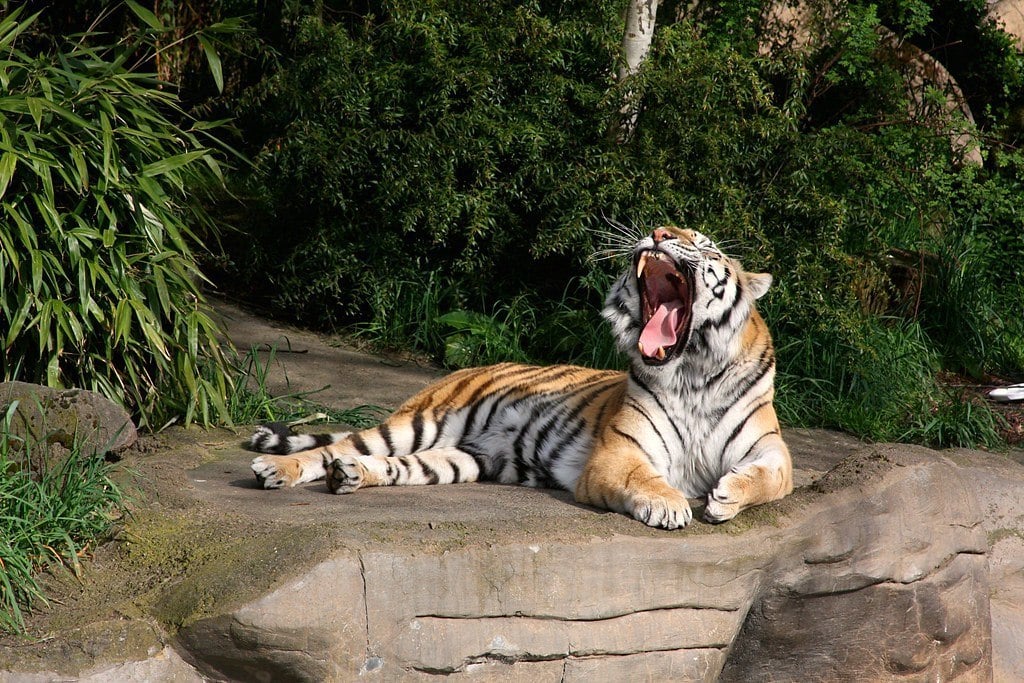 Many animals from around the world
Quaint railway
Diverse plants
Animal-focused activities
Why it's awesome: Few kids can resist the allure of a zoo, and Oregon Zoo promises not to disappoint! Among the most popular family-friendly attractions in Portland, the extensive zoo covers around 64 acres (26 hectares) and is home to more than 230 animal species. Some creatures are rare. The zoo also has many different types of plants throughout the gardens and animal enclosures. The zoo dates back to 1888 and it is among the oldest zoos in the country. The zoo takes part in various conservation and awareness projects.
What to do there: Observe a wide selection of animals from all around the globe, housed in large and attractive areas. Explore the Africa Rainforest section to see creatures like bats, crocodiles, monkeys, monitor lizards and bullfrogs, and come face to face with animals like giraffes, monkeys, gazelles, and tortoises in the Africa Savanna exhibit. The Cascade Stream and Pond is home to otters, beavers, and water birds, while goats clamber across the rocky terrain of Cascade Crest. Discovery Plaza houses tigers and red pandas, and Predators of the Serengeti lets you see animals like lions, cheetahs, lemurs, snakes, and mongoose.
Other animals throughout the zoo's different areas include bears, elephants, penguins, chimpanzees, eagles, cougars, hedgehogs, and lizards. Watch avian species in the aviaries, get up close and personal with small and tame animals at the Family Farm, learn how to protect the environment in the Wildlife Garden, take a ride on the charming narrow gauge railway, see animals being fed, and much, much more.
#4 – Portland Mercado – A must-see for foodies!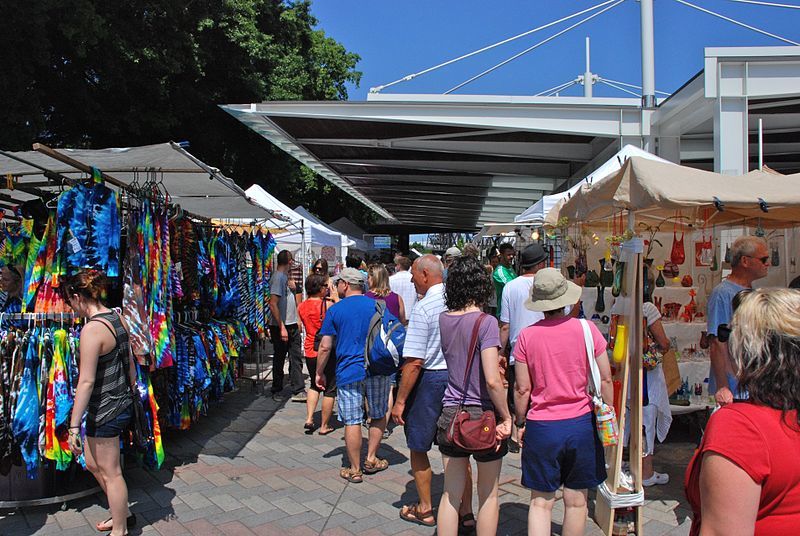 Latino vibes
Lots of delicious food
Cool market
Cultural events
Why it's awesome: One of the most tempting places to eat in Portland, Portland Mercado is a vibrant marketplace with food sellers, entertainment, and art. Inspired by Latino traditions and culture, the market is a popular meeting place for locals and tourists alike. Food courts set up outside on the plaza, stalls sell various ingredients and items in the market, and there are several sit-down restaurants as well as shops.
What to do there: Eat, eat some more, and be merry! Leisurely walk around the plaza and see the vast array of goodies at the different multi-coloured food trucks before making up your mind—you're likely to want to try many of the tasty specialities! Sink your teeth into things like authentic Mexican tortillas, Salvadorian pupusas, spicy sausage, pastries, and the stew-like pozole. The neighbourhood market also hosts regular festive events, and you can experience the best of Latino culture with things like music, dance, and art.
#5 – Washington Park – A beautiful outdoor place to visit in Portland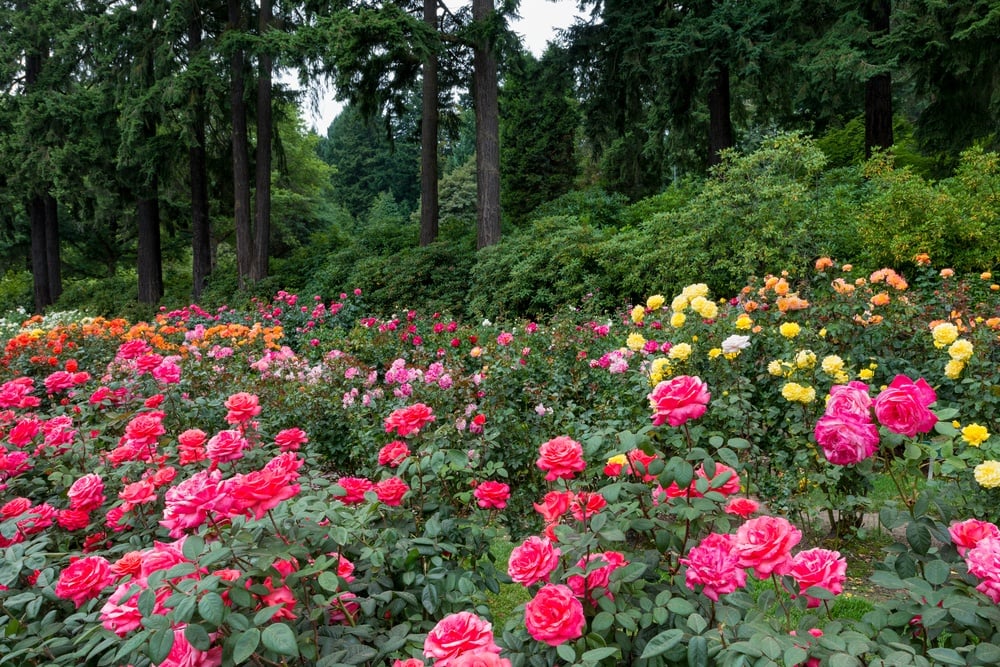 Huge park
Gorgeous flower gardens
Sport and leisure facilities
Interesting public art
Why it's awesome: The sprawling Washington Park is a top place to relax and enjoy a variety of activities when you travel to Portland. The park is spread across more than 400 acres (166-plus hectares) and has extensive trails, sporting and leisure facilities, public art installations, play areas for kids, a museum, and plenty more things to keep visitors occupied. It's one of the most family-friendly outdoor hotspots in Portland and is also great for couples and groups of friends.
What to do there: See the plethora of trees, plants and shrubs in the scenic Hoyt Arboretum and admire the beautiful landscapes and features in the eye-catching Japanese Garden. Inhale the sweet scents in the pretty International Rose Test Garden, the oldest such rose garden in the USA and home to 650-plus types of roses. Follow nature-surrounded trails, watch a performance at the amphitheatre, take younger members of the family to Portland Children's Museum, and learn more about wildlife and forests at the informative World Forestry Center Discovery Museum.
Get active at the football pitches and tennis courts, and relax over an al fresco meal at one of the picnic spots. See the varied monuments, sculptures, and artworks around the park, including the Oregon Vietnam Veterans Memorial, the Oregon Holocaust Memorial, the Renaissance-style Chiming Fountain, the Continuity of Life Forms mosaic, the bronze Royal Rosarian, and the unusual sculpture called Basket of Air.
#6 – Oregon Jewish Museum and Center for Holocaust Education – Possibly one of the most important places to visit in Portland
Learn about Jewish history
Biggest museum of its kind in the area
Home to diverse artefacts
Travel through time
Why it's awesome: The educational and moving Oregon Jewish Museum and Center for Holocaust Education tells the story of Jews in Oregon. The large museum was established in 1989, born from an idea when a local rabbi wished to open the first museum dedicated to Jews and Judaism in the Pacific Northwest. The museum has been in its present building since 2009. There are several permanent exhibitions as well as temporary displays. In addition to the large selection of artefacts, the museum also contains archives, photos, and art.
What to do there: Learn more about Jewish life in Portland and Oregon as you see the biggest collection of Jewish-related objects in the Pacific Northwest region. You'll see a wide assortment of both everyday items as well as ceremonial artefacts. Visit collections that contain artefacts from the state's synagogues, from local Jewish businesses, documents that show the history of the area's Jewish population, and photographs that help to bring the past to life. The museum also contains many thought-provoking artworks, mainly created by members of the Oregon Jewish community.
#7 – Enso Winery – Cool place to see in Portland with friends!
Taste local wines
Hip and trendy place
Delicious food
Urban winery
Why it's awesome: The award-winning Enso Winery is a fabulous place to spend a few hours with your mates when visiting Portland. By day, it's an urban winery where you can sample locally produced wines from almost every winery across the area. There's no need to travel into the valleys to taste delicious wines—you can do it right in the heart of the city! The surroundings are stylish and comfortable, with interesting furnishings, ambient music, a gorgeous wooden bar, and delicious cheeses and cold cuts to perfectly complement your wine. By night, it's a chic wine bar where people can go to catch up, socialise, and relax.
What to do there: Sample the winery's own drinks, created using grapes from the best wineries along the coast. Grapes come from California and Washington as well as Oregon, creating the perfect blends and unforgettable flavours. You can also treat yourself to other wines made throughout the city and state. If your group has a beer lover, no need to fret—there's also a good selection of local craft beers and other beverages to ensure everyone has a top time. The meals served are tasty too. If you're into trying out the best wines, add this to your Portland itinerary!
#8 – Crystal Springs Rhododendron Garden – A nice non-touristy place to visit in Portland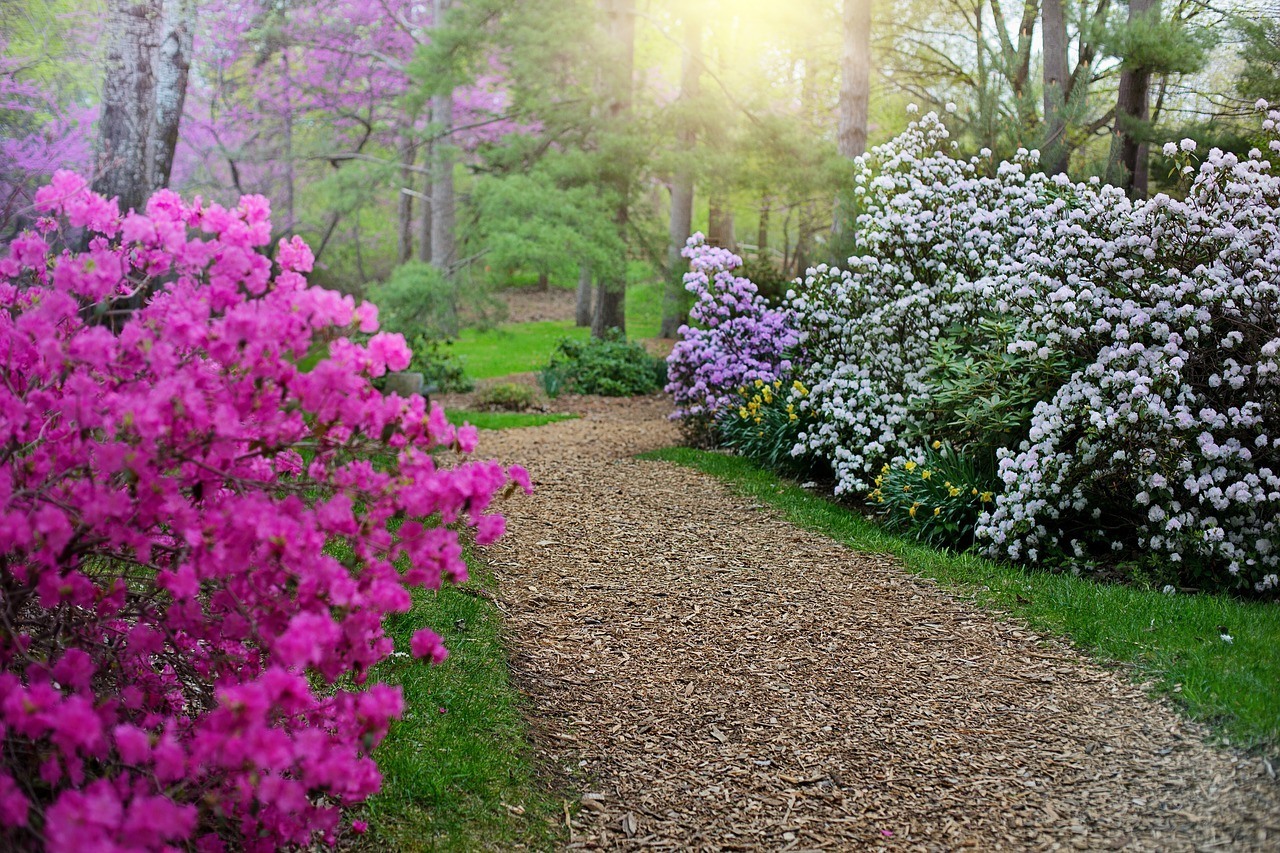 Peaceful ambience
Wide selection of flora
Attractive water features
Lots of bird life
Why it's awesome: The lovely Crystal Springs Rhododendron Garden is a botanical garden filled with various plants and flowers set around small lakes and ponds, water features, and walking trails. The garden covers almost 9.5 acres (3.8 hectares) and is among the romantic hotspots in Portland. While rhododendrons were the garden's initial focus when it opened in 1950, it has since expanded to include many more flowering plants. The landscapes attract many birds too.
What to do there: Follow the enchanting walking trails around the gardens, pausing to admire the lush plants and pretty flowers. The best time to see the rhododendrons in full bloom is from April to May, but there are plenty of other plants to enjoy at other times of the year too. Sit on a bench surrounding by nature and listen to the trill of birdsong, and see the various water birds at the ponds. Resident bird species include ducks, moorhens, gulls, hummingbirds, geese, thrushes, and herons. Springs and small cascades add to the beauty. Soak up the peace and quiet and snap lots of pictures.
#9 – Oregon Historical Society Museum – A fascinating educational place to visit in Portland
Learn about local life from times gone by
Interesting array of exhibits
Research library
One of the top Portland vacation ideas for history lovers
Why it's awesome: Established in 1898, visiting the Oregon Historical Society Museum is a Portland must-do for anyone interested in learning more about times gone by. Home to more than 85,000 objects, one of the museum's most famous items is the Portland Penny. Other interesting exhibits include those related to all aspects of day-to-day life throughout the ages, Native American artefacts, historic photographs, and mini vehicles. The museum has a research library too.
What to do there: Dive into Portland's past and discover more about local life and developments from yesteryear. See the historically significant copper Portland Penny—this exact coin was flipped to decide on the city's name! Explore the three floors, chock-full of fascinating items, and see a storage chest used on famous expeditions by Captain Robert Gray, one old diner counter, a shoe that dates back some 9,000 years, a replica ship's hull, and more. Be captivated as you learn more about the places, people, and events that helped to mold the history of Portland, Oregon, and the US.
Is This the Best Daypack EVER???
#10 – The Witch's Castle – One of the most incredible free places to go to in Portland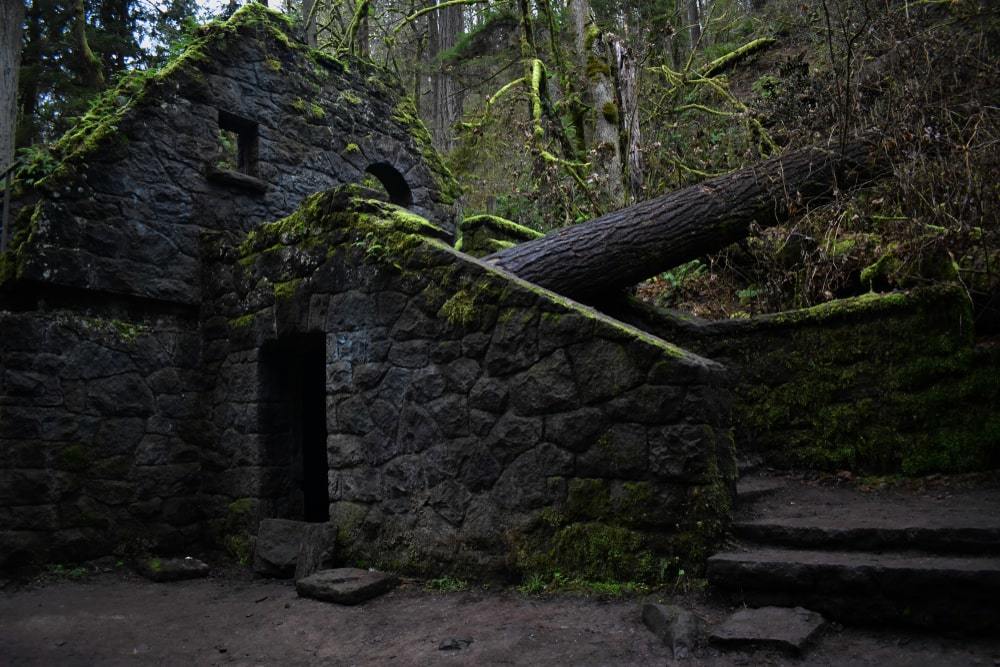 Free activity
Gruesome past
Atmospheric ruins
Surrounded by nature
Why it's awesome: Steeped in tales of mystery, suspense, murder, and mayhem, the so-called Witch's Castle is neither a castle nor an abode (former or present) of witches. It is, however, an intriguing site bound up in weird and wonderful stories that you won't necessarily find on every Portland Oregon Travel Guide. Now in ruins, the small stone structure was built in the 1930s and used as a public bathroom for hikers and as the park ranger station. It was later destroyed in a storm and abandoned.
The land on what it sits, however, has much more interesting tales. The site was given its nickname by local students, presumably because of its spooky appearance, and it was often used as a place for youths to hang out away from the watchful eyes of their parents. There's no charge to visit the eerie ruins.
What to do there: Visit the small derelict ruins, noting the graffiti-covered walls created by previous passers-by and the thick moss that grows across the walls. See how nature is reclaiming its space and battling to cause the stone building to decay and crumble further. Feel a shiver down your spine when you think of events from the past. Cast your mind back to the mid-19th century when the daughter of a wealthy landowner fell in love with the family's handyman.
When the angry father refused permission for the couple to wed they ran away to get married, leading the father to issue death threats. True to his word, when the couple returned to the city the girl's enraged father shot her new husband in the face, killing him. He then became the first man to be legally executed in Oregon. His land was passed around for many years, eventually coming to the city of Portland. This is when the stone building was constructed.
Get insured for your trip to Portland!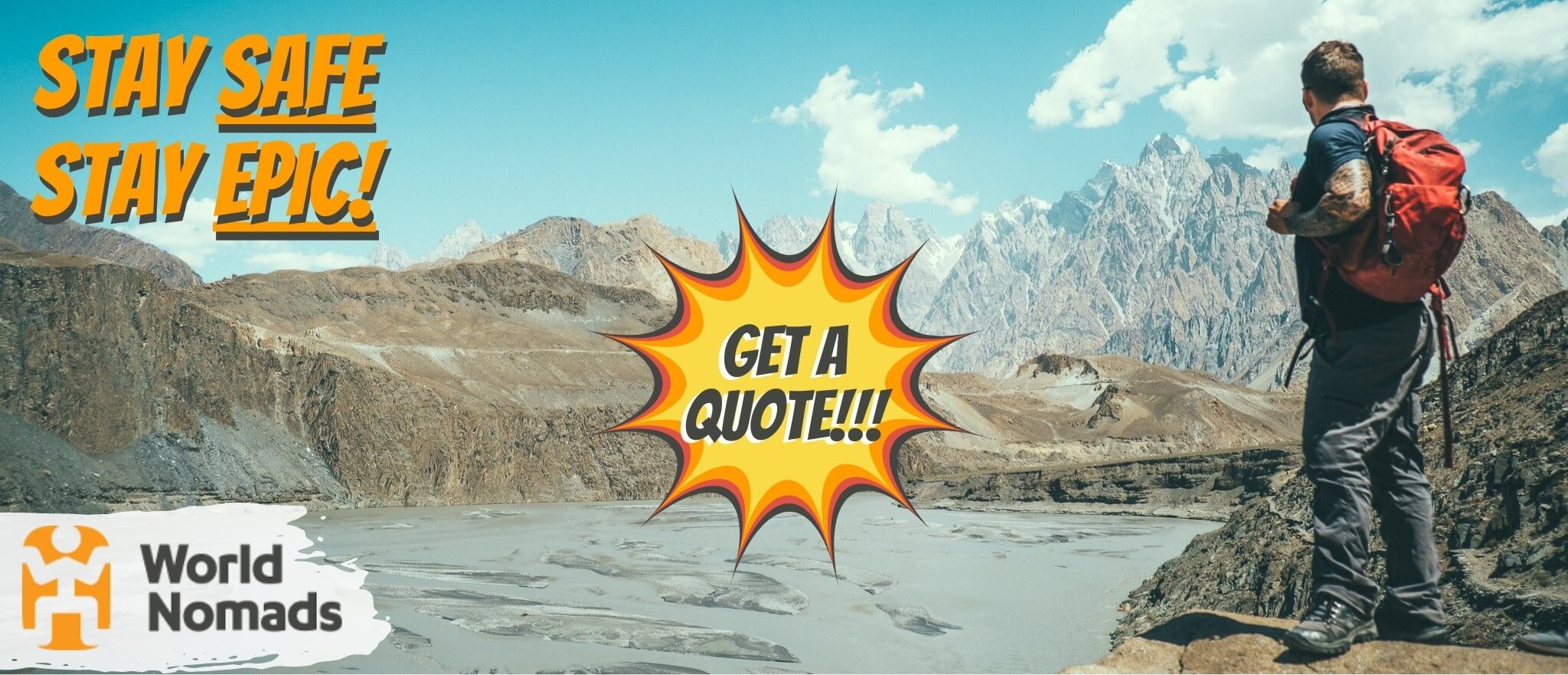 World Nomads' mission is to support and encourage travellers to explore their boundaries. They offer simple & flexible travel insurance, and safety advice to help you travel confidently.
They've been doing it since 2002 – protecting, connecting, and inspiring independent travellers just like you.
Get a quote below or read our in-depth review!
World Nomads provides travel insurance for travelers in over 100 countries. As an affiliate, we receive a fee when you get a quote from World Nomads using this link. We do not represent World Nomads. This is information only and not a recommendation to buy travel insurance.
FAQ on the Best Places to Visit in Portland
Find out what people want to know about the best places to visit in Portland
More fabulous places to visit in Portland
Portland really does have a wealth of cool experiences for all. Fans of the quirky and unusual should add the Zymoglyphic Museum, Hat Museum, and Vacuum Cleaner Museum to their Portland itinerary, while nature lovers are sure to enjoy places like Mount Tabor, Tom McCall Waterfront Park, Cathedral Park, and the Tualatin Mountains.
Old and young alike are sure to enjoy discovering tons of cool new things at the Oregon Museum of Science and Industry, and the Children's Museum is a Portland must see if travelling with little ones. Touring the spooky Shanghai Tunnels and learning secrets from the underground is among the most unusual things to do in Portland. The Portland Troll Bridge is also pretty unique!
Other great landmarks in Portland include Pioneer Courthouse Square, The Grotto, Pittock Mansion, and Lan Su Chinese Garden. The Portland Art Museum is one of the famous places in Portland for lovers of art.
Have more time and want to go beyond the city? Consider awesome day trips to the lush Willamette Valley, the sparkling Trillium Lake, Florence, Mount St Helens, and Cannon Beach.
Discover Oregon's largest city and have heaps of fun making your way around the best places to visit in Portland.
---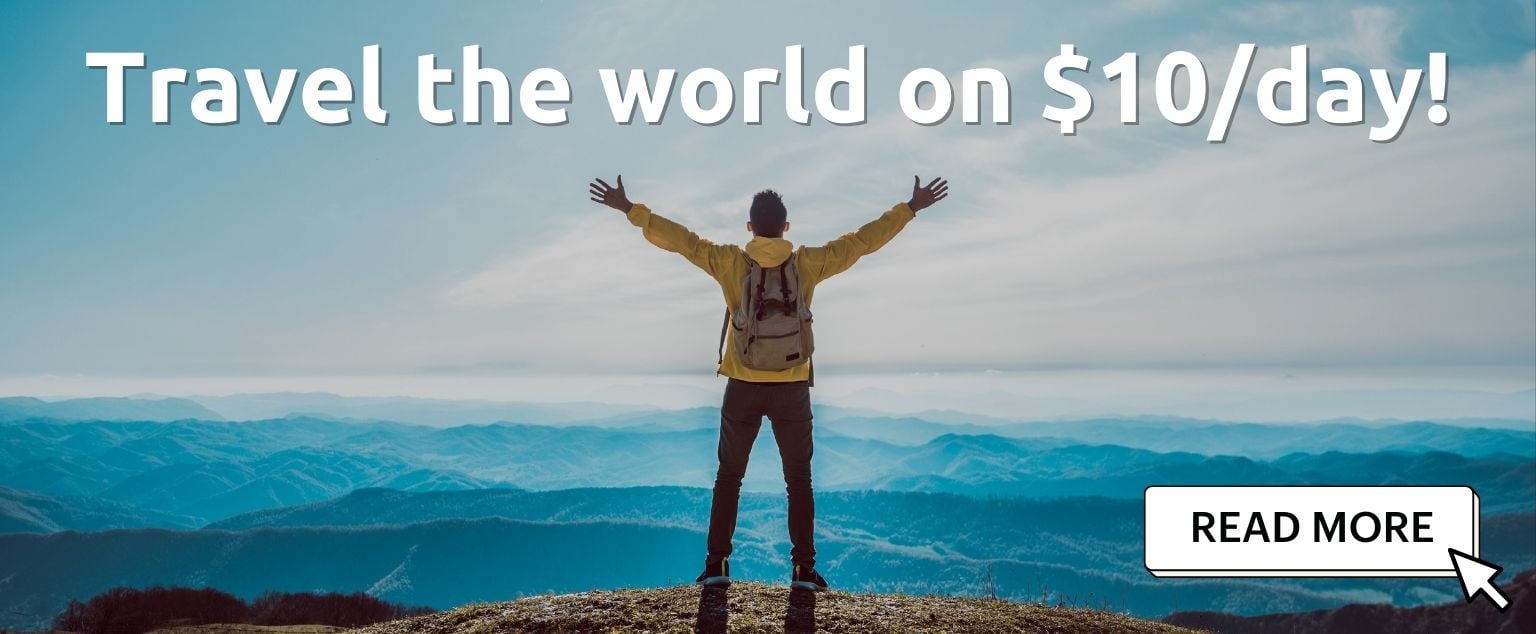 And for transparency's sake, please know that some of the links in our content are affiliate links. That means that if you book your accommodation, buy your gear, or sort your insurance through our link, we earn a small commission (at no extra cost to you). That said, we only link to the gear we trust and never recommend services we don't believe are up to scratch. Again, thank you!