Portland is a weird and wonderful city in the state of Oregon, surrounded by natural beauty and filled with Bohemian charm. With an indie atmosphere and infectious culture, it's often considered one of the coolest cities in the USA.
Here, on the banks of the Willamette River, you'll find friendly, eccentric locals, an astounding selection of microbreweries, live music, amazing coffee, and a truly awesome food scene. CNN even named Portland one of the best cities on Earth for foodies! Surrounding the city are incredible hiking trails, as well as several stunning waterfalls and picturesque forest scenes.
Fortunately, the city is also home to a killer selection of Airbnbs. The variety offered is staggering, so finding a suitable Airbnb in Portland is easy. Whether you're after a secluded room in a forest or a micro-loft in the city, the city has it ready and waiting.
We've put together a list of the absolute best Airbnb rentals in Portland so that you can make the most of your trip to this eclectic city.
Quick Answer: These are the Top 5 Airbnbs in Portland
OVERALL BEST VALUE AIRBNB IN PORTLAND
OVERALL BEST VALUE AIRBNB IN PORTLAND
Charming Studio in Ideal Location
> $$
> 2 Guests
> Large, high-end TV
> Ideally located next to NW 23rd
BEST BUDGET AIRBNB IN PORTLAND
BEST BUDGET AIRBNB IN PORTLAND
Private Room Above the City
> $
> 2 Guests
> Private bathroom
> Deck with city views
BEST AIRBNB FOR COUPLES IN PORTLAND
BEST AIRBNB FOR COUPLES IN PORTLAND
Sun-Filled Studio in SE Portland
> $$
> 2 Guests
> Queen-size bed
> Stunning design
BEST AIRBNB FOR FAMILIES IN PORTLAND
BEST AIRBNB FOR FAMILIES IN PORTLAND
Charming Old House
> $$$
> 6 Guests
> Kid-friendly yard
> Highly walkable location
OVER-THE-TOP LUXURY AIRBNB IN PORTLAND
OVER-THE-TOP LUXURY AIRBNB IN PORTLAND
Luxurious Music-Themed House
> $$$$
> 8 Guests
> Outdoor hot tub
> Houses guitars of famous musicians

Unlock Our GREATEST Travel Secrets!
Sign up for our newsletter and get the best travel tips delivered right to your inbox.
What to Expect from Airbnbs in Portland
Portland is home to hundreds of awesome Airbnbs, and they come in all sorts of shapes and sizes. Whether you're after a cozy cottage, a quirk house, a slick apartment, or a welcoming homestay, you'll find it here!
Most Airbnbs in the city feature a range of awesome amenities. Hot tub? Sure! What about a pool table or a king-size bed? Yup!
Good views are pretty common as well. Central Portland is flanked to the west by a series of lush hills. And if you stay in the nearby neighborhoods nestled here, you're almost guaranteed views of the city!
Many Airbnbs in Portland are also in walkable areas, which is a huge plus. Most properties are close to a public transport stop – or three – and Ubers are in high supply!
Here are some of the best types of Airbnbs available in Portland.
Private Rooms in unique Portland homes
Homestays, or renting out a room in a private home, is where Airbnb began – and for good reason! These are often the more affordable option, and they can make your visit to a new city truly unique.
The homes of Portland's residents are often just as quirky and interesting as they are, meaning you'll get a taste of real local life. They come in a variety of flavors, from urban treehouses and tie-dye hippy havens, to clean, modern apartments and light-filled yoga dens.
The host of your Portland homestay will be happy to share their local knowledge and offer suggestions. You can share your morning cup of coffee or a meal as they help you plan your itinerary.
For budget travellers looking outside the hostel scene, or those who want to get a real experience of living like a local, a private room is the best bet on Airbnb. Note though, private rooms are better suited for solo travellers or couples – families and friend groups will want to look elsewhere!
If you're renting a private room, we'd recommend you check out Downtown Portland, or Nob Hill and the Pearl District for a locals-only vibe.
Entire homes for a local touch
Renting out an entire house during your trip can make for a particularly comfortable stay. You'll find a myriad of options in Portland, spread throughout the city and its surroundings, but the coolest area to rent out an entire house is definitely the forested Southwest area. Here, you'll experience a balance of privacy and natural surroundings – without being too far out of the city's happenings.
The spacious nature of most Portland houses makes them feel more private than hotels or apartments. You and your group can spread out in the house and relax, knowing you're not going to be disturbed by anyone else – or disturbing anyone else with any late-night shenanigans.
This type of Airbnb is best suited to groups of people, like families and groups of friends, rather than solo travelers or couples. It can be a bit pricey, but the cost falls quickly if you're dividing it among a group.
You're unlikely to find a bargain on a whole home in Downtown Portland, but there are plenty of options in the neighboring areas. The areas to the North and Northeast of Downtown, such as Nob Hill and the Pearl District, have some great houses and local charm!
Guest Suites, for the best of both worlds
'What on Earth is a guest suite?', you ask? Technically speaking, a guest suite is a suite that forms part of another property, but is self-contained and has its own entry. They're a special breed of holiday rental that gives you tons of privacy, while still being in close proximity to your local host. It allows you to soak up some of their local knowledge without sharing a space! These suites can be as simple as an ensuite room with its own private entry, or larger units with kitchens and multiple beds.
Staying in a guest suite is a great way to see Portland. It's not necessarily the cheapest option, but it's still an affordable way of getting your own place. They're often best suited to solo travelers, couples, and smaller groups.
Most guest suites in the city are located in the suburbs of East Portland. The idea of a suburban stay may not sound appealing, but the suburbs of East Portland are not your typical 'burbs. They're packed with awesome restaurants, bars, cafes, and shops, and are considered particularly walkable!
Why Stay in an Airbnb?
There are many reasons why staying in an Airbnb in Portland, Oregon is a great idea. Here are just a few of them:
Local Experience: In many cases, staying in a Portland Airbnb means staying with a local, or at the very least, communicating with them. And most Airbnb hosts love sharing their local knowledge and tips with their guests! So if you want to fill your Portland itinerary with real hidden gems, just book an Airbnb.
Affordability: Why spend heaps of cash on a fancy hotel when you can save by booking an Airbnb? A quality Airbnb is almost always cheaper than a quality hotel room, leaving you more cash to splash on Portland's homegrown beer and epic restaurants. It's the perfect accommodation for backpacking Portland on a budget.
Unique Properties: Let's face it; hotel rooms are a bit… boring. They're all the same, even when they're different. Airbnb shakes things up by offering an endless variety of places, with a range of atmospheres and styles!
Privacy: If you're after a secluded spot to hang out and get away from it all, Airbnb has you covered. You can filter your search to include only entire places, and opt for properties with self-check-in if you prefer minimal interaction.
Staying Long-Term: Airbnbs are ideal for those who are planning a longer stay. Long-term stays are both accepted and rewarded! Many hosts set up long-term-stay discounts to keep things simple, making it an even more affordable option.
Safety: You can rest easy knowing that Airbnb carefully vets every host that signs up to the platform. And if any issues arise, Airbnb's customer support is available 24/7! They'll be happy to help you out with any problems or questions, and if worst comes to worst, they'll find you new accommodation.
The 15 Top Airbnbs in Portland
Ready to find the best Airbnb in Portland? Here's a breakdown of our top 15 picks. Make sure you figure out what you want to do in Portland before you book your home. You don't want to end up miles away from your chosen hotspots!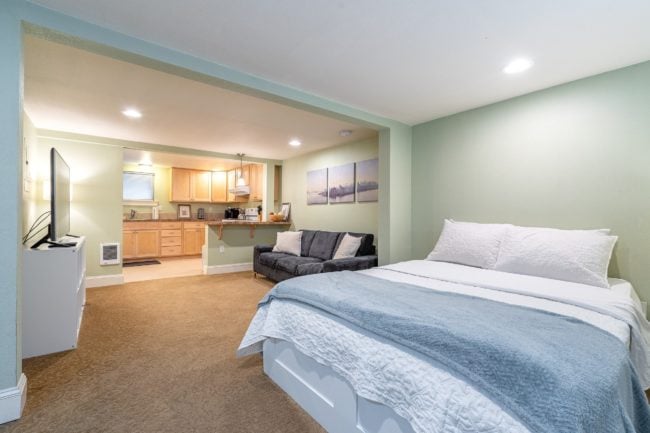 $$
Ideally located next to NW 23rd
2 Guests
Large, high-end TV
This spacious studio is a converted basement unit, with a modern design, ample amenities, and comfortable furniture. However, the location is the main draw here – you'll be in the heart of the Northwest District, which is considered one of the top neighborhoods in the city, with lots of Portland's best places to visit.
Many of the city's best restaurants and shops are set along Northwest 23rd street nearby, and there's plenty of action in neighboring Nob Hill! The area is incredibly walkable, with Downtown easily accessible from the apartment. So if you're looking for great value in a perfect location, this Portland, Oregon Airbnb is for you.
Nestled among the leafy forests of Portland's Southwest Hills, this cozy private room is a budget traveler's dream. Lie back on the king-size bed and gaze out at the city through large windows. You'll have access to a spacious living area and a wooden deck that overlooks the city!
You can reach Downtown in around 20 minutes on foot or 5 minutes if you drive or catch an Uber. So the city's many attractions will be at your fingertips! This is the best Airbnb Portland has to offer if you want to save some cash and don't mind staying with a local. And don't worry, you'll have your own private bathroom.
1-2 Guests
Indoor fireplace
As you stare out of enormous windows into the surrounding forest, you won't believe that you're within such close proximity of Downtown. This private room is just shy of 3 miles from the city center. It's also entirely enveloped in nature!
Having a queen size bed all to yourself for such a good price is a tough proposition to pass up. You'll be staying with a friendly host, within walking distance of Oregon Zoo, Hoyt Arboretum, and a station that will take you to Downtown.
Is This the Best Travel Pack EVER???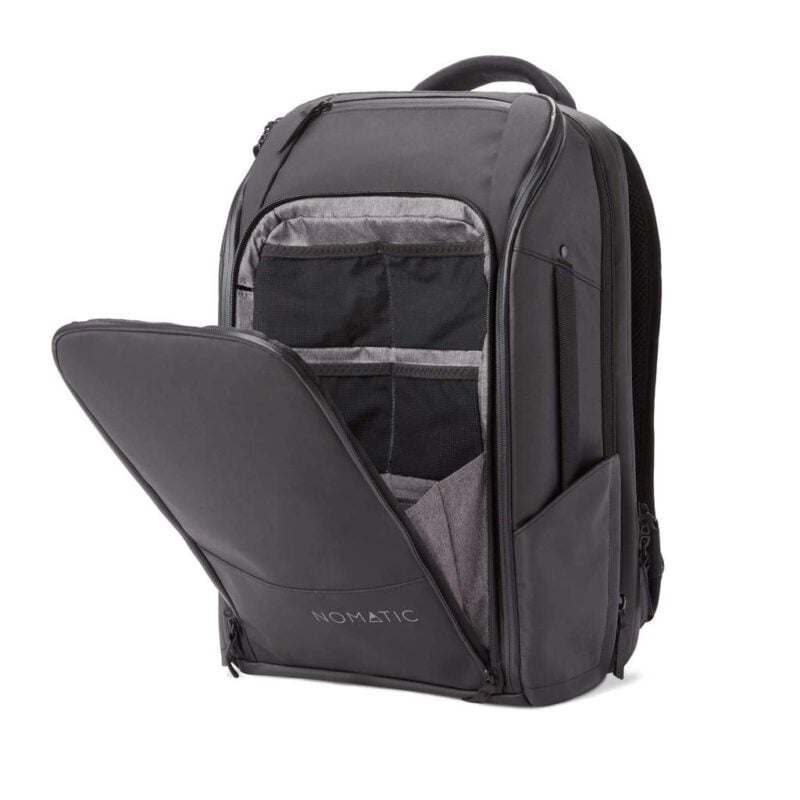 This Portland Airbnb is perfect for a romantic getaway. It's beautifully designed from bottom to top, with plenty of thoughtful touches to make you feel right at home! Couples can cuddle up in the queen-sized bed, read together in the comfy armchairs, or gaze out, hand in hand, at the lush garden through French doors.
You'll have private and secluded access to the whole space, with a full bathroom and kitchenette. It's in the Richmond area, with a range of fantastic restaurants, food carts, shops, and entertainment within walking distance. If you're headed Downtown, a closeby bus will get you there in about 15 minutes.
Best Airbnb in Portland for Families | Charming Old House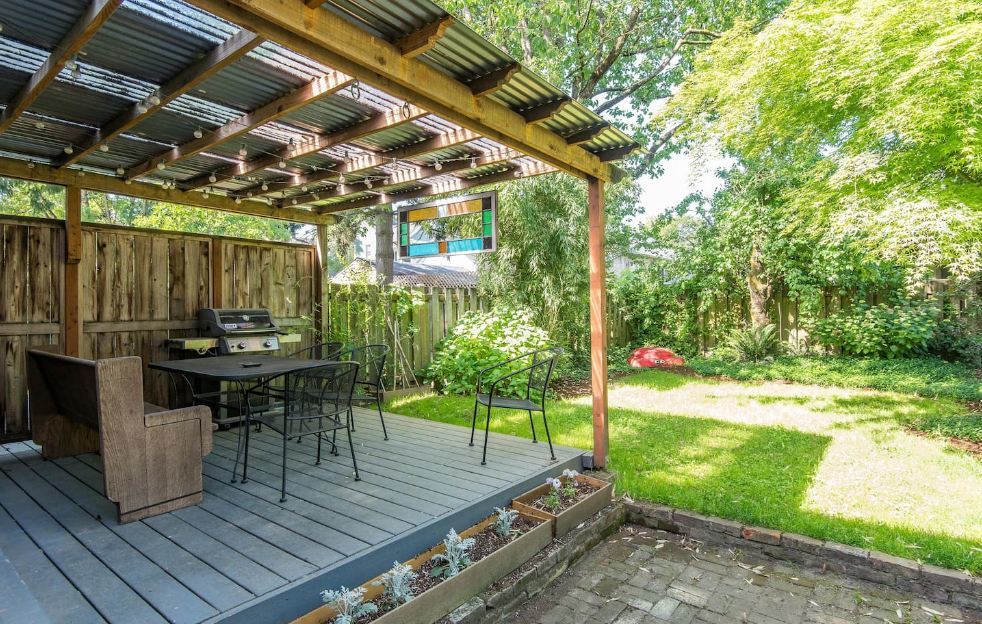 $$$
Highly walkable location
6 Guests
Kid-friendly yard
If you're taking a family vacation with the kids, this Airbnb in Portland will treat you well. It sleeps up to 6 guests and offers a good amount of comfortable living space, both indoors and out. The backyard is great for kids to play in, and there's a covered patio area for BBQs! If you stop by one of Portland's famous farmer's markets, you'll have a great spot to make a family dinner
The host has equipped the space to be kid-friendly, with a playhouse full of toys for your little ones to enjoy, and a crib if you need it. The house is in the Brooklyn neighborhood, which is cool, walkable, and well connected to the rest of the city!
8 Guests
Outdoor hot tub and fire pit
Have you ever strummed a guitar that was once played by BB King? How about Alice Cooper? We didn't think so, but this Airbnb in Portland affords that opportunity. It's a wonderfully designed contemporary house centered around the theme of rock n' roll. It's ideal for music fanatics and luxury lovers alike.
Here, you can enjoy ultimate luxury with unique touches. There's a pool table, a hot tub, a BBQ, and a fire pit. Not to mention a myriad of guitars hanging from the walls, several of which were owned by famous musicians. It's surrounded by great local shops and restaurants, and is a short journey from Downtown.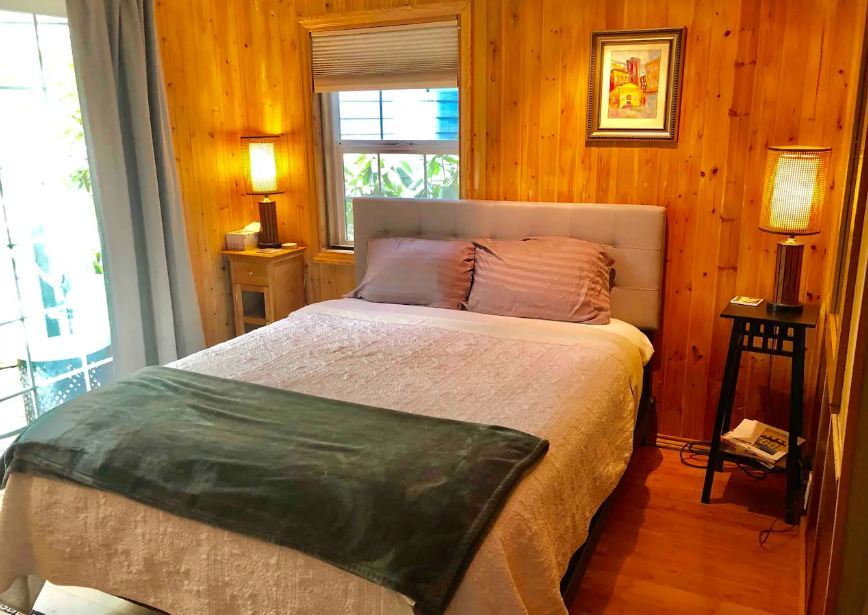 2 Guests
Posturepedic mattress
Set in South Portland, just 2 miles from Downtown, this cozy private room is super comfy. You'll sink into the queen-size bed which is Posturepedic mattress! Guests also have access to their own private bathroom and there's a small private deck where you can enjoy morning coffee with a view.
Getting to Downtown is as simple as walking half a mile to the nearest public transport stop. Then, it's just a short bus ride into the center. You'll be sharing the living spaces with a friendly and welcoming host, who will be happy to answer questions and help you settle in!
Best Entire House on Airbnb in Portland | Charming Modern Home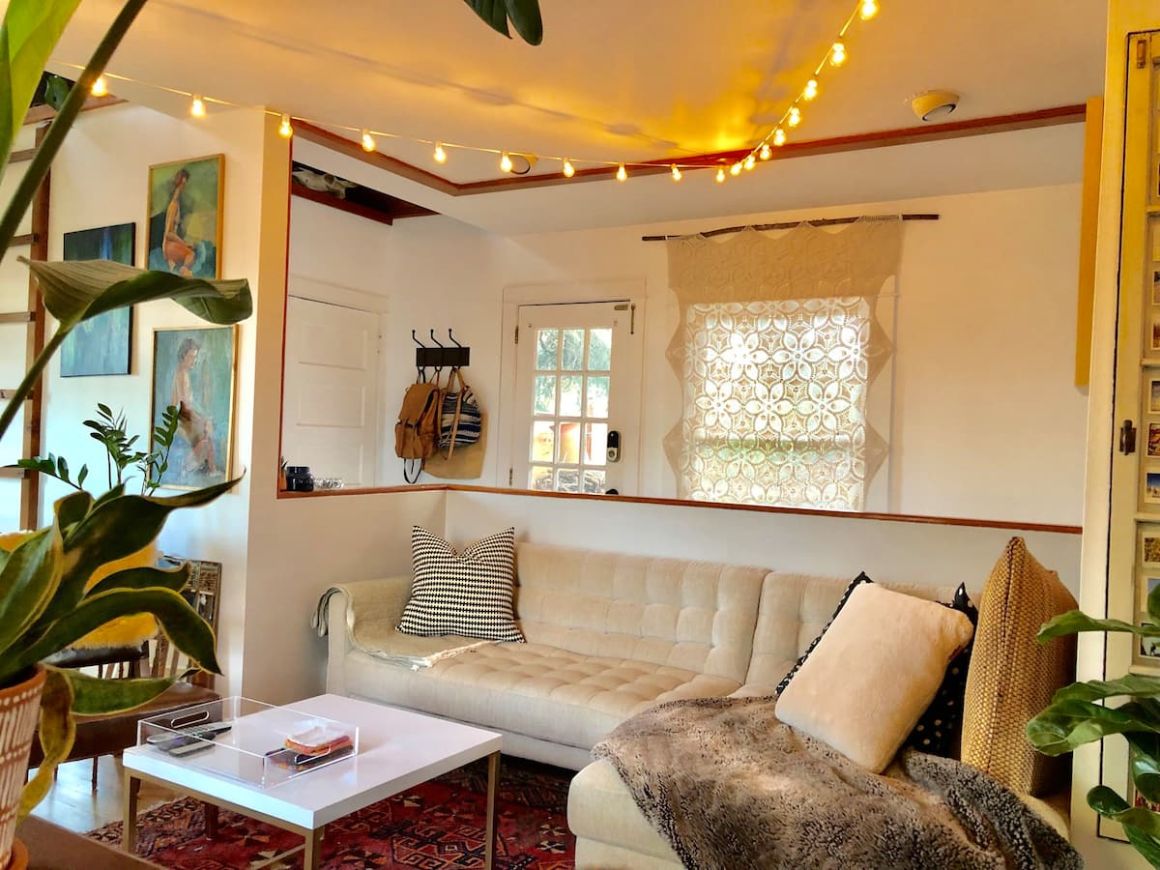 4 Guests
Super welcoming interior design
Tucked away in the vibrant Woodlawn neighborhood in the city's Northeast, this Portland Airbnb is perfect for groups of four. It's modern, stylish, spacious, and well-equipped for a comfortable stay. Better yet, it's just steps from Mississippi Avenue. Here, you'll find a multitude of entertainment venues, restaurants, bars, and breweries, as well as dozens of boutiques and shops.
To get to Downtown, you can hop on a bus at a nearby stop or hail an Uber. There are two cute outside decks, equipped with a BBQ and a gas fire-top table. It's the perfect spot to socialize or sip on your coffee in the early morning.
If you're after seclusion and privacy, with the bonus of having a localhost as a neighbor, this place is for you. It's a brand new, eco-conscious addition to the host's property, that's impressively stylish and comfortable. Kick back on the spacious sofa or catch some rays on the private patio!
The trendy neighborhoods of Alberta, Mississippi, and Williams are just a mile away, while Downtown lies only 3 miles away. So you'll get the local suburban experience while still being close to all the action.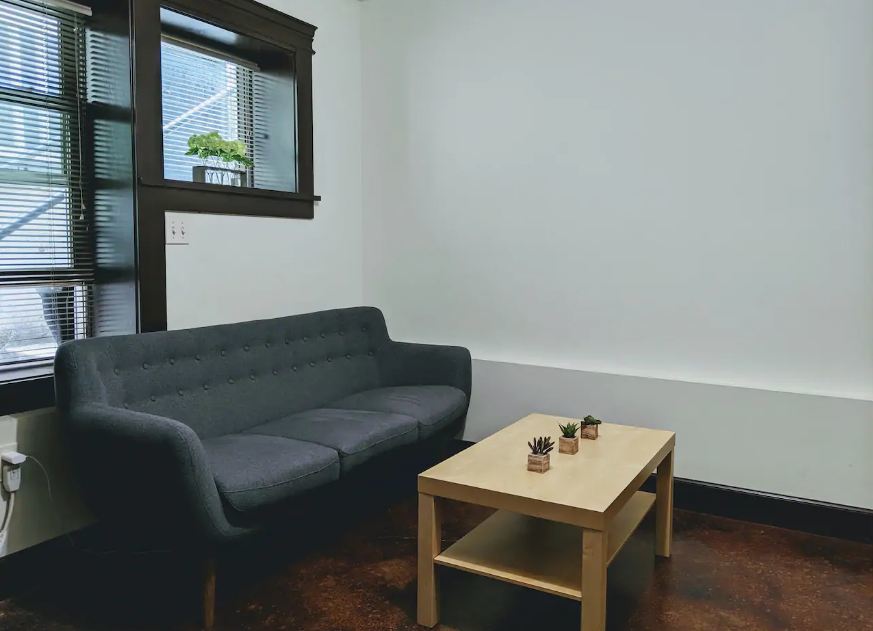 $
Incredibly walkable location
Located on the southern side of the famous Pearl District, this apartment is ideal for night owls. The Pearl District offers the best nightlife in Portland, with an amazing selection of bars and clubs to choose from. Downtown is also easily accessible from here, with more evening entertainment and nightlife options.
The space is simple, comfortable, and affordable, allowing you to save money for your evenings out. Head over to Teardrop Cocktail Lounge for an impressively creative selection of cocktails or settle down for a beer at Deschutes Brewery! Alternatively, try Valentine's Bar for a cool vibe and live music.
2 Guests
Quaint outdoor patio
This bungalow in Portland's Mississippi neighborhood is gorgeous. It's thoughtfully designed down to the finest details. Leaving you and your new spouse to relax in affordable luxury.
The space is quaint and cozy; big enough to not feel cramped but small enough for you to always be close to your loved one. There's a little outdoor patio area for morning coffee and a big sofa and TV for cuddly movie nights. Not to mention the comfortable queen-size bed. There are plenty of great restaurants nearby for romantic dinners and Downtown is just 10 minutes away.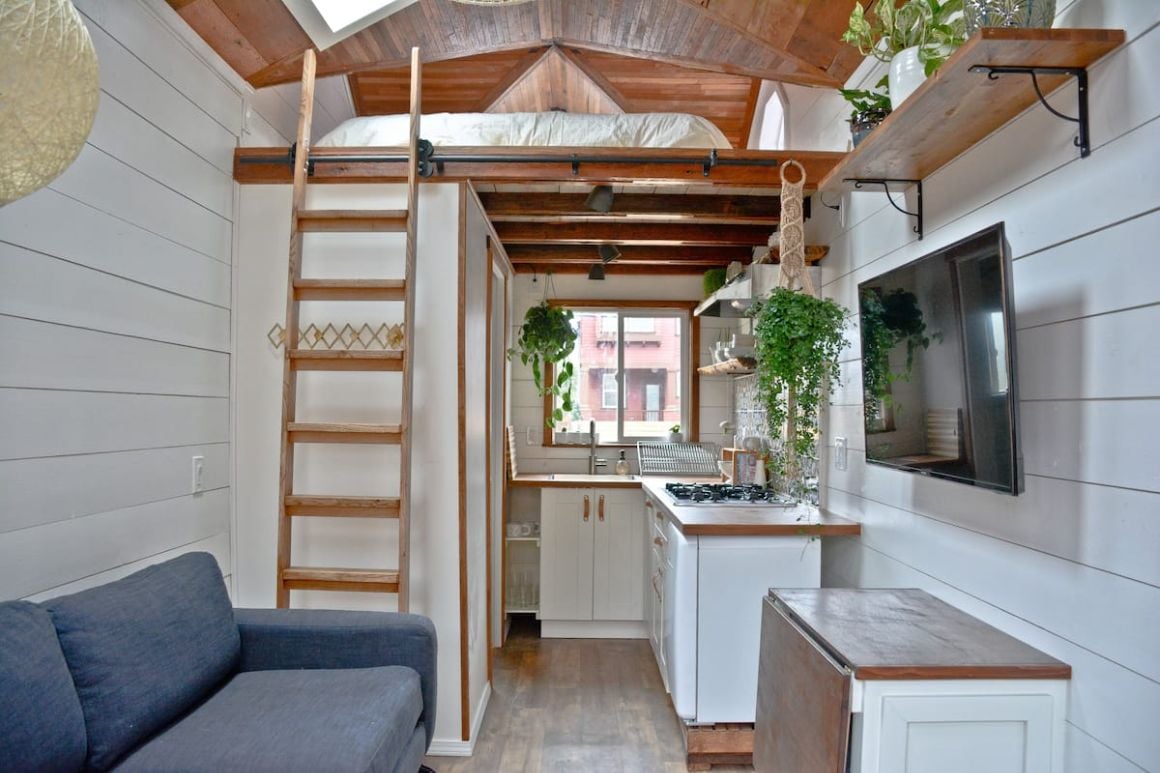 2 Guests
Fully equipped kitchen
This tiny house in Portland is probably one of the cutest places that you can stay at. And with the minimal space, it's also one of the most unique ones. Located in Alberta Arts district, you'll be close to many fancy coffee shops, eateries and loads of quirky Portland-esque shops. The home itself has everything you might need, from a fully equipped kitchen to a bathroom that was actually made for tall people. You'll sleep in a loft bed, which is only accessible if you climb up a ladder, so if you struggle with heights, this might not be the right Airbnb for you. The charming interior design really makes this place feel like a home away from home and you'll definitely be a bit bummed out once it's time to leave again.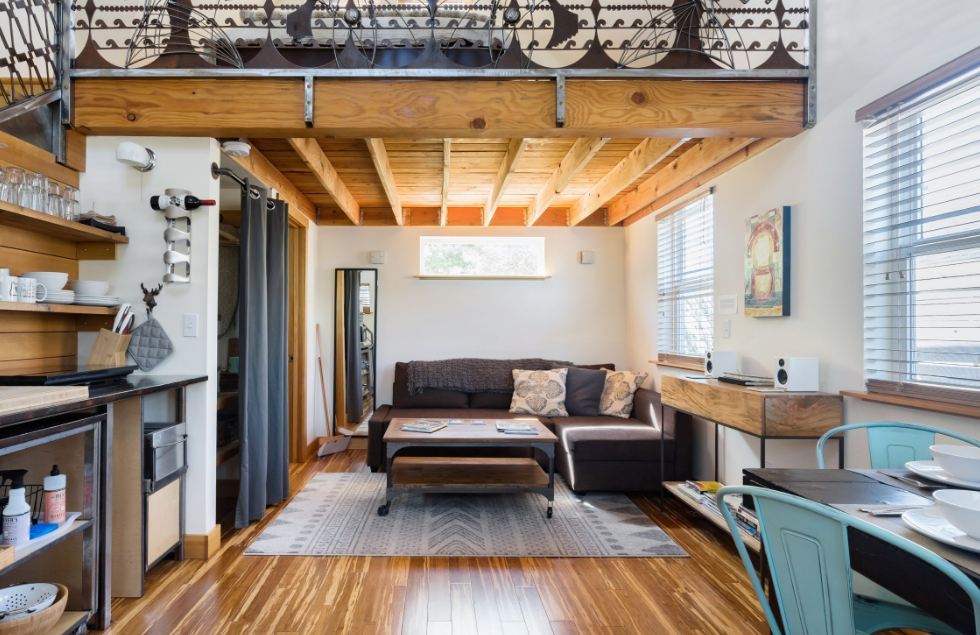 $$
Awesome mezzanine bedroom
Airbnb Plus offers a new quality standard for rental properties around the world. The properties have to pass Airbnb's rigorous standards, so they're verified to be top-notch. They're also always beautifully designed.
This epic micro-loft offers exceptional comfort and style for a reasonable price. Mezzanine bedrooms never get old. And the one in this loft is particularly groovy! Hang out in bed up top, or kick back on a comfy couch below.
Walk to one of the many nearby restaurants, or take a quick bus or cycle ride to Downtown. This place is ideal for those who like to know they're getting the very best.
Best Airbnb in Portland for a Group of Friends | Comfy Home in Buckman
$$
Large sofa and dining table
6 Guests
55" flat-screen TV
Traveling to Portland with all your best buds? Want a comfortable, well-connected place to crash and hang out? Then this is the best Airbnb in Portland for you. There are three bedrooms, and the TV and sofa are nice and big, making movie nights a treat!
The kitchen is fully-equipped for making delicious dinners, and the dining table has space for six. Buckman is known as a foodie-heaven, so be sure to get out and explore the flavors of Portland! You'll find boutiques, bars, and great coffee nearby, too.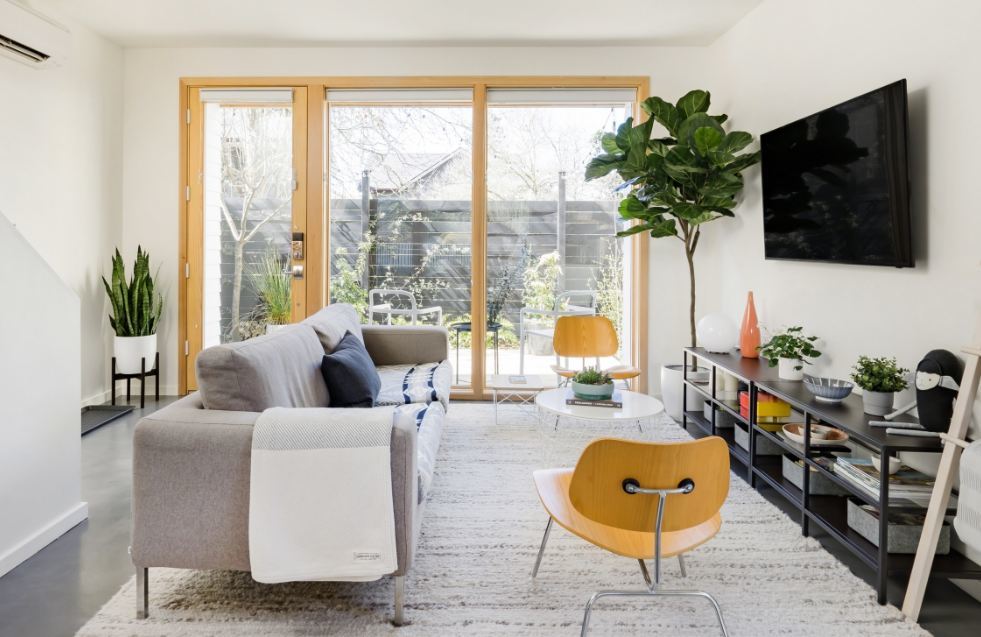 $$$
Beautifully designed spaces
There are occasions when an Airbnb listing looks like a featured home in a design magazine. They're the properties that so many of us drool over, but not many folks stay in. This stunning Portland Airbnb in Central Eastside offers aesthetically-driven travelers the chance to taste this praised standard of beauty!
Plants pepper the space, adding splashes of life and color. The ceilings soar high overhead, and the open-plan design is complemented with an abundance of natural light. Every little design element has been considered. And all this in a central, highly-walkable part of town!
Top 5 Airbnb Experiences in Portland
Airbnb experiences are a relatively new addition to the platform. But they've been a very welcome addition indeed. They're basically activities coordinated by locals that show off various aspects of the city or destination. The experiences range from history and culture tours to sightseeing adventures, cooking classes, and multi-day treks.
They're great, because who is better qualified to share their city and its surroundings with travelers than a passionate local resident? You get a real inside scoop and local knowledge that will serve you well for the rest of your trip!
Portland is home to a healthy selection of Airbnb experiences, with a variety of activities to choose from. They show off the city, its culture, its history, and its gorgeous natural surroundings. The following are some of the best available!
$39/person
5 hours
Up to 5 guests
The city has a wonderfully laid-back culture, with its locals enjoying an eclectic mix of activities. This tour explores some of the most quintessentially-Portland destinations and experiences. It's an ideal choice for those who want to dive into the local culture and experience the city beyond the typical tourist path.
It kicks off with a visit to one of Portland's many legal weed dispensaries, where you'll discover the city's loving relationship with cannabis. Next, you'll enjoy a hot beverage in a living room cafe before grabbing a cruelty-free bite at a vegan gastropub. Then finish it off with a few beers at a quirky local bar!
$49/person
6 hours
Up to 10 guests
Natural beauty is something that Portland and its surroundings flaunt in abundance. This adventure through the Columbia River Gorge highlights some of the area's most incredible natural wonders. It's the perfect experience for outdoor enthusiasts!
Admire the views from a renowned overlook, then venture down further to explore the celebrated Multnomah Falls. You'll also stop by Latourell Falls before embarking on a picturesque drive to Beacon Rock. Top it all off with an easy-going, optional hike to the top of this remnant of an ancient volcano!
$59/person
4 hours
Up to 10 guests
There are many things to see in Portland, and a lot to learn about its history and culture. If you're interested in learning about the city while exploring some of its best bits, this morning tour is your best option.
You'll start off at historic Pittock Mansion, where you'll enjoy some coffee and views of Mt. Hood. Then take a walk on the wild side through Portland's lush greenery before delving into the city's arts and culture. Wander through cultural hotspots like Nob Hill, North Mississippi, the Pearl District, and Hawthorne.
Tip: if you're short on time you can jump on a shorter tour that only explores the trendy Pearl District.
$24/person
2 hours
Up to 10 guests
Portland's culinary scene is thriving, with plenty of talented chefs, artisans, and bakers putting together top-notch dishes and treats. Among the city's most delectable exports is the humble donut. This experience explores the city's wider food scene and its history, one donut-tasting at a time! An ideal experience for foodies and cultural explorers.
Get going with some quirky treats at Coco Donuts before walking through the city center to Blue Star Donuts, where you'll discover some interesting and unique flavors. Next, move on to Nola Beignets for some more tasters, and end it off with skip-the-line access to the world-famous Voodoo Doughnuts.
$39/person
3 hours
Up to 5 guests
Beer is a big deal in Portland, with many dozens of microbreweries scattered throughout. It's also home to an incredible range of weird and wonderful bars, serving up a variety of your favorite concoctions.
This walking tour allows you to dive into the city's funkiest bars with Portland's biggest local fan. It's a great experience for those who enjoy a few drinks, but also want to meet locals and enjoy great conversation. The tour meanders on foot through the city, stopping by at some of the best local bars and taprooms.
Don't Forget Your Portland Travel Insurance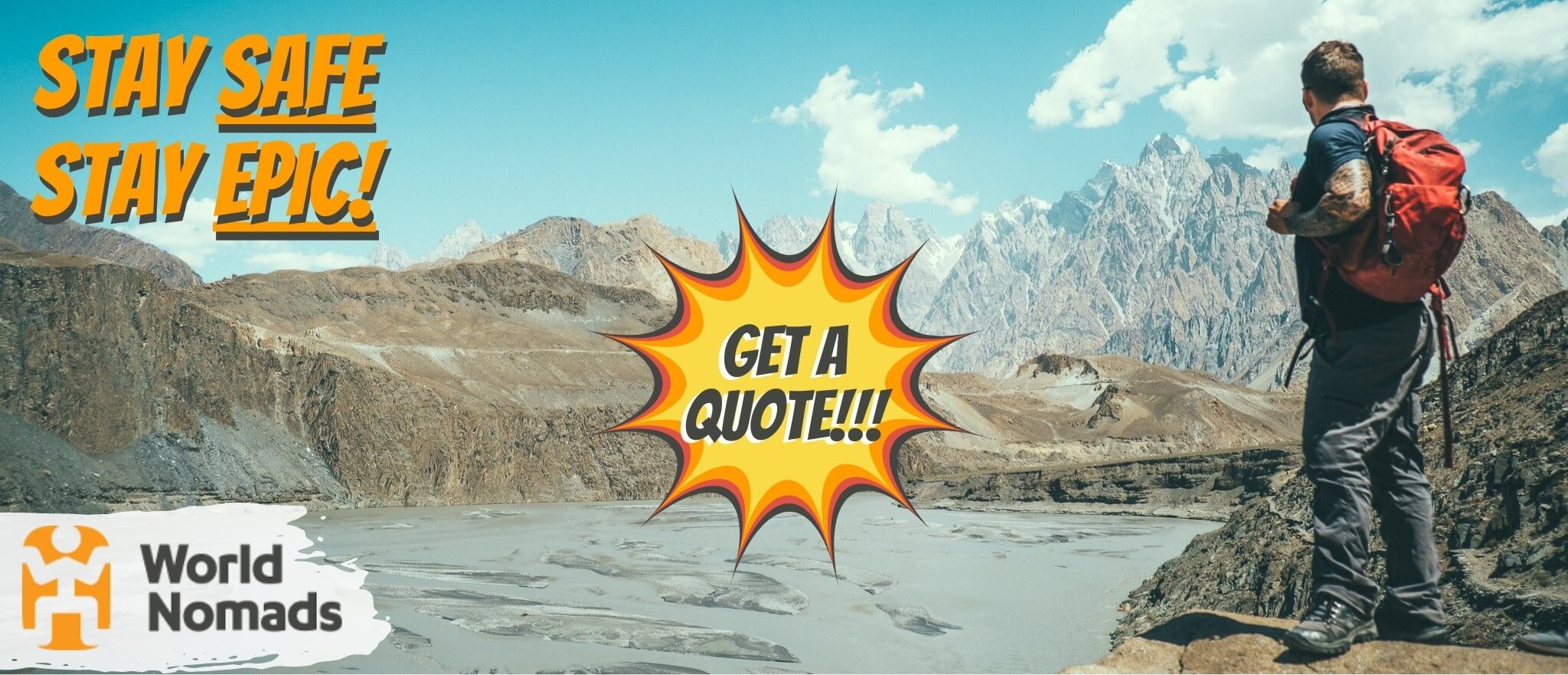 World Nomads' mission is to support and encourage travellers to explore their boundaries. They offer simple & flexible travel insurance, and safety advice to help you travel confidently.
They've been doing it since 2002 – protecting, connecting, and inspiring independent travellers just like you.
Get a quote below or read our in-depth review!
World Nomads provides travel insurance for travelers in over 100 countries. As an affiliate, we receive a fee when you get a quote from World Nomads using this link. We do not represent World Nomads. This is information only and not a recommendation to buy travel insurance.
Final Thoughts on Portland Airbnbs
So there you have it, folks. The best of the best when it comes to Airbnbs in Portland.
It's an incredible city that will make for an awesome trip. Whether you're snooping around an indie bookshop, exploring the famed Japanese Garden, grabbing a streetfood bite or sipping on a freshly brewed beer, you'll have a giddy grin on your face. And just like everyone else who visits, you'll be thinking 'I can see myself moving to Portland'.
These Portland Airbnb stays and experiences can really enhance your trip to the city. So we hope this guide has helped you find a place that's perfect for you!
Lastly, if you're planning a trip to Portland, and the USA isn't your home country, keep yourself safe by getting some travel insurance.
---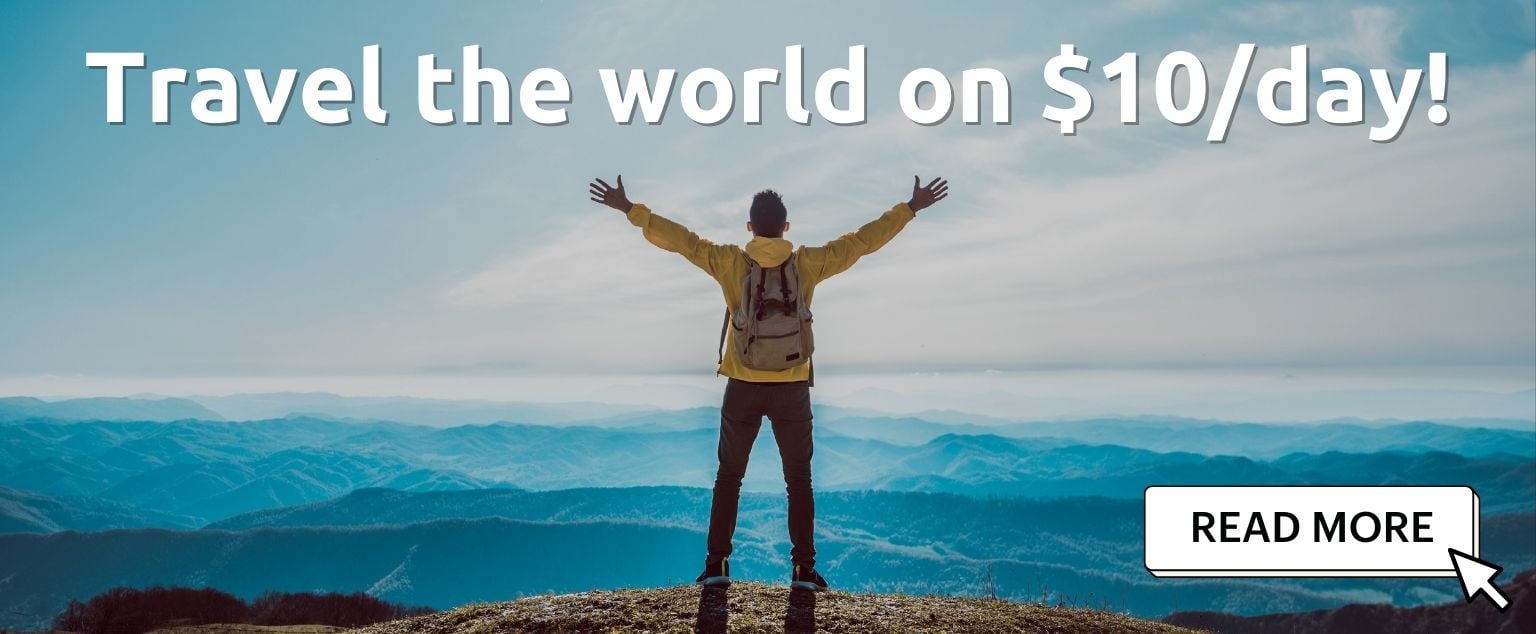 And for transparency's sake, please know that some of the links in our content are affiliate links. That means that if you book your accommodation, buy your gear, or sort your insurance through our link, we earn a small commission (at no extra cost to you). That said, we only link to the gear we trust and never recommend services we don't believe are up to scratch. Again, thank you!