Known for its beautiful coastline and eco-friendly energy, Oregon is one of the most picturesque states in the US and makes for the perfect vacation destination. From travel artists to families on road trips, everyone can find something fun and interesting to do in Oregon!
Whether you're a seasoned traveler or not, it's important to find ways to make this vacation as memorable as possible. A great way to do this is by finding unique accommodation in Oregon so you can stay in an awesome spot as opposed to a standard hotel room.
To help give you ideas about where to stay, we've put together a list of the best treehouses and cabins in Oregon. These awesome properties combine the amazing natural beauty of Oregon with excellent home-style comforts for that perfectly balanced vacation experience!
In a Hurry? Here's Where to Stay in Oregon for One Night
FIRST TIME IN OREGON
The Peacock Perch
If you're an outdoor adventurer looking for unique accommodation in Oregon, then look no further than the Peacock Perch! This cute little treehouse is close to top attractions, has a great view, and you'll have access to excellent modern comforts in the main lodge.
NEARBY ATTRACTIONS:
Oregon Caves National Monument
Illinois River Forks State Park
Great Cats World Park
Is this amazing Oregon Treehouses and Cabins booked for your dates? We've got your back with our other favorite properties below!

Unlock Our GREATEST Travel Secrets!
Sign up for our newsletter and get the best travel tips delivered right to your inbox.
Unique Accommodation in Oregon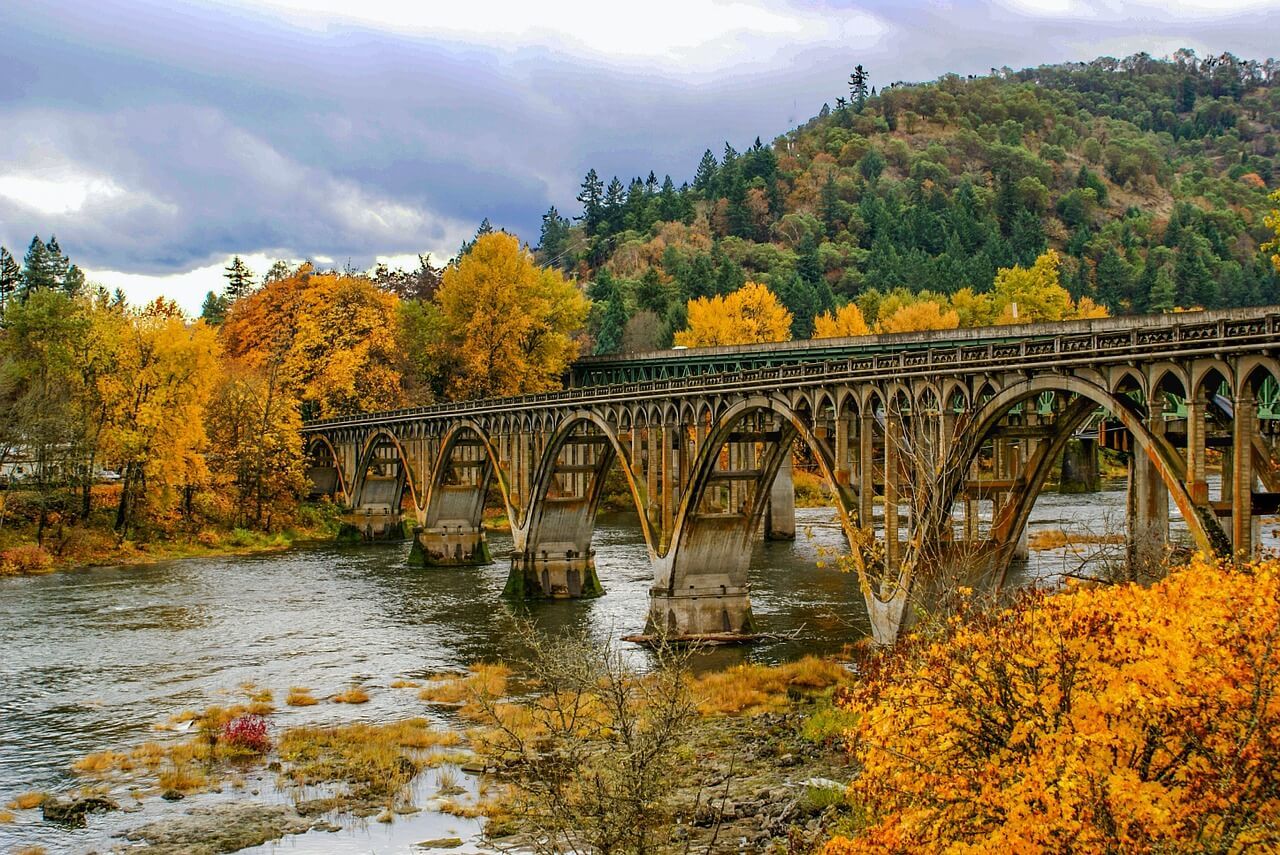 It's easy to find hotels in Oregon, but why stay in an overpriced, under-par hotel when there are epic alternatives such as treehouses and cabins? This way you can have a more authentic experience, plus way more privacy since you'll have the entire treehouse or cabin to yourself!
The great thing about the best treehouses and cabins in Oregon is that there are plenty of options to choose from. From large family getaways to solo budget backpackers, the variety in cabins and treehouses makes it possible for everyone to find something that works for them.
Since Oregon gets cold during the winter, some treehouse and cabin properties are only open on a seasonal basis, while others have heating and even indoor fireplaces to keep you cozy no matter the weather!
If you're planning a vacation to Oregon in the summer, which is peak travel season, it's important to make your reservation far in advance. Also remember to check if there is a minimum night stay, which can range from one night to several weeks depending on the property.
Both cabins and treehouses give you a chance to be closer to nature, and really appreciate the wildlife of Oregon and the Pacific Northwest. Plus, most of the best treehouses and cabins in Oregon are locally owned, so you'll be supporting a local business and may even get insider tips from someone who lives in the area!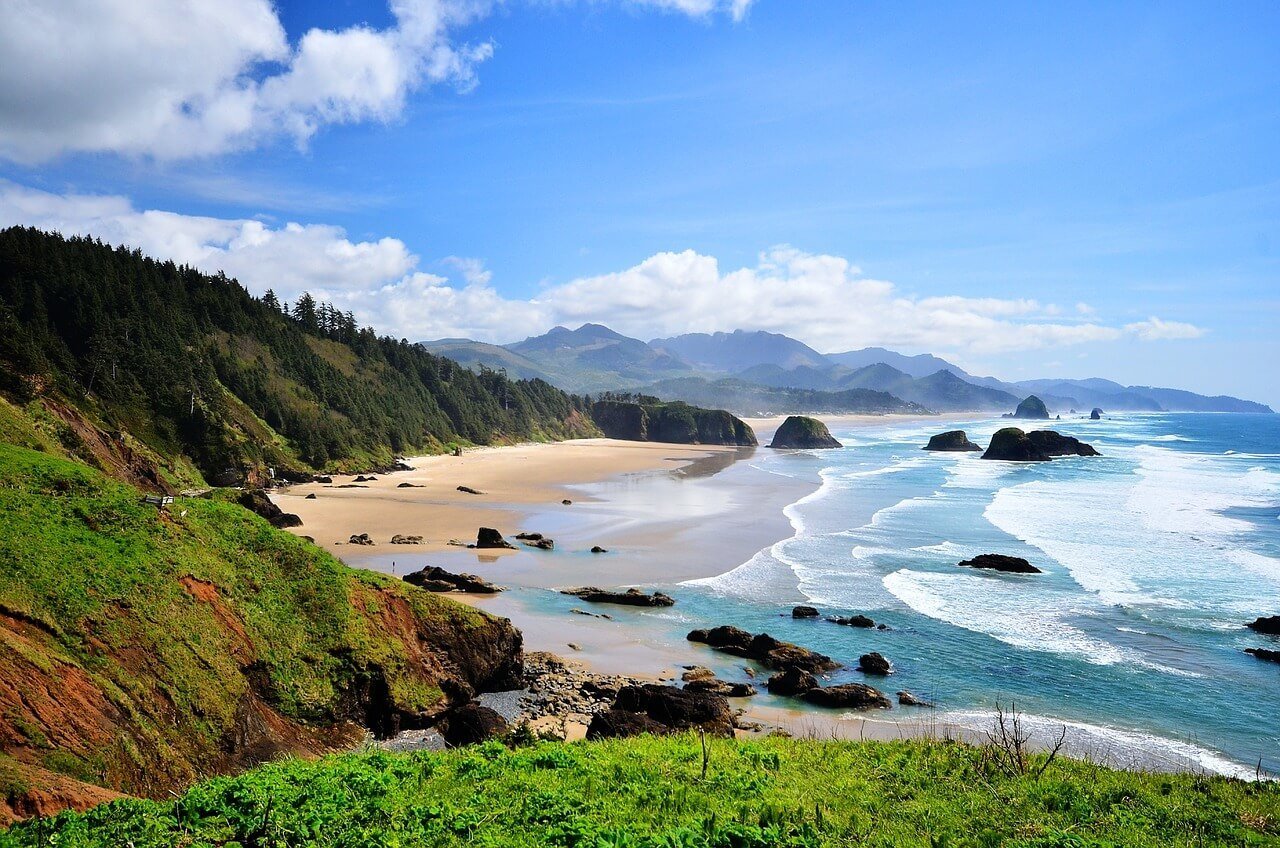 Staying at a Treehouse in Oregon
The best treehouses in Oregon range from small, camping-style properties to larger and more luxurious treetop perches which include modern amenities. The price depends heavily on what's included; rustic, off-the-grid spots tend to be more budget-friendly, but if you can't live without running water and Wi-Fi you'll need to spend more money.
Adventurers and outdoor enthusiasts will feel right at home in treehouses. Surrounded by the sounds of the forest and perhaps even a nearby stream, it's a great opportunity to unplug from the daily grind and reconnect with nature!
Treehouses tend to be slightly smaller and are usually better suited for solo travelers and couples. However, there are a few options for families and groups, but if you're traveling with young kids it's important to check that the treehouse is safe for them.
You can always count on having a great view when sleeping in a treehouse in Oregon, whether you're staying on the coast or in the middle of a forest. These properties come standard with free onsite parking, and usually small towns aren't too far away if you need to pick up any supplies during your stay.
Many treehouses are close to outdoor attractions including hiking trails, beaches, and bike paths. Often the hosts will be more than happy to offer travel advice and give suggestions for the best restaurants in the area or recommended activities to do during your stay.
Staying in a Cabin in Oregon
Cabins are the perfect option for travelers who want a balance of privacy, nature, and modern comforts. Usually, you'll have the entire cabin to yourself, so you won't have to deal with annoying neighbors as you would in a hotel!
Some cabins have a more remote location if you're hoping for a secluded escape in nature, while others are closer to town if you prefer to have easy access to stores and restaurants. Convenient parking is always available onsite to make transportation easier during your stay.
Since cabins range in size from tiny single-room properties to large, resort-style spots, it's possible for both solo travelers or large families to find cabins to stay in. Some properties charge a flat rate while others charge per traveler, which might make a difference for you to get the best deal on a spot.
Most of the best cabins in Oregon have fairly modern amenities like electricity, Wi-Fi, hot water, and sometimes even TVs. However, if you really want to disconnect from the outside world, you can also find rustic properties that offer an experience similar to that of a camping getaway.
In general, cabins offer the comfort of hotels, but with the peace and quiet of a natural setting. Often there are hiking trails, places to go swimming, beaches, or other fun attractions nearby so you can enjoy all the best parts of Oregon!
THE OVERALL BEST TREEHOUSE IN OREGON
THE OVERALL BEST TREEHOUSE IN OREGON
The Peacock Perch
> $$
> 2 Guests
> Swimming pool
> Breakfast included
THE BEST BUDGET TREEHOUSE IN OREGON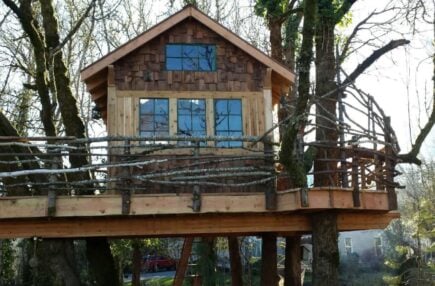 THE BEST BUDGET TREEHOUSE IN OREGON
The Treehouse Retreat
> $
> 2 Guests
> Heated outdoor shower
> Fishing pond
THE BEST BUDGET CABIN IN OREGON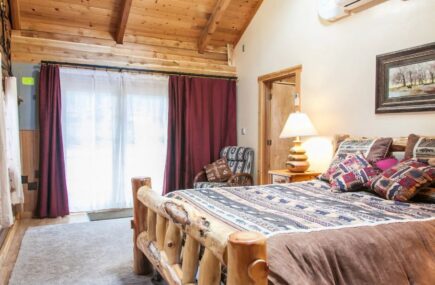 THE BEST BUDGET CABIN IN OREGON
Charming Woodland Cabin
> $
> 2 Guests
> Hot tub
> Picnic area
THE BEST TREEHOUSE FOR COUPLES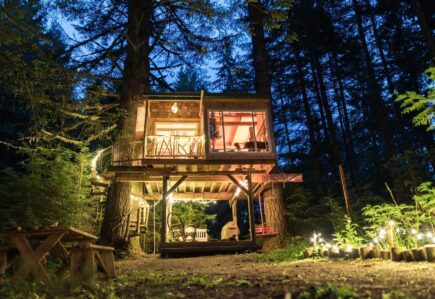 THE BEST TREEHOUSE FOR COUPLES
Mt Hood Magical Treehouse
> $$$
> 4 Guests
> Indoor fireplace
> Paddle boat included
THE BEST TREEHOUSE FOR A GROUP OF FRIENDS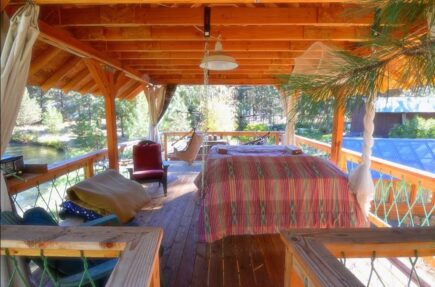 THE BEST TREEHOUSE FOR A GROUP OF FRIENDS
Deschutes River Woods Treehouse
> $$
> 6 Guests
> Kitchenette
> Next to a river
OVER-THE-TOP LUXURY CABIN
OVER-THE-TOP LUXURY CABIN
Sea View Cabin
> $$$$
> 2 Guests
> Outdoor hot tub
> Unspoiled ocean views
THE BEST CABIN FOR FAMILIES VISITING OREGON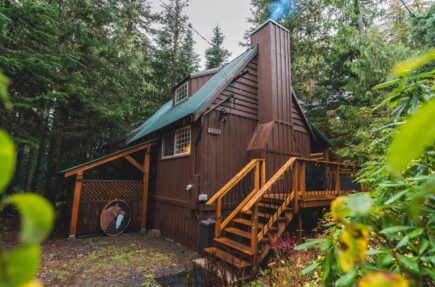 THE BEST CABIN FOR FAMILIES VISITING OREGON
Govi Woodland Cabin
> $$
> 4 Guests
> Hot tub
> Equipped kitchen
The Top 15 Treehouses and Cabins in Oregon
Ready to begin your adventure in the Pacific Northwest? Read on to learn about our top picks for the best treehouses and cabins in Oregon. From romantic honeymoons to family road trips, we've got you covered!
The Overall Best Treehouse in Oregon – The Peacock Perch
$$
2 Guests
Swimming pool
Breakfast included
The perfect combination of rustic charm, natural beauty, and great hospitality can be found at the Peacock Perch Treehouse in Oregon! Located close to Cave Junction, there are endless options for outdoor exploration including hiking, visiting the Redwoods, or river rafting.
Onsite, you can enjoy a buffet breakfast served in the main lodge every morning, plus access to a communal kitchen area and laundry space. Depending on the season, there's also an outdoor pool to enjoy during the day and guests can relax and get cozy around an outdoor fire pit at night.
$
2 Guests
Heated outdoor shower
Fishing pond
An upscale version of camping, you can still have an authentic outdoor experience whilst enjoying basic amenities such as comfortable beds and a heated outdoor shower. The treehouse can accommodate a third person if necessary, although due to the ladders, it might not be suitable for young children.
The Treehouse Retreat is conveniently located in Philomath where you can go shopping, visit restaurants, or simply relax and enjoy the peace and quiet! Fun onsite activities include a fishing pond, zip-line, and rope swing, plus there are plenty of hiking trails for you to explore.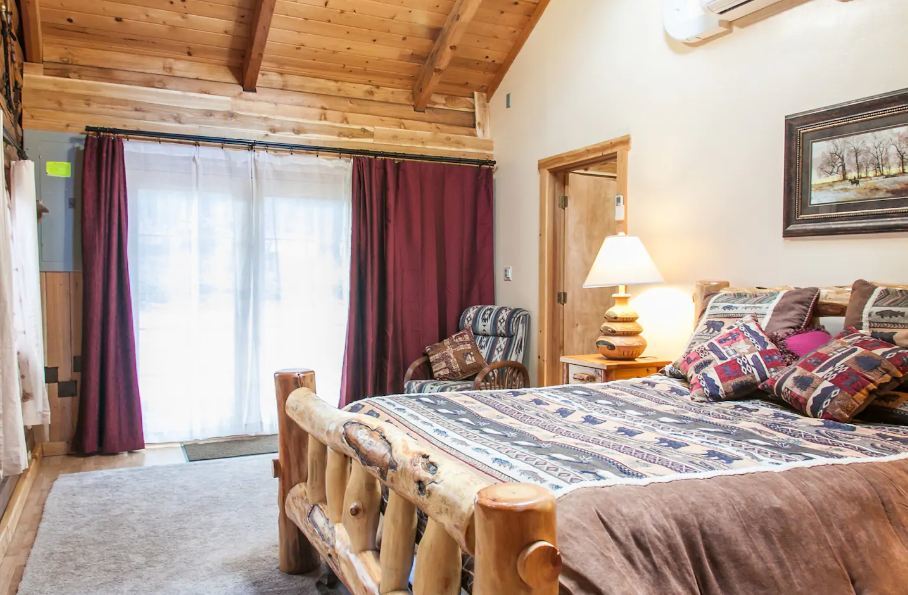 $
2 Guests
Hot tub
Picnic area
Enjoy the beautiful landscapes of central Oregon, plus a comfortable and homey atmosphere, at this cute little cabin. The room has a large bed and a pullout mattress for an extra person, but if you bring your own camping gear or air mattresses, the space can hold up to 6 guests!
There are plenty of attractions nearby including the Sunriver Resort and the High Desert Museum, as well as numerous hiking trails. But, you may not want to leave the cabin as it comes with awesome amenities such as a fire pit and hot tub, and a patio where you can relax and enjoy the outdoors.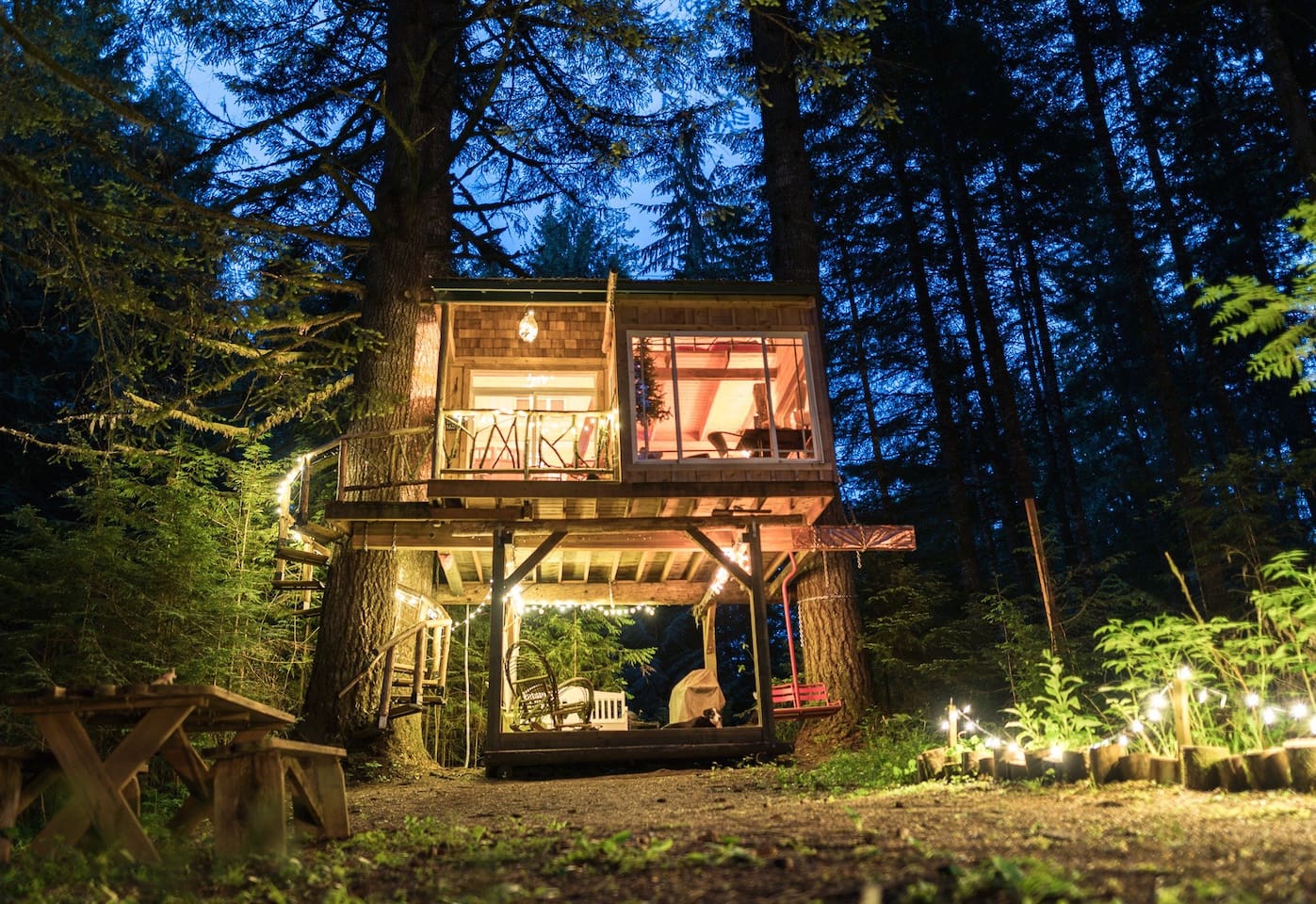 $$$
2 Guests
Indoor fireplace
Paddleboat included
A perfect romantic glamping (glamorous camping) experience, this quiet woodland treehouse in Oregon is well-suited for a vacation with your loved one. You can enjoy the peacefulness of the forest or light up a fire when it rains. There's also a pond where you can swim or make use of the paddle boat. Better yet – it has a zip-line!
The nearest town is about 6 miles away and there are plenty of hiking trails in the area. Mt. Hood is just a 30-minute drive from the property and this is where you'll find other activities and attractions.
An Eco-Friendly Traveller NEEDS an Eco-Friendly Backpack!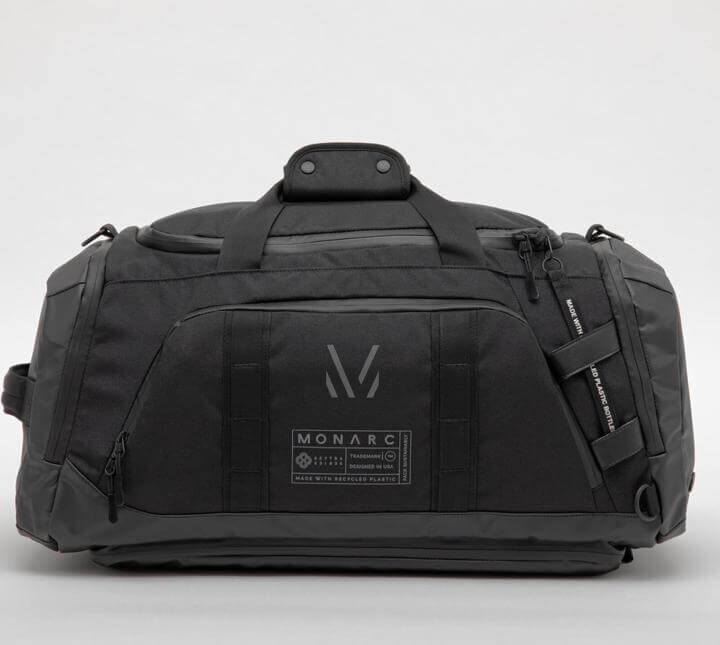 50 recycled plastic bottles – that's what goes into every Monarc Settra: the world's MOST SUSTAINABLE backpack.
Whether you're rocking duffel mode or backpack mode, if you're a traveller that gives a flying hoot about their environmental impact, then there's only one backpack you should consider – the plastic-negative Monarc Settra.
Learn More Now!
$$
6 Guests
Kitchenette
Next to a river
This is a great treehouse option for groups who want an experience in nature yet also want to be close to town conveniences. You'll have a fun camping-style experience, but with comforts like memory foam mattresses, Wi-Fi, and a small kitchen area.
Located in Bend, Oregon, the beautiful Deschutes River runs close to the treehouse and there are lots of great hiking trails in the area. For that matter, Eastern Oregon is known for having some best hikes in the state! You'll have free parking available so you can easily drive to visit other attractions and cities nearby.
This is one of the best vacation rentals in Bend for its location and facilities.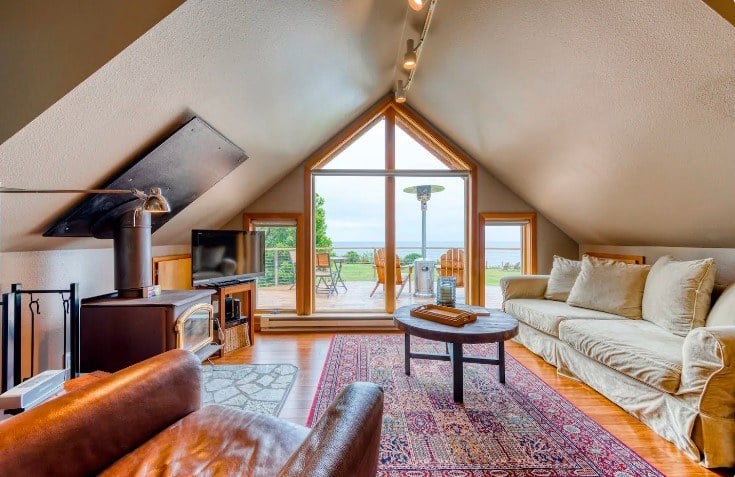 $$$$
2 Guests
Outdoor hot tub
Unspoiled ocean views
If you're in search of a truly luxurious escape, look no further than this stunning cabin near Manzanita in Oregon! The cabin is tastefully decorated with modern furnishings and a gorgeous open plan kitchen, not to mention the cozy living room.
Situated between two state parks, you'll be spoilt for choice when it comes to hiking trails and outdoor adventures. But we won't judge you if you decide not to leave the property! With the impressive outdoor hot tub and the large garden with ocean views, we wouldn't want to go anywhere either.
The Best Cabin for Families visiting Oregon – Govi Woodland Cabin
$$
4 Guests
Hot tub
Indoor fireplace
A cozy cabin located in the village of Government Camp, this is the perfect spot for families who are interested in outdoor activities in Oregon, but who also want to keep the comforts of home. There are plenty of nearby attractions including hiking trails, ski resorts, shops, and restaurants, yet the cabin still offers a peaceful and tranquil escape.
After a day of exploring, you can relax and unwind in the large outdoor hot tub, and there's a fully equipped kitchen to prepare meals. The cabin also boasts a large living area with a cozy fireplace for those cold winter nights.
The Best Cabin for Backpackers – The Drake Club
$
2 Guests
Indoor fireplace
Prime location
Located in Bend, Oregon, this elegant little cabin is equipped with everything you need for a comfortable stay. There's AC for the summer, and indoor fire for the winter, a small kitchenette, plus paddle boards, rafts, and fishing gear which can be rented for a small fee!
Although there's parking available onsite, there's no need for a car if you plan on just visiting the nearby attractions. This cabin is near one of the coolest places to stay in Bend, with numerous hiking trails and outdoor activities within walking distance from the cabin. If you have any questions, the hosts are super friendly and can give you suggestions about what to do in the area.
$
2 Guests
Breakfast included
Exceptional hospitality
This tiny treehouse in Oregon has a cool, artsy vibe to it and is perfect for solo adventurers or a pair who don't mind being too close! If you stay more than one night, there's a shower in the main house for you to use, plus a small breakfast is served every morning.
Located in Portland, the treehouse has a secluded atmosphere but is still close to city attractions and conveniences. It's possible to get around using public transportation or alternatively, you can just walk if you want to save money and skip getting a rental car.
$$$
4 Guests
Sauna and hot tub
Next to a waterfall
Treat yourself to a special treehouse experience in Gold Beach where you can enjoy a secluded and isolated setting yet still be less than 2 minutes by car to the beach. You'll be blown away by what this property has to offer including a sauna and pool table, and it's only a stone's throw away from hiking trails and picnic spaces.
In your private treehouse, there is a small kitchenette, bath tub, and a TV so you won't need to give up any of the comforts of home. You can play games like horseshoes or boccie ball in the garden area, roast s'mores on the outdoor campfire, or just relax and enjoy the natural scenery!
$$
2 Guests
TV and Wi-Fi
View of the ocean
The picturesque beachfront of Newport will be yours to enjoy at this charming cottage in Oregon. The rustic interior design gives the place a unique charm, but you'll still have great modern amenities like a kitchen, TV, and heating which will keep you nice and warm during the colder months.
All the top attractions of Newport, including the Oregon Coast Aquarium and renowned restaurants, are close by yet the cabin has a private setting so it's easy to take a break from it all and enjoy the peaceful scenery during your stay.
$$$
2 Guests
Incredible location
Suspension bridges
Located on the edge of Portland, you can enjoy a secluded setting without being far from the conveniences and attractions of the downtown area. The cozy treehouse has its own private deck with outdoor furniture and is surrounded by lush trees.
There's easy access to hiking trails like the Tryon Creek State Park Trail which will take you to nearby canyons and beautiful forested areas. You can park onsite if you have a car, but it's also possible to walk and use public transportation.
The Best Treehouse for a Weekend in Oregon – The Bluebird House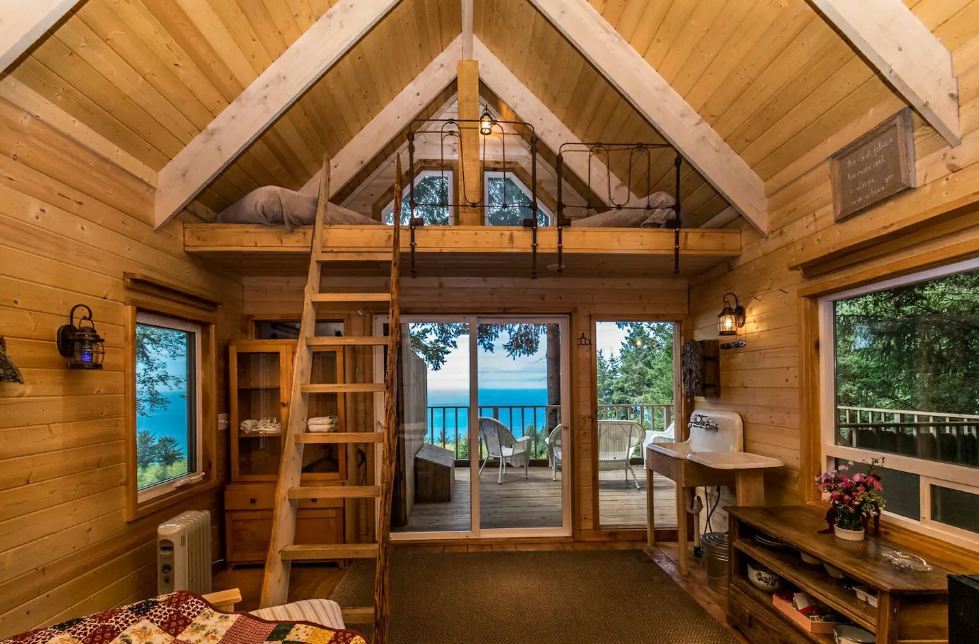 $$
4 Guests
Spectacular views
Sparkling clean
A cozy treehouse where you can listen to the waves and wind through the trees, this cute property is a great place to reconnect with nature. There's no TV or Wi-fi, so it's perfect for a weekend to disconnect from the barrage of daily life and get in tune with the natural surroundings.
The property is right next to The Cape Sebastian State Park where you can hike or go biking. Plus, the property offers panoramic views of the ocean and you can hike down to a section of the private beach below.
$$
2 Guests
Indoor fireplace
Private deck
A super cool and modern treehouse located close to Portland, the Tabor Treehouse has modern comforts and beautiful natural touches. When the weather's warm you can relax and listen to the wind in the trees on the private deck, and during the winter there is heating and an indoor fireplace to keep you warm.
Just a few blocks away you can go hiking or biking in Mt. Tabor Park, or explore the Portland area using the convenient public transportation nearby! At the end of the day, you'll be eager to return to your own cozy hideout among the treetops.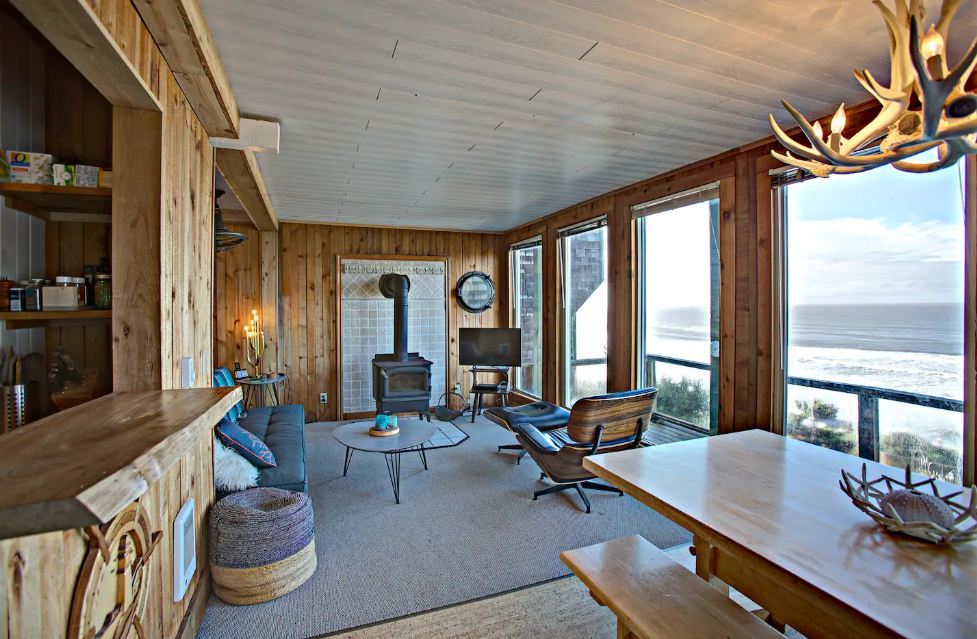 $$
2 Guests
Incredible location
Woodburning stove
A charming coastal cabin, you can enjoy uninterrupted views of the Pacific Ocean from your own private deck! The cabin has a rustic charm, yet if fitted with modern amenities including Wi-Fi, an open plan kitchen, and an indoor fireplace.
Oceanside Village is a charming little town with a few restaurants, and convenience shops if you need to purchase anything. Nearby there are several state parks and places to go hiking like Cape Kiwanda and Cape Lookout where you can marvel at the stunning scenery.
FAQ about Treehouses and Cabins in Oregon
Here's what people usually ask us when they look for vacation homes in Oregon.
Don't Forget Your Oregon Travel Insurance
ALWAYS sort out your backpacker insurance before your trip. There's plenty to choose from in that department, but a good place to start is Safety Wing.
They offer month-to-month payments, no lock-in contracts, and require absolutely no itineraries: that's the exact kind of insurance long-term travellers and digital nomads need.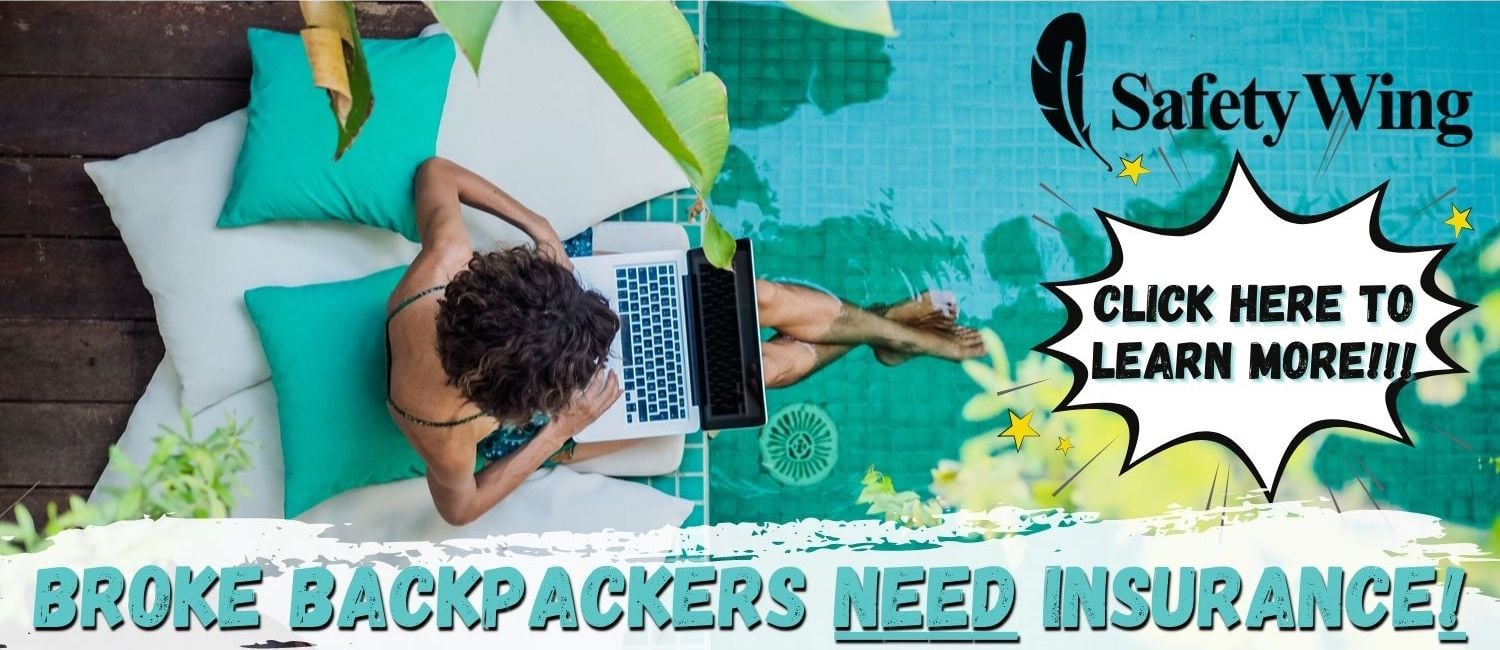 SafetyWing is cheap, easy, and admin-free: just sign up lickety-split so you can get back to it!
Click the button below to learn more about SafetyWing's setup or read our insider review for the full tasty scoop.
Final Thoughts on Treehouses and Cabins in Oregon
Whether you're looking for a place to hang out for an extended period of time in the Pacific Northwest or you're just passing through for a few nights, staying at one of the best treehouses and cabins in Oregon is a great way to get in touch with the natural side!
By picking one of these options for cool, unique accommodation in Oregon, you can take your vacation to the next level and discover things you'd miss if you decided to stay at a stuffy and overpriced hotel room.
---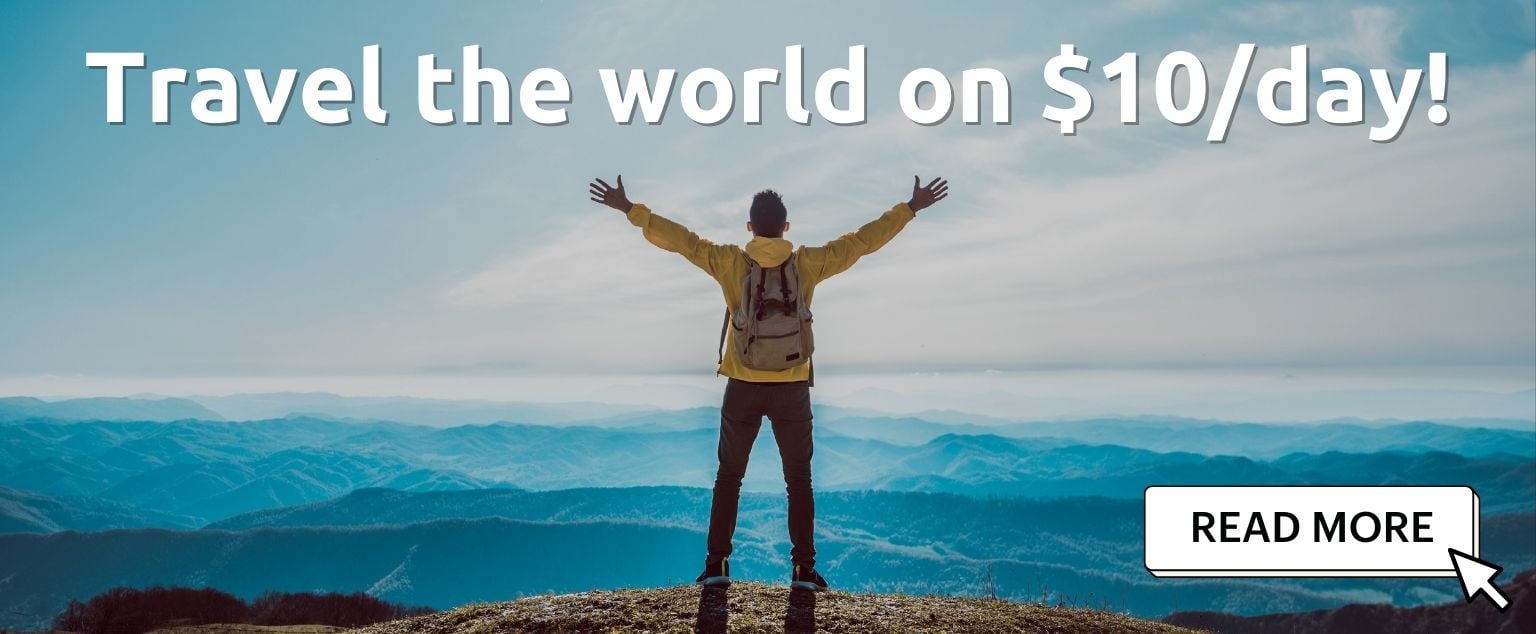 And for transparency's sake, please know that some of the links in our content are affiliate links. That means that if you book your accommodation, buy your gear, or sort your insurance through our link, we earn a small commission (at no extra cost to you). That said, we only link to the gear we trust and never recommend services we don't believe are up to scratch. Again, thank you!