Whatever an adventurer needs, Oregon offers; scenic trails, hot springs, rivers, lakes, coasts, woodlands, mountains, and a lot more. Oregon is gifted with all kinds of natural wonders, and outdoor lovers from all over the world make their way to Beaver State to immerse themselves in this fantastic landscape.
The most common types of travelers in Oregon are the ones looking for an off-the-grid vacation. That's the only way you can truly unplug from city life and connect with nature one-on-one.
Since resorts and hotels cannot give you that kind of luxury, cabins in Oregon take the spotlight. These cabins provide the best lodgings for families, couples, and friends, allowing them to strengthen their bonds and become a lot closer to each other while creating memories that last a lifetime.
If you're ready for some forest exploration and taking a dip into Oregon's world-famous hot springs, then you'll need to stay in a cabin nearby!
If this all sounds great to you but you don't know where to start, then don't worry, I got you. These cabins in Oregon are the most delightful accommodations the state has to offer.
So, let's get started…
In a Hurry? Here's Where to Stay in Oregon for One Night
FIRST TIME IN OREGON
Little Mountain Cabin
Perfect location, a celebration of local art, and dreamy décor make Little Mountain Cabin one of the best lodgings in Oregon, and that too without ripping you off! This cabin offers its guests the best value for their money alongside unforgettable experiences.
NEARBY ATTRACTIONS:
Zigzag River
The Salmon River Trail
Mt. Hood Meadows
Is this amazing Oregon Cabin booked for your dates? We've got your back with our other favorite properties below!

Unlock Our GREATEST Travel Secrets!
Sign up for our newsletter and get the best travel tips delivered right to your inbox.
Staying in a Cabin in Oregon
Winters in Oregon are quite intense and last a lot longer than summers, which is why most cabins in this state are designed to be winter cabins, making them all the cozier and snugger. The vibe carried by Oregon cabins is rich and classy, as they are designed to encourage the guests to curl up in beds and couches draped with wool throws. Saunas, hot tubs, fire pits, and fireplaces are found in almost all of them.
Since Oregon is specifically known for its outdoor adventures and vacations that include nature retreat, solitude, and unplugging, there is no accommodation better suited for travelers than cabins.
Architectural masterminds have designed these cabins to amplify their surroundings. You'd find most of them right by a river, or on a coast, or nestled in hills, overlooking the green landscapes all around. And to let you appreciate the beauty, every cabin comes with huge windows, glass walls, or multiple smaller windows.
What to look for in a Cabin
The most important thing to consider before booking your cabin is the location. Cabins tend to be in remote areas which means you're going to need a car to get to them. You might want to consider how remote you want to be, as you'll need to stock up on supplies on the way.
Most cabins come with parking and near to main road links, perfect for those on an Oregon road trip!
Because of their remote locations, cell network and WiFi signal may not be the best. Of course, this is also part of the charm, as many cabins are designed so you are totally off the grid. But if that's not what you signed up for, it's a good idea to check this before booking.
Cabin hosts in Oregon are generous in their amenities. Even budget-friendly and super affordable cabins are kept in top-notch condition, super clean, and well-lit.
Cosy comforts like a fireplace, fire pit, kitchen, and cozy sleeping arrangements are given top priority. Many cabins are family-friendly and come with cribs, high-chairs, and bunk beds, to help parents settle the little ones nicely, but not all of them, so it's best to check if the property comes with these items if you need them.
If you have certain priorities and would like to have more options before you, I suggest checking out Vrbo's collection of cabins in Oregon. They have some of the best cabins in budget-friendly options, but finding the best ones does require a bit of searching. If that sounds like too much work for you, read on to see the best cabins.
OVERALL BEST VALUE CABIN IN OREGON
OVERALL BEST VALUE CABIN IN OREGON
Little Mountain Cabin
> $$
> 3 Guests
> Indoor Fireplace
> Located on hills bordering Mt. Hood National Forest Land
BEST BUDGET CABIN IN OREGON
BEST BUDGET CABIN IN OREGON
Sailors Hideaway Cabin
> $
> 2 Guests
> Indoor Fireplace
> Surrounded by trees, mountains, and ski resorts
BEST CABIN FOR COUPLES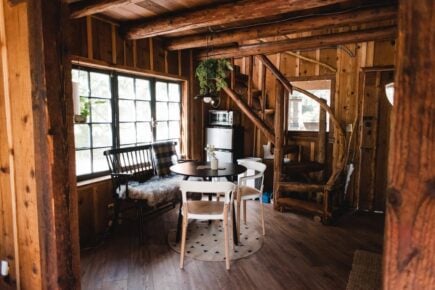 BEST CABIN FOR COUPLES
The Hide & Seek Cabin
> $$
> 2 Guests
> Indoor fireplace
> A forest cabin with modern amenities
BEST CABIN FOR A GROUP OF FRIENDS
BEST CABIN FOR A GROUP OF FRIENDS
Wandering Woods
> $$
> 6 Guests
> Outdoor dining area
> A modern A-Frame cabin near Mount Hood
OVER-THE-TOP LUXURY CABIN
OVER-THE-TOP LUXURY CABIN
The Beaghan Estate Cabin
> $$$$
> 8 Guests
> Hairdryer
> Beachfront property
BEST CABIN FOR FAMILIES VISITING OREGON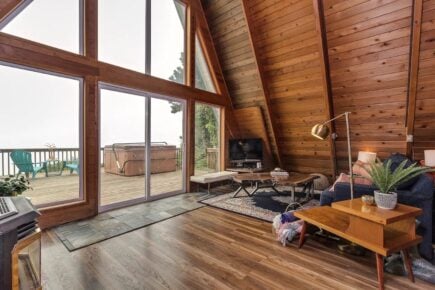 BEST CABIN FOR FAMILIES VISITING OREGON
Salacia Chalet
> $$
> 5 Guests
> Beach essentials
> Beachfront property
BEST CABIN FOR BACKPACKERS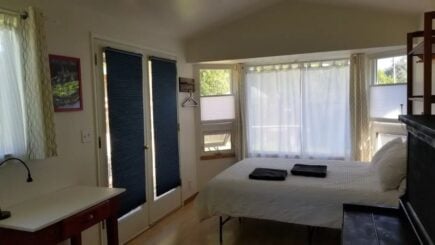 BEST CABIN FOR BACKPACKERS
Backyard Cabin
> $
> 3 Guests
> Washer
> Very private cabin located in the heart of Eugene
The Top 10 Cabins in Oregon
Trust me when I say that after a long day of hiking and going against the pounding rapids of the river, you'd crave snug, warm, and cozy lodgings to sleep it off.
Fortunately for you, Oregon has some of the lushest and most timeless cabins to offer. Here are the top 10 cabins the state has to offer!
$$
3 Guests
Indoor Fireplace
Located on hills bordering Mt. Hood National Forest Land
The quintessential log cabin located on the greenest hill you might have ever seen, the Little Mountain Cabin in Rhododendron is perfect for relaxing, unwinding, and for enjoying some of Oregon's best outdoor activities.
In addition to having the most gorgeous patio and backyard for stargazing and spending quiet and beautiful moments around the firepit, the thoughtfully curated interior is just as magical.
The cabin is decorated with the work of local artisans and has an open floor plan with a sleeping arrangement in the cozy loft and the living room has a wood-burning stove along with a cushy sofa facing the mesmerizing view outside.
Couples and adventurists can use this cabin as a base as they head over to Mt. Hood and enjoy the thrill of some of the best hikes in Oregon, fishing, and skiing.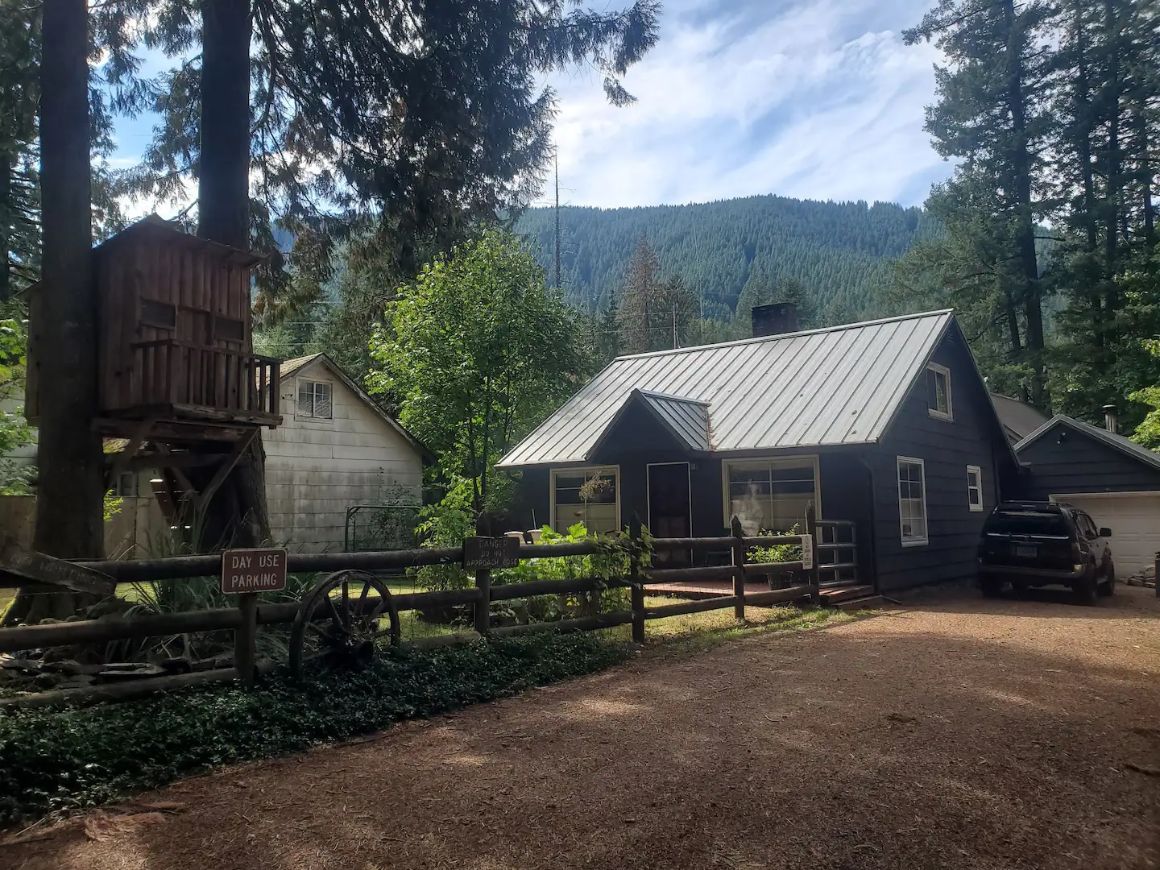 $
2 Guests
Indoor Fireplace
Surrounded by trees, mountains, and ski resorts
Do you wish for all the tranquility of nature yet all the happening adventures of Mt. Hood? Then a private room in this cabin is for you. And while your priorities might be high, the asking price of this cabin isn't!
Sailor's Hideaway Cabin is located in the heart of Mount Hood in Rhododendron, just minutes from all the ski resorts, beautiful hikes, and numerous shops.
However, the immediate surrounding of the cabin is just green beautiful lands, lush woods, and clear skies that asks for stargazing, BBQs, firepits, and birdwatching.
With this budget option, you get an entire top floor of the cabin which features a cosy bedroom, bathroom, and a Jacuzzi tub. You also get access to the kitchen, the living room with the TV, and the back deck. This cabin is perfect for couples and friends who are traveling to Oregon on a budget.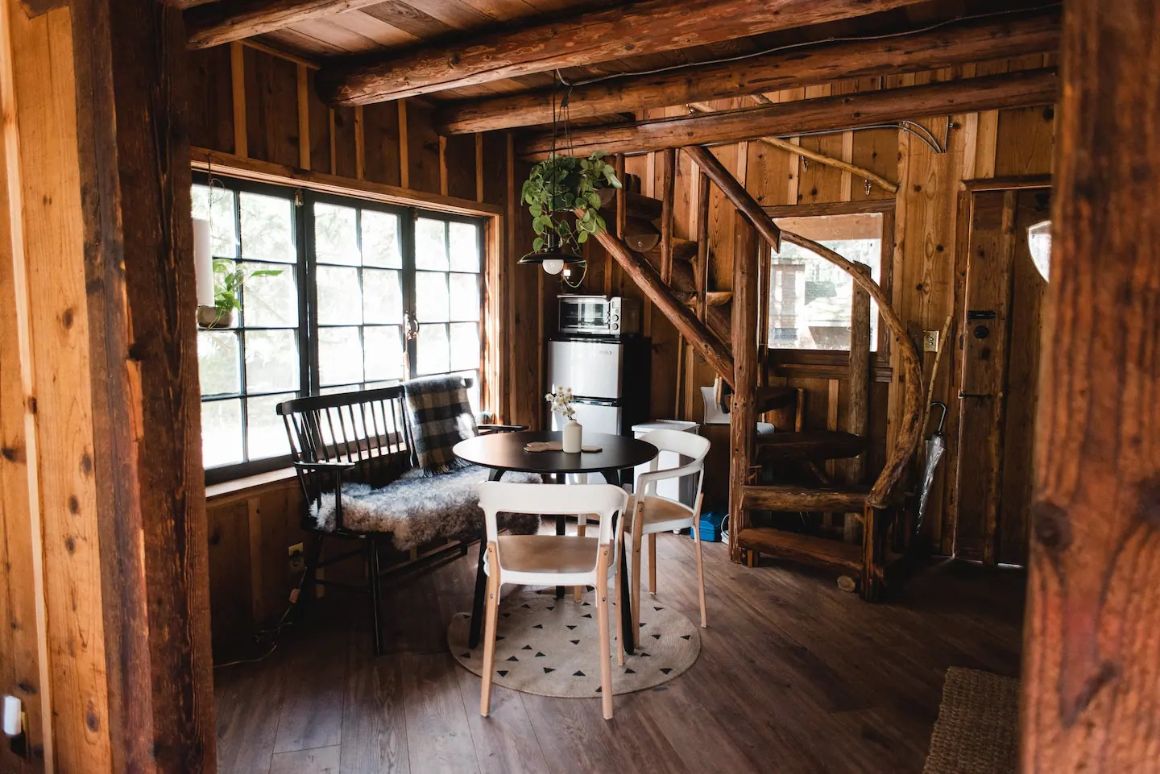 $$
2 Guests
Indoor fireplace
A forest cabin with modern amenities
You'll cherish every moment you'll spend in this wooded vintage cabin tucked away in the forest of Rhododendron. The cabin carries all the characteristic traits of what makes a cabin cozy and romantic.
With its fully-furnished kitchen, earthy, handmade ceramics, radiant floor heating, wool throws on the furniture, Wi-Fi speakers, and peace to last for days, Hide & Seek cabin is just the place to flee with the love of your life.
While it gets really difficult to get out from the comfy confines of this cabin, the world outside might just convince you to. There are plenty of ski-resorts, eateries, and numerous hiking trails just minutes away, not to mention the graceful river a few steps from the cabin's door.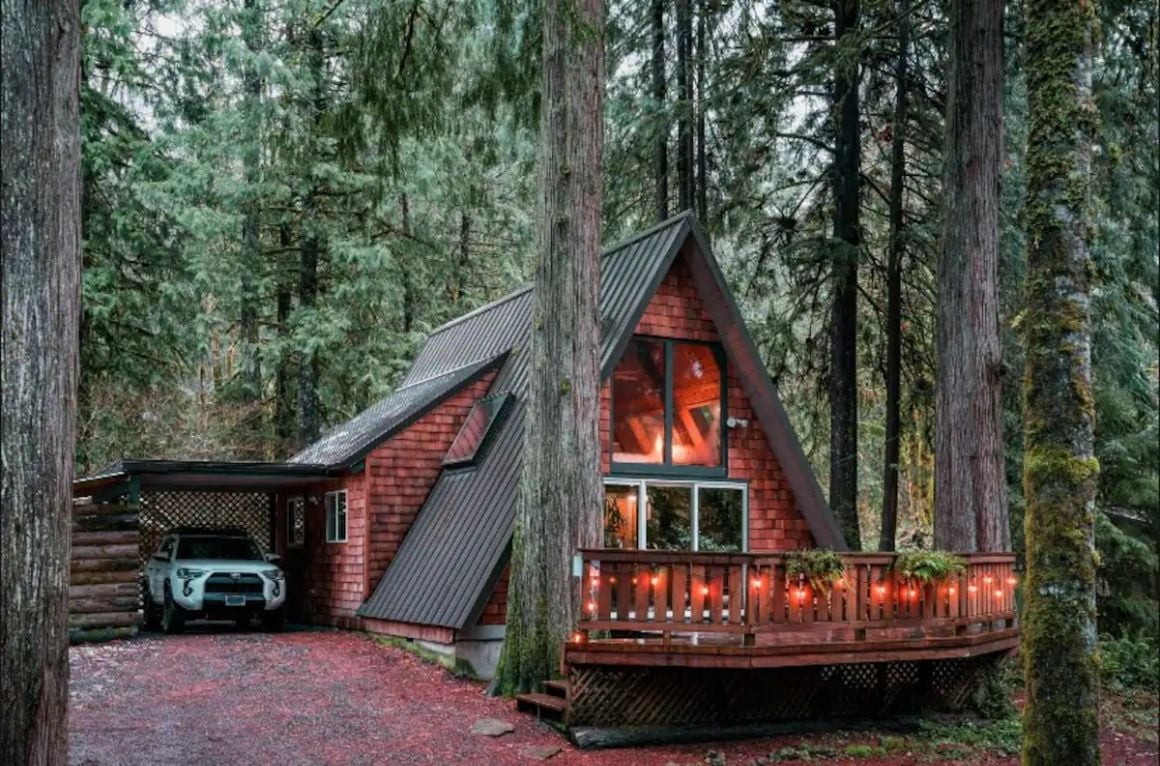 $$
6 Guests
Outdoor dining area
A modern A-Frame cabin near Mount Hood
With the warm lights, the wooden-built terrace, the forested surroundings, and all the comforts of a home within, it's pretty safe to say that you and your friends won't be forgetting this cabin in Mount Hood anytime soon.
The Wandering Woods Cabin is the top pick for a group of friends with an aptitude for adventure. The skiers can head off to the mountain and the hikers can have their pick of trails from their surroundings.
Then there's the Upper and Lower Salmon River trailhead for those who seek the magic of water. And when you are tired from your days of adventures, the cozy cabin and all its amenities are there to help you unwind and rest, physically and emotionally.
The Superhost of this cabin has made available all the entertainment for you and your buddies including high-speed internet, games, Netflix, movies, and books. The fully-equipped kitchen will allow you to prepare your favorite meals and enjoy them with a view of the outside dining area.
Is This the Best Backpack EVER???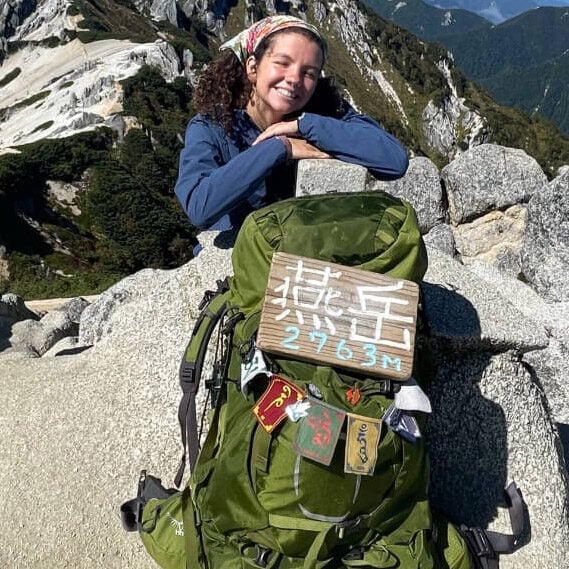 $$$$
8 Guests
Hairdryer
Beachfront property
If you wish to vacation in Oregon, the Crazy-Rich-Asians-style then this luxurious cabin has you covered. The 2,000 square-foot is surrounded by more than four acres of woodland and overlooks the Pacific Ocean.
Its gigantic windows offer an uninterrupted view of the water and the green lands of the Oregon coast.
On the inside, the cabin has every luxury known to mankind, such as the Sophstone soaking tub, heated tile floors in bathrooms, Cali King beds in both masters, Chef's kitchen with Wolf all-gas range and speed oven, SubZero fridge, wine fridge, and Miele dishwasher to name a few.
This high-end cabin is designed to offer days of unwinding on the beach, cooking hearty meals, and enjoying all kinds of indoor entertainment.
And if you start craving some outdoor recreation during your stay, head off the ski-resorts just 5-minutes from the cabin or to the easily accessible Bandon Dunes. Wouldn't this be the perfect place to have your whole family spending a Christmas in a cabin here?
$$
5 Guests
Beach essentials
Beachfront property
Perched on a hill, facing Gleneden Beach, this A-Frame cabin has everything a family needs to spend precious moments together with the sun, the surf, and tranquility accompanying their days.
Just a few minutes from Lincoln City, the Salacia Chalet offers a variety of activities that families and kids can enjoy together. The wraparound porch is just the spot to lounge and enjoys your morning coffees while the children have an eyeful of the whales swimming by.
When the summer night approaches, the hot tub is a great way to enjoy the outdoors under the stars. The lofty cabin has been here since the 1960s and was recently renovated into a more contemporary version.
The cabin features a sprawling floor-to-ceiling window that brings the outside's beauty in, the beds are extremely comfy, with the kids having their own room with two bunk beds along with games and toys, and the adults get their space in the loft.
$
3 Guests
Washer
Very private cabin located in the heart of Eugene
This Backyard Cabin is a steal for all the backpackers passing through Eugene. In just a small amount, the cabin provides a super clean, spacious, and well-lit private space to enjoy a comfortable night's sleep.
What's more, is that you get a lot more amenities than you'd expect from a cabin at such a cheap rate. You have your private entrance, a small kitchenette with microwave and fridge, Wi-Fi, a piano, an Air conditioner, and a lot more.
You also get access to the main house's full bath 24-hours a day. The highlight of this cabin is its location, which is just a few minutes from the University of Oregon and Autzen Stadium.
Washington Park is just a three minutes drive from the cabin. And for your necessities, walk a few blocks down the cabin and there are endless markets, cafes, and, parks, and food trucks to cater to you.
$$
5 Guests
Board games
A secluded modern cabin in the woods
The secluded Little Explorer's cabin stands at the end of a dead-end road, far from the crowd, but close to all the breathtaking nature of Mount Hood Village.
Just a short path from the cabin will lead you right to the Sandy River and a 15 minutes walk will lead you to the spectacular Sandy Ridge Mountain biking trail. While the world outside this cabin is beautiful, the inside of the cabin is just as gorgeous.
The most surprising part? It's small. But beauty isn't defined by size or grandeur and this cabin proves that with its little charming details. It reminds me of Little Red Riding Hood's cottage, except with more rustic vibes.
The combination of hardwood floors, the black staircase, plenty of warm lights, numerous windows, and luxurious comfy furniture in deep tones makes this one of the most gorgeous cabins in Oregon.
The cabin features an open floor plan with a fully equipped kitchen, living space, HDTV, dining area, and fireplace. Your comfy sleeping quarters would be found in the loft.
Best Cabin in Oregon for Honeymooners – Riverside Cabin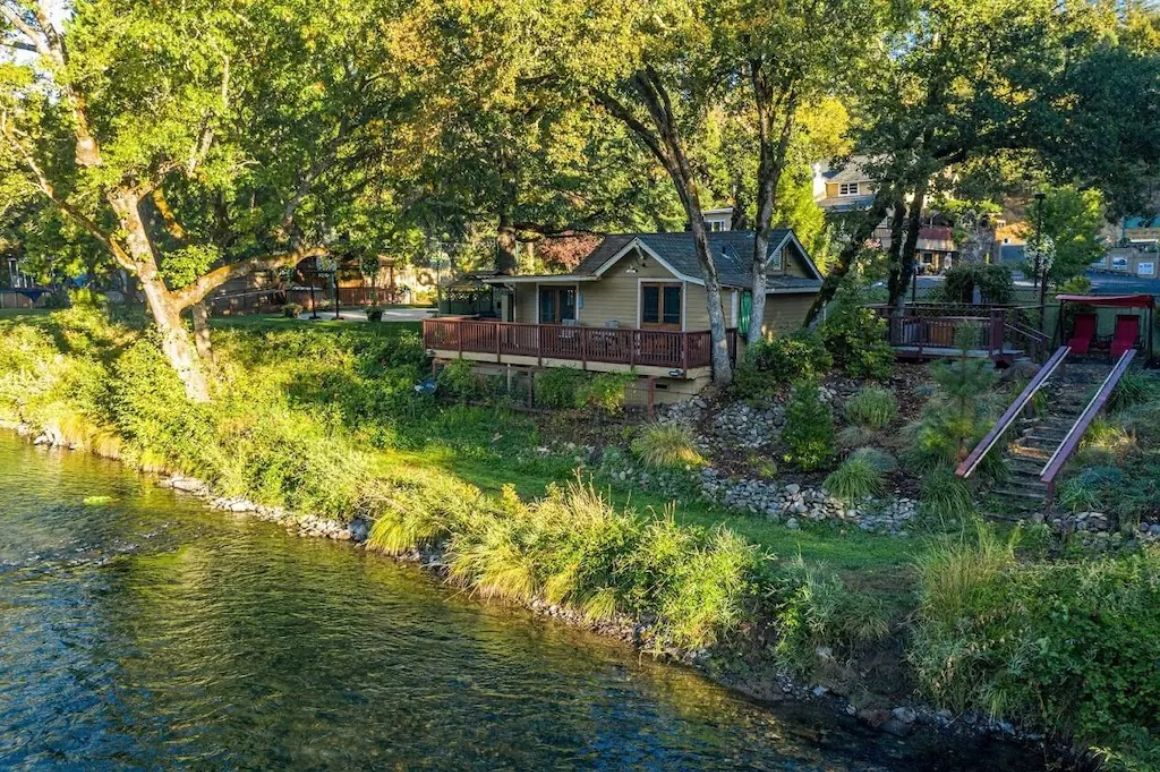 $$
2 Guests
Sauna and Spa Whirlpool
Located on the banks of Rogue River
This lovely cabin situated on the ardent banks of a river in Trail seems like something right out of a fairytale that we used to read as a child.
The mint green exterior, the sprawling deck with a table-for-two and relaxing rockers, the deep wooden décor, the theme inspired by the '30s, French doors, antique kitchenette, comfy mattresses, the sauna, and the spa, and everything in between, makes one of the most romantic riverside cabins for honeymooners.
Also, the location of this cabin allows its occupants to enjoy all kinds of adventures. Starting from the Crater Lake National Park, which is one of the most popular snowmobiling spots in the region. There are all the birds, including the bald eagles soaring above. Winter activities also include snowshoeing and skiing.
Cabin in Oregon With an Epic Location – Bear Creek Cabin
$$
6 Guests
Fast internet
An elegant cabin with old-world charm
This gorgeous cabin in Rhododendron is within a few miles from Multnomah Falls, Gifford Pinchot National Forest, Timberline Lodge Ski Area, Mirror Lake Trail, Mount Hood Ski Bowl, Mount Hood National Forest, and a lot more, it's pretty safe to say that the Bear Creek Cabin enjoys an epic location.
The shocking thing about this is it isn't the only thing epic about it. The cabin is one of the most sophisticated ones you'd find in the vicinity of Mt. Hood. The classy cabin has a décor that draws the attention of old-souls, well-read people, artists, and just anyone with really good taste.
It's the little whimsical details in the cabin that adds to its appeal. This cabin is perfect for families, friends, or couples seeking quiet and solitude amongst mountains, woods, and bears.
Don't Forget Your Oregon Travel Insurance
ALWAYS sort out your backpacker insurance before your trip. There's plenty to choose from in that department, but a good place to start is Safety Wing.
They offer month-to-month payments, no lock-in contracts, and require absolutely no itineraries: that's the exact kind of insurance long-term travellers and digital nomads need.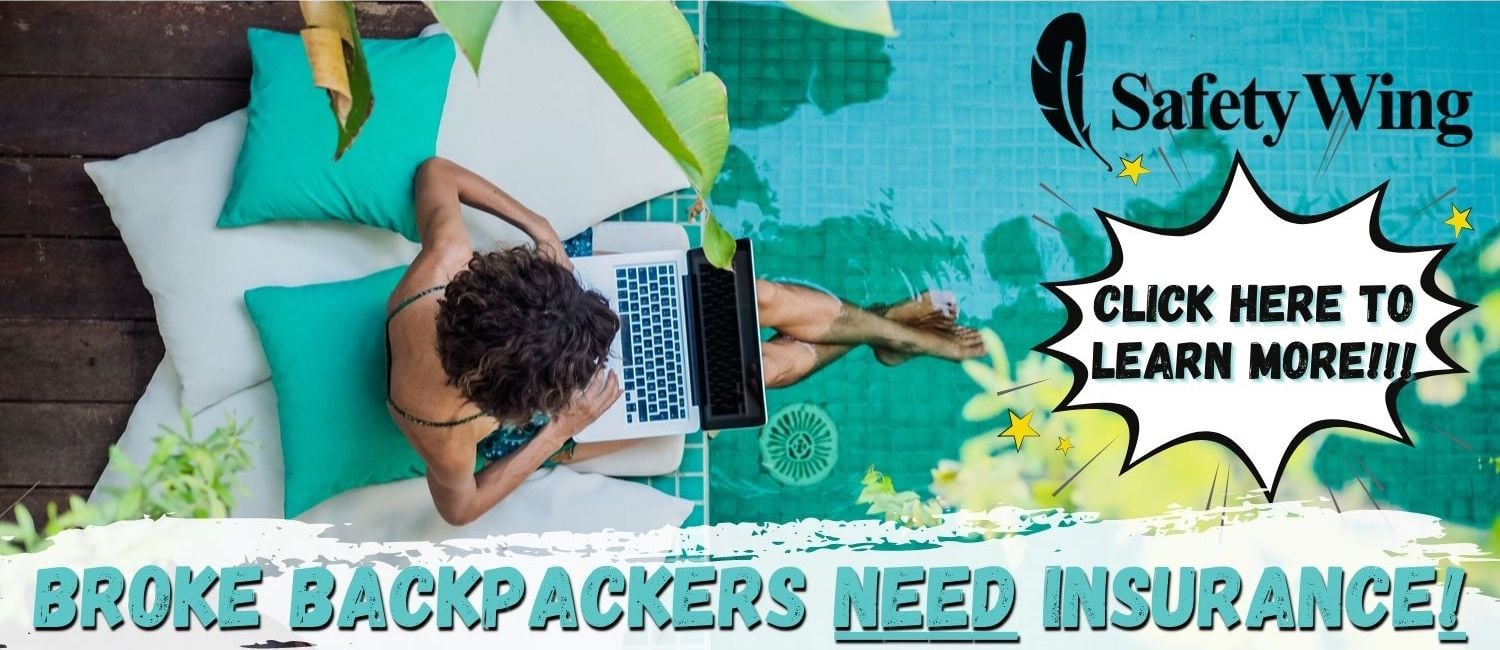 SafetyWing is cheap, easy, and admin-free: just sign up lickety-split so you can get back to it!
Click the button below to learn more about SafetyWing's setup or read our insider review for the full tasty scoop.
Final Thoughts on Cabins in Oregon
No matter which time of the year you choose to head over to Oregon, these cabins will offer the charm and activities best suited to that particular weather.
I hope our all-inclusive list will allow you to have a great time in one of the best cabins in Oregon, regardless of your budget options, your travel companions, and the kind of outdoor activity you crave the most!
Our top picks of this unique accommodation in Oregon are top-notch and come with all the necessities to make your stay comfortable. If this is your first time traveling to Beaver State, consider keeping yourself protected against all travel risks with travel insurance.
---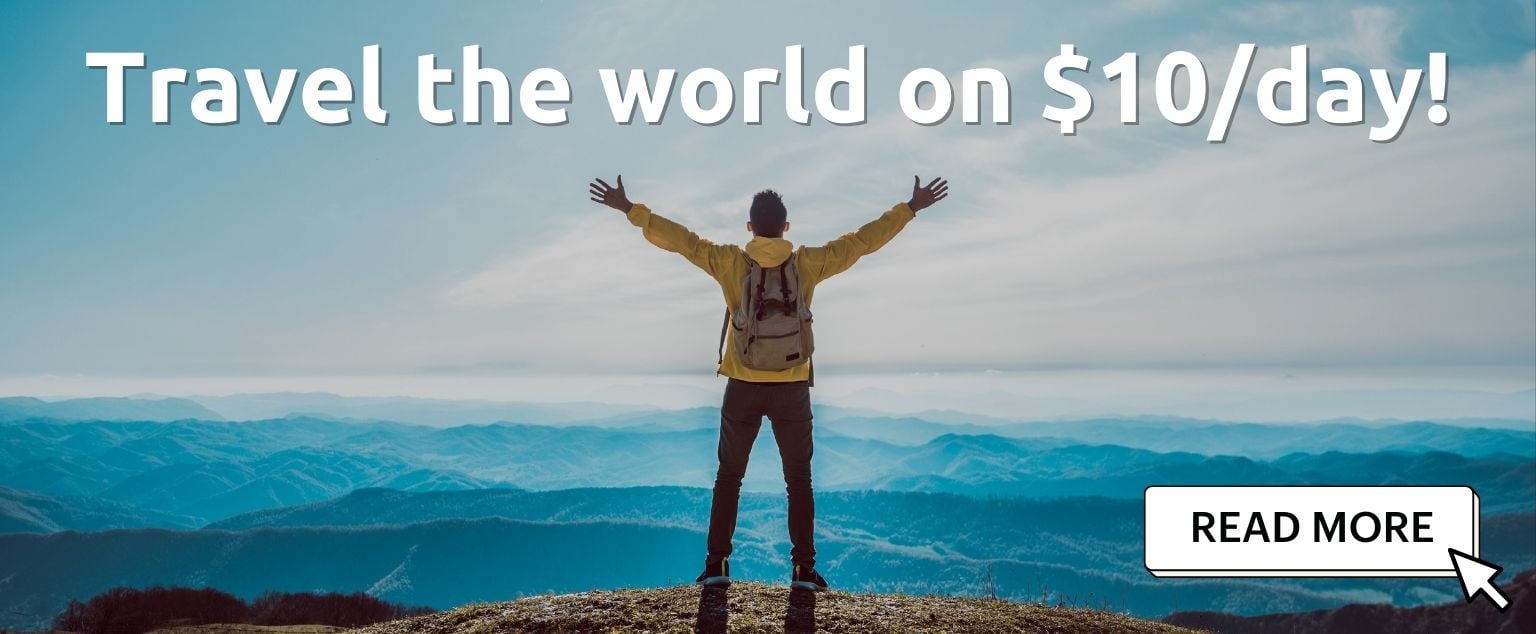 And for transparency's sake, please know that some of the links in our content are affiliate links. That means that if you book your accommodation, buy your gear, or sort your insurance through our link, we earn a small commission (at no extra cost to you). That said, we only link to the gear we trust and never recommend services we don't believe are up to scratch. Again, thank you!