Christmas truly is the most wonderful time of the year. We've all heard the saying 'everything is bigger and better in America' – well, this goes for Christmas celebrations too.
I'm talking double-story Christmas trees, wreaths on every door, and strung lights across every second tree – not to mention, you're bound to meet some extra jolly locals during the season (especially in small towns).
However you choose to celebrate the Christmas season, every city, town and even rural village lights up with holiday cheer during the festive season.
While some enjoy the big-city Christmas experience, filled with parades, decorated department stores, and Christmas markets, many locals prefer to venture into the mountains to spend quality time with loved ones.
Escape the city crowds, rent a beautiful cabin for Christmas in the US, deck the halls with holly and lights, and celebrate with your family amongst stunning natural scenery within a winter wonderland in small-town America.

Do You Want to Travel FOREVER??
Pop your email in below to get a FREE copy of 'How to Travel the World on $10 a Day!'.
Cabins at Christmas in the US
Traditionally, cabins were defined as small, open-concept timber homes in remote locations. However, these days, you can find enormous log cabins with theatres, outdoor hot tubs, indoor swimming pools, and multiple bedrooms.
They're super common across small-town America. Be it in a ski resort, a small countryside village, or an arid desert. Any place in the USA that has a forest or mountain view is likely to have some cabins.
The most popular Christmas cabins rentals are located in the northern states, especially those which enjoy December snowfall. But that doesn't mean cabins are ONLY in the Northeast. You'll also find some incredible options nestled amongst the trails of Oregon and northern areas of California.
But in our opinion, there's nothing as magical as waking up to a winter wonderland of glowing new snow on a white Christmas morning. So it often pays off to choose a cabin in a snowy region of the country!
If you do your research, you'll be able to find a perfect cabin to suit you and your travel plans. Those on a budget will have no problem sourcing a low-key cabin. There are also numerous upscale cabins for those with no budget at all.
Whether you're looking for a spot for you and your loved one, or for an extended family of twenty, you'll have no problem finding a wonderful Christmas cabin rental in the States.
Top 20 Cabins in the US for Christmas
From budget studio cabins for couples to extravagant homes with seven bedrooms, to accessible and pet-friendly cabins in remote locations, there's a spot waiting for everyone in the US!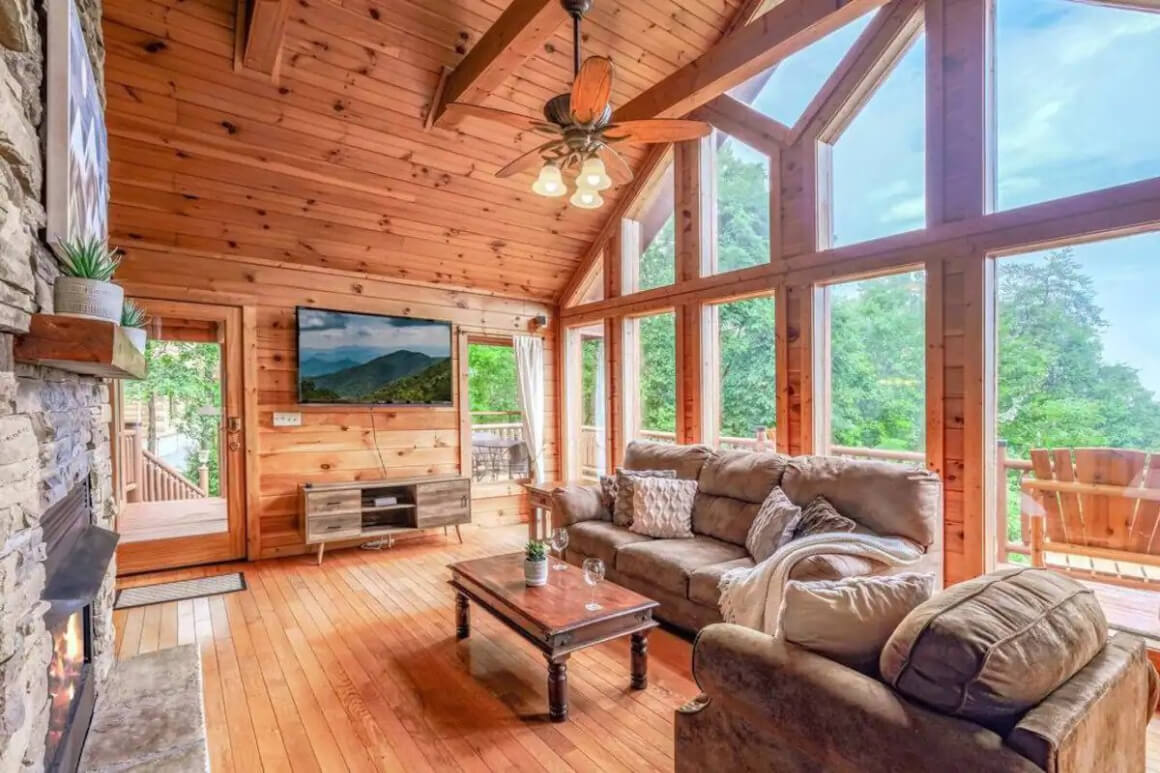 $$
Warm and cozy interiors with a jacuzzi deck
4 Guests
Located in Sevierville, Tennessee
Although it seems completely isolated from the outside world, this Gatlinburg cabin is located just 20 minutes drive from Gatlinburg in Tennessee. This is ideal for visitors who enjoy eating out, partying, shopping, and experiencing the local history and culture of a new destination during their winter getaway.
This home could not be more traditional if it tried. With timber floors, walls and exposed beam ceilings, a stone fireplace, and huge double-story glass frontage windows, this is the perfect example of a typical American cabin. The perfect place to spend Christmas Eve in front of a roaring fireplace.
What I love most about this spot is its practical amenities, including a deck with panoramic mountain views, an outdoor fire pit, and a luxurious Jacuzzi. If you're looking for an idyllic, yet classic, cabin for Christmas in the US, this Gatlinburg cabin is the perfect spot!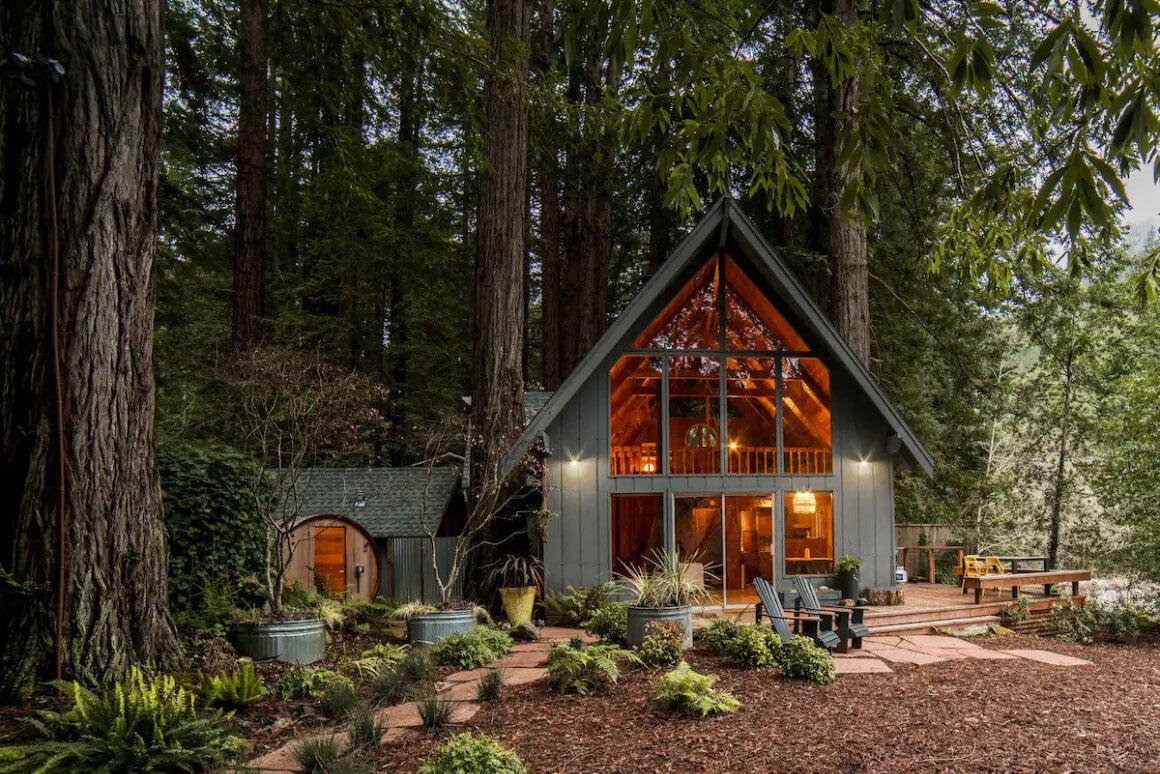 $$$
Mid-century contemporary architecture and interiors
4 Guests
On Austin Creek in Cazadero, California
Cabins are one of the best types of vacation rentals for families during the festive season. This one sits on the banks of a creek, yet is also only a short drive away from the Northern Californian coast – ideal for day trips. Perfect for families, you can leave the kids to safely enjoy themselves in nature while you kick back and relax by the warm log burner.
Icy swims are all the rage these days, and if you're willing to brave the cold and jump into the creek, there is an outdoor dry heat sauna with a shower to warm up in afterward!
This classic cabin is a blend of modern and traditional architectural and interior styles. The open-concept living space is designed with a mid-century contemporary influence, with warm wooden cabinetry, plywood walls, and modern art creating a cozy and warm living space. This is the perfect setting to enjoy all the Christmas festivities.
Most Beautiful Cabin for Christmas – Elk Cabin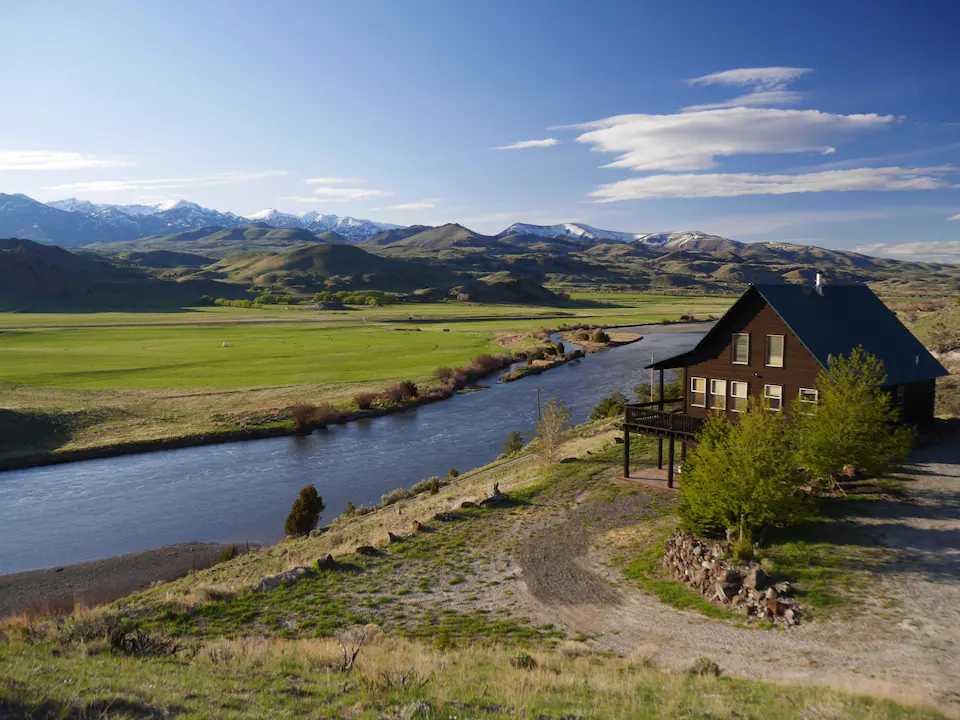 $$$
River & mountain views
10 guests
Unbeatable location
This iconic Montana cabin easily has the best view on our list–now imagine all that covered with snow! Located alongside the Yellowstone River, this secluded cabin can hold up to 10 people, meaning there's room for the entire family.
Spot wildlife, check out the nearby trails, or just sit and enjoy the spectacular views, because this cabin has sure got plenty of them. The cabin features a jetted tub, fully equipped kitchen and a large deck complete with a seating area.
Spend quality time with the family enjoying the holiday season, around Christmas time the cabin should start to receive snow! You'll have a wood burning stove to keep you warm, and there are plenty of winter activities to do in the surrounding areas.
Most Affordable Cabin for Christmas – Alpine Mini Chalet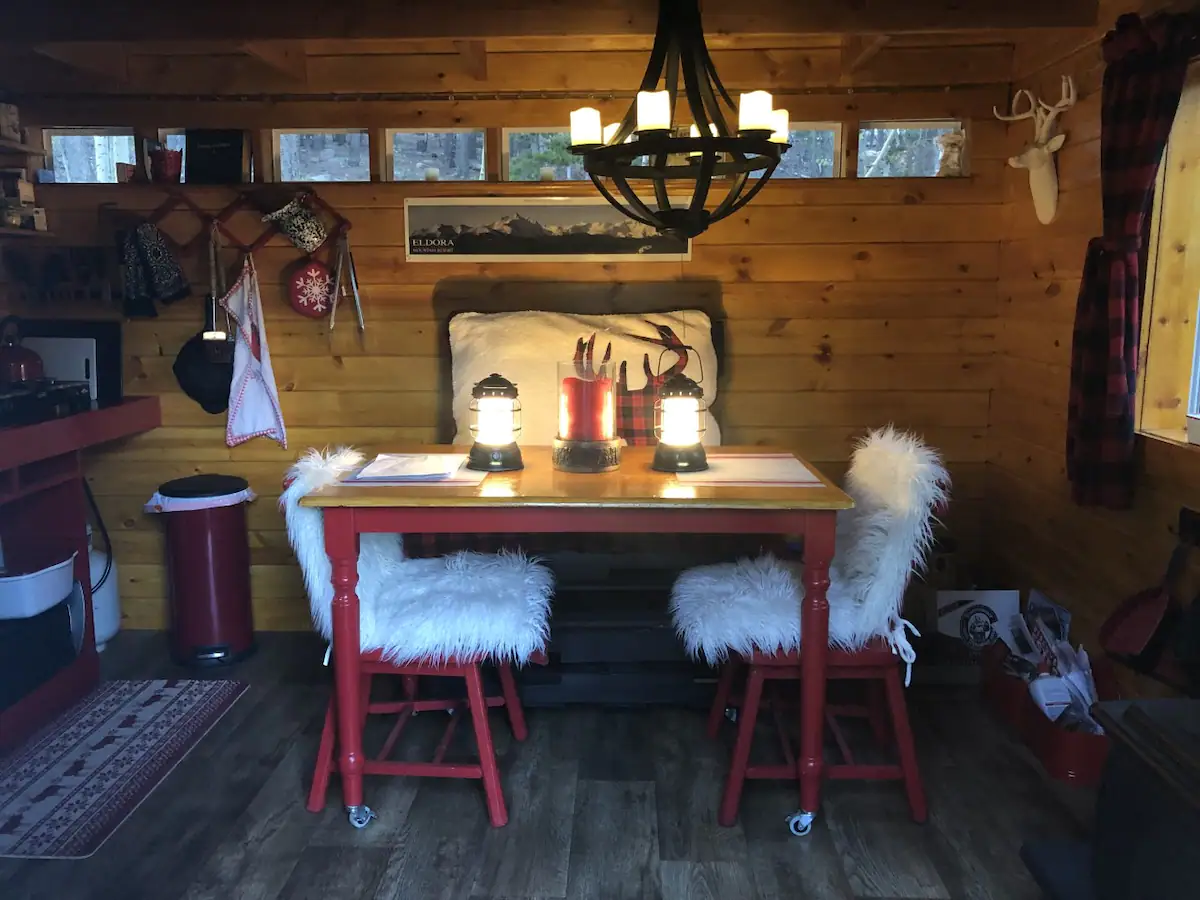 This Christmas-themed mini chalet is one of the best log cabins in the US for budget travelers. The small wooden cabin–located in Colorado–is a tiny off-grid house in the woods! It's one of those cozy mountain cabins you dream about, but don't think you'd actually find.
Decorated from top to bottom for the Christmas season, the abode is one of the best Airbnbs in the US for a holiday getaway. The cabin gives you the full "back to nature" experience as it doesn't have running water or electricity, but well water is provided and you'll have solar lighting at night!
A well stocked kitchenette is also all yours–the hosts made sure you'll have everything you need to cook. They've even added a Swiss fondue pot! Tea, hot chocolate, popcorn and basic spices are also provided so you can enjoy hot cocoa by the fire.
The property sits at high altitude (9,500 feet) and is perfect for winter activities like skiing and snowshoeing. The hosts also provide two pairs of snow shoes at no extra cost!
Over-The-Top Luxury Cabin for Christmas – Opulent Modern Cabin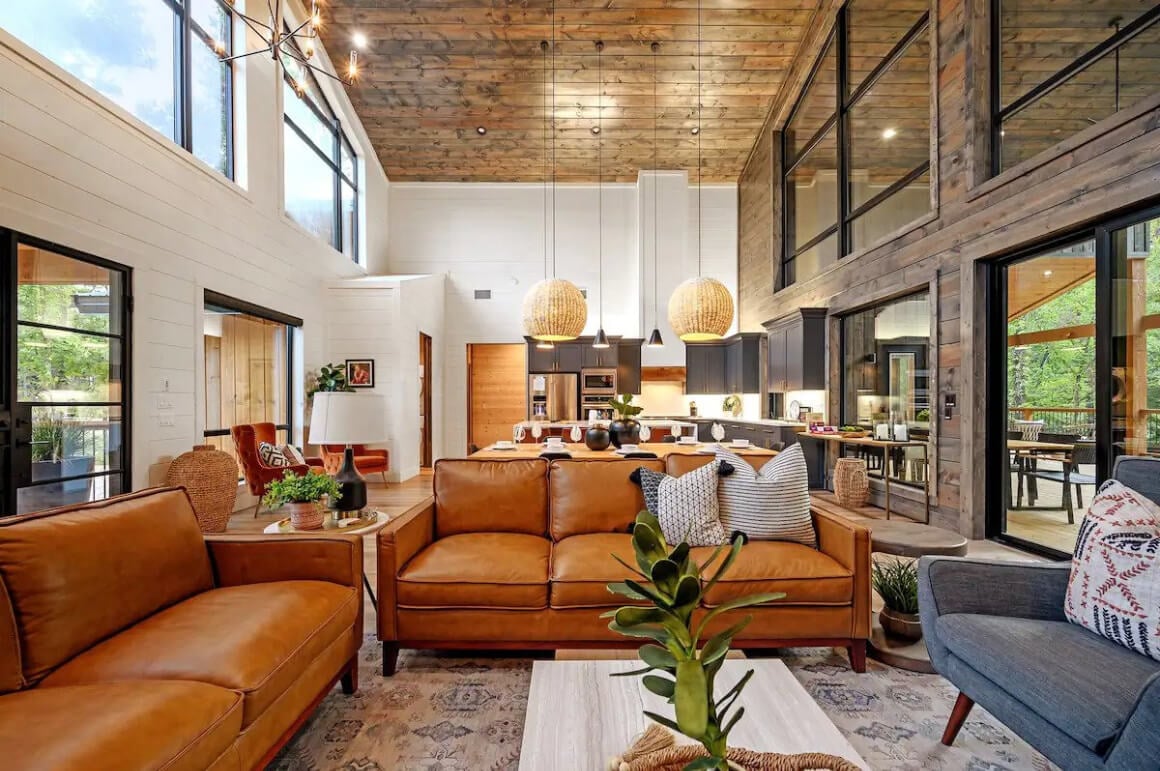 $
Huge outdoor lounge with fireplace
15 Guests
Tucked between trees in Broken Bow, Oklahoma
Tucked away in the trees at the end of a quiet cul-de-sac, this extravagant modern cabin will exceed all your expectations. As you walk inside, you'll be greeted by a double-story open-concept living space surrounded by massive windows.
Flooded with natural light, this cozy room with a fireplace is likely where you'll spend most of your time bonding with your family during the winter months.
What's Christmas without a Christmas tree? The high ceilings and open floor space make this the perfect cabin to put up a momentous Christmas tree.
The entire property has been built using only top-of-the-range fittings and kitchen appliances. Impeccably curated by interior designers, this kitchen is so beautiful, it will make you want to cook up a Christmas feast.
Best Ski Resort Cabin for Christmas – Alpha Lodge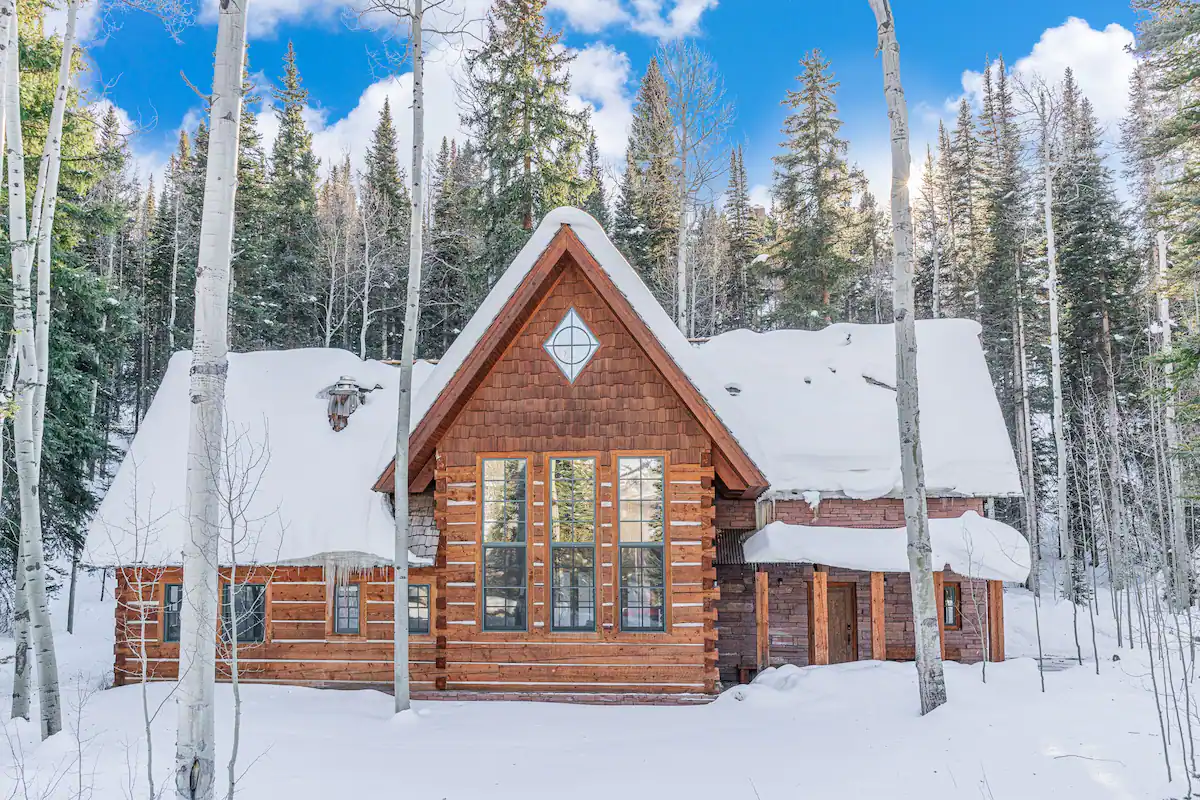 This iconic log cabin is the perfect snowy base for your next ski trip! Nestled in one of Colorado's forests, the Alpha Lodge is just off the slopes, making it the best cabin on this list for skiing and snowboarding. You can ski right to the house from Bridges ski run, and Galloping Goose is also within walking distance.
The large wooden cabin features a private hot tub and has 8 beds in total, making it a great choice for groups. The fully stocked kitchen is a dream to cook in, and an incredible steam shower with a heated bench!
Whether you're into backcountry skiing or are just a snow fan looking for a bit of luxury, I have no doubt you'll adore this cabin, which will make any Christmas celebration one to remember.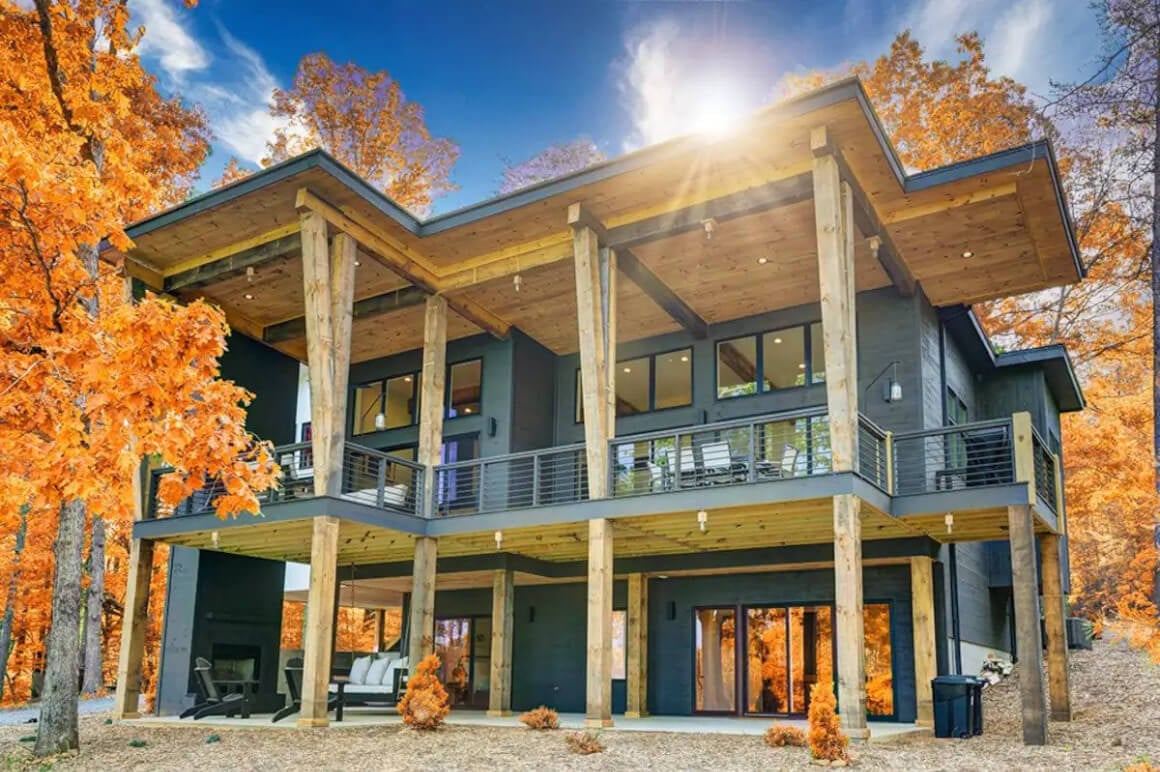 $$$
Modern and rustic with outdoor fireplace and games room
10 Guests
In the woods in Mineral Bluff, Georgia
A vacation with friends around the festive season is a great way to spend time with the people you love. Whether you're heading off with a few of your best mates, or are bringing together a whole crowd, renting a cabin is ideal.
This cabin is surrounded by nothing but nature. In fact, it's so secluded that you can expect a visit from a wild turkey or deer from time to time. The home is designed in a modern rustic style, with high ceilings, exposed wooden beams, and tons of glass.
Depending on the weather, there is both an indoor and outdoor fireplace, as well as a fire pit in the garden. The central living area is incredibly impressive, with double-story ceilings and tons of natural light filtering through the windows.
When the weather really isn't cooperating, spend some time by the fire, cook up a storm, or play some pool in the den.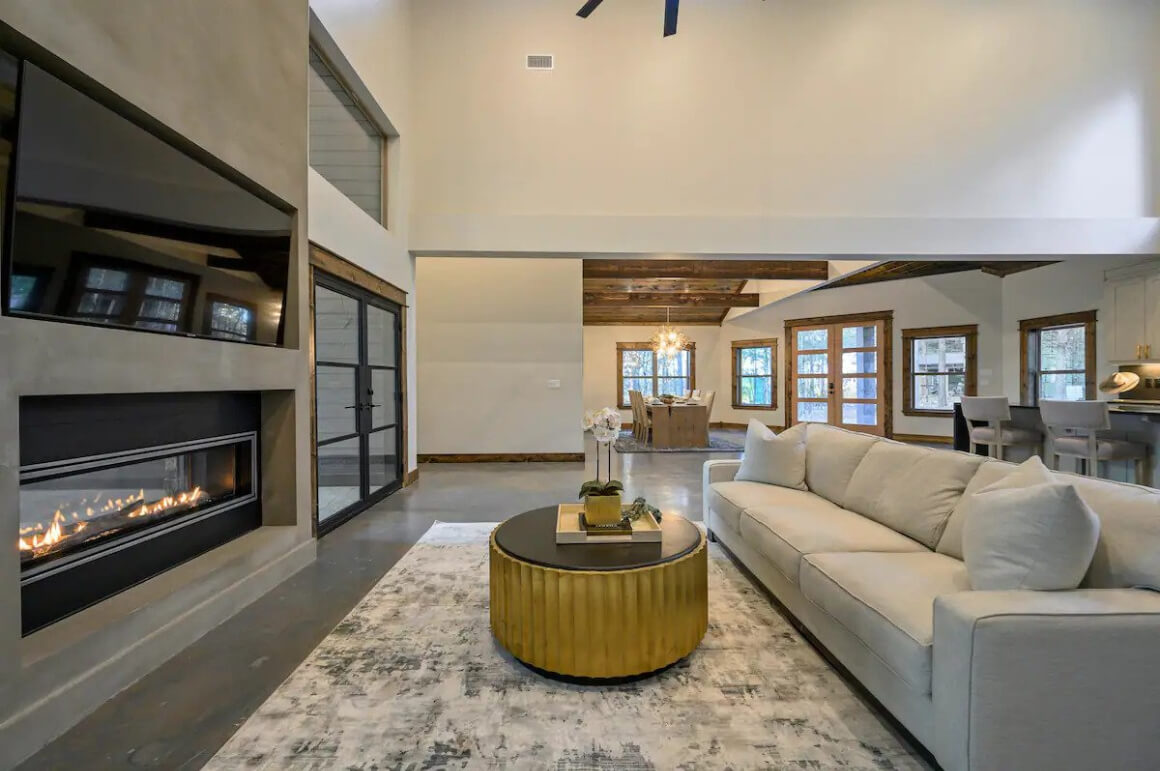 $$$
Contemporary design with open plan living
12 Guests
Located in Broken Bow, Oklahoma
This home is without a doubt one of the dreamiest cabins for Christmas. What makes it such a scenic gem is how secluded it feels from the rest of the town – even though you'll only be a 10-minute drive from all the major restaurants and other attractions of Oklahoma and 5 minutes from Beavers Bend State Park.
This four-bedroom cabin is filled with character. The interior draws influence from a contemporary Californian home. My personal favorite room in this home is the kitchen. It has an elegant marble center island, warm wooden cabinetry with open drawer spaces, all lit up by warm lighting.
This spot also has a gorgeous deck with an outdoor Jacuzzi – the perfect place to enjoy the views.
$$$
Outdoor deck with fireplace, lounge, and hot tub
4 Guests
In the forest in Broken Bow, Oklahoma
Ever dreamt of spending Christmas in a snow globe? Well, this modern cabin has a similar effect. It quite literally has more windows than walls, making you feel as if you're out in the snow, even when you're warm inside.
This modern timber cabin nestled in Broken Bow, which features shopping and dining options right around the corner. While you'll feel as if you're the only two people in the world, you'll never be too far away from a good meal out with your loved one. It really is the perfect combination of central and remote.
As soon as a rental describes itself as 'a romantic getaway' you know it's going to be stylish, sleek, and romantic. The cabin draws influence from swiss chalet interiors, making use of lots of different wood and stone textures together. Slip into your luxurious dressing gown before heading out to the Jacuzzi deck with your loved one.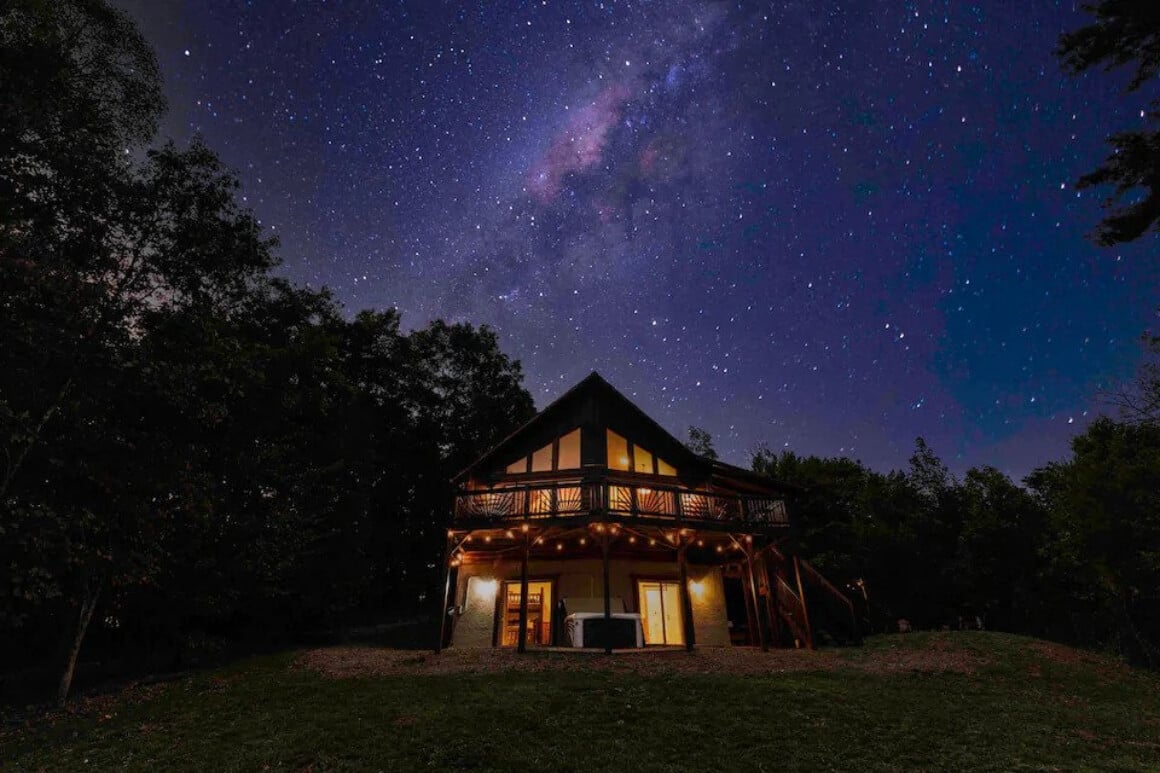 $$
Huge glass windows and Jacuzzi deck
10 Guests
In Morganton, Georgia
In my opinion, the most festive cabin for Christmas is the one with the most snow. After all, the celebration is synonymous with winter-wonderland weather and cozy fireplaces. This rustic cabin sits on a private piece of land between trees and has crazy clear views of the mountain and the starry night sky.
This modern yet rustic space is surrounded by strung fairy lights, reflecting a warm glow on the snow around it. From the exterior to the interior, the entire cabin is built using timber, giving it a European ski-chalet feel.
Spend a day exploring the surrounding woods on foot, or relax indoors by the fire reading a book and playing a friendly game of foosball.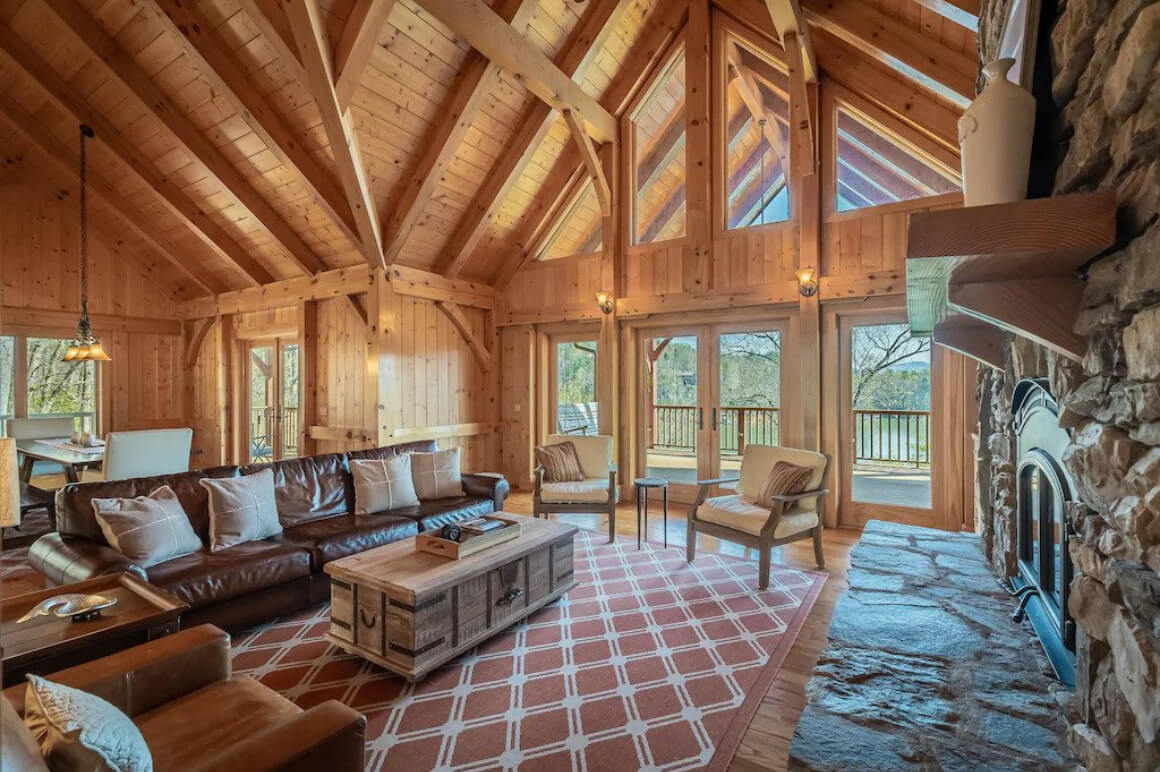 $$$
Triple-story cabin with games room, heated floor, and elevator
11 Guests
On the banks of Lake James in Nebo, North Carolina
By nature, cabins are usually small (yet cozy), made from timber, and often require climbing stairs. This luxurious lakeside cabin in the US has tons of open space and even includes a lift for wheelchair users, and others with limited mobility.
Once in the cabin, you'll be blown away by the exquisite lake views. During Christmas time, you're likely to experience a bunch of snowfall in this area, making for a picture-perfect festive vacation.
The huge cabin is built using a lot of timber. There's also a huge balcony on each of the three levels – pretty much every room has access to a balcony of sorts. While you might have to layer up before heading into the cold, venturing down to the private dock and deck really is worth the weather.
Is This the Best Travel Pack EVER???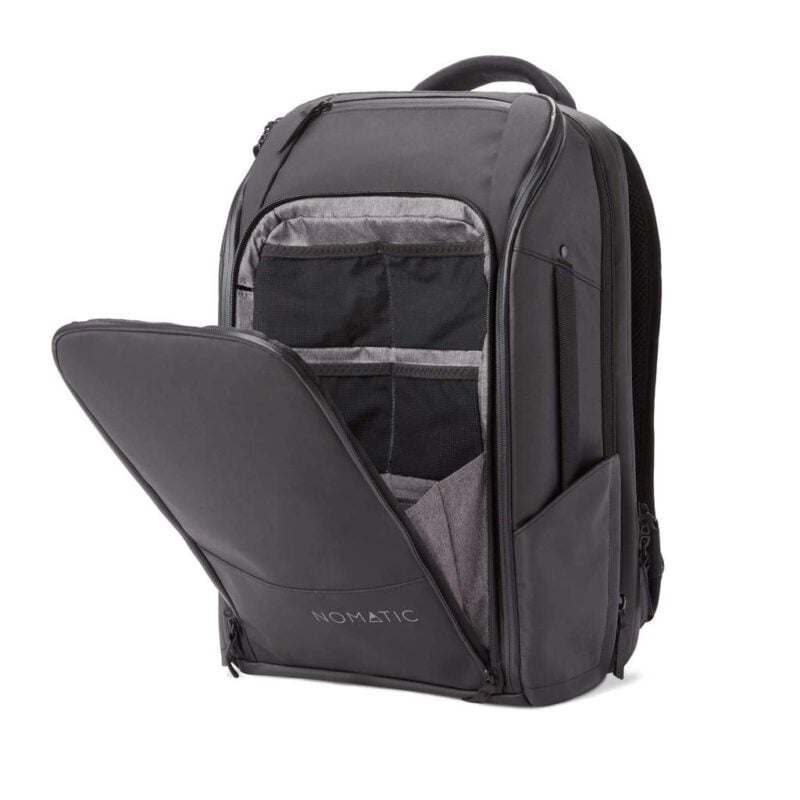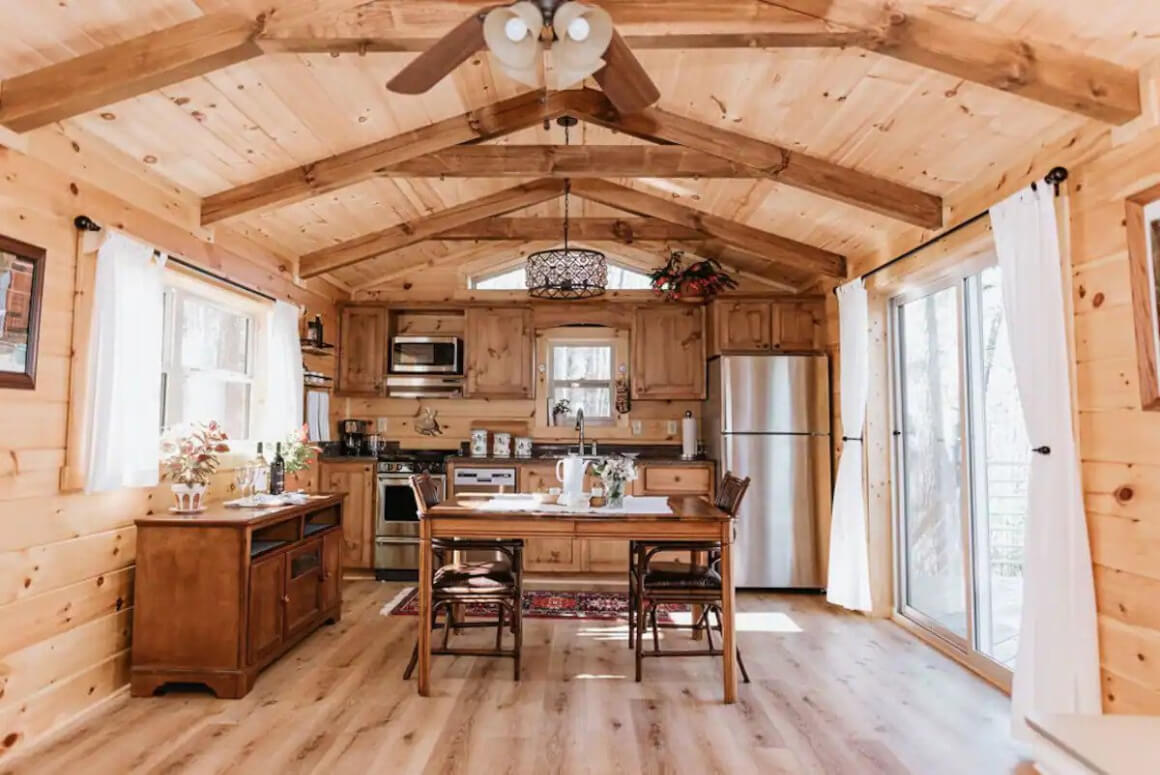 $$
Open-concept living space with fireplace
2 Guests
Down the road from central Asheville, North Carolina
While cabins are typically found in more remote settings, you shouldn't have too much trouble finding a cabin in a more built-up area either. This homey cabin is located just outside the city of Asheville. It's far enough to feel secluded from the city, yet close enough to benefit from the restaurants, shops, and other attractions found in Asheville.
The cozy one-bedroom is perfect for couples. In fact, it's even affordable enough for solo travelers! It's perfectly equipped with everything you could need when it comes to kitchen appliances and bathroom amenities. There's even a Jacuzzi on the outside deck, making this one of the top cabins for Christmas!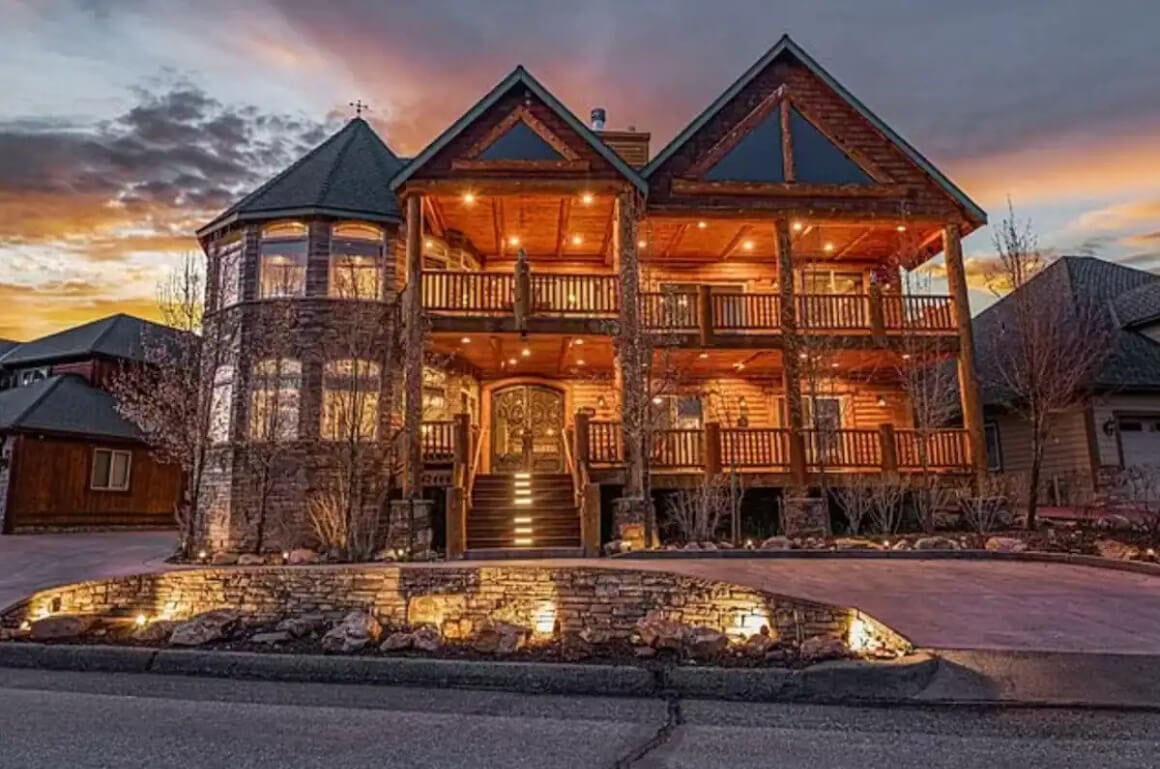 $$$$
Timber and stone castle-like building with Jacuzzi
16 Guests
Around the corner from ski-slopes in Big Bear, California
Everyone who drives past this cabin does a double-take. Gaining the attention of all passers-by, this massive spot looks more like a castle than a low-key cabin. It even has a cylindrical stone 'tower' resembling a medieval palace.
The inside is just as impressive, with luxurious furniture and decorations used throughout the home. However, it doesn't have a posh feel about it and still gives you a homey and comforting vibe.
Ideal for both kids and pets, this spot has a large yard covered by festive Christmas lights – the perfect spot for children to play in the snow!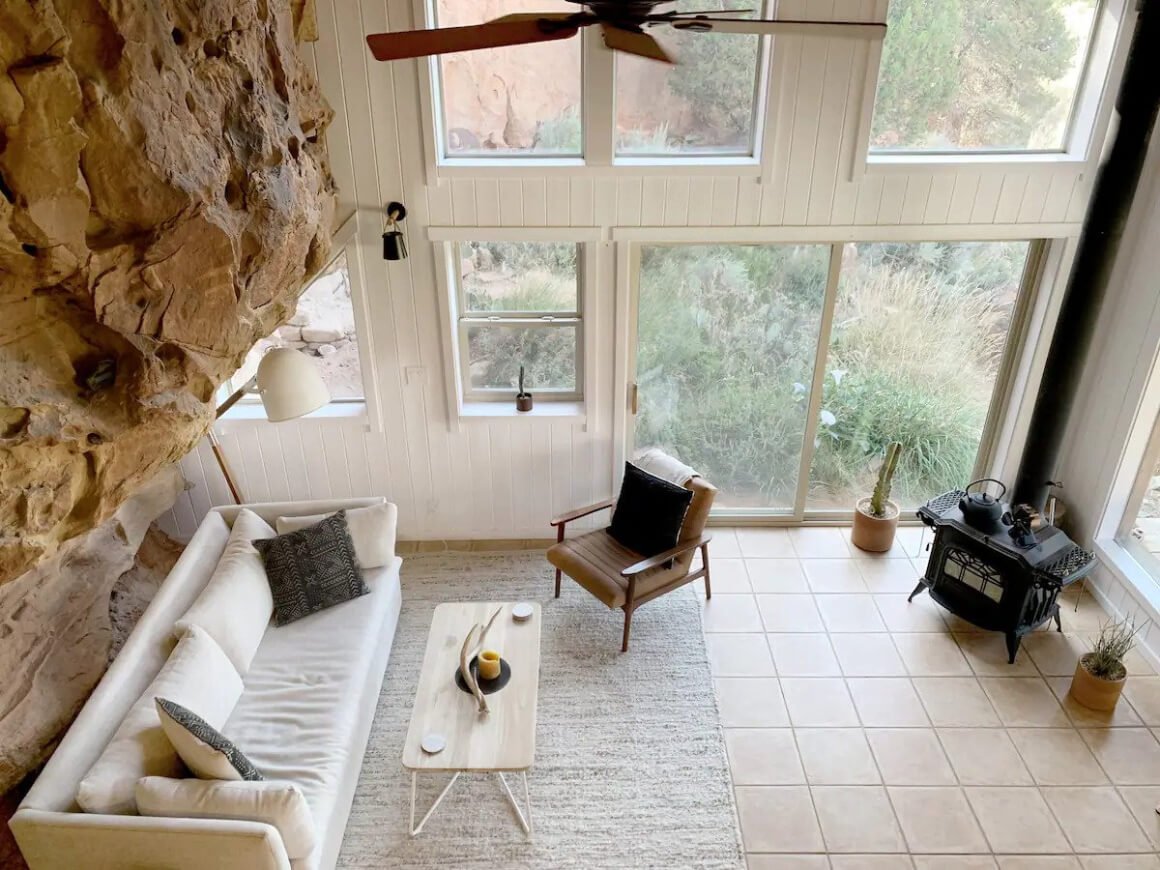 $$$
Contemporary cabin built into the canyon rockface
3 Guests
Near Mesa Verde in Cortez, Colorado
Built into the side of a canyon cliff face near Mesa Verde, this cabin is as unique as it is remote. It's definitely not your average cabin in the US, but that's exactly the reason I like it so much.
From the outside, the structure seems to blend into its surroundings, hidden by rocky cliffs and overgrown plants. The inside is most impressive, with exposed rocks jutting out in place of traditional walls. The home has been designed using lots of windows and high ceilings, inviting tons of natural light into the bright space.
Furnished very simply with contemporary interiors, this cabin has everything you need to create a memorable vacation. Choose from the collection of books, and settle by the wood burner for a quiet afternoon. If you need to, feel free to make use of the private office desk space, which overlooks sprawling canyon views.
$$$
Contemporary take on the traditional cabin
10 Guests
Above the treetops in Idyllwild-Pine Cove, California
At first glance, this home looks like your average cozy cabin. On closer inspection, however, you'll notice the impressively unique architecture. Built using traditional wood and stone materials, this structure is composed of many different triangular sections, creating a comfortable dome cabin.
The dual-story central living area is fitted with a wood burner in a stone setting, which does well to warm the entire cabin.
Musical enthusiasts will really enjoy this space, which is fitted with a wooden piano and a guitar. Included in the rental price is a separate building with a garage-turned-games-room and a self-catering loft. If you're ever wondering where to stay in Idyllwild, no matter the season, this would be my ideal choice.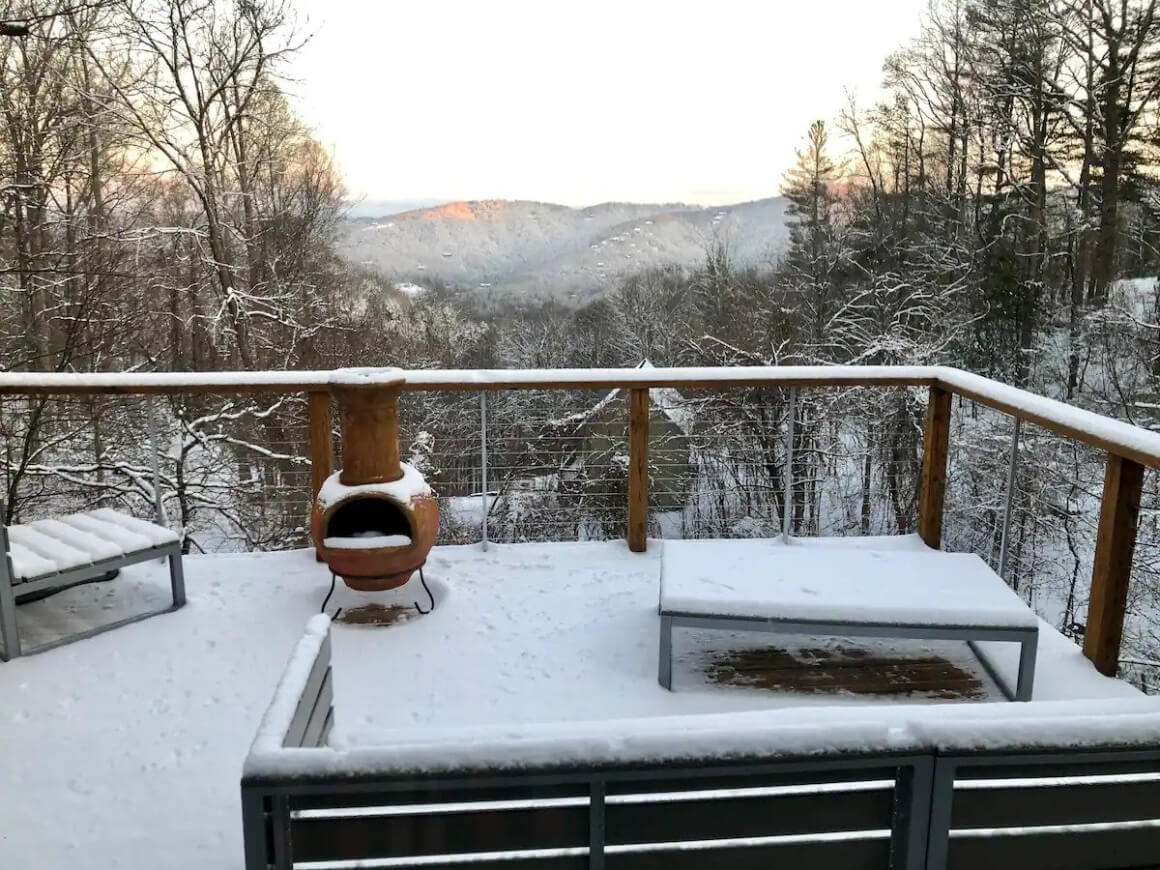 $$$
Contemporary interiors with lots of natural light
6 Guests
Located in Asheville, North Carolina
If you're after beautiful views and panoramic vistas, I have you covered. Set high above the treetops on a mountain near Asheville, this geometric roundhouse overlooks exquisite views of the Blue Ridge Mountains. Take note, if snow is predicted, the hosts advise you to drive a four-wheel drive to this mountainside property.
The double-story home has three bedrooms, all with ample space. Perfect for a quick stay, or for those who wish to settle in for the season, this cabin has private washer/dryer facilities as well as a personal workspace desk, great for digital nomads.
Located amongst some of the most beautiful mountains in the region, and likely to snow during December, this cylindrical cabin is one of the best cabins for Christmas in the US.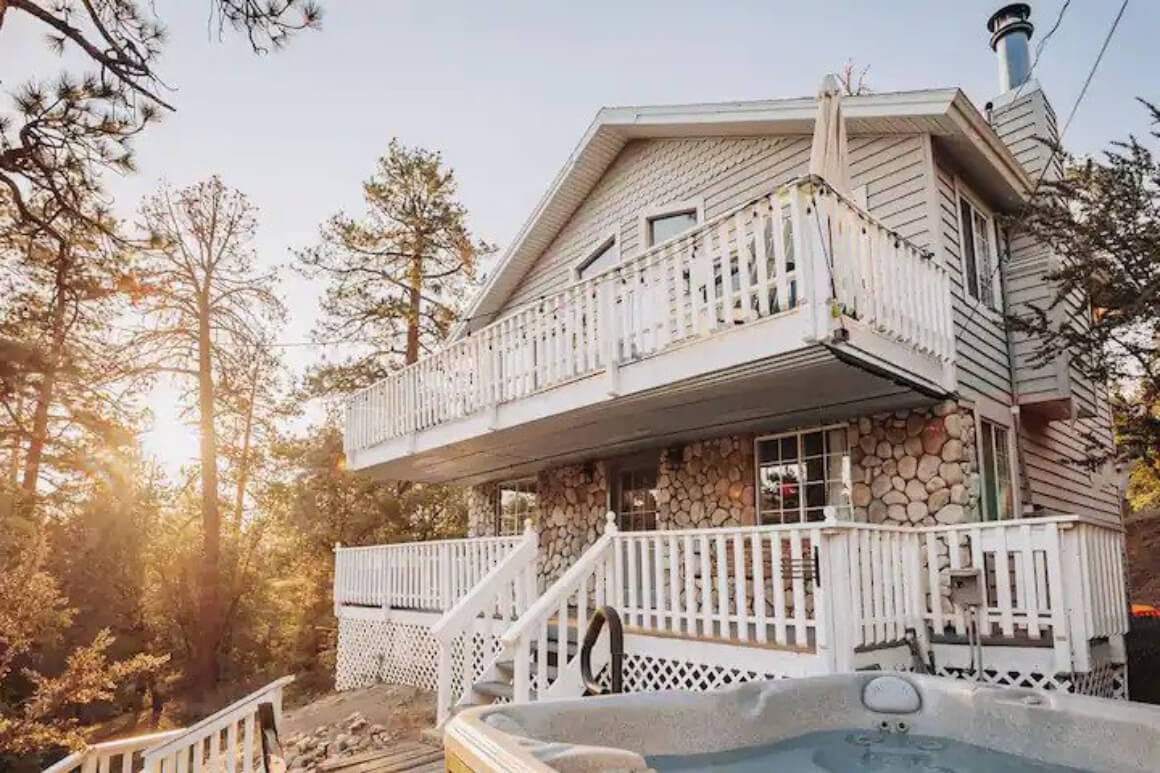 $$
Bright and modern interiors with a large outdoor deck
7 Guests
In Big Bear, California, minutes from the slopes
There's nothing better than relaxing in a steaming Jacuzzi and enjoying panoramic views of snow-capped mountains – especially after spending a day on the slopes.
Luckily enough, many of the top Christmas cabin rentals in the US include a Jacuzzi. This beautiful classic cabin offers a Jacuzzi deck overlooking the Big Bear mountains.
This bright and spacious cabin is great for a ski trip with family or a bunch of friends. It has a fully-equipped kitchen (with all the bells and whistles – air fryer and all) perfect for cooking a family-style meal.
It is even stocked with board games and books, a record player with speakers, and a foosball table, to keep you busy on white-out days.
$$
Cozy cabin with hot tub overlooking the river
6 Guests
On the Skykomish River in Index, Washington
If you're planning on bringing your dog along on Christmas holiday, I've found the best pet-friendly cabin in the US for you. Ideal for outdoor enthusiasts and lovers of all things nature, this charming riverside cabin sits on the banks of the Skykomish River in Washington, surrounded by woodlands and snow-capped mountains.
Take your pup for a stroll down the river or venture up the mountains beside the granite cliff faces. If you prefer a spiced drink by the fire, you won't be too far from Index town and its scattering of cafes.
Great for both winter and summer vacations, there are tons of hiking and walking trails from the doorstep of the cabin.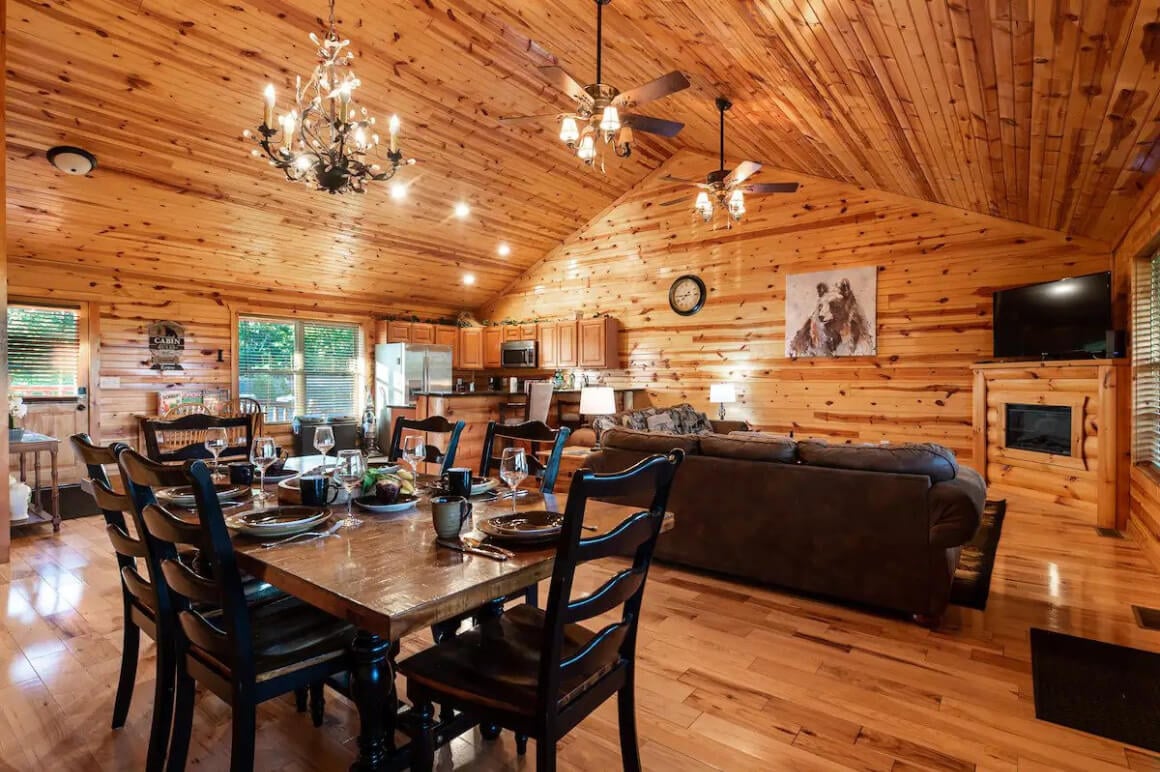 $$$
Private indoor heated pool, Jacuzzi deck, and mini golf course
12 Guests
Located in Sevierville in the Tennessee Hills
While Jacuzzis are commonplace in cabins in the US (especially in colder regions), indoor swimming pools are hard to come by when searching through the never-ending lists of vacation rentals.
This cabin only has five bedrooms and six bathrooms, so it has enough sleeping space to comfortably fit twelve guests.
Perfect for a family with young kids, your children will be forever occupied by the heated pool or indoor mini gold course. Relax with a glass of wine in the outdoor Jacuzzi as the kids let loose in the games room, which has both a pool table and a arcade games.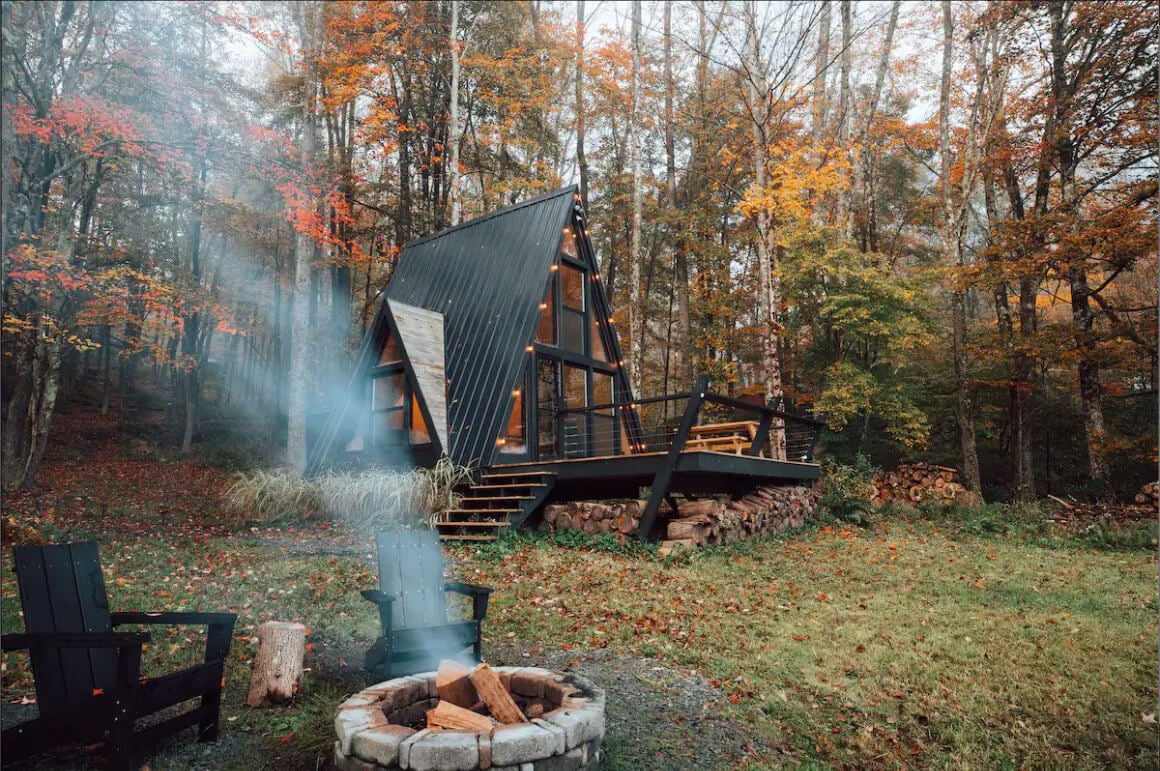 $$
Modern wooden architecture with glass walls
3 Guests
In the Catskills, a couple of hours from NYC
Sustainable housing is gaining popularity as we become more conscious of our environmental impact on the nature around us. This A-frame cabin is built using sustainable materials, and the electricity and water supply is semi-off-grid.
This cabin is located in a pristine mountainous region, the drive to this environmentally-friendly cabin alone is enough to get you into the holiday spirit. Built for outdoor lovers who care about preserving their natural surroundings, you'll find tons of hiking trails around the cabin.
If you prefer a coffee in town to a strenuous hike, the nearby towns of Roscoe and Livingston Manor will provide you with plenty of local eateries and cafes.
FAQs About Cabins for Christmas in the U.S.
Here's what people usually ask me about cabin rentals in the U.S. for Christmas…
Don't Forget Your USA Travel Insurance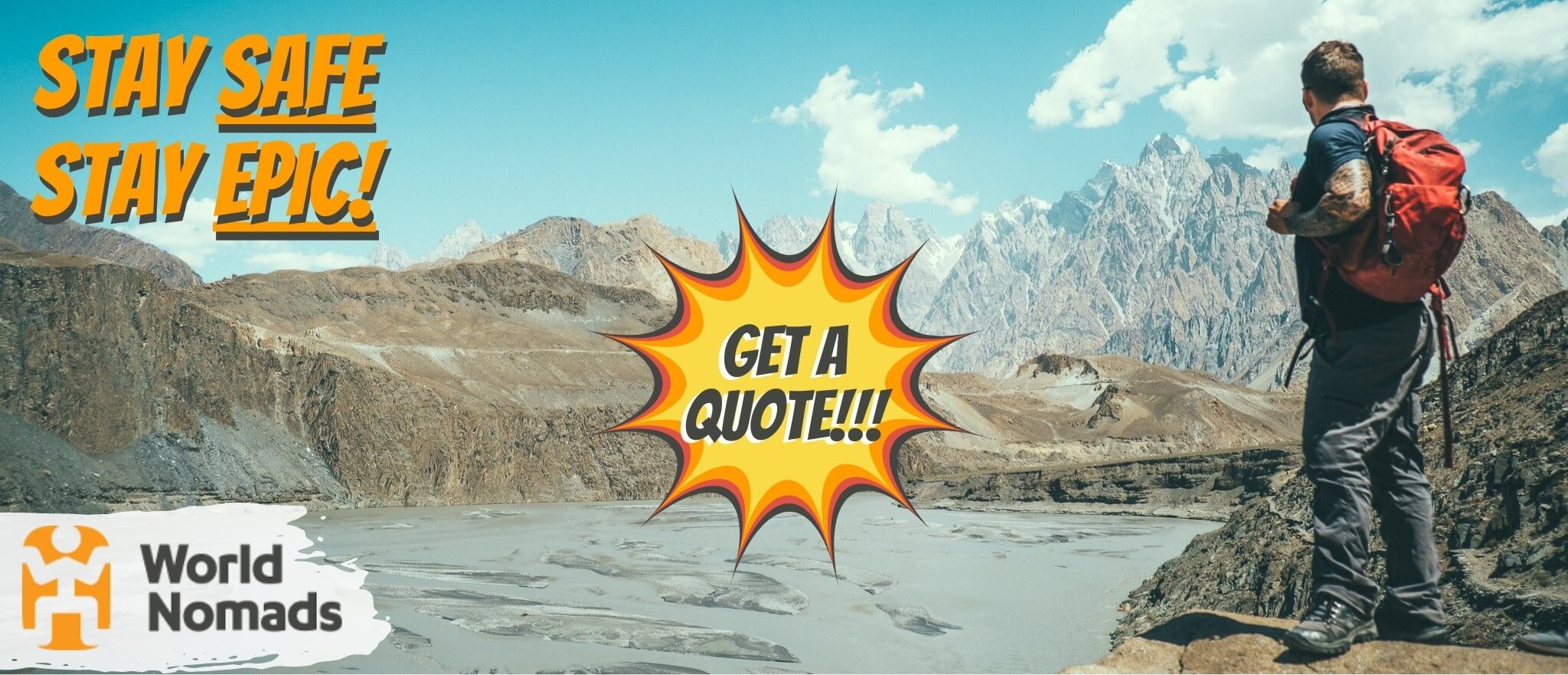 World Nomads' mission is to support and encourage travellers to explore their boundaries. They offer simple & flexible travel insurance, and safety advice to help you travel confidently.
They've been doing it since 2002 – protecting, connecting, and inspiring independent travellers just like you.
Get a quote below or read our in-depth review!
World Nomads provides travel insurance for travelers in over 100 countries. As an affiliate, we receive a fee when you get a quote from World Nomads using this link. We do not represent World Nomads. This is information only and not a recommendation to buy travel insurance.
Final Thoughts on Christmas Cabin Rentals
America is truly a multicultural melting pot, and the festivities you experience during the holiday season across the country reflect this. Although the Christmas holiday is traditionally a religious celebration, Americans far and wide celebrate the festive season in different ways.
Cabin rentals are a top option for anyone wanting to escape the busy cities during this holiday season. Luckily enough, a huge portion of the country is made up of rivers, mountains, lakes, and countryside – all perfect settings for a festive winter vacation.
Whether you're after a single-room traditional cabin rental for two, or a multi-story family-friendly cabin with Christmas Tree and games rooms, Jacuzzis, and outdoor fire pit, this huge country is spilling over with some of the best cabins for Christmas.
---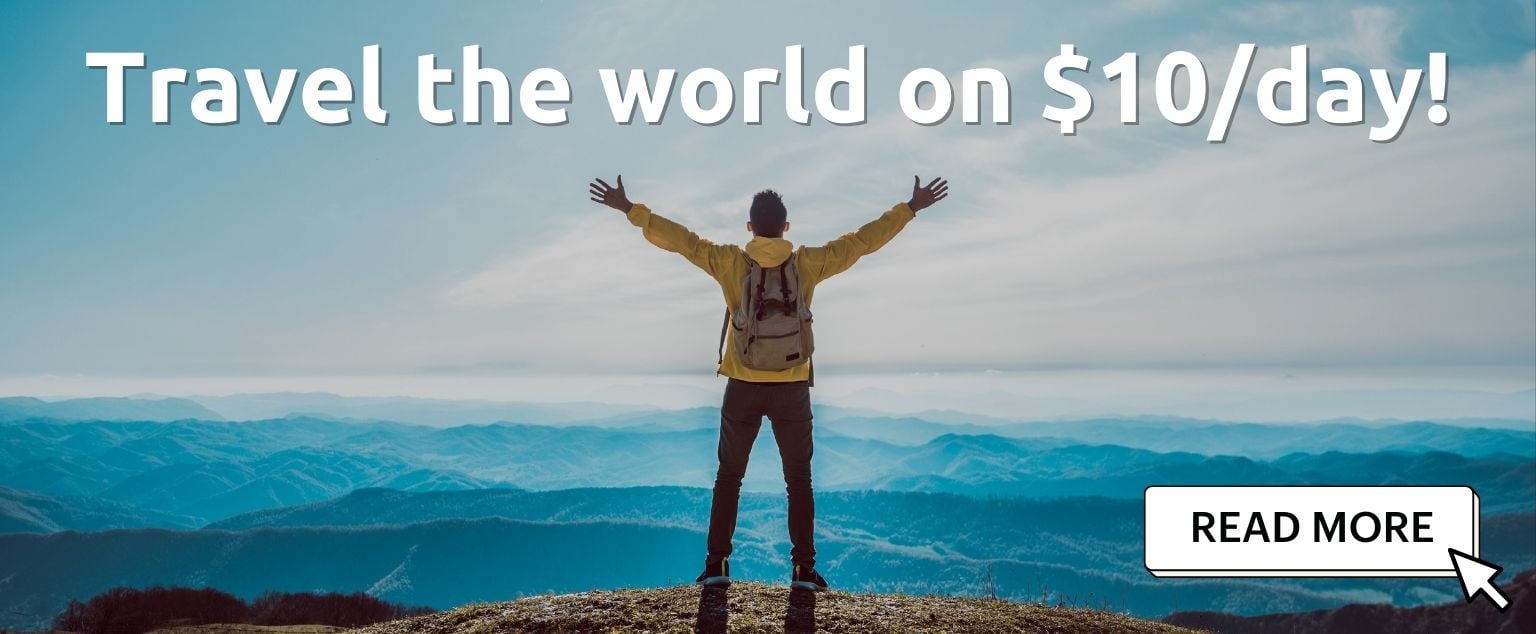 And for transparency's sake, please know that some of the links in our content are affiliate links. That means that if you book your accommodation, buy your gear, or sort your insurance through our link, we earn a small commission (at no extra cost to you). That said, we only link to the gear we trust and never recommend services we don't believe are up to scratch. Again, thank you!