Where better to spend Christmas than wandering the romantic cobblestone streets of the quaint towns and cities of Europe. Explore the rows of decorated market stalls selling charming trinkets and indulgent local delicacies. As the temperature drops and the snow begins to fall, Europe becomes a winter wonderland offering a myriad of cultural delights and experiences.
Each corner of Europe might, on the surface, share certain Christmas traditions such as decorating trees, the ever-popular markets and the big man himself (Santa, who else!?) But scratch below the surface and you'll find rich and unique customs, magical experiences and delicious foods.
You'll also experience the origins of several worldwide traditions. Many Christmas standards such as the decorated fir tree, markets, mulled wine and gingerbread houses originated in Germany. These came to Britain with Prince Albert and eventually travelled the world via the US and the British Empire.
How about paying a visit to the home of Santa himself in Lapland. With herds of reindeer, cosy log cottages with roaring fires and endless pristine landscapes. Despite being covered in snow, it's guaranteed to melt the heart of even the frostiest scrooge!
From British Pantomimes to sunnier Mediterranean climes, Christmas in Europe offers many unforgettable locations to spend the holiday season.
Whichever European country you decide to visit, one thing is sure – an utterly magical festive experience that will not be forgotten in a hurry (unless you indulge in too much mulled wine that is!)
Pack your socks, scarves, and your most garish Christmas jumper (maybe a bikini too, if you're feeling brave) and get ready for a magical Christmas in Europe.
Christmas in Germany
Germany is in many ways the ancestor of the modern Christmas that many of us have grown up with. In truth, the entire country is jam-packed full of everything that makes Christmas such a wonderful time of year. Jovial, bustling Christmas markets overflowing with 'Glühwein" and Bratwurst are sure to keep you warm on a snowy German evening.
For those who love a good Christmas Market, and who doesn't, Nuremberg is a must-visit as it's home to the largest and most popular Christmas market in the country. The twinkling lights of the sprawling stalls are spread around the glorious Old Town. Their customary red and white roofs offer endless festive fun for both families and couples alike.
The market is set against the stunning backdrop of the famous Nuremberg cathedral, which is open to the public on Christmas Eve for atmospheric live choir performances.
Or visit the capital city, Berlin, and its world-famous Christmas markets. The markets offer a variety of different experiences and ambiances across the city, catering to everyone. There are buzzing fairground rides, Scandinavian delights, family-focused events, and artisan arrangements all illuminated by hundreds of sparkling fairy lights. Ice skating is available to really help you get into the holiday spirit.
Where to Stay in Germany
Park Plaza is conveniently located in front of Nuremberg Main Station, connecting you to all the city's festivities. It is a modern hotel that offers guests a well-equipped fitness center (so you can indulge guilt-free in all the Christmassy treats). The hotel also has its own bar and a restaurant offering traditional German dishes.
Christmas in Spain
If you're not a fan of the cold, you might think Europe isn't the place to head for Christmas. Well, think again! Head for the warm Mediterranean sunshine instead because Christmas in Spain offers something completely different. Pack up your festive spirit and leave your winter warmers at home.
Bon Nadal as the Catalans say! Visiting Barcelona during the Christmas season offers all the festivities without the accompanying frostbite! Barca has its own take on Christmas Markets with chorizo and paella sitting alongside the famous oddity of the "Caga Tió" or the shitting log! If you think you've missed the boat after Christmas Day, never fear; here the Kings procession on the 5th and 6th of January is the biggest celebration of the season.
The Spanish capital of Madrid is a classic Christmas destination that promises family fun in abundance. The city's busy streets and squares twinkle with lights under which locals still enjoy a sip of sangria and a plate of tapas even in the winter months. There are also many magical free live performances and shows dotted around the city and even an ice rink!
This cute accommodation provides an outdoor swimming pool where you can take a relaxing swim and be the envy of all your friends freezing back home. There are many areas to hang out such as the lounge, garden, and terrace, perfect for a few festive drinks.
Christmas in France
From the end of November until the beginning of December, Christmas is in full swing in France. The majority of towns and cities are adorned in Christmas decorations and fairy lights for as far as the eye can see.
Joyeux Noël! How about spending a day at the biggest European Christmas markets in Strasbourg? The Alsatian city sits on the border with Germany and combines French flair with cozy German traditions. Sticking with the theme, Strasbourg is also home to the tallest decorated Christmas tree across the continent with baubles as big as a human head and covered in festive lights!
Of course, if you're looking for romanticism at Christmas, then there's nowhere that can beat Paris for a winter getaway, especially in the snow. Marvel at the Eiffel Tower twinkling with thousands of fairy lights as you drink hot chocolate topped with decadent cream at the distinctly Parisian Christmas markets. Be sure to call by the massive department stores each decorated with impressive window displays too.
Where to Stay in France
Located 650 yards from St Paul's church in Strasbourg, this beautiful apartment comes with parquet floors, a fully equipped kitchen and a private bathroom. A particular favourite with couples for the perfect Christmas destination.
Christmas in Italy
If you're looking to experience some interesting and alternative Christmas traditions than you might have before, then Naples is an ideal place to visit. On Christmas Eve the Napolese celebrate with a veritable feast called "the feast of the seven fishes". It's a multi-course feast mostly made up of seafood since the strict Catholics aren't allowed meat on this day.
If you're looking for somewhere a little warmer this festive season, then how about Southern Italy for a destination to spend Christmas? In beautiful Sicily, the winter is pleasantly temperate and offers a great escape from frosty Northern Europe. The island is transformed into a magical twinkling display with its famous nativity scenes dotted around every corner of the island.
Where to Stay in Italy
Spend your Christmas in this charming one-bedroom wooden chalet. It's perfect for couples looking for some quiet time and has a real homely feel. Outside there is a lovely terrace with gorgeous garden views to enjoy. A traditional Italian breakfast is also available at the chalet every morning.
Christmas in Switzerland
Christmas in beautiful Switzerland is a magical experience and in December the place is often covered in a blanket of powdery snow.
Head first to St Moritz for a traditional festive experience with Christmas markets, live music events, and plenty of regional food, including Äpfelchucheli (thick slices of apple deep fried in batter) and Heisse Marroni (hot chestnuts).
If you're interested in a unique Christmas experience (and who isn't?!) visit the Olympic bobsleigh track, the oldest in the world, and fly around its corners in 75 seconds!
Or maybe Zurich, which boasts the largest indoor Christmas market in the whole of Europe! This is ideal if you're looking to get indoors away from the freezing cold winter weather and indulge in some fantastic food and drink. Zurich's main attraction is its show-stopping Christmas tree decorated with over 10,000 Swarovski crystals.
Where to Stay in Switzerland
The Trip Inn Zurich Hotel is in the ideal location for Christmas fun in the city. It's only 1km away from the Swiss National Museum, for the history lovers out there, and a 10-minute walk from the train station. A continental breakfast is on offer every morning so you can fill up before a big day of exploring the beautiful Christmas market.
Christmas in the UK
When visiting London you'll find that it is vibey all year round but it is absolutely off the scale at Christmas. There are the ice skating rinks at Hyde Park, The Nutcracker Ballet, shopping at the legendary Harrods store, and the giant Christmas tree in Trafalgar Square. With all the decorations, lights, and decked-out trees, you'll be filled with festive cheer!
One of the best things to do during Christmas in London is to take a magical stroll along the Thames. Or you can visit the West End for a festive show or go Christmas shopping on mesmerizing Oxford Street where not one spot is left undecorated.
Another enchanting city at Christmas is the Scottish capital Edinburgh. Here Christmas is more quaint, quirky, and rooted in Scottish tradition. Set against the backdrop of the imposing Edinburgh Cathedral the magnificent Christmas Markets have a special aura.
Walk the cute cobbled streets lined with fairy lights and market stalls as the bagpipes play in the background. Why not stay a while longer for the famous Hogmanay celebrations over New Year, too?
Where to Stay in UK
This converted stable is located within the grounds of a private house in the beautiful area of Bruntsfield. It is within walking distance of the city center so you'll easily be able to walk home if you drink a few too many mulled wines!
Christmas in Greece
If you're visiting Greece for Christmas then where better than the capital, Athens. It is awash with Christmas cheer and the heart of it all is Syntagma square. Here you'll find festive chalets filled with unique souvenirs, hundreds of sparkling lights, and a grand Christmas tree. You'll come across plenty of musicians playing live Christmas music at the markets and on street corners too.
To visit the most popular Christmas destinations in Greece, you will need to head North to a place called Agios Athanasios. Agios Athanasios is a traditional village that sits nestled in the mountains that border Greece and North Macedonia. With historical architecture and centuries-old traditions, it's a lovely place to spend the Christmas holidays and it's also close to some great ski slopes too.
This little wooden house is perfect if you're looking for a unique stay with a Christmassy feel and is within walking distance of the heart of Athens. It is a great place to relax, unwind and get warm by the fire with some mulled wine.
Christmas in Sweden
In Sweden the Christmas holidays don't end until the 13th of January, making it one of the longest Christmas celebrations in Europe! So why not head here and carry on the celebrations just that little while longer and stave off those January blues!
The city that is best known for its lavish Christmas festivities is Sweden's second city, Gothenburg. The whole place is adorned with beautiful decorations and glowing lights, and there are Christmas activities all across the city. The amazing Christmas market in Liseberg amusement park, with winter carousels, handmade gifts, and the chance to visit Santa Claus himself are magical experiences not to be missed.
Another Christmas treat is picturesque Stockholm where the famous Santa run is a sight to behold! Whether you're a runner or not, everyone gets together, throws on a Santa costume, and goes for a merry run. The festive drinks afterward will make it all worthwhile and it's a great way to stay warm!
Where to Stay in Sweden
This cottage is absolute heaven. Sit out in the cold air and sip on champagne in the outdoor jacuzzi. If you need to heat up even more on a Swedish winter evening, sit by the open fire or relax in the steam sauna!
Christmas in Iceland
If you've always wanted a white Christmas, then Iceland is the place to come as you are almost guaranteed to wake up to a festive winter wonderland. In Iceland Christmas last for 13 days, from the 11th of December to the 6th of January, which is why the country actually has 13 Santa Clauses or "Yule Lads" – one for each day!
December in Iceland brings long dark days, but don't let that get you down. It makes it the best time of year to take in the dazzling green, purple and yellow streaks of the elusive Northern Lights. Almost every building in Reykjavik is covered in a blanket of twinkling lights; the city is utterly enchanting at this time of year. There are also some festivals that happen at this time.
When exploring the quaint festival stalls at the Christmas markets, be sure to try the sweet locals' treat "Sara", this is a biscuit-based, almond macaroon filled with cream and dipped in chocolate. I don't know about you but this sounds like it's worth the calories! Head over to the ice rink at Ingolfstorg Square afterward to burn some of them off!
Where to Stay in Iceland
This little apartment is hidden away in a private backyard and is the ideal cozy winter getaway for couples. It comes fully equipped with everything you need and is only a 15-20 minutes walk away from the center of Reykjavik.
Christmas in Norway
Another place where you're almost always guaranteed a white Christmas is the beautiful Scandinavian country, Norway. This destination is perfect for those wanting to combine the unique Christmas culture of the region with an action-packed getaway
The city of Olso itself has many of the charming markets and stalls found all across Europe. What really makes it stand out though is the fun-filled Korketrekkeren toboggan run just 20 minutes from the city center. Closeby is an ice rink too for those wanting some slower-paced winter fun. Make sure and warm up with a glass of gløgg – Norwegian mulled wine afterward.
Take a trip up to Stavanger, the home of the breathtaking Norwegian Fjords, for a true winter wonderland where you can still take regular cruises. The charming Old Town makes for the most magical location for a much more local-feeling Christmas market and you can even visit some Christmas-themed workshops to help the big man in red out at this busy time of year! Perfect for keeping the kids in line!
Where to Stay in Norway
This stunning newly renovated apartment is in a picturesque part of town close to the city center. Everything you need is on your doorstep, including shops, restaurants, and bars. It also has good public transport links and a lovely terrace overlooking the nearby park.
Christmas in Finland
What better place to spend Christmas than in the home of real Santa Claus himself? The village of Rovaniemi, located in the Arctic Circle, is Santa's official North Pole residence, where kids and adults can visit for a private chat! Just make sure you've behaved yourself for the rest of the year!
This enchanting Christmas adventure is one of those bucket list experiences you just have to tick off at least once. It also makes this one of the most wonderful Christmas holiday destinations in Europe for families.
After your once-in-a-lifetime visit to the real Santa Claus, there's so much else to do in Lapland. The Arctic Circle Snowmobile Park offers never-ending fun from visiting the Siberian Huskies, skiing, reindeer sleigh rides, snowmobile rides, ice fishing, and snowshoe hikes. There's also plenty for the kids too at the wildlife park.
'Finnish' your amazing experience in the proper local way by heading to the sauna to warm up after a long day in the snow. The sauna is a traditional ritual that the Finns hold dear.
Where to Stay in Finland
Suomutunturi is located in Kemijärvi. It is half of a semi-detached house on its own plot on the edge of an enchanting forest. It is 2 km to the nearby ski slopes and the lake is 1.5 km away. There are plenty of walking routes in the forest that run along the reindeer sledge routes. Who knows, maybe you'll spot Rudolph?
Christmas in Ireland
If you're a solo traveler looking for a great place to spend the Christmas period, then you can't beat Dublin. The sociable hostels, festive pub crawls and Christmas-themed walking tours are great ways to meet people. You also might have heard, but the Irish love a roaring night out with great music, strong drinks, and good craic!
Pack your Christmas jumpers because Ireland can be chilly in winter, but if you're looking to escape the weather then thankfully there are both indoor and outdoor Christmas markets. You could also get on the Irish Whiskey too or order a hot toddy or two!
Dublin is also perfect for those wanting to experience the religious side of the holidays with many beautiful churches hosting festive events throughout the season.
A quieter and more picturesque location to spend Christmas is the lovely city of Cork; a highlight is the grand opening of the Cork Christmas lights at Bishop Lucey Park. If you visit with children, get them involved in the age-old Cork tradition of visiting the magical General Post Office so they can post their letters to Santa.
Where to Stay in Ireland
This one-bedroom apartment is right in the heart of Dublin where all of the festive fun takes place. . It is a vibey area with plenty of bars, live music, and restaurants. It is also very close to Dublin airport.
Christmas in Austria
Christmas in the Austrian capital, Vienna is a charming and sophisticated affair that highlights the elegant beauty of the city. Be sure to indulge in local treats such as Raclette (bread with warm cheese) at one of the many sprawling Christmas markets.
St. Stephen's Cathedral hosts an annual advent concert with a mixture of carols and classical music… a very Viennese affair! For those looking for something a bit more relaxed, the city has a huge booming ice rink in the museum's quarter that hosts DJs, light shows, and even a remote-controlled car race over the frozen pond.
Salzburg is a wonderful city to spend the Christmas period. The huge Christmas markets here dominate the Old Town and make the perfect place to stuff your face with festive treats such as mulled wine and gingerbread!
For something a little bit more unique you should visit the Hohensalzburg fortress and take one of their magical horse and carriage rides. You will feel like you're in a Christmas fairy tale.
Where to Stay in Austria
This beautiful Art Nouveau hotel is 20 minutes from the centre of Vienna. Most attractions (including the Christmas Markets) can be reached by tram and it's not far from the Oberlaa Spa Thermal Baths and the Viennese Woods.
Christmas in the Netherlands
Amsterdam is one of the most exciting cities in the world and is well worth a visit if you plan on spending Christmas in the Netherlands. The glitz of the twinking lights only adds more charm to the city's beautiful network of canals.
To explore the city, hop on a bike and cycle around as the locals do. When visiting Amsterdam you'll find the city is flat and full of bicycle paths, so cycling around is easy and fun. Just pack a pair of gloves!
A must-see is the Amsterdam Light Festival. This international event invites artists from all over the world to contribute to this fantastic, awe-inspiring light exhibition with installations all over the city.
If you want something a little more cute and quaint for your Christmas vacation in Europe, visit Dordrecht. It's a beautiful city with street parades full of colorful musicians and dancers, plenty of street theatre, and hundreds of wooden chalets full of tasty treats, gifts, and souvenirs.
Where to Stay in Netherlands
Park Inn by Radisson in Amsterdam City West is a luxurious hotel with many rooms on offer. The building was designed by acclaimed designer Karim Rashid, known for his bold use of colour which is enhanced at Christmas time with all of the beautiful decorations. Here you'll find a gym, restaurants, retail spaces and a casino.
Christmas in Denmark
If you're spending Christmas in Denmark, picturesque Copenhagen is the top destination.
A visit to the famous Tivoli Gardens (the epicenter of all things Christmas in Copenhagen) is a must as it's transformed into a spectacular winter wonderland. Meander around the romantic stalls with a glass of hot gløgg as thousands of lights leave a warm glow against the cold winter's evening. If you're feeling a bit more lively, you can even hop on one of the many theme park rides.
Ice skating is a big deal in Copenhagen so pay a visit to the ice rink near Frederiksberg Gardens. Or take a trip to Broens Skøjtebane to go skating with its incredible views of the harbor for the ultimate way to spend Christmas in Europe.
Another popular place amongst tourists and locals is the gorgeous medieval town of Nyborg, which hosts the largest Christmas markets Denmark has to offer which are ideal to get you into the Christmas spirit.
Where to Stay in Denmark
If you're hoping to be by the sea this Christmas stay at this waterfront apartment. The space is vast and the bedroom offers a king-sized bed and it boasts a balcony. The apartment comes fully equipped with kitchen, dining and laundry facilities.
Christmas in Belgium
Christmas in Bruges is nothing short of magical. This medieval town in the Flemish region of Belgium is jam-packed with phenomenal historic architecture and gothic churches. The city is aglow with fairy lights throughout the festive period as you take a wintery stroll along the old cobbled streets.
Don't forget to pack your winter mittens, Bruges gets very cold in December, but the festive Christmas markets, with their delicious food and drink, are sure to warm your spirits and put you in a festive mood. To make the most of the charm of the old town, explore the narrow streets in style by taking a charming ride on a horse-drawn carriage!
You've got to indulge in local delicacies when in Bruges, and you can't miss the famous Belgian chocolate but be sure to also try some crisp 'kroketten' made with oozing cheese or shrimp.
Where to Stay in Belgium
This 15th-century hotel is located just 280m away from the Christmas Market. It offers elegant rooms and a spa that features a steam bath, sauna and gym. This is a great option for those looking for somewhere luxurious to stay. It has its own bar and a beautiful terrace overlooking a huge garden.
Christmas in Bulgaria
'Vesela Koleda!' How about spending Christmas in Europe traveling in Bulgaria?
Make sure to spend some time in the compact and charming capital of Sofia. The streets are bathed in lights and here, the Christmas markets are a much smaller but cozier, and more local affair.
Be sure to try the local delicacies, including bean soup and stuffed cabbage leaves. The city is also home to the largest open-air ice skating rink in the Balkans, located in Borisova Garden.
If capital cities aren't your thing and you're in search of something a bit quieter, try visiting Plovdiv. The Plovdiv Christmas markets look magical against the backdrop of the unique Ottoman architecture mixed with its gritty alternative art scene. The city is also surrounded by some wonderful mountains that are often covered in snow throughout the winter, making the place a dreamy winter wonderland for all to enjoy.
Where to Stay in Bulgaria
This one bedroom flat is in a large building next to the Park Tsar Simeon which is beautifully lit up and decorated during the holiday season. It's near plenty of attractions such as the Ancient Stadium, Ethnographic Museum, Roman theatre, Djumaya Mosque and Hisar Kapia. There's also a large shopping street nearby with plenty of cafe's, restaurants, bars and fashion outlets.
Christmas in Hungary
Christmas in Hungary is magical, especially in the capital city – Budapest. The city is covered in a blanket of glistening fairy lights that make the already stunning city that much more charming and one of the most ideal of all our Christmas destinations.
Take a trip to the Christmas Fair in Vörösmarty Square to get you feeling those festive vibes. Here you'll find Christmas stalls selling handmade gifts and decorations, traditional Hungarian delicacies (such as chimney cake or poppy seed strudel), and festive drinks including forralt bor (mulled wine) and warm apple cider.
From December through to January there's a winter tram in operation. Hop on and take a merry tour of the city in all of its festive glory. If you're looking for something a little more active, try ice skating at Varosliget Ice Rink – one of the oldest ice skating rinks still in operation in central Europe!
Where to Stay in Hungary
This property is in an ideal location just 1.2km away from Market Hall (home to the famous Christmas market). It's also close to other major attractions such as Dohany Street Synagogue, the Hungarian National Museum and the State Opera House.
Whether you're looking for an escape to the winter sun, a snow-blanketed landscape, cozy Christmas markets, or outdoor adventure activities, Europe has a myriad of experiences on offer for everyone.
You can keep it traditional with sparkling lights, the real Santa Claus, decked-out Christmas trees, nativities, and Christmas carols. Or, you can seek out unique local traditions such as saunas, strudel, cheesy shrimp pastries, and modern artistic light shows, or even go for a swim in the med!
Whether you're traveling as a family, with a group of friends, as a couple, or as a solo traveler, there's something special for everyone. Make it a trip of a lifetime by enjoying Christmas in Europe.
And remember, you don't have to limit yourself to just one European city; you can try out a few with transport around the continent being convenient and reasonably priced and visit all the best Christmas markets Europe has to offer.
Updated November 2022 by Megan Christopher
World Nomads' mission is to support and encourage travellers to explore their boundaries. They offer simple & flexible travel insurance, and safety advice to help you travel confidently.
They've been doing it since 2002 – protecting, connecting, and inspiring independent travellers just like you.
Get a quote below or read our in-depth review!
World Nomads provides travel insurance for travelers in over 100 countries. As an affiliate, we receive a fee when you get a quote from World Nomads using this link. We do not represent World Nomads. This is information only and not a recommendation to buy travel insurance.
---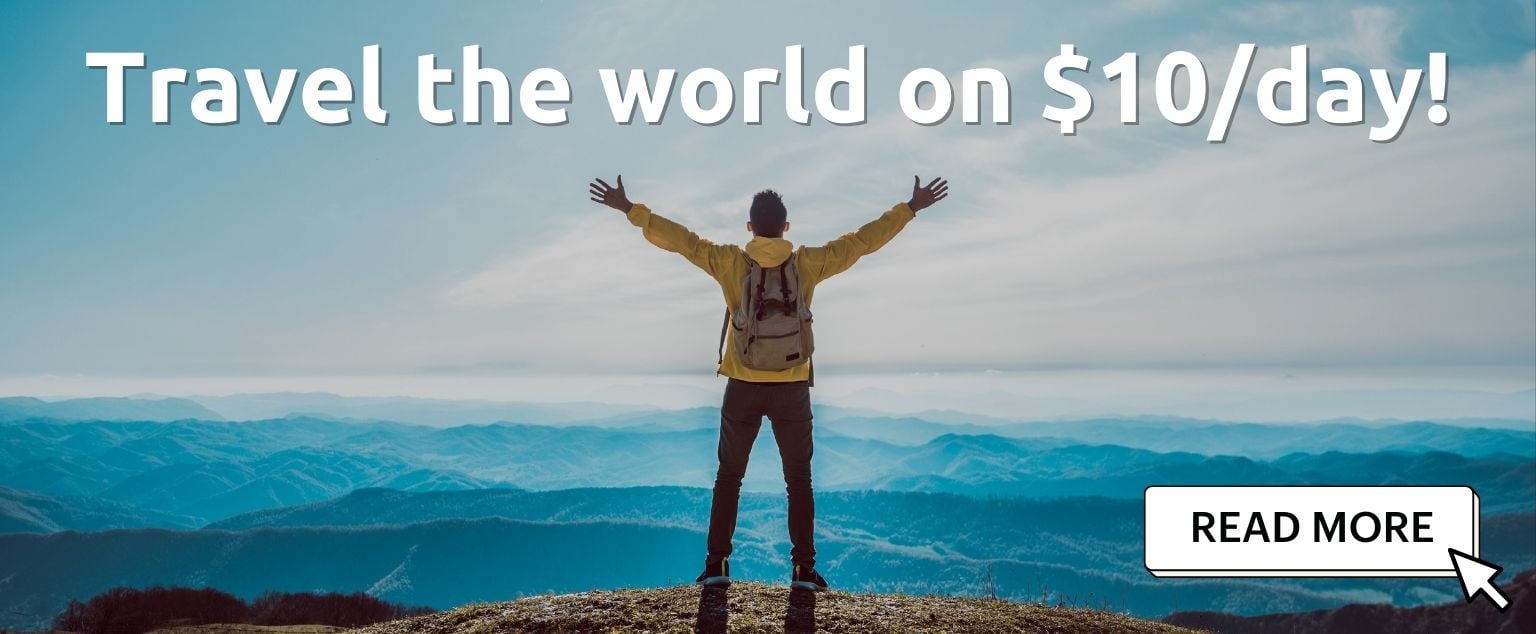 And for transparency's sake, please know that some of the links in our content are affiliate links. That means that if you book your accommodation, buy your gear, or sort your insurance through our link, we earn a small commission (at no extra cost to you). That said, we only link to the gear we trust and never recommend services we don't believe are up to scratch. Again, thank you!