Why Go Backpacking in Finland?
First of all, Finland is one of the greenest countries in the world, both in terms of sustainability and actual nature. It's known as the land of a thousand lakes, and it's got around 188,000 of them!
Almost 3/4 of its area is covered in forest, but this is not a country of dramatic valleys and mountain ranges. The beauty of Finland's nature is more humble, less flashy, but still as breathtaking as it could ever get.
How does sleeping in a glass igloo under the Northern Lights sound? Or rushing through fresh snow on a husky sled? Perhaps throwing back beers all night with your new Finnish friends because the sun never sets?
Backpacking Finland is an awesome addition to first-time backpackers: it's extremely clean and safe, friendly, and you'll rarely ever feel unwelcome.
And the backpackers who've been everywhere and seen everything: you could say it is actually an off-the-beaten-path destination. It might not seem like it at first glance, but it receives relatively few tourists compared to many other European destinations.
This means you'll be able to steer clear of annoying tourist crowds and experience Finland as it is – especially if you dare go outside of Helsinki and Rovaniemi.
So let's kick off this travel guide with some sexy itineraries. I'm going to run you through a few of my favourite routes for roaming around the country, and I'll introduce you to the places you absolutely MUST visit in Finland.
Best Travel Itineraries for Backpacking Finland
To make things easier, I'm assuming that you're starting from Helsinki, since it's the easiest and most obvious point of entrance. Depending on how much time you have, I have compiled my suggestions into three different itineraries.
They were designed for 5 days, 2 weeks, and a month, respectively — but they're easily adjustable to however much time you might have.
5 Days in Finland: The Southern Trio
Helsinki -> Turku -> Tampere -> Helsinki
Your trip starts with two days in Helsinki, the capital. Walk around the city centre and admire its neoclassical architecture, the iconic Helsinki Cathedral and the harbourfront.
In the afternoon, hop on the short ferry ride to visit the Suomenlinna fort for a nice (and free!) stroll among one of the most important historical monuments in Finland. On a sunny day, this is a prime picnic spot!
Dedicate your second day in Helsinki to gathering the most quintessential Finnish experiences. Sample some reindeer meat at the portside market (if you're into that), discover Finnish art history at Art Museum Ateneum, and rent a pair of ice skates for a lap at the rink by the railway station.
You can also end the day at a sauna. One of the most famous public ones is called Löyly — and while it is pretty much catered to foreigners, it's still a fun experience to plunge in the freezing Baltic waters afterwards!
After Helsinki, you should head to Turku. The ex-capital offers one of the prettiest riverside walks along the Aura River and has an awesome old castle to explore. Top the experience by spending the night at Turku's only backpacker hostel on a decommissioned riverboat.
The next day, dash out to Tampere to finish your Southern Finland loop. The city of culture and theatre has lots to cover, but you can cross most of it in one day. Check out riverside factories, climb up the Pyynikki observation tower, and toast to the city on the top floor of its tallest hotel.
2 Weeks in Finland: Essential Lapland
Rovaniemi -> Levi -> Inari -> Saariselkä -> Kuusamo
This one works in the summer too, but winter is particularly special in Lapland. The route includes a lot of driving, be sure to save some time for it — especially if you want to do some hikes.
You start it off in Rovaniemi: the gateway to travel in Lapland. And the hometown of Santa Claus himself!
Whether or not you believe this magical man brings a sack full of presents to your house every year, Rovaniemi is a great place to get a first taste of northern Finland. It's quite touristy, I won't lie — and there's some husky sledding (and reindeer safaris) if you're into that.
From there, head north to Levi, a tiny town with awesome ski slopes in the winter and great hikes in the summer. You can also hike during the winter, but it's a tiny bit more hardcore!
Your next stop is Inari, where you can learn about the culture and traditions of the Sámi people, an indigenous group inhabiting Lapland. Inari is also a starting point for hikes in the Lemmenjoki National Park, renowned for its historical role in the Finnish gold rush.
Travel southbound to stay in Saariselkä, your best access point to the Urho Kekkonen National Park. This is one of the wildest areas in Finland! Travellers going from broke to bougie can crash at the Instagram-famous glass-domed igloos in Kakslauttanen.
And then comes the last stop: Kuusamo. In the winter, stay in the nearby town Ruka for some more skiing, and in the summer or autumn, you can start the legendary Karhunkierros trail (The Bear's Trail) here. This 82-km route is one of the most popular, and most beautiful hikes in Finland.
1 Month in Finland: The Ultimate Backpacking Finland Adventure
Helsinki -> Mariehamn -> Turku -> Rauma -> Tampere -> Jyväskylä/Vaasa -> Oulu -> Rovaniemi -> Sodankylä -> Kuusamo -> Kuopio -> Helsinki
If you're adamant to see absolutely every part of Finland — respect! This itinerary covers most of it, but remember: distances are quite big and driving can get exhausting. Adjust as needed.
You start by exploring Helsinki for a few days. If time is on your side, squeeze in a day trip to Porvoo or the Estonian capital Tallinn.
From Helsinki, get a ferry to Mariehamn, the capital of the Åland Islands. Spend a few days biking around its peaceful roads, and head over to Turku afterwards to soak in some Finnish history.
After that, travel up the coast to Rauma, the biggest wooden old town in the Nordics and one of the prettiest towns in Finland!
From here, you can either go to Jyväskylä, one of the biggest university cities, or Vaasa, a coastal town that'll set you off to Kvarken Archipelago, a damn beautiful set of islands.
Both cities have direct access to Oulu, your gateway to Northern Finland. Oulu is a lively market city and definitely worth checking out, but not for long 'cause we're heading to Lapland!
I recommend spending a few days on the Arctic circle in Rovaniemi, then heading up to Sodankylä. If you come in June, the midsummer sun doesn't set at all (it's quite mental), and you've got a great film festival in town.
After that, we start heading south to Kuusamo, one of Finland's best nature sites. Drive down through the quiet rural landscapes of Eastern Finland, stay in Kuopio for a couple of days and loop back to Helsinki.
Places to Visit in Finland
Now that we've been over a few itineraries, let's dive deep into what these places are all about. Sure, you've heard of Helsinki — but just like any other capital, it represents only a tiny fraction of what Finland is really made of.
If you can, extend your route to explore some of the other cities I covered, Finland national parks and coastlines. Backpacking Finland can be an epic adventure, and you're bound to have one if you so desire!
Visiting Helsinki
Helsinki is without a doubt the coolest city in Finland — and also the most visited one. The capital is well known for its architectural gems, unbeatable design, fine cuisine, and excellent culture.
It's also the capital of street style: the people of Helsinki are chic, cool and trendy. They know how to dress! Black and grey all day.
Take a short ferry trip to the Suomenlinna fort. This 18th-century sea fort is a UNESCO World Heritage Site and hosts a small village with cafés, shops, and even a backpacker hostel. Other than the ferry, visiting the fort is free! The boat ride also gives you the chance to have a good look at Helsinki.
The city centre is easy to do on foot, and that's where Helsinki's most famous sites are located. Visit the Helsinki Cathedral, nibble at fried vendace at the port-site market, and stroll in the Kaisaniemi botanical garden.
Peek at the famous Rock Church (that's, well, built into a rock) and take your pick from the plethora of museums: some nice ones are Helsinki Art Museum (HAM), Contemporary Art Museum Kiasma and Art Museum Ateneum. The last one is home to some of the most important works of Finnish art.
Want to get your adrenaline rush on? Visit Linnanmäki, the oldest amusement park in Finland. Their wooden rollercoaster has been in operation since the 1950s!
Popular Day Trips from Helsinki:
Porvoo: Just an hour from Helsinki, Porvoo's Old Town is a gorgeous glimpse into Finnish history. Its cobbled streets hide many treats including craft ice cream, coffee and candies. You can visit the house where Finland's national poet Runeberg once lived, but its most iconic attraction is the row of wooden red storehouses by the river.
Nuuksio National Park: Nature is never too far in Finland, even in the capital region. Nuuksio National Park is easy to reach with public transportation and has a network of trails for daytrippers and trekkers alike. If you're lucky, you might even spot the endangered flying squirrel.
Tallinn: The Estonian capital and one of the most beautiful cities in Europe is just a 2-hour ferry trip from Helsinki. Multi-country day trips made easy! Traditionally, Finns cross the Baltic Bay in pursuit of cheap alcohol, but Tallinn is awesome beyond booze. Highly recommend!
Visiting Turku
Turku was the previous capital of Finland. It was founded in the 13th century, which means it's the oldest city in the country — any history geek will love it here.
Even though a large part of the city was destroyed in fires, its history museums, castle and buildings still bring back a breeze from the past. Check out Aboa Vetus & Ars Nova; this museum combines an archaeological museum with modern art exhibitions.
One of the best ways to get to know the city is to stroll by the Aura River. In the summer, students come to chill and in the winter, if the river freezes enough, it's possible to ice skate on it.
Many of the city's most important sights, like the Turku Cathedral and the Market Square, are also located along the river.
Follow it long enough, and you'll eventually find Turku Castle. With over 700 years worth of history in its halls, it's been turned into a museum with exhibitions and rooms that give you a feel of life back-when. Some say the castle is haunted — but I guess you'll have to find that out for yourself.
In the summer, the outskirts of the city become the stage to Ruisrock, the biggest and one of the best music festivals in Finland. It draws in both Finnish and foreign performers across all genres.
Turku is also one of the biggest port cities in Finland,s and has the best ferry connections to the Åland Islands and Stockholm.
Popular Day Trips from Turku:
Rauma: In my humble opinion, this is one of the most beautiful places in Finland. Old Town Rauma is filled with charming, colourful wooden houses that host cozy cafés, cute second-hand shops and traditional handicraft stores.
Naantali: The number one summer city in Finland is best known as the President's summer residence and Moominworld, a theme park dedicated to the most famous Finnish children's characters. If you ain't feeling like a Finnish child, no worries: Naantali's old town is still plenty charming to explore. You can also chill portside and do some people-watching on a nice sunny day.
Turku Archipelago: What would a visit to Finland's favourite port town be without an expedition to its archipelago? The best way to get between the little islands is by taking a ferry.
Visiting Tampere
The cradle of Finnish rock music, theatre and culture is the second city of Finland — often voted as the most liveable city in the country. It's also dubbed the "Manchester of Finland" and endearingly shortened by locals as "Manse".
Tampere was in the heart of Finnish industry and production, and the emblematic views of red-brick buildings along the Tammerkoski river still very much define the city's image.
It might just be the most charming city in Finland! The centre's Art Nouveau style buildings stand side by side with old churches and historical red-brick factories, creating a beautiful mix of architectural styles. Just on the outskirts of the centre, you'll also find the Pispala neighbourhood known for its idyllic wooden houses.
Tampere is one of the best summer cities in Finland. During long, lazy summer days, the city centre is bustling with international food markets, craft beer events and music festivals. Summer theatre productions are also popping up all over the place.
For the cultured traveller, Tampere offers some awesome niche museums: there are museums dedicated to Moomins (Finland's beloved hippo-like children's book characters), espionage, Finnish police forces, Tampere's workers' history, Lenin, and video games.
My favourite thing about it is that it's surrounded by nature: lakes on both sides, with forests and countryside just outside the city borders. And there are multiple spots to spy on this beauty.
Try Näsinneula Tower with sweeping 360-degree views, or Hotel Torni, the tallest hotel in Tampere whose sky bar serves lovely craft beer from a local brewery. The best spot for me, though, is the Pyynikki observation tower. It serves THE BEST sugared doughnuts in Finland — and perhaps in the entire world.
Visiting Vaasa
Looking to make some new friends? Vaasa is a small city filled with students and one of the most international cities in Finland.
It's located on the West coast, so you'll have ample opportunities to sit portside drinking coffee or beers. Or simply hanging out at the beaches!
Get your fill on history, see the ruins of Old Vaasa and the historical Vaasa University campus. There are some cool small museums to check out too, including the Kuntsi Museum of Modern Art, Vaasa Car & Motor Museum and — since this is a seaside city — a Maritime Museum.
Everything is walkable, but you can blend in with the Finns and rent a bike to cruise around. The biggest reason to visit Vaasa, though, would be its unique nature!
The Kvarken Archipelago is located right outside of Vaasa. Fun fact: this group of islands is Finland's only natural UNESCO site, and it is home to tons of unique fauna and flora. You've also got fantastic hiking, canoeing and boat trip opportunities. You can also find Finland's longest bridge in the area.
Visiting Jyväskylä
Jyväskylä is one of the biggest student towns in the country and allegedly the place where the most pure form of Finnish is spoken (don't sweat it, you're still not going to understand a word of it).
I have to be honest with you: there isn't much to see here. Jyväskylä is a place to experience, to relax. It's a place for those who travel the way they live, for those who like to go slow.
But this doesn't mean it's boring. You can still visit the Alvar Aalto Museum, dedicated to Finland's best-known architect, and find buildings designed by him all over the city.
Climb up the Vesilinna observation tower to see the town from above, and shop for handicrafts at cute little artisan shops at the Toivola Old Courtyard (especially great around Christmas time!).
At dark, take a stroll in Jyväskylä's harbour and admire its beautiful cityscape. Jyväskylä is not known as "the city of light" for nothing – it has over 100 illuminated monuments.
One of my favourite things to do on the way to or from Jyväskylä is to stop at the Vaajakoski district. Just seven kilometres from the centre, you can visit the Panda factory, specializing in sweets, chocolates, and liquorice. Panda is a lesser-known and equally delicious alternative to the famous Fazer sweets.
Visiting Kuopio and Eastern Finland
The Eastern part of Finland is often overlooked by most international travellers — but hopefully not by you.
While you might not find many world-class attractions here, what you'll rather encounter is natural peace. Couple that with a few quirky events and a whole side of Finland you never thought possible: chatty Finns.
The people here are known for their unique sense of humour and their inability to ever get straight to the point. The cities might not entertain you for long, but this is a prime road trip area in Finland.
Kuopio is the capital of the Northern Savo region. Make sure to try kalakukko (literally: "fish rooster"), a delicious, traditional rye bread that can be filled with both sweet or savory filling.
Climb the Puijontorni Tower for a fantastic view over Kuopio and the surrounding nature. The city is also relatively close to Sonkajärvi, where the Wife-Carrying World Championships take place every summer (yes, that's a real thing).
Koli National Park is possibly the most iconic natural landscape in Finland and accessible all year round. The forested hills are perfect for even inexperienced hikers!
Another great nature site is the Saimaa Lake, Finland's biggest lake and home to the endangered Saimaa seal that's only found here.
Eastern Finland is in the heart of the Finnish Lake Land, which makes it an awesome place to experience your best cottage life. Finns are extremely fond of their summer holidays in cottages by the lake; rent one out for the weekend and see what all the fuss is about.
Visiting Rovaniemi
Rovaniemi is the gateway to Lapland and, besides Helsinki, perhaps the most popular destination in Finland. You can experience quintessential Lapland here without having to venture too far into the wilderness.
And this is where you find… Santa Claus!
After a Finnish radio announcer claimed Santa lived here, all the way back in the 1920s, Rovaniemi decided to capitalise on the idea. They turned a cabin where Eleanor Roosevelt had once stayed and made it Santa's house.
Now, Santa Claus Village is the most popular attraction in Rovaniemi. I'll admit, the theme park is very much geared towards children, but it's a great place to release your inner child.
Santa's not the only famous resident in town. Rovaniemi is also home to Rovio, the game studio that's best known for Angry Birds. It's also the birthplace of the lead singer to Lordi, the heavy metal band that's snatched Finland's only win in the Eurovision Song Contest.
Attractions dedicated to both are kind of underwhelming: the Angry Birds Park is mostly a playground for children, and Lordi's Square is, well, just a city square. You're better off checking out the Arktikum, a museum dedicated to the history and culture of the north, and the Ounasvaara fell.
You can book dog sledding and reindeer safaris here, even though the hefty price tag makes both experiences pretty unattainable for the brokest of backpackers. And no fear: animal welfare laws in Finland are very strict so you can rest assured that Rudolph and his buddies are well-treated.
Visiting Lapland
I've separated Lapland as its own point on this list because let's be honest, Rovaniemi represents Lapland as well as Paris represents France: it still counts, but it's a very lightweight introduction to what really is about.
Lapland is the northernmost region of Finland, spanning all the way into Sweden, Norway and Russia. It's the least inhabited, most remote part of the country — a place to experience true wilderness.
The best time to visit is the winter when the whole region turns into a postcard-perfect winter wonderland. It's the best place to try to see the Northern lights in the winter and experience the midnight sun — 24-hour daylight — in the summer.
In the winter, towns like Kemi, Ruka and Levi are packed with ski tourists and winter hikers; in the summer, the vast national parks of the north become excellent stages if you plan to go hiking in Finland.
Try your hand at gold mining in the Lemmenjoki National Park, wander the wilderness of the Urho Kekkonen National Park or tackle Finland's most beloved hike, Karhunkierros (the Bear's Trail). If 82 km, so if that sounds like too much walking for you, opt for the Small Bear's Trail that's only 12 km and can be done in a day.
Travelling Lapland is all about its nature so it's not very popular with city trippers, although there are a few special towns to see too. Inari is the centre of Sámi culture in Finland, Sodankylä hosts an internationally acclaimed film festival, Kittilä builds an ice hotel complete with ice sculptures and an ice bar every winter, and Nuorgam is worth it too.
Visiting Oulu
If you're on your way to Rovaniemi anyway, you might as well make a stop in Oulu. It's a small, friendly, and quirky town in the North of Finland. Most of the Old Town's wooden buildings burned down centuries ago, but the remaining old houses stand peacefully side by side with the 19th-century architecture. Oulu is a great summer city.
The best place to spot old wooden houses is in the Pikisaari area, where you can also check out the old Wool Mill, home to art galleries and artist studios, and the Seafarer's Home Museum.
Shake hands with the most famous resident in the city: Toripoliisi (The Market Square Police) is a jovial fellow who guards the Market Square and the Old Market Hall. The area around the market also has some charismatic wooden houses and popular pubs.
Despite its small size, Oulu is a lively little spot and hosts a few epic events throughout the year. In February, admire snow sculptures at the international Nallikari Snow Festival; in July, dance away at the QStock music festival. Oh, and headbang in August at the Air Guitar World Championships!
Take a day trip to Hailuoto Island. A car ferry makes sure you can drive yourself or use public transportation. Hailuoto is a cool little spot with white-sand beaches, a historical lighthouse and idyllic fisher villages.
Visiting the Åland Islands
Visiting the Åland Islands is like stepping into a tinier version of Sweden: these Swedish speaking islands in the Gulf of Finland are an awesome peaceful destination for a mini-detour while backpacking Finland.
Easily accessible on a boat from Turku or Helsinki, Åland Islands can also be a pit stop on your way from Finland to Sweden or vice versa.
With a population of less than 3,000 and just one town to speak of, there aren't many big attractions… but nature is everywhere. From incredible sunsets to chilling by a quiet lake and travelling through rural sites, Åland gives you time to just enjoy being present. Picture it like a mental detox!
Not that you would get bored: its capital Mariehamn is a tiny city marked by colourful wooden buildings oozing Nordic charm, and it's jam-packed with marine history. Visit the museum boat Pommern or take a trip to the heart of the island to explore the 16th-century Holmenkollen Castle.
The best way to explore around is to rent a bike. Distances are short — the island only measures about 50 km both ways — and the roads are great and flat. All the roads in Åland have a distinct red hue since they've been built using a special rock found on the islands. Follow the red-brick road!
Getting Off the Beaten Path in Finland
Let's be honest here: if you choose to travel anywhere outside of Helsinki or Lapland, you're already off the beaten path. Travelling to Finland is way more fun when you go a little astray.
Finland is popular as a domestic travel destination, but international crowds have yet to discover this land's most beautiful assets. As a backpacker, you'll be even more of a rarity: the high travel costs in Finland have long scared travellers away. But hey, Couchsurfing is a thing!
The best way to explore Finland is not through attractions, but rather through experiences. Mingle with the Finns, let them introduce you to their home region, or just grab a few drinks at the neighbourhood bar; there are hardly better ways to get to know the culture and its people.
Top Things to Do in Finland
Where do I even start? It should be illegal for a country as small as Finland to pack this much fun up its sleeves. Here are some of the best things to do in Finland that you won't find anywhere else.
1. Fill your belly at Restaurant Day
Restaurant Day is a pop-up street food festival that allows anyone to put up a café, restaurant or bar for a day. Arranged four times a year, it's your best chance to sample as much affordable, delicious street food as your stomach can take. The festival started in Helsinki in 2011 and has since then spread to several other Finnish and European cities.
2. Sauna like a Pro
Did you know that "sauna" is the only etymologically Finnish word used in English? It's one of the most iconic Finnish activities you could partake in. Pretty much every Finnish house has one, and there are over 3 million saunas in Finland — that's almost 2 saunas per person! Do it like a Finn and go in naked, followed by a skinny-dip in the lake or a roll in the snow.
3. Meet Santa Claus
While Santa Claus might not be a purely Finnish character, his official house is located in Rovaniemi on the Arctic Circle. It's mostly a kids' thing, but the theme park is also popular among foreign travellers who come to re-live their childhood dreams. Fun fact: Coca-Cola ads were the ones to popularise Santa dressed in red, and the designer responsible for these images was also Finnish.
4. See the Northern lights in Lapland
This list would be complete without adding the one thing that's on every visitor's wish list: the aurora borealis. The magical mystery of the sky. Northern lights are visible everywhere in Finland, but your best chance of catching them is up north during clear, winter nights. If you'd like to up your chances of seeing them, subscribe to the Finnish Meteorological Institute's aurora alerts.
5. Booze it up on an overnight cruise
Want to have a REAL Finnish experience? Okay, but don't say I didn't warn you. The cruise ships on the Baltic Sea are the easiest way to navigate between Finland and Sweden, but the tax-free alcohol and night clubs on board attract a lot of drunken sailors that come on the boat only to get boozed up. The ticket to a 23-hour cruise doesn't let you disembark on the other end, though, but takes you right back to the port where you started from.
6. Camp to your heart's content.
Thanks to the Everyman's rights (jokamiehenoikeus), you're allowed to camp anywhere in Finland without a special permit. And pick berries and mushrooms! Finns are extremely proud of their forests, and the right to roam is inherited in their connection with the natural environment.
7. Shop for Finnish Produced Goods
If your measly budget allows a little splurge, shop famous Finnish brands for souvenirs. Marimekko specializes in clothes and textiles with an emblematic poppy design, Iittala has a range of well-known tableware designs, and Tom of Finland products present highly masculine homo-erotic art that has broken free from the subculture and become popular all over Finland.
8. Do ALL the winter sports.
Finnish kids learn to ski and skate as soon as they can stand. Try downhill skiing, snowboarding, ice skating or cross-country skiing — or simply borrow a toboggan and speed down the snowy slopes. And the biggest hats off to you if you dare to try the most extreme activity of them all: a plunge in a lake at winter through a hole drilled in the ice.
9. Spend some time on the Countryside.
For many Finns, "mökki" is a dear holiday home. These lakeside cottages are one of the best experiences you can have in Finland. Imagine skinny-dipping straight from the sauna as the sun sets over a mirror-clear lake: now you're starting to get the hang of the life around here.
10. See an Ice Hockey match.
A winter wonderland like Finland had to be well-versed in winter sports. On top of the successful international teams, most big cities in Finland have their own teams as well, and cheering a team on among roaring Finns is always a fun experience. Even if you're not that into the game!
Backpacker Accommodation in Finland
Here's the thing, Finland is not ideal for backpackers. Not many travellers find their way up north, which means that backpacker accommodation options are limited over there. Or pretty much non-existent.
The hostel scene in Helsinki is pretty dope, so you'll have no trouble finding a great place to stay. And it's possible to base yourself there and explore Southern Finland on day trips, but this can be inconvenient and expensive.
Hostels in Finland are generally more expensive than you're probably used to while backpacking Europe. But hey, they're clean, comfortable, and usually include all the facilities you would hope to find in a hostel. And to true Finnish style, most of them also have saunas.
When there are no hostels in sight, your best bet is to find a mid-range hotel or a holiday apartment. Airbnb is also a thing; at the lower end of the scale, you'll find a room at $25-35/night through Airbnb, which is often cheaper than a little hotel room.
The Best Places to Stay in Finland
Wild camping in Finland
Now here's a golden tip for the real broke backpacker: Finland's nature is free and welcomes all. Thanks to "Everyman's right" (jokamiehenoikeus), you're free to hike and camp anywhere, as well as pick berries and mushrooms in the forests.
This means that camping in Finland is easy and legal. Stay out of city parks and private property, though — the best camping spots are in the national parks. And remember: leave no trace behind.
Many hiking trails are also equipped with different shelters where you can spend the night for free. Wilderness huts, Sami huts, and wooden lean-tos usually have a firepit to keep you warm during the chilly hours of the night.
Finland Backpacking Costs
Is Finland expensive? Hell yes. However, there are still sneaky little ways to make your trip there a little more affordable.
Eating out is expensive in Finland. Sorry! However, your grub in Finland doesn't have to be just instant noodles. For the cheapest and most authentic meals, head to the central market squares. Many of the bigger cities have a permanent covered market that has small cafés and restaurants serving simple and delicious home-cooked meals for as little as $7. If you're in a university town, you can eat at the student cafeterias for about $9 (including the main meal, salad and bread!).
In general, try to fill your belly at lunchtime since you'll find much better offers then.
Download the ResQ Club app. It's an app that aims to minimize food waste, so at the end of the day, restaurants put up drastically discounted meals.
Cooking for yourself is always the cheapest option, and Finland is no exception. If you're really pinching pennies, visit S Market supermarkets after 9 p.m. when all of their expiring products are at 50% sale.
The absolute cheapest way to travel in Finland is by bus. If you plan your trip in advance, you can score early-bird discounts on Onnibus and Matkahuolto bus lines for as little as $2.5 per trip. Similarly, trains usually have some discounted tickets, too. If your plans include tripping from Helsinki to Rovaniemi and back, though, prepare to shell out a hundred bucks for a train or $50 on a cheap flight (one-way).
Alcohol in Finland is EXPENSIVE. But no fear: there is a way to party the night away without breaking the bank.
The solution, my dear traveler, is student bars. While you might often end up paying $9-12 for a pint in a normal bar, student bars offer shots for as little as $3 and beers for $3.5-5. Or, you know, pregame.
If you want to avoid hefty entrance fees, pick pubs and small bars over big nightclubs to avoid paying the entrance fee (about $5-10).
Look, if you came to Finland expecting to plow through powdery snow on a husky sled, you also need to be prepared to stack out some serious cash. The famous dog and reindeer safaris cost about $120 for a couple of hours of sledding. Having fun in Finland does not come for cheap. A daily ski rental in Helsinki can be about $25 (and a ski pass at a resort about $40-50), a museum ticket $30, and a day pass to an amusement park $50.
Luckily, there are plenty of cheap and free things to do as well. Hike and camp, walk around cities, take advantage of free events and exhibitions and relax on beaches and in parks.
A Daily Budget in Finland
A Daily Budget in Finland

| Expense | Broke Backpacker | Frugal Traveller | Creature of Comfort |
| --- | --- | --- | --- |
| Accommodation | $21 | $60 | $80-100 |
| Food | $5-10 | $20 | $30+ |
| Transport | $5-10 | $30 | $80 |
| Nightlife | $10 | $20 | $50+ |
| Activities | $10 | $35 | $120 |
| Total per day: | $51-61 | $165 | $360-380 |
Money in Finland
Finland is a part of the EU and so it uses the Euro.
Most places will accept cards, but it's always a good idea to carry a little bit of cash with you. There are ATMs all over the place, and you can exchange money in banks or exchange offices.
Travel Tips – Finland on a Budget
Trying to stretch your euros as far as they go? Then try out these good-and-tried broke backpacker practices.
Cook your own food. A money-savvy explorer cooks their own food — especially in Finland. It's a good idea to slip a portable camping stove into your backpack; it's great for accommodations that don't come with a kitchen, and perfect for hikes in the pretty Finnish forests.
Take a tent. All hail Everyman's right! In Finland, you're allowed to camp on public land (excluding city parks), so if you want to save some cash, pack up a lightweight tent.
Try Couchsurfing. Finns might be introverted but they love sharing their culture with foreign travellers. Try Couchsurfing and make friends while sleeping totally for free.
Shop second-hand. If you get to Finland and realise that it's a little colder than you expected, find a second-hand shop. There are plenty of privately owned ones as well as charity chains like UFF, Salvation Army and Red Cross. You'll easily find a warm coat for $10 or less!
Volunteer. Staying somewhere awesome for just a few hours of light work? Sign me the fuck up. If you are looking to stay in Finland for longer, check out Worldpackers. It's an excellent platform connecting travellers with meaningful volunteer positions throughout the world.
Travel with a water bottle. The tap water in Finland is among the best in the world so there's simply no excuse to keep buying bottles. Take a reusable bottle with you and save both money and nature.
Why Should You Travel to Finland with a Water Bottle?
Plastic washes up on even the most pristine beaches… so do your part and keep the Big Blue beautiful!
You aren't going to save the world overnight, but you might as well be part of the solution and not the problem. When you travel to some of the world's most remote places, you come to realise the full extent of the plastic problem. And I hope you become more inspired to continue being a responsible traveller.
STOP USING SINGLE-USE PLASTIC! If you'd like some more tips on how to save the world.
Plus, now you won't be buying overpriced bottles of water from the supermarkets either! Travel with a filtered water bottle instead and never waste a cent nor a turtle's life again.
Best Time to Travel to Finland
The absolute best times to travel to Finland are the summer and the winter.
Finnish summer is lovely: the days are long and mellow (usually 20-25ºC, sometimes rising up to 30ºC), and Finns spend their time drinking in parks or restaurant patios. The amount of daylight can come as a shock: in Lapland, the sun never fully sets in the summer, and even in the south the darkness only lasts for a few hours.
Peak season is June-July when schools are out; May and August still get nice weather without being quite as packed.
The days in the winter are short and dark. It's a great time to visit if you're not used to snow and coldness — a friend of mine was blown away when he realised he could walk on ice! The temperatures get way below freezing, anything between -10 and -40, but you know…
Snow has been falling later each year, so while you might get your winter dreams fulfilled in November or December, play it safe and time your trip between January-March.
If you're looking for some spectacular autumn colours, end of October is also a fantastic time to visit. Word of warning, though: the splendour lasts for about two weeks, then the trees lose their leaves in bitter wind and rainstorms, and the weather gets miserable and grey until it starts snowing.
The springtime can be lovely with the nature in Finland coming back to life, but it still rains a lot. The streets are wet and sloshy from melting snow — plus, even timing your trip to May doesn't guarantee that you won't get caught in the snow.
Festivals in Finland
There's no better time to experience Finland than in the summer, when every week is packed with weird and wonderful events all over the country.
Did you know that Finland is the country with the highest number of metal bands per capita? On top of the likes of Nightwish and Children of Bodom, the Finnish music scene is booming in every direction and genre possible.
The best part? The crowds are way smaller than festivals happening in busier European countries. Here are some quintessentially Finnish events, festivals and celebrations to consider when backpacking Finland:
May Day. The biggest student celebration of the year is also a national bank holiday. The experience is marked by street markets, balloons, home-made slightly alcoholic lemonade (sima) and sugared doughnuts.
Midsummer (June): Midsummer is a big celebration in Finland. Usually, Finns escape to their countryside cottages, but there's always some sort of small city festival going on. And an evening bonfire! Places like Tahko and Himos arrange big parties for Midsummer.
Ruisrock (July): Finland's biggest music festival is a three-day extravaganza just outside of Turku. It brings together huge foreign acts and some of the best Finnish artists across all genres.
Tuska Festival (July): This three-day festival might be the biggest metal music festival in Finland and a must if you're a metalhead. Even the name of the festival is metal as hell: it translates to "Agony".
Air Guitar World Championships (August): "Make air, not war": this bizarre competition that crowns the best air guitar player in the world aims to "promote world peace" and takes place in Oulu.
Wife-Carrying Championships (August): One of the funniest sporting events ever takes place in Eastern Finland, in Sonkajärvi. Every August, dozens of couples race through an obstacle course with the man carrying his wife on his back to win the woman's weight worth of beer.
Flow Festival (August): THE indie music festival brings together dozens of Finnish and international acts to Helsinki.
What to Pack for Finland
No matter where I travel, I always pack a few things with me:
Staying Safe in Finland
If you google "safety in Finland", you'll be faced with an insane-sounding list of great superlatives: Finland consistently ranks on the top of the list when it comes to safety, freedom of speech and press, personal freedom, lack of corruption and crime, social justice, political stability, trust in police forces… Need I say more?
So, rest assured, Finland is probably one of the safest countries you will ever visit. Of course, bad stuff can happen anytime, anywhere, so keep your wits about you and you'll be fine.
Finland gets very dark in the winter. The cheapest life insurance is buying a dangling reflector — sold in all supermarkets — that you can pin to your bag or jacket to stay visible in the dark. And don't fuck with the cold.
Winter conditions can cause black ice, limited visibility, and bad roads. If you plan on driving yourself, make sure you know how to drive in the snow! And watch for moose danger signs, they like to cross the road without looking both ways.
Hikers: never hike alone if you're unsure of your wilderness survival skills. There are some remote trails where help is hard to come by if you get lost or hurt. Pack your day pack well, and always let someone know where you are and when to expect you back.
Oh, and keep an eye out for wildlife: you're most likely to just come across some squirrels and hares but Finland has wolves, bears, lynxes and wolverines. Surprisingly, the most dangerous animal might still be the moose. They're gigantic and can be aggressive around mating season.
Sex, Drugs, and Rock 'n' Roll in Finland
All drugs are illegal in Finland — yep, even weed. Still, there isn't a large-scale "war on drugs" going on here, and you're more likely to get a warning than a fine if you get caught. Drug use has definitely been on the rise in recent years, but it's still not all that common in Finland.
Finns definitely a drinking nation. Alcohol is often an inseparable part of social events, and a lot of Finns might struggle to keep their wits about them. Finns LOVE to introduce foreign visitors to their special liquors – and laugh at you as your face goes pale.
The "holy trinity" of Finnish shots might get offered to you as a welcome gift: first Suomi-viina, a terrible Finnish vodka; then Salmiakkikoskenkorva or "salmari", a liquorice-flavoured vodka; and lastly, Jaloviina, a strong brandy especially favoured by students and old drunks.
When it comes to dating, Finland is often said to be one of the most liberal countries in the world, so you can get on Tinder and swipe to your heart's content.
Travel Insurance for Finland
Traveling without insurance would be risky so do consider getting good backpacker insurance sorted before you head off on an adventure.
I have been using World Nomads for some time now and made a few claims over the years. They're easy to use, professional, and relatively affordable. They may also let you buy or extend a policy once you've started your trip and are already abroad which is super handy.
ALWAYS sort out your backpacker insurance before your trip. There's plenty to choose from in that department, but a good place to start is Safety Wing.
They offer month-to-month payments, no lock-in contracts, and require absolutely no itineraries: that's the exact kind of insurance long-term travellers and digital nomads need.
SafetyWing is cheap, easy, and admin-free: just sign up lickety-split so you can get back to it!
Click the button below to learn more about SafetyWing's setup or read our insider review for the full tasty scoop.
Getting into Finland
Located up in the north, Finland is not exactly en route to anywhere but it is still pretty well connected to the rest of the world.
The easiest way to get there is by catching a plane to the Helsinki Vantaa International Airport, which has a ton of international and intercontinental connections from both big-scale and low-cost operators. There are also smaller airports around Finland, but their international arrivals are usually limited to other European countries and Nordic countries.
You can also arrive by boat from ports in the Baltic Sea like Stockholm, Riga or Tallinn. The Tallinn route is especially popular with many low-cost ferries crossing the bay in just about two hours, whereas the ferry from Stockholm is a overnight trip.
In the North, Finland borders Sweden and Norway. (And Russia, but we don't really talk about that — things get a little more tricky that way.)
Even though this route is rarer, it's also possible to take a bus or drive from Sweden or Norway. Travel between the Nordic countries is not restricted so there are no border checks.
Entry Requirements for Finland
Finland is in the EU and the Schengen Area, which is great news for most travellers. Most nationalities can travel to Finland visa-free for up to 90 days in a period of 180 days. Yay!
You still definitely need a valid passport or another travel document, but from my experience, if you're arriving from another EU country — even on a plane — you might not even get your passport checked.
If you're a lucky holder of another EU passport or from another Nordic country, Switzerland or Liechtenstein, you can freely stay in Finland for up to three months. After this, you need to apply for a residence permit.
However, not everyone can just dash over to the Schengen Area just like that. If your passport is on this list, you need to apply for a visa before arriving in Finland. Apply for the visa at a Finnish embassy; in some countries, Finland might be represented in another country's embassy.
How to Get Around Finland
Finland is a lanky lady — tall and thin. Backpacking Finland means long distances when travelling between north and south. During the winter, bad road conditions and early darkness will affect your travel times as well.
Luckily, the transportation infrastructure is well set up, and you shouldn't have too much trouble getting from start to Finnish!
Travelling in Cities
The biggest cities have functional public bus networks, which usually make having a car useless. The Helsinki Metropolitan Area has a metro as well as city trains. There are also trams in Helsinki, and soon in Tampere.
If you're planning to spend time in smaller cities, though, public transportation is few and far in between, and especially travelling to and from national parks can be hard to time for day trips.
Hitchhiking in Finland
For a thrifty traveller, hitchhiking is an excellent way to save money. Whether Finland is an ideal place to do that, though — the votes are not yet in.
Theoretically, Finland would be great for hitchhikers. Long rural highways are dotted with bus stops, petrol stations and other excellent places to thumb a ride. And the country is extremely safe.
The biggest and most important problem you'll run into are the Finns themselves. As introverts, many Finns would be hesitant to pick up a stranger on the road side — they really don't enjoy small talk!
Hitchhiking is pretty rare, so you will definitely get some funny looks. But it's possible! Everything is possible.
Campervanning in Finland
Ready to live like a Finn? Campervanning is pretty popular in Finland, even so that there are pop songs dedicated to the van lifers.
Especially in the summer you'll see dozens of mobile homes headed north in orderly queues like a herd of buffalo on their seasonal migration.
The three main places to rent a campervan are Helsinki and Helsinki Airport, Turku and Rovaniemi.
Motorbiking in Finland
Strap on your helmet, because Finland is great for motorcyclists! The long, flat highways are made for riders who enjoy a bit of scenery as they're driving.
If you bike around, watch out for cracks and potholes — even though roads are generally well-maintained, the long, harsh winter is not easy on the asphalt. There are even a few motorcycle clubs, including a Harley Davidson club and a religious motorcycle club.
Onwards Travel from Finland
Usually, travellers backpacking Finland want to check out the rest of the Nordic and Scandinavian countries. In that case, the same applies as arriving: boats and planes are your best bet between countries.
A word of warning to those wanting to travel to Russia afterwards: there are buses and trains from Finland but the border is well monitored and you need to get a Russian visa before travelling.
If this seems like too much trouble, you can always take a cruise to St. Petersburg from Helsinki: even though the trip is quite expensive, it allows you to explore St. Petersburg for three days with no visa before returning.
Working and Staying Connected in Finland
So… you want to live and work in Finland? For the citizens of the EU and EEA countries, it's pretty straightforward. Just hop on the plane and move (although you do need to apply for a residence permit after three months).
Self-employed people can apply for a residence permit without needing to have a job in Finland. If you're planning to work for a Finnish employer, though, you need to have found work before you lodge your application.
It's not impossible to find a job in Finland, but it can be hard since most places do require you to speak fluent Finnish. Yikes!
Finland is not really popular with digital nomads. With the weather and high prices, it's pretty much the opposite of what most digital nomads are looking for.
However, if you want to give it a go, you'll find that the wifi is excellent almost everywhere. And English is widely spoken — in 2016, Helsinki's population was about 12% foreigners.
Besides, with the corona pandemic, a lot of Finns have had their jobs go online, so remote working will definitely become more popular.
It's not hard to find free wifi in Finland but if you want to buy a SIM card, most (non-prepaid) phone plans come with unlimited data.
Volunteer in Finland
Volunteering abroad is an amazing way to experience a culture whilst helping your host community. There are plenty of different volunteer projects in Finland including teaching, construction, agriculture and pretty much anything.
Finland doesn't need volunteers in the same way poorer, less-developed countries do, but there are opportunities out there. Most volunteers help out with eco-projects or take part in cultural exchanges and homestays. Keep in mind most travelers need to apply for a residence permit in order to volunteer in Finland, but it's always a good idea to contact your nearest embassy if you're unsure.
Our go-to platform for finding volunteering gigs is Worldpackers who connect travellers with host projects. Have a look at the Worldpackers site and see if they have any exciting opportunities in Finland before signing up.
Alternatively, Workaway is another excellent common platform used by travellers searching for volunteering opportunities. You can read our review of Workaway for more info on using this terrific platform.
Volunteer programs run through reputable work exchange programs like Worldpackers and platforms like Workaway are usually very well-managed and reputable. However, whenever you are volunteering do stay vigilant, especially when working with animals or children.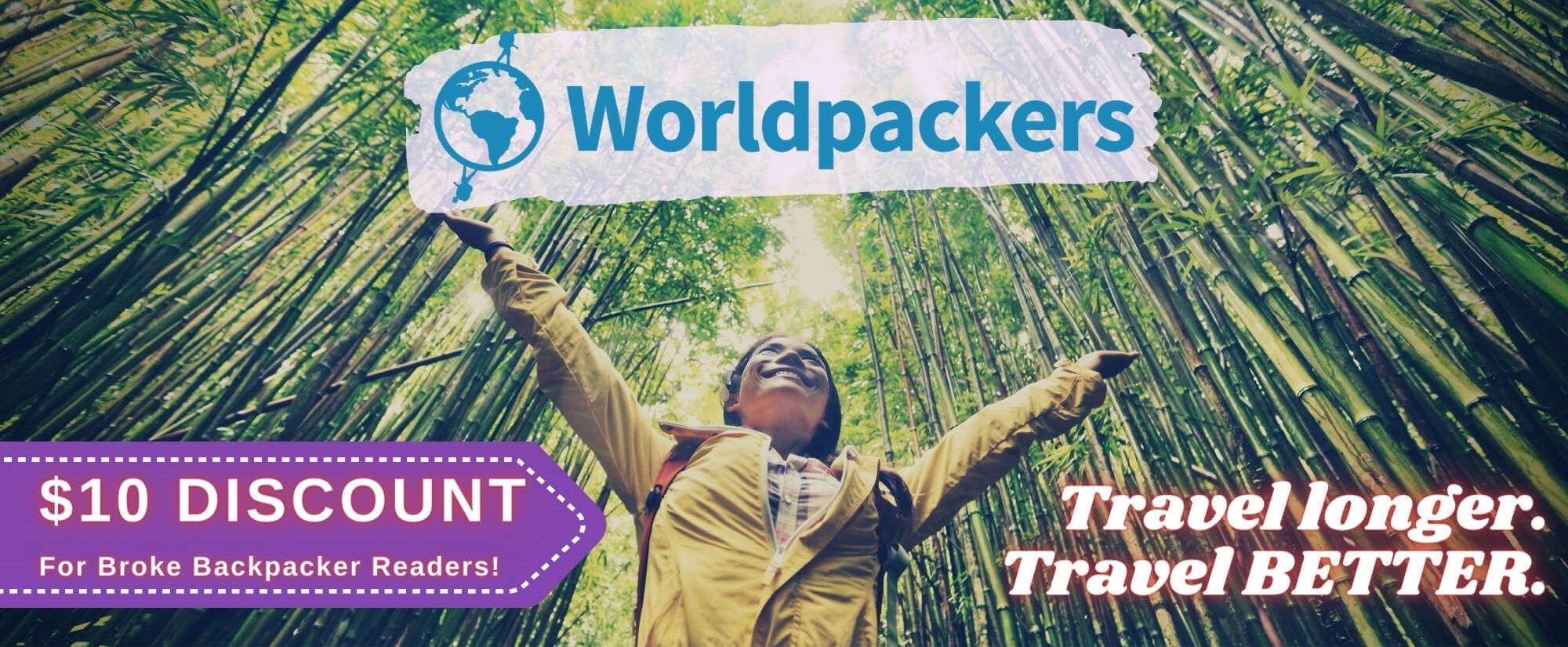 Worldpackers: connecting travellers with meaningful travel experiences.
What to Eat in Finland
When people ask me what Finns eat, I'm often at loss for words. There isn't one staple cuisine that defines the whole country, nor one ingredient that would be most popular. The food here is all about freshness, local produce, and simplicity.
There's a running joke that Finns only know two spices: salt and pepper. But that doesn't make Finnish home-cooking any less delicious: a Finnish plate is a balanced mixture of greens, potatoes, and meat/fish.
And fear not, fellow vegans — Finland has a staggering amount of options for you guys, too.
In addition to hearty, homely food, Scandinavian-style fine dining has started to gain more popularity (especially in Helsinki).
Hunting is a pretty popular sport, so meat from game animals is not a rare sight at the dinner table, although you'd rarely find elk stew or rabbit soup in restaurants. Reindeer is a true delicacy and definitely worth a try!
Oh, and you have to indulge in the sweets. Finns are a population with a serious sweet tooth that doesn't just end with the famous salty liquorice. Any Finnish supermarket has a packed aisle full of dozens of different varieties of sweets, bubble gums, chocolates, fudges, and hard candies.
Stock up on Fazer chocolate — I might be biased, but it might just be the best chocolate in the world.
The Best Food in Finland
Finnish Culture
You might know the stereotype: Finns are tough, extremely introverted people who never talk to anyone. While it would be easy to judge them as closed-off and hostile, this is not true.
The people of the land of snow and ice are friendly, open-minded and hospitable — although you might have to give them a couple of beers first to warm them up.
Or maybe a cup of coffee? Finns drink a crazy amount of coffee: at 5-8 cups on average every day, they're the biggest coffee consumers in the world.
Some of the disconnect might come from their sense of humour. Finnish jokes are often dark, wry, self-deprecating, and extremely sarcastic. If you're wondering if a Finn is being serious, they might not even know the answer themselves.
Finland is like the ultimate socialist utopia: affordable healthcare, a functioning social welfare system, and education that's not only free but also pays students on certain levels. Education is a highly respected value, as is the appreciation for nature and the love for the country itself.
Finns are mostly welcoming towards tourists. In fact, many of them get excited that anyone would want to visit their little country, so they're very willing to introduce you to the fineries of the Finnish culture.
If you're a foreigner backpacking Finland, you will definitely catch this iconic phrase: 'In Finland, we have this thing called…'
Speaking Finnish – Useful Travel Phrases
Here's my top tip if you want to learn Finnish: reconsider.
Finnish is often ranked as one of the hardest languages in the world. English has one grammatical case, Finnish has 16. And despite being a part of the Fenno-Ugric language group, it's very different to the languages it's related to. Only Estonian somewhat resembles the Finnish jumble.
Luckily for you, Finns generally speak really good English. If you want to impress your new Finnish friends, a well-placed perkele will earn you some brownie points.
Here are some phrases that might or might not help you during your trip.
Books to Read About Finland
How to Marry a Finnish Girl – American Phil Schwarzmann's book is not only a humorous half-memoir about how he met his Finnish wife but also a look at some of the Finnish stereotypes and oddities that often baffle foreigners.
Unknown Soldiers – Väinö Linna's book is the most important Finnish historical novel. It takes place during the Winter War when Finland was up in arms against Russia. Its vivacious, region-specific language might be lost on a foreign reader but its colourful characters make this an interesting read even for modern audiences.
The Year of the Hare – Arto Paasilinna is a master of the dry, dark Finnish humour. And that's clearly visible in this book, whose plotline takes a journalist and an injured rabbit on a whirlwind trip all over Finland.
The Summer Book – One of the most translated Finnish novels tells the story of a little girl, her father and her grandmother spending their summer on a sleepy island in the Gulf of Finland. The author is well known as the creator of the beloved Moomin characters.
Finnish Nightmares – This web comic quickly went viral and has now also been turned into physical books. The short comic strips depict Finnish people in various (social) predicaments. Like having to leave your apartment when there's a neighbour in the hallway, or having to sit next to a stranger on the bus.
A Brief History of Finland
Finland is a small country marked by its continuous resistance to foreign influences against all odds. In any other country, being this proud of your nation might be a red flag, but here it seems justifiable.
The Swedish monarchy reigned over Finland for over 1,000 years. In 1808, Finland was lost to Russia in war, in which it became an autonomous part of the empire. When many other European countries started to break free at the end of WWI, Finland also gained their independence in 1917.
During WWII, Finland was once again in cahoots with Russia. This period has an effect on the national character to this day! Mostly untrained guerrilla soldiers fought the Russian army in the three-month war known as Winter War, and it was seen as a fight to keep the independence.
During the war, Finns had been allied with Germany as many of the untrained soldiers had received training there. After the fighting ceased, the problem shifted to getting the German soldiers out of Lapland. Cue more fighting. The troops finally left but burned everything in their wake.
These days, Finland is the world leader in many statistics: in overall happiness, freedom of press and speech, quality of life, education, gender equality and safety. While relationships with Russia are still shaky, Finland has got pretty good at doing its own thing and thriving at it.
Final Advice Before Visiting Finland
So you've made it to the end of the post — you could almost say that you have now Finnished reading this backpacking guide.
Finland is quirky, pretty, safely adventurous, and surprisingly off the beaten path. And the rest of the world can learn a lot from this little land!
Free education, affordable health care and providing social welfare for all citizens have always been important values in Finland. Regular backpackers like you & I are incredibly lucky to be able to travel and see the world as freely as we do, and that shouldn't be taken for granted.
The Finnish system might seem like a utopia for many countries but it's not impossible to achieve. And the willingness to take care of your fellow humans is definitely something you can take with you on your travels.
I hope you enjoy backpacking Finland as much as I do. Make some great memories, but go easy on the Finnish vodka to make sure you remember them.
Hyvää matkaa!
---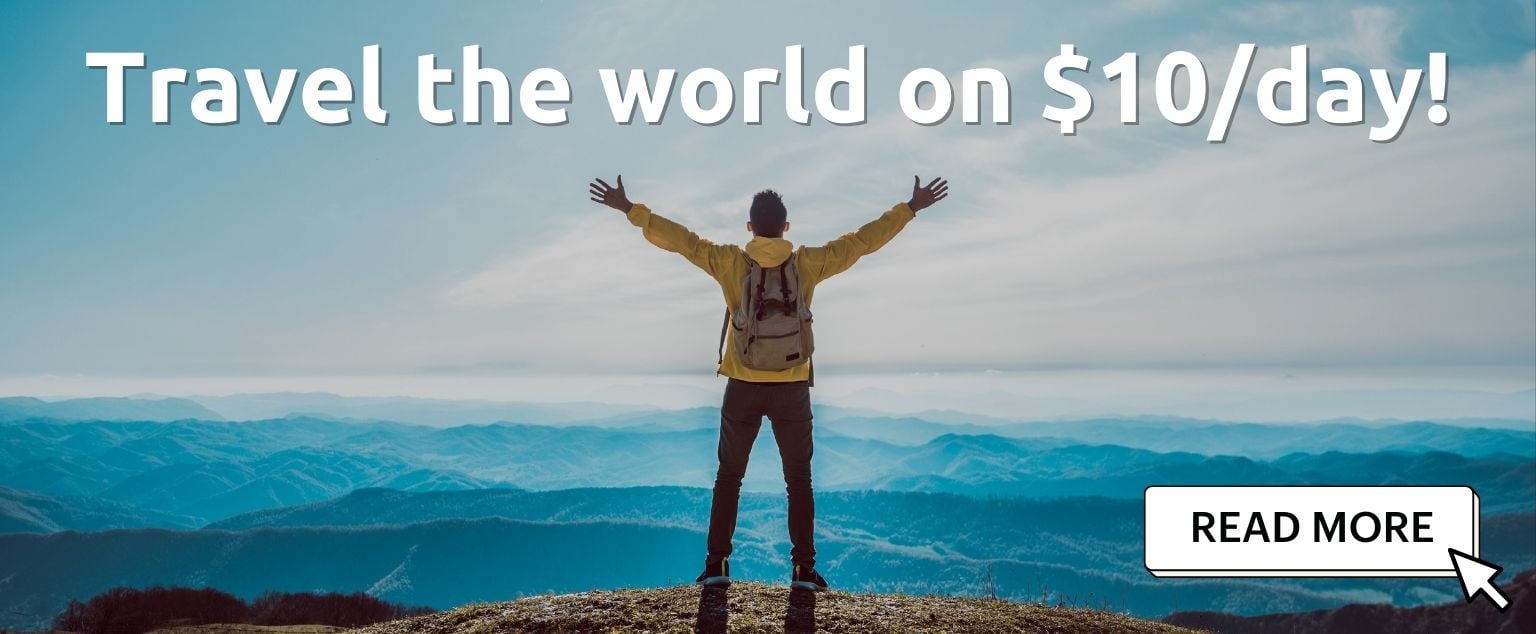 And for transparency's sake, please know that some of the links in our content are affiliate links. That means that if you book your accommodation, buy your gear, or sort your insurance through our link, we earn a small commission (at no extra cost to you). That said, we only link to the gear we trust and never recommend services we don't believe are up to scratch. Again, thank you!