Helsinki Finland is one of Northern Europe's most exciting backpacker destinations.
The coastal Finnish capital features fine architectural marvels, interesting museums, hipster neighborhoods, and beautiful market squares.
Like most places in the Baltic Region, Finland can be expensive. Before you know it one can easily go over budget without some precaution. Unfortunately, backpacker accommodation is also affected by the city's high-rolling nature.
That is exactly why we wrote this guide to the best hostels in Helsinki for 2021!
This hostel guide breaks down all of the best (and cheapest) hostels in the city, so you can spend less money on a hostel and more on doing (or eating) the things that you want.
The goal in writing this guide to the best hostels in Helsinki was simple. Gather all of the best hostels in town into one neat place, broken down by category. That is what we've done!
By the end of this guide you will have found the perfect place for yourself (or your crew) to crash in Helsinki.

Do You Want to Travel FOREVER??
Pop your email in below to get a FREE copy of 'How to Travel the World on $10 a Day!'.
What to Expect from Hostels in Helsinki?
Hostels are generally known to be one of the cheapest forms of accommodation on the market. That doesn't just go for Helsinki, but pretty much every place in the world. However, that's not the only good reason for staying at a hostel. The unique vibe and social aspect is what makes hostels TRULY special. Head down to the common room, make new friends, share travel stories and tips, or just have a great time with like-minded travellers from all over the world – you won't get that opportunity in any other accommodation.
We have to admit, Finland's hostel scene is pretty disappointing. While you get quite a few places to choose from, the number is nowhere near comparable to other big European cities. On top of that, most hostels, like everything else in Finland, are pretty expensive (but more on that in a bit). If you are lucky, you get free breakfast included in the price, but most of the time you have to pay extra. What is definitely included in the nightly rates are free bed linen, free wifi and sometimes even free saunas.
A Helsinki hostel can be a hit and miss, especially if you don't do your research. Make sure to check for previous guest reviews and photos before you book.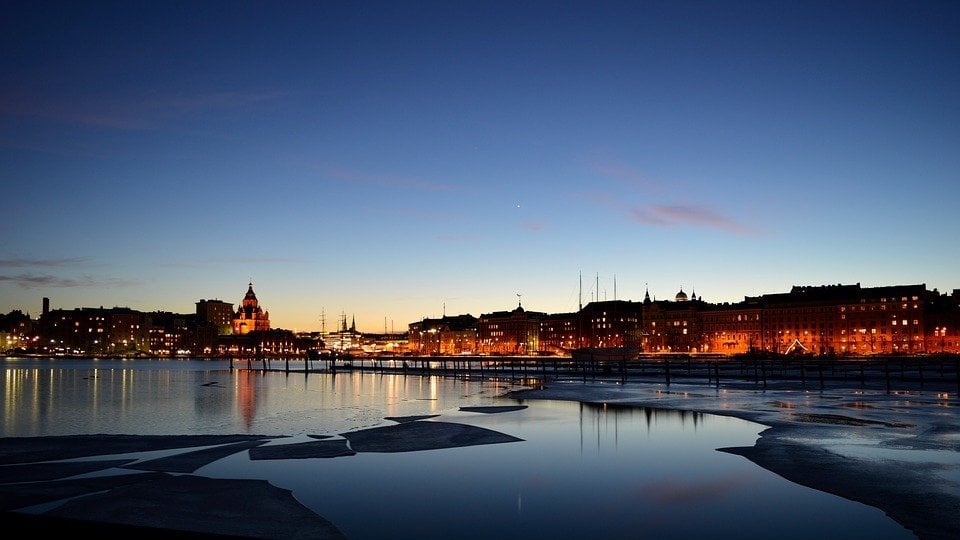 But let's talk more about the important stuff – money and rooms! Helsinki's hostels normally have three options: dorms, pods and private rooms (although pods are rare). Some hostels even offer large private rooms for a group of friends. The general rule here is: the more beds in a room, the cheaper the price. Obviously, you won't have to pay as much for an 8-bed dorm as you would for a single bed private bedroom. To give you a rough overview of Helsinki's prices, we've listed the average numbers below:
Dorm room (mixed or female-only): $29-31 USD/night
Private room: $87-95 USD/night
When looking for hostels, you'll find the best options on HOSTELWORLD. This platform offers you a super safe and efficient booking process. All hostels are displayed with a rating and previous guest reviews. You can also filter your personal travel needs easily and find the perfect place for you.
While most of Helsinki can be seen walking or using the efficient public transport network, it does pay off to know where to stay in Helsinki before you book your hostel. There are areas and neighborhoods that offer different attractions and you'll want to stay close to the ones that interest you the most. We've listed our favorite areas in Helsinki below to help you out:
Helsinki City Centre – The City Centre of Helsinki is quite compact and can be easily explored by foot. The main sight of the area is probably the Helsinki Cathedral, which has become an unofficial symbol of the city over the years
Kallio – Kallio is located just north of the Helsinki City Centre. A bohemian spirit lingers in the streets of this neighbourhood, which is also being kept alive by students
Kamppi – The Kamppi neighbourhood is located right next to Helsinki City Centre. It is mostly filled with shops, restaurants and bars, as well as churches and museums on the cultural and historical side
Now that you know what to expect from hostels in Helsinki, let's have a look at the best options…
The 4 Best Hostels in Helsinki
Being such an intricate city filled with vibrant neighbourhoods, choosing where to stay in Helsinki can be overwhelming. Luckily for you, we've rounded up the best, coolest, and cheapest hostels in Helsinki for you to crash at!
1. Overall Best Hostel in Helsinki – The Yard Hostel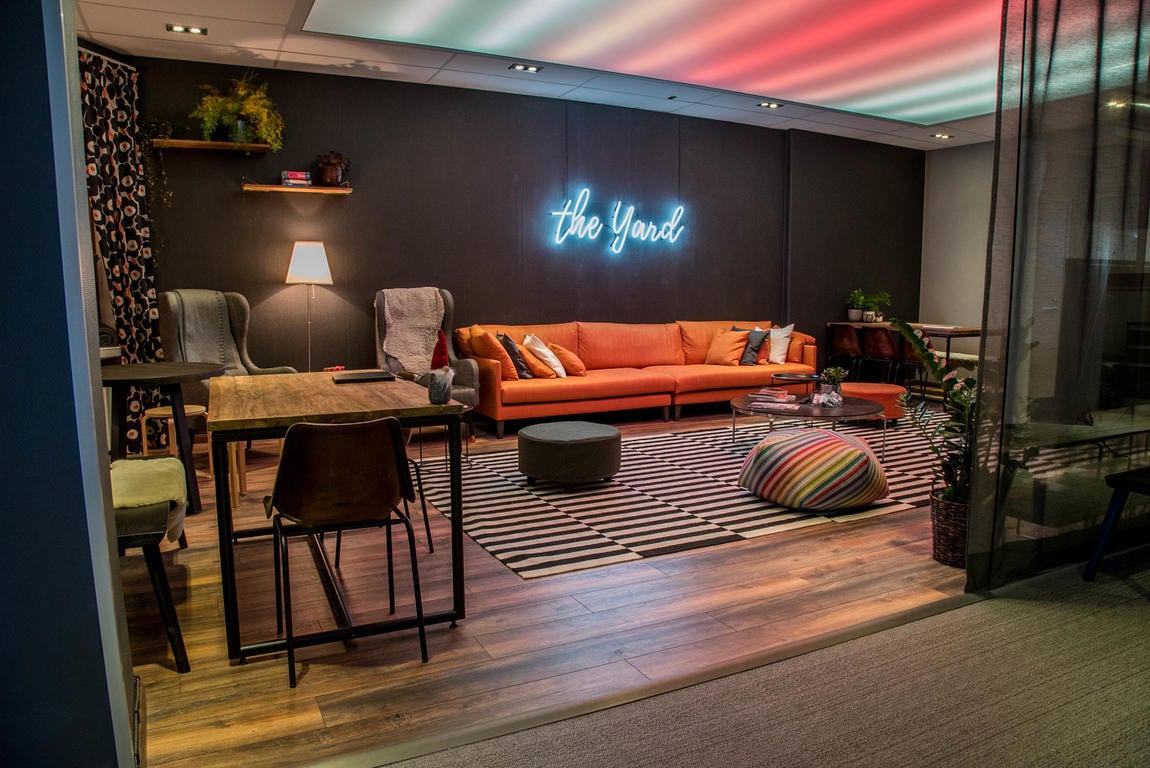 Common Room
24-Hour Security
Wow so if you need to know anything about the city of Helsinki, what district is good for what, where you can get the best food, the most fun bars and what to visit – all that – then the staff at The Yard are who to ask. They're pretty amazing. And the hostel itself is amazing too: clean, cosy, and located in an area that's bustling with bars and stuff like that.
For that, it's pretty easy to say this one tops our list as the overall best hostel in Helsinki. The lounge area also looks very cool and the building is from 1912 so it ticks boxes for travellers concerned with aesthetics, too. However: a bit pricey. But that's Finland…
Why you'll love this hostel:
Stylish interior design
Great location
TV in the common area
Let's have a deeper look into the details of the Yard Hostel. They offer super comfy dorm and private rooms. What we really love about the dorm rooms are the private curtains on each bed. If you're feeling exhausted or overwhelmed, simply close them as enjoy a bit of time to yourself. Each bed is equipped with a reading light, a plug socket or a USB port. On top of that, you also get your personal locker or cupboard – they fit even the biggest backpack! The dorm beds even have little shelves, so you can keep all of your important stuff organized.
The common are is pretty cool as well. There's a massive sofa – perfect for chilling after a long day – and a big TV. Head there to meet other travellers, to simply hang out or grab yourself a book and get some downtime in. The Yard Hostel might not be the absolute cheapest on the market, but it surely offers some real bang for your buck!
2. Best Hostel for Solo Travellers in Helsinki – SweetDream Guesthouse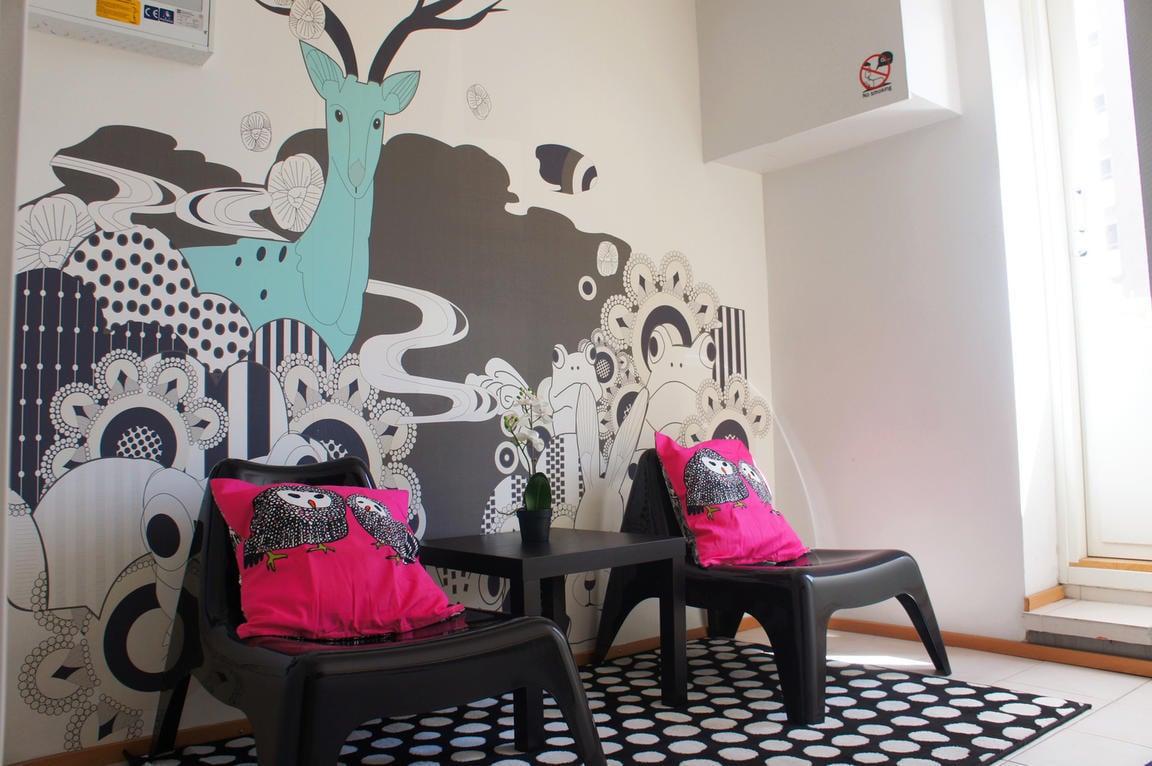 As a solo traveller, sometimes it's not necessarily about whether you're gonna meet some friends to go drinking with and add on Facebook and stuff like that… Sometimes, the actual necessity is more like, 'Will I feel comfortable living in this hostel?' So thankfully this place is great in that department since there's a metro LITERALLY right outside, and a tram stop, both of which means getting to the airport is also less of a trial too.
Other than that, it's quiet, simple, safe, convenient; yeah, a good bet for the best hostel for solo travellers in Helsinki. The staff is also very friendly and helpful.
Why you'll love this hostel:
Free linen
Bookable sauna
Quiet but central location
We simply gotta start this off with the obvious: the reviews! You don't get to see a 10/10 ranking on Hostelworld every day. SweetDream GuestHouse has the perfect score, even after more than 500 reviews from previous guests. From hospitality to cleanliness, value and atmosphere, this hostel offers the most bang for your buck in Helsinki. Added in the amazing location and you've got yourself the perfect hostel for solo travellers.
Other than that, SweetDream GuestHouse also offers a bookable sauna, included linen, key-card system and electronic lockers. Each dorm bed has, not only one, but three plug sockets so you can keep your phone and other electrinics charged.
We have to admit, the hostel definitely doesn't win the price for most-stylish, but all in all, this is a hidden gem that we'd definitely recommend.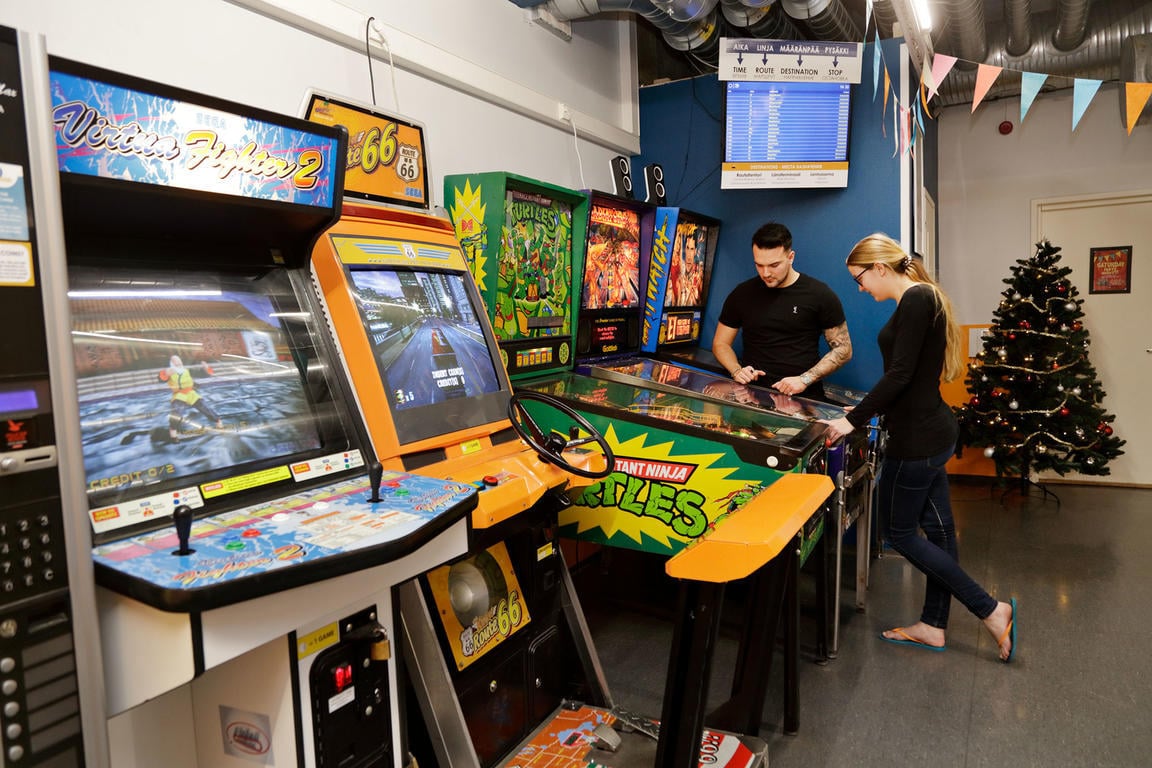 Luggage Storage
24-Hour Reception
I mean, CheapSleep is a pretty obvious name but we'll go with it. After all, it does tell you exactly what you'll be getting out of this Helsinki backpackers hostel: a cheap sleep. Well, compared to other hostels in the world you won't think this is cheap exactly, but for a place to stay in Helsinki this place just about pips the other hostels to the post in terms of a Helsinki budget hostel.
Which is fine. It is, however, quite basic, in a… basic sorta way. But that's ok. Apart from that it's got a good atmosphere, helped by a large common room. For the best cheap hostel in Helsinki, this is it.
Why you'll love this hostel:
Vintage arcade machines
Common room parties
Family rooms
While it might be a bit of a basic hostel, it does come with quite a few perks! A games room with vintage arcade machines is only one of them. If the weather is just not very appealing, stay inside, grab a couple of mates and have a friendly competition – it lightens the mood, keeps you entertained and you might even make some new friends.
The hostel offers mixed and female-only dorms with air con and bunks with an individual power socket and reading light. You'll also have a locker (big enough for your backpack) that's controlled by your room key. For more personal space, opt for the private twin, double, triple and family rooms – some have en-suites. Fresh sheets are included, and you can hire towels (and slippers!) as well!
So all in all, pretty decent!
4. Best Hostel for Digital Nomads in Helsinki – Eurohostel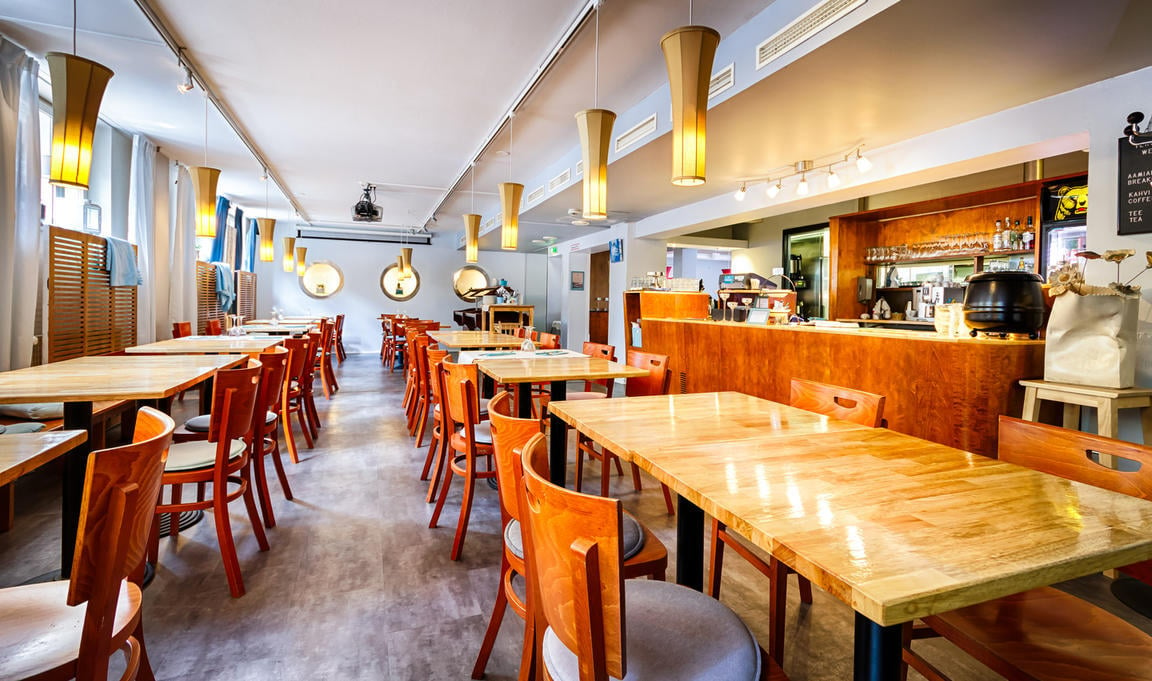 What this place lacks in character it makes up for in a few things. Well, first, it's clean, modern, pretty big. Then, secondly, the location which is pretty central and close to a lot of the coolest places in Helsinki to visit. Furthermore, there's not only space downstairs to work on your laptop, but also decent desks in the rooms.
So that's good, too. We've also saved the best for last – a SAUNA! Yes, a sauna. A real one. And it's here, free to use. How sick is that? Also the breakfast is very very good but alas it is not free – actually it's a bit pricey (but worth it). Work, then sauna… surely the best hostel for digital nomads in Helsinki?
Why you'll love this hostel:
Completely non-smoking
Great room options
Ticket counter
On top of that, you can opt for different rooms. There are basic dorm rooms, which are pretty spacious but also… well… basic, and then there are modernized Eurohostel rooms. These rooms are pretty much just private rooms with a fancy name. You do get your own TV though, so if you want to have some time to yourself and simply chill, this room option is ideal.
The common area is decent too, we have to admit. There are sofas, plenty of tables, some board games and comfy chairs – so pretty much all you need to socialize and hang out with other travellers. The kitchen area is modern and clean according to previous guests, and there's even a laundry room available to keep your stuff clean. While the sauna is definitely the highlight of this hostel, you do get quite a good value for your money thanks to the other amenities.
Is This the Best Backpack EVER???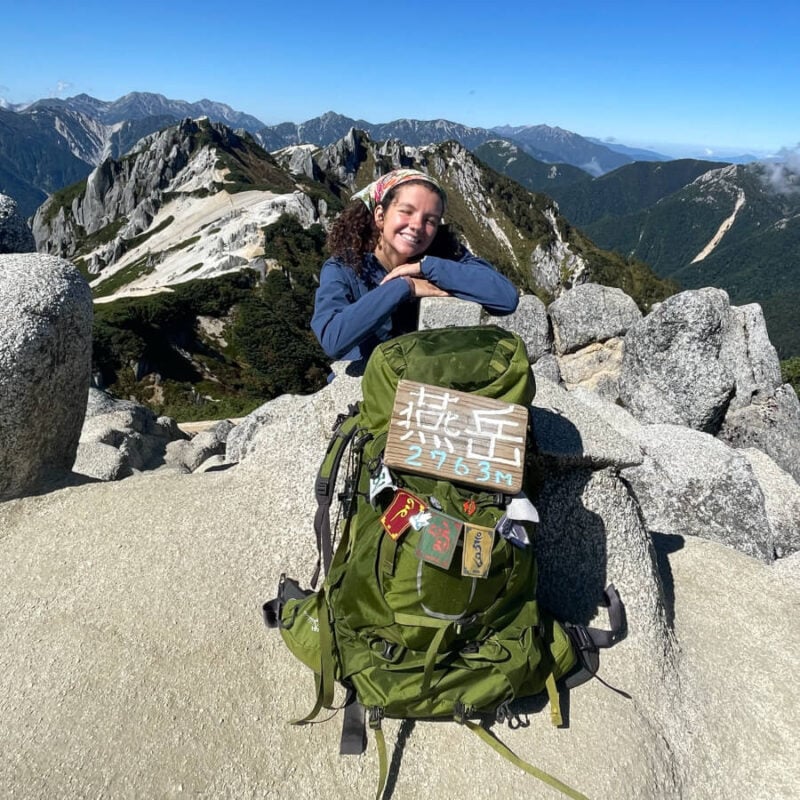 More Best Hostels in Helsinki
Not satisfied with our picks? Or maybe you're kicking around for a longer trip than a weekend in Helsinki? Then check out these other fantastic hostels!
Best Hostel for Couples in Helsinki – Hostel Suomenlinna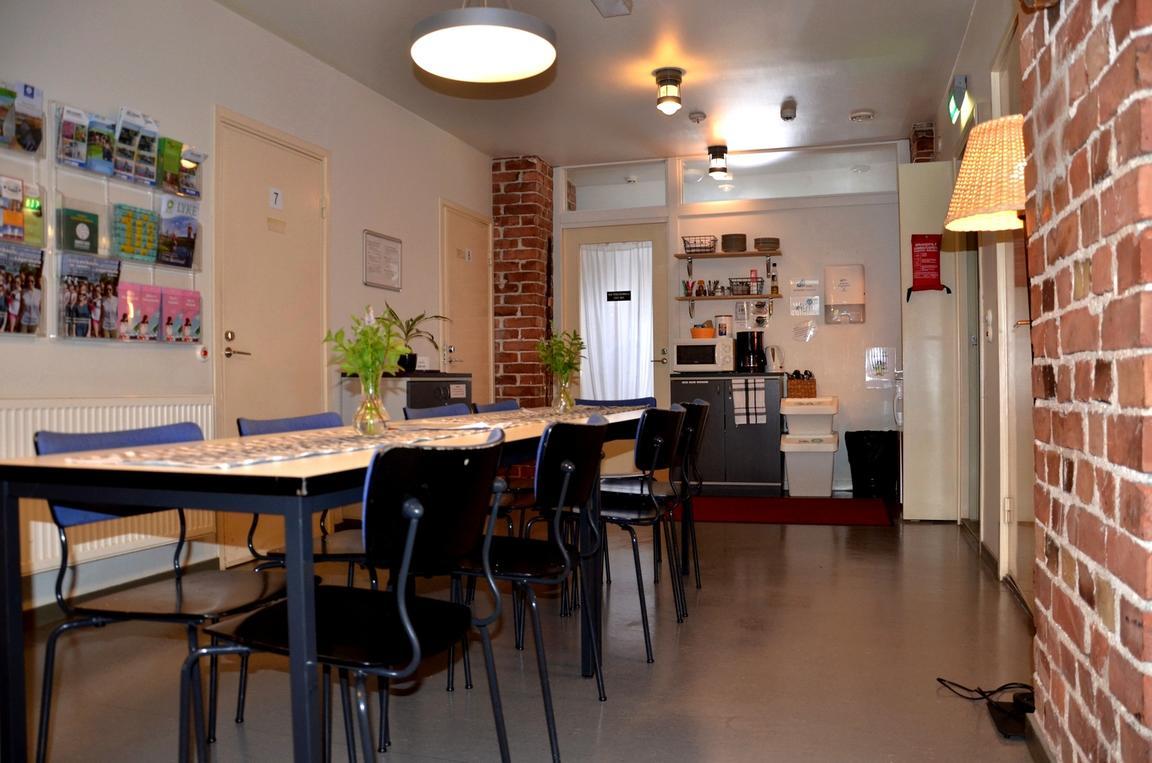 Historic Building
Self Catering Facilities
No, not Semolina – Suomenlinna. We forgive you. But yeah, for the best hostel for couples in Helsinki, we heartily recommend that you check out this former school for Russian children-turned-Finnish-army-barracks-turned-hostel, not only for the slightly weird history of this 110-year-old building but also for the location: on Suomenlinna island. This makes it prime for a summer trip to Helsinki – and the city's main square is only 15 min by boat. It's clean, unique, and peaceful. Sure, if you're looking for something buzzy this ain't it, but for a bit of peace and originality, this one's nice.
Self Catering Facilities
24-Hour Reception
Hostel Diana Park is another cool youth hostel in Helsinki that's set in a century-old building and as such, all the surroundings here are warm and cosy. Although the dorms themselves are a bit… basic, the atmosphere of this place is nice, and you'll deffo feel welcomed. The staff are on hand like 24-hours a day which is always helpful, too. On top of that, the location is pretty good: you can walk pretty much anywhere of interest in Helsinki including all the best bars and restaurants within about 15 min, which is great. Not exactly THE best hostel in Helsinki, but for its cute cosy nature, location and facilities, it's a definitely a good choice for a budget hostel in Helsinki.
Free Tea & Coffee
Self Catering Facilities
It's called a hostel, but we're not so sure. It's more like a hotel with self-contained apartment-style rooms, which are admittedly really nice – think clean and modern. Sure, it's outta town slightly, but since hotels get super expensive pretty quickly in Helsinki (and public transport is mercifully convenient to all of the Helsinki's top attractions), we'd say this is a good option for the best budget hotel in Helsinki. Plus there are other Forenom units around the city (it's something of a chain), but this is deffo the cheapest. Almost like a top hostel in Helsinki – hey, the toilets are shared – but in some ways a LOT nicer.

Our GREATEST Travel Secrets…
Pop your email here & get the original Broke Backpacker Bible for FREE.
Kitchenette
Washing Machine
An apart-hotel more than an actual hotel, the 25-minute metro ride to the centre of Helsinki can be forgiven for how cool the apartments/rooms are. Very design-y. And for the price, well, it's easily the best mid-range hotel in Helsinki. And although this couldn't be further than a budget hostel in Helsinki, the ability to stay on budget by cooking some of your meals or whatever in your own kitchenette makes this quite a good choice for those worried about their wallets. Plus the area nearby is pretty chill and natural, if you like that sorta thing.
Best Splurge Hotel in Helsinki – Hotel Helka
Finnish designer furniture, art on canvases above the beds, FREE daily access to a sauna, Chromecast-capable TVs, oh and a free Scandinavian buffet breakfast – yup, Helka is the best splurge hotel in Helsinki. Ok, there are other more expensive hotels out there, but for the price (already super pricey TBH), the location (V close to a metro station and a 12 min walk to the BEACH), what you get free, the 1920s building, the sleek modern decor, this one's a winner in our books. Oh, and to top it all off, there's an onsite bar serving various drinks and cocktails.
Best Hostel with a Private Room in Helsinki – Academica Summer Hostel
Common Room
Self Catering Facilities
Though it sounds more like a whimsical rom-com anime series, Academica Summer Hostel is actually a pretty decent place to stay in Helsinki. Well, actually it's the best hostel with a private room in Helsinki since that is its speciality: honestly, they're more like mini modern apartments more than rooms, complete with kitchenette and en-suite bathrooms. There's a sleek common area with tables, chairs, TV, regular stuff you know, but other than that everything is clean and well kept and, though pricey for a hostel, it's a good budget hostel in Helsinki compared to a hotel.
Academica Summer Hostel is one of our favourites in Helsinki but they're not taking guests right now. We're not sure if they're closed for good but we hope they'll come back soon.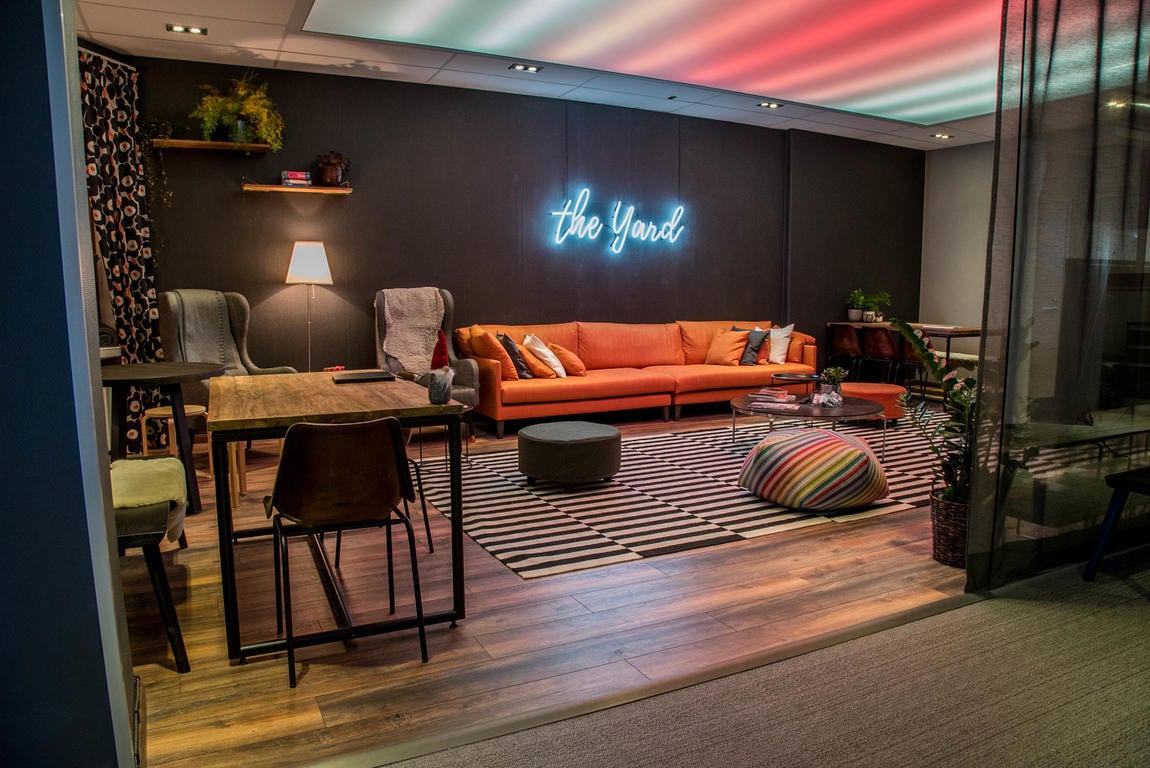 FAQ about Hostels in Helsinki
Here are some questions backpackers ask about hostels in Helsinki.
What to Pack for your Helsinki Hostel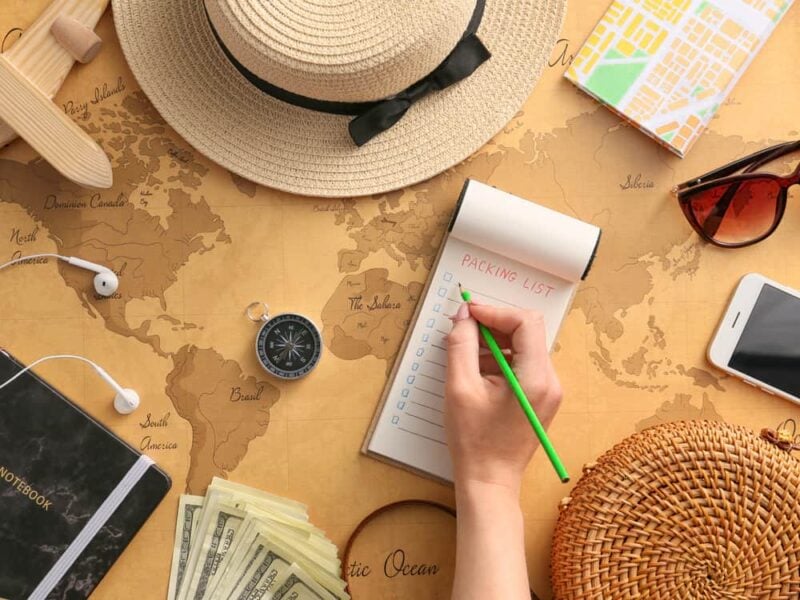 Pants, socks, underwear, soap?! Take it from us, packing for a hostel stay is not always quite as straight forward as it seems. Working out what to bring and what to leave at home is an art we have perfected over many years.
Check out our definitive Hostel Packing list for our top packing tips!
Travel Safety Tips for Helsinki
ALWAYS sort out your backpacker insurance before your trip. There's plenty to choose from in that department, but a good place to start is Safety Wing.
They offer month-to-month payments, no lock-in contracts, and require absolutely no itineraries: that's the exact kind of insurance long-term travellers and digital nomads need.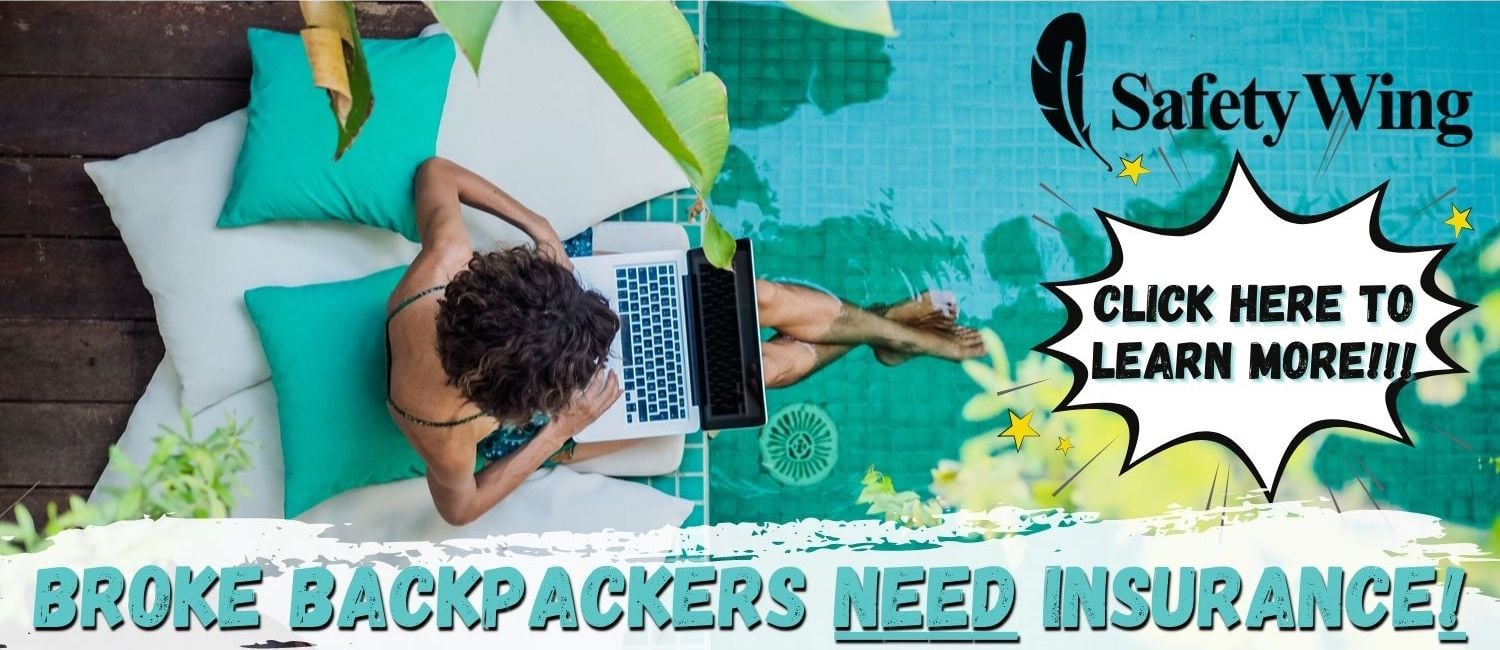 SafetyWing is cheap, easy, and admin-free: just sign up lickety-split so you can get back to it!
Click the button below to learn more about SafetyWing's setup or read our insider review for the full tasty scoop.
Over to you
Alas, you have made it to the end of my guide to the best hostels in Helsinki 2021.
As you have probably gathered by now, Helsinki is certainly not the cheapest place to visit. However, there are heaps of fantastic activities across the city suited for just about anyone! I hope that with the help of this hostel guide you have found the perfect match for both your budget and your own needs.
That was the goal!
Where you stay is important on any backpacking trip. As many a backpacker can attest, finding the right place to sleep is the difference between having a great trip and a lousy one.
Because the best hostels in Helsinki are in such high demand, I highly recommend that you book your hostel in advance to ensure that you score the best deal for yourself.
All of the best hostels in Helsinki are right at your fingertips. The choice of where you should book is now in your hands.
Still having trouble choosing which hostel is best for you? When in doubt, just go with my top pick for best overall hostel in Helsinki: The Yard Hostel. Happy travels guys!
---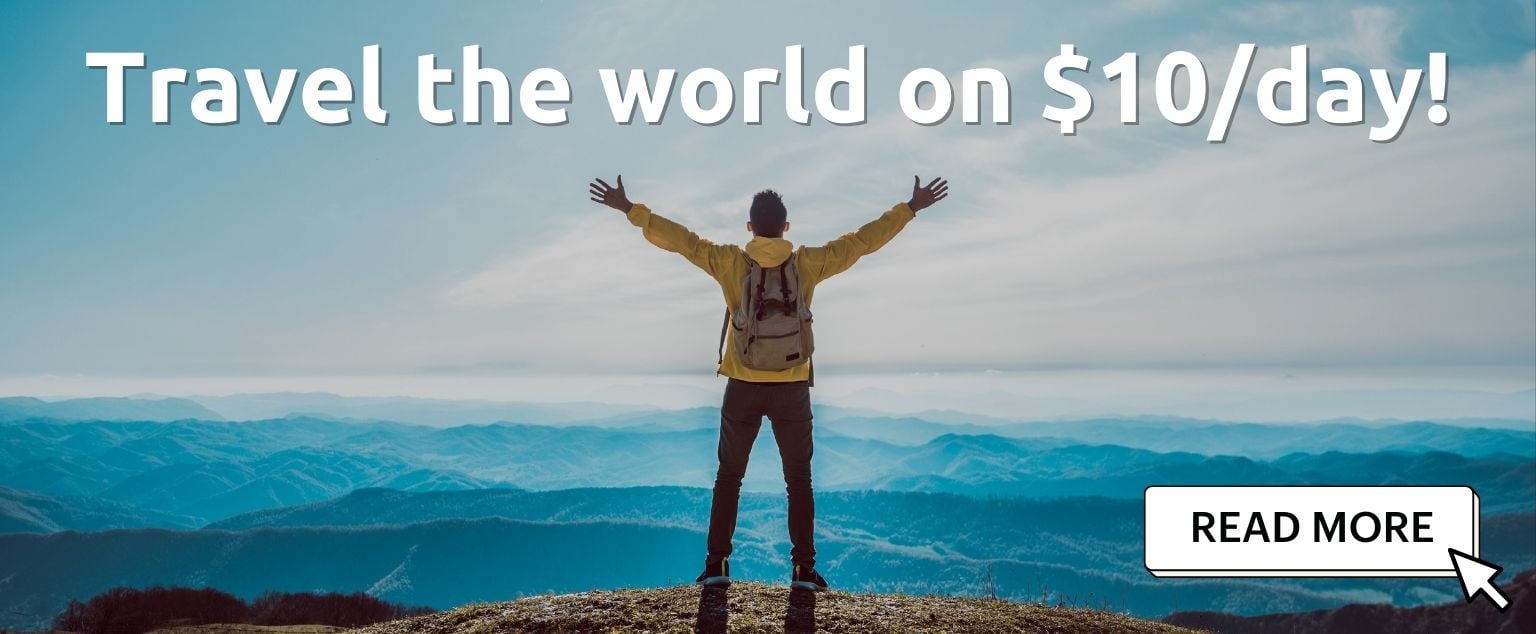 And for transparency's sake, please know that some of the links in our content are affiliate links. That means that if you book your accommodation, buy your gear, or sort your insurance through our link, we earn a small commission (at no extra cost to you). That said, we only link to the gear we trust and never recommend services we don't believe are up to scratch. Again, thank you!