The Finnish capital of Helsinki is an elegant city with beautiful architecture and within easy reach of nature. Nicknamed the Daughter of the Baltic and the White City of the North, it's an interesting city with a blend of Nordic, Russian, and European influences. Named as the World Design Capital in 2012, it's a great place for people who love modern, chic, innovative, and cutting-edge style.
As with most places in Scandinavia, Helsinki has a (well-deserved) reputation of being quite a pricey place to visit. The high travel costs may dissuade some travellers from adding Helsinki to their travel list.
Don't worry! While it is true that prices tend to be higher in Helsinki than in other places around Europe, it's still possible to have a great time without breaking the bank. We've put together this list of the best places to visit in Helsinki to help you plan your trip, including well-known highlights, hidden gems, budget attractions, and places where you might want to treat yourself and splurge.
Explore these best places to visit in Helsinki and discover the many cool sides of the city.
Best places to stay in Helsinki
Helsinki is a fairly compact city with an efficient public transport network. All the same, choosing the right place to stay is going to make your holiday a lot more comfortable. There are heaps of fantastic choices of both luxury and backpacker accommodation in Helsinki…
Here are our favourite picks!
Best Hostel in Helsinki: Myö Hostel
Thinking about where to stay in Helsinki without spending a fortune and while also being able to enjoy a sociable vibe and top-notch facilities? Myö Hostel is ideal! The boutique hostel is in a great location and has private ensuite rooms as well as mixed and ladies-only dorms. Beds in dorms have lockers, privacy curtains, and a personal power outlet and light.
There are a communal kitchen and a comfy living room, ideal for chilling out and mingling. Freebies include Wi-Fi and breakfast. The hostel has laundry facilities, luggage storage, parking, and a minimart, and reception is staffed around the clock.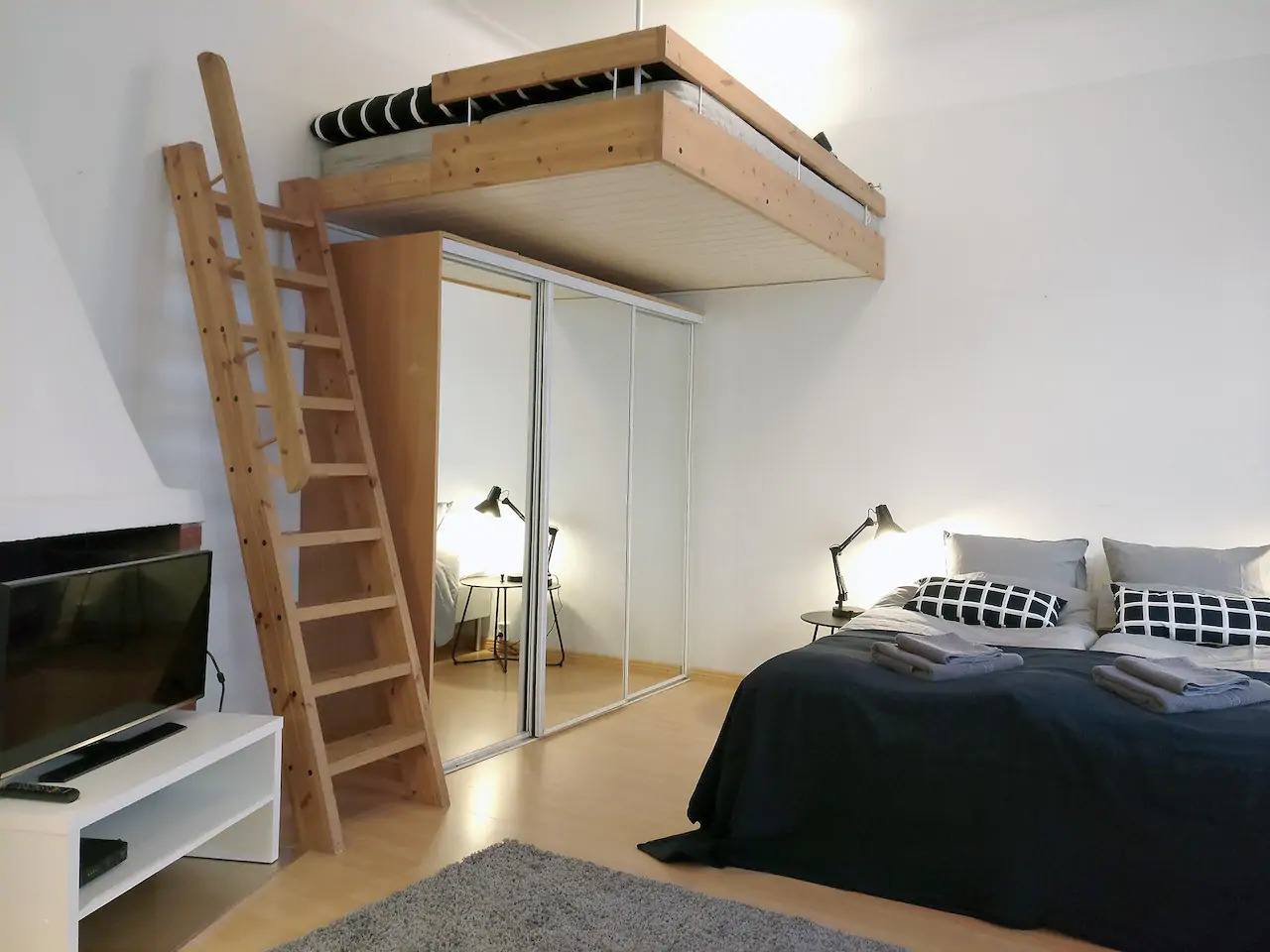 You can't really get more central than this cool, clean little studio. The sheer abundance of things to do right on your doorstep: from museums to beaches, parks, cafe's and bars, make this the ideal spot if it's your first time in Helsinki. If times a factor, you really couldn't ask for something more convenient than this.
SweetDream Guesthouse is one of the best places to stay in Helsinki if you want a good mixture of comfort and value for money. The twin rooms have shared bathrooms and come with a wardrobe and free Wi-Fi. There are also dorm rooms if you want even more cash. You can relax in the garden and lounge or book a session in the sauna, and the friendly members of staff are always happy to offer local recommendations and tips. Other plus points include luggage storage, lockers, and a shared kitchen.
Located in Kamppi, one of the coolest neighbourhoods in Helsinki, the high-class and beautiful Original Sokos Hotel Presidentti Helsinki is one of the best places to stay in Helsinki if you're looking for lashings of comfort, chic elegance, and a little pampering. There are gorgeously designed twin, double, and triple rooms, all with a private bathroom, free Wi-Fi, TV, wardrobe, fridge, and kettle, or you can really treat yourself with a stay in a suite with a private sauna.
There's also an onsite restaurant and bar and breakfast is included in the prices. Room service is available. The hotel boasts a large swimming pool, a modern fitness centre, and a sauna, and the play area is sure to appeal to younger members of the family.
Need a place quick? Here's the best neighbourhood in Helsinki:
Now that we've covered those useful pointers, here are the best places to visit in Helsinki.
These are the BEST Places to Visit in Helsinki!
#1 – National Museum of Finland
A fascinating educational place to visit in Helsinki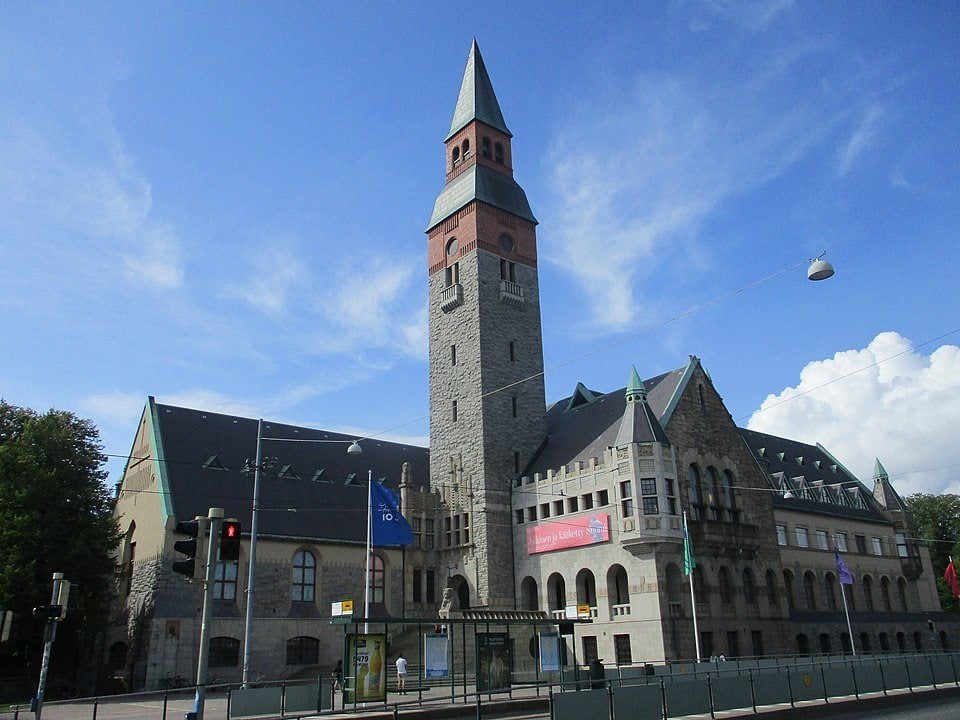 Insights into Finland's past
Wide selection of artefacts
Informative displays
Eye-catching frescoes
Why it's awesome: Housed in a striking building, the National Museum of Finland opened in 1916. Designed to resemble traditional churches and castles from Finland's medieval era, the façade is in a national romanticism style. Inside, it has an art nouveau style. It contains many artefacts and objects that tell the story of Finland's long and diverse history and culture, with exhibits that date as far back as the Stone Age. It's one of the best places to visit in Helsinki if you want to know more about the nation's development, traditions, and people.
What to do there: Admire the gorgeous frescoes in the entrance hall. Discover the wide assortment of items spread through the museum's six main areas. Step into the Prehistory of Finland exhibition to marvel at the country's biggest archaeological collection, see coins, jewellery, weapons, and medals in the Treasure Trove, and learn more about rural life in times gone by in the Land and Its People. The section called The Realm offers interesting insights into the country's development and the powers that have controlled the nation over the years. Visiting with kids? Don't miss the hands-on displays.
#2 – Helsinki Cathedral
One of the most religious places to see in Helsinki
Gorgeous architecture
Serene ambience
Active place of worship
Top tourist attraction
Why it's awesome: Located in the pretty Senate Square, Helsinki Cathedral is one of the most famous landmarks in Helsinki. It dates back to the mid-1800s and was constructed in honour of the Russian Tsar Nicholas I, who was also the Grand Duke of Finland. Previously called St. Nicholas's Church, it was renamed when Finland became independent in 1917. The neoclassical gem is designed in the shape of a Greek cross. The pale building is topped with a gigantic green dome and four smaller domes and its very photogenic. Inside there is lots of religious artwork and symbolism. An active place of worship, it's also among the most popular tourist attractions in Helsinki.
What to do there: A must-visit place even if you're only visiting Helsinki for the weekend, admire the beautiful building from the outside as well as the smaller surrounding buildings that also exude a sense of timeless elegance. Cast your gaze up to the roof and you'll see large statues of the Twelve Apostles looking down over the square. Enter the main church area to absorb the air of spirituality and see religious art, and descend into the crypt where you'll find a lovely café (open only during the summer months). You can also pick up souvenirs from the onsite gift shop.
#3 – Suomenlinna
One of the most incredible free places to go to in Helsinki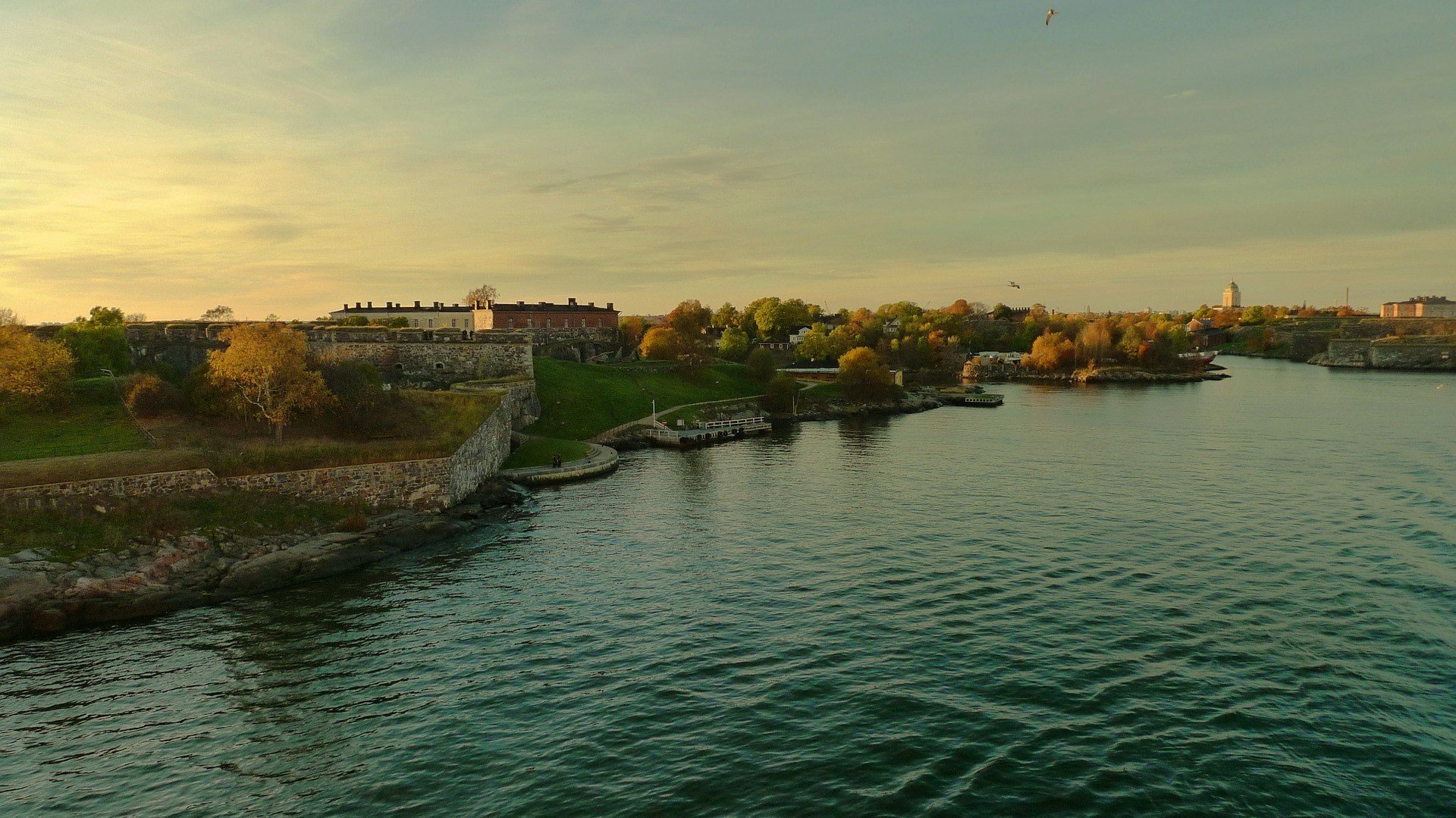 UNESCO World Heritage Site
Historic sea fortress
Beautiful nature
Stunning views
Why it's awesome: Spread across six islands in the Gulf of Finland and just a short ferry crossing from Helsinki's mainland, the UNESCO-listed Suomenlinna is a fascinating former fortress site. Picturesque views abound and the sense of history is strong. While visitors will need to pay for the ferry crossing, there is no charge to actually explore the site. (Some museums do have separate entry costs though.)
The defensive fortress was built when Sweden still controlled the area. It was constructed in the 1740s to protect the area from possible Russian invasions and has seen much action over the years. Today, there is an air of peace and it is one of the most popular points of interest in Helsinki.
What to do there: Hop on a ferry and cross the waves to reach the islands that house the once-mighty Suomenlinna fortress. Pack a picnic for your day trip or dine on tasty fare in one of the charming cafes and restaurants. Walk around the still-sturdy walls, poking around in nooks and crannies, and enjoy the awesome coastal views. You can also see a Russian-style church, lovely homes, former barracks, and artists' studios.
Pay your respects at the POW memorial, stroll through the Great Courtyard, and see the tomb of Augustin Ehrensvärd. Join a guided tour if you want to dig deeper into the fort's history. There are several museums throughout the complex, covering themes like history, military memorabilia, toys, and customs. You can even board a restored submarine and see what life is like under the sea!
#4 – Bad Bad Boy
Quite the quirky place in Helsinki!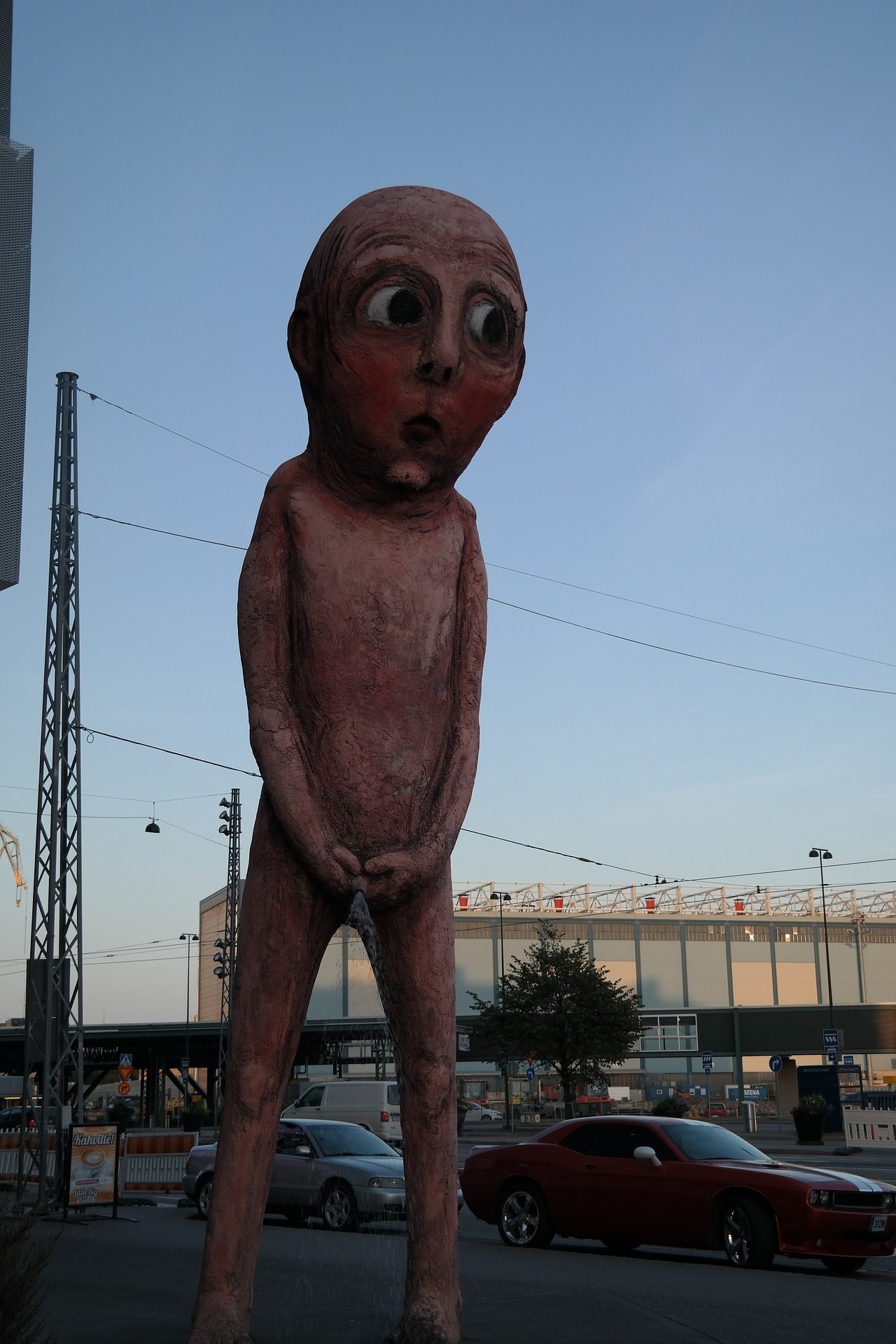 Unusual statue
Waterfront location
Whimsical sight
Good photo opportunities
Why it's awesome: Standing 8.5 metres (27.9 feet) tall, the sculpture of Bad Bad Boy is all but impossible to miss when you explore Helsinki's West Harbour. The reddish-brown statue has something of an embarrassed look on its face, with wide eyes, a creased brow, flushed cheeks, and a pursed mouth. That's hardly surprising, though, given what the statue is doing—taking a pee! Water spurts out like a constant stream of urine, landing on the pavement. First revealed to the public in 2014, the sculpture was the work of Tommi Toija.
What to do there: Enjoy one of the most unusual things to do in Helsinki and snap plenty of pictures of the curious statue – make sure you bring your best travel camera. Get great selfies to brighten up your Instagram feed and shock your friends back at home. You're sure to feel small as you stand next to the towering urinating male! Watch out for splashes …!
#5 – Linnanmäki
Awesome place to visit in Helsinki with kids!
Fun amusement park
Wide selection of rides
3D cinema
Games and arcades
Why it's awesome: Visiting Linnanmäki is one of the top Helsinki vacation ideas for a fun-filled family day out. Open since 1950s, the cool amusement park isn't only fun—it is operated to raise money to assist with projects related to child welfare. It has rides suitable for people of all ages, with faster thrill rides for those who love an adrenaline rush, tamer rides for kids, and everything in between.
There's a historical theatre, diverse games, arcades, food and beverage outlets, and everything you could possibly want for a day filled with giggles and laughter. There's no admission fee for the park—simply purchase tickets for the rides and attractions that you wish to have a go on. You can, however, also buy wristbands that allow unlimited riding if you plan to spend the full day there. Additionally, some rides are completely free!
What to do there: Ride on the park's oldest rollercoaster, the wooden Vuoristorata. It has been in operation since 1951! Feel the rush on rides like Hypytin, Kieputin, Kingi, Kehrä, Ukko, Tulireki, and Kirnu, and watch as little ones have fun on rides like Muksupuksu and Pienoiskaruselli. Question your perceptions in the fun house of Vekkula, take in the views from the top of Rinkeli Ferris wheel, get wet on the river rapids of Hurjakuru, brave the creepy haunted house of Kyöpelinvuoren Hotelli, experience all the fun of the circus at Taikasirkus, and enjoy 3D cinematic shows.
The BEST Travel Backpack?!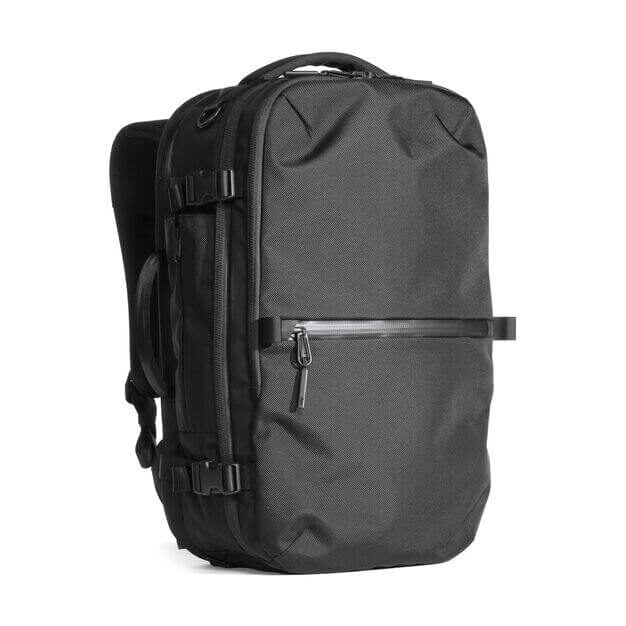 Pssssst! Not picked the perfect travel backpack yet? The Broke Backpacker team has tried out over thirty backpacks this year! Our favourite travel backpack is the Aer Travel Pack 2.
View on AER
#6 – Sibelius Park
One of the nicer places in Helsinki to sightsee!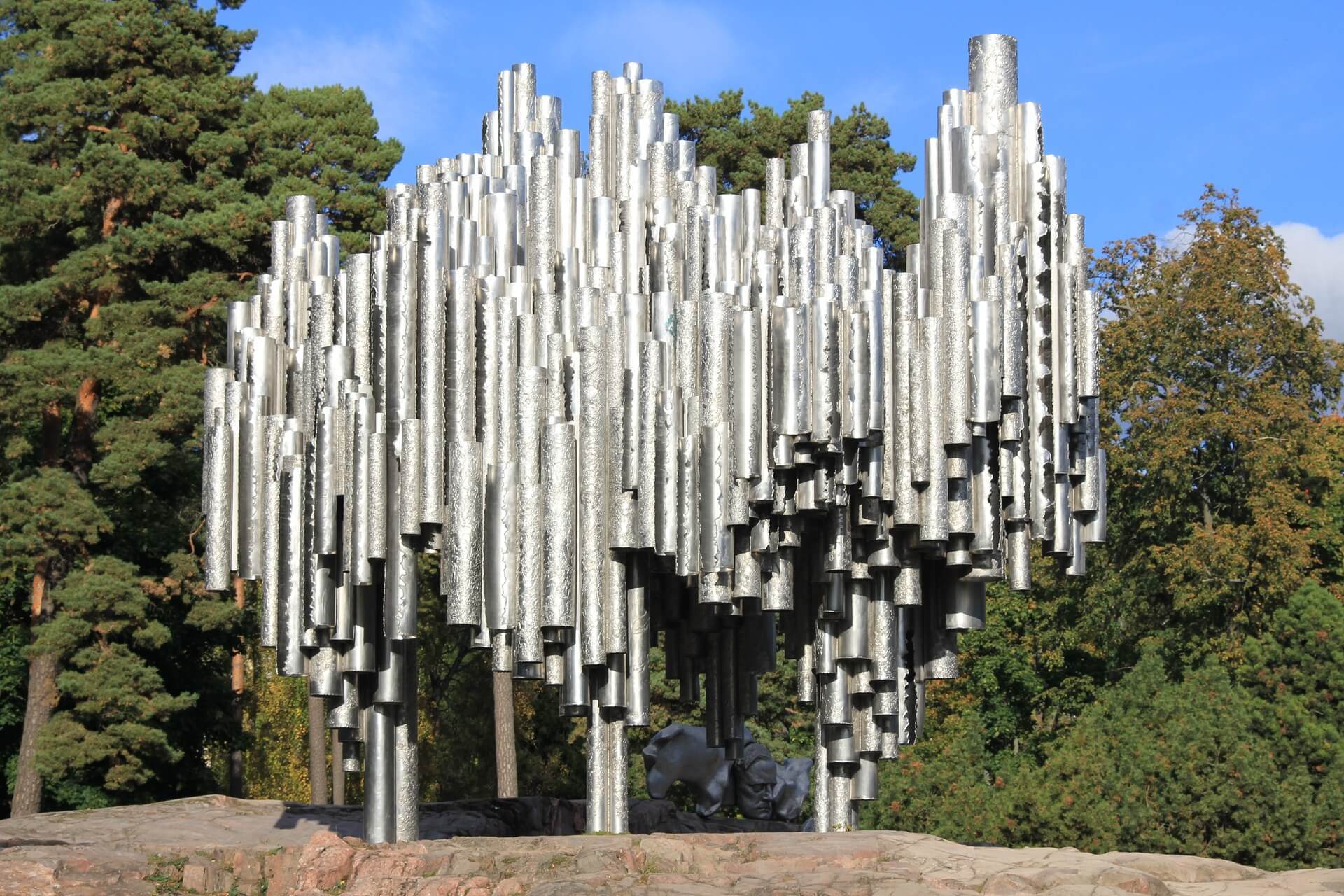 Interesting sculptures
Natural setting
Wildlife
Popular recreation spot
Why it's awesome: Left in a semi-wild state, Sibelius Park is named after a famous Finnish composer. The landscape is supposed to represent Finland's rugged natural beauty, with rocky outcrops, grassy areas, worn pathways, and tall trees that provide plenty of shade. There are several benches throughout the park where visitors can sit for a while in relative peace and quiet. There are two major sculptures in the park: the Sibelius Monument and the Kalevala-themed Ilmatar and the Scaup. Both sculptures were created as competition entries.
What to do there: See the park's two impressive sculptures. The bronze Ilmatar and the Scaup reflects the Kalevala, a Finnish national epic. Sitting on top of a red granite base, it was created in the 1940s. The Sibelius Monument came later, in the 1960s. The abstract silver-coloured sculpture features more than 600 tubes that loosely resemble organ pipes. A bust of the late composer is located close to the interesting tubular piece. You can walk under and around the various-sized tubes—hit them with a stick to hear the sounds produced in the hollowness. You'll also find a war memorial within the park. Stroll alongside the pond, relax on the grass, and spot local nature.
#7 – Temppeliaukio Church
One of the most amazing places in Helsinki!
Unusual place of worship
Concert venue
Large organ
Church services
Why it's awesome: Also known as the Rock Church, Temppeliaukio Church is one of the famous places in Helsinki. A competition was held for the designs and it was won by two brothers who were architects. Hewn into rock, the Lutheran church has been open since 1969. Inside, the craggy bare rock surface helps to provide excellent acoustics in the church. It is often used to host concerts. Despite having been cut into rocks, the church is surprisingly light and airy, thanks to a large skylight around the copper dome on top of the rocks. It is an active place of worship and a popular tourist attraction.
What to do there: From the outside, there is little to indicate the marvellous sights that await you inside the church. You can walk on top of the rocks to peer down through the skylight for a taste of what's to come. Step through the doors and be impressed by the skill that must have gone into designing the religious centre and carving out the solid rocks.
See the large organ that dominates part of the wall; the organ has more than 3,000 pipes. Run your fingers over the jagged walls and take a seat on one of the pews to admire the circular place of worship and the blend of the natural and the man-made. Enjoy a few moments of contemplation or attend a religious service for group worship.
Qucik Note – Staying safe in Helsinki
Helsinki is widely considered to be one of the safest places in all of Europe. There are low crime rates and solo women travellers have little to fear. That said, it is best to avoid certain areas, such as around Kaisaniemi Park and the Central Train Station, after dark. Be wary of pickpocketing in crowded places and check ATMs for signs of tampering before using them.
Take particular care if visiting Helsinki in the winter months, as roads and pavements can be slippery. Be aware that it's mandatory to use snow tyres on vehicles from December to February. Make sure you have suitable clothing for the cold conditions too.
Do you need Travel Insurance for your trip? I have been using World Nomads for some time now and made a few claims over the years. They're easy to use, professional and relatively affordable. They may also let you buy or extend a policy once you've started your trip and are already abroad which is super handy.
If there's one insurance company I trust, it's World Nomads. To find out why I use World Nomads, check out my World Nomads Insurance review.
Want to keep your money safe?
You should always have emergency cash hidden on you – pick up this awesome security belt with its hidden pocket before you travel, it's perfect for hiding money, a passport photocopy.
#8 – Hietaniemi Beach
A perfect place to visit in Helsinki if you are on a budget!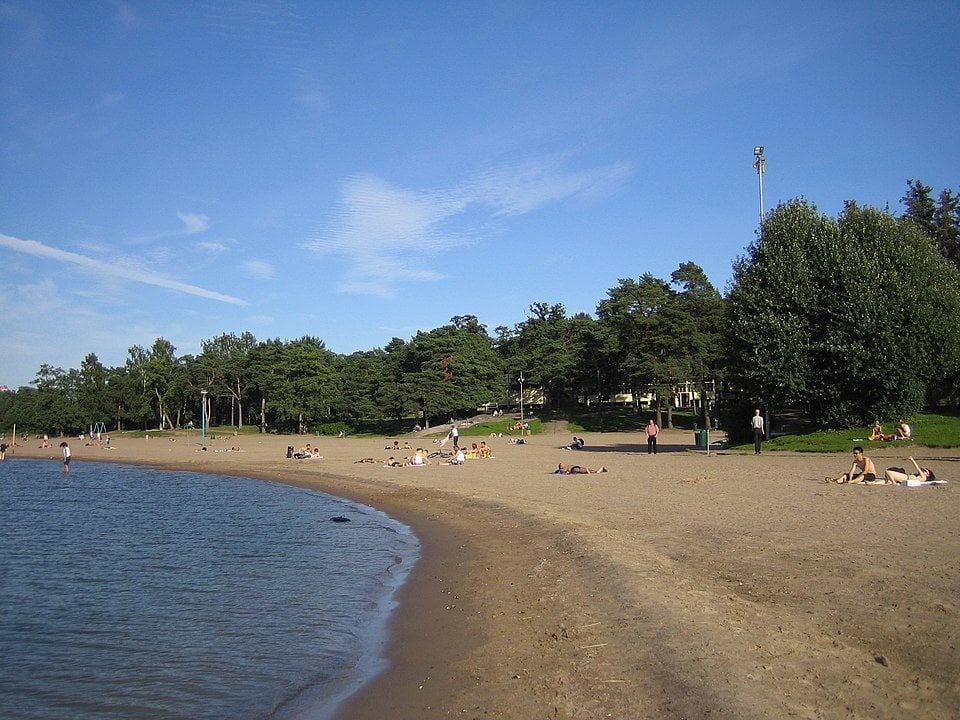 Free to enjoy
Calm waters
Sandy beach
Various activities
Why it's awesome: Located in the district of Töölö, Hietaniemi Beach is one of the most beloved beaches in the central part of the city. It draws many locals and tourists alike, particularly in the warmer summer months. Families, couples, groups of friends, and solo beach lovers can all enjoy the seaside. And, there's no charge to enjoy the beach, making it a great place for budget travellers to spend a few pleasant hours in the sunshine. The sandy shores are perfect for sunbathing and beach games and visitors can cool down in the calm sea.
What to do there: Pack your beach bag for a day in the sun! Lay down your towel on the soft sands and soak up some rays. Laze in the sunshine and work on your tan or lose yourself in the pages of a good book, watch people playing beach volleyball, or, if you're feeling active, join in with an energetic volleyball game. Kids can build sand castles and play various beach games. Go for a swim in the sea and perhaps swim to the nearby small island to see several species of resident seabirds.
#9 – Winter World
Easily one of the most fun places to check out in Helsinki
Great for people of all ages
Experience winter in Lapland
Various activities
Ice bar
Why it's awesome: Winter World is a Helsinki must do for anyone that wants to experience a Finnish winter at any time of the year. Heaps of fun, it's also one of the hotspots in Helsinki for families and groups of friends looking to do something a bit different to the norm. Temperatures are maintained at a steady -3 degrees Celsius (26.6 degrees Fahrenheit) inside the snowy and icy Winter World. As well as walking in thick, fluffy snow, there are a number of fabulous activities to really have a great time.
What to do there: Don protective thermal clothes (provided) to help your body in the cold temperatures and step into a wintery wonderland no matter the season or weather. Be transported to Finnish Lapland without leaving the capital city. Everything is made from snow and ice and it's easy to forget that you're indoors.
Sit on a traditional plastic disc to slide down the hill, have a go at riding on a kick sledge, strap on skis to glide across the snow, and enjoy a chilly toboggan ride. Peer inside igloos and admire intricate ice sculptures. Step into the ice bar and sip on a chilled drink straight from an ice glass. You can also have some good old-fashioned fun with a snowball fight and by building a snowman.
Need some extra energy?
One of the best investments you can make is a worldwide travel adapter that will work anywhere! The one featured here is tough, reliable and a solid buy – Don't leave home without one.
Buy your travel adapter on Amazon now.
#10 – Sipoonkorpi National Park
A beautiful and scenic place to check out in Helsinki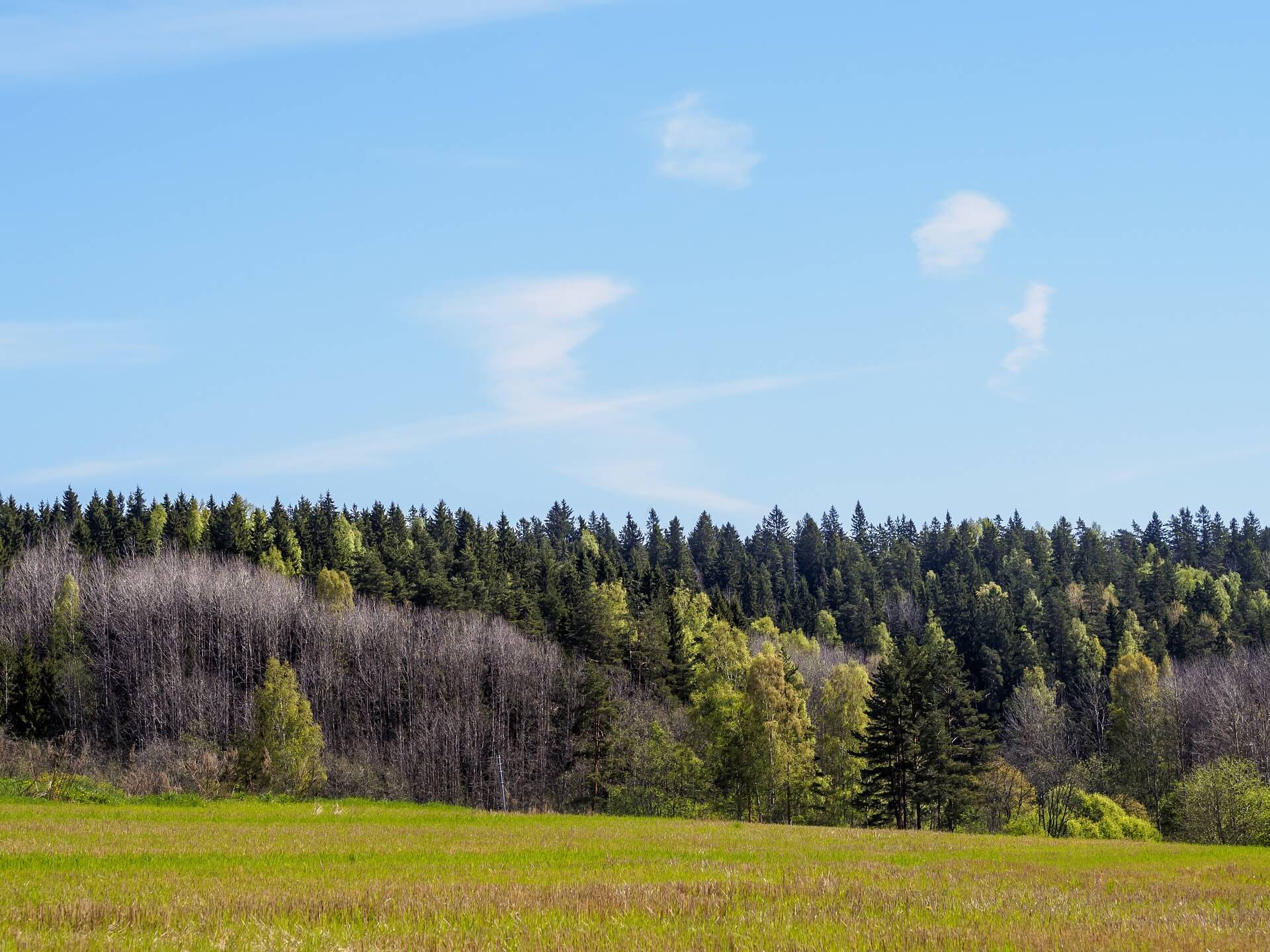 Nature and wildlife
Outdoor adventures
Picturesque villages
Beautiful views
Why it's awesome: Within easy reach of the heart of the busy capital city, Sipoonkorpi National Park offers a perfect retreat from city life with an escape into nature. Surrounded by rolling green fields and quaint villages, the woodlands are home to plenty of wildlife. Gentle rivers flow through the natural landscapes. A number of walking and hiking trails lead through the national park, with varying lengths and difficulty levels, and there are diverse activities to enjoy.
What to do there: Follow the easy nature trail of Ponun Perinneposti to immerse yourself in the forests and pastures and to spot diverse fauna and flora or undertake longer treks in the great outdoors. There are camping areas in Sipoonkorpi too if you want to spend nights under the stars. Join a guided tour if you want to know more about the area and visit hidden spots. Go mountain biking, hunt for geocaches, and gather wild berries and mushrooms.
Don't forget to pack a good book! Helsinki Blood (An Inspector Vaara Novel) is our top recommendation for an awesome and inspiring read on this magical city.
Get insured for your trip to Helsinki!
Remember, when you are traveling you may need insurance! World Nomads are our go-to Travel Insurer; we have used them ourselves for years now.
Getting an estimate from World Nomads is simple – just click the button or image below, fill out the necessary info, and you're on your way!

Discover more of the best places to visit in Helsinki
Visit more of Helsinki's top-class museums, including the Museum of Finnish Architecture, Heureka, Kiasma, Design Museum Helsinki, and the National Gallery, stroll through the pretty park of Esplanadi, see the nude mermaid fountain of Havis Amanda, and relax on the green lawns of the waterside park of Kaivopuisto. Interesting religious buildings include the Orthodox-style Uspenski Cathedral and the glorious St John's Church. Book tickets for a show at the Finnish National Theatre, see Parliament House, take a trip to the island of Lauttasaari, and explore the scenic harbour-side area of Katajanokka.
Enjoy the views from atop SkyWheel Helsinki, admire the architecture of Finlandia Hall, experience serenity in the unusual Kamppi Chapel of Silence, and see the Presidential Palace. Shop till you drop at the thronging Market Square. Kaisaniemi Botanic Garden is an attractive place, ideal for couples, and the Olympic Stadium is an interesting attraction for sports fans. Take a dip in the natural and salty Allas Sea Pool. Looking for a place to party at night time? The area of Kallio is especially vibrant.
Terrific day trip destinations from Helsinki include Porvoo, Turku, and Espoo. So long as your visas are in order you can also visit another country in a day with hops to Estonia's capital of Tallinn and Russia's cultural city of St. Petersburg.
Work your way through these best places to visit in Helsinki for a diverse city break.
"Find out how YOU can support the site. We work hard to put out the best backpacker resources on the web, for free! It's all about helping out our tribe of awesome backpacker readers [that's you!]. Please visit the link to find out how you can help keep the site going 🙂
For the sake of transparency, some of the links in our content are affiliate links. This means that if you book your accommodation, buy a book or sort your insurance, we earn a small commission at no extra cost to you. I only link to stuff I've actually used and never endorse products or services that are not up to scratch. Thanks for your support.