Overlooking the Baltic Sea, Finland's capital is a seriously cool destination, in every way. Despite its small size, there's a lot to see. Take a ferry out to the Suomenlinna fortress, sit with a childhood character in the Moomin Café or take a moment to yourself in the Kamppi Chapel of Silence.
Helsinki is at the cutting edge of design. So much so, that there's even a Design District just south of the centre. And the best place to see the design in action? By checking out vacation rentals in Helsinki. There are some seriously stylish properties you can get here.
With that in mind, we've put together a list of the best Airbnbs in Helsinki. Not only that, but we've also taken a look at five of the most fun Airbnb Experiences you can do in the city too. Let's take a closer look!
Quick Answer: These are the Top 5 Airbnbs in Helsinki
Overall Best Value Airbnb in Helsinki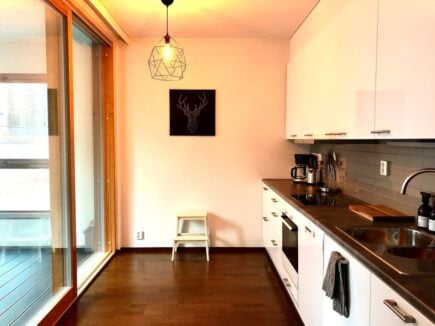 Overall Best Value Airbnb in Helsinki
Modern design home with terrace
> $
> Five guests
> Quiet neighbourhood
> Rooftop sauna
Best Budget Airbnb in Helsinki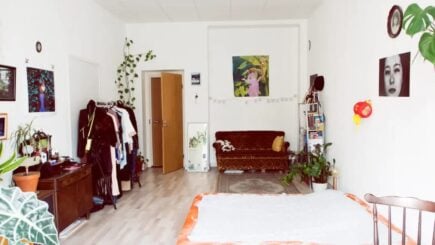 Best Budget Airbnb in Helsinki
Bright room in the heart of Helsinki
> $
> Four guests
> Hip and trendy area
> Lots of houseplants
Best Airbnb for Couples in Helsinki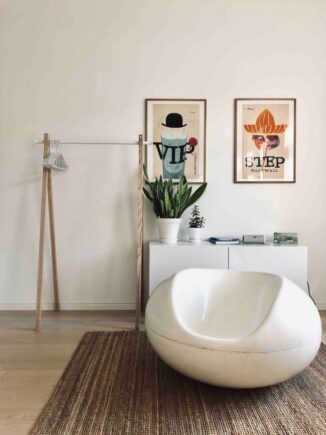 Best Airbnb for Couples in Helsinki
Top floor studio Apt
> $$
> Two guests
> Queen bed
> Classic Scandinavian design
Best Airbnb for Families in Helsinki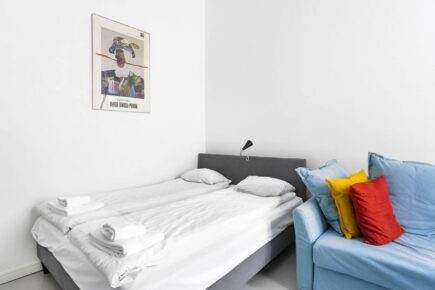 Best Airbnb for Families in Helsinki
Explorer's WeHost apartment
> $$$$
> Six guests
> Private entrance
> Fully equipped kitchen
Over-the-Top Luxury Airbnb in Helsinki
Over-the-Top Luxury Airbnb in Helsinki
Penthouse Design Apartment
> $$$$$$$$$$$
> Five guests
> Former residence of ex-president!
> Private sauna

Unlock Our GREATEST Travel Secrets!
Sign up for our newsletter and get the best travel tips delivered right to your inbox.
What to Expect from Airbnbs in Helsinki
Whatever you're looking for from accommodation in Helsinki, you're bound to find it. Like most Nordic countries, design is important here. Whichever property you choose, it's guaranteed to make the most of space and light – and boast pretty cool furniture, too!
There is a downside though; Helsinki is one of the most expensive capital cities in Europe. That high standard of living comes at a price, after all. That said, you can still find cool places to stay without breaking the bank – and if you do have the cash to splash, you're going to be delighted with what you can bag.
Helsinki has a higher than usual amount of Airbnbs owned and rented out by businesses. That won't take away from you enjoying a local experience though!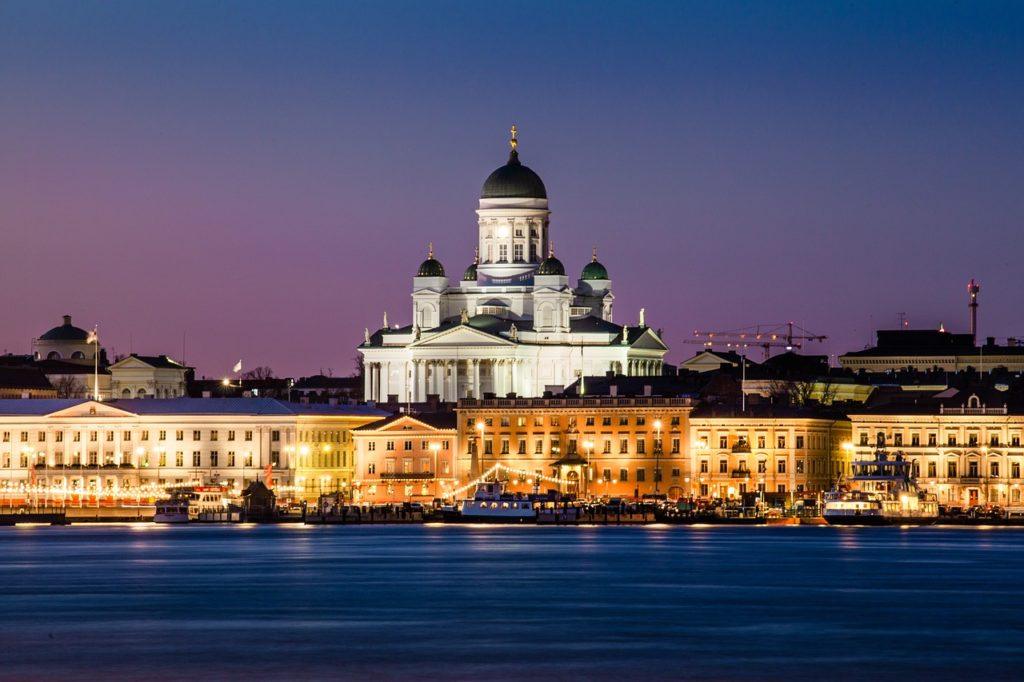 Loft
Loft apartments are usually found above the bottom floor of a building. However, there are some instances where a loft will be on the ground floor but have a feature such as a mezzanine bed. That's less common, though.
Lofts are a little more expensive than average entire flats, and you'll usually find that they have an open plan fully equipped kitchen and living area. The higher they are in a building, the more likely they are to have a balcony and roof terrace, too!
There are more than 30 loft apartments in Helsinki, and you can find them across all districts. We'd recommend searching in Kamppi, the Design District and Kallio.
House
Want somewhere with a little more space? An entire house (or townhouse) gives you the chance to experience a home away from home in Helsinki. Often equipped with everything you're used to at home, houses come with living areas, fully equipped kitchens, and sometimes even a garden.
Because of multiple bedrooms and several bathrooms, a house in Helsinki is a good bet if you're travelling in a group. That could be friends or family! Can't justify the price or size of an entire house? Well, solo, business, and budget travellers can still stay in a house, but you'll be looking at a private room instead.
There's nothing wrong with that – a homestay is the best way to make your money go further AND get a local experience. Note that by choosing a house, you're likely to be outside of the city centre.
Boat
In a city surrounded by water, staying on a boat is an option. It may not be your idea of the perfect accommodation, but it offers the individuality and character so common among Airbnb properties.
There aren't a lot of boats in Helsinki, but those available for rent can be found in Kruunuhaka and Kluuvi. Staying on a boat will see you have a smaller living space and kitchen than other types of accommodation in Helsinki.
However, the location is great if you want to make the most of the culinary scene and nightlife here.
Boats are the most expensive option when it comes to Airbnbs in Helsinki, but hey, who expects their own private yacht to be cheap!
Why Stay in an Airbnb
Now you know what's available in Helsinki, let's take a look at five reasons you should stay in an Airbnb.
Local Experience: Even if you're hosted by a business in Helsinki, they'll still have a lot of local knowledge – great when it comes to things to see and do in Helsinki once you've ticked off the big attractions.
Privacy: Lots of Airbnb properties have self-check-in, and you can filter for a completely private accommodation should you wish.
Affordability: This may seem like a strange one in an expensive city like Helsinki; however, Airbnbs will still offer you a lot more for your money against an equally priced hotel – no matter where you are!
Safety: Airbnbs vetting system works to the advantage of both host and guest. There's a support system on hand 24/7 to resolve any issues you may have too.
Airbnb Experiences: It's not just about where to stay; Airbnb Experiences offer a way to see your destination with a local twist. More on that later!
The Top 15 Airbnbs in Helsinki
Now we're at the part you've been waiting for. Here are the top 15 Airbnbs in Helsinki, arranged according to budget and travel style. You're going to love them!
Usually, if you're looking at a top value Airbnb, you'll be looking at a private room or perhaps a studio apartment for two. But for five? Not a chance. But that's exactly what we've found in this quiet neighbourhood to the west of the city centre. It's got transport links to the centre, parks nearby, and places to eat and drink. Most exciting is the rooftop sauna, which is reserved for guests for an hour on Sundays!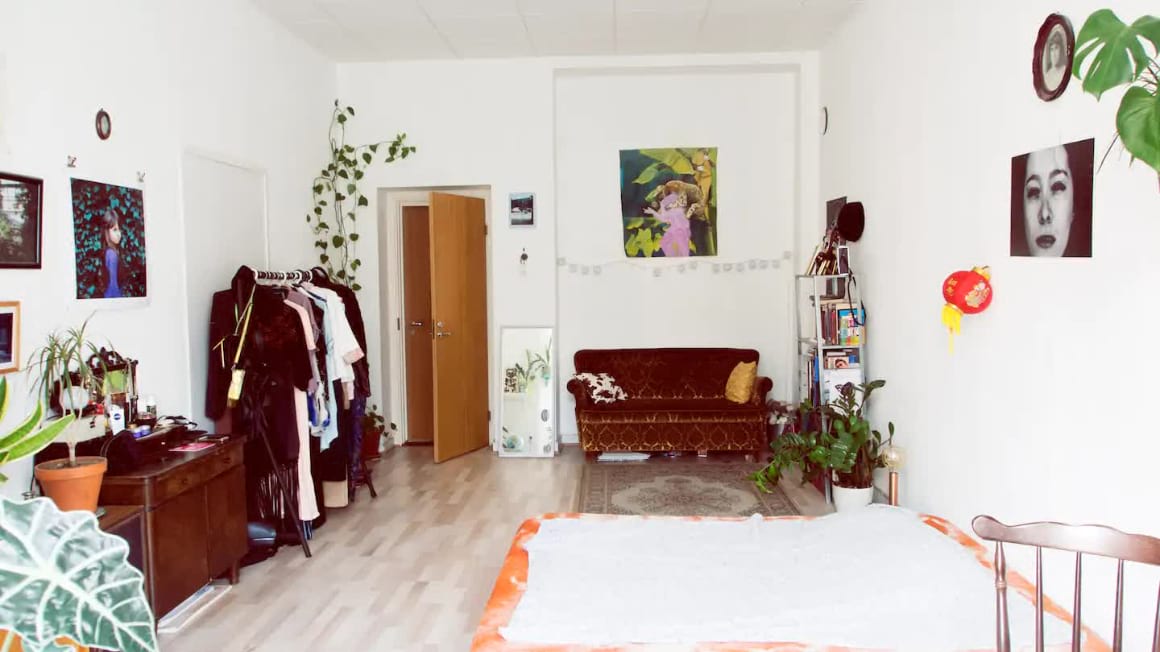 Four guests
Lots of houseplants
Helsinki is a lot of things, but cheap isn't one of them. This cool room in the Kallio District with a local host should put your money worries at ease though. There's space for up to four guests – but we'd say it'd be better suited to a couple or solo traveller. Even though you're not shelling out a lot, you're not compromising on quality. The room is spacious, and it's packed with house plants!
A homestay is the perfect option if you're travelling solo, as you can meet local people and keep your costs down. This one is close to central Helsinki, and you can choose to access it on foot or via the tram, which stops just 100 metres away. As well as a private bedroom, you'll have your own little balcony. Not only that, you'll get access to your host's kitchen, too!
Is This the Best Travel Pack EVER???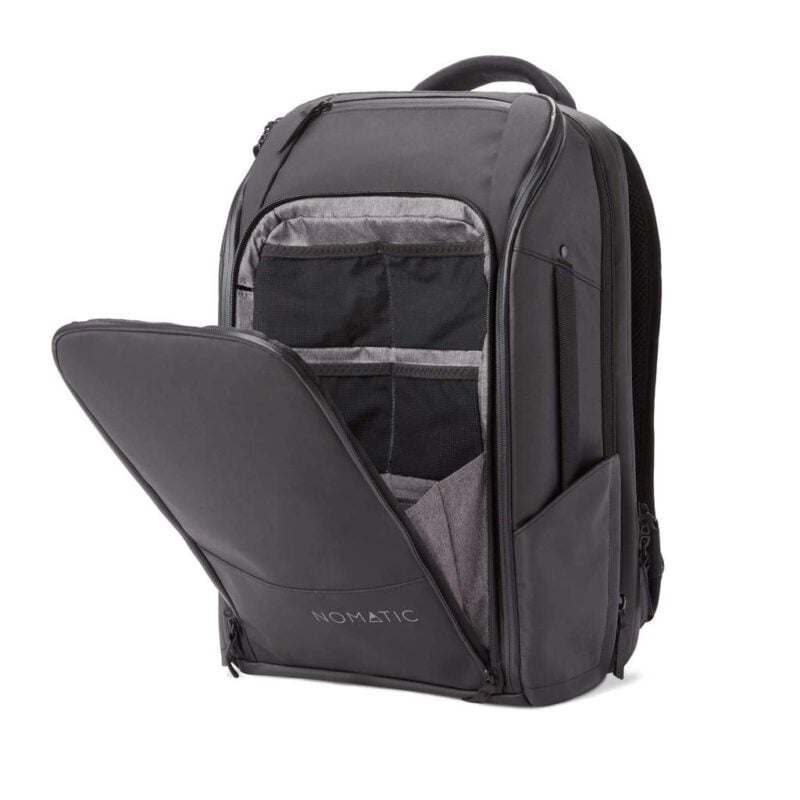 Two guests
Classic Scandinavian design
This minimalist apartment is a great example of Finnish design. Lots of white, lots of light, and just look at that cool chair! Located on the top floor, it has excellent views out across the city centre. There's a fully equipped kitchen should you fancy an evening in, and the queen bed is comfy and cosy. Everything you could want for a romantic break in the Finnish capital!
Six guests
Fully equipped kitchen
Looking to travel with your family? This is a fabulous option. In a lot of vacation rentals in Helsinki (and indeed around the world) you have double and queen beds. But that isn't always the best if you're travelling with family members. Happily, this place has a couple of single beds and sofa beds, so there's no uncomfortable topping and tailing. There's also a fully equipped kitchen – a lifesaver if eating out every night is burning through your cash!
$$$$$$$$$$$
Former residence of ex-president!
Do you want to stay in the residence of a former president? Yes, of course you do! This beautiful penthouse is in one of the oldest buildings in Helsinki and has a spectacular view of the sea. You've got your very own spacious sauna too, perfect for chilling out after a day exploring the city and recuperating those aching muscles. The living room log fire is lovely and cosy, too.
Two guests
Beautiful living area
Another apartment in a historic building, although this one isn't quite so swish as the former president's apartment! It's still pretty nice, though. The loft is right in the centre of Helsinki, and all of the top sights are within walking distance. If it's a chilly night, don't worry; you've got a fireplace and lots of warm and cuddly blankets and linens to make the most of!
Two guests
Option of groceries
This cool and quirky home is a little different from other houses in Helsinki – and indeed anywhere! An artist's residence, there are lots of nice touches, such as a rocking horse, vintage furniture, and antique chandeliers. It's perfect for the winter as there is a sauna and a bath tub. It's a really peaceful spot that you wouldn't believe is right in the heart of a city!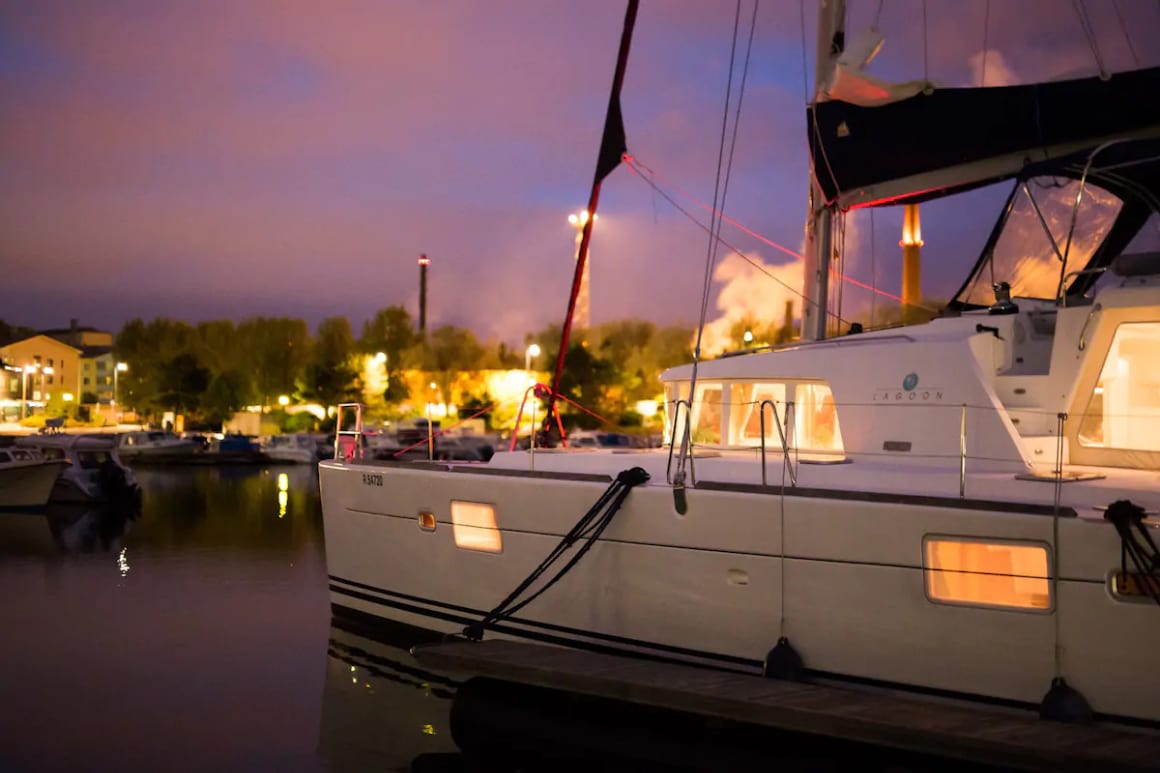 $$$$$
Good for harbour partying
Eight guests
Cruises available
Check out this boat! One of the coolest places to stay in Helsinki, it's perfect for partying at the harbour. The boat is not just somewhere to stay; it also offers cruises that last from one to three hours. There are four main cabins on the boat, so it's not as pricey as it looks at first glance – you can split the cost eight ways. There's a fully equipped kitchen too, but you probably won't be using that with all the excellent restaurants on your doorstep.
Perfect Airbnb for Digital Nomads | Writer's Retreat
Two guests
Lovely forest views
Looking to find some inspiration for your work? This is the place. In a local home, there's a dedicated workspace and rapid Wi-Fi. When you're finished working for the day, it's an ideal location for rest; there are forest views at the home itself, and there are bike routes for getting out into nature and easy public transport connections to get into town. A real gem!
$$
In a UNESCO World Heritage site!
Four guests
Fully equipped kitchen
It's an apartment, so what? Well, this isn't just any old apartment – it's unique because it's inside the UNESCO World Heritage Site, Suomenlinna. Just 20 minutes from central Helsinki, the sea fortress spans eight islands and was first built in 1748. The apartment is nicely decorated, and there's a kitchen and living room. However, the big attraction is being able to sleep in one of Finland's most important historical landmarks.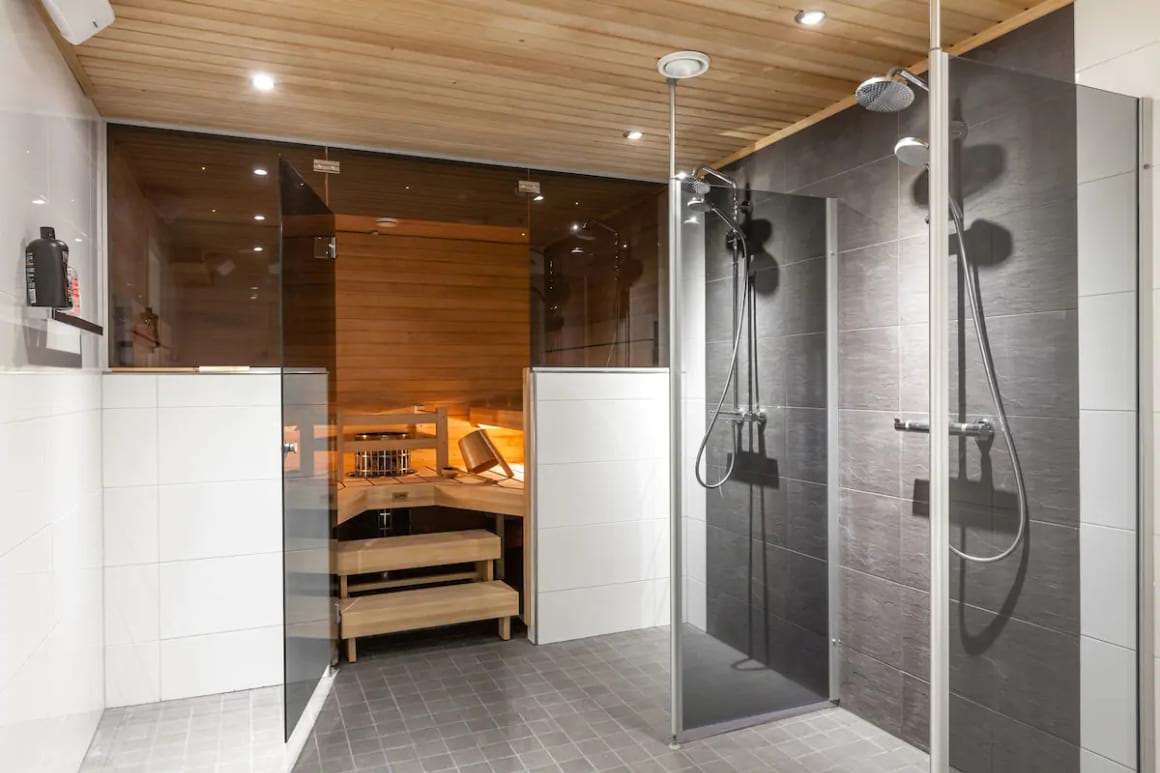 $$$$
Private sauna and spa
Eight guests
Central location
Usually, we'd point you in the direction of an Airbnb with a pool or a jacuzzi. But in Helsinki, the sauna is king. You'll find that a lot of apartments have their own where you can come back and relax after a day of exploring the city. Very few are quite as luxurious as this one. There's space for eight guests, so it's perfect for a group of friends or family – and it's right in the centre.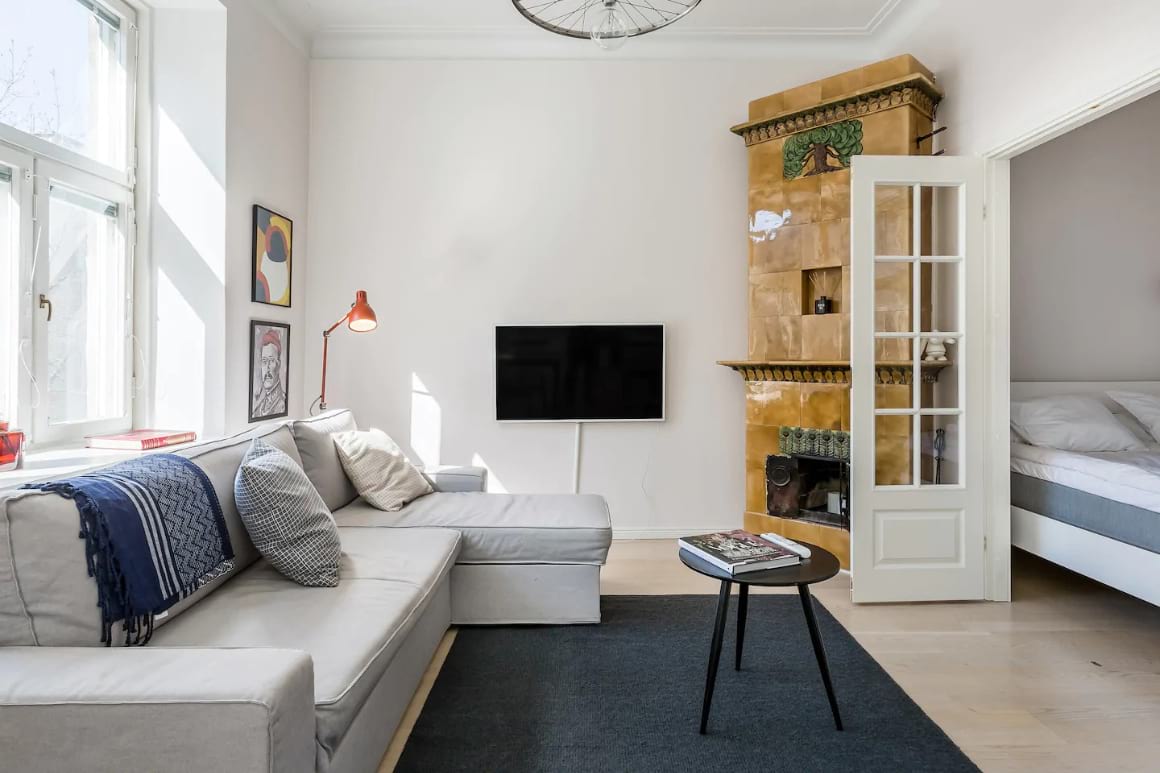 $$$$
Lots of natural light
Four guests
Vintage Nintendo
Airbnb Plus properties are hand-picked by the platform for their hosts' incredible attention to detail and excellent review scores. So, you know you're in safe hands when you choose one of these properties. There aren't a whole lot of them in Helsinki, so be sure to book far in advance to get these dreamy properties. This cool design apartment has a vintage Nintendo console and Netflix if you fancy a lazy evening in.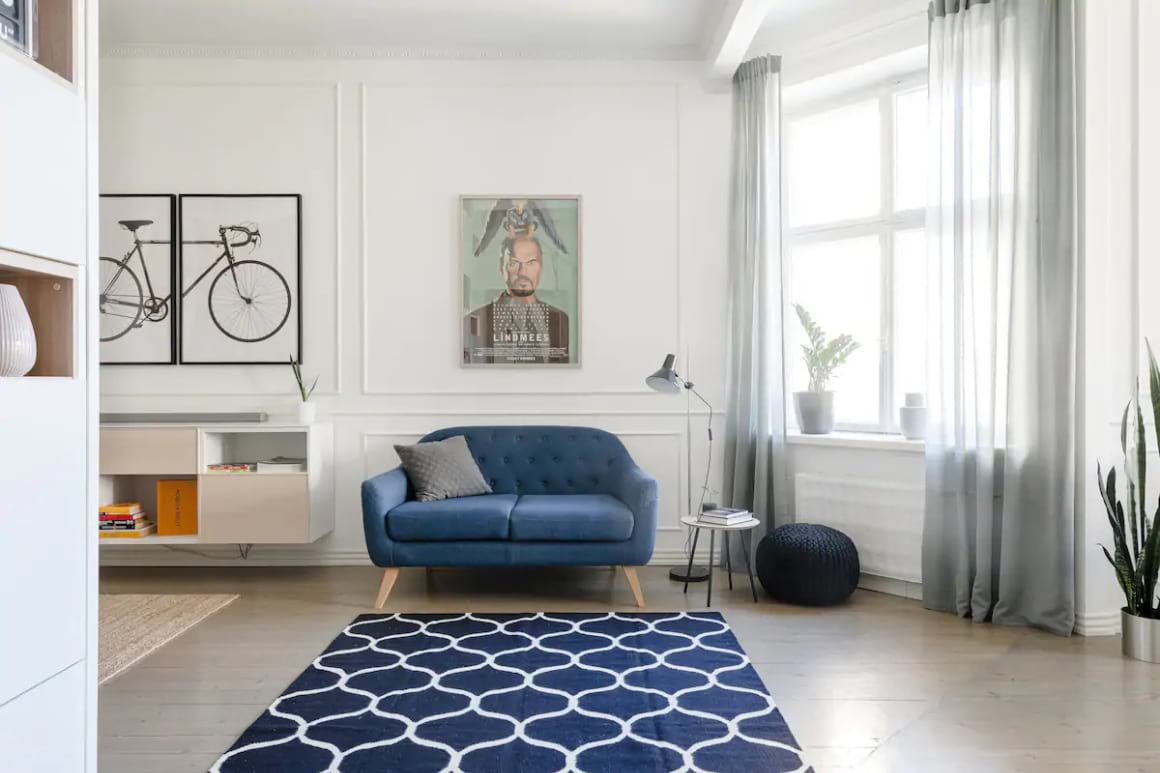 Four guests
Basic toiletries included
The most important thing if you're planning a weekend trip to Helsinki is the location. You want to have all the top attractions within walking (or at least biking) distance—no worries about that in this central apartment. There are basic toiletries included, which is good news if you've only booked hand luggage on your flights. The only danger of picking this place is that you'll spend too much time in the apartment and none out sightseeing!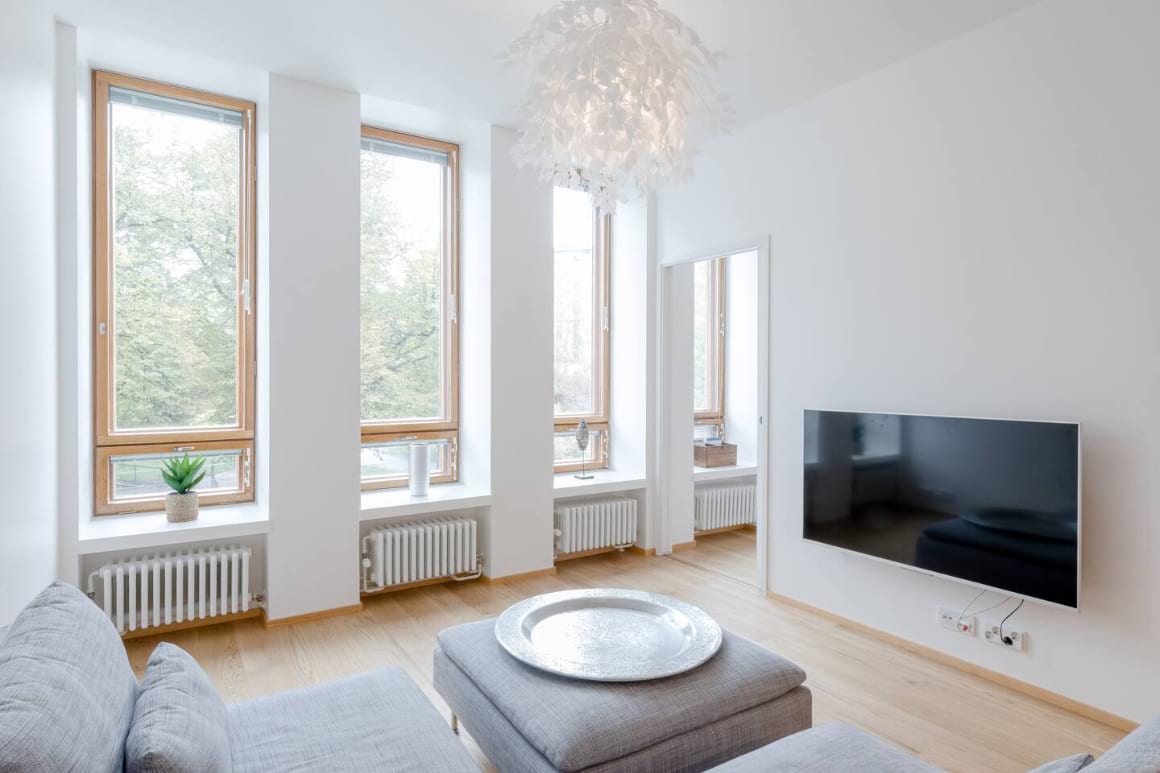 Four guests
Four single beds
When travelling with friends, it's important to have somewhere you can kick back and relax together. That's exactly what you'll get here: there's a spacious living room that lets in lots of light, with a TV in there too. There are four single beds, so no uncomfortable topping and tailing here either. If you have some time spare and want to work on your fitness routine, there's a gym and a spa in the building.
Top 4 Airbnb Experiences in Helsinki
Now that you've got a better idea of where to stay in Helsinki, let's look at what to do when you arrive. Rather than going to see something recommended by a guidebook or the internet, why not get some local knowledge?
If you're not sure how to do that, Airbnb Experiences is a good start. It connects travellers like you with local guides who love nothing more than showing off their home city. Airbnb Experiences can be anything from a day trip out into nature or a cooking class to a local bar crawl.
Check out our five favourite Airbnb Experiences in Helsinki below.
€105/person
4.5 hours
Up to 8 guests
Helsinki. is a cool city, but you should definitely set aside some time to get out of it. Its surroundings are simply stunning! Many people may not know that Helsinki is part of one of the world's largest archipelagos, and this is your chance to get better acquainted. You'll be exploring forests, bronze age ruins, ancient burial cairns, and taking in sublime views. Don't miss it!
€49/person
3.5 hours
Up to 5 guests
Walking around Helsinki is cool, but you may not realise what you're looking at half the time. That's why a walking tour is a great idea. On this one, you'll see a lot of religious buildings, the Alas Sea Pool, and stroll through the Design District and Graffiti streets.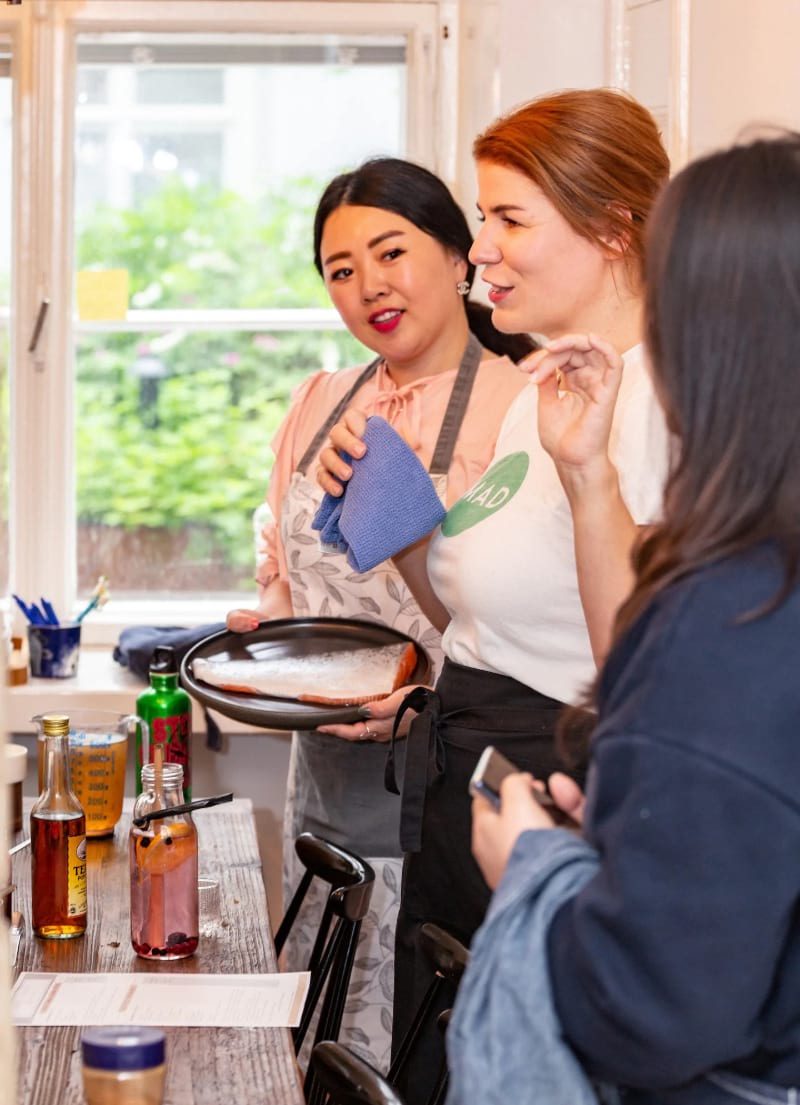 €63/person
3 hours
Up to 5 guests
It's safe to say that Finnish cuisine isn't too well-known outside the Nordic countries. However, you'll be wondering why after making a delicious three-course meal in the heart of the Design District. Starting with salmon soup, progressing to Finnish meatballs, and ending with cinnamon rolls will leave you full and very, very happy.
€15/person
4 hours
Up to 10 guests
Want to know where the locals go out in Helsinki? The house party in a bar concept should help with that. Your thoughtful host will introduce you to like-minded people based on your interests and demographic. Who knows, maybe you'll leave having practised your Finnish – or even made a friend!
Don't Forget Your Helsinki Travel Insurance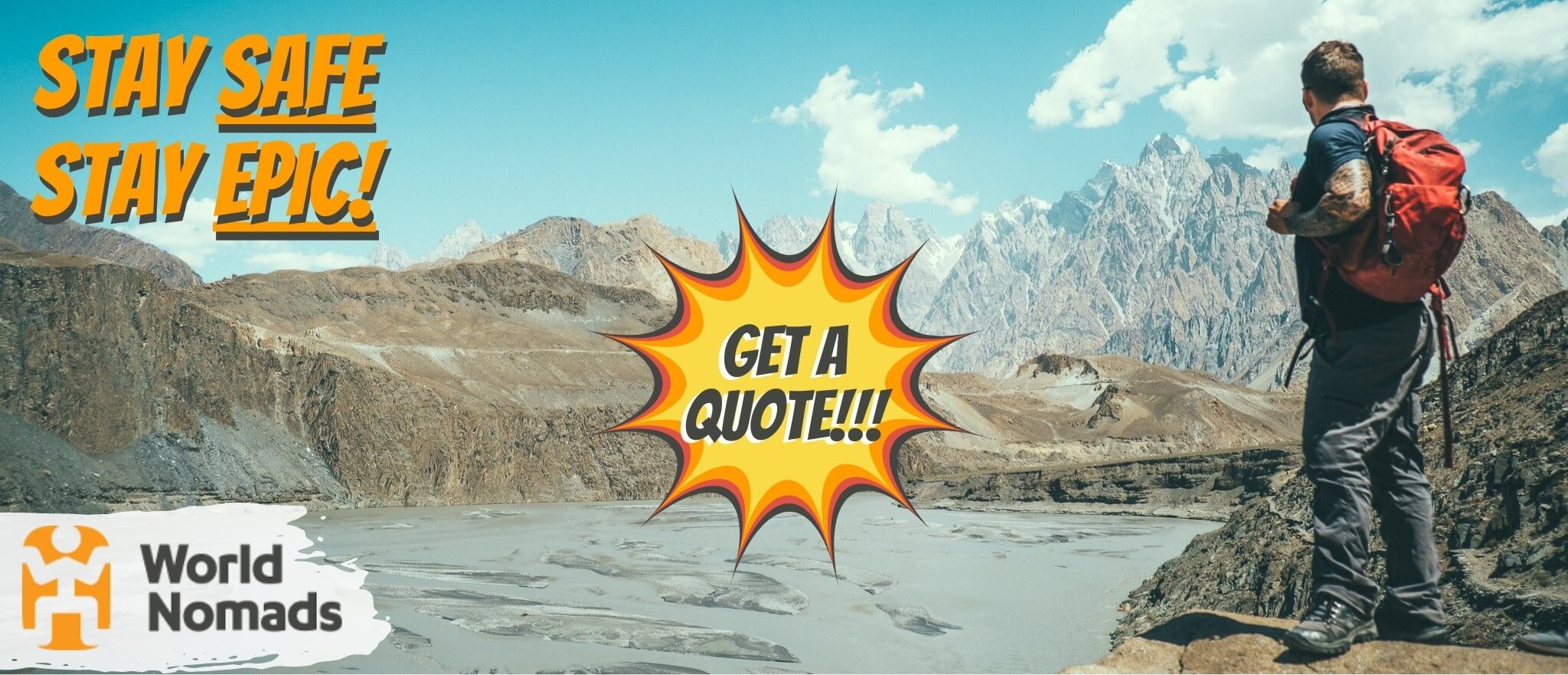 World Nomads' mission is to support and encourage travellers to explore their boundaries. They offer simple & flexible travel insurance, and safety advice to help you travel confidently.
They've been doing it since 2002 – protecting, connecting, and inspiring independent travellers just like you.
Get a quote below or read our in-depth review!
World Nomads provides travel insurance for travelers in over 100 countries. As an affiliate, we receive a fee when you get a quote from World Nomads using this link. We do not represent World Nomads. This is information only and not a recommendation to buy travel insurance.
Final Thoughts on Helsinki Airbnbs
So, there you have it. Those are the 15 coolest Airbnbs in Helsinki, along with some ideas for what to do when you arrive. Whether you want to surround yourself with cutting edge design in a city centre loft, stay with a friendly local family, or end the day in your own sauna, there's an Airbnb in Helsinki for you.
Still not sure where to stay? Let us remind you of our overall best value Airbnb in Helsinki – that's the modern design home with terrace. It has space for five guests, and you can enjoy views out over the city. What more could you want?!
No matter where you choose to stay in Helsinki, we hope you have a wonderful vacation. Be sure to take out a travel insurance policy with World Nomads to keep yourself and your valuables safe, too!
---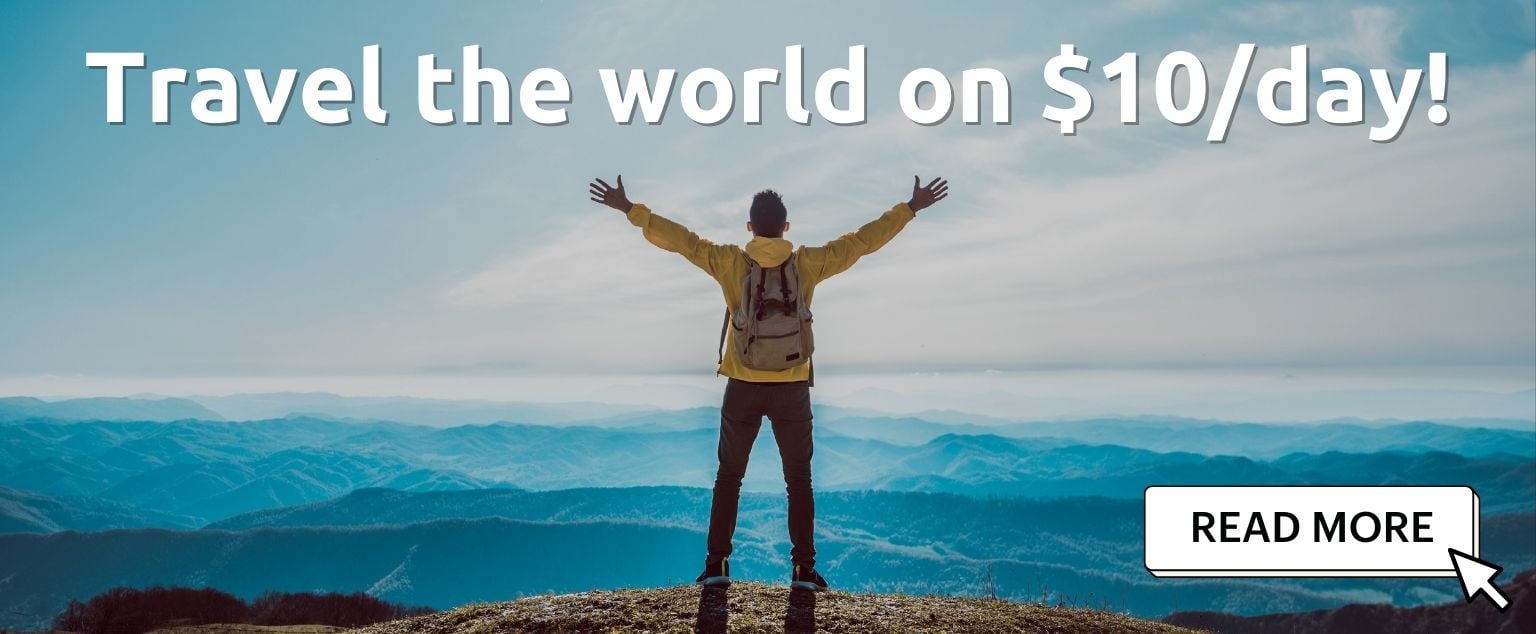 And for transparency's sake, please know that some of the links in our content are affiliate links. That means that if you book your accommodation, buy your gear, or sort your insurance through our link, we earn a small commission (at no extra cost to you). That said, we only link to the gear we trust and never recommend services we don't believe are up to scratch. Again, thank you!