As a country known for its exquisite diverse landscape and picture-perfect vistas, Finland is one of the most incredible countries to visit for an outdoor adventure. Finland's national parks are a haven for nature enthusiasts and adventure seekers, scattered with ancient forests, island archipelagos, sprawling snowy landscapes, alpine lakes, and flowing rivers.
Located near the Arctic Circle in northern Europe's rugged wilderness, the country and its national parks are home to an exciting variety of wildlife and plant species. In fact, many species cannot be found anywhere else in the world, making them endemic to this remote setting.
Protecting natural resources is a long-time tradition in Finland; however, it wasn't until recently that the country dedicated portions of its land as official national park territory. Today, Finland is home to 41 national parks, covering 2.7% of the country's area. While that might seem small, much of the country (73%, to be precise) consists of forest, anyways.
In this article, I will unpack eleven of the most diverse and spectacular parks in Finland that are well worth your visit.
What are National Parks?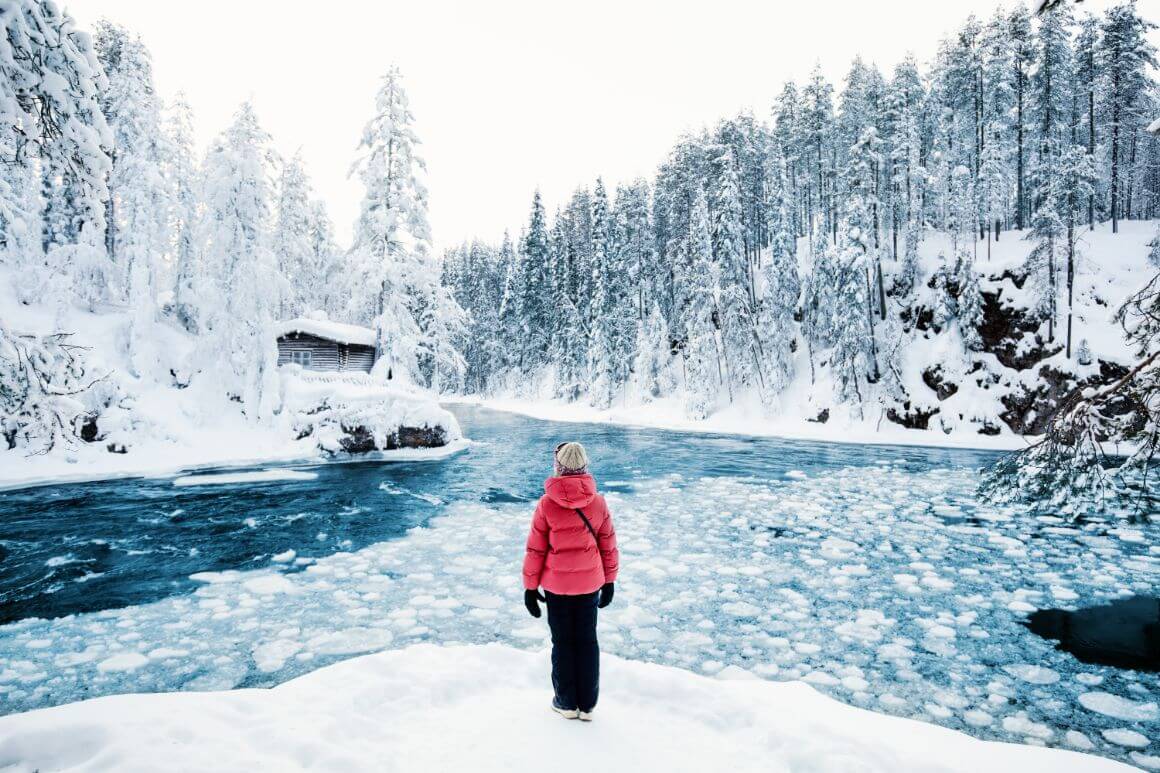 With a small population relative to the size of the country, most of Finland's landscape is made up of uninhabited forests. Without even trying, the country has some of the most extensive protected lands in northern Europe. However, it wasn't until 1938 that Finland first announced its first official national park. Today, all national parks are managed by Metsähallitus, a state-owned enterprise.
This decision came after a 60-year public discussion about whether protected areas should be established on government-owned land. While nature has always been considered a national heritage and resource for economic growth, scientific advancement, and for the body and mind, there was previously little need to dedicate land as official national park territory.
Conservation is so important here that after World War Two ravaged the country and its cities, Finland's government put as much effort into conservation as it did to rebuild its cities. Since the 1970s, Finland has put a lot of resources and time into developing national parks into popular outdoor recreation locations for the public to enjoy at their leisure.
Finland's national parks are free to access and are very popular with locals and tourists, who visit them to enjoy the solitude of nature, hike through the mountains, canoe on the rushing rivers, and camp under the dancing lights of the Aurora Borealis. Between three and eight million people enjoy these parks annually to take in the incredible sights and enjoy the vastness of the great outdoors when visiting Finland.
National Parks in Finland
With a short background on Finland's parks, let's take a closer look at eleven of the most unique parks in the country:
Pallas-Yllastunturi National Park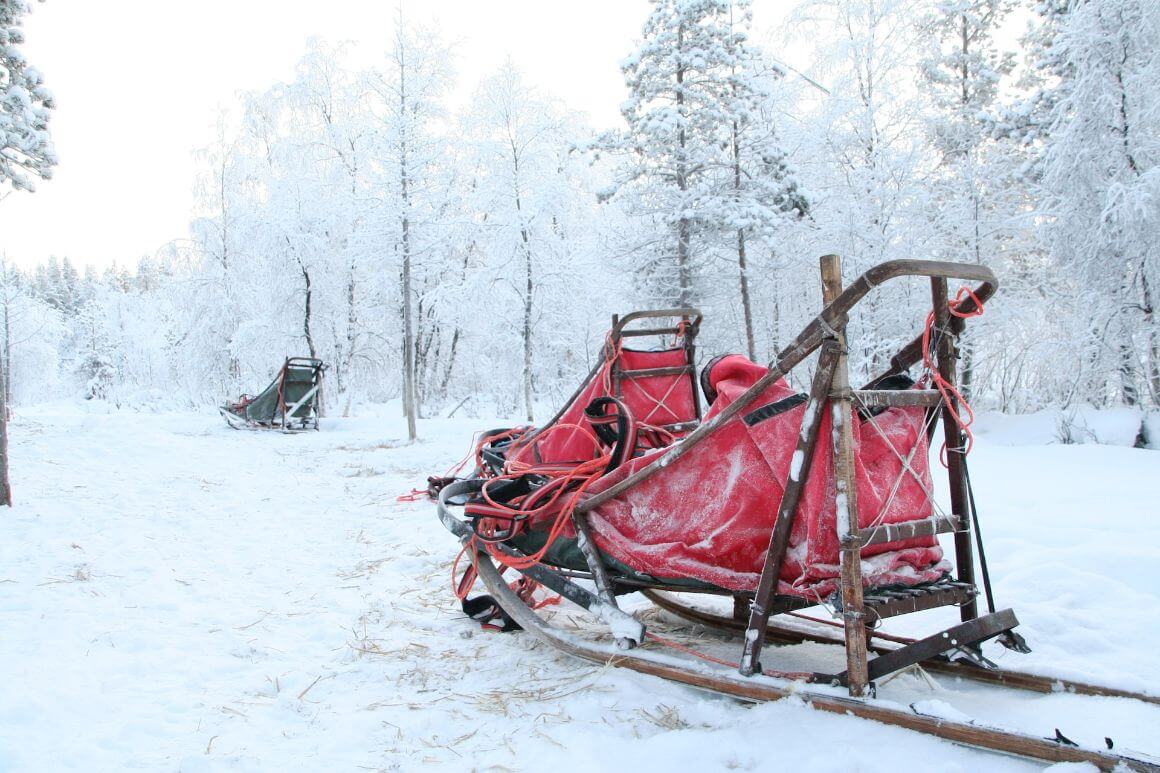 Size: 394 sq mi
Location: Lapland region: Enontekiö, Kittilä, Kolari, and Muonio municipalities
Entrance Fee: Free access
Not only is Pallas-Yllastunturi one of Finland's largest national parks, but it is also located in the idyllic northern Lapland region, one of the best areas to view the northern lights.
The fresh alpine air and snow-coated grounds make this the ideal park for cross-country skiing, a popular sport for Finnish locals.
With scatterings of forest, hilly mountains, and gorgeous lakes, Pallas-Yllastunturi is also a hotspot for hiking, trekking, and camping under the stars. This Finnish national park is particularly well known for its extensive network of footpaths and trails and for being one of the better-kept parks in the country.
In fact, tourists and locals flock from across the world to sleep under the flowing lights of the Aurora Borealis. An overnight stay will also increase your chances of spotting some of the unique nocturnal wildlife that lives in the park, including bears, reindeer, elk, weasels, and lynx. Bears and lynx are two of Finland's largest predators who live permanently in this region.
Pine, spruce, and fell birch flourish in the area, with pincushions, alpine bearberry, and crowberry growing under the tree canopies. Of course, the park boasts a fair share of bird species too, who nest by the streams and hunt for food in the rushing rivers.
Designed for visitors, the park features tourist centers and wilderness lodges where you can get information on the best trails to follow and places to see the Northern Lights.
Where to Stay near Pallas-Yllastunturi National Park:
Surrounded by nothing but snowcapped trees at Akasjarvi Lake in Munio, Villa Sivakka is a modern three-bedroom chalet with some of the best views of the northern lights in the area.
The cabin has been uniquely designed by a top architect, with a sauna and a fireplace in a separate building by the lake.
Phya-Luosto National Park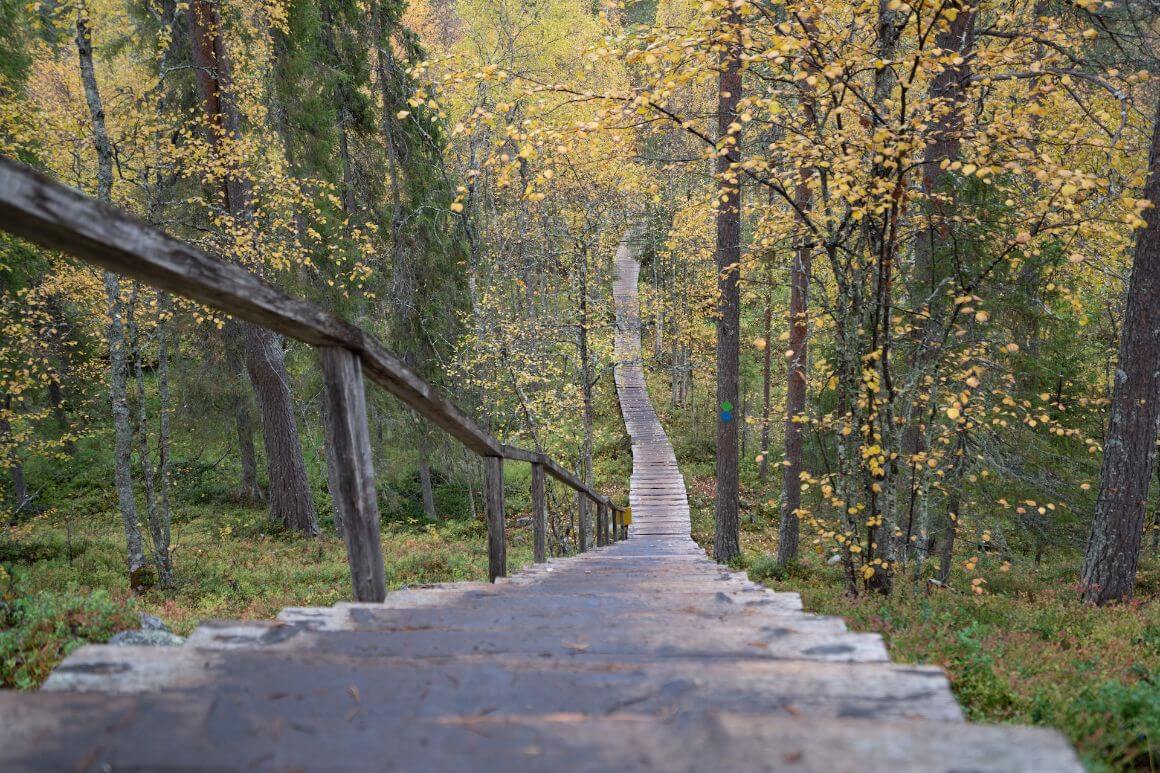 Size: 55 sq mi
Location: Luosto, Lapland
Entrance Fee: Free access
Not only is this national park stunningly beautiful, but it is also home to one of the oldest mountain ranges on the planet.
The park was founded in 2005, when Finland's oldest national park, Pyhatunturi, was combined with Luosto to create one giant national park. In this sense, the park is both the oldest and newest national park in Finland.
Dramatic gorges cut through the landscape, and forests scatter the hilly park, which is a top destination for long-distance trekkers. During the summer months, hikers flock to the park to complete a 120-mile course that winds its way through the park. The most famous trail connects the two famous fells, Phya and Luosto.
Nature lovers can also appreciate the incredible flora and fauna that call the park home. Depending on the time of year you visit, otters, brown bears, and reindeer can be seen roaming the forests, along with over a hundred different species of birds.
The park is also a hotspot for outdoor sports enthusiasts who can enjoy the incredible ski slopes around the park. The villages around Phya-Luosto are typical ski resorts that look like something out of a Christmas card.
Where to Stay near Phya-Luosto National Park:
Located right on the boundary of the national park, this luxurious cabin is the ideal spot to stay for skiing and hiking. Each cabin has a kitchen and bathroom, as well as a garden, and features two bedrooms. Spend your evenings by the fireplace in the living room after a day of adventuring.
Nuuksio National Park
Size: 17 sq mi
Location: Espoo, Kirkkonummi
Entrance Fee: Free access
Not only is this park home to stunning ancient forests and deep lakes, but it's also one of the closest national parks to the capital of Helsinki. Only a short drive away from the city, the park can even be accessed by public transport.
Located in the country's southern region in part of the Nuuksio lake highlands, the park is home to dozens of endangered species threatened by extinction, including the Siberian flying squirrel and the European nightjar bird.
The park features eight marked trails ideal for hiking and trekking, varying in difficulty, with some suitable for novice walkers and others ideal for advanced hikers. Visitors can use designated camping and grilling spots along these trails.
Nuuksio is less of a remote wilderness compared with other Finnish national parks because of its close proximity to the capital. However, it attracts many day trippers looking to escape the busy city. During the warmer months, visitors can sunbathe by the various lakes, picnic, and dip in the water.
Where to Stay near Nuuksio National Park:
Haltia Lake Lodge is a four-star property on the banks of the lake. The rooms are spacious and cozy, designed with modern cabin-inspired interiors. Guests can also make use of a shared lounge, terrace, bar, and a la carte breakfast each morning.
Lemmenjoki National Park
Size: 1100 sq mi
Location: Lapland: Inari and Kittila municipalities
Entrance Fee: Free access
Lemmenjoki is a slice of scenic heaven that perfectly encapsulates the beauty of Finland. It's located on the northern tip of the Lapland region, which means it's a popular place to view the northern lights in winter or bathe in the rays of the midnight sun in summer.
The park is named after the legendary Lemmenjoki River that flows through it and into the homeland of Lapland's indigenous Sami People.
As the largest national park in the country, Lemmenjoki spans over a thousand miles of the finest Finnish terrain. In fact, the park features over 40 miles worth of marked trails, with bridges and boats put in place for trekkers and hikers to cross rivers.
Some favorite shorter trails are the Lemmenjoki Nature Trail, the Gold Trail, and the Sallivaara Trail. If you're up for a challenge, the Lemmenjoki Riverside Trail will take you between 8 and 10 hours in each direction.
Lemmenjoki national park in Finland is best known for its gold reserves, which are scattered throughout the mineral-rich region. At any given time during summer, you can see a hundred people digging and panning for gold in the area, most of whom are backpackers looking for a big break!
Other main attractions include the Ravadas waterfalls, Joenkielinen Fell, and Homestead of the Kaapin Jouni. Besides hiking, summers are great for biking, paddle boarding, fishing, and kayaking. Mushroom and berry picking is popular during the fall months, and when winter falls, visitors can snowshoe, visit reindeer farms, and go snowmobiling. It's the perfect December destination if you embrace winter!
Where to Stay near Lemmenjoki National Park:
There are ten wilderness huts in the park which are free to stay in, and another three you can rent out for a small fee.
The Chalet of Auroras is an incredible cabin set by the lake in Inari with perfect views of the northern lights and starry night sky. The cabin includes a fireplace, central heating, a sauna, and a fully-equipped kitchen, perfect for a long or short stay in Inari.
Riisitunturi National Park
Size: 30 sq mi
Location: Posio, Lapland
Entrance Fee: Free access
Covered in a thick blanket of white snow, Riisitunturi is easily one of the most awe-inspiringly beautiful parks in Finland. The heavy annual snowfall and dense alpine forest create eerie, icy sculptures hanging from the trees, which melt to reveal a lush forested landscape in the summer months.
The color of the landscape changes significantly from season to season and at different times of the day. During fall, the deep green spruce forest is painted by a sunset of reddish purple, while in the heart of winter, the sunset colors show shades of gold and green. Of course, since the Finnish national park is located in Lapland, many visit the park to gawk at the changing colors of the Aurora Borealis.
When it comes to wildlife, bears and three-toed woodpeckers thrive in the taiga forest. The entire region was first inhabited by the forest Sami people, who have lived in harmony with nature for centuries. The park was only established in the 80s to protect the area (the largest wilderness of the Koilismaa region) from modern industry.
The main activities in this park are hiking, and visitors can summit the park's hills for breathtaking views of Lake Kitkajarvi. Snowshoeing and sled rides are popular during winter, and these activities are particularly exciting at night when you can catch a glimpse of the park's nocturnal animals.
Where to Stay near Riisitunturi National Park:
After a day exploring the national park, rest your head in a chalet at the Kiiruna Kitkankieppi.
This self-catered chalet features its own kitchen, garden, and sauna. Hiking, skiing, and fishing are available nearby, so take a breather from the modern world and soak up the wonderful nature.
Sipoonkorpi National Park
Size: 7 sq mi
Location: Helsinki, Vantaa, and Sipoo Municipalities
Entrance Fee: Free access
Sipoonkorpi provides a delightful playground for nature lovers and is ideally located in the Helsinki municipality. Because of this, the park is convenient for day-trippers who visit to escape the buzz of the city.
Located near the southern coastline in Uusimaa, Sipoonkorpi national park in Finland is a peaceful setting of rolling fields, dense forests, and picturesque villages. During fall, locals from Helsinki flock to explore the woods and pick wild berries and mushrooms.
Known as the last wilderness of Helsinki, the park, which is mainly made up of tall spruce forests and swamps, is a haven for the wood grouse, the lynx, and the European eagle. The Byabacken River that flows through the park is a small stream home to a thriving bird population.
Throughout the year, visitors can follow the demarcated trails through the park, ranging in difficulty and distance. During summer, hike through the Byabackenlaakso Valley to surround yourself with the scents and colors of wildflowers.
Where to Stay near Sipoonkorpi National Park:
With its forested garden, sauna, and BBQ facilities, Juhlamenot Oy is the perfect place to call home near Sipoonkorpi National Park. Just a short drive from Helsinki, these self-catering vacation homes will make you feel miles away from civilization.
Have you sorted your accommodation yet?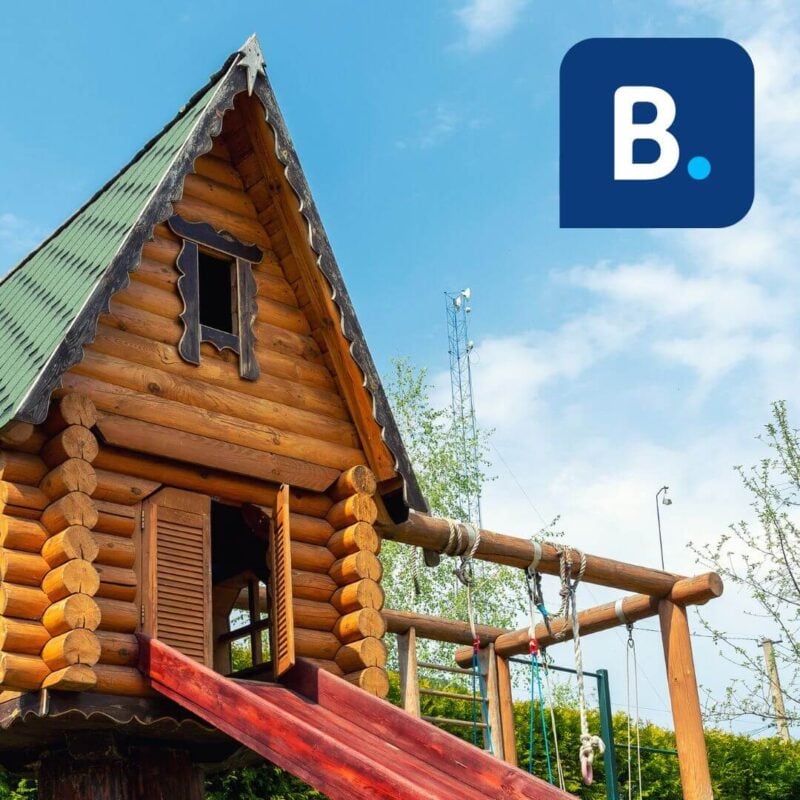 Get 15% OFF when you book through our link — and support the site you love so dearly 😉
Booking.com is quickly becoming our go-to for accommodation. From cheap hostels to stylish homestays and nice hotels, they've got it all!
View on Booking.com
Torronsuo National Park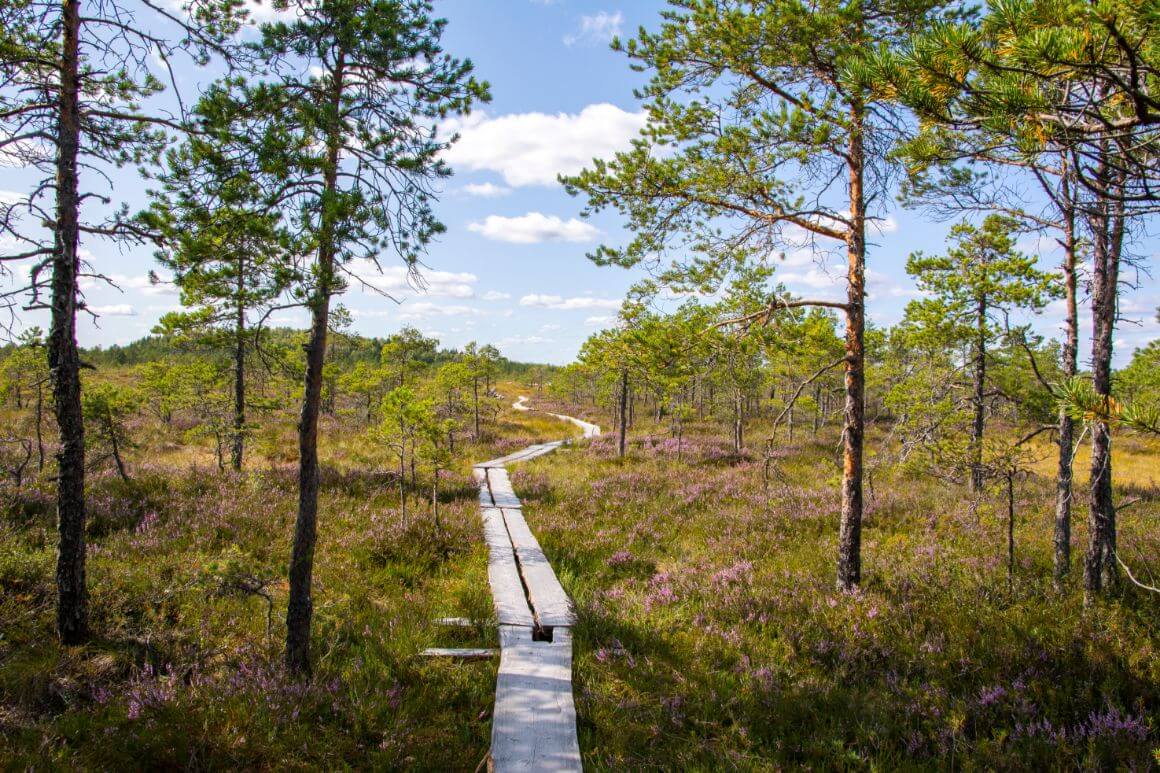 Size: 10 sq mi
Location: Travastia Proper
Entrance Fee: Free access
Set in the Hame Lake Uplands, just a short distance from the city of Helsinki, Torronsuo might not be the biggest national park, but it sure is spectacular. The park houses the largest raised bog in southern Finland and the deepest in the country, with a safe platform winding through it, making it possible to walk across.
If you're confused, a bog is basically a type of shallow water body or swamp, which constitutes a major part of the country's boreal mires. Visitors come to this national park in Finland to admire the bog and the diverse birdlife that lives around it, especially during the warmer months. Cranes and geese can be spotted on their migrational route every spring.

When winter falls, snow covers the bog making it possible to cross-country ski across it. Whether walking during summer, berry picking in fall, cross-country skiing in winter, or birdwatching in spring, the park follows one predominant trail, which is well marked out, passing a campfire site and a viewing tower.
Torronsuo is also a historically significant site, and it is thought that inhabitants lived in the area during the Stone Age. You can also explore the Harksaari Quarry, which was used to mine quartz for glass production in the 1700s.
Where to Stay near Torronsuo National Park:
Mökki kirkkaalla Ruostejärvellä is an exquisite modern chalet on the banks of Lake Ruostejärvi in Tammela. With three bedrooms, a wooden sauna, a deck, and a jetty, the chalet is perfect for adventurous families who enjoy swimming, grilling, and watersports.
Archipelago National Park
Size: 193 sq mi
Location: Southwest Finland in the Archipelago Sea
Entrance Fee: Free access
Archipelago National Park is easily one of the most picturesque parks in the world. Not only is it a perfect example of traditional Finnish culture and landscape, but it's also overflowing with rich biodiversity.
The park covers just under 200 square miles worth of islands in Southwest Finland, with the main island housing traditional villages home to local residents. In fact, this archipelago consists of more islands than any other archipelago in the world.
While most of the area is made up of water, the smaller islands are mainly windswept rocky isles, while larger islands house farmlands and meadows. Ferries run between the islands, shuttling residents and tourists from one spot to another year-round.
One of the main things to do in Archipelago National Park is watersports, with tourists and locals coming to kayak and canoe around the gorgeous islands and rocky outcrops. With high winds, this is also a hotspot for sailing excursions.
Where to Stay near Archipelago National Park:
On a nearby island of Bunk in Noto, you can spend a few nights in the peace of nature in a traditional yurt. The yurt is in the heart of the Archipelago Sea National Park on a small island where you can rent kayaks, ride horses, and explore ancient archeological sites. The island can be reached by the Baldur vessel, which leaves from Parninen, Nauvo.
Koli National Park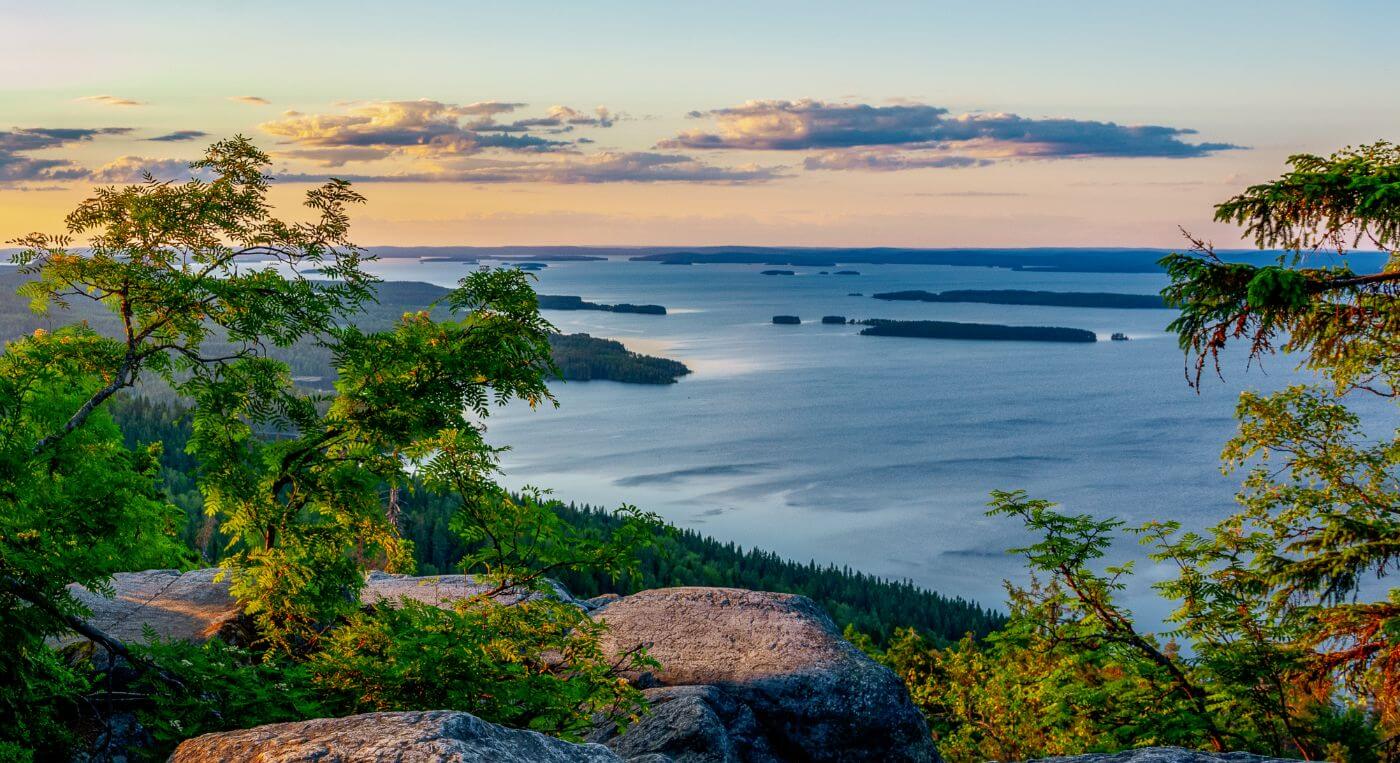 Size: 12 sq mi
Location: Joensuu, Lieksa, and Kontiolahti in North Karelia
Entrance Fee: Free access
With a colorful cultural heritage, Koli National Park is one of the most exciting parks for those who love nature and history. You'll first notice the park's unconventional scenery, boasting alpine forests, dramatic cliff faces, and of course, the striking Lake Pielinen and its many islands.
The terrain varies widely, allowing many different flora and fauna to flourish in the park. Most of the region is made up of rugged rocky terrain overgrown with dense shrubbery and plants.
Koli is a haven for photographers who try to capture the beauty of the surroundings. Another major activity here is hiking, and visitors can hike the well-marked hiking trail to the top of Ukki-Koli Hill for some of the most breathtaking views of the national park in Finland. This mountain peak even has a few ski lifts and slopes, ideal for winter sports.
The park was founded in 1991 to protect the natural environment and the indigenous inhabitants' local culture and farming techniques. These locals used a slash-and-burn agricultural technique, which has shaped the landscape by creating clearings and grazing meadows for their cattle. Before the slash-and-burn era, the region was a pagan sacrificial site.
Where to Stay near Koli National Park:
For a traditional Scandinavian vacation, spend a night in the Kolin Lotus Cottages in Koli, set on the banks of Lake Pielinen. Perfect for young families, the accommodation has a children's playground, BBQ facilities, and a terrace and garden with lake views.
Is This the Best Daypack EVER???
Repovesi National Park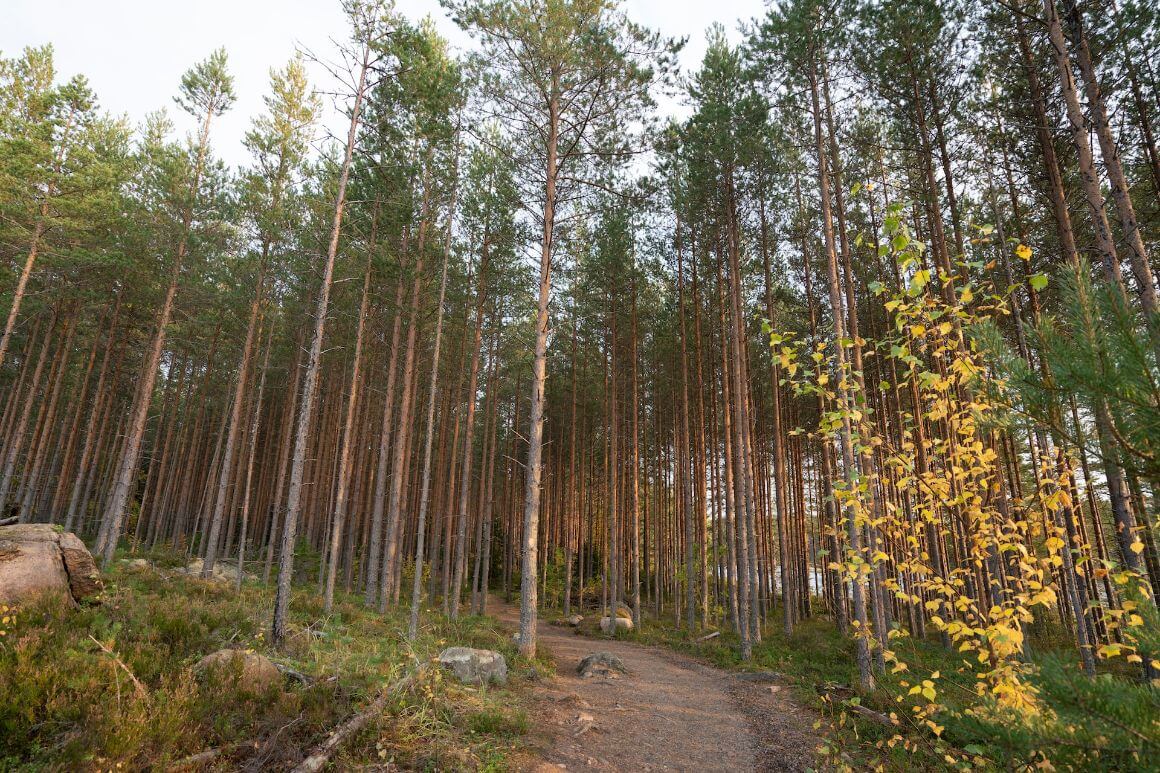 Size: 6 sq mi
Location: Kouvola and Mantyharju Municipalities
Entrance Fee: Free access
Just a few hours south of the capital of Helsinki, Repovesi National Park is a stunning forested park home to many woodland animals. The park was previously a victim of deforestation yet has recently recovered from years of logging with the help of its national park status.
Mainly consisting of pine and birch forests, Repovesi also includes an abundance of lakes and streams that flow throughout the park year-round. These rivers and lakes are a life source for the animals that flourish in the Finnish national park, including bears, deer, and an incredible variety of bird species.
Hikers and climbers flock to the park for its incredible trails, which are well-marked and maintained throughout the landscape. Although the park is small, there are plenty of routes you can take that wind their way through the forests.
One of the main attractions in the park is the observation decks, which look out across the forest landscape, as well as the suspension bridge crossing one of the most expansive rivers in the park.
Where to Stay near Repovesi National Park:
Built from local wooden materials and set on the banks of the lake near Repovesi National Park, this luxurious cabin is ideal for hikers and park explorers. The one-bedroom self-catering rental includes a full kitchen, a firepit by the lake, and a traditional wood sauna.
Valkmusa National Park
Size: 7 sq mi
Location: Kymenlaakso
Entrance Fee: Free access
Offering visitors a chance to see, hear and smell the wonder of Finland's natural spaces, Valkmusa is a national park home to some of the country's biggest natural open bogs. In fact, more than 45 different types of wetland habitats have been found in Valkmusa, which is unusual for such a small area of land in Southern Finland.
The park was established in 1996 to protect its unique bogs, wetland habitats, and birdlife.
If you visit during fall, you could head home with a basket filled with berries picked from among the bog moss. However, the best time to visit this national park in Finland is during summer, when the air is filled with birdsong, the moss is emerald green, and butterflies can be seen fluttering throughout the area.
Although Valkmusa is relatively small, plenty of footpaths make it possible to trek through the park. There are no waste bins in the park, so make sure you take all of your trash back with you!
Where to Stay near Valkmusa National Park:
Located in the nearest big town of Kotka, the exquisite Villa Satulinna is the picture-perfect image of Scandinavia. The traditional house is surrounded by lush gardens on the banks of the lake and can be rented out as a spacious (and fully equipped) three-bedroom villa.
Final Thoughts
Finland is known for its inspirational commitment to conservation and natural protection, with 41 national parks scattered throughout the country. While these parks, which cover 3819 square miles, just scratch the surface of the country's land area, over 70% of the country is made up of forests and other protected areas.
Located just below the Arctic Circle, with an alpine climate, Finland is home to some unique endemic animals and plant species that thrive in these cool temperatures. The country is overflowing with lakes, forests, mountains, and rivers, offering incredible outdoor adventure opportunities and plenty epic hikes.
I highly recommend visiting Lemmenjoki National Park. As if watching the northern lights from the comfort of your accommodation isn't enough, this entire region is something out of a fairy tale.
Whether you enjoy skiing on advanced slopes, hiking snow-capped mountains, kayaking through gushing rivers, or admiring the Northern Lights, Finland's national parks are sure to exceed your expectations.
---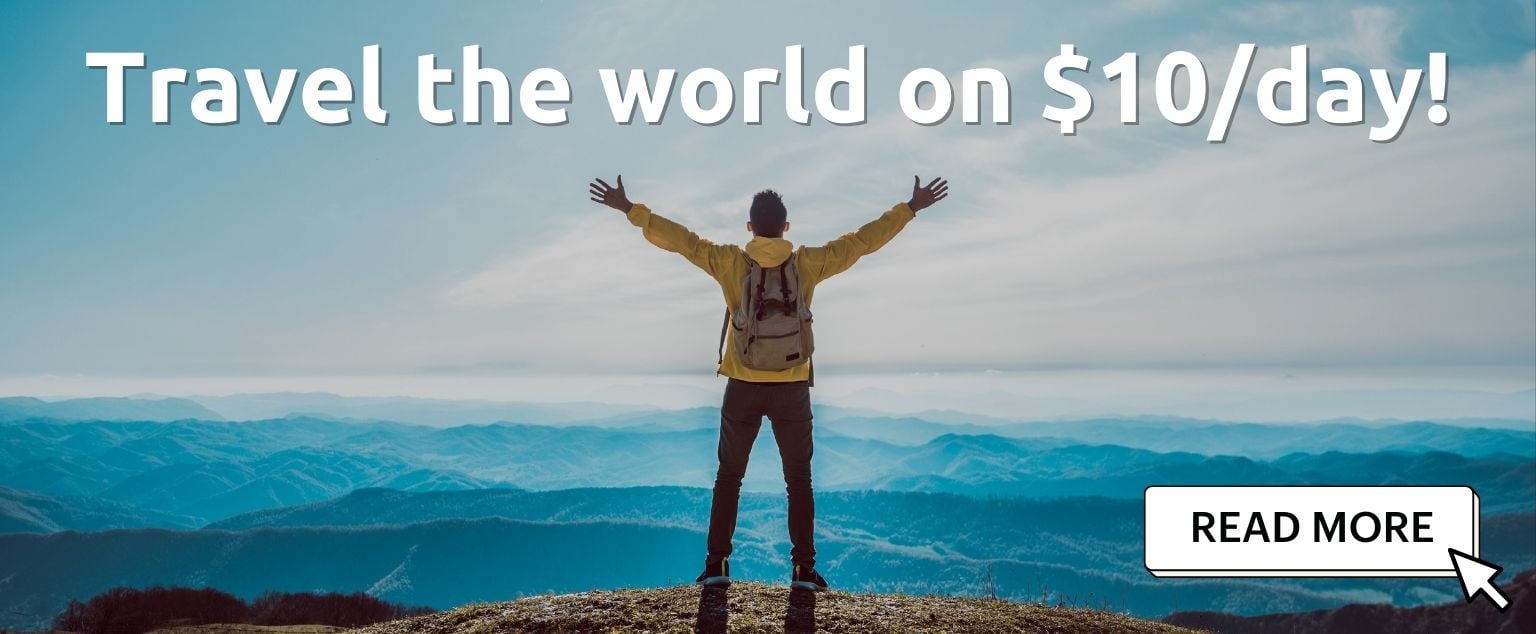 And for transparency's sake, please know that some of the links in our content are affiliate links. That means that if you book your accommodation, buy your gear, or sort your insurance through our link, we earn a small commission (at no extra cost to you). That said, we only link to the gear we trust and never recommend services we don't believe are up to scratch. Again, thank you!