Finland is a magical wonderland that is best known for its stunning natural landscapes, love for heavy metal, and being home to the happiest people on Earth (apparently). From the laid-back vibe of Helsinki to the lush wild forests to the elegant dance of the Northern Lights, there are plenty of reasons to visit Helsinki.
But Scandinavia, and Finland in particular, is not known to be a budget destination. If you ask any traveler "Is Finland Expensive?" they will likely tell you to start saving.
But while Finland is one of the more expensive places to visit, there are some ways you can travel more affordably. You might have to skimp on a few luxuries, but you don't have to compromise on seeing the Northern Lights, staying in unique accommodations, or seeing the most stunning nature.
If you've got your eyes set on a Finnish gateway, then this guide contains all there is to know about just how much you will need to budget to travel to Finland.
Working how much a trip to Finland costs is going to depend on a few different factors. The first thing you need to figure out it is how much to budget for the trip. You will need to factor in the costs of flights, food, accommodation, sightseeing, and transport on the ground. But don't worry, I've got you covered.
Travel costs listed in this guide are all estimates and are subject to change. Prices are listed in US Dollars.
Finland uses the Euro (EUR). As of August 2022, the exchange rate is 1 USD = 1 EUR.
2 Weeks in Finland Travel Costs
Here's a handy table summarizing the costs of what you can expect to pay on a 2-week trip to Finland.
ESTIMATED EXPENSE: $55 – $1,503 USD for a roundtrip ticket.
When you first start to plan a trip, you might wonder "Is Finland expensive for flights?" and then hit up the internet in a quick bid to answer your question. The thing is that the cost of flights will vary hugely depending on where in the world you're flying from, and when you're visiting. Those of you based in Europe will have very different fares compared to the US.
No matter where you're flying from, there are ways to find cheaper flights to Finland. The best way to get a bargain is to be super flexible with the dates and times you're traveling. Locking in just a couple of weeks in a year for your trip will leave you at the mercy of chance.
The highest airfares are usually found in the summer months of June to August when much of Europe takes its summer break. Fares also peak over the Christmas period when travelers head to catch the Northern Lights. For the cheapest tickets, try the shoulder seasons such as travelling during November.
The busiest airport is Helsinki Airport (HEL). The busy international airport is located around 20 kilometers from the city center. Getting between the two is made fairly easy, however, thanks to regular trains that connect the airport to the city in about 30 minutes.
A cheaper alternative is the 40-minute ride on a public bus. Either way, the transport between the two is also something to factor into your Finland travel budget.
Here are the average costs of flights to Finland from several international air travel hubs:
New York to Copenhagen Airport $361 – $614 USD
London to Copenhagen Airport: £47 – £111 GBP
Sydney to Copenhagen Airport: $1320 – $2,163 AUD
Vancouver to Copenhagen Airport: $519 – $1,510 CAD
As you can see from the cost of flights to Helsinki Airport, being based in a European city will really save you some serious cash on airfares. London has the cheapest flights by a long way which makes a trip to Finland very affordable. Elsewhere, flights do cost a great deal more, but don't be dismayed: you can save money, too.
Take some time to check out the various options available to you. Connecting flights can really help to shave a few hundred dollars from the ticket price, or you could try multiple transfers. These may take time but can be a whole lot cheaper when compared to direct flights.
A good place to start your search is by checking out a price comparison site such as Skycanner. Just input your dates, be flexible with when you travel and the site will bring up all of your options – saving your time, and hopefully, money, too.
ESTIMATED EXPENSE: $20 – $170 per night
The price of accommodation in Finland is also going to be a big part of your trip budget. The type of accommodation you choose in Finland will depend on what kind of traveler you are and where in the country you want to visit. The price will vary depending on the location and the time of year and day of the week.
Finland's accommodation can be expensive at first but there's a good choice of accommodation types out there to help balance out all of those chic hotels. From a long list of budget-friendly chain hotels to stylish hostels and some pretty cool airbnbs to choose from, too.
So don't get put off by the high prices at first glance. Accommodation in Finland can be affordable and there's some great budget options out there.
Let's take a closer look at some of the accommodations in Finland to get you on the road to planning your vacation…
Hostels in Finland
Hostels are usually the first thing that comes to mind when travelers think about budget accommodation. Thankfully, Finland has some absolutely amazing hotels up its sleeve. You can opt to stay at friendly city-center hotels or stay in more remote locations close to lakes and national parks.
The price for a night in a hostel in Finland is on average around $20 per night.
It doesn't matter what hostel you end up booking in Finland, you will usually find yourself staying somewhere that is clean, comfortable and very welcoming. Some hostels even come with added extras like free bike rental, cafes, and even saunas for guests to use. And if you don't want to stay in a dorm, there's often private rooms too.
Considering the possibility of spending a few nights in a hostel during your trip? Here's some of the best the country has to offer for you to check out:
Hostel Diana Park – The small and friendly hostel in Helsinki city center is great for exploring the city. Surrounded by shops, bars and eateries, the staff are on hand to make sure you enjoy your trip to the city. There's only 15 beds, so it's easy to mingle and meet other travelers. 
Hostel Cafe Kofti – Located in central Rovaniemi, this Scandinavian-style hostel has a choice of dorms and private rooms. A buffet breakfast is available and there's a well equipped kitchen and shared relaxing lounge relaxing area. Bonus points for the genuine Finnish sauna. 
Tampere Dream Hostel – Located close to the city center, this stylish hostel is run by a friendly bunch of folks. The brand-new hostel offers up super clean dorms and shared spaces and a chilled-out atmosphere. Overall its excellent value-for-money. 
Airbnbs in Finland
When it comes to finding affordable accommodation in Finland one of the best places to search is on Airbnb. The site is really popular in Finland, which means there's a long list of funky city apartments, remote cabin stays, and some really unique places to stay too. Yurts, anyone?
With all that incredible choice comes the chance of finding some really affordable places to stay on the site. More often than not, you'll be able to find somewhere that fits your travel budget and in a good location, too.
The cheapest can be priced as low as $70-80.
Staying in an Airbnb in Finland will help to make traveling to more off-the-beaten-track locations in Finland so much easier. You can enjoy living like a local in a trendy city suburb or chill out in the wilderness among snow-coated mountains. The choice is almost endless.
Another big plus point of staying in an Airbnb is the amenities that the prosperous offer up. Having your own kitchen means you can save a stack of cash on food. Instead of spending the big bucks eating out for every meal you can prepare some food for yourself every now and again.
If booking an Airbnb in Finland is something you might be interested in, here's the details of a few top properties for you to take a look at.
Minimalist Nordic Apartment – The stylish studio apartment is great for a couple of solo travelers. Located just a 15-minute walk from Helsinki's Central railway station and city center, from here it's easy to explore the city.
Cozy Lake-side cabin – Take time out during your trip and unwind amongst nature in this cool lake cabin. Located just a short walk away from Vaala town center, the cabin comes complete with everything you need for a comfortable stay.
Stylish Scandinavian Home – Set in Rovaniemi, this polished apartment is situated close to the city center close to restaurants and shops. The apartment has a beautiful design and has enough room to sleep 4 guests comfortably.
Hotels in Finland
Hotels in Finland can really vary. In the capital of Helsinki and in other big cities you can expect to see a ton of expensive places to stay. These types of hotels will cost you around $200 a night, but you can expect fashionable design, in-house restaurants, and facilities like gyms and saunas to luxuriate in.
There's also a good choice of budget-friendly hotels, which are a bit more simple but still modern and clean. These kinds of places are really great for those on a budget and can mostly be found in city centers, close to public transport, and city sights.
If you want to stay in a budget hotel in Finland, you can expect to pay around $70-$100 per night depending on the city.
Opting to book yourself into a hotel for your trip can come with some top perks. For one thing, hotels usually come with housekeeping so you don't have to worry about making your bed or taking out the trash like at an Airbnb. Hotels might even come with amenities like bike rental and free breakfast, too.
Even though Finland has some great budget hotels, they can get booked up in peak seasons. Make sure to plan as much in advance as possible and be flexible with your dates in order to secure the best deal for your room.
Here are some of the top budget-friendly hotels to get you started:
Omena Hotel Helsinki – This super budget-friendly hotel in Helsinki city center is located close to public transport, eateries, and shops. Offering up clean and contemporary rooms, with private bathrooms and seating areas, guests check in this via a keyless entry system.
VALO Hotel & Work Helsinki – Situated in Helsinki, this modern hotel has been carefully designed with guests' enjoyment and overall experience in mind. There's a variety of different room types to choose from and some super cool shared spaces for relaxing. Amenities also include a restaurant, free bikes, a fitness center and bar in Helsinki.
Hotelli Helmi – This affordable hotel is located in central Turku just a stone's throw from the Concert House. Rooms are simple but bright and comfortable and come with private bathrooms. A buffet breakfast is served every morning.
Unique Accommodation in Finland
When it comes to unique accommodation, Finland really has it covered. There's so much more to the nation than its cities and that's because it's got some incredible natural scenery. Those of you who want to take a trip out to explore the country's wild landscape really have a treat in store for you in the form of igloos.
Yes, you might think that spending the night in the igloo sounds pretty chilly, but think again. The igloos in Finland have been carefully crafted with the utmost comfort in mind. They are usually located as a part of a remote resort where Fins and overseas travelers come to see the Northern Lights – and sometimes even meet Santa Claus.
These types of stays do not come cheaply, however. You can expect to pay at least $150 for a night in an igloo. But you will also have access to the restaurants, saunas, and activities at the resort.
But there are some more down-to-earth choices out there. Some Fins have built their own igloos and regularly welcome guests to spend the night in real snow structures. Don't worry: they still have real beds inside and are decked out with warming fairy lights.
If that sounds like the type of amazing experience that you would like to try during your trip, here are some of the best igloos to take a glance at:
Kakslauttanen Arctic Resort – This amazing igloo is located in the Saariselkä Fell region of Finnish Lapland. You can spend the night in a glass igloo that features glass roofs and luxury beds. Some even come with a sauna. The resort includes two restaurants to enjoy.
Arctic SnowHotel & Glass Igloos – Located in the Arctic Circle, the glass igloos here boast heated floors and thermal-glass roofs so you can see the night sky. The hotel includes a selection of three restaurants and an ice bar to enjoy.
Genuine Snow Igloo – This small, family-run business offers up the chance to spend the night in a real snow igloo. Located next to the lake Pyhäjärvi and Pyhä-Luosto National Park, the family make the igloos themselves each winter for guests to stay in.
ESTIMATED EXPENSE: $0 – $70 per day
It may surprise you to learn that Finland is a pretty big country. With an area that covers 338,455 square kilometers (130,678 sq mi), it's actually one of the biggest countries in Europe. It's roughly about 88% larger than the state of California. That getting around the nation can seem a bit daunting.
Thankfully Finland has a fantastic transport system that's really well developed and the large-scale distances and landscapes in the country can be easily traversed. From modern trains equipped with fantastic amenities all the way to easy-to-use public buses, you shouldn't have any trouble getting around.
The nation also boasts a network of well-maintained highways that stretch between the sparsely populated towns and cities. In winter getting around by car can be much more troublesome, but in the summer months road trips are very rewarding for the more adventurous travelers; in fact, you can go for hours without seeing another tourist.
The only downside is that traveling around Finland on public transport can be expensive. There are some ways to bag yourself cheaper tickets and save some cash on the cost of long-distance travel. Here's an up-close look at how much getting around by train, bus, and car in Finland is really going to cost.
Train Travel in Finland
The railway network in Finland is made up of a total of 5,919 kilometers (3,678 miles) of the track. Tens of millions of travelers regularly rely on Finnish trains to get around the nation. The train network is run by the Government-owned Finnish State Railways.
Train travel really is the best and most convenient way to travel around Finland. The far-reaching train network spreads out from the hub of Helsinki Central Station and connects to major cities, and coastal towns, in the south of the country. To the north, in the Finnish Lapland, trains are reliable but much more limited.
Trains come in the form of the Comfortable Express, InterCity, and high-speed tilting Pendolino trains. A great option for budget travel is the country's night train, where you can save on the cost of a hotel for the night and get to where you need to be.
If you're going to do a few journeys on a train in Finland, it's a really good idea to purchase a rail pass. The cost of train tickets can be high and so a rail pass makes economic sense. The Interrail Finland Pass gives you unlimited travel on various routes in Finland. For those under 28, you can purchase the discounted Youth Pass.
These handy passes come in a range of different lengths and different regions so you can choose the one that best suits you. There's even the option to combine the pass with a Europe-wide rail pass if you want to explore further afield.
Eurail Finland Pass
3 days within 1 month – $163
4 days within 1 month – $196
5 days within 1 month – $225
6 days within 1 month- $253
8 days within 1 month – $305
The Interrail pass is only available for Europeans to buy. If you're a non-European resident, the Eurail Pass is the best option for you.
The pass doesn't cover everything though. For one thing, seat reservations are needed for most of the long-distance trains and express trains. Seat reservations usually cost between $5-$20, but you shouldn't need to book them too far in advance.
Another tip for budget train travel is to look out for deals on local and national railway websites and see if there are any seasonal discounts and offers.
Bus Travel in Finland
Given the reliability of the rail network, bus travel in Finland is surprisingly important. This is the way a lot of locals and tourists choose to get between the big towns and cities. The bus network spreads out across all of Finland but is particularly useful up in the north of the nation where the train doesn't reach as far.
You can even catch a bus and cross over international borders to the neighboring nations of Russia, Norway, and Sweden.
The intercity bus network is run by a range of different companies. Buses are usually comfortable but the journeys can be long because of distances and low speed limits. The cheapest fares are for the regular vakiovuoro buses which stop frequently; expect to pay more for the intercity pikavuoro express buses.
You can buy a ticket at the main bus stations and one-way tickets can be picked up on board. Matkahuolto is the organization in charge of all of the tickets on the buses in Finland. Their website is easy to use and you can compare bus times and pieces.
For the cheapest bus fares in Finland, try out Express Bus, you can find tickets for only a few dollars. Onnibus also has some low-cost fares. Make sure to book as far in advance as you can in order to secure the lowest priced fares.
One option you may want to consider is the Matkahuolto bus pass which allows unlimited travel across the entire country; 7 days is $150, 14 days $250.
Ferry Travel in Finland
Finland has a whole lot of islands. More than 188,000 to be more specific. These destinations are either connected to the mainland by a series of bridges or ferries. There are a number of different sea routes which make travel between destinations such as Helsinki and Porvoo and Naantali to the Åland Archipelago a real adventure.
There's also international boats which connect Finland with nearby European countries including ferries that set sail between Sweden, Germany, Estonia, and Russia. For those of you who want to travel further afield, this could be a cheaper alternative to flying or taking the train.
Although ferries used to be the backbone of travel in Finland, today they're more of a fun experience. Having said that, they do make it easier to travel to the more far-flung destinations in Finland which can take a long time to reach by the road network.
There are up to 399 weekly ferries that ply over 21 different routes in Finland. The 6 main operators have varying prices for tickets, but generally, they can start at around $14.
Getting Around Cities in Finland
Getting around cities in Finland is never too complicated, but it does change depending on the season. The capital Helsinki is home to the country's only metro – which also holds the claim of being the northernmost metro system in the world.
The city is also where you'll find the only tram network in the country, which is arguably the best way to travel around all the main sights in the downtown area.
The metro network isn't very large (only 25 stations), but it's modern and easy to use. The city bus covers areas where the metro and trams don't. The inexpensive buses are a good way to get around when it's cold outside, and will take you to all of the city's sights and tourist hotspots.
Buses are the main mode of public transport in other Finnish cities. They're reliable and make it (usually) very cheap to get around.
If you're in the capital for a couple of days, you might consider the Go Helsinki Card. This travel pass allows for unlimited travel across all of the city's transport networks including the metro, buses, trams, local trains, and Suomenlinna Ferry.
Go Helsinki Card CITY gives unlimited travel within the zones AB for either 24, 48, or 72 hours. Prices start at $52. Cards can be picked up at the airport, online, and at various sellers throughout the city.
In the summer months, the most popular way to travel around Finnish cities is by bicycle.
This is a nation of cyclists and you will be able to enjoy safe journeys on two wheels via a well-developed system of cycle paths. There are even some pretty amazing long-distance cycle routes to try out too. It's useful to know that you can also take your bike on most trains and buses, sometimes for a fee of $10.
In Helsinki, the City Bikes bike share scheme is easy to use. There is a $25 registration fee, bike hire is $10 per week, $5 per day. Bike rental from shops will cost around $15 per day, with a deposit of around $30.
Renting a Car in Finland
Sometimes you just want to travel at your own pace or want to explore regions of a country that are hard to reach by public transport. That's when renting a car comes in. Hiring a vehicle to self-drive around Finland can be a great way to see more of what the country has to offer.
Getting yourself a modern, reliable car is no hassle at all. Driving in Finland is pretty dreamy, too; the well-maintained highways are almost traffic-free, there are no tolls to fork out for and there's some absolutely breathtaking scenery to soak up.
But is Finland expensive for car rental? Well, the truth is that it can be expensive. The cost of fuel is steep, there are some big surcharges if you want to drop off at a different location, and in peak season prices also rise.
Finland is one of the best winter destinations in Europe because of the amazing skiing and winter activities, however driving conditions is one thing you need to take into consideration.
Hitting the highway in the winter comes with extra challenges. Slower speed limits will be in place and, from November to March, snow tires are required, which is an added expense.
If you are set on hiring a car in Finland, you should make sure to book as far in advance as possible in order to secure the best rate. You'll be able to rent cars from all of the big international brands, as well as some smaller local companies. The average price for car hire is $61 a day.
When you need to fill up, you'll be paying $2.080 per liter (that's $7.874 per gallon). Most petrol stations are unmanned; you can usually pay with cash or a card.
Want to save some cash and explore Finland by rental car? Use rentalcar.com to find the best deal possible. There are some great prices on the site and they aren't difficult to find.
ESTIMATED EXPENSE: $25 – $60 USD per day
Finnish food is a delicious combination of influences from the region. From Scandinavian to Russian tastes, you can expect a lot of fish and interesting local meats like elk and reindeer, too. Being a country with cold winters, dishes tend to be hearty and come in the form of rich casseroles, and potato-filled pies.
Although you can get food from around the world in Finnish cities, you shouldn't pass up the chance to try home-spun recipes made from local ingredients. A good place to start is with a big Finnish breakfast, which is usually made up of smoked fish, cheese, and bread.
Here are classic Finnish dishes you should seek out during your trip:
Karjalanpiirakka (rice pies) – The delicious pastry hails from the region of Karelia and a particularly popular feat for breakfast or lunch. Made from a rye crust that is filled with rice pudding and then topped with buttery egg. Can cost as low as $6.
Kalakukko (fish pie) – Hailing from the region of Savonie, the name of this dish translates to "fish cook". Traditionally prepared with rye bread with fish baked inside, variations include pork and bacon. Juicy and filling. Try for around $6.
Lihapullat (Finnish meatballs) – You can't come to Finland without trying the nation's variation on meatballs. The Finnish version is lighter on the herbs, but uses curd cream for the sauce and is served up alongside mashed potatoes, gravy, pickles, and gravy, and lingonberries. Priced around $15.
Finnish cuisine is very tasty, but it isn't always cheap. Those on a budget may find it hard to find somewhere to try the local dishes, but here's some pointers on how to eat on the cheap during your trip:
Look for lounas deals – You will often see restaurants advertising lounas (lunch) deals for a really affordable price. Keep an eye out for adverts for lunch buffets or check local deal websites. A lot of the time the lunch buffet costs between $12 to $15.
Go to student areas – If in doubt go to where the students hang out. The neighborhoods around university campuses will have good food deals, but you could also head onto campus and eat lunch at the mensas (canteens) for around $5.
Enjoy Asian cuisine – When you're looking for something to eat in the evening, a good idea is to opt for Asian food. In most big cities you will find Chinese or Thai restaurants that serve up fresh and affordable dinners for a lot cheaper than Finnish food.
Where to Eat Cheaply in Finland
At first, it can seem like all of the restaurants in the county are totally out of your price range. But don't worry: you can eat in Finland cheaply if you make sure to keep these pointers in mind:
Dine at market halls (kauppahalli) – These indoor markets are local institutions that can be found in almost any town or city in Finland. Go here to find a great range of low-priced snacks and meals. There are usually a few cafes to eat at, too. You can often find them next to big train stations, so it's a good place to pick up snacks for a long-distance journey.
Stand up at street grills (grillis) – These kinds of street strands are the place to go for a quick and cheap bite to eat; you can pick up a burger or a hot dog for a few euros and be filled up in no time. Elsewhere cafeterias in transport hubs are a good option for a quick and cheap meal.
Soup stops – Found all over Helsinki, the soppakeittiö (soup kitchen) is a favorite of locals at lunchtime. Here you can enjoy classic Finnish soups, which make use of local fish as well as vegetarian options. Meals here cost around $10 and come with a hearty helping of delicious bread.
But, we all know that eating out all of the time is quickly going to eat a hole in your Finland travel budget. For when you aren't out there living the high life in restaurants and cafes, there's a selection of supermarkets. Here are a couple of the best budget supermarket chains to keep an eye out for…
Lidl – The classic cheap European chain is well-known for having consistently low-priced goods. This is the cheapest supermarket in FInland and even though they don't have branded goods, their food is reliable and tasty, too.
Sale – Another low-priced option is Sale, similar to a chain called K-Mart but with prices that are a little lower. Though prices can vary, there are often sales and deals going on. The produce is fresh and there's a good selection on offer.
ESTIMATED EXPENSE: $0 – $37 per day
Is alcohol expensive in Finland? Well, I'm afraid to say that, yes, it is. In fact, Finland is the most expensive country in the EU when it comes to the price of alcohol. That means that having a few drinks can really add up. For those of you who enjoy a tipple, knowing where to drink cheaply is really going to help you out.
The first thing to know is that all alcohol above 5.5% ABV in Finland is sold by the government-run monopoly called Alko. Alcohol in general is pretty heavily taxed, to the point that it is 91% more expensive than the average EU price.
A glass of beer costs upwards of $6 in a restaurant or bar.
Alcohol can be picked up from the government-run Alko shops, which are only open during the week between 9 a.m. – 8 p.m. and on Saturday 9 a.m. – 6 p.m. The price of a strong beer is usually around $1.30 per 300ml, local brands include Lapin Kulta and Koff. Imported beers are pieces around $3 a can.
There are also strong local spirits like the Finlandia vodka, priced at $20 per 700ml bottle, or Koskenkorva, which is cheaper at around $15 per bottle. The price of wine varies, but you can buy a mid-range bottle for around $13.
One thing to note about buying alcohol in Finland is that the age limit varies. To buy beer and wine you need to be 18, and 20 to buy spirits. Some bars and clubs even have an even higher age limit.
If you fancy sampling some of the local liquor, these are some of the more popular Finnish drinks…
Salmiakki Koskenkorva – This licorice black cocktail is a combination of vodka and salty licorice that became fashionable in the early '90s. This deliciously spiced drink is now the third-most sold liquor in Finland. It's around $15 a bottle.
Jaloviina – also known as Jallu, Jaloviina is an amber-colored variety of French brandy that is mixed with grain for a smoother flavor. Introduced to the nation in the 1930s, it's drunk neat or on the rocks. A bottle costs $20.
If you're staying in Helsinki, then make sure to head over to the alternative neighborhood of Kallio. This hipster hub has some of the cheapest bars in the city where you can drink for less than $10.
ESTIMATED EXPENSE: $0 – $40 USD per day
When it comes to things to do, Finland has a whole lot going for it. No matter what time of year you take a trip, you will never be short of amazing activities. Thankfully, most of the time, you won't need to spend a ton of cash doing activities in Finland.
That's because the country's wild natural landscape is the perfect place to explore, and it won't cost you a single penny. With the wilderness of Lapland, national parks, and forests, you'll be spoilt for choice when it comes to outside activities.
Summer months bring the midnight sun which means taking on the best hikes in Finland, wild camping, and cooling off with a dip in a river. Then when the winter months come around the region is turned into a glistening Arctic wonderland where you can see the northern lights completely free of charge.
When exploring Finnish cities, you can spend your time strolling around charming streets, dropping into museums, and treating yourself to a sauna experience. Visitors to Helsinki can save money on the top places to visit in Helsinki by picking up passes like the Helsinki Card, which not only covers city transport but also entrance to sites.
Here are a few great ways for you to save money on sightseeing and attractions during your Finland adventure:
Go on a free guided walking tour – a walking tour is always a great way to get to grips with a new city. Thankfully Green Cap Tours runs free walking tours in multiple city locations around the country including Helsinki, Turku, and Levi.
Look for free museum days – Before you schedule a trip to a museum or gallery, check out their website to find the free entrance days. These usually take place once a month, but you can also find reduced entry days or cheaper rates later on in the afternoon.
So by now we have gone through the cost of accommodation, worked out the price of flights, take a look at transport, and even factored in how much you're going to need to spend on food. But there are a few other things you are going to want to add to your Finland trip budget.
We all know that there is always something else that you will need to spend money on during your holiday. Be it the price of storing your luggage or the costs of a few afternoon coffees. And then there's how much you're going to spend shopping for a few souvenirs.
A good rule of thumb is to set aside 10% of your total budget for these little unforseen extra costs.
Tipping in Finland
Overall, tipping in Finland is not expected at all. If you receive bad service or aren't happy with a meal, then you do not need to leave a tip. The people who work in the service industry in Finland are paid a good living wage that does not rely on tips to bolster it.
That being said, if you do want to leave a tip then by all means you can. People will definitely not object to being left tips and it's a normal thing to do in restaurants, cafes, and hotels.
You are not expected to give taxi drivers a tip, but the common thing to do is to simply round up the fare or offer for the driver to keep the change. Again, you don't have to do this at all and it's only if you want to say thank you for good service.
Another situation you may come up against tipping is with tour guides. If you are joining a free walking tour, it's always a nice show of thanks to give the guide a few euros at the end of the tour. For tours that you have paid for it's up to you if you want to tip; if you do then 10% of the cost of the tour should suffice.
Get Travel Insurance for Finland
Travel insurance is usually the part of planning a trip that is skimmed over. It's not the most exciting thing to be spending your money on after all. But it might be a good idea to consider taking out travel insurance for your trip just in case.
We all want to have the best vacation ever, but you can't foresee something going wrong and that's when insurance comes in. It will usually cover you for things like injury, hospital stays, delayed flights, and theft. Overall it's pretty useful to have something worth taking some time to think about.
ALWAYS sort out your backpacker insurance before your trip. There's plenty to choose from in that department, but a good place to start is Safety Wing.
They offer month-to-month payments, no lock-in contracts, and require absolutely no itineraries: that's the exact kind of insurance long-term travellers and digital nomads need.
SafetyWing is cheap, easy, and admin-free: just sign up lickety-split so you can get back to it!
Click the button below to learn more about SafetyWing's setup or read our insider review for the full tasty scoop.
This epic guide is almost at its end. But now you probably have a good idea of how much it will cost for a trip to Finland. But here are some last nuggets of money-saving advice for you…
Consider different arrival airports – If you're mainly going to be exploring Lapland then taking a flight to Helsinki (way down south) might not be the best plan for your budget. Check out flights to other Finnish airports from your destination and see if you can save some cash and shave time off your journey, too.
Visit in off season – Finland is beautiful year round and if you travel in the months of November, January or March you can really take advantage of the lowest rates for flights and accommodation. You'll still get to see plenty of snow and enjoy the magic of Lapland too. Autumn is also a really beautiful time of year in Finland with affordable rates.
Have a water bottle: Don't waste money on plastic, bottled waters; carry your own and refill it in the fountains and the tap. If you're worried about potable water, get a filtered bottle, like the GRAYL, which filters out 99% of viruses and bacteria.
Pick up the Go Helsinki Card – For $44, the Helsinki Card gets you into top city attractions and 24 hours of unlimited journeys on the transport network. Not only that, but it also comes with a stack of restaurant discounts, too. Worth checking out for sure.
Earn money while you travel: Teaching English while traveling is a great way to make ends meet! If you find a sweet gig, you may even end up living in Finland.
Self-cater – Making yourself meals is one surefire way to save money during a trip. You can still enjoy eating out now and again… and just think of all the fun things you can buy at a Finnish supermarket to eat for dinner.
Become a volunteer with Worldpackers: Give back to the local community and, in exchange, you're room and board will often be covered. It's not always free, but it's still a cheap way to travel in Finland.
Book a dorm – Solo travelers should totally consider spending time at hostels. Dorm beds offer the best overall value no matter what time of year you're a traveler. Most dorms cost between $20-$40 and will come with facilities like shared kitchens and the chance to mingle with other like-minded travelers.
Ok, so here's the deal. Finland can be expensive, there's just no getting around it. Trains for one thing can really add up, accommodation can be expensive, and did you see the cost of grabbing a cheeky beer?
But, with all that being said, a trip to this European nation really doesn't have to cost you the price of a deposit on a small flat.
There are ways you can keep your daily travel costs low and still make the most of what Finland has to offer. In fact, you could take a trip here on the cheap if you choose your accommodation wisely and are flexible with the time of year you travel.
What we think the average daily budget for Finland should be:
Keep that budget in mind, enjoy a treat here and there and do a bit of forward planning, I think you could visit Finland for a daily budget of around $80.
---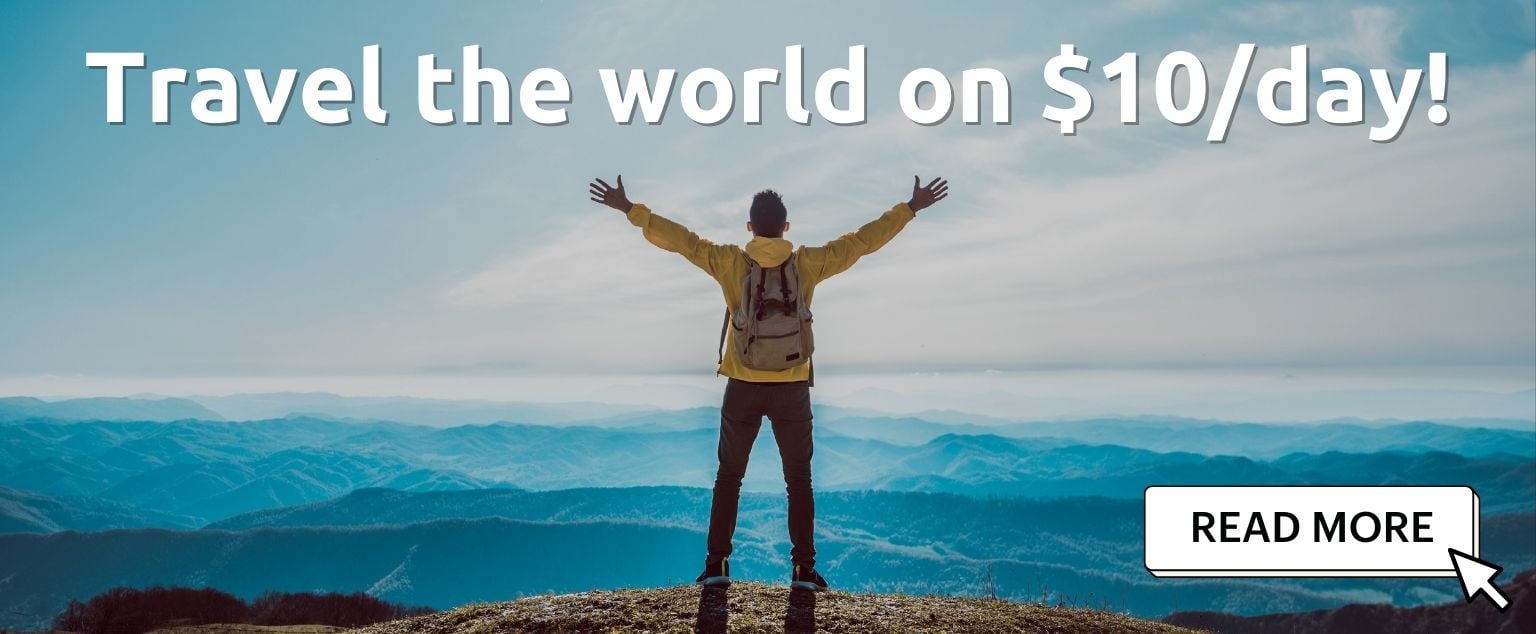 And for transparency's sake, please know that some of the links in our content are affiliate links. That means that if you book your accommodation, buy your gear, or sort your insurance through our link, we earn a small commission (at no extra cost to you). That said, we only link to the gear we trust and never recommend services we don't believe are up to scratch. Again, thank you!