Winter is a time when many of us hide away for a few months to try and wait out the awful weather. It doesn't have to be like this! Europe is packed with stunning destinations that can help beat those winter blues.
Whether you're into snow-capped landscapes, bustling Christmas markets or getting your winter vitamin D fix, these are all possible within a 4-hour flight from any European Airport.
Now, it isn't always easy to figure out where to go. For many towns and cities winter is their off-season. Even some of the biggest Christmas destinations are closed over the holidays themselves – and you certainly don't want to be stranded during the most wonderful time of the year.
You need to do some research in advance to find the best winter destinations. Which is where we come in! We've compiled a bumper list of the 20 best places to visit in Europe during the winter. We have it all, from idyllic festive villages to sunny beaches, so you don't have to stay inside for three months.
So let's just dive right in!
Travel Alert: Starting on January 1st, 2023, travelers from the United States, United Kingdom, Canada, Australia and New Zealand will need to acquire an ETIAS before traveling to the EU. This functions as an electronic, pre-travel authorization. At just €7, it is typically approved in minutes and will be valid for 3 years.
Aachen
Best for: Cute architecture and the Christmas Market.
Must see/do: Marvel at the Baroque buildings around the Old Town.
Nearest Airport: Maastricht-Aachen (Düsseldorf is the closest large airport, and Weeze is better for budget flights).
Great Accommodation: Leonardo Hotel ($$); Limehome Apartment ($$)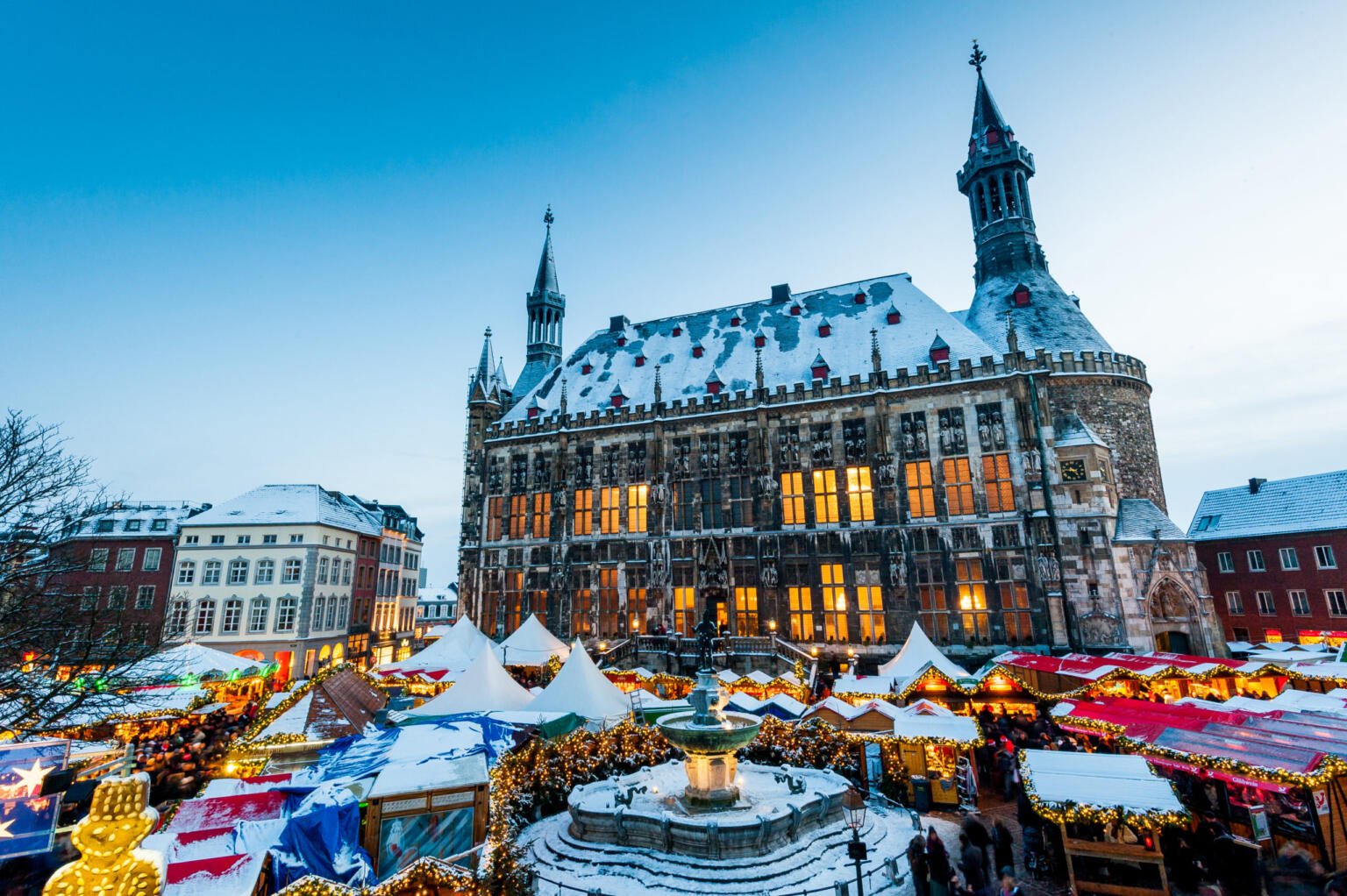 Straddling the German border with the Netherlands and Belgium, Aachen is a cute little city that offers a fascinating insight into Germany's traditions. The Old Town is known for its charming Baroque style buildings, making this a fantastic choice for those interested in architecture. Throughout the winter, the snow-covered streets are incredibly photogenic.
Aachen was once the winter capital of Charlemagne's Holy Roman Empire, and this history can be found around every corner. The imposing Aachener Dom is a UNESCO World Heritage Site that dates back to the 9th century. This is the beating heart of the city, and all of its other major attractions are only a short walk away.
The border location of Aachen also makes it a great base for a longer stay. The city shares an airport with the Dutch city of Maastricht so there are regular trains connecting the two. Liège is just across the border in Belgium, a perfect day trip for foodies keen to try Belgian waffles. Urbanites will also enjoy the quick connections to Düsseldorf, Cologne and Bonn.
If Christmas is your thing, Aachen is the perfect place to visit in December!
Prague
Best for: Party animals.
Must see/do: Visit the city's many pubs, clubs, and breweries.
Nearest Airport: Václav Havel Airport Prague.
Great Accommodation: Dream Hostel Prague ($); Scandi Studio ($$)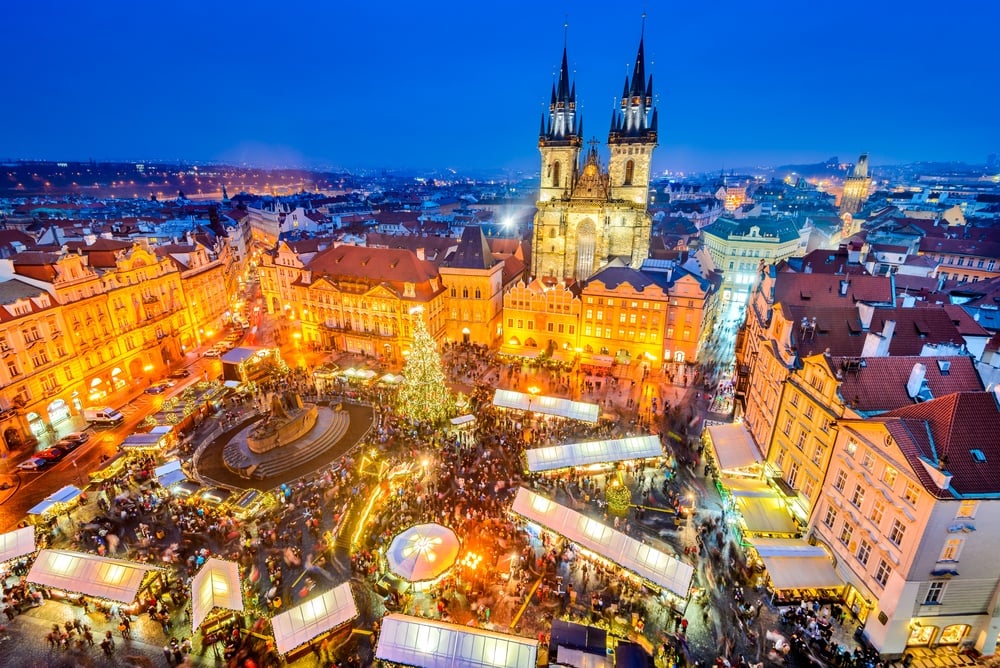 Prague has long been a favorite destination for European stag dos, and is a major party hub in the heart of the continent. It's packed with unique breweries, budget-friendly bars and bustling nightclubs. The Bohemian capital also has some great alternative venues for those looking to get away from the crowds.
The hipster side of the city has started to seep into some of its biggest attractions. Whether you want to visit a café that only accepts cryptocurrency, or take a tour of the city's musical attractions, Prague is a constantly evolving city that leaves it with many fascinating layers.
The city is also famous for its historic centre. The UNESCO World Heritage Site on the Vltava is characterised by cobbled streets and gorgeous viewpoints. It has managed to retain a lot of its medieval architecture, which is made even more magical with the winter snow.
That being said, winter is actually pretty mild by central European standards hence why it retains its party vibe year-round. Party spirit aside, Prague really does offer a little something for everyone as our Prague City guide sets out.
Reykjavík
Best for: The Golden Circle.
Must see/do: Warm up at a geothermal swimming pool.
Nearest Airport: Keflavík International Airport.
Great Accommodation: KEX Hostel ($); Grand Hotel ($$$)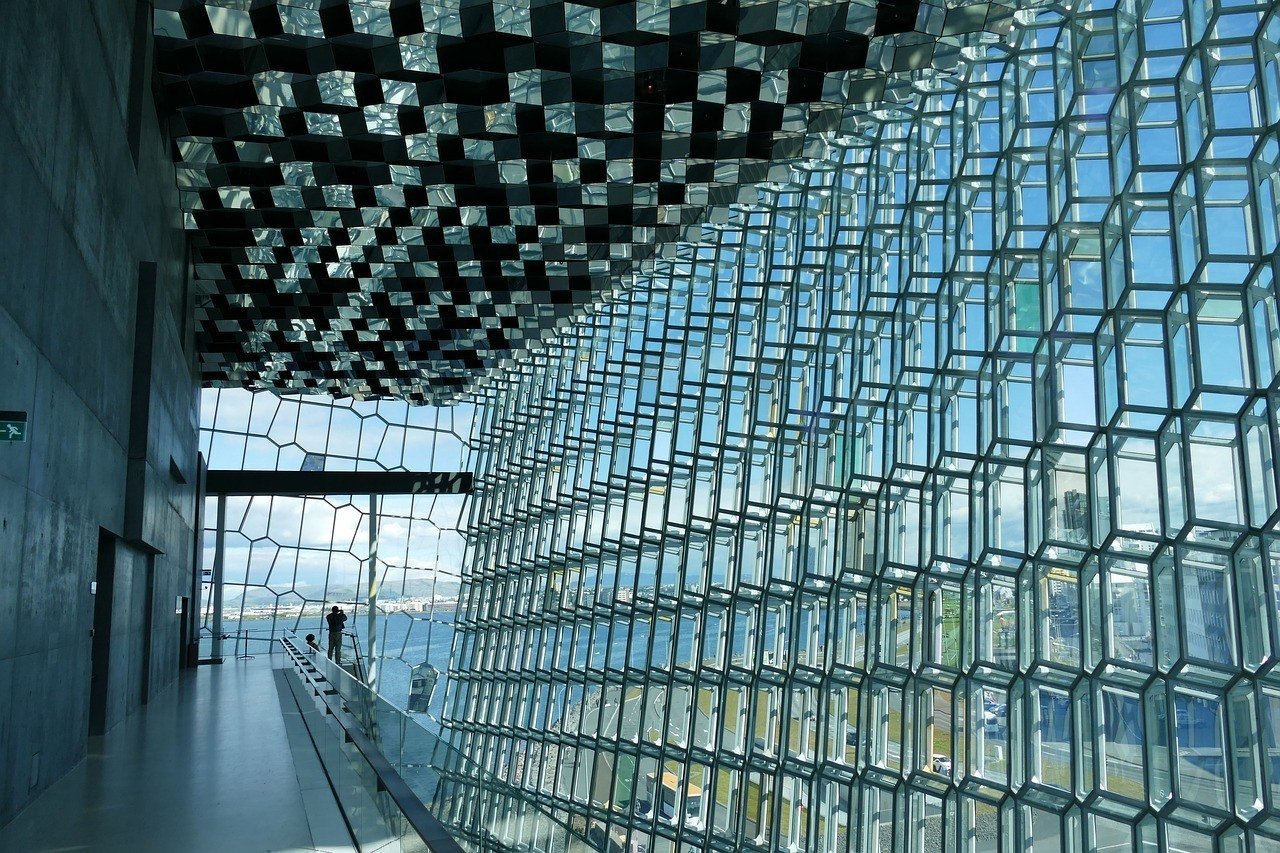 Reykjavík is the capital of Iceland, an island nation known for its dramatic landscapes. Situated between Northern Europe and North America, the small country is packed with volcanic wonders, coastal vistas and fascinating cultural attractions. This is easily one of the most unique destinations in the world as our Iceland Backpacking guide sets out.
Reykjavík is a fascinating city in its own right. Sprawling along the southwest of the island, the city is home to the majority of the population. This makes it a major cultural hub with a long-established electronic music scene and burgeoning gallery sphere. The city centre is characterised by unique architecture and quaint boutiques.
If you're looking for unforgettable road trips, this is a fantastic destination. Iceland is quite a small country so you can hit most of the main sights by car. You can actually drive around the entire island in about 13 hours.
It's just on the edge of the Arctic circle so you'll have to be prepared for long periods of darkness around the winter solstice. That being said, in late January and February, there is plenty of time to enjoy the magnificent snowscapes, it's also one of the best places in Europe to spend Christmas.
Barcelona
Best for: Culture vultures.
Must see/do: Marvel at Gaudí's architecture at Park Guëll, La Sagrada Familia and Casa Milà.
Nearest Airport: Barcelona-El Prat International Airport (Girona Airport is also a major budget hub).
Great Accommodation: Pars Teatro Hostel ($); Historic Apartment ($$$)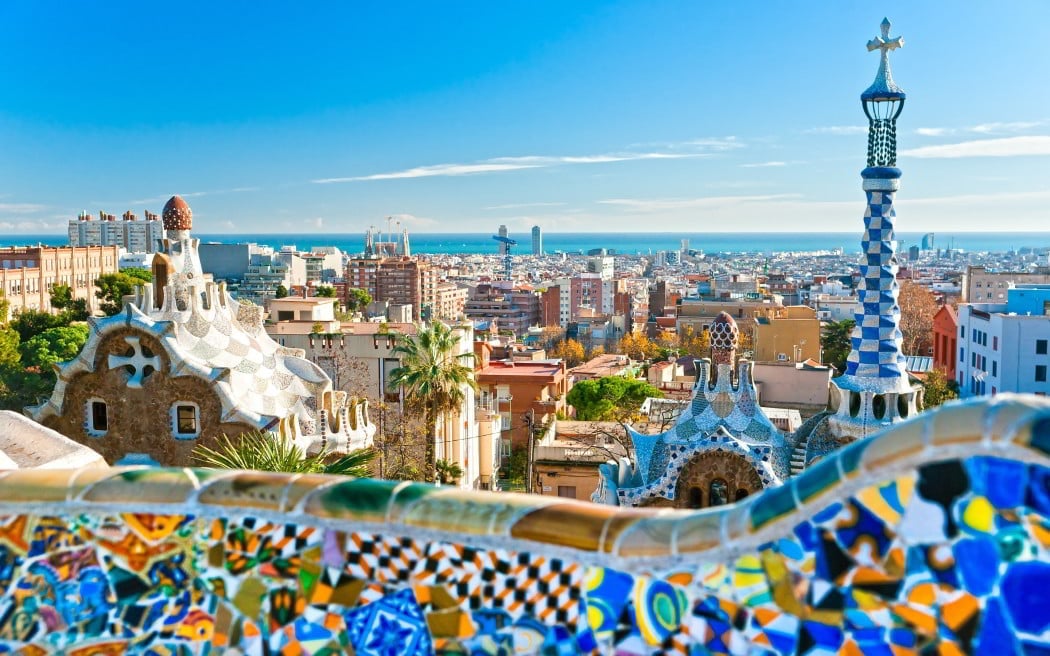 Barcelona is a city that needs no introduction! This cultural powerhouse is a place that everyone should visit at least once in their life. Whether you're interested in art, music or food there's something to get your creative senses tingling around every corner.
In many ways, Barcelona is a city of contrasts. The neighbourhoods of Barcelona are varied, the Gothic Old Town lies next to the modernist Eixample and the modern coastal areas. Best known for the jaw-dropping work of Antoni Gaudí, the city is a photographer's paradise. Every street is a stunning backdrop.
So what makes Barcelona so great in the winter? Whilst temperatures can still reach single figures, it's a fairly mild city. Visiting Barcelona in winter means you get to enjoy the city without having to deal with massive tourist crowds.
That doesn't stop the city having a soul, however. The locals are still out partying every night, all year round. You'll also find the attractions, restaurants, and accommodations are cheaper during the winter months. This makes it the perfect spot for budget travellers wanting to check off a must-visit destination.
Athens
Best for: History buffs.
Must see/do: The ancient culture, history and art at the Acropolis.
Nearest Airport: Athens International Airport.
Great Accommodation: Electra Metropolis ($$$); Acropolis Studio ($$)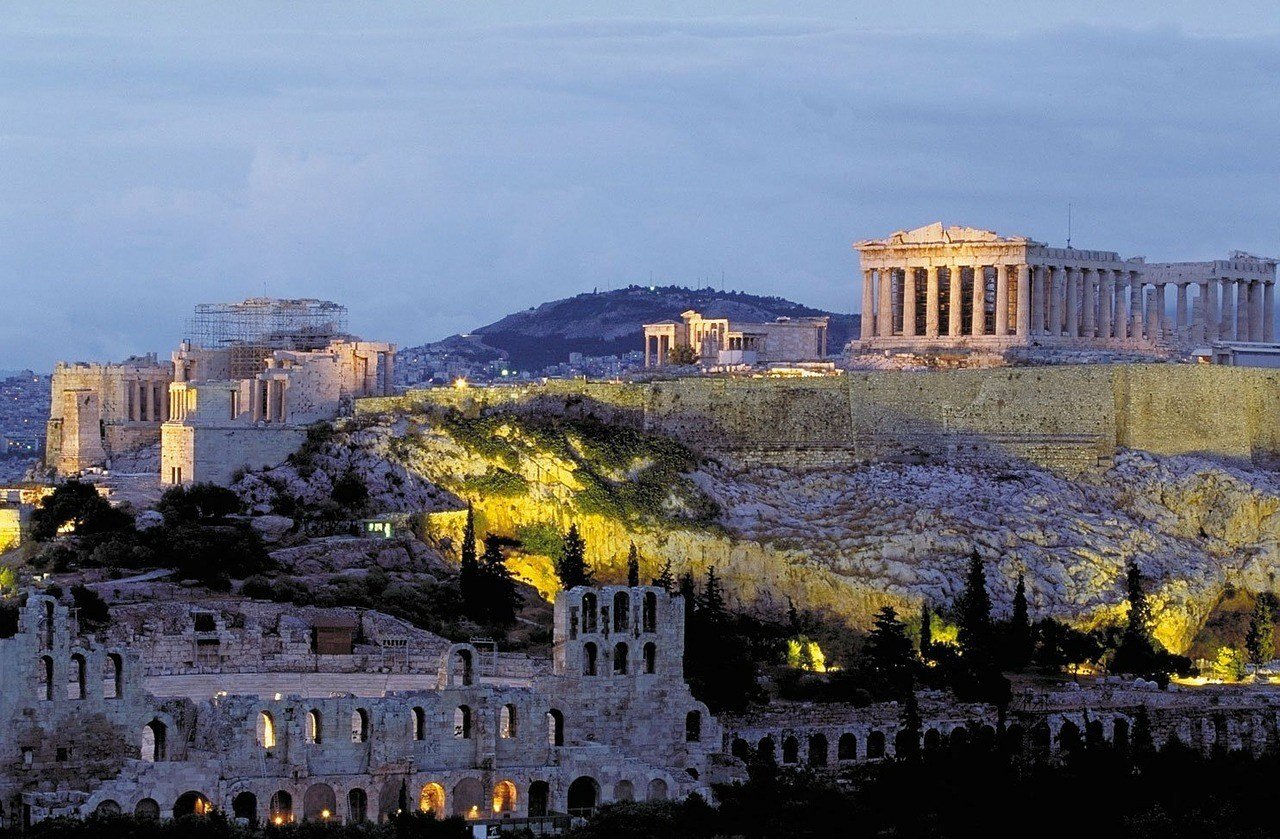 As the epicentre of European history and culture, staying in Athens is another must-do for travellers. The stunning Acropolis is a bucket list item for history lovers across the world. The site is not just about historic architecture, you'll also get to check out ancient art and mythology telling the stories of Greek civilisation.
Many visitors to Athens are surprised to discover how modern the city is. It only became the capital in 1834 and before then it was a small historic site. Outside of the Acropolis you'll find a bustling city that perfectly showcases modern Greece. From gyros to spanakopita, it's also a mouthwatering culinary destination.
Athens might be on the Mediterranean, but because it is on the eastern end the temperatures in Greece can drop quite dramatically in the winter. Snow is rare but does occur.
Greece offers great deals on historic attractions during the winter, however. The Acropolis is half-price during the colder months, so if you're fine with having to wear a coat, you can admire this world wonder at a good price.
Strasbourg
Best for: Christmas markets.
Must see/do: One of the oldest Christmas markets in Europe is held in the city.
Nearest Airport: Strasbourg International Airport (although Basel-Mulhouse-Freiburg Airport is more convenient and has budget airlines).
Great Accommodation: Appart'City Strasbourg Centre ($$); Charming Studio ($$)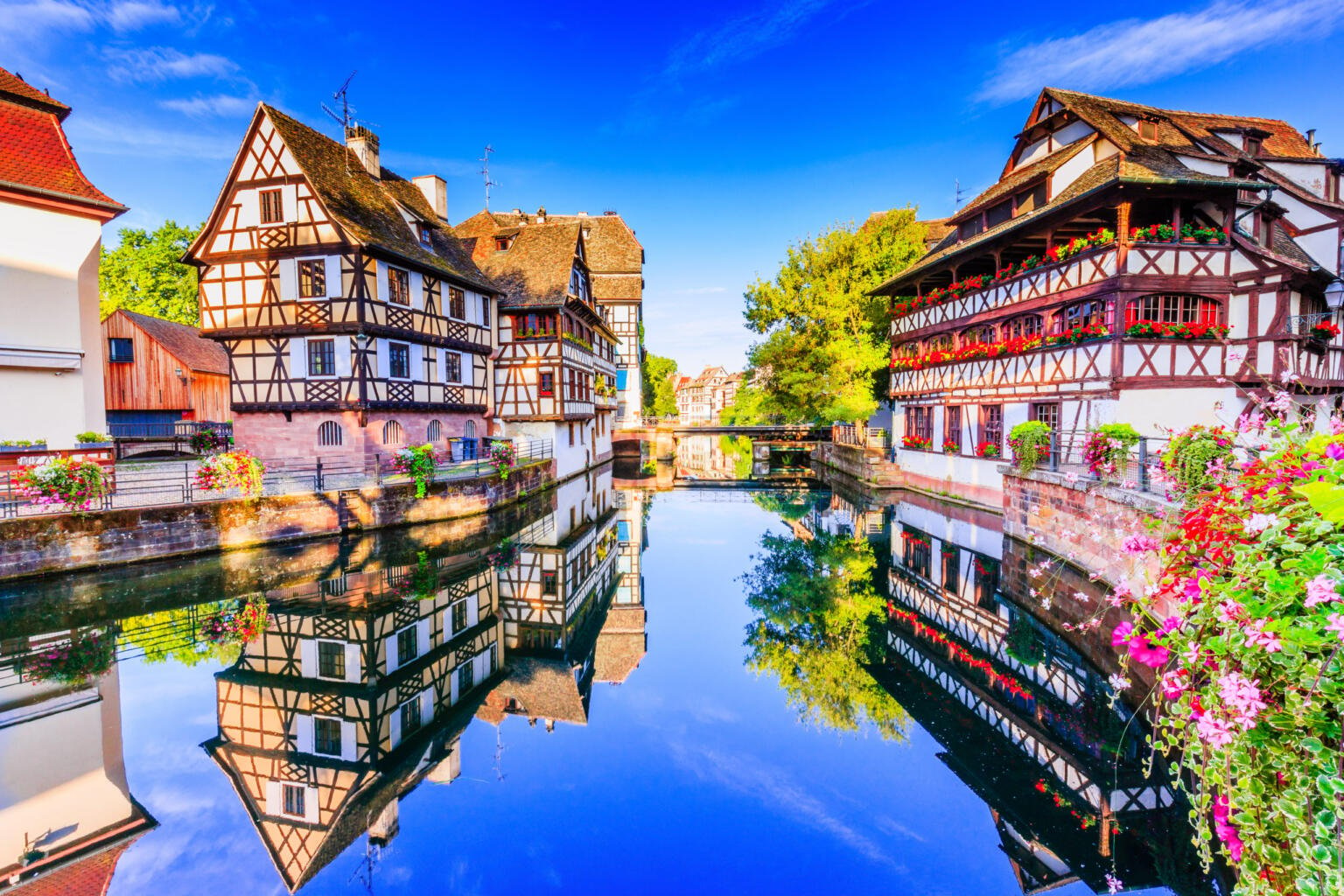 Like many cities on this list, Strasbourg is known for its stunning historic centre. Officially a UNESCO World Heritage Site, the Grande Île, it was actually the first in the world to be given such a status. It's also known as a hub for some major European institutions. This creates a fascinating blend of old and new, in many ways a perfect representation of the city's turbulent past.
Easily the best time to visit Strasbourg is during December. Strasbourg's Christkindelsmärik, or Christmas Market, is among the biggest in the world. Attracting more than 2 million visitors from around the globe, you're sure to have a jolly experience. It's best known for the mulled wine, but you can also grab some wooden toys, modern gadgets and everything in between.
The city is right on the border with Germany, so those staying in Strasbourg for longer can also enjoy some great road trips. The Black Forest and the spa towns of Baden-Wüttermberg are accessible within an hour, and the multinational Swiss hub of Basel is about ninety minutes by car.
Tromsø
Best for: Seeing the Northern lights.
Must see/do: Learn about Arctic expeditions and natural history at the Polar Museum.
Nearest Airport: Langnes Airport (but you'll need to fly via Oslo or Stockholm).
Great Accommodation: Scandic Ishavshotel ($$); Birds Nest Apartment ($$)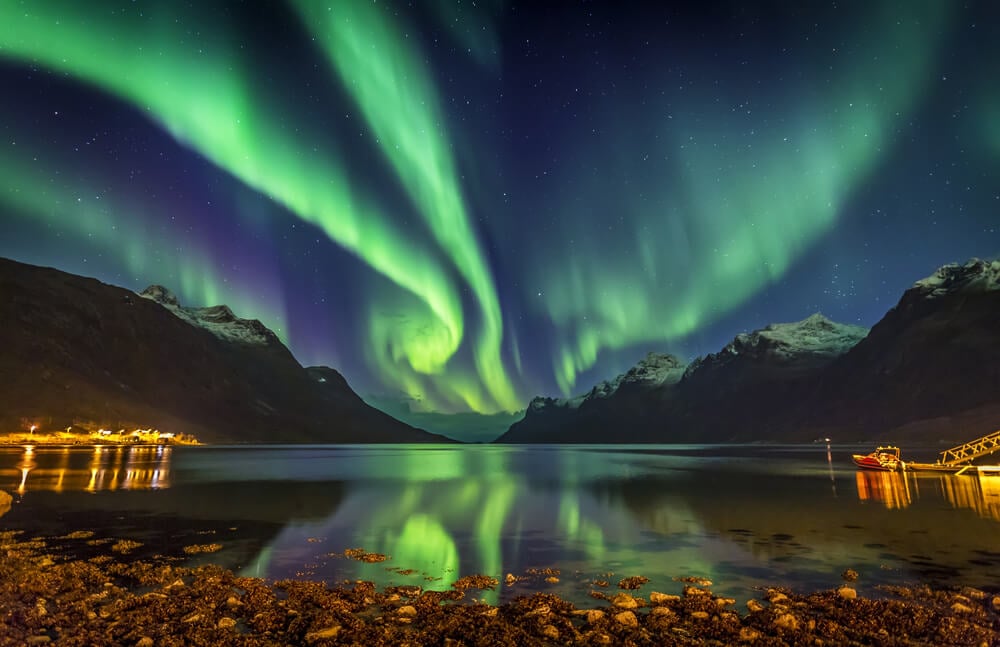 Tromsø is one of the most unique destinations in Europe! Right in the northernmost reaches of Norway, the city is located entirely within the Arctic Circle. This does mean it's dark 24/7 for the month surrounding the winter solstice, but don't worry too much. If you can handle the constant darkness it makes it one of the best places to spot the Northern Lights.
Whilst we can't make any guarantees, if you time things right this is probably your best chance of catching the iconic phenomenon. There are some great websites where you can check solar activity, and we recommend learning about night photography before you arrive. This magical experience is well and truly a once in a lifetime kind of thing for most people.
Northern Lights aside, Tromsø is a hub for arctic culture. You can learn about conservation and history in the region at the museums across the city. Like everywhere else in Norway, it also has a sizable café culture and plenty of breweries to keep you warm through those dark nights. If you do need a little bit of sunlight, but still want to experience the unique culture, head there for the end of February. One of the best things about visiting Europe in the winter is the chance to experience the kind of wonderland that is Tromso.
St Petersburg
Best for: Classical creativity.
Must see/do: Catch a world-class opera or ballet performance at the Mariinsky Theater.
Nearest Airport: Pulkovo Airport.
Great Accommodation: Grand Hotel Europe ($$$); Panoramic Loft ($$)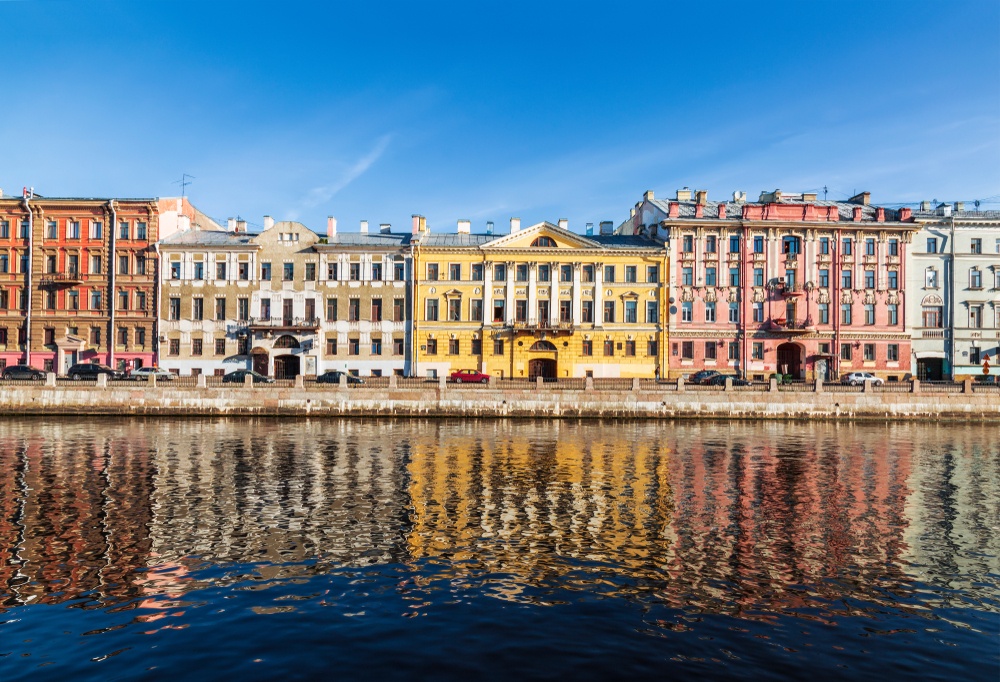 Russia's second-largest city is known for its captivating beauty. Nicknamed the Venice of the North, St Petersburg is built on top of a series of small islands, giving the effect of multiple canals connecting the city. Though relatively new by European standards (built in the early 1700s), its classical architecture has been well preserved.
This classical beauty is also expressed through local culture. St Petersburg has been a multicultural hub for most of its life and that doesn't look like it will change any time soon. World class ballet, opera, and theater can be found in some of the biggest venues in the world.
St Petersburg is also one of the easiest places to visit in Russia. Russian visas are notoriously difficult for Western European and North American visitors, but you can skip this process if you just want to stay in St Petersburg.
Simply arrive by ferry from Stockholm or Tallinn (another destination on this list) and you can stay for 72 hours. You likely won't have time to visit anywhere else in Russia, and St Petersburg has more than enough to keep you occupied.
St Petersburg is a fantastic city, but we do NOT recommend planning a trip to Russia right due to the ongoing war.
Canary Islands
Best for: Winter sun.
Must see/do: Bask under the warm sunlight at Tenerife's black sand beaches.
Nearest Airport: Tenerife North, Tenerife South, Gran Canaria, Lanzarote.
Great Accommodation: Royal Palm Resort ($$); Finca Rustica ($$)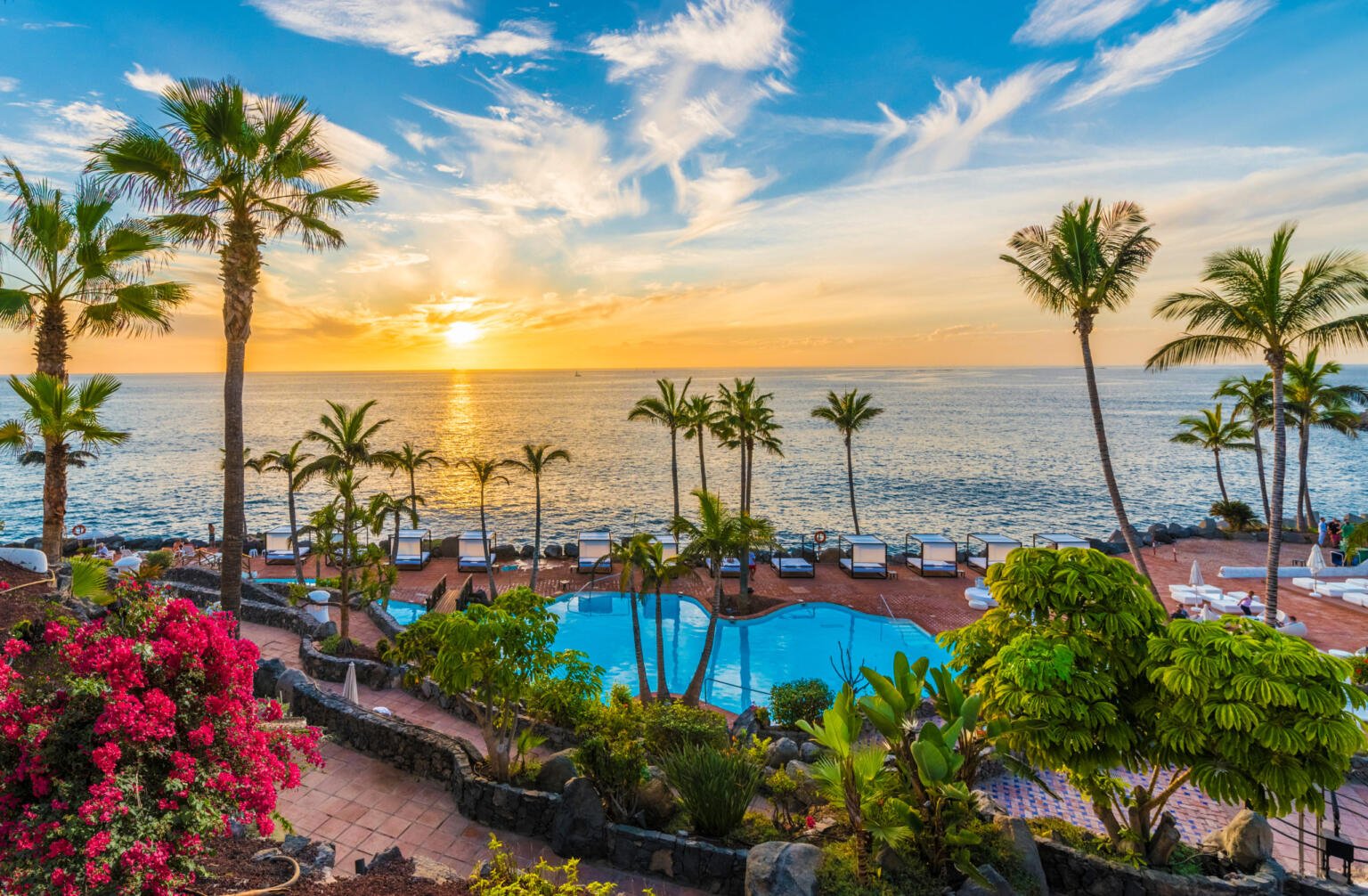 The Canary Islands are located just off the coast of West Africa. A surprisingly diverse destination, they attract visitors from across Europe throughout the year. Their main pull in winter is their weather. Reaching around 18-20C (64-68F) in January, this is the only place you can get a tan during the coldest months of the year.
It isn't just about the sun, though! Each island offers something completely different from the others. Tenerife is where you will find the most touristy attractions with volcanic beaches and buzzing parties all year round. Gran Canaria and Lanzarote are a little more family-friendly, whilst Fuerteventura is the best spot for water sports.
Some of the smaller islands also offer tourist facilities, and there are even a few island hopping tours you can take if you're planning a longer stay. The great thing about the Canary Islands is that you'll find plenty of budget flights from Europe right through the winter. This makes it great for a last-minute getaway that won't break the bank.
Lapland
Best for: Meeting Santa.
Must see/do: Visit Santa Claus Village to spot reindeer, ride huskies and meet the man himself.
Nearest Airport: Rovaniemi, Kittilä, Enontekiö.
Great Accommodation: Glass Resort ($$$+); Aurora Cottage ($$)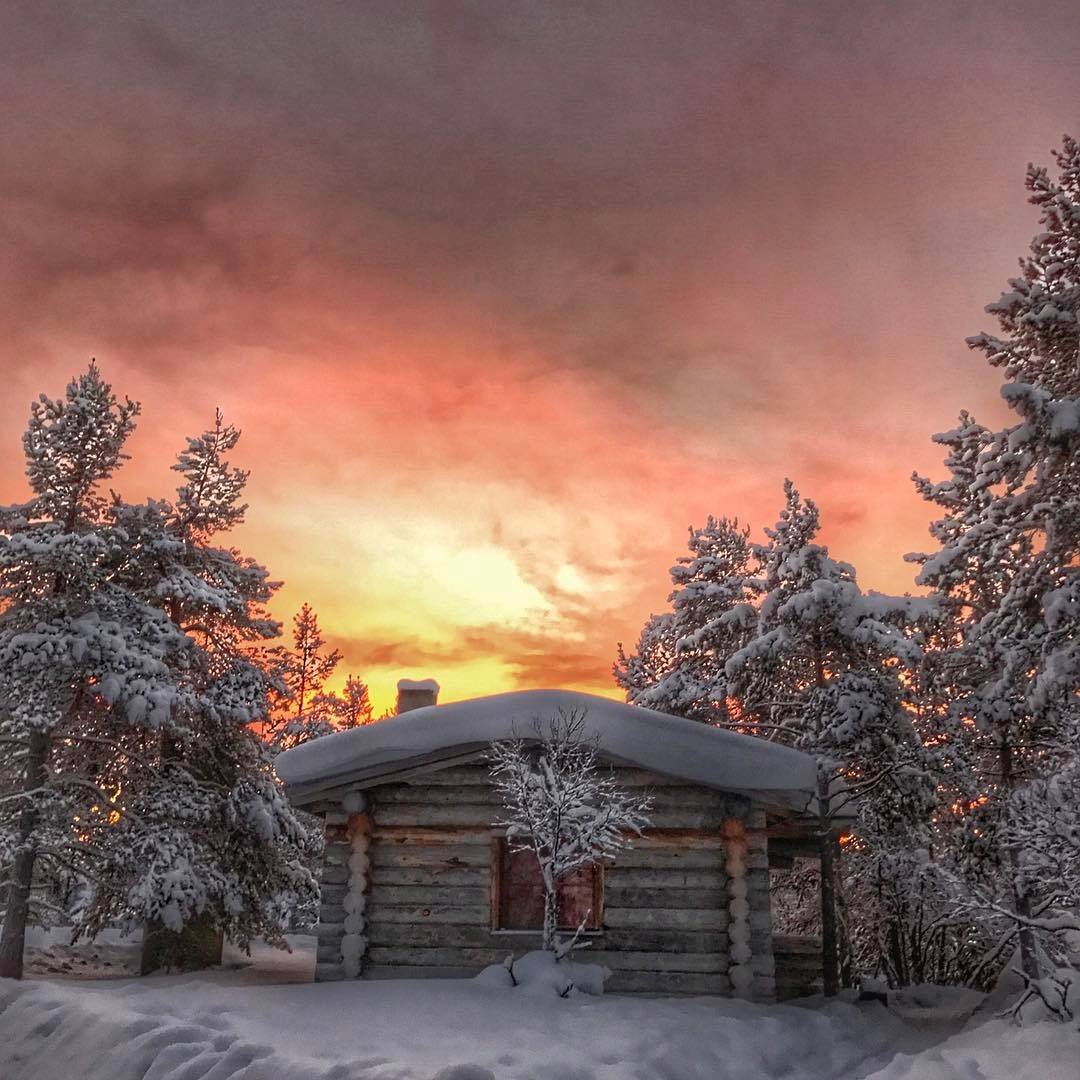 Lapland is Finland's northernmost province, and one of the most popular Christmas destinations in Europe. Santa Claus Village is an incredible place for families where you can enjoy a wide variety of activities. Aside from meeting Santa himself, you can also enjoy luxury boutiques and snow sports.
Speaking of Arctic landscapes, the Arctic Circle passes through Lapland, so you can learn about the region's natural history whilst you're here. Like Tromsø, much of the region is plunged into darkness for a month surrounding the winter solstice, but southern regions will see some daylight. This makes it another great spot for catching the Northern Lights.
If you really want to avoid the constant darkness we recommend visiting at the start of December when the Christmas attractions are in full swing but you can still enjoy some daylight hours.
Make no mistake, Lapland is an expensive destination. Finland as a whole is pretty pricey, and the luxury nature of the Santa Claus Village makes it worse. You'll need to save up a little, but for a once in a lifetime experience for your kids it is simply unbeatable.
Cyprus
Best for: Family vacations.
Must see/do: Drive along the stunning coastline of the island for secluded beaches.
Nearest Airport: Larnaca, Paphos.
Great Accommodation: Best Western Larnaca ($$); Phaedrus Living Apartment ($$$)
Nestled in the far east of the Mediterranean, Cyprus is a fascinating country with a lot to offer visitors. The island has long been an established destination for European families throughout the year because it has so much to offer kids of all ages. Many of the resorts run kids clubs, and older kids and teens will enjoy the watersports on offer in every city.
Paphos and Larnaca are the two main tourist hubs offering coastal views and mountainous surroundings. You'll find some great day trips across the island from these areas. Nicosia offers something a little more unique: it's the last divided capital in the world split between Cyprus and Northern Cyprus. It's pretty easy to cross the border these days, giving you a fascinating insight into both of the island's major cultures.
In winter, Cyprus has some of the best weather in Europe! Though cooler than the Canary Islands, you can still expect temperatures in the late teens and early twenties. The mountains do attract snow due to their altitude, but if you stick to the beaches you probably won't even need a jacket.
Be sure to check out our Cyprus accommodation guide.
Malta
Best for: Watersports.
Must see/do: Explore the magical streets of Mdina.
Nearest Airport: Malta International Airport.
Great Accommodation: Palazzo Sant Ursula Hostel ($); be.HOTEL ($$)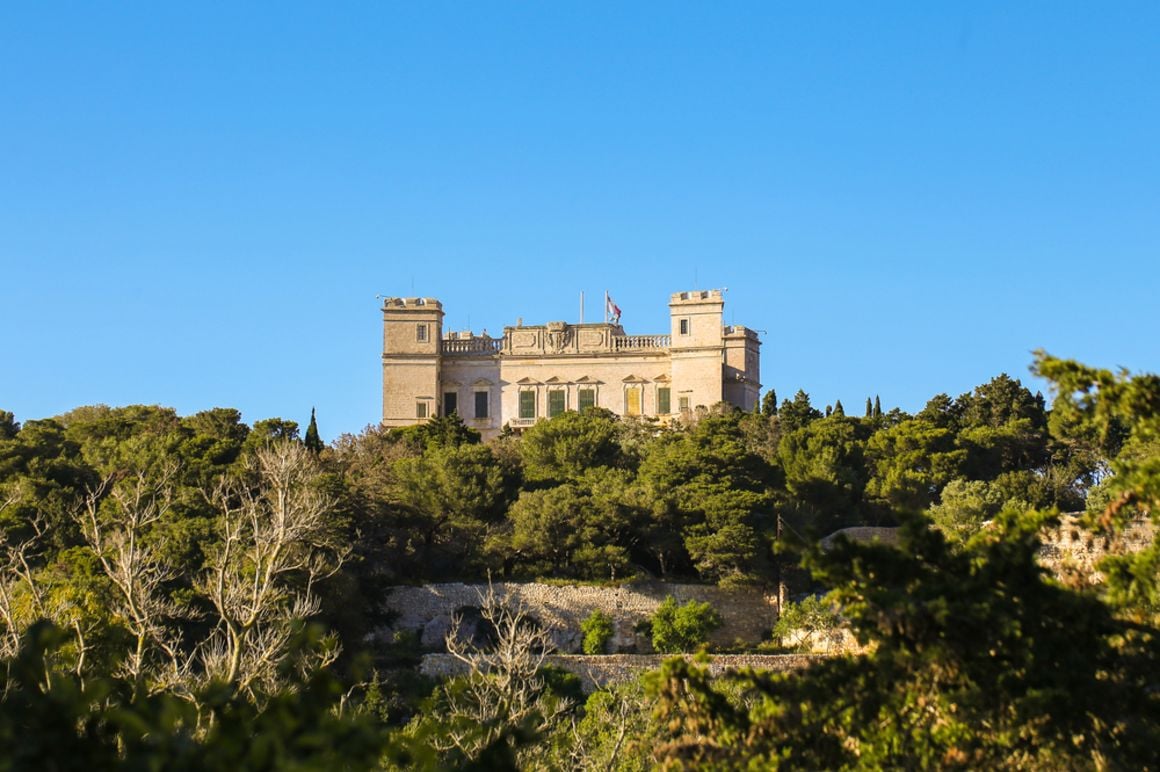 Malta is an intriguing destination featuring an intersection of major cultures. The North African, Italian and British influences can be felt across the island to this day. Mdina will feel just like walking through a Maghrebi Souk, whilst the northeast of the island feels like a British holiday resort. For an insight into typically Maltese culture, however, you have to spend some time in Valletta.
Malta enjoys mild temperatures year round with winter varying from the mid to late teens. If you're visiting from northern Europe this will feel positively tropical, without having to suffer the overwhelming heat of the summer. This makes it a fantastic destination for watersports year round. Scuba diving, in particular, is a popular activity in Malta.
You can catch regular ferries to Sicily from Malta (including day trips) if you're interested in exploring further, but the islands of Gozo and Comino have plenty in their own right if you'd rather have a quicker ferry. Comino gets really busy in the summer, so opting for a winter stay means you can enjoy the crystal clear water without the crowds.
Want to know where to stay in Malta, check out our dedicated post.
Hallstatt
Best for: Breathtaking scenery.
Must see/do: Explore the magical ambiance of the Dachstein Ice Cave.
Nearest Airport: Salzburg International Airport.
Great Accommodation: Seehotel Grüner Baum ($$$); Annaberg Home ($$)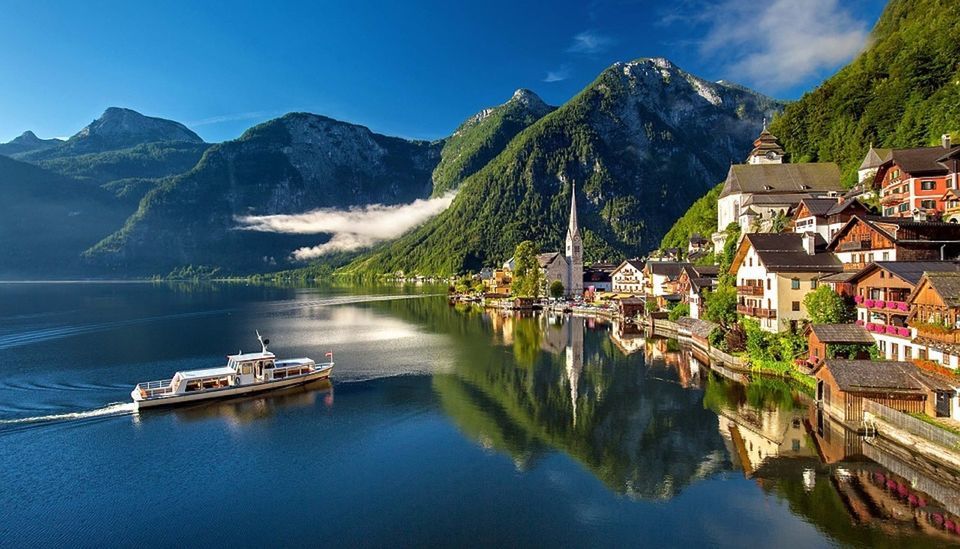 Austria is, in many ways, the quintessential winter destination in Europe, which is why we've included two of their best destinations in this guide. Nestled on the banks of Hallstätter See, and surrounded by alpine mountains, Hallstatt is a truly gorgeous destination. Every corner you turn there is a stunning view which is perfectly complemented by the rustic architecture.
As with many scenic destinations, Hallstatt is a wonderland for adventure travellers. Even in the winter, you will find some great hiking opportunities. There are regular boat trips onto the lake, and the ice caves are a must-visit. Here you will get to discover frozen ponds and waterfalls. It is truly a magical destination.
Hallstatt is a pretty secluded town with the nearest airport located in Salzburg. Despite the growing tourist numbers, this seclusion means it has maintained its local spirit. Hallstatt is in many ways a viewing point into Austria's deepest traditions. The Cultural Heritage Museum is a great starting point to learn about the town's 7000-year history.
Is This the Best Backpack EVER???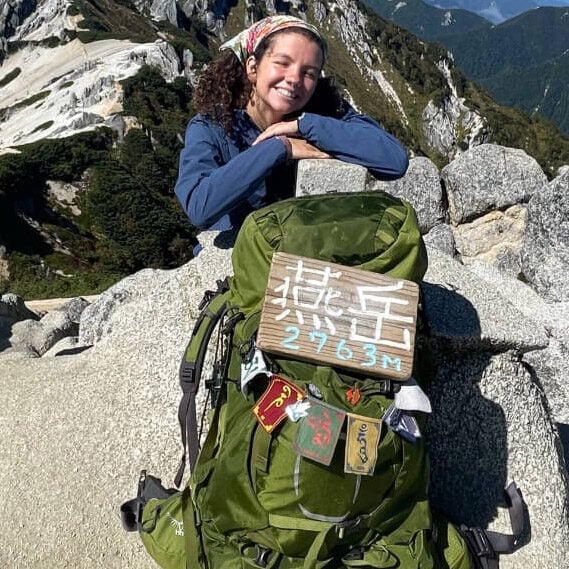 Tallinn
Best for: Digital nomads.
Must see/do: Soak up the medieval charm of the Old Town.
Nearest Airport: Tallinn Airport.
Great Accommodation: Tallinn Backpackers ($); Sanctuary Flat with Sauna ($$)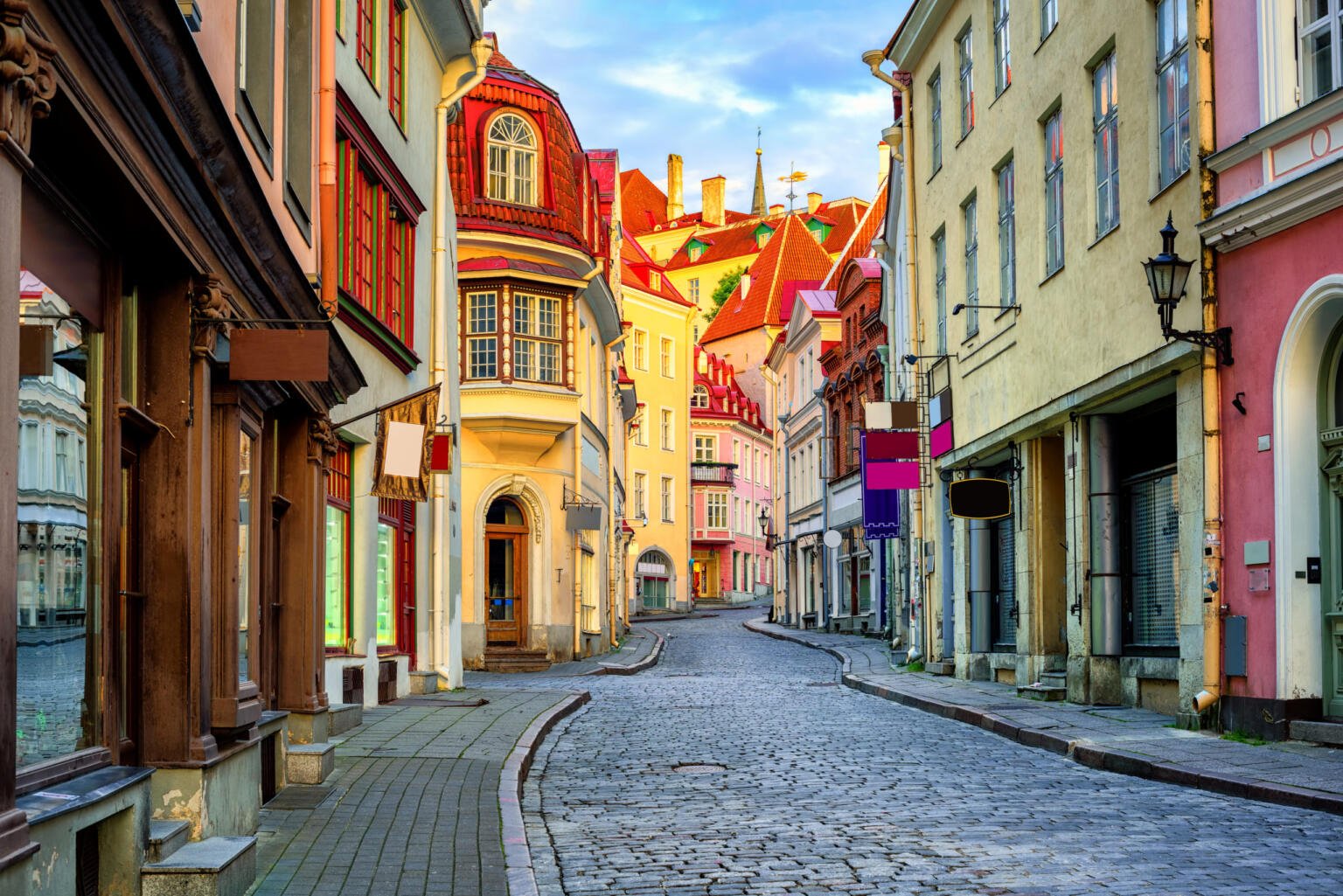 The entire city centre of Estonia's Capital was declared a UNESCO World Heritage Site in 1997. With old taverns, winding streets and medieval architecture, the Old Town has remained unchanged for centuries. Interestingly, as soon as you leave the centre you are greeted with Soviet-era modernist blocks, as well as some more contemporary constructions.
Thanks to Estonia's liberal visa policy, Tallinn is growing as a major hub for digital nomads and start-ups in Europe. If you're looking for somewhere new to set up you can get ahead of the game by opting to spend the winter in Tallinn. They are crying out for people with digital skills, and it's a super affordable place to live.
Even if you're only planning a week away, Tallinn's open and modern outlook can be felt wherever you go. Many of their attractions use modern technology, and it's a great base for exploring other regions. Regular ferries to Helsinki and St Petersburg offer new perspectives, and the capitals of Latvia and Lithuania are only a short bus ride away.
Salzburg
Best for: Culture, Christmas and cosiness.
Must see/do: There are two great exhibits dedicated to Mozart in his birth house and residence.
Nearest Airport: Salzburg International Airport.
Great Accommodation: Hotel Sacher ($$$); Budget Apartment ($)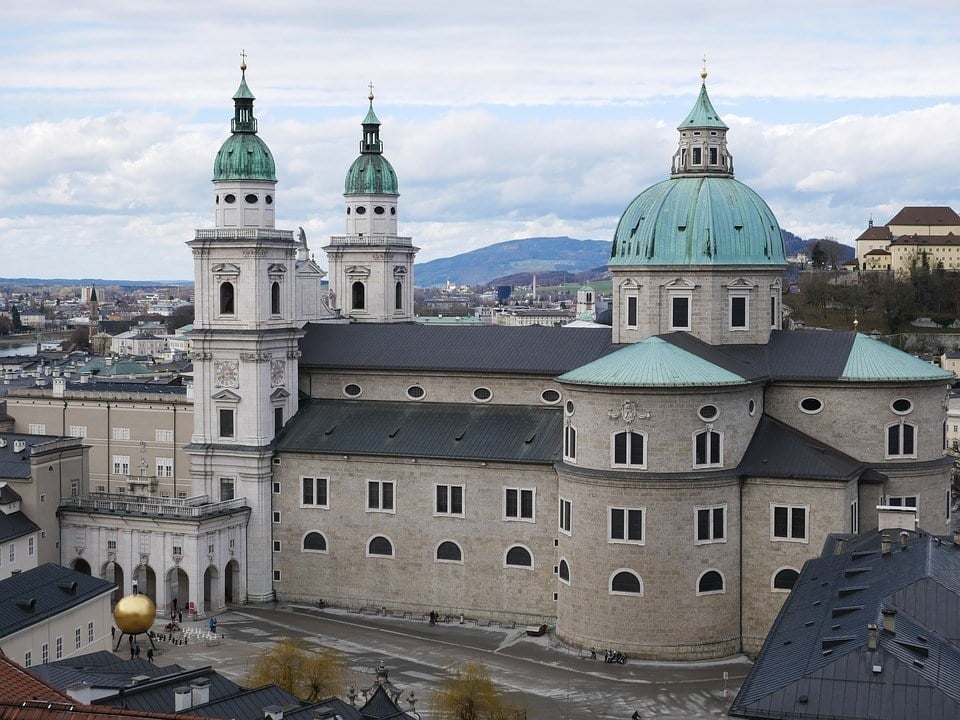 Salzburg offers a little bit of everything that you could want from a winter destination (unless you're desperate for sun – sorry!). As the birthplace of Mozart, the city is cemented in Europe's cultural heritage. You can learn all about the composer's life in the many attractions dedicated to him, or catch some modern operas at the various theatres across the city.
The city also hosts a famous Christmas Market that can trace its roots back to the 15th Century. Austrian candies, traditional Christmas ornaments and enticing incense give this market a ye olde vibe. It doesn't get any better than this for getting into the holiday spirit.
Beyond Christmas, Salzburg is also a great destination through January and February. Known for its cosy bars, you have to spend some time nestled by the fire with a local beer. Austria is known for its hearty cuisine, and you'll certainly be spoiled for choice in Salzburg.
Transylvania
Best for: Macabre adventures.
Must see/do: Explore Bran Castle – the inspiration behind Dracula's home in the original novel.
Nearest Airport: Cluj-Napoca (Bucharest is also well connected).
Great Accommodation: Zozo Hostel ($); Teleferic Grand Hotel ($$)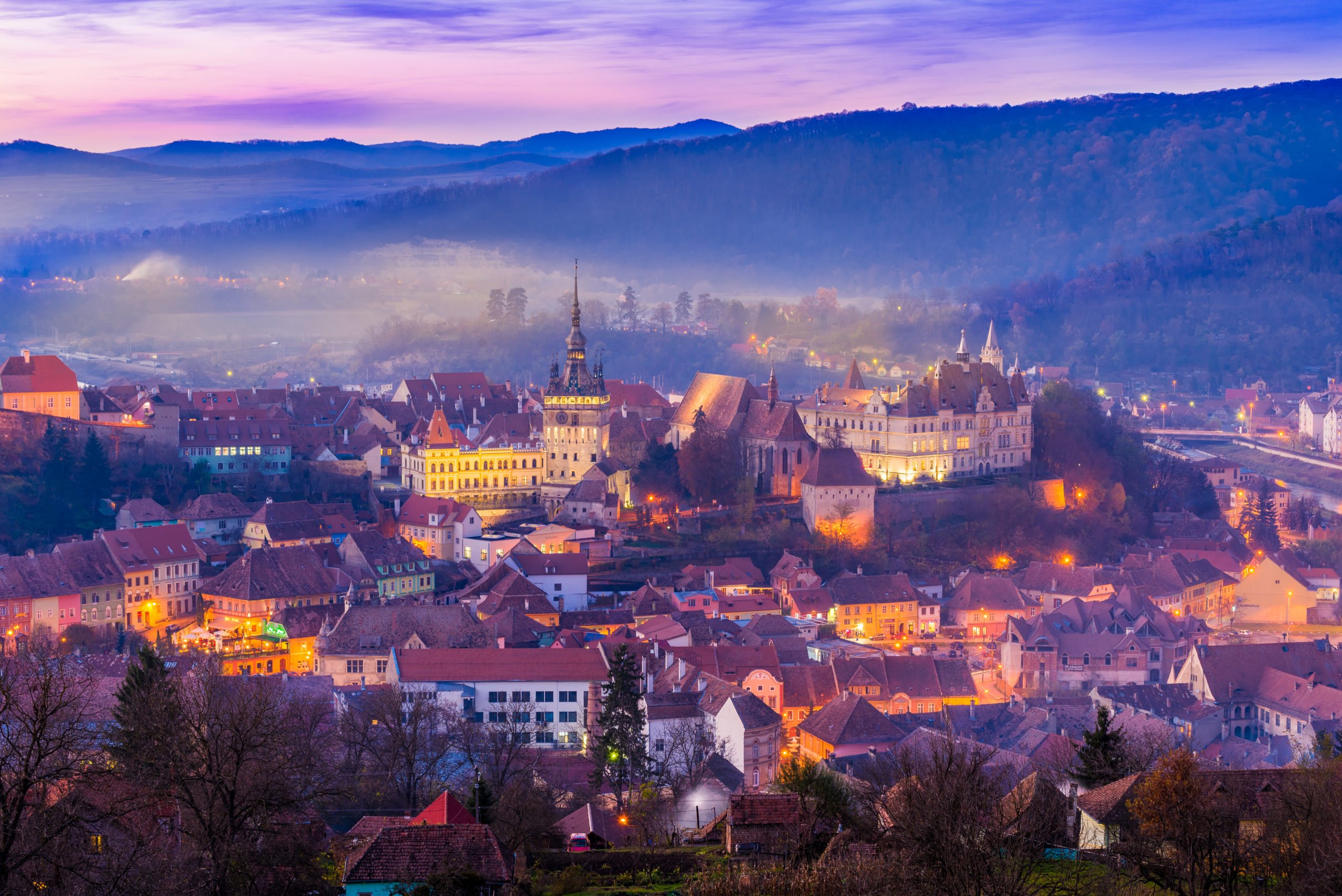 Right in the heart of Romania, Transylvania is famous as the home of Count Dracula. Bran Castle was the inspiration behind the vampire's dwelling in the novel, and Vlad the Impaler once ruled over the area. For those looking to explore their dark side, Transylvania is a spooky destination with tricks around every corner.
Brasov is the beating heart of Transylvania for many tourists. This gorgeous city has a charming medieval old town, as well as plenty of adventure excursions on offer. If you prefer somewhere a little more urban, Cluj-Napoca is the largest city in the region.
Whilst Bucharest isn't in Transylvania, it's not too far away, about two hours by train. This makes the Romanian capital another popular base for those looking to explore the vampiric region. You can also sleep a little more soundly in the evenings knowing you're outside of Dracula's main territory.
Sardinia
Best for: Escaping the crowds.
Must see/do: Soak up the gorgeous natural beauty of the island's hills, coasts and forests.
Nearest Airport: Cagliari, Olbia, Alghero.
Great Accommodation: Agriturismo Dolceluna ($$); Villa Li Graniti ($$$+)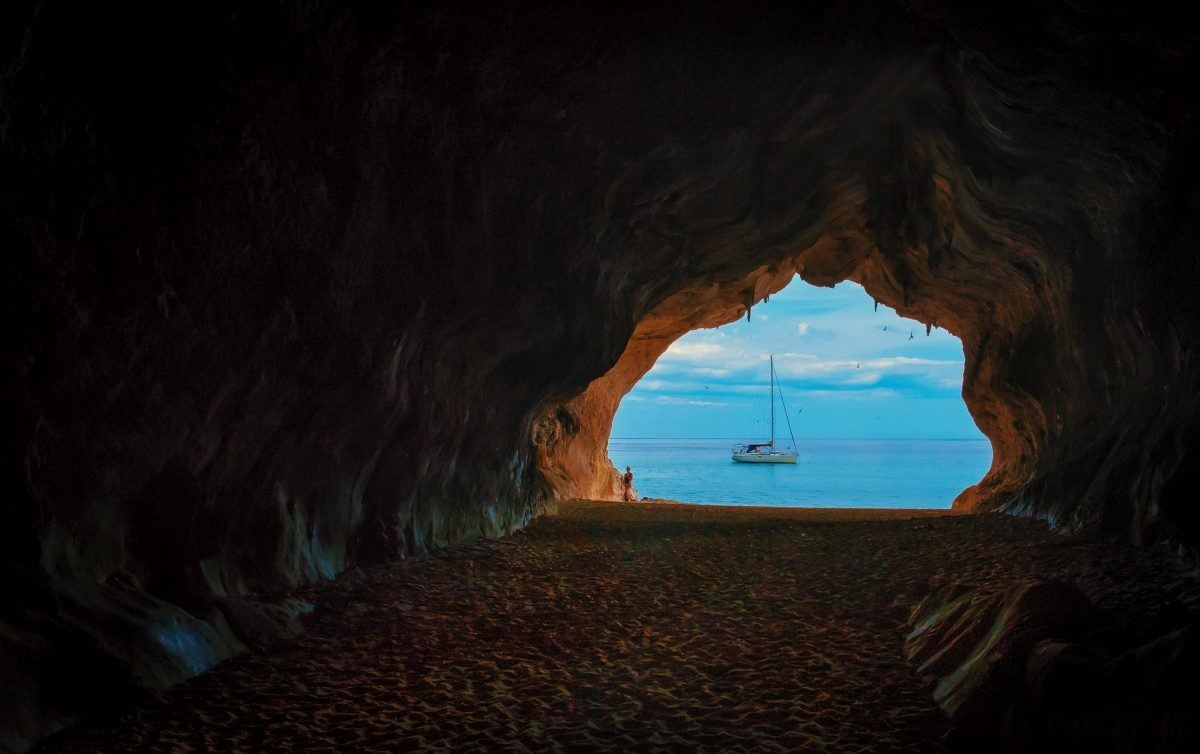 Sardinia is the largest of Italy's islands and, as such, is an incredibly diverse destination. The mountainous interior and beachy coasts offer contrasting scenery, whilst the towns and cities each have their own unique traditions. Even the cuisine in Sardinia is a far cry from what you would expect on the Italian mainland.
Winters on the island can vary and, as it's such a large island, you will notice differences between north and south. At the southern end you can expect similar weather to Malta, with a slight chill in the air, but still closer to summer in Northern Europe. In many ways this is an advantage. The heat can be unbearable in the high season, so visiting in January makes it much easier to enjoy hikes and river walks.
Likewise, Sardinia is a huge tourist destination in the summer. These crowds practically disappear over the winter, so you get to enjoy a more local experience. The reduced tourist numbers also means it is far more affordable in the winter, even in the luxurious northern resorts.
ALWAYS sort out your backpacker insurance before your trip. There's plenty to choose from in that department, but a good place to start is Safety Wing.
They offer month-to-month payments, no lock-in contracts, and require absolutely no itineraries: that's the exact kind of insurance long-term travellers and digital nomads need.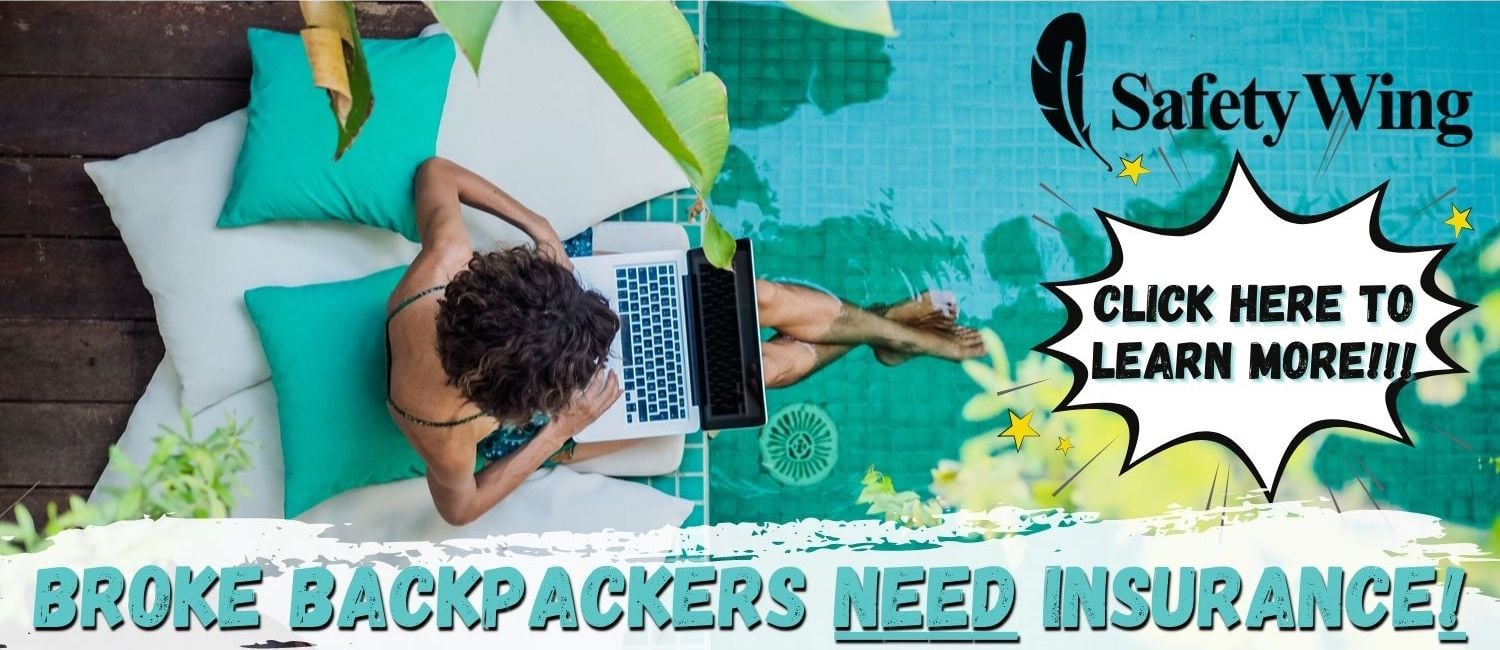 SafetyWing is cheap, easy, and admin-free: just sign up lickety-split so you can get back to it!
Click the button below to learn more about SafetyWing's setup or read our insider review for the full tasty scoop.
Edinburgh
Best for: Bringing in the New Year.
Must see/do: Edinburgh's Hogmanay Street Party is a once in a lifetime experience.
Nearest Airport: Edinburgh Airport.
Great Accommodation: St Christopher's Hostel ($); Classical Apartment ($$$)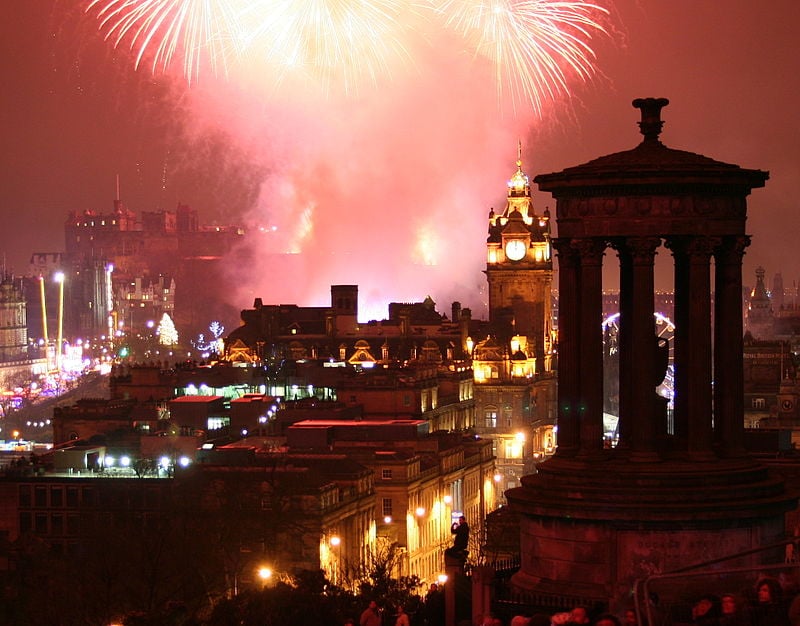 The Scottish Capital is famous across the world for its New Year's celebrations. Hogmanay (the Scots' word for New Year's Eve) is a major festival across the country with Edinburgh hosting the largest event. Note that accommodation in Edinburgh can be very pricey.
The street party stretches right across the city centre with multiple concert stages, mouth-watering street food stalls and a midnight firework display over the iconic castle. From the torchlight procession on December 30th to Scotland's national hangover holiday on January 2nd, this four-day festival is a once in a lifetime event.
On New Year's Day, you can mingle with locals in the wee pubs found across the city. It's not uncommon for bagpipers to visit whilst you enjoy a hearty Scottish breakfast. If you really want to dive into local traditions, take part in the Loony Dook – a bracing run into the River Forth held every New year.
Ahead of the New Year Celebrations, Edinburgh hosts one of the most popular Christmas Markets in the UK with fairground attractions, European market stalls and plenty of mulled wine.
Andalucia
Best for: Culinary delights.
Must see/do: Cadiz is home to one of the largest Carnival's in Europe every February.
Nearest Airport: Malaga, Seville.
Great Accommodation: The Urban Jungle Rooftop Hostel ($); Molina Lario ($$)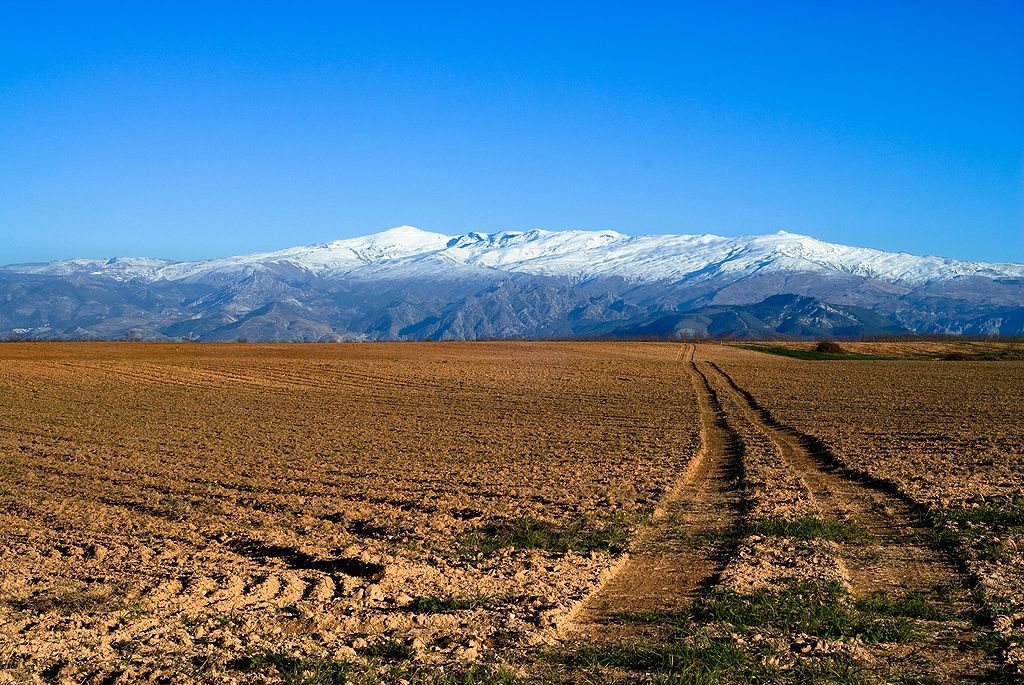 Spain's southernmost region offers a diverse range of attractions, not least a variety of foodie must-tastes. In the winter, you will find a completely different kind of cuisine in Andalucia. Hearty pucheros and gazpachuelo (the warm version of gazpacho) will keep you warm inside and out. Anyone interested in world cuisines will be delighted with a winter trip to Andalucia.
Visiting in winter also means you get to see a completely different side to local culture. As the home of the Costa del Sol, Andalucia is crammed with tourists during the summer. In the winter you will get to interact more with locals and indulge in cultural attractions. This is a great time to visit Málaga in particular, which completely transforms during the off-season.
Don't be scared off by the weather, though. Whilst it rains more in the winter, it's still much drier than other parts of Europe. Temperatures hover around 15 degrees; not scorching, but certainly more pleasant than the cold extremes of Northern Europe.
Seville, in particular, can be a difficult (hot and bothery) destination in the summer so this is a great time to take in one of those incredible walking tours around the city's historic attractions.
Interlaken
Best for: Luxury escapes.
Must see/do: The Jungfrau Winter Sport Region is home to skiing, sledging and more.
Nearest Airport: Zurich (Basel is also convenient).
Great Accommodation: Victoria Jungfrau Grand Hotel ($$$+); Mountain Apartment ($$)
Interlaken is right in the heart of Switzerland. This notoriously expensive country (yes, Switzerland is expensive) doesn't stop during the winter, attracting luxury travellers from across the world ready to hit the slopes. Interlaken itself doesn't host many ski slopes, but its central location means you can visit many of them within a 20-minute trip.
In fact, many of Interlaken's best sights are outside of the town. The town is quite flat, making it easy to get around, but you'll need to take a few excursions to see the snow-capped Alps. Thankfully, public transport is super convenient here, and you certainly won't be short of tour guides.
Speaking of public transport, Interlaken is known for its mountain railways that let you burrow through the imposing Alpine scenery nearby. It's also a great destination for luxury souvenir shopping, so prepare to splurge throughout your stay.
More adventurous travellers can enjoy sledging, sailing, and even some winter hiking opportunities. There's truly a little something for everyone if you have the budget.
Final Thoughts
Europe is a bigger continent than you think! You can easily fly from snow-covered cities to sunny beaches within just a few hours. This is great for those who are desperate for a winter getaway without flying too far.
The best thing about travelling in Europe during the winter is that most places are cheaper. Though there are some exceptions (we're looking at you, Lapland), you can check out some of the biggest attractions in the world at a fraction of the price by embracing the colder months.
And they don't even need to be that cold! We all suffer from the January blues, but having a trip to the Canary Islands or Cyprus can help you fend off the worst of it.
We hope this guide helped you understand how some of the greatest cities in Europe really come to life in the winter, and that you're now inspired for your next epic adventure.
Got any tips of your own? Let us know in the comments!
---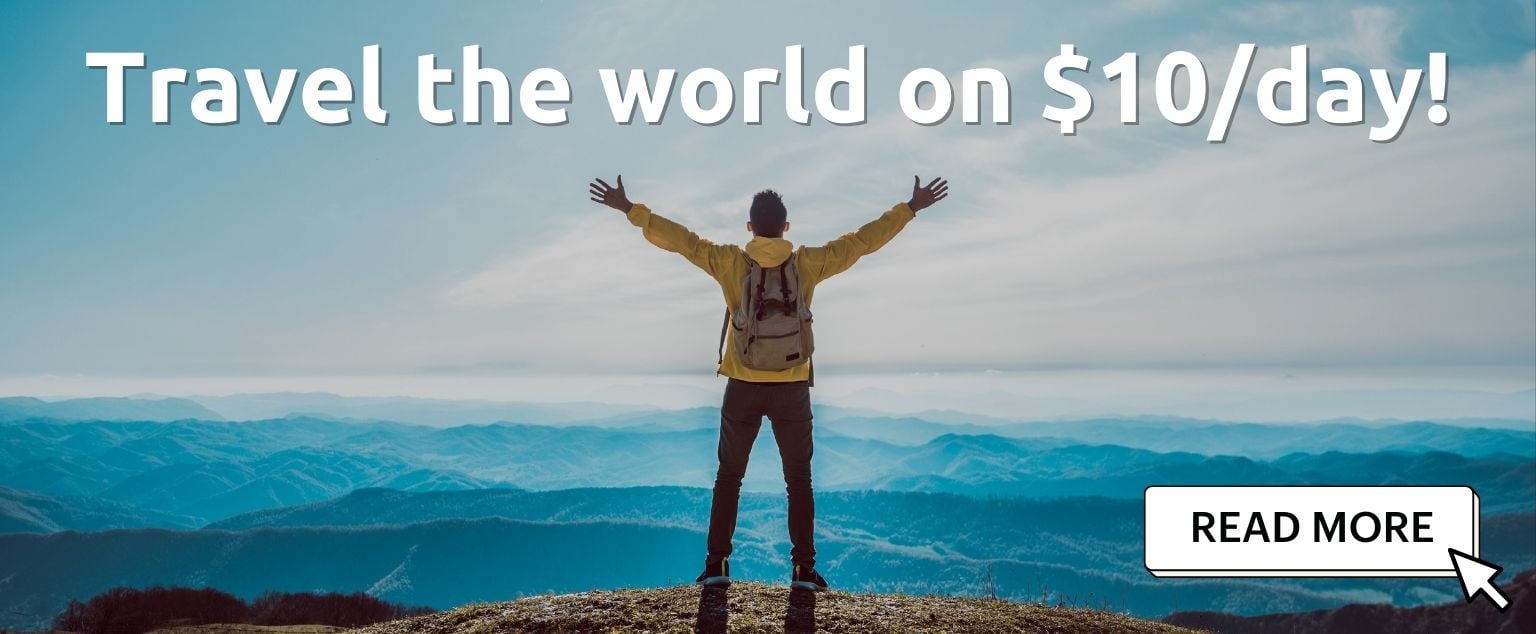 And for transparency's sake, please know that some of the links in our content are affiliate links. That means that if you book your accommodation, buy your gear, or sort your insurance through our link, we earn a small commission (at no extra cost to you). That said, we only link to the gear we trust and never recommend services we don't believe are up to scratch. Again, thank you!