Stretching from the far shores of the Meditaranean and leading into the far reaches of Europe's precipice, the Balkan peninsula has long served as a cultural crossroads. This is where east meets west, old meets new and until recently, where capitalism faced off against communism in a war of modern ideologies.
When you visit the Balkans, you can see all of this and more for yourself. In Bosnia you can smoke hookah pipes in traditional Ottoman style cafes and just next door in Serbia you can dance to techno in dilapidated communist warehouses. The region's modern history is tortured and tumultuous and you can still see the scars at every twist and turn. Nevertheless, the Balkans retains an optimism and lust for life which is a refreshing antidote to the weary Western Europe.
In this guide we will look at the individual countries of the Balkans which are Croatia, Bosnia, Montenegro, Slovenia, Macedonia, Serbia, Kosovo, Albania, Bulgaria and Romania and provide as much information as possible about Balkans travel.
Why Go Backpacking in The Balkans
Whatever you are seeking from your trip to the balkans, you can find it in here. Croatia offers glamorous island hopping, Romania boasts gorgeously forested mountains, and Serbia quietly conceals one of the best rave cultures I have experienced.
Then, there is a solid bus network to connect the regions, minimal borders between them, and affordable prices compared to Western Europe. All of this makes travel the balkans one of the best backpacker adventures on earth.
Here are a few Balkans road trip itinerary's to get you started. They all presume that you will be using public transport and my recommendation is to stick with the bus.
Balkan Itinerary 1 – The Med on a Budget – Duration – 8 Days
This itinerary focuses on the Balkan peninsula's Western Mediterranean shoreline and takes in Croatia, Montenegro and Albania. The first 2 are definitely the regions most popular, "poster boy" destinations and the latter is more of an adventurer's paradise of untapped potential.
Start by flying to either Zadar or Split and getting settled in by the ocean. From here we head to Dubrovnik, the real life Kings' Landing from Game of Thrones and undisputed jewel in the crown of Balkan tourism.
After a few nights, jump on the bus to Kotor in Montenegro. Often described as "Balkan Fjords", the bay of Kotor itself is utterly stunning and the medieval town is truly charming. After a night or 2, head to Budva just down the way and get some sunbathing done. Afterwards, get the bus towards Albania. If you are short on time or tired of travel, make for the port city of Durres. Otherwise, do venture a bit further and go all the way down to Sarada on the Albanian Riviera; a vibrant tourist town and one of the country's most popular destinations.
To fly home you will probably need to head inland towards the capital city of Tirana.
Balkan Itinerary 2 – The Former Yugoslavia – Duration – 2 weeks
At the (some would say dark) heart of the Balkans sit's the former republic of Yugoslavia. Yugoslavia was a conglomerate of 5 loose nations which joined together under Communism following WWII united by the enigmatic "Tito" who led the country for nearly 30 years. The disintegration of Yugoslavia, was not pretty and several of the nations descended into tribal wars which lasted throughout the 90's.
This itinerary begins in Slovenia's capital of Ljubljana. If you can work out a way to get to stunning Lake Bled then go for it, but note that our itinerary is headed the other way! From Ljubljana it's eastwards and onwards to Croatia's capital of Zagreb.
Zagreb is a cool city but a few nights here is plenty before we move onto Bosnia.
You have 2 options here, if you can find a car or private bus, Sarajevo is 4 hours drive. Otherwise, take the overnight bus towards Medieval Mostar, check out it's stunning bridge and then spend a night here before going to Sarajevo.
Sarajevo is a true marvel. From here get the bus to Belgrade in Serbia and try to find a Psytrance or Techno party to gate crash. The bus from Belgrade to Skopje in Macedonia is an afternoon's ride. In Skopje, check out the notorious statue's and wander in the old town before making for Ohrid and it's serene lake. From Ohrid, we go back on ourselves to Skopje before heading into Kosovo. There are international flights to the rest of Europe from the capital of Pristina.
Balkan Itinerary 3 – The Whole Thing! – Duration – 4 Weeks
Whilst it would be a rush, you can certainly see the entirety of the Balkans in just 3 weeks. However, with all the zig-zagging I would suggest 4. There are a few different ways you can attack it.
Try this, from Ljubljan head south to Zardar in Croatia and then follow the coast down to Kotor in Montenegro. From here head towards Durres or go straight Tirana in Albania. Albania borders Macedonia at Lake Ohrid and then, head to the capital of Skopje.
From Skopje, make your way to Bulgaria aiming for the charming capital city of Sofia. If you can take the time to visit Varan on the Black Sea then you will not be disappointed, but it will mean a switchback in order to continue with this itinerary.
Brace yourself for a looong journey up to Cluj-Napoca (trust me, the long journey is better than stopping of at Bucharest) and enjoy this cool student city. If you have time, then do explore the beautiful, beguilling Transylvania region. Otherwise go towards Timisoara near the border and from there, cross into Serbia and aim for Belgrade (Nis is however also nice).
From Belgrade, go to Sarajevo and back down to Montegran capital and Podrica, then down to Kosovo where this itinerary ends. Aim for the capital of Pristina to catch your flight home.
Backpacking Croatia
Croatia is by far the most popular Balkan country attracting city-breakers, stag-weekenders and sun-seekers alike. A trip to Croatia mixes Mediterranean charm and a leisurely pace tinged with tiny hints of former Yugoslav quaint.
The headline sight is definitely the marvellous city of Dubrovnik which get's crowded to fuck during summer months. Split is a close second offering the sea & and old castles but with the added bonus of being a jumping off point for some island hopping.
Croatia's islands are where the decadent and vacuous head to party and are fast beginning to rival Ibiza as hedonistic mecca's. However, in my view the parties you will find here are amongst the worst in the region whilst also being the most expensive by far.
There are some fantastic national parks to be explored, and they host some of the best hikes in Croatia. A visit to Krka National Park is a must — the waterfalls and cool pools reminiscent of a scene in Southeast Asia have begun to put the country on the backpacking map.
Despite Croatia's obvious charm, I am not a massive fan of it. It's popularity means it can often feel like a package holiday destination which is the antithesis of what I, and many backpackers, want from this region. Croatia can be expensive as well so you might be better of visiting the other Balkan countries.
What to Know Before Visiting Croatia
Don't miss out on…a road trip! The Croatian coast as well as the interior are best explored with your own set of wheels. Book a car here.
You know what's overrated…going on a boat cruise to stay on Hvar island. The food and drink are often triple the price here.
The coolest hostel is…Hostel Angelina – it's the most stand-out hostel in the Old Town of Dubrovnik and makes for an excellent base for exploring the amazing city.
The best food is found in…All along the coast, you can find delicious seafood, fresh produce, and tasty, flaky bakeries.
Backpacking Bosnia and Herzegovina
Troubled Bosnia was a true revelation to me. Its summer landscapes are like a fairy tale of green meadows, flowing rivers dotted with charming old towns. The old city of Mostar is a popular draw, it's UNESCO protected bridge was destroyed during the Ballkan wars but has been lovingly re-constructed.
The capital city of Sarajevo was cruelly besieged for 4 years by Serbian forces and bombarded daily. This traumatic episode is both scarred onto the facade of the city buildings and into the minds of its inhabitants. Sarajevo's streets is a fascinating education into the darker side of humanity and into modern european history. The old town offers a lighter take on things mixing cobbled streets with Ottoman cafe's.
What to Know Before Visiting Bosnia
Don't miss out on…The bus ride from Montenegro to Mostar is beautiful. Grab a window seat (either side) and enjoy the epic journey!
Keep an eye out for?... There are telltale signs of the Balkan wars at every twice and turn, from bullet holes in buildings to active mine-fields…
The coolest hostel is…The War Hostel in Sarajevo. A hostel that seeks to recreate life under the Siege of Sarajevo. You sleep on roll mats in blacked out rooms.
The best food is found in…Sarajevo's old town cafes. They do delightful Turkish, Balkan and Bosnian food.
Backpacking Montenegro
Little Montenegro is like a milder version of Croatia. It also offers lush coastline, lovely old cities and a leisurely pace of life. For now, Montenegro is less densely crowded and still a good bit cheaper than big brother Croatia so get here soon before that changes!
Kotor is a true wonder and well worth a few nights (so do book Kotor accommodation in advance). It gets very crowded during summer day times when the cruise liners pull up but does quieten again once they leave. Be sure to climb up to the fortress that sits atop the hill – you cannot miss it.
Budva is another popular spot whereas further down the coast the little city of Bar is a port town where you can catch ferries to Italy. The capital of Podrica is nice enough if not somewhat unremarkable – best used as either an airport, or as a transmission point into Kosovo or Albania.
What to Know Before Visiting Montengro
Don't miss out on…Kotor Bay. The old town is UNESCO listed and the view from the top of the hill is phenomenal. This place could compete with ANYWHERE in Europe in terms of natural beauty.
You Know What's Overrated?... Budva and Sveti Stefan. These towns are admittedly nice but really busy and not worth the crowds, hassle, or expense.
The coolest hostel is…Old Town Homestel in Montenegro. Nice and small but friendly.
The best food is found in…The little bakeries do amazing Burek. Wash it down with Kefir milk drink.
Backpacking Slovenia
Bordering both Italy and Austria, Slovenia is as much routed in classical, Western Europe as it is in the Balkan's. Perhaps it is more than coincidence that Slovenia was the first of the Yugoslav nations to break from the union as well as the first to join the EU by nearly a decade. Slovenia is often regarded as being substantially more stable, mild and perhaps sleepy than it's Balkan brothers.
That said, the capital of Ljubljana is quite charming and a perfect spot for a weekend break. The big draw however is the stunning Lake Bled which is a fairytale, picture post somehow packed into reality.
Backpacking Slovenia on a budget is easily done. You'll be pleased to know that there amazing hostels in Slovenia, but the best ones are located in Ljubljana.
What to Know Before Visiting Slovenia
Don't miss out on…Triglav National Park; Slovenia's only national park. Home to the highest mountain in Slovenia, this park features Dolomite-esque peaks with half the crowds. Backpackers can stay at Lake Bled too if they like.
Keep an eye out for...things to do in Ljubljana. For a European capital, this city is frustratingly boring at times.
The coolest hostel is…1A Adventure Hostel Lake Bled – These guys will help organize all kinds of activities and even give you a lift to Lake Bled.
The best food is found in…the gostilnas. These are local diners that cater mostly to the working class, like osterie in Italy.
Backpacking North Macedonia
North Macedonia was previously known simply as Macedonia but was forced by the European Court to add the identifier to it's name at the behest of Greece. Furthermore, the little nation was also ordered to stop declaring Alexander The Great to be it's premier famous son-done-well! Ouch!
Politics aside, this is a very quirky and cool little country. It is often overshadowed by its neighbours and doesn't get that many visitors. The capital city of Skopje under-went an expensive restoration and infamously blew the nation's savings on neo-classical architecture and a lot of statues.
The premier draw is most definitely the lake side city of Ohrid with its photogenic lake-side monastery, roman ruins and cobbled streets. There are some cool hostels and the city attracts a decent crowd.
If you have the time, Bitola is also a worthwhile stop with some very impressive roman ruins of its' own. There are also some neolithic standing stones near to the Serbian border which you can hitch-hike to.
What to Know Before Visiting North Macedonia
Don't miss out on…Ohrid. Lovely vibes. The lake is serene and the city has lots of history.
Keep an eye out for?...The statue of the Hermit in Skopje! In fact all of the statues.
The coolest hostel is…Sunny Lake Hostel. It's my favourite hostel in the balkans and attracts lovely people – say hello to Psymon for me.
The best food is found in…The supermarkets sell enormous, juicy, organic tomatoes.
Backpacking Serbia
Occupying the heart of the old Yugoslavia and debatably the entire Balkan peninsula, Serbia is a thoroughly complicated nation. Serbia was at the core of the Balkan wars that plagued the 90's and is widely regarded as being the aggressor. In fact, the nation was bombed by NATO in 1999 as a consequence of genocides in Kosovo and Serbia was forced into a peace treaty which it has never forgotten.
As a tourist, you can expect a more lukewarm welcome from the Serbian people as well as perhaps the strongest language barrier in the region. The country is less beautiful than most of its neighbours and doesn't house quite as many points of interest.
Still, the country did get under my skin and there is something unique about it. Belgrade's neighbourhoods are a mad mash up of architectural styles, Nis and Novi Sad are fine 2nd tier cities and pretty much every town has an Ottoman era fortress. Perhaps as a reaction to the recent trauma's it suffered (and caused), there is also a truly raging party scene – you can find Serb's getting drunk and dancing on barges 7 nights a week or you can seek out the authentic and awesome Techno and Trance scenes.
What to Know Before Visiting Serbia
Don't miss out on…A rave! Serbian's electronic music and rave scene are some of the world's best. Belgrade is the epicentre and is the easiest place to find a party.
Keep an eye out for?...The hottest women you've ever seen in your life; and also the coldest. Steel yourself lads! You'll need to be on your A-game here…
The coolest hostel is…Balkan Soul in Belgrade. It's central an does good bar crawls.
The best food is found in…Italy. No seriously as a vegetarian I struggled in Serbia…
Backpacking Kosovo
Kosovo is the Balkans newest nation and declared independent from Serbia following the NATO invasion in 1999. Kosovo is demographically made up of native Albanian's – Muslims descended from the Ottoman empire – and it was these ethic tensions which spilled into war and genocide.
Kosovo may be small but it's quirky and cool, and should DEFINITELY be on your list if you love all things off-beat. The capital Pristina has a lively central avenue with an amazing coffee shop culture and some awesome strange architecture. How about visiting the National Library, AKA "the ugliest building in the World", or Bill Clinton's statue? End the night at M Club, the best nightlife spot that's basically an all-invited house party.
You should also check out picture-pretty Prizren, a historical Ottoman city; and Peja which is your gateway to awesome hiking trails.
Since Serbia still considers Kosovo to be a part of their area, you might get in trouble if you try to visit Serbia after Kosovo. It's also best to avoid the northern border areas – otherwise it's safe to travel.
What to Know Before Visiting Kosovo
Don't miss out on… grabbing a cup of coffee in Pristina. Young people sit around in the capital's cafés for hours chatting and sipping away.
Keep an eye out for… the independence monument, "Newborn". It gets re-painted every year with different motifs.
The best food is found in… mountain huts. The guesthouses along the Peaks of Balkans route put up a true feast complete with Peja beer and rakia.
The Best Hostel is… Oda Hostel in Pristina. Backpackers give it almost full 10/10 for cleanliness, staff, AND location!
Backpacking Albania
Albania is the least developed and least discovered of the Balkan nations and emerged from the collapse of communism with pretty much 3rd world infrastructure and endemic political corruption. The nation is still recovering and is widely regarded as a Mafia state where horse and carts remain the main mode of transport in some villages! Some of the poverty you will encounter here is seriously punishing.
That said, the country does seem destined for better things and has a hell of a lot of backpacker potential. Prepare for mountain towns where you can travel back in time, stunning nature and some resort towns on the med which rival even Greece.
Albania is definitely not for the average tourist (at least yet) but for backpackers seeking to get off the beaten path, it is absolute gold. Oh, and it's perhaps THE budget destination in Europe.
What to Know Before Visiting Albania
Don't miss out on…The Albanian Riviera. The med coast has also the charm of backpacking thorugh Greece and none of the crowds.
Keep An Eye Out For?...Horses and carts! The way of life in Albania is very traditional and old world outside of the capital and cites.
The best food is found in…The UNESCO town of Berat. Some of the restaurants are sublime.
The Best Hostel is…Check out Tirana Backpacker Hostel in Tirana. Well located and offers walking tours.
Backpacking Romania
Squatting at the far side of the Balkans, stretching onto the Black Sea, Romania is mostly known as the home of Dracula and for it's Roma population.
Romania is actually one of my favorite countries and every time I visit I find something wonderful. The people are friendly and the youth very curious about the world and welcoming to visitors. The Transylvania region is utterly lovely with lush green mountains. Medieval towns and yes, Dracula's castle. Brasov is insanely pretty, Sighisoara a living fairy tale and Cluj-Napoca is a hip student city.
The capital of Bucharest is a bit of a monstrosity and I can't really recommend it too much unless you happen to love communist architecture. The Romanian share of the Black sea shore is also home to some lovely holiday towns which get very busy with locals during the summer.
What to Know Before Visiting Romania
Don't miss out on…Transylvania. The region is mountainous, naturally beautiful, and offers lots of medieval charm. No vampires either.
You Know What's Overrated?... Bran Castle. There are much better castles to see around Romania although, if you are near, then yeah swing by.
The coolest hostel is…Centrum House in Brasov. Nice vibes and a good selection at the (free) breakfast
The best food is found in…Head for the traditional, cellar restaurants. Romanian food is simple, stodgy and filling.
Backpacking Bulgaria
Last but not least, we have the Bulgarian adventure. Sharing the Black Sea short line with Romania, Bulgaria has made efforts to fete itself as a budget answer to Greece package tour destination, and has suffered for it.
That said, stay away from the resorts and the nation has a lot to offer. The city of Sofia has some great Byzantine architecture as well as some truly horrendous communism examples. The Black Sea town of Varna is fun and there are quite a few under-ground, hippy festivals going on during the summer.
What to Know Before Visiting Bulgaria
Don't miss out on…The garish communist monuments. Buzludzha and Shumen have to be seen to be believed.
You Know What's Overrated?...the package tour resorts, particularly around the coast. They are the definition of Hell and should be avoided at all costs.
The coolest hostel is… The hostel scene here is really taking off but check out Sofias Orient Express.
The best food is found in…By the Black Sea. The Bulgarian sea food is well impressive.
Getting Off the Beaten Path in The Balkans
Getting Off the Beaten Path in The Balkans is ridiculously easy. Simply aim for any non-capital city and you may well find you are the only tourist in town. In Serbia I headed to Nis, in Macedonia I spent a night in Bitola and in Romania, I didn't come across many westerners at all outside my hostel.
The only real exception is the Med coast – Croatia and Montenegro get a bit thronged – and to a lesser extent the Black Sea coast which is popular with local tourists all summer long.
Whatever you want from a backpacking trip or holiday, you can find it in the Balkans. From Island hopping to partying down to vampire hunting, let's take a look at some of the definitive things to do in the Balkans.
1. Island Hop in Croatia
Croatia's islands, dotted along it's Dalmatian coast, are well established as top tourist hotspots offering visitors the chance for some island life. There are a lot of them and the more popular ones tend to be a bit overpriced and soulless. Still, if you keep on searching you will find an Island that is just right for you.
Most of them are best reached from Split and some are near enough to be done on a day trip – in fact on some trips you can visit multiple islands in one day if you are happy to keep on moving and never dwell too long.
The largest, Sveti Klement, is a real back-to-nature escape, whereas Hvar is trendy, vibrant and popular for parties although it does pale in comparison to Pag which is a Slavix-spring break duche-a-thon. Vis is the place to head if you need to moor your yacht. Our personal favourite is Korcula.
2. Visit a Romanian Castle
Romania's history has been fraught and bloody. In fact, the region seldom enjoyed real peace from the medieval times right up until the 1940's when it was stabilised under the boot of the corrupt puppet Dictator Nicolae Ceau?escu.
As such, the nation is peppered with castles many of which have been maintained remarkably well. Wherever in Romania you are, you should be within day tripping distance of one. The most famous is of course Bran Castle near Brasov, one time home of real life Dracula Vlad the Impaler. That said Peles Castle near Sinaia, in Prahova County is perhaps the most magnificent and is also within reach of most Transyvalia cities if you have a car (the Romanian castles make for a great Balkan road trip).
3. A War Tour in Sarajevo
Bosnia is by far amongst the best places to travel in the balkans. Now, some would call this inclusion an instance of "dark tourism" but personally, I simply find it fascinating and educational. Between 1992 – 1996 the city of Sarajevo was besieged by Serb militants who shelled it daily whilst the world looked on.
There are now plenty of walking tours in Sarajevo which you can join to learn the tale of the Balkan wars and of life during the siege. The shell marked buildings are still there to see bringing the darker side of modern history chillingly to life. Also be sure to check out the Sarajevo "Siege Tunnels".
4. Lake Bled in Slovenia
Slovenia is often considered to be the older, wiser and boring of the brothers Balkan which is actually as much a complement as it is an insult. Still, Slovenia does have some truly stunning nature and the (justifiably) most famous example is Lake Bled.
You have probably already seen images of Lake Bled so why not take the chance to visit this fairy tale for yourself? Bring a good camera.
5. Party in Serbia
Sociologists concur that whenever a nation emerges from trauma, it then tends to party hard. After WWII the west had the rock n roll and the hippy counter-culture, Israel and Lebanon both emerged as rave centres during the 1990's and now the entire Balkan region is cementing its reputation as a capital of hedonism.
Nowhere did I find this to be more apparent than in Serbia. Belgrade's nightlife is relentless from Barge-pubs playing Turbo-Folk (nationalistic folk songs set to euro pop beats) and the cool kids make ther way to semi-underground Techno parties. It is no coincidence that many of the best Psytrance producers in the world today hail from Serbia.
Novi Sad hosts the Outlook Techno festival each summer and the city of Nis throws giant outdoor parties every summer weekend in an Ottoman era fortress.
6. Hike Up To The Castle in Kotor Bay – Montenegro
The old city of Kotor is a UNESCO listed wonder and the bay into which it is built is truly stunning. The city does attract a fair amount of tourists but it is with good reason. Anyway, if you do visit then the definitive things to do in Kotor is to hike up to the old, ruined fortress and explore the ancient defensive walls. You literally cannot miss it as it looms over the town.
There are 2 ways you can approach it – you can hike up following the paths and marked trails and pay the $3 admission price, or you can go rogue and find the secret "free" entrance. The views are truly rewarding, bring a cold beer and plenty of bug spray.
The good news is that the backpacker trail winds across the Balkans and you can find some manner of hostel in most cities. However, if you decide to get off the beaten path at all then you will need to search for guest-houses and hotels instead.
There are camp sites and wild camping is tolerated even in areas where it may not be entirely legal.
Couchsurfing is also alive and well in the region especially in the lesser frequented destinations.
Airbnb has also arrived in the Balkans and is pretty reasonable. For example, I picked up a stunning apartment in Nis Serbia for just $25 per night.
The Best Places to Stay in The Balkans
Whilst prices do vary between Nations, the Balkans is typically a damn site cheaper than the rest of Europe. This makes it one of the best places to travel in Europe on a budget.
Croatia is the most expensive and can actually be as pricey as Italy during the summer (so why not just go to Italy?). Albania is the cheapest by far and it's basic infrastructure is happily reflected in some very low prices.
Still, all across the region you can usually expect to get a couple of beers for under $5 and find a dorm bed for under $8. Whatever your Balkans travel budget, there are always ways you can reduce costs.
A Daily Budget in The Balkans
Money in The Balkans
There are 9 different currencies in the Balkans so prepare to visit a lot of money changers and to occasionally present the wrong note when trying to pay!
The good news is that ATM's are abundant across the region except for in remote areas and to some extent, in Albania. Money changers are also found in most bus stations and in all stations that deal with border-crossing busses. You may also occasionally get away with paying in the wrong currency if you are near the border.
As a rule, bring a supply of Euros as these are always welcome, and your bank or travel money card.
Travel Tips – The Balkans on a Budget
The Balkans is a seriously budget friendly destination and I didn't really stress all that much about what I was spending. Still, some basic cost saving tips are in order! Supermarkets and markets are cheap unless you buy imported goods. Stick to local produce, cook your own and drink only local beer.
Whilst busses are pretty cheap, you can usually hitch-hike in the region very easily. As I said earlier, Couchsurfing is also alive and well if you want to save some cash on flop's. You can camp in most semi-rural areas without getting into too much trouble.
Your biggest (needless) expense will probably come from changing currency so try to manage this as carefully as you can.
Oh, and if you are on a broke backpacker budget then be sure to avoid Croatia altogether.
Why Should You Travel to The Balkans with a Water Bottle?
Plastic washes up on even the most pristine beaches… so do your part and keep the Big Blue beautiful!
You aren't going to save the world overnight, but you might as well be part of the solution and not the problem. When you travel to some of the world's most remote places, you come to realise the full extent of the plastic problem. And I hope you become more inspired to continue being a responsible traveller.
Plus, now you won't be buying overpriced bottles of water from the supermarkets either! Travel with a filtered water bottle instead and never waste a cent nor a turtle's life again.
The Balkans is in Southern Europe and gets proper seasons. Whilst the weather does vary greatly, you can still expect very pleasant summers and cold winters. If you are visiting in winter, note that Romania, Serbia & Bosnia and even parts of Bulgaria can get VERY cold and snow laden so be sure to pack and dress accordingly.
I visited in early June and spanned the entire region. The weather was warm to hot most days, the nights were pleasant, and it only rained a few times for a short while.
If you visit in summer, then the popular Croatia and Montenegro can get horrendously packed. The Black Sea also gets busy with local sunseekers.
Festivals in The Balkans
If you can, then why not try to make your visit to the Balkans coincide with one of the many festivals that happen around the region each year?
EXIT Festival – Novi Sad, Serbia
EXIT Festival was born in the year 2000 on the campus of the University of Novi Sad and staged as a positive act of defiance against authoritative regime then (and back) in power in Serbia. Since then, the festival had grown to global fame and recognition.
Over the past two decades, it hosted the biggest names in the dance music industry including David Guetta and Prodigy. One of the biggest attractions of EXIT is the venue itself – 18th-century fortress of Petrovaradin, the second in size in Europe.
Goulash Disko Music Festival -Komiža, Vis, Croatia
Throughout the summer months, the isles of Croatia are alive with the sound of (mostly bad) music so I gues I had to include one.
This is by the top pick offering the most unique combinations of global underground music, the Goulash Disko Music Festival combines a mixture of traditional music and electronic beats. This is an ad-free, crowdfunded festival which retains its welcoming, and authentic vibe. It is the perfect antidote to the other shit going on here.
Traditional Romanian Festivals
Romania is in many ways frozen in time and still holds fast to it's folk traditions. As such there are loads of traditional semi-pagan festivals happening around the country across the year. There is an autumn festival celebrating the grape harvest and one celebrating the return of the sheep in the mountains. My favorite is spring's fertility festival – I am sure you can imagine the connotations this one has.
Expect townsfolk sporting traditional dress, folk dancing and plenty of wine and polenka.
Ohrid Summer Festival – Ohrid, Macedonia
This is one of the biggest, bestest and most important festivals held in Macedonia. It happens each year between July 12 – August 20 and utilises the towns outdoor (roman) theatre as well as the striking Church of Sofira to stage musical events and plays (in Macedonian Slavic).
The festival attracts about 20,000 visitors so be sure to book accommodation well in advance.
What to Pack for The Balkans
What you pack for the Balkans will really depend on the season in which you are visiting; summers are hot and winters bitter. Dress standards are very similar to those in Western Europe so wear jeans, shorts or whatever – just do note that some areas (particularly Albania & Kosovo) observe Islamic values of modesty.
Despite a very fraught past and a somewhat lawless air, the Balkans are not an especially dangerous region to visit. In fact, there safety is typical of Europe. Crime levels are on a par with Western Europe and right now the region is politically stable.
There is a chance of petty crime and as a tourist, you may be a target to thieves. Note that Bosnia does have some very run down areas where thieves can operate and take great care in and around the bus station in Sarajevo. On the subject of Bosnia, remember that it is one of the most mined (as in landmines) countries on earth. Take care when out walking in the countryside, stay to marked trails and always pay attention to land mine signs.
Also be aware that Roma children are sometimes sent out to work as pick-pockets particularly in nightlife areas of Romania where revelles tend to be a bit drunk.
Driving standards can be a bit haphazard compared to Western Europe and so far, the Balkans remains the only place I have visited where I saw a bus driver doing shots of schnapps before work…
Other dangers in the Balkans are the ones you can do to yourself. Which brings us nicely to the next section.
Sex, Drugs, and Rock 'n' Roll in The Balkans
Balkanites do love to party and by god do they love a drink. As soon as I disembarked the ferry in Montenegro (at 8.00am) the dock-side cafe was awash with sailors sipping beer, and Bosnia is the only place I have been where I saw a bus station attendant drinking beer inside the sales booth (it was a Saturday).
Locally made lager is cheap and abundant and most families have a recipe for polenca or rajika (vicious schnapps made from fruit).
There is a lively bar scene in most parts of the region (and you can smoke inside!) as well as a truly buoyant rave culture. Croatia is rivaling Ibiza as the capital of steroid fuelled island bop-up's, Romania has the most Trance music festivals out of any other country in Europe and Serbia is a true underground mecca for raves – in fact KPTM in Belgrade even has a "daily rave"!
This brings us to the subject of drugs. Weed is fairly easy to find but not as ubiquitous as in other parts of Europe and the quality not quite as high. Party stimulants are also widely available but do note a strong trend for amphetamine sulphate (speed) in lieu of cocaine or ecstasy. I have been warned about the quality of amphetamine based drugs in the region but do not have any personal experience. Psychedelic substances are also reportedly hard to find unless you attend the right festivals – however, the abundance of mandala artworks I saw tells me they must be doing the rounds.
Also note that the Police shamelessly profile and harass anybody who looks like they "might" be carrying drugs – if you have dreadlocks then be ready to empty your bag at border crossings.
Finally, let's discuss the matter of sex (trigger warning – outragouse stereoptyoing coming up). The people of the Balkan's are generally quite striking. Women tend to be tall, slim and exquisitely beautiful. I previously held Romanian women as being the sexiest in Europe until I reached Serbia where it seemed that every other women I saw was a supermodel. In fact, their beauty was rivalled only by their sheer hostility – if you are looking for an "easy win", look elsewhere.
The men are built like towers and tend to look like they have just been involved in a fight. But they're actually quite friendly.
Travel Insurance for The Balkans
ALWAYS sort out your backpacker insurance before your trip. There's plenty to choose from in that department, but a good place to start is Safety Wing.
They offer month-to-month payments, no lock-in contracts, and require absolutely no itineraries: that's the exact kind of insurance long-term travellers and digital nomads need.
SafetyWing is cheap, easy, and admin-free: just sign up lickety-split so you can get back to it!
Click the button below to learn more about SafetyWing's setup or read our insider review for the full tasty scoop.
There are multiple points of entry into the Balkans depending on whether you intend to arrive by land or sea. Frankly there are way too many to list them all. However, one popular entry point is by ferry from Italy to Croatia, Montenegro or even Albania.
If you are coming by air, then Croatia's airports handle a lot of (budget) flights from Europe as do Bucharest & Cluj-Napoca în România and Sofia în Bulgaria. At one point, Ryanair were also doing £20 flights from London to Skopje in Macedonia although they may not emerge from the post Covid wreckage.
Note that you will need to pay attention to the visa requirements of your chosen port of entry as they do vary a bit from country to country.
Entry Requirements for The Balkans
Slovenia, Croatia, Romania and Bulgaria are all EU members. This means that EU passport holders are welcome to come and go as they please. Everybody else though, will need to qualify for and obtain a Schengen Visa. You may also notice that the border crossings into EU nations tend to take longer than in other Balkan states.
Other Balkan nations set their own rules on immigration although they do often tend to resemble EU requirements almost uncannily.
If you own an EU passport, you can get a Visa stamp on arrival for free in every Balkan country and in most cases can stay for 3 months. There are however 2 things to note regarding Serbia. (1) You need to register with the police when you arrive. Your accommodation host will most probably take care of this and will need to borrow your passport whilst they do it. (2) If you enter Kosovo after Serbia, you may well not be allowed back into Serbia until you change your passport.
Citizens of the US, Canada, Australia and NZ also have very little to worry about.
The Balkans are pretty well connected by road and public transport. Most border crossings are also fairly quick. The bus network is the best way to go as it is affordable and busses run regularly. If you are going long distance or visiting at high season, it is wise to buy your bus ticket in advance – otherwise you can usually get away with turning up at the station 15 minutes before departure.
There is a train network in the Balkans but I found it pretty slow and less comprehensive than the bus network. International flights are also an option if you are covering a big distance (say Bulgari to Croatia) and can be very cheap if you only travel with carry-on luggage.
Traveling by Bus in The Balkans
There are multiple different bus companies operating in the region. Some are private and some are public and some only cover very specific routes. For example, "Nis Bus" in Serbia operates only a handful of routes to and from Nis.
Nevertheless, the system is not complicated. Simply go to the bus station and ask at the desk. The attendant will probably not speak much English but state your destination. In some cases it is worth booking your ticket ahead of time (long distance, overnight, or in high season) but usually this is not necessary.
Onwards Travel from The Balkans
Backpacking the other Eastern Europe is always a great idea. Where you choose to go from the Balkans will depend on where your trip ends. If you finish in Croatia, Montenegro or Albania then you can catch a ferry to Italy. If you finish in Slovenia there is a land border with Austria and from the black sea you can catch ferries to Turkey, start backpacking Ukraine or (Visa permitting) try to get into Russia.
And then of course, every capital city in the region has modern, busy airports handling international flights around Europe and the world.
The Balkans are not exactly economic megaliths and tend not to attract many migrant workers. In fact, the traffic tends to run the luther way with vast swathes of Romanian, Bulgarians and Slovenes seeking better employment prospects in Western Europe.
If you are coming to work in the Balktans from "the west" then expect a stark pay-cut. That said, living costs are also lower and the quality of life has a lot of appeal.
If you are able to work online or remotely and get paid in USD, then you can live very nicely out in the Balkans. Skopje in Macedonia, Varna în Bulgaria and Cluj-Napoca in România all have a little digital nomad scene going on.
Work Visas in The Balkans
If you are an EU citizen, then you have the right to live and work in any other EU member state (Slovenia, Croatia, Romania, Bulgaria).
Otherwise you will need to obtain a work visa. Anecdotally, I heard that the bureaucracy around this can be difficult and an Englishman I met was finding it very hard to get a Macedonoian work and residency permit.
Of course, visa requirements from country to country but typically, you will need to have a job offer lined up before you can apply and in some cases will need to demonstrate you are fulfilling a role that cannot otherwise be filled by a native.
Teaching English in The Balkans
One evergreen option for ex-pat's seeking work is English teaching. All of the Balkan states value English proficiency and welcome good, native speakers. Note that in most Balkan countries, you will also need a Bachelor's Degree and a TEFL in order to find work in a school or university.
As I said above, pay standards are lower than in Western Europe but lower living costs should even this out.
Despite the size and cultural differences within the region, there is a definite culinary style occurring throughout the region and I think it fair to say there is such a thing as "Balkan cuisine". Of course, each region has its own variations and native dishes but there are some recurring trends.
Firstly, the food is generally very carnivorous and as a vegetarian I struggled at times. The food also tends to be quite rich and is rarely spicy. There is also a massive Turkish influence on food in the region.
Of course, 9 different countries, as many languages and a set of different ethnic group means that Balkan culture is pretty diverse. Still, there are some common traits running throughout the region.
As a European, Balkan culture feels quite familiar and yet there is still something strange about it and the disparate Ottoman and then Soviet influences have certainly left their mark. The cities can feel like western europe with citizens dressed in jeans and eating from McDonalds but head into the country and you will still find country folk working the fields in more traditional dress. The Roma and Albanian's throughout the regions have retained their own unique way of life.
Also, Balkan people can seem more reserved than their western European counterparts and smiling at strangers is less common. Please do not construe this as unfriendliness though, I frequently found myself being invited to random parties by people I just met!
Gender roles are noticeably more "traditional" than in the West particularly in the non-EU states. In particular, in Serbia I was surprised to learn that the gender pay-gap is accepted as being perfectly natural and that reducing it would hurt men's pride!
Language in the Balkans
There are several different languages spoken in the Balkans all of which are a mix of Romance, Slavic and Tukic influences. The former Yugoslav countries each have their own national language but all speak variants of "Slavic" and can generally understand one another perfectly well. Bulgarian is also a variant of this.
Romanian language is often likened to "bad Italian" and in Albania and Kosovo they speak Albanian. If you are the kind of traveler who likes to learn some of the local language everywhere you go, good luck with this one.
Fortunately, English is kind of widely spoken amongst the younger generations but not so much by anybody over 40 (they may speak some Russian instead). Get used to gesturing and pointing a lot when dealing with bus and taxi drivers and in supermarkets.
The table below sets out some common Russian travel phrases which you can try should English not work.
Books to Read About The Balkans
Cafe Europa: Life After Communism: In this brilliant work of political reportage, filtered through her own experience, we see that Europe remains a divided continent. In the place of the fallen Berlin Wall, there is a chasm between East and West, consisting of the different way people continue to live and understand the world.
The Establishment of the Balkan National States, 1804-1920 (A History of East Central Europe) – An excellent overview of the last 200+ years of the region. Covering the transition from peasantry to nationhood, communism and the bloody ballan wars of the 1990's.
Dracula – Bram Stoker – Utterly fictitious but nevertheless gripping, victorian vampire novel, Essential reading to get you in the mood to visit Romania.
The Balkans by Lonely Planet: Lonely Planet always has something helpful to contribute to any adventure.
A Brief History of The Balkans
Most of the countries in the Balkans are relatively young and few have existed for longer than 100 years. Following the collapse of the Roman Empire, the region became a hopscotch of kingdoms, princedoms and tribal regions who were regularly at war with one another, with the Ottomans and occasionally with invaders from Western Europe. As such territories, boundaries and cultural mores regularly changed hands during the first 2 millenia of Christendom.
In many ways, the modern Balkan story begins in the 19th century following the creation of Yugoslavia after WWI and the (flawed) geographical categorisation of the region which took place.
Communism
After World War II, all of the Balkan states fell into the Russian sphere of influence and adopted communist dictatorships which lasted until the fall of the USSR in 1989.
It is important to point out that none of the Balkan states were ever a part of the USSR but were all to some degree members of the "Soviet Union". Still, differences between the states varied and for example, Yugoslavia was widely regarded as being the least repressive and most successful example of communist rule in Europe. Even to this day, you will find plenty of "Yugo-Nostalgia" in the region.
Whilst some states transitioned from communist rule relatively painlessly, others experienced severe birthing pangs. In Romania, the brutal Dictator Nicolai Cesarcu was violently overthrown and executed by the people, and shortly after the collapse of communism, Yugoslavia disintegrated into terrible ethno-tribal wars that primarily affected Bosnia, Serbia and Kosovo.
The Balkan Wars
Now we come to the modern, tragic history of the region. Following the collapse of communism, Yugoslavia disintegrated with a number of states declaring themselves independent from the Republic. Slovenia was the first to break away and managed to do so relatively painlessly owing in part to its proximity to Western Europe.
Ethnic tensions at the heart of the republic (which had been quiet under Yugoslav, comminist rule) began to surface between Bosniak, Kovovan Albanian's and ethnic Serb's. This spilled over into all out war in 1992 when Serbian forces laid siege to the Bosnian capital of Sarajevo and committed a number of atrocities in the region. It was this conflict which gave the world the term "ethnic cleansing".
The siege of Sarajevo ended in 1995 when Serbia was forced into an uneasy truce by the US. The truce broke in 1999 when Serbia began persecuting Kosovan-Albanian's leading to Nato invasion and the arrest of Serb leader Slobodan Milosovic.
Whilst the region has enjoyed peace and stability ever since, the legacy of the Balkan wars lives on. In Serbia there is widespread distrust of NATO, the US and the EU, and in order to placate ethnic-diversity Bosnia-Herzegovina has adopted a farcical system of government which is further forcing the country into a deep economic abyss.
So what makes the Balkan unique? If you are after some special, memorable experiences from your Balkan backpacking trip then I suggest the following;
1. Spot the communist monuments in Bulgaria
The communist regimes in eastern Europe loved big pointless monuments almost as much as the capitalist regimes in eastern Europe today love pointless monuments (see 2). In Bulgaria, this is on steriod and the landscape and cities are peppered with some truly garish, enormous and frankly eerie examples of concrete statemaking that needs to be seen.
2. Count The Statues in Skopje
In 2014, in a bid to modernise the country ahead of a bid for EU membership, the Macedonian Government undertook a huge project to renovate he city. The upshot, is that they spent pretty much everything they had on Statues.
The Skopje Statues have been often been labelled the most pointless tourist attraction in history and is also often joked that there are more statues in Skopje than there are people. So who are these statues actually of? Well anybody ever anybody and everybody who was nobody in Macedonian history/ My personal favorite is the hermit
So there we have it.
Writing this guide was true labour of love and I am very happy to share my insights (and unwanted opinions) with you all. Whether you are intending to sun seek in Croatia, walk the war in Sarajevo, or climb the Carpathian mountains, you are pretty much guaranteed an awesome time out in the Balkans.
Have you visited any of the Balkan countries before? If you think I missed anything or want to share your own travel stories, head down to the comment section below!
---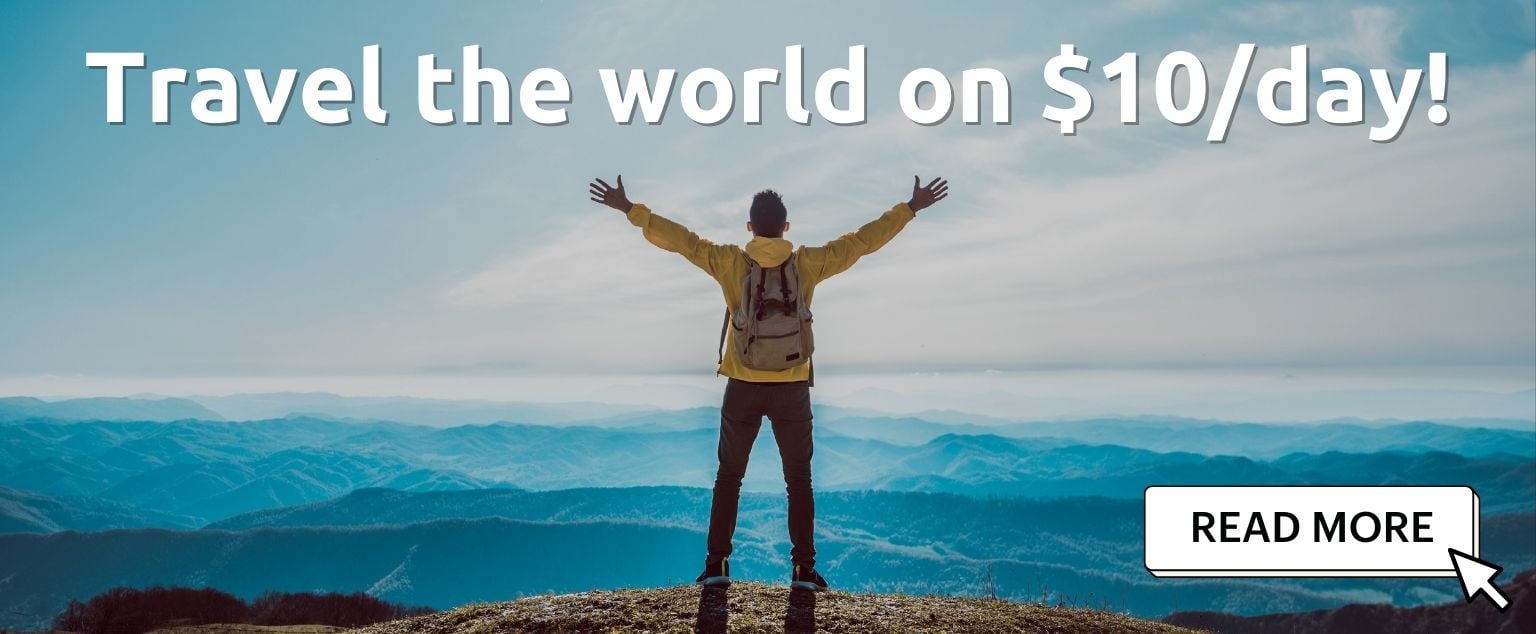 And for transparency's sake, please know that some of the links in our content are affiliate links. That means that if you book your accommodation, buy your gear, or sort your insurance through our link, we earn a small commission (at no extra cost to you). That said, we only link to the gear we trust and never recommend services we don't believe are up to scratch. Again, thank you!