Why Go Backpacking in Bulgaria?
Good question. Why visit Bulgaria? Because Bulgaria is AWESOME, that's why.
Bulgaria is a mixture of the best of two worlds. It has the look, safety, and pretty cities of Central Europe. At the same time, its mountains, quirky attractions, and lovely but hard-to-read people are a true Balkan trademark.
It's an excellent starting point for a Balkan backpacking adventure if you're not quite ready to hit avant-garde spots like Serbia or Bosnia yet – and it's the perfect place to head if all the Pragues and Budapests of the general European backpacking trail are starting to feel a little dull.
Bulgaria is a beauty, and you don't need to be an instagrammer to appreciate it. I'm not even only talking about the awesome mountains (even though I'm always talking about mountains).
Bulgaria also has some incredibly beautiful towns, waterfalls, a pink lake, clear starry skies, and fields upon fields of sunflowers – usually flanked by equally expansive rows of baby-purple lavender.
And another great thing (maybe the best?) is that Bulgaria is SO cheap. Add it immediately to your list of destinations if you're planning a cheap-ass trip to Europe!
I mean, saving money in itself is nice and all, but it's all about what you can do when you don't have to watch your spending too much. You can still gorge yourself on incredible Bulgarian food and order a second (or fifth) glass of wine. You don't have to pick between two attractions, you can go see both. And you can travel all over the country – the only dent will be in your hours, not your budget.
Backpacking Bulgaria is chock full of all sorts of wonderful things to discover and experience. If I was you, I'd spend at least 2 weeks there to get to take in all parts of the country in peace. But if you're mostly interested to just check out the important tourist attractions in Bulgaria, one week is enough time.
Here are some ideas for a backpacking Bulgaria itinerary!
1-Week Travel Bulgaria Itinerary
This one-week Bulgaria itinerary is perfect if you want to check out the best places to visit in Bulgaria in one go!
Our travel in Bulgaria starts from its famed capital, Sofia. The city is full of architectural gems and museums, so if you're feeling hungry for some good old culture, this is the place for you. Sofia is also a good base for some day trips around the area.
From there, our hero's journey continues to one of the most beautiful places in Bulgaria – the Rila Mountains.
The first stop is Seven Rila Lakes, a group of glacial lakes set among gorgeous mountains and wildflowers. If you want to spend more time hiking around the area, you can stay overnight at the Rilski Ezera hut.
The next pit stop is Rila Monastery. It's the most important spiritual centre of Bulgaria and actually still active!
You could split the visit between the lakes and monastery over two days. However, even though these are literally two of the most visited tourist attractions in Bulgaria, public transportation connections are not great. Unless you're renting a car, they're best visited on an organised day trip from Sofia.
Anyway, you'll have to return to Sofia to catch a bus or train to our last stop – Veliko Tarnovo. This medieval capital is my favourite place in Bulgaria and well worth a couple of days of exploring!
2-Week Travel Bulgaria Itinerary
All righty – there's lots we can do with two weeks.
Let's start in Sofia again. Do the first few days of Itinerary #1, AKA the grand tour of Sofia and the Rila Lakes + monastery. From there, it's easy to continue southward – towards Bansko and the Pirin mountains.
Hiking in Bulgaria is great, so spend a couple of days doing that and testing out Europe's longest waterslide. In the winter, polish off your skis or take a dip in hot springs. There is a lot to see and do in this region, so make sure to stay in Bansko for a couple of days to explore all of the attractions there.
From Bansko, we'll continue on to Bulgaria's second city, Plovdiv; the bus journey from Bansko should take about 4 hours. Alternatively, you can catch the famous old narrow-gauge train. The 6-hour journey through the mountains is quiet and at times pretty.
Get familiar with Plovdiv for a few days – and trust me, you'll want a few days to spend here. The old town and the Roman ruins are obviously gorgeous, and the food? Absolutely impeccable.
From Plovdiv, we're headed to the last part of the trip – the Black Sea coast. Get to Burgas where you can spend a few last days lounging on the best beaches in Bulgaria, exploring the nearby town of Nessebar, and floating around in a pink lake.
Burgas has an airport which makes it easy for you to jet off to your next adventures!
1-Month Travel Bulgaria Itinerary
Simply can't get enough of travel in Bulgaria? Spend an entire month there soaking in all the Balkan goodness.
Start your trip from the coast of the Black Sea. Burgas is a natural starting point with an airport and a nearby overland connection to Turkey.
From Burgas, traipse up the coast to Varna for bona fide Black Sea parties and to explore Sozopol, a tiny historic town next to Varna.
Next, catch a bus to Veliko Tarnovo, a medieval capital and the prettiest town that ever roamed the lands of Bulgaria. With all the little attractions surrounding it, you can easily spend a couple of days there.
From there, getting to the town of Shipka takes a few hours. This is your launchpad to see the Buzludzha Monument, a truly weird and off-the-beaten-path attraction that's only accessible by car or taxi. Alternatively, you can also stay in Kazanlak that's the closest town to the monument and also has some accommodation options.
After that, the next stop is again Plovdiv.
From Plovidv, we start exploring the Rhodope Mountains. Take a bus to the town of Smolyan, a starting point for hikes in the area (and in the winter, a big ski destination). Soak in the hot springs in nearby Devin or check out the picturesque town Shiroka Laka.
You'll need to get back to civilisation from there so return to Plovdiv and take a bus or train to Bansko to the Pirin Mountains.
From Bansko, take a day trip or spend a night in Melnik, the smallest town in Bulgaria that's famed for its wine. From there, travel through Rila monastery and Seven Rila Lakes to Sofia where this Bulgarian adventure ends.
What to see in Bulgaria, then? The country is a mixture of old, picture-perfect cityscapes, vast mountain ranges, and peaceful seaside. Take your pick between them – or visit all 3 landscapes. Bulgaria's not that big that this option would be off the books.
Here are the best places to visit in Bulgaria.
Backpacking Sofia
The capital of Bulgaria is a metropolis of 1+ million inhabitants and still doesn't feel too busy. It's a very walkable city with lots of patches of green dotting the street grid and attractions and old buildings aplenty to gawk at.
Sofia has a very similar vibe to other big, historical cities in Central and Eastern Europe. Its most famous attraction is the Alexander Nevsky Cathedral, a cathedral erected in honour of the soldiers that fell in the Turkish-Russian war defending Bulgarian independence from the Ottomans.
But Christians are not the only people residing in this city of cross-sectioning cultures. Europe's second largest synagogue is located here, and you'll also spy plenty of mosques.
And like most capital cities, it also has a host of cool museums to check out. Sofia History Museum is located in an old bathhouse building so on top of great exhibitions, you're also literally surrounded by history!
The main shopping street Vitosha Boulevard gets pretty busy so it's great for people-watching or replacing your tattered backpacker's wardrobe.
I highly recommend joining the free walking tour to get the best perspective of the Bulgarian capital.
Best day trips from Sofia:
Vitosha Peak: The closest hike you can do near the capital! Take a bus from the city to explore the churches on the hill and blow yourself away with incredible panoramic views of Sofia.
Belogradchik Fortress: This well-preserved fortress built into natural rock can only be described with one word: spectacular. It's a 3-hour journey from Sofia but since there isn't much else going around the fortress area otherwise, it's worth the day trip if you have a day loose in your itinerary.
Seven Rila Lakes and Rila Monastery: Best visited with an organised tour but definitely unskippable if you're in Bulgaria! Rila monastery is the country's most famous monastery, and the Seven Rila Lakes is maybe its most breath-taking natural area.
Backpacking Plovdiv
If Sofia is the capital of Bulgaria's historical culture, then Plovdiv is surely the capital of its contemporary culture.
Despite the fact that the entire city is built on ancient Roman ruins – more on that later – the current mood in Plovdiv is that it's cool and hip. (Are kids these days still saying "hip"?)
Plovdiv was named the Cultural Capital of Europe in 2019, and not for nothing. The city is filled with gorgeous street art and graffiti, galleries, and statues. My favourite is the statue of Milyo, who was literally just some guy that people knew and liked, so he got a statue in his honour. Apparently, if you whisper your wish in his ear, it comes true. (Results still pending.)
The free walking tour of Plovdiv is excellent, and they also do one that dives into the street art around the city.
Well, onto the Roman times, as promised. Plovdiv's long history in the intersection of cultures has left it with brutalist Soviet architecture, Viennese-style colourful old houses – and Roman ruins scattered all over the city. You can literally walk into an H&M and gaze down at some ancient stones under the floor.
The most famous Roman monument is the amphitheatre in the Old Town.
This is also where you'll find the BEST food and drink in Bulgaria! From craft beer bars to artisanal gelato, there's so much goodness here. (Also, the best coffee shops in the country!)
Plovdiv is, in my books, almost the best city in Bulgaria (but the race with Veliko Tarnovo – coming up – was very, very close). So definitely don't skip it!
Popular day trips from Plovdiv:
Bachkovo Monastery and Assen's fortress: Less than an hour south from Plovdiv, the second-biggest monstery in Bulgaria and the 13th century castle are definitely worth checking out.
Koprivshtitsa: Often hailed as the best small historical village in Bulgaria, Koprivshtitsa is basically just one big town-shaped museum (and SUPER pretty!)
Shipka and Buzludzha Monument: A little further off, but Plovdiv is your best base for a peek at Shipka's gorgeous Memorial Church and the nearby UFO-shaped Soviet monument.
Backpacking Burgas
Burgas is a natural gateway to your Black Sea holiday – or a start of an epic backpacking trip in Bulgaria. With great bus connections and an international airport, arriving there is easy. Leaving? If you fall in love with it, maybe not so easy.
Burgas is steeped in history. Check out Aquae Calidae (the ruins of a historical bathhouse), the ethnographical museum, and the seaside Sea Garden. The Sea Garden is also home to the annual Sand Festival which brings together sand artists from all over, creating sand sculptures from waterproof sand (apparently that's a thing) that can be up to 8 m tall.
And don't miss the boat trip to St Anastasia Island. The tiny island has a 15th century church and convent and a small hilltop garden, but more interesting than that are probably the pirate legends. I'm not gonna say I believe in ghosts… but a hidden treasure guarded by a ghost of a pirate is a pretty badass story.
You can also visit Lake Atanasovsko, a lake that's so close to the city that you can see its silhouette as you bathe in the healing mud and pink waters. The colour is completely natural – and actually pink!
And considering it's by the sea coast, you'll also some of the best beaches in Bulgaria around here.
Right by Burgas, you'll find two historical port towns that the Bulgarians I met absolutely loved: Nessebar and Sozopol.
Nessebar has an incredibly gorgeous Old Town, an architectural museum, and ruins of old fortresses. If you're not scared of screaming kids running around you, you can also spend the day at the waterpark there.
A little ways up from Nessebar, check out the stellar sunset point at the end of Cape Emine.
Sozopol, in turn, is the oldest town in Bulgaria. In short, it's just an incredibly pretty old seaside village.
Backpacking Varna
Varna is known as the Bulgarian seaside capital. It's the biggest city on the Black Sea so this is where you should head if you're looking for some late-night parties!
Varna is very much a summer city so a visit there is probably not too exciting if you're in Bulgaria for a ski holiday. For a summer stint, though? If you're wondering where to go in Bulgaria for a beach holiday, wonder no more. This is where you'll find some of the best beaches in Bulgaria so pack up your beach bag.
It's not all booze and pleasures, though. There's also some cool-ass history! Check out the Archaeological Museum, Roman Baths and most importantly, the Varna Necropolis. The gold treasure that was found there is actually the oldest processed gold in the world.
And of course, the beaches. The beaches!! The whole reason you're probably by the Black Sea! There are tons to choose from, although you might want to travel a bit up or down the coats to find one that you love. And stay the fuck away from Sunny Beach – rumours tell it's the absolute worst, overrated tourist trap that no backpacker would ever want to fall into.
In general, the Varna town is just really pretty. I feel like no one warned me it would be like that. There is really no shortage of utterly beautiful cities to visit in Bulgaria, I guess. It's a very pleasant city to just walk around without a rush, eat ice cream, and sample seafood.
And lastly, take a day trip to the Stone Desert. Just 20 km away from Varna, it's one of the most unique natural attractions in Bulgaria.
Just one last thing: if you find more lists of things to do in Varna, you'll probably run into the Varna Dolphinarium. Apparently it's a famous one. I'm sure a very small percentage of readers of The Broke Backpacker would actually be the type to visit a dolphin show, but in case you're thinking about it, I highly encourage you to read up on ethical animal tourism and skip the visit.
Backpacking Veliko Tarnovo
Veliko Tarnovo is, simply put, the best city in Bulgaria. It's an old, medieval capital, best known for its colourful houses built in layers on the hill and the romantic, cobbled streets. If you've ever dreamed of European old towns, I can guarantee that Veliko Tarnovo is what you've pictured.
The biggest attraction is the Tsarevets Fortress. It's mostly in ruins now but grants some great views over the town, especially if you climb the tower of the Ascension Cathedral. Oh, about the cathedral – it's not an actual cathedral anymore. When it was restored a few decades ago, its frescoes were repainted, and the result could be described as a homage to Bulgarian Soviet art or complete sacrilege. These frescoes were the reason the cathedral couldn't be re-consecrated (AKA made holy) but they sure are something to see.
Try to time your visit to catch the light show at the fort. It's free to see but you have to snatch up a ticket beforehand!
The Old Town is made for slow meandering on an afternoon and stopping to browse roadside arts and crafts. The best place to see the famous view of the cityscape on the hill is the Monument to Assen Dynasty with the State Art Gallery next to it.
Veliko Tarnovo is also an excellent pitstop if you're getting a lil' tired of endless cities to visit in Bulgaria; maybe you're the one to crave a touch of Mother Nature. You can spend an afternoon walking in the Sveta Gora park (rumour has it, the views are great!)
For a longer walk, you can track the 4 km path to the Transfiguration Monastery which, honestly, has the most beautiful frescoes I saw in Bulgaria. The walk is easy but make sure you're following a map app like Maps.me since the waymarkers are really poor!
Backpacking Bansko and the Pirin Mountains
I'm not even going to pretend like I'm not biased – I fully am. Bansko is AWESOME.
This tiny mountain town on the foothills of the Pirin Mountains is one of your best bases for exploring the area and all the goodies it has to offer. As a town, it doesn't have that many attractions: pretty much just a museum church in the middle of the town.
But you come to Bansko for the atmosphere. The old town is all cobbled streets, traditional restaurants and friendly cats. Even the tourist hotels don't clash with the cityscape since their style will remind you of old-school Alpine postcards.
As tiny as it is, during the peak summer season there's always something going on: marathons, jazz and hard rock festivals, even Latin parties. The town might be devoid of backpacker hostels (boo) but it's always teeming with digital nomads, meaning that the general aura of the town is young, fun, and lively.
But the real draw of Bansko is its nature: score for trekkers, campers, and mountain bikers. During the summer, you can hike up to Vihren – the highest peak of the Pirin mountain range – or take any of the other trails around the peaceful mountains.
There are many trails even for beginner hikers. Even if you're not a hiker, the two gondolas take you up to some pretty spectacular view points.
The longest waterslide in Europe is also located here. Goggles highly recommended!
In the winter, Bansko truly blooms to life as one of the top winter sport destinations. That combined with the atmosphere in the colder months makes the best skiing and snowboarding in Bulgaria.
Plus, after you're done for the day, you're just a 10 minute drive from the town of Banya where you can dip yourself in natural hot springs.
I'd highly recommend a day trip to the nearby town of Melnik, too. Officially the smallest town in Bulgaria is super beautiful, and one of the best places to sip on some prime Bulgarian wine.
Backpacking Pamporovo, Smolyan, and the Rhodope Mountains
Listen, lemme just bundle this whole area up in one bunch, since it's difficult to point out just one main point to explore around here.
The Rhodope Mountains are one of the biggest mountain ranges in Bulgaria – and for other Ancient Greek mythology nerds like me, you might know it as the birthplace of the poet Orpheus. I found that the points of interest around the area are pretty well scattered. The best way to explore the Rhodopes is to rent a car to get from point to point.
The main towns you should check out are Pamporovo and Smolyan.
Both are mainly winter towns popular for skiing and snowboarding in Bulgaria. Smolyan also has some nice houses and museums, and both are good places to stay if you want to visit the picturesque village of Shiroka Lake.
Unless you're interested in skiing in Bulgaria in winter, these towns are mostly a point for hiking around the Rhodopes.
That brings me to my second point: hiking in the Rhodopes. I was trying to find a good multi-day trek through the region but since I didn't have my tent, I was kinda struggling with that. Instead, for hikers, I recommend multiple day trips around the area.
You could check out these unique sights:
Wonderful Bridges: unique rock bridges
Orlovo oko, or Eagle's Eye: lookout point over mountain valleys
Devil's path (near Borino): a short but demanding (and fun!) hike through the Khatak Dere River gorge.
Devil's Bridge: Unique round stone bridge
Getting Off the Beaten Path in Bulgaria
Bulgaria's not quite Italy or Germany yet – but it's starting to get there. International tourists have been coming to the Black Sea coast for years. Even if the main crowds still like to mostly move between there, Sofia, and Plovdiv, Bulgaria as a whole can get pretty touristy in places.
If you want to get off the beaten path in Bulgaria, head to the countryside. Chances are you'll still run into some Bulgarian tourists – they know how beautiful their country is – and they dutifully explore it. But you'll avoid most of the masses of foreign travellers. The tiny little towns that have preserved the look of old Bulgaria are the most beautiful places in Bulgaria.
One town that's hailed as THE place to get a glimpse into the past is Koprivshtitsa where it feels like you're literally inhaling history. Also check out Lovech which is en route to the Krushuna Waterfalls.
Ruse, a town dubbed "Little Vienna" sitting by the Romanian border, is an excellent point to stop overnight if you're headed north anyway.
Then there's Gabrovo which is going straight on my list of things to visit next time since it combines my two favourite passions: gorgeous old houses and weird museums. Check out The House of Humor and Satire, and the Interactive Museum of Industry.
Still wondering what to see in Bulgaria? You won't be short of things to do while Backpacking Bulgaria. If anything, there is too much to see on a short trip!
Here are some of the best things to do in Bulgaria:
1. See the Seven Rila Lakes
Even if you're not much of a hiker, the Seven Rila Lakes is potentially the best nature site in Bulgaria. It's easy to visit with minimal hiking. The seven glacial lakes are gorgeous, and the gondola to the top of the hill makes sure your feet won't get too tired!
2. Check out the Alexander Nevsky Cathedral
Emblematic to Bulgaria for many reasons: Alexander Nevsky Cathedral is one of the most famous tourist spots in the country. It was built in honour of the soldiers that fell fighting against the Ottomans in the Turkish-Russo war for Bulgaria's independence.
3. Chase Down Street Art in Plovdiv
Plovid is hip and fun, and honestly unmissable if you like quirky cities. It's most famous for having been built on top of Roman ruins but for me the biggest pull is the art.
Strolling around Plovdiv is one of the most fun things to do in Bulgaria! Take the daily free walking tour to get a local perspective on the art pieces and an explanation of Bulgaria's Soviet history.
4. Soak in Sun and History on the Black Sea
The Bulgarian coastline is awesome if you feel like a break from your busy itinerary. Filled with white-sand beaches and historical towns, the whole area is super picturesque!
Some of the best beaches in Bulgaria are found around Burgas and Varna. Just avoid Sunny Beach unless you feel like getting trampled by hordes of tourists.
5. Fly Away on a Soviet UFO
Okay, the Buzludzha Monument is not a real UFO, but you can't tell me it doesn't look like one! This now-decrepit monument was once a triumph to Soviet Bulgaria and now one of the weirdest tourist attractions in the country.
6. Get Religious at Rila Monastery
In a country overrun with monasteries, Rila Monastery is the most famous – and the most beautiful? Guess you'll just have to decide on that yourself.
The entrance to the monastery is free. Then, there are some exhibitions that cost a couple of bucks to see.
7. Chill in Natural Hot Springs
Especially if you're touring Bulgaria in the winter, you'll love these hot springs. Bulgaria is #2 in the number of hot springs in Europe, right after Iceland. You'll find these springs and adjacent mud baths everywhere in the country.
8. Eat Everything in Sight
Bulgarian food is DELICIOUS. Filling, warming, cheap, and hearty – you'll never have to go hungry. Wash that all down with some delish Bulgarian wine. But more on food later…
9. Get the Best Views in Veliko Tarnovo
Veliko Tarnovo is easily the prettiest town in Bulgaria. Spend some time hanging around the Assen Dynasty monument listening to buskers and taking in the best perspective of Veliko Tarnovo's houses built on the hill.
10. Climb the Highest Peak in the Balkans
Hiking in Bulgaria gets to epic proportions after you've conquered this peak, and this is legit one of the best hikes in Bulgaria. At 2,925 metres, Musala is the highest peak in Bulgaria AND the highest peak in the Balkans!
The best part is that it's easy to hike even without specific mountaineering experience. If you're moderately fit, you can do it as a day trip.
Being a backpacker in Bulgaria is kinda fifty-fifty. On the one hand, there are heaps of great hostels that, at the best of times, are super social and awesome places to meet other travellers.
On the other hand, these backpacker hostels are very unequally divided between the biggest backpacker destinations.
You'll find some especially great hostels in Sofia and Plovdiv, where the biggest crowds tend to be. There are also some nice ones on the Black Sea and in Veliko Tarnovo.
Hostels in Bulgaria, in general, are cheap, well-kept, and cool places to stay. Wherever you find them, you'll be sure to experience the sweet, sweet hostel life!
Everywhere else, broke backpackers (or introverts) can still get by fine since there are tons of ultra-cheap guesthouses and small hotels. Obviously, staying in a private room doesn't help much with socialising, but maybe you can just find a quiet place to sleep and find your friends elsewhere – perhaps through a travel app?
When you're on the hunt for cheap private accommodation, the best time to backpack Bulgaria is in the summer. In the winter, prices in small towns and in the mountains can easily double. Airbnbs in Bansko are quite reasonable though!
The Best Places to Stay in Bulgaria
Bulgaria travel costs are incredibly cheap – which shouldn't be surprising, considering it's located deep in Eastern Europe. However, it is also in the European Union. Considering how steep it is usually to travel around its union brothers, backpacking around Bulgaria is an absolute steal.
The cost of travel in Bulgaria is very low; it's one of the cheapest countries in Europe. I might even go as far as calling it the cheapest country in the European Union if it wasn't for Romania – maybe you should combine the two into an ultimate off-beat budget experience?
Food: Avoid touristy restaurants and opt for crummy-looking local ones instead. They usually have absolutely delish grandma-style cooking for half of the price. For Bulgaria, the rule of "if you can't read the menu, you're in the right place" is very much true.
Transportation: Train travel is cheap AF: a ticket is just a few levas. A bus ticket is slightly more but still doesn't break the bank. A bus for a few hours is typically $6-10, and to travel all the way across the country from Sofia to Varna is less than 20 bucks. For the brokest backpackers, hitchhiking is still a good free travel option.
Accommodation: You can easily find a bed in a hostel in Sofia for 10 bucks a night – or rent a whole apartment for a month for $200. In the winter, prices shoot up in popular ski destinations, but summer and shoulder seasons are really affordable times to be traipsing around Bulgaria.
Activities: Best case scenario? If your fun is wandering around cities looking at pretty things and hiking through mountain ranges, the cost of travel in Bulgaria is gonna be real cheap. However, since public transportation can be, uh, a little all over the palace, many travellers on a time crunch opt for organised day trips. These are still not ultra-expensive – a day trip from Sofia to Rila Monastery runs at about $20 pop – but obviously, they add to your budget.
A Daily Budget in Bulgaria
Money in Bulgaria
Bulgaria hasn't got around to adopting the euros yet, so you'll still be operating in levas.
Luckily, you don't have to strain your math brain too hard since the exchange rate makes counting prices pretty simple. The rate is about 1 BGN = 0.57 USD / 0.51 EUR / 0.43 GBP. This means that if you divide the leva price by two, you'll get a more-or-less accurate price estimation.
Tons of places in Bulgaria take credit cards but I would still carry cash around. Mountain huts, roadside stalls and family restaurants still mostly operate on dolla dolla bills.
Paying cash also makes it easier to tip. To be honest, in my two months in Bulgaria I never got completely clear on if you're supposed to tip or not. Generally, I guess the rule is 10%, but this didn't seem to be expected for small purchases like coffees or in small, local restaurants.
A good rule of thumb is to always leave a few levas or round up. The cost of travel in Bulgaria is low anyway so you'll have some coins to spare. But only if the service has been good. (Which is not a given in Bulgaria – in case of terrible service, feel free to not tip..)
You can pretty easily find ATMs in most cities and towns. Bank fees and ATM charges CAN stack up, though, so get a grip of your travel banking before your trip. Speaking of…
For all matters of finance and accounting on the road, The Broke Backpacker (and me personally!) strongly recommend Wise – The Artist Formerly Known as Transferwise! Our favourite online platform for holding funds, transferring money, and even paying for goods, Wise is a 100% FREE platform with considerably lower fees than Paypal or traditional banks. But the real question is… is it better than Western Union?
Yes, it most certainly is.
Travel Tips – Bulgaria on a Budget
Bulgaria is a dreamland for cheap-ass backpackers. However, there are tricks to make your pennies go EVEN further! Try out these budget tips, tested and tried by years of budget backpacking:
Go camping. Taking a good backpacking tent with you saves a night's accommodation. If you're wilderness-minded and travelling Bulgaria in the summer, wild camping is not only allowed but also encouraged! All the cool kids are doing it.
Cook your own food. Bulgarian food is cheap, but travel there is even cheaper if you cook for yourself. I'd highly recommend getting a good portable stove. It saves your ass in hostels that don't have a kitchen. And if you're gonna get your hike on, you'll need it in the mountains!
Hitchhike! Finding a ride in Bulgaria is fairly easy, and thumb-travel is a very cheap (and adventurous) way to see the lands unknown.
Surf a couch. Couchsurfing is a fantastic way to get to know locals and local life while saving money. Plus, getting to know some locals means finding out about all the secret spots that are bound to be way cheaper than the places tourists go to…
Travel with a water bottle. The sexiest travellers help combat the world-wide plasticapocalypse by avoiding single-use plastic. Get a reusable bottle and fill up anywhere – tap water in Bulgaria is drinkable.
Why You Should Travel to Bulgaria with a Water Bottle
Plastic washes up on even the most pristine beaches… so do your part and keep the Big Blue beautiful
You aren't going to save the world overnight, but you might as well be part of the solution and not the problem. When you travel to some of the world's most remote places, you come to realise the full extent of the plastic problem. And I hope you become more inspired to continue being a responsible traveller.
Plus, now you won't be buying overpriced bottles of water from the supermarkets either! Travel with a filtered water bottle instead and never waste a cent nor a turtle's life again.
The best time to visit Bulgaria kinda depends on what you want to do once you get there. Bulgaria gets full-on 4 seasons – so take your pick!
The weather in Bulgaria in the summer is lovely, not (usually) too hot: around 25 degrees Celsius. It also doesn't rain too much, which is nice if you're headed out to the mountains.
The cities can be stifling hot during the hottest month, August. So you might want to hide away in the tiny mountain towns that are way cooler (in both meanings of the word).
Another advantage of summer is that it's festival season. Wherever you are, there's usually some kind of a festival going on. There's stuff dedicated to music, arts, sports – Sofia even hosts a board game festival.
Summer is also peak tourist season which every experienced backpacker knows can be… bleh. If you want the warm weather but are trying to avoid masses, time your trip to the shoulder season in May-June or September-October.
For hikers, the best time to visit Bulgaria is in the summer or early autumn. It can take a while for snow to melt so all trails might not be accessible in the spring! Summer also means lots of other people with sufficient free time in their hands to ruin your wild-and-free-and-alone trail experience…
If you're planning to stay overnight in a mountain hut, give them a ring beforehand if you can and see if you could reserve a bed. In bigger huts just showing up is not usually a problem but especially in the weekends, huts may be at capacity.
And then there's winter – for me that's a swear word. (I've gone through enough growing up in Finland!) But for lotsa folks, it's the reason they come to Bulgaria.
Winter is peak season for skiing and snowboarding in Bulgaria, so if you're into snow sports, winter is an awesome time to come. Just know that prices in ski towns go up by 30-50% during ski season!
What to Pack for Bulgaria
There are a few things that are always good to have on your backpacking packing list.
Honestly? I can't think of much that would put you in danger there. Bulgaria's a really safe country with few security risks.
Corruption is still partly a problem but not one that tourists would have to encounter too often, luckily!
Just as everywhere else, keep your eyes open in bigger cities and take care of your valuables. You can wear a money belt to make sure no one can snatch your cash or passport.
The dodgiest part of Bulgaria is probably the Black Sea coast – that's where most tourists go, so the scammers follow. Avoid falling victim to a common travel scam and watch out for pickpockets and scammy taxis, especially in that area.
And of course, for such a mountainous nation you have to also take mountain safety into account. Most of the trails that I traipsed were pretty popular, so I didn't worry much about getting lost or being beyond help – but take all the necessary precautions.
Check the weather forecast although luckily the weather in Bulgaria is usually not super dramatic. Carry enough water and food and wear sturdy hiking shoes. In the winter, make sure you're dressed warmly enough.
Sex, Drugs, and Rock 'n' Roll in Bulgaria
I personally didn't date during my time in Bulgaria – sometimes a girl's gotta have a break from all the sex and love on the road, you know?
In general, though, it seems that the cultural differences are not that big that they would really get in the way of having a good time. Bulgarians – all of them – are gorgeous people so I recommend you get your Tinder out and start swiping!
Bulgarian women love to spoil their partners but they expect the same in return – and getting on with the family is a must. I may not be the best authority on this, from not being Bulgarian at all, but that's what this girl says about dating Bulgarian girls.
Bulgarian men can seem very forthcoming if you're from Northern Europe-style culture; and pretty normal if you're from a Southern Europe-style culture.
Bulgaria's not for those who like to dabble with drugs on the road. They're extremely strict on drugs, and even weed is classified in the highest risk category.
Da Bulgarian lyfe isn't short of vices and temptations, though. I mean, let's look at the drinking culture: wine flows freely and aplenty, and it's goddamn delicious. Thought I should mention that again in case you've skipped any of the previous sections where I've praised it.
And to true Eastern European style, Bulgaria is also very familiar with their hard stuff. The booze of choice is called rakia. You might be familiar with it if you've already got a few Balkan countries under your belt.
Rakia is a fruit brandy and while the store-bought version is usually a "measly" 40%, the best kind of rakia is homebrew – and with that it's anyone's guess just how strong it is.
Travel Insurance for Bulgaria
No matter where you are or what you do, you're always at risk to slip in the shower or throw out your back out partying too hard in the clubs in Sofia.
A savvy backpacker should always consider getting a comprehensive travel insurance policy before leaving home. This covers you from little boo-boos to 127 hours-style predicaments.
ALWAYS sort out your backpacker insurance before your trip. There's plenty to choose from in that department, but a good place to start is Safety Wing.
They offer month-to-month payments, no lock-in contracts, and require absolutely no itineraries: that's the exact kind of insurance long-term travellers and digital nomads need.
SafetyWing is cheap, easy, and admin-free: just sign up lickety-split so you can get back to it!
Click the button below to learn more about SafetyWing's setup or read our insider review for the full tasty scoop.
Bulgaria is very well-connected! Lucky you!
The easiest point of entry is probably Sofia. As the biggest transportation hub, it has the biggest airport, and also the best connections to wherever you're headed next.
Burgas on the Black Sea also has an international airport. It's a good option if you're starting your backpacking trip from the seaside, or if you're planning to spend your whole time there.
You can also get to Bulgaria overland pretty easily. There are bus connections from Istanbul (Turkey), Thessaloniki (Greece), Skopje (North Macedonia), Bucharest (Romania) and Nis (Serbia).
The Istanbul-Sofia express operates daily, and there's also a train from Belgrade to Sofia. These seem to be the only direct train connections into Bulgaria.
Entry Requirements for Bulgaria
In general, hopping into Bulgaria is extremely easy: you can stay visa-free for 90 days in a 180-day period.
Bulgaria is not in the Schengen area, which should help ya'll with foreign passport issues.
If you want to stay longer than the 90 days, you'll have to apply for a residence permit or a long-stay visa. From what I've heard, for EU nationals the process is super simple and can usually be done in a day. For non-EU peeps it's a little more complicated but not impossible by any means.
Bulgaria is not a tiny country- so you gotta put aside a few hours every time you want to change the scenery. However, public transportation connections are still good, and travelling around Bulgaria is easy and painless!
The distances are not too long. So even on a shorter backpacking trip, you can hit a few different spots.
I mostly used buses for getting around Bulgaria, and it works fine. Buses are reasonably cheap and the bus network is really extensive, reaching even smaller towns.
HOWEVER – trying to figure out bus schedules is an adventure of its own.
You can easily find tickets for the major routes online, say, Sofia-Plovdiv or Plovdiv-Veliko Tarnovo. Online sites don't always show all the tickets though, which makes the selection look a lot smaller than it is.
Sometimes online schedules can also show wrong information. Major cities also have multiple bus stations – Sofia alone has four. So… good luck.
Your best bet is to go straight to the bus station and ask the person working the counter what's going on. They don't necessarily speak much English but will scribble the time of the next bus on a piece of paper. At bus stations, destination names are also usually written in the Bulgarian alphabet, so google beforehand what you should be looking for.
Taking buses across Bulgaria is not hard, it might just take slightly more planning than you'd expect. Don't despair – the next bus is always coming.
The train network in Bulgaria is also fairly good, although trains can sometimes be slower and way fewer than buses. It's an incredibly cheap way to travel, though – just a few levas per ticket – and sitting in an old train, slowly ambling through the quiet Bulgarian countryside, is definitely a nice experience.
There is one especially famous railway, the last narrow-gauge train in Bulgaria between the towns of Septemvri and Dobrinishte, with 4 departures every day. It might not be quite as spectacular as the best train journeys in the world but it's still fairly scenic.
The narrow-gauge train is not a must-do experience, but it's definitely unique, and a good way to travel from Plovdiv to the Pirin mountains.
If you can swing it, travelling by car is by far the easiest way to get around Bulgaria. Unlike other Balkan countries, you also don't have to worry about overly aggressive traffic, knee-deep potholes and runaway chickens. Bulgarian roads are a civilised place where most people drive pretty well and where following directions on road signs is easy if you know how to read.
(Don't worry – destination names are spelled out also in Latin alphabet, not only in Bulgarian scribbles.)
Car rental is affordable, even more so if you can split it with someone.
Getting private transportation or splitting taxis with someone can be helpful sometimes – for example, if you need to get to the airport from another town and don't feel like pushing your luck with public busses. Despite Bulgaria being cheap, though, taxis can get expensive.
A private taxi for a 3-hour drive can cost about $80. Be aware of scams, too – I know a guy who hopped in an airport taxi and got charged 200 bucks for the ride!
For the brokest of broke backpackers or just daredevil adventurers, hitchhiking is always an option. Bulgaria probably used to be a great country for hitchhikers.
It's still not bad, but the same awesome highways that make travel around the country so pleasant and easy, also kinda make a hitchhiker's life harder. Getting picked up can take a while; you'll end up spending quite a bit of time on the side of the highway.
Still, hitchhiking is a very viable way of travelling around Bulgaria. Based on my own experience of hitching rides 'round Europe, I'd say the difficulty level for catching rides is medium: around the same as in Central Europe but not as easy as in the rest of the Balkans.
Onwards Travel from Bulgaria
Bulgaria's benefit is that it's located in a very convenient spot between multiple dope destinations. Both EU/Schengen and non-EU/Schengen countries – this should come in handy for ya'll EU-outsiders who have to always be counting your visa days.
To Romania – Romania has for years been an off-the-beaten-path gem for hikers, digital nomads, broke backpackers (it's VERY cheap) and goths. I mean, Dracula's origins, anyone? Romania is part of the EU but not the Schengen zone, and you usually don't need a visa to enter.
To Turkey – You can fly or take a bus or train from Bulgaria to Istanbul – easy! Note that you need a visa to travel to Turkey.
To Greece – Crossing overland to Kavala or Thessaloniki is super duper easy, and both are great gateways to all the spectacular sights of Greece. (Tourist tip: Northern Greece is nowhere as touristed as Athens or the islands.) Greece is part of both EU and Schengen.
To the Balkans – Western parts of Bulgaria also offer entry to the most under-rated, ultra-cheap, uber-cool Balkan destinations: North Macedonia and Serbia. You can easily find a bus from Sofia to Nis (Serbia) or Skopje (N-Macedonia), and neither country usually requires a visa to enter.
Working in Bulgaria is definitely possible although not the easiest thing. Bulgarian companies prefer to hire Bulgarian employees over foreign ones, but don't lose hope yet! There are many international companies operating in Bulgaria, and there are some vacancies for foreigners – especially around the biggest cities.
Most foreigners work in IT, finance, or engineering, but there are also job opportunities in tourism.
The downside to working in Bulgaria is the salary. Even though Bulgaria's economy is on the rise, it's still one of the cheapest – ergo poorest – countries in the EU, and in general, salaries are not high.
Foreigners from EU or EEA countries don't need a work visa to work in Bulgaria but anyone else does. If you get hired by a company in Bulgaria, your employer should be the one who gets the visa for you. So just focus on looking for jobs and don't worry about the visa for now.
The Digital Nomad Scene in Bulgaria
Bulgaria is FANTASTIC for remote workers.
It checks off most of the items on the list of requirements that digital nomads have for their dream homes. Bulgaria is super cheap, interesting and entertaining, and has great wifi.
Is the weather in Bulgaria great? That can be debated.
The summer season is lovely but short. But then again, Bulgaria does draw in the snow crowd. The winter season can be even busier than the summer so digital nomads in Bulgaria will always have a community around.
The big cities Sofia and Plovdiv have a decent crowd and some great co-working spaces. They're kinda plagued with the problem of big cities though: you get lost among everyone else.
That's why I'd recommend heading to Bansko as a nomad. I might be biased since I had such a blast there but mark my words, Bansko will be one of the best destinations for digital nomads in the world soon. The tiny town has multiple co-working spaces and heaps of nomads at any given time – honestly, it's one of the best digital nomad communities I've experienced anywhere. Plus, there are some affordable hotels in Bansko that have apartments and suites for a good price.
Bansko is also home to an annual digital nomad festival which has been growing in numbers every year!
Teaching English in Bulgaria
Teaching English abroad is an awesome way to stay somewhere a bit longer. Since Bulgaria joined the EU, the demand for English teachers has been boomin' and bloomin'. You're needed!
However, it's not quite as easy as hopping in front of a classroom to talk about pronouns and sentence structures. In Bulgaria, you're required to have a work visa to teach English as well as a TEFL certificate and usually a Bachelor's degree. The pay is not super high either – comfortable for living in Bulgaria but not much to save up.
Still, teaching English is a great way to find a way to stay in Bulgaria if you find yourself falling deeper and deeper in love with the country.
TEFL courses open up a huge range of opportunities and you can find teaching work all over the world with one! Broke Backpacker readers get a 35% discount on TEFL courses through MyTEFL (simply enter the code BACKPKR).
Volunteering in Bulgaria
If you're not a digital nomad or an employee but would like to hang around still, there are definitely options to stay longer. One of the best ways to live somewhere long term is to volunteer. For the measly price of your time and labour a few hours a day, you get free accommodation and meals in exchange.
But freebies are just a bonus. The real reason you should consider volunteering on your next trip is to give back.
Volunteering attaches you to the local landscape more firmly than a regular backpacker just hastily flitting through. It is the more meaningful way to travel by creating connections and doing something good in exchange for all the awesome hospitality Bulgaria has shown you.
There are definitely plentiful volunteer opportunities offered around Bulgaria. Most of them are very normal volunteer gigs: gardening, helping build stuff, babysitting, animal-sitting, and just generally lending a helping hand around.
At The Broke Backpacker, we LOVE Worldpackers. It's one of the best work exchange sites out there with great volunteer opportunities, a communal platform to share your experiences, and a company that actually cares about you.
Workaway is another great option and it's worth checking out too, since Bulgaria might have limited volunteer opportunities.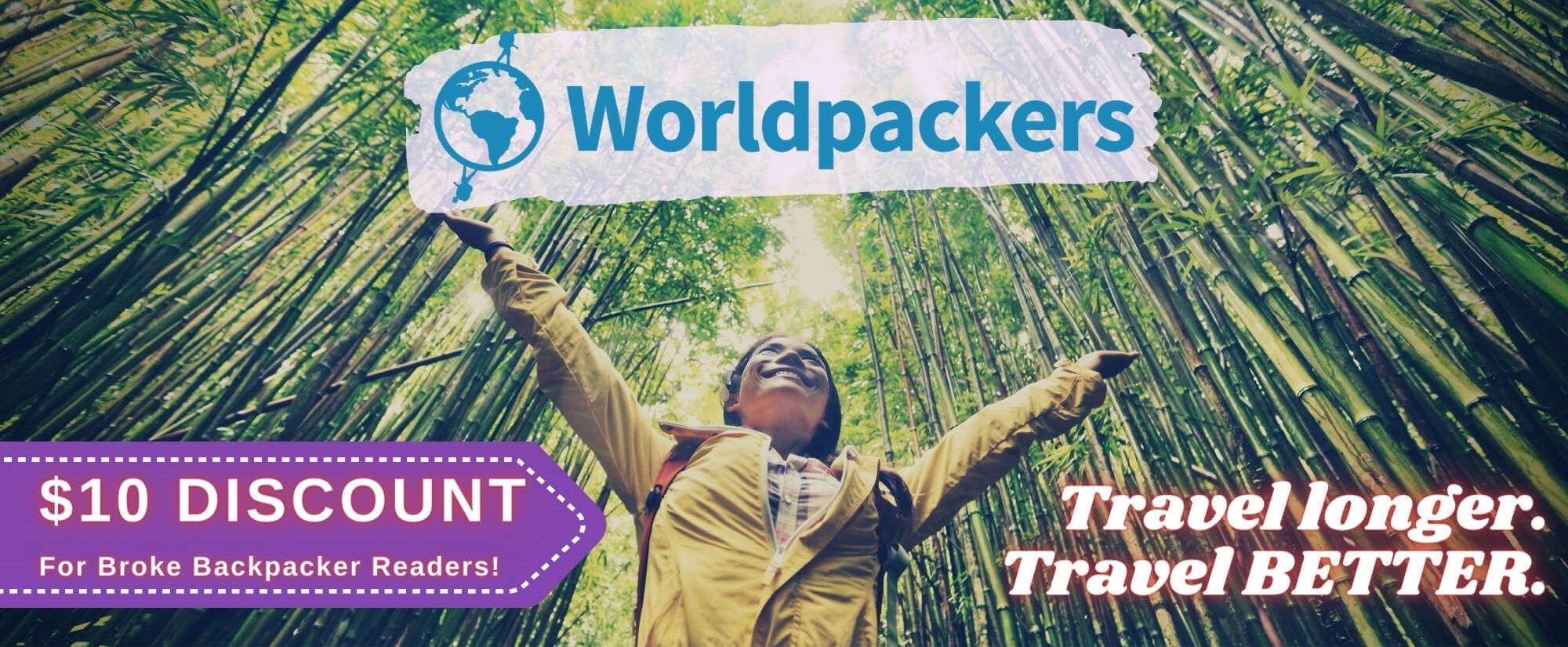 Worldpackers: connecting travellers with meaningful travel experiences.
Bulgaria sits in the seam between Slavic stoicism and Ottoman hospitality; maybe that's why its culture is such a funny hodgepodge of outwardly rude and actually lovely.
Walking in the street, you'd think this is a country of tough motherfuckers. Seriously, is smiling in public forbidden or something? Even me, a Finnish person, was blown away by the serious looks!
Once you actually start chatting with people though, you'll realise they're super helpful, friendly, and hospitable.
In the mountains, Bulgarian mountaineering groups always invited me to their table when they saw me sitting alone, offering a share of delicious Bulgarian sausages and crackers.
Most young Bulgarians I met spoke excellent English so I made a lot of friends and was able to get some insight into some baffling Bulgarian habits. For example, they shake their head when they mean yes, and vice versa. (Although not always… The truth is your best guess.)
Customer service in Bulgaria is a notoriously hilarious experience. It's a fifty-fifty chance of being absolutely great or confusingly bad.
In a mountain town, I went to grab a quick lunch before my bus. They gave me the menu, and I asked for baked potato with bacon.
'Pasta with broccoli?' the waiter asked.
'No', I said with a smile and pointed at the menu at the right item. 'Baked potato with bacon.'
He bent to look and nodded (I should've known!). 'Okay.'
'Okay?' I confirmed.
'Okay', he said. Fifteen minutes later, he brought me pasta with broccoli.
I didn't have time to switch dishes and catch my bus so I ate it anyway. TBH, it was still delicious.
Then again, the owners of the restaurants where I was a regular during my few-month stint in Bansko were incredible. The lady at my favourite dinner spot was like a grandma – one that I didn't share a language with – and the way she kept offering me bread, she was feeding me like one, too. And the owner of the place where I had lunch every day used to give me and my friends free baklava as dessert.
Useful Travel Phrases for Bulgaria
The main language spoken in Bulgaria is Bulgarian which is a Slavic language. What makes it even more fun is that Bulgaria has their own alphabet, because why not 😀
Google Translate is one of the most useful travel apps, but I found that the camera function dealt with the Bulgarian scribbles – eh, poorly. So I recommend that you try to learn the alphabet before you go. Or at least take a screenshot of the alphabet translated into Latin letters so that you won't get caught in a pinch.
Russian is also pretty widely spoken. You can get by fine with English while talking to younger people and in bigger cities, but don't take it as a given that people could understand you.
For this reason, learning the language (or, let's be realistic, parts of it) is a good idea!
What to Eat in Bulgaria
Bulgarian food is DELICIOUS. I mean, for me it is. I've got a feeling that you're not gonna like Bulgarian food much if you're a health nut. The food there is filling and heavy, truly something made to get you through the harsh winter.
Picture this: deep-fried white cheese. Tender pork-neck steak with roasted potatoes. Peppers stuffed with minced meat and rice. Puff pastry stuffed with cheese. Moussaka – also stuffed with cheese? Probably.
But the menu isn't completely devoid of vegetables, either. For some more refreshing grub, pick a salad, like the traditional shopska salad. It's weird how they can make simple cut-up cucumbers and tomatoes taste so good but somehow they've done it.
There's also tarator, a refreshing, cold cucumber soup. I'm not sure if that counts as a vegetable though, since it more resembles liquid tzatziki.
Just a word of condolences to my vegan friends: living da veggie life in the Balkans is not easy, and Bulgaria is no exception. In bigger cities, you'll surely find some options. But in general, a vegan or vegetarian diet is a little trickier than omnivorousness.
And no Bulgaria trip would be complete without some wine tasting. Because GOD DAMN, Bulgarian wine!!! It's cheap, it's delicious, it's absolutely everywhere. If you don't care for wine, you can flush all the delicious dishes down with some ayran, which is a yoghurt-based cold drink. (A lot like Indian lassi!)
But no matter where you eat, aim for the local looking spots. The touristy restaurants have amazing service and are usually decorated beautifully, but the prices come with a 30-50% mark up. That's the price you pay for a smile in Bulgaria, I guess (and it's not necessary).
Must-Try Dishes in Bulgaria
A Brief History of Bulgaria
Sitting so close to such huge influences as Turkey and Russia, Bulgarian history is a cocktail of cross-influence from those two with the country's own unique elements tossed in for good measure.
The Bulgarian state was actually established as early as 681. For the next few centuries, Bulgaria had time to figure out who they were and create their own alphabet (cause why not?). In the early 1000s, it became a part of the Byzantine Empire before being conquered by the Ottoman Empire. They spent the next half a millenia chillin' as a part of it.
Well, Bulgaria likes doing their own thing, so a series of uprisings and wars in the late 19th century finally led to the establishment of the Bulgarian principality in 1878. (Fun fact, the Alexander Nevsky Cathedral in Sofia was built as a homage to the soldiers that died in the war that led to Bulgaria's liberation.)
During World War II, Soviet troops invaded German-occupied Bulgaria. After the war – largely backed by Soviet Russia – Bulgaria became a communist republic. Bulgaria's Soviet phase ended when the Soviet Union fell apart, and the 90s were coloured by shifts between socialism and parliamentary republic-ery as well as one economic crisis after another.
These days Bulgaria is a republic with a president. Since it joined NATO and EU in the 2000s, it's also been embedding itself more cozily into the general European community.
Backpacking Bulgaria is anything but a boring time. Here are a few unique things to try while you're travelling around this far-Balkan country.
Hiking in Bulgaria
Bulgaria is a hikers' PARADISE – planning a hiking trip here is easy peasy. No wonder when half the country is covered in extremely climbable and very pretty mountains.
Popular trails are well-marked, and there's an extensive mountain hut network. I highly recommend hiking in Bulgaria with your own camping gear though; I found a lot of huts to be closed, and making reservations beforehand was really difficult.
There are 4 main mountain ranges in Bulgaria, each with its own, most awesome hikes.
Pirin mountains: Most easily accessible from Bansko. Its main peak, Vihren, is the second-highest summit in the country. The best hike though, continues from Vihren peak to the Kocheto Ridge. It's a long day of walking but one of the most gorgeous hikes I've ever done, AND one of the best hikes in Bulgaria fo sho.
A way easier hike is a 2-3 hour return trek to Muratovo Lake where you can chill with a picnic before heading back.
Rila mountains: Home to the most famous natural attraction in Bulgaria, the staggeringly pretty Seven Rila Lakes. You can spend the night at the mountain hut and extend the hike by walking to Malyovitsa peak the next day. The route between the lakes and the peak is fairly easy but the descend from the peak to Malyovitsa hut is gruelling – put aside 2-3 hours just for that!
It's in the Rila mountains that you can also find the highest peak in Bulgaria and the whole Balkans. The hike to Musala takes about 5-6 hours return, and it's only moderate difficulty, so it's possible as a day trip.
Rhodope mountains: Rhodope mountains are awesome but I was really struggling to find the perfect multi-day trek between points there. I'd recommend getting a car so you can do day hikes around the area and check out its coolest attractions.
Balkan mountain (Stara Planina): The most popular hike is to Botev Peak. However, if you're a seriously crazy hiker, you can tackle the longest trail in Bulgaria. Starting from the Kom Peak and ending in Emine on the Black Sea, the trail is about 700 km long and can be done in 20-25 days.
Winter Sports in Bulgaria
Bulgaria is also quickly becoming one of the new fav children of European snow tourists. Snowboarding and skiing in Bulgaria are big in the winter months, and they are the best things to do in Bulgaria in winter. Come get your share of the powdery goodness.
Eastern European mountains are better bang for your buck than the tired ole Alps. Skiing in Bulgaria is not exactly cheap either – what ski holiday ever is? – but the price of a Bulgarian ski holiday is about 2/3 of one in the Alps.
I was in Bulgaria in the summer so obviously, I didn't do any skiing (unless you want to count that one time I had to ski down a really steep slope on my ass). But this is what my snow-lover friends said about the ski season in Bulgaria:
It's great for first-time skiers and snowboarders since there are a lot of ski schools and tourism centred around snow sports.
There are also options for more pro slope fiends but the number of pistes is not huge; if you're someone who gets bored easily, you might not want to spend the entire winter there.
Then again, there are also guided ski tours and off-piste options for the biggest daredevils.
Plus, Bulgaria gets busy around the snowy season: in places like the Pirin mountains, winter is actually the high season. This is great if you're looking for some community and company. Cosy mountain huts and fellow skiers make Bulgaria one of the best places to spend Christmas in Europe if you're looking for that wintery postcard experience!
Bansko probably has the best skiing in Bulgaria. It has the most (read: the cheapest) accommodation options – so it's the best bet for broke backpackers! Borovets near Sofia is the country's oldest ski resort and it's awesome. Pamporovo near Plovdiv is also cool.
On this very contested map of the world, in this day and age, it's great to say how delightfully simple your visit to Bulgaria is. No super-dark past, no ultra-complicated present politics – just a nice country eagerly awaiting foreign tourists to come discover it the way that domestic ones have already done.
There are so many reasons to why visit Bulgaria. It is a backpacker's paradise and even though it is super easy to get to, it's still out of the way enough that it hasn't become properly established on the main backpacking trail. Why?
Bulgaria is cheap, Bulgaria is hospitable, Bulgaria is awesome – in a word, Bulgaria is everything a shoestring traveller could hope for. On top of that, Bulgaria wants you there.
Whether it's for hiking, snowboarding, or a couple of months of digital nomad work, I can guarantee that you'll enjoy your time in this underrated Balkan gem.
---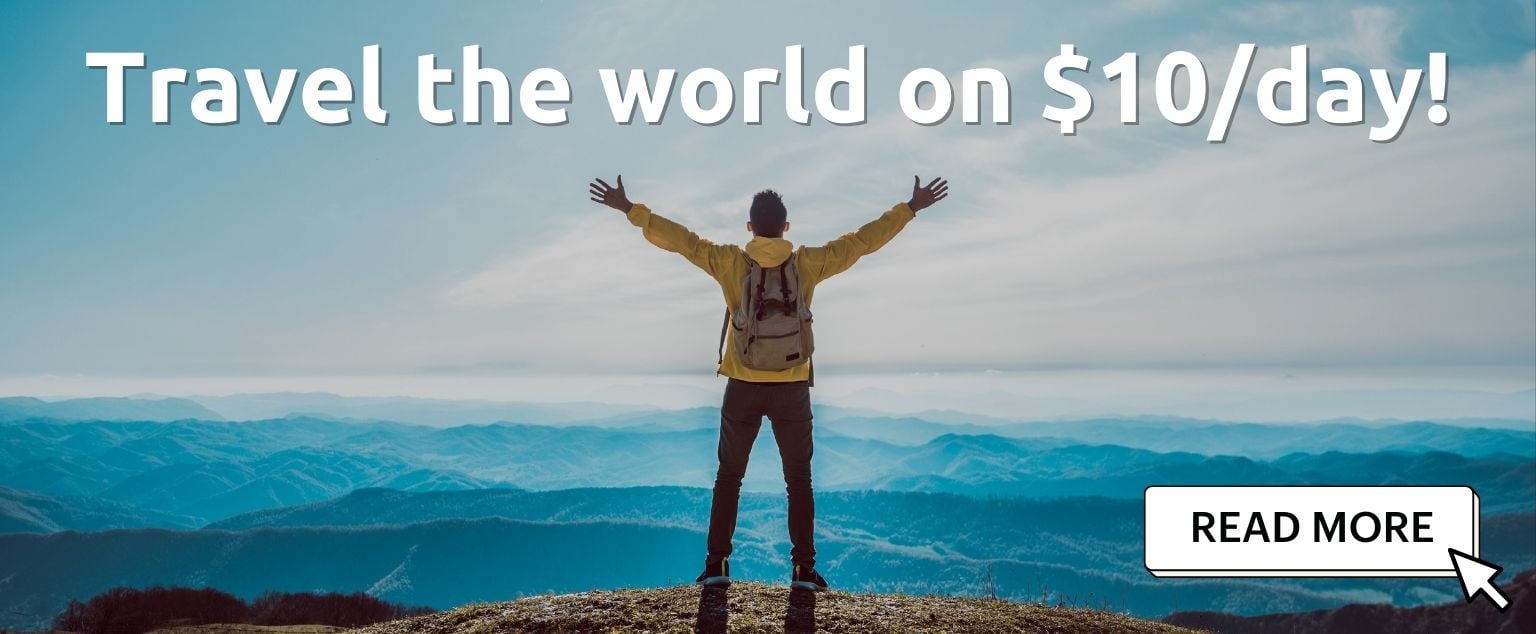 And for transparency's sake, please know that some of the links in our content are affiliate links. That means that if you book your accommodation, buy your gear, or sort your insurance through our link, we earn a small commission (at no extra cost to you). That said, we only link to the gear we trust and never recommend services we don't believe are up to scratch. Again, thank you!