There are some places in this world that are just too grand to be conquered. No matter how long you stay or how often you go, be it two days or two decades, some places just always leave you wanting more.
Perhaps one of the most incredibly varied countries to go backpacking in is Turkey. Turkey is, in my opinion, one of the most alluring countries to travel to because, no matter how many times you've been there, you keep finding more to do.
Let me tell you all about this amazing country. Get lost in the ever-exciting and mysterious Istanbul. Go for a ride above the fairy chimneys of Cappadocia in a hot air balloon or wild camp in abandoned hermits caves.   Smoke shisha whilst watching fishermen bring in the day's catch or mingle with gorgeous Turkish ladies in 70s themed discos…
With this travel guide for Turkey, you'll have everything that you could need to start your trip. We'll cover topics ranging from "Turkey's famous food" to "backpacking Turkey on a budget." Everything and then some is covered in this guide; with it, you'll be more than prepared to go galavanting in this amazing country.
Why Go Backpacking in Turkey?
Turkey is one of the most unique, most endearing, and most special countries that I've ever traveled to. Few other nations on this planet can offer the sheer amount that Turkey can.
More than just Istanbul or Cappadocia, Turkey is full of unique areas, stunning landscapes, and interesting archaeological sites. Those backpacking Turkey simply have to see more than just the usual tourist attractions.
Although – I'm going to throw this out there right now – Turkey is currently run by a brutal motherfucker dictator and the Turkish army frequently commits war crimes against the Kurds, some of the most hospitable people I've ever met. I'll talk more about this later but I just wanted to get that off my chest first.
Back to the topic at hand, we're going to outline the best itineraries for how to go backpacking in Turkey. Each one is specially crafted to give you the best possible experience.
Afterward, we're going jump into the meat of the article – the destinations – and then follow with some more specific information e.g. Costs, Food, and Trekking, etc. By the end of this guide, you'll be equipped with all of the necessary tools to go backpacking around Turkey and on a budget!
Best Itineraries for Backpacking Turkey
Below is a list of four travel itineraries for backpacking Turkey. They vary from 1 to 4 weeks in length and cover the majority of the must-see places in Turkey.
Backpacking Turkey 7-Day Itinerary: From Istanbul to Cappadocia
Visit the two largest cities in Turkey in addition to its most beloved desert getaway! Over the course of this 7-day itinerary for backpacking around Turkey, you'll see Istanbul, Ankara, and Cappadocia.
Spend 2-3 days exploring eclectic Istanbul, which is one of the most interesting cities in the world. Stare in awe at the Hagia Sophia, wander around the Grand Bazaar, and then head north along the Bosphorus for a real taste of local Istanbul. There are so many epic Airbnbs in Istanbul to choose from that won't break the bank.
Wrapping up Istanbul, grab a bus or high-speed train to Ankara. This is Turkey's federal capital and quite different from Istanbul in many ways. Spend a day exploring the city and be sure to note all the differences: its flavors, its people, their daily lives, and so on.
After this brief stop in Ankara, continue on to Cappadocia, which is probably the most famous destination in Turkey. This is an absolutely enchanting place, with natural stone towers and a dizzying amount of underground structures. Sleep in one of the many (accommodating) cave lodges here and then poke your head out to explore the landscape.
Backpacking Turkey 10-Day Itinerary: The Turquoise Coast
Spend 10 days on the Turkish Riviera moving along the coast with this itinerary for backpack Turkey! Fly into any one of the major cities (Antalya, Izmir, Bodrum or Dalaman [for Marmaris and Fethiye]), pick up a rental car, and start driving!
Hit up as many beach towns as you can along the Turquoise Coast. Visit the amazing ruins of Ephesus. Watch baby turtles hatch in Olympos. Go paragliding above the Blue Lagoon. Rent a private yacht. Get crazy in Bodrum or Marmaris. There's so much to do here! 10 days may not even be enough…
Backpacking Turkey 2-Week Itinerary: Highlights of Turkey
See a little bit of everything on this Turkish itinerary! Get a taste of city living in Istanbul. Visit the mighty ruins of Ephesus or Aphrodisias, stopping at Pamukkale along the way. Spend some time on the beach in the Turkish Riviera. Finally, go for a hot air balloon ride in Cappadocia.
This itinerary will involve many forms of transport. Flying from Istanbul to and perhaps within Anatolia/the Turkish Riviera will be necessary. Most flights are cheap in Turkey though. For all other routes, grab a bus or rent a car. If you rent a car, make sure you purchase a RentalCover.com policy to cover your vehicle against any common damages such as tires, windscreens, theft, and more at a fraction of the price you would pay at the rental desk.
Backpacking Turkey 1-Month Itinerary: The Whole Damn Thing!
Did the last itinerary make you feel wanting? Well just spend some more time backpacking in Turkey then! With a full month, you're sure to have plenty of time to see all the best that Turkey has to offer. Who knows; maybe you'll even make it to some of Turkey's unexplored places, like the Kaçkar Mountains or Van Lake. See how far you can go on this adventure!
Places to Visit in Turkey
The absolute best places to visit in Turkey starts here…
Backpacking Istanbul
Where does one even begin with a trip to Istanbul? I'll simply start by saying this is one of the most thrilling cities that I have ever been to. Istanbul offers an overwhelming amount of things to do, so much so that no amount of time here seems to be enough. Those wanting to backpack through Turkey will love Istanbul and will be thinking about it long after they leave.
Istanbul is a huge city with many, many districts. We begin in the Old City, officially referred to as Sultanahmet, where you'll find most of Istanbul's top tourist attractions. Many of Turkey's most famous landmarks are found in this area and all are within walking distance of each other. Examples include Hagia Sophia, Blue Mosque, Topkapi Palace, and the Basilica Cistern. Be aware that these locations attract massive amounts of tourists and that crowds will be an issue.
If you'd like to go shopping, be sure to visit the Grand Bazaar, which has over 4400 different shops. Many shops do, unfortunately, appear to sell the same touristy wares. Explore a little bit though and you're sure to find some odd stuff.
Other points of interest in Sultanahmet are the Old City Walls, the Chora Church, Süleymaniye Mosque, the Patriarchate of Constantinople, and the Greek College in Fener. Be sure to check out the secret viewpoint at Büyük Valide Han as well – for a small fee, you can have one of best vistas of the whole city.
Backpacking Galata and the Bosphorus
On the other side of the Golden Horn from Sultanahmet is Galata and eventually the New City of Istanbul. Crowned by the prominent Galata Tower, Galata is generally considered the city center of Istanbul. Here you'll find the best nightlife in the city and a chance to experience some of Turkey's most famous traditions like the Whirling Dervishes of the Galata Convent.
Beyond Galata is the New City, which is, honestly, just a collection of boring skyscrapers and high rise buildings.
Continuing even further past the New City, you'll arrive at the Bosphorus. This is one of the most underrated places to stay in Istanbul as it's full of wonderful buildings and mostly devoid of tourists. In this part of Istanbul, the tourist attractions are generally regal or garden-like.
There are many mansions along the water that are worth seeing, the most grand of which is Dolmabahçe Palace. After touring the palace, grab some lunch and relax in one of the parks; Emirgan and Maçka are the two of the loveliest.
Finally, across the iconic Bosphorus Bridge is the Asian Istanbul. As we venture this far from the city center, the featureless suburbs begin. There are still some noteworthy locations worth visiting around here though.
At the base of the Bosphorus Bridge is Beylerbeyi Palace, which is predictably elegant. Further south, the Maiden's Tower stands in the middle of the bay. In my opinion, the best part about the Asian side of Istanbul is Çamlica Hill – one of the highest points in the area, this hill probably has the most expansive views of the city. You can easily spot the hill in the distance by its many radio towers.
Backpacking Ankara
Ankara is the federal capital of Turkey and acts as a bit of foil to Istanbul. Where Istanbul shines as the cultural and historical apex of the nation, Ankara represents the future: a modern, secular community that is racing forward faster than any other Turkish city.
Ankara is a huge, bustling metropolis of 4.5 million people. The appearance of the city is very different from Istanbul – sleek, efficient, contemporary, functional. You won't find many grand relics from the former Ottomans or Seljuks, the likes of which Istanbul is famous for. Here, you'll have to dig deeper into corners and cracks of the city.
Most of Ankara's top attractions are found in the city center (Kizilay) and around the Ulus district. Most prolific of these sites is the neo-classical mausoleum Anitkabir, which is dedicated to Turkey's first president, Ataturk. This is a very nationalistic building and Turks visit from all over the world to pay their respects here.
Also worth seeing are the Kocatepe Mosque, which could rival the Blue Mosque in Istanbul, the Museum of Anatolian Civilizations, and Ankara Castle, which is perched up on a hill overlooking the central districts. Also worth seeing in Ankara is the newly renovated Hacettepe neighborhood as it contains some significant Ottoman architecture.
Since Ankara is one of the most important economic centers in all of Turkey, it has an amazing food and drink scene. Restaurants here are particularly impressive no matter where you look – a good place to start would probably be this Ankara food guide.
There are many bars south of the city center around Tunali, Tunus, and Kennedy streets. Most are very lively and go strong until closing at 4am. Expect to see all sorts of locals at these establishments when going out yourself.
Backpacking Bursa
Bursa was the original capital of the Ottoman Empire and, as such, hosts some of the most brilliant historical places in Turkey. It is also conveniently located next to Uludag mountain, which is one of the best places to ski in Turkey!
Bursa's greatest attractions are its mosques and tombs. The aptly named Grand Mosque of Bursa is (appropriately) the best one to visit. This mosque is famous for its 20 domes and 192 inscribed panels, which, collectively, form one of the finest calligraphic accomplishments in the Muslim world.
Other notable mosques in Bursa are the Green Mosque, the Emir Sultan Mosque, the Orphan Mosque, and the Muradiye Complex. Most of these have equally impressive tombs that host several key figures from Turkish history.
Also worth seeing in Bursa is the Koza Han Silk Market, the 600-year-old Inkaya tree, and the Darüzziyafe, an old poorhouse turned restaurant that serves up some of the most authentic Ottoman cuisine in all of Turkey.
Just outside of Bursa is Uluda?, the highest mountain in Northwestern Turkey and home to the nation's top winter resort. Skiing here is one of the best things to in Turkey in the winter!
Skiers can easily access this mountain via a 20 mile or so road or by a cable car that departs from Bursa's Teferrüç neighborhood. Most people will opt to take the road as the cable car is frequently shut down by poor weather and usually too crowded to allow people to bring ski or snowboarding equipment.
Note that the road is unpaved following the gate at Karabelen and that driving conditions may be sketchy. Be sure to carry tire chains at all times during the winter. Hesitant drivers can grab a dolmus in Tophane.
Backpacking Izmir
Izmir holds many distinctions: it's the third largest city in Turkey, the second busiest port in the country, and one of the largest metropolitan areas in the entire Aegean Sea – second only to Athens, Greece. The city has prospered like this for a good 4000 years, in fact, thanks in part to its favorable location. Long story short: Izmir is one of the most important urban areas in the entire Aegean region.
Konak Square is the city's central hub. Around here you can spot the famous Clock Tower as well as several mosques including Yali Mosque and Kemeralti Mosque. Next to Kemeralti is a market where you can find a nice cup of tea or whatever you want really. If you're looking for some sweeping views, you should check out the Asansör (meaning elevator in Turkish) located south of Konak.
Those looking for more antique attractions should best head to the old remains of Smyrna, where some of the original Roman structures can still be seen, or to Kadifekale, which is where you'll find an old castle among some ramshackle houses.
Izmir marks the official beginning for the Turkish Riviera aka Turquoise Coast! Running all the way to Antalya, the Turkish Riviera is one of the best parts of Turkey. The Turkish Riviera is full of interesting archaeological sites in addition to, most importantly, the best beaches in Turkey.
Çesme is the most popular beach town near Izmir and loved by many Turks. Greece – specifically the island of Chios – is literally right there across the straight as well – you can take a short ferry to visit it.
There are several more picturesque villages besides Çesme that are worthy of visiting. Some notable ones include Ilica, Foça, Alaçati, Bademli, and Bergama.
Backpacking Selçuk
Just a little south and more inland of Izmir is the town of Selçuk. The town itself is not much to speak of as there not so many significant attractions. The lone pillar of the once wonderous Temple of Artemis is certainly noteworthy if not underwhelming, while the Basilica of St. John, House of Saint Mary, and the Cave of Seven Sleepers are a bit more exciting to theological buffs.
What Selçuk does have going for it is a ruined city that is among the most magnificent in the entire world – Ephesus. Ephesus was, at one point, one of the most important Roman cities in the Aegean. Deprived after its port silted-up and sacked by the Goths in the 3rd century AD, Ephesus fell into obscurity. After its rediscovery in the 19th century, Ephesus has since become one the largest excavated areas on the planet and one the best preserved.
Getting to Ephesus from Selçuk is very easy. Many people simply walk to the ruins or rent bikes from their respective lodging. Once at Ephesus, you literally walk around the grounds like it was still an active city.
The most arresting sight in Ephesus is the Library of Celsus, once the third largest in the whole classical world. This columned, two-storied building is extremely impressive and arguably the most beautiful singular Roman building in the world. Another equally impressive site is the Great Theater, the largest Roman theater still in existence whose capacity tops 24,000 people.
In addition to these two superlative places, there is so much to see in Ephesus. The Temple of Hadrian, the Terrace Houses, the Temple of Serapis; all are totally worth seeing. Best advice is to grab a map and just start walking around.
Backpacking Pamukkale
Pamukkale is one of the best places in Turkey to visit! These natural travertines are among the nation's most interesting natural landmarks and need to be seen in person.
Pamukkale's distinct appearance comes from the interaction of various minerals that are dredged up at the hot springs. As they react and combine with one another, calcium carbonate is formed, which appears as a brilliant shade of white when hardened. As the calcium carbonate flows down the hillside from the springs, hundreds of little pools are created as well, resulting in a honeycomb-like arrangement of perfectly still ponds.
These days, Pamukkale is a huge attraction. To preserve what remains of it, the park wardens require visitors to remove their shoes and to refrain from bathing in the natural pools. Several man-made swimming holes have been erected along the boardwalks in order to appease bathers though these are far less attractive as the real ones. Don't forget to check out the ruins of Hierapolis on the other side of the hill – once an ancient resort for Romans, the only thing that remains of it is an impressive amphitheater.
I will admit that Pamukkale feels a bit like a tourist trap at the moment, complete with a water park at its base. The site is certainly something to behold and still totally worth visiting though it's not as pure as the photos make it out to be.
Those visiting Pamukkale should definitely consider making a day trip out to the ruins of Aphrodisias. Though not the most famous landmark in Turkey, Aphrodisias is still very impressive. Those who want to get away from the crowds and pay less ought to consider Aphrodisias over Ephesus.
Backpacking Bodrum and Marmaris
Bodrum and Marmaris are two of Turkey's top coastal resort towns. Both offer near identical attractions for those visiting the Turkish Riviera. You'll find beaches, nightclubs, boutique shops, and plenty of rich holidaymakers in both of these getaways.
In Bodrum, there are several beaches spread throughout the city – choosing where to stay in Bodrum is therefore important. The water is a lovely temperature and quite clear so long as you're away from the marinas. Most beaches are belong to some resort, whom can provide refreshments at the bar and sunbeds for lounging.
In the evening, the beach clubs explode with people who are looking to party. The nightlife in Bodrum is among the best in Turkey! Refer to this Bodrum club list for some of the most chique clubs in Bodrum.
Partying and beaches aside, there are several noteworthy archaeological sites in Bodrum. The ruined Mausoleum of Halicarnassus, once one of the Seven Wonders of the World, is conveniently located near the center of the city. The impressive Bodrum Castle, which once served as a headquarters for the Hospitaller Order, is at the head of the Bodrum Marina. Aside from its impeccable condition, the castle also serves as the Museum for Underwater Archeology, renowned for its collection of unique aquatic relics.
About 2 hours drive from Bodrum is Marmaris, which, as I already mentioned, is pretty similar to Bodrum. Marmaris does offer a little more in the way of scenery as it lies within the mountainous Marmaris National Park and at the head of a beautiful bay. This bay, framed by two peninsulas, is full of little towns and secret beaches.
You can visit these peninsulas either by car or boat. If you choose the latter, you will always be joined by a dozen or so other people though the yachts are usually really kush.
Backpacking Fethiye
Fethiye is one of the most popular destinations on the Turquoise Coast. In its vicinity are some of the best beaches in Turkey as well as some very unique Lycian ruins.
Fethiye, at the end of the day, is just a city and most will simply use it as a base for making day trips. There is a city beach, called Çalis Plaji, but, compared to the beaches outside of Fethiye, it's a little uninspiring.
The nearby village of Ölüdeniz is perhaps the most alluring spot near Fethiye. Known primarily for its "Blue Lagoon," Ölüdeniz is immensely popular with tourists. Many just enjoy chilling on the lagoon's pristine beaches; others prefer taking to the skies with one of the many paragliding companies where the views of the Blue Lagoon are astounding.
Just as impressive as the Blue Lagoon are nearby Gemilar Island, Kelebekler Vadisi, and Kabak Plaji. Meaning "Butterfly Valley," Kelebekler Vadisi makes for a wonderful hike that includes, as the name suggests, lots of butterflies in addition to a hidden beach. Backpackers should also head inland towards Tlos and Xanthos for some awesome Lycian ruins as well as Saklikent Gorge for some amazing hikes.
Once you have seen all that Fethiye and the surrounding area offers, head southeast towards Kalkan and Kas. These towns are a little more down-tempo than Fethiye, which can seem hectic at times. The beaches around these towns are just as splendid as anything around Fethiye.
Patara Plaji is a huge stretch of sand located near the ruins of Patara. Of great renown, Kaputas Plaji maybe the most stunning beach on the Turkish Riviera. With a bleached, pebbled shore that is touched by the most brilliant aquamarine water, the photo opps at Kaputas are irresistible.
Backpacking Olympos/Cirali
Olympos is a bit of a legend among those backpacking Turkey for several reasons: 1) it has a very hippy sort of vibe 2) offers some unique accommodation in the form of treehouses and 3) is surrounded by lots of nature. Nearby Cirali is more for families though it still has some spunk. Both are right next to each other – they form, essentially, a single community with only a little gap in between.
The little villages of Olympos and Cirali are right next to the beach. Olympos is where you'll find the majority of backpackers lodges, usually in the form of treehouses. These are a very popular way of staying in Olympos and there are several lodges offering this form of accommodation. Ciriali offers more conventional lodgings like pensions and bungalows.
There are several things to do while staying in Olympos. One of the most popular is trekking to the nearby ruins from which Olympos takes its name. Hidden in a grove and slightly overgrown, the ruins have a very ethereal feel to them though they are from far grandiose.
Olympos' beach is somewhat pretty but its beauty is not its main attraction. If you are visiting between July and October, you'll have the chance to witness hatching Caretta Caretta sea turtles! The best time to see them hatch is during the cool mornings. Once free, they will make a quick dash for the ocean. Be careful not to step on one!
Other fun activities include visiting the eternally burning Chimera Flames at the top of Yanar Mountain and rock climbing. The sea cliffs around Olympos are touted for the quality of their rock and climbers love to tackle them without any gear – this form of climbing is called deep water soloing.
Backpacking Antalya
Antalya officially marks the end of the Turkish Riviera. Lying at the mouth of a tranquil harbor and the beginnings of the stunning Taurus Mountains, Antalya may have earned the right to say "saving the best for last." Aside from the usual beaches and historical sites, Antalya offers much more and does a great job of rounding at an already perfect trip.
Within the city are several fascinating points of interest. The Kaleiçi is the old quarter of the city and is characterized by its narrow alleys and eclectic buildings that were built by numerous civilizations from numerous eras. Here you'll find Hadrian's Gate, a Roman-era fortification that separates Kaleiçi from the equally charming Kilinçarslan.
Also worth seeing are the various mosques and towers spread throughout Antalya. Yivli Minare is perhaps the most prominent of the bunch. Hidirlik Tower and Tekeli Mehmet Pasa Mosque are also impressive – the former offers great views of the city.
The local beaches are Lara and Konyaalti. Both are fairly good beaches to lounge on but are best experienced at sunset when the sun dips behinds the mountains – the scene is quite spectacular.
Outside of Antalya are a number of excellent natural parks. Kursunlu Waterfall is a whimsical cascade located in a lush basin. The water here flows in the most delicate of ways though it's reduced to a mere trickle in the summer months. Be sure to visit Köprülü Canyon, a deep, rugged ravine that is very popular with white water rafters.
Finally, you simply have to stop by the ruins of Termessos. Situated on a flat section of the 5,500 ft high Güllük Dagi, Termessos is an extremely arresting site; it is the Machu Picchu of the Mediterranean, if you will.
Our Where To Stay in Antalya guide will help you get started.
Backpacking Cappadocia
Cappadocia is one of the most beautiful places in Turkey and is one of my favourite places in the world. I've spent nearly three weeks traveling in Cappadocia, over two trips, and have camped out in many of the abandoned hermits caves and churches.
The geography here is utterly stunning, having a character and appearance that is found nowhere else on the planet. Over eons, the landscape has been carved by the elements into delicate towers or "fairy chimneys." From the ground, humans have had their own way with the rock, creating caves, intricate tunnel systems and even massive churches to escape the oppressive heat and freezing cold of the winter.
The most-visited village in Cappadocia is Göreme. Here you can stay in a cave hostel or hotel for a very reasonable price. These underground lodges are surprisingly comfortable and actually quite spacious, if not dim near constantly. Urgup and Uchisar are also good places to stay in Cappadocia; the latter has a pretty cool castle.
There is so much to do in Cappadocia! Visit its subterranean labyrinths including the mind-bogglingly cool Kaymakli and Derinkuyu as well as the Open Air Museum at Göreme. Definitely pay a visit to a subterranean monastery as well, the most impressive of which is Gümüler with it elegant frescos. I strongly recommend hiring a car to get around Cappadocia – it's a really big, sprawling area. I hired a car for under 30 euros a day.
Above ground, you must go for a hike in and around one of the many valleys. There are plenty of trails, most of which are heavily trafficked by hikers, though you could very easily get away from them. I myself did an offshoot of the Rose Valley trail and never saw a single person along the way. Aside from the Rose, be sure to check out the Love, Pigeon, and Red Valleys.
Finally, no trip to Cappadocia would be complete without a hot air balloon ride. There are several companies around Göreme that will take you up in the air for some amazing views. Fair warning though: these tours can be quite expensive and most are fairly brief (30-60 minutes in length). If you don't want to bother, at least wake for sunrise to see the many airborne balloons – the sight of them from the ground is arguably more enchanting than actually being in them.
I strongly recommend camping out (tidy up all your stuff and leave no trace!) whilst in Cappadocia. Also, check out our ultimate guide on where to stay in Cappadocia.
Wanna Go On a Treasure Hunt?
There are so many little hidden gems spread throughout the Cappadocian countryside: age-old dwellings, forgotten pathways, buried secrets. One such treasure is a geocache arranged and stashed away by me! The time capsule was found (and swiped away) by some (un)fortunate soul but that doesn't mean that finding the cave still can't be an adventure!
Off the Beaten Path in Turkey
Turkey is a huge country and most only manage to see the western half of it. Little do they that some of the most spectacular sights in the whole country are in eastern Turkey! Here are Turkey's real treasures – ancient ruins from before the Greeks, epic mountains that rise like bulwarks, and some of the cleanest, freshest lakes in the whole country. Those who intend on visiting the unexplored places of Turkey must make an effort to visit this part of the country!
The Southern and Eastern Turkey provinces are currently subject to much civil unrest. On the borders of Syria, refugees are pouring into the country in disheartening numbers, resulting in violent crackdowns by the government. In the Kurdish controlled areas, many are calling for insurrection against the oppressive Turkish government. Riots, protests, and militant reactions are all very common in this part of the country. The following extract is an informative map of the conflict.
AS OF JUNE 2018, we at the Broke Backpacker strongly advise travelers to be extremely careful when visiting these off-the-beaten-places. Though many areas are safe (particularly those farther north and around the Black Sea) and tourists are mostly left alone, there is always a chance of being caught in a conflict. Keep your head on a swivel and don't do anything rash.
Backpacking Eastern Anatolia
Eastern Anatolia is where Turkey begins to change. To the northeast, the Caucasus Mountains rise; to the far east, the ancestral land of the Kurdish people spreads before you. This is a very exotic and lesser-visited part of Turkey, one that is defined by soaring mountains, pristine lakes, and misty coastlines.
Traveling along the Black Sea due east, the first city that you'll encounter is Trabzon. Trabzon is a very historically significant city, having served as the capital for many medieval kingdoms and as a vital trading post on the Silk Road. Some remnants of its former glory are still evident in the city but, nowadays, Trabzon mostly serves as a base for seeing the surrounding countryside.
From Trabzon, you can access several superlative locations. The Sumela Monastery, perched precariously upon a cliffside, is the most popular attraction in the area and one Turkey's greatest historical places. Uzungöl Lake and Hidirnebi Plateau are also within a few hours drive from Trabzon – both are stunning locations that make for lovely day trips. Finally, Trabzon makes for an excellent jumping-off point into the awe-inspiring Kaçkar Mountains – these mountains are among the most beautiful places in Turkey.
Further east towards the border of Armenia and Iran is Dogubeyazit. This is the best spot for crossing the border as well as beginning the long climb up Mt. Ararat. The ancient Ishak Pasa Sarayi and nearby Muradiye Waterfalls are also worth seeing.
A little south of Dogubeyazit is Van and its claim to fame, Van Lake, which is one of the most beautiful lakes in all of Turkey. Several castles and monasteries dot the lake's shore – of particular beauty is Akdamar. Swimming in Van Lake is possible but know that it's composed of soda-salt water – swallowing some may be an uncomfortable experience.
Backpacking Southeastern Turkey
Southeastern Turkey is an ancient land that has seen the rise and fall of many civilizations from Mesopotamians to Levantines to Persians. Visiting here will afford travelers the opportunities to see some of the most significant historical places in Turkey.
There are a couple of large cities that will serve as brief layovers. Diyarbakir is the largest in the region and has a few interesting churches in addition to some impressive medieval walls. Gaziantep is pretty much only known for its castle. Urfa, though not the largest metropolis, is certainly the most beautiful as its full elegant Middle Eastern architecture and juxtaposing high rise buildings.
Hasankeyf and Mardin are the two most wonderful villages in Southeastern Turkey. Mardin is a gorgeous hilltop village that is characterized by its stone houses and imposing, crowning citadel. Seriously, this village looks straight out of the Old Testament or maybe some sword-and-sandal movie. Hasankeyf is an odd little city straddling the Tigris River that looks a little bit like Göreme; here, there are lots of little hovels built into the cliffs that resemble the cave dwellings of Cappadocia.
Göbekli Tepe and Harran are too very important archaeological sites in Southeastern Turkey. Göbekli Tepe is an ancient complex dating back to some of the first known Mesopotamian people; its very existence is turning heads in the historical community. Harran is the remnants of an ancient community and its most noticeable feature is its "beehive houses."
The most famous site in Southeastern Turkey has to be Mount Nemrut and its colossal busts. At the top of the mountain, you'll find a field full of enormous severed stone heads. Once attached to bodies, these heads guarded the tomb of an ancient king; at some point, they were removed and scattered on the ground.
Top Things to Do in Turkey
1. Drive along the Turquoise Coast
See the finest coastline in Turkey! Visit one of the many villages and resort towns along the way and be sure to keep your eyes open for hidden beaches. Don't surprised if you stumble upon some ruins as well – this is one of the most significant archaeological areas in the whole country.
2. Visit the travertines of Pamukkale
The travertines of Pamukkale are absolutely heavenly, fit only to bathed in by gods and goddesses. 4. Appropriately, no one is allowed in the pools anymore for preservation reasons. They still make a pretty sight though!
3. Get lost in Istanbul
Istanbul is certainly the best city in Turkey, not to mention one of the coolest in the world! Get lost in its many neighborhoods. Wander around the Old City or along the banks of the Bosphorus. Step inside the Hagia Sophia and try to not let your jaw hit the floor.
4. Find the hidden treasures of the Eastern provinces
Some of Turkey's best places are really out of the way! Try and take time out of your trip to visit one of the unexplored places of Turkey, like Mardin or Mount Nemrut. Many of these locations possess histories that are older than most modern nations.
5. Stay in a cave in Cappadocia
The landscape here is out-of-this-world! You'll find some really strange, perhaps even "arousing" sites, like the Valley of Love. Consider taking a hot air balloon ride in Cappadocia for some stunning views.
6. Play in the snow
Skiing and snowboarding are among the best things to do in Turkey in the winter! Few realize that Turkey receives a solid amount of snow and that some of its ski resorts are actually world class. Grab your poles and hit the slopes!
7. Go on one of the many world-class treks
Between the deserts of Cappadocia, the coastal paths of Lycia, and the mountains of Kaçkar, Turkey is not lacking at all in natural beauty. Go hiking around anyone of these locals for some really inspiring views.
8. Partake in a Turkish feast
Kebabs, mezzes, karniyarik, baklava, oh my! Turkey has some of the best food around and trying some of it is absolutely mandatory. Drop by a little cafe for a sampling or go all out at restaurant and feast like royalty.
9. Visit Ephesus and/or the many other classical ruins
Turkey hosts some of the world's most impressive classical ruins. Visit the like of Emphasis, Aphrodisias, Termossess, plus many, many more for a taste of the ancient world.
10. Experience a Turkish Bath
Turkish spas or hamams are great places for several reasons: 1) the architecture is beautiful 2) the conversations are amazing and 3) it can be very relaxing. Visit any one of the ubiquitous bathes to get a feel for Turkish life. Be careful with the messages though – they can be quite rough.
Backpacker Accommodation in Turkey
Turkey has a ton of convenient backpacker lodges to choose from! These come in the form of hostels, hotels, apartments, camps, and even caves!
Much like Europe, hostels are a very popular form of backpacker accommodation in Turkey. Compared to their European counterparts, most Turkish hostels are a screaming deal as well, offering excellent amenities and at a great price. Those backpacking around Turkey should definitely take advantage of these lodges!
Unfortunately, there are a limited number of hostels in some destinations and many book up fast. Some places won't even have a hostel available. In these cases you're best bets will either be hotels, campgrounds or an apartment.
Though pricier than a dormitory, hotels in Turkey are still very well-priced. Offering slightly better digs for slightly more money, hotels will sometimes be your only option in the more remote parts of the country.
There are lots of campgrounds spread throughout Turkey. Many are fully equipped with bathrooms, running water, and electricity, while others are quite primitive. The more primitive ones can be very cheap (even free sometimes) but make sure that it's okay to crash there – some campgrounds are unofficial and may illegally lie on private or government property.
The Best Places to Stay in Turkey
Backpacking Turkey Costs
Backpacking in Turkey on a budget is very doable these days. Backpackers could easily get by on $25-$40 per day with decent spending habits. More militant budgeters could even spend as little as $10/day if they tried to!
The average hostel dormitory will cost around $5-$15 per night. Some more luxurious locations may cost more than $20 but that's pushing it in Turkey. Camping, of course, will be your cheapest means of accommodation while backpacking Turkey. If you're into wild camping, you may even be able to set up shop for free in the woods, so long as it isn't on someone's property or in a park.
We at Broke Backpackers always recommend couchsurfing to travelers as it's usually a great way to meet locals and save some cash. Turkish people are quite hospitable and take hosting very seriously – staying with a Turk could end up being a grand ol' time.
Food and drink in Turkey should never cost too much money, especially if you like street food dishes! A decent meal will cost $5-$8 at a cafe or cheap restaurant. Drinks should cost between $2-$4 depending on their strength and preparation. If you wanted to feast, you could definitely find a great big meal in a nice restaurant for $10-$15, which is a steal given the fact that Turkish food is amazing.
Most of the expenses that you'll wrack up while backpacking Turkey involve transportation and tours. Turkey is a big country and distances can be quite long; the farther you travel, the pricier the ticket. Likewise, participating in some of Turkey's greatest experiences can be quite expensive as well. Booking a place on one of Cappadocia's infamous hot air balloons will easily run you $200-$300. Moral of the story: choose your activities and destinations wisely.
Turkey Daily Budget
Money in Turkey
The official currency of Turkey is the Turkish lira. As of June 2018, the Turkish lira's official conversion rate is 1 lira=0.22 USD.
You can easily change money one of the many exchange offices or banks found around the Turkish urban areas. USD and Euros demand the best conversion rates at these establishments. ATMs are widely available as well and withdrawing money is an effortless affair. Some ATMs may charge a withdrawal fee on top of whatever your bank charges for foreign transactions.
Bargaining is practically ingrained in the Turkish culture and is absolutely mandatory while shopping in Turkey. Nearly every shopkeeper that you meet will give you an initial price that is above the actual value of the product. When bargaining, be patient and respectful and know that the price will eventually fall. Don't try to bargain in restaurants or cafes – prices here are usually set in stone.
Top Tips for Broke Backpackers
Camp: There are lots of opportunities to camp in Turkey! Check out this post for a breakdown of the best tents to take backpacking. If you're feeling real adventurous and want to save some cash, consider picking up a backpacking hammock.
Cook your own food: If you are on a tight budget, you can save money by cooking your own food – I recommend bringing a portable backpacking stove.
Book your transportation early: Both plane and train tickets are much cheaper if you purchase them in advance. This rule does not apply to buses, which you can often book within the day or even hour.
Couchsurf: Turkish people are awesome, but I would be cautious if you are a woman travelling alone. Check for reviews. That being said, Couchsurfing to make some real friendships and see this country from the perspective of locals.
Pack a travel water bottle and save money every day!
Why Should You Travel to Turkey with a Water Bottle?
Plastic washes up on even the most pristine beaches… so do your part and keep the Big Blue beautiful!
You aren't going to save the world overnight, but you might as well be part of the solution and not the problem. When you travel to some of the world's most remote places, you come to realise the full extent of the plastic problem. And I hope you become more inspired to continue being a responsible traveller.
STOP USING SINGLE-USE PLASTIC! If you'd like some more tips on how to save the world.
Plus, now you won't be buying overpriced bottles of water from the supermarkets either! Travel with a filtered water bottle instead and never waste a cent nor a turtle's life again.
When to Visit Turkey
Depending on your itinerary and desired activities, travelers can visit Turkey pretty much year-round.
Turkey is subject to four distinct seasons – it has cold, damp winters and hot, dry summers. Spring and Autumn are generally thought to be the best times to visit Turkey as the weather is more pleasant and there are fewer tourists around during both.
Summers in Turkey can be oppressively hot and quite hazy at times, especially towards the end of the high season. Many Europeans take holidays in Turkey during the summer months as well – high season resulting in overcrowded beaches and inflated prices.
Winters in Turkey can range from dreary to pleasant to harsh depending on the location. Istanbul receives a fair bit of rain and cloud during the winter. The southern, more coastal parts of Turkey are pretty temperate year-round and can be a nice vacation spot no matter when you visit.
Note that the central reaches of Turkey can be very different environmentally from the coastal portions. Most of the interior of Turkey is highlands and plateaus, which means that temperatures fluctuate much more widely. Summers are very, very hot and winters are quite cold in Anatolia and the Eastern provinces. Snow is very common in these places, so much so that skiing and other winter sports are actually quite doable.
Should you want to see a different side of Turkey, then try visiting one of the many mountain resorts in the winter for some great powder.
Turkey has all kinds of festivals celebrating everything from the arts to music to cultural traditions. Some celebrations are fairly fresh on the scene, having only been founded within the last decade or so, while others have been going for well over 500 years. Regardless of when, where or how the festival started, you're sure to have a blast though!
To get you going, I've included a list of some of Turkey's most important festival. Give em' a look!
Camel Wrestling Festival (January) – One of the oldest traditional festivals in Turkey. Has received criticism from animal rights group in recent years. Organizers are quick to respond to and oblige concerns.
Izmir European Jazz Festival (March) – Large Jazz festival featuring artists from Turkey and Europe.
Oil Wrestling Championship (July) – Final competitions for one of Turkey's oldest and most traditional sports. Been going for over 650 years.
Neon Festival (July) – A large festival that features psychedelic, reggae, trance, and other mind-bending music genres. Held in Bursa.
Zeytinli Rock Festival (August) – The "Woodstock" of Turkey. Largest alternative rock music festival in Turkey. Held near the coastal village of Zeytinli.
Rock n' Coke (August/September) – The largest rock festival in Turkey. Often compared to Hungary's Sziget Festival. Held at Hezarfen Airfield in Istanbul.
Mevlana Whirling Dervishes Festival (December) – Grand exhibition of Turkey's most well-known folk dance.
What to Pack for Turkey
On every adventure, there are six things I never go traveling without:
Staying Safe in Turkey
Safety in Turkey is a complicated issue, one that needs to be taken with both the utmost seriousness and a little grain of salt at times.
Over the past few years, Turkey has been the subject of several unfortunate incidents, not to mention an increasingly totalitarian government. As a result, many who go backpacking in Turkey fear that they may be the victim of a bombing or some protest gone wrong. Let's get into this.
Terrorism is probably everyone's biggest concern when traveling to Turkey. While it's true that terrorism is a very serious and legitimate issue in Turkey, travelers must reassure themselves that the odds of being a victim are very low. Most attacks occur in very isolated incidences and are usually made grander by the media (that's how terrorism works). Those who have been backpacking in Europe or the UK are probably just as likely as becoming a casualty as those backpacking through Turkey.
All of this being said, travelers should definitely take extra precautions if they're planning on traveling to Turkey's remote Southeastern region. This part of Turkey does suffer from some ethnic strife – specifically with the Kurds – and so getting around may be a problem. Turkey's involvement with the Syrian War has also resulted in some spillover at the Turkish-Syrian border, which has lead to some escalating violence.
At the end of the day, I have no problem saying that Turkey is a safe place to travel to. Aside from the issues previously discussed, there's still some petty crime, like pickpocketing, to be aware of. Be sure to have common sense and to practice all of the usual security measures – don't exhibit overly expensive items, don't whip out stacks of cash, and be mindful of scams.
Sex, Drugs, and Rock 'n' Roll in Turkey
Though the population of Turkey is primarily Muslim, the country is not, which means that alcohol is widely available and well priced. Most of the locals tend to share in the country's progressive view of consumption as well and will partake (often) in drinking booze.
The best parties in Turkey will be found in Istanbul and around the beach resorts that dot the Turkish Riviera.
Istanbul is widely thought of as one of the top party destinations in the world and offers lots of opportunities to all types of partygoers. Popular nightlife neighborhoods in Istanbul include Beyoglu, Nisantasi, and Kadiköy. Beyoglu is the most famous of drinking districts in Istanbul and so attracts the largest crowds. Nisantasi is where more affluent folks like to enjoy overpriced spirits. Finally, Kadiköy is a local hangout spot and is usually the most laidback of the three.
Outside of Istanbul, the best parties are on the beach! Popular resort towns, like Bodrum and Fethiye, usually have the best parties. Regional hubs like Antalya and Izmir are sure to have their fair share of drinking holes as well.
Turkey's national spirit is raki, an anise-flavored liquor that is usually drunk as a shot or mixed with water. Be careful when drinking this stuff – it's quite potent and doesn't get along with other spirits!
Due in part to its position as a crossroads, quite a lot of drugs pass in and out of Turkey on their way to other places. All of the usual suspects are here – coke, speed, weed, etc. – and nearly all of these substances are illegal. Should you be caught with any one of them you could face serious punishment. Should wish to partake anyway, I'll give my usual advice: know where you are, who you're buying from, and what you're buying.
Travel Insurance for Turkey
Traveling without insurance would be risky so do consider getting good backpacker insurance sorted before you head off on an adventure.
ALWAYS sort out your backpacker insurance before your trip. There's plenty to choose from in that department, but a good place to start is Safety Wing.
They offer month-to-month payments, no lock-in contracts, and require absolutely no itineraries: that's the exact kind of insurance long-term travellers and digital nomads need.
SafetyWing is cheap, easy, and admin-free: just sign up lickety-split so you can get back to it!
Click the button below to learn more about SafetyWing's setup or read our insider review for the full tasty scoop.
How to Get into Turkey
Though entering the country may be a slightly complicated process for some nationalities, getting around Turkey should pose little problem. Once inside, those backpacking Turkey will have a plethora of transportation options from flying to renting a car to grabbing a cheap and comfortable bus. Choose your preferred mode of transport and get going!
Entry Requirements for Turkey
Foreign nationals who wish to enter Turkey will fall under two categories:
those who can enter visa-free
those who must apply for a visa, which usually comes in the form of an eVisa.
What follows is a brief summary of these visas and the process of obtaining them. For a more detailed explanation, be sure to check the official Turkish website here. You can also refer to the map below for a more visual explanation.
A large number of nationalities can enter Turkey visa-free for a period ranging from 30 to 90 days. Most of these countries must still bring a passport while many only need to present a national ID card. For a list of countries that only need an ID or an expired passport, refer to this webpage.
All remaining nationalities must qualify for a visa to enter Turkey. The overwhelming majority of these nations can obtain an eVisa upon arrival. eVisas range from 30 to 90 days. Some who qualify for an eVisa must meet certain additional criteria as well such as providing hotel reservations, outbound tickets, or an approved visa from a specific European country. Be sure to check the official Turkish website under "conditional visas" for more on this.
A limited number of countries must apply for a visa beforehand at their nearest Turkish consulate. Again, refer to official Turkish visa website to see if you're country falls under this category.
How to Get Around Turkey
Traveling within Turkey is super easy! Between the many bus, train, car rental, and airline companies, you will have plenty of ways of getting around this country. Most are very affordable as well!
Buses are the most convenient means of getting around Turkey. There are several bus companies and most of their fleets are modern and comfortable. Because there are so many bus companies with so many routes in Turkey, you should have little problem getting to where you need to go and paying little in the process.
When traveling to a remote location by bus, don't surprise if an official asks you to transfer to another bus. Many Turkish companies "consolidate" passengers to save money. Be ready to jump on a minibus or dolmus as well if your destination is really out there.
Train travel in Turkey is possible but the problem is that Turkey's rail network is somewhat inefficient. Aside from a handful of streamlined rail routes, most trains will take a long time to arrive somewhere. Unless you're really keen on riding the train, you'd be better off just sticking to the bus.
Flying can be just as convenient as taking a bus in Turkey. There are several budget airlines with routes all over Turkey. Pegasus Air and Onur Air are two popular low-cost airlines.
Should you need to travel long distances, flying may be a better option. Though slightly more expensive than traveling by land, the cost is still reasonably low and justifiable.
Renting a car could be an awesome idea while backpacking in Turkey! With your own vehicle, you will have greater freedom and the ability to go car camping as well.
Hitchhiking in Turkey
Hitchhiking is a very reasonable means of getting around Turkey! All of the usual practices apply and there's nothing too out of the ordinary when throwing your thumb up in this country.
For the best chances of finding a ride, hang out on the outskirts and at the ring-roads that circle around the cities. Try not to hitchhike directly within a city as it'll take a while to get out. Don't hitchhike on the main highways as no one's going to slow down. Having a sign is always a good idea to give drivers a sense of where you're going.
Always be prepared when hitchhiking; as I like to say: "treat it like a wilderness experience." Have plenty of water on you (especially in the summer high season) and snacks just in case. If you are marooned somewhere, you may have to find a place to sleep last second.
As always, there are some drivers you will ask for a little cash. If you don't have any on you, politely refuse and ask to be let out.
Onwards Travel from Turkey
Being the epic crossroads that it is, there are many countries near Turkey to visit, should you decide to move one.
To the west of Turkey are Greece and Bulgaria. Entering either will be a painless affair. Choose one of several land crossings between the three countries or travel by sea via ferry to Greece! Most ferries traveling to Greece from Turkey take only a few hours and you'll always end up on some idyllic island.
To the east are the Caucasus nations of Georgia, Azerbaijan, and Armenia. I personally suggest backpacking in Georgia, which is one of Europe's last hidden gems! Turkey shares friendly relations with Georgia so crossing the border should pose little problem.
Turkey and Armenia, on the other hand, are not on good terms – there have been many conflicts between these two nations in recent years and, for this reason, the border between the two is currently closed.
Note that entering into Azerbaijan puts you in the remote and contested Nakhchivan province, which isn't connected to the rest of the country. From here, you can fly to the main body of Azerbaijan or cross into Iran.
To the south of Turkey are the Middle Eastern nations of Syria, Iraq, and Iran; some of these countries will be very difficult to enter.
Though the Syrian-Turkish border is technically still open, traveling here is extremely ill advised – refugees are constantly spilling over the border and much violence has broken out as such.
Turkey shares several crossings with Iraq, though only one at Habur-Zakho is open to foreign tourists.
Traveling to Iran from Turkey is very doable as there is little strife between the two nations. Daily bus routes connect Turkey and Iran via several border crossings.
Working in Turkey
History, gorgeous landscapes, weekends at the beach, solid Wifi; sounds right up a digital nomads alley, right?
Yes, Turkey ticks a lot of the boxes for digital nomads in search of their next squat. The cost of living is relatively low and the standard of living is on par with Europe (in the cities).
In terms of visas, most digital nomads settle for the 90-day tourist ones. Whilst it is possible to apply for a temporary residency visa as a foreigner, the bureaucracy in Turkey is a bit of a headache.
Internet is easily found in Turkey and is fairly quick. Most cafes or lodges will have free WiFi for customers. If you find yourself in need of faster speeds, internet cafes are ubiquitous in Turkey, and most rent out computers for reasonable rates.
Consider buying a local SIM card with data coverage when backpacking around Turkey – data is sometimes more reliable and you may save some money. I bought a SIM card in Ataturk Airport and easily integrated with my phone (after some tinkering, of course).
If you haven't broken into the digital nomad lifestyle yet (you still can!), there are other ways of prolonging your travels. One way is by volunteering.
Volunteering in Turkey
Volunteering abroad is an amazing way to experience a culture whilst giving something back. There are loads of different volunteer projects in Turkey ranging from teaching, to animal care, to agriculture to pretty much everything!
Turkey has developed a lot over the last few years, but still has very rural areas which can benefit from volunteers. You'll find loads of opportunities in hostels, farming, and English teaching, among others. Note that you may require a work permit in order to volunteer in Turkey, and you'll need to provide evidence that the work is unpaid.
Want to find some awesome volunteering opportunities in Turkey? Then signup for Worldpackers, a platform that connects local hosts with volunteer travelers. As a Broke Backpacker reader, you'll also get a special discount of $10. Just use the discount code BROKEBACKPACKER and your membership is discounted from $49 a year to only $39.
Programs run through reputable work exchange programs, like Worldpackers, are generally very well-managed and highly reputable. However, whenever you are volunteering do stay vigilant especially when working with animals or children.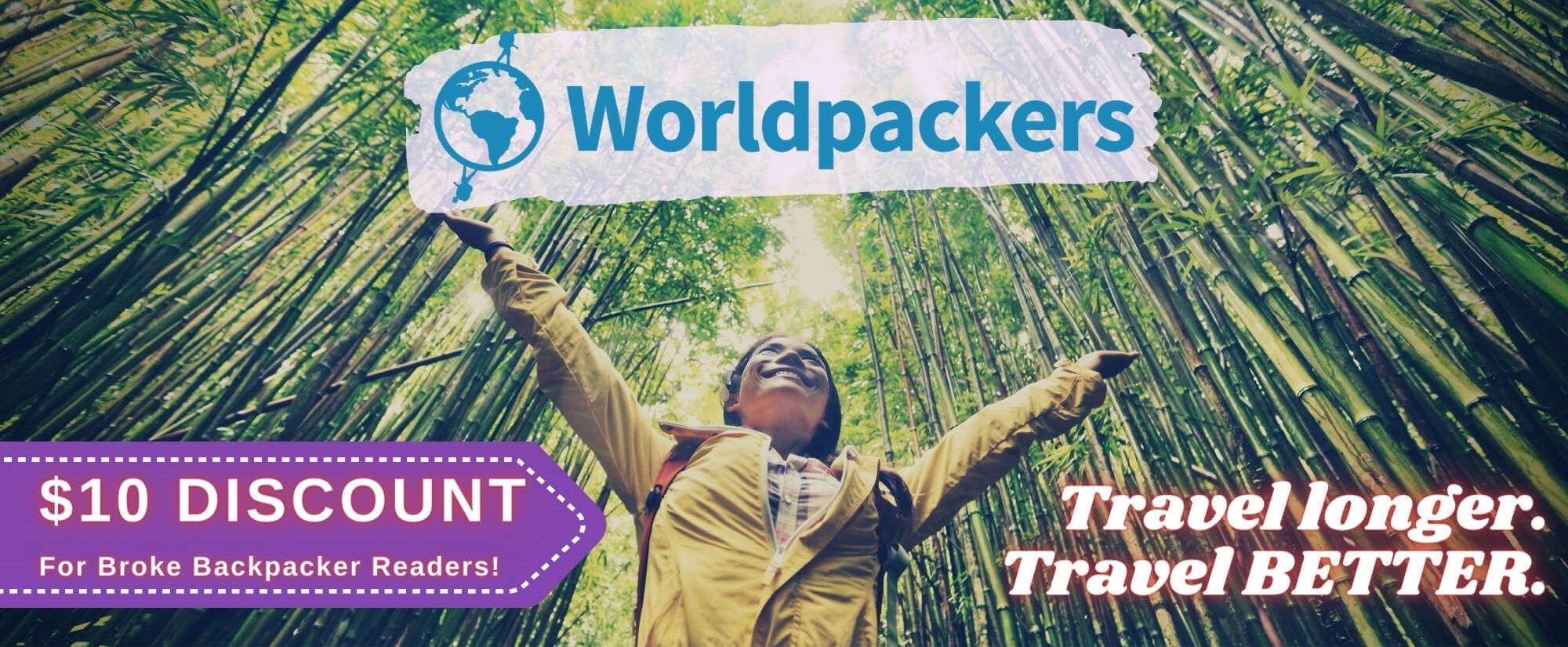 Worldpackers: connecting travellers with meaningful travel experiences.
Teaching English in Turkey
If you're a traveling English teacher, there are jobs to be found in Turkey. Granted, the wage is relatively low against the cost of living, especially if you're working in Istanbul. You could of course work in the wilds of Anatolia but that would be a whole other level of culture shock.
Regardless, you'll need a TEFL certificate to teach anywhere in Turkey. We suggest getting yours with MyTEFL as Broke Backpacker readers get a 35% discount on courses. Simply enter the code BACKPKR when checking out.
For tips on how to score a gig, please read my in-depth report on teaching English abroad.
What to Eat in Turkey
Turkish food is some of the best that I've had while traveling the world! The flavors are rich and the dishes are very diverse. Carnivores, vegetarians, Muslims, everyone can enjoy Turkish food without struggling to find a dish that best suits them.
Because it sits at such a vital crossroads, Turkey has benefited from being exposed to multiple culinary traditions and a huge array of ingredients. Many cultures, from Arabic to Mediterranean to Balkan to Caucasian, have left their mark on Turkish cuisine. For these reasons, Turkish food is a sort of fusion of cooking styles.
The Turkish diet consists heavily of red meats, rice, and vegetables including tomatoes, eggplant, onions, and cucumbers. Spices are used liberally in almost every Turkish dish though they're never overpowering. Pork is not very common considering the large Muslim population.
Note that, given its size, food varies greatly depending on what part of Turkey you're in. The Western Turkish diet consists heavily of seafood, olive oil, and fresh herbs, and bears a great resemblance to other Mediterranean regimens. The regions around the Black Sea rely heavily upon seafood, as well as corn and more rustic vegetables like kale. The food of Southeastern Turkey is the most Levantine – here, you'll find lots of kebabs and mezes.
You should no problem finding any type of Turkish cooking in larger cities, especially so in Istanbul. There's a lot to choose from so I've created a list of the most famous foods in Turkey to try while visiting.
Popular Turkish Dishes
Turkish Culture
Turkish people are of a very distinct ethnicity that can be traced back thousands of years to the steppes of Asia. For much of the 2nd Millennium, the Turks were one of the dominant powers of the region and contributed quite a lot to human civilization. Perhaps because of this, Turkish people are very proud of their heritage.
Turks are a fairly accepting and open minded bunch that tend to observe foreign behavior optimistically. When someone comes into their country and behaves in a manner that is inappropriate – whether subtly or implicitly – Turkish people will usually forgive them for the digressions.
Regardless of their hospitality, it's always a good idea to try your best and observe the local customs when backpacking through Turkey. Doing so will unlock many more opportunities and the locals will be much more receptive.
Religion and politics can be touchy subjects in Turkey, especially in regards to current events. Avoid as best you can topics pertaining to the Kurdish conflict, Cyprus, Russia, or, in particular, the Armenian Genocide.
Understand too that even though Turkey is a secular country, religion is an important part of their cultural identity. Islam was a major player in the rise of the Ottoman Empire and is seen in a similar light to national heroes. (Remember that that crescent moon and star is on the flag for a reason.) Tread lightly when discussing or criticizing religion in Turkey.
Turkish behavior and courtesy are somewhat broad but in no way demanding. Many common Western practices, like hand-shaking, eye contact, and physical contact, are present in the Turkish lifestyle. Knowing that whispering at a party or being late is considered rude may be beneficial though. For a great list of Turkish etiquettes, refer to this article here.
Turkish Travel Phrases
The official language of Turkey is Turkish. Turkish is its own language and, contrary to popular belief, has very few grammatical similarities with other Arabic or European languages. The language of Turkey is Altaic in origin, meaning that is actually more similar to some Central Asian ones.
The structure of the Turkish language is actually quite logical due in part to Ottoman's successful attempt of standardizing it. The central Ottoman government wanted a uniform language, one that could be understood by the vast majority of the population and, at the same time, be resistant to foreign influence and vernacular. For these reasons, the rules of modern Turkish are very rigid and, thus, easy to understand (if you actually try to learn it).
Kurdish is another prominent language found in Turkey though it's mostly localized to the far Eastern edges where the Kurds live. Kurdish is an Indo-European language and very distinct from Turkish.
English, in addition to many other popular international languages, are becoming more common in Turkey. Most of the younger generations speak at least a moderate amount of English. Many other Turks who are in contact regularly with English speakers will know a little of the language as well. Due in part to Turkey's economic and historical relationship with Germany, German is also widely spoken, in addition to Dutch and French.
Learning a few local expressions is always a good idea. So to make your life easier, I have written the pronunciations for a few helpful Turkish phrases with English translations.
Books to Read While Traveling in Turkey
There are many great books about Turkey, but here are a few of our personal favourites:
Brief History of Turkey
Throughout history, Turkey has been a very important place. It has either hosted some of the world's most successful civilizations or itself been the dominant power of the region. To this day, Turkey still remains an influential and undeniable sovereignty.
Starting in antiquity, Turkey was the bridge that connected Europe and the Middle East. The Greeks, Romans, Byzantines, Persians, and other kingdoms all vied for control of this land, and each left their mark. Know that the peoples that gave rise to the modern Turkish gene pool had not even arrived at their current dominion yet.
The Turks were actually a part of the many invasions and migrations initiated by the steppe people of Central Asia. Hailing from the same regions as the Mongols and Huns, the Turks often followed in their steps. It wasn't until the 11th century AD that the Turks were able to establish their own realm – the Suljek Kingdom – in Anatolia.
The Seljuks were decently successful as rulers, having contributed to the Muslim world in many ways. In the late 12th century though, the kingdom was destabilized by rival powers and eventually consumed by the Mongol Empire in the 13th century. From the wreckage of the Mongol invasion, came perhaps Turkey's most triumvirate chapter.
After Anatolia was partitioned by the Mongols, the Ottomans began to rise. Starting in the 14th century, the Ottomans were only a minor principality but soon conquered everything – the Byzantines, the Balkans, the Persians, the Syrians; everyone fell to the Ottomans. For 600 years, the Ottomans kicked ass. They contributed much to the world, though they took part in a fair share of crimes as well.
The Ottoman Empire collapsed following its defeat in World War I. The current state of Turkey, the Republic of Turkey, came about following the separation of the empire. Since then, Turkey has undergone many transitions: from monarchy to democracy, socialist to capitalist, and much, much more.
It hasn't been easy for Turkey, especially in recent years with political oppression and upheaval becoming the norm. The Turkish people have a voice though and it's never been stronger. Many fight back against the powers that threaten them. Only time will tell if this is enough.
Unique Experiences in Turkey
Visiting a Turkish Bath
Turkish baths or hamams are not just spas; they're a way of life for many. More than a means to clean oneself, hamams are a great place for Turkish people discuss their daily lives as well get in touch with their roots. If you're backpacking in Turkey, you need to visit a hamam at least once if only to see why these have become so ingrained in the culture.
When visiting a Turkish bath, there are a couple of etiquettes:
Firstly, there's absolutely no mixing of the genders – men and women are segregated.
Second, it's usually traditional to wear nothing but a pestamal, a sarong-like towel that you wrap around your waist. Women may wear underwear under these while men are nude. Men: the occasional dick slip is ok but try not to wave that thing around.
Thirdly, be sure to tip your attendant and don't ask for lewd services.
The process of a Turkish bath usually involves moving between hot and cold rooms. Unlike saunas, hamams don't rely upon moist heat but instead dry heat. You'll need to loosen up a bit in the hot room and sweat a little before the washing begins. Take note of the elegant architecture while waiting.
There are two ways of being washed: 1) by yourself and 2) by an attendant. If you choose option 1, then you'll be given the usual devices and sent on your way. This choice is obviously the cheapest.
If you choose option 2, then you will be met by a masseuse about 15 minutes after you enter the hot room whereupon they will begin the treatment. Be fair warned: Turkish massages can be quite painful as the masseuse will contort your body in many ways.
Trekking in Turkey
Trekking is one of the most underappreciated activities in Turkey! This country offers a myriad of hiking options from coastal walks to mountain climbs to wilderness backpacking trips to Turkey. Honestly, there is a surprisingly amount of variety of trekking in Turkey.
Most people just think of Cappadocia when they plan on going trekking in Turkey. Few realize that are some truly stunning landscapes to explore throughout the remainder of Turkey.
If you plan on venturing out into the wilder parts of Turkey, then I suggest buying all of the necessary camping gear. You'll save some money that way and avoid paying for rentals via tour operators. Be sure to bring plenty of water as well – Turkey can get really, really hot.
Below is a list of some of Turkey's best hiking areas.
The Best Treks in Turkey
The Lycian Way (30 days, 335 miles) – One of the all-time classic hikes in Turkey. Walk from Ölüdeniz to Antalya along the coastline, discovering hidden villages and ruins along the way. Includes an ascension of Mt Olympos. Don't walk this during the peak summer heats.
The St. Paul Trail (30 days, 310 miles) – Second most popular long-distance trail in Turkey. Follows the path of Saint Paul the Apostle from Perge to Yalvaç. Passes through some spectacular scenery including the imposing Taurus Mountains and the "Lakes District" around Egirdir. Don't walk this during the peak summer heats.
The Kaçkar Mountains (varies) – Turkey's very own "Middle Earth." These mountains, located in the east of Turkey, are strikingly beautiful and surprisingly lush. The alpine lakes and meadows here are far-cry from the arid landscapes that most people expect when backpacking Turkey.
The Aladaglar Mountains (varies) – A remote section of the Taurus Mountains. Extremely rugged and somewhat inhospitable.
Climbing Mt Ararat (5-7 days) – Long but fairly straight forward climb that only requires proper knowledge of ice axes and crampons. At 16,850 ft high though, acclimation will be necessary though.
Final Advice Before Visiting Turkey
Don't let the stories of civil unrest and terrorism dissuade you from visiting Turkey. This is one of the coolest nations in the world and an extremely enjoyable place to go backpacking.
In my experience, Turkish people rank pretty high up on the hospitality scale. They cater to everyone's needs and usually stop at nothing to appease their guests. When you go backpacking in Turkey, expect to pampered, even obsessed over sometimes by the locals.
Turkey has everything that a traveler could want: culture, majesty, history, cuisine, and much more. The best part is that everything is also so damn affordable! No trip to Europe, the Middle East, the Caucasus or any neighboring region is complete without at least dropping by for a trip to Turkey.
Because of its size and number of activities, backpacking Turkey can be an intimidating endeavor – doing so can be a very enriching experience though. You'll eat some of the best food ever, walk through the ruins of many civilizations, and have the chance to explore landscapes that you didn't think were possible.
Just follow the travel tips for Turkey that have been outlined in this guide, my fellow broke backpackers, and you'll no doubt have a good time in this fascinating country.
Updated April 2023
---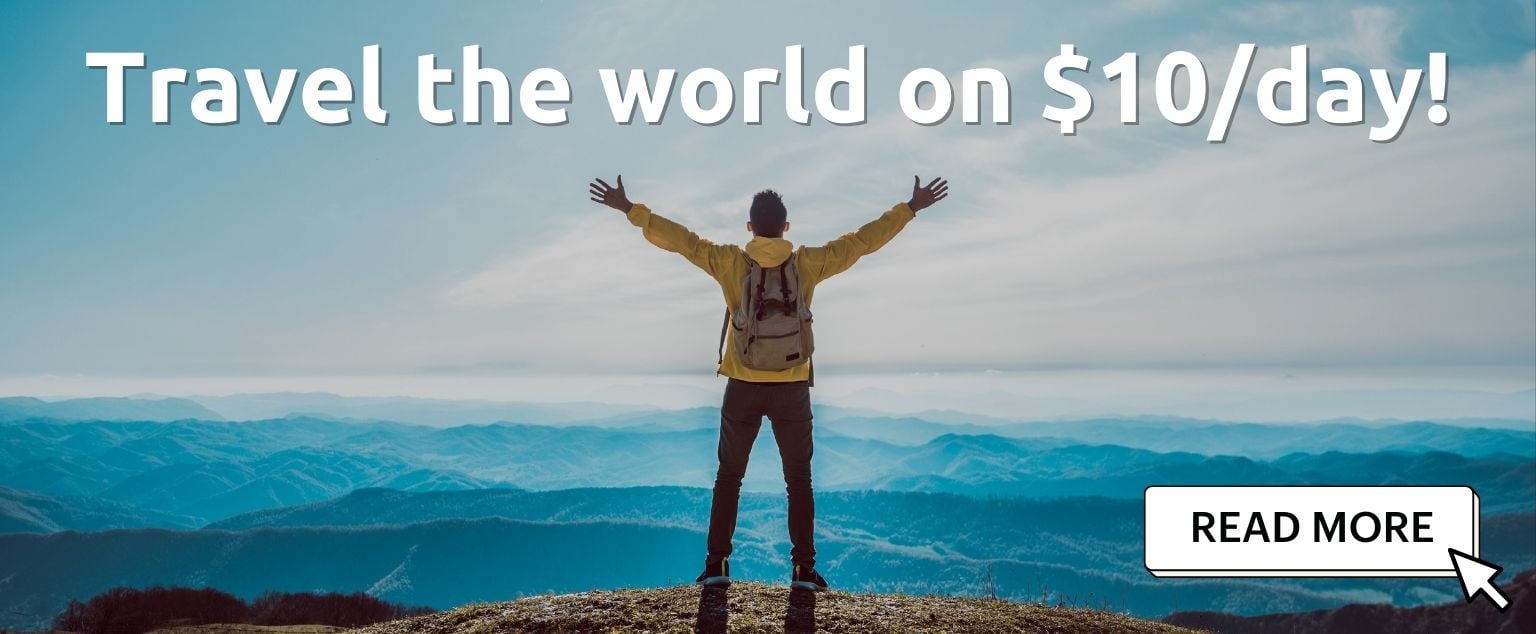 And for transparency's sake, please know that some of the links in our content are affiliate links. That means that if you book your accommodation, buy your gear, or sort your insurance through our link, we earn a small commission (at no extra cost to you). That said, we only link to the gear we trust and never recommend services we don't believe are up to scratch. Again, thank you!